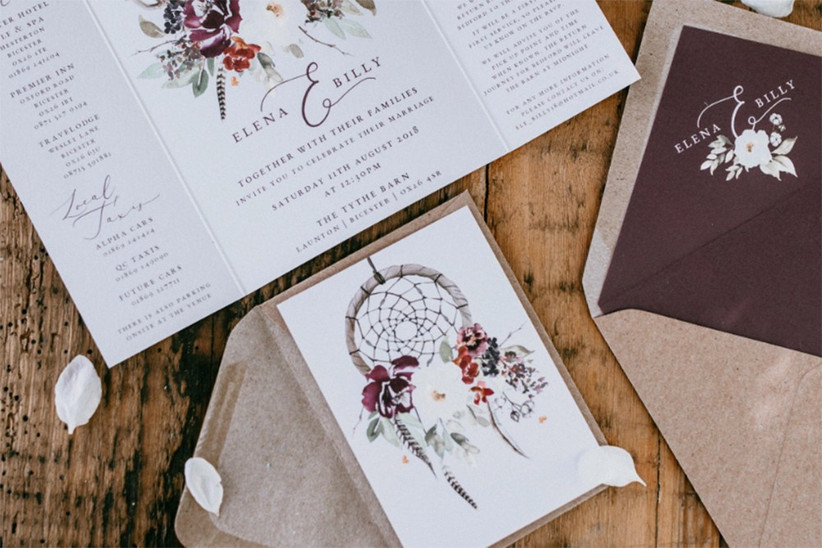 It's no surprise that sending out reams of paper wedding invitations to 100 guests isn't environmentally-friendly.
Despite being made of paper, lots of invites aren't able to be recycled due to the decoration on them, such as glitter.
There are two main options: send paperless invites or choose an eco-friendly wedding invitation. We've listed our favourite websites to design and send invites and our favourite eco-invites.
If you're into crafting or want to jazz up your invites, we've got all the best products you need to DIY your own eco-friendly wedding invitations too.
The Best Eco-Friendly Wedding Invitations
Beautiful Sicily Collection – From £78, Treasure Studios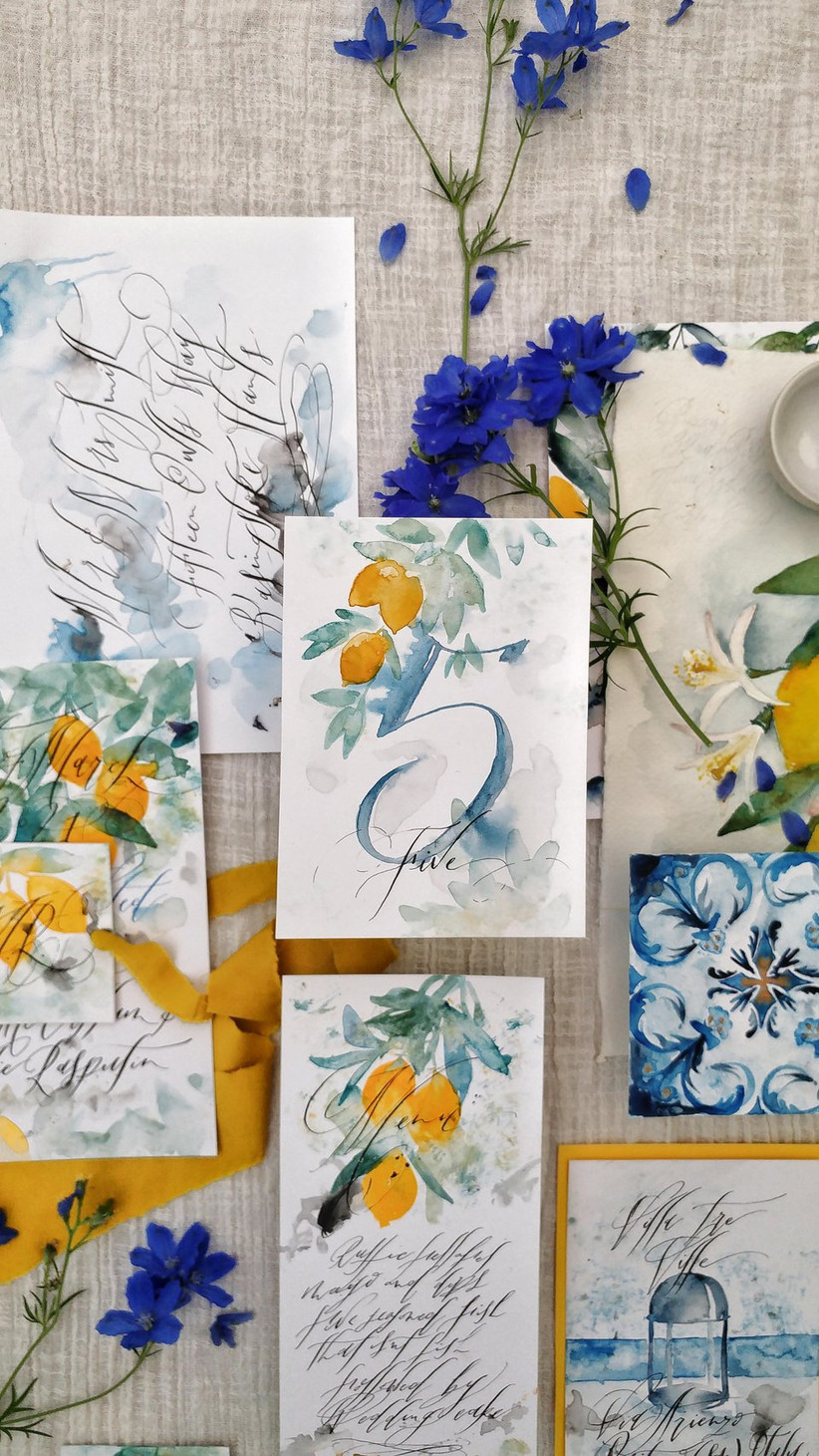 Treasure Studios is one of our favourite eco-friendly wedding invitation designers. Artist and calligrapher Karlee makes hand-painted watercolour invitations that are all vegan: she uses sustainable plant-based inks, dyes and glues; nearly everything is recyclable; waste is kept to a minimum and her website is 100% carbon neutral. Sets of her house collection invites (of which there are three designs) start from £78.
Vintage Rose Botanical Wedding Stationery – £2, Summer Lane Studios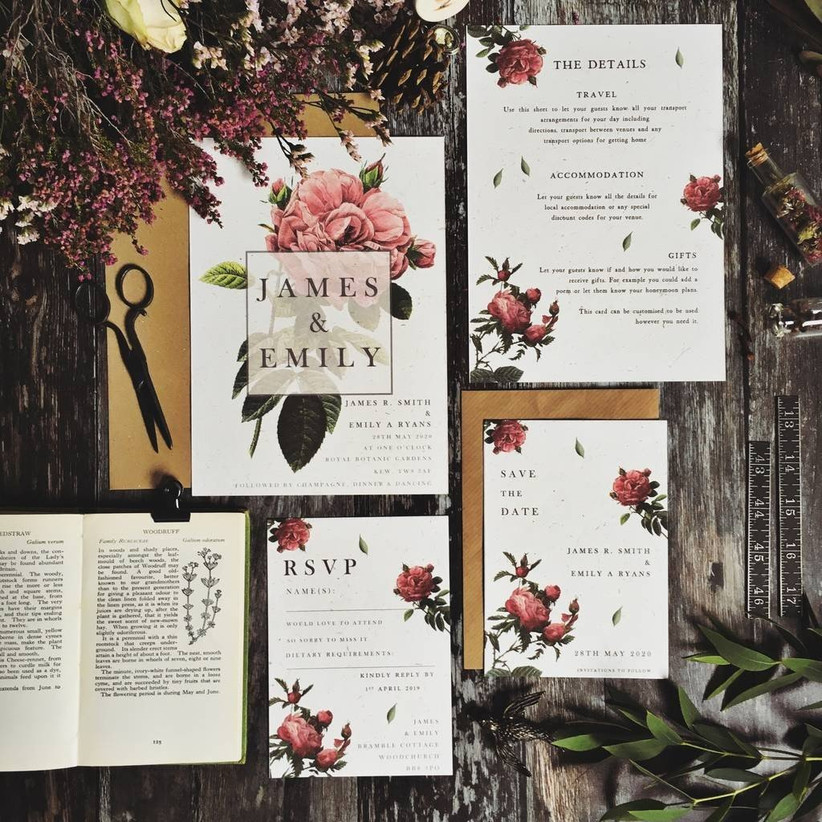 Edinburgh-based Summer Lane Studios make beautiful nature-inspired eco-invites. Every purchase of stationery helps World Land Trust's 'Plant a Tree' project in the tropical forests in Borneo. It helps reduce greenhouse emissions and provide homes for endangered orangutans. The paper is all recycled and recyclable – plus it's gorgeous!
Bespoke Stationery and Collections – From £97, Lucy Says I Do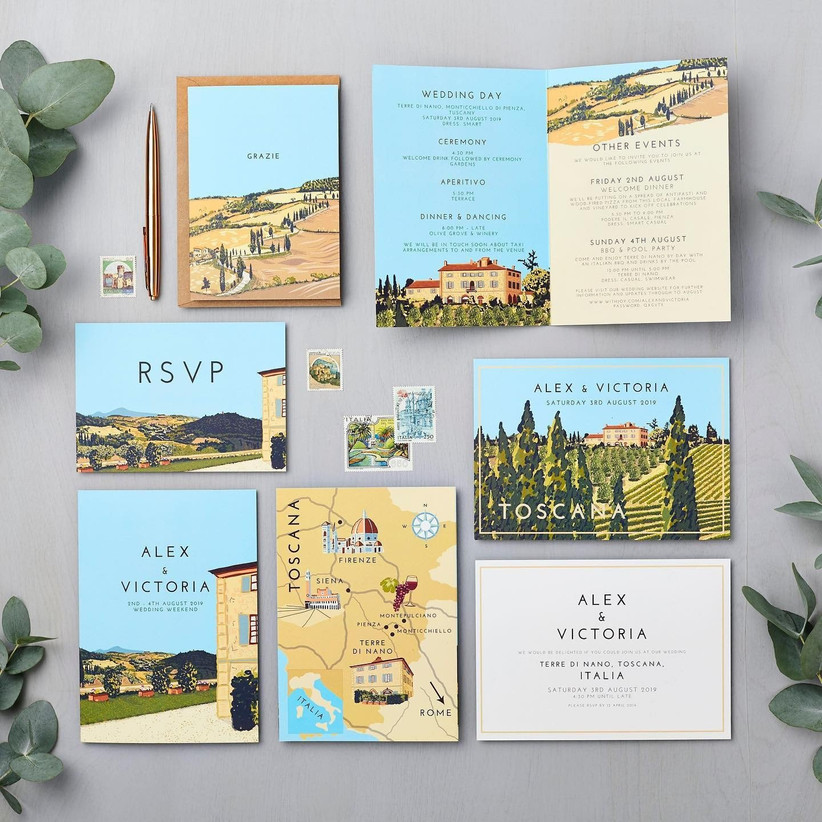 Artist Lucy has plenty of gorgeous collections to choose from, but her bespoke stationery sets her apart. If you're having a destination wedding or would like a custom map, you'll adore Lucy Says I Do's unique designs. Everything is printed in the UK and assembled and finished by hand to ensure the stationery is of the highest quality. She uses FSC (Forestry Stewardship Council) certified paper stock and environmentally responsible printers and recycled materials wherever possible.
READ MORE: 16 Moissanite Engagement Rings for Eco-Friendly Brides
Greenery Wedding Invitations – From £1.25, Paperchain Wedding Stationery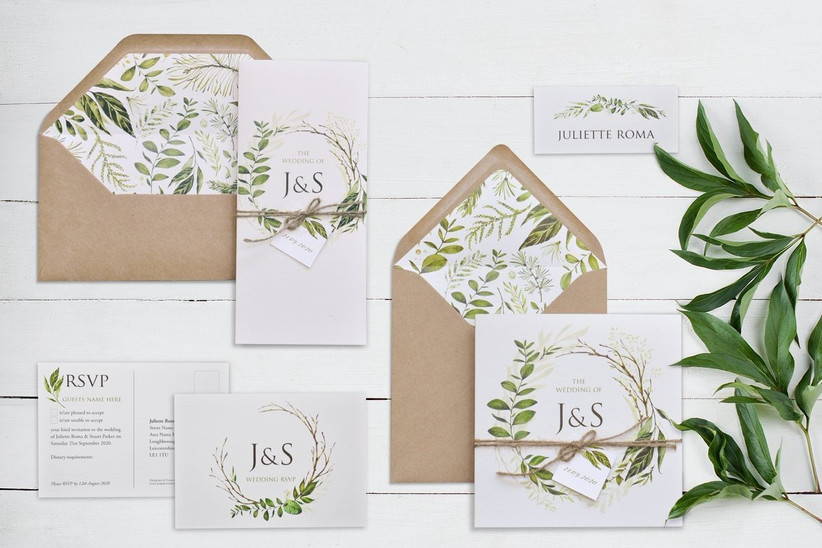 Paperchain's latest collection is printed on eco-friendly off-white bamboo card with 100% recycled envelopes. Their digital print presses use a recycling scheme that minimises their total environmental impact so you can rest easy ordering these beautiful invites from their Leicester studio.
Wildflower Seed Invitations – From £1.75, Blushful Earth Handmade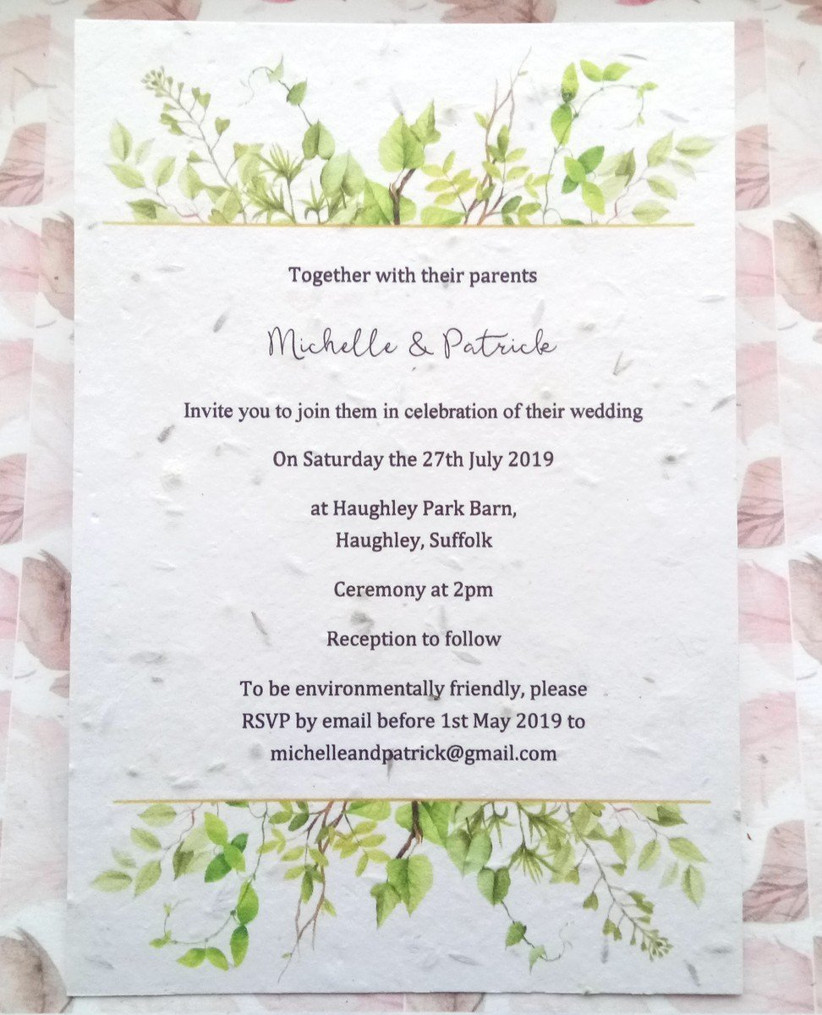 Blushful Earth make vintage and rustic eco-friendly wedding invitations. They have a huge range of plantable seed paper invites with wildflower meadow seeds including buttercup, musk mallow, ox-eye daisy, red and white campion, yarrow and meadow grass. You might not know what any of those look like, but we promise, your guests will be growing an absolutely stunning flower garden after your wedding.
Whale of a Time Invitations – £2, Summer Lane Studios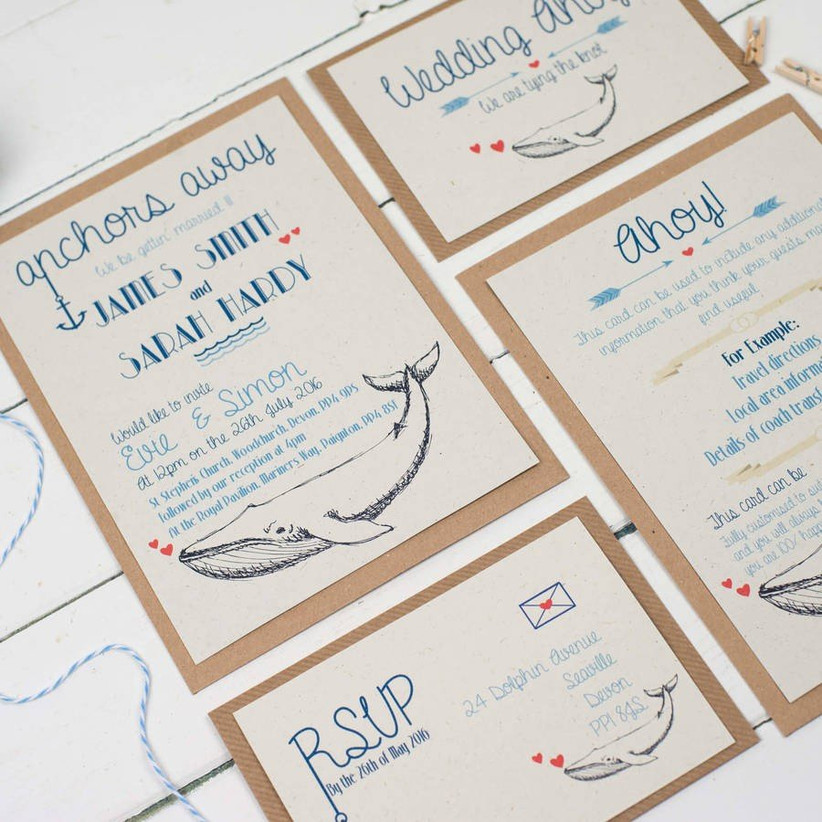 This whale-themed invite is made from luxurious 100% recycled elephant or rhino dung card. Yep, dung! It comes from rescued or retired working elephants being looked after in Sri Lanka, while the rhino dung comes from critically endangered Black African Rhinos at Devon's Paignton Zoo. To be clear, it doesn't smell and you could never tell by looking – but it's great for the environment!
Protea Botanical Invite – £1.50, Hollyhock Lane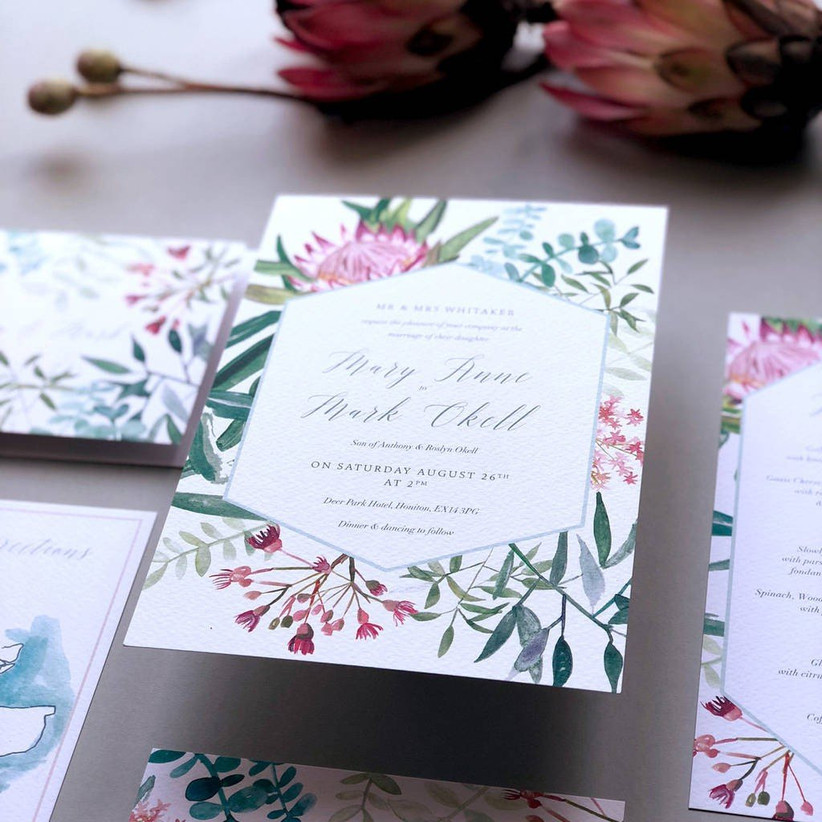 All of Hollyhock Lane's hand-painted, watercolour illustrated wedding stationery can be adapted to fit your colour scheme and theme. We love artist Julie's abstract and fine art designs as well as her botanical and foliage prints. Stationery can be printed on 100% recycled paper with vegetable-based inks for an eco-friendly invite choice, otherwise all other card stock is FSC-certified from sustainable forests.
Rose Wedding Invitations – £4, Paper Tree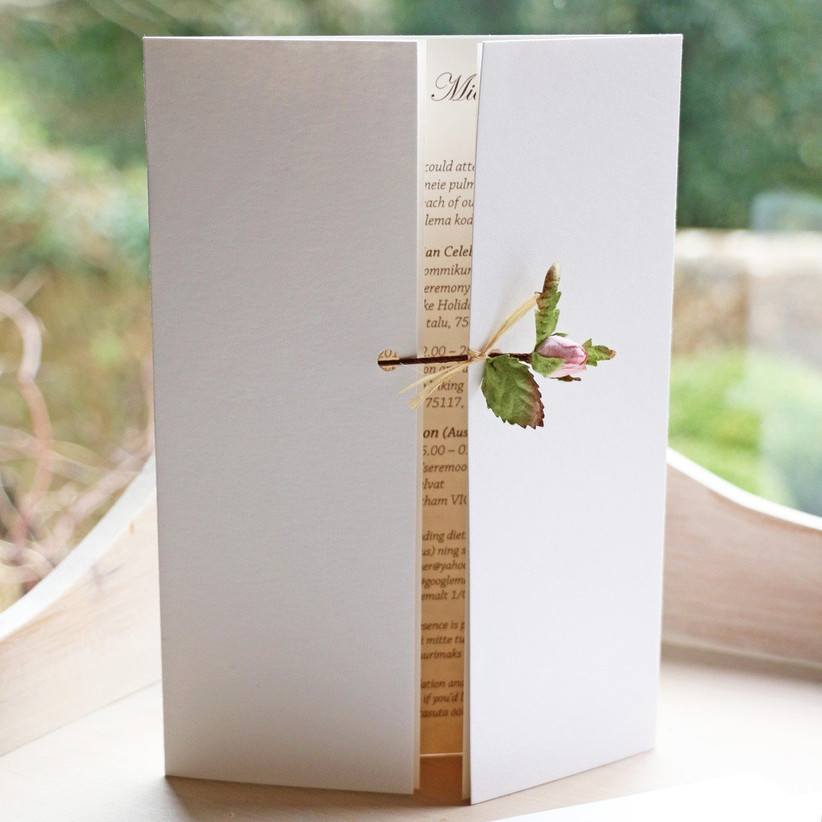 These simple and beautiful designs open with a handmade paper rose crafted from sustainable Saa paper made from the bark of the mulberry tree. Made from heavyweight ivory card, it's 100% recycled and FSC-certified. Paper Tree have extremely high environmental and ethical standards, including being part of 1% for the Planet, an alliance of businesses which gives 1% of sales to environmental organisations.
READ MORE: The Best Green Wedding Gift List Ideas
Freya Wedding Invitations – Sets From £250, Wonderland Invites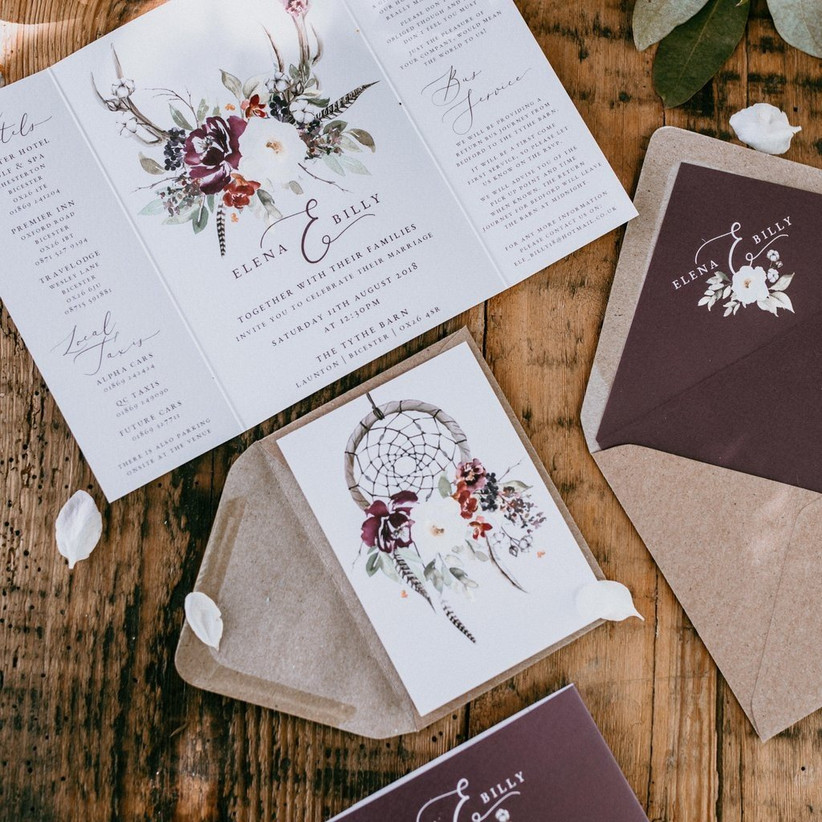 Wonderland Invites make stunning boho stationery designs. With studios in the UK and Australia, you'll find beautiful floral-inspired designs using ethically-sourced paper and inks and environmental printers to reduce their carbon footprint. We love the Freya print featuring floral wreaths, antlers and dreamcatchers in a unique gatefold style.
The Best Paperless Wedding Invitation Websites
Email-only, online wedding invitations are a simple way to save on paper and cut down your carbon footprint. Don't think that an email invite means ugly – you can design elegant, personalised stationery in any theme you like.
Greenvelope – From £29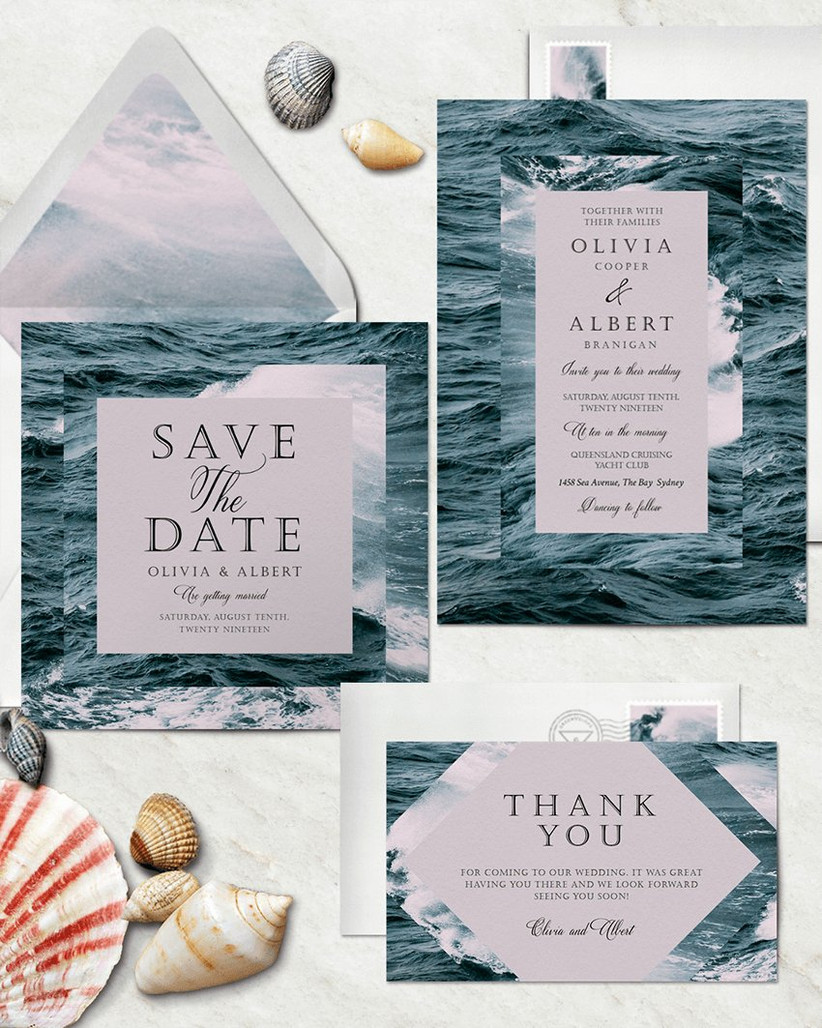 There's so many great reasons to use Greenvelope. It has a huge range of templates make by independent designers that you can update the font, colour, photos, layout and more on. You can also import your guest list, track RSVPs (plus send auto-reminders to forgetful guests) and even automatically verify email addresses to minimise bouncebacks. Invites for 80 people are just £59.
Paperless Post – Free Designs and Paid-For Premium Designs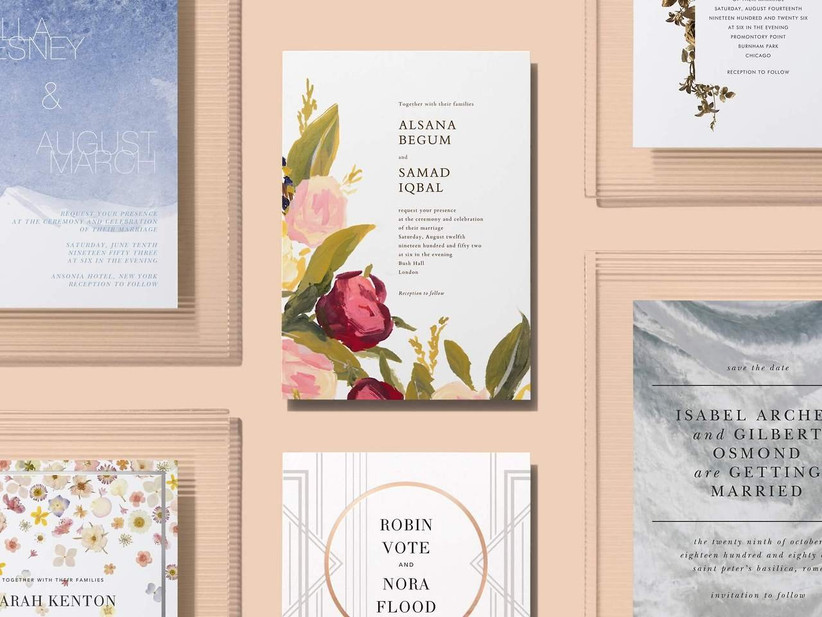 Paperless Post have a design service team on hand to help you make your perfect invites. The process is all about beautiful end-to-end stationery from your save the dates through to thank you notes, with event management tools too like RSVP tracking. You can even upload you own design.
READ MORE: 12 Helpful Templates for Wording Your Wedding Invites
Glo – From $19.99 (£16.27) a Month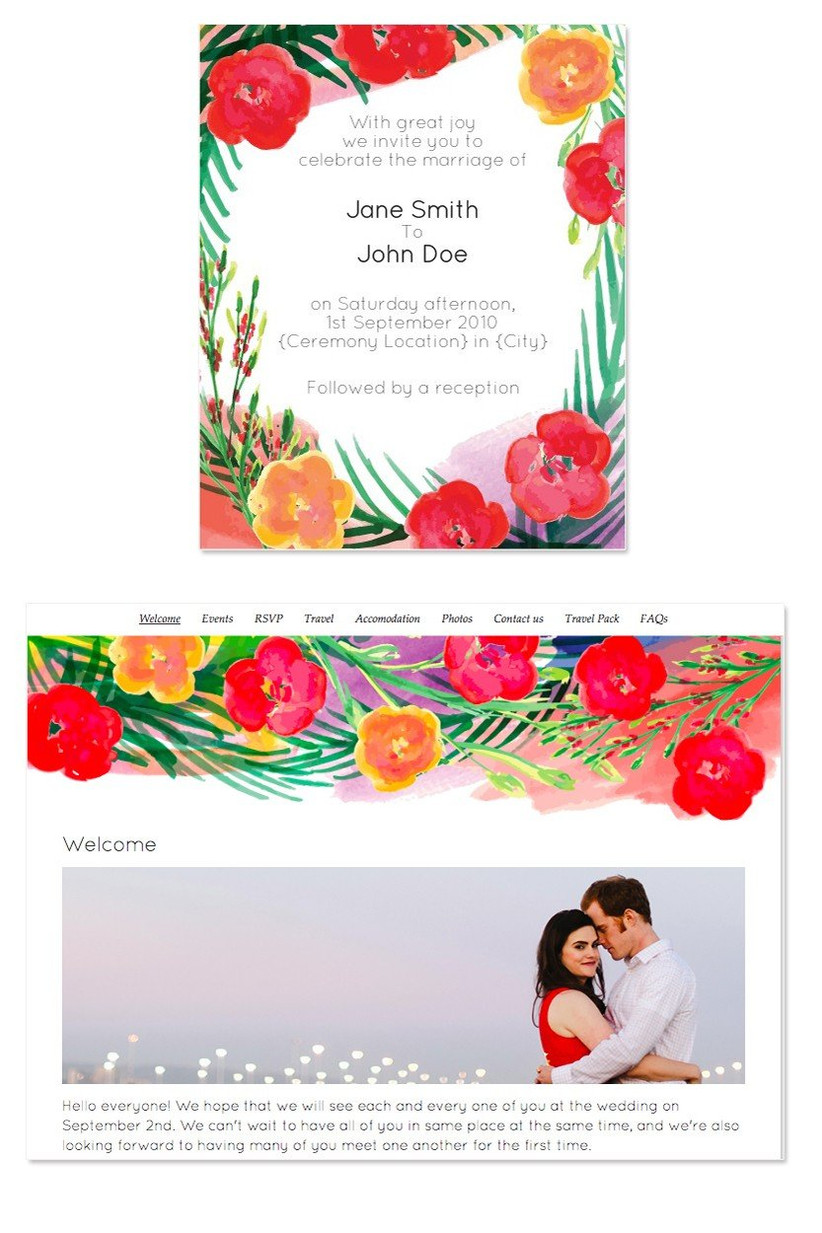 Glo claims to have saved 92,435 hours of planning time, $373,977 in stamps and countless trees since its inception. These streamlined digital invites are completely customisable and have a paper look, and you can make a free wedding website too where guests only see the pages you want them too – handy if some people only have evening invites.
How to DIY Your Own Eco-Friendly Wedding Invitations
Alphabet Letters Stamp Set and 6 Colour Ink Pads –  £14.59, Amazon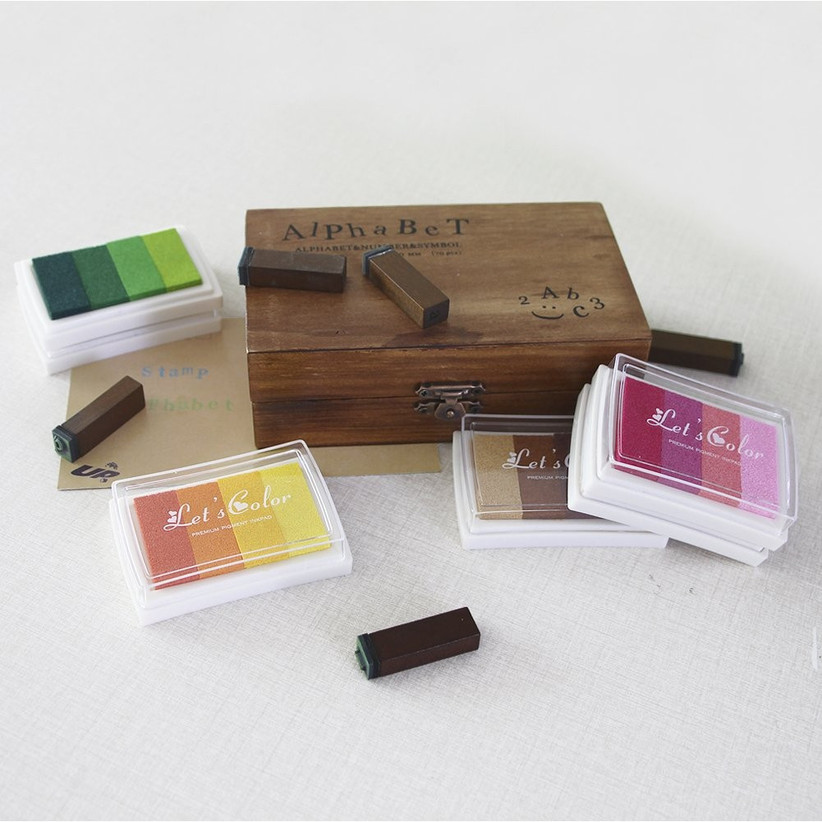 Firstly, how beautiful is this vintage wooden box! This rubber stamp set is fantastic to personalise your wedding invites using eco ombre inks.
Recycled Card – From 90p, Eco Craft
Available in a range of size, use these recycled single fold blank greeting cards as the base of DIY eco invites. It comes in a range of colours, all in uncoated print grade card. Use these eco glues and tapes on them too.
Dried Ferns – £6.80, Amazon
Pressed dried real fern leaves are great additions to rustic, botanical invites. You get 20 pieces in each pack and you can combine them with other foliage for a fab design.
Hethrone Wood and Glass Calligraphy Set – £28.99, Amazon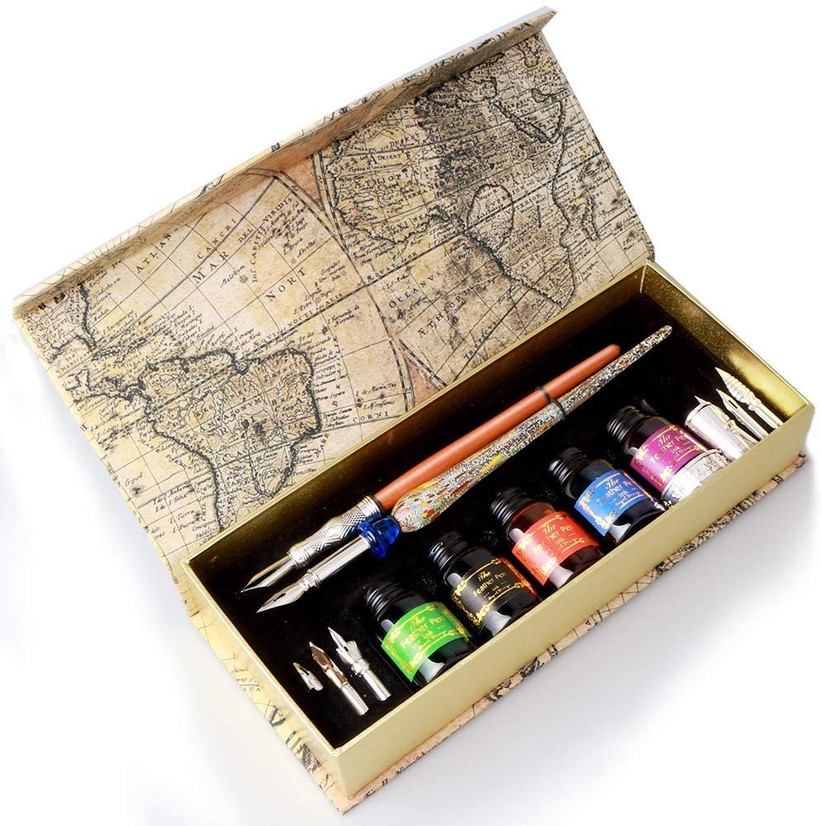 You'll want to put this calligraphy set on display as well as dive into all the colours and nibs. It's not just beautiful to look at, but you can create gorgeously-crafted invites whether you're a beginner or experienced calligrapher. This set will last you for years to come.
Biodegradable Eco Glitter – £4, Hobbycraft
Did you know most glitter is a microplastic that can leach chemicals into sensitive ecosystems and be consumed by wildlife? This bio-glitter is made from naturally biodegradable cellulose and is 92% plastic free. It comes in a variety of colours and is responsibly sourced.
Pressed Violets – £2.92, Ebay
These dried violets come in a beautiful mix of colours: purple through to pinks and yellows. They're great for DIY invites.
Hand-Dyed Cotton Ribbon – £9.27, Etsy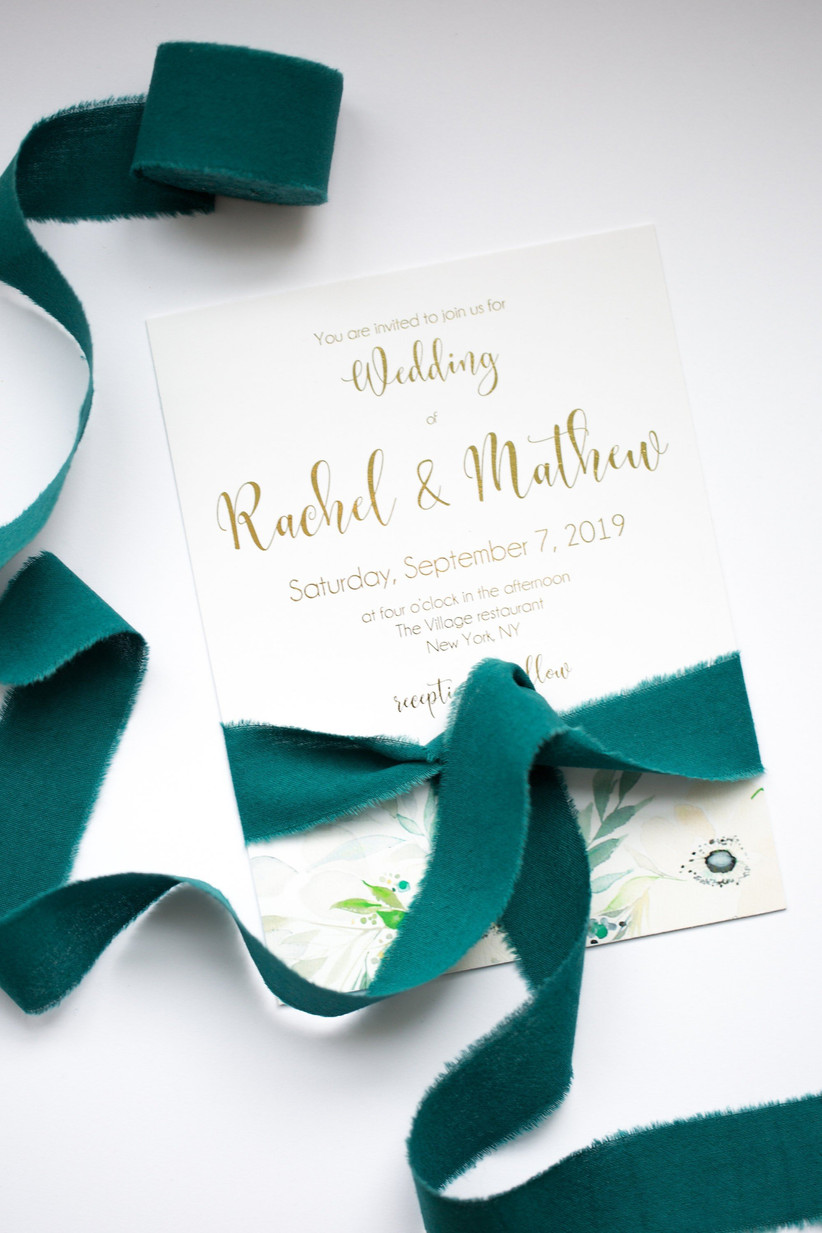 We adore this teal-hued vegan ribbon (although you can get other colours too). It's made from pure raw cotton and hand-dyed using eco textile dye. It's rustic yet elegant and would look so good wrapped around invites.
Skeleton Leaves – Free
Skelteton leaves can be bought, but it's actually so easy to make skeleton leaves yourself. Here's two different ways to make skeleton leaves and then you can dye them the exact colour you want with eco-dye or spray paint them.
Wildflower Seed Card – £12.99, Plantable Seed Paper
There are lots of different recycled cards and envelopes on offer: some are plantable and contain wildflower seeds, while others are studded with petals. Some is made from lokta paper – an eco-friendly product made from the bark of the Daphne bush in Nepal – and other is 70% cotton with 30% recycled paper.
Glitter Washi Tape – £13, Conscious Craft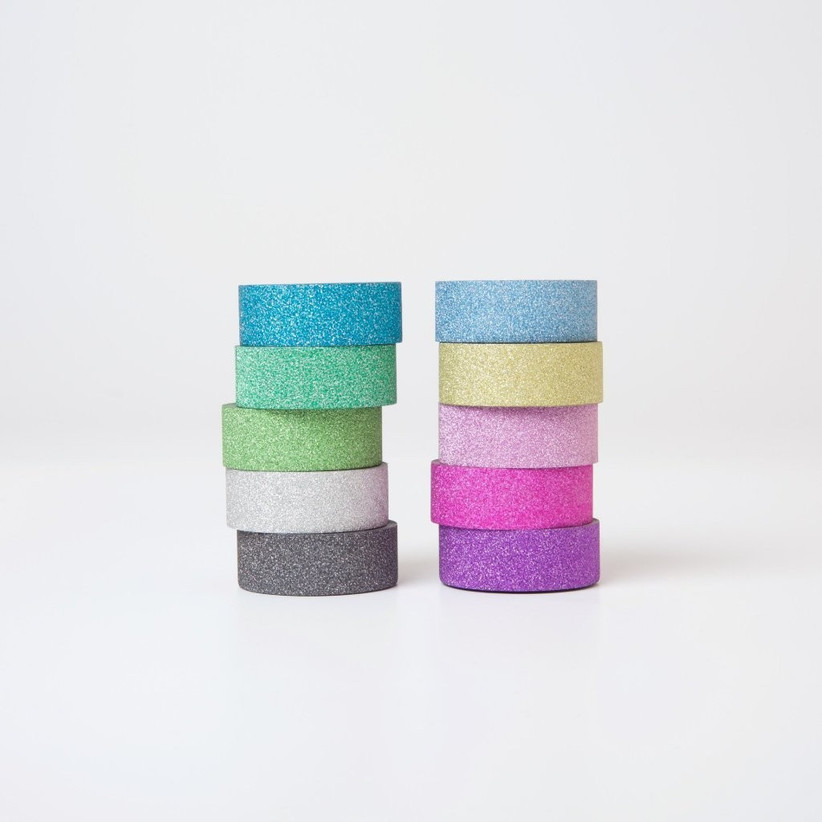 This creative glitter Washi tape is an eco alternative to sellotape. This set includes 10 different colours and is made from natural fibres.
Felt Flowers and Leaves – From £4, Conscious Crafts
These adorable felt leaves and felt flowers are made from wool and are a biodegradable alternative to plastic decorations. It's a lovely touch to a botanical theme.
READ MORE: 9 Ways to Save Money on Your Wedding Stationery
We've got lots more DIY wedding ideas in our Wedding DIY section – like this cotton bunting tutorial.