The 11 Hottest Wedding Invitation Trends for 2021
Send your guests fresh wedding invitations they won't have seen before, with our guide to the best of 2021's stationery trends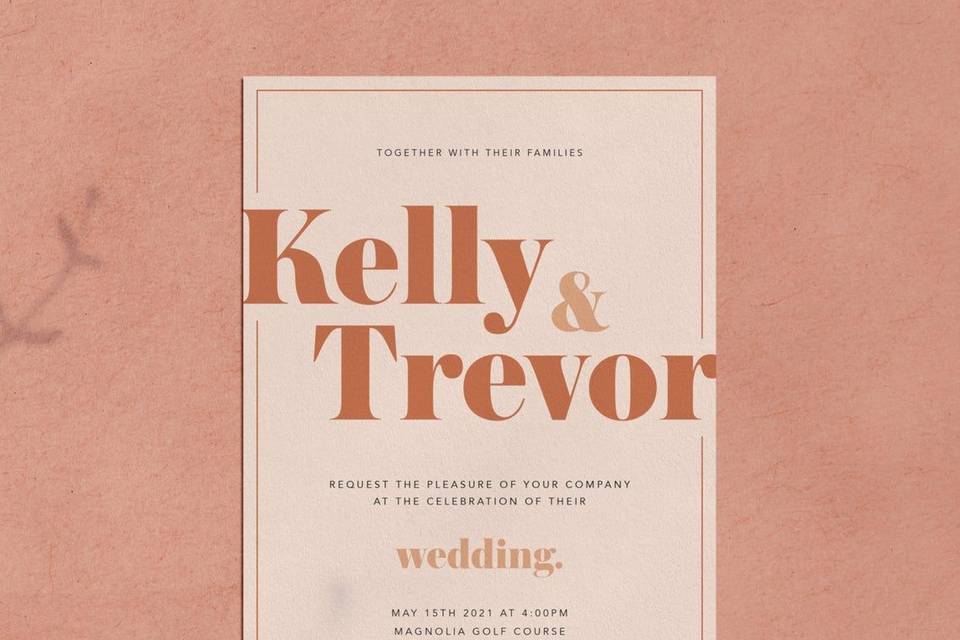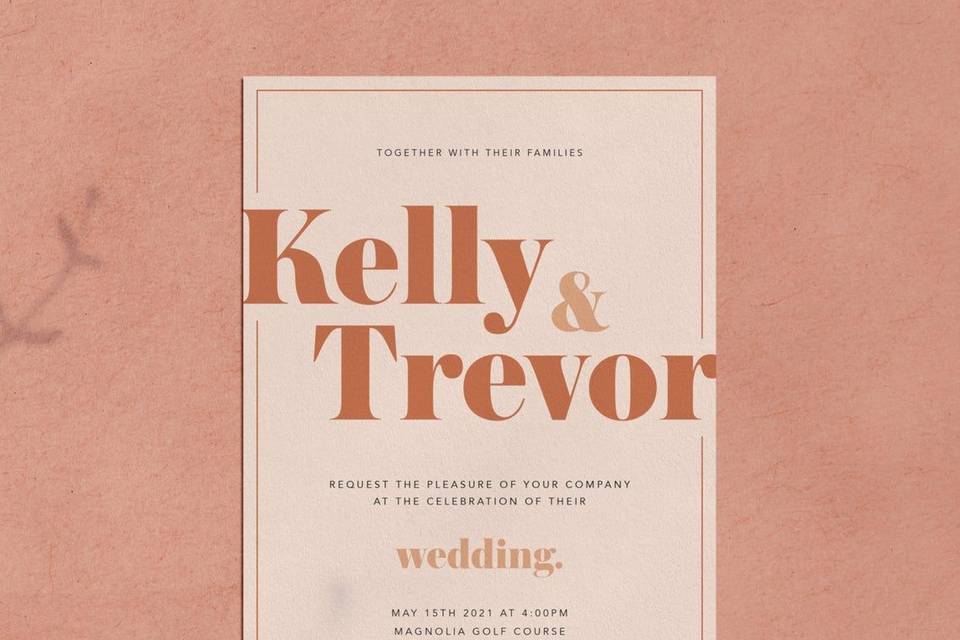 Do wedding invitations really matter? We say a firm yes.
They're the first glimpse your guests will get of your day, giving them an idea of what to expect. As such, your invites are the easy way to build anticipation. We're bringing you 2021's hottest stationery trends to help you get your whole guest list excited about your celebration.
You don't need to spend a fortune on wedding invitations to make an impact. Some of these trends are on the spendier side, but others are more affordable - and can even be created at home, if you're happy to do some DIY! Once you've agreed on a style you both love, you can start thinking about your wedding invitation wording. While there may be a lot of key information to get across, it's best to keep things pared back on the invites themselves, so you don't take away from the design. Setting up a wedding website is a great way to gives guests essential details without cluttering your stationery.
Whether you're planning a boho celebration or a formal party, there's a look out there to suit your style. These are the need-to-know wedding invitation trends for 2021, to keep your stationery feeling fresh and get those RSVPs flooding in.
NB: We have included third party products to help you navigate and enjoy life's biggest moments. Purchases made through links on this page may earn us a commission.
READ MORE
1. Purple
Say goodbye to millennial pink; the rosy shade we've got used to seeing all over fashion and interiors is set to be dethroned in 2021 by purple, both pastel and bright. It's a versatile colour, and can be used to create anything from nature-inspired stationery designs (lavender) to decadent glamour (indigo and plum).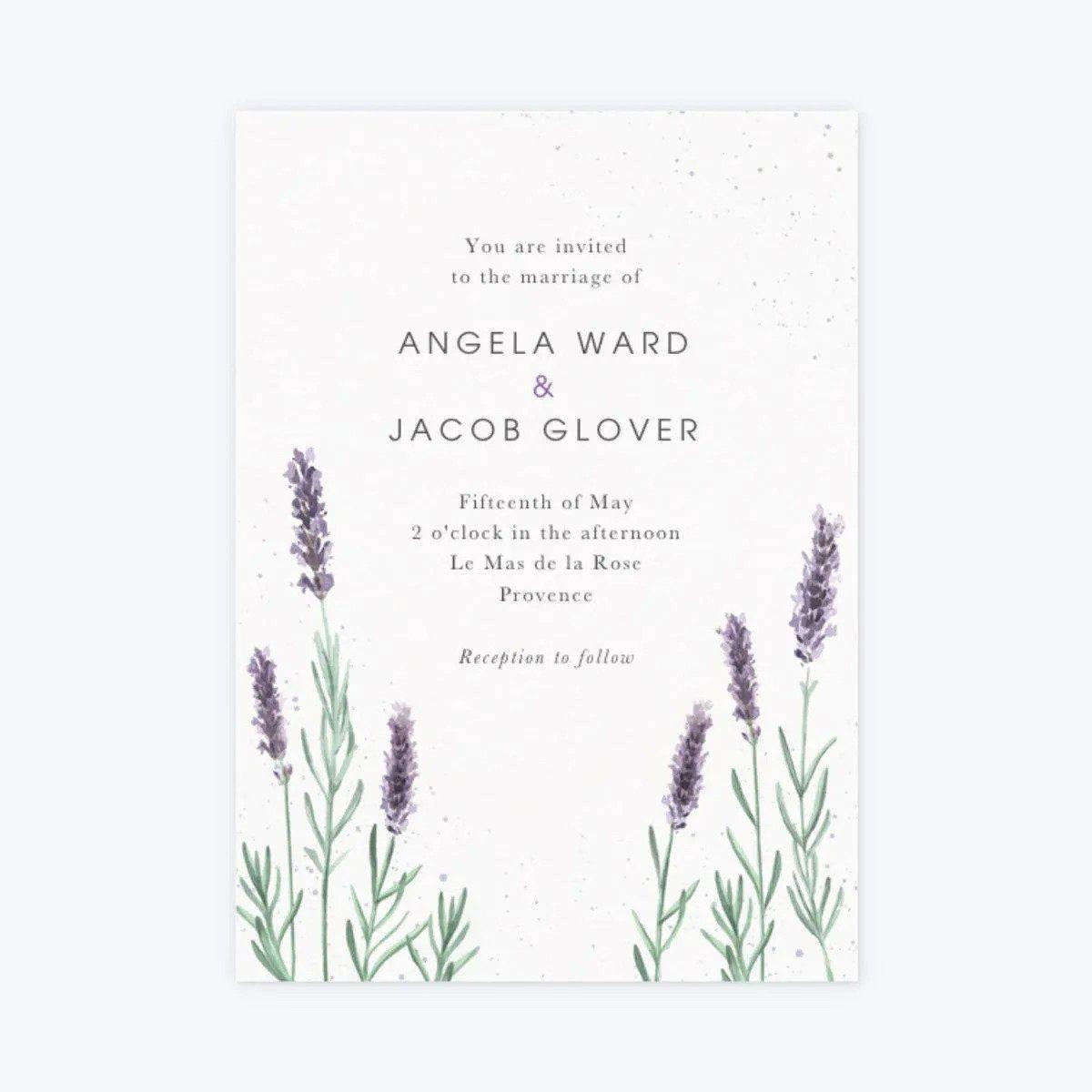 Lavande wedding invitation: Papier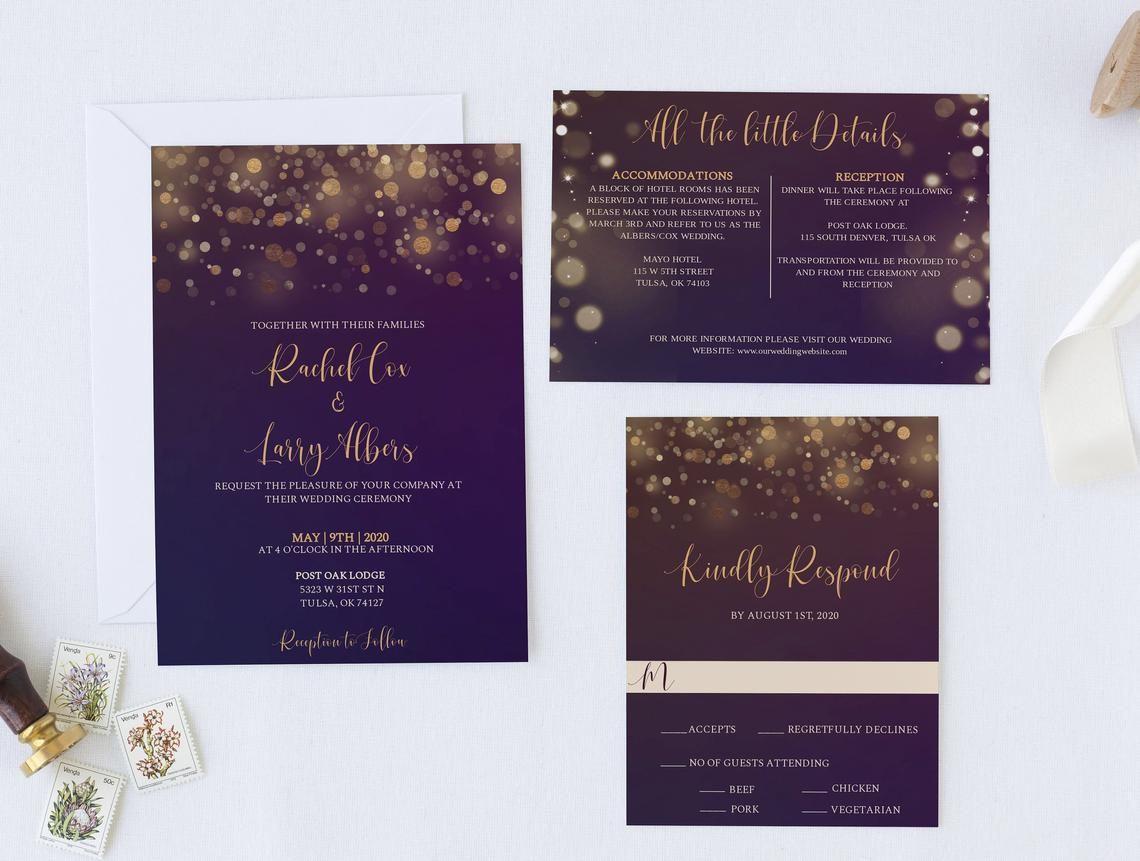 Olivia downloadable wedding invitation template: PrairiePaperBoutique at Etsy
READ MORE: A Guide to Writing Wedding Thank You Cards
2. Eco-Friendly Materials
With interest in ways to make weddings more sustainable growing, it makes sense to consider your stationery carefully in these terms. You could go entirely paper-free with digital invitations and a wedding website. But if you're keen on the idea of printed invitations, you can make them more eco-friendly by choosing sustainably sourced, recycled card, as well as vegetable-based inks.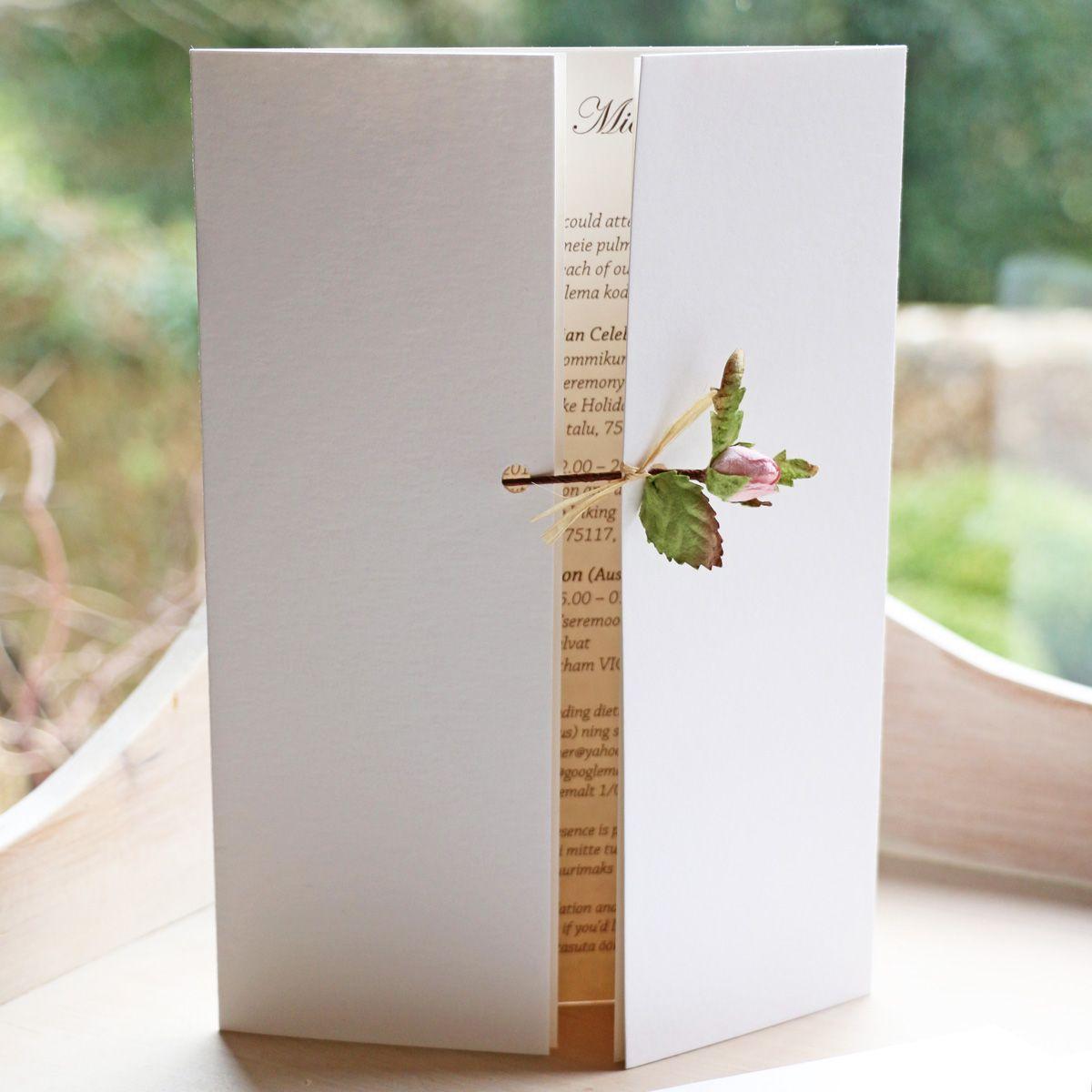 Rose wedding invitation on 100% recycled card: Paper Tree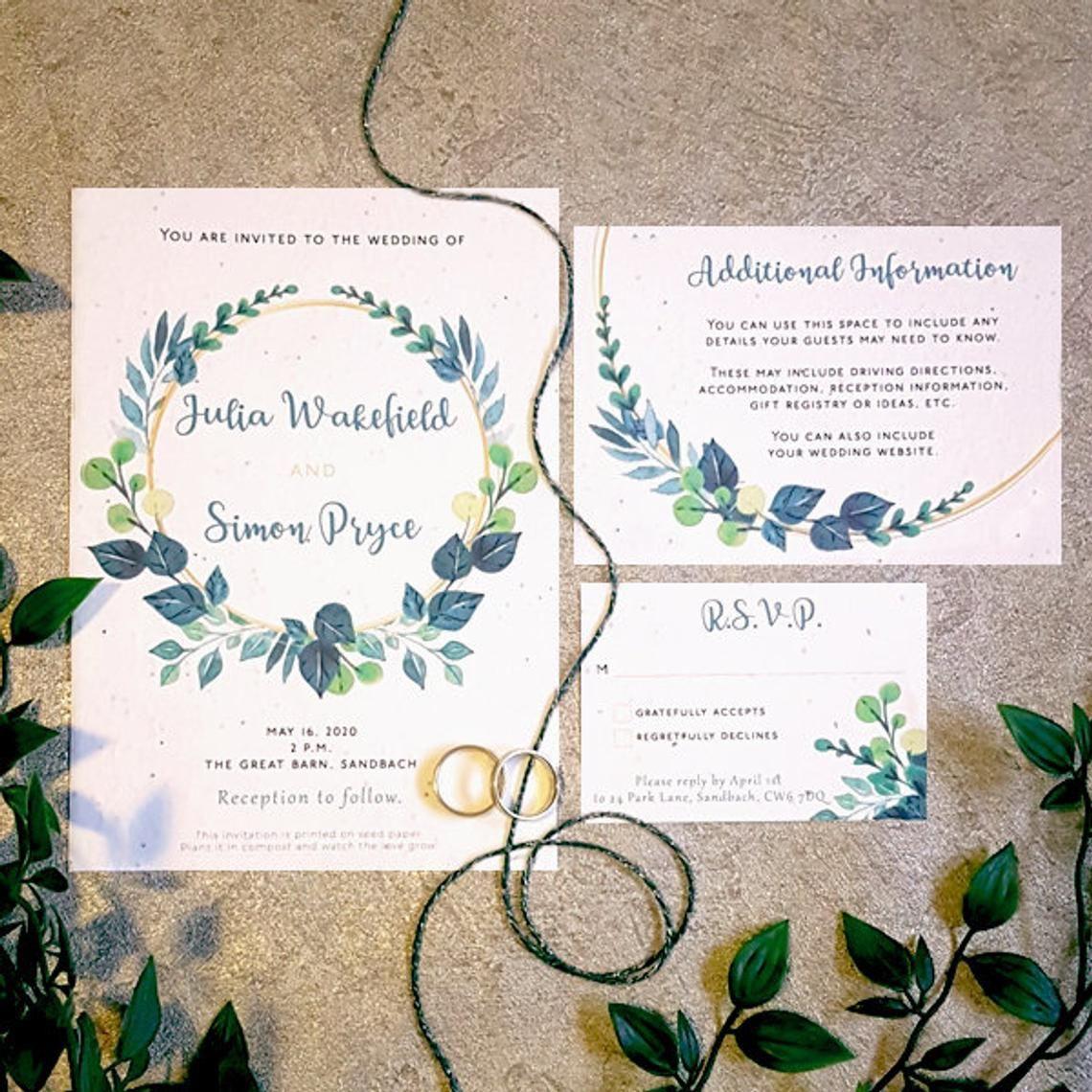 Foliage wedding invitation on plantable seed paper, LittleGreenPaperShop at Etsy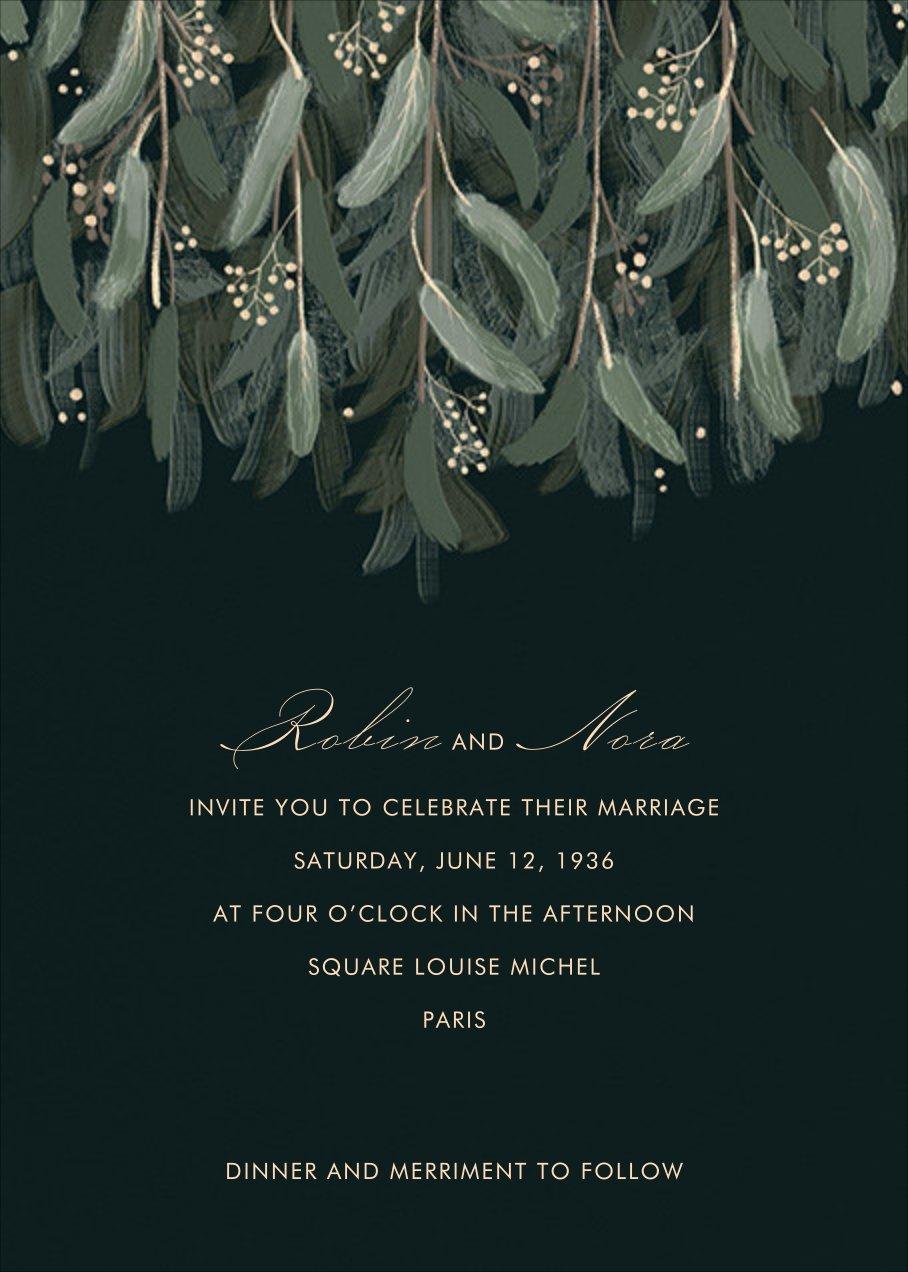 Verdure digital invitation: Paperless Post
READ MORE: 27 Enchanting Winter and Christmas Wedding Invitations
3. Minimalist
It may not seem like pared-back invitations will reveal much about your wedding, but they'll definitely make it clear that the look of your big day will be all about contemporary elegance. You can also use pops of colour to preview your palette.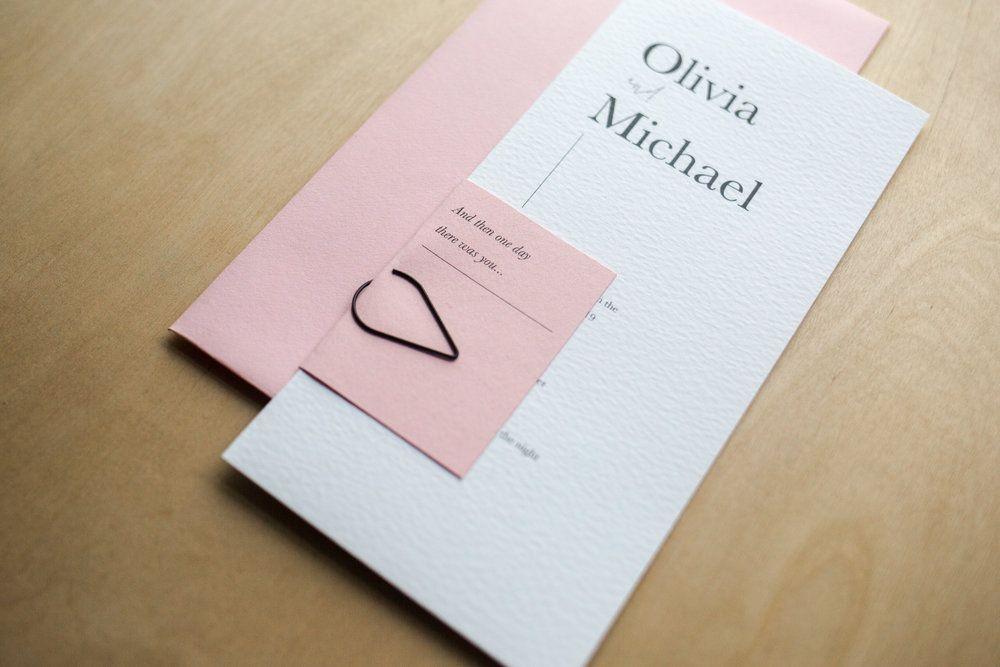 Modern Minimalist wedding stationery, Sincerely May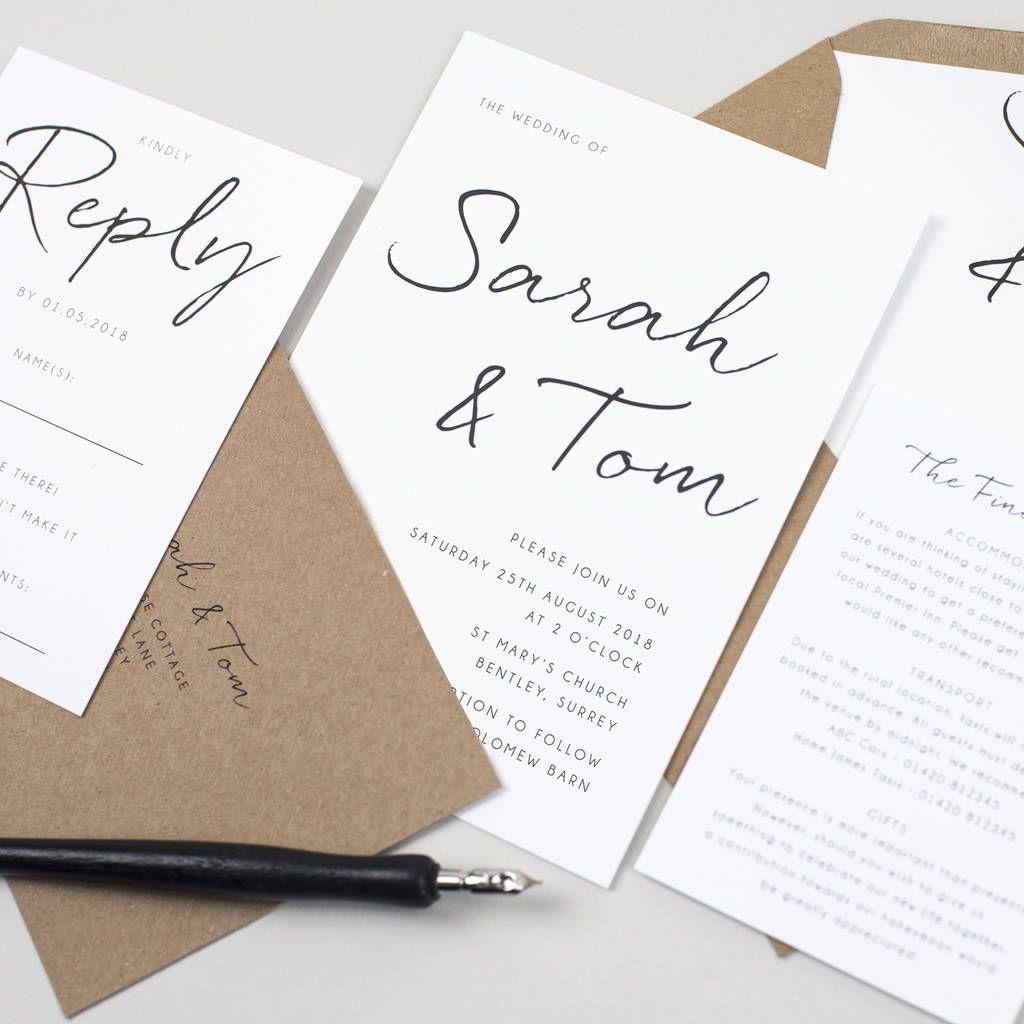 Minimalist wedding invitations: Pear Paper Co at Not On The High Street
4. Watercolour, But Make It Edgy
Watercolour stationery designs are usually associated with pastels. However, over the last couple of years we've seen innovative wedding stationers using moodier hues, including burgundy and black, to create a richer finish and set the tone for a contemporary-cool celebration.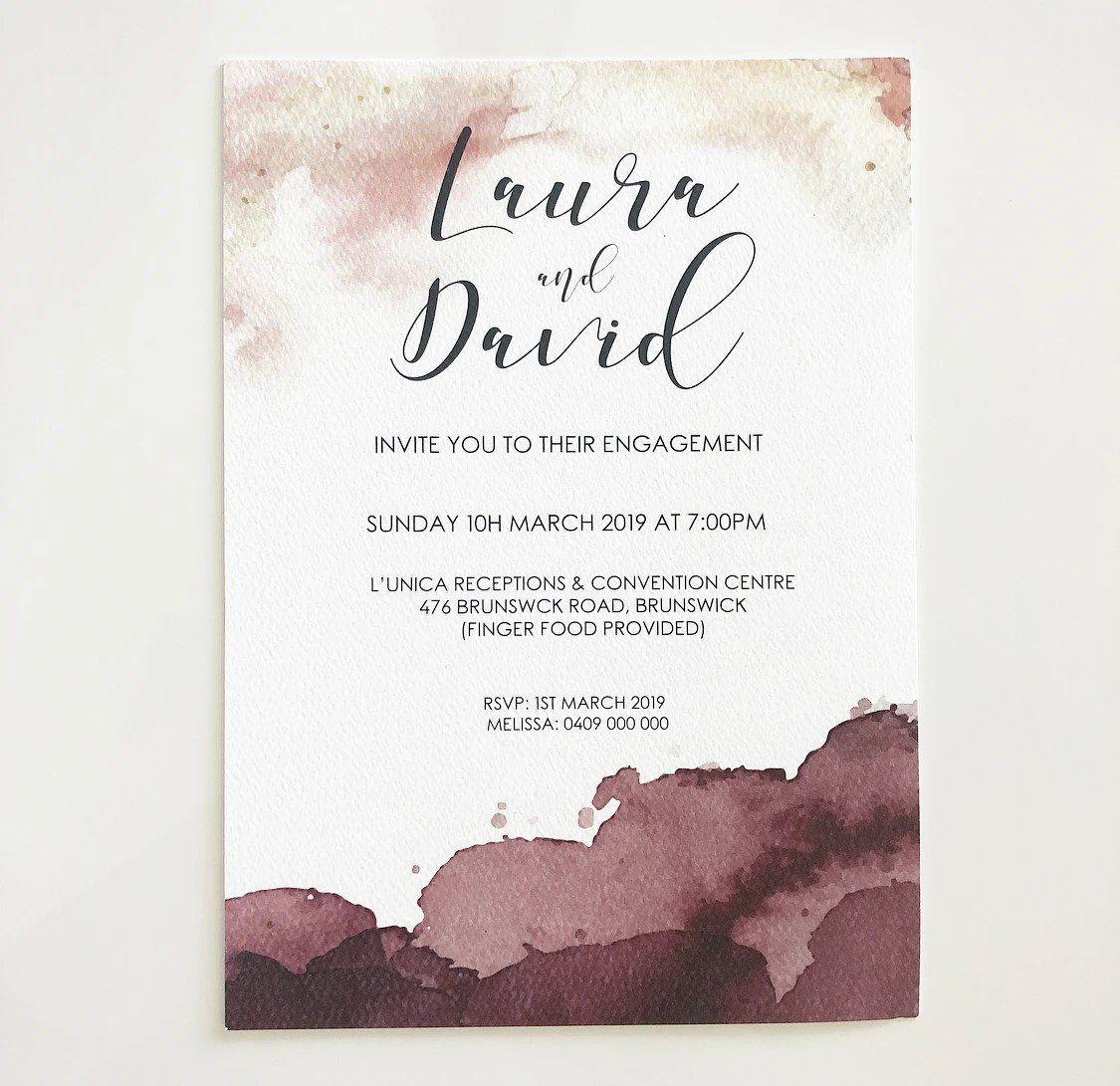 Laura & David invitation: The Printed Love Co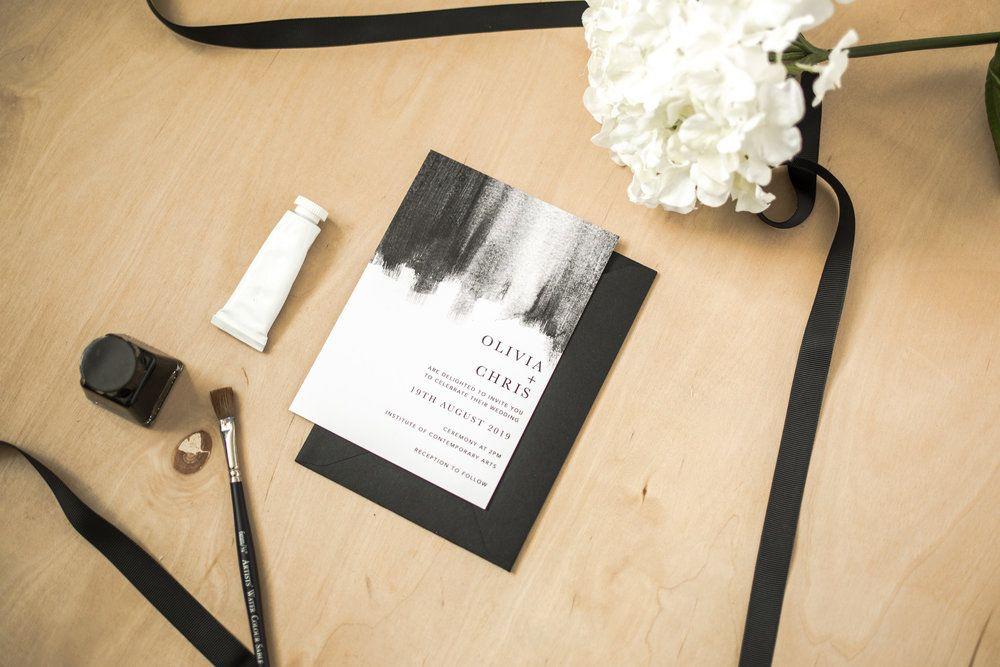 Watercolour Wash wedding stationery: Sincerely May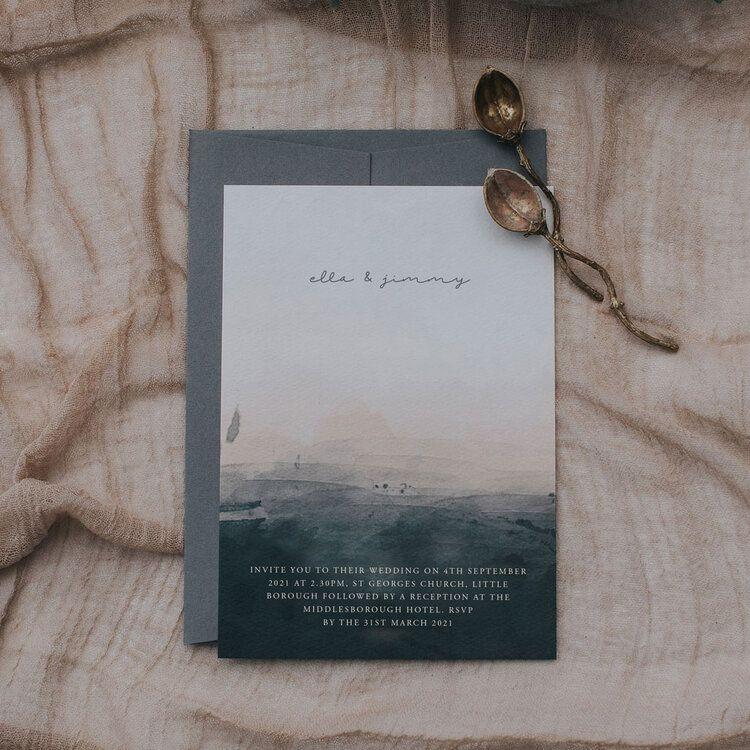 Dusty Desire wedding stationery: Lilac & White
READ MORE: Wedding Money Poems: How to Ask For Money Instead of Gifts
5. Celestial
Look to the night skies for a different take on nature inspiration - we're talking designs with stars, clouds, the moon, the Northern Lights. You could even feature your zodiac signs! This trend feels romantic and dreamy, and would suit most styles of wedding.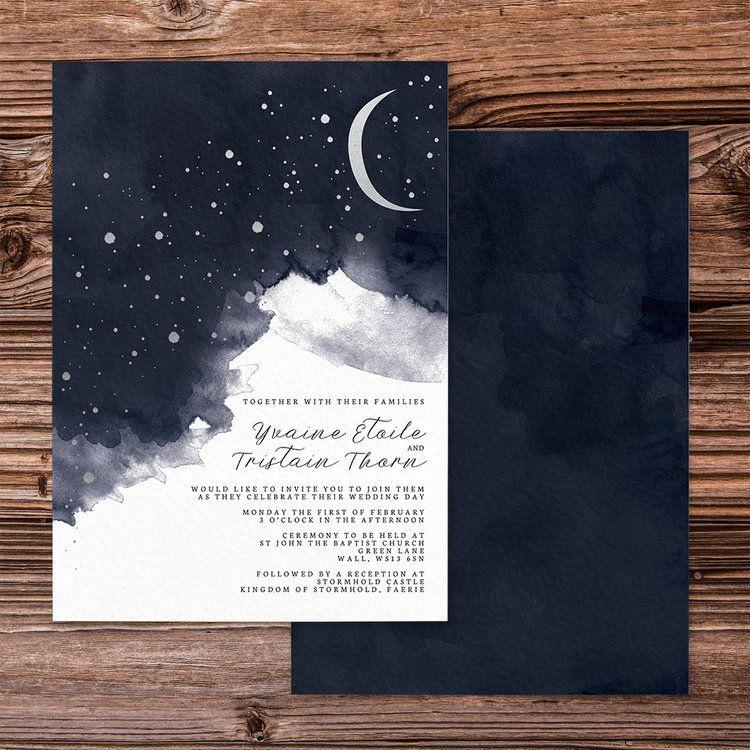 Starry Night wedding stationery: Hawthorne and Ivory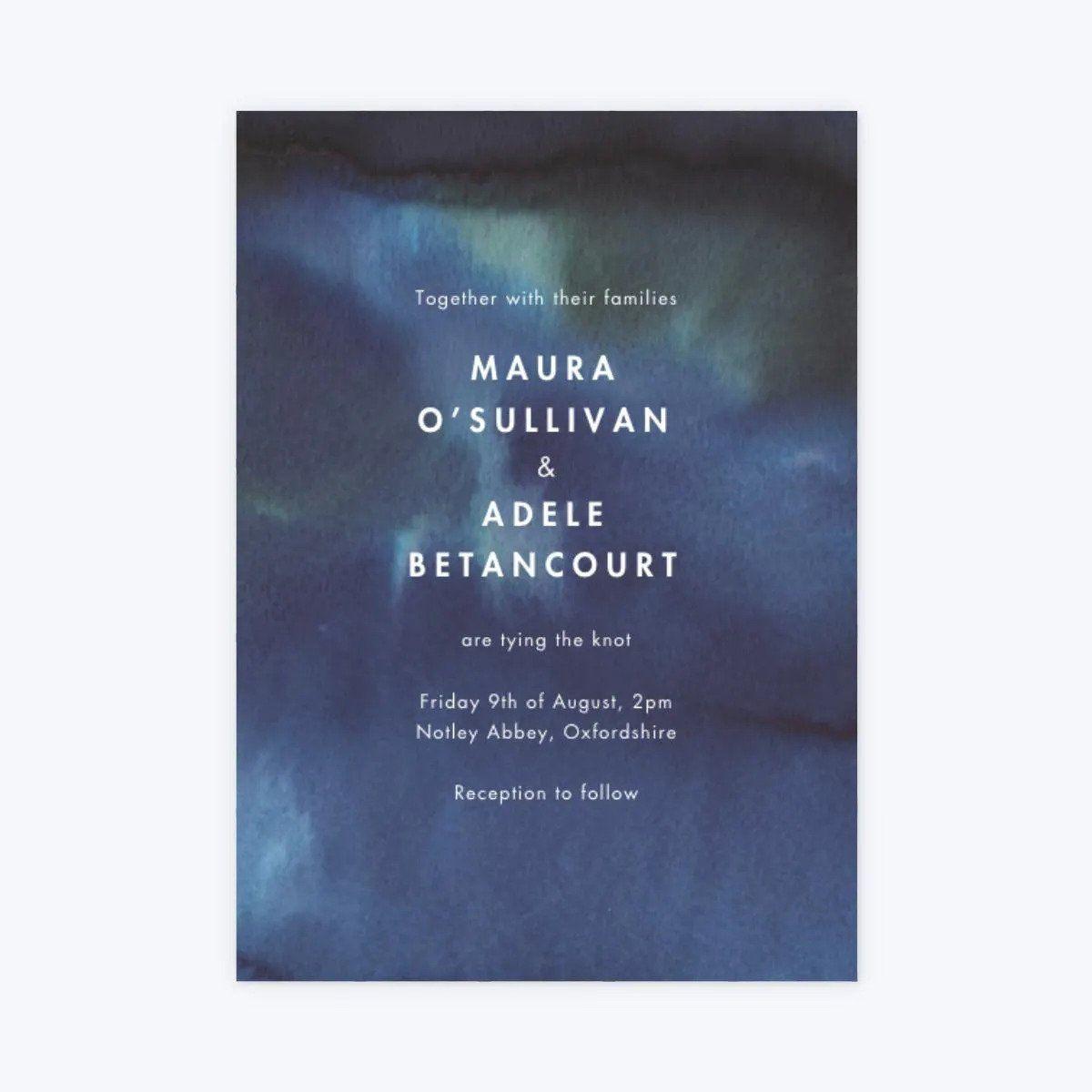 Aurora wedding invitation: Papier
6. Bespoke Artwork
There's been an increasing emphasis on personalised weddings, with everything from the décor to the menus reflecting each couple's individuality. How far you want to take this is up to you; for some, the prospect of personalising every last wedding element is exhausting; for others, a unique day is the dream. One easy way to personalise your day is to commission a bespoke illustration or graphic for your stationery - and that's very on trend. Venue illustrations are popular, but you can work with your chosen illustrator to include anything you want, whether it relates to your wedding or to your lives together.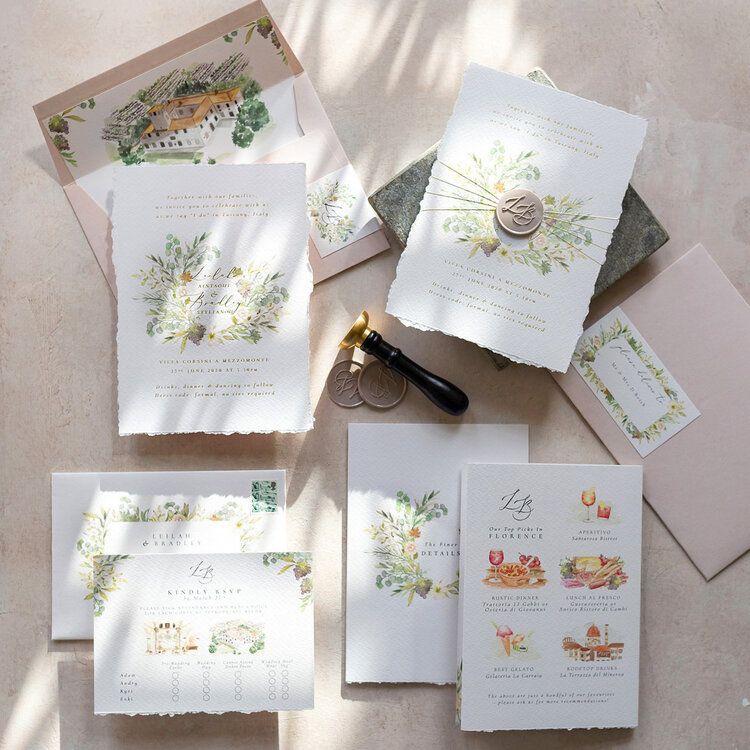 Bespoke wedding illustrations: Pingle Pie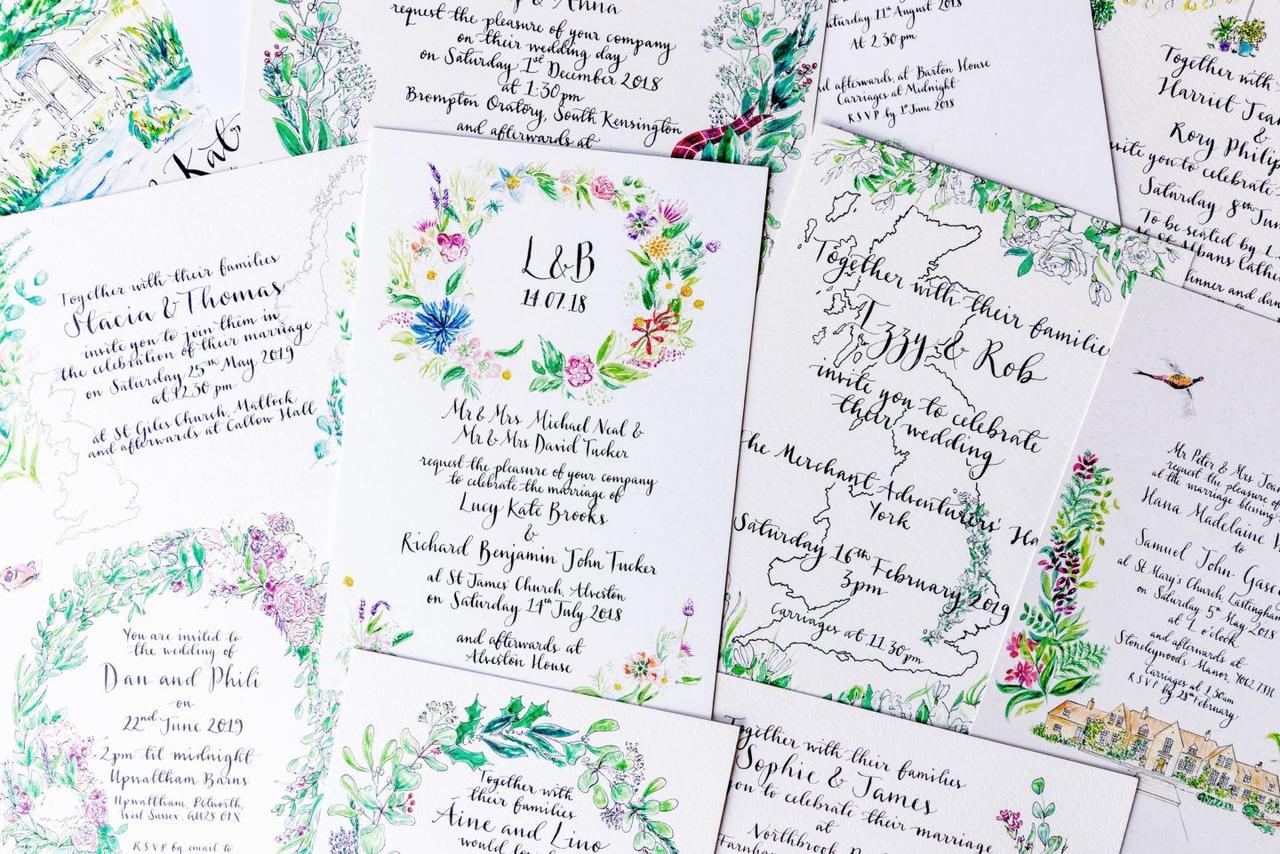 Bespoke wedding illustrations: Polly Crossman
READ MORE: 37 Ways to Personalise Your Wedding
7. Juicy Fruits
Foliage has dominated wedding invitation design for some time now. For a 2021 take on nature-referencing styles, we're pegging fruit as the next big thing. The zestier the better - the mood behind this look is a joyous celebration of life.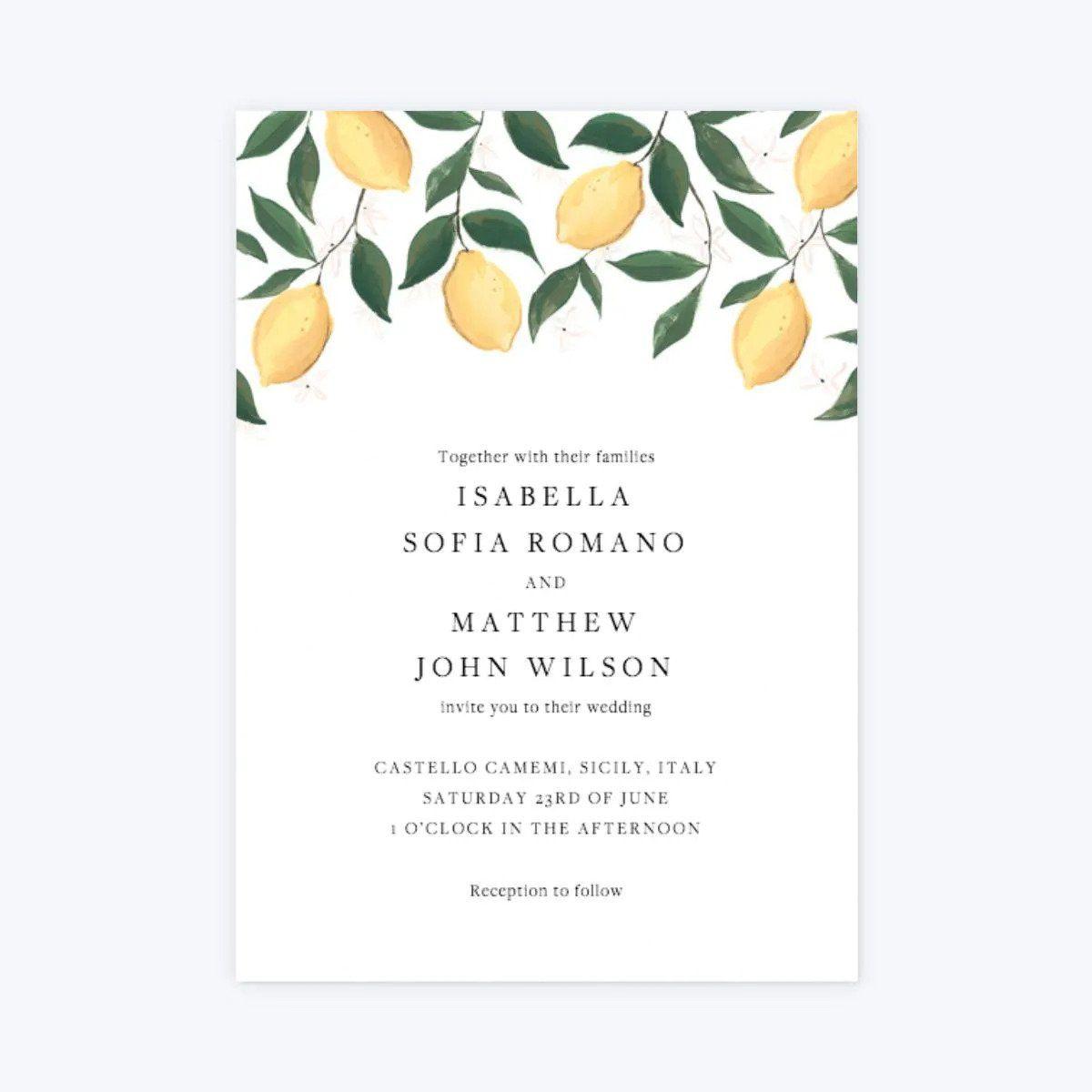 Lemon Tree invitations: Papier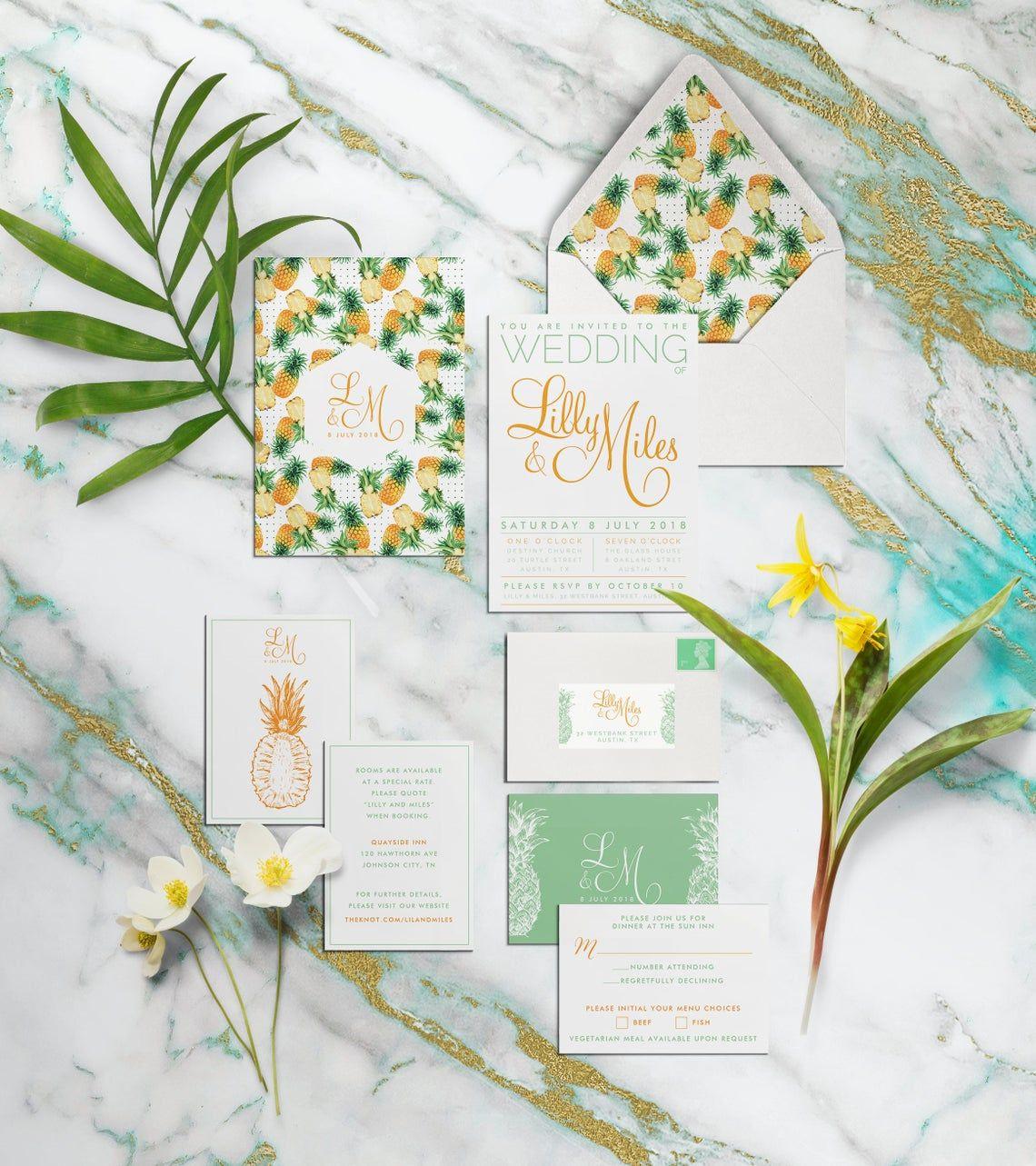 Tropical wedding stationery: KatieBarnesStudio at Etsy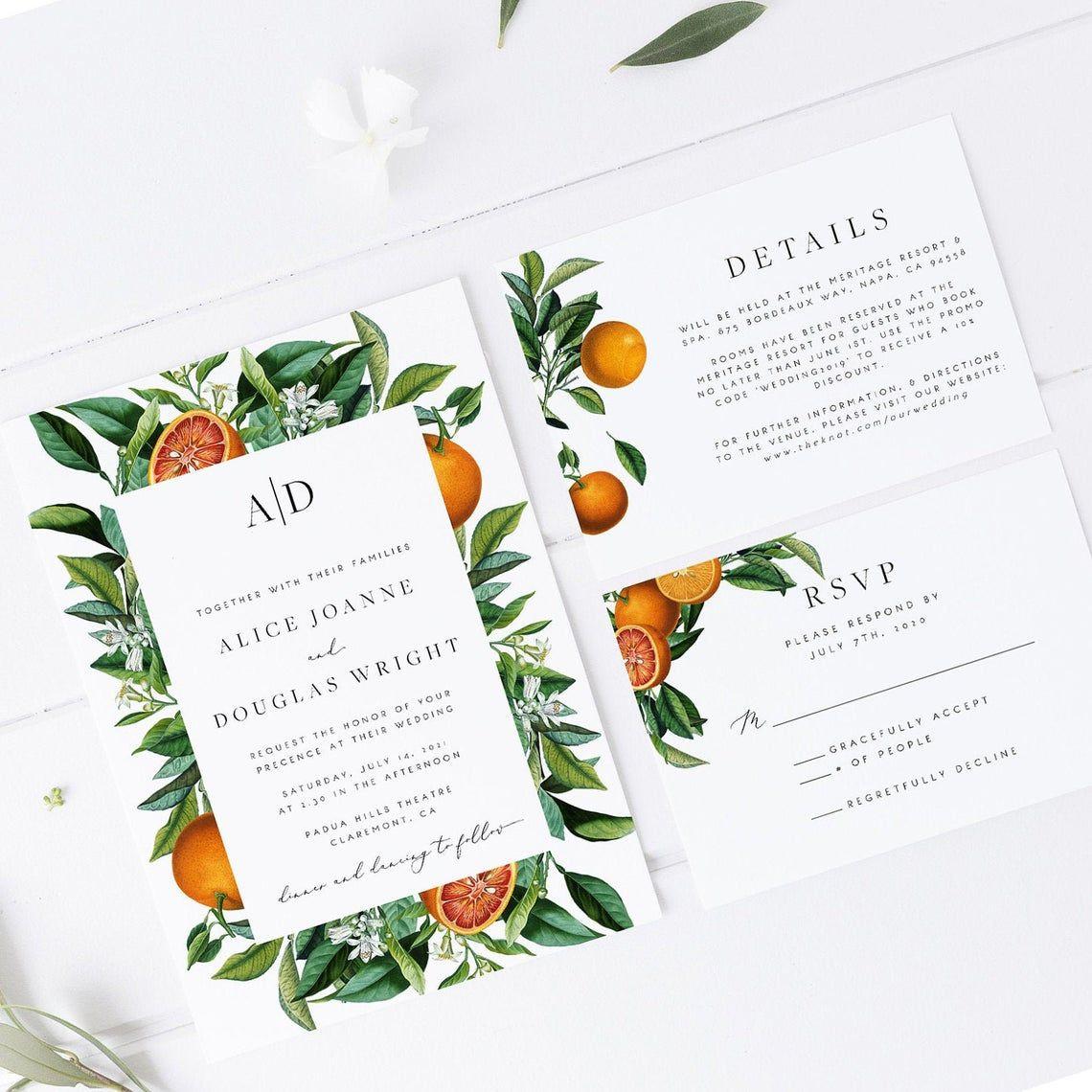 Citrus wedding invitation set: Blanchepaperie at Etsy
8. Subtle Embellishments
We're not talking over-sized ribbons or attention-grabbing materials. The 2021 mood when it comes to invitation embellishments is delicate and refined. You're looking for details that can elevate your stationery, rather than overwhelm it. Chic finishing touches include wax seals in light shades, touches of metallic and pretty envelopes.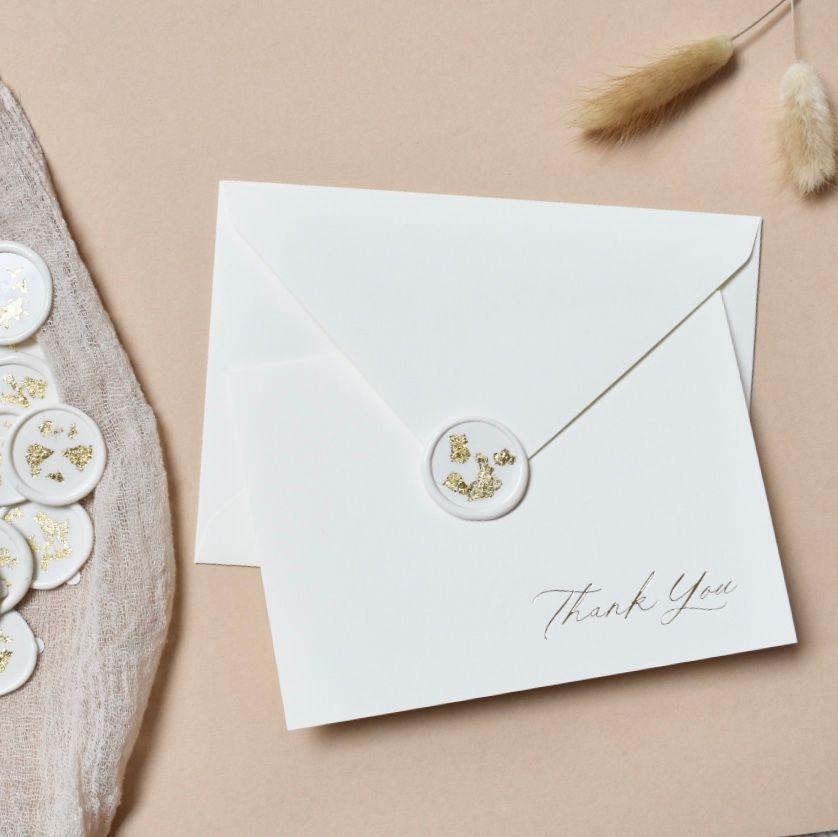 Wax seal: 315 Press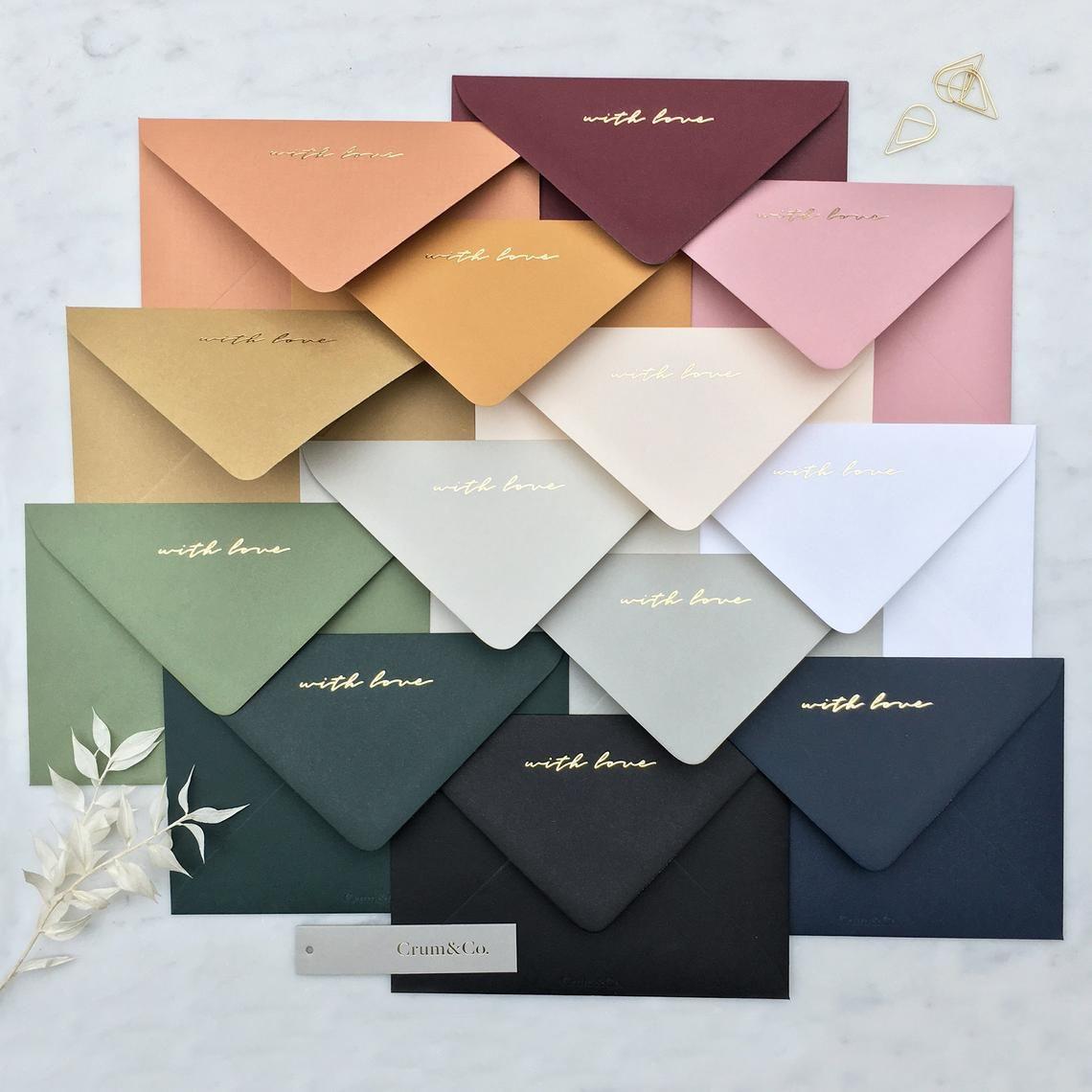 Gold foiled envelopes: CrumandCo at Etsy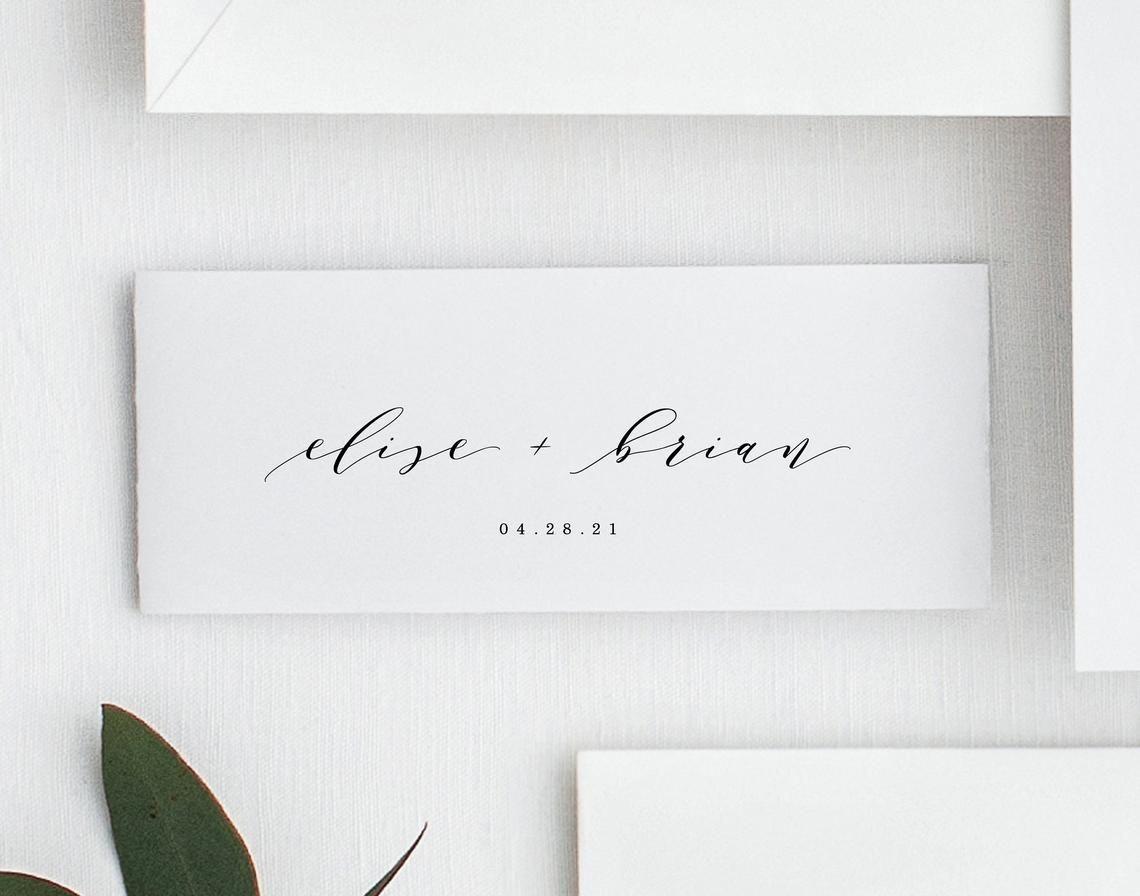 Wedding belly band template: GeorgiaBlueDesignCo at Etsy
READ MORE: Wedding Planners: The Best Wedding Planner Books for Organised Brides
9. Vellum
Over in the fashion world, the 2021 catwalk collections have almost uniformly leaned towards a dreamily romantic mood so far. In wedding stationery terms, we're translating this to vellum, a delicate, translucent material that can add an ethereal feel to your invitations.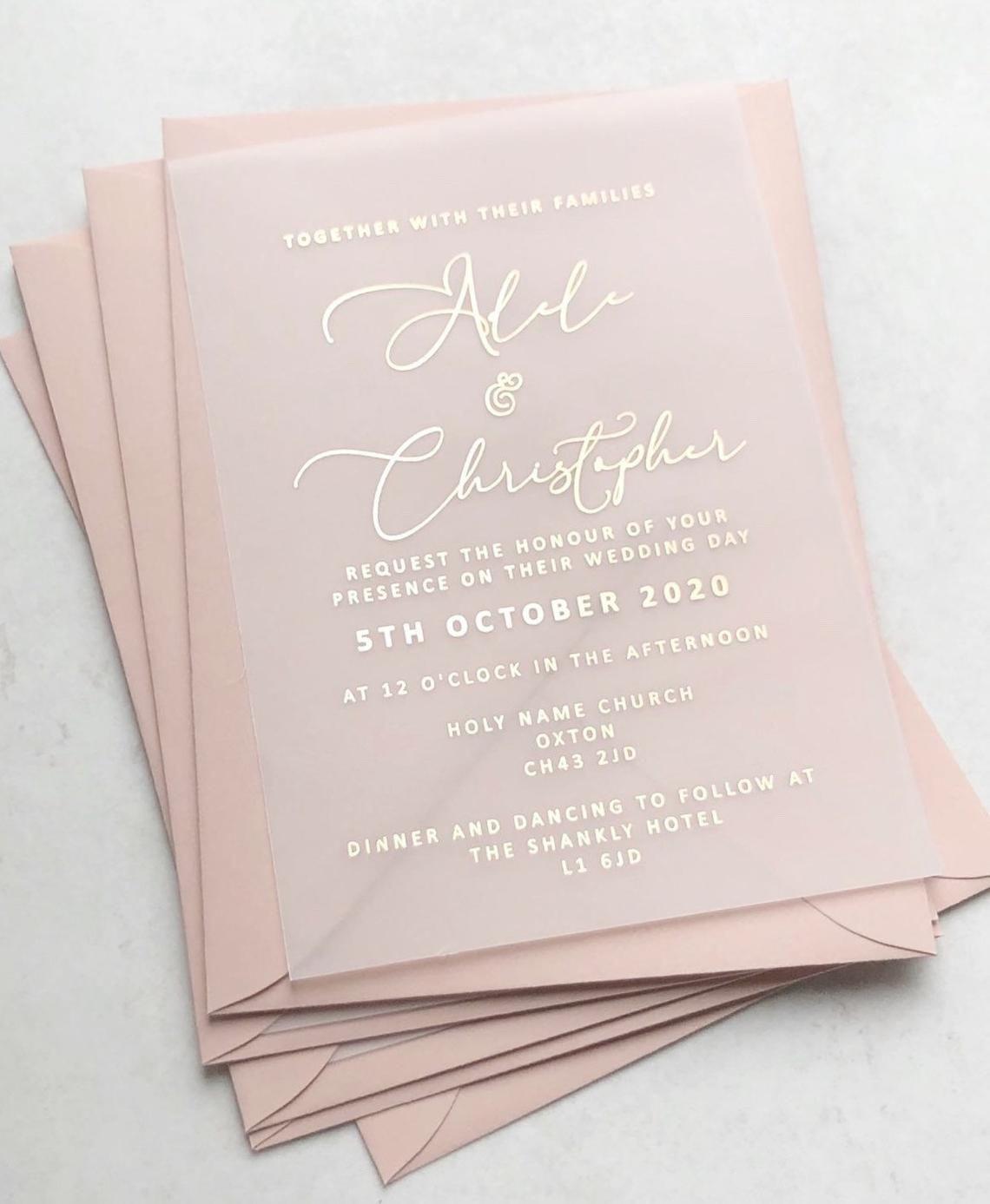 Foil-vellum invitation: LeighLouiseCreative at Etsy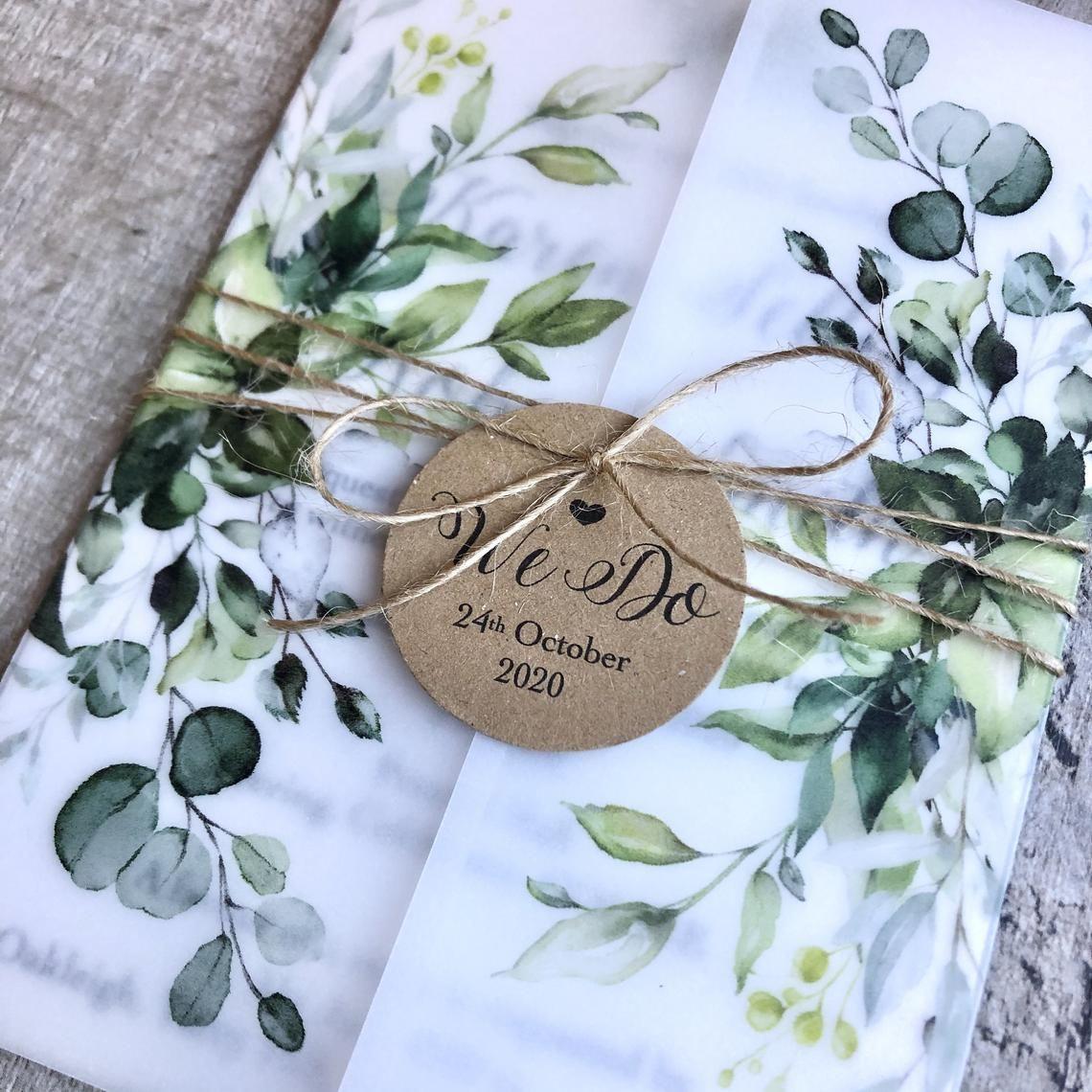 Rustic botanical wedding invitations: PumpkinWeddingDesign at Etsy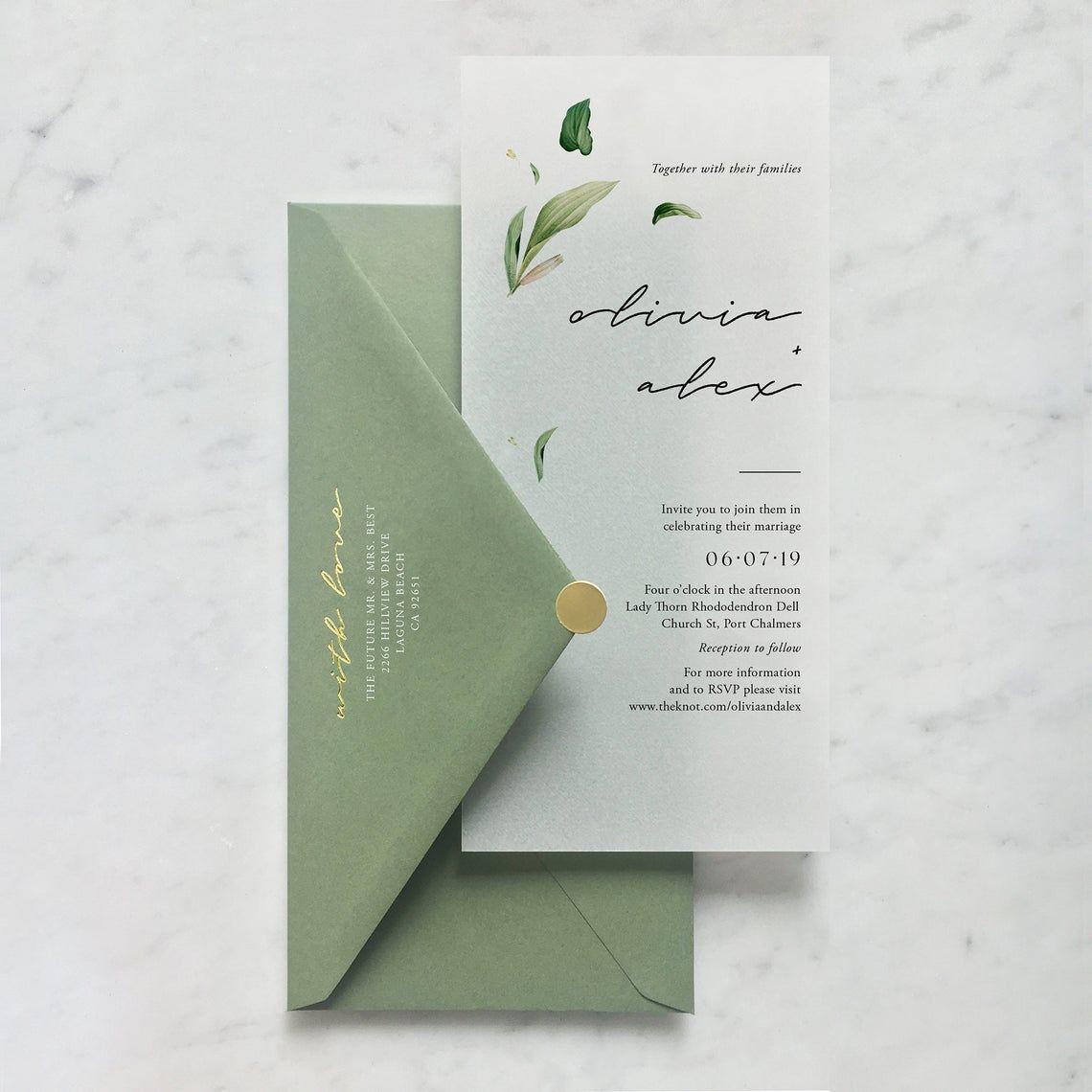 Vellum botanical wedding invitation: CrumandCo at Etsy
READ MORE: Wedding Card Quotes: 45 Funny, Wise & Romantic Quotes
10. Art Deco
This iconic 1920s and '30s style is set for a revival in 2021. Characterised by geometric patterns, sculptural shapes and metallics, Art Deco works particularly well for wedding invitations, with its glamorous association with Great Gatsby-era decadence.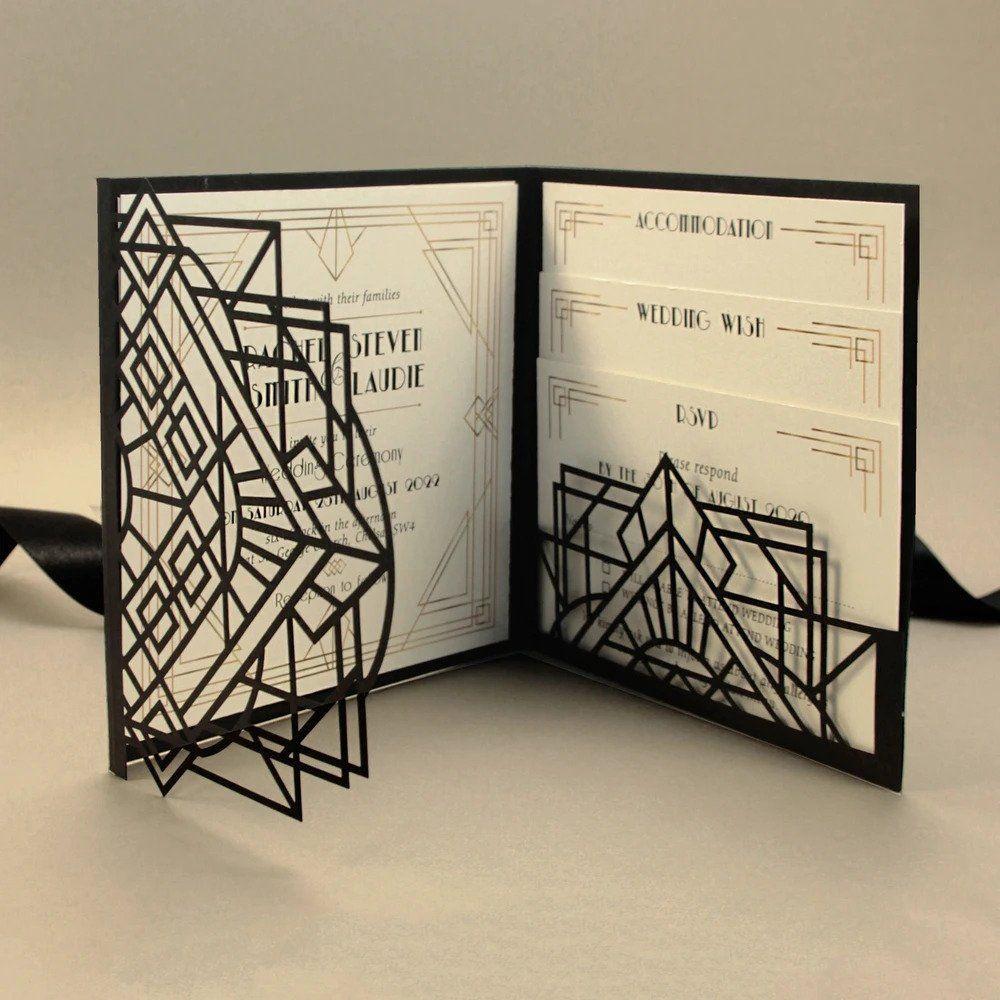 Art Deco laser-cut wedding invitation suite: Cartalia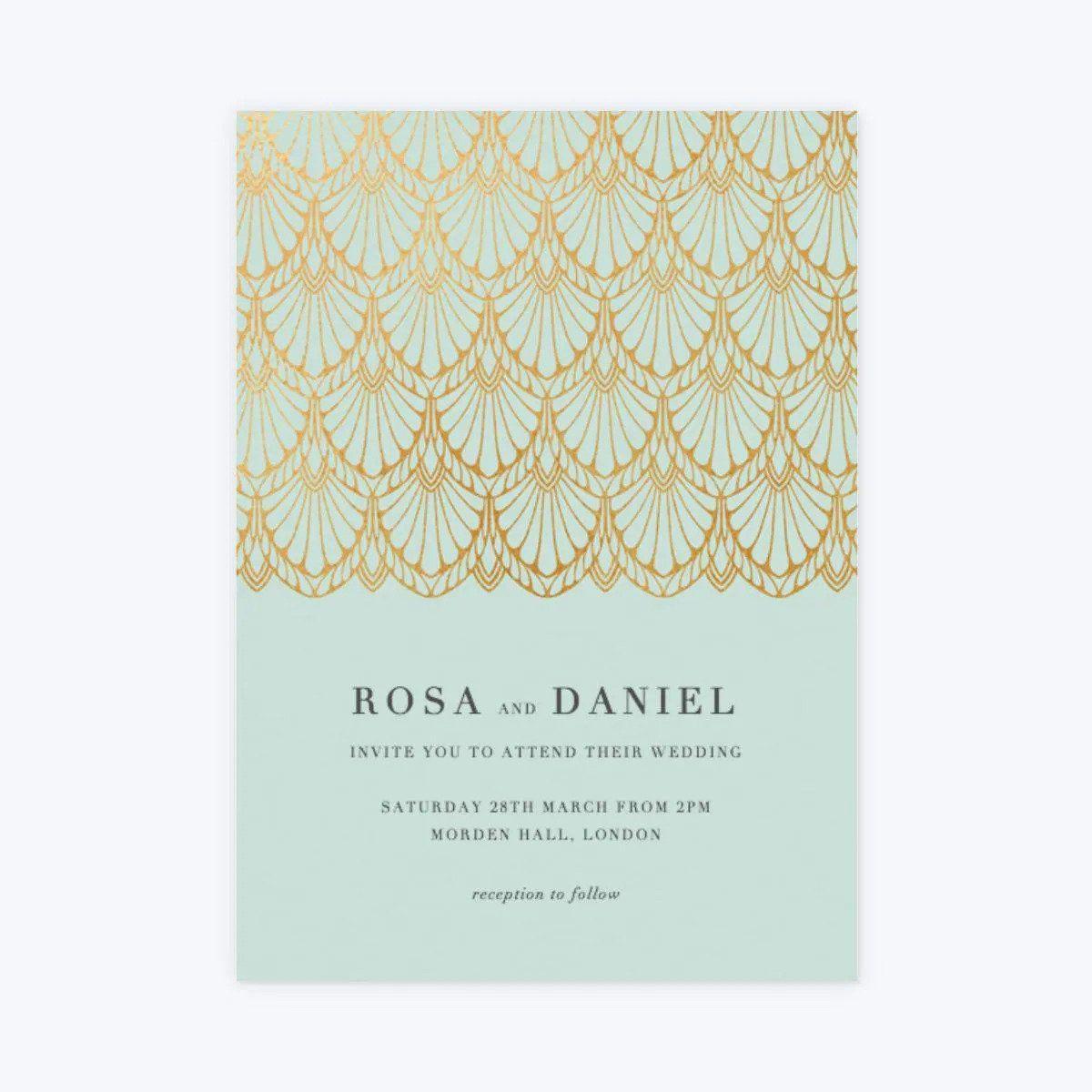 Palmette wedding invitations: Papier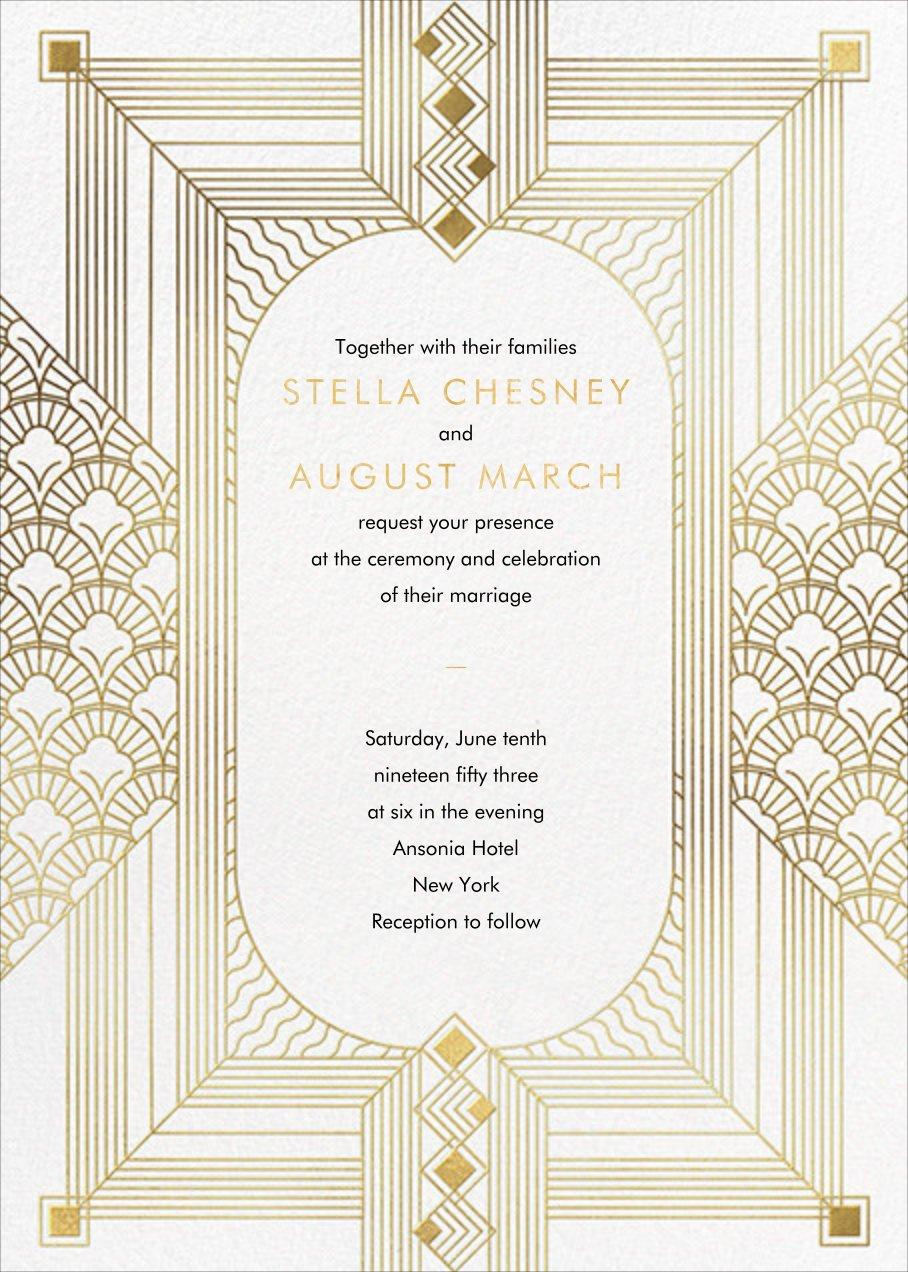 Ruhlmann wedding invitations: Paperless Post
READ MORE: 1920s Wedding Stationery: 23 Dazzling Designs
11. Seventies Cool
Another key vintage reference for 2021 wedding invitations is the spirit of the 1970s. This isn't a look that would suit a formal or boho wedding, but for a contemporary-cool, laidback celebration, it's absolutely spot on.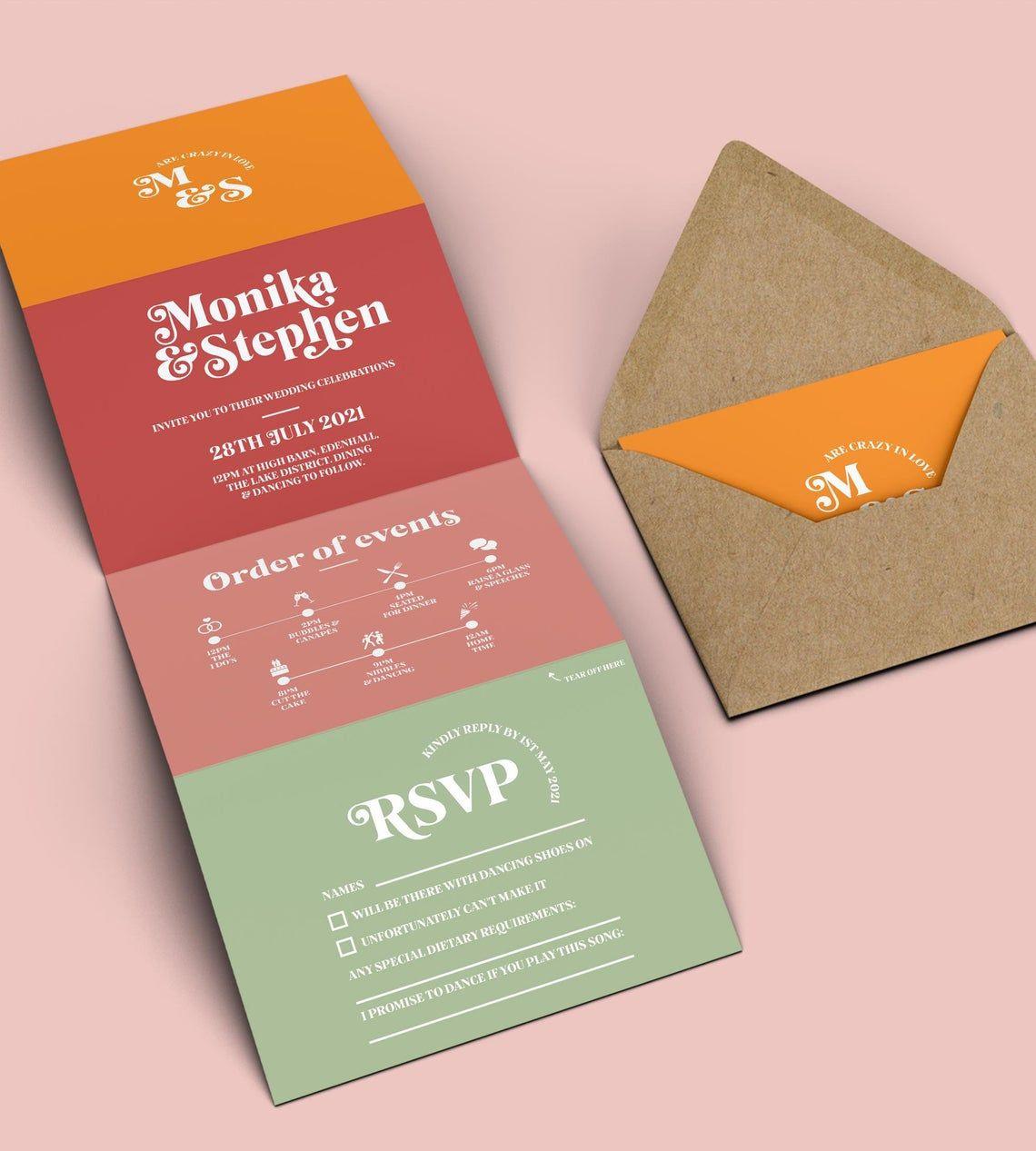 1970s wedding invitations: BlushAndBlossomPaper at Etsy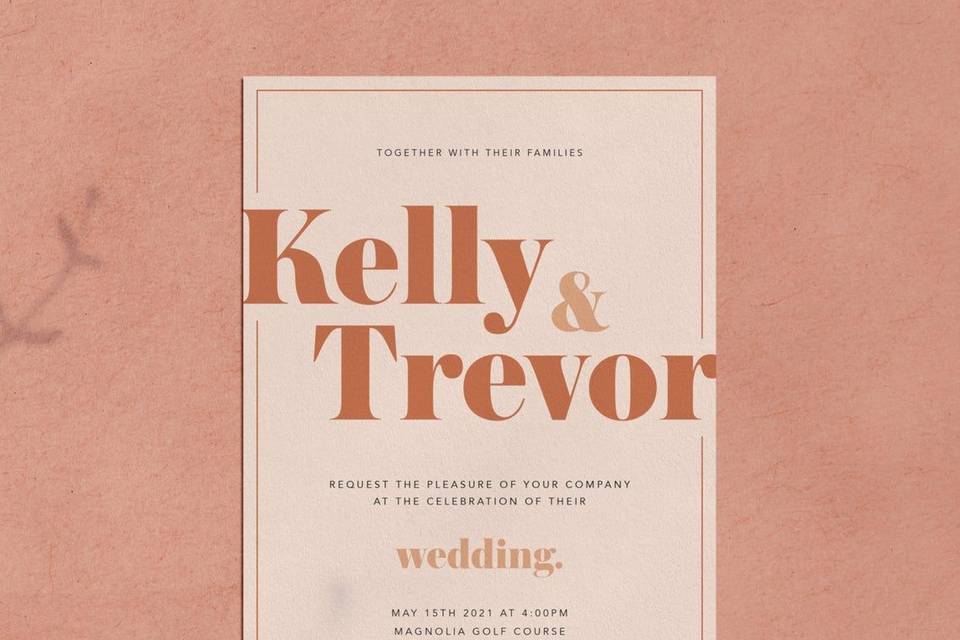 '70s-inspired printable wedding invitation suite: RedBearDesignStudio at Etsy
Find out what else is set to be hot in the wedding world with our style forecast of the 10 biggest wedding dress trends for 2021.