Discover the App That Makes Sharing Wedding Photos Easy
Don't miss out on a single wedding snap with the game-changing WeSnapThat app that allows guests to easily and safely share every moment captured on your big day.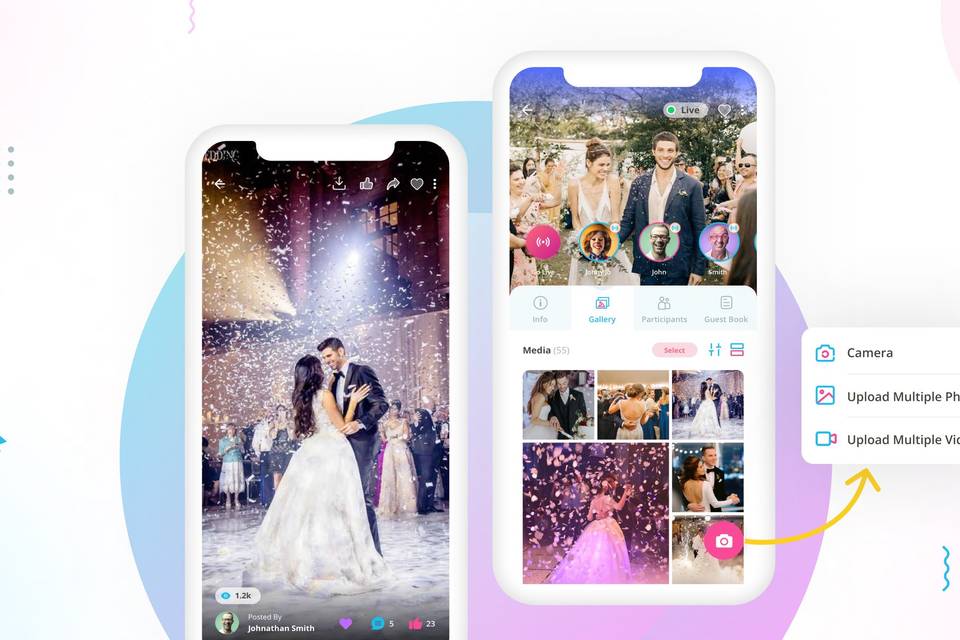 Sponsored By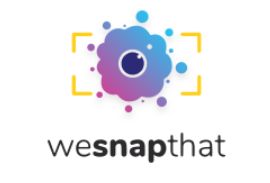 Thanks to smart phones, everyone can capture memorable moments with a tap and store them forever. The only problem is many of the photos and videos we capture can end up getting lost in our camera rolls.
While many of us share media via WhatsApp and other messaging platforms, our precious photos can often get lost amongst the chat or compressed to lower quality images – making them no good for printing and framing.
Luckily, the team behind photo-sharing app, WeSnapThat, have come up with a simple solution that will allow guests to share photos and videos from your big day, engagement party, hen/stag do or even birthdays and family holidays – easily, securely and for free!
Want to know more? We chatted to the founder of WeSnapThat who answered all our questions. Plus, we've put together a guide to getting started.
When asked why they made this app, the development team explained: "Have you ever been to a wedding, taken a photo , but never done anything with it? I bet many of us have. Where do most of those photos and videos end up; in a forgotten camera roll. We wanted to have a much easier way of those special memories reaching the happy couple". With that in mind, we asked some of the newlyweds who used WeSnapThat to share their experience...
Here's What a WeSnapThat User Has to Say
One of WeSnapThat's users - Anneka, 38, Buckinghamshire - told us all about her experience.
"I wish I had this app when I got married! I got married back in 2012, the days when camera phones were good but not 'spectacular', all of the emphasis back then was to find a good photographer and hope the wedding pictures came out well! I had lots of friends and family attend the wedding, those who also took pictures, some with just their phones but some on their cameras. By the time all of the festivities were done, I was sent some of the pictures via WhatsApp, email and Facebook , but there were lots that I never saw!
"After seeing my professional wedding photos, along with some of the photos friends and family had taken, I had 'enough' pictures and videos...That is, until years later, through various conversations with those in attendance, I would often be shown more pictures and videos of the events, only to realise that I didn't have them all!
"There were so many I wasn't aware of, that eventually through reminding and nagging people for them, my collection has only just finally been completed almost 10 years on!
"Fast forward to our recent 10 year anniversary party, luckily, I was introduced to the WeSnapThat App. A friend of mine had used it at their child's birthday party, and it just made sense! For my own event, I was able to create the event, send out a link through WhatsApp to those coming to the party to whom I had their numbers. For those who didn't, we had QR codes on display at the event so people could easily download the app and login to my event page, which meant I had people sending me their pictures and videos to create an album which felt as if I'd hired a professional photographer.
"Literally, every angle was covered! It was easy to set up, to send the links, to invite people, to also get a feel for how many were coming, the pictures were all super easy to upload, none of my guests had any issues! It was also super easy to then share with other friends and family who couldn't make it.
"Finally, what made my mind up, was a few days later, I had downloaded the images and videos to my phone, but soon after disaster struck when I'd left my phone in a taxi by accident! Fast forward a frantic 24 hours of searching everywhere, I'd thought I'd lost the album altogether, but it was super easy to obtain again as they'd all been backed up through the app.
"I would definitely use this for all sorts of future events- the kids parties, the school plays, even holiday snaps. My husband recently used this with his friends to go and watch a football game and take photos and videos to savour the occasion- how can I put this app into context; it's for all uses, for a problem that I didn't know I had, until I began using it! Would definitely recommend it!"
How Does It Work?
It's very simple: create your tailored private event in three simple steps, which takes less than a minute to do. You manage everything from start to end dates, number of photos and videos each attendee can upload, who can share media from your event, plus the option to approve each attendee for uploading photos and videos – or not!
Once the event is created, share the link via WhatsApp, email, text message or social media or attendees can scan the QR code or use the unique password. Accessing events is always just one click away meaning it is simple and hassle free.
When the event starts, all attendees can easily upload and share their media, for everyone to view and enjoy. Either by using the camera feature or uploading multiple photos and videos from their phone gallery, WeSnapThat removes the hassle of chasing people for photos and videos or having them lost in your WhatsApp group chats. You will also get photos and videos from attendees who's contact details you don't have. You are always in control as every attendee needs to register so uninvited guests can easily be blocked!
What Are the App's Main Features?
You can easily create private events in our fun three step process. You have the option to add an event name, event profile cover, start date and time and end date and time – needed for live streaming.
Participants can live stream their perspective of the event and anyone from the event can view it, which is a benefit as some guests may not be able to attend or are abroad.
Also, we have handed the option for you, as the event owner, to select the number of photos and videos each attendee can upload. You also have the option to select who can share media: just you as the event owner or all attendees. Also, we have given the event owner the option to manually approve each attendee as, without your approval, they cannot upload any media to your event.
Plus, you can add an upload time limit. We send notifications to all users to let them know that they have a limited time frame in which to upload all the media before the event closes, removing the hassle of chasing users.
There is an option to download your own event poster which contains all your event information so you can print these off in any size from A5 to A0, which can be placed at your event and guests can easily access your event and share memories.
We have also added a block user feature on the participants list so you can block unwanted guests. Also, the ability to assign admin roles to other participants to help with your event.
We have a guest book feature where users can post video or text messages directly to you. This will be great for when you come back to view your event in later years, and you can relive those memories and well wishes.
There's also a messaging feature for you to directly contact users whose contact details you do have, so you can always keep in touch with them.
Who Can Use the App?
"The app has been designed to be used by anyone and everyone (all age groups), it is very easy to create events with our three-step process, the introduction of GIFs to help show you what to do and our gamification style makes it easy and fun to fill in."
Why is it a Great Idea for Weddings?
"Today, smart phones have the ability to take great photos and videos. Everyone can capture life's events from all angles; however, it is often a struggle to share these images.
"The happy couple are focused on their professional photographer to capture their magical moments, all guests who take pictures and videos have no platform to easily share their media apart from places like WhatsApp where you need everyone's contact details. WhatsApp compresses images and videos so the quality is lost, and you cannot create large print outs from them. Plus, photos and video get forgotten in the endless chat messages.
"WeSnapThat creates a private, safe and secure platform for you and guests to easily share media and capture all those moments that may have been missed. You don't need to know everyone's contact details to create a group, attendees can join quickly through the app and then start sharing to create a perfect photo album of your event."
Is it Safe to Use?
"WeSnapThat is very safe to use, we use Amazon web servers for their high-end security, also all events created on WeSnapThat are private and the only people who can see your content are the people you have invited to that specific event.
"We have ensured that every user that signs in, be it via a full sign-up or guest sign-up, need to add their first name and surname. This ensures that when they participate in your event you know who they are."
How Much Is It?
"We believe that being able to capture photos and videos easily and effortlessly from loved ones should not come at any price, the app is free to use."
Get Started with WeSnapThat
Download WeSnapThat from the android or Apple store.
Sign-up or login directly via Gmail or Facebook.
Choose your event type.
Click on the plus sign icon and upload your event details and photos.
Click on the Invite Guests button to send a link via Whatsapp, email or social media. Alternatively, you can share or print your unique QR code and display it on the day for guests to scan or sharing a unique password.
For more tips on using WeSnapThat, head to their dedicated tutorials page.