The Best Places to Buy Cheap Wedding Invitations
You don't have to break the bank in order to get amazing wedding invitations - save money without sacrificing on stationery style with our round-up of the best places to buy cheap wedding invitations starting from just 15p per card!
We have included third party products to help you navigate and enjoy life's biggest moments. Purchases made through links on this page may earn us a commission.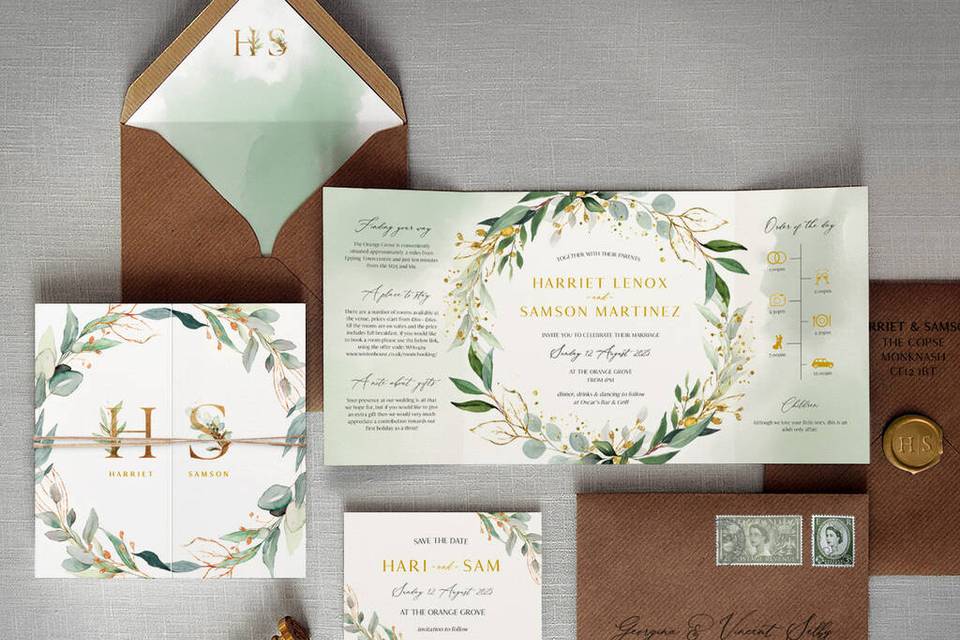 Choosing your wedding stationery is important because the invitation will be the first insight into your wedding style that a guest will see. Opting for a style or design that matches the theme of your wedding is always ideal, but making sure that you order something within your budget is also key!
Finding budget wedding invitations that are just as gorgeous as your wedding can be a tricky task, but we've hunted high and low to find the seven best places to buy cheap wedding invitations to ensure your invites take pride of place stuck to your guest's fridge doors.
Plus, below are some top tips on how to cut your costs and stick to your budget when it comes to your wedding stationery order so you'll have more money to spend elsewhere for the big day. Five-tiered wedding cake, anyone?
The Best Places to Buy Cheap Wedding Invitations
1. Hitched Wedding Stationery
Here at Hitched, we have our very own wedding stationery collection which offers over 60 gorgeous customisable designs, including luxury gilded styles, floral prints, forest landscapes and more. If you can't decide which design to go for you can even order two free samples to test the product out! But we don't need to tell you how amazing (and affordable) they are - see a few of our favourite designs below.
Cataleya Wedding Invitation with Insert - from £1.58 each
The Cataleya wedding invitation is an impressive design that we bet you won't have seen anywhere else before. It combines rustic Kraft card with soft floral illustrations for a finish that is totally unique. It even has a gilded foil finish for an extra touch of luxe.
Leafy Ampersand 3-Piece Wedding Invitation - from £1.58 each
Leafy greens are a popular wedding invitation style and this three-piece set is up there with one of the best. You can really customise this design by choosing from a number of different papers that'll give you a completely different look.
Just Wedding Invitation - from 77p each
A simple and chic design like the Just wedding invitation is ideal for a sophisticated celebration. You can choose from a number of pretty shades and as they are available for as little as 77p per invite you can forget having to cut down your guest list!
2. Card Factory
At the Card Factory you'll find a brilliant range of wedding invitations at a seriously impressive price. Most of their packs come in at just £1.79 for 12 cards making them less than 15p per invitation! But that doesn't mean they've scrimped on quality - many of the options available feature gold foiling and intricate designs.
Bunting Wedding Invitations - £1.79 for 12 cards
If you have visions of getting hitched in a rustic barn adorned with bunting then it's only right you have the wedding invitations to match. These cards feature shimmering foil so they're a real bargain at just £1.79 as this addition would usually cost a lot more.
Mrs & Mrs Wedding Invitations - £1.79 for 12 cards
Keep your invitations simple, sleek and chic with these white and gold embossed cards. They'll suit a sophisticated wedding day just as much as a country escape to a manor house.
Save Our New Date Wedding Invitations - £1.79 for 12 cards
Greenery and foliage decorated wedding invitations are a popular choice and if you need to let your guests know you're changing the wedding date these fresh cards could be just what you're looking for. Available in A6, A5 or A4 you can personalise them to suit your budget.
READ MORE: 15 Wedding Vow Book to Write Down Your Special Words In
3. Feel Good Wedding Invitations
Whether you're planning a winter wonderland wedding, an autumn extravaganza or a flower-filled summer celebration, Feel Good Wedding Invitations will have stylish stationery to suit. Available at Not On The High Street, they donate £1 from every order to Macmillan Cancer Support.
Autumn Wedding Invitations - from 99p per card
How gorgeous is this autumn design? Featuring striking hues of orange, brown and yellow, even the envelope is decorated with stunning fall leaves.
Harriet Wedding Invitations - from 99p per card
We love how the Harriet wedding invitations are a unique folded design - your guests will be so impressed as they unwrap the twine! With rustic greenery, a Eucalyptus wreath and gold detail it's ideal for a woodland wedding.
L'amour Wedding Invitations - from 99p per card
Vibrant and feminine, the L'amour wedding invitations were simply made for a quintessentially English summer garden celebration. The rustic kraft card and luxury textured white paper compliment each other beautifully.
4. Hobbycraft
If you want to hand write your wedding invitations, Hobbycraft have a large selection of beautiful wedding invitations that feature plenty of space to let your guests knows all the details for your celebrations. Writing your cards by hand will add a lovely personal touch to your invitations, plus it can also save you money.
Gold Wedding Invitations - £7.50 for 20 cards
Sometimes simple designs can have just as much of an impact as more intricate styles and these cards prove it. With gorgeous gold lettering, you can even coordinate the subtle hints of gold with the décor on the big day.
Gold Foil and Floral Wedding Invitations - £10 for 25 cards
You might be after invitations solely for your evening reception and if that's the case then these floral cards could be just the ticket.
Botanical Wedding Invitations - £5 for 10 cards
The great thing about these botanical wedding reception invitations is that there are multiple blank lines given so you can fit in all the important information. You can also leave your contact details to make it easy for guests to RSVP.
READ MORE: 10 Creative and Gorgeous DIY Wedding Invitation Ideas
5. Optimal Print
Planning a large guest list and dreading what the price of your wedding invitations will be? Fear not, Optimal Print are an affordable option if you're buying wedding invites in bulk quantities. With over 650 designs to choose from you can opt for a glossy, matt or silk finish.
Neutral Wedding Invitations - from £1.36 per card
The neutral colours used in this card look effortlessly stunning and if you're going for pampas grass on the big day, this design will be a lovely nod to the trend.
Personalised Photograph Wedding Invitations - from £1.36 per card
We love the idea of a personalised wedding invitation. Whether you go for a funny throwback picture or even an engagement snap, this design is sure to put a smile on your loved one's faces.
Admission Ticket Wedding Invitations - from £1.36 per card
Festival or funfair wedding planning couples, we've found you the perfect wedding initiations! Unusual and quirky, there's no better way to get your guests excited for your special day than with a personalised admission ticket.
6. Papier
Papier wedding invitations may be the most expensive out of our round-up but they sure are cool. Contemporary couples will delight in scrolling through their fun, unusual and playful designs, (of which they have over 550 of), and we bet you'll receive ample compliments from your guests when they receive them.
Painterly Wedding Invitations - from £30 for 10 cards
This modern design is what dreams are made of. Fashion-forward couples will adore it, as will anyone who is having a colourful celebration.
Festive Heart Wedding Invitations - from £30 for 10 cards
Designed by Cardiff based artist Jade Fisher, this gorgeous wedding invitation is festive without being too much.
Ink Speckles Wedding Invitations - from £30 for 10 cards
We bet you've never seen a wedding invitation quite like this one before. Available in a navy colourway too, the ink speckles give it a modern feel.
7. Dotty About Paper at Amazon
With all the wedding planning going on, one crucial detail might have slipped your mind - actually sending the invitations out! If that's the case, Dotty About Paper are an artisan stationery company based in Shropshire who could be your saving grace. Available on Amazon, not only will you receive your order pronto, all their designs are original and created by their in-house artists so they're guaranteed to be unique and beautiful.
Watercolour Roses Wedding Invitations & RSVP - £9.95 for 10 cards
This floral wedding invitation and RSVP pack boasts a traditional design that'll suit almost any theme of wedding if you haven't quite decided on the décor yet.
Mr & Mr Chalkboard Wedding Invitations & RSVP - £9.95 for 10 cards
Black and white is a really chic style and these cards showcase this trend in the best way giving the illusion that they've been etched onto chalkboards.
Rustic Mason Jar Wedding Invitations & RSVP - £9.95 for 10 cards
The attention to detail on this rustic design is what we really love - just look how sweet the floral mason jar is. In fact, why not match and have them on your wedding tables too?
READ MORE: 27 Enchanting Winter and Christmas Wedding Invitations
8. Ginger Ray
Intimate celebrations only call for a small number of wedding invitations so if you want a small pack of cards for a cheap price, Ginger Ray is your place. They update their designs seasonally so you're guaranteed to have styles your guests will have never seen before. You've got to check out their scratch and reveal wedding invitations below!
Gold Foiled Wedding Invitations - £4.99 for 10 cards
With room for information about your ceremony and reception, this pack of cards is oh so pretty. It would be a lovely idea to pop a little gold or pink confetti in with the envelope too.
Scalloped Wedding Invitations - £4.49 for 10 cards
Simple but incredibly chic, it's the scalloped edging on these wedding invitations that has us swooning. Made from luxury card, they won't bend prior to arrival.
Kraft Scratch The Date Wedding Invitations - £5.49 for 10 cards
Add a playful touch to your wedding invitations with these scratch and reveal cards. Simply get your guests to scratch away the stickers to reveal all!
How To Save Money on Your Wedding Stationery
1. Choose and place the order for the invitations at least 6 months in advance. Ordering the invitations at the last minute can be stressful, not to mention the worry of not getting your guests to respond in time. Stick to your wedding timeline guide and order the invitations early.
2. Order extra invitations with your original stationery order. Bulk orders at one time will cost you less than having to get extras made later down the line. Ordering extra wedding stationery will also allow for you to invite extra guests should you receive any regrets.
3. Place your stationery order with one wedding supplier. Not only will this save you time, but it will also guarantee that you'll be getting the exact same colour match and design when it comes to your place cards, order of service cards, menus or thank you cards.
4. How about doing away with the response cards completely? Consider adding an email address to your wedding invitations so that your guests can all respond digitally, or add a phone number for text acceptances and regrets. You could also consider e-vites (an invitation sent online), rather than sending a physical invitation. This idea could radically change your allocated budget for wedding stationery.
5. Proof read your wedding invitation thoroughly. You don't want to have to pay out again for the re-printing of your order.
6. If you plan on making your own wedding stationery, be sure to consider all costs before you start — including your time.
7. Search for special offers and deals when it comes to placing your wedding stationery order. Some suppliers may offer a discount depending on what you purchase. Find a supplier in the wedding stationery section of the Hitched suppliers directory.
If you want more ideas on saving money in your invites, follow these 9 tips and read these 37 budget-friendly wedding ideas.