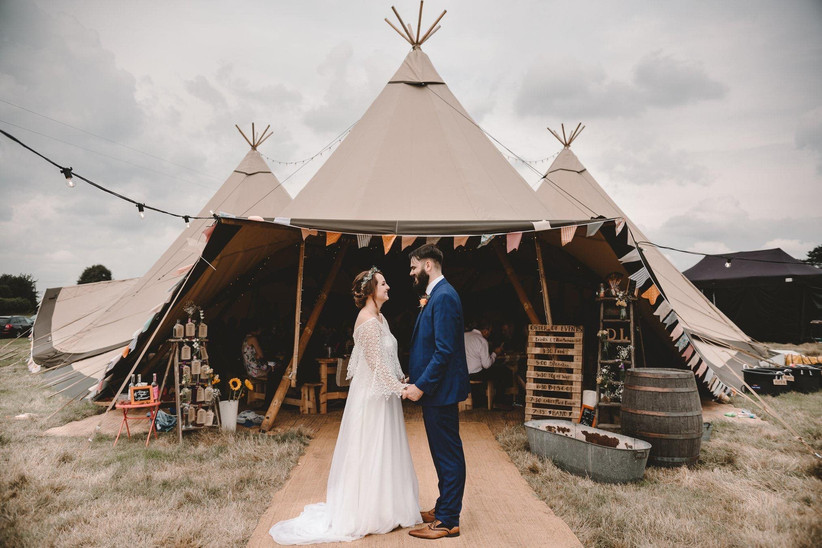 If you're looking to have an outdoor wedding and want a unique way to celebrate it, a tipi wedding is a great option. A tipi wedding means you can have a celebration in the great outdoors, among beautiful flowers, rolling hills and even in a forest.
The great thing about a tipi wedding is that you can decorate your venue exactly as you want to – showing off your personalities with details like fairy lights, quirky furniture and fire pits outside. While you can hire plenty of dedicated tipi venues, they can also be hired to set up in your back garden or a local field if you have the space.
We reveal the tips to make sure your tipi wedding goes as planned and also some of the best wedding tipi companies across the UK.
10 Tips for Planning a Tipi Wedding
Get the venue right. Make sure the venue you're planning to marry in has enough space for your tipi or is set up to accommodate one. If you are hiring a field or using your own back garden you'll need to think of hiring extras too – like toilet facilities and generators.
Decide on how many tipis you need, dependent on how many guests you have. Most companies can link tipis together to make a bigger venue, but make sure you can accommodate all of your guests.
If you are celebrating your wedding in a tipi, you won't actually be able to have the legal ceremony in it in England and Wales (you can in Scotland). Create a plan for where you can exchange your vows, such as at a nearby church or registry office. You can always marry beforehand and have a celebrant-led ceremony.
Decide on your theme before you starting looking at flowers, decoration or furniture to fill your tipi. As it's a blank canvas, you'll need quite a lot of decoration and you want to create a coherent style that's personal to you and represents who you are as a couple.
From giant letters to photo walls, there are plenty of ways to make your venue sparkle. Some tipi companies have their own furniture and accessories you can hire, but they may not be right for you. Don't feel you need to hire everything they offer; get a good grasp of your vision first.
Adding lighting can make the space unique too, like different colour spotlights or festoon fairy lights. Draping lights over a wedding arch or a tree can also add atmosphere.
Plan for rain. There is nothing worse than stressing about the weather the week before your wedding because you haven't got a wet weather plan.
Make the most of the outdoors. Seasonal flowers, hanging foliage displays, fragrant herbs in your table arrangements, reams of lights that hang in the tent and move out into the trees – let your party flow easily between inside and outside spaces.
Make sure guests know what to expect. Does the flooring mean that stiletto heels are a no-no? Would you recommend they bring a warmer jacket for later in the evening? Will they be able to park nearby? What kind of accommodation is there surrounding your venue? Can you get taxis easily?
Remember to stay relaxed on the day. It's one big celebration and you should enjoy every bit of it, so don't get too hung up on every detail. If you seek the help of people you trust, you can create an event that will be wonderful and everyone will love it.
11 Best Tipi Wedding Venues in the UK
1. Buffalo Tipi, Gloucestershire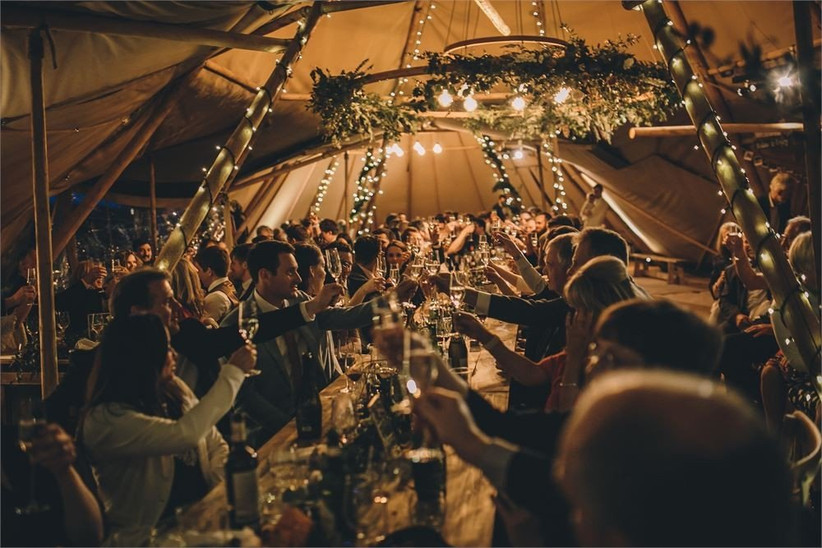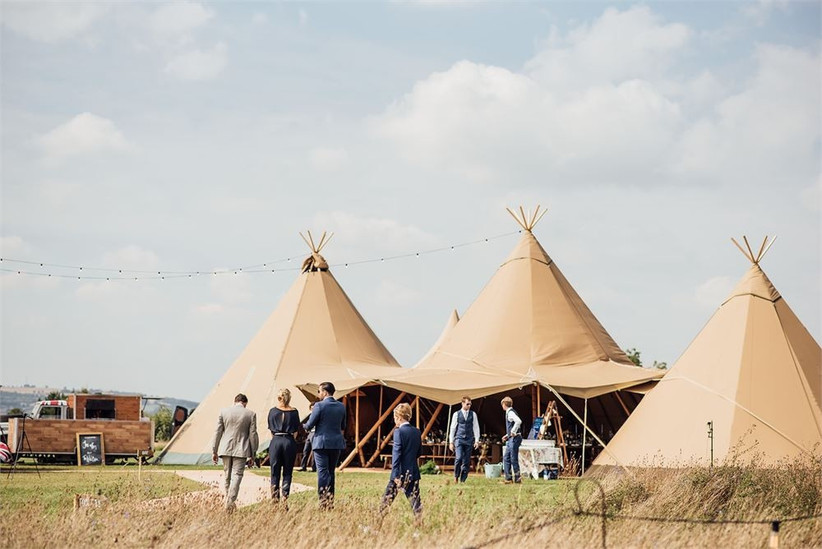 Buffalo Tipis provide Nordic Tentipi tipis for weddings and events throughout the South West of England. Over the past five years, the team have designed and built hundreds of tipi weddings across the South West.
They also offer a range of handpicked and handmade furniture, lighting and accessories – which they've specially chosen to complement the Scandinavian tipis. The design of these tents comes from the Sami people of Swedish Lapland and are wind and bad-weather resistant. As well as being highly functional, they're beautiful looking and incredibly spacious.
2. Sami Tipi, Derbyshire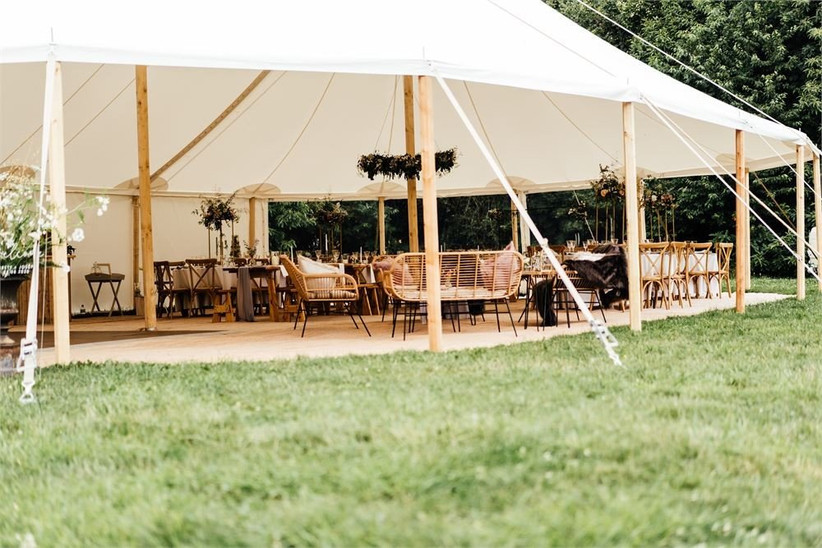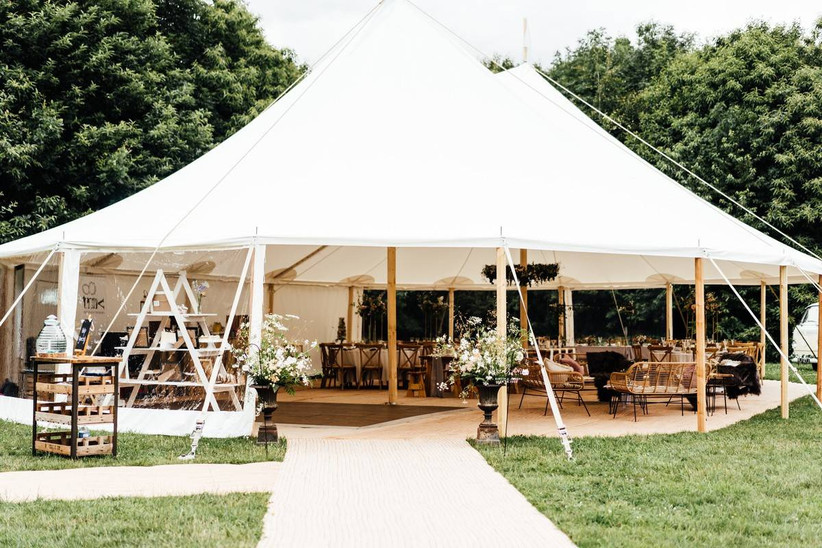 The family-run business provides tipis for weddings in the Midlands and surrounding areas. Whether you're getting married anywhere from a farm to country house or even your own garden, as long as the site is large enough and is accessible, then it is suitable for one of their tipis!
Sami Tipi will erect the tipi for you and can suggest lots of sites if you need some help picking a location. You can decorate their beautiful white-topped, clear-walled tents with accessories such as fairy lights, a disco ball or have a fire pit outside to give it an elegant boho feel.
3. Blue Sky Tipis, London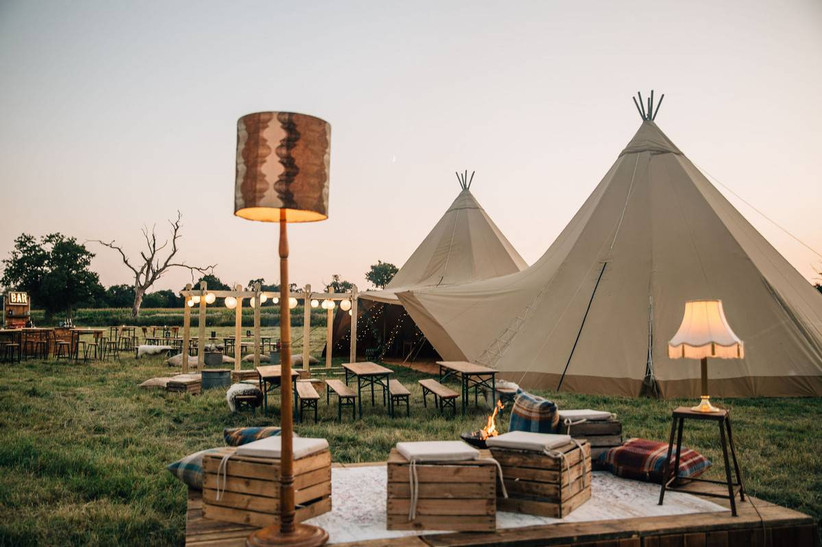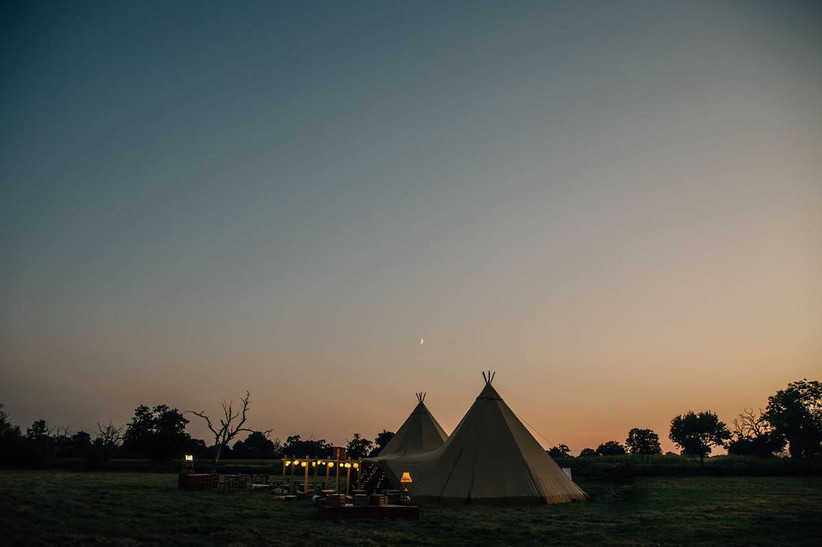 Based in North London and working across surrounding counties, Blue Sky Tipis offer a quirky and unique space to celebrate your special day. They boast chic, boho-style tipis in a range of sizes and can build dance floors in them too.
Supported by 80-year-old Scandinavian spruce timber frames, the tipis can be joined together to create your ideal wedding space, enabling you to have as many guests as you would like. They are also weather and windproof, keeping you dry in the winter months and shaded when it's hot – there isn't a season when you can't throw a tipi wedding!
4. Shire Tipis, West Midlands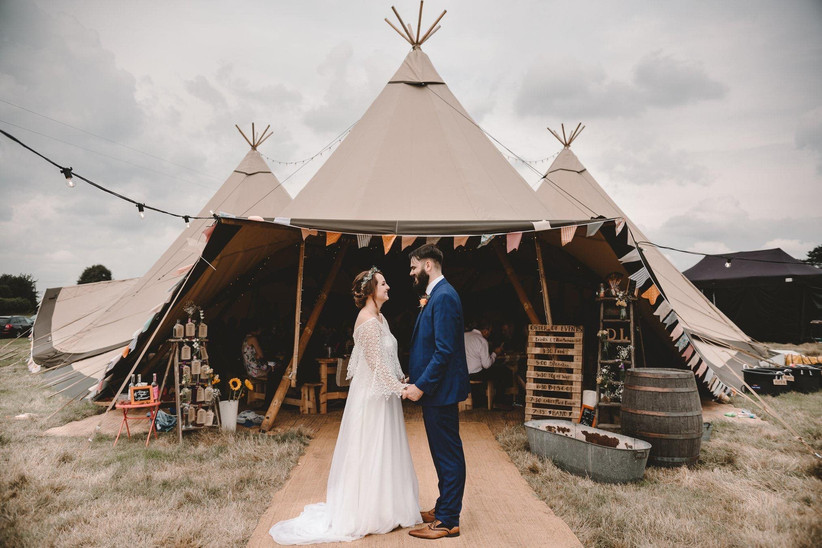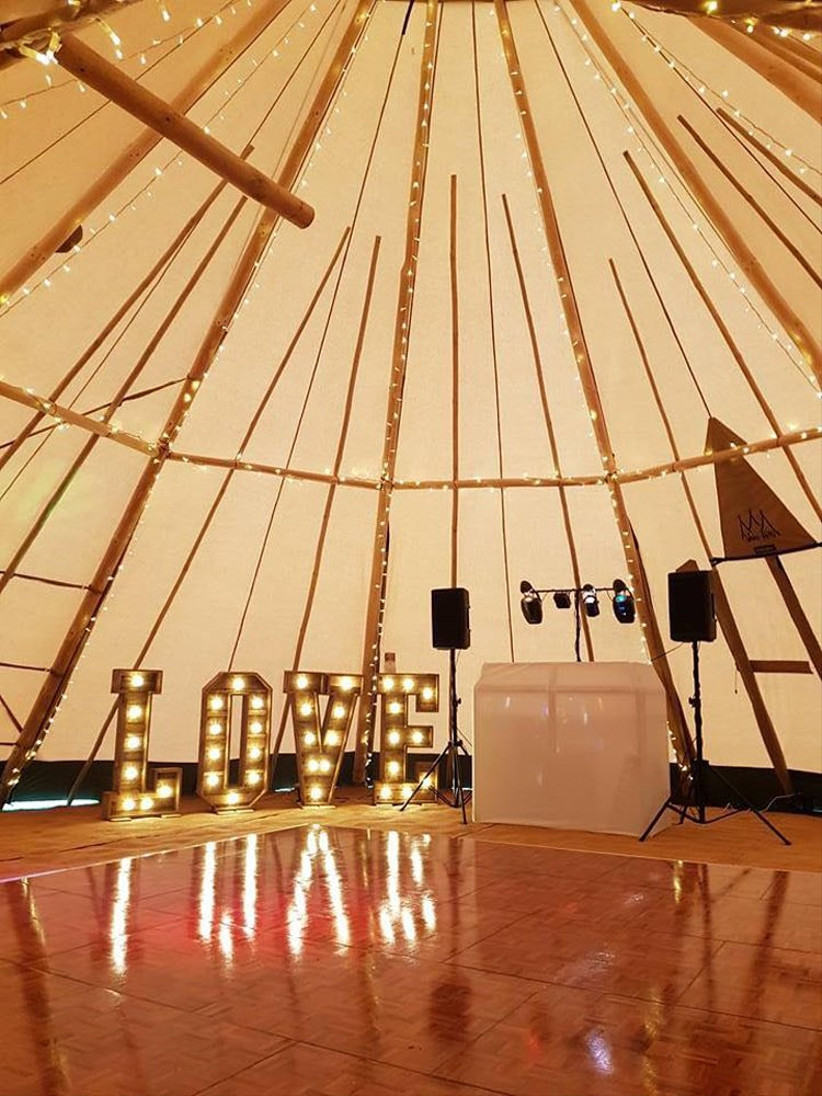 Shire Tipi rents out giant hat tipis which can house 50 people underneath, but they can also be linked with other tipis for larger weddings. The canvas frame of the tipis will keep you warm in the winter or cool in the summer.
You can either decorate it yourself or the company provide a selection of bespoke tables and benches, a 15ft x 15ft parquet dance floor and giant whiskey barrels.
5. Sunset Tipis, Cornwall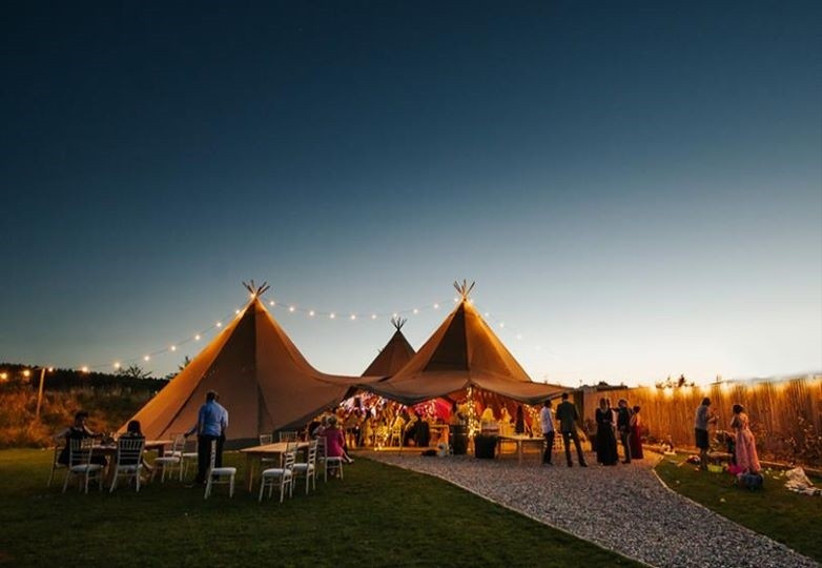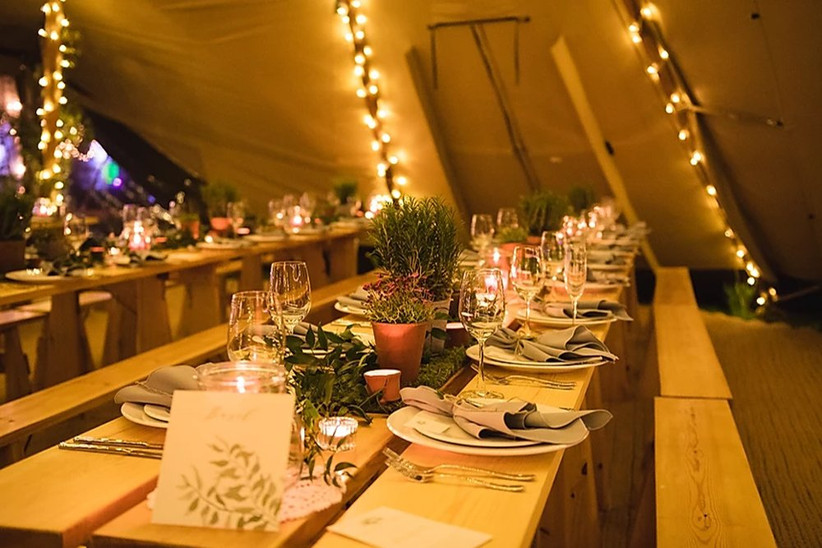 Based in Cornwall, Sunset Tipis have a range of different tipi layout options to suit every size wedding. Tipis can be furnished with handmade furniture, such as their handmade southern yellow pine tables, benches and a cedar bar unit. Accessories include outdoor lawn games, giant letters and fire pits.
The poles of the giant big hat Kata tipis are ethically sourced from UK forests, while the canvas is waterproof and holds up against harsh weather conditions. Sunset Tipis can also provide a fully licensed bar team and an in-house calligrapher for bespoke signs for your table plans and direction boards.
6. Tribeca Tipis, East Sussex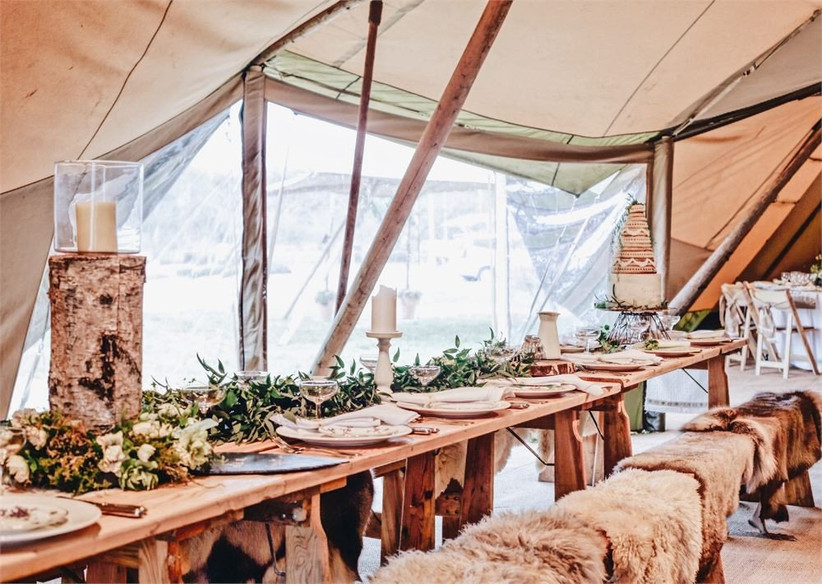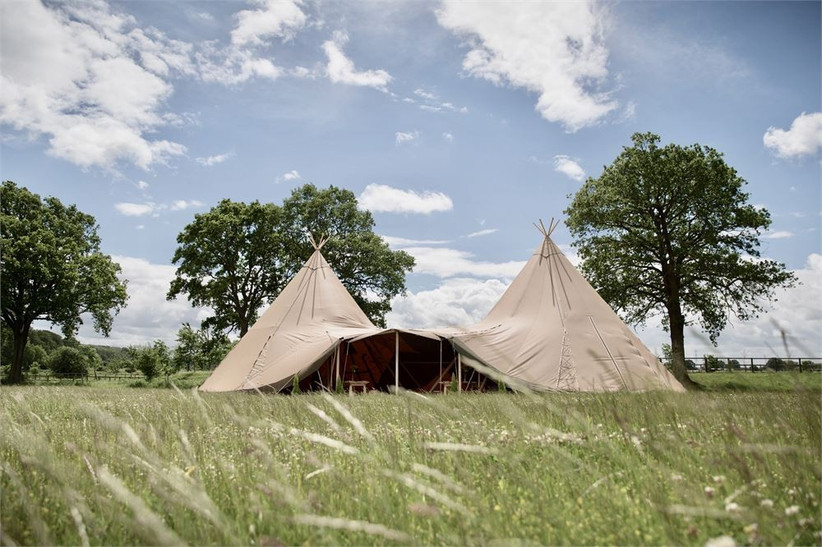 A family-run business with years of experiences in outdoor events, Tribeca Tipis have Nordic giant hat tipis and bell tent villages to hire.
As well as their tipis – which are made in Lapland, Sweden – you can also add on extras including a cosy fireplace, rustic wooden tables and benches, wooden bars, a dance floor and Moroccan inspired chill-out areas.
7. ZooTipis, Wiltshire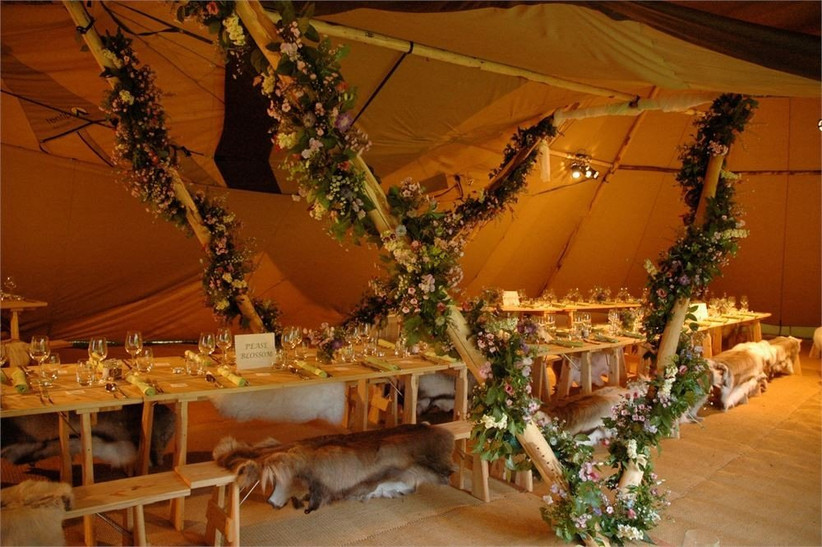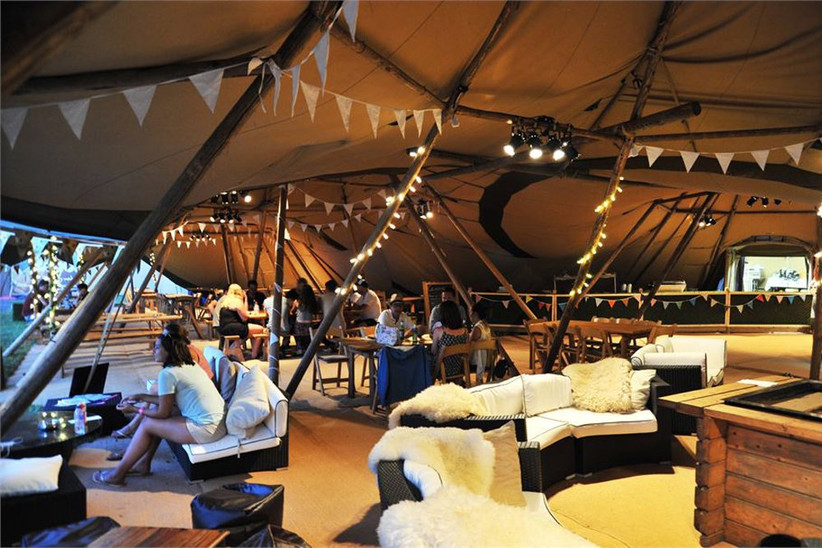 ZooTipis
can erect a range of giant hat tipis over the South of England and Wales for your wedding. Their tipis blend into any landscape, whether it's rolling hills or a flower garden.
For larger weddings, multiple giant hat tipis can be linked together to achieve the ultimate celebration space under one canvas. For a boho feel, they can create luxury chill-out areas decorated with comfy sofas, low tables and internal fire pits or, for more of a party theme, they can provide a stage, dance floor and disco lighting packages.
8. Special Event Tipis, Northumberland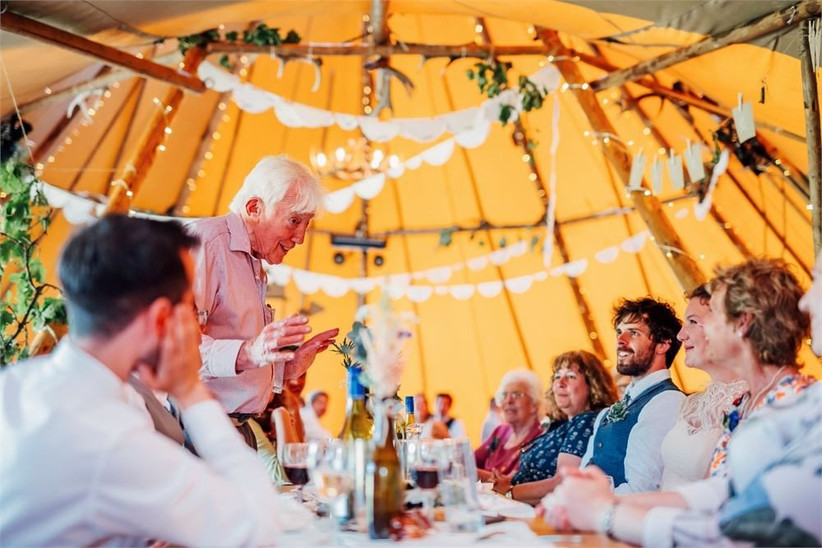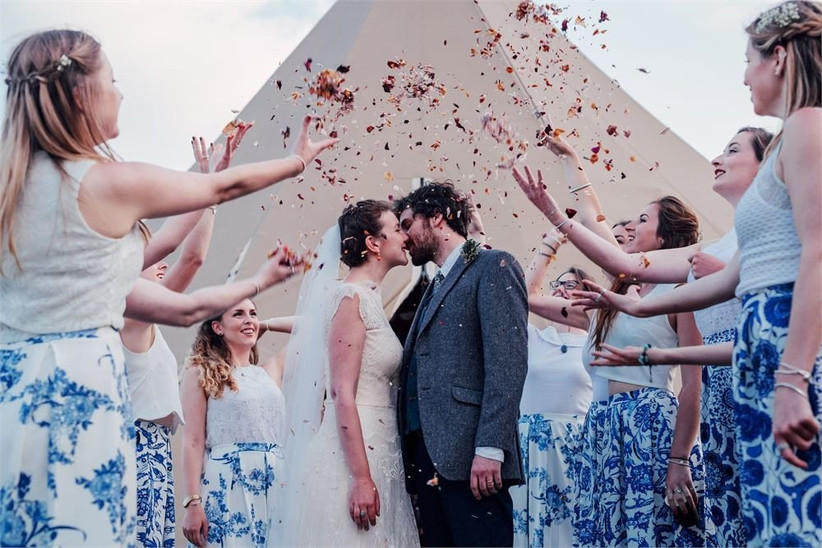 Based in both Cumbria and Northumberland, Special Event Tipis provide a warm, neutral space for you to unleash your personalities. They offer three different types of tipi structures – the giant hat, the Kung chill out tipi, and the Nimbus tipi – all for different requirements, and which can have attached catering kitchens.
Established in 2011 after the owners' own tipi wedding, they have since helped over 300 couples plan their perfect day. They stock everything from event essentials to unique and quirky interior extras such as carnival lighting, antler chandeliers, wine box bars, shabby-chic chesterfield sofa packages and wine barrel seats.
9. Love Tipis, Kent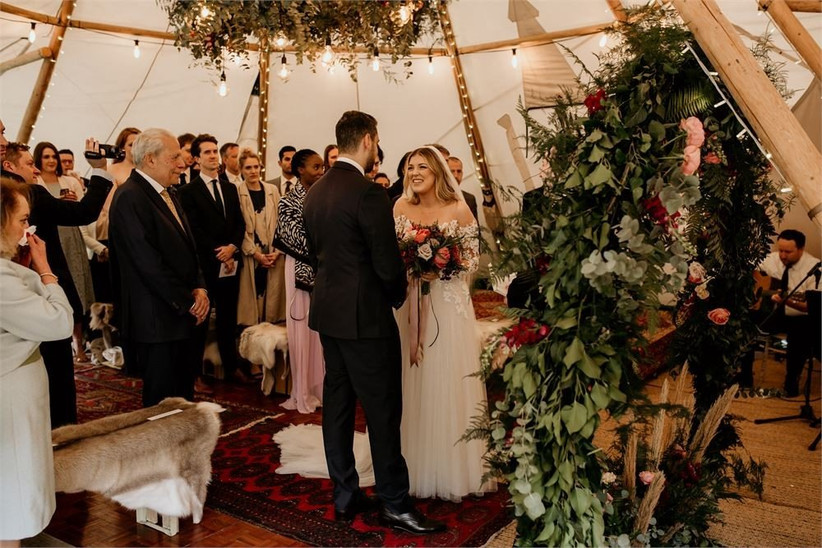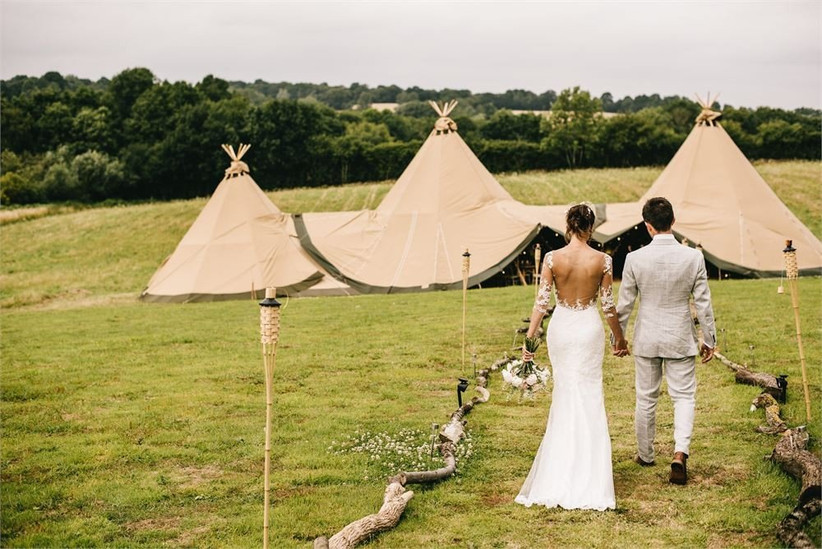 A Kent-based business, Love Tipi can help provide a unique and quirky setting for your special day. Each of their tipis has the capacity for 100 party guests, or 70 for a sit-down meal.
As well as the tipis themselves, Love Tipis can also provide packages including lighting, fittings, furniture and fire pits to complete your venue. Whether you're after shabby-chic or sleek and sophisticated, Love Tipis will help provide the perfect package for you.
10. Big Day Event Tipis, Cumbria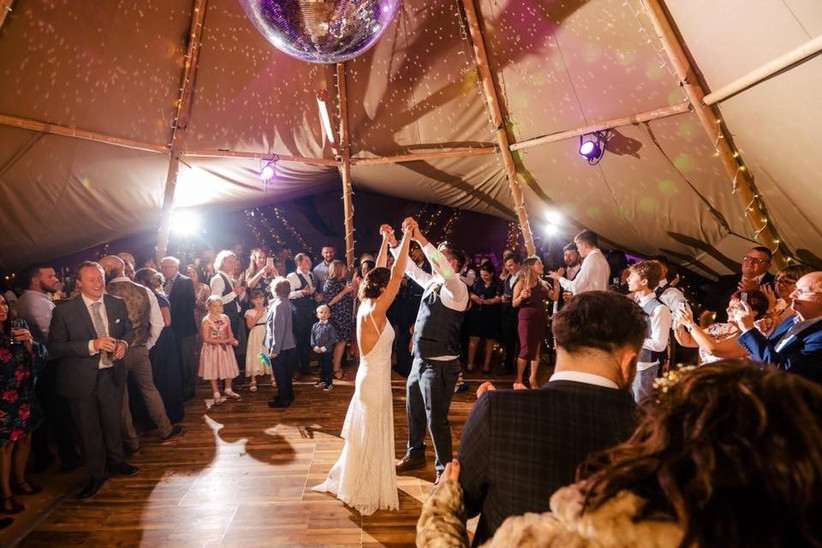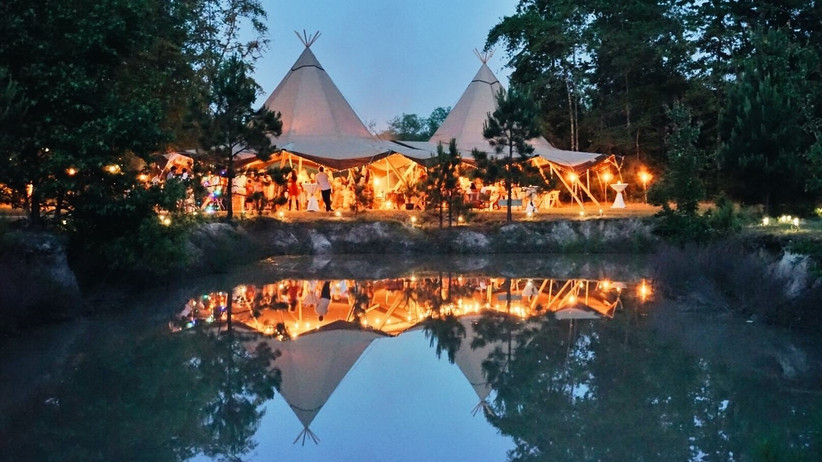 Founded by a husband and wife team originally from Yorkshire, Big Day Event Tipis offer Scandinavian-designed tipis, meaning they hold their own whatever the weather. Now based in Cumbria, they hire tipis in the North of England and Southern Scotland.
The tipis house anything from 50 – 200 guests and they come with the couple's expertise in event staging and project planning.
11. Wild Tipi, Cornwall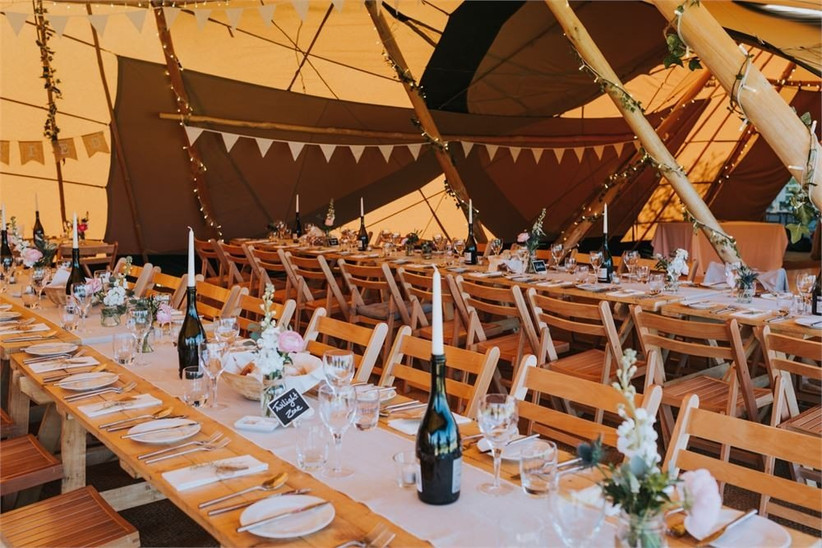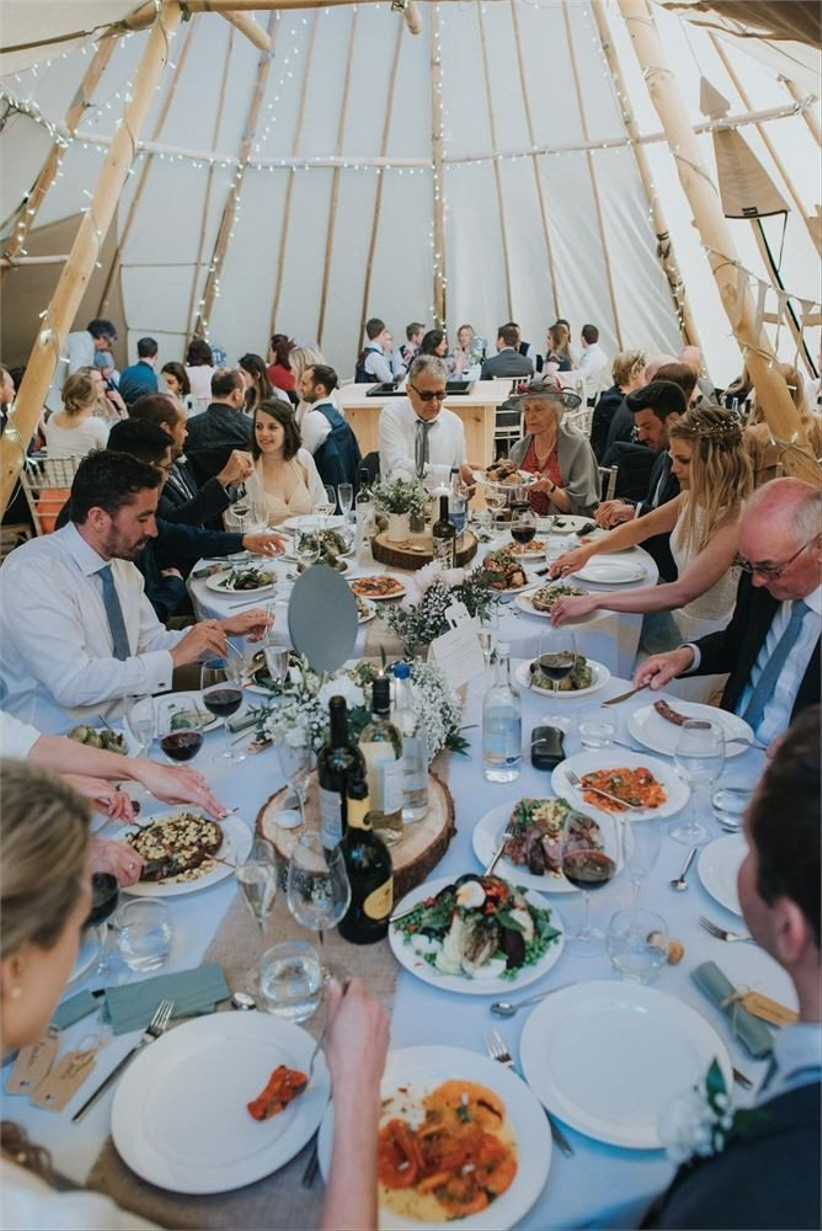 A family-run, Cornish business, Wild Tipi will create a magical atmosphere for your wedding day. All of their wooden-frame tipis are UK-made from sustainably-sourced pine and can be put up and taken down without a trace.
The team at Wild Tipi are dedicated to helping you get your dream wedding, whether it's a beach wedding, a woodland gathering or a clifftop festival with endless views of the Atlantic. They also have a range of permanent sites across Cornwall and the South West.
12. Welford Park, Berkshire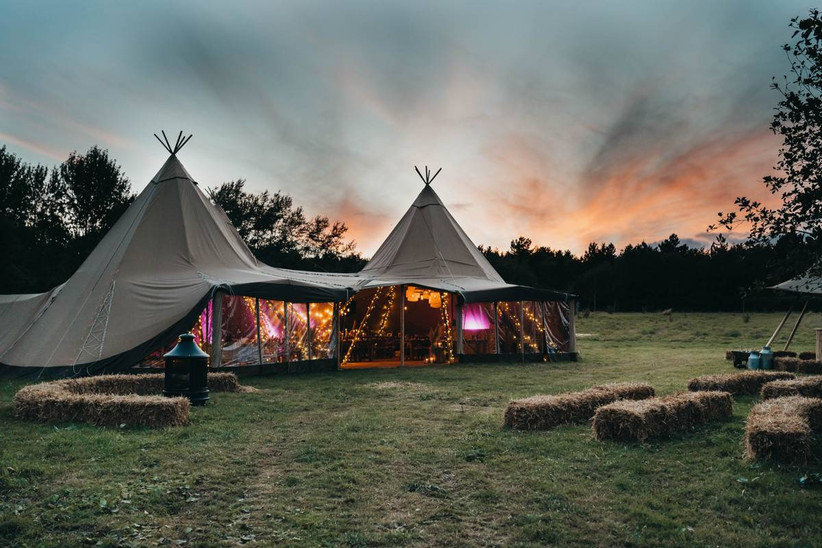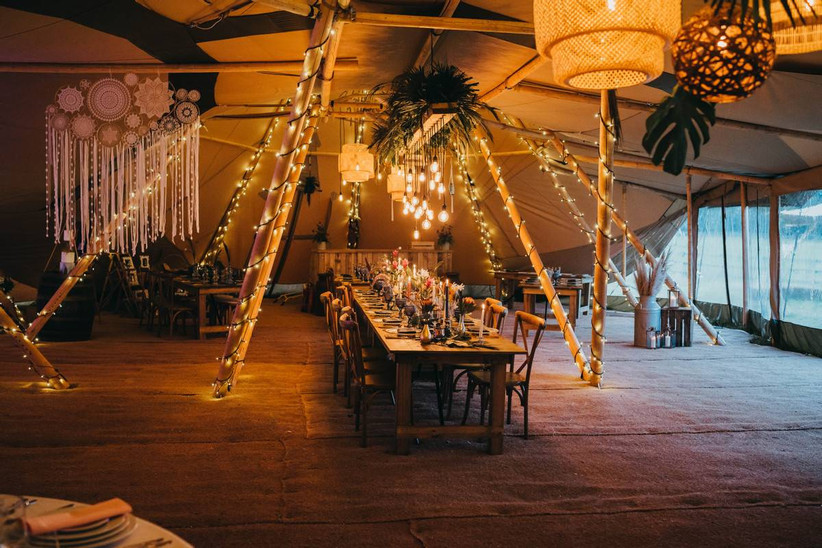 Set amongst Berkshire's own wilderness is Welford Park, an impressive tipi wedding venue with serious boho wedding vibes. The 3,000 acre farming estate boasts indoor and outdoor event spaces, meaning you can have a civil ceremony here and then move your celebrations outside.
All tipis offered by the team are flexible and can be made to work for any wedding size. Tipis can also be used alone or joined together giving you separate areas for different parts of your day and flooring, lighting, dance floors and rustic bars can be added at your request. The Welford Park team also have a range of other rustic country sites available for tipi weddings.
If the idea of being outdoors appeals to you, make sure you read up on our list of outdoor wedding venues – you could find the perfect one for your big day.