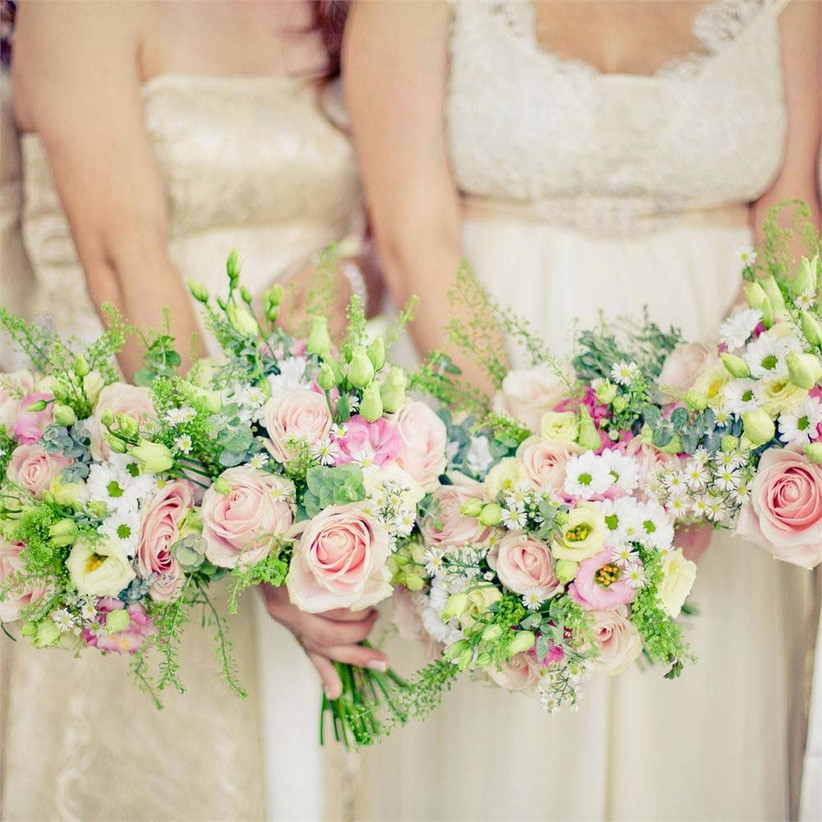 If you're getting married during the warmest months of the year, then you'll need some gorgeous summer wedding flowers to fill the air with fragrance and romance. Don't forget that choosing your flowers doesn't have to end at the bouquet – there are loads of ways to incorporate seasonal wedding flowers into your décor. From pretty pink bouquets to extravagant flower walls a la Kim and Kanye, take a look at these stunning ideas for your summer wedding flowers.
Which Flowers are Ideal for Summer Weddings?
The sunshine and warmth of summer means that it is the peak time for flowers to bloom. During summer you can source flowers in every colour of the rainbow, from vibrant yellow sunflowers to pretty pink peonies.
Scented garden roses, hydrangea, lavender, succulents, gerberas, stocks and sweet peas are all popular summer blooms that would provide a fragrant mix for an English garden inspired bouquet.
As many flowers can now be imported, most types can be sourced all year round. However, if you want to accentuate a summer celebration with strictly seasonal flowers, then don't forget you can ask your wedding florist which flowers are most suited to the time of year you'll be tying the knot.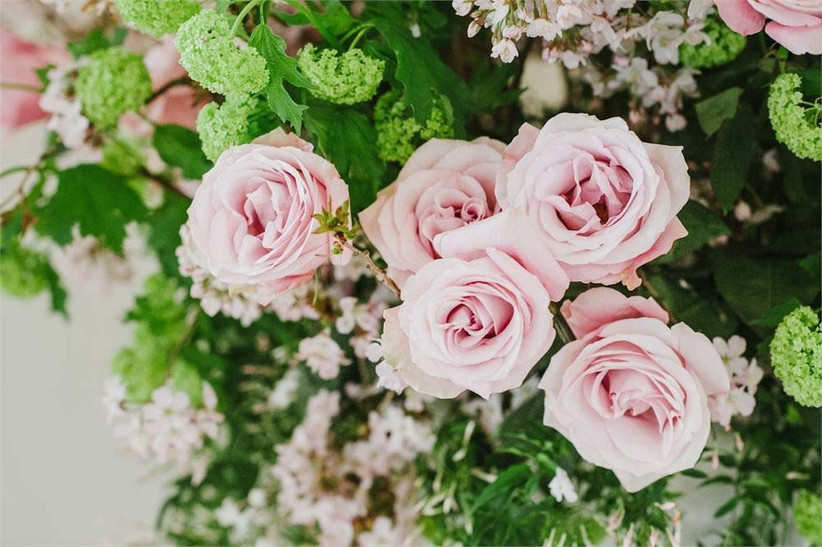 Image Credit: Louise Avery Flowers
The most breath-taking way to incorporate summer wedding flowers into your reception is with an impressive floral centrepiece like this tall one from Moutan. Combining a mix of white and pink flowers with green foliage, this arrangement may seem like it has a lot going on but it all works beautifully together and would surround the tables with a wonderful summery scent.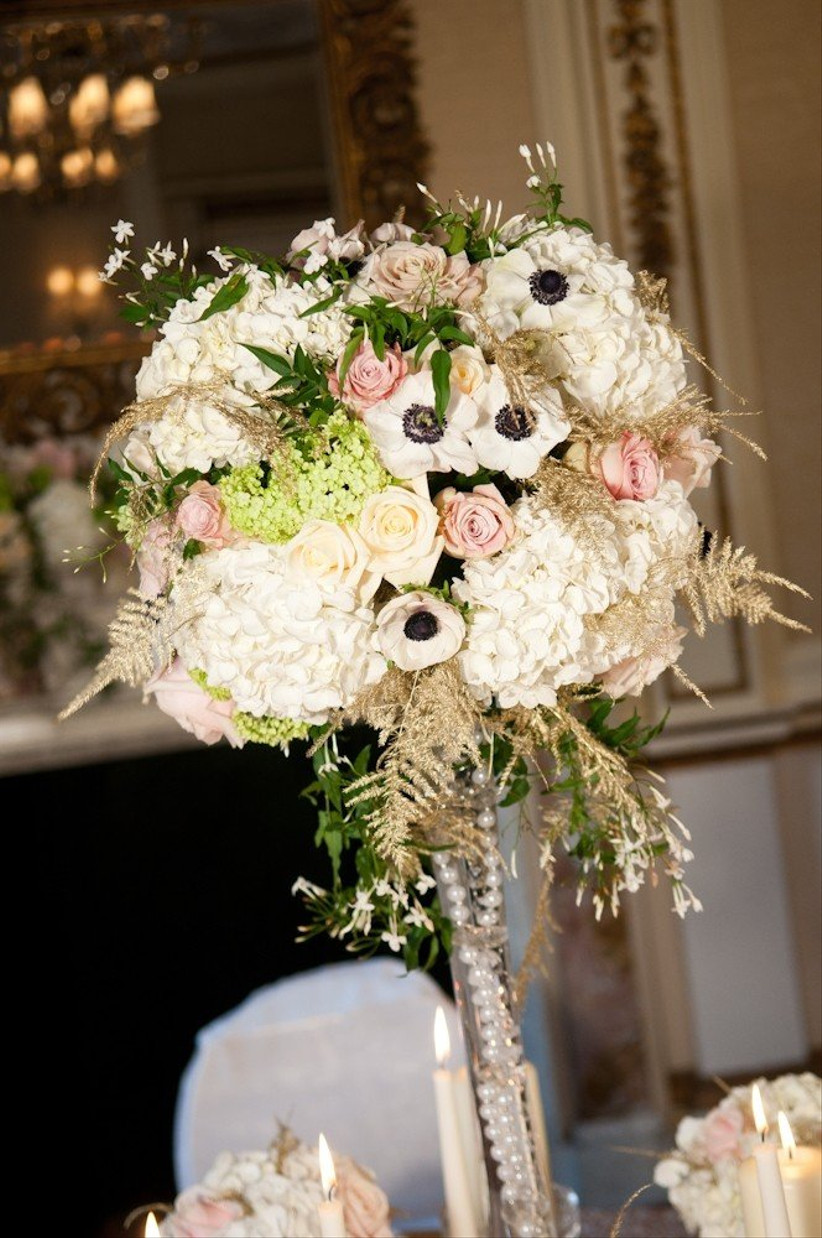 Co-ordinate your summer wedding bouquet with your bridesmaids by choosing a more subtle flower from your one and making that the focal point of their flowers. These white gypsophila (also known as 'baby's breath') bridesmaid bouquets beautifully complement this bride's flowers from Louise Avery Flowers – plus the gypsophila has a gorgeous cloud-like texture that looks dreamy.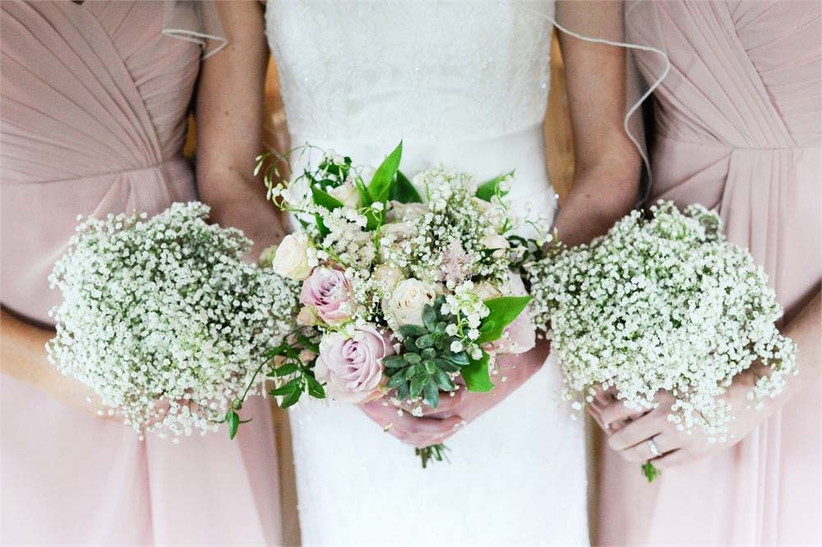 Transforming your table plan with a frame of flowers, like this creation from Designer Flowers Essex, would make it a fabulous feature at your reception. Vintage colours such as peach are perfect for your summer wedding flowers, especially when complemented with additional blooms in white and cream.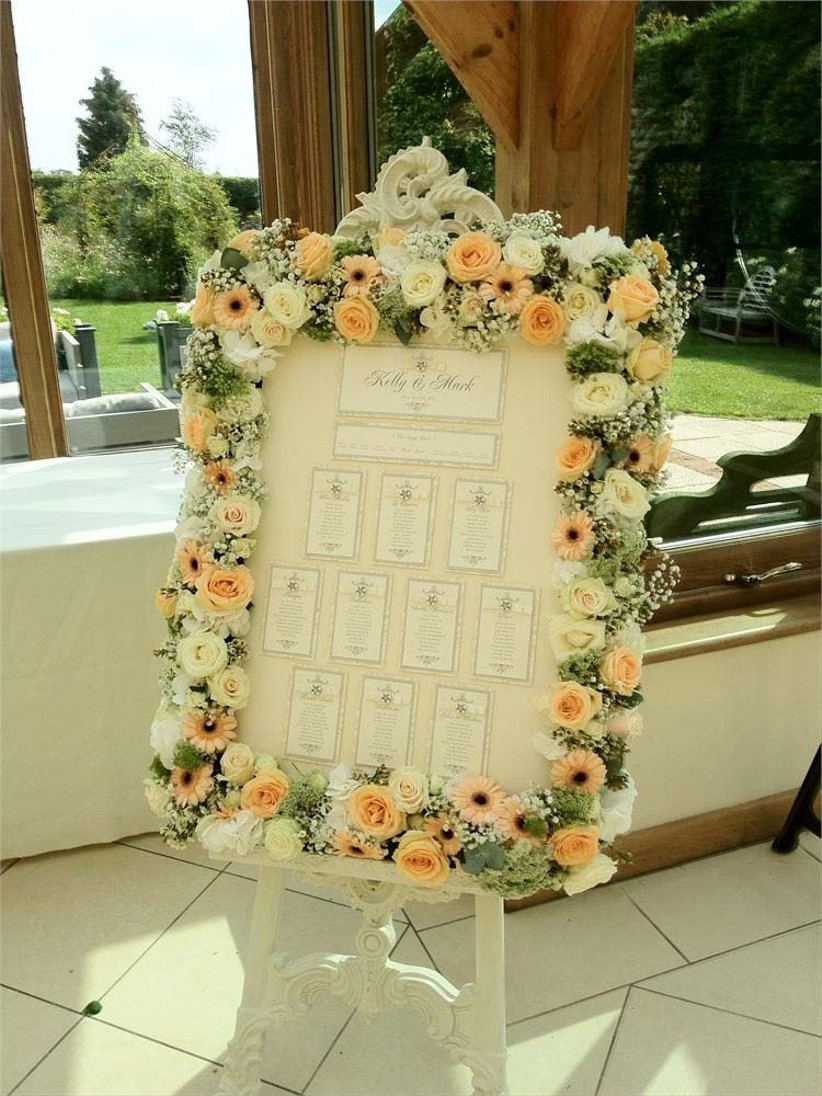 If subtle is definitely not your middle name and you want to wow your guests, then you should make your wedding more Kanye West and include an extravagant wall of flowers as a backdrop! An arty Instagram shot of you and your beloved smooching in front of it is absolutely essential.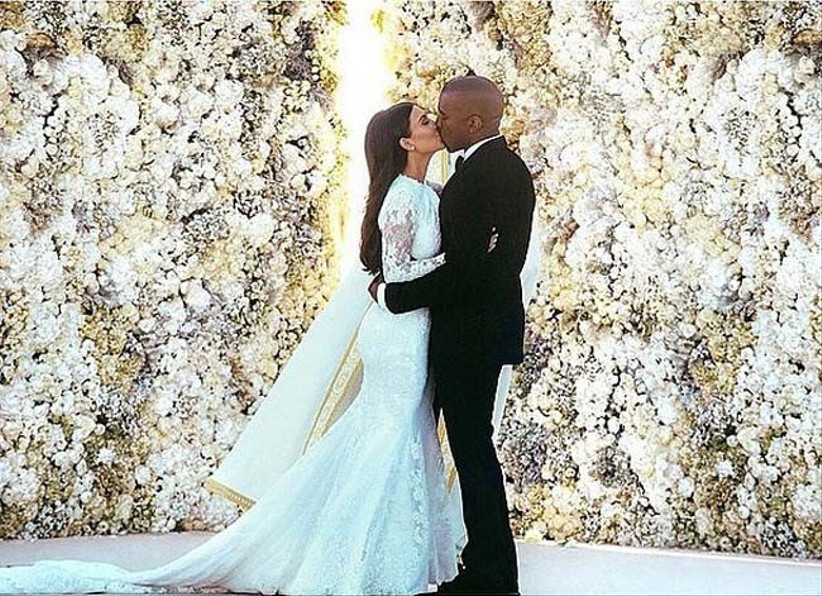 Image credit: instagram.com/kimkardashian
Celebrated as one of the most loved summer wedding flowers, sunflowers exude happiness and would fill any wedding with striking colour. As well as carrying an eye catching sunflower bouquet, you could also use this bloom to decorate your wedding cake or even your hair.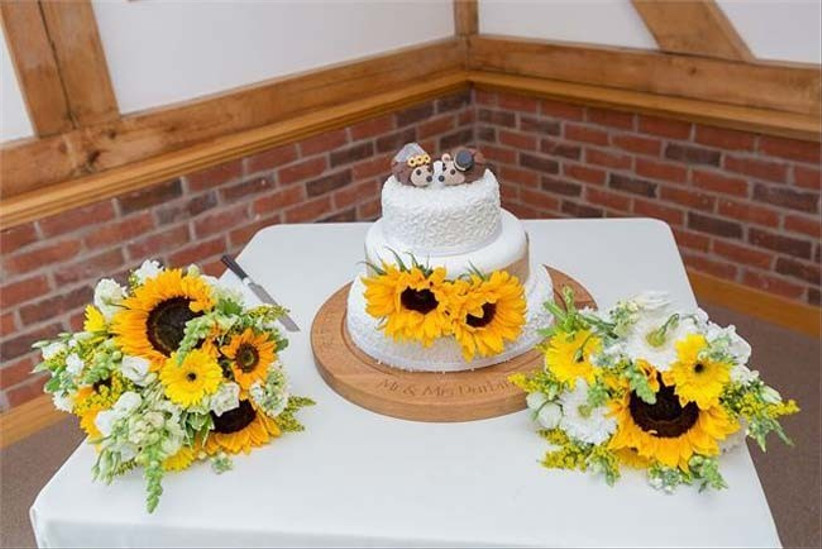 Image Credit: Frodsham Flowers
We love this beautiful bride shot by Wedding in the City and the stylish sunflowers that she's holding. If you're thinking of making your own wedding bouquet then a sunflower bouquet is a great choice, as all you need are the flowers and some twine or hessian ribbon to bind together for a rustic summer vibe.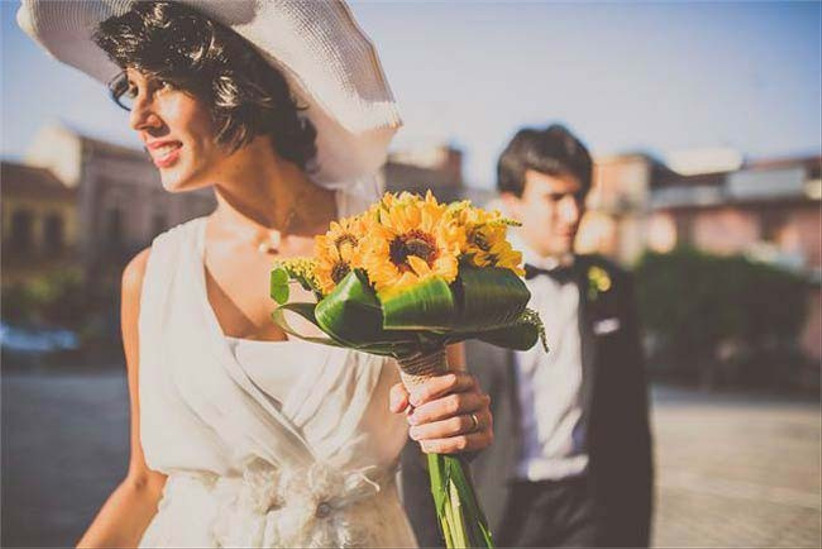 Save money on the décor and create this pretty table number holder display yourself – take a clear bottle or jar and fill it with delicate summer wedding flowers and this heart shaped wooden table number from Not on the High Street. These pretty displays could also double up as the table centrepieces.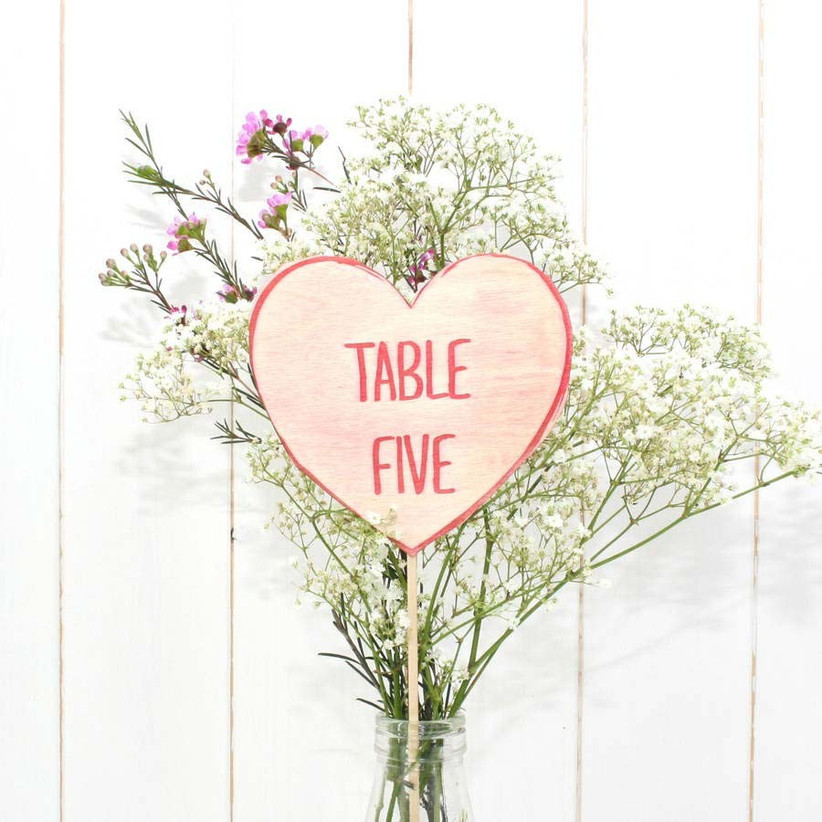 Image Credit: Bombus at Not on the High Street
An afternoon tea party is a cute and whimsical way to celebrate a summer wedding reception. If you want to put a quirky twist on a traditional floral centrepiece, then consider filling pretty patterned tea cups with colourful flowers for a vintage wedding décor idea.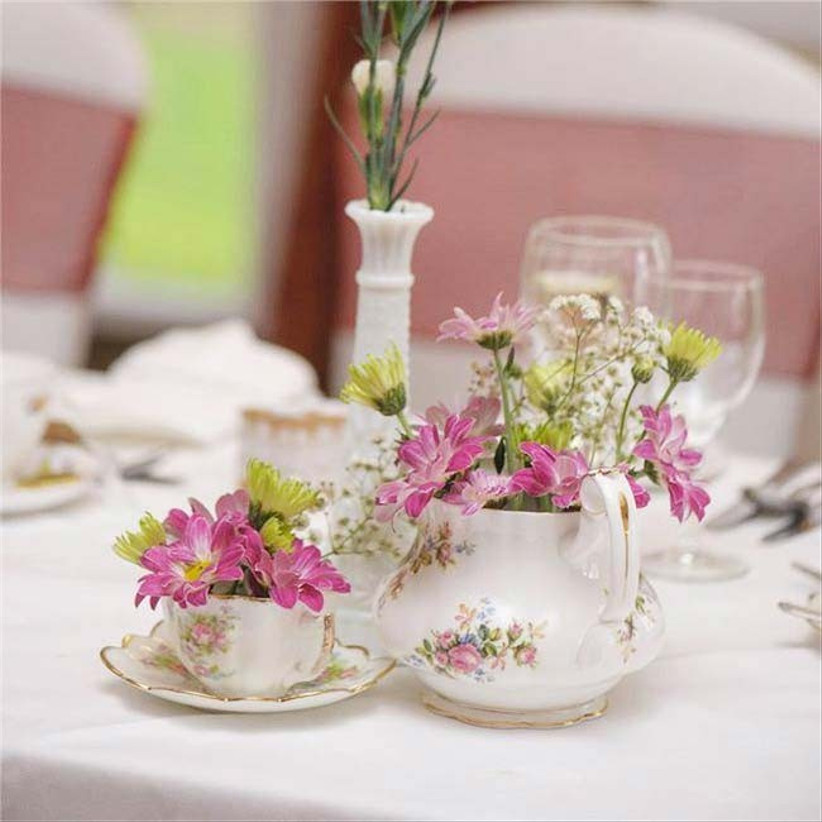 Image Credit: Susan Renee Photography
If you want to make a statement with your summer wedding flowers but don't want to go quite as OTT as Kim and Kanye and their flower wall, then hanging your blooms above the tables is a great way to make a lasting impression on your guests. Leave bits of foliage and vines hanging down for extra impact – like this amazing display from a wedding at Fulham Palace.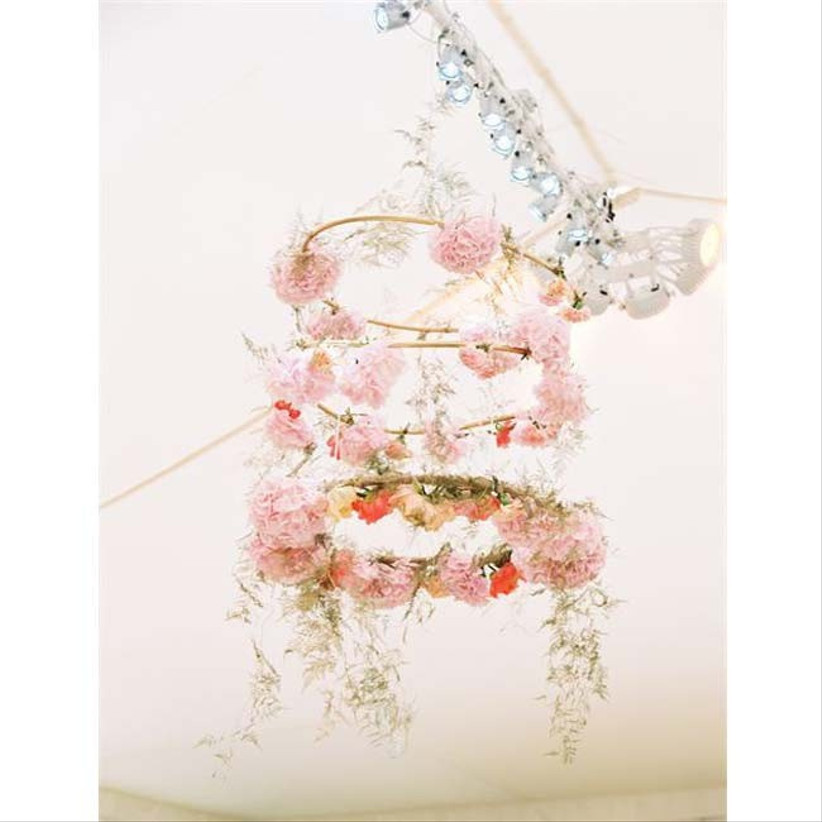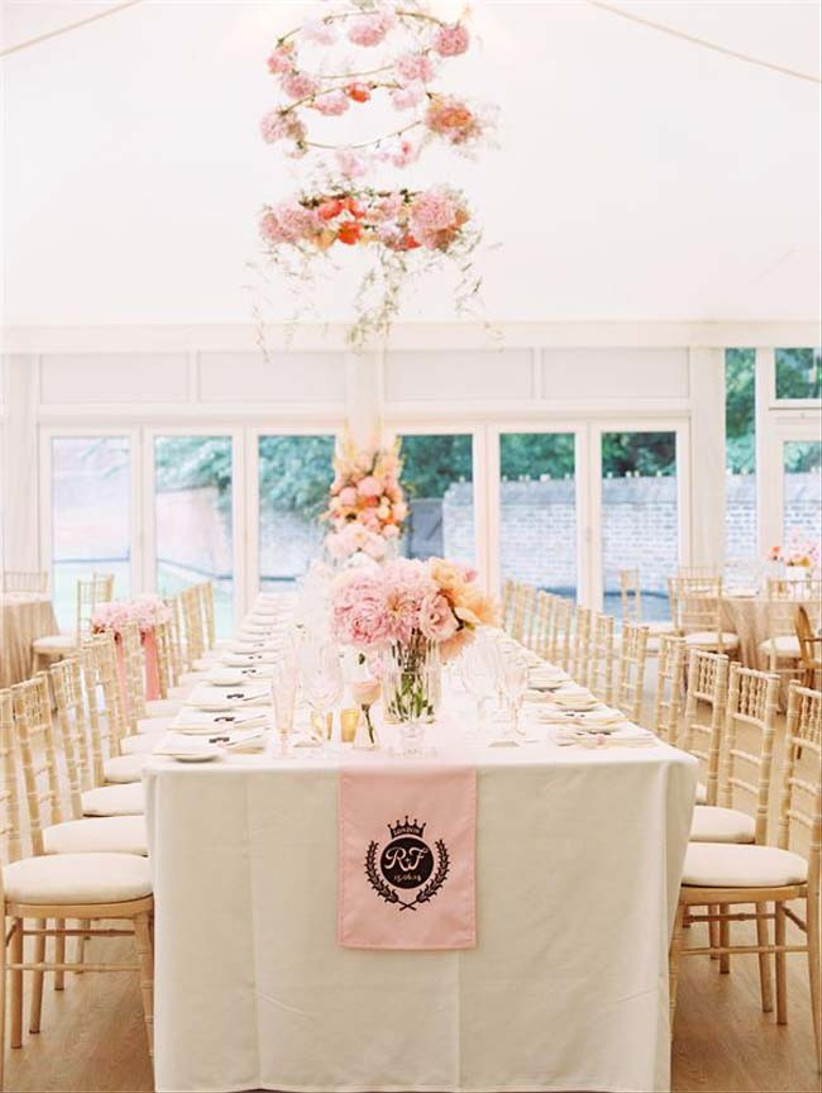 For a summer bridal bouquet that's packed full of colour, we love this perfect pink one from Louise Avery Flowers. Ask your florist to tie your bouquet with some delicate lace or elegant white ribbon for a finishing flourish.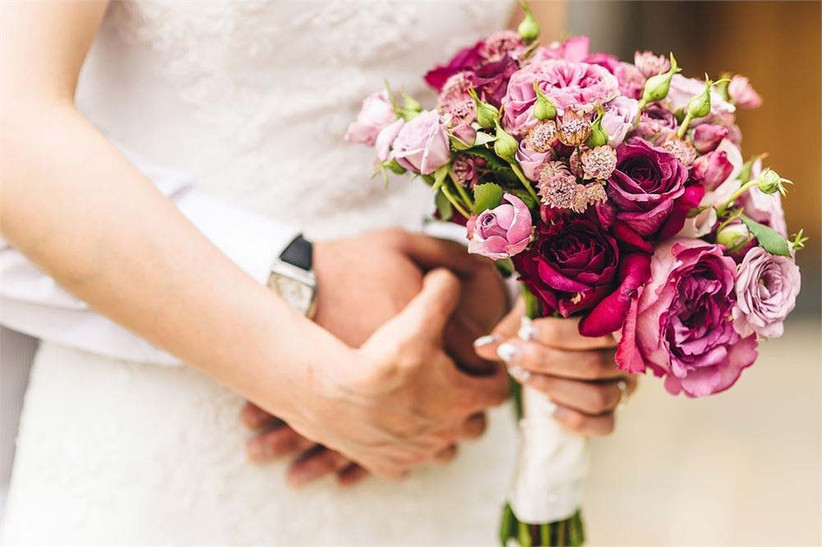 Or how about these co-ordinating bride and bridesmaid bouquets from Vanilla Rose? A combination of flower shapes and sizes adds interest to your bouquet – add daisies and natural green foliage and you're summer wedding ready!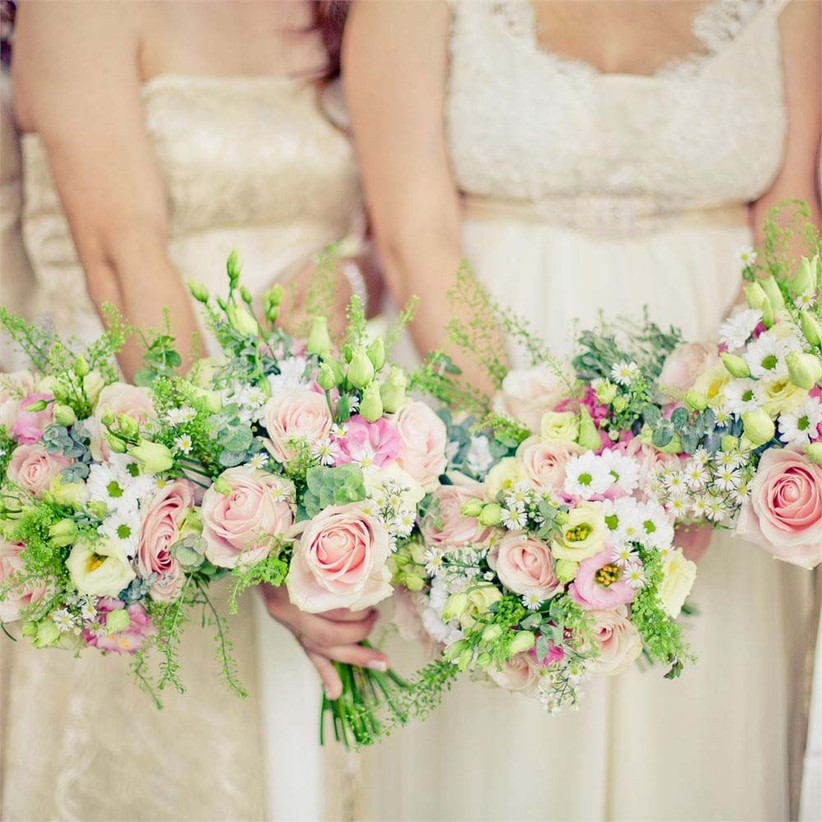 For a unique way to incorporate summer wedding flowers into your décor, we're obsessing over these freestanding letters from Not on the High Street that are filled silk and foam flowers. These everlasting decorations would add glam to your reception and can be customised to include a range of colours and flowers – like this summery combo of white and pink.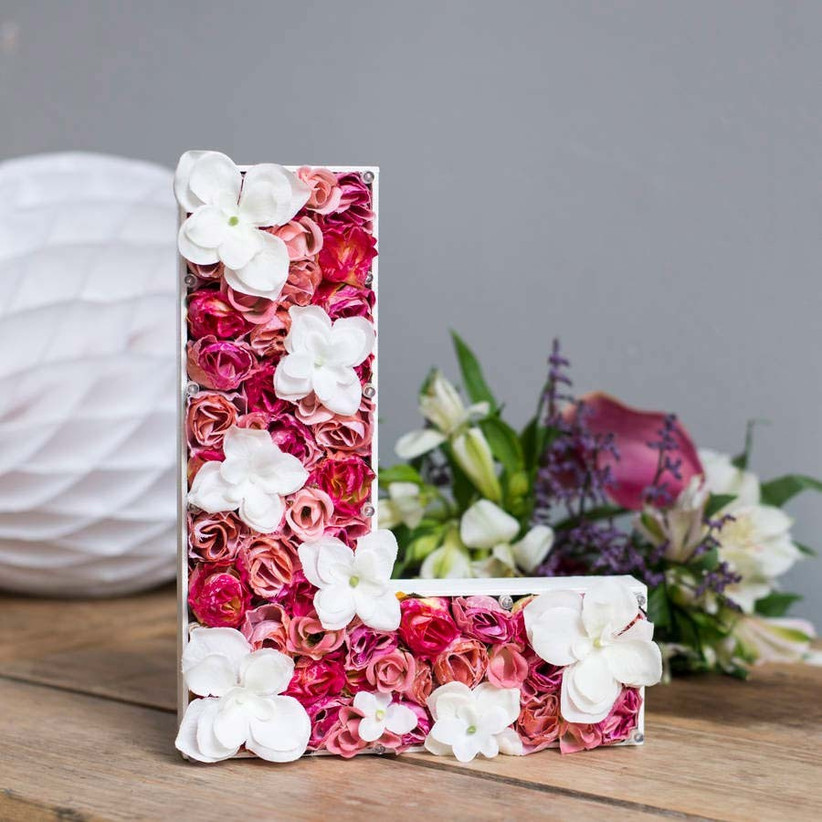 Image Credit: The White Bulb at Not on the High Street
Daisies are having a moment right now when it comes to summer wedding flowers. Symbolising innocence and purity, these beautiful blooms will take you back to your childhood days of making daisy chains. We love this large daisy bouquet from Acer Florist that's complemented with purple flowers.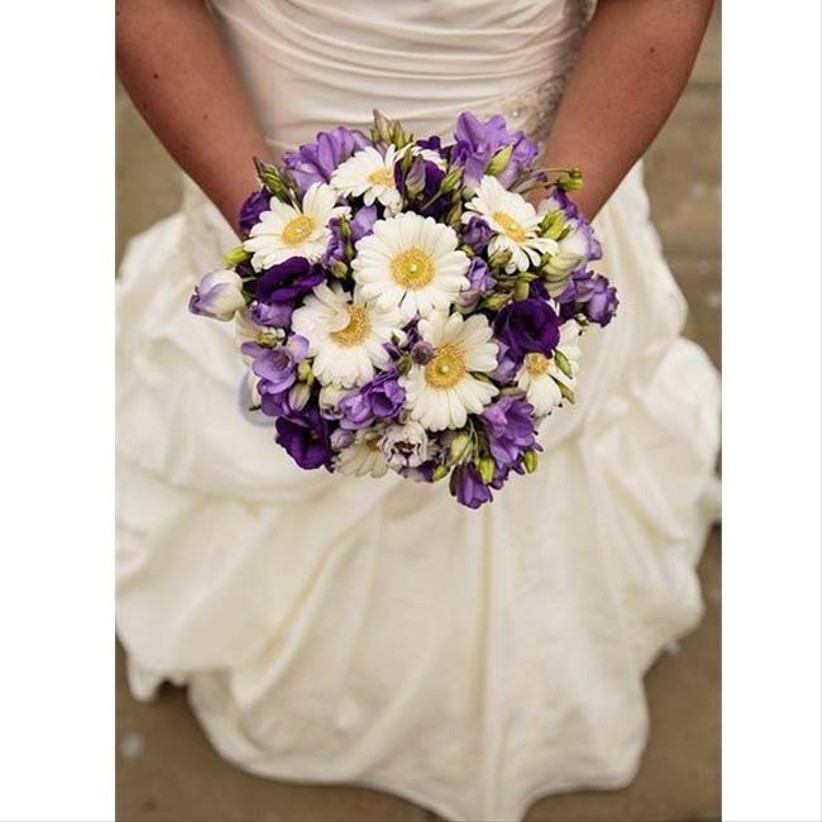 This table plan created by Millbank and Kent Contemporary Wedding Stationery is surrounded by gorgeous dusky pink roses that would be perfect for your summer wedding. Winding summer blooms like roses and peonies around slightly worn items, such as this bicycle wheel, gives a quirky vintage touch to your décor.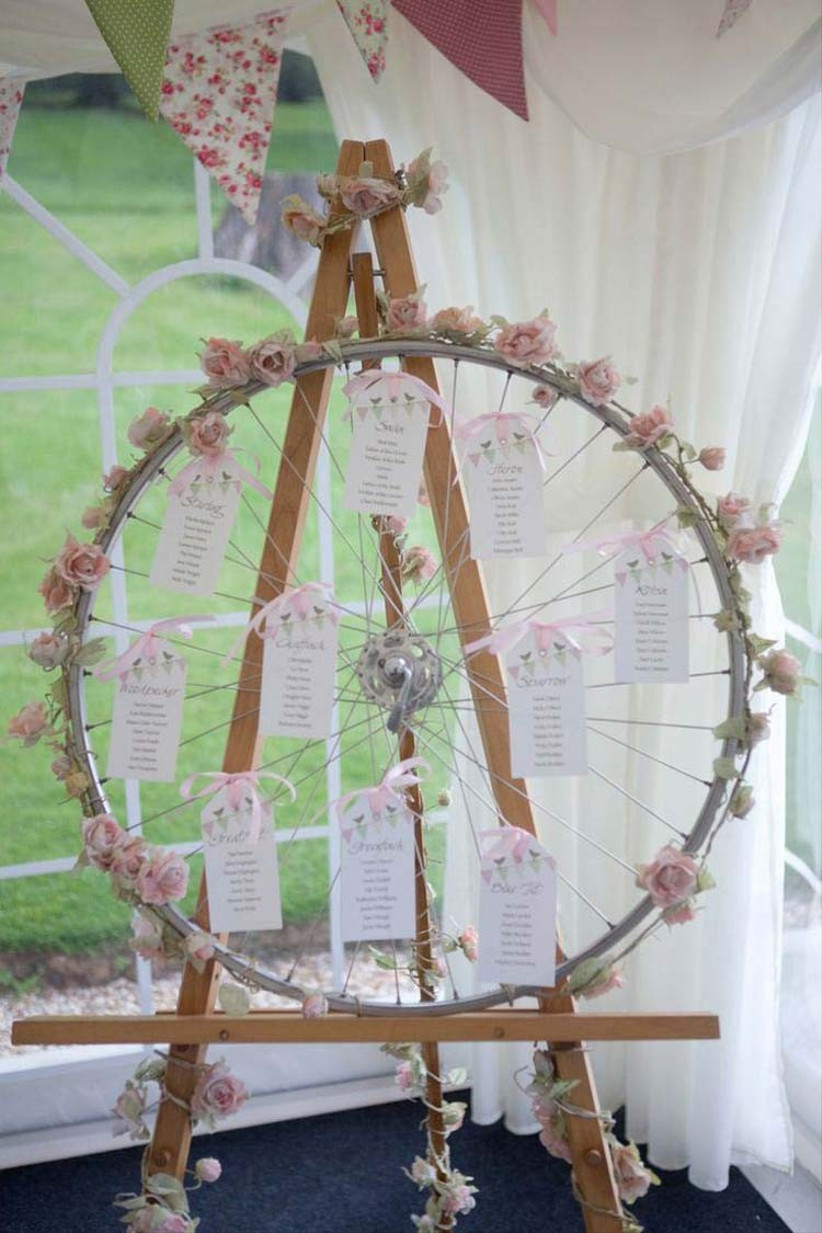 Orange flowers don't have to be limited to autumnal weddings, a colour palette of vibrant orange, peach and cream in your bouquet would be perfectly suited to a summer wedding. Delicate white flowers such as daisies and gypsophila would also work well with this colour palette.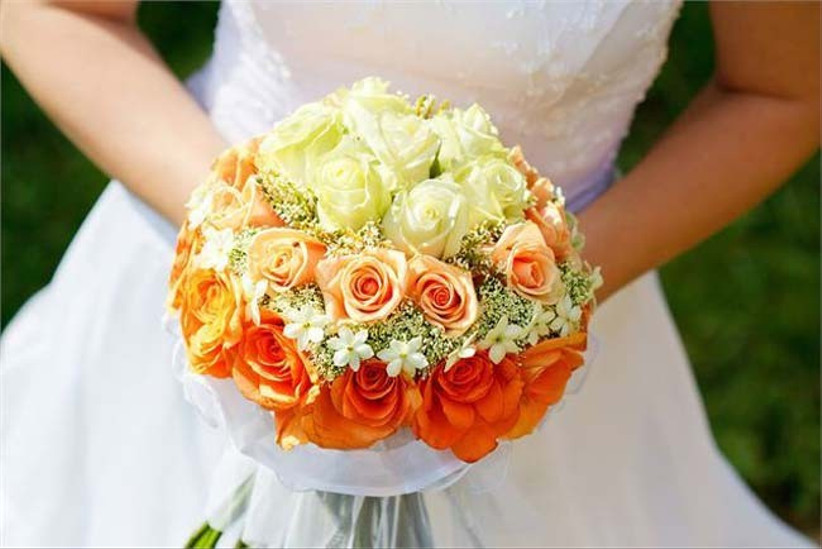 Perhaps it's the fact that peonies represent happiness and good health that makes them so popular with brides, or maybe it's simply because they look oh so pretty! These large flowers would make a lovely statement at your wedding, whether you have them in your bouquet or as centrepieces on your reception tables.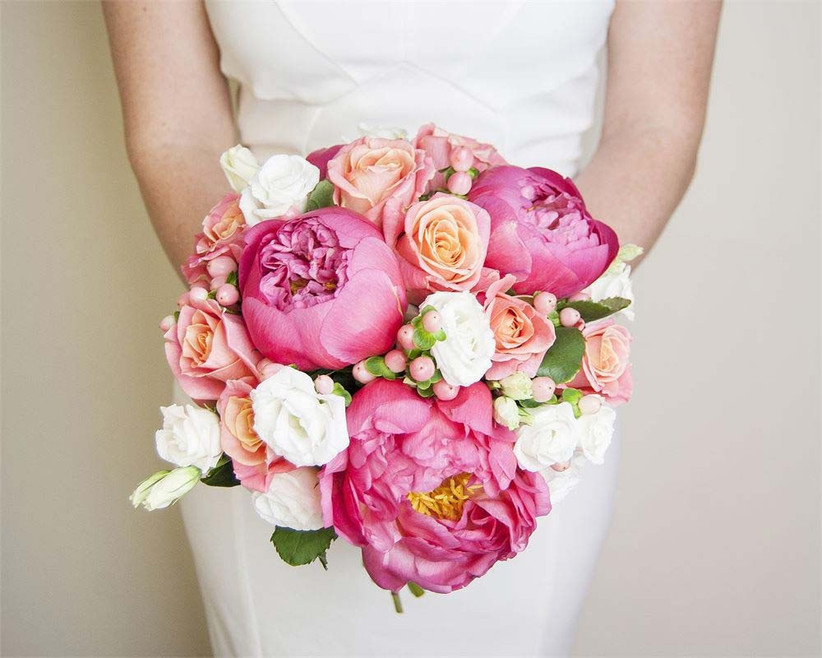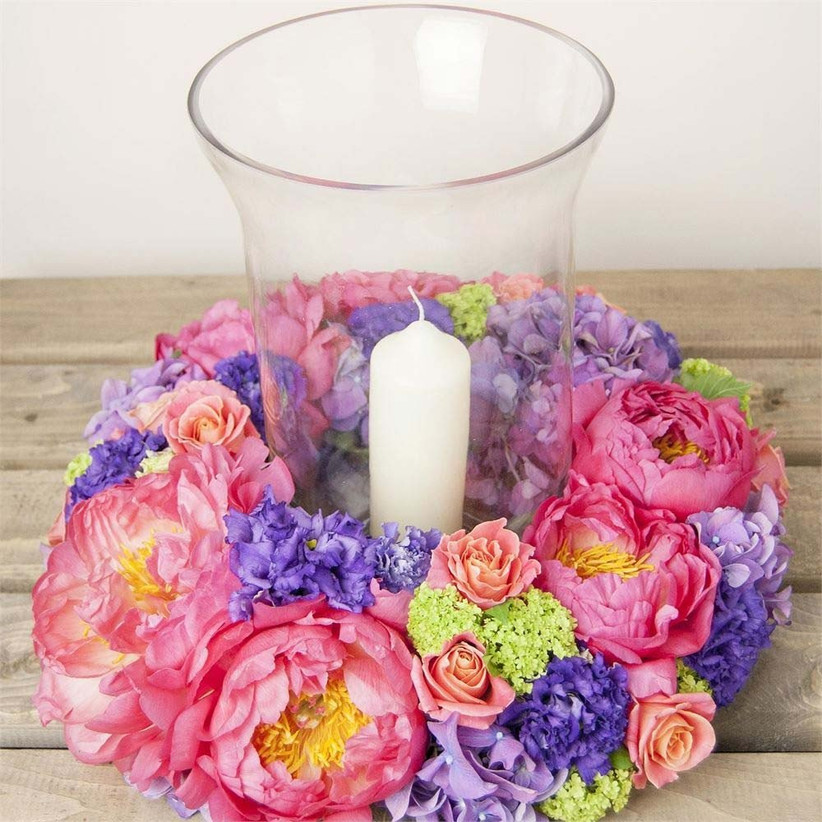 Image Credit: Rhubarb & Bramley
If you can't decide on one particular colour for your summer wedding flowers then it doesn't matter – it's summer so fill your décor with flowers that are as colourful as the rainbow! Choose flowers in colours that complement each other, such as yellow with purple and blue with orange, and include them in your décor and in your bouquet. Not only will your wedding will be filled with a mix of delicious scents but also a happy, summery vibe!
Image Credit: White Lilac Flowers
You don't have to be limited to just using summer flowers in your bouquet and décor, if you fancy yourself as a bit of a boho bride you could wear them in your hair too! Go all out with a statement flower crown or create elegant wedding hair with flowers such as gypsophila or daisies weaved into a chignon or loose waves.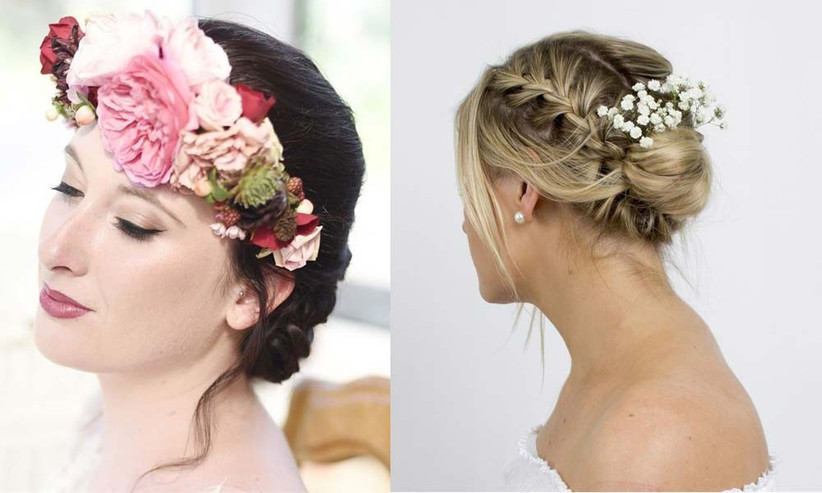 Image Credit (left to right): Jessica Short Hair and Makeup; Belle and Bride
Ever wondered what the meanings behind certain wedding flowers are? Our guide to flowers and their meanings will tell you everything you need to know.