13 of the Best Wedding Venues in Suffolk to Suit All Styles
From rustic barns to stately homes, these are the best and most impressive wedding venues in the whole of Suffolk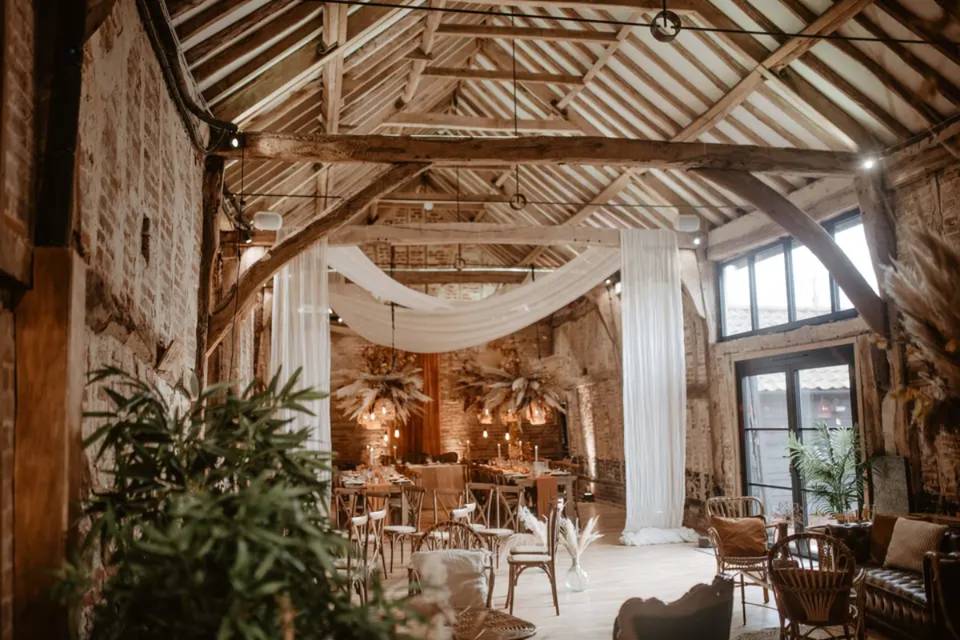 ‌Choosing a wedding venue is no easy feat when you have hundreds to trawl through, but for Suffolk-specific couples, that won't be an issue. See, to help you out, we've rounded up the best wedding venues in Suffolk to save you all the trouble.
While rustic barns and historic houses are abundant in Suffolk, that doesn't mean there isn't something for those with a penchant for the modern or quirky. In fact, we've stumbled across some of the dreamiest festival wedding venues in the stunning Suffolk countryside.
Our edit includes a wide range of wedding venue styles. Whether you're after barn wedding venues in Suffolk or small wedding venues for more intimate affairs, we have you completely covered.
Wedding Venues in Suffolk: 13 of the Very Best Barns, Manor Houses & Historic Buildings
We reckon the selection is so good, you'll have a tough time narrowing it down. To help you make your decision, we've rounded-up 13 of the best wedding venues in Suffolk and detailed exactly why they've made our list.
Scroll through the below and get ready to fall in love.
1. Woodhall Manor – Woodbridge
Kicking off our Suffolk wedding venues round-up is Woodhall Manor, a dreamy exclusive-use venue set near the Suffolk Heritage Coast. The historic manor and its nine acres of beautiful grounds can be all yours for the day, giving you major Lord or Lady of the manor vibes.
You can say 'I do' within the Elizabethan walls or outside on the lawn before heading into the beamed reception room for a feast prepared by an award-winning chef. Following the day's festivities, up to 30 people can stay within the 14 individually designed bedrooms. Sounds pretty blissful to us.
Deals: Save £2,500 when booking remaining January and February 2024 wedding dates. Teachers get £500 off their wedding when booking remaining school holiday or half term dates.
Pricing: £POA
Capacity: Up to 200
2. Easton Grange – Easton
Formerly a working farm, there's no better place to go for an authentic country feel than Easton Grange wedding venue in Suffolk. Thanks to a stunning renovation, the venue has a contemporary vibe that would suit couples looking for a modern wedding venue in Suffolk down to the ground.
Surrounded by stunning grounds and gardens in picturesque Easton, close to Ipswich and within easy reach of London, Easton Grange manages to be both well-connected and secluded at the same time, which is no easy feat!
We reckon you'll also love the adjoining barns that allow you to host every part of your day here as well as the neutral décor that means any wedding theme goes.
Deals: Gift offers available for remaining 2023 wedding dates.
Pricing: Menus from £76.80
Capacity: Up to 250
3. Abbey Hall – Eye
If it's history you're looking for, then 16th century Suffolk wedding venue Abbey Hall is more than worth a look. Built in 1583 and lovingly restored in a manner that both showcases the building's history and the innovations of modern design, guests are guaranteed to be impressed by this Suffolk gem.
We adore the exposed brick, beams (perfect for hanging floral displays on!) and galleried seating area. We think a candlelit winter wedding here would make for an Insta-worthy celebration.
If it's a wedding in summer you're dreaming of then Abbey Hall is also an amazing option thanks to its idyllic courtyard ceremony setting.
Pricing: £POA
Capacity: Up to 150
4. Lanwades Hall - Newmarket
If you're seeking a grand wedding venue in Suffolk, Lanwades Hall could be just the ticket. Set amidst 12 acres of charming British countryside, the surroundings of this gorgeous wedding venue are equally as beautiful as the building itself.
There are ample outdoor spaces to host wedding events, from canapes on the terrace to ceremonies in the gardens, but winter weddings here can be equally as impressive.
The venue offers a package-free hire, giving couples exclusivity and flexibility in equal measure.
Pricing: From £2,650
Capacity: Up to 120
5. The Sancroft Barns - Eye
Nestled within the charming village of Framlingham is The Sancroft Barns. One of the most stylish barn wedding venues in Suffolk, couples can hire this spot as a dry-hire and use it as their blank canvas to bring in their dream wedding venue decor.
Though this spot has a large capacity of 250, it's also one of our favourite small wedding venues in Suffolk, because its low season package is geared specifically towards nuptials of 50 guests or less, and they also cater to weddings as small as just 35 people.
Deals: 5% off wedding prices when booking out of season dates between October and March. 10% off wedding prices when booking midweek wedding dates.
Pricing: From £1,000
Capacity: Up to 250
6. Crow's Hall - Stowmarket
Suffolk wedding venues don't come much prettier than Crow's Hall in Stowmarket. The grand hall is located within 400 acres of rustic farmland, which contrast perfectly with the chic elegance of the building itself.
If you're planning to embrace one of the latest wedding trends, weekend-long weddings, that won't be an issue here as their hire periods range from four to seven days! That's right, you can hire this Suffolk wedding venue for as long as an entire week!
Just imagine the fun that you and your nearest and dearest could have here, playing house at one of the grandest buildings in the area. The venue embraces diversity and loves hosting any and every wedding celebration.
Pricing: £POA
Capacity: Up to 1,000
7. Hengrave Hall - Mildenhall
Another Suffolk wedding venue and another serious dose of history. Next on our list is the grade I listed Tudor mansion, Hengrave Hall.
Ideal for couples set on a church ceremony, Hengrave has its own church just steps away from the main house. But if a church just isn't your bag, there's a whole host of civil ceremony options for both intimate and large weddings too.
We love the sheer amount of rooms and spaces that make this a flexible venue able to suit just about any couple's needs. From the sun-kissed West Terrace (ideal for summer drinks) to the children's playroom, and the Queen Elizabeth Suite and Blue Room complete with billiard table that allows total privacy as you prepare for your big day – there's a room for anyone and anything here.
Pricing: £POA
Capacity: Up to 150
8. Seckford Hall Hotel – Woodbridge
You'll often catch us extolling the benefits of a hotel wedding venue. We love the idea of being able to have all of our loved ones stay on-site, kicking off our honeymoon early with a luxury stay or hosting a post-wedding farewell breakfast.
If you're nodding along with us, we'd advise you to take a look at esteemed Suffolk wedding venue, the one and only Seckford Hall Hotel.
Nestled in 34 acres of peaceful grounds and boasting a luxury spa – ideal for pre and post-wedding pampering and couples spa weekends – this exclusive-use venue is guaranteed to impress your guests.
You can say 'I do' indoors or outdoors here whatever the season and whatever your faith – the team pride themselves on their experience in hosting all kinds of weddings. Plus, with a capacity of 250, you'll be able to invite all of your loved ones to share the fun.
Deals: £500 discount offered to NHS and military workers when you book a wedding here.
Pricing: Menus from £100
Capacity: Up to 250
9. The Granary Estates – Woodditton
Rustic wedding venues have become increasingly popular in recent years, and this barn wedding venue in Suffolk is a perfect example of why. The Granary Estates' flint walls and original timber beams make for an unbeatable cosy and rustic atmosphere, while the glass walkway between the two original barns on-site adds a welcome contemporary touch.
The private courtyard provides the ideal spot for sun-soaked reception drinks in the summer while the country surroundings make for a stunning photo backdrop.
We also love that The Granary Estates allows couples to choose from a selection of hand-picked, award-winning caterers, ensuring the menu is as personal as every other element of the day.
Deals: Get £300 towards your wedding prop spend when you book remaining 2023 wedding dates.
Pricing: From £3,800
Capacity: Up to 240
10. Jimmy's Farm – Ipswich
With a 17th century barn, working farm and ancient woodland, Jimmy's Farm is packed with character and personality. You can marry outside while guests sit atop hay bales or inside the brand-new celebration tent under the festoon lights.
The grounds offer plenty of space for garden games and bouncy castles (you know you want to!) while the barn lends itself perfectly to casual, banquet-style seating. Once seated you can enjoy a bespoke menu featuring your favourite dish made with fresh, British produce – yes please!
Pricing: £POA
Capacity: Up to 150
11. All Manor of Events – Henley
Nestled within the heart of the Suffolk countryside yet within easy reach of Ipswich, All Manor of Events is as charming as it is convenient. If it's rustic vibes you're after, then All Manor of Events is a must-see thanks to its characterful barn and purpose-built outdoor ceremony room.
The Suffolk barn venue can host up to 220 guests, making this venue a great choice for large weddings and receptions.
The barn is marquee lined giving its rustic charm an elegant touch with the help of fairy lights and chandeliers. Inside the ambient space you'll enjoy meals cooked on-site using locally-sourced ingredients ensuring a restaurant quality experience for you and your guests.
Deals: Remaining Saturdays in 2023 available with packages from £5,995+VAT for 60 day guests with additional add ons available.
Pricing: Menus from £67
Capacity: Up to 250
12. Bruisyard Hall – Saxmundham
Struggling to choose between a rustic barn or a country house? At Bruisyard Hall you totally don't have to. With a stunning wedding barn with a capacity of 140 seated guests and a breathtaking country house that sleeps 28, you can have the best of both worlds here.
Available on an exclusive-use basis you can treat Bruisyard as your home for the day, exploring the rooms (including a snooker room and attic bar!) within the grand yet cosy house as well as taking the opportunity to snap some wedding photographs within the 700 acres of land.
Pricing: £POA
Capacity: Up to 200
13. Fynn Valley Terrace – Ipswich
This family friendly, purpose-built wedding venue offers a contemporary take on the Suffolk barn wedding venue scene. The oak-framed Fynn Valley Terrace features panoramic views across the golf course from its south facing terrace and lawn – the ideal spot for a Pimms or two!
The large French doors, high ceilings and neutral décor of the ceremony and reception rooms give a light and airy feel that lends itself perfectly to just about any wedding theme or colour scheme. The Café Terrace makes for the perfect evening celebration space with plenty of room for dancing and its own private bar.
Deals: Offers available for remaining 2023 wedding dates.
Pricing: Menus from £45
Capacity: Up to 250
Sorted your wedding venue? With such a big item ticked off the list, we reckon you can afford to take a well-earned break from wedding planning.
Check out our top pick of the most romantic hotels in the UK to track down your dream getaway.