34 Prettiest Puff Sleeve Wedding Dresses for Stylish Brides
Puff sleeve wedding dresses are back and bigger than ever - steal this trendy style with 33 of the best puff sleeve wedding dresses to shop now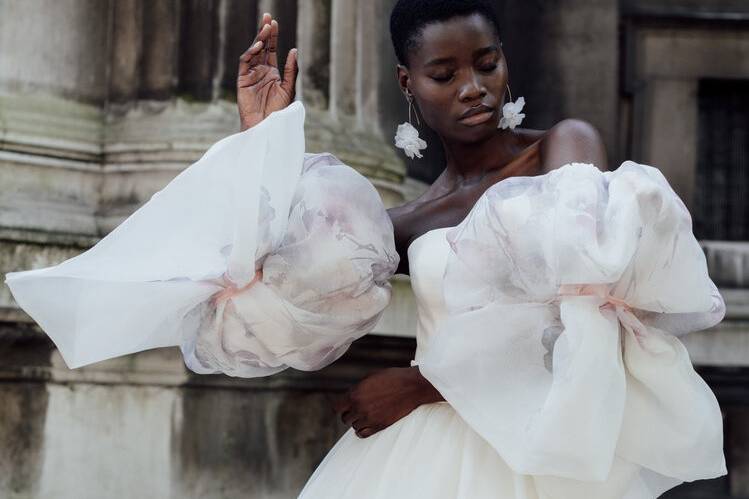 While there are some aspects of 80s wedding fashion that we would rather forget, there's one trend that we, along with tons of bridal designers, can't get enough of. We're talking about puff sleeve wedding dresses. Seen on many celebrity wedding dresses, and a favourite of royal brides too, this is a wedding dress trend that's back with a bang,
Iconic thanks to Princess Diana's silk taffeta creation, "the trend of larger than life sleeves has filtered from the catwalks into bridalwear and brides are loving the opportunity to give a classic, simple, effortless dress the wow factor," reveals Kate Halfpenny, founder and designer behind luxury bridalwear brand Halfpenny London.
Forget dated designs, puff sleeve wedding dresses are perfect for fashion-forward brides, with contemporary wedding dress designs featuring everything from vintage billowing bishop sleeves to voluminous sheer styles and sexy off the shoulder puff sleeves. "In my collection they come in lots of different sizes and fabrics, from delicious stiff Mikado to light-as-a-feather silk organza, from graphic square taffeta shoulders to a delicate puff of lace. There really is something for everyone," shares Kate.
You can also find wedding dresses with detachable puff sleeves, should you wish to switch up your look throughout the day. "We've had detachable sleeves in the collection for many years and supersized them with an epic pair of puff sleeves in the '3' collection. I love playing with accessories and changing up outfits on a whim and these sleeves allow you to update any dress and have fun! You can be traditional if you want to be, while also playing with the drama," suggests Kate.
Don't fancy digging out your relatives second-hand wedding dress from the attic? We've compiled an edit of the best puff sleeve wedding dresses for every taste and budget. From princess puff sleeve wedding dresses fit for royalty, to boho puff sleeve wedding dresses ideal for a relaxed celebration, you'll find your dream dress here.
Long Puff Sleeve Wedding Dress
Detachable Puff Sleeve Wedding Dress
Short Puff Sleeve Wedding Dress
Princess Puff Sleeve Wedding Dress
Boho Puff Sleeve Wedding Dress
Long Puff Sleeve Wedding Dress
1. Hazel Dress - £POA, Halfpenny London
The Hazel dress from Halfpenny London is chic and simple, yet still makes an impact with ruched, puff sleeves. The three-quarter length style is ideal if you love the look of a long puff sleeve but want to stay cool and comfortable.
2. Organza Wrap Puff Sleeve Midi Dress - £89, Coast
There's something so ethereal about a sheer puff sleeve, like the ones on this organza wrap dress from Coast. The contrasting fabrics create a really unique look and we bet you won't have seen anything quite like it.
3. Turner - £POA, Pronovias
Channel Hollywood glamour in the Turner dress from Pronovias. The long Juliet-style sleeves feature rows of delicate buttons that lead to a dramatic puff sleeve for a sophisticated and sleek look.
4. Lori Puff Sleeve Wedding Dress - £195, ASOS
For less than £200, you can get your hands on this gorgeous lace long puff sleeve wedding dress from ASOS. The cut-out detailing adds an interesting touch, as do the dramatic puff sleeves.
5. Style 44292 - £POA, Demetrios
Getting married at a castle wedding venue? A regal wedding dress like this ball gown should suffice! From the full skirt to the vintage style puff sleeves, everything about it is fit for royalty.
READ MORE: 27 Enchanting Ball Gown Wedding Dresses
Detachable Puff Sleeve Wedding Dress
6. Orchid Sleeves - £POA, Halfpenny London
When it comes to puff sleeve wedding dresses, sometimes the bigger the better and that is certainly the case with the Orchid sleeves from Halfpenny London. Here, they are attached with the Hyacinth dress and the Orchid skirt for a show-stopping entrance.
7. Pearl Sleeves - £425, Rue de Seine
Rue de Seine are a boho bride's dream - the detachable pearl puff sleeves are crafted from corded embroidery and completely elevate the Jade gown to another level. They tie on with a fine strap for discreet support so you won't have to worry about them slipping off your shoulders.
8. Diana & Elizabeth - £4,290, Karen Willis Holmes
This model is wearing Diana & Elizabeth from Karen Willis Holmes. The boning within will hug your figure in the most flattering way and contrast against the oversized puff sleeves wonderfully.
9. Style 44292 - £POA, Sincerity Bridal
If you want to change your look from ceremony to reception, opting for a wedding dress with detachable sleeves is a great idea. This strapless gown looks amazing with the puff sleeves attached and without.
10. The Melrose - £POA, Lela Rose
For a similar design in a textured fabric, consider Lela Rose's The Melrose. All their wedding dresses are made to order so you can guarantee it'll fit you like a glove.
11. Clara - £POA, Pronovias
We adore the hand-threaded embroidery that adorns the Clara dress from Pronivas and we can't keep staring at the oversized, detachable puff sleeves. Our bets are that neither will your wedding guests...
12. Bree Dress - £708.14, Olivia Bottega
[Ad] If you are struggling to choose between a sleeveless and a puff sleeved dress, Olivia Bottega dresses eliminate the stress of choosing as they offer stunning detachable sleeves. We love the idea of pairing sexy sequined Bree dress with shiny detachable sleeves Meg. Alternatively, choose the Arianna satin sleeves - wear the sleeves on your shoulders to create these princess playful vibes, or pull them a little bit lower to create a more romantic mood.
Short Puff Sleeve Wedding Dress
13. Elyse Lace Tiered Wedding Dress - £299, Phase Eight
High street wedding dresses are affordable and stylish - take the Elyse dress from Phase Eight. Designed for the modern bride, the shorter length gives a relaxed feel and the tiered skirt is so pretty.
READ MORE: 70 of the Best Short Wedding Dresses
14. Taffeta Puff Sleeve Mini Dress - £280, Self-Portrait
Short puff sleeve wedding dresses look amazing as the shorter skirt length helps balance out the dramatic puff sleeves. Ideal for petite brides, this frock from Self-Portrait is fun and flirty.
15. Casabianca Puffed Sleeve Midi Dress - £380, Aje at Matches Fashion
If you can't keep your eyes off this season's catwalks, this puff sleeve midi dress from Aje could be for you. It's light, airy and would be a dream to wear at a beach wedding, with sandals or even bare feet.
16. Zowie Dress - £390, Cult Gaia
The Zowie dress from Instagram-ready brand Cult Gaia features trendy puff sleeves and cut-outs at the waist. The open-back will look exceptional as you walk down the aisle!
17. Nuit de Folie - €12,890, approx. £10,754, Rime Arodaky
We did a double-take when we saw this stunning wedding dress from Rime Arodaky! It's on the pricier side of the scale but the shimmering fabric and midaxi style silhouette is so heavenly.
18. Medeleine Dress - £447, Revolve
For a sultry short puff sleeve wedding dress, Revolve have you covered with the Medeleine dress. The all-over lace finish keeps the look traditional while the partial mesh lining adds a contemporary twist.
READ MORE: 30 Sexy Wedding Dresses That Will Get Pulses Racing
19. Puff Sleeve Pleated Skirt Dress - £28, Boohoo
If you're an older bride on the hunt for a puff sleeve wedding dress, Boohoo's pleated beauty could be just what you are after. It's modest and sophisticated but the ruched puff sleeves and shorter length keep it on trend.
20. Emiliee Dress - £345, Nadine Merabi
A dress from Nadine Merabi is guaranteed to bring glamour to your wedding day - Emiliee features a statement back bow so it'll impress just as much from the back as it does from the front.
Princess Puff Sleeve Wedding Dress
21. Amber Gown - £POA, Christie Nicole Bridal
3D floral embellishments, off the shoulder puff sleeves and a graceful train? Yep, the Amber gown from Christie Nicole Bridal is what princess puff sleeve wedding dress dreams are made from.
22. India - €10,575, approx. £8,824, Rime Arodaky
You didn't think we would only include one Rime Arodaky dress did you? The India dress has the wow factor from top to bottom, complete with spectacular puff sleeves crafted from lightweight organza.
READ MORE: 22 Wedding Dresses for Big Busts
23. Puff Sleeve Wedding Dress - £236.46, Poxi Bridal at Etsy
A puff sleeve princess wedding dress doesn't have to be oversized and dramatic - this pretty gown is minimalistic but could easily be taken from the pages of a fairy tale.
24. Gwen Gown - £2,389.46, Houghton By Katharine Polk
Add a little sparkle to your wedding dress with the Gwen gown from Houghton by Katharine Polk. The waist cut-outs and scoop neckline are dotted with crystals that will shimmer and shine under fairy lights.
Boho Puff Sleeve Wedding Dress
25. Rosie Embellished Puff Sleeve Bridal Dress - £499, Monsoon
Beautifully fitting and elegant, the Rosie dress from Monsoon boasts floral embellishments and a subtle puff sleeves. The perfect example that you don't always have to opt for huge sleeves to nod to the puff sleeve trend.
26. Camellia Dress - £380, Self-Portrait
The Camellia dress from Self-Portrait is causal and relaxed while also being totally wedding-appropriate. You can easily dress it down to give even more of a boho feel with a flower crown and natural makeup.
27. Lenten Rose Midi Dress - £165, Sister Jane
Simplistic yet stunning, Sister Jane's Lenton Rose midi dress has a curve seam waist that is super flattering. We envision it fitting in perfectly at a wedding in a wildflower meadow.
READ MORE: 21 of the Best Rustic Wedding Venues in the UK
28. Clementine Gown - £7,750, Markarian
If you are a big fan of the Bridgerton wedding trend, then you'll adore the Clementine gown from Markarian. It has boning throughout the bodice that pairs wonderfully with the soft and romantic puff sleeves. Browse even more Regency wedding dresses here.
29. Jacqueline - £2,050, Katya Katya
Jacqueline is a boho puff sleeve wedding dress that is sure to impress! The statement lace puff sleeves and curve accentuating silhouette is ideal for a relaxed wedding with a rustic feel.
30. Ginny Dress - £300, Reformation
If you're searching for a casual wedding dress, the Ginny dress from Reformation could be just the ticket. The bubble puff sleeves keep the look fresh and we love the idea of pairing it with unexpected black accessories.
31. Jeanette Puff Sleeve Dress - £2,900, Markarian
A festival wedding venue wouldn't be complete without you rocking up in this beauty! From the feathered trim and all-over sequins, to the dramatic puff sleeves, it's a one-of-a-kind outfit for a special celebration.
32. Blanca Puff Sleeve Dress - £895, Rixo
Stylish brides will be no stranger to fashionable brand Rixo and their collection of dreamy bridalwear. The Blanca dress is one of our favourites, with silky jacquard print and a laid-back feel.
READ MORE: 27 Fabulous Feathered Wedding Dresses
33. Eloise - £POA, Watters Designs
Despite its clean look, the Eloise wedding dress from Watters Designs is not short on details. We're talking an empire neckline, puff sleeves and pretty shoulder bows.
34. Pegeen Dress - £73.55, AW Bridal
AW Bridal's Pegeen dress is a boho alternative to a typically glamorous mermaid wedding dress. Pair with gold accessories and lace-up heels for a gorgeous finish.
Where Can You Wear a Puff Sleeve Wedding Dress?
The brilliant thing about a puff sleeve wedding dress is that it can easily be worn at all kinds of weddings.
"In my opinion, you can wear a puff sleeve wedding dress anytime and anywhere! I think the last two years have taught us to follow our hearts, so my advice is to choose a dress because you love it and you feel amazing in it, rather than because it suits a particular venue, and absolutely never choose a dress just because it's on trend! The great thing about having detachable sleeves is that you can rock them for the ceremony and then transform your look by removing them for the reception if you like," recommends Kate Halfpenny, founder and designer behind luxury bridalwear brand Halfpenny London.
How Do You Style a Puff Sleeve Wedding Dress?
Fallen in love with oversized, dramatic puff sleeves? "If you've gone for a real statement sleeve then you might decide to showcase that look by keeping your accessories simple," suggests Kate.
"I'm also a huge fan of veils - they can really elevate any look and make the simplest of gowns become bridal. They can also make something quite lacy and pretty look more edgy and fashion forward if you choose a 3D appliqué veil, for example. I personally couldn't imagine not wearing one on my wedding day. For me, it was like my armour. Even though it was sheer it gave me the opportunity to hide a little when I stepped into the church with all eyes on me, so I'm a big fan!" says Kate.
If you adore puff sleeves, you're bound to fall in love with these regency wedding dresses