20 Lady Whistledown-Approved Bridgerton Inspired Wedding Dresses
Channel Daphne Bridgerton on your big day with our edit of the most swoon-worthy Regency wedding dresses - Lady Whistledown approves!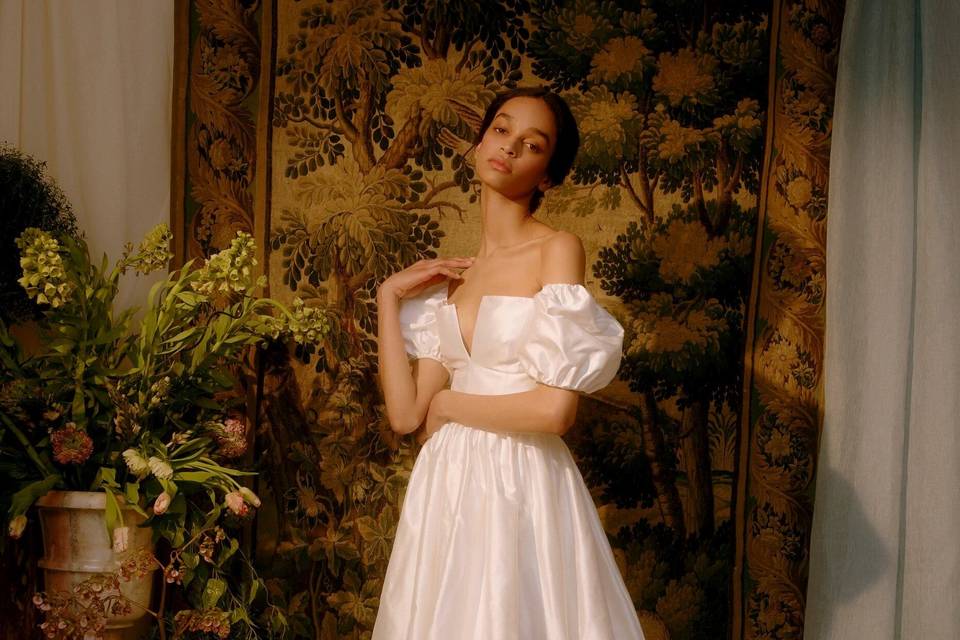 With regency-core appearing as one of the most popular wedding trends of the year, it comes as no surprise that bridal designers have packed their latest collections with Regency wedding dresses.
Ideal for Bridgerton obsessed brides, think empire waistlines, floral motifs and square necklines that are made for opulent manor celebrations or alfresco country house weddings on a balmy summer evenings. "With Regency inspired wedding dress brides can express their unique individuality and at the same time achieve a timeless and modern chic look," says London based bridal designer Katya Katya.
Want to dress like Daphne Bridgerton in a simple puff sleeve gown? Or, perhaps Penelope Featherington's pretty pastel style is more your vibe? Whatever your taste, we've rounded up 20 of the best Georgian inspired wedding dresses that have Lady Whistledown's seal of approval.
20 of the Best Regency Wedding Dresses
1. Hermine Dress - £2,300, Katya Katya
Lace appliqué and dramatic puff sleeves combine to create this gorgeous wedding dress from Katya Katya. We adore the long train which will look fabulous as you walk down the aisle.
2. Clementine Dress - £1,450, Rixo
Rixo's bridal collection is full of vintage inspired dresses like the Clementine gown. It features a gorgeous rosebud jacquard pattern on off-white silk - perfect for the era as Regency brides often favoured yellow gowns.
3. Norma Dress - $595, approx. £450, Love Shack Fancy
Subtly incorporate florals into your wedding dress with the Norma dress from Love Shack Fancy. At centre front, on the bodice and skirt, are gorgeous panels of sunflower embroidery.
4. Stassie Maxi Dress - $595, approx. £450, Love Shack Fancy
Don't shy away from ditsy florals if you're looking to emulate the style of the Regency era! We adore the Stassie dress from Love Shack Fancy for spring or summer weddings.
5. Rosalie Dress - £7,626, Danielle Frankel
This hand twisted organza gown from Danielle Frankel wouldn't look out of place at an enchanting Bridgerton ball. The Rosalie dress has a soft internal corset that will give you shape without making you uncomfortable.
6. Gitane Dress - £248, Reformation
How about incorporating your 'something blue' into your wedding dress? Reformation's Gitane dress has a sultry leg slit that gives it a contemporary upgrade.
READ MORE: 44 Best Long Sleeved Wedding Dresses
7. Nikita Dress - £285, Reformation
Corset details were a common feature in Georgian dressing and the Nikita dress from Reformation is the perfect modern representation of this. We love how the drop hem will allow you to showcase some beautiful wedding shoes.
8. Tulle Layered Maxi Skirt - £129, Coast
You can give any bridal top a romantic touch of Regency if you opt for this ruffled skirt from Coast. The frothy frills are so pretty and will look fabulous when photographed.
9. Simone Dress - £POA, Watters Designs
With an empire waist and puff sleeves, we can picture Daphne getting wed in the Simone dress from Watters. Available in ivory or nude, the all-over leaf design adds a unique finish.
10. Yvetta Duchesse Satin Dress - £5,300, Markarian
Luxe and sophisticated, Markarian have aptly named this dress the Yvetta Duchesse Gown. Crafted from 100% silk it'll feel as good as it looks!
11. Rosabel Dress - £POA, Watters Designs
If you want to make an entrance when you walk down the aisle, you certainly will in the Rosabel dress from Watters. The tiered skirt sends florals cascading to the floor in the most breath-taking way.
READ MORE: The 27 Best Wedding Lingerie Sets
12. Saward Dress - £POA, St Patrick
If oversized puff sleeves are your thing, you won't be able to resist the Saward dress. This gown is packed full of personality and is part of St Patrick's 'We Do Eco' line of sustainable wedding dresses. Discover more eco-friendly wedding ideas here.
13. Harland Dress - £POA, St Patrick
We don't know which part of the Harlan dress from St Patrick's modern fairy tale collection we love the most - from the long poet sleeves, to the open back and guipure edging details, it's all dreamy.
14. Dream Queen Bee Dress - £250, Sister Jane
Available in sizes XS - XL, Sister Jane's daisy embellished organza gown is ideal for non-traditional brides looking for an alternative wedding dress. Better yet, 3% of each sale will be donated to the Bumble Bee Conversation Trust.
15. Taffeta Diamante Strap Dress - £400, Self-Portrait
We're obsessed how this Georgian style wedding dress from Self-Portrait has been given a glamorous makeover in the form of diamante straps and pretty pearl buttons. The ruched bodice is also a winner as it'll be so flattering!
16. Corded Lace Midi Dress - £420, Self-Portrait
This midi dress from Self-Portrait is cut from corded lace and crepe and falls to a peplum hem. It is a wonderful combination of vintage and modern details that is sure to impress your guests.
17. Willa Dress - £POA, Savin London
Be still our beating hearts! Savin London have stolen the show with the Willa dress from their Floral Bloom collection - pair with an equally as stunning long veil for a magnificent look.
READ MORE: The 7 Types of Wedding Veil and Our Favourite Designs
18. Cora Off Shoulder Wedding Dress - £150, ASOS
You don't have to spend a fortune to get your hands on a beautiful Regency wedding dress - the Cora dress from ASOS is a glorious vision of lace and off shoulder puff sleeves and it's less than £200. Discover even more cheap wedding dresses here.
19. Midsummer Lace Gown - £395, Needle & Thread
Pops of blue were popular in the Georgian period and we have our eye on Needle & Thread's Midsummer lace gown. Available in midi and maxi skirt lengths, it will suit all tastes.
20. Delphine Dress - £195, Ghost
Vintage-esque in silhouette and style, Ghost's Delphine dress is perfect for those who want a Regency-ready wedding dress that is minimalistic and simple. It'll still make a lovely statement, but it won't be over the top.
What Style Are the Dresses in Bridgerton?
The beautiful Regency-era dresses in Bridgerton are called 'empire-line' dresses - and these lend themselves perfectly to being wedding dresses, particularly for brides who want a simple wedding dress. The high waistline falls just below the bust, creating a flattering, figure skimming shape.
"You can style our Regency style wedding dresses with a fascinator or a one tiered simple veil - the puffy sleeves are such a statement, you don't need too many accessories to look glamourous," suggests London based bridalwear designer Katya Katya.
What Did Regency Style Brides Wear?
If you love the Bridgerton-esque style, we get it - those empire line wedding dresses are gorgeous! However, it was also a trend in the Regency era for brides to wear caps or bonnets during their wedding ceremony. That might not want to be a Bridgerton trend you adopt...
Were Regency Wedding Dresses White?
Regency wedding dresses weren't often white - the wedding tradition of wearing a white dress was really made popular when Queen Victoria broke with royal tradition and chose to wear white for her wedding in 1840. Prior to that, in the Regency era, yellow was a popular shade for wedding dresses!
Where Can You Wear a Regency Wedding Dress?
A Regency wedding dress would fit into a country house wedding venue perfectly, but they also work wonderfully at kinds of settings as they are so versatile. "We would wear Regency inspired dresses to a hotel or city wedding, cathedral ceremony or a manor house," recommends Katya Katya.
Get ready to inject even more opulence into your big day with these Bridgerton-inspired wedding ideas