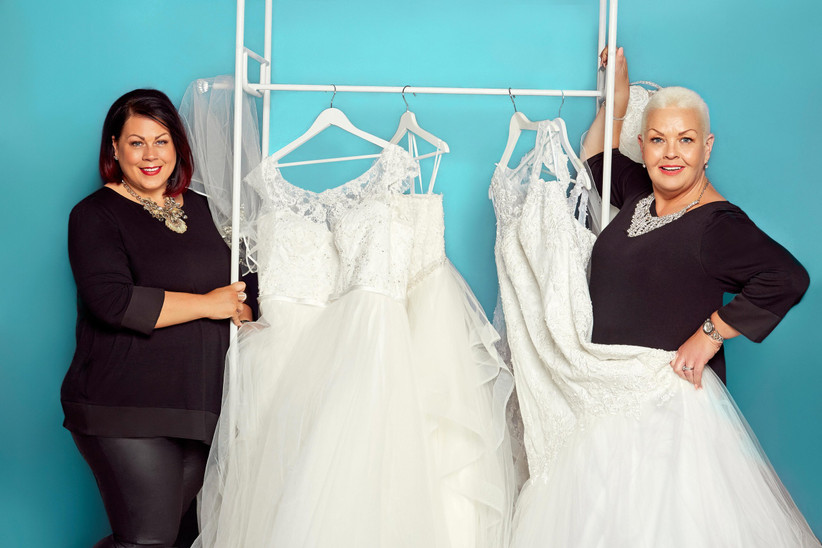 Curvy Brides Boutique presenters Jo Cooke and Alison Law help hundreds of plus-size brides find their dream dress at Curves & Couture boutique in Essex.
So there's nobody more qualified to give advice on plus-size wedding dress shopping. Their boutique stocks size 18-32 dresses, with some styles available up to a size 40.
The friendly pair are continuing to transform the "humiliating" experience of wedding dress shopping for plus-size brides as they go into the third series of their Curvy Brides Boutique show.
"We hear the same story: brides go into a shop not realising it won't have their size and hearing we don't have anything for you, or we can order up to a size 30 but there's no sample for you to try on," says Jo.
READ MORE: Curvy Brides Boutique Hosts Slam 'Disgusting' Plus-Size Fat Tax
"We've had brides come in who say if I don't get a dress from here today, I'm cancelling the wedding. Sometimes the bride has left it right to the last minute because the hurdle of finding a dress is so traumatic that she cannot face it."
But knowledge is power, says Jo. Read their six essential rules for plus-size wedding dresses shopping and we promise you can have a wonderful shopping experience!
1. Find Shops Where You Can Actually Try on Dresses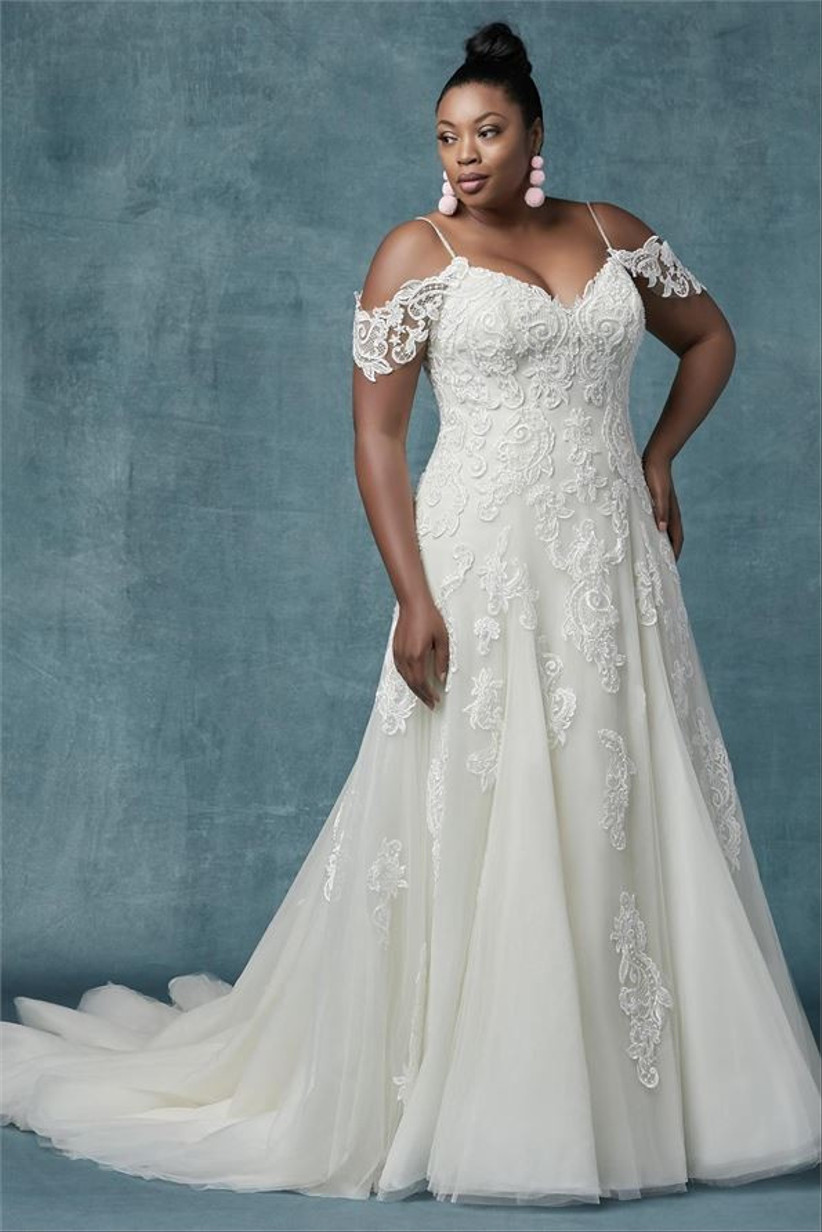 Image: Maggie Sottero
"I would say research, research, research and then research some more," says Jo. "Research your plus size collections, choose the ones you actually like, find your local stockists, phone up and ask what they've got in your size for you to try on.
READ MORE: 15 Perfect Plus-Size Wedding Dresses
"You have to do your homework, because it might be worth travelling three hours to a shop where you can try on 20 dresses as opposed to half an hour to a shop where you can try on one dress and you have to repeat that process every weekend for the next few months.
2. Be Realistic About Your Size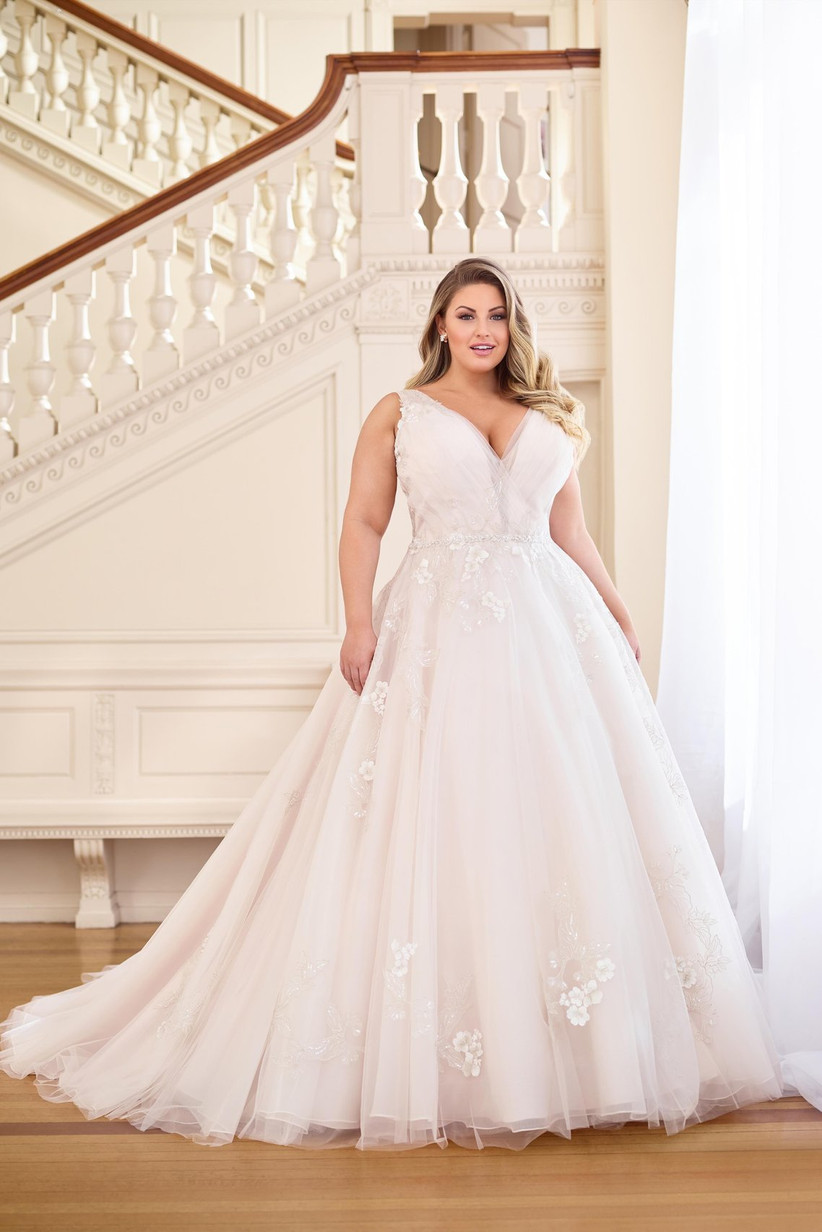 Image: Martin Thornburg
Alison recommends brides avoid buying a dress to slim into. "We get brides who come in and say I like this dress but I'm going to lose 10 stone before I get married," she explains.
"In an ideal world, we'd all love to take a pill and that would happen but you're setting yourself up for a little bit of failure. Some brides do lose the weight, but nine times out of 10 these ladies don't lose and you're putting that extra pressure on yourself. Choose the dress you like at the size you are on the day you buy it."
3. Always Think About Your Budget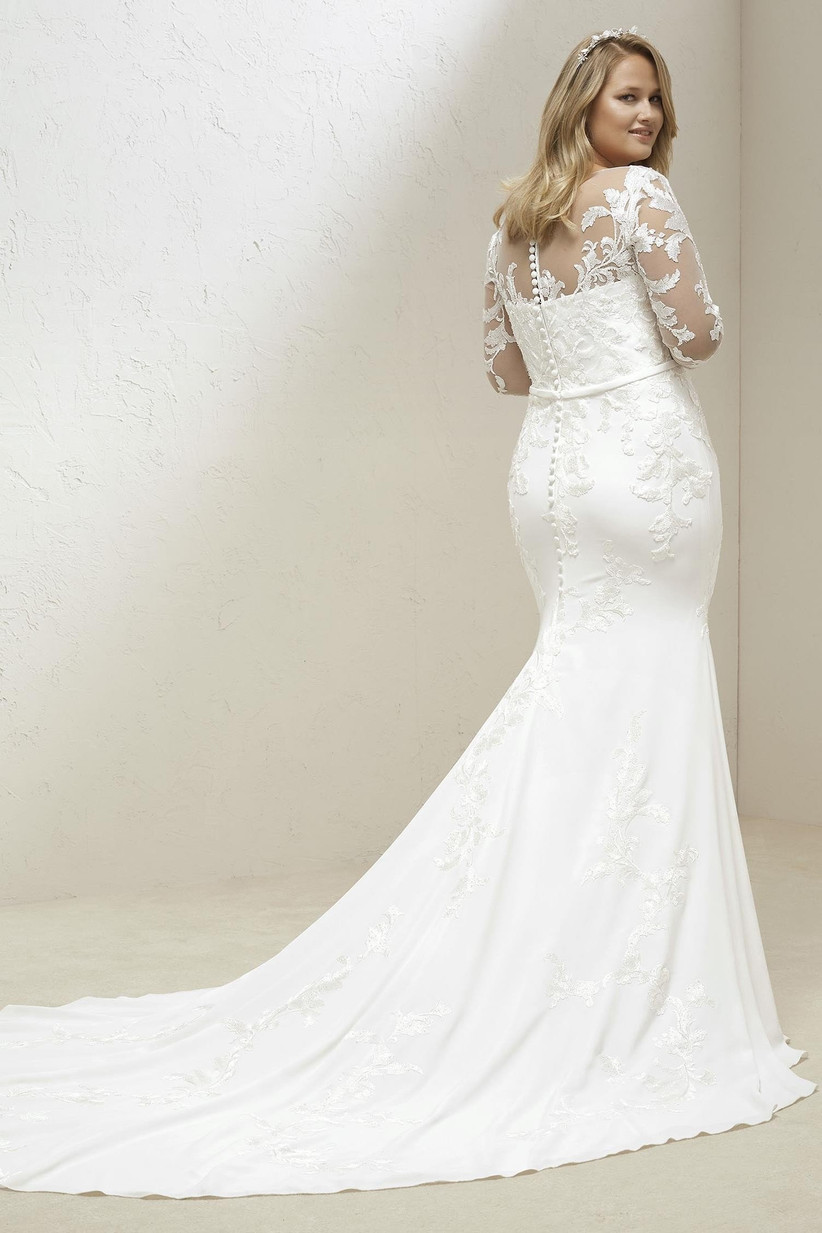 Image: Pronovias
Make a budget and stick to it! "Find dresses at a price point you like and then find a stockist," says Jo. "It's so easy to go in and get carried away and before you know it you've blown your budget and you've got the pressure of that as well."
READ MORE: 43 Mistakes Brides Make When Choosing a Wedding Dress
She recommends finding out all the costs upfront. If you're ordering a dress, do you have to pay on the day? If you're buying an off-the-rail dress, can you take it away that day and do you have the pay the whole lot in one go?
"The more research you do, the better. And most of this research can be done at home on your laptop at 3 o'clock in the morning if necessary!"
4. Take a Trusted Friend/Family Member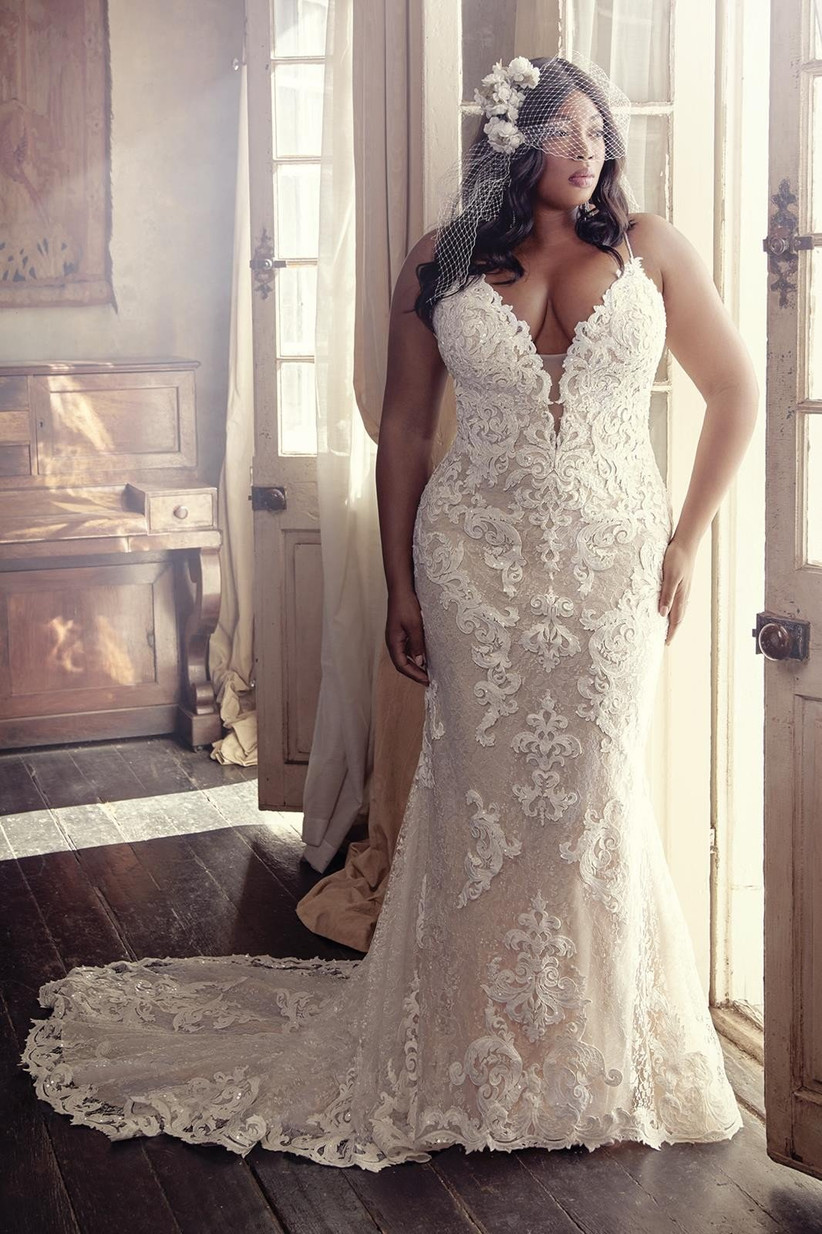 Image: Maggie Sottero
"Take someone with you whose opinion you absolutely trust," advises Jo. "We don't get many bridezillas, but we get mumzillas and friendzillas. Sometimes I think if this is how they treat their friend, I'd hate to be their enemy." Only choose someone you know will give constructive criticism.
5. Use Plus-Size Models as Inspiration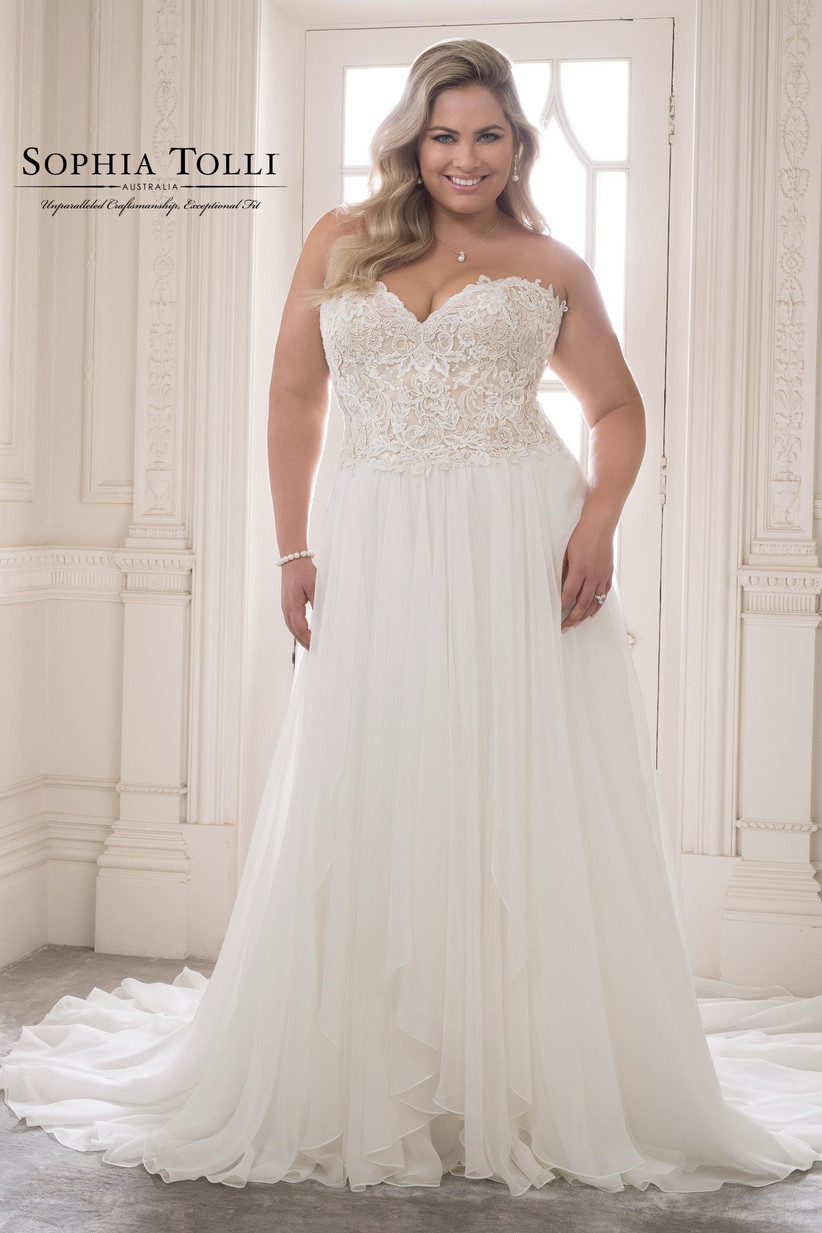 Image: Sophia Tolli
"When looking at collections online, don't look at Pinterest boards of models that are a size 6 and 8! Look at plus-size models in plus-size dresses. That's really important," says Alison.
READ MORE: Everything You Need to Know About Wedding Dress Alterations
6. Be Wary of Ordering Online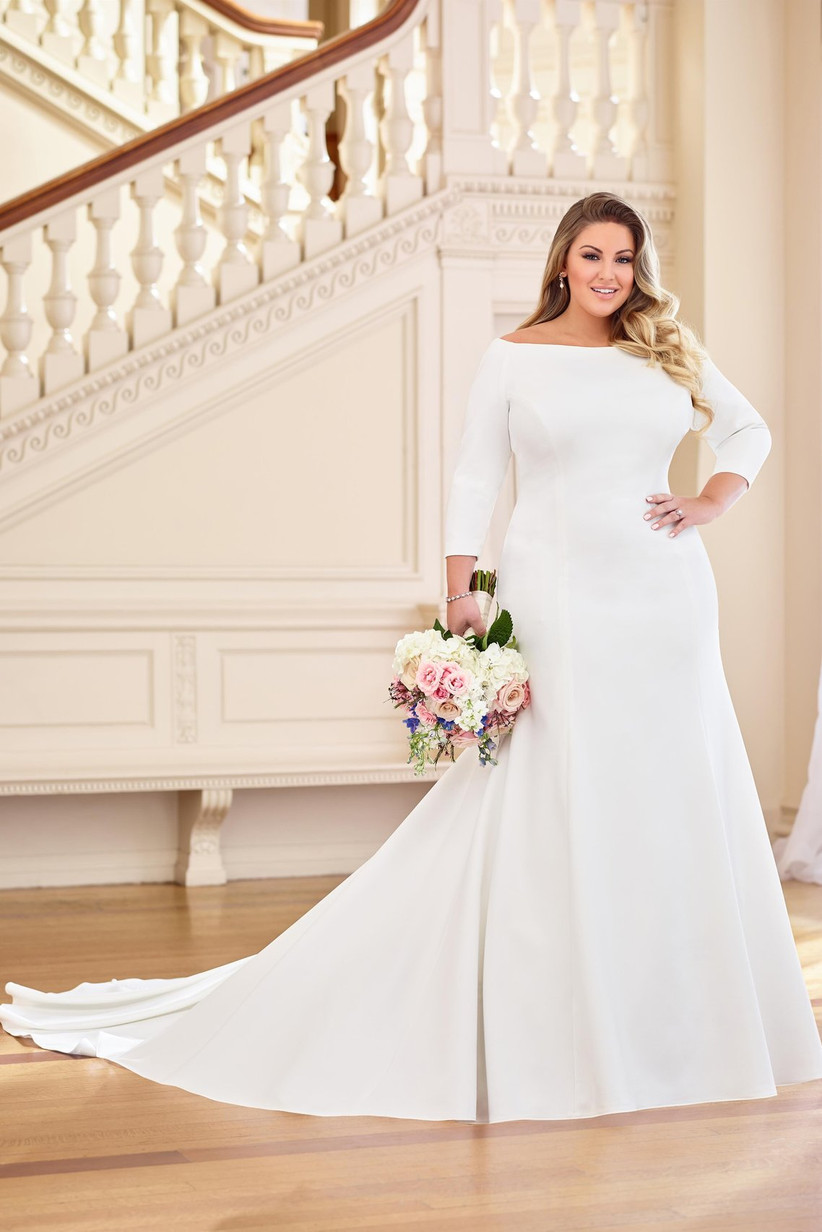 Image: Martin Thornburg
Lots of plus-size brides turn to the internet to order their dress to avoid the "humiliating" experience of going to regular bridal shops and not being able to find anything in their size or even have that size available to order.
"For us we don't find its the money that's the draw to buy online, it's the anonymity. Protecting yourself from that humiliation that you've faced once and you're not prepared to face again," says Jo.
Alison explains: "You can see why brides go online and buy from China. You sit at home, you put your measurements into the computer and you hope a beautiful dress is going to arrive. A lot of time brides are a bit disappointed."
Adding on the cost of import tax, Jo and Alison recommend brides be aware that they might not get exactly what they expect if they buy online.
READ MORE: Plus-Size Bridesmaid Dress Ideas You'll Love
What Size is Considered Plus Size in Wedding Dresses?
An important question before you go shopping! Bridalwear sizing runs smaller than high street sizes, so you often have to size up. Many "regular" wedding dress shops will stock designs up to a size 16, but often only have sample sizes of 8, 10, and 12 available to try on.
Plus-size wedding dresses are considered size 18 and above. Most plus-size ranges go to size 32, with some going up to size 40. Due to the tight-fitting nature of the wedding dress, you may be considered plus-size from a size 14 or above.
If you're interested in what happens during a bridal appointment at a plus-size shop, make sure you watch Curvy Brides Boutique to help dispel any myths or concerns.
Curvy Brides Boutique premieres at 8pm Friday 31st May exclusively on TLC.