17 Best Plus Size Bridal Boutiques in the UK
Wedding dress shopping is such an exciting time and these are best plus size bridal boutiques in the UK to head to that stock plenty of gorgeous inclusive designs
We have included third party products to help you navigate and enjoy life's biggest moments. Purchases made through links on this page may earn us a commission.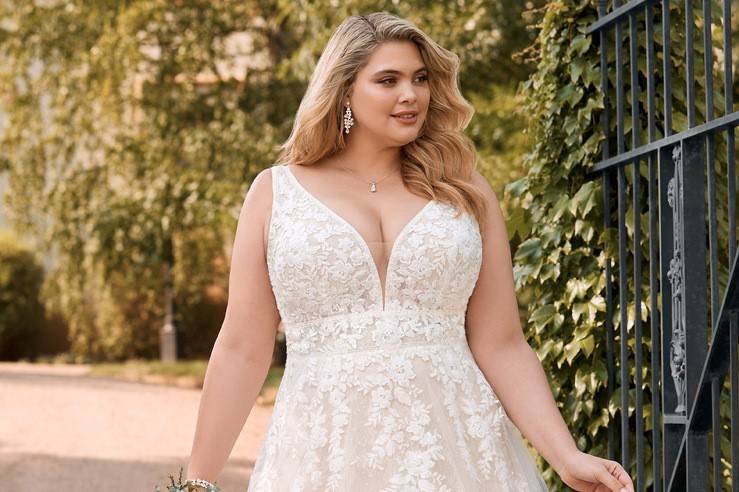 It can be quite daunting shopping for a wedding dress as a plus sized woman, but we're pleased to say that there are several plus size bridal boutiques in the UK that offer stunning plus size wedding dresses that'll make you feel and look amazing!
Forget curvy brides having limited options when it comes to their bridal gown - these plus size bridal boutiques across the UK stock wedding dresses from our favourite wedding dress designers including Watters, Elbeth Gillis and Maggie Sottero in sizes ranging from 14 - 48.
Owner of Lush Curve Bridal Hannah Mac Lennan says: "The most important thing to remember as a plus size bride is that you deserve the same experience, the same dresses and the same treatment as everybody else. The bridal industry is so antiquated in its practices around size inclusivity, but there are a few determined individuals trying to drive positive change. What you should be looking for are stores that fit your vibe and your personal ethos."
So, whether you live in Yorkshire, London, Northern Ireland, or Hampshire, with our round-up you're sure to find a plus size wedding dress shop near you. What's more, Hannah shared everything you should consider when shopping as a plus size bride and her expert insight on inclusivity in the industry. Get ready to say yes to your dream dress...
READ MORE
Exclusively Plus Size Bridal Boutiques in the UK
1. Lush Curve Bridal, Surrey
Lush Curve offer the perfect bridal collection from contemporary plus size bridal designer Studio Levana.
As one of only a handful of stockists in the UK, designs are available for £1,750 - £2,600 and all come with detachable sleeves so you can see exactly what each dress looks like with or without sleeves, plus have the option of having a built in full body corset.
So much more than your standard store, this boutique is decked out with dreamy interiors that feel like an enchanted woodland. Your fairy tale wedding dress awaits...
Key designers: Studio Levana
Where to find them: 308/310 High St, Dorking, Surrey, RH4 1QX
2. Curves & Couture, Essex
Curves & Couture is a multi-award winning bridal studio that caters exclusively to curvy and plus size brides. All their dresses are from plus size collections and are available as standard from sizes 16 - 32, and some to size 40.
In addition to gowns, Curves & Couture also offers accessories such as jackets, wraps, bridal jewellery, veils and fascinators to complete your look.
What's more, the hit TLC TV show Curvy Brides' Boutique follows the owners of Curves and Couture Jo and Al, so you're guaranteed A-list treatment on the hunt for your dream dress.
Key designers: Christina Wu Love, Sonsie Collection, Sydney's Closet, and Michelle Bridal
Where to find them: 1 Langford Court, Ongar Rd, Kelvedon Hatch, CM15 0LB
3. Kates Bridal Room, Lancashire
Kates Bridal Room was set up in February 2016 to help make the experience of buying your wedding dress an amazing experience regardless of shape or size.
The plus size specialist bridal boutique offers wedding dresses to try on in sizes 14 - 36 and range from £595 - £1,695. Hand-picked by Kate and her mum, each dress has been chosen specifically to make you look and feel your best.
Key designers: Silhouette, Romantica, True Curves, Pure Bridal, Modeca Curves
Where to find them: 1 Moor Lane, Clitheroe, Lancashire, BB7 1BE
4. Brides with Curves, Dorset
Brides with Curves stock a great range of gorgeous dresses in sizes 18 - 32 from three amazing designers.
You'll have the entire store exclusively yours for a 2-hour appointment, with weekday and weekend day and evening slots available, giving you a space try on and choose your dream dress in a relaxed and friendly atmosphere.
Key designers: Veromia, Special Day, Kenneth Winston
Where to find them: 12 Parkstone Road, Poole, Dorset, BH15 2PG
5. Curve Bridal, Weston-Super-Mare
Nikki made the decision to open Curve Bridal after experiencing limited choices at clothing stores left her feeling deflated.
When you visit Curve Bridal you'll be able to browse a beautiful selection of wedding dresses in inclusive sizing from a number of fabulous bridal designers. They are also constantly updating who they stock so you'll be spoilt for choice.
Better yet, Curve Bridal also stock mother of the bride, flower girl and plus size bridesmaid dresses, so the whole party can find their outfits!
Key designers: Kenneth Winston, Phoenix, Lasabina, Allure Bridals
Where to find them: 61 Whitecross Road, Weston-super-Mare, BS23 1EJ
READ MORE: The 36 Best Wedding Dress Shops in the UK
6. Curvy Chic Bridal, Belfast
Curvy Chic Bridal is one of Northern Ireland's only bridal boutique that caters exclusively to plus size brides.
Their dresses come from all over the world from a number of fabulous designers with sample wedding dresses ranging from sizes 14 - 40, and they are able to order most of their gowns in sizes 14 - 48.
With prices starting at £795 and up to £3,000, they'll be something to suit all tastes and budgets.
Key designers: Casablanca Bridal, Lois Wild, Michelle Bridal, Millie Grace, White Rose
Where to find them: 151 Holywood Road, Belfast, BT4 3BE, Northern Ireland
7. Confetti and Curves, Bedfordshire
Run by an experienced mother and daughter duo who personally select all their wedding dress offerings, Confetti and Curves in Bedfordshire stock gorgeous pieces in sizes 18 and upwards, at a price of £750 - £2,000.
They also have their very own blog, featuring tips on how to pick the best plus size wedding dress for your special day.
Key designers: True Curves, Special Day, White Rose
Where to find them: The Olde Watermill Shopping Village, Barton Mill Lane off Faldo Rd, Barton Le Clay, Bedfordshire, MK45 4RF
8. Angelica Bridal, London
Angelica Bridal is a wedding dress shop in London that knows how important it is to offer wedding dresses that cater to all body shapes - which is why they've opened up a new store catering exclusively for curves.
If you are looking for a bridal gown in sizes 16 to 22, their Liverpool Road shop stocks dresses starting at £1,500 and up to £3,000. With so many fabulous gorgeous gowns to choose from in a number of designs including traditional lace and bohemian styles, we bet you won't leave this store empty handed...
Key designers: Elbeth Gillis, Madi Lane, All Who Wander, Essence of Australia, Watters, Justin Alexander
Where to find them: 255-257 Liverpool Road, London, N1 1LX
9. The Bridal Suite, Hampshire
We're obsessed with just how many amazing plus size wedding dresses are available at the The Bridal Suite in Hampshire!
After having a nightmare when trying to find her own wedding dress, Beverly opened up this impressive store which offers dresses in samples sizes 18 - 30 - specifically cut to accommodate your curves.
All priced between £895 and £1500, you won't have to spend a fortune to find the dress of your dreams here.
Key designers: Justin Alexander
Where to find them: 132 West Street, Fareham, Hampshire, PO16 0EL
10. The Silver Sixpence, North Yorkshire
Owners of The Silver Sixpence Wendy and Millie are both experienced curvy women, and so really understand the concerns and needs of their plus size brides.
There's a huge range of beautiful bridal designers to choose from at their store in sizes 14 - 40, starting at £800 and costing up to £3,000.
They also stock bridesmaid, plus-size mother of the bride dresses and accessories so you have everything you'll need under one roof.
Key designers: House of Mooshki, Sophia Tolli, Georgia Bridal, Millie May Bridal, Special Day
Where to find them: 63 High Street, Brotton, North Yorkshire, TS12 2PP
READ MORE: 31 Perfect Plus Size Wedding Dresses
11. Heavenly Bodies, Kent & London
Heavenly Bodies Bridal's wedding dress collection starts from size 14 and goes up to size 34, with prices ranging from £795 − £2,250.
With over 10 years' experience, the expert and enthusiastic team will make you feel relaxed and comfortable for your entire wedding dress shopping experience.
Key designers: Studio Levana, Bonny Unforgettable, Venus Woman, Sonsie, White Rose
Where to find them: 85a Elmers End Road, Beckenham, Kent, BR3 4SY or Inchmery Road, Catford, London, SE6 2NE
Bridal Boutiques That Carry Plus Size Ranges
Although not exclusively catering to plus size brides, these bridal boutiques stock a number of curvy collections from our favourite wedding dress designers.
12. WED4LESS Outlet, West Midlands
WED4LESS is an award-winning outlet that offers a superb selection of wedding and bridesmaid dresses in sizes 6 - 32.
Open seven days a week, no appointment is needed at this bridal boutique - you can simply pop by whenever suits you, making it the ideal spot if you are rushed for time. You'll receive a warm, friendly welcome and expert assistance.
Key designers: Rose Amelia
Where to find them: 14 Great Bridge, Tipton DY4 7HA
13. La Fleur Bridal, Greater Manchester
La Fleur Bridal's curvy brides collection features stunning plus size wedding dresses from the likes of Mori Lee and Brighton Belle.
Whether you're looking for an elegant full-length gown or a vintage style tea-dress, this bridal boutique will accommodate for all kinds of budget and taste.
Key designers: Mori Lee, Brighton Belle, True Bride
Where to find them: 54 Long Street, Middleton, M24 6UQ
14. Butterfly Bridal Boutique, Oxfordshire
You won't be short of options if you head to Butterfly Bridal Boutique in Oxfordshire - they are proud stockists of the Essence of Australia 'Every Body Every Bride' collection, as well as gorgeous gowns by Kenneth Winston and Maggie Sottero.
All the wedding dresses from their curvy collection can be ordered up to a size 30, plus if you spot your dream dress that they don't have in stock they might be able to get their hands on it!
Key designers: Essence of Australia, Kenneth Winston, Maggie Sottero
Where to find them: 7A Deans Court, Bicester, OX26 6RD
15. Wedding World, Kent
Wedding World in Kent understand how important feeling comfortable and confident at your wedding dress appointment is which is why they stock gowns in a variety of sizes and styles.
They also carry accessories from brands like Richard Designs, Heavenly Headpieces, Remarkable Sparkle and Shoes by Shades to finish your bridal look off.
Key designers: Maggie Sottero, Justin Alexander & Rebecca Ingram
Where to find them: 36 Guildhall Street, Folkestone, Kent, CT20 1EE
READ MORE: The Ultimate Wedding Hair Accessories Guide
16. Beau Belles, Derby
Beau Belles stock a range of plus size wedding dresses for you to try on with samples in their curvy bride range available in a size 18 and up, but they can also custom make a dress to your measurements.
They offer an exclusive by appointment only service at times that suit you as they are open in the evenings and at weekends.
Key designers: Mori Lee, Romantica, Justin Alexander
Where to find them: 11 Derby Road, Borrowash, Derby, DE72 3JW
17. TDR Bridal, West Midlands
Not only does TDR in Birmingham have stunning interiors (we're talking glass chandeliers, lush carpets and hanging florals), they stock beautiful plus size wedding dresses in sizes up to 30.
More over, they are open seven days a week and three late nights, have free onsite parking, an in-house seamstresses, dress storage, refreshments at every appointment, your own private customer portal, your own private FB Group and they plant a tree for every wedding dress purchased. Now that's impressive!
Key designers: Mori Lee, Justin Alexander
Where to find them: The Dressing Rooms Bridal Ltd, 24 Manor Lane, Halesowen, West Midlands, B62 8QB
What Should I Consider if I am Shopping as a Plus Size Bride?
When it comes to shopping as a plus size bride, owner of Lush Curve Bridal Hannah Mac Lennan recommends you: "Read reviews from other plus size brides and checkout the dresses that they are publishing online and on social media. Pick up the phone and have an open and honest conversation with the shop owners and ask how many dresses they have in a plus size before booking. There are many non-plus shops that have plus size dresses but it's always best to do your research. Sadly, it often means that they will carry one or two dresses in a size UK18. Get size specific to make sure you're not wasting your time on shops that just aren't going to cut it."
Are Bridal Sample Sizes Different From Standard UK Dress Sizes?
Bridal sizing can be confusing but Hannah suggests that: "As a rule of thumb, you'll be either one or two sizes 'bigger' in bridal wear than your average high street size, however, it really is just a number for the designers to use so they know what your dimensions are - the number really isn't important if the dress is right!"
Lush Curve Bridal don't put sample sizes on their dresses as they feel that people often get too worked up about the number rather than the dress. "The only person who really needs to know the size at your appointment, is the person ordering the dress for you. But equally, there is absolutely no shame in your clothing size. This is simply a way of codifying how an item of clothing is made and nothing more. So don't sweat the size; it's the dresses job to fit you, not your job to fit the dress," says Hannah.
Why Are Sample Sizes So Restricted?
"The issue with sample sizes is nothing to do with the brides nor the designers, it falls exclusively with the person doing the ordering at the individual boutique. As the owner of my shops, I am the one in charge of purchasing the samples and I choose what size I order them in. If a shop has a limited range of sizes, it's because they have ordered them in a limited range," comments Hannah.
Hannah's first store Bride by Aster covers sample sizes from a UK8 - UK18 and the Lush Curve store covers sizes from a UK20 - UK36 as to her: "It's just bad practise and disrespectful to such a large percentage of women, to limit your offering to a size specific demographic. In such a female orientated industry, we should be offering a totally style and size inclusive service for all women to enjoy. The idea that only one size and one body type is acceptable to be a 'bride' is utter nonsense and we shouldn't be perpetuating this idea in 2022."
Before you go wedding dress shopping, take a look at these perfect plus size wedding dresses for inspiration.