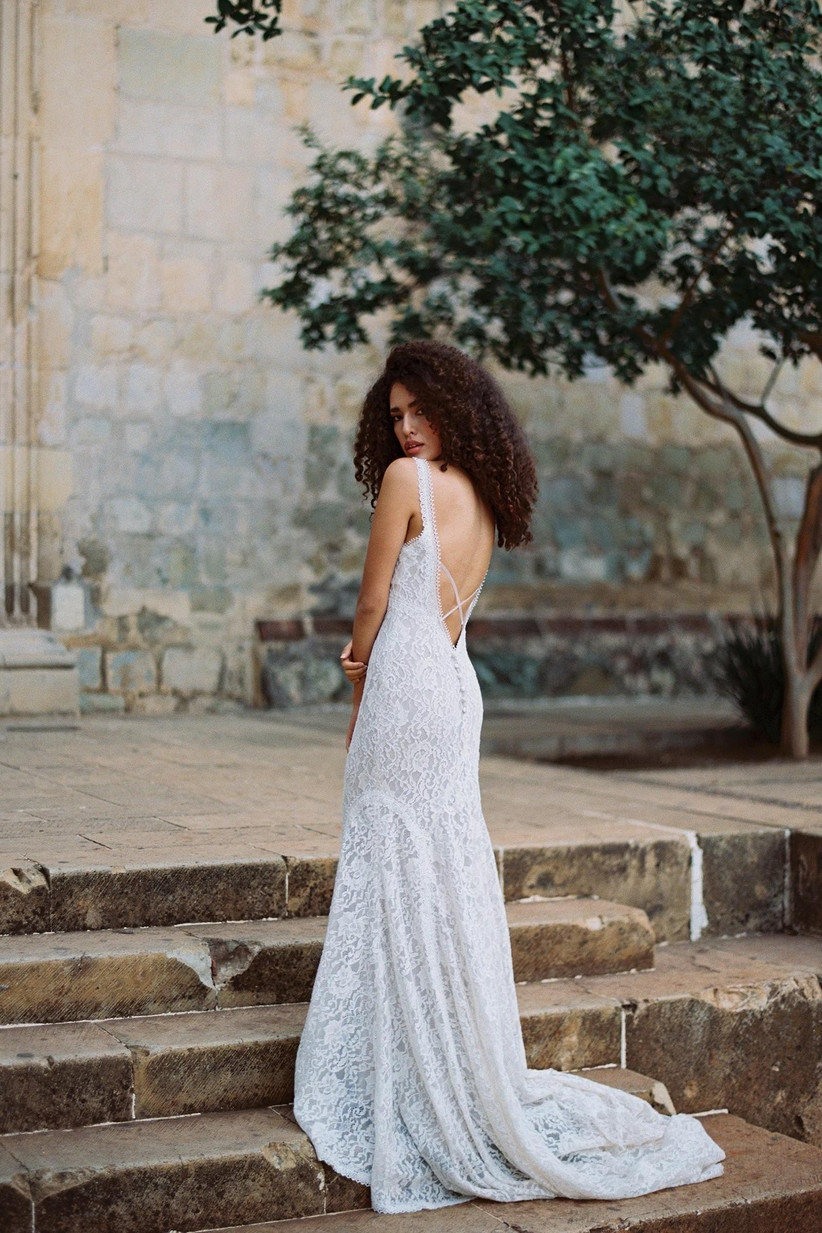 Wedding dress shopping is a mystery to most brides before they arrive in the boutique. Never in your life will you have seen so many white dresses, had a stranger help you into a dress in a changing room, and all eyes on you in front of a big mirror. Don't let that put you off – it's also one of most exciting purchases you'll ever make.
Knowing where to start and what to ask is something we're here to help with. Below you'll find our list of 32 questions you should ask before buying your wedding dress, from alteration costs to how easy it'll be to go to the loo in.
You might discover plenty of things you don't expect too, like that you often can't take any photos of your wedding dress before you buy it!
We've turned this into a handy PDF that you can print out and take with you to your appointment. If you completely forget everything else on this list, just remember to ask if you can film how the dress does up!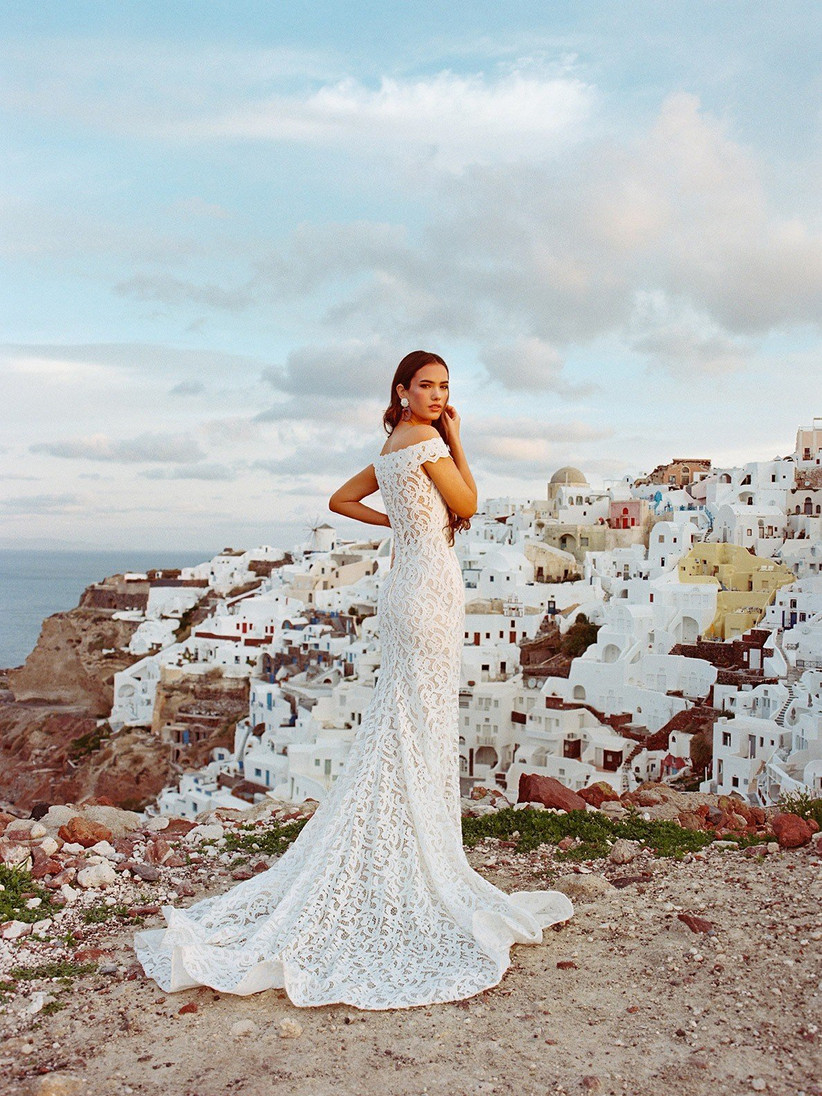 Image: Wilderly Bride
Booking Your Appointment
1. This is My Budget – Do you Stock Dresses in This Price Range?
It's a truth universally acknowledged that a wedding dress you love but can't afford is one of the worst feelings in the world. Most dress boutiques will tell you on their website the starting price for their dresses, but it's always worth a call ahead to see how many dresses realistically come within your budget. Otherwise, you're just asking for disappointment.
2. Which Designers Do You Stock?
With a bit of research into wedding dresses (which is the starting point for choosing your wedding dress), you'll discover which wedding dress designers and which of their ranges you like. It sounds simple, but a quick check to make sure they have the designers and styles you like can save you a lot of time. For example, Enzoani have four different collections: their flagship range, plus Blue, Beautiful and Élysée collections – all at different price points.
3. When Can I Book an Appointment? How Long Will It Last?
Most bridalwear shops aren't open seven days a week and almost all will require you to book an appointment in advance. This information will often be on their website, but we'd recommend a phone call to see how friendly and accommodating the staff sound over the phone and to ask all your prelim questions.
We suggest between four and seven dresses is the ideal number to try on, and this doesn't all need to be at the same boutique – don't be afraid to book into a couple for appointments if they have different designers stocked. However, bear in mind that some boutiques will charge you to reserve your appointment and then take it off the cost of your dress when you purchase it. Booking several appointments could end up costing you lots of money!
4. Can I Come in and Browse Beforehand?
Choosing a wedding dress can be an overwhelming process. Not sure where to start? Go and do some research in a dress shop. Call and ask if you can browse (some may say no while they have appointments in progress and some may say no without a deposit). A good boutique should let you in during quieter times and be happy to answer questions and get a good feel for what the different styles of dress look like and the fabrics feel like. If you like the customer service, go back to that boutique as you know they'll be helpful.
READ MORE: 50 of the Best Simple, Modern Wedding Dresses
5. Who Can I Bring to My Appointment?
We'd recommend a maximum of two people to accompany you; usually that's your mum and maid of honour. Any more and you can get conflicting opinions that make you more stressed.
This will typically be the boutique's advice too. If you've got a large entourage, you might find they're not happy (mainly for your sake!) about five plus people coming in with you.
6. I Found a Dress I Loved Online, Do You Have It in Store to Try On?
Note down the designer and style name or number. Call ahead and they should tell you if it's in stock. You'll be disappointed if you turn up and it isn't.
7. What Do You Need Me to Bring?
Most brides have never done this before. Do I need the underwear or shoes I'll wear on the day? What about my accessories? Should I put on shapewear? The boutique can answer all of this.
A little side note: don't fake tan less than 24 hours before you go in, you don't want to stain the sample dress!
8. Can You Do Rush Orders?
Marrying in less than six months? Or less than six weeks?! Some stores will have ready-to-wear 'off the rack' dresses you can buy on the day, while others will have a process for rush orders. It may cost a little more but you'll get the dress of your dreams in time.
9. How Many Fittings Will I Have and When Will They Be?
Most brides will need three fittings, but that many may not be included in an in-house alterations package that you buy. The minimum you'll need is two – one to see what changes need to be made, and one to check the final fitting and take the dress home with you. Fittings will usually start six weeks before your wedding date.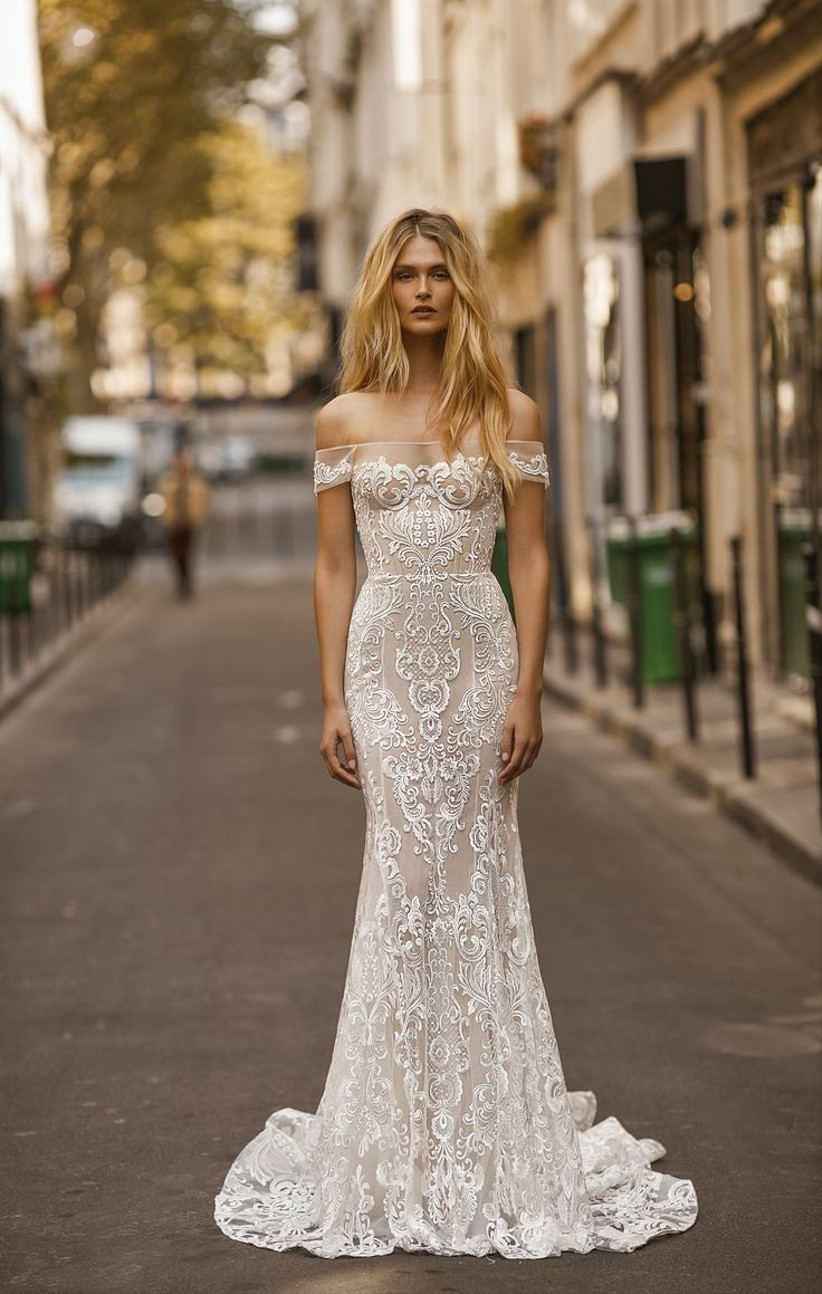 Image: Gali Karten
READ MORE: 6 Essential Rules for Plus Size Wedding Dress Shopping
On The Day
10. What Style of Dress Would Suit Me?
The shop assistant is your BFF during this process. Staff in a reputable boutique will have plenty of experience in what styles work for which body types and should be able to advise you easily, including styles you've never considered before. A dress can look completely different on a hanger to on person so trust their advice. You'll need to take into account your height, complexion, figure, your venue, the theme of your day, and what parts you want to emphasise or hide. The more information the sales assistant knows, the better they can help you.
11. Can I Try on Veils and Accessories Too?
You might not think a dress has the wow factor until you see the whole look – whether that's a veil, tiara, or added embellished belt. A good shop will be happy to help you see the whole look by trying on extras (plus know when something looks OTT).
12. What Colour Options Do You Have?
White and ivory are classic wedding dress colours, but don't dismiss something different. Champagne, blush pink and soft metallics are great alternatives if you don't want to go too bold; various shades of pink, red, green, yellow, blue – plus tons of patterns – can all be found on dresses if you want something more vibrant. It's likely they'll only offer them if you ask though.
13. Honestly, How Easy Will This Dress Be to Wear?
You'll be dancing, eating, drinking, sitting down, standing up and, most importantly, going to the loo in your dress. The comfort factor is seriously important so get an honest opinion on whether it's going to be too heavy to dance in, whether you're going to struggle when you need a wee, or if it's completely unforgiving the moment you eat a canape. Good boutiques should have no problem being truthful about the pros and cons of a dress and suggesting an alternative if the dress doesn't work for you or your venue.
14. How Long Will It Take for Me to Order and Receive My Dress?
This is known as the lead time: the time between placing an order, to the finished product being made and delivered. Nine months is the latest you're advised to start the dress shopping process as a bespoke dress can take six months just to be made and delivered. Then you'll need the time to get it altered! Asking this can save a lot of anxiety down the line.
15. Is There a Chance This Dress Will Be Discontinued?
Designers do discontinue lines. If you've found a dress you like but don't want to buy it for another few months, check it'll still be available then.
16. Is There a Deposit and Payment Plan or Do You Need the Entire Cost?
Most boutiques ask for a 50% deposit and then the rest to be paid when it arrives, however, if it's bespoke then you may need to pay for it all in one go. Make sure you go to an RBA-accredited boutique as they guarantee your deposit is returned should the shop go out of business involuntarily.
17. Does This Dress Come with a Bustle?
A bustle is buttons, a hook or ribbon added onto your dress that allows you to lift or tuck up the train. Without a bustle a dress is going to get stepped on all night long and be difficult for you to walk and dance in, which is why they're highly recommended.
However, most dresses don't come with one because they need to be created to fit your height. It's easy for a seamstress to add one in, but you'll need to know to add it to the alteration costs.
18. Can You Show Me How to Do Up the Dress and the Bustle?
Film the process! It'll look easy and you and your mum will be convinced you remember but, come wedding morning, you'll forget how to put your dress on, we promise. The sales assistant should go through the whole process of putting on the dress, doing it up and showing how the bustle works so both you and whoever you're with/will be there on the morning of your wedding feel confident.
19. What's Your Advice for Underwear/Shoes/Accessories?
Capitalise on the boutique's experience. Ask them to recommend an underwear brand or shape that works with your dress; get them in on the veil/tiara/hair vine debate; see if they'd be wary of a stiletto with this delicate train, or if embellishment on your shoe might catch on the dress material. Unless you're pretty tall, your dress is likely to be long and need taking up. By how much will be dependent on your heel height, which the assistant might be able to advise on.
20. Can I Buy the Sample?
Sample sales are when shops sell off the dresses they use for brides to try on (we've got a complete guide to them here). If a store is about to discontinue a line, they're overstocked or a new set of samples is due in, they may be willing to let you buy the sample dress or set it aside for you to purchase when the sample sale starts.
Likely the dress will have heavy wear and tear and need alterations to fit your size but a thorough dry cleaning and a talented seamstress can make it look good as new at a discounted price.
21. What Happens If I Change My Mind?
Always enquire about the store's refund and cancellation policies. Most dresses are custom orders and stores will not give you a refund if you change your mind, whether that's the deposit or full cost. However, it's dependent on each boutique's policy.
22. Can I Take Photos of Me in the Dress?
Expect a no on this front. It's purely so the dresses aren't copied but it can be frustrating when you just want to take a pic to get the opinion of someone who can't be there on the day. Worth asking though.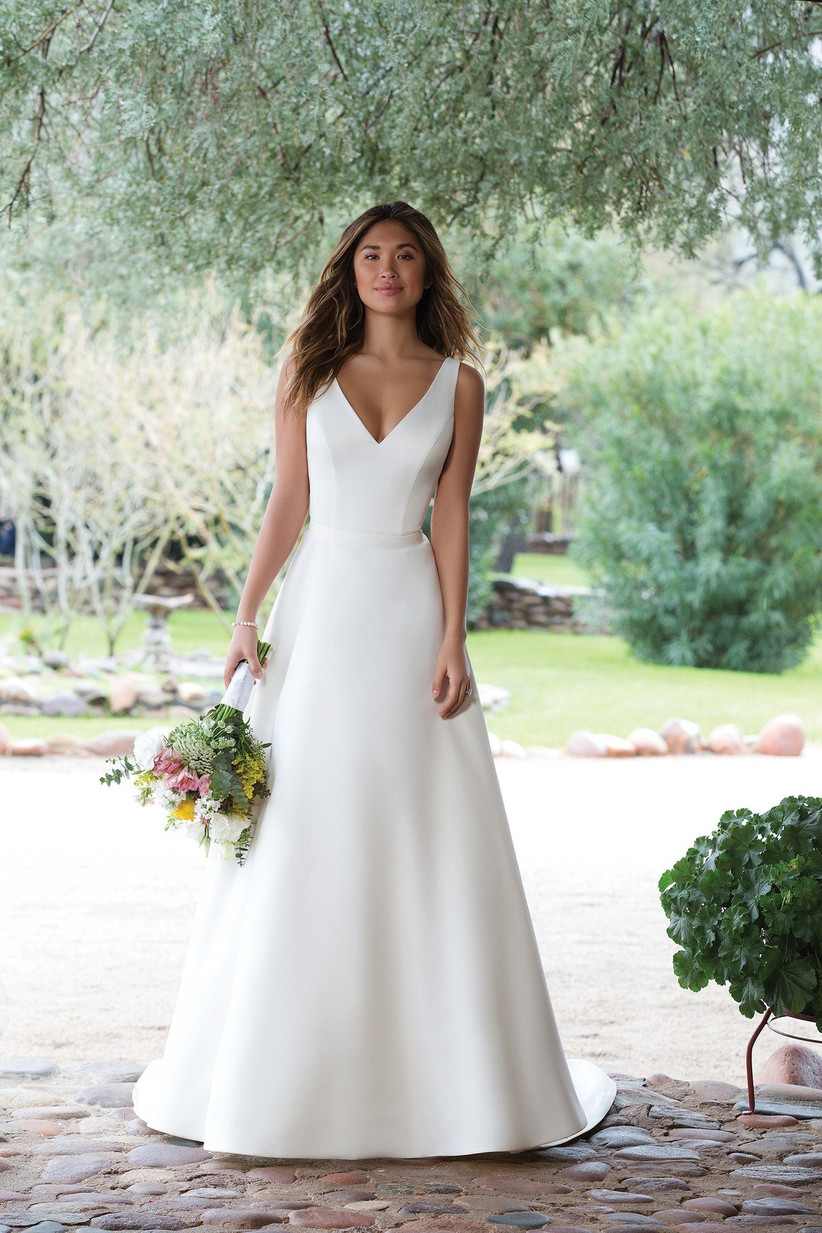 Image: Sweetheart
READ MORE: 21 Beautiful Registry Office Wedding Dresses
Alterations and Storage
23. Do You Do In-House Alterations?
You'll need two or three fittings to alter and fit your dress just right. Lots of boutiques offer an in-house service with their own seamstress, or will happily recommend you a local one if they don't. An outside seamstress might mean you need to add more time into your wedding dress schedule as their weekend appointments will often get booked up well in advance.
Your mum might be nifty with a sewing machine, but we'd really caution using any seamstress without serious experience of wedding dresses. The fabrics can be very delicate, layers need to sit right, and a professional tailor will have insurance in case anything goes wrong.
24. Are Alterations Included in the Dress Price?
You'll need to factor the cost of alterations into your budget if you need to pay on top of the dress price. How much they are will depend on what you're having done: sleeves added, a hemline raised and embellishment added will cost you more. Many stores will offer a free consultation though.
25. How Easy Would It Be to Alter This Dress?
As Elle Woods so wisely taught us in Legally Blonde, "It's impossible to use half-loop top stitching on low-viscosity rayon, it would snag the fabric." Some fabrics or stitching just don't work together; some bodices and hemlines are hard to alter; some patterns are tough to make look good if you're taking them in or shortening them. Your sales assistant will know what's possible on the dress.
26. Will the Dress Be Delivered to Me and Will it Be Steamed?
Often you'll pick up your dress on the day of your final fitting, but your dress shop might be willing to deliver if they have a van. Alternatively, if it's going to be hell for you to transport to the venue (huge puffy layers etc), they might deliver it to you on the morning of your wedding. If that's the case, you'll need to know if they're bringing a steamer with them, to avoid last-minute wrinkles.
If you're taking it home and the dress isn't steamed, you'll need to get specific instructions for what you can and can't do – an iron may not be your fabric's friend in this instance!
27. How Will I Need to Store the Dress Before I Wear It?
You'll likely pick the dress up a few days before your wedding, but it can be hard to manoeuvre and transport. Ask if you need to keep it in the bag and hang it up or if it's best laid down flat?
28. What If My Weight Changes?
Never buy a dress to "slim down into". It'll put far too much pressure on you during an already stressful time. If you plan to lose weight, then start your fittings and alterations process later. However, if you unexpectedly lose weight in the few weeks before the wedding due to rushing around, ask how easy it will be to do last-minute tweaks.
29. Can You Help Dry Clean and Preserve My Dress?
This isn't always a question you need to ask upfront, but sometimes your wedding dress package will include dry cleaning and preserving your gown. if not, they'll be able to recommend a dry cleaner or specialist wedding dress service.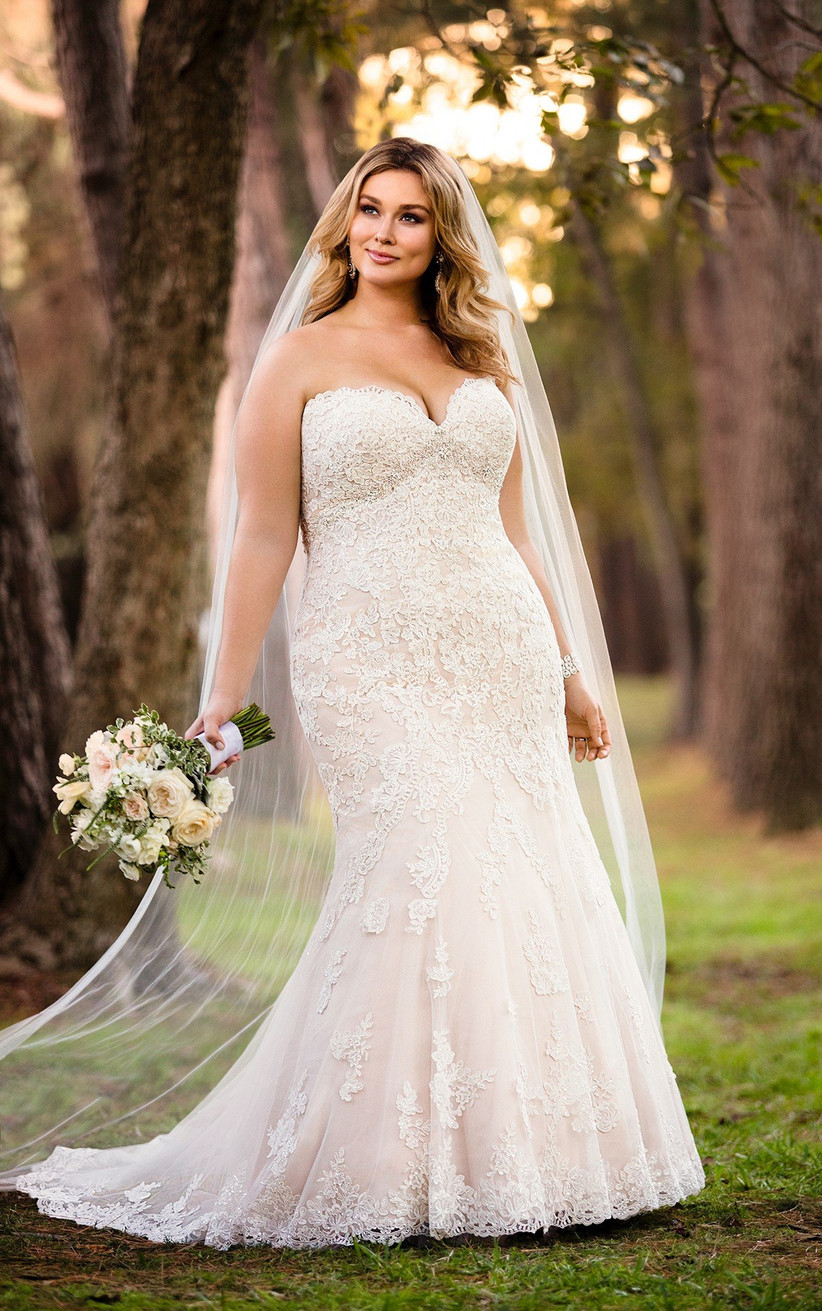 Image: Stella York
READ MORE: 17 Beautiful Vintage-Inspired Wedding Dresses
Destination Weddings
30. I'm Marrying Abroad, What Fabrics Should I Avoid?
Marrying abroad doesn't necessarily mean sandy beach, but it usually means hot, sunny and potentially humid. You'll want to avoid fabrics that make you sweat, highlight said sweat patches or wrinkle as soon as humidity hits.
31. How Will You Deliver the Dress to Me?
Airlines are usually happy to transport your dress in the cabin of the plane if you contact them in advance, but you'll want to know how to wrap it up and carry it to keep it as crease-free as possible. Find out what sort of bag it will be delivered in and whether it's suitable to take on a plane.
32. What Do I Need to Know about Getting It Ready to Wear?
After a long journey, there'll inevitably be wrinkles in the fabric. You'll either need to source a dry cleaner who knows what they're doing (your venue or wedding planner can help) or know how to DIY steam it yourself (hanging it in the bathroom near a hot shower etc). Get the boutique to prep you on how to get it perfect so there's no last minute dash for a Greek Yellow Pages.
If you need some pointers for which dresses might work for you, we asked fashion guru Gok Wan to share his wedding day dressing advice too!