15 Best Wedding Dress Shops in Manchester
Whatever your style, the wedding dress shops of Manchester have you covered. These chic bridal boutiques serve up everything from sparkling winter glamour to flowing summer boho.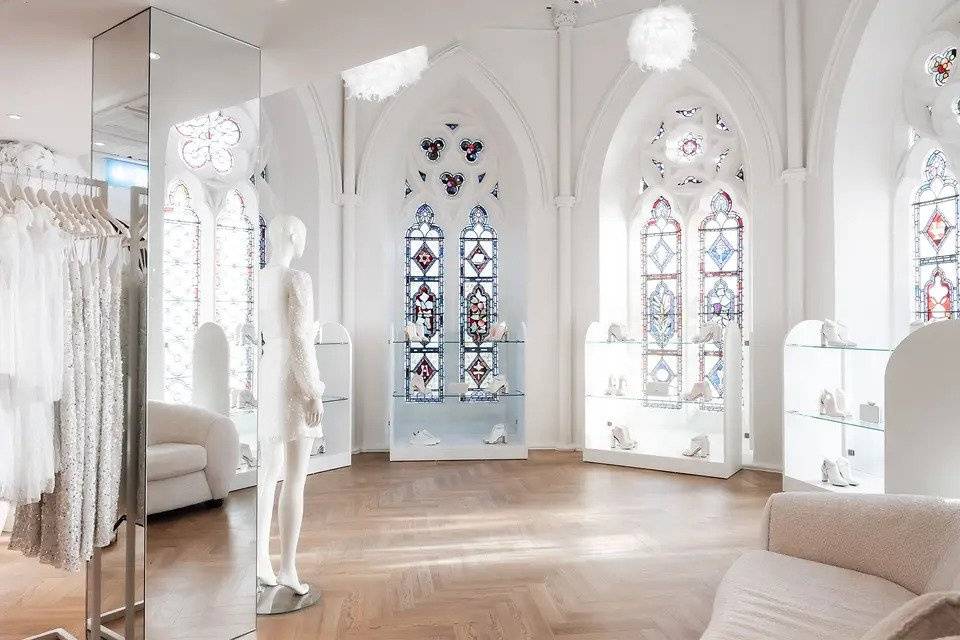 There are many ways to buy your wedding dress, but a classic boutique experience is especially unique. That's why we've rounded up the best wedding dress shops in Manchester.
If you're focusing your dress search on the Northern Powerhouse, we don't blame you. Manchester is known for its sense of style - and why should it be any different when it comes to wedding fashion?
We've found the bridal boutiques you need to know about in the city itself and Greater Manchester. Of course, you don't need to live in the area to visit these shops - find a lovely hotel and turn your shopping trip into a weekend getaway! Don't forget to make an appointment at each of these wedding dress shops in Manchester before calling in.
The most important thing is to keep an open mind. The staff at wedding dress shops are style consultants with years of fashion expertise, so it's worth considering their suggestions. Have fun - and happy shopping!
15 Best Wedding Dress Shops in Manchester
Whether you're looking for a bridal boutique in the heart of Manchester, or you don't mind travelling further afield for an all-in-one wedding shopping centre just outside of the city of Manchester, here are the best places to find your wedding dress!
1. The Aisle Edit
The Aisle Edit by Charlotte Mills is your one-stop-shop for all things bridal in Manchester!
This converted church in Oldham is spread over multiple floors and allows nearlyweds to shop for their wedding dress, shoes, bridesmaid dresses, veil and other accessories all in one place. There's even an on-site cafe, serving bubbles and snacks so you can refuel after a serious day of wedding shopping.
Key designers: Charlotte Mills, Allure Couture, Nori Ivy, Disney, Vera Wang, Rewritten Bridesmaids & more
Price range: Accessories start from £15
Address: The Aisle Edit, Huddersfield Road, Scouthead, Saddleworth, OL4 4AG
2. Made With Love
This Manchester-based bridal boutique was founded by wedding dress designer Carla Jenkins, and stocks her elegant and timeless Made With Love designs.
First established in Australia, the classic styles are now loved by brides all over the world, including those wedding dress shopping in Manchester. You can visit the family-owned business's luxury UK flagship store in the heart of Manchester, and try on inspiring, adventurous dresses featuring dramatic low backs and plunging V necklines, in sumptuous fabrics such as luxurious French crepe.
They operate on an appointment only basis, so book in ahead of time to visit this Manchester bridal shop.
Key designers: Made With Love
Price range: From £2,200
Address: 65 High St, Manchester M4 1FS
3. La Fleur Bridal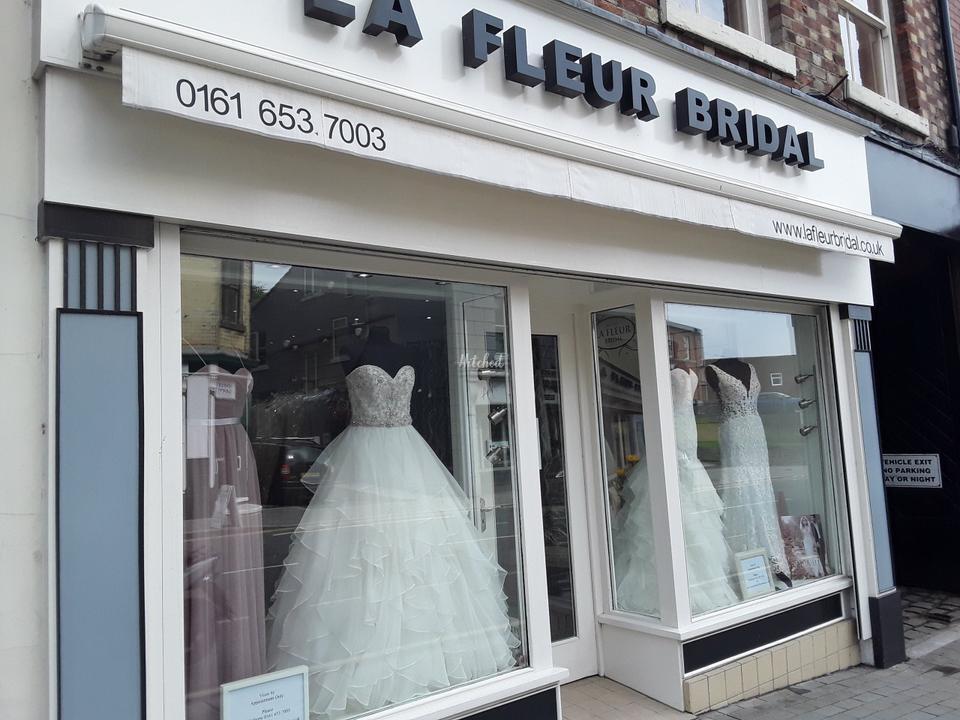 As well as a selection of chic wedding dresses, La Fleur Bridal offers a selection of pretty hair accessories - it's always a good idea to try your finishing touches on with the actual look! This Manchester bridal shop also has bridesmaid dresses in different colours and styles.
The talented team have more than 30 years' experience in the wedding dress business. Their focus is on great service, as well as excellent value for all customers.
Key designers: Blu, Morilee, Brighton Belle, Curvy Bride
Price range: From £295
Address: 54 Long Street, Middleton, M24 6UQ
4. Rene K Couture
From hen do to honeymoon, Rene K Couture is a bridal shop in Manchester giving your curves the luxury the deserve. Every gown and accessory are made in-house by talented couturiers and showcased in the showroom.
A spokesperson for the boutique said, "We offer our brides & bridesmaids made to measure dresses for the perfect fit, handcrafted in our in-house studios based in the heart of Lancashire. Order direct from our site, guided by our dedicated admin team to confidently take your own measurements & help choosing your fabrics."
Key designers: Handmade in-house
Price range: From £174
Address: Pasture House , Pasture Lane BB9 6QX
5. Erica Stacey Bridalwear
Wedding gowns, mother of the bride dresses, mother of the groom dresses - no matter what you're after, Erica Stacey Bridalwear has got you covered! Owner Erica and her team use only the finest fabrics to get you feeling confident and comfortable on your big day.
The design process begins with a consultation to discuss your ideas and vision, before a sketch is created. Every style, from vintage to modern, is available with this professional seamstress.
Key designers: Handmade in-house
Price range: From £750
Address: 149 Barton Road, Stretford M32 8DN
6. Miss He Bridal - Greater Manchester
Looking for a bespoke bridal boutique in Manchester? Miss He Bridal, owned and operated by Hebe Marsh-He, has got you covered.
Miss He Bridal specialises in crafting custom wedding gowns fitted perfectly to your measurements. From the initial consultation all the way through to the final fitting, Hebe and her team will listen to your needs and work closely with you.
Key designers: All dresses designed in-house
Price range: From £800
Address: Rodney House, King Street WN1 1BT Wigan
7. Dress the Bride - Stockport, Greater Manchester
This bridal boutique in Manchester specialises in matching up nearlyweds with dresses that cater perfectly to their needs and tastes. Dress the Bride carry a diverse range of gowns suitable for all wedding budgets, and their number one priority is that your wedding dress is true to you.
Anyone tying the knot can book a dedicated appointment here, ensuring that everyone has the time to look through all their favourite styles. From sweetheart necklines to embroidered lace detailing, you can try on any manner of dresses here.
Designers: Mori Lee Bridal, Sincerity Bridal, Sweetheart by Justin Alexander
Price range: Prices available upon request
Address: 10A Little Underbank SK1 1JT Stockport
8. BRIDHA - Greater Manchester
Formerly known as Bliss Bridal Bolton, BRIDHA is a family-owned luxury bridal boutique in Manchester where the experienced team has been dressing brides for over 30 years. BRIDHA is proud to be the UK's first experience-led bridal store and they strive to ensure that each client has their dream experience when choosing their dream dress.
A spokesperson for the bridal boutique said, "We strive to cater to every bride's taste and budget. We have a mix of traditional and modern styles, as well as dresses from both established and up-and-coming designers. We also offer a variety of sizes to ensure that every bride can find a dress that fits her body type perfectly."
Designers: Maggie Sottero, Sottero and MIdgley, Pronovias
Price range: From £800
Address: 178 St George's Road BL1 2PH
9. VELO BIANCO - Greater Manchester
Looking for luxury? If you have a taste for the finer things in life, you'll love Velo Bianco, a luxury online wedding dress shop based in Manchester. Their elegant range takes inspiration from graceful Italian and French styles and all their wedding pieces are handmade to order.
Here you'll find beautiful fabrics from across the globe, used to create gorgeous wedding gowns with bespoke accessories that cater to all wedding themes and budgets.
Designers: Handmade in-house
Prices: Prices available upon request
Address: 595 Manchester Road M279QJ
10. The Bridal Suite Cheshire - Greater Manchester
If you're looking for a stunning designer wedding dress chosen in the comfort of a beautiful bridal boutique in Manchester then you have to check out Bridal Suite Cheshire. This specialist team are passionate about providing each client with a caring and personalised experience while selecting their dream wedding dress.
The team are happy to provide expert advice and insight on your dress selection while also listening to your wants and needs and leaving the rest up to you! What more could you ask for?
Designers: Allure Bridals, Justin Alexander, House of St Patrick
Price range: From £1,800
Address: 351 Wellington Road North, Heaton Chapel SK4 4QG
11. WED4LESS OUTLET - Stockport, Greater Manchester
Wed4less Outlet is one of the biggest wedding and bridesmaid dress retailers in all of the UK. This Manchester bridal shop boasts huge stocks of the latest designers bridal gowns in sizes from 6-32.
All guests can try on their gowns in the shop, and another benefit is that there's no waiting for your gown to be created - you can see what it'll look like straight away! There's also the option to pick out your bridesmaids dresses, with over 350 colours to choose from.
Designers: Beaux Bride, La Premiere Bride, Amelia Rose, Heart Nouveau, Millesime
Price range: From £199
Address: Mottram Mills, Mottram Street SK1 3PA
12. Melissa Marie Bridal Wear - Greater Manchester
Melissa Marie Bridal Wear is a small family-run wedding dress boutique in Greater Manchester offering gorgeous designer wedding dresses for all tastes and sizes. Their personal shopping experiences leave every client feeling comfortable and confident, and with their dream dress to match!
The Melissa Marie Bridal Wear team are proud to cater to plus size nearlyweds and they offer dresses in an enticing range of materials and colours. Clients can enjoy a two hour appointment with a glass of fizz and hot drinks with the team on hand throughout the entire process to guide you through the various wedding dress styles.
Designers: Ladybird
Price range: From £580
Address: 25 Library Street WN1 1NN
13. Alice Ada Bridal - Greater Manchester
Alice Ada Bridal is a boutique bridal shop in Manchester showcasing popular luxurious brands suitable for every type of bride. The team aims to create a bespoke personalised experience for every client, as well as offering them a great selection of premium wedding dresses and accessories.
The boutique is appointment-based, meaning that you'll receive the team's undivided attention to achieve your dream wedding day look. Opening hours are flexible and the team will work with you to find an appointment ideal for you and your wedding party.
Designers: Apolma Blanca, JLM Couture, Lilly, Studio Bridal
Price range: From £600
Address: 126 The Rock, The Rock Shopping Centre BL9 0PJ
14. Honeyblossom Boutique - Greater Manchester
Born from a passion for all things weddings, Honeyblossom Bridal is an exciting bridal shop in Manchester owned and operated by Jenny. Clients can visit the store by appointment only, allowing Jenny to devote as much time to each individual as possible.
Honeyblossom Boutique aims to offer a wide choice of styles. They also partner with The Couture Veil and Rachel Chaprunne to provide a range of wedding accessories, such as customisable wedding veils, belts and hoops.
Designers: GAIA, MiaMia, Freda Bennet
Price range: From £500
Address: 48 Washway Road M33 7QZ
15. Glamour Bridal and Prom - Greater Manchester
Glamour Bridal and Prom is a premier bridal boutique in Manchester offering beautiful collections of of wedding dresses, bridesmaids dresses and accessories. From their extensive range, you can choose any dress that you like - with this much to offer, you're sure to find something perfect for your budget and style!
They also boast a unique "One & Only Collection" full of pristine ex-sample gowns ready to wear and take away. The shop itself is set over two floors, giving you the opportunity to choose your dress in a relaxed and spacious environment. .
Designers: Sophia Tolli, Madeline Gardner New York, Sincerity, Lillian West
Price range: Prices available upon request
Address: 12-14 Bank Street BL1 1TS
This city isn't just a great place for wedding dress shopping. Discover the best hen party ideas in Manchester, with places to stay, eat, drink and play!