The Most Gorgeous Bridesmaid Makeup Looks (and the Makeup Bags to Gift Your Girls)
Need some bridesmaid makeup inspiration? Scroll through our edit of the best real bridesmaid makeup looks and the must-have makeup bags you can gift your girls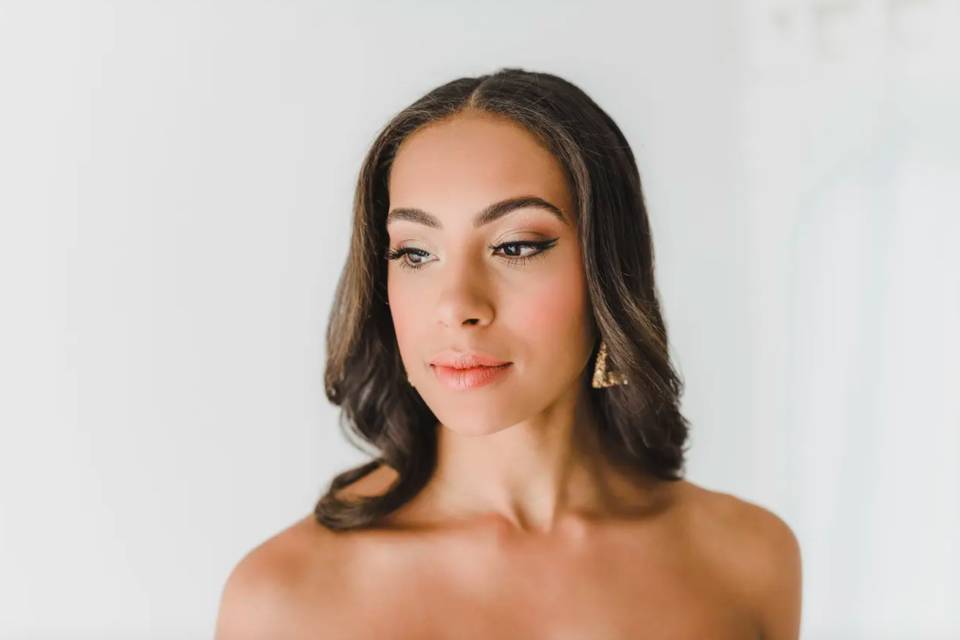 They're everything from hen party planners and planning support systems to wedding day wing-women - your bridesmaids deserve to look and feel amazing. That's why bridesmaid makeup is so important.
The bridesmaid dresses may seem like the most crucial item on your wedding party to-do list. However, makeup for bridesmaids can play a key role when it comes to confidence, so it's important to find time to discuss their overall looks in the run-up to the wedding. Whether you're hiring a professional or going DIY, every bridesmaid should know which beauty look she'll be rocking on the day. That's why we've pulled together some of our favourite looks to get everyone inspired, whatever their personal style.
As well as deciding who pays for the bridesmaid dresses, you all need to be clear early on about the bridesmaid hair and makeup situation. Paying for the bridesmaids' makeup is a lovely treat, but it is not essential. A bride can have her own makeup professionally done for the wedding without being obliged to pay for the bridesmaids to have the same - just so long as everyone understands that this is the case. If the bride isn't paying, bridesmaids should be able to decide individually whether to go DIY or pay for a professional (usually organised by the bride).
To clear up all of your bridesmaid makeup queries, we chatted to Natasha Davies, founder of Something Blue Hair and Makeup, who advised on everything from who pays to how to nail down the perfect look. Plus, we've rounded-up a selection of bridesmaid makeup bags to gift your girls, so you can tick bridesmaid gifts off your to-do list too - you can thank us later!
The Best Bridesmaid Makeup Ideas
1. Go Natural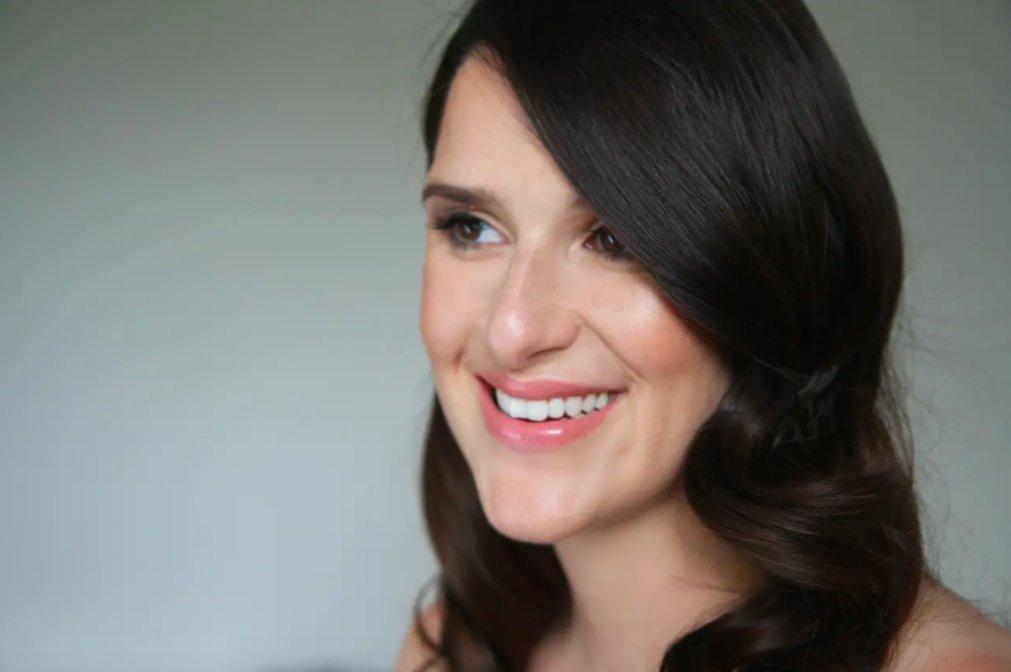 The natural look, no-makeup makeup, is all about enhancing each bridesmaid's natural beauty - reveal rather than conceal. However, don't think this is necessarily a quick look to achieve. Natural wedding makeup requires a delicate touch, building up layers, so make sure there's plenty of time on the wedding day.
2. Embrace Red Lipstick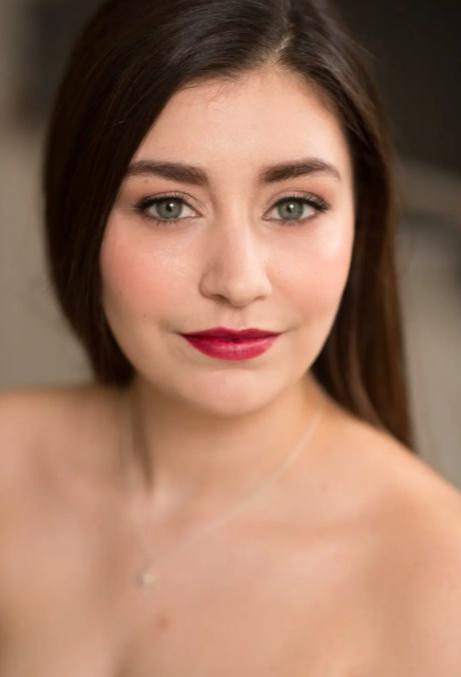 Simple eyes with a red lip makes for such a classic look. The shade of wedding lipstick each bridesmaid chooses will depend on their individual preferences and skin tone, whether a juicy red or a pink-inflected cherry.
READ MORE: DIY Wedding Makeup - Everything You Need to Know
3. Don't Forget the Highlighter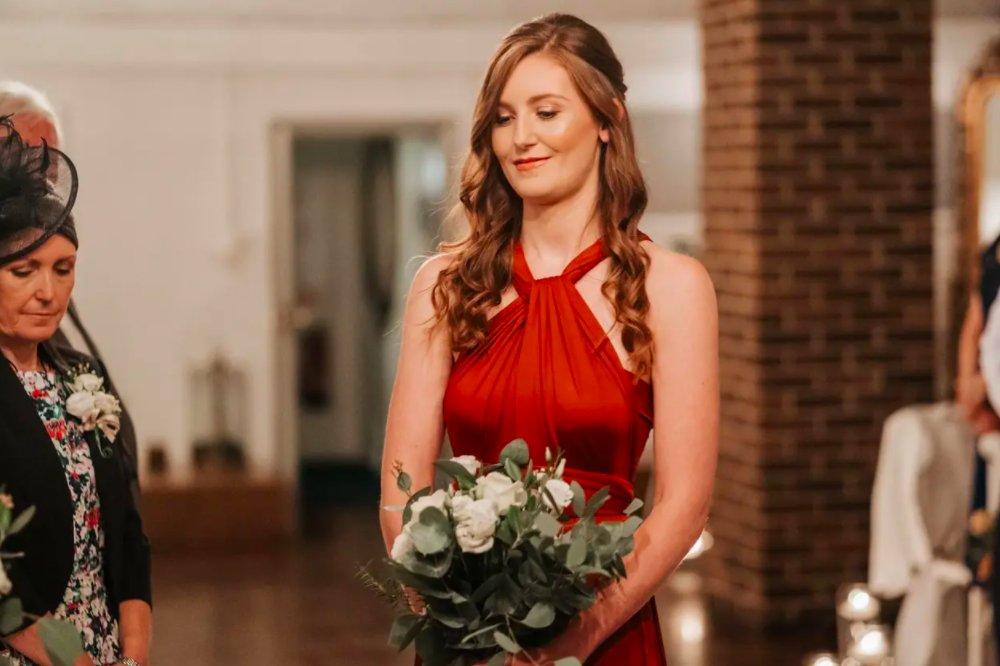 It's not just brides who want to glow! Bridesmaids can bring some shimmer to their look with carefully placed highlighter for the wedding.
4. Get Lashes for Days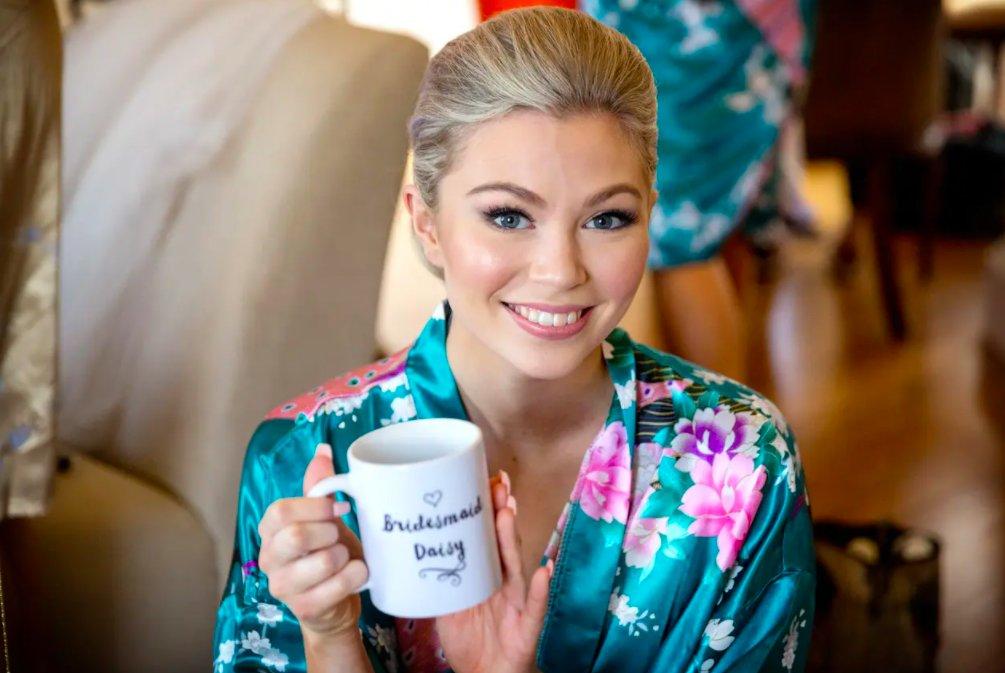 Want to really open up your eyes? A pre-wedding lash lift or extensions can give you some natural-looking flutter or full-on red carpet drama, depending on personal style. You and your bridesmaids could also try false lashes, although you'll need plenty of practice if you're not used to wearing them.
READ MORE: All You Need to Know About Bridal Eyelash Extensions
5. Consider a Flick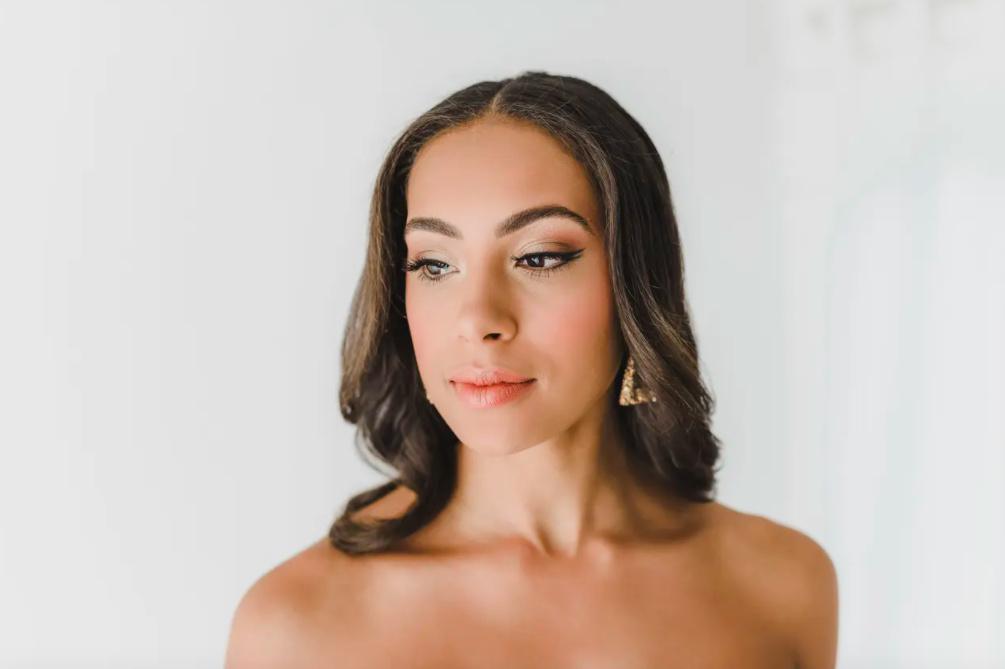 A feline flick is a timeless makeup technique and adds a refined, polished feel to any look.
6. Don't Be Afraid of a Smoky Eye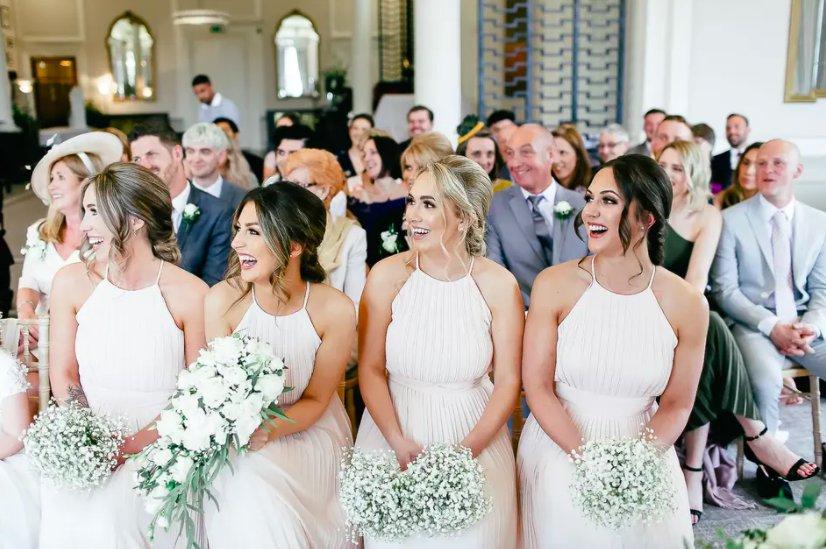 There's no rule that bridesmaid makeup has to be understated. If they feel at their best with a a smoky eye, they should go for it!
7. Try Coral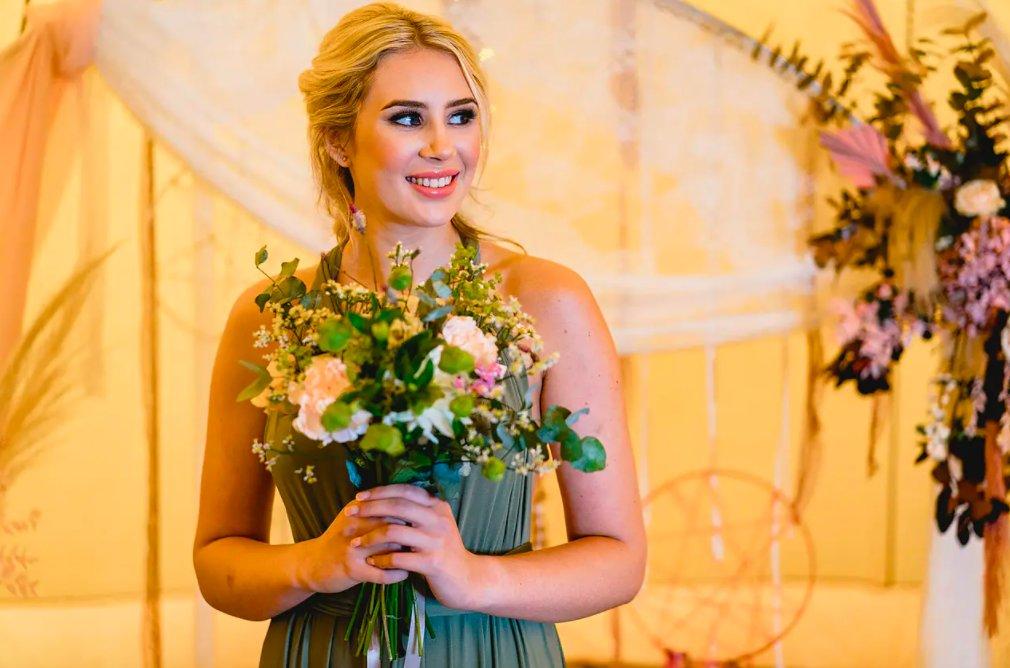 Coral is a surprisingly wearable shade for lips, suiting all skin tones, and it adds a zesty note to a summer bridesmaid makeup look.
8. Experiment with Blusher & Bronzer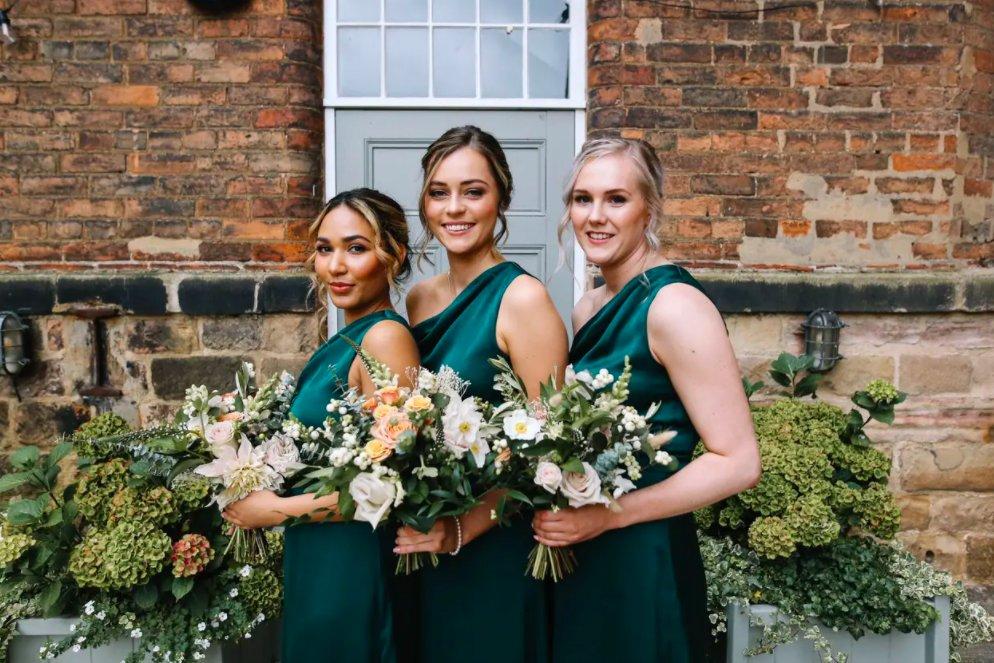 Judiciously applied blusher or bronzer can really make skin sing in photos. If these aren't part of your bridesmaids' everyday routine, and you're all going DIY with your makeup, try out some online tutorials together for some pre-wedding bonding.
READ MORE: How to Master the Mismatched Bridesmaid Dresses Trend
9. Add Some Shimmer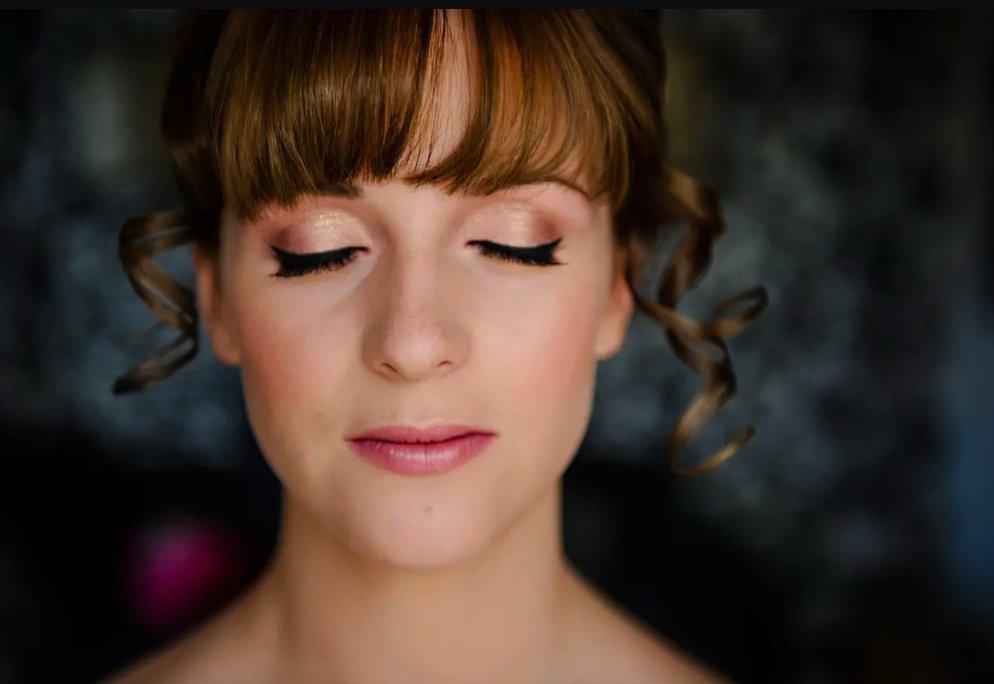 A wash of shimmering eyeshadow looks so chic and will look beautiful with sparkling bridesmaid dresses. You'll definitely need an eyelid primer to keep the colour in place.
READ MORE: 15 of the Best Primers for Flawless Wedding Makeup
10. Think Pink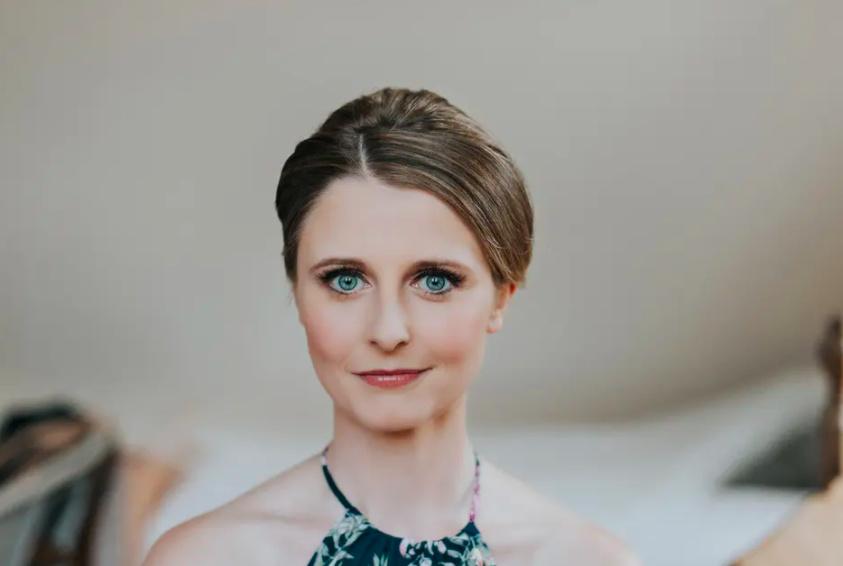 Blush pink is set to be a huge beauty trend. The shade isn't just for cheeks - use it for lips and eyes for a very current bridesmaid makeup look.
11. Pick Peach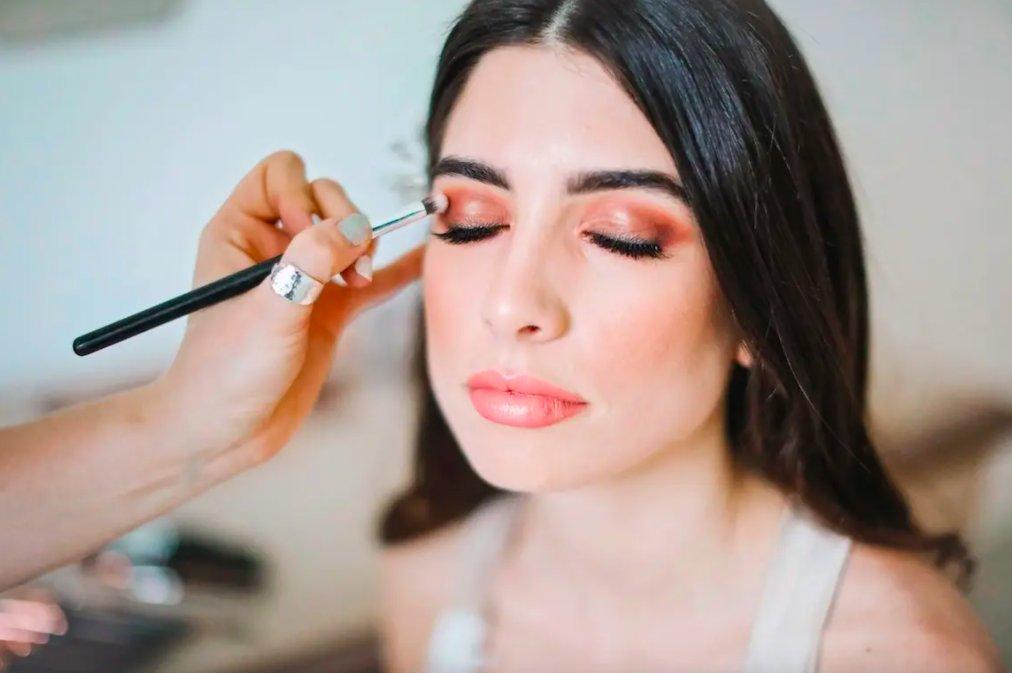 Peachy tones look beautiful for summer nuptials and we love the idea of matching up the lids and lips for a bold bridesmaid look.
12. Go for Gold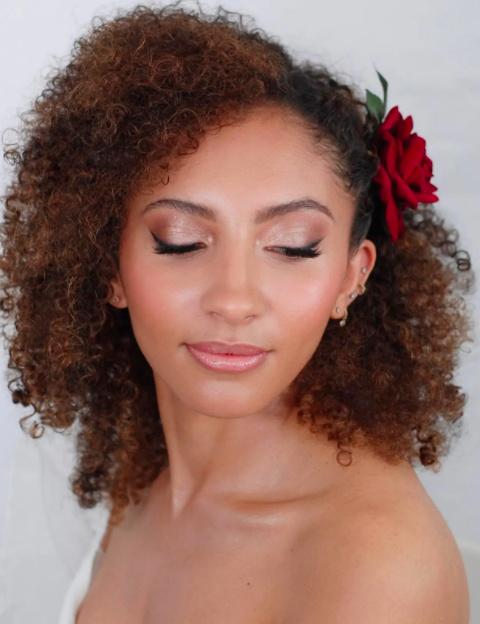 We love how this look has touches of gold throughout, from the shimmering champagne eyes to the golden toned highlighter. It's a glamorous look for a bridesmaid.
READ MORE: Gold Bridesmaid Dresses: 24 Glittering Gowns Your Maids Will Love
Your Bridesmaid Wedding Makeup Questions Answered
We asked founder of Something Blue Hair and Makeup, Natasha Davies, to answer the most asked questions about bridesmaid makeup.
Do All My Bridesmaids Need to Have the Same Makeup?
"No, I don't think so. It can look quite dated if everyone has the same makeup. Plus, what looks good on one person may not suit another. It's good to have a running theme like natural or smoky eye looks, but everyone doesn't need to be the same."
How Do I Choose a Makeup Look for My Bridesmaids?
"Get your bridesmaids to send you some ideas of what they would like. Perhaps let them know of the look and feel you are going for with the wedding. Then you should both be able to come up with some ideas that work for both of you and suit the theme of the day."
Who Pays for Bridesmaid Makeup?
"Either the Bride or the bridesmaids, it depends on the budget of the wedding usually. Sometimes a bride is able to pay for her bridesmaids makeup if it's within the budget."
Bridesmaid Makeup Bags
A personalised makeup bag makes for the perfect bridesmaid gift. It gives them somewhere to store their w-day essentials, plus they can use it for years to come. Here are some of our favourite picks.
Personalised Velvet Quilted Makeup Bag – £12.99, Hitched Shop
We love this soft blue velvet makeup bag with white lettering but if you'd like to coordinate your gift with your wedding colours, you can choose from five velvet shades and fifteen stitching colours.
Personalised Bridesmaid Makeup Bag – £16.99, The Alphabet Gift Shop
This neutral makeup bag with copper lettering will gratefully received by your girls. Add their role and their name for an extra personal touch.
READ MORE: 35 Best Bridesmaid Gifts to Suit All Budgets
Personalised Metallic Makeup Bag – £9.98, Paper High
We reckon these glam makeup bags could double up as clutch bags for the evening do. Choose from gold, silver or rose gold and add their role or name to the front.
Bridesmaid Makeup Cosmetics Bag – £12.95, Shindigg
You can have this simple yet stylish bag in small or large with any wedding party role written across the front. Choose from neutral or black for the bag and black, white, silver, gold and rose gold for the lettering.
Personalised Duck Egg Slim Makeup Bag – £20, Lovehart
This slim makeup bag will easily fit into your bridesmaid's bag and with gold lettering and a striped interior, it will make a seriously stylish addition to her dressing table.
READ MORE: 15 Things Your Bridesmaid Wants You to Know
Secret Message Makeup Bag – £22.99, Katie Loxton
This gorgeous blush pink makeup bag can be personalised with your bridesmaid's initials, plus it features a hidden 'you look beautiful' message inside for your 'maid to see every time she opens her bag for a touch-up.
Personalised Canvas Toiletry Bag – £16.99, Hitched Shop
This makeup bag would make the perfect gift for botanical brides to give to their bridesmaids. Add their initial to complete the design.
Makeup sorted, are you ready to move on to your bridesmaid hairstyles? We've chosen the 32 most stylish looks.