Floral Bridesmaid Dresses: 40 Looks Your Maids Will Adore
We can't get enough of floral bridesmaid dresses! Take a look at our edit of 40 blooming beautiful styles to suit all seasons and budgets
We have included third party products to help you navigate and enjoy life's biggest moments. Purchases made through links on this page may earn us a commission.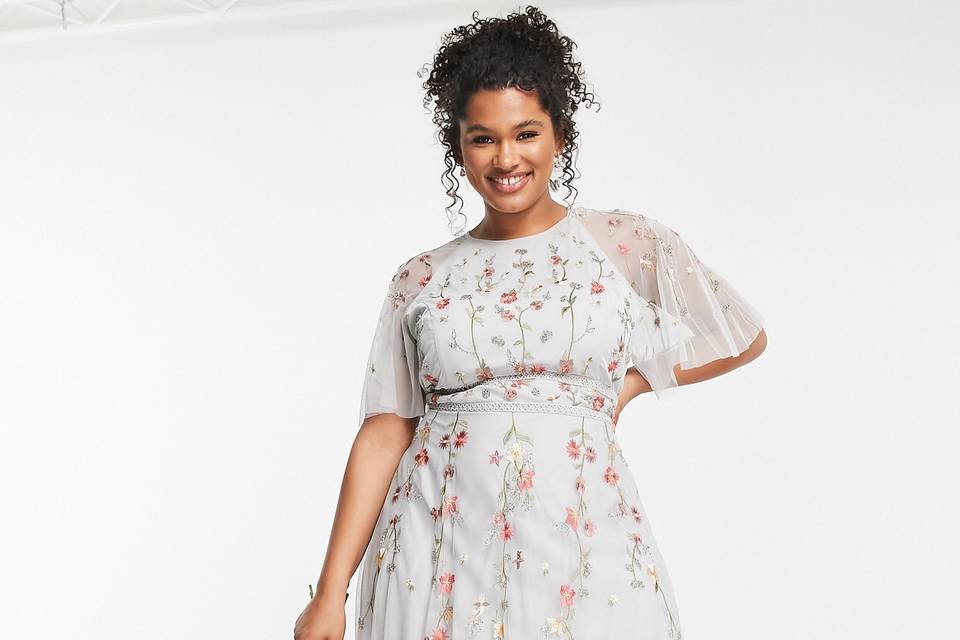 Floral bridesmaid dresses are a stylish, stand-out choice and a brilliant way to make your wedding day unique - with more couples looking to break away from wedding traditions and move away from solid colours, they could be the perfect choice for you and your maids.
There are so many fresh floral prints to choose from, whether you go for bold blooms or ditsy buds, so it is easy to alter how much of a statement you want to make. How about mixing up patterns with mismatched bridesmaid dresses or, if you're planning on wearing a floral wedding dress, opting for flower-filled bridesmaid dresses to follow the theme!
Better yet, florals are most definitely not just for spring, in fact whatever season you're getting married in you can find a floral frock for your pals to rock. From tropical floral bridesmaid dresses that wouldn't look out of place at a beach wedding, to boho floral bridesmaid dresses to fall in love with, our edit of 40 designs have you covered. Your best girls will be able to wear these time and time again too, making them a more sustainable choice.
We've included pretty pieces from budget friendly high-street brands such as ASOS and Coast, as well as designer dresses from floral print pro Marchesa Notte.
40 of the Best Floral Bridesmaid Dresses
ASOS Floral Bridesmaid Dresses
1. High Neck Pleated Long Sleeve Dress - £48, ASOS
You don't have to cover your whole bridesmaid squad in florals - keeping the print to one section of the dress is an effective and subtle way to nod to the trend. This long sleeved green dress from ASOS has a fabulously floral bodice.
2. Cupped Midi Dress - £68, ASOS
We adore how elegant this black floral bridesmaid dress from ASOS looks. The midi length lends itself perfectly to a gorgeous pair of heels such as the contrasting pair of white sandals this model is wearing.
3. Floral Embroidered Maxi Dress - £100, ASOS
If you want to stick to a traditional bridesmaid dress silhouette ASOS have you covered with their gorgeous collection. This pale blue frock is adorned with delicate flower vines that cascade beautifully down the skirt and across the shoulders.
4. Pearl Embellished Flutter Sleeve Maxi Dress - £100, ASOS
Give your bridesmaids a touch of glitz with the ASOS pearl embellished floral bridesmaid dress. The fluttery angel sleeves are enchanting, as is the intricately beaded bodice.
5. Cowl Front Maxi Dress - £70, ASOS
Cowl necklines are effortlessly cool and when paired with a velvety green slip dress you'll have yourself some seriously stylish bridesmaids. It's a 90s inspired look that we're obsessed with.
READ MORE: 33 Sexy Bridesmaid Dresses
Coast Floral Bridesmaid Dresses
6. Tiered Ruffle Midi Dress - £119, Coast
Tulle bridesmaid dresses are a really romantic choice and this tiered number from Coast has a lovely ethereal look to it. The ruching will be flattering on all body types which is great if you are having lots of bridesmaids.
7. 3D Floral Embellished Maxi Dress - £289, Coast
For a statement making bridesmaid dress, look for designs with 3D floral embellishments. This gorgeous option from Coast also features metallic beaded accents for added sparkle.
8. Angel Sleeve Tie Waist Maxi Dress - £129, Coast
Your bridesmaids can wear this pretty floral dress from Coast for seasons to come after the wedding as well as on the big day itself so it's a great investment. The angel sleeves mirror the floaty hemline beautifully.
9. Bardot Embroidered Midi Dress - £179, Coast
For a structured take on floral bridesmaid dresses, consider this blue frock from Coast. The full skirt is crafted from intricate embroidery and contrasts perfectly against the simple, bardot bodice. We're getting Mad Men vibes!
10. Square Neck Floral Slip Dress - £85, Coast
Upgrade the simple slip dress with a gorgeous floral print and it'll take your bridesmaid look to the next level. This design from Coast is a bargain at just £85 per dress.
READ MORE: 25 Satin Bridesmaid Dresses
11. Embroidered Long Sleeve Maxi Dress - £179, Coast
If you can't get enough of long sleeved wedding dresses, we reckon you'll have a soft spot for this style of bridesmaid dress too. Coast have impressed us again with this pretty pink floral bridesmaid dress that features illusion sleeves.
12. V Neck Embroidered Maxi Dress - £169, Coast
We told you florals weren't just for spring! This winter-ready forest green floral bridesmaid dress is stunning with flattering pleats, floaty angel sleeves and an embroidered bodice.
Blue Floral Bridesmaid Dresses
13. Chiffon Open Back Bridesmaid Gown - £478, Marchesa Notte at Farfetch
Marchesa Notte designs breath-taking floral bridesmaid dresses that are stylish and elegant. This halterneck blue beauty looks just as amazing from the back thanks to a chic cut-out.
14. Bree Embroidered Maxi Dress - £170, Monsoon
If embellishments are your weakness, Monsoon will be your new best friend. The Bree dress is the most gorgeous shade of soft blue and features delicate floral motifs.
15. Floral Jacquard Strappy Woven Midi Dress - £169, Karen Millen
Floral print works for a tailored dress too - take Karen Millen's strappy structured frock. This sophisticated design has a bodice that will cinch you in at the waist, as well as pockets. We guarantee smiles all round when your maids know this!
READ MORE: 31 Beautiful Blue Bridesmaid Dresses
16. Floral Bardot Maxi Dress - £39, River Island
This off the shoulder blue floral bridesmaid dress from River Island features subtle vertical stripes which will create the illusion of longer legs by drawing the eye down. Pair with white accessories for a fresh look.
17. Floral Silhouette Chiffon Crossover Midi Dress - £360, Self-Portrait
We've fallen in love with the cross-over neckline on this dress by Self-Portrait. This fabulous floral print is also available in a number of different silhouettes too such as sweetheart and tie-neck so it is ideal if you want mismatched bridesmaid dresses.
Green Floral Bridesmaid Dresses
18. Ashley Embellished Dress - £170, Monsoon
Another beautiful floral bridesmaid dress from Monsoon is this lovely green number. Falling florals cascade down the skirt creating a soft and romantic feel that will suit spring or summer weddings.
19. Floral Print Satin Draped Midi Dress - £32, Pretty Little Thing
Florals can have some edge to them too - this satin draped dress from Boohoo has a sultry leg slit that modern couples will love. We love the soft sage shade as it is a green bridesmaid dress colour that is so on trend.
20. Buttercup Strapless Dress - £285, Reformation at Net-A-Porter
Planning a summer garden soiree? The Buttercup dress by Reformation is the perfect pick for sipping Pimm's in and celebrating your special day! It is covered in a vintage floral pattern in a lush green shade.
READ MORE: 28 Affordable Bridesmaid Gifts
21. Floral Midi Dress - £95, Lovedrobe
Lovedrobe is one of our favourite brands to shop on for plus size bridesmaid dresses. This lovely floral midi dress has lace fabric which nods to tradition, yet the look is kept fresh with a mint colourway.
22. Keisha Midaxi Dress - £72, Pretty Lavish
Available in sizes 6-26, the Keisha dress from Pretty Lavish features a low-back, cowl neck and a stunning floral print. It is ideal for minimalistic couples.
Black Floral Bridesmaid Dresses
23. Floral Embroidered Maxi Dress - £65, River Island
Black bridesmaid dresses are becoming increasingly popular but if you aren't sure of this statement colour, a floral print will break it up and make it a lot more wearable. This dress from River Island is delicate and floaty despite the dark backdrop.
24. Chic Chiffon Maxi Dress - £46.99, Ever Pretty
This black floral bridesmaid dress from Ever Pretty showcases a bright display of blooms throughout the silhouette and we're obsessed. It is seriously sophisticated so would suit a formal wedding.
25. Chiffon Floral Maxi Dress - £64.99, Quiz
High street bridesmaid dresses are a great choice if you are sticking to a budget and Quiz is a stylish place to start the search. This ruffled black dress is light weight so it'll keep your maids cool and comfortable if you are marrying in the warmer months.
READ MORE: 15 Things You Should Never Say to a Bridesmaid
26. Twilight Dress - £285, Reformation
Keep your bridesmaids sweet with a cool and comfortable dress like this black floral bridesmaid dress from Reformation. With a relaxed skirt and a fitted bodice you get structure and comfort in one.
Purple Floral Bridesmaid Dresses
27. Ditsy Floral Cowl Front Corset Dress - £22, Pretty Little Thing
Lilac and ditsy florals are a match made in heaven for a spring wedding, which is why we love this Pretty Little Thing dress so much. Oh, and the fact it's only £22!
28. Floral Chiffon Midi Dress - £64.99, Quiz
Floaty, floral and fabulous - this Quiz dress will be a pretty addition to your wedding party look. The wide waist band is a flattering feature and the layered fabric will look gorgeous when it moves.
29. Floral Bardot Maxi Dress - £85, Lovedrobe
This soft purple floral bridesmaid dress from Lovedrobe will look gorgeous paired with barely-there heels and a pretty pastel clutch. The off the shoulder neckline is the winning feature for us! It's ideal if you're having an off the shoulder wedding dress.
Tropical Floral Bridesmaid Dresses
30. Marguerite Silk Dress - £300, Reformation
If you want your bridesmaids to stand out for all the right reasons, consider Reformation's Marguerite dress. The vibrant orange hue and oversized tropical blooms has us dreaming of sunnier climes...
READ MORE: 24 Glittering Gold Bridesmaid Dresses
31. Floral Strappy Slip Dress - £20, Boohoo
Getting married in the South of France? Or perhaps on the Greek Islands? Wherever you're getting hitched, if it has sun, sea and sand, this is the bridesmaid dress you need!
32. Floral Satin Maxi Dress - £25, Boohoo
Adorned with tropical florals, this silky bridesmaid dress from Boohoo looks fabulous with orange accessories, as shown by this model. It was simply made for a destination wedding!
33. Tropical Printed Fluted Sleeve Wrap Dress - £69, Wallis
With pops of purple, pink, orange and green, this dress from Wallis will make a beautiful impact. It'll look amazing next to a white wedding outfit without stealing the show.
34. Cecile Maxi Dress - £85, Pretty Lavish
Pretty Lavish is the perfect spot for gorgeous bridesmaid dresses, without the designer price tag. The Cecile maxi dress is less than £100 and will look fabulous against all skin tones.
35. Tova Dress - £248, Reformation
The Tova dress from Reformation is a refreshing take on a tropical floral bridesmaid dress. If you are getting wed in a hot climate, the open back and adjustable halter will keep your maids cool.
READ MORE: 28 of the Best Black Bridesmaid Dresses
Boho Floral Bridesmaid Dresses
36. Tulle Draped Bridesmaid Gown - £394, Marchesa Notte at Farfetch

We don't like to have favourites but when it comes to boho floral bridesmaid dresses, this Marchesa Notte beauty steals the show. Yes, it is an investment, but it'll be worth every penny!
37. Floral Wonder Bodice Cami Ankle Gown - £320, Needle & Thread
Combining florals and sequins for a seriously pretty design, the Wonder Bodice Cami Gown from Needle & Thread is breath-taking. The print is taken from a 1900's hand painted art piece!
38. One Shoulder Embroidered Mini Dress - £110, Chi Chi London
This unique floral bridesmaid dress from Chi Chi London is a great option if you are on the hunt for short bridesmaid dresses. We love how the cherry blossom embroidery branches across the one shoulder.
39. Henriette Flower Maxi Dress - £295, Phase Eight
Can't get enough of 3D flowers? Phase Eight's enchanting Henriette maxi dress is the perfect fit for a fairy tale wedding day. It'll complement silver metallic accessories beautifully.
40. Barrow Silk Dress - £275, Reformation
If strapless bridesmaid dresses are your vision, the Barrow dress from Reformation is a gorgeous pick. From the silky fabric, to the ruched bodice and pretty print, we guarantee your maids will be impressed.
Where to Buy Floral Print Bridesmaid Dresses?
Whether you are after a designer option or an affordable number, there are many places where you can buy floral print bridesmaid dresses.
You don't have to shop dedicated bridal brands for floral print bridesmaid dresses - lots of high street stores such as Coast, ASOS and Chi Chi London offer wedding-ready floral pieces in their everyday collections. More over, Matches and Net-A-Porter stock designer buys that your bridesmaids are sure to be happy with!
Thank your bridesmaids for being part of your special day with these gorgeous bridesmaid jewellery ideas. They double up as a gift and an on the day accessory!