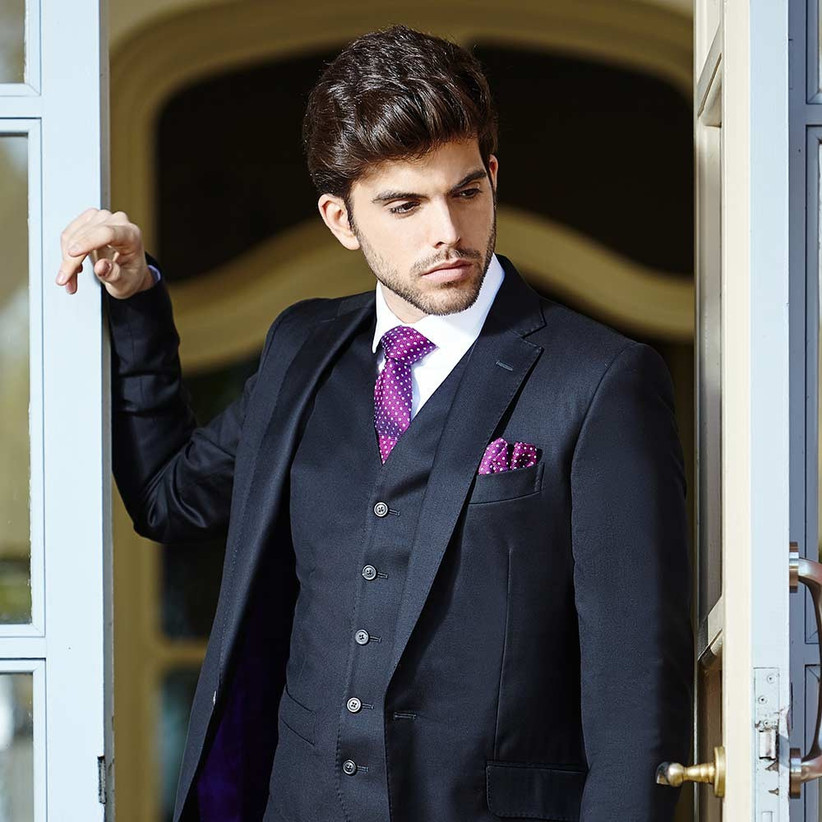 Buying your groom's suit sounds like it would be a simple task…trousers, a shirt and a jacket. Done and dusted.
But no, there's actually a lot of things to consider when it comes to the groom's suit, and here at Hitched we've put together our top tips, including expert advice from two professionals.
When getting a suit for your wedding, these are the questions you need to ask yourself:
Should You Get Measured?
Richard Thompson, the founder of Exclusive Tailoring advised: "Get your measurements done by a professional. It's a corner that some people do cut but if your suit doesn't fit properly, alterations can cost more than the initial measurement that you could have had."
It's really important to know your measurements before you shop as it can also save time. If you are buying a suit and know what sizes you need, it can speed up the entire process and it's always useful to know for future suit buying.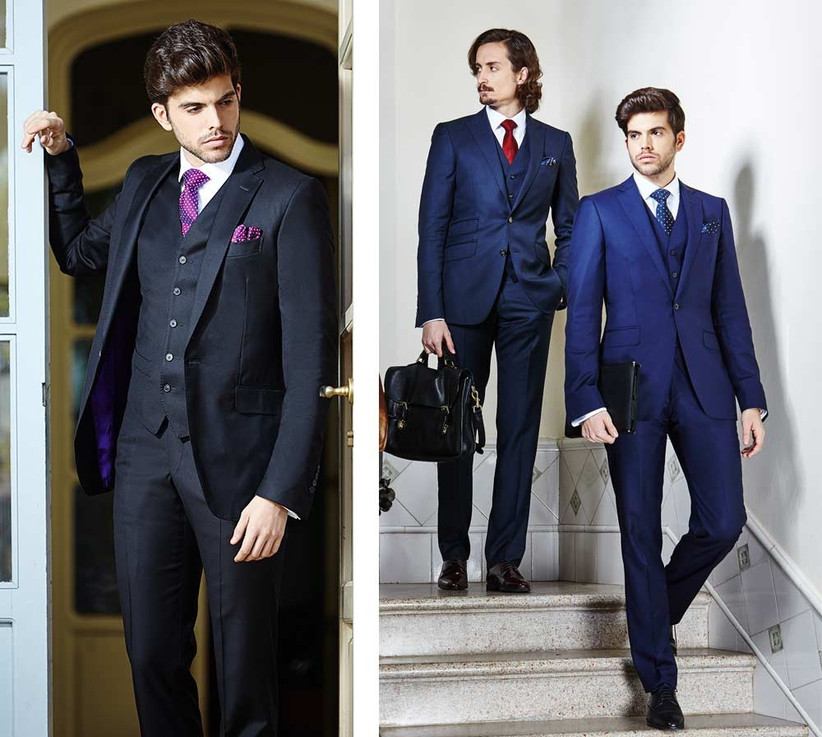 Does Your Suit Match Your Wedding?
You don't want to choose a suit which will completely clash with your wedding colour scheme, venue and theme. If you're having a black tie dress code in a stately home venue, a rustic tweed suit may not be the best choice. Alternatively, if your wedding is in the midst of winter, pastel colours won't be appropriate. Make sure you take all of these things into consideration when deciding on a style, colour and fabric.
"If you have lilac flowers, choosing a lilac tie may be a nice touch. Also think about the weather. If you're having a suit in the height of summer, 100% wool may not be the best option." Says Richard.
What Is My Suit Style?
Look in magazines and online for suit inspiration. This is the most important suit you will ever wear and it is vital that you really love the end result. As much as you will most likely know your usual style, what you like and what you don't like – for a wedding suit it may be different. The best thing you can do is have an open mind, look at lots of different shapes, styles and colours and don't be scared to try something new.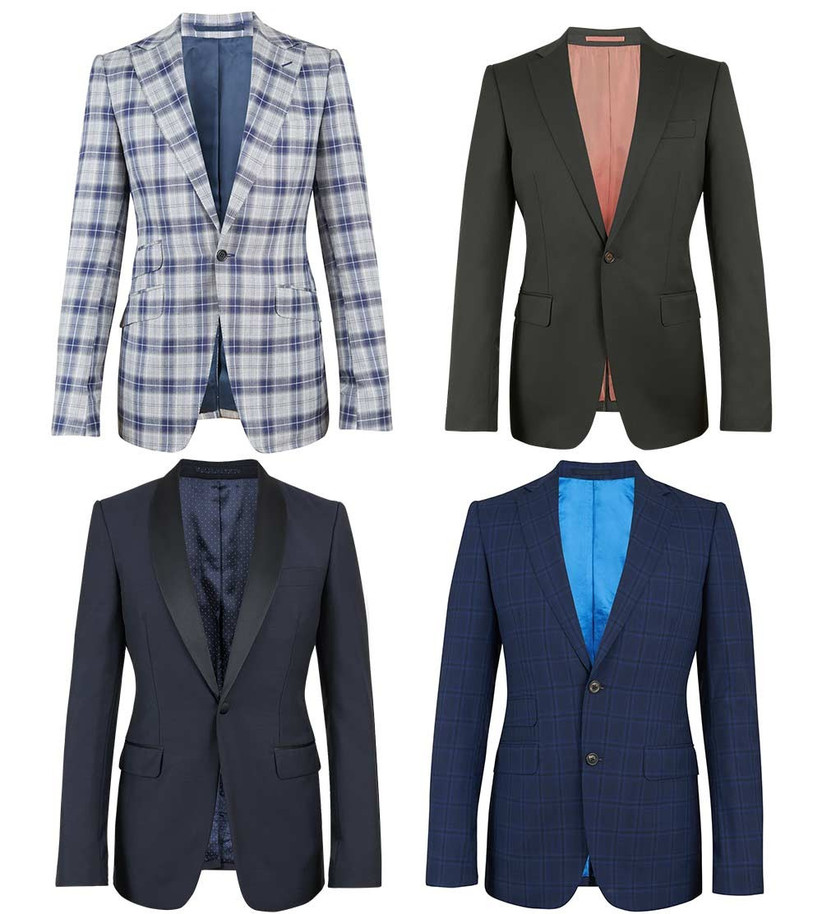 Does Your Suit Really Fit?
"You want a suit to feel snug but comfortable when you're walking, standing and sitting down. It shouldn't feel too tight on the legs when you sit down and shouldn't be so tight on the chest that your buttons feel as if they might pop open at any moment." Says Richard.
It's really important not to rush the process of getting your suit. If it doesn't fit properly, experiment with different sizes and styles until you find something that feels perfect. Different fabrics and shapes of suit may come up slightly bigger/smaller than you're used to, but alterations can always be made so don't settle for something that doesn't fit you like a glove.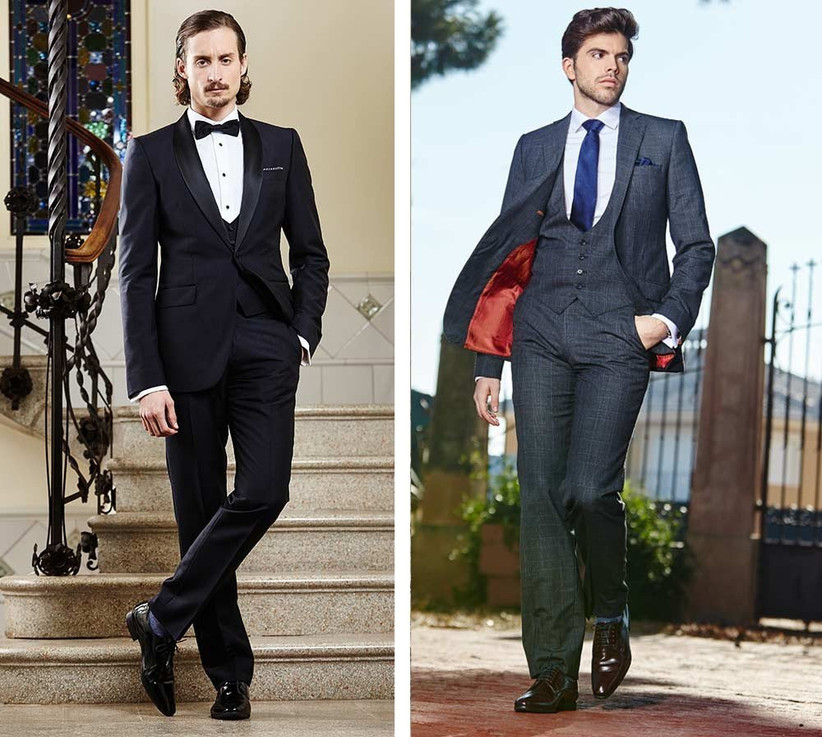 Do I Feel Comfortable?
Feeling comfortable in your own skin is important all of the time, but even more so on your wedding day. Just like we would advise brides to never buy a wedding dress they don't feel comfortable in, we think grooms should be exactly the same. You should feel your absolute best on your big day so don't settle for a suit that makes you feel anything less than that.
Do I Want My Groomsmen to Wear The Same as Me?
Everyone does this differently and there are no wrong or right answers. Some grooms like to have their groomsmen in uniform suits matching to theirs, and others like to have their own suit in one style, and their groomsmen in differentiated styles. It's all about the vision that you and your wife-to-be have for your special day. If your bride is having her girls in mismatch bridesmaid dresses, it may be a nice idea to do the same with your ushers but speak about it together and make a decision that is right for you.
Hiring a Suit
If you're planning a wedding on a budget, hiring a suit can be a really great option to keep the spending down. With hire wear, you can afford to accessorise more for a lesser price so add-ons such as a top hat, pocket watches, bow ties and so much more.
Hiring a suit is also a great option for grooms who want to go for something totally wacky that they would not normally wear, and don't intend to wear again. Bright colours and loud patterns are very on trend at the moment, especially for summer and spring weddings, but you may not necessarily see yourself in this attire again – which is why hiring can be such a great choice.
Bespoke Wedding Suits
If the fit and style of your suit is high on the rankings for you, consider spending that little bit extra and getting a bespoke suit made just for you.
Alexandra from Alexandra Wood, who specialise in bespoke wedding suits for today's gentleman gave us a briefing on exactly what getting a bespoke suit entails.
"Bespoke wedding suits are simply where a suit is made from scratch using paper patterns cut specifically for you – this makes for a truly unique wedding suit.
"Expect to have a basted fitting which is where the suit is half made by the workshop, and then has a wide variety of modifications made to it to fine-tune your suit to perfection"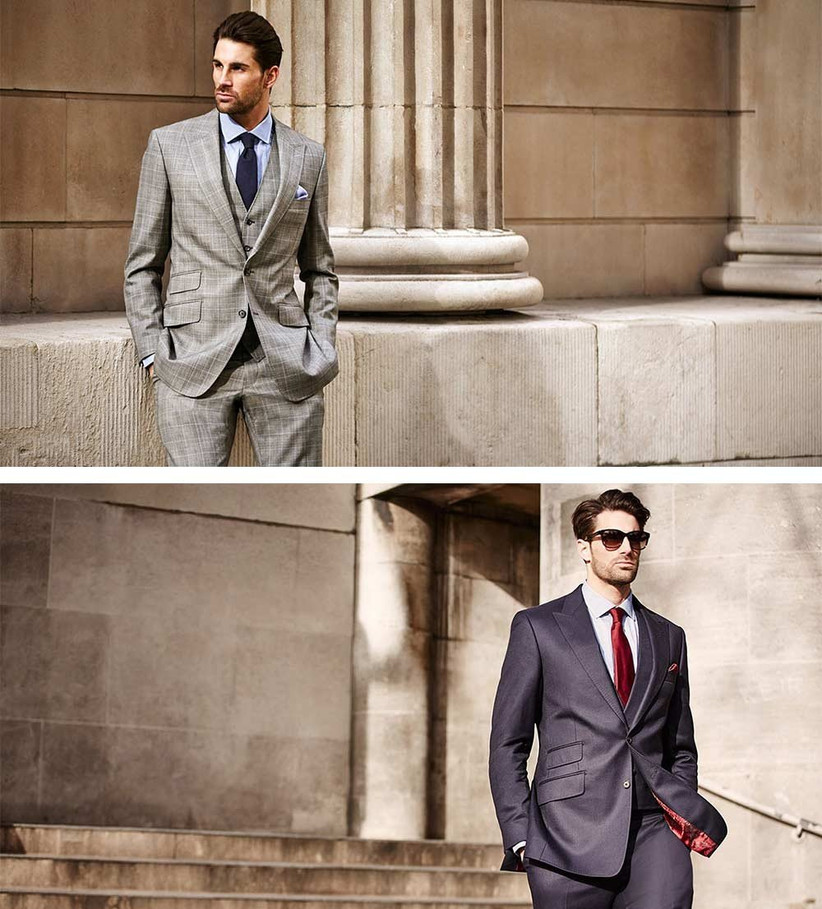 You may end up having up to five fittings to make sure your suit is perfection, but it will all be worth it in the end. Don't be put off by the exposed stitching you may see in the early stages, it just shows you the core skill and attention to detail that is going into your all-important wedding attire.
"It is advisable to book way in advance, as bespoke wedding suits are known to take much longer than most – sometimes as long as 6 months is needed."  Alexandra advises.
Made to Measure Wedding Suits
If your budget is higher than the average, but not quite enough for a fully bespoke wedding suit, made to measure is a really great option.
"This generally means 'slightly modified from pattern blocks' but everything can be modified from the shoulder width to the sleeve pitching.
"It's as close to bespoke as you can get, apart from the basted fittings and fusing. You choose the fabric, the style and all of the add-ons that you want and the whole thing can take as little as 6 months."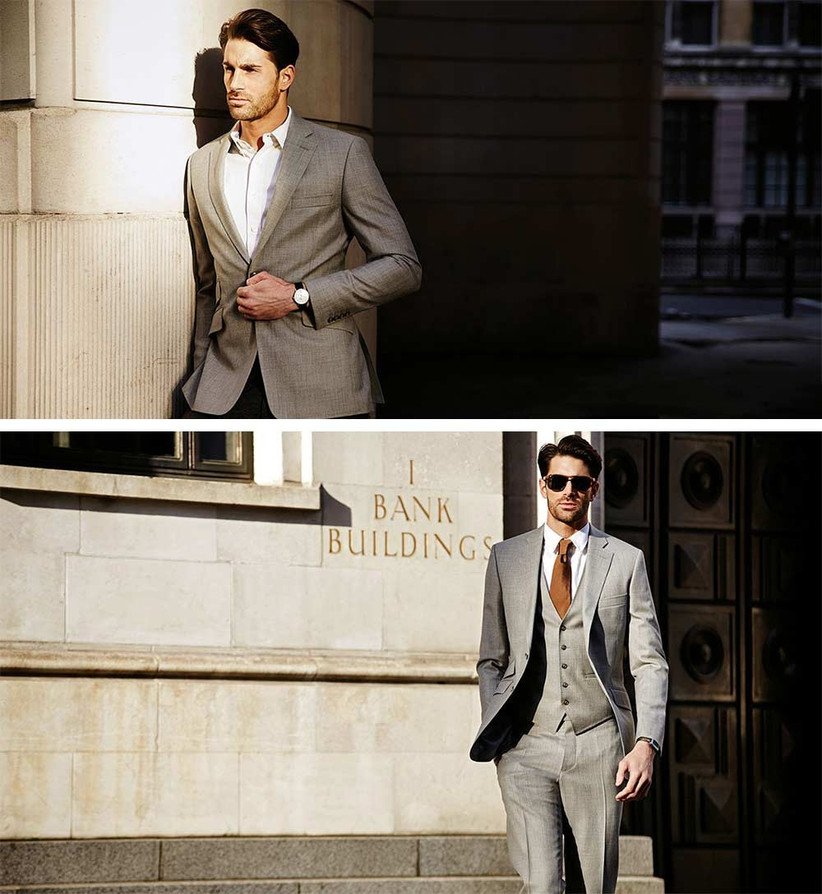 Now you know everything there is to know about your grooms suit, it's time to beautify yourself for the wedding. Check out our grooming tips for the grooms to give your bride some stiff competitionin the glam department.