A Fun & Unconventional London Wedding, Complete With Brick Lane Beigels
Even wet weather couldn't dampen Alex and Jay's spirits on their special day at this magical Thameside venue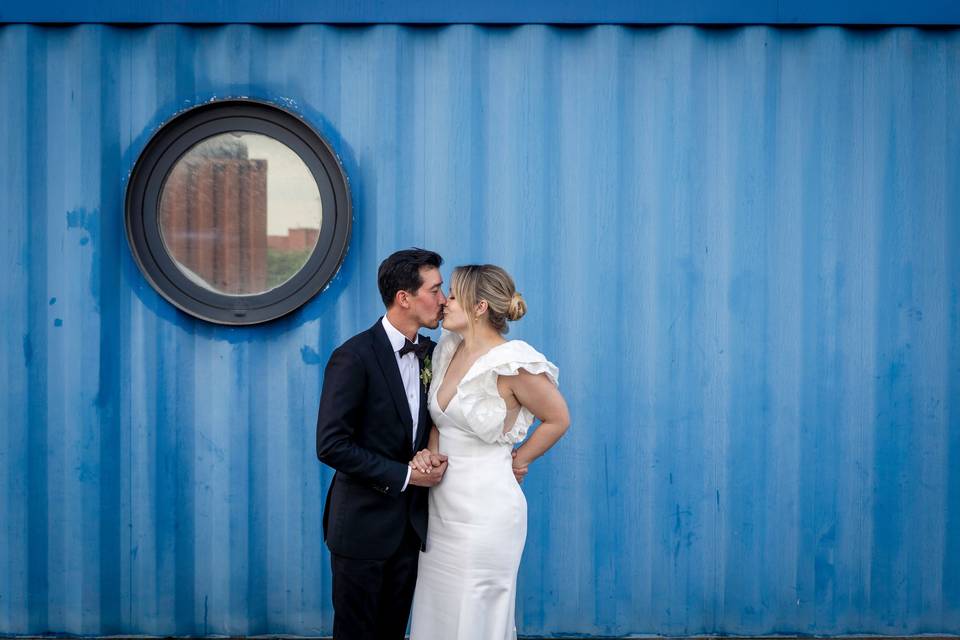 Hitched Featured Supplier: Peach Portman Photography
Looking for some unconventional wedding inspiration? You've come to the right place. From a Spice Girls singalong to a booze cruise on the Thames and a Tunnock's teacake tower in place of a cake, Alex and Jay weren't afraid to throw the traditional wedding rule book out of the window.
The laidback celebration was filled with fun and laughter, which is no surprise coming from a couple with one of the most hilarious first meeting stories Hitched has ever heard.
"Jay and I met at work (a rather dull call centre in the Isle of Dogs). After much parading around to get his attention, I gave up. Jay is shy and quiet and was no doubt a little alarmed by my loud laughter and gossipy nature.
"One Sunday shift someone (and the culprit is still undiscovered and at large) left a rather large deposit in the men's toilets. News of this travelled around the office and everyone (managers, security guards, cleaners) paid a visit to marvel/be repulsed by its sheer size.
"On inspecting the toilet myself, I left the men's and saw Jay coming out of the elevator to start his late shift and seizing my opportunity to talk to him asked him if 'He'd like to see a really big poo?' He said yes and we became firm friends.
"A year later, after much alcohol consumption, I asked him if he fancied me at a Christmas party and thankfully, he said yes."
Six years later in September 2020, during a brief spell of lockdown freedom, Jay got down on one knee.
"Jay took me to Falmouth for a weekend away. Looking back, I should have suspected something was up when he willingly and without prompting paid for a larger suite with balcony and view but, I just assumed lockdown had made this rather sensible man an erratic spender. Apparently, he was planning on proposing the night we arrived as we walked on the beach after dinner, but I was keen to get back to the hotel as I needed the toilet.
"As we often do when away, we woke early and sat on the balcony to watch the sun come up. There he proposed. I cried. We then walked down to the beach, watched the sunrise and I cried some more. Later in the day, a seagull stole my chips. Apparently, I handled it rather well but Jay suspects this would not have been the case if we weren't newly engaged."
A year and half later, the couple tied the knot in front of 105 guests.
The Wedding Morning
Alex's wedding morning was made even more special by a surprise appearance from a much-loved sibling.
"My brother, who everyone (including my mother) had believed was unable to make it due to work commitments knocked on my hotel room door as I was getting ready. I answered it and completely absorbed by everything else going on simply said 'Oh, you alright?' before it dawned on me who I was speaking to and broke down into uncontrollable sobs leaving the hairdresser and MUA looking on in complete bewilderment."
With tears dried, Luke Tyrell of Headmasters Mayfair and Andrea of Pamela & Andrea Make-Up set to work creating the bride's natural wedding look.
"Both were incredible not just at making me look presentable and feeling amazing but also their general calming presence whilst I flapped about with tit tape and had a panic attack (lucky them)."
The Wedding Fashion
Alex found her dream dress at The Mews Bridal, Notting Hill – the first boutique she visited.
"I wore Rime Arodaky's Gaga Dress. I fell in love with the shoulders - oversized organza ruffles with a really pretty flower detail."
The bride completed the look with some Zoe & Morgan wedding earrings and maid of honour, Chelsea's, bracelet as her something borrowed.
The groom chose a bespoke black tux from Reiss, accessorised with a burgundy pocket square, black bow tie and shoes which were changed for the evening reception.
"He swapped his wedding shoes for Black Stan Smiths - the first thing he bought for the wedding..."
The bridesmaids wore ivory dresses from Pretty Lavish, with bridesman, Baddar, wearing a suit from ASOS. The best men also wore ASOS.
The Wedding Party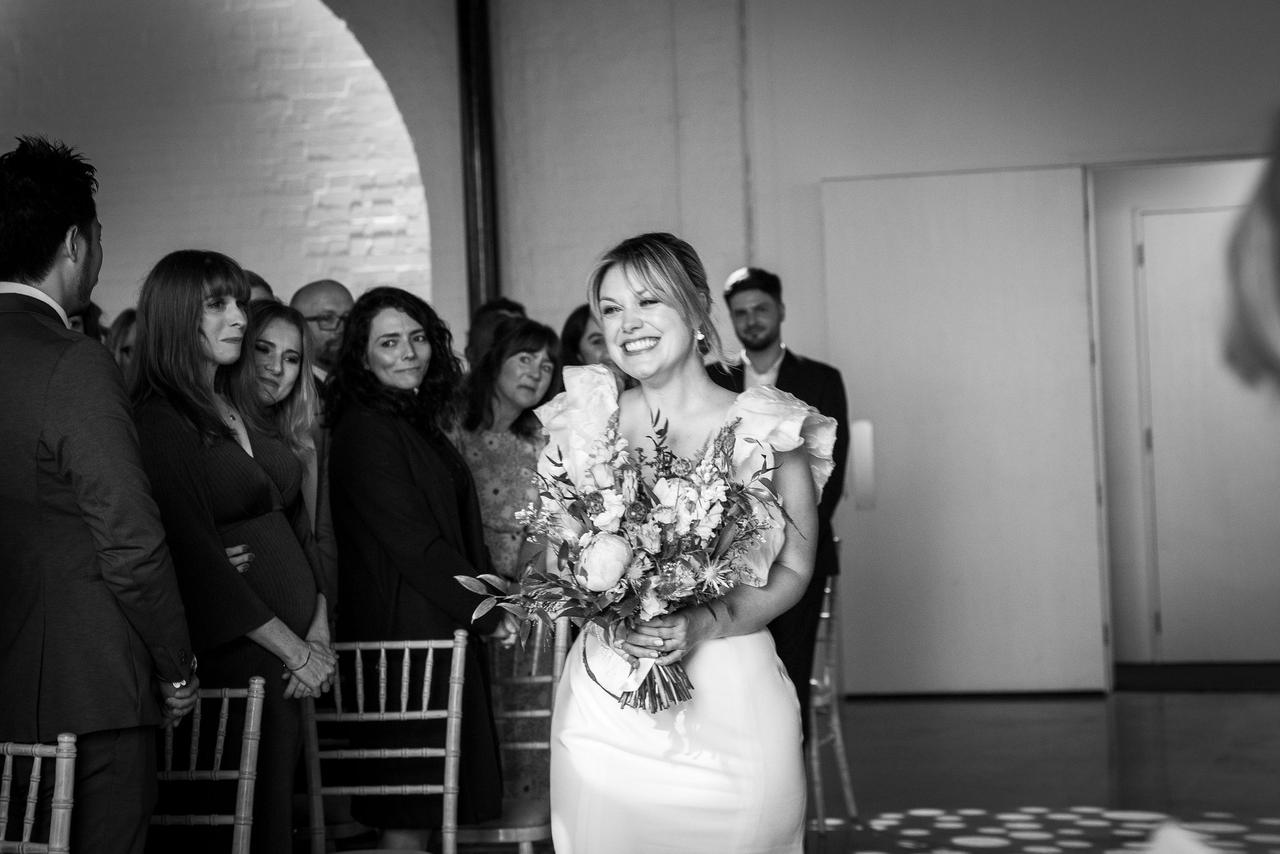 Friends formed the wedding party for the most part with Jay's brother taking on the role of best man.
"My maid of honour was my oldest and closest friend Chelsea. I have loved her forever but especially after she threw an entire bottle of Evian over my first boyfriend who was a rotter. As well as being fiercely loyal and funny, she is also a great organiser so threw me two incredible hen weekends and stayed with me the week before the wedding to keep me calm and help with last minute prep. Absolutely could not have done it without her.
"I had three further bridesmaids and a bridesman. The bridesmaids were my close friends Scarlett, Kay and Aisha. All three are hilarious and I can't imagine doing it without them by my side. My Bridesman, Baddar, was my old housemate who despite nearly setting our living room on fire, is a very nice man."
Joining Jay and his brother were three of Jay's childhood friends who were a hit with a certain member of the family: "Each of them were great with my Grandma - who was in her element being fed gin and tonics by them the night before," reveals Alex.
The Ceremony
In true London style, the couple and their wedding party made their way to the venue via black cabs from London Corporate Cabs but not before a near miss with disaster.
"For my shoes I had chosen a ridiculously high pair of Terry de Havilland shoes. On making my way to the car that would take me to the venue I toppled in the pouring down rain. Quick as a cat, my MOH flung my dress over my head, exposing my behind to passers-by and I broke the fall with my hands. Miraculously, my dress was left unmarked. Jay however, was left waiting a little while longer at the altar though whilst a plaster was slapped across my bleeding knee."
READ MORE: 11 Things That Go Wrong at Weddings & How to Handle It
With the groom and guests in place at the light and airy Trinity Buoy Wharf, You're So Cool by Hans Zimmer began to play as Alex finally walked down the aisle.
"I walked myself down the aisle. I chose to do this for many reasons but in hindsight, in those shoes and after a fall outside the hotel, it may have been wise to rope someone in to escort me." Luckily, the bride made it to her groom without a hitch!
The couple exchanged Samara James rings before exiting the venue for a confetti shot and taking to the river.
"Being on the water it also meant we could book a boat trip along the Thames (by Capital Pleasure Boats) for the drinks reception whilst the venue was turned around for the meal and evening reception," says Alex.
The Wedding Reception
The location, the history and giant disco ball along with the super helpful staff were among the things that attracted Alex and Jay to Trinity Buoy Wharf.
They made this warehouse style space their own with a significant colour scheme and some nostalgic treats.
READ MORE: The Best Warehouse Wedding Venues
"We had pinks and reds. My husband is mixed Chinese and red is lucky in Chinese culture so that was very important to us.
"We didn't have a cake because we forgot. Instead, we ordered a ridiculous amount of Tunnock's Tea Cakes (a favourite of mine and mother of the groom's) and piled them high on a cake stand and we had a sweet buffet complete with Chupa Chups for my Dad (his only request)." Says Alex.
Guests were also treated to tagine, salads and focaccia made by Hand Made Food washed down with excellent wine
"The dessert was lemon tart but I didn't get to eat it on the day as my brother ate mine (I suppose I can't be too angry as he did fly in, surprising me for our wedding). For evening food, we had Bagels from Brick Lane's Beigel Bake delivered because they are the best."
The Entertainment
"We had amazing cabaret performer (and friend) Mark T Cox perform comedy and music between speeches. Sat at a piano in a sparkly ensemble, he played 90s/00s classics (2 Become 1, Can't Get You Out of my Head etc.) encouraging a big sing along.
"Our DJ was Charles from Wedding Smashers who was brilliant and kept the dancefloor going till closing at 1am."
Any wedding advice for Hitched couples?
"Stick to your budget, laugh at everything that doesn't go to plan and take a moment to yourself. Everyone says it but, the day goes by so quickly and you speak to so many people so take a moment to take it all in, just the two of you," says Alex before Jay adds, "Enjoy the food."
The Suppliers
Feeling inspired by Alex and Jay's gorgeous wedding? Check out these articles for more inspiration: