40+ Hen Party Dares and Challenges Your Crew Will Never Forget!
Are you up to these crazy hen party dares and challenges? From easy and simple ones to the most raucous of challenges, we've got a hen do dare for every kind of celebration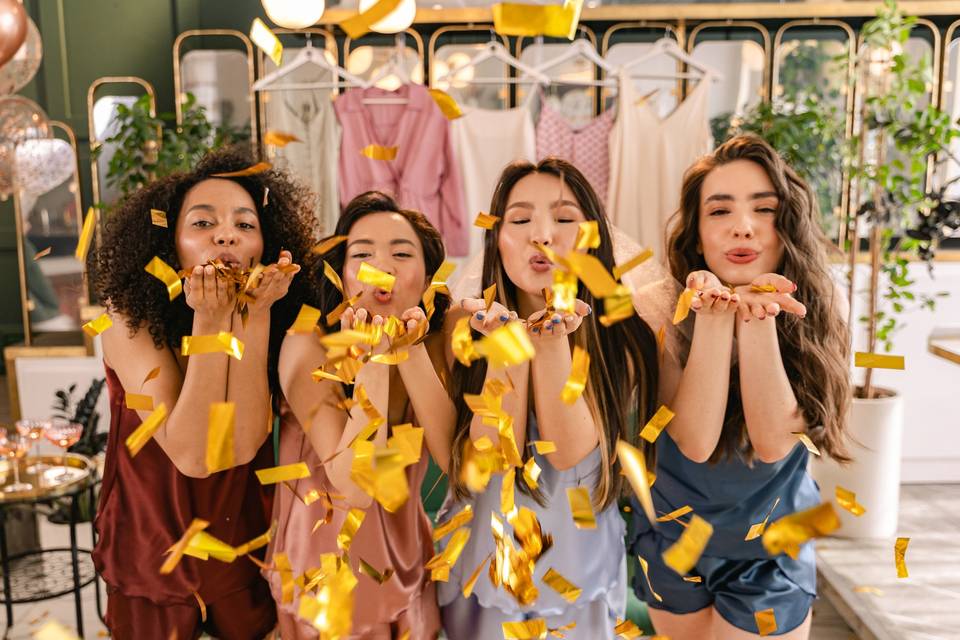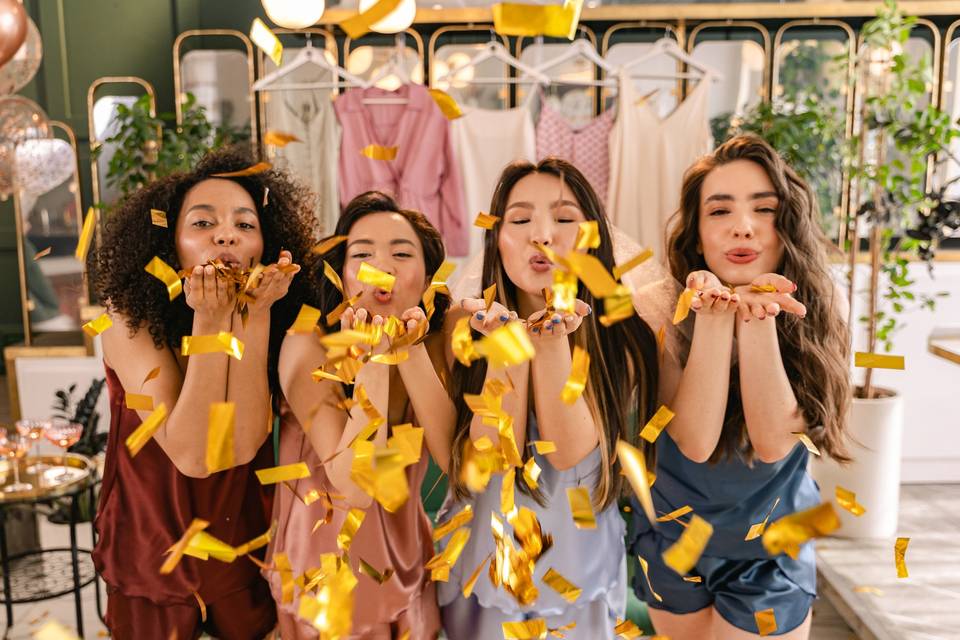 Is it even a hen do if you don't have at least some hen party dares and challenges? Even the hens who say dares are what they hate about hen dos end up loving a cheeky hen party game.
For those who want to avoid hen party stereotypes and clichés, fear not. We strongly believe that not all hen party dares have to be raunchy and naughty. some people love that sort of thing - and that's okay, but other's don't - and that's also okay.
Our round up of the best hen party dares and challenges has something for everyone. From easy hen party dares to get the night started, to crazy hen party challenges for the hardcore partygoers - we really do have something to suit every kind of hen party and every style of night out. Whether it's a destination hen do you're planning, or a London hen party - our list of dares will fit right in.
Download your Hitched Hen Party Dares Pack below. We have a long version with instructions and a shorter version for those who want to get right to it!
40+ Amazing Hen Party Dares and Challenges

All of our dares can be adapted as well so if you don't fancy playing the alcohol alphabet game, you can tweak it and use non-alcoholic drinks instead. Hen party dares should be inclusive and need to suit your style of celebration so don't be afraid to edit the list to suit your group.
We have all of the hen party dare inspiration you need to ensure a hen party night out to remember. Just make sure someone's ready with the camera because you'll definitely want to get these hen party challenges on film. Let the games begin!
READ MORE: How to Plan a Hen Party - An Editor's Guide
Easy Hen Party Dares to Get You All Started
1. Get a free drink. It can be from anyone.
2. Get ID'd to gain entry somewhere. Who doesn't love being asked for ID these days?
3. Get a photograph next to the nicest car pretending it's yours. Best car wins a point.
4. Play 'The Floor is Lava' in a queue for a club or bar. If you don't know the rules, get researching.
5. Get the DJ to give you and your friends a shout-out. Make it something interesting…
6. Get the whole crowd doing the same dance as you. Pick a good enough dance move and you'll have everyone copying.
7. Find a newly married couple and give a speech to congratulate them. Make it a good enough speech and you may just bag an invite to their anniversary party.
8. Find another bride or groom to be. Bonus points if they invite you to the wedding…
9. Find someone with the same name as your bride's partner-to-be and get a picture with them. The picture proof is non-negotiable.
READ MORE: Our Favourite Matching Hen Party T-Shirts
Speed Hen Party Dares for Competitive Hens
10. Tie a cherry stem with your tongue. This is one everyone can do at the same time. Quickest one wins.
11. Pair up and swap clothes with another hen. Fastest duo gets the points.
12. Recite the alphabet using only celebrity names. Take it in turns to go. For example: Amanda Bynes, Bob Marley, Cheryl Cole, Demi Lovato etc.
13. Get a picture with all three emergency services. It goes without saying this dare shouldn't disrupt their jobs - but to win, you need a picture with an on-duty police officer, a paramedic and a fireman or woman.
14. Find something old, something new, something borrowed and something blue. All in the same location!
15. Make an entire outfit out of toilet roll. You can do this in teams or as individuals.
16. Have a wheelbarrow race from one bar to another. Last one there buys the next round!
READ MORE: The Best European Hen Party Destinations
Hen Party Dares You'll Want on Camera
17. Find your lookalike and take a picture with them. The hen who finds the person with the closest resemblance to them, wins a prize.
18. Convince a stranger to post you on their stories. It doesn't matter what they say, what the picture looks like or how many they do - you just need to appear on their social media stories.
19. Have a social media 'follow' competition. Have a competition to see who can get the most new followers in the space of 10 minutes wins.
20. Dance on the bar Coyote Ugly style! Perform your best rendition of LeAnn Rimes' Can't Fight the Moonlight true Coyote Ugly style on top of the bar.
21. Propose to someone. To get the points, they *have* to say yes!
22. Photobomb another group's picture. If you do it without them realising - even better…
23. Serenade a stranger. With a song of your choice - we're not that mean!
24. Add a shot of tabasco to your drink and down it. No tabasco? No problem. Any chilli sauce will do.
25. Have a twerk-off. Get the DJ to play the right song and get twerking.
READ MORE: Hen Do Outfits you'll Want to Buy Right Now
Funny Hen Party Dares That'll Have You in Fits
26. Ask a random person for their autograph. You have to convince them you genuinely think they are famous. You can't believe you've seen them out and about - act completely star struck.
27. Order a drink in a different accent or language. Want an extra challenge? Each hen has to speak in a language beginning with the same letter as their first name. Bella can become a Brummie while Steph works on her Spanish.
28. Swap clothing with a stranger. Find a generous passer-by who is willing to swap a piece of clothing with you. This can be as little as a scarf or hat, or an entire outfit switch - you decide the level of craziness.
29. Convince someone random you know them. How are you? How's the kids? We haven't seen each other in so long!
30. Every time the DJ plays a new song, stand up and scream "I love this one!" This dare may seem easy, but the more times you get up and do it, for every single song, the more embarrassing it will become!
31. Make up a random football chant and get another group to sing along. You have to convince them it's a real chant to get the points.
32. Use a sharpie to give 5 people your autograph. You have to sign a part of their body! You need to channel your inner diva to make this one work.
33. Act like cats. Every time the bride says 'meow' you all have to get on the floor and start acting like chickens until she says stop.
34. Describe the bride in three actions. It's like charades, but you're all describing the same person.
READ MORE: How to Plan a Hen Do for Under £100pp
Hen Party Dare Challenges for Hardcore Hens
35. Only drink drinks that spell out your name. For example, if you're name is Barbie (it's possible!), you can drink: Beer, Aperol Spritz, Rosé, Bellini and an Easy breeze cocktail.
36. Keep a straight face with a shot in your mouth whilst the bride tells jokes. She needs to tell jokes while you all try and keep your shot in your mouth without swallowing or spitting it out.
37. You can't say no for 10 minutes. Each hen has to take it in turns to not say no for a period of ten minutes.
38. Honesty hour - you have to answer all questions truthfully for a whole hour. This one is pretty self explanatory, but it's a chance to ask those juicy questions knowing you'll get the whole truth.
39. Let your friends to 'send to all' with any message they want. Channel your inner Michael McIntyre and let your hens loose with the 'send to all' function on your phone. They get to type a message that goes out to all of your contacts and read out the replies.
40. Do your makeup blindfolded and leave it on all night. This is a hen party challenge worthy of so many points!
41. Perform a choreographed dance as a group on stage at a bar or club. You have to not only learn the dance, but also convince whoever's in charge that they should let you perform it.
Now the entertainment is sorted, it's time to decide on the hen party theme and order some matching hen do sashes. While you're at it, you may want to check out our round up of classy hen party decorations - there's not a penis straw in sight.