Thinking of embracing the latest wedding trend, the minimony? Whether you're planning a minimony, a micro wedding, a sequel wedding or any of the new Covid wedding trends we've been introduced to, we break down exactly what you need to do to plan a minimony, including explaining exactly what a minimony is, and sharing some of our favourite celebrity minimonies to inspire you!
What Does 'Minimony' Mean?
A minimony is a super-intimate wedding ceremony, attended by a small number of your loved ones. Minimonies became popular during the worst of the Covid-19 pandemic, when wedding numbers were very restricted. They are ideal if you want to get married without the large wedding celebration - which can always come at a later date!
You also have the option of making your minimony a commitment ceremony to celebrate your original wedding date, before actually marrying on your rescheduled date - it's entirely up to you! It's a lovely way to still work with a selection of your suppliers (who may welcome the support) and to give a handful of your guests a preview of what's to come if you choose to follow up with a bigger wedding celebration at a later date.
How to Plan a Minimony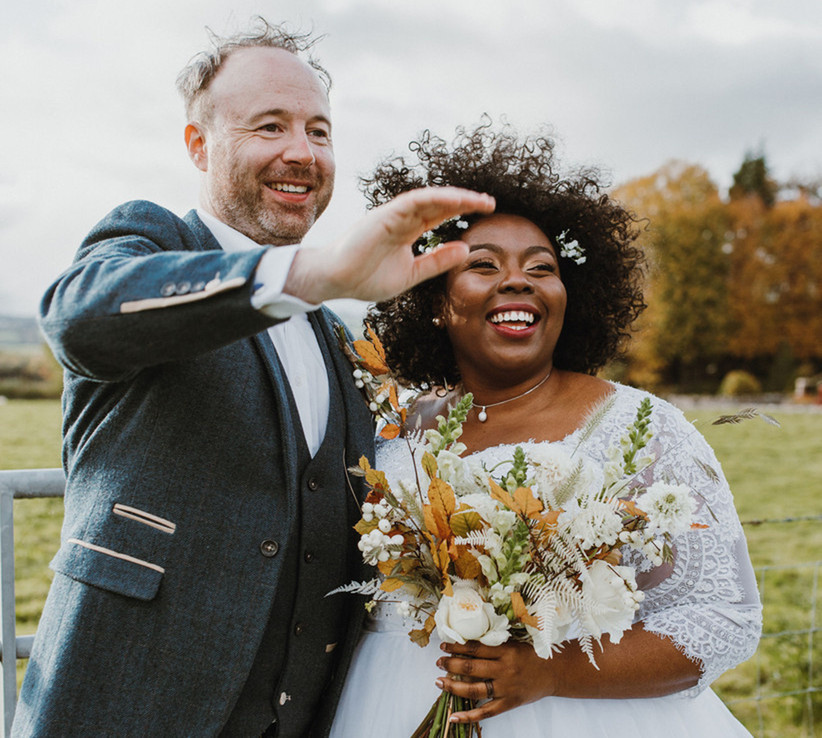 If you've chosen to throw a minimony because you've postponed your wedding, you might still decide that a small wedding on or close to your original date sounds right for you – which is where the minimony comes in. It's completely up to you whether you choose to make this your legal ceremony with a vicar or registrar, or you go ahead with a celebrant. Later in the year or next year you can have your 'sequel wedding' - a follow-up wedding with all the people and celebrations you originally planned.
It may not be the day you originally planned, but for plenty of couples, it's about the promises they are making more than the wedding. Then you'll have two special days: the day of your minimony and the day of your 'sequel wedding' ceremony and reception with your loved ones. Here's how to throw a wonderful minimony:
Wear Your Wedding Outfits: This is your wedding ceremony so wear what you planned to wear on the day. If you haven't been able to collect it yet, then wear some of what you do have, like the shoes, accessories or wedding day lipstick. You're more than able to wear it all again at your postponed reception – you feel amazing and look beautiful in it, so why not wear it twice? But if you want to keep it a secret, that's more than ok too!
Or Go For a Different Look: If you want to save your wedding outfits for a later celebration, you can really have fun with your minimony look! Always fancied a wedding jumpsuit as well as the traditional dress? Or perhaps a super cool bridal suit? Now is your chance to be a bit more experimental, as you'll get the best of both worlds!
Be Creative with Your Location: Depending on whether you make your minimony legally binding, you can be really creative with your venue. You can always have a civil wedding ceremony as your minimony in an unusual wedding venue - is your favourite restaurant licensed for weddings? If your minimony isn't going to be legally binding, you could always have it in your garden! Just make sure you check the latest coronavirus wedding guidance before you make plans.
Hire a Celebrant: Celebrants add a whole new level of personal to your wedding ceremony - make your minimony entirely about you as a couple by hiring a celebrant for the occasion.
Write Your Own Vows: With a smaller guest list, you might feel more comfortable personalising your minimony, and writing your own wedding vows is a lovely way to do this.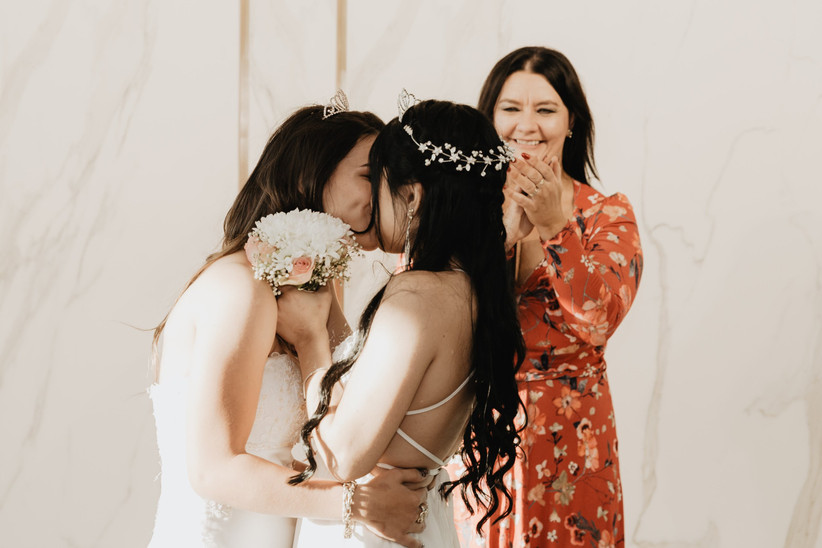 Limit Yourself to Close Friends and Family: The idea of a minimony isn't to have your whole original guest list there. While that might be possible on Zoom, a minimony should be small and intimate, with just your absolute closest loved ones. Everyone else will be happy to wait for the ceremony and party in a few months' time.
Save Your Original Vows for Later: Vows, speeches and readings don't all need to be said at your minimony. You can save these for your ceremony and reception at the later date, especially if the best man's speech will be better in front of a crowd. Instead pick something shorter and more personal to say or read for the minimony.
Minimony Wedding Ideas
Want to make your minimony more of a tribute to the wedding day that's still to come with these minimony wedding ideas - they're also a really great way to include your original suppliers in your minimony celebration:
Hire Your Photographer for a Few Hours: You will cherish these photos forever so it's best to get a professional in. As long as you're maintaining social distancing, it's fine for your photographer to join you and get some wonderful snaps. You can then email these to guests or put them on your wedding website to give them a taste of what's to come at your later wedding.
Get a Mini Wedding Cake: Ask your cake maker to bake you a small version of your wedding cake for you to cut and all enjoy. You can never have too much cake!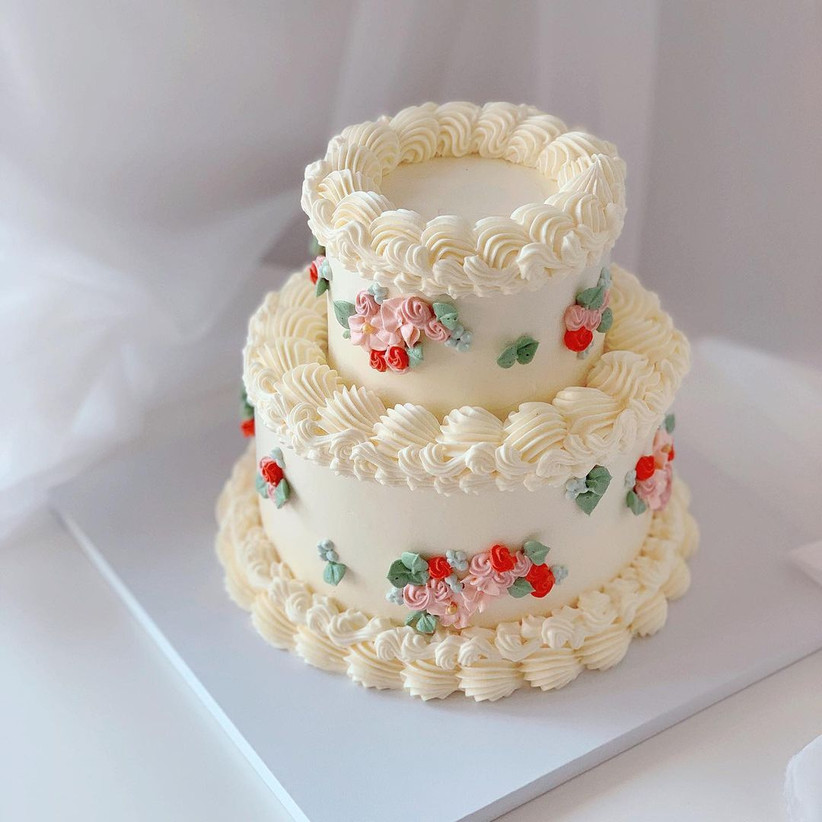 Ask Your Florist to Create a Small Bouquet: You aren't changing any of your theme, so you still want the look and feel of the original wedding. One of the easiest ways to do that is to ask you florist to make you some smaller versions of your wedding flowers: just a bouquet, buttonhole and some centrepiece flowers in your chosen colours and blooms will look gorgeous in photos and transform the feel of the day.
Have Your First Dance: Whether you're moving your living room furniture to make way for a dance floor or having a twirl outdoors, no wedding is complete without a first dance. Play your song on speakers and dance like no-one's watching.
Eat Your Wedding Breakfast: It's possible your caterers will be happy to make you a smaller version of your wedding breakfast and deliver it to you. If that's not possible, arrange a nice treat as wedding breakfast for your guests, but remember that buffets aren't good for social distancing.
It's completely up to you whether you let your guests know about your minimony or not.
Just like some couples have a secret legal registry office ceremony and then treat their wedding day with their celebrant as their "real wedding", you can choose to keep this one private and celebrate your later wedding as the real thing. Alternatively, you might be more than happy to tell guests you're having an intimate ceremony and send them some photos. It'll build up excitement for when they can finally join you to celebrate.
Humanist celebrant Karen Faulkner, of Stand Out Ceremonies, helped couple Beth and Jonty celebrate their virtual ceremony on their would-be wedding date and explained exactly how it works: "The commitment ceremony was just a chance to get a little taster for the big day, and to celebrate this gorgeous couples' love for each other. It's so important for everyone to focus and celebrate the love in the world right now, because that's where we find our strength!
"Beth and Jonty exchanged rings for the day but promised each other 'To lend you this ring' rather than 'give'. They also made the wedding vow, 'I will' rather than 'I do'.
"Guests joined from across the globe and finished the ceremony by raising their glasses in a toast and setting off party poppers as Beth and Jonty were pronounced 'almost-but-not-quite husband and wife!"
Minimony Checklist
Sold on the idea of a minimony? Here is a minimony checklist to help you plan the perfect small celebration!
Check the latest wedding guidance to ensure your plans are safe
Decide if you want a legally binding ceremony, or a celebrant or friend to conduct the minimony
Hire a photographer for a couple of hours
Find a small, intimate venue or plan to decorate your home or garden
Plan your outfits
Commission a small bouquet
Commission a small wedding cake
Look into catering for your intimate wedding party (pizzas are a totally viable option!)
Plan your vows
Invite your select list of family and friends
What is the Difference Between a Minimony, Micro Wedding and a Sequel Wedding?
A minimony is an intimate celebration that is focused on the ceremony and commitment element primarily, while a micro wedding is a complete wedding just scaled down! A sequel wedding is the full-scale wedding celebration that can follow your minimony or micro wedding.
No matter what you're considering, you can check out our edit of the best small wedding packages here.
Celebrity Minimonies
Everyone's wedding plans were impacted by the pandemic - including A-listers! Plenty of celebrities had minimonies to celebrate their love and commitment to each other - here are a few of our favourites:
Ariana Grande & Dalton Gomez
Ariana Grande married Dalton Gomez in a beautiful minimony at her home on 15th May 2021. She wore a Vera Wang wedding dress, complete with a veil adorned with a bow - showing you don't need to scrimp on your style just because your celebration is small!
Princess Beatrice & Edoardo Mapelli Mozzi
Princess Beatrice wowed the world when she announced she'd married Edoardo Mapelli Mozzi in an intimate chapel wedding attending by just close family. She was extra-creative with her bridal attire, choosing to repurpose a vintage dress which belonged to the Queen.
Lily Allen & David Harbour
We are still totally obsessed with Lily Allen's minimony! She tied the knot with Stranger Things actor David Harbour in Las Vegas in a super select celebration attended by just her two children from her previous marriage. The couple were wed by an Elvis impersonator and the bride wore a cool tuxedo style mini dress by Dior. They celebrated by tucking into In'n'Out Burgers, which goes to show you can be as creative or as casual as you like with your catering at your minimony
Got everything you need to plan a minimony? It's time to start thinking about your sequel wedding celebration then!