Real Covid Wedding: Michelle and Jonathan, Killearn Village Hall in Stirling
Michelle and Jonathan managed a last-minute elopement days before Scotland went into lockdown in 2020. As restrictions eased, their delayed original wedding took place - on a smaller scale than planned, but still filled with love and laughter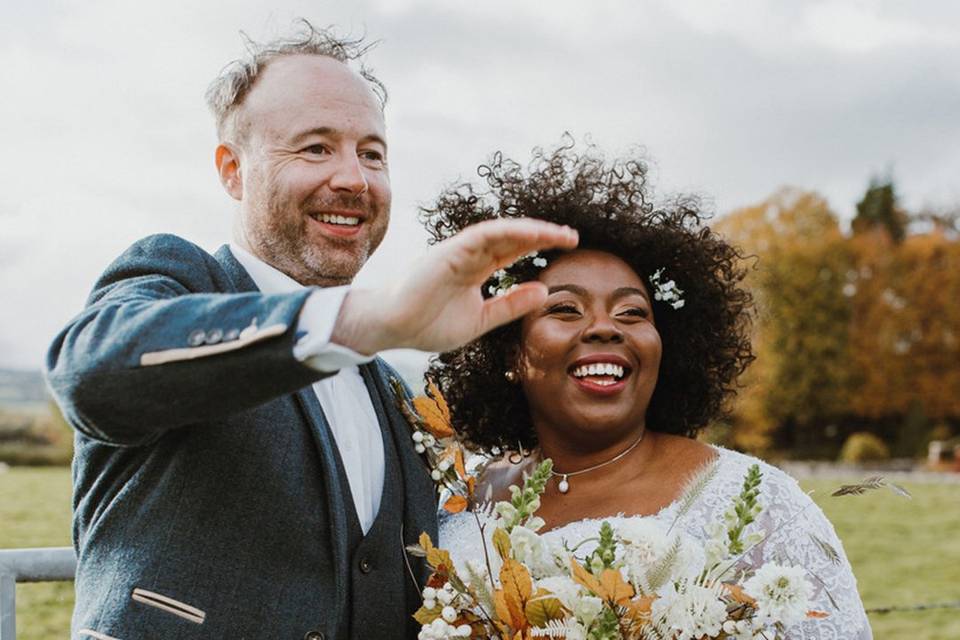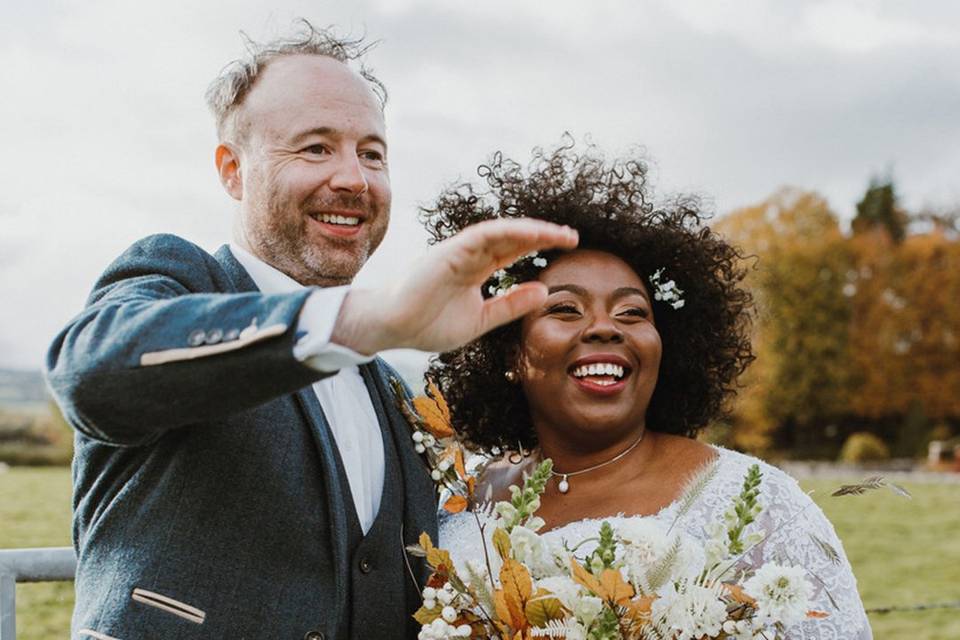 Michelle and Jonathan were due to get married in April 2020. As it became clear that their wedding was unlikely to go ahead due to the Coronavirus pandemic, the couple decided to get legally wed nevertheless.
In just one week, they managed to arrange a romantic sunset ceremony at Milarrochy Bay.
"We knew that no matter what was coming, we wanted to navigate it as husband and wife," says Michelle. "It was the most heavenly experience to be stood with my husband by the water as the sun set and become husband and wife!"
But that didn't mean they'd entirely given up on their original plans.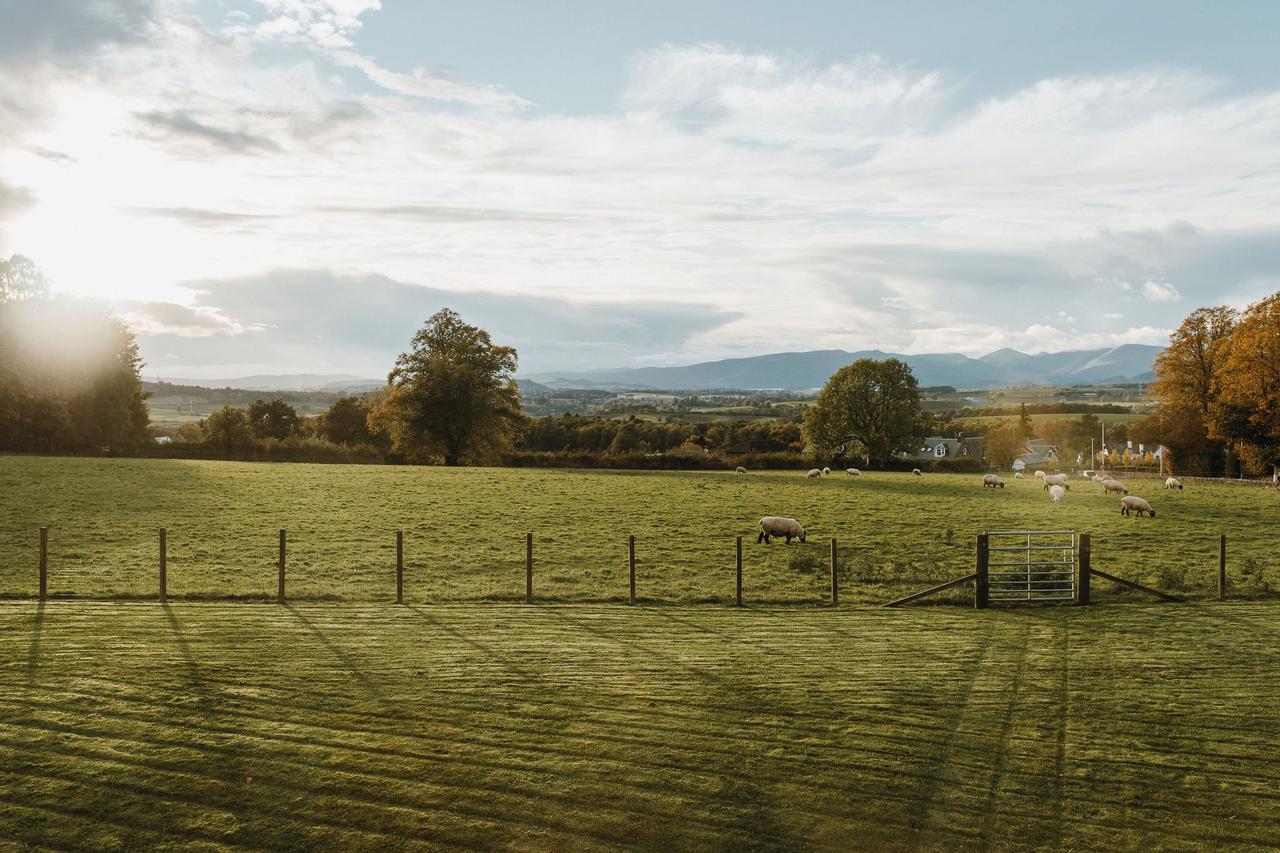 With restrictions easing as the year went on, the couple managed to secure an October date at their original venue, Killearn Village Hall.
Of course, their plans had to be adapted - but that doesn't mean they regret a thing.
"I wouldn't change anything because at the end of the day I got to marry my best friend - twice!" says Michelle.
Read on for the details of a joyous, intimate wedding that was full of love.
Photography by Olivia J Photography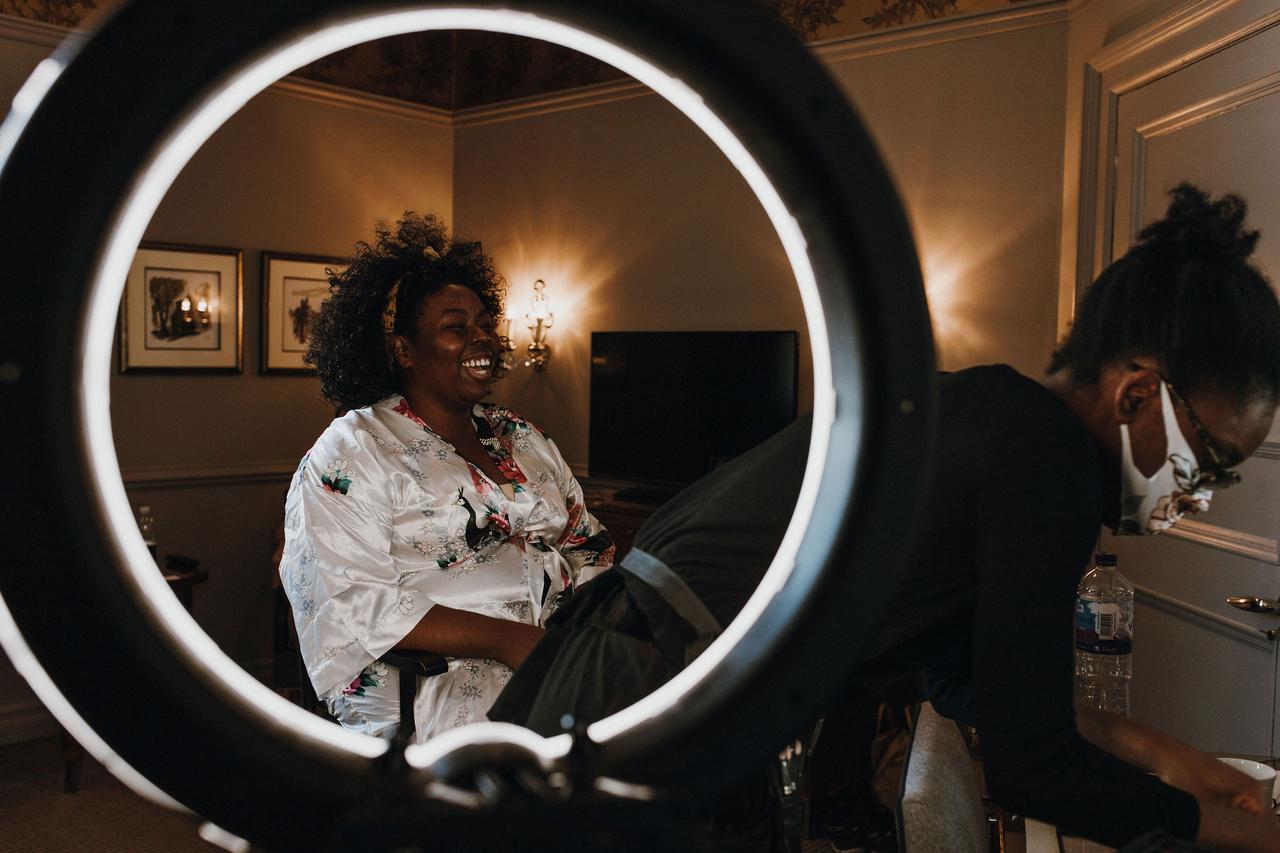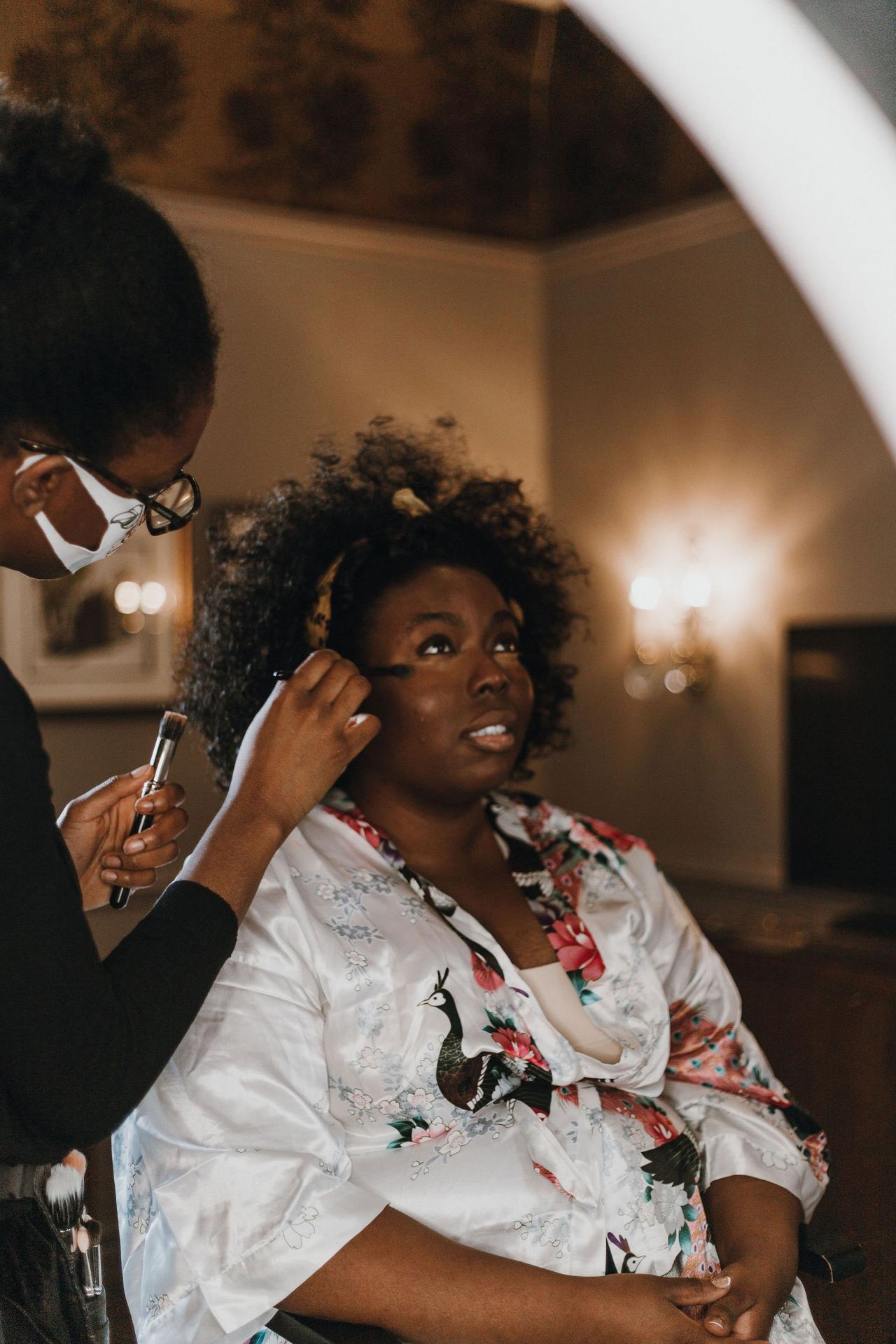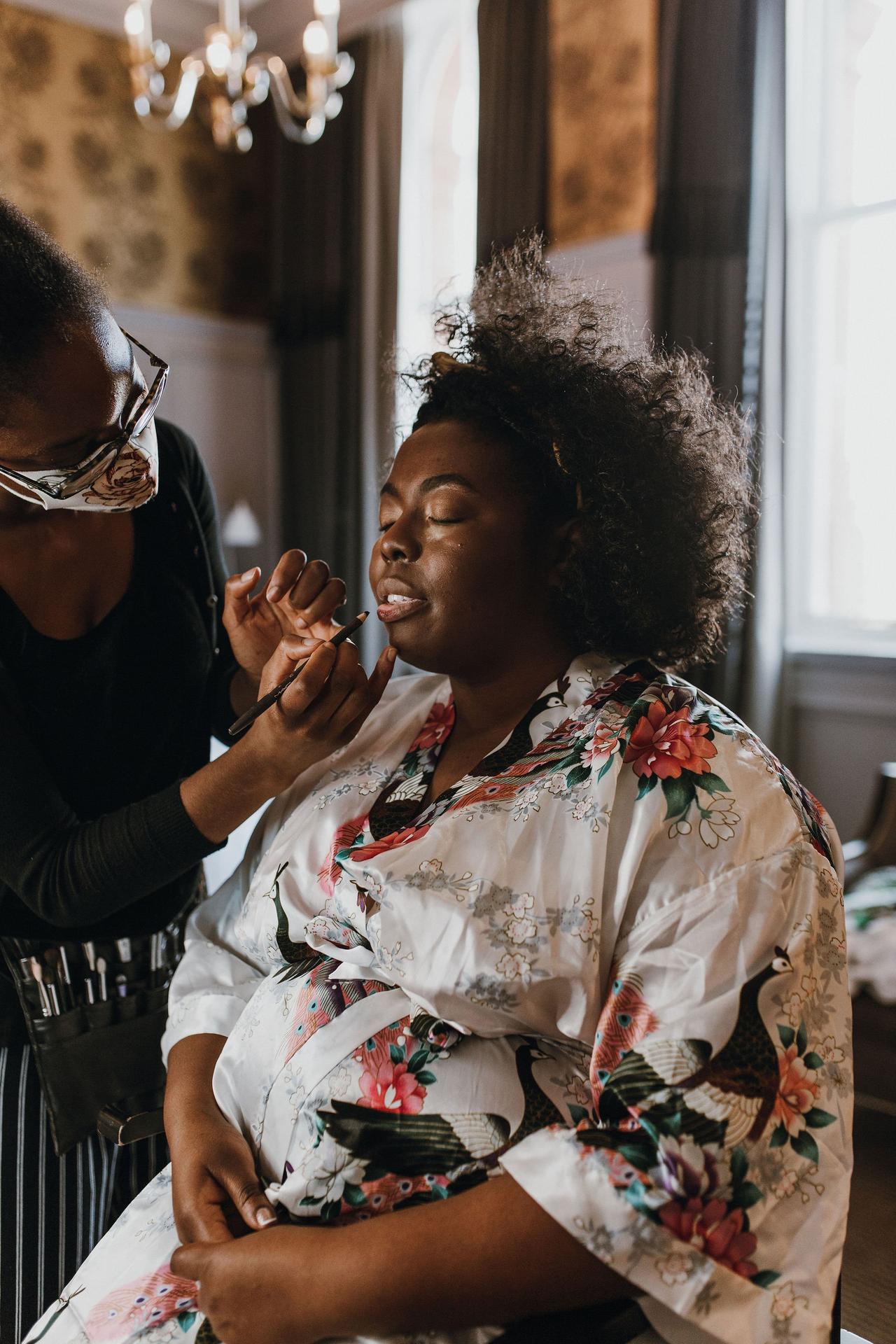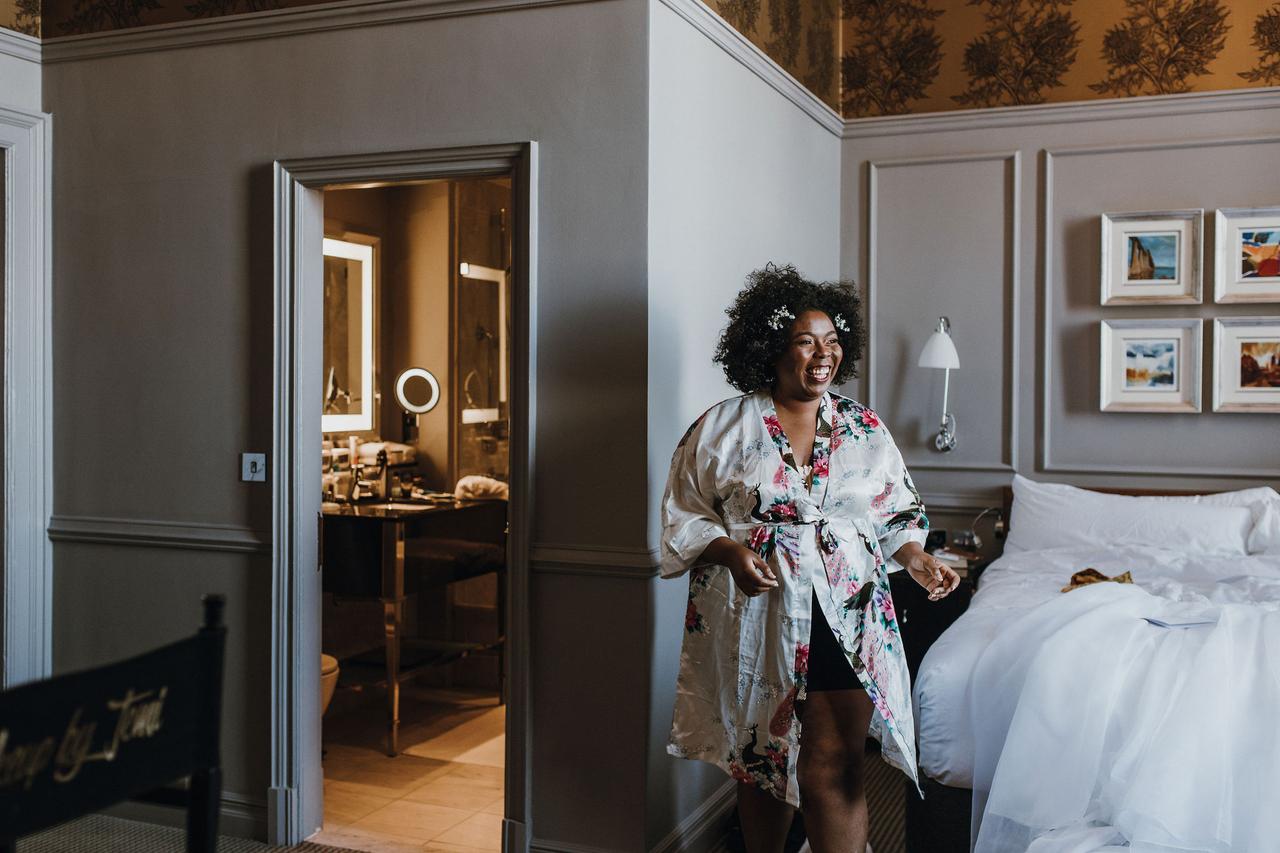 The Bridal Beauty Look
Michelle only had one trial with makeup artist Temi Oyedokun due to lockdown - but that was all it took to get the precise look she wanted,
"All of my inspiration for the look came from pictures of Beyoncé with very natural glowy make up!" she says. "I wanted to look like me but with a bold lip and a light lash, and that's exactly what Temi gave me!
"I didn't want heavy foundation that hid away all the spots and blemishes because actually that's my skin and it's me and I wanted to be me on my wedding day."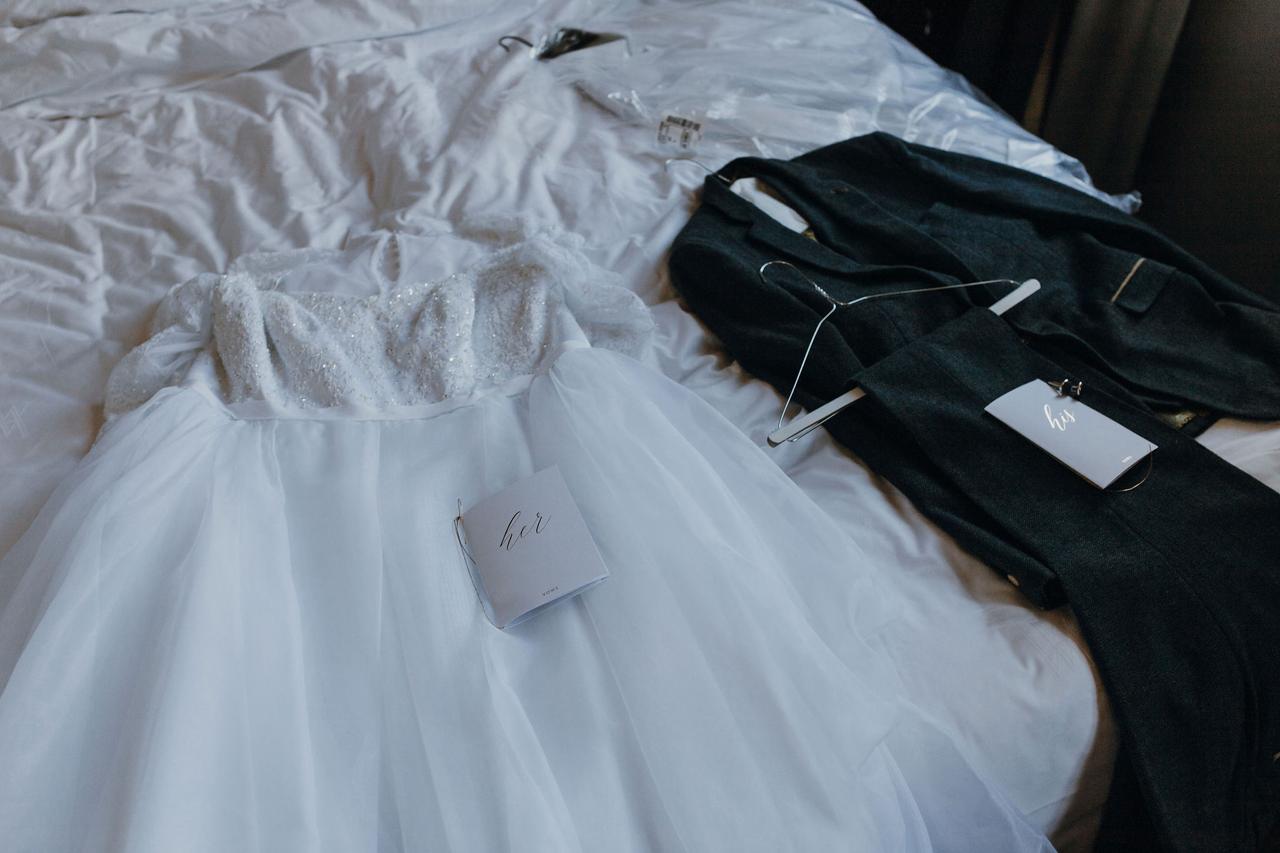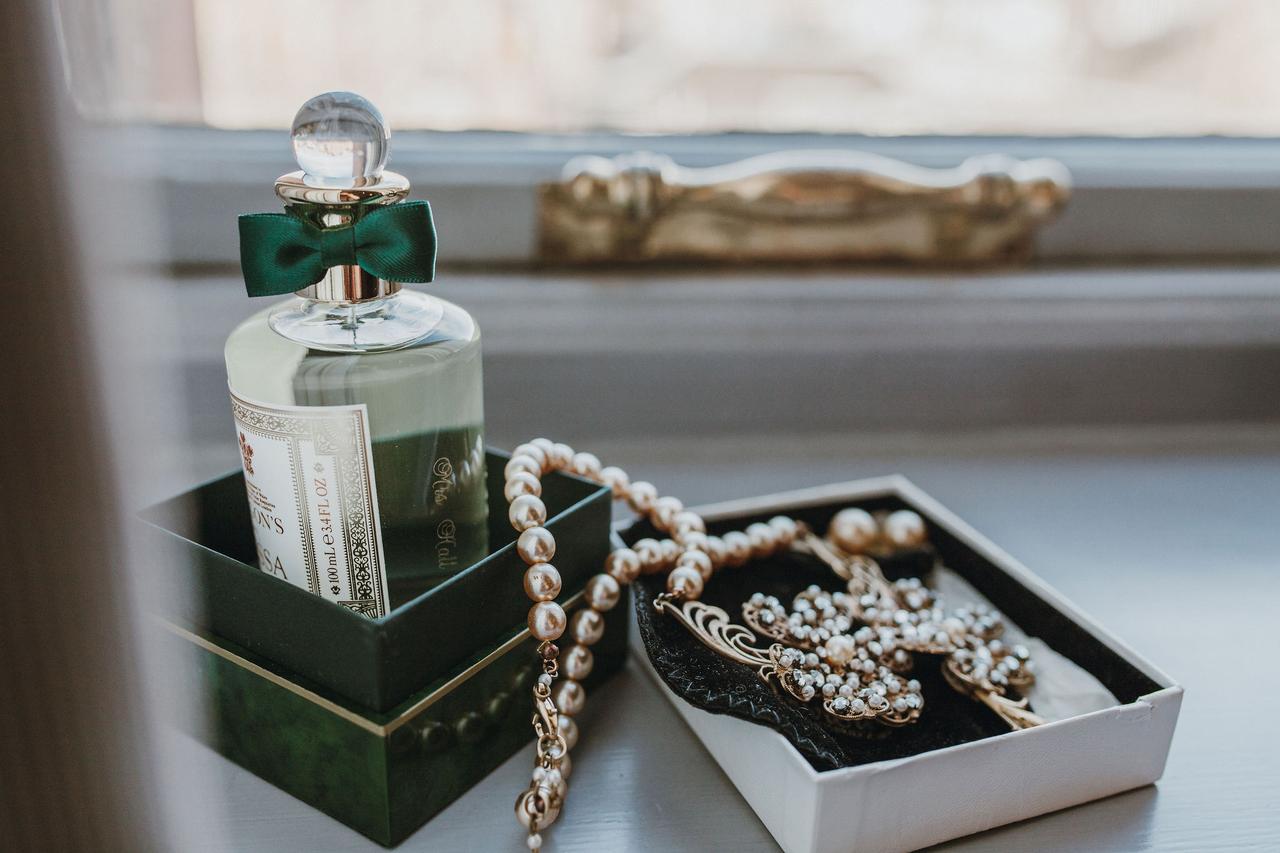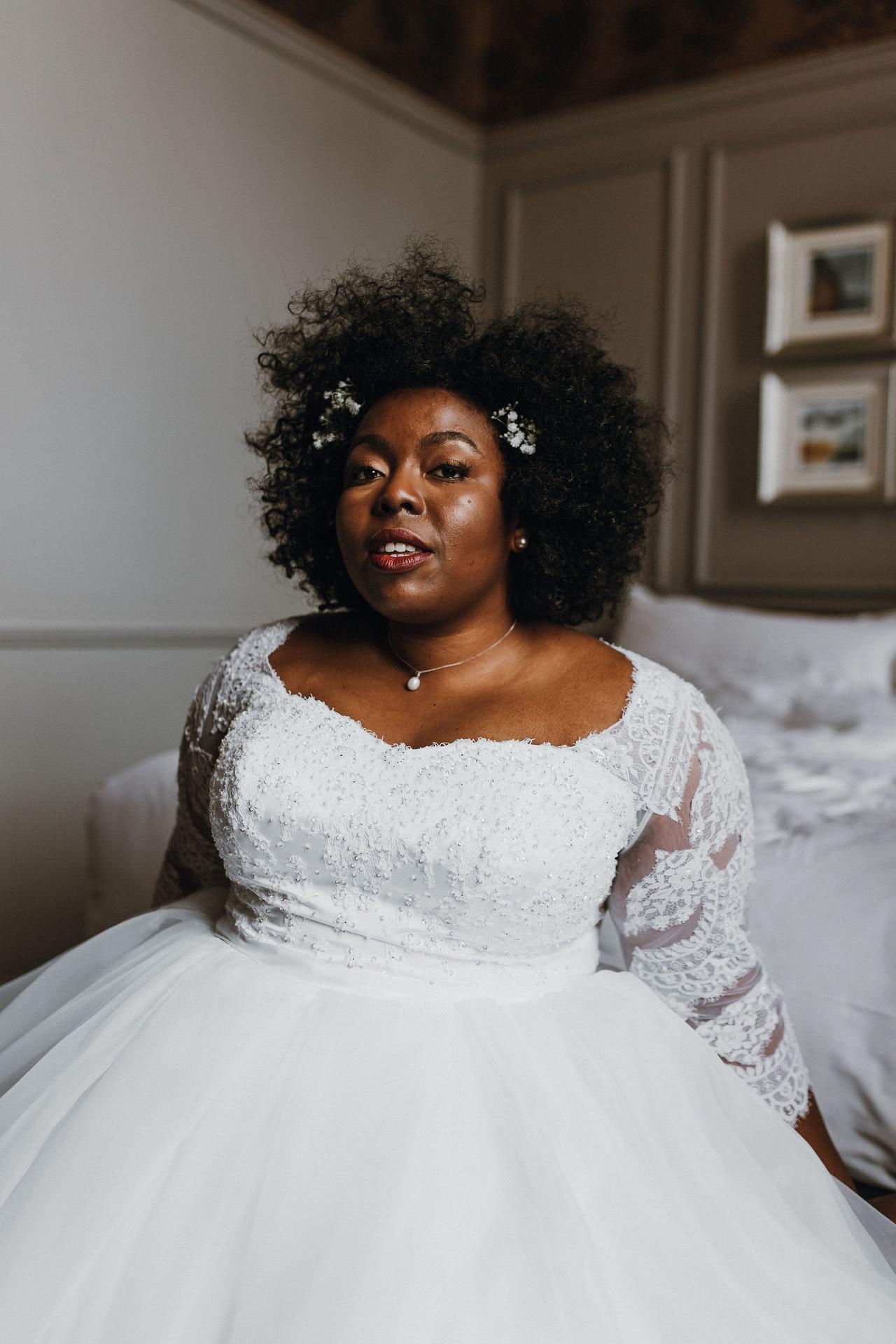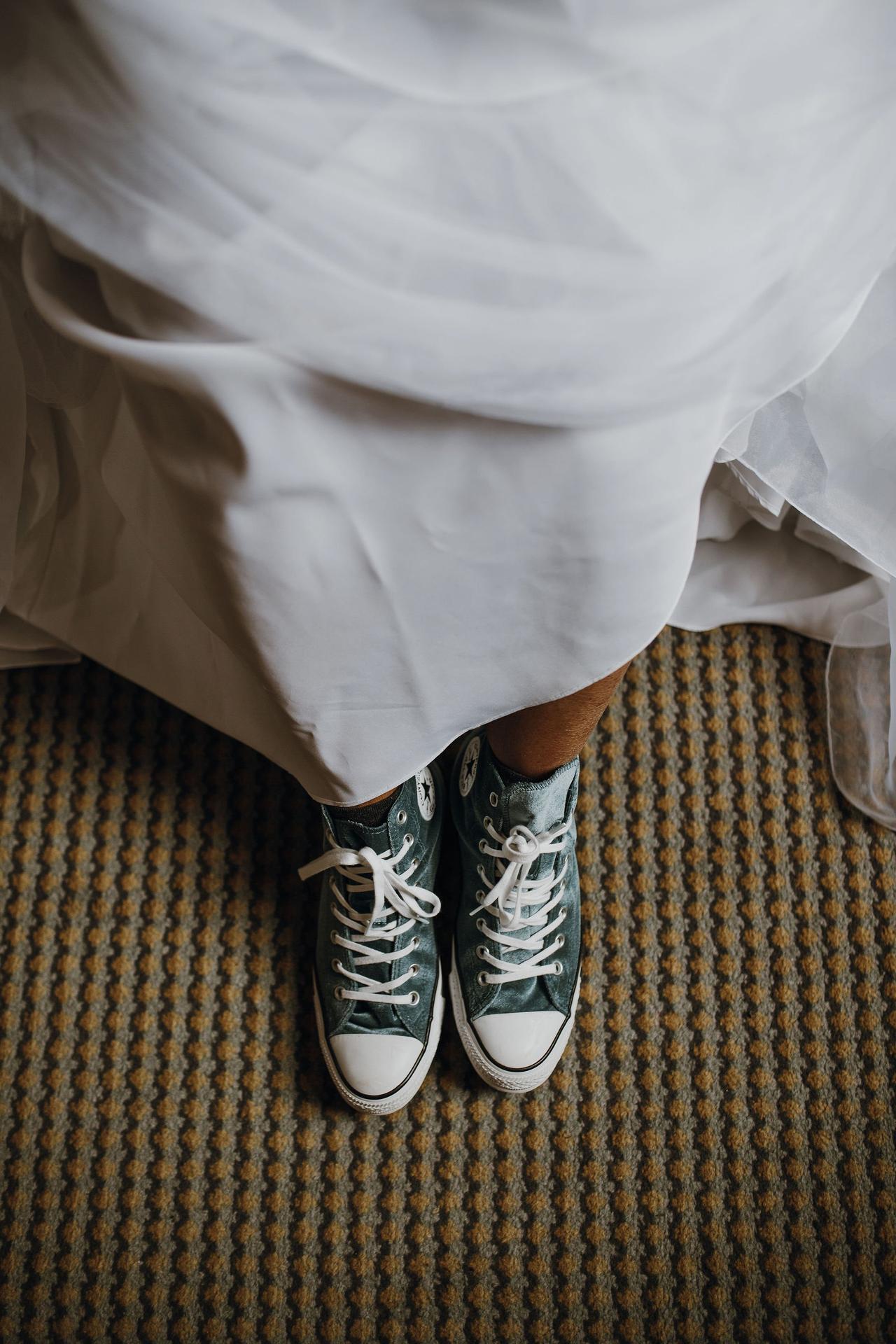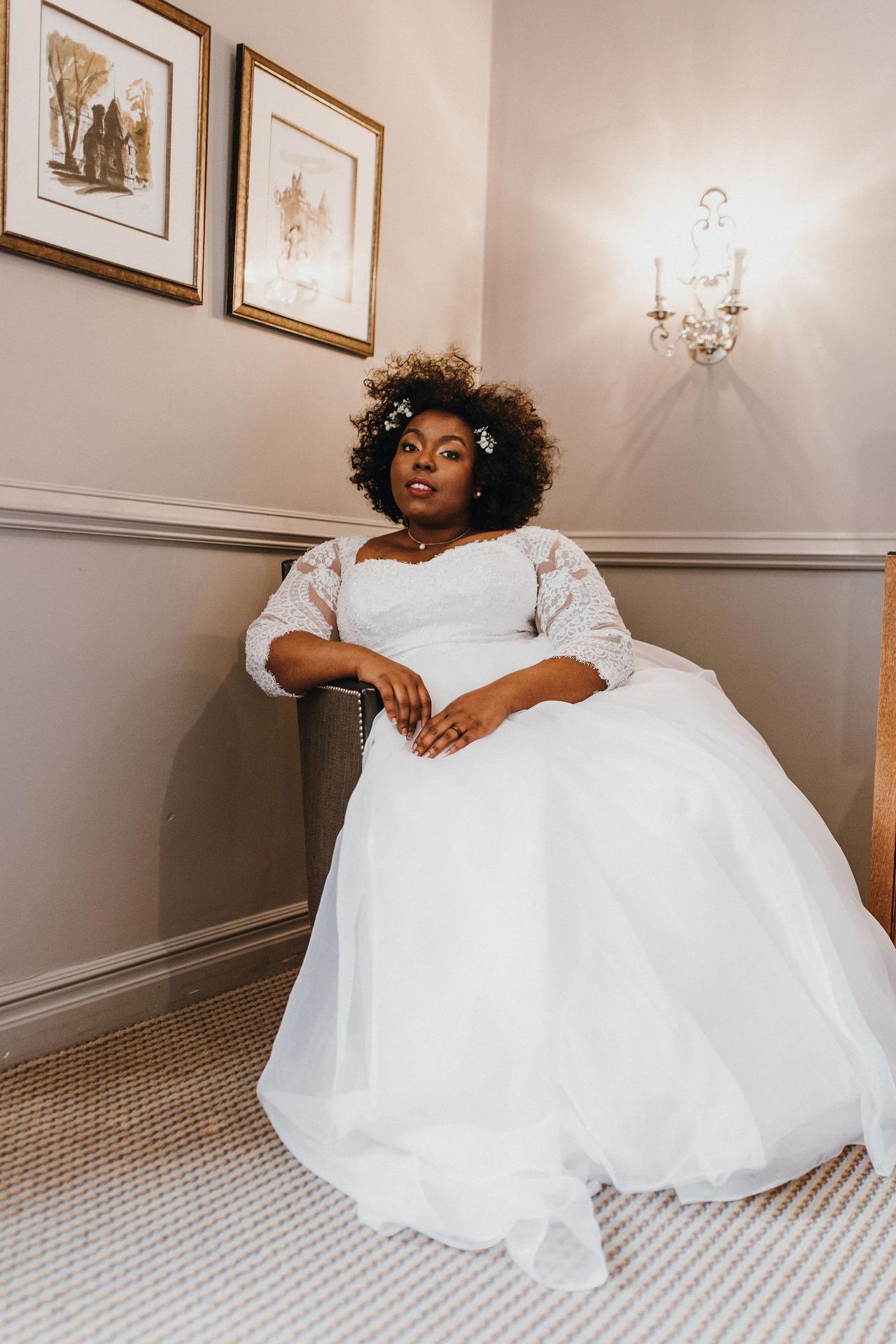 The Wedding Outfits
Michelle and Jonathan's wedding theme was "enchanted with a touch of Disney" - and her bewitching wedding dress certainly lived up to that!
"It's a ballgown silhouette with gorgeous beaded details on the boned bodice with added lace detail, a sweetheart neckline, and detailed organza sleeves, with a beautiful train and layers of tulle," she says.
"I tried on about 8 dresses from two different bridal stores. I actually spotted my dress online and suspected it might be the one but felt it important to make sure I tried on all the styles and silhouettes. But once that dress was on, I knew."
That winning style was from the Oleg Cassini range at David's Bridal. Michelle accessorised with a transparent gold clutch, powder blue/teal converse, a pearl necklace that was a first anniversary gift from Jonathan, and some pearl Chanel earrings from her mum.
Jonathan chose a three-piece teal tweed suit with a gold lining from Suits Direct, which he wore with a buttonhole.
The couple decided to get ready together on the wedding morning. "It was honestly such a magical and relaxing experience," says Michelle. "We couldn't have imagined doing it any other way!"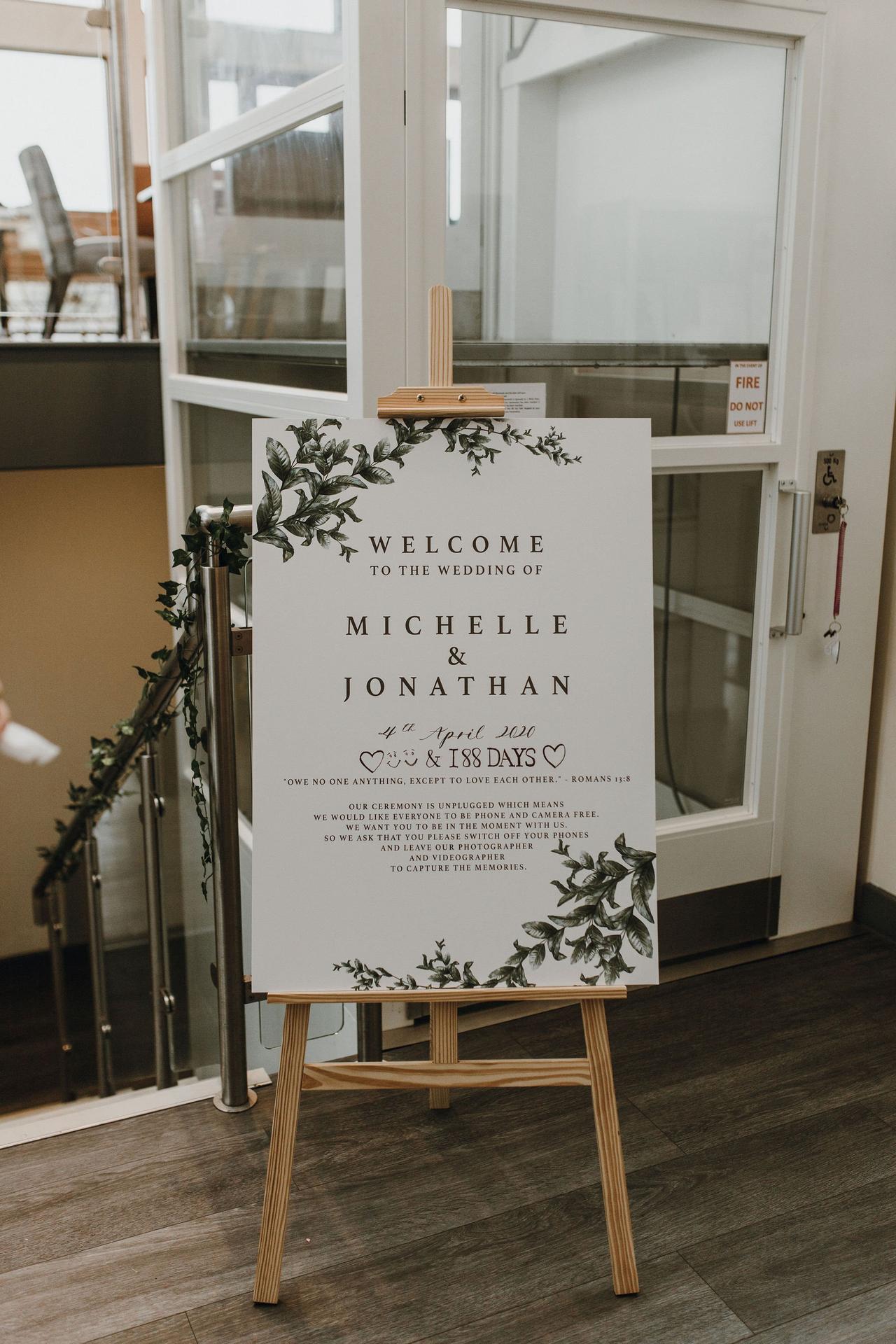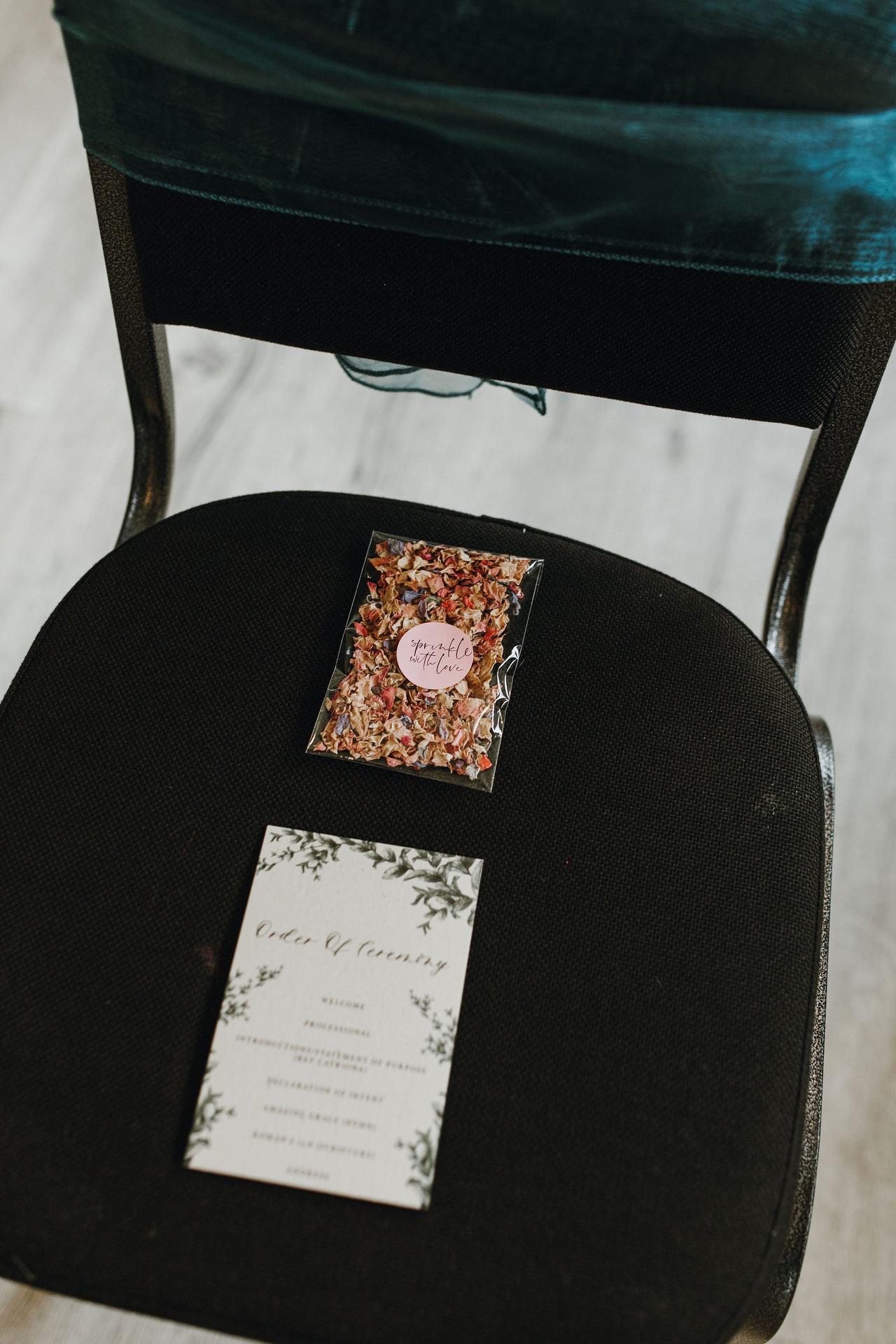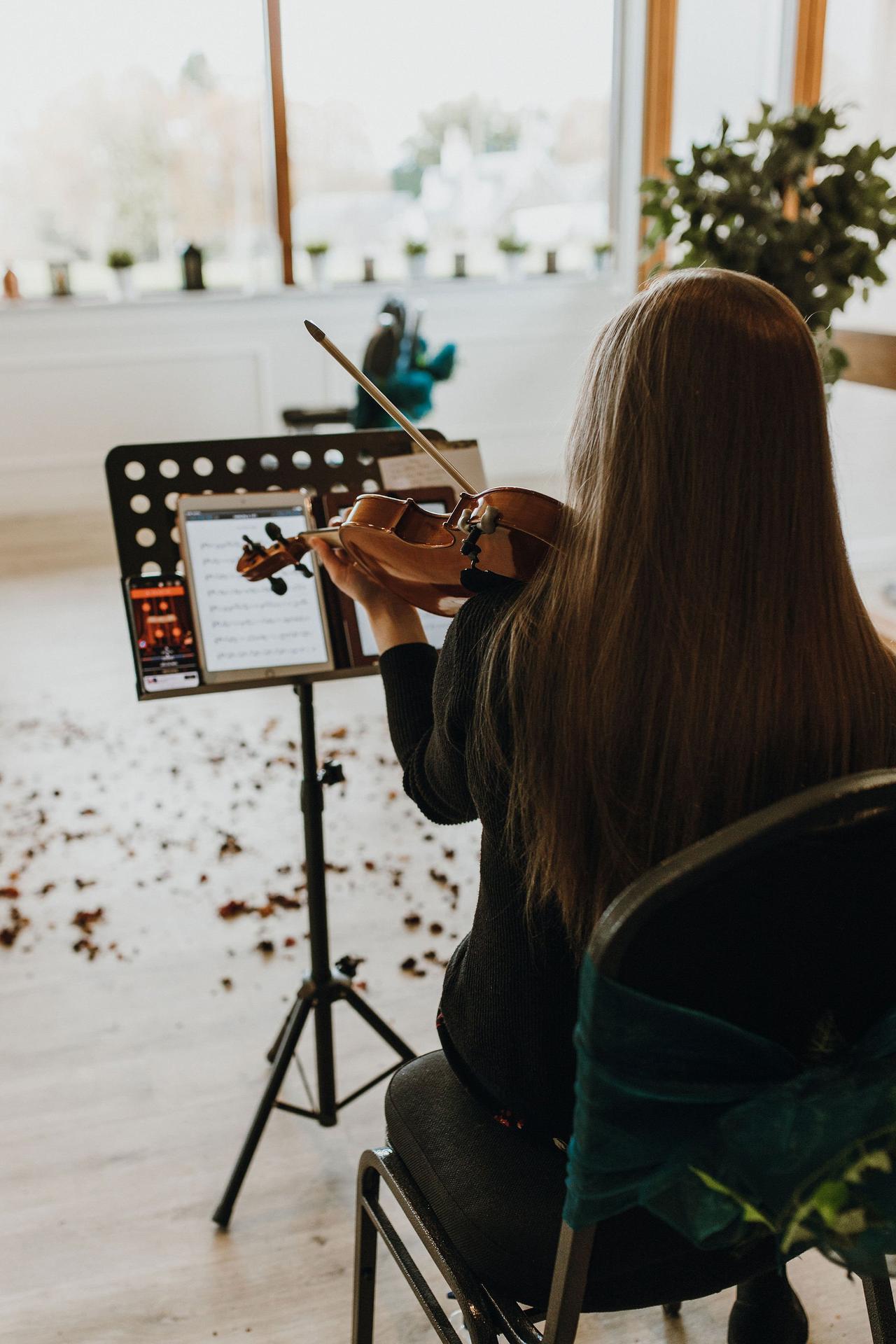 The Ceremony
"For our October wedding we didn't need to do any of the legal stuff, which took an immense amount of pressure off, so on the day our ceremony was a blessing," says Michelle.
Due to restrictions, the couple had to cut their guest list from 50 to 18, so they live-streamed their ceremony to absent loved ones. To their relief, they were still allowed live music - although they were limited to one violinist, rather than the duo they'd planned.
The ceremony took place in Killearn Village Hall's light-filled Garden Room, with Michelle walking down the aisle with her father to Loch Lomond.
"We stood in front of the windows so that as our guests looked us they were also looking out at where the highlands meets the lowlands," says Michelle.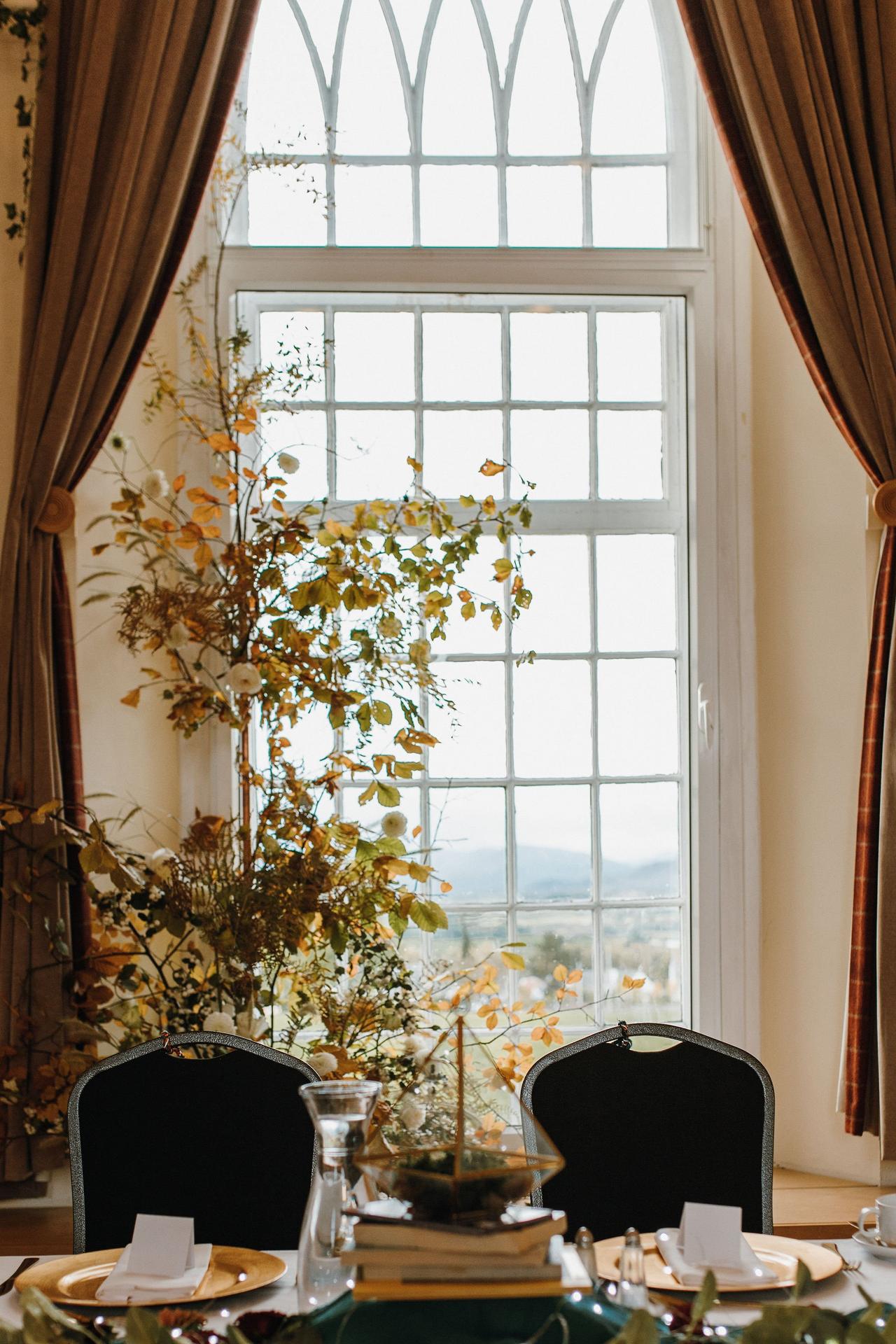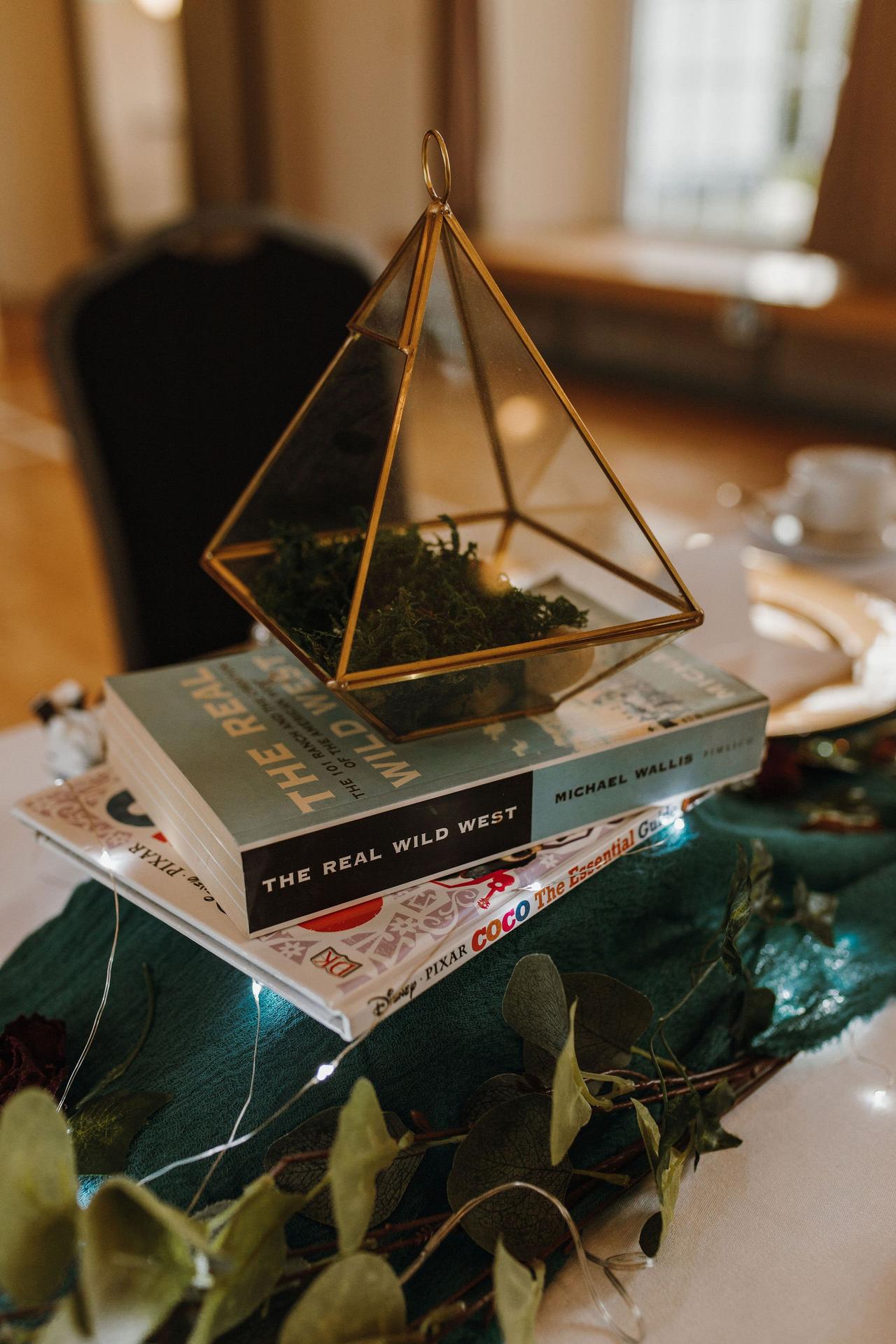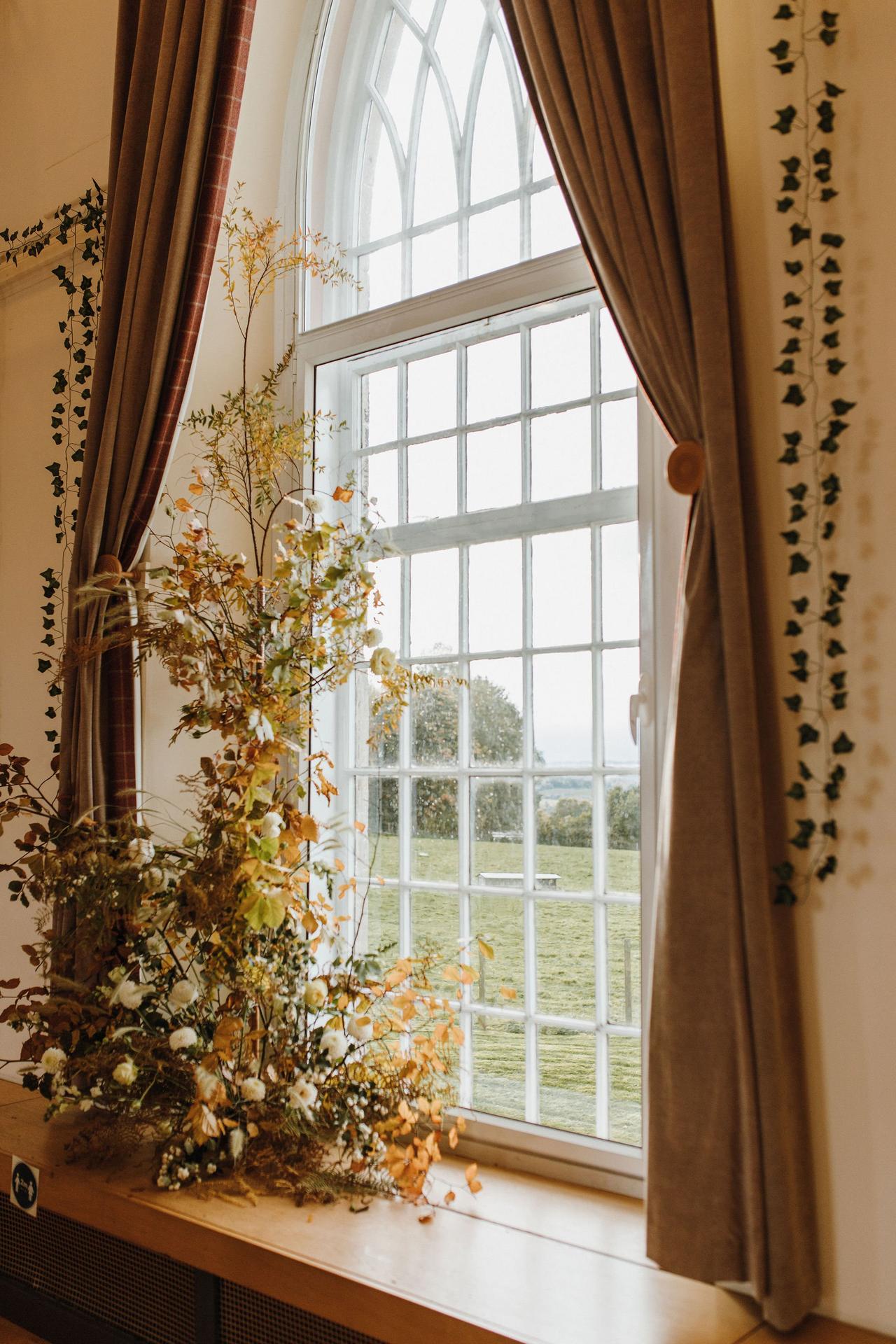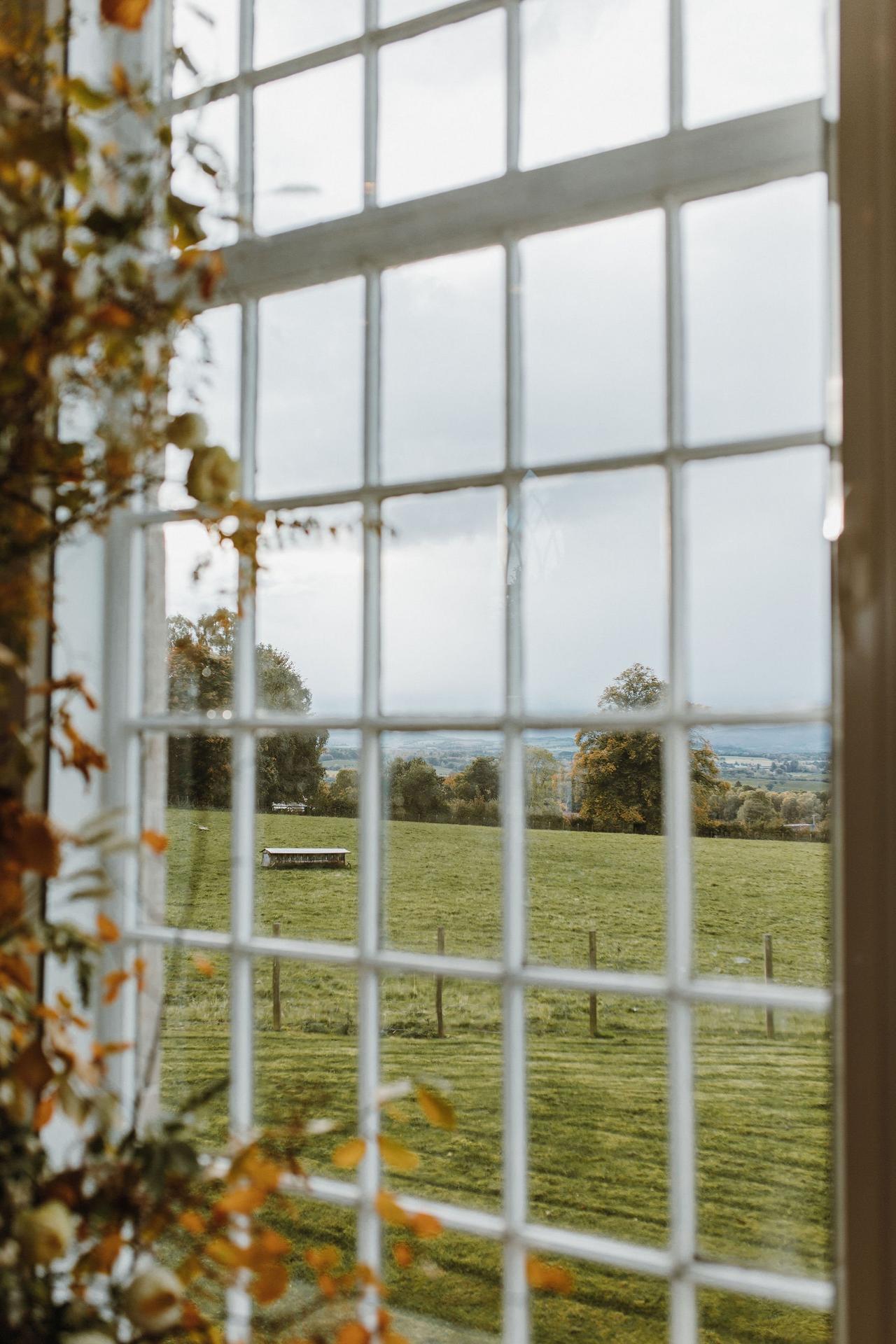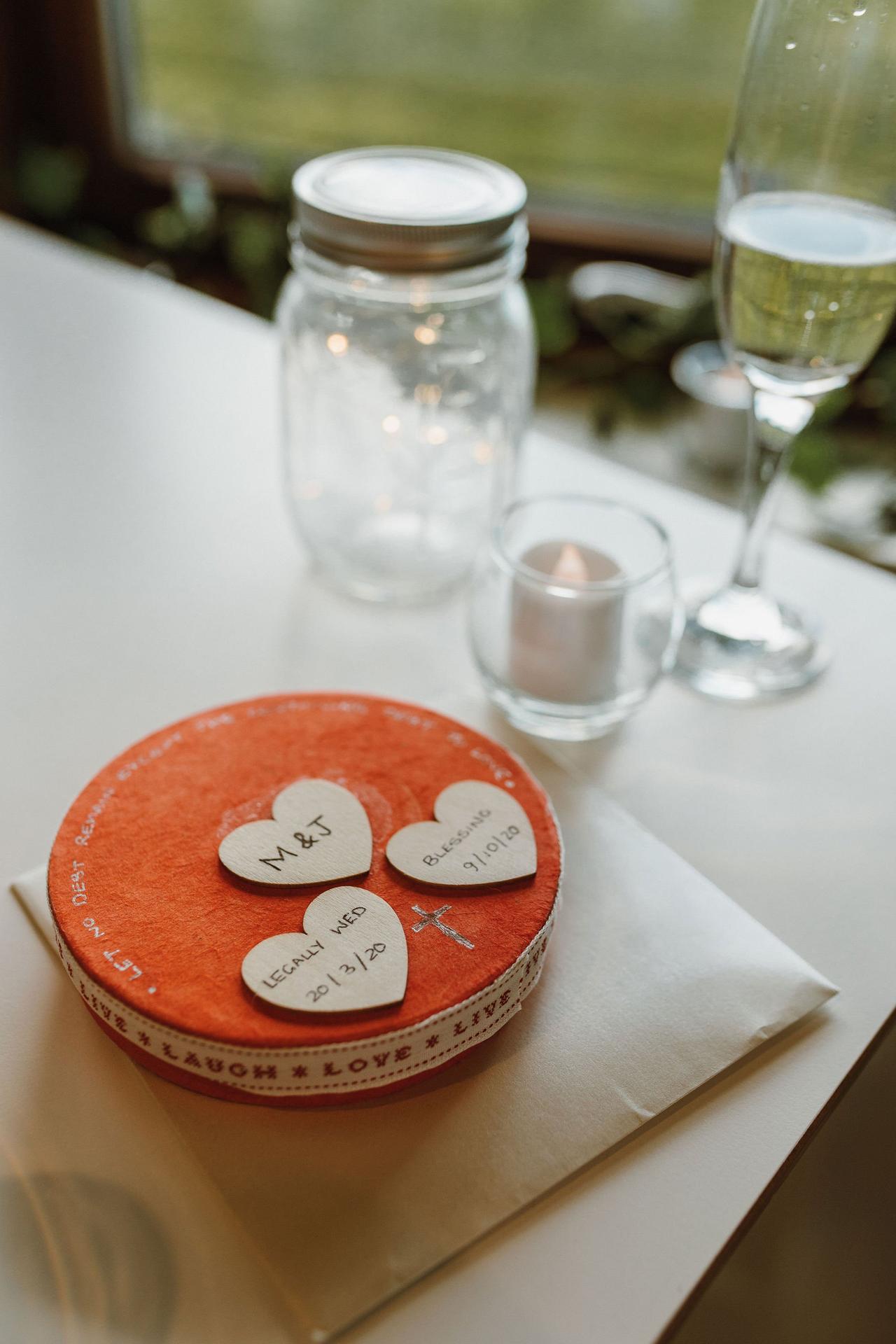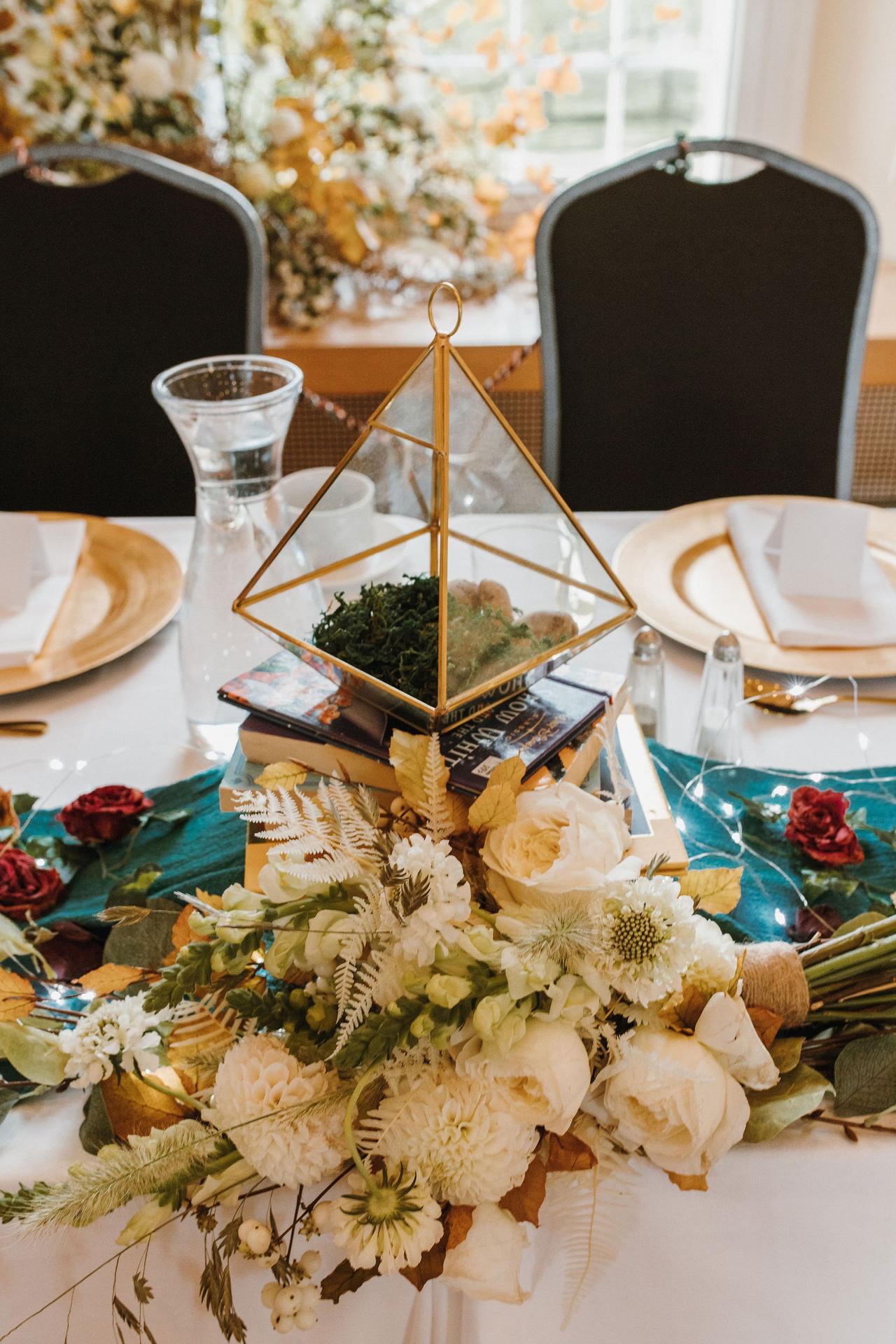 The Styling
"The colours were gold and teal, and our theme was enchanted meets starry night meets Disney!" says Michelle.
Twinkling fairy lights were of course a must, decorating the teal table runner and forming part of the stunning centrepieces, which were created from gold glass terrariums filled with faux moss and pebbles.
Each table was named after different places in the Disneyland and Disneyworld parks.
"We chose not to have flowers apart from the bouquet because too many flowers aren't the most eco-friendly option," says Michelle. "Instead, our florist, Barbara, did the most beautiful installation of a baby sapling out of autumnal leaves and branches."
Michelle took a laidback approach to her bridal bouquet: "The bouquet was a surprise for me as I asked Barbara to just do whatever felt right! So it was a mixture of all of these gorgeous fresh and dried autumnal flowers and visually was all burnt oranges and white. Just stunning!"
The couple went digital with their save the dates in order to be eco friendly, and their invitations and on-the-day stationery were printed on recycled paper.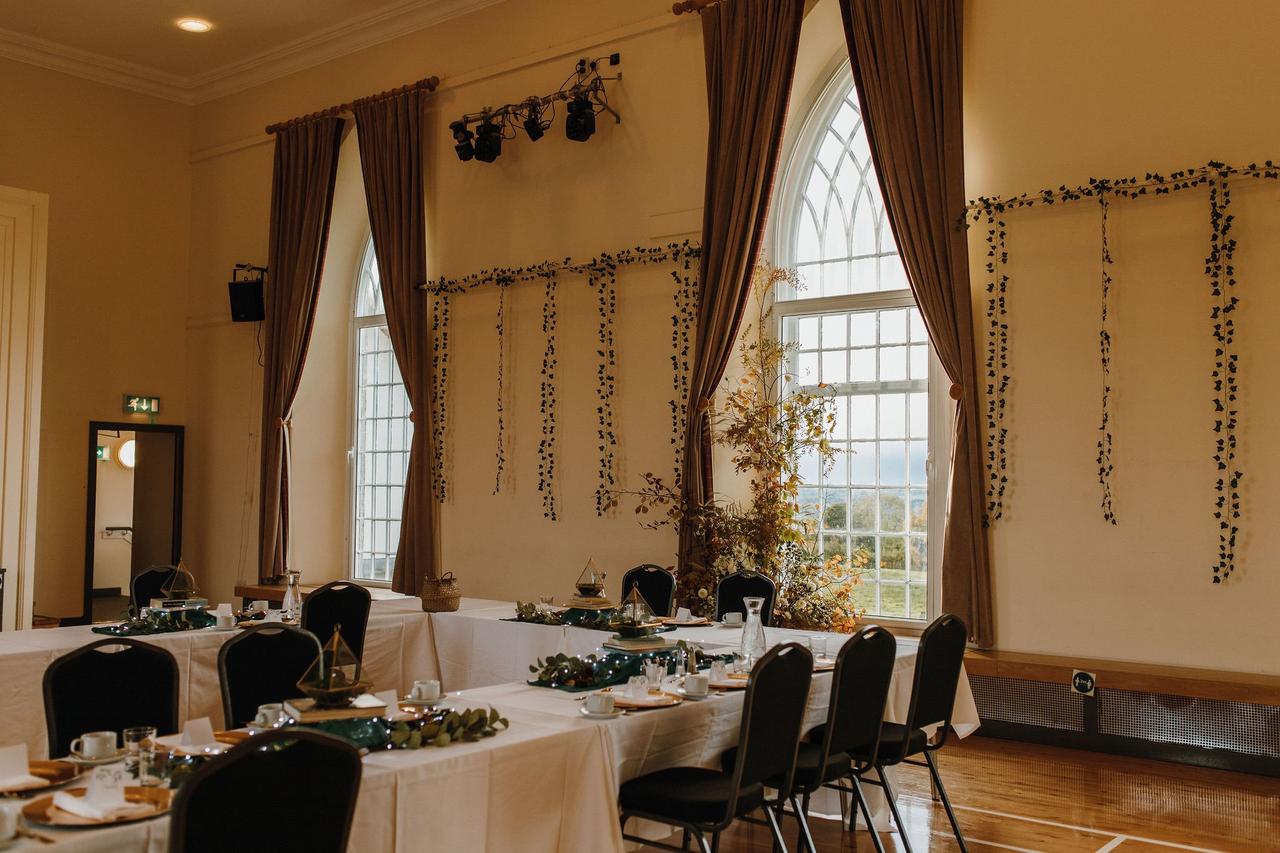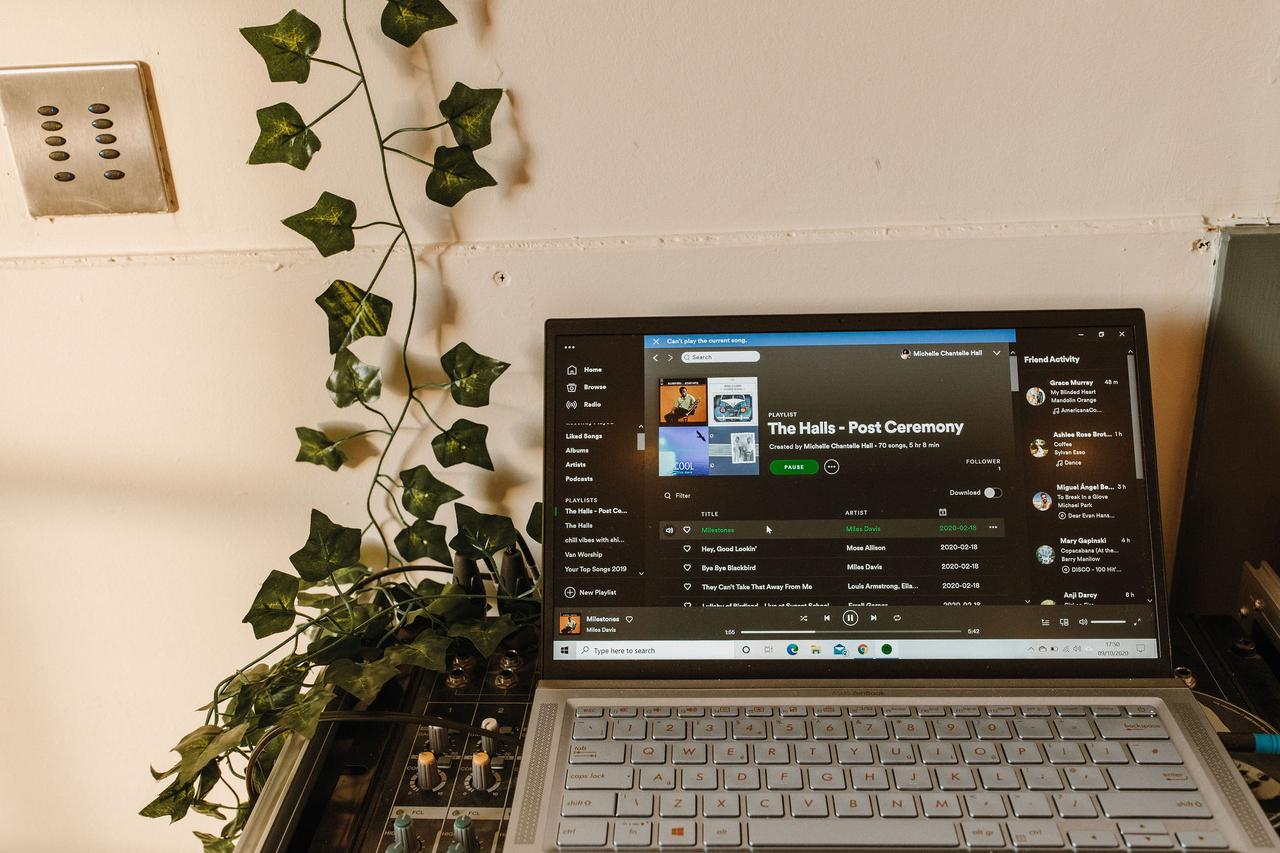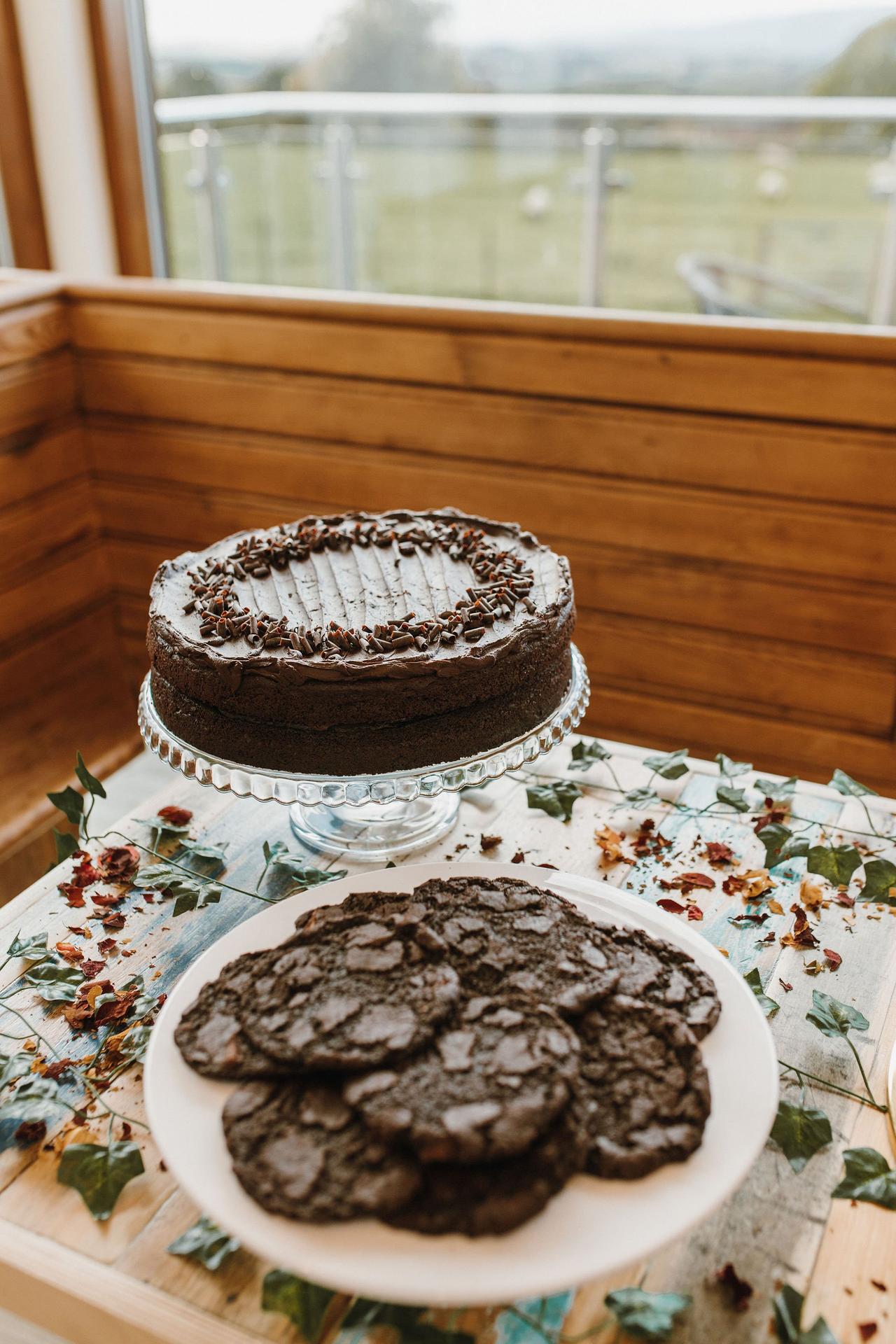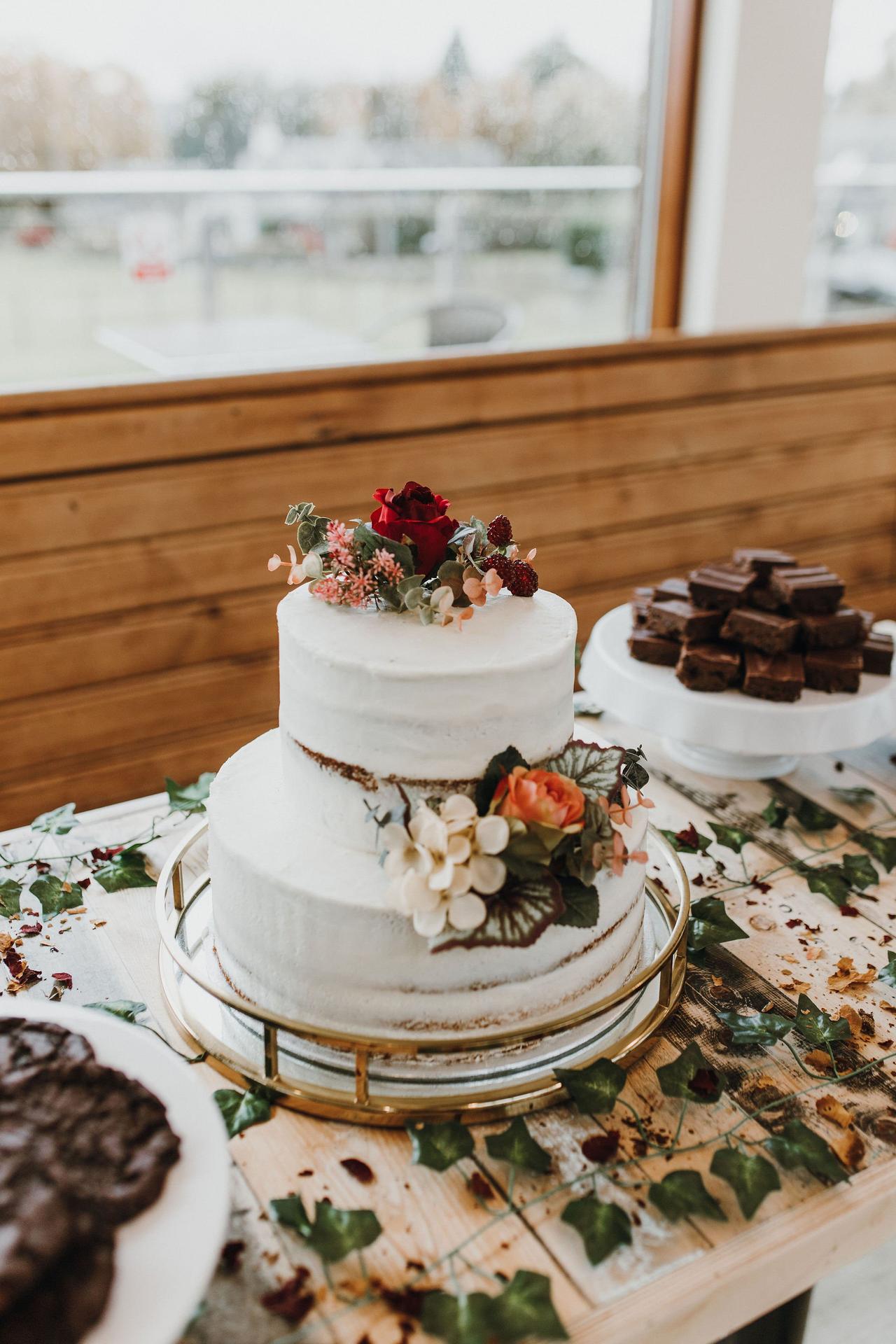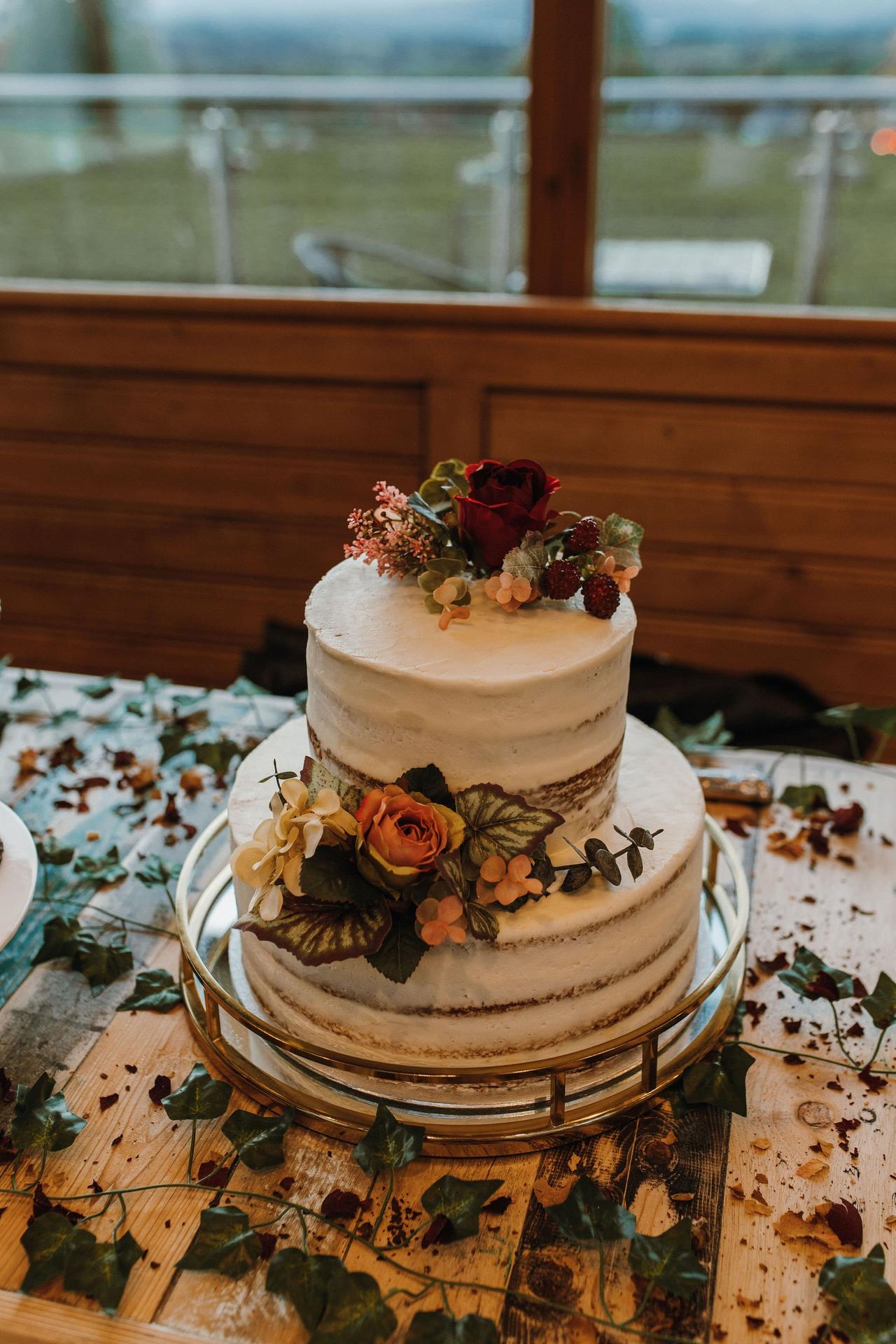 The Reception
Caterers Three Sisters Bake organise weddings at Killearn Village Hall, and they put on a fabulous feast for the couple and their guests.
"We had an awesome menu which was also intolerant and allergy friendly, with a meat and vegan option!" says Michelle. "We also had a dessert table as well as our wedding cake."
The dessert table did double-duty as favours, with boxes left out so guests could take home as many of the delicious bakes as they wanted.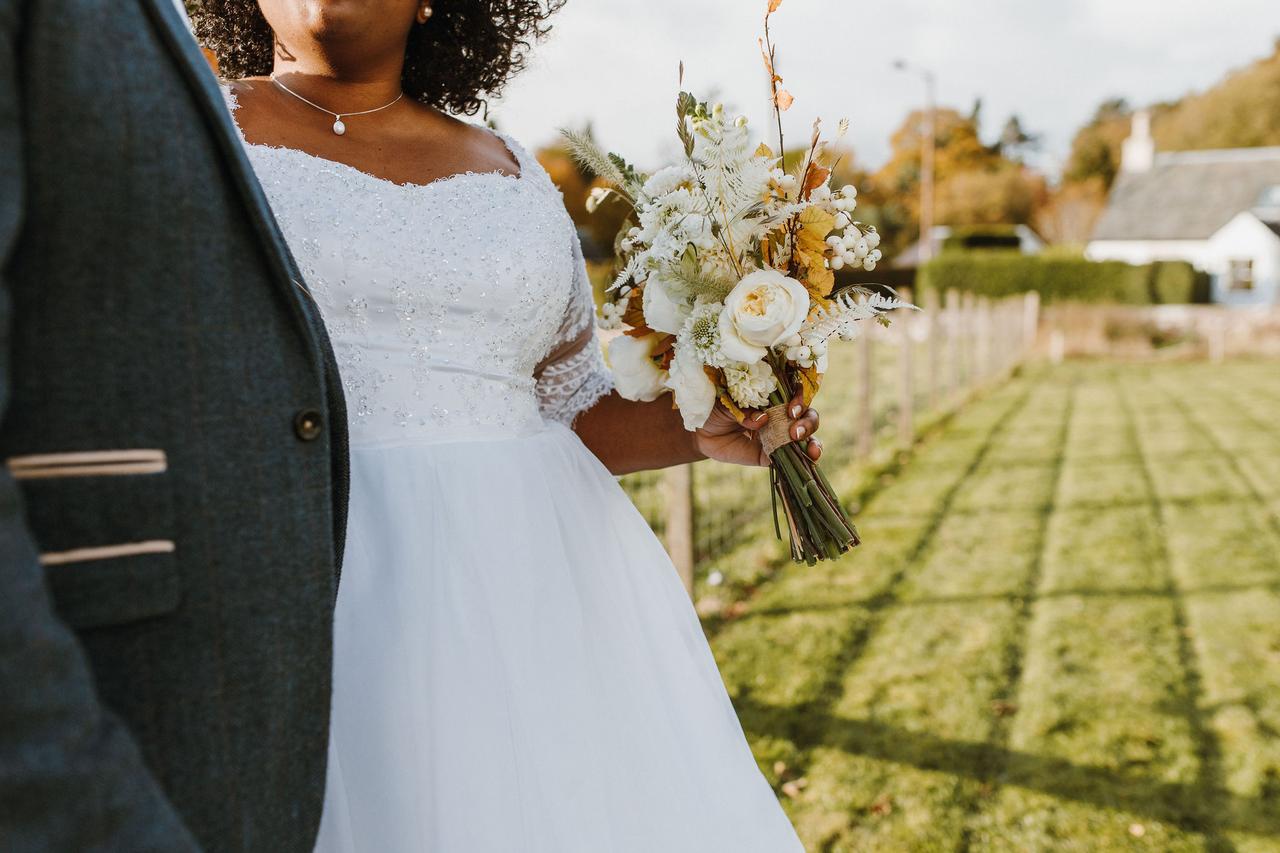 The Wedding Advice
"It's easier said than done, but stay flexible, make sure you really know your priorities and at the end of the day this is about your love and honouring that - you don't need much to do that!" says Michelle.
"There was a moment after the ceremony when the guests were being led upstairs and we went back into the ceremony room together. We just held each other as the sun set and it was honestly a moment I will carry for the rest of my life."
The Suppliers
Venue: Killearn Village Hall
Photographer: Olivia J Photography
Wedding Dress: David's Bridal
Makeup Artist: Temi Oyedokun
Groom's Suit: Suit Direct
Florist: Wild Flower Workshop
Co-ordination, Catering, & Wedding Cake: Three Sisters Bake
Stationery: Papira Design
Videographer: Sugar 8
Music: Cairn String Quartet
Car Service: Ultimate Private Hire
Face Masks: Goldenxhour
Handfasting Ribbon and Guest Book: @Soleil_dee
Thank you so much to Michelle and Jonathan for sharing their beautiful wedding!