When Boris Johnson announced that weddings would be limited to 15 guests, couples everywhere were faced with a major dilemma: postpone their – possibly already postponed – nuptials or push on and host a small wedding.
Planning a small wedding during COVID times can feel full of compromise and restrictions, and involve elements couples probably never anticipated they'd have to consider (scented hand sanitiser favours, anyone?).
But small celebrations also come with their own set of advantages and, like the optimistic wedding obsessives we are, we've been thinking of ways to maximise your wedding without maxing out your guest list.
From upgrading your menu to splashing out on a designer outfit, we've put together some of our favourite ways to reallocate your wedding budget and elevate your celebrations.
READ MORE:
1. Buy a Designer Dress or Suit
If you're yet to buy your wedding attire, why not splash out on a designer piece? Many brides and grooms give themselves a set amount of their wedding budget to work with when shopping and, with dozens of mouths to feed, often find there's not quite enough left for major labels.
If you've seen a gown or suit that was previously out of your budget, consider reallocating guest spend to your ensemble and treating yourself. It's your day and there are absolutely no government rules stopping you from rocking your dream look, so work it!
2. Treat Yourself to Some Designer Heels
If you've already got your dress, why not invest in a pair of designer wedding shoes? Most brides save the majority of their wedding fashion budget for the dress itself, which is totally understandable, but now you've got less mouths to feed, you can totally splash out on some luxe accessories. We'd choose these Jimmy Choo beauties, but that's just us.
READ MORE: 31 Sparkly Wedding Shoes Your Feet Deserve
3. Hire a Wedding Planner
Ok, so with a drastically reduced guest list, you're probably wondering why a wedding planner is necessary, but hear us out.
Wedding planners specialise in creating seamless wedding days with whatever they have to work with. They know to expect the unexpected and they're super up-to-date with the latest regulations as well as trends. A wedding planner can help guide you through the not so glam stuff like track and trace and ensuring your wedding is COVID secure, and they can also help you with the fun stuff like styling your venue. Plus, they'll know exactly how to throw a small celebration that makes a big impact.
READ MORE: The UK's Best Wedding Planners: 21 Planners to Know About
4. Upgrade Your Toast
If you calculated the price and found that Champagne for 95 people was the equivalent of a month's wages and, begrudgingly, decided to plump for sparkling wine instead, swap it back now. It's been a tough year and you deserve only the best. Cheers!
5. Create a Bespoke Menu
Weddings with dozens of guests do have their limitations and we'd say the menu is one of the main ones. Traditionally, a main dish is selected by the couple, along with a veggie or vegan option, and guests get what they're given. But a smaller guest list allows for a little more flexibility.
Speak to your venue or caterers and ask them if you're able to offer guests a choice of dishes, either on the day or to pre-order. We reckon guests will love the idea of selecting their own dish and you can fill your menu with your own personal or family favourites.
READ MORE: Unusual Wedding Food Ideas Your Guests Will Love
6. Buy Luxury Favours
Couples often find tracking down the perfect favours within budget a challenge. It turns out it's pretty tough to find a gift that suits everyone and that you can afford to buy 100 of. A small wedding offers you the opportunity to not only buy better but also smarter.
We're guessing any guests that have made it onto your precious 15-person guest list are people you know very well indeed. Show them how much it means to you to have them there on your big day by hand selecting personal favours for each of them. A scented candle for your mum and a bottle of artisan gin for your brother, perhaps?
7. Fill Your Venue with Flowers
Certain members of the Hitched team (ahem) fought for a larger budget share to spend on wedding flowers when it came to their own nuptials but with drinks and food for 90 people to pay for, a rose-packed floral arch à la Princess Beatrice had to take a backseat.
If flowers are important to you, why not get your florist on the phone and chat about a beautiful installation or floral arch? They'll look fabulous on your photographs and inject plenty of wow-factor into your intimate set-up.
READ MORE: How to Choose Your Wedding Flowers
8. Hire a Videographer
Hiring a videographer will increase the number of people able to share your vows - even if it is from their sofas. Plus, you can totally turn your wedding video into an event by hosting a virtual screening a couple of weeks later and watch your loved ones tear up as they view your vows for the first time!
9. Indulge in Some Pre-Wedding Luxury
The government recommends keeping weddings short at the moment and so you can afford to book your ceremony a little later in the day than you would pre-pandemic.
Just like after a big night out, many brides look back on the getting ready as one of the highlights of the day and so we recommend using your free morning to indulge in a little pampering. Why not book a pre-wedding facial or relaxing massage? It will help to calm any pre-wedding nerves and help you get your wedding glow on.
To take the idea a step further, why not hire a mobile spa like Kernow Springs? If you're staying in accommodation with your guests, you can invite them to join you for a pre or post-wedding chill-out. Bliss.
10. Stay the Night
Speaking of accommodation, if you've decided to keep your small celebration close to home it may be tempting to spend your wedding night there. We urge you to consider booking a hotel or Airbnb (yes, even in your hometown!), or look into staying at your venue if that's an option. There's something super romantic about getting away from it all and enjoying a night in a bed that you don't have to make in the morning! Trust us, a night's stay somewhere fancy will round off your small celebration nicely.
11. Invest in Entertainment
Take guest experience up a notch with a selection of games and activities. With less people to get around and a shorter ceremony, you'll have way more time to spend having fun with the guests you do have.
Get in touch with a game hire company like Girl Friday Games and organise anything from a sack race to a bowling tournament! You'll be surprised at just how much fun a dozen tipsy people can have with some childhood activities…
12. Hire a Professional to Serenade You
While wedding discos are off limits for now, we think booking a singer or band to serenade you as you walk down the aisle or as you enjoy your intimate wedding breakfast is a great way to add magic and ambience to your wedding.
13. Hire Your Dream Car
Hands up if you felt major car envy when Prince Harry and Meghan Markle whizzed out of Windsor Castle in a vintage Jag? Us too, which is exactly why we'd add a ride in a dream car to our small wedding day pronto.
Your wedding day is the one day of your life that you get to feel like a celeb and a small wedding certainly won't get in the way of that when you factor in a ride through town. Add a 'Just Married' sign and some florals and watch passers-by as they try to get a glimpse of the two of you in your snazzy motor.
14. Include Your Pets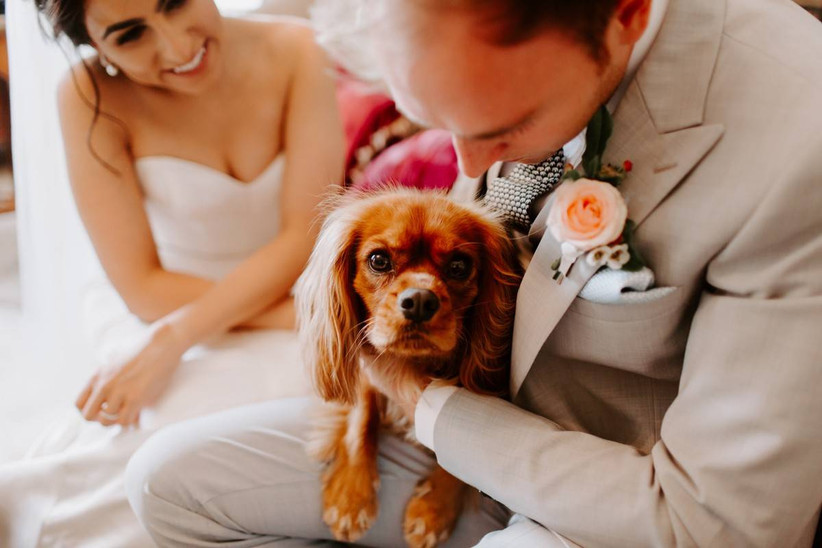 Good news, dogs don't count as part of your guest list and so by all means invite your pooch – although do check that the venue is happy to host four-legged guests before buying them their very own dog wedding outfit.
If you're panicking about how you'll look after your furry friend during the wedding breakfast and speeches, enlist the help of a dog chaperone (yes, they're a thing). A chaperone can take your dog for a walk around the venue grounds and ensure they've had their very own dog-friendly wedding breakfast while you're chowing down on yours.
15. Invite an Alpaca
Worth it purely for a photo like the one above, inviting animals such as alpacas to your celebrations provides a fun and unusual bit of entertainment for guests. Your family and friends will love getting up close and personal with these adorable creatures and updating their Instagram feeds with enviably cute snaps.
16. Book a Dance Class
While wedding discos are not currently recommended because it's pretty difficult to do Oops Upside Your Head while social distancing, there's no reason why you can't do a first dance and if that's the only dancing there's going to be, it ought to be pretty spesh.
Why not book a dance class or two and have a professional choreograph your routine? If doesn't have to be something straight from Strictly if that's not your style, ask for something pop-y or silly if you're not keen on serious moves.
17. Hire a Caricaturist
This could work as a favour idea, a unique place name or simply as an extra surprise for guests to enjoy. Caricaturists often work at weddings, circulating the room and capturing guests with their unique style, but there's no reason why you can't forward photos of your guests to an artist ahead of time and have their caricatures delivered before the big day. We love the idea of guests identifying their pictures in order to find their seats!
18. Treat Your Guests to Ice Cream
Hire an ice cream van, invest in a few (non-ice cream) cones to make socially distanced queuing easy and watch as your guests (safely) flock to the gelato! Pick out your favourite flavours and toppings and allow for each guest to try multiple flavours - it'll still work out way cheaper than a round of vanillas for 100. This wedding addition is guaranteed to be a hit!
Still a little confused by the new wedding rules? Find the latest guidance here.