Who's on the guest list for your wedding? Family, friends, colleagues, neighbours? Well, according to recent research, more and more of us are also finding ways to include our dogs in our big days – and what's more, we're dressing them in adorable dog wedding outfits to mark the occasion.
A study conducted in August of this year revealed that in the US, 38 per cent of pet owners planned to include their dog in their wedding and/or engagement, and the trend is becoming increasingly popular on UK shores too.
You'll probably already know as a couple if your beloved pup is open to a spot of fancy dress – and if the answer is yes, boy, have we got some amazing ideas for you.
From boho-inspired flower crowns and collars to full-blown black-tie attire, here are 27 of the most stylish wedding outfits for your four-legged friend, as well as an edit of all of the best places to shop them for yourself. Call us barking all you want, but we predict that the wedding pooch party is only set to grow from here…
NB: We have included third party products to help you navigate and enjoy life's biggest moments. Purchases made through links on this page may earn us a commission.
READ MORE:
27 Cute Dog Wedding Outfits for Your Best Pal
1. Dog Suit and Tie
It's classic for a reason – you can't go wrong with a great suit and tie, even when you're already covered in fur. It's a sleek, sophisticated look for any size or breed of dog.
2. Black Dog Tuxedo
For a slightly swankier vibe at a really elegant venue, upgrade the tie to a bow tie for a more luxe look and feel.
3. Grey Dog Tuxedo
However, your groomsmen won't necessarily be wearing black, and your dog doesn't have to either – get them a coordinating tux to make sure they really fit in with the wedding party.
READ MORE: How Many Bridesmaids Should You Have?
4. Dog Tuxedo With Sleeves
Well, have you ever seen a dog look so suave as this little guy?
5. Dog Oxford Shirt
For less formal affairs, they don't necessarily need the jacket – they'll still look just as dapper.
6. Dog Bow Tie
Know they won't tolerate anything with shoulders or sleeves? Dial it back to basics with a solo bow tie.
7. Matching Dog Bow Ties
Got more than one pooch in the household? Matching bow ties are the sharpest way to dress them up for the day.
8. Pearl Dog Collar
A ladylike alternative to the bow tie – It's an especially lovely pick if you're wearing pearl jewellery yourself.
READ MORE: Pearl Engagement Rings: 35 Beautiful Pearl Rings for The Modern Bride
9. Dog Flower Crown
Whether or not they'll keep it on is admittedly debatable, but it'll look ridiculously cute in the pictures you do get.
10. Babies Breath Dog Collar
Not only do they look great, smaller, lightweight flowers are also less likely to irritate your pup.
11. Pastel Floral Dog Collar
Give your dog an honourary 'one of the girls' membership for the day by using the same (artificial) blooms you've got in your bouquet for their accessories.
12. Bright Floral Dog Collar
Paler colours are always popular for weddings, but brights can also be paw-some if your dog has the personality to carry them off.
13. Dog Corsage
For minimal fuss but maximum impact, clipping a corsage to their usual collar is a thoughtful idea for smaller breeds.
14. Dog Wreath
Flowers aren't essential – foliage can look just as good when fashioned into a simple wreath.
15. Dog Bridal Rosette
Bring out the hues of the ribbons and corsages used throughout your space with a custom dog rosette, which are available in dozens of colours.
16. Floral Dog Lead
Using a lead to walk them down the aisle? Don't be afraid to liven this up too.
17. Double Floral Dog Lead
The loveliest way to involve your younger bridesmaids that we've seen so far.
READ MORE: Why Dried Flowers Make The Coolest Wedding Decor
18. Dog Wedding Tutu
Of course, you could go one step further and have your dog in the same outfit as your flower girls – because honestly, who can pull off a delicate tutu quite like an English bulldog?
19. Dog Wedding Harness
Draw inspiration from the groomsmen's ties or pocket squares for a coordinating harness to suit any size or shape of dog.
20. Best Dog Bandana
Most dogs will be comfortable with a simple bandana looped around their neck – help them wear their official title for the day with pride.
21. Dog Ring Bearer Pillow
If you think they can handle the responsibility, a cushion like this will keep everything secure.
22. Here Comes The Bride Dog Wedding Sign
You already know they're going to steal the show before your big moment, so you may as well have them use it to introduce you…
23. Pup of Honour Dog Wedding Sign
A dog wedding sign like this rustic one would actually be super simple to DIY.
24. I Loved Her First Dog Wedding Sign
Give your other half one final reminder of who the boss of the household really is before they say their vows.
READ MORE: 19 Chic Wedding Welcome Sign Ideas
25. Finally Dog Wedding Sign
For nuptials that have been a long time coming.
26. Dog Wedding Wagon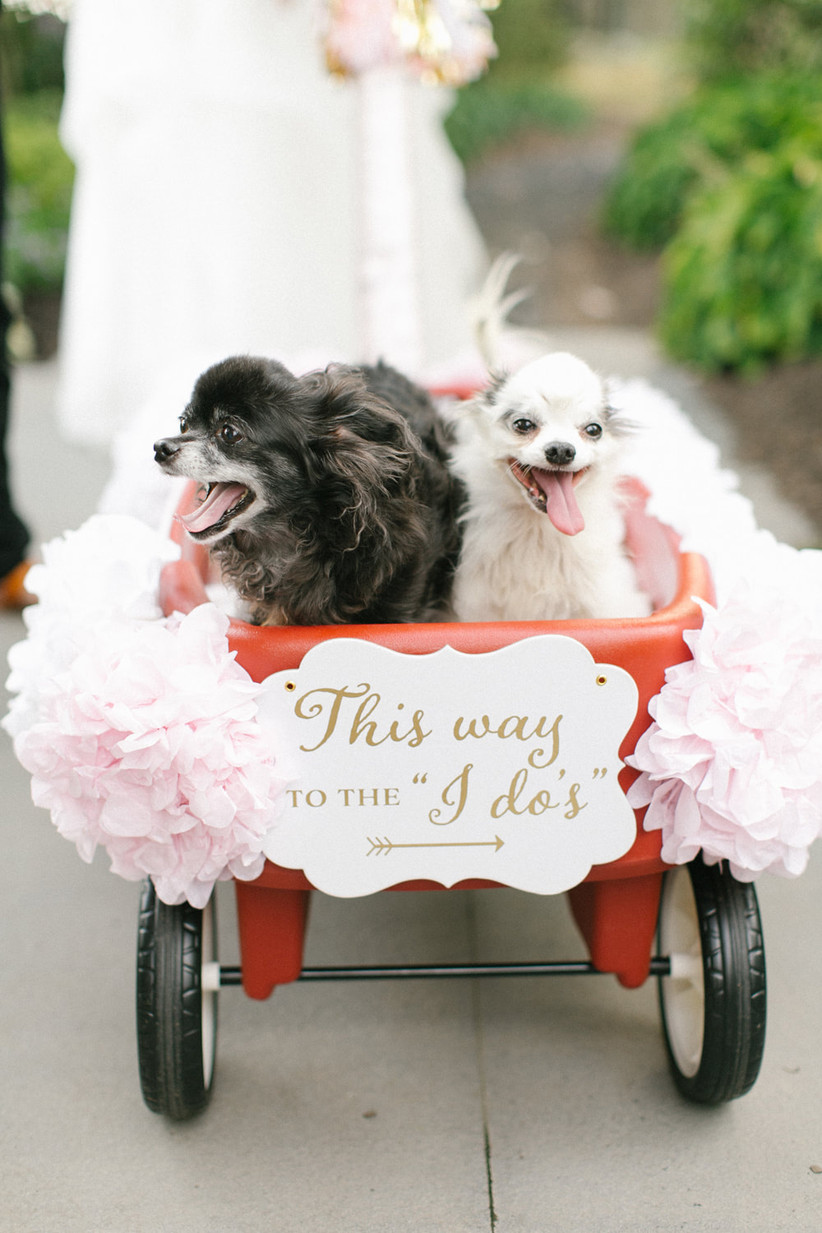 Okay, so it's not a dog wedding outfit per se, but little dogs will definitely appreciate the chance to rest their paws.
27. Au Naturel
Don't feel you have to put your dog in an outfit or accessory to have them at your wedding. As this picture proves, just having them there on the day is the most special thing, no matter what they're wearing (or not, as the case may be).
Where to Buy The Best Dog Wedding Outfits Online
1. Ring Bearer Dog Harness – £48.21, Happy Tails Dog Company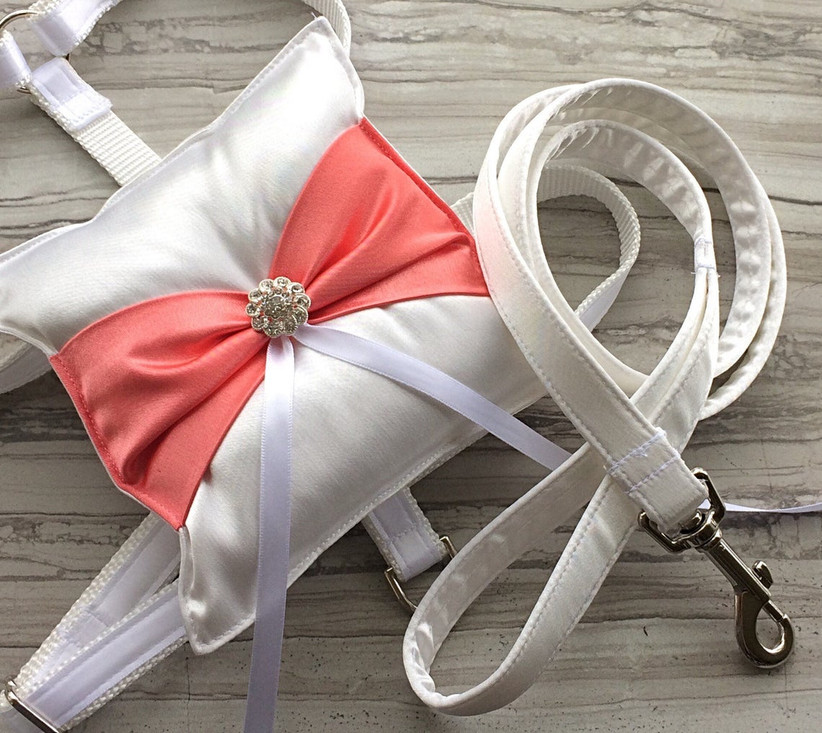 2. Black Polka Dot Dolly Bow Tie – from £4.99, Salt Dog Studios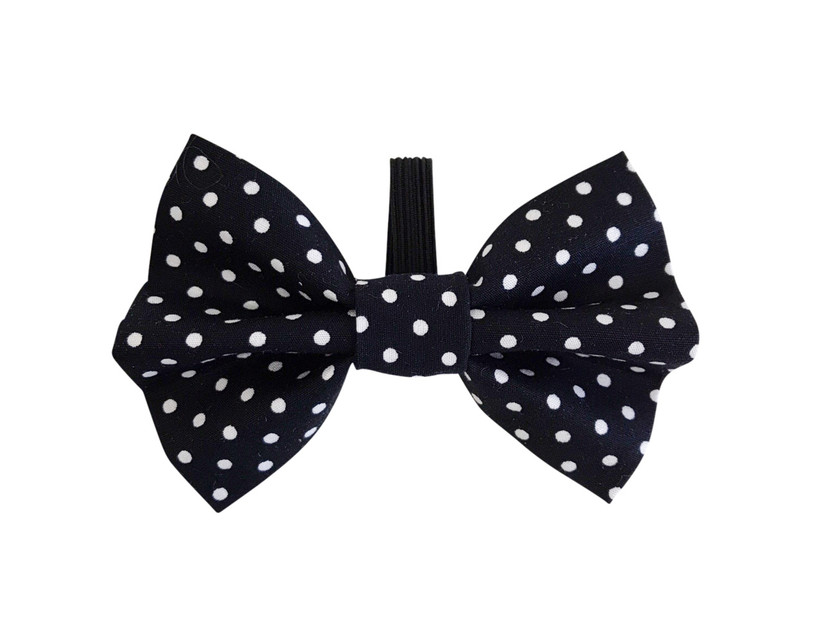 3. Liberty Print Dog Collar – £46, Cloud 7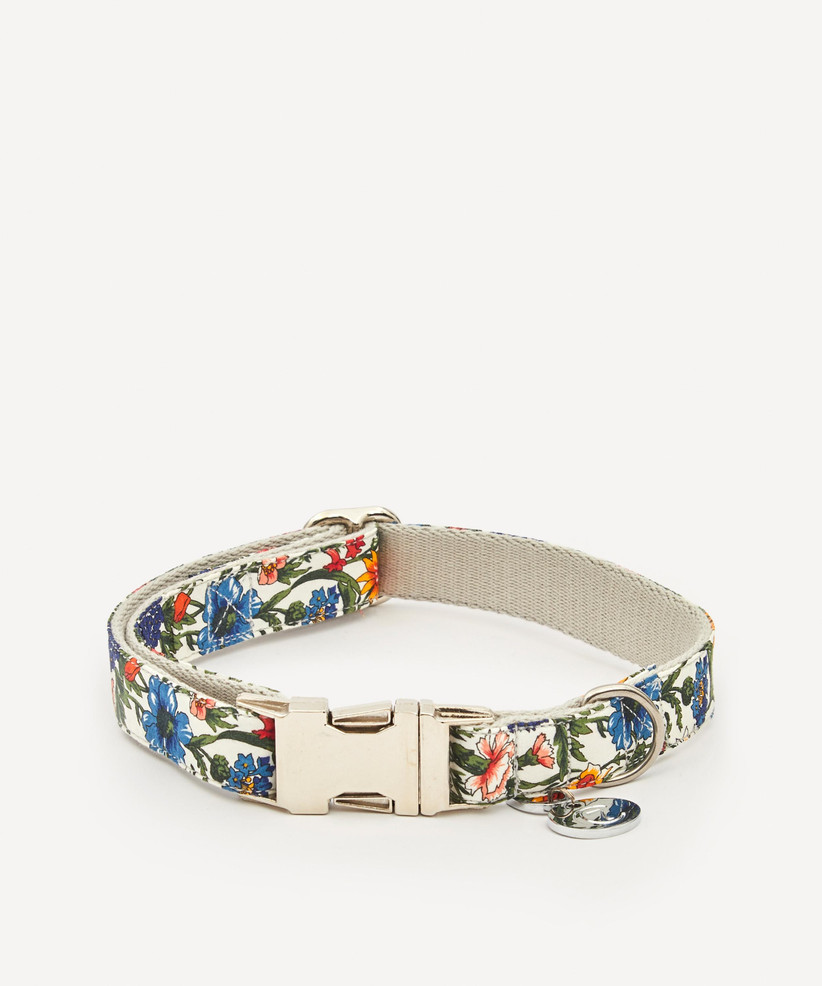 4. Dog Tuxedo Harness – £40, Mutts and Marriage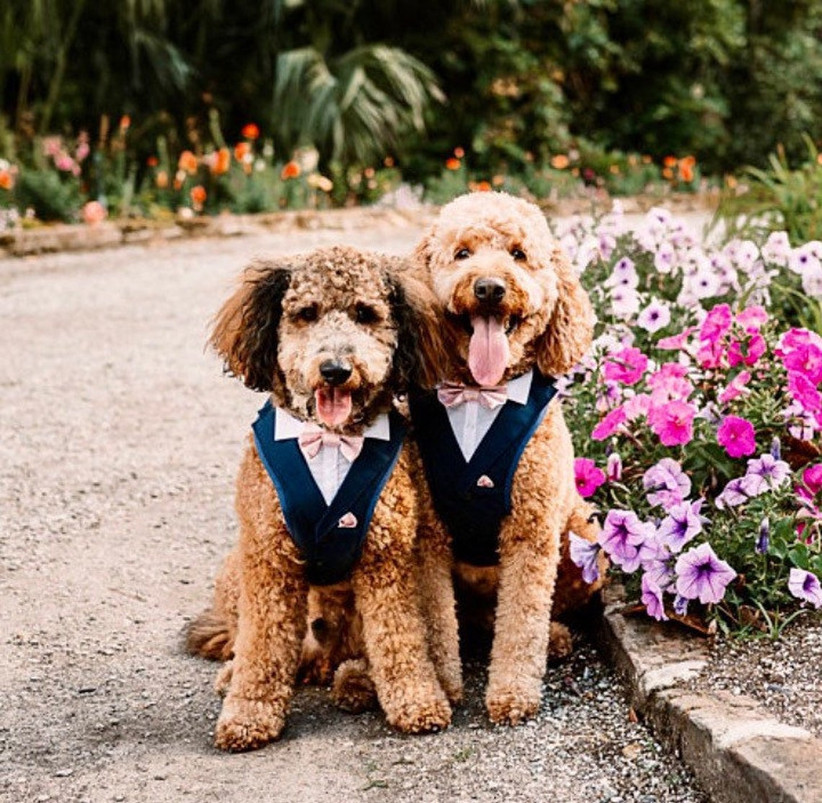 5. Dog of Honour Wedding Dog Bandana – £7.23, Etsy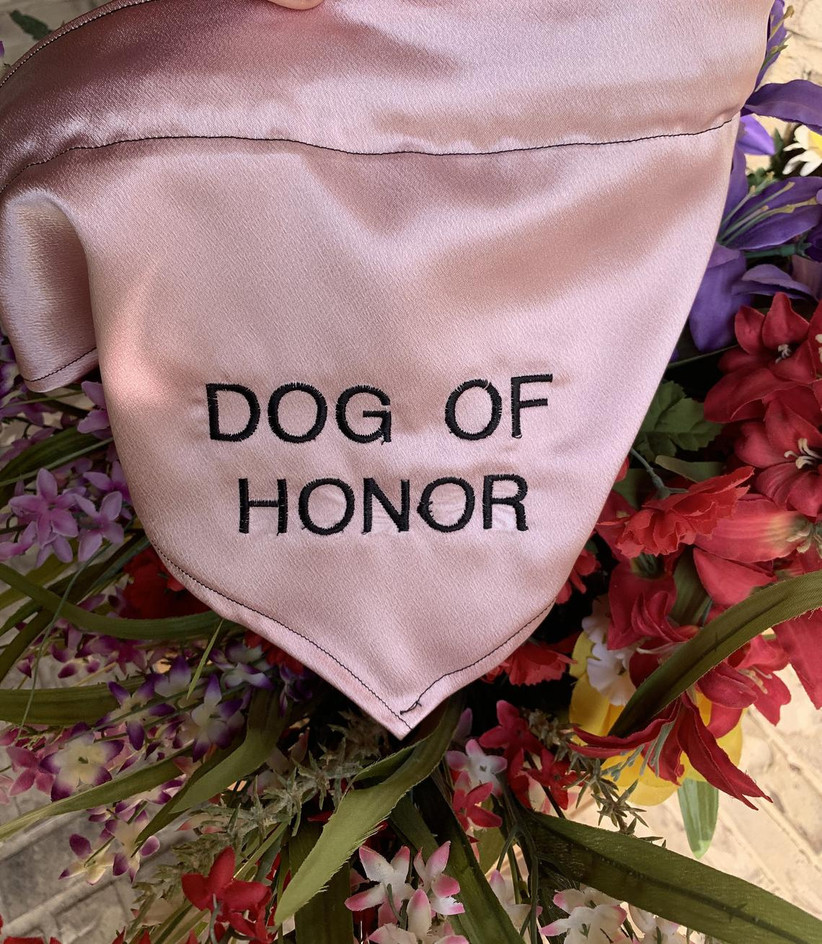 6. The "Hailey" Pearl Dog Collar – £33.78, Olive and Pearls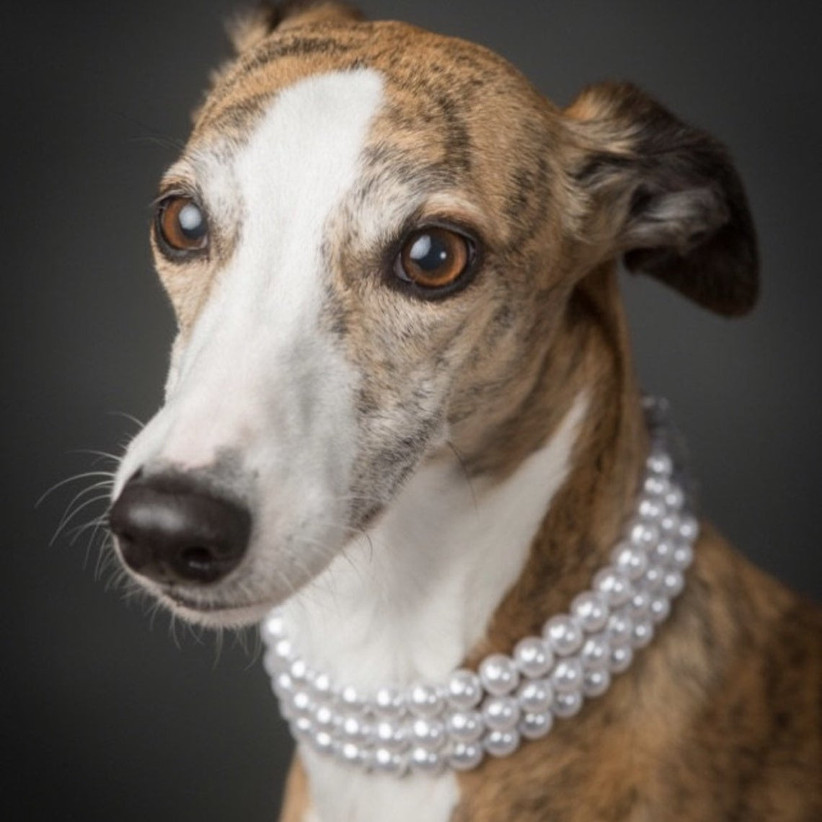 7. Succulent Wedding Collar – £22.36, House of Fur Baby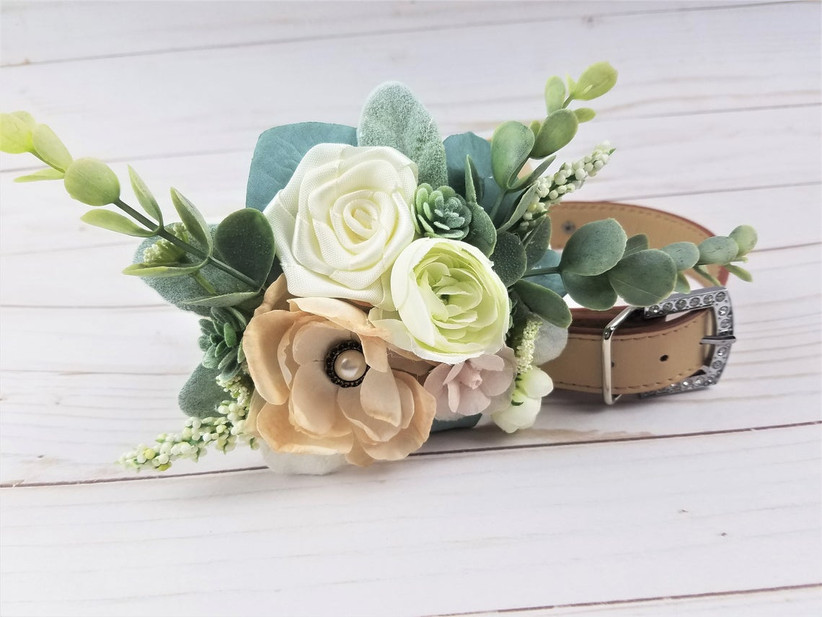 8. Slip on Dog Bandana – £15, Ruff and Reggie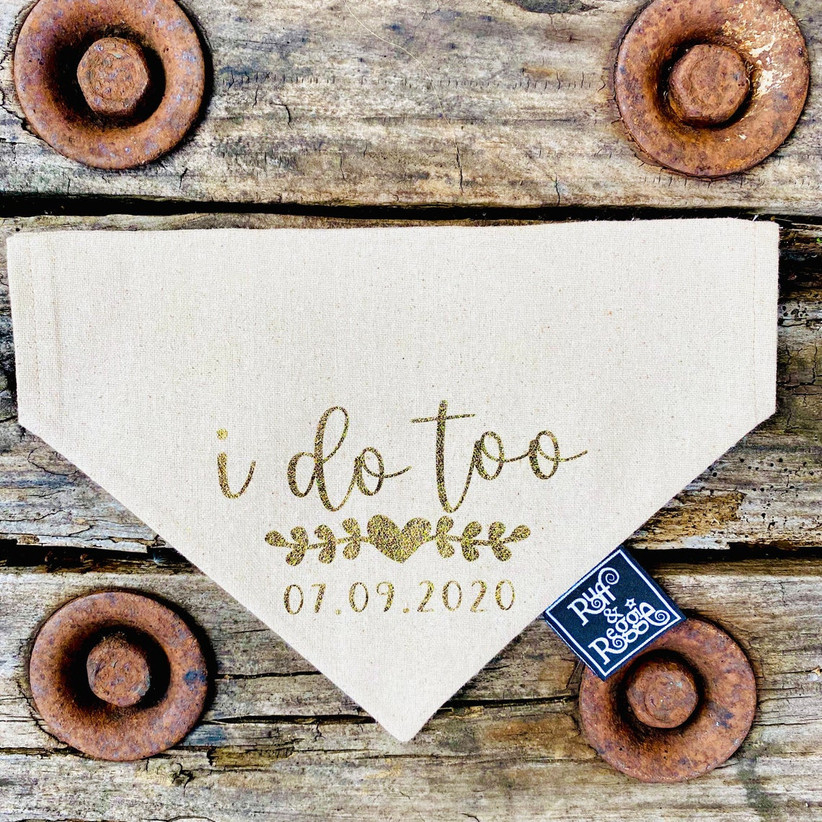 9. Yappily Ever After Wedding Dress – £22.71, East Side Collection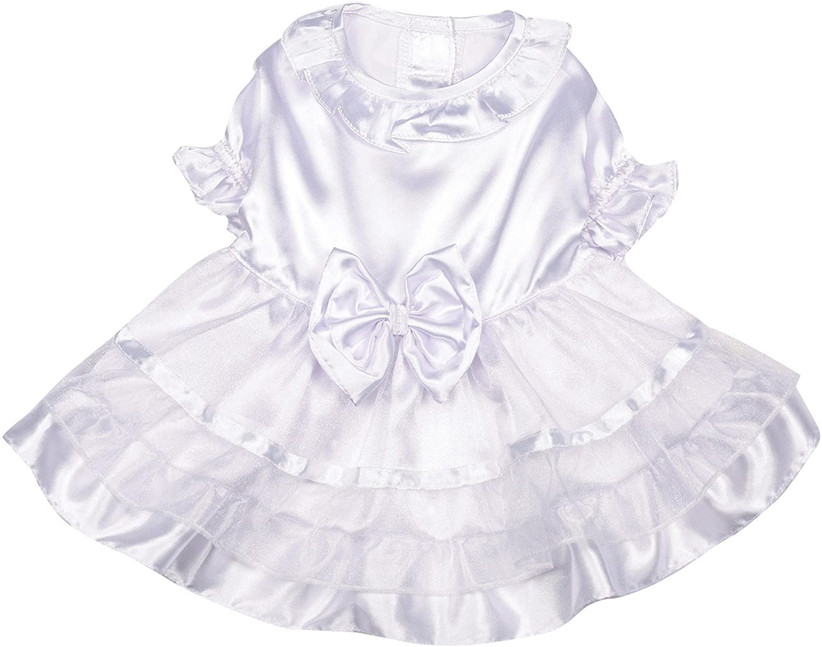 10. Wedding Bridesmaid Dog Harness – from £35, Mutts and Marriage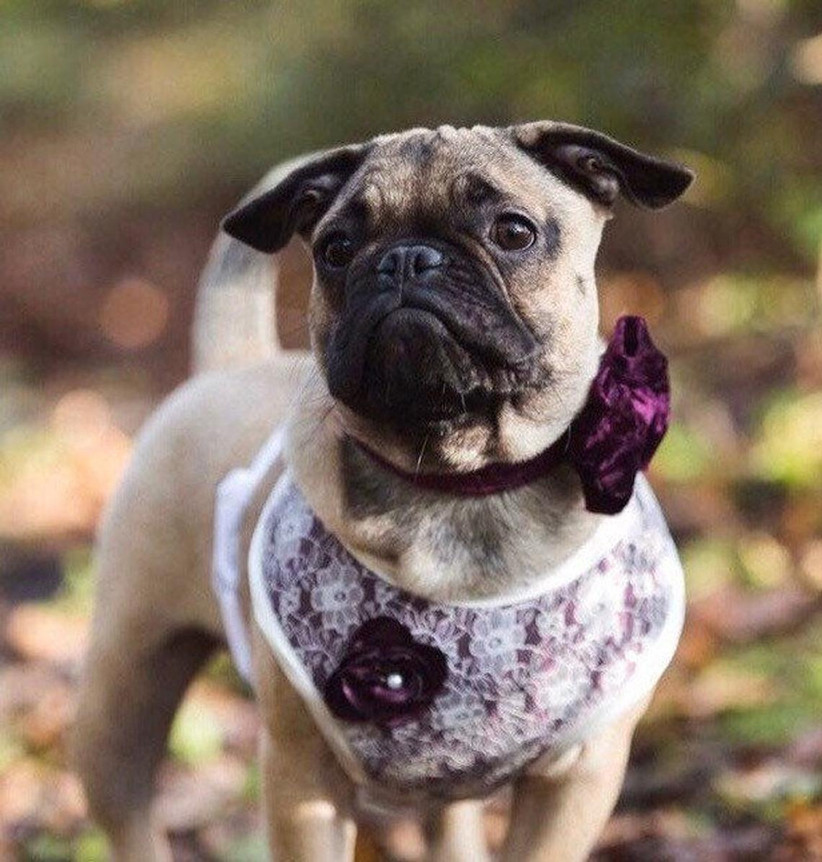 11. Red Ticking Stripe Dog Bow Tie – £15.50, Mutts and Hounds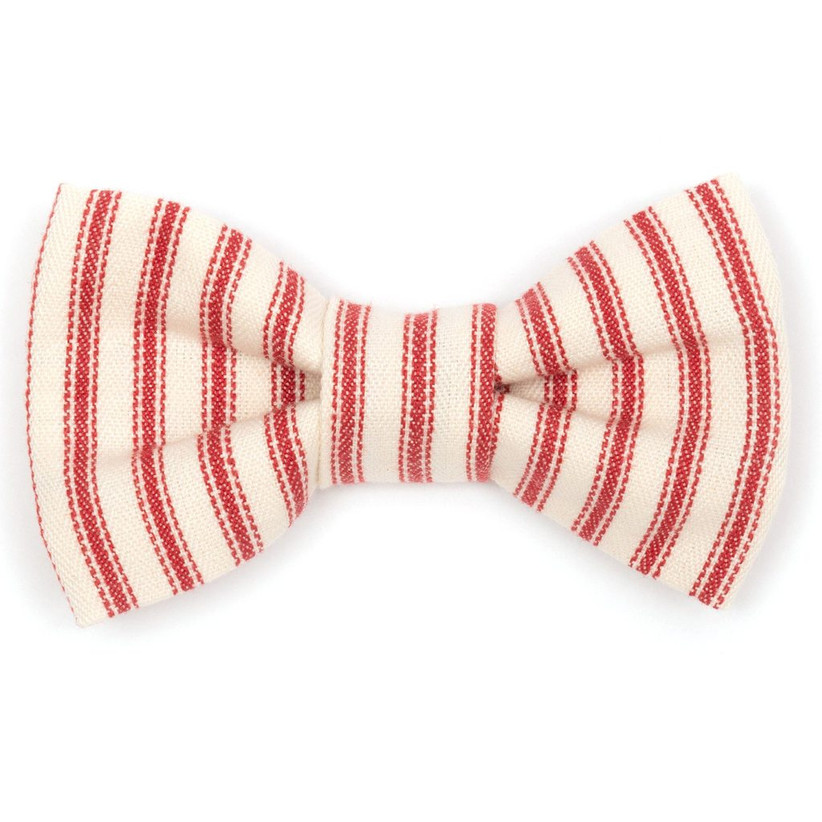 12. Wedding Dog Lead – £59.99, Evie Rose Bridal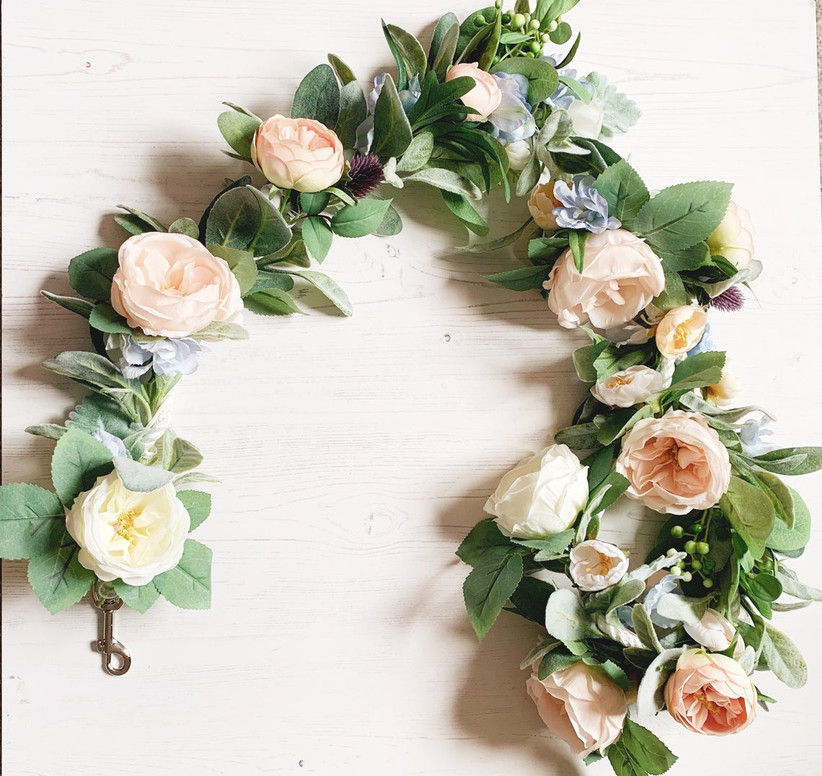 13. Champagne Stripe Dog Harness – £22.80, Barc London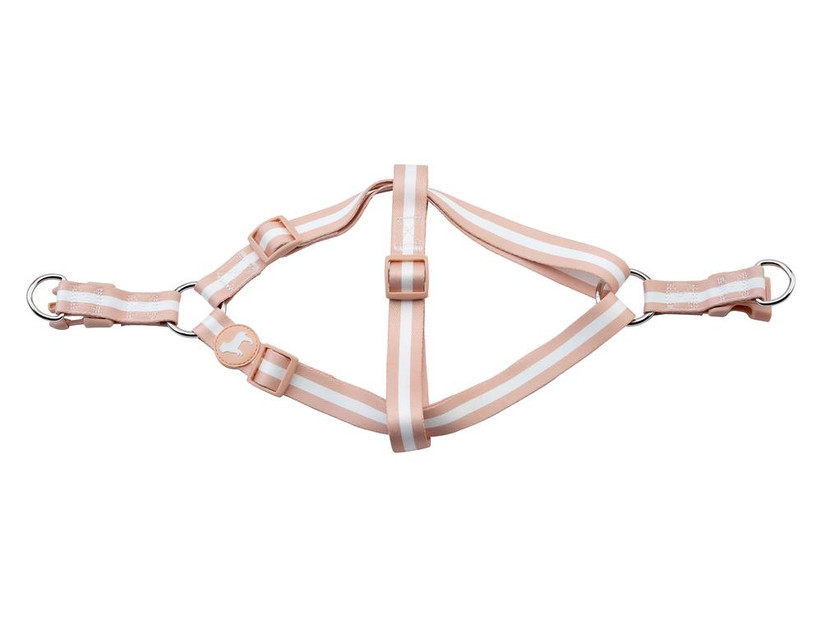 14. Max Bone Leah Dog Bandana - £20, Aurora Pets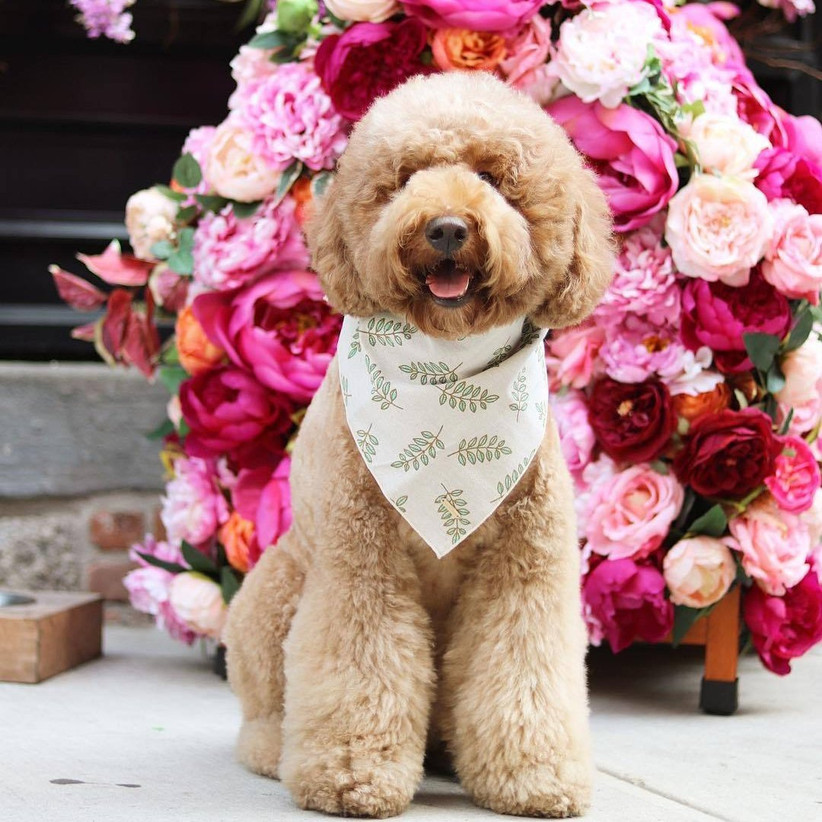 15. Diamond Dog Collar – £13.99, IWOOF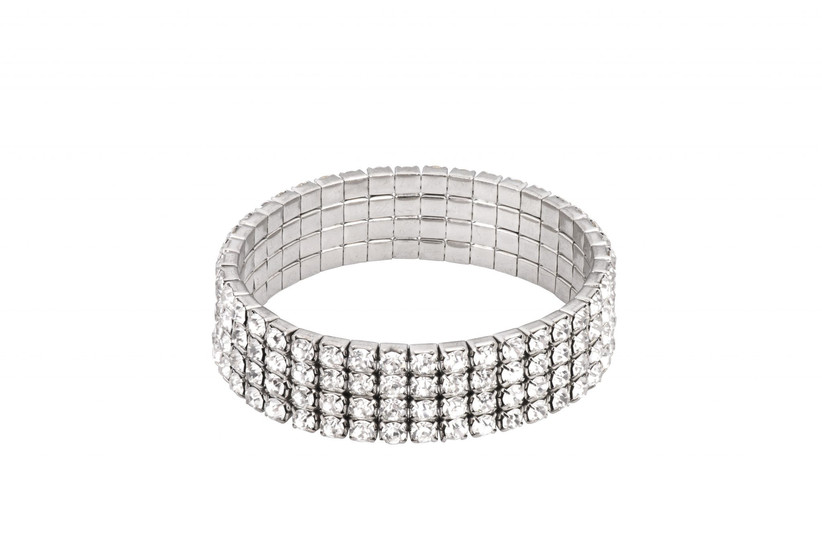 16. Classic Dog Tuxedo Bandana – £14.50, Etsy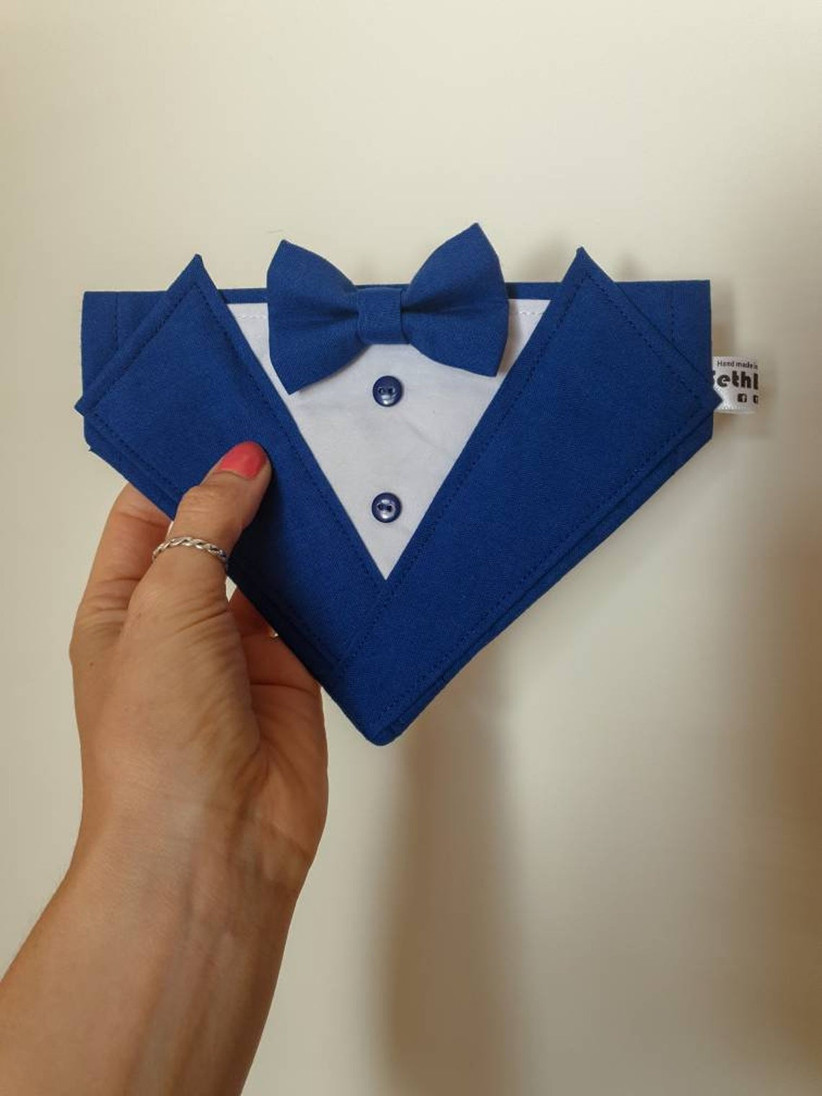 17. Logo-Embossed Leather Dog Collar – from £40, Kintails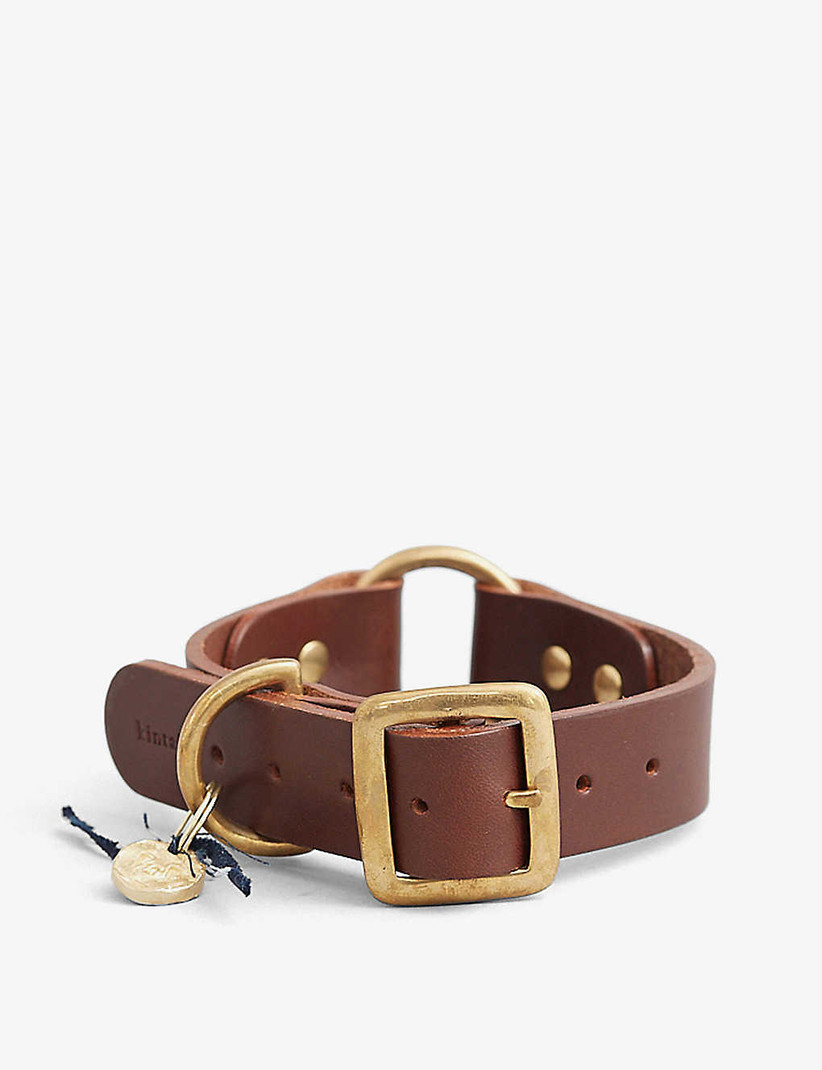 Now that you've found a look for your pooch, make sure you have your own accessories nailed too! Don't miss out roundup of the best bridal headbands to buy now.