31 Cute Dog Wedding Outfits for Your Best Pal
Move over flower girls and page boys – these dog wedding outfits will make sure your pup is the ultimate star of the show at your ceremony.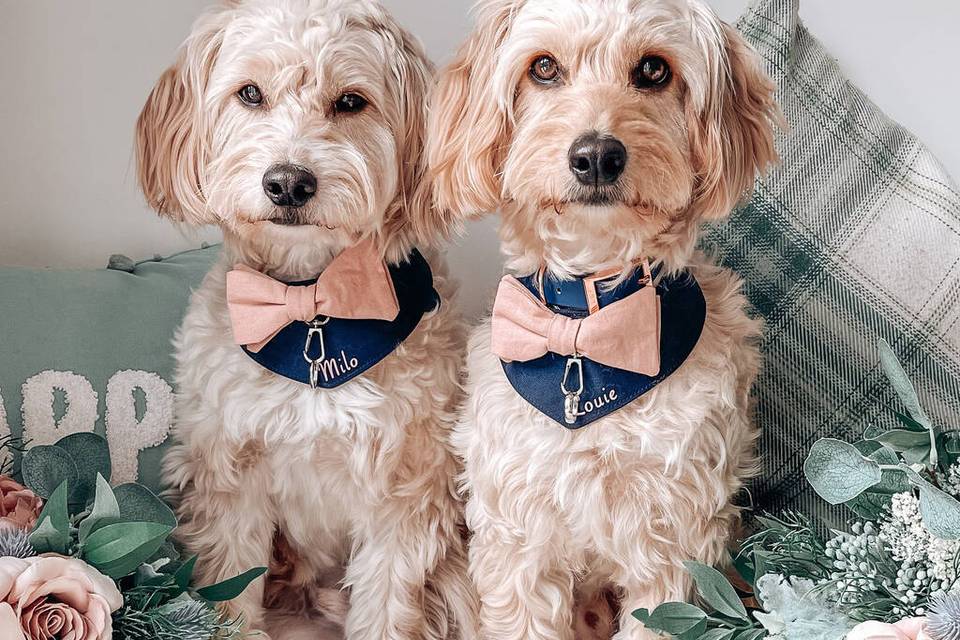 Who's on the guest list for your wedding? Family, friends, colleagues, neighbours? Well, according to recent trends, more and more of us are also finding ways to include our dogs in our big days – and what's more, we're dressing them in adorable dog wedding outfits to mark the occasion. After all, what's better than a dog at a wedding? A pup at a wedding in a dog wedding outfit! Just make sure you've picked the perfect pet-friendly wedding venue to suit your plans.
According to a recent article in The Times, increasing numbers of couples are choosing to involve their dogs in their big day and companies specialising in on-the-day care are experiencing huge demand for their services.
You'll probably already know as a couple if your beloved pup is open to a spot of fancy dress – and if the answer is yes, boy, have we got some amazing ideas for you.
From cute bow ties to tweed coats and collars to full-blown black-tie attire, here's our edit of the 31 most stylish wedding outfits that you can buy for your four-legged friend. Call us barking all you want, but we predict that the wedding pooch party is only set to grow from here…
Wedding Outfits For Boy Dogs
1. Dog Wedding Suit – From £40, Miss Teddy UK
We're not going to lie, we squealed with delight when we first laid eyes on this paw-fect dog wedding suit. Your good boy will look as smart as the groomsmen in his very own tux and bow tie.
2. Party Luxe Velvet Dog Bow Tie – £24, The Distinguished Dog Company
Available in a range of colours including pink, blue, silver, green and more, you can get a velvet dog bow tie to match any theme. How handsome does this little fella look?!
READ MORE: Dogs at Weddings: 15 Times the Couple's Pet Totally Stole the Show
3. Luxury Dog Wedding Suit – £45, Bella and Barns
This light beige herringbone waistcoat with shirt and contrasting bow tie will give your dog a seriously luxe wedding look. This suit is made-to-measure and can be customised to suit your theme.
4. Classic Dog Tuxedo Bandana – From £23.50, Etsy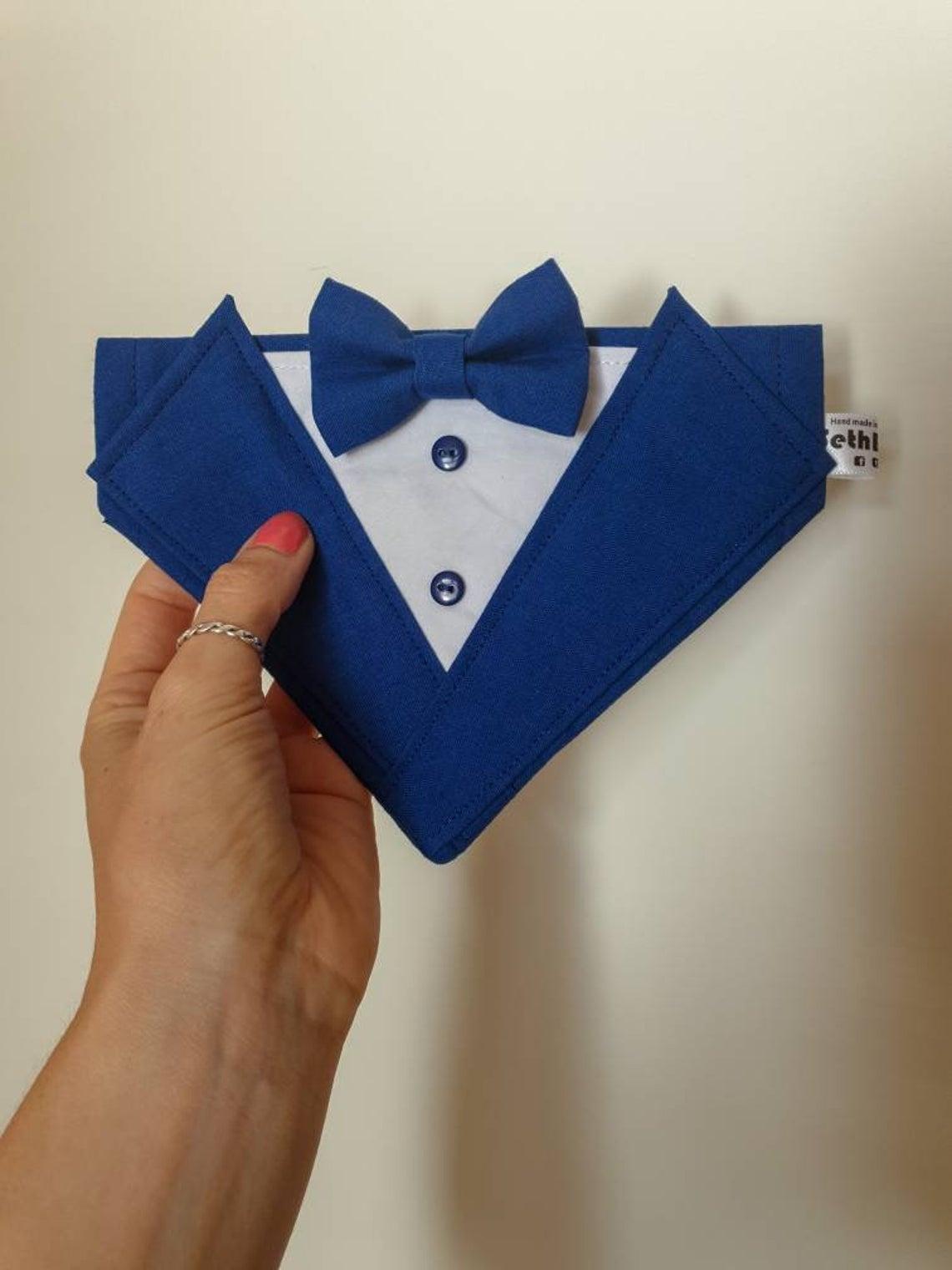 A suit-style bandana is an easy way to give your pooch an instant luxe look. We love the smart blue of this tuxedo bandana from Etsy.
Wedding Outfits For Girl Dogs
5. Dog Sequin Dress – £47.20, Coast
Your good girl will look simply paw-fect in this ivory sequin dog dress. We think it's a great choice if you're choosing ivory or white bridesmaids dresses too.
6. Dog Tulle Dress – £31.20, Coast
With tulle, ruffles and a tiered skirt, this dog dress is ticking all our wedding fashion boxes. Team it with the matching tulle maxi bridesmaid dress for maximum impact.
READ MORE: Match Your Dog to Your Bridesmaids With These Bridesmaid Dresses for Dogs
7. The "Hailey" Pearl Dog Collar – £40.32, Olive and Pearls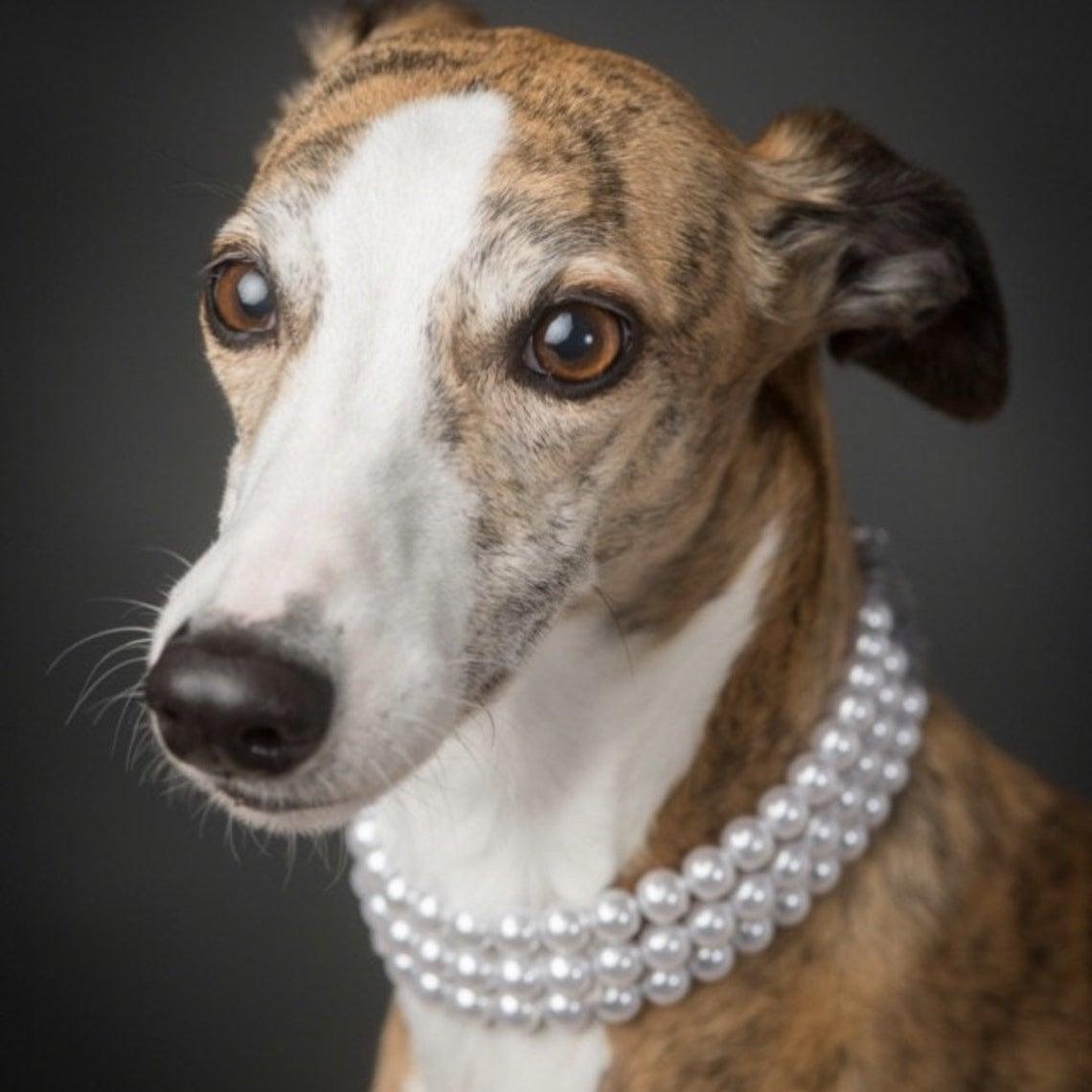 Little ladies will look regal in this three-layer pearl necklace-style collar. Perfect for brides wearing pearl wedding accessories and wishing to match their fur baby.
8. Succulent Wedding Collar – £28.23, House of Fur Baby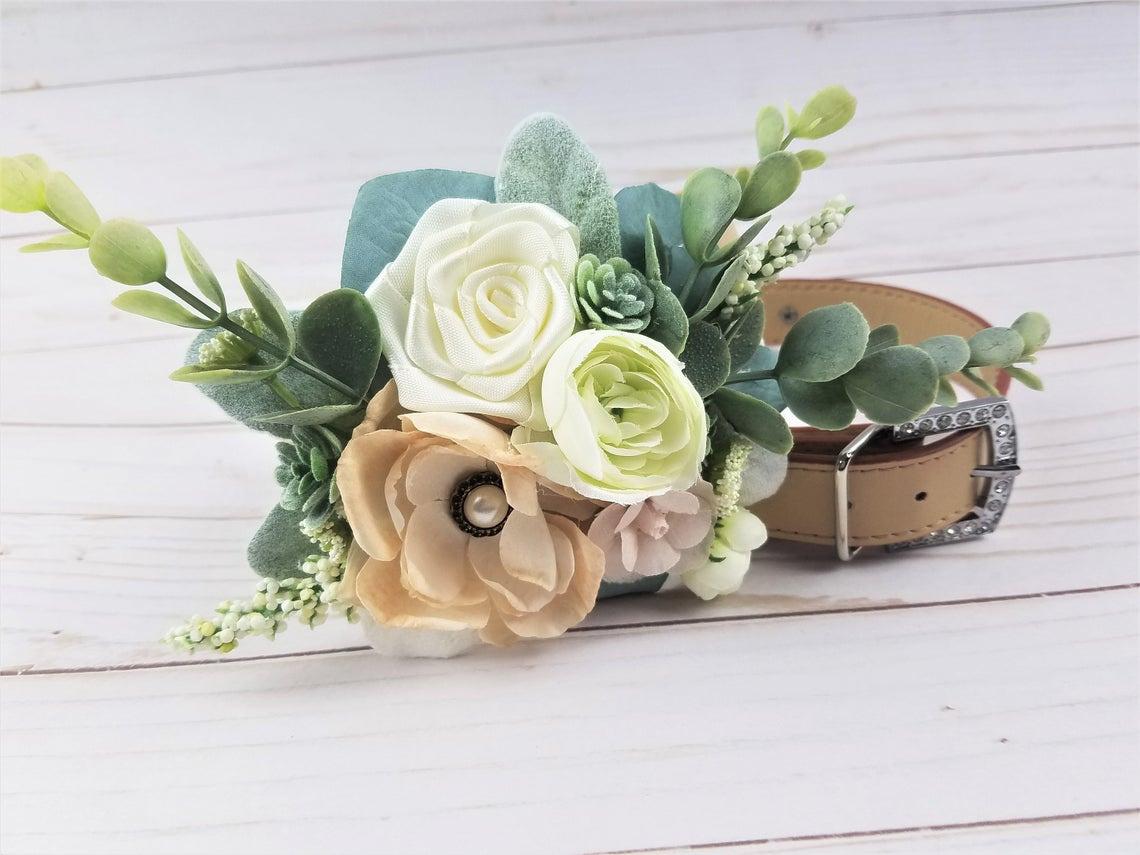 Just because your dog can't carry a bouquet like the rest of your bridal party, it doesn't mean you can't incorporate florals into their look. We love this boho floral dog collar.
9. Velvet Dog Harness – From £22.50, Waggy Bum Dog Boutique
We reckon this harness would look amazing on a boy or girl dog. Featuring ivory velvet fabric and a large bow, it's the perfect choice for a classic white wedding.
10. Wedding Personalised Dog Bandana – £16, Solesmith
We love the pink wording and sweet floral motif on this white dog bandana. Made from a light cotton, it's the ideal choice for summer nuptials.
11. Personalised Dog Wedding Flower Bandana – £19, Giddings Gifts
We love a floral detail here at Hitched HQ so it's no surprise we've fallen head over heels for this beautiful bandana with customisable detail.
READ MORE: 30 Floral Wedding Dresses Perfect for a Summer Wedding
Dog Wedding Bow Ties
12. Black Polka Dot Dolly Bow Tie – from £4.99, Salt Dog Studios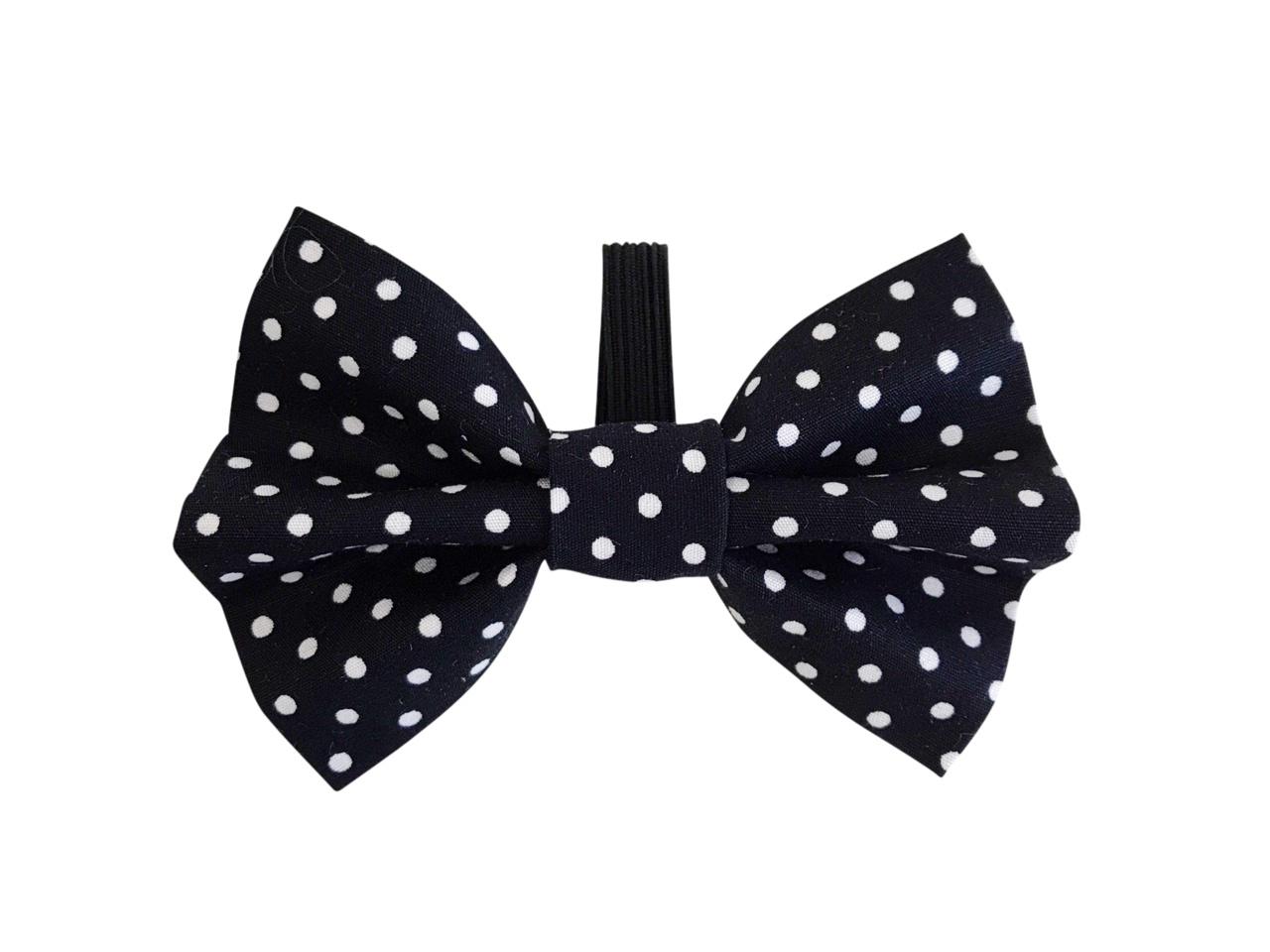 Polka dot prints are a classic choice for wedding guest dresses and we reckon your four-legged bestie would look just as good rocking the look - your guests will go positively dotty for this sweet bow tie!
13. Glitter Bow Tie Dog Collar – £29, MBT Studio
Add a touch of sparkle to your dog's wedding attire with a glitter bow tie. Available in pink, pewter and gold, there's one to match every theme.
14. Kisses Print Dog Bow Tie – £6, Sew Darn Cute Pets
Your dog will be getting all the kisses in this adorable bow tie. Slot it on to your dog's favourite collar for an instant romantic touch.
15. The Richmond Blue and White Floral Dog Collar Bow Tie – £32.50, Percy and Co.
How beautiful is this blue and white collar? We think the gold hardware details give it a luxurious feel.
16. The Barnes Blue Floral Dog Bow – £10, Percy and Co.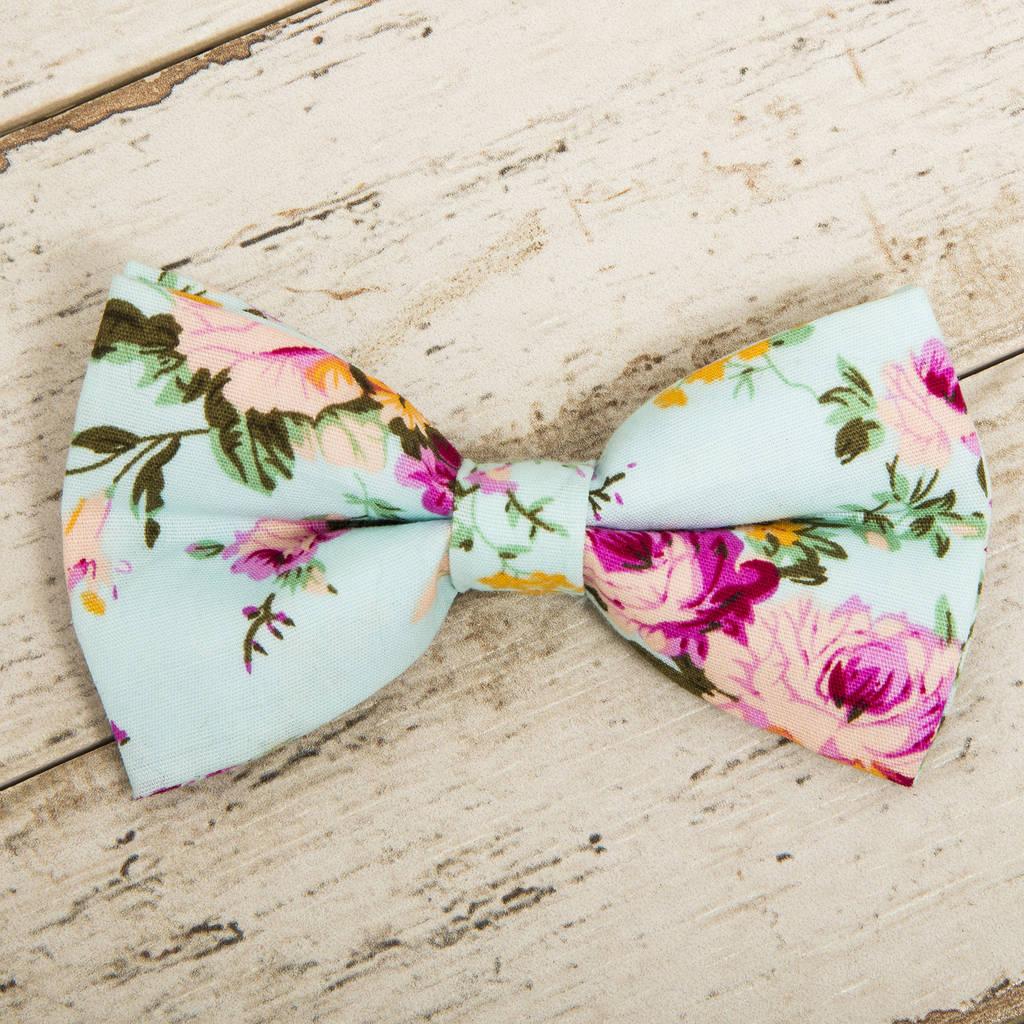 Match your furry friend with your florals and choose this pastel blue dog bow tie with rosy details.
17. Red Ticking Stripe Dog Bow Tie – £7.50, Mutts and Hounds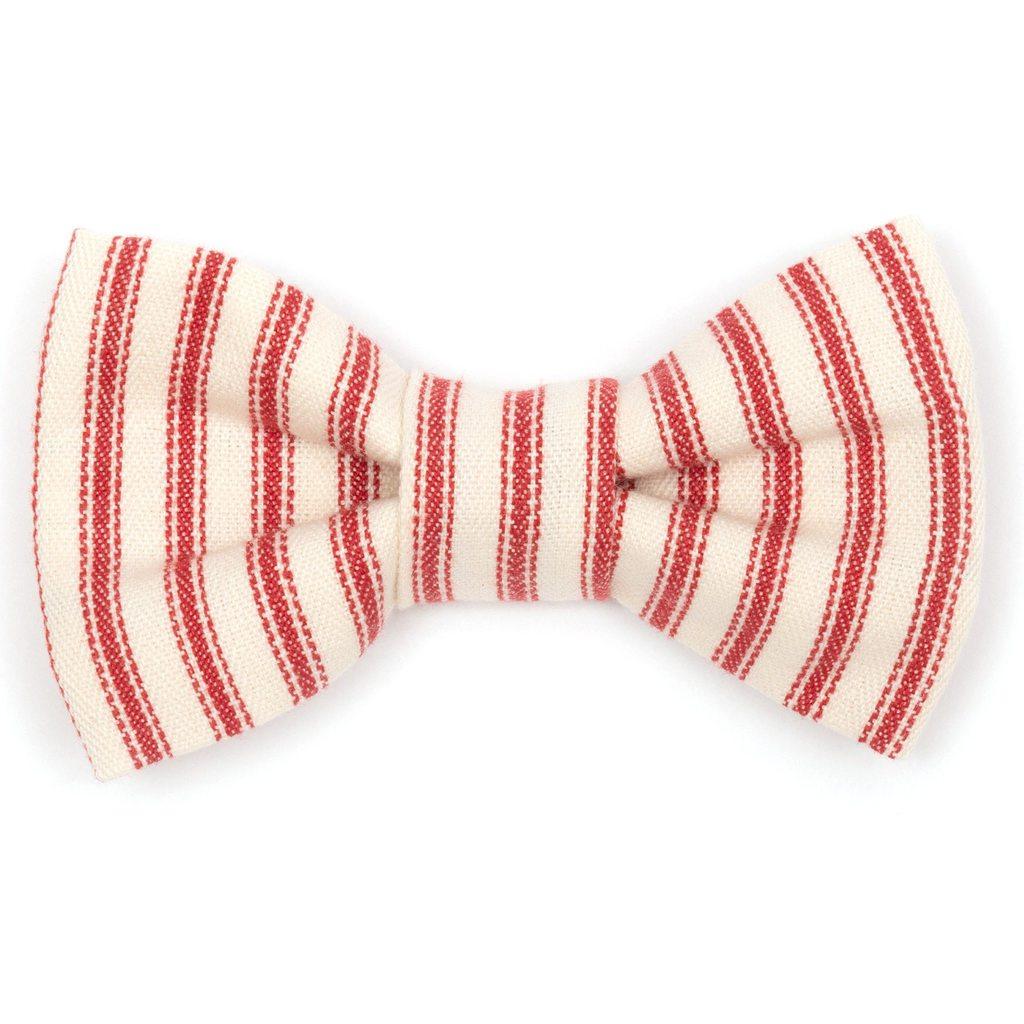 A ticking stripe is a classic pattern that will work with just about any wedding theme and any pooch which is why we think this red stripe bow tie is a winner.
Tweed Wedding Dog Outfits
18. Otto Tweed Dog Bow Tie – £24, The Distinguished Dog Company
A bow tie collar is a subtle way to incorporate your dog into your theme and we think this tweed beauty is perfect for a country wedding.
READ MORE: The UK's Most Impressive Country House Wedding Venues
19. Tweed Dog Waistcoat – £35, Bella and Watson
Good boys will look super smart in this gorgeous tweed dog waistcoat. Choose from a variety of tweeds and sizes to get the perfect match for you and your pooch.
20. Tweed Dog Coat – £25, Bella and Watson
Keep your fur-baby warm and give them a touch of country wedding styling with these adorable tweed coats. We'd totally slip a little sprig of heather in the pocket if we were you!
21. Tweed Dog Bow Harness – From £30, Paddy Paw Paws
If you're planning to take you dog up the aisle on a lead, may we suggest this gorgeous tweed harness? It comes in a variety of tweeds and even features a cute bow!
Wedding Dog Bandanas
22. Personalised Navy and Dusty Pink Dog Wedding Bandana – £19, Giddings Gifts
How smart will you pup/s look in this dog wedding bandana? We love the contrast of the blush pink against the navy and the optional gold clasp for your rings!
23. Personalised Dog of Honour Wedding Bandana – From £10.25, Daisy and Me UK
Let everyone know who's top dog at your wedding with this adorable Dog of Honour bandana. Choose from a range of colours and add your dog's name for a truly personal touch.
24. Slip on Dog Bandana – From £15, Ruff and Reggie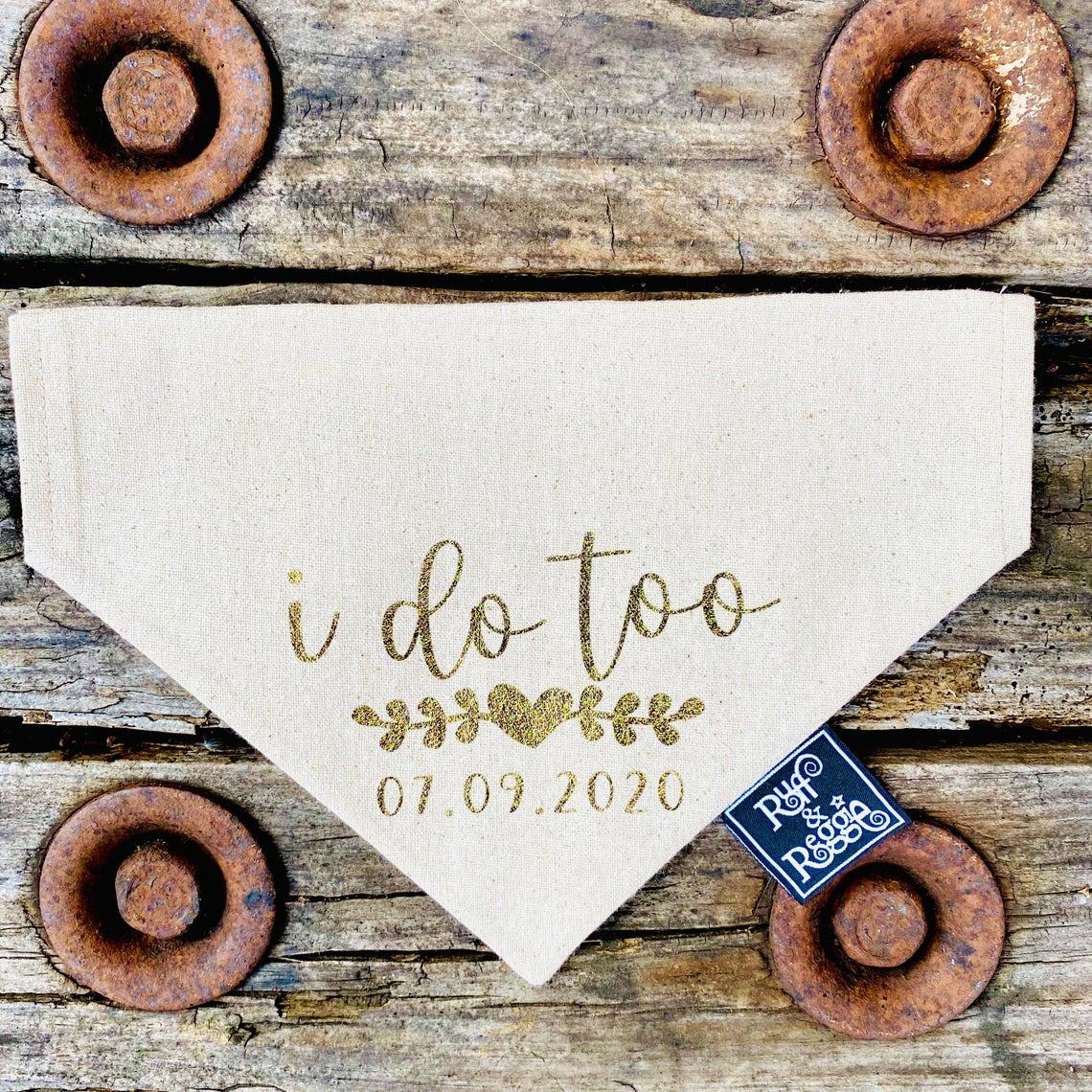 Neutral fabric ensures that this bandana will go with just about any colour scheme. We love the shimmering gold print and option to personalise it too.
24. Max Bone Leah Dog Bandana - £20, Aurora Pets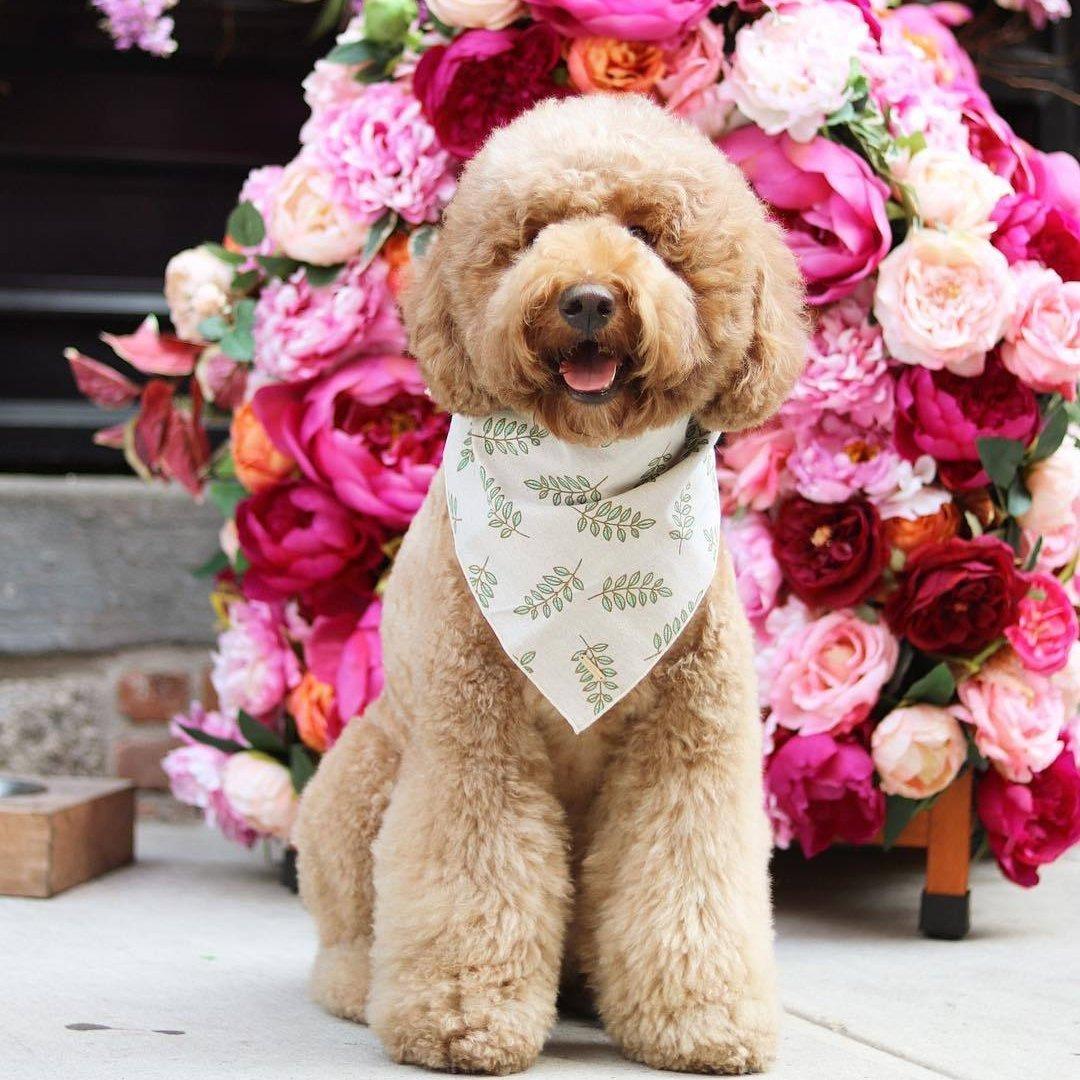 We love the simple leafy print of this dog bandana and think it would make a great look for dogs attending garden and botanical themed weddings.
25. 'My Humans Are Getting Married' Dog Bandana – £24.99, Lords & Labradors
Available in mushroom and cranberry, this velvet dog bandana with embroidered messaging will have your pup looking super smart.
26. Groomsman Personalised Dog Bandana – £16, Solesmith
Match your dog to your dress with this white bandana. Add their role in your wedding and your wedding date and this will make a lovely keepsake for after the day too.
27. Personalised Floral Spring Dog Bandana – £11.50, Hoobynoo
Watercolour florals make this dog bandana a romantic choice. Plus, you can add your dog's name for a personal touch.
Wedding Dog Leads
28. Wedding Dog Lead – From £59.99, Evie Rose Bridal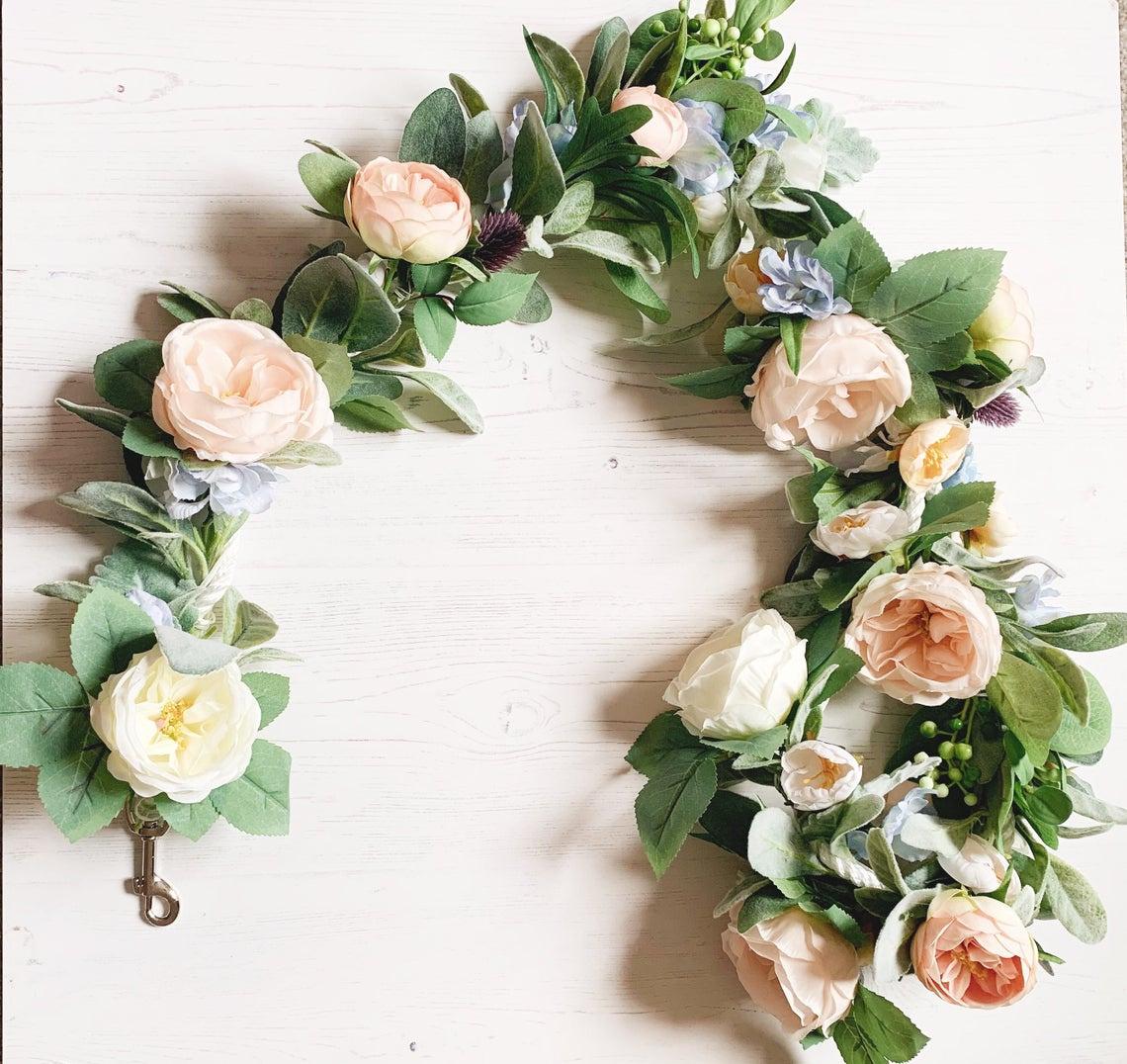 Pretty and practical, this wedding dog lead will look amazing on your photos!
29. Pink Wedding Dog Lead – £24.99, The Knot Place
Simple and rustic, this white woven dog lead is the perfect choice for laidback weddings.
30. Floral Dog Leash – From £36.43, Nomad Glitter
Leafy details, pink flowers and a brown weave lead make this beauty from Nomad Glitter a great wedding dog lead choice.
31. Dog Wedding Collar and Lead Set – £60, Storeys and Tails
White leather and gold hardware combine to make a classic wedding dog lead and collar set that can be used long after the big day.
Now that you've found a look for your pooch, make sure you have your own accessories nailed too! Don't miss out roundup of the best bridal headbands to buy now.