21 Wedding Food & Drink Questions Answered
We're here to answer the most popular wedding planning worries and questions. From how many glasses there are in a bottle of Champagne or prosecco to what you need in terms of canapés, we'll help you plan your perfect celebration.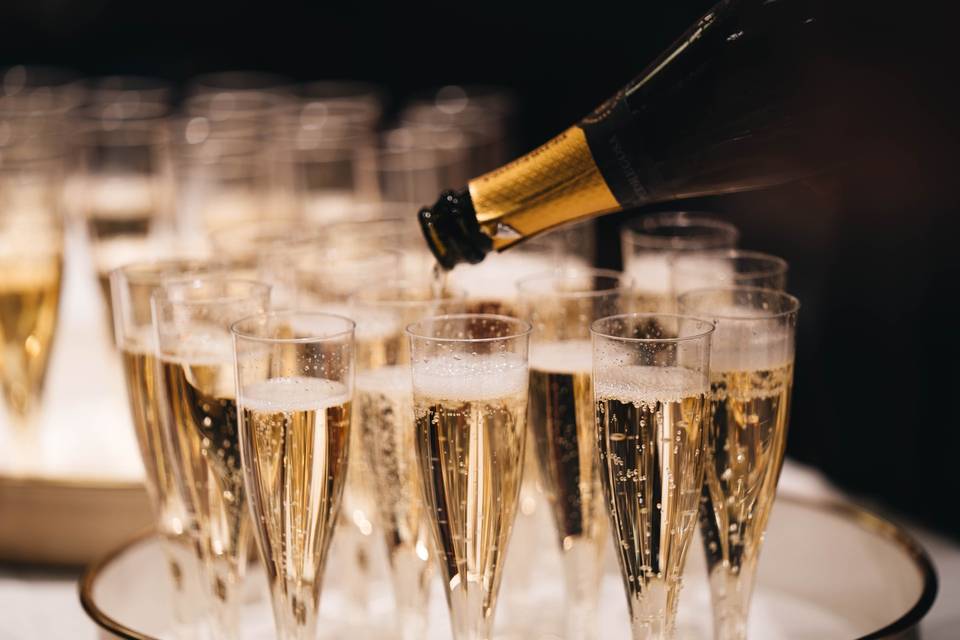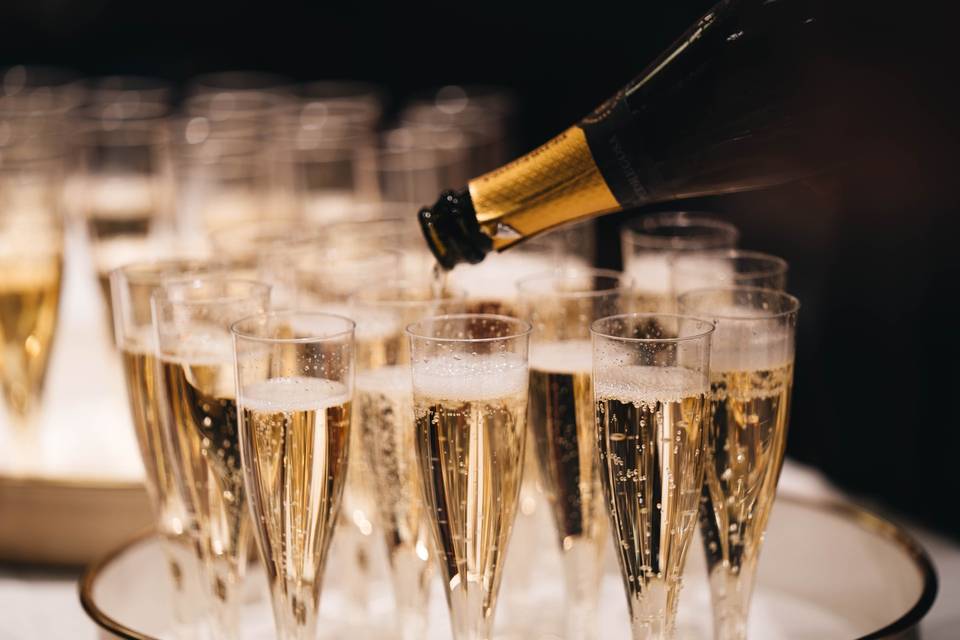 Do you know how many glasses of Champagne or prosecco there are in a bottle? What about how many canapés to allow per person? These are just some of the many wedding planning questions we're regularly asked. Even if you've planned some epic parties before, a wedding reception is very different.
For starters, there's the increased expectation. You're celebrating the beginning of the rest of your life married to the person you love - it's natural that you want everything to go perfectly. What's more, it's unlikely you're going BYOB, which means you need sufficient drinks for all your guests, at least for the main part of the day. And then there are the logistics of keeping them well fed and entertained.
That's a lot to consider. That's why we've rounded up your need-to-know wedding party planning questions, and come up with the definitive answers. Think of it as your reception FAQ!
READ MORE
1. How many canapés should we allow per person?
As a general rule, allow 4-6 canapés per person. However, it does depend on the time of day and what other food you're serving. If there's a long gap between the drinks reception and the wedding breakfast, we'd up this to 8-10 per person - and do the same if you're serving canapés instead of a starter. If you're still worried about guests going hungry, talk to your caterer about making your drinks reception food more substantial. Bowl food is a big wedding food trend trend right now - it's a cool alternative to canapés or a sit down meal. Of course, if you're having a shorter drinks reception and the wedding breakfast follows immediately afterwards, you could consider saving money and not having canapés, just so long as you're confident your guests won't get too peckish.
2. How many crackers per person for a cheeseboard?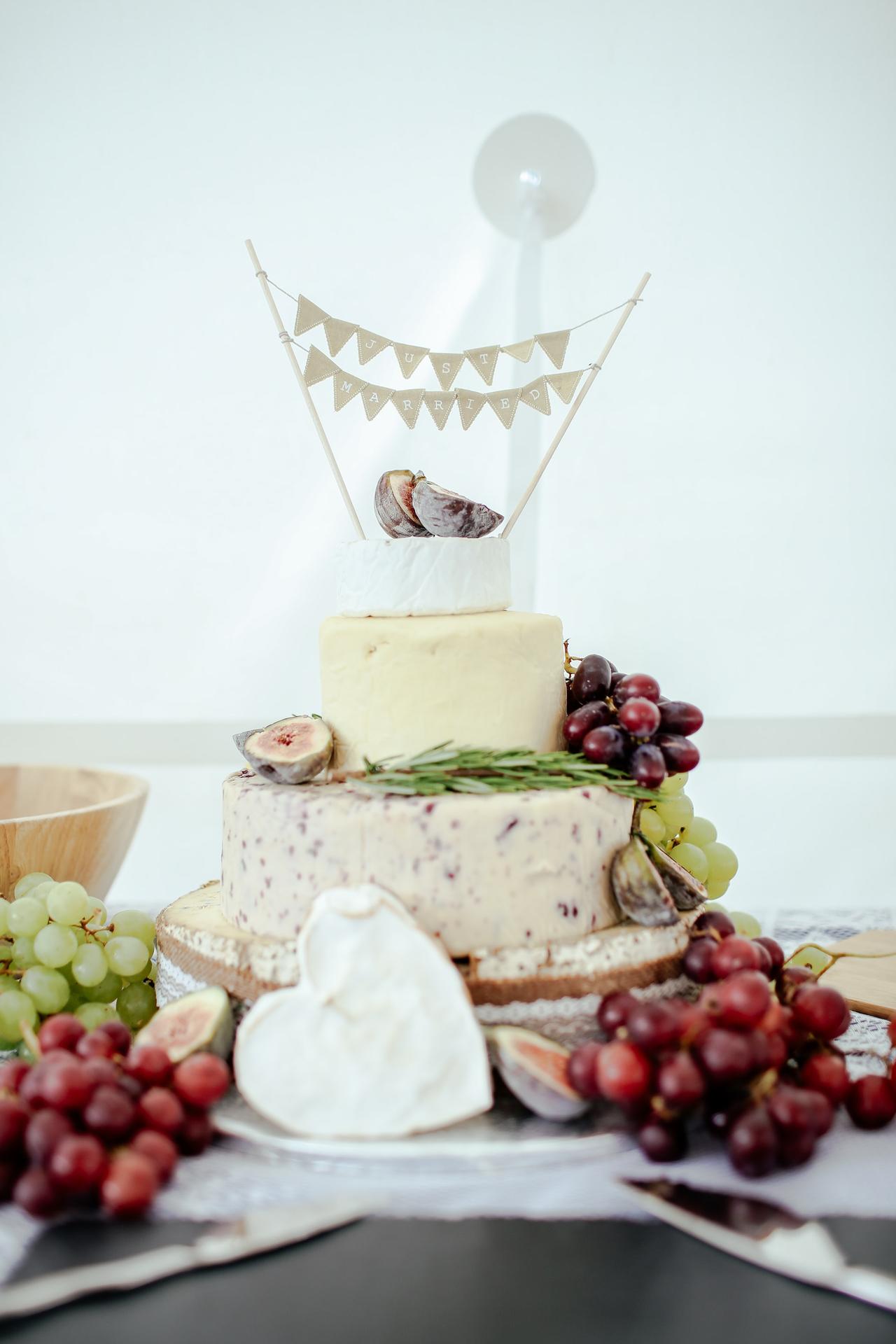 Opting for a cheeseboard or a cheese wedding cake? Then you'll be wondering how many crackers you'll need to buy to go with it. Allow around 100g of cheese per person, and 4-5 crackers to go with it.
3. How many serving staff do we need?
The number of waiters you need at your reception depends on the type of meal you are having. For a formal sit-down meal, you'll need one member of staff per 10-12 guests. If you're having a more informal buffet reception, allow one waiter per 25 guests. You'll also need to think about how many people you need manning the bar at the evening party. Few things bring down the mood more quickly than having to queue for drinks - we'd say 1 bartender per 30 guests to avoid this, and you'll need more staff if you're having cocktails. You can reduce pressure on staff by having easily grab-able drinks - bottles of beer, say - in buckets of ice, so some guests can help themselves.
4. How many types of cocktail should we have?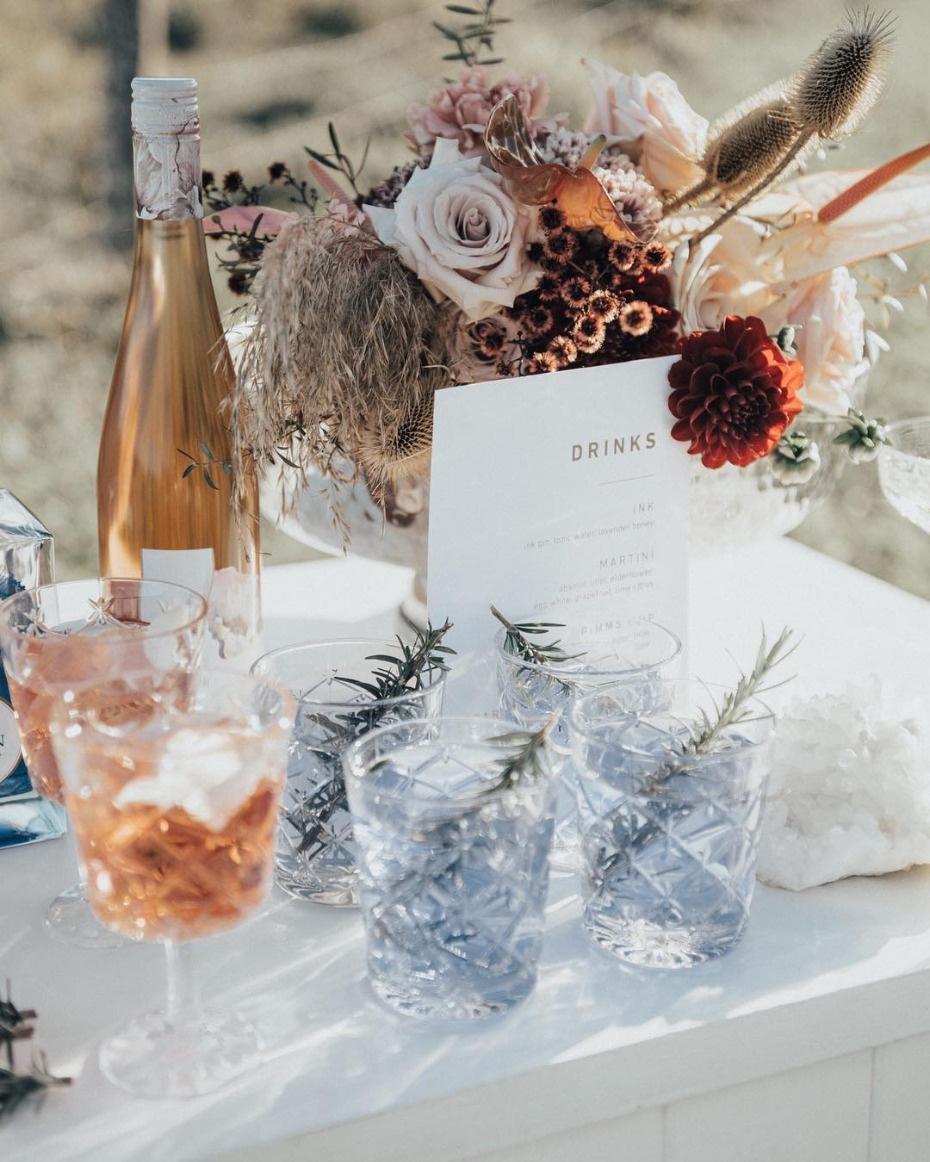 Budget allowing, it's a lovely touch to have signature cocktails at your drinks reception or evening reception. We recommend two types of alcoholic cocktails - one each to reflect you and your partner's different tastes - and one non-alcoholic version to cater to all needs. You could also try a drinks station, such as a pimp-your-prosecco bar with fruits and liqueurs. They're a great idea for guests who want something interactive. You'll need serving staff to keep an eye on any drinks station to keep the ingredients topped up.
5. How many different glasses do we need?
Delving into the world of glassware is enough to confuse even the most accomplished of bartenders (or bar attenders...). We suggest keeping things simple: Champagne flutes, large wine glasses for red wine, smaller wine glasses for white wine, and water tumblers should cover it, unless you're also having cocktails that require specific glasses.
READ MORE: Wedding Table Decorations: 45 Beautiful Tablescape Ideas
6. Which items of cutlery and crockery will we need?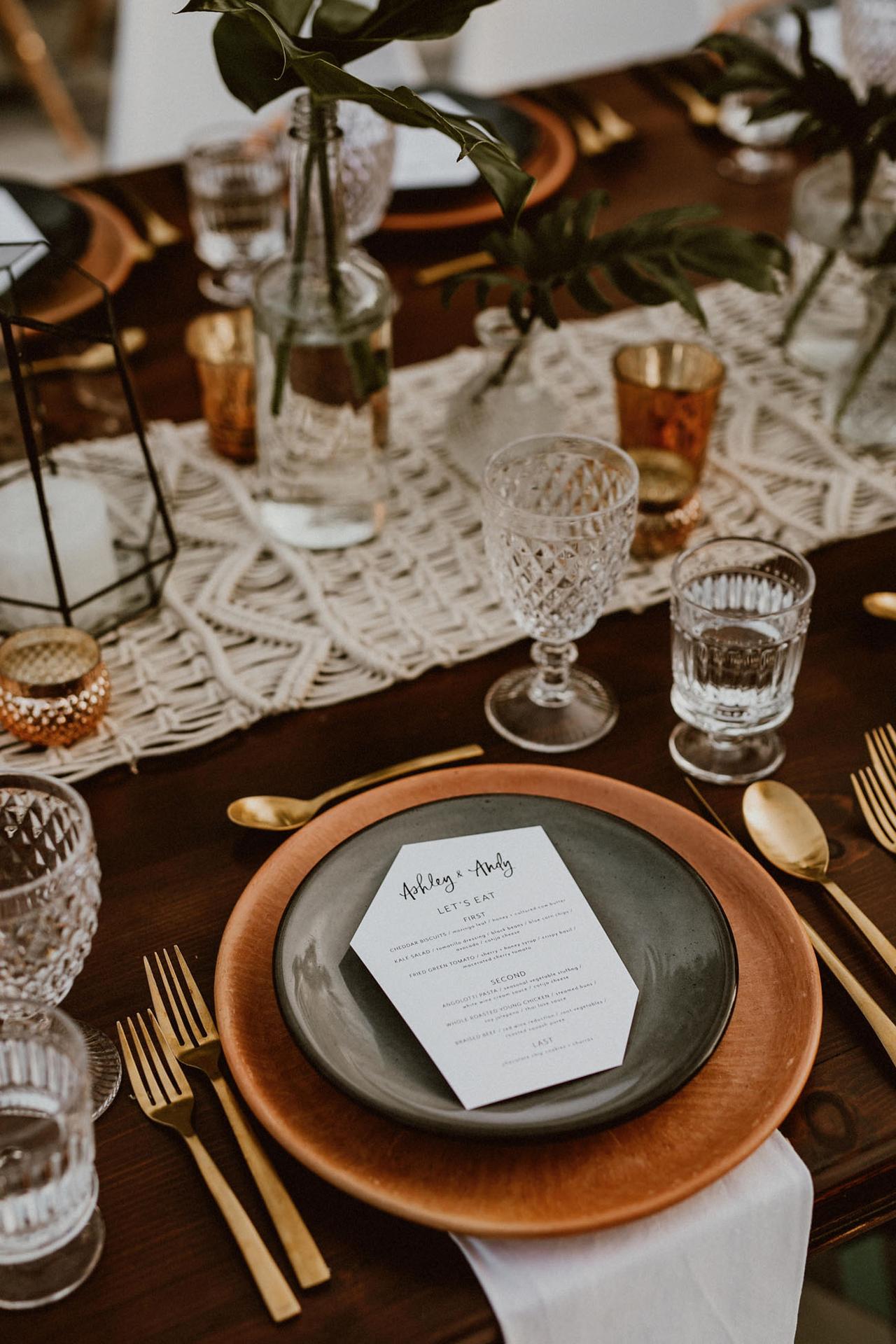 Hiring the right type of cutlery and crockery – and the right amount – can be difficult. Order nothing until you've pinned down your menu. Lay out a mocked-up place setting to work out exactly what you need, and order around 5% extra of each item to allow for any drops. Remember, you may want to include some decorative elements, too, such as charger plates - large plates that are purely there to make a place setting look good.
7. Do we have to serve Champagne?
Champagne has long been associated with celebrations, so it's a classic wedding drink. However, some people simply prefer the taste of other types of bubbles, or you may be looking to keep costs down by choosing a different type of fizz. Prosecco, Crémant and cava are all perfectly lovely alternatives, and you could also consider British sparkling varieties.
READ MORE: Wedding Traditions & Their Meanings: 15 Things You Never Knew About Weddings
8. How many glasses are in a bottle of Champagne or prosecco?
A standard bottle of Champagne or prosecco is 75cl (or 750ml). If you're being generous, this will give six fairly large glasses. If you're only part-filling glasses for a toast, you could stretch a bottle of Champagne or prosecco to fill eight flutes.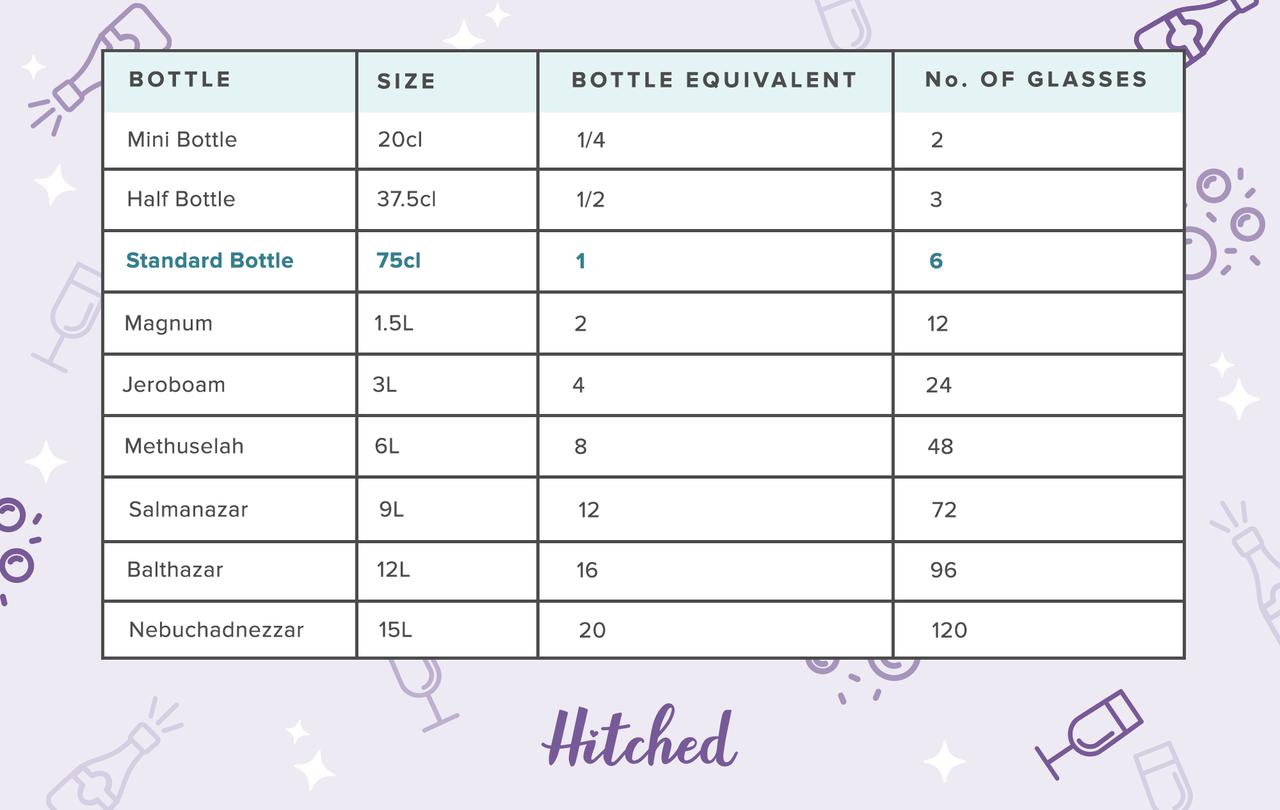 Champagne and prosecco bottle sizes are as follows:
Mini bottle - 20cl - 1/4 of a standard bottle - 2 glasses
Half bottle - 37.5cl - 1/2 a standard bottle - 3 glasses
Standard bottle - 75cl - 6 glasses
Magnum - 1.5L - 2 standard bottles - 12 glasses
Jeroboam - 3L - 4 standard bottles - 24 glasses
Methuselah - 6L - 8 standard bottles - 48 glasses
Salmanazar - 9L - 12 standard bottles - 72 glasses
Balthazar - 12L - 16 standard bottles - 96 glasses
Nebuchadnezzar - 15L - 20 standard bottles - 120 glasses
9. How can we keep Champagne fizzy?
Your caterer will take care of this, but if you're having a serve-yourself drinks station that involves champagne or prosecco, investing in some Champagne stoppers is worth the money.
10. How quickly does Champagne go off?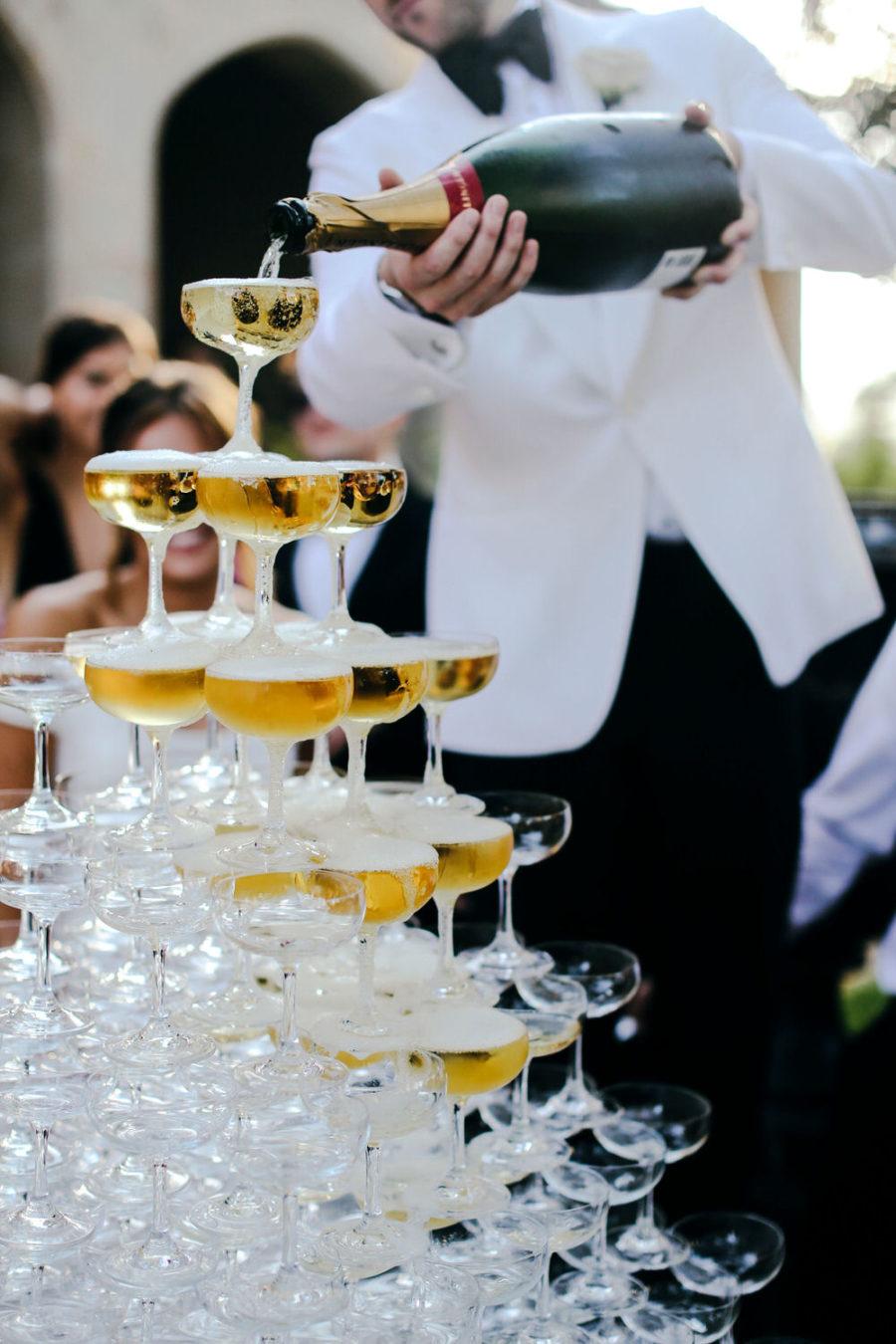 Champagne has a shelf life, and will go flat after time even if it's left unopened. Although it depends on how it's stored, as a general rule champagne goes off after 3-4 years. All the more reason to drink the leftovers when you're back from your honeymoon! The only exception to the rule is very expensive vintage champagne, which is made to last for decades.
11. What is the best way to store wine and Champagne?
The best way to store wine and champagne is horizontally – this is to keep the cork moist so that it doesn't dry out. If you're feeling really suave, keep bottles at a temperature of between 10 and 15 degrees celsius.
READ MORE: How to Plan Your Wedding Top Table: 8 Top Table Wedding Seating Arrangements
12. What if we don't want guests to post photos of the wedding on social media?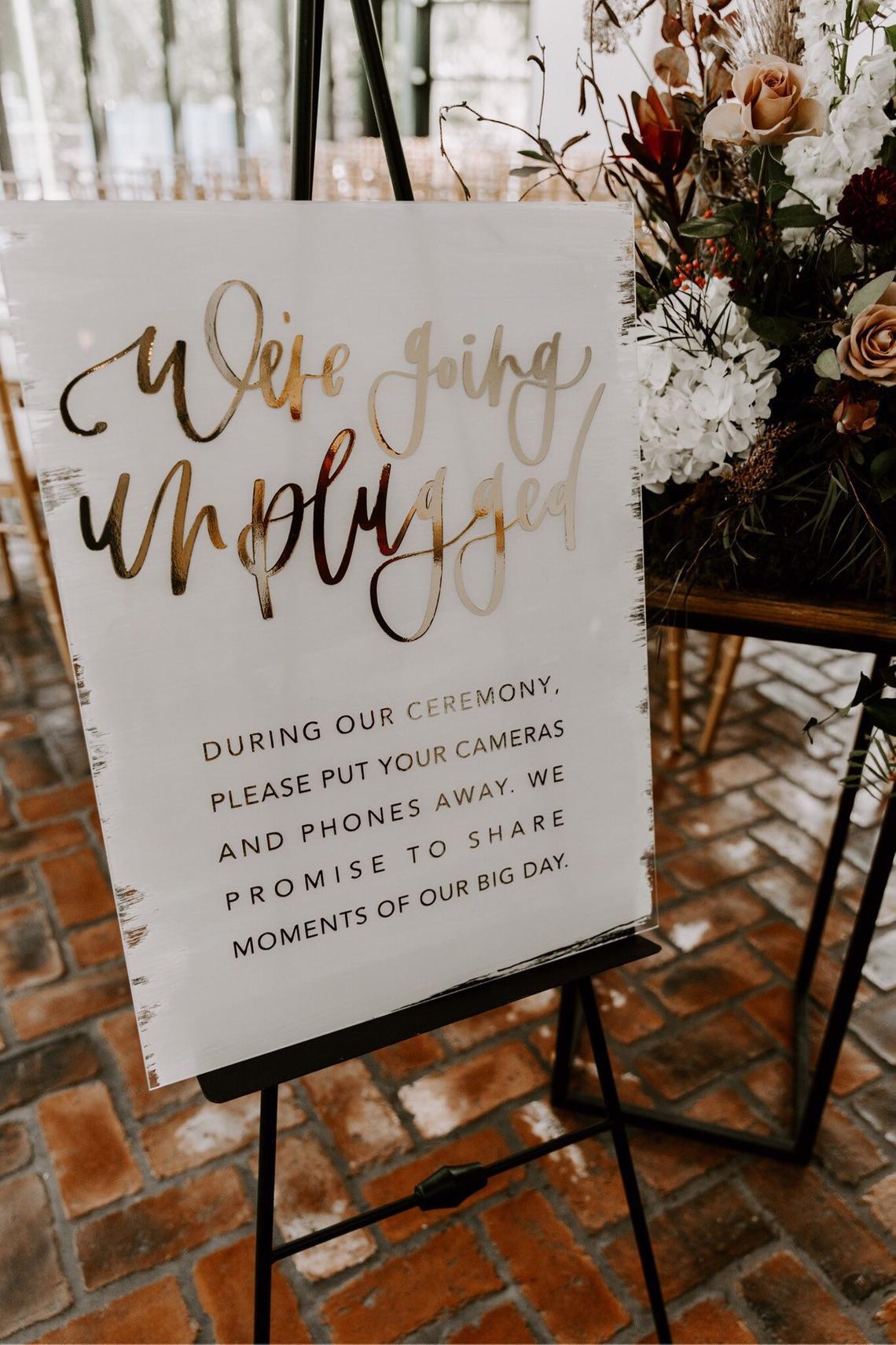 It's fine to have an unplugged wedding - our guide to the dos and don't of social media at weddings has ideas for how to let your guests know. You could also ask guests to use a wedding photos sharing app instead of social media, so you can see the pictures they take without these being shared more widely.
13. What is corkage?
This is a per-bottle fee that some wedding venues charge if you bring in your own alcohol, rather than buying it through them. If you were hoping to save some money by sourcing your wine and beer elsewhere, a corkage fee can really increase the price, so make sure you find out your venue's policy before you sign the contract.
READ MORE: 32 Essential Questions to Ask Your Wedding Venue
14. What is cakeage?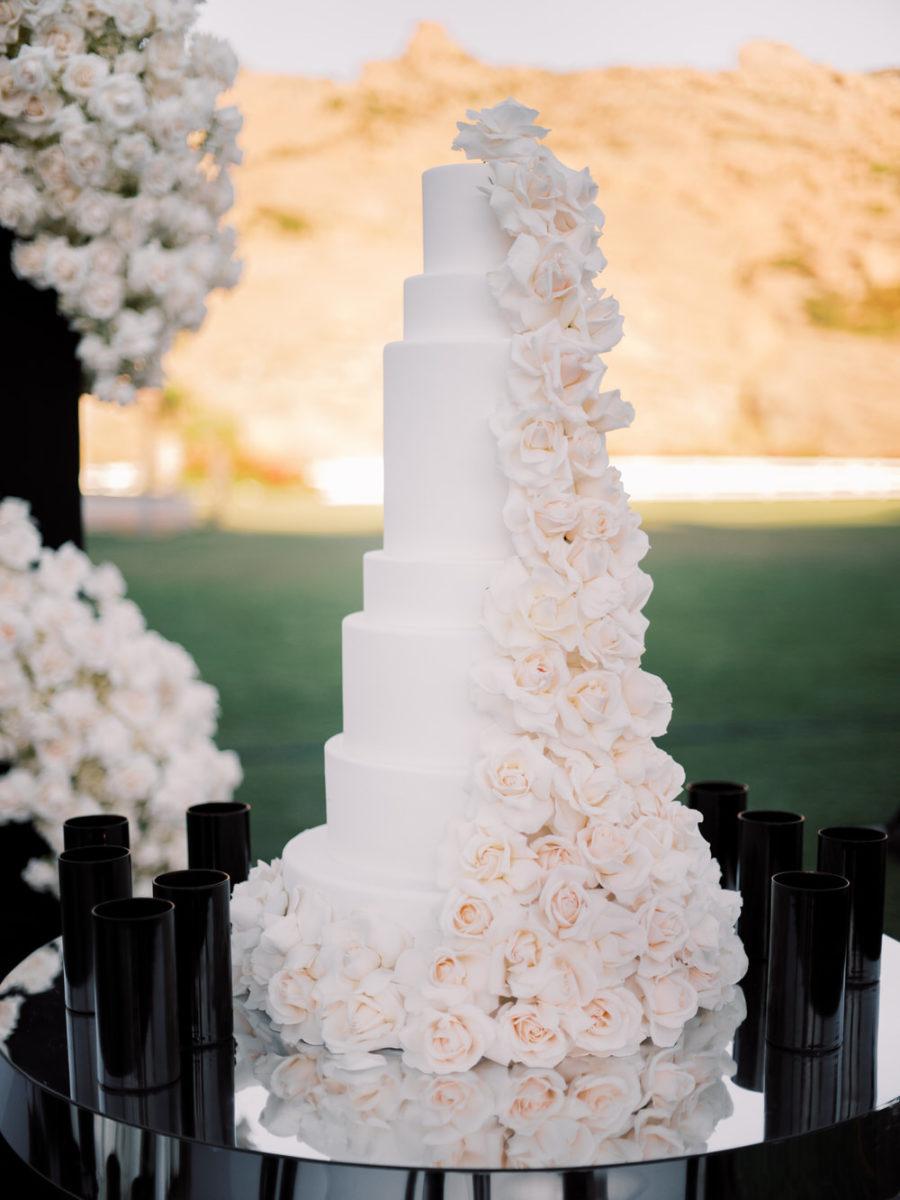 This is the same idea as corkage - you pay your venue an extra fee for having your cake made by an outsider bakery instead of in house.
15. Should we have music during the drinks reception and wedding breakfast?
It's not compulsory, but music is great for adding atmosphere. Don't choose a genre that'll be too distracting - your drinks reception and wedding breakfast soundtrack should be a background against which your guests can chat; save the amazing tracks for the dance floor! You can always consider having DIY wedding music if you're on a budget, rather than hiring live musicians.
16. When should we have the speeches?
Traditionally, you have the wedding speeches after the wedding breakfast - check out our guide to the traditional wedding speech order for more information. Saying that, you don't have to follow tradition; think about what suits you best. You may prefer to have the speeches during the drinks reception, for example, so the speakers can fully enjoy the wedding breakfast without feeling nervous about their impending public speaking. You could also have a speech after each course. Whatever you decide, make sure your caterer knows, as the timing will affect service.
READ MORE: 10 Steps to Writing the Perfect Wedding Speech
17. Do I need to feed the photographer or other on-the-day suppliers?
This depends what their contract says. Some are happy to bring their own food, others will expect some form of sustenance - and frankly, it's a long day and they won't have anywhere to store chilled food, so this is totally reasonable. If you're worried about costs, ask your caterer if they can provide less expensive supplier meals.
18. Do we have to provide evening food?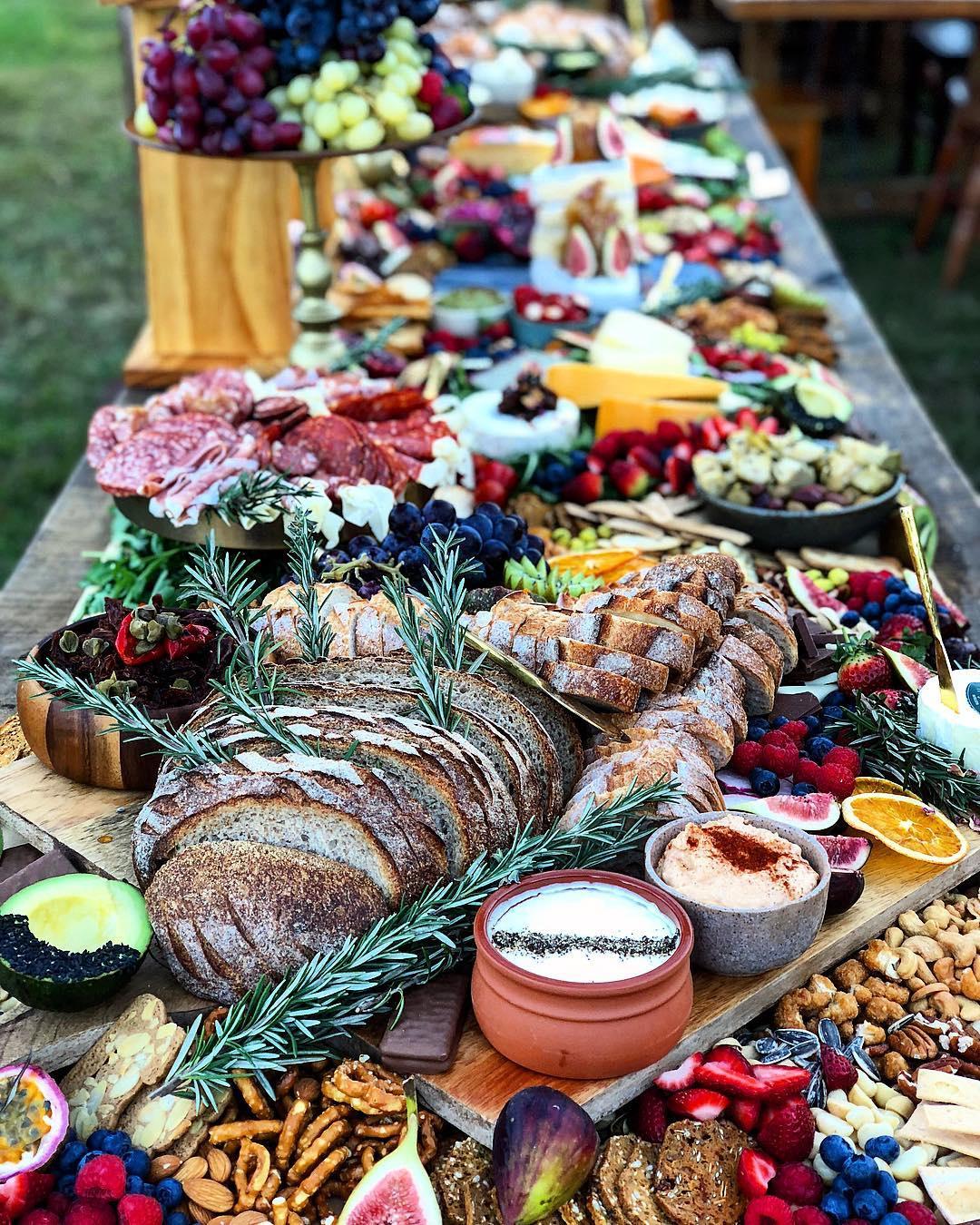 Evening food isn't compulsory, but it's definitely recommended in some circumstances:
Your wedding breakfast is relatively early, meaning your guests will have hours without eating until the end of the night. Alcohol and empty stomachs rarely mix well.
You've invited evening-only guests - it's only polite to offer them something.
You're not having a wedding cake, so there's nothing for guests to munch on as the evening continues.
Evening food doesn't have to be elaborate. Grazing tables are very on trend. This is a table full of charcuterie, cheese, olives, dips, breads and fruits - they look amazing and are great for guests to dip into. You could also have a finger buffet, cones of fish and chips or the classic bacon butty. Venue allowing, you could even order pizza, or hire a mobile wood-fired pizza van.
19. How much wine do we allow per guest?
Half a bottle per guest with the wedding breakfast should do it - perhaps build in a safety net if you know your guests are particularly partial to wine! It's then up to you whether you provide further drinks in the evening (our preferred option, if you can) or ask guests to pay for their drinks.
20. How long should the drinks reception be?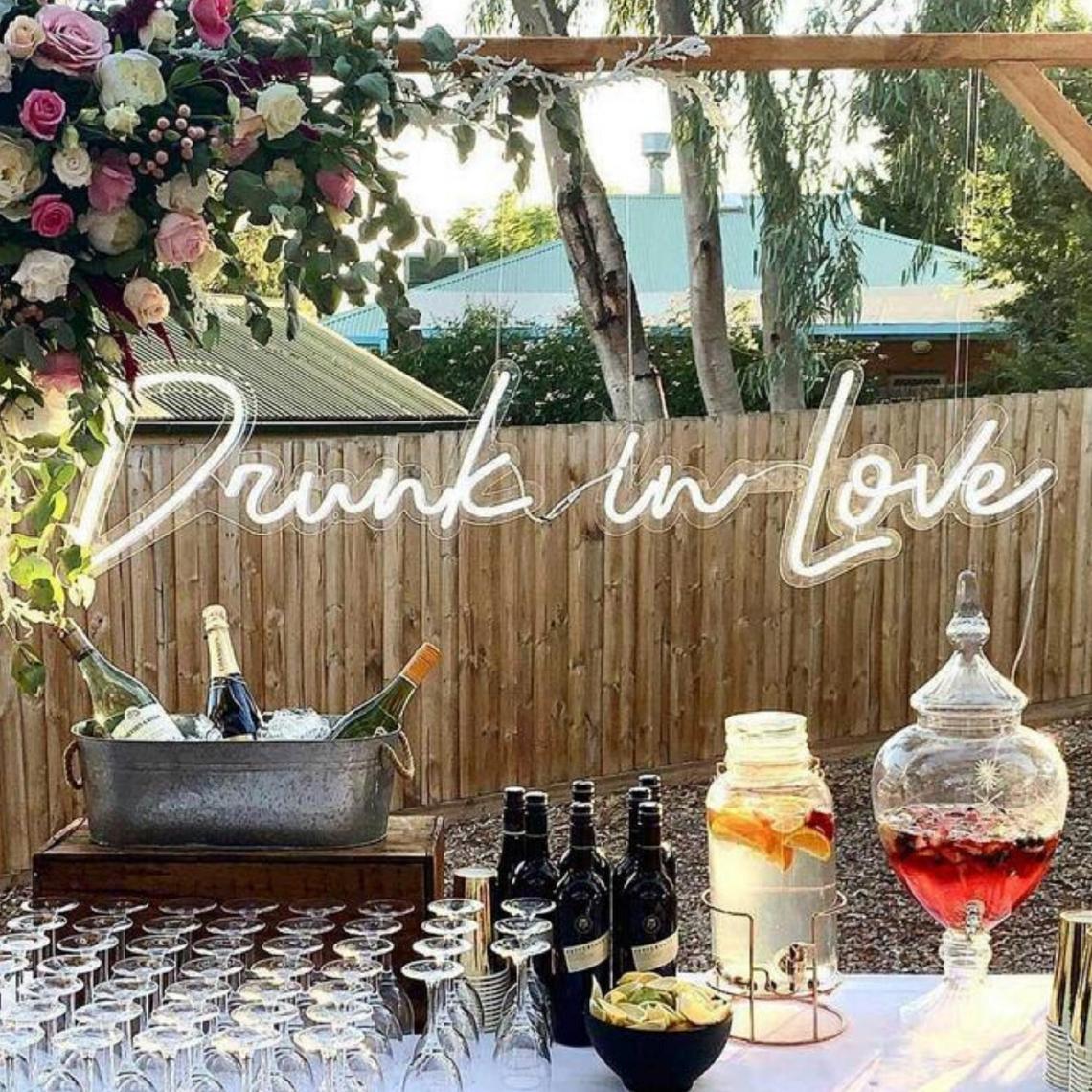 This is when you'll have your first chance to chat to your guests. We suggest one and a half to two hours, so you get plenty of time to celebrate with your loved ones - you may be having your newlywed portraits done for part of the drinks reception, so you don't want to make it too short and end up missing most of the fun! But you also need to consider the length of the drinks reception within the context of your ceremony and wedding breakfast timings, taking the whole day into account.
21. Do we have to provide favours?
Favours are a nice extra, but certainly won't be missed. If you do decide in favour (sorry), foodie items generally go down well. These don't have to cost a fortune - check out our DIY food wedding favours for make-at-home treats.