25 Royal Wedding Venues Fit For a Princess
Looking for a grand and impressive wedding venue? These stunning stately homes, majestic castles and real palaces are fit for royalty!
We have included third party products to help you navigate and enjoy life's biggest moments. Purchases made through links on this page may earn us a commission.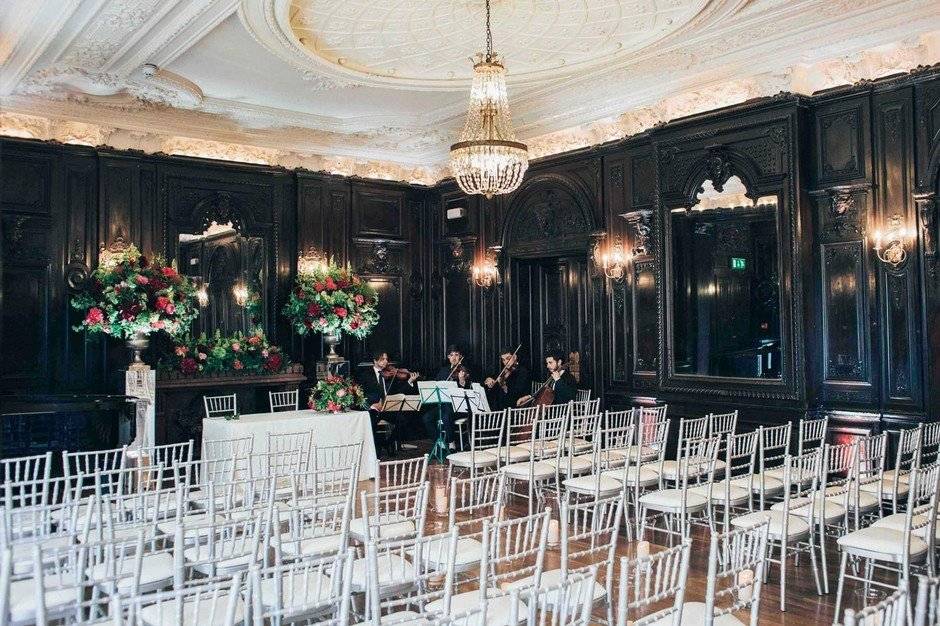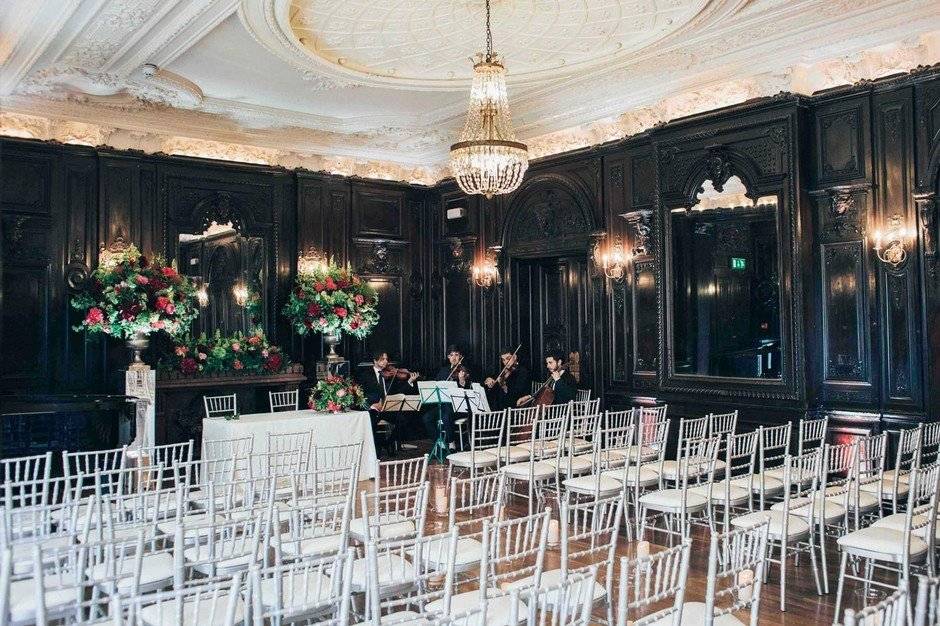 Not all of us are lucky enough to have an ancestral castle to tie the knot in like Prince Harry, but that shouldn't stop you throwing a wedding fit for royalty.
Whether you've got Harry and Meghan's budget or not, the UK is home to some of the world's greatest stately homes and castles that'll provide the most impressive backdrop to your wedding day.
Here are 25 of the best royal wedding venues that'll make you and your guests feel like kings and queens for the day.
Kensington Palace, London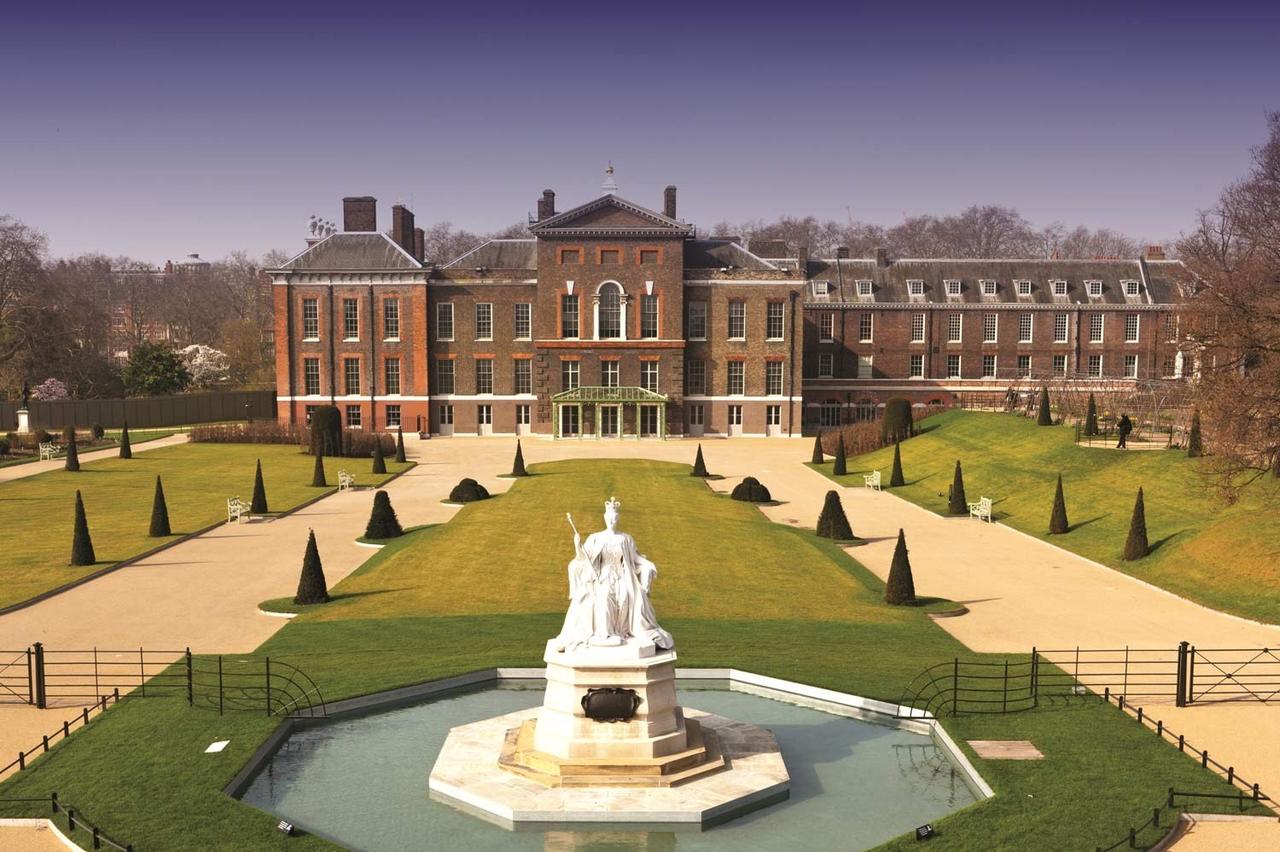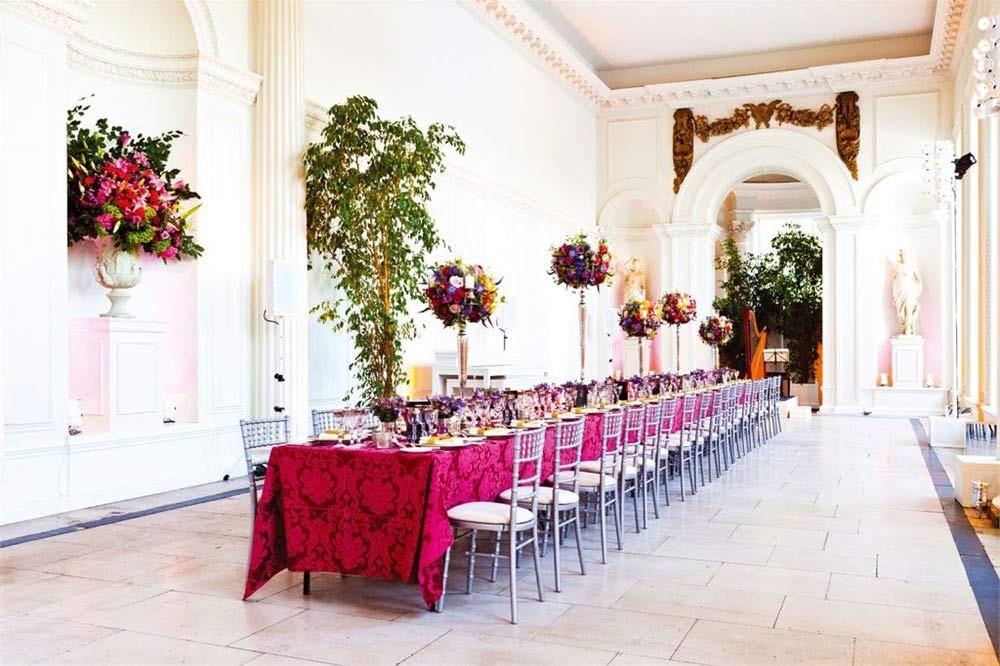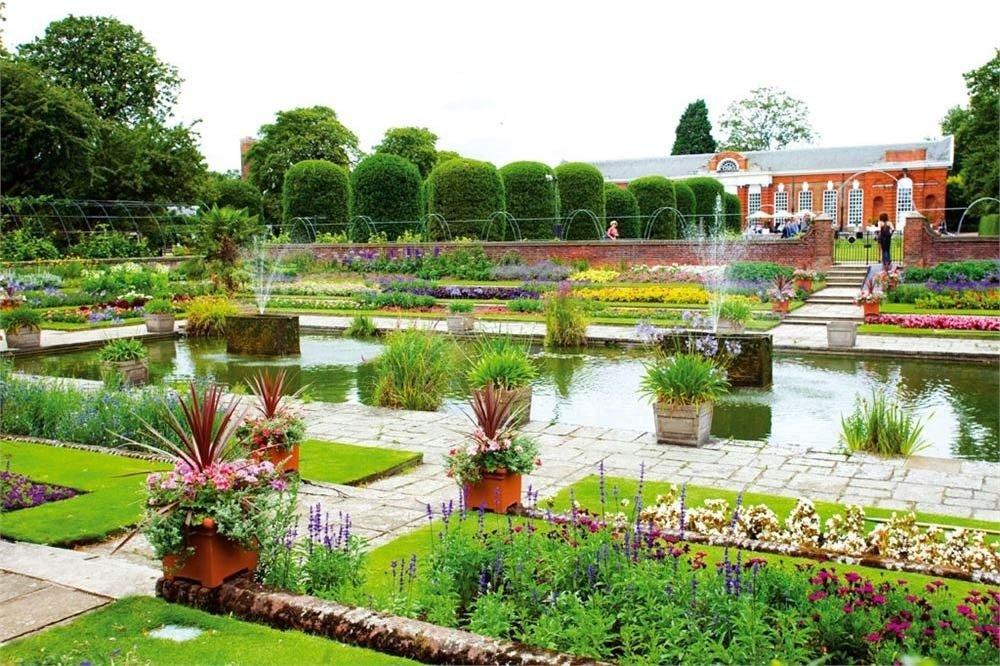 The home of royalty past and present, throwing a wedding at Kensington Palace is almost like having current residents Harry and Meghan as guests.
An oasis of calm right in the middle of London, very few venues can match the elegance and majesty of Kensington Palace. For a unique ceremony, say 'I do' under The Orangery's romantic Corinthian columns or in the tranquil gardens. The Orangery can accommodate up to 150 guests for a civil ceremony, while the beautiful Orangery Lawn can host a marquee reception for 1,000 if your guest list matches the size of a royal one.
Holkham Hall, Norfolk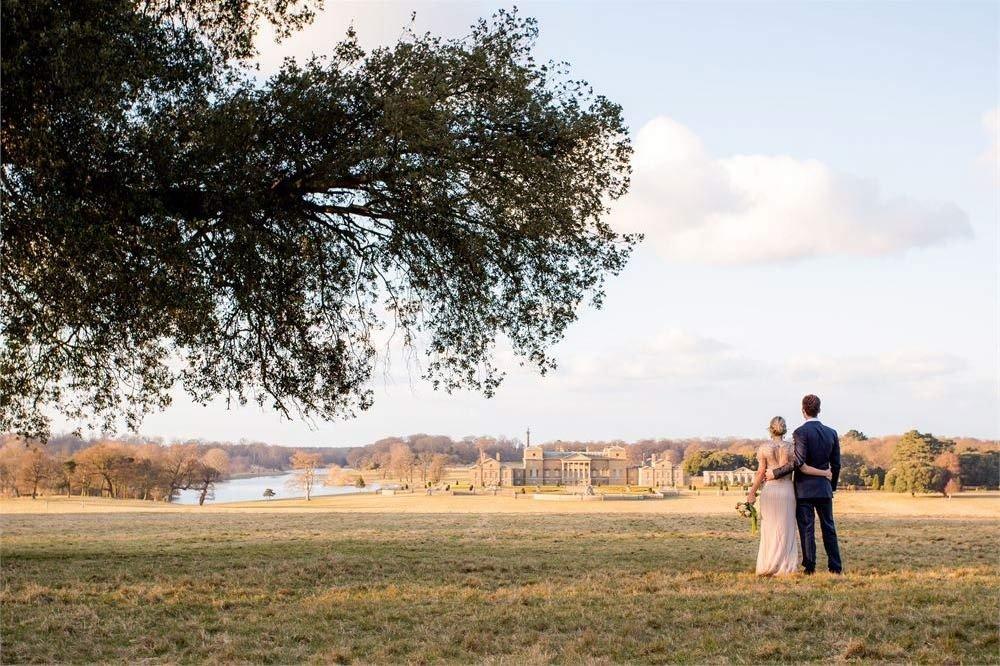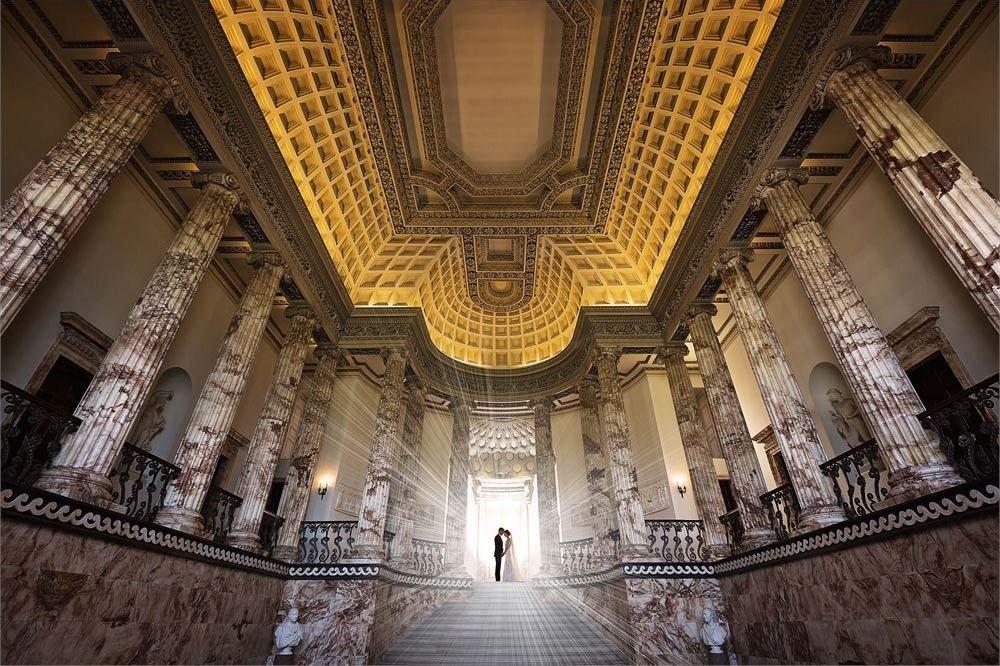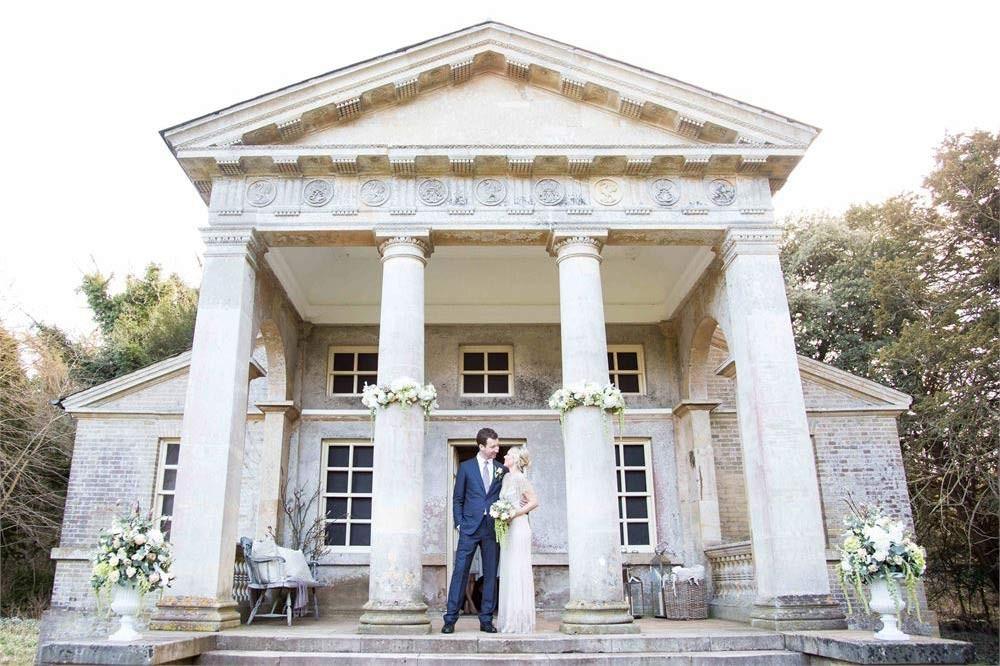 If photographic opportunities are high on your must-have list, then Holkham Hall's vast and majestic Marble Hall and the secluded Temple tucked away in the woodlands of Holkham Park will tick all your boxes.
Based on the dramatic architecture of the Roman Pantheon, the Marble Hall can seat up to 170 guests, while the Temple is their most intimate venue at just 25 guests. Full of character, history and theatrics, this regal wedding venue is ideal for couples wanting a show-stopping wedding.
READ MORE: How To Choose Your Wedding Venue
The Alnwick Garden, Northumberland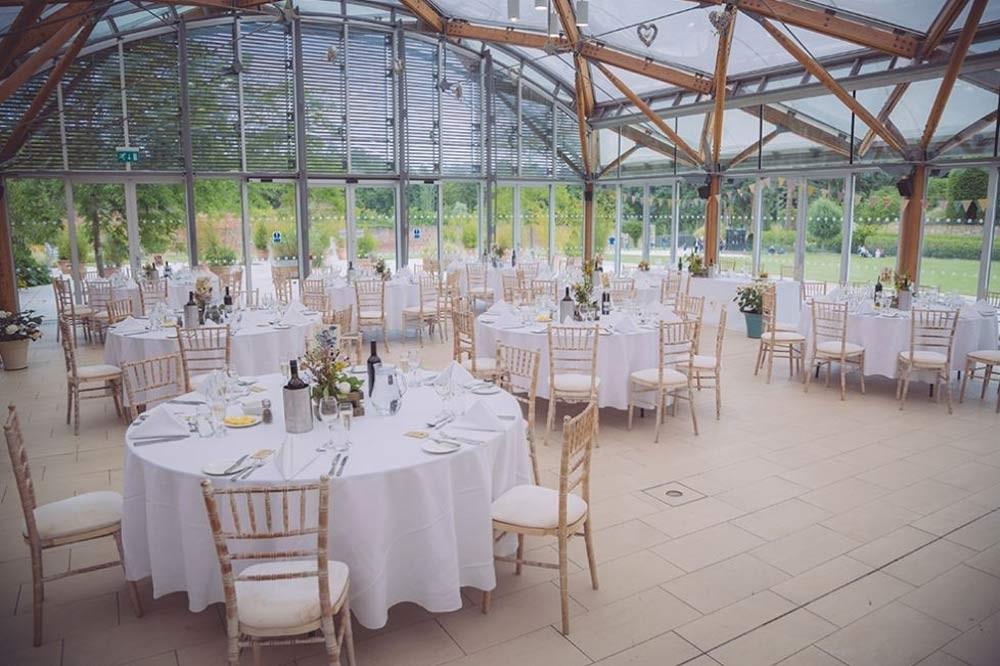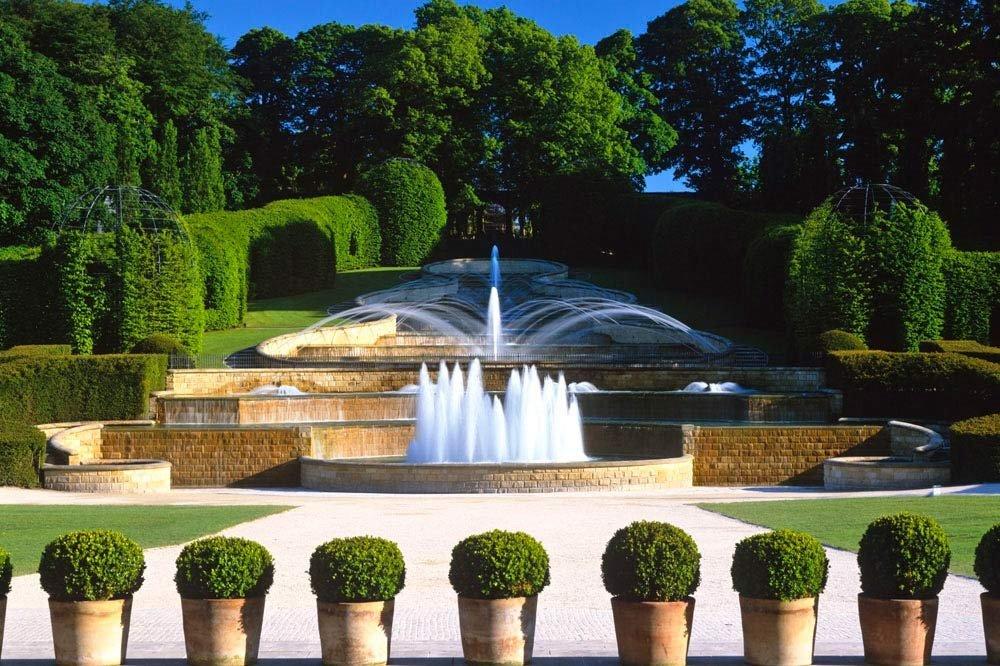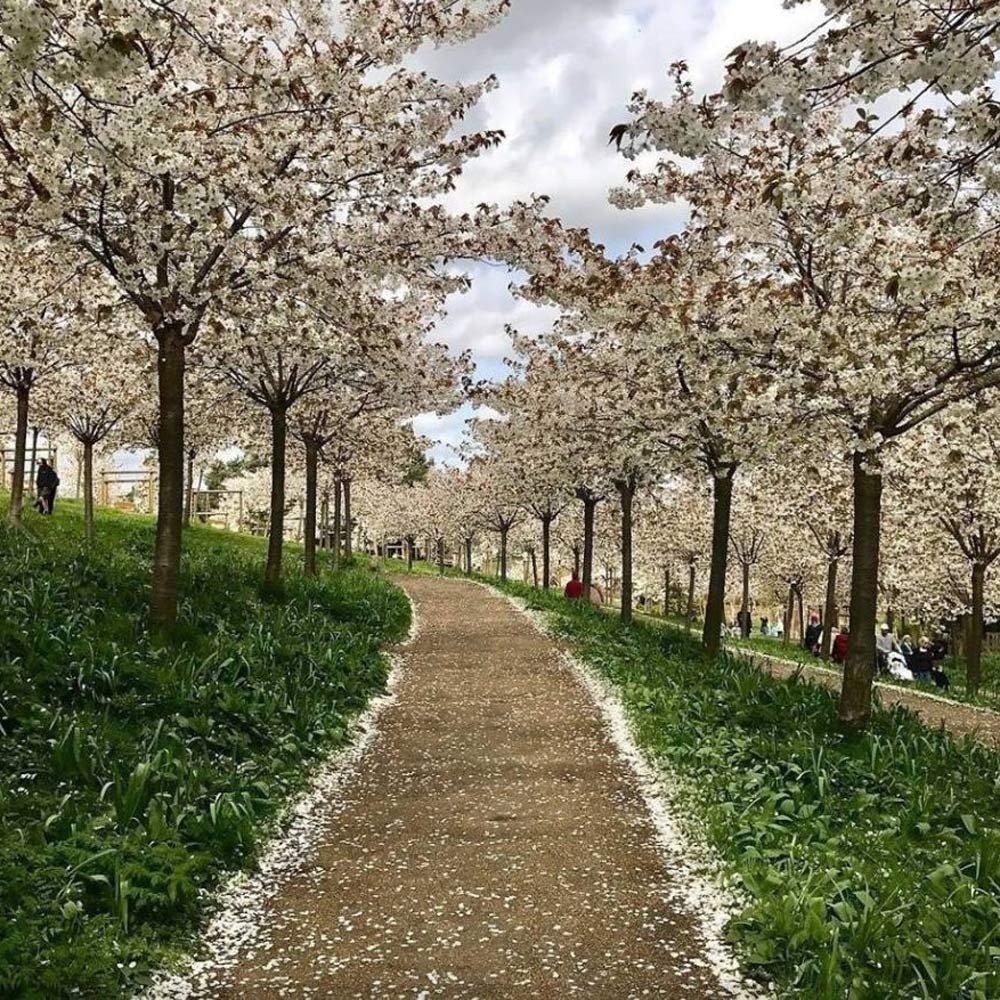 The famous Alnwick Garden is a truly unique and quirky location for those looking for something a little different from neighbouring Alnwick Castle – a favourite for aristocratic weddings and known for starring as Hogwarts in the Harry Potter films. Its 10 different gardens include the Cherry Orchard, Grand Cascade, Bamboo Labyrinth and the intriguing Poison Garden.
Home to one of the world's largest tree houses – just one of their wedding venue options – guests will be surprised and delighted by this imaginative wedding location.
Nutfield Priory Hotel & Spa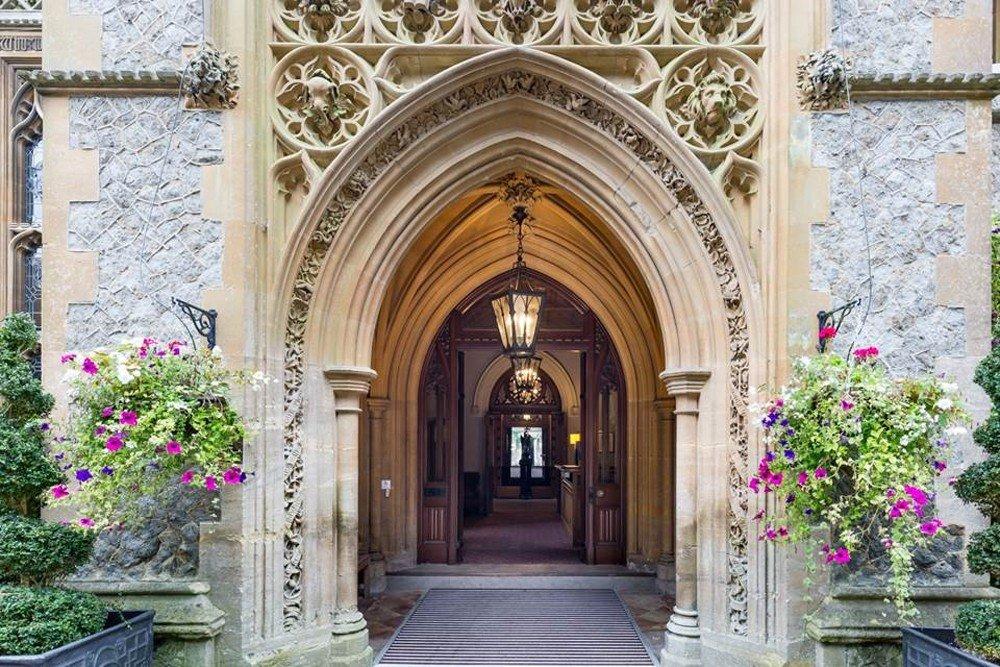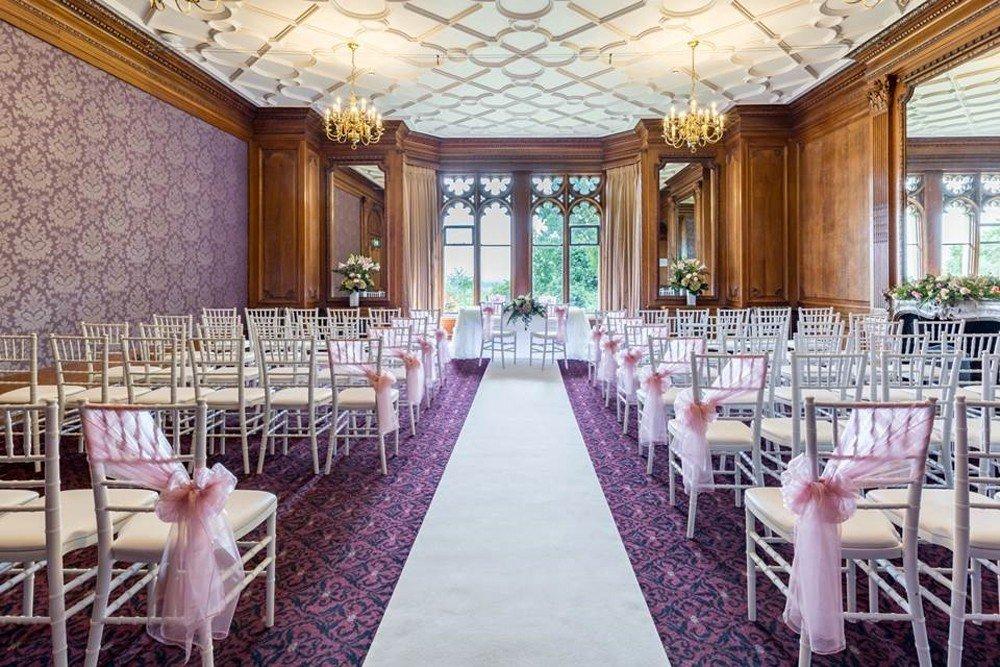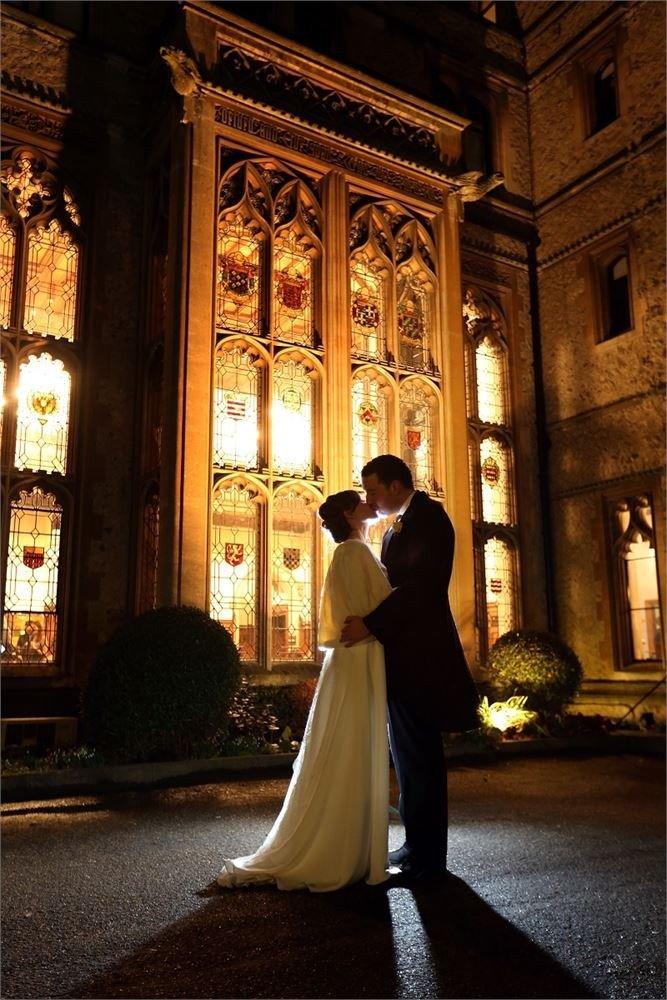 This Victorian mansion house's design was inspired by the Palace of Westminster and it reflects the splendour both inside and out. Guests can explore Nutfield Priory's stylish interiors, with walls lined with fine arts, while outside the terrace offers magnificent views over the Surrey and Sussex countryside, perfect for your wedding photos.
Their wedding package even includes one month's free membership to their health club for the couple before the wedding – it doesn't get more regal than an exclusive spa membership!
Hampton Court Palace, Surrey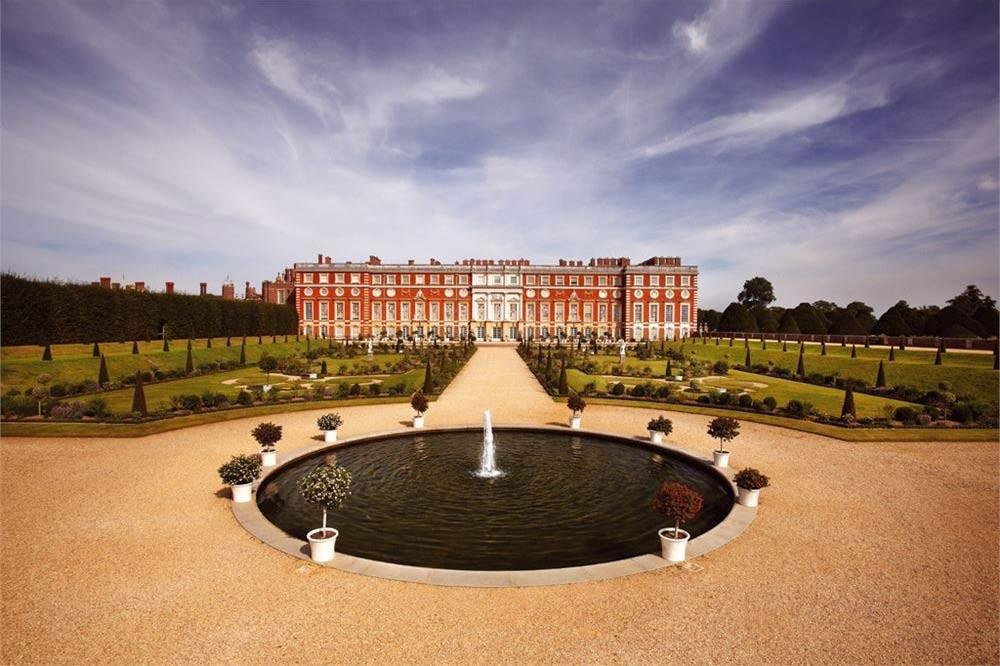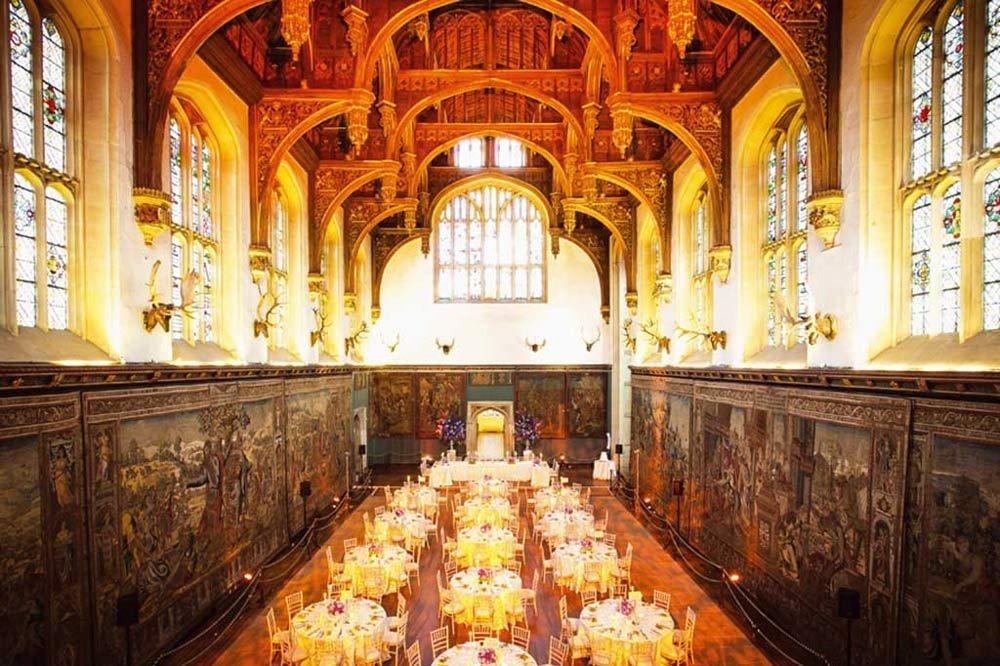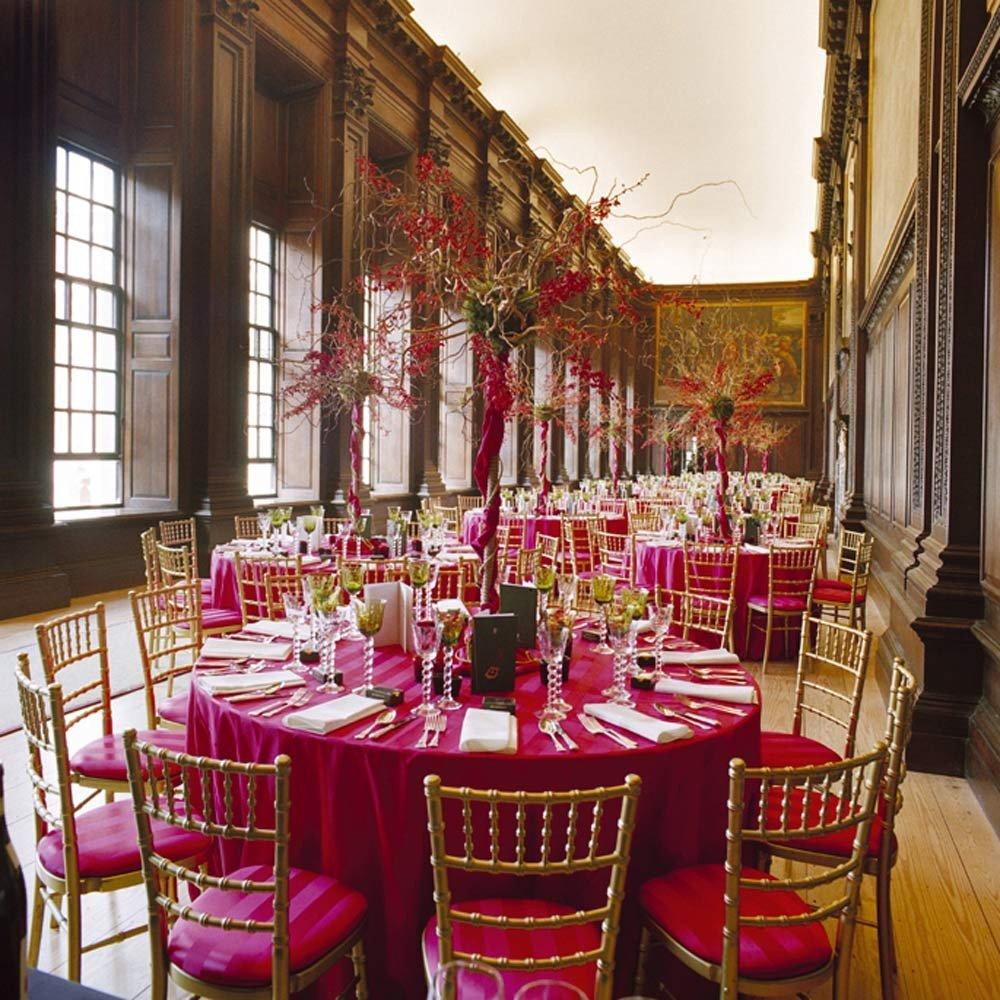 Hampton Court Palace has over 500 years of royal history behind it. The former home of Henry VIII (he of six wives) maybe isn't the first place you'd think for your wedding, but this magnificent Tudor palace is one of the UK's most gorgeous wedding venues.
Feast like kings and queens of old in the Great Hall, host drinks in the splendid Orangery, pose for photos among the romance of the private walled gardens and let your guests explore the famous Hampton Court Maze, all with magnificent views of the River Thames.
Banqueting House, London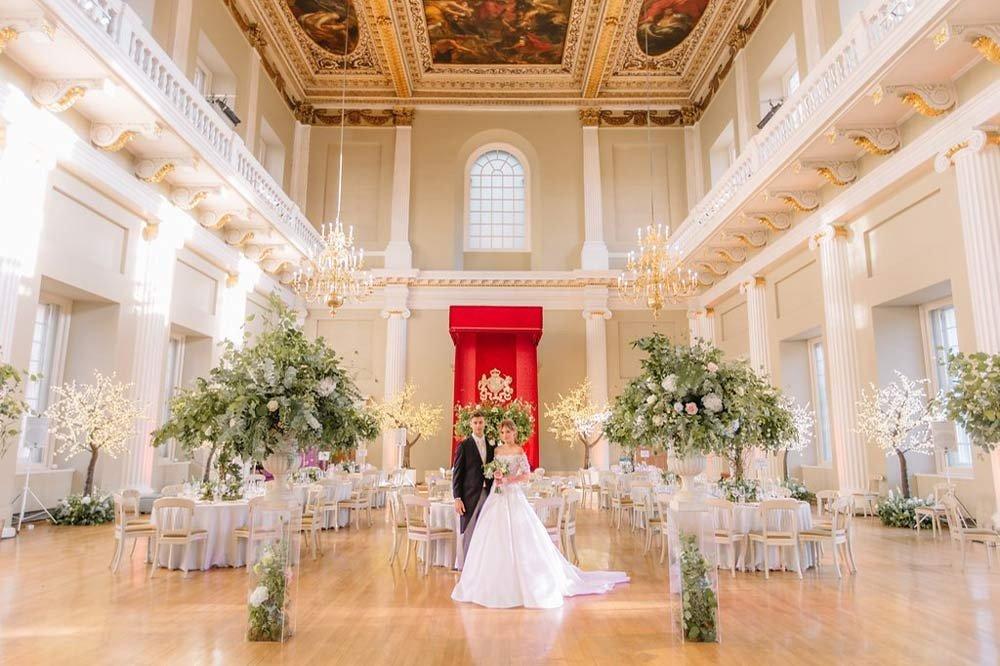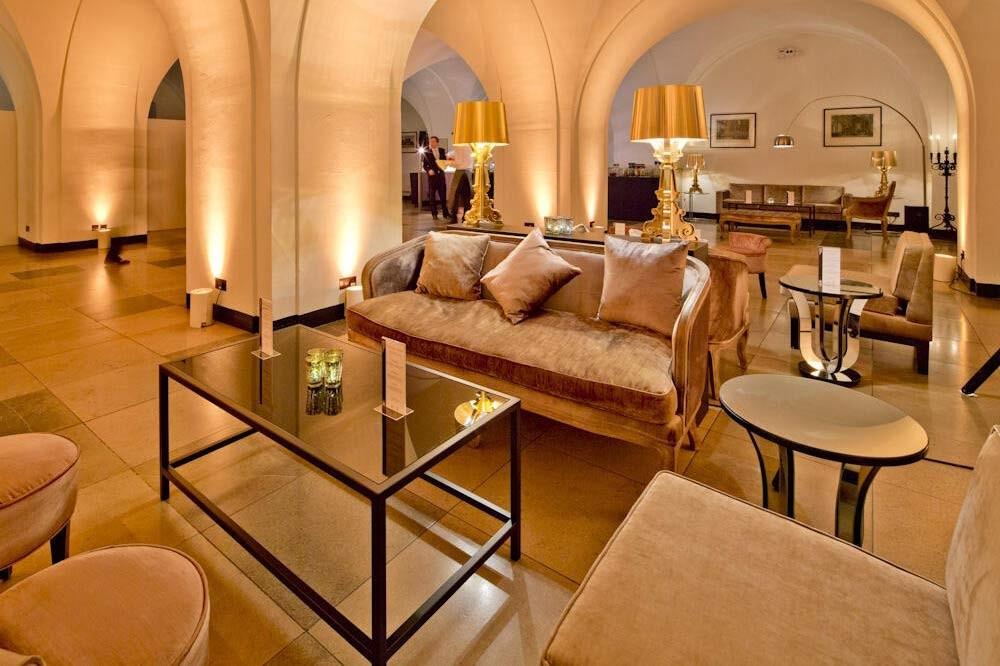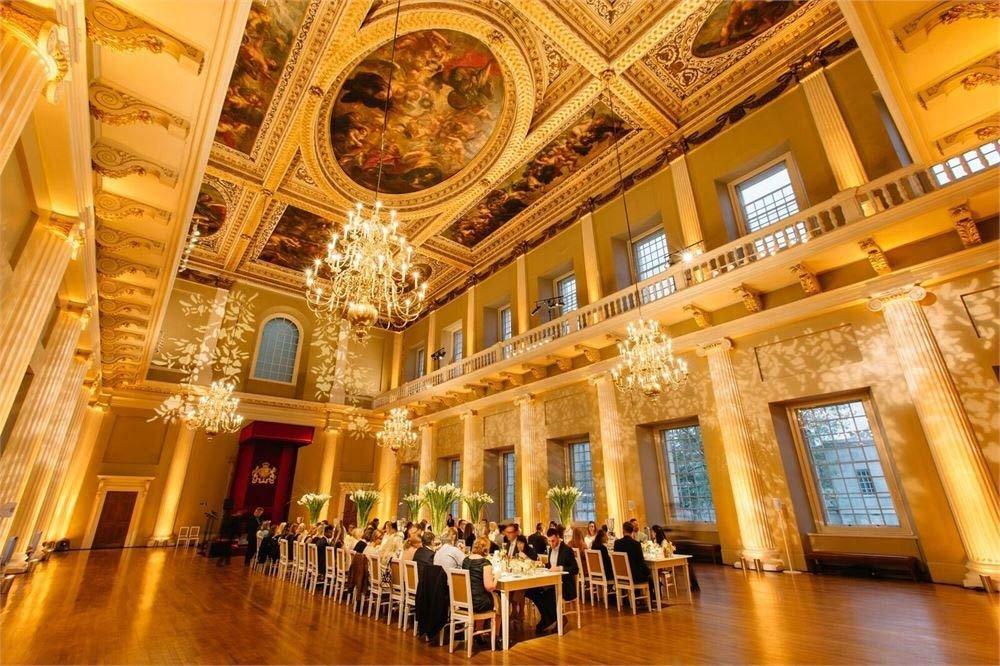 Designed by architect Inigo Jones, couples looking for show-stopping drama can do no better than Banqueting House. Just moments from the Houses of Parliament (perfect for a couple who want to pose in front of Britain's most famous landmark), have your reception in the main hall under Sir Peter Paul Rubens' painted ceiling and glittering chandeliers, or throw a drinks reception in the atmospheric vaulted Undercroft where Stuart kings once danced and dined.
READ MORE: Prince Harry and Meghan Markle's Wedding: Everything We Know
Polhawn Fort, Cornwall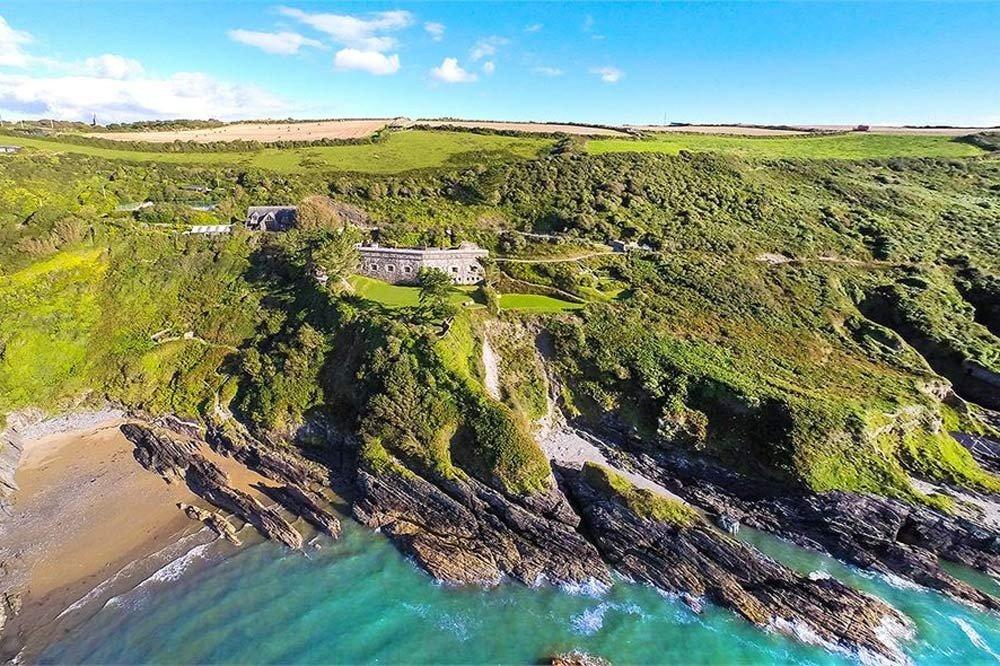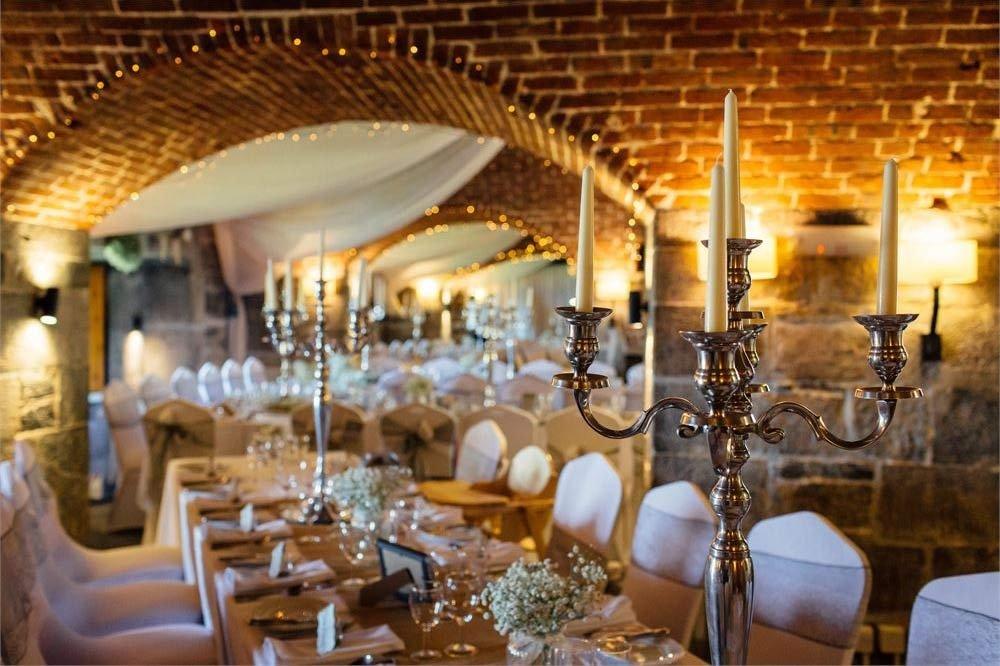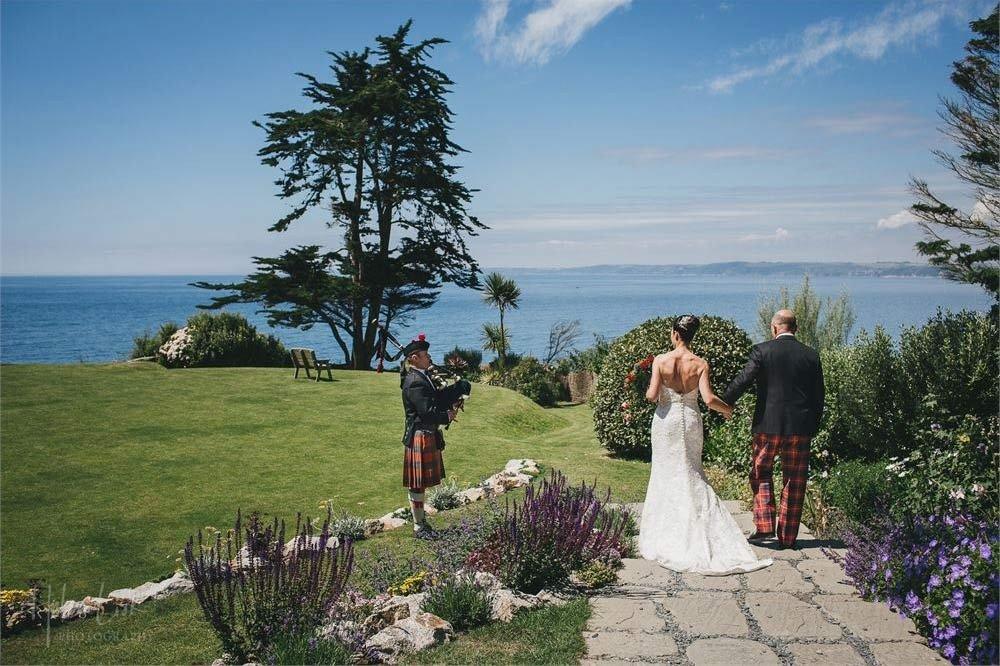 Even if you're not in the media spotlight, you might be searching for a little privacy for your wedding venue. Enter Polhawn Fort, nestled on the tip of the wild and dramatic Rame Peninsula of Cornwall. The atmosphere and drama of the Cornish coastline make a backdrop unlike any other at Polhawn. Say your vows in their Grand Napolenic Hall and then follow the path leading down to the venue's own secluded beach for your pictures.
Priding itself on bespoke weddings, the venue offers three or four day exclusive use packages so you can truly make it a celebration with friends and family.
Knebworth House, Hertfordshire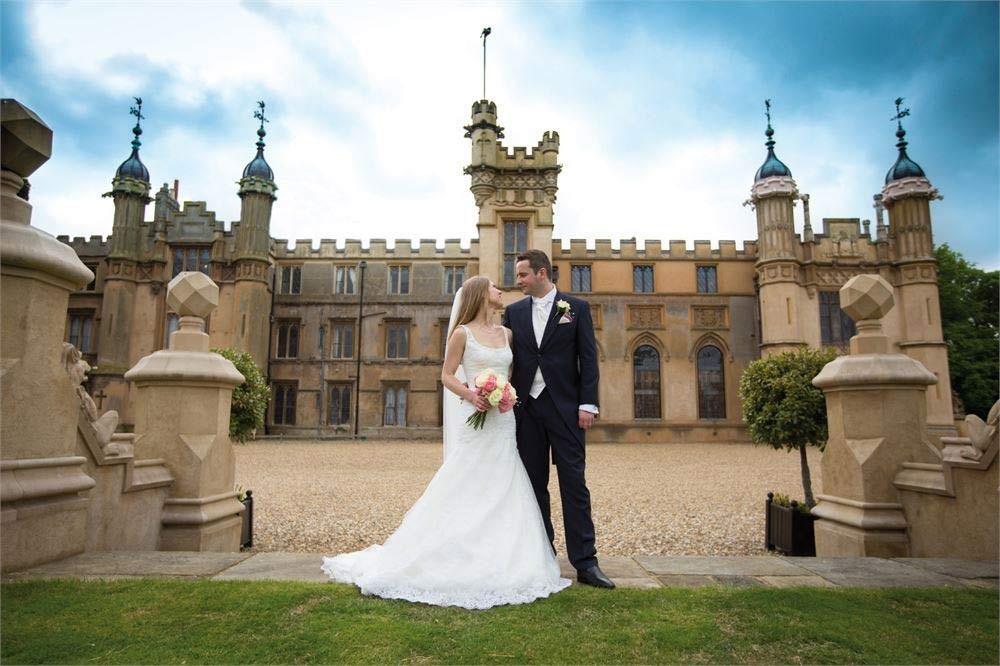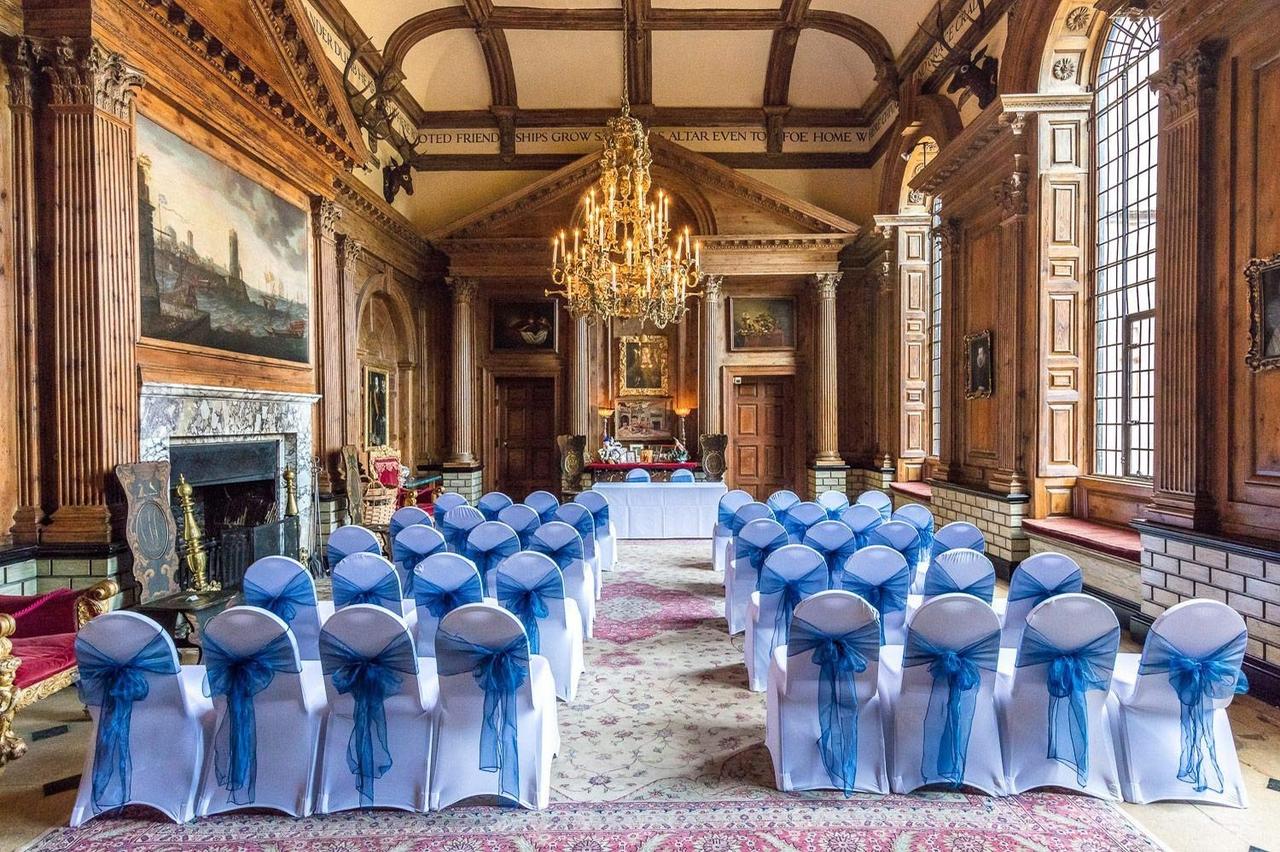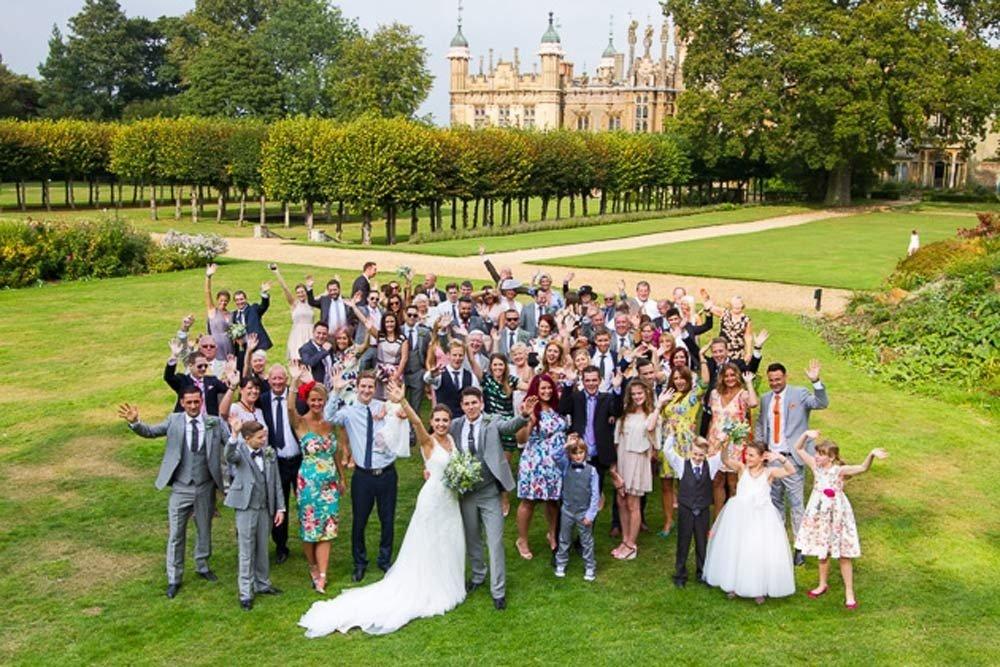 If you're more into rock royalty then real royalty, the grounds of Knebworth House have hosted some of the world's biggest names including The Rolling Stones, Pink Floyd, Queen and Oasis.
The house itself is no less impressive: guests arrive up the ancient chestnut avenue to the sight of the grand house dotted with turrets, towers and gargoyles, while inside you can dine in the banqueting hall where Winston Churchill, Charles Dickens and Queen Elizabeth I have sat before you. Talk about historic!
Kew Gardens, West London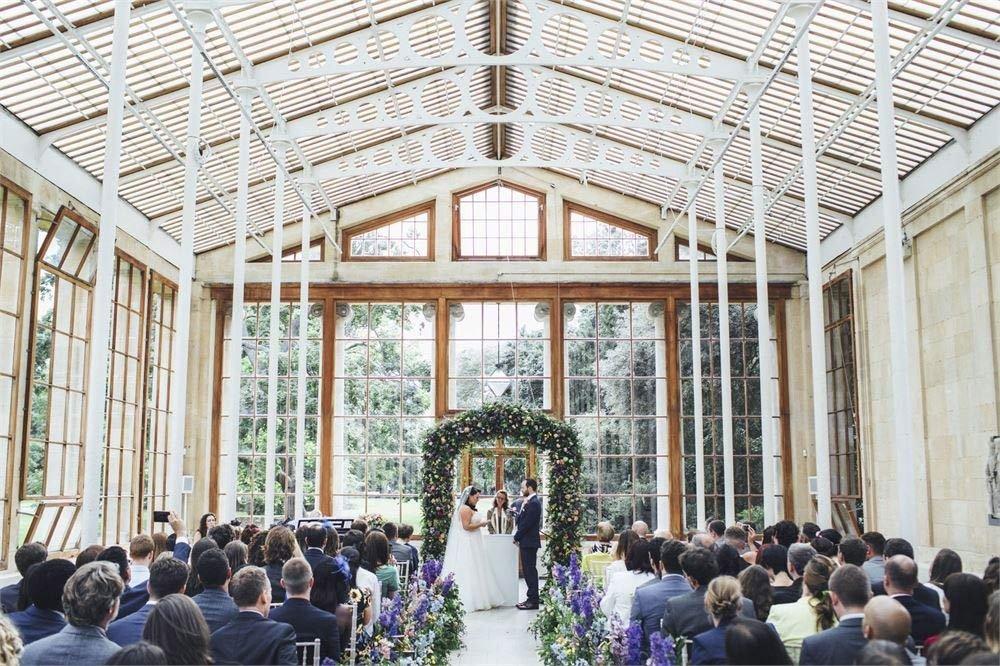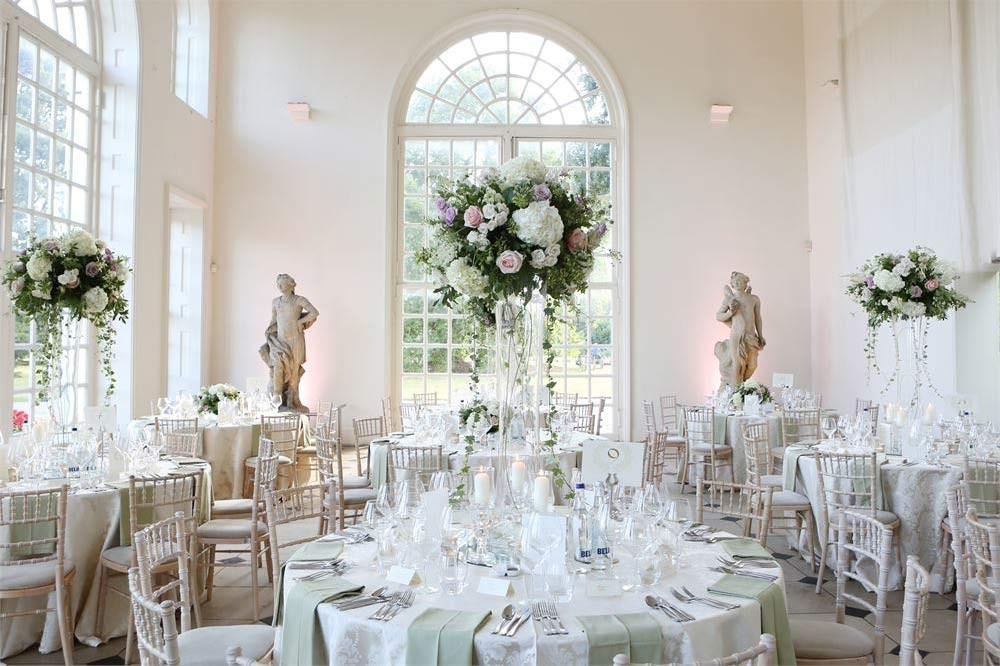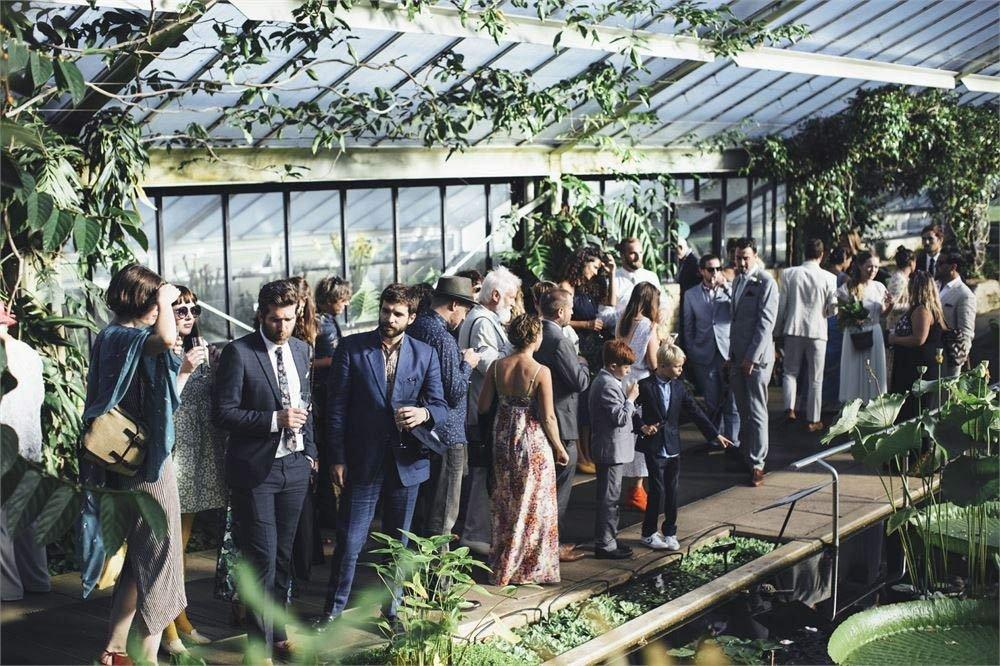 Add a botanical twist to your wedding day at Kew Gardens, featuring over 300 acres of beautiful gardens for your guests to wander or to steal a private moment. The stunning Nash Conservatory was painstakingly moved from Buckingham Palace to Kew in 1836 by Prince Harry's ancestor King William IV and is flooded with natural light – perfect for a summer wedding.
The glorious red-bricked, Grade-I listed Kew Palace is equal parts regal and intimate, while Cambridge Cottage is a perfect boutique venue. For bigger weddings, the Orangery can host up to 200 guests in its large terrace with spectacular views over the gardens through the grand, arched windows.
READ MORE: Budget Wedding Venue – The Best Affordable Deals
Hever Castle, Kent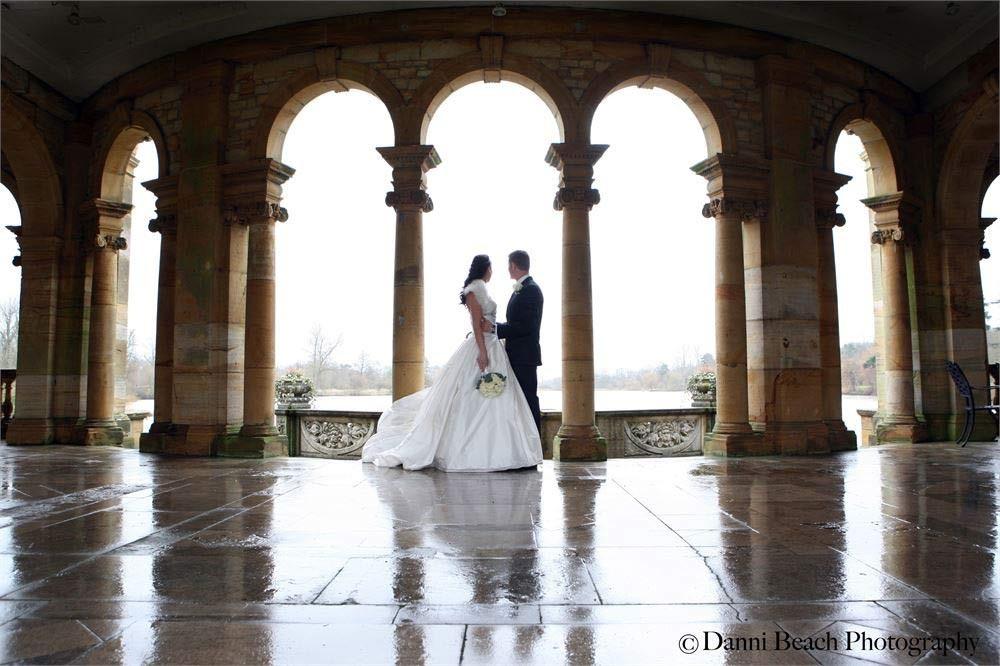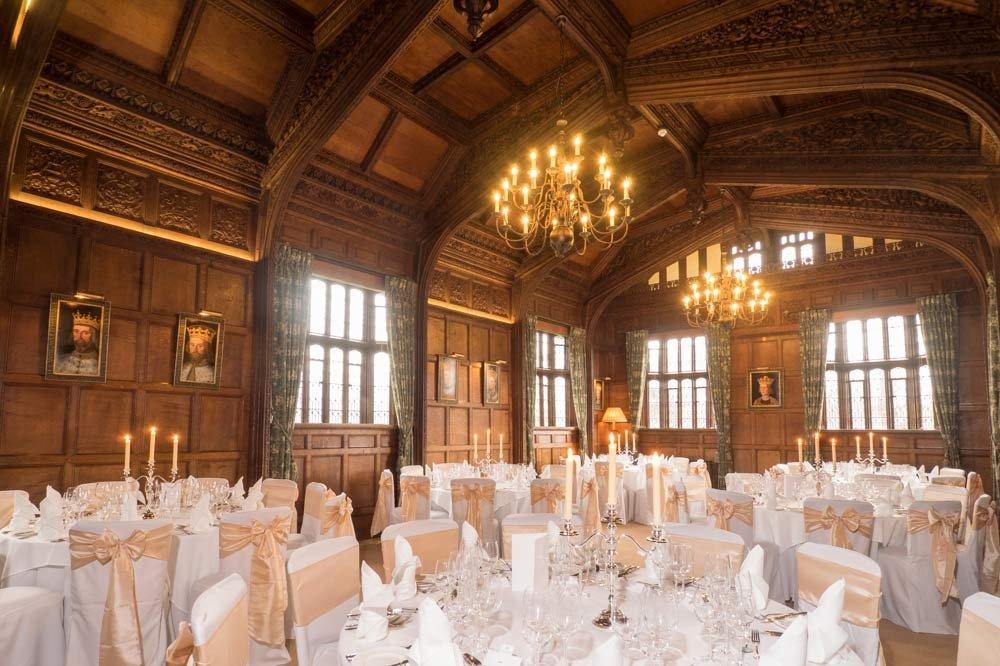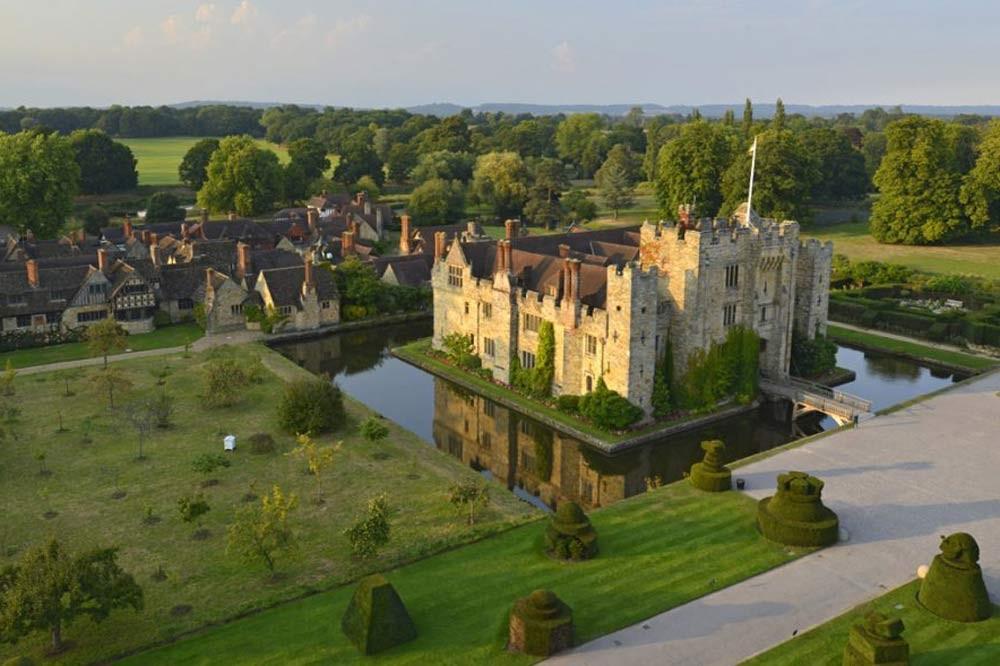 The childhood home of Henry VIII's wife Anne Bolyen, Hever Castle is a popular all-year-round choice for grand weddings. Impress your guests with the atmosphere and grandeur of the private Astor Wing of the Castle or enjoy the romance and tranquillity of the lakeside Guthrie Pavilion for summer weddings. If you're looking for a truly English experience, this is the location, with a croquet lawn and the option of a Master of Ceremonies.
Fulham Palace, West London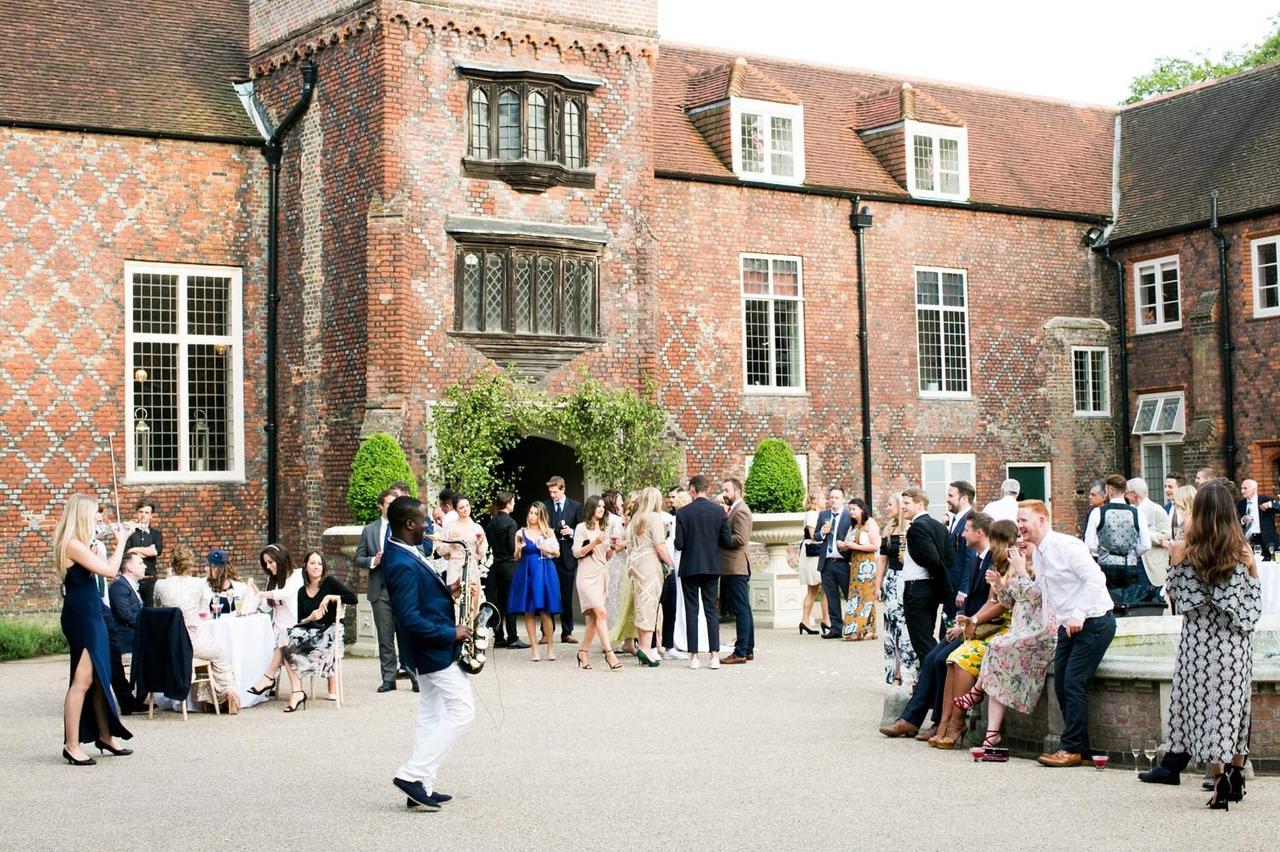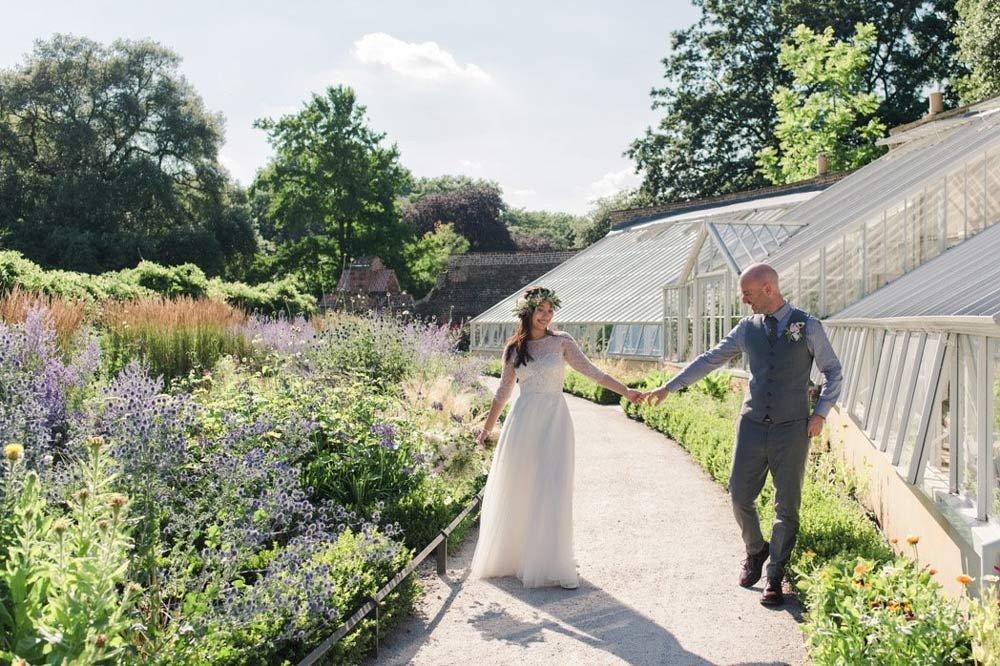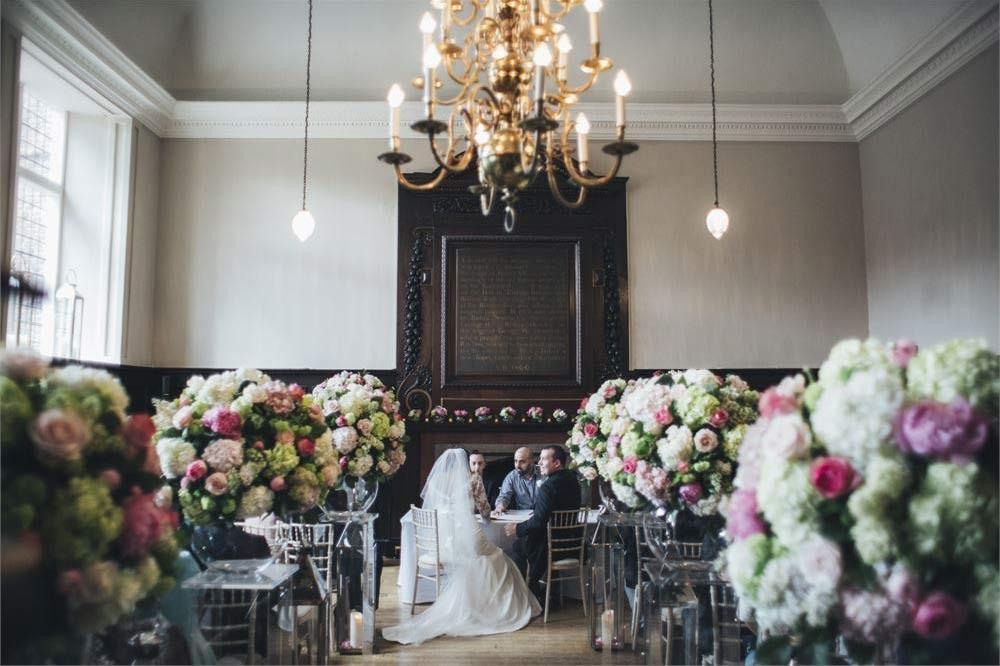 Steeped in history, this unique and historic London venue transports guests back to another era. Formerly serving as the Bishop of London's residence for 12 centuries, Fulham Palace has strong ties to the royal family and has its own chapel on site where a service or blessing can he held.
A beautiful riverside location and 13 acres of botanical gardens provide a beautiful backdrop to your wedding photos, while guests will be dazzled with the grand entrance of the Place's Tudor Courtyard, complete with ancient archways and sparkling fountains.
READ MORE: How Can I Uninvite Wedding Guests?
Dartmouth House, West London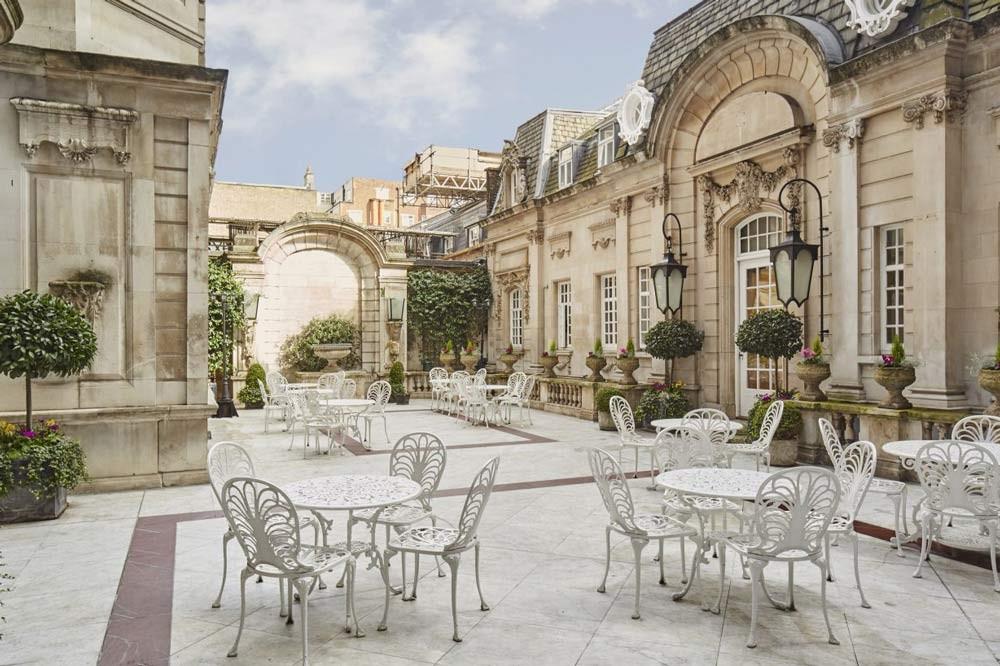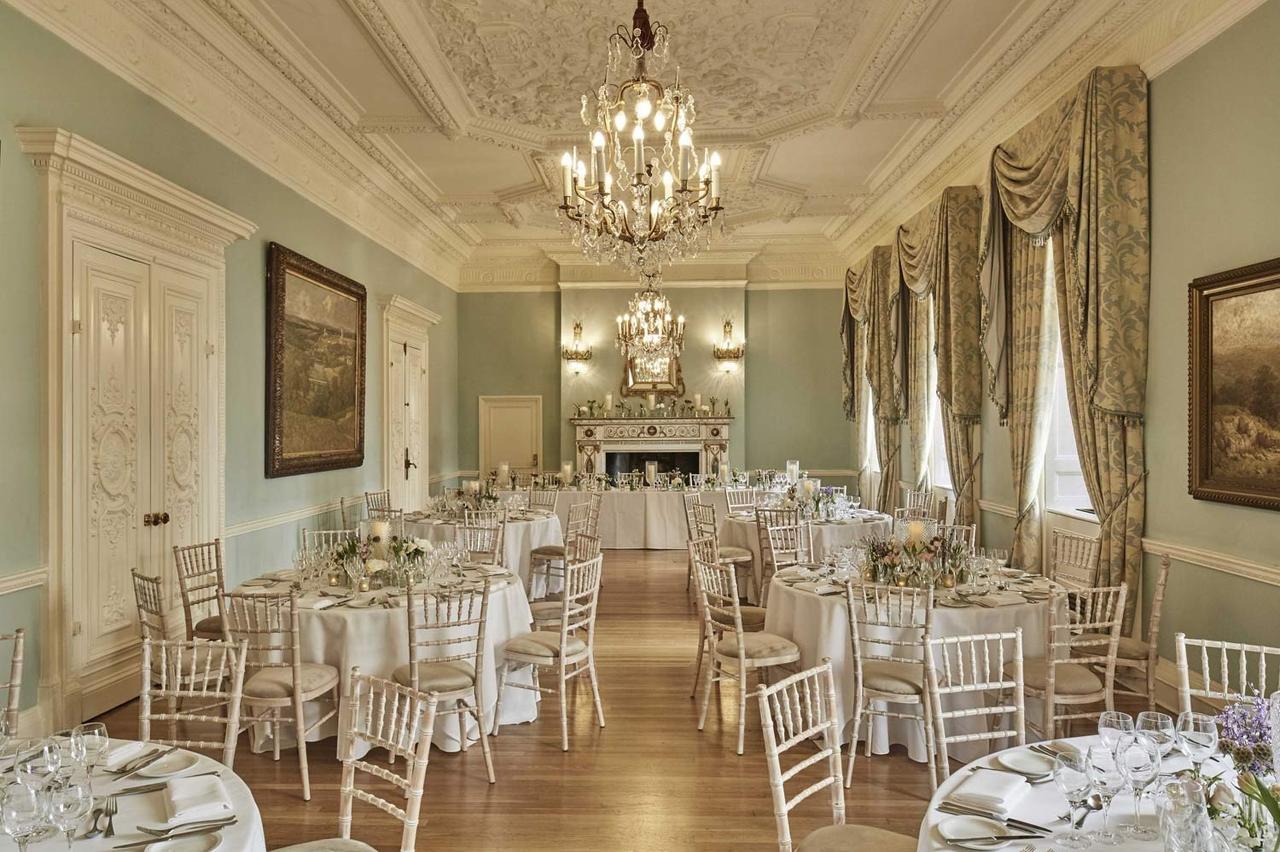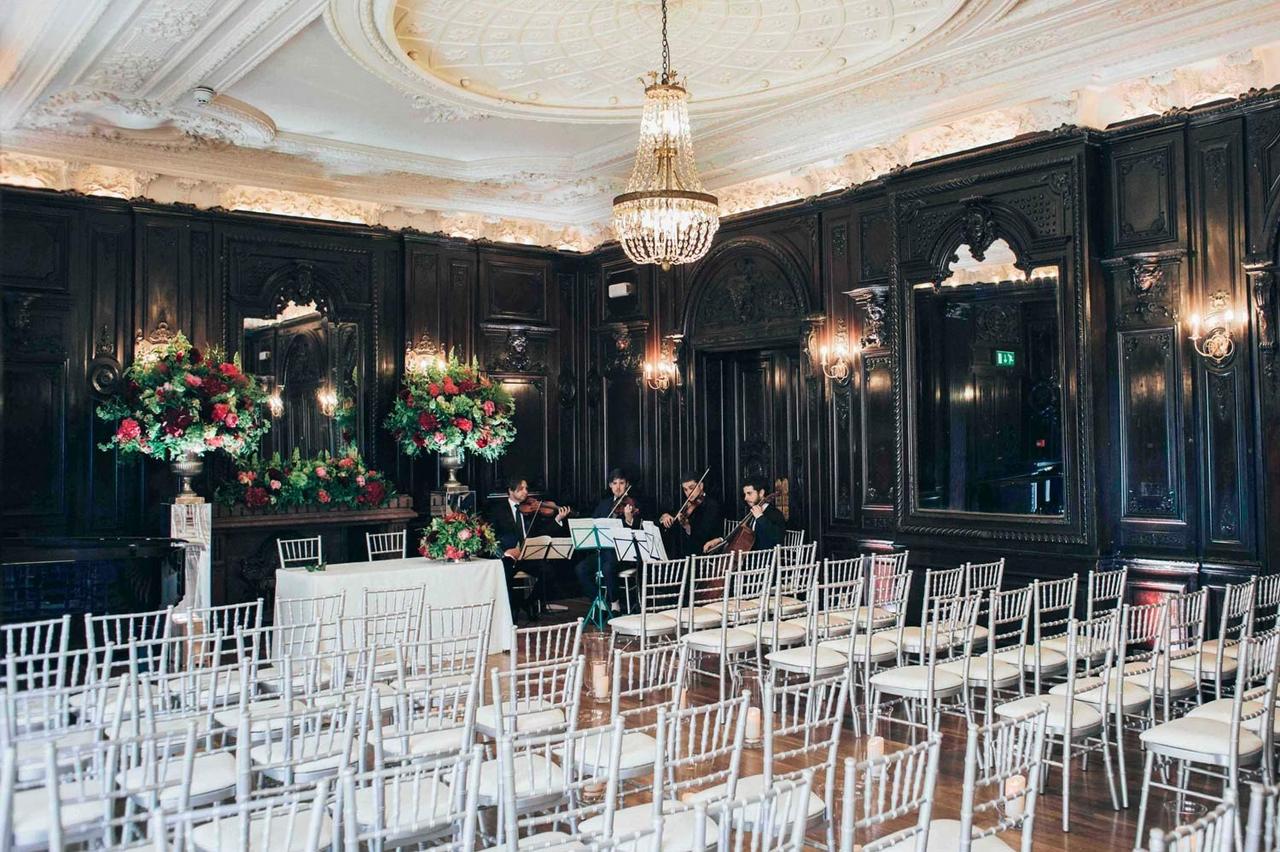 What Dartmouth House lacks in direct royal connections, this elegant manor house more than makes up for in opulence and character. Sleek and stylish, it would suit any on-trend couple and their 'it' crowd social circle.
Located in the heart of London's Mayfair, Dartmouth House is the picture perfect location for your wedding: imagine walking towards the aisle down their sweeping marble staircase or your guests sipping champagne in the open air courtyard.
Addington Palace, Surrey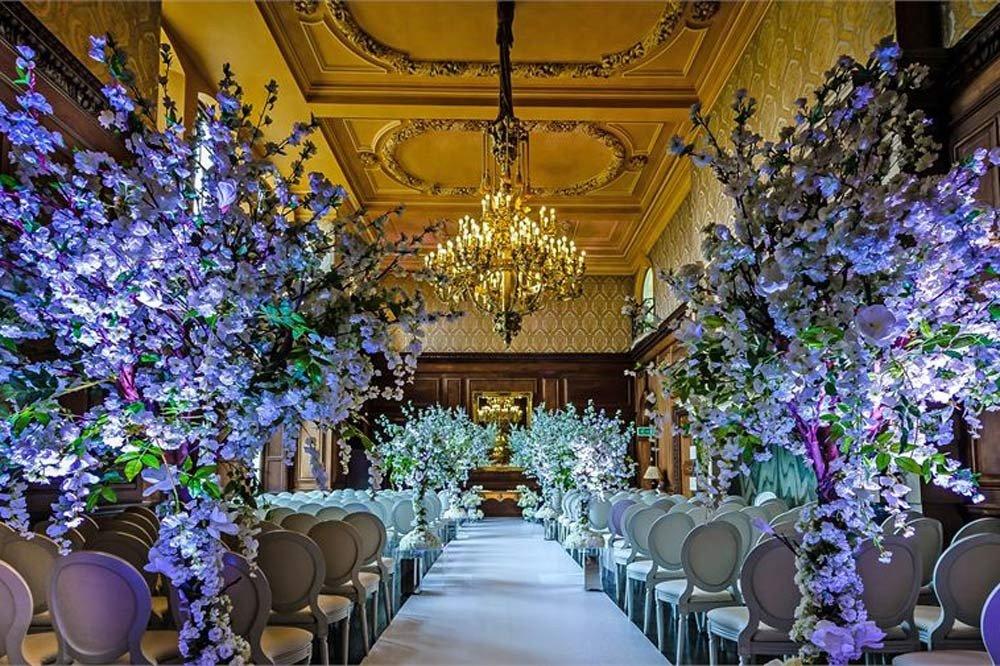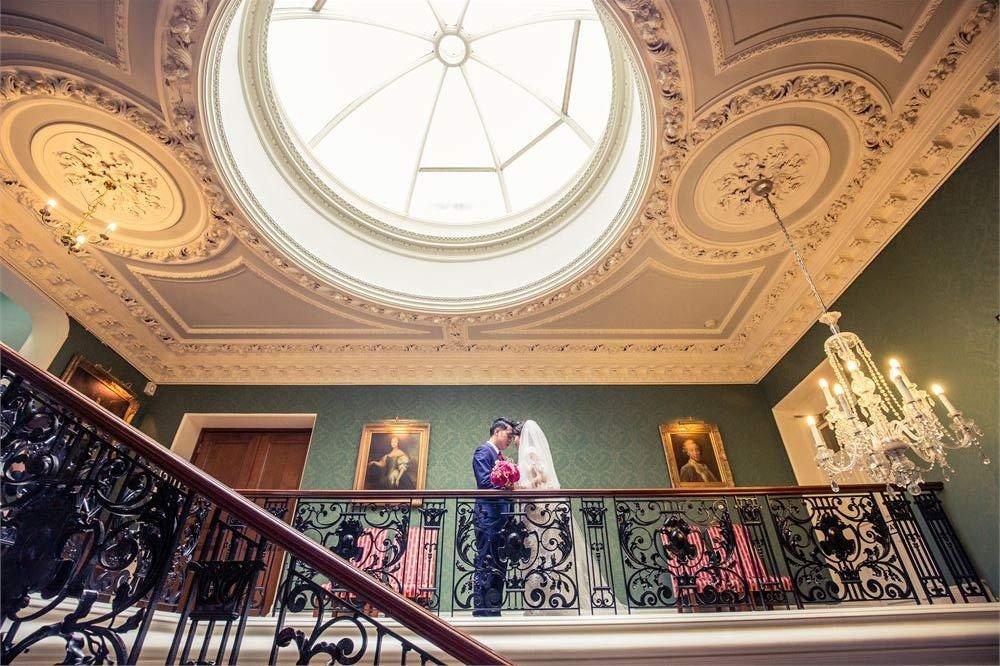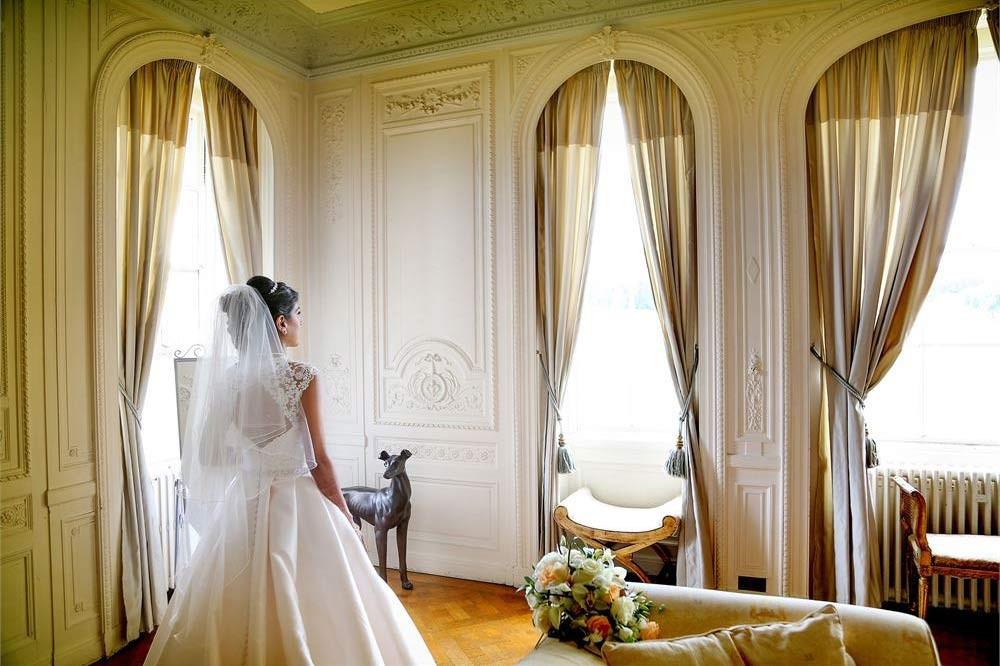 Rich in history and opulent in appearance, the pavilion and grade-II listed Georgian mansion of Addington Palace are fantastic venues for large weddings, accommodating up to 800 people.
With a country club on-site, you can de-stress with a relaxing treatment or get glammed up look your best before you pose for photos in their plethora of opportune pictureseque spots.
Osborne House, Isle Of Wight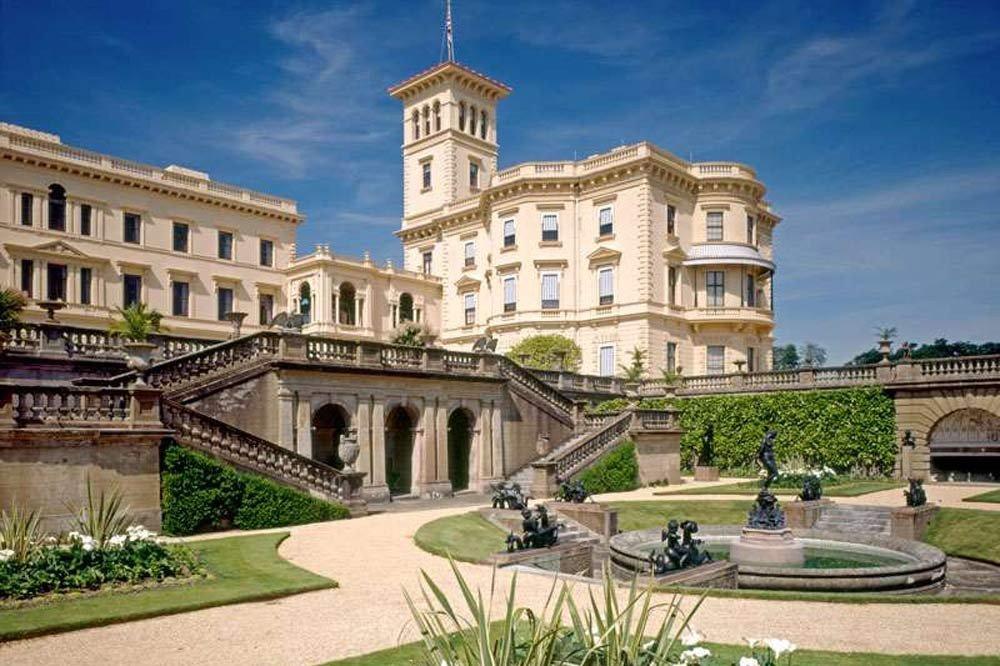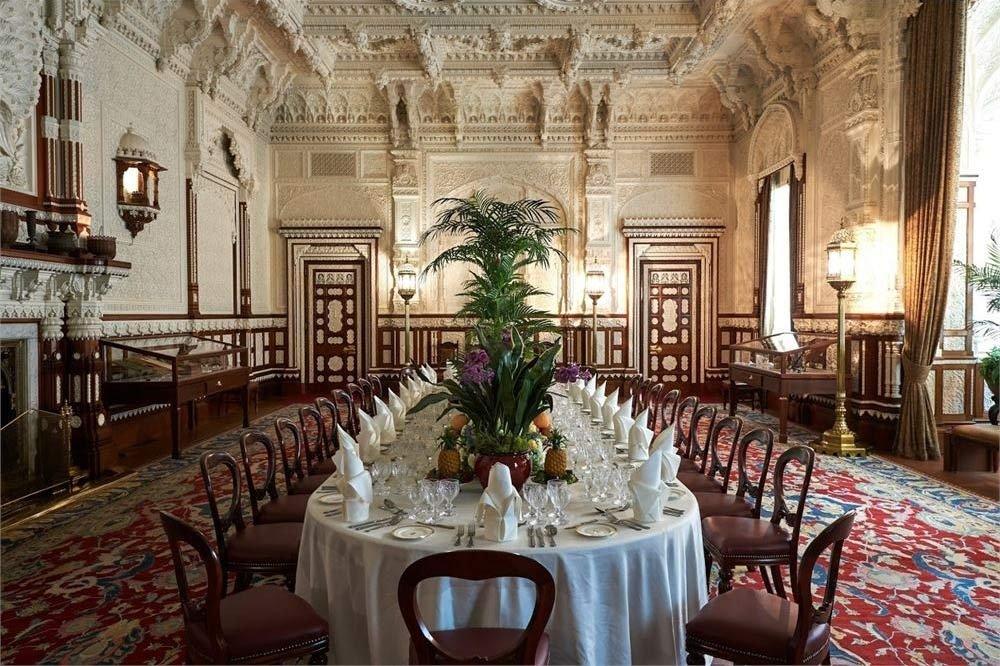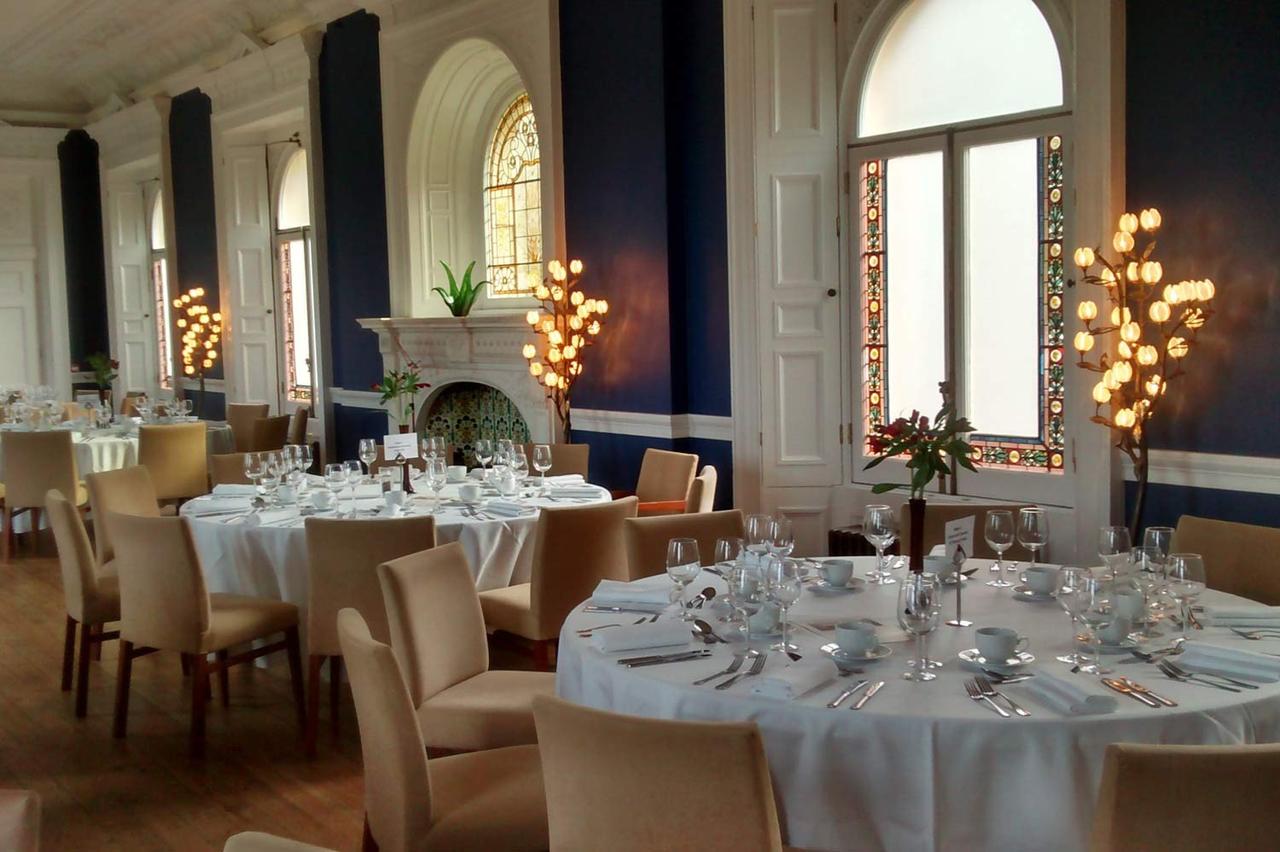 Osborne House was the family home of Queen Victoria and has played host to royalty from across the world. Just a hop over to the Isle of Wight, all rooms boast views across the grounds and the Solent, while the house itself is a romantic Italianate style, full of character, stained glass and more marble and chandeliers than you've ever dreamed of.
For true luxury, seclusion and charm, follow in Queen Victoria's footsteps at Osborne House. There's even a dedicated wedding coordinator so you can relax in the knowledge your wedding is in incredibly safe hands.
Stoke Park, Buckinghamshire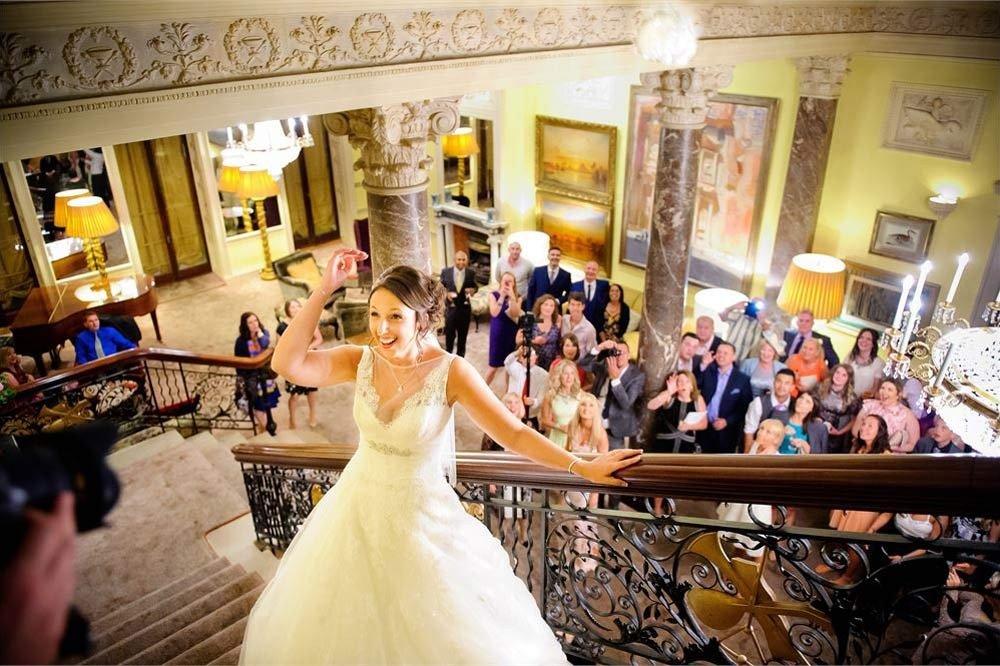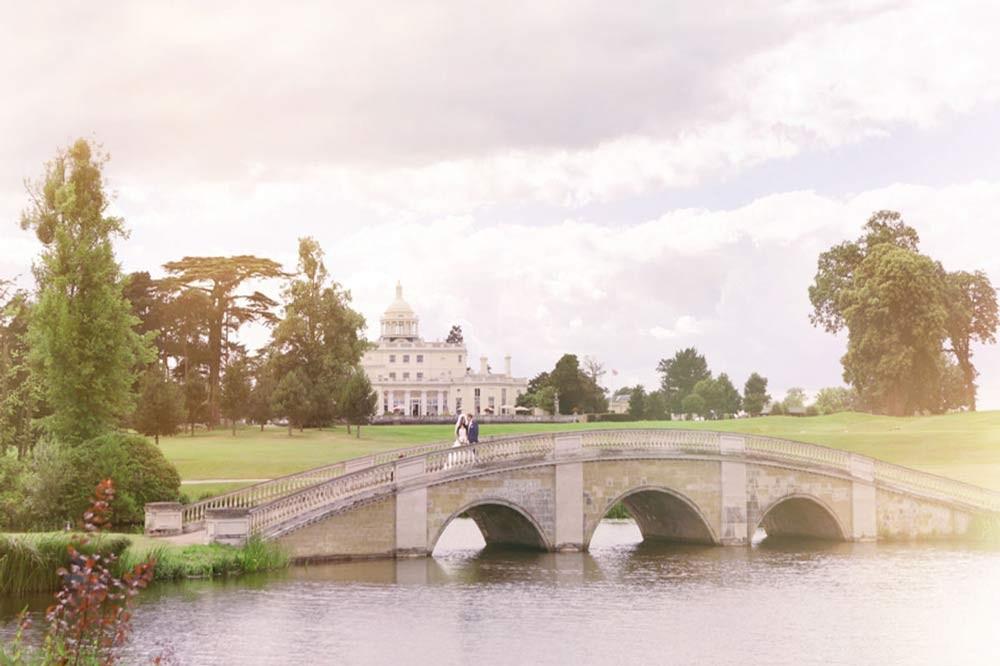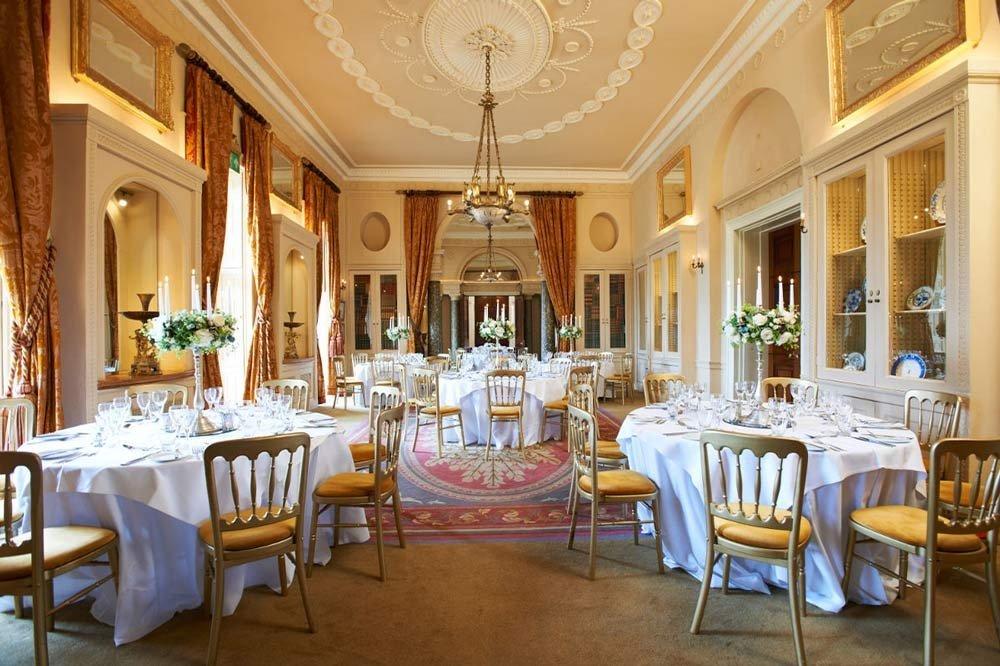 Stoke Park is one of the most sought after wedding venues in Buckinghamshire. Set within 300 acres of stunning historic parkland, the Palladian Mansion offers luxury and privacy worthy of a royal wedding, as well as a helipad for arrivals.
If fine dining is a key requirement to your day, then their award-winning chef can whip you up a wedding breakfast fit for a banquet. Although Prince William requested a chocolate biscuit cake for his wedding, so if that's more your level of royal dining, we're sure you can ask for that too.
Dundas Castle, Edinburgh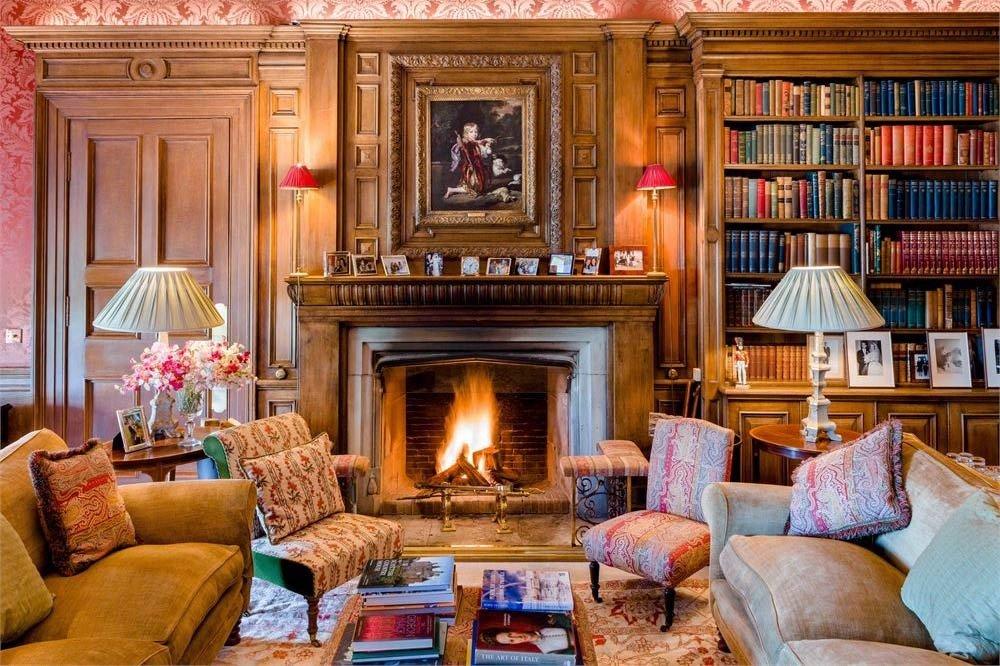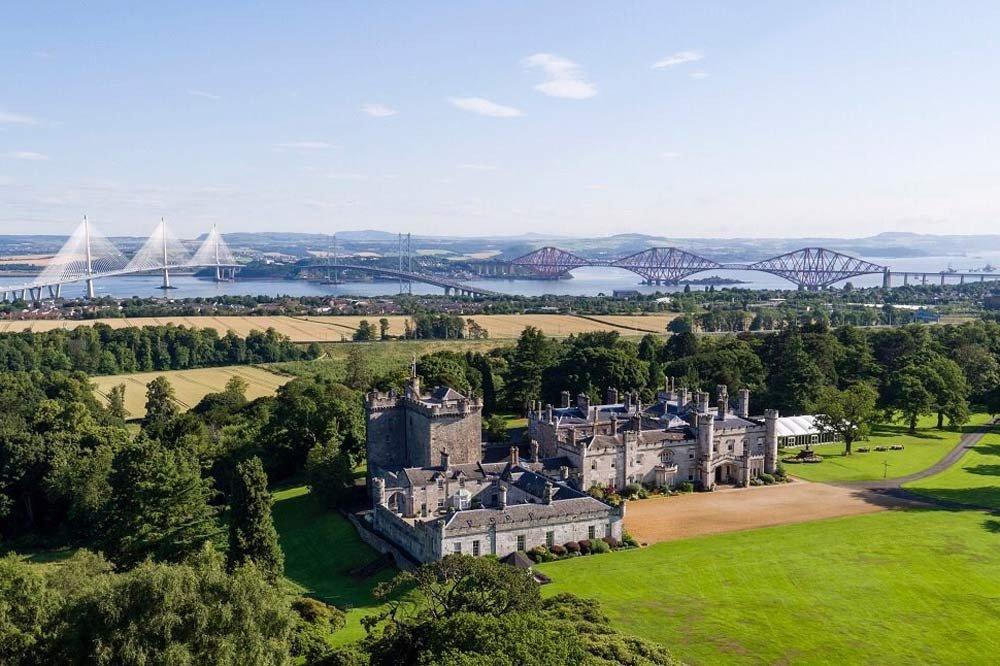 Ideal for large weddings, hire out the whole of this castle to indulge your dreams of being a laird on a Scottish estate (while still only being 25 minutes from Edinburgh's beautiful city centre). Think cosy furniture and roaring log fires in winter, while guests can spill out across the lawn and watch your ceremony in the romantic pavilion marquee in the summer.
As well as religious and civil ceremonies, Dundas Castle can host legally binding humanist ceremonies, with a wedding co-ordinator on hand to deal with the legal side.
READ MORE: The Best TV & Film Wedding Venues As Seen On Screen
Hedsor House, Buckinghamshire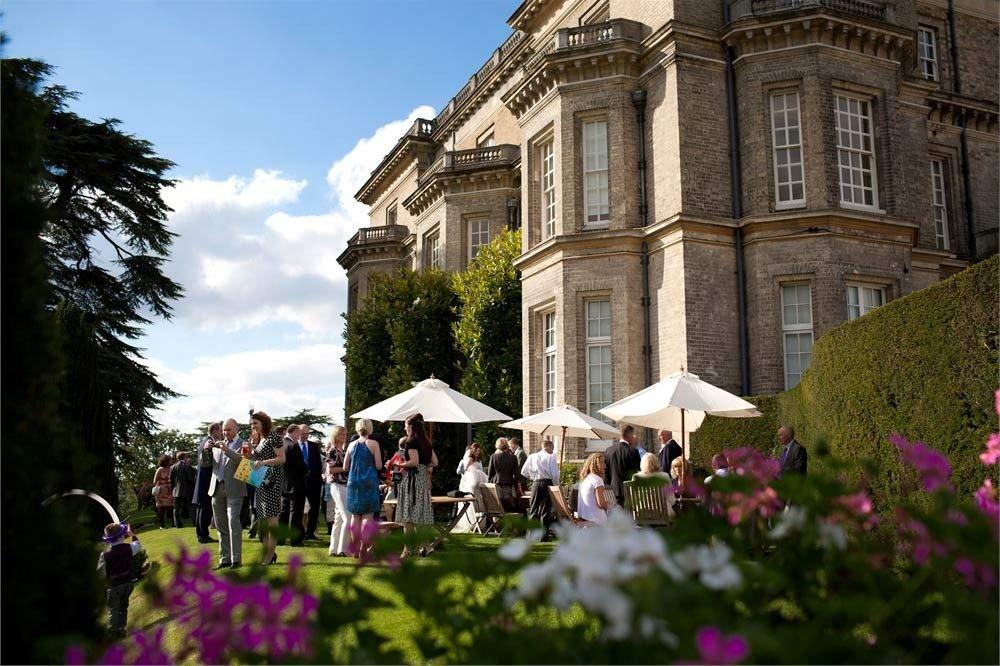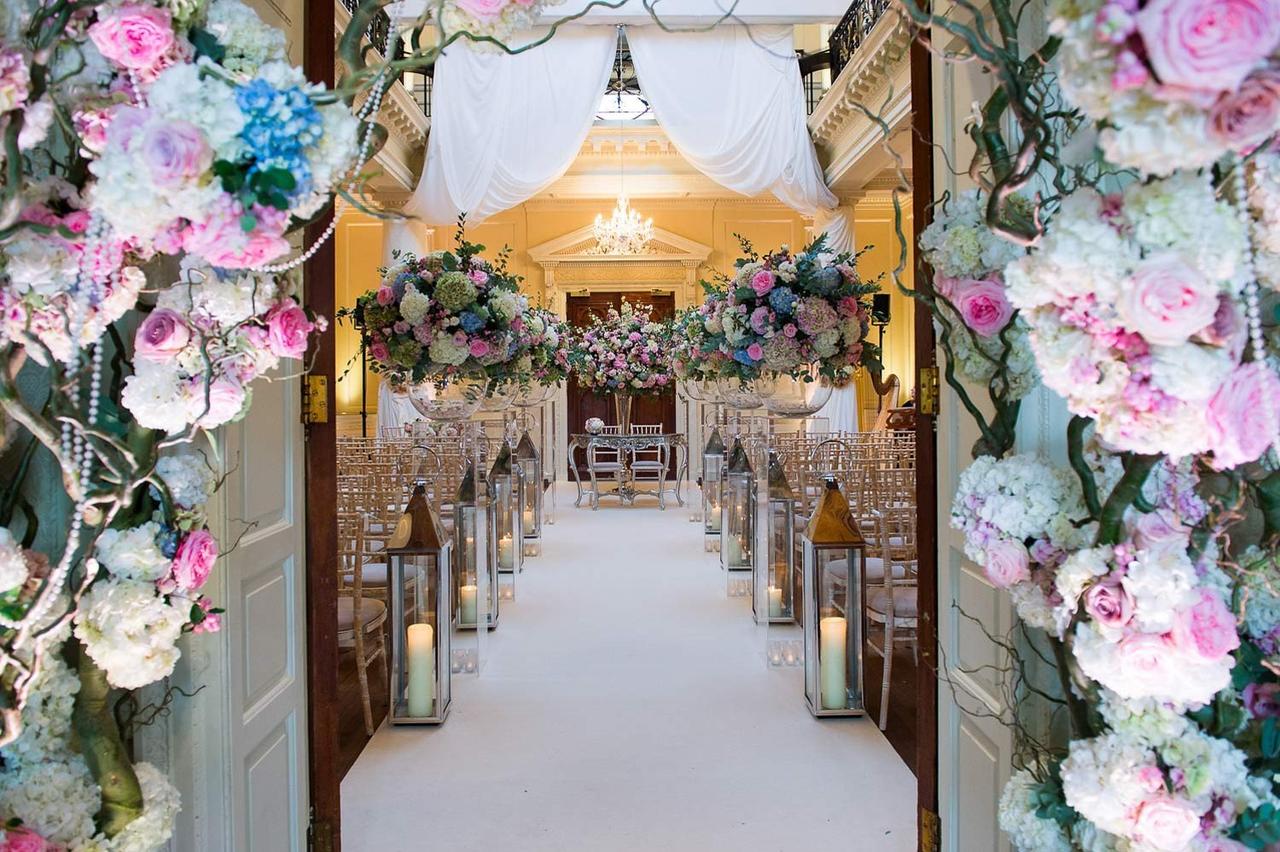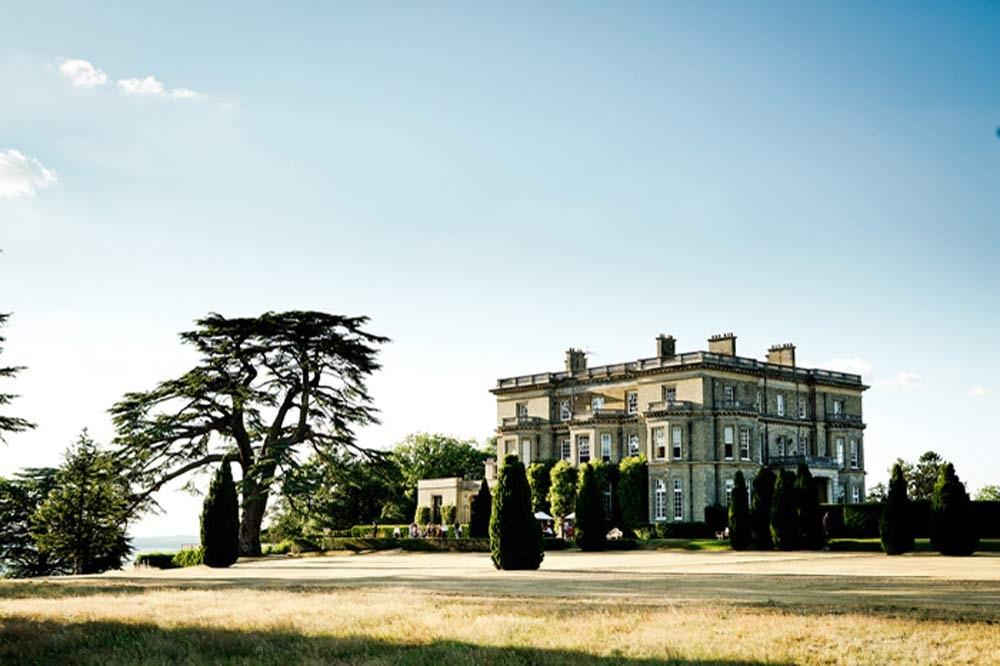 The royals are nothing without tradition, so follow in their footsteps with a former royal home as your venue. The stunning Italianate mansion of Hedsor House near Windsor used to be the home of Augusta, Princess of Wales – who founded Kew Gardens – and was a favourite spot of Queen Victoria. Frequently seen now as a location for films and TV, it still has enough regal cachet to be an option – and it's close to the family castle!
You can spend the night in luxury too in Hedsor's newly refurbished 2,500sqft Bridal Suite, one of the largest in Europe.
Leeds Castle, Kent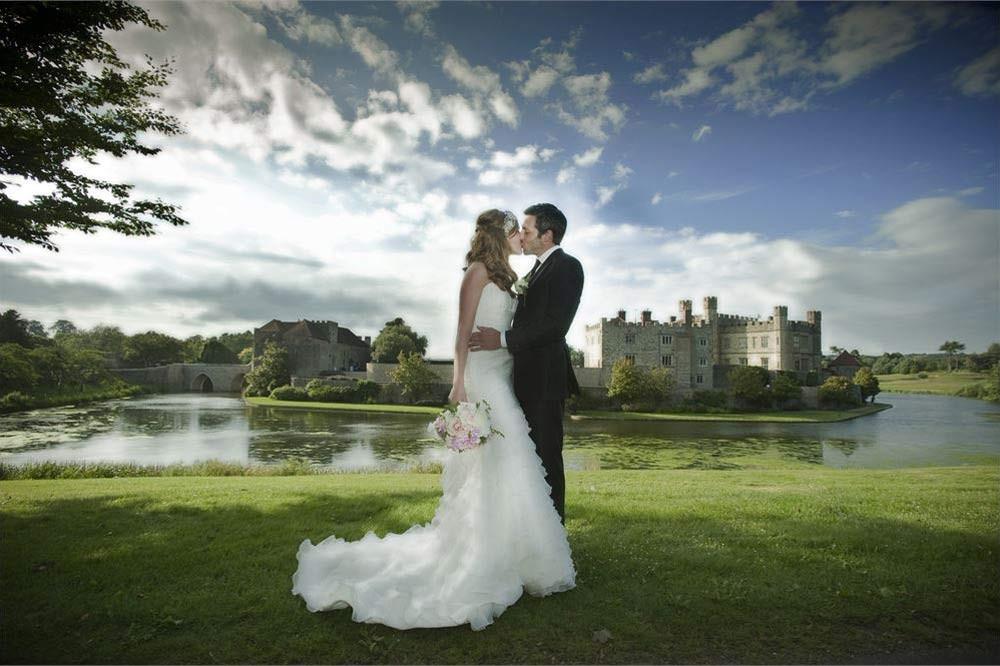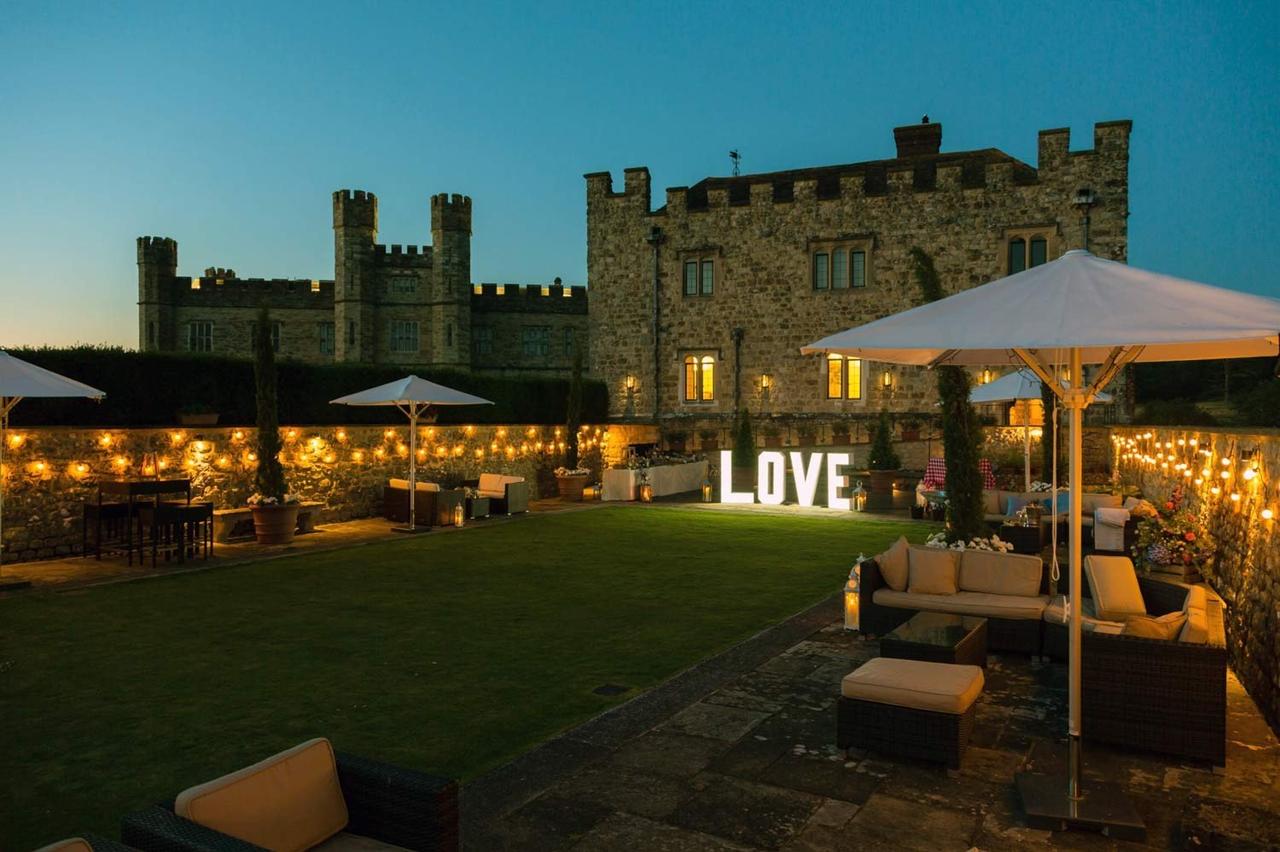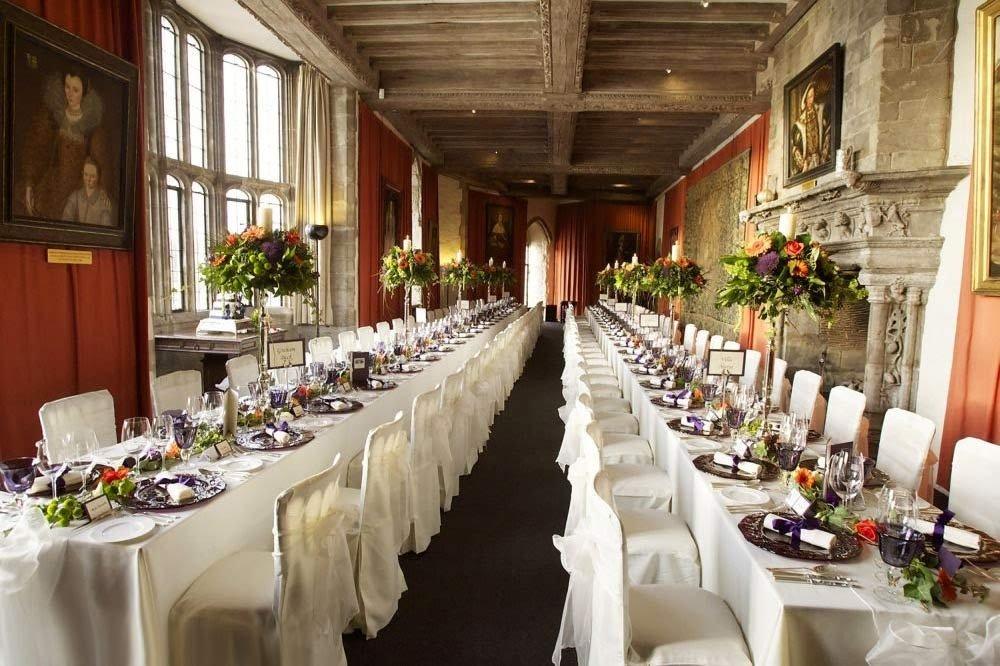 Named the 'loveliest castle in the world', the lavish venue of Leeds Castle is an idyllic setting for your wedding that boasting its own moat and 500 acres of parkland. On-site florists and caterers will know how to make the most of the venue for your big day, and with 42 bedrooms on-site, you can continue your celebrations late into the night.
Hengrave Hall, Suffolk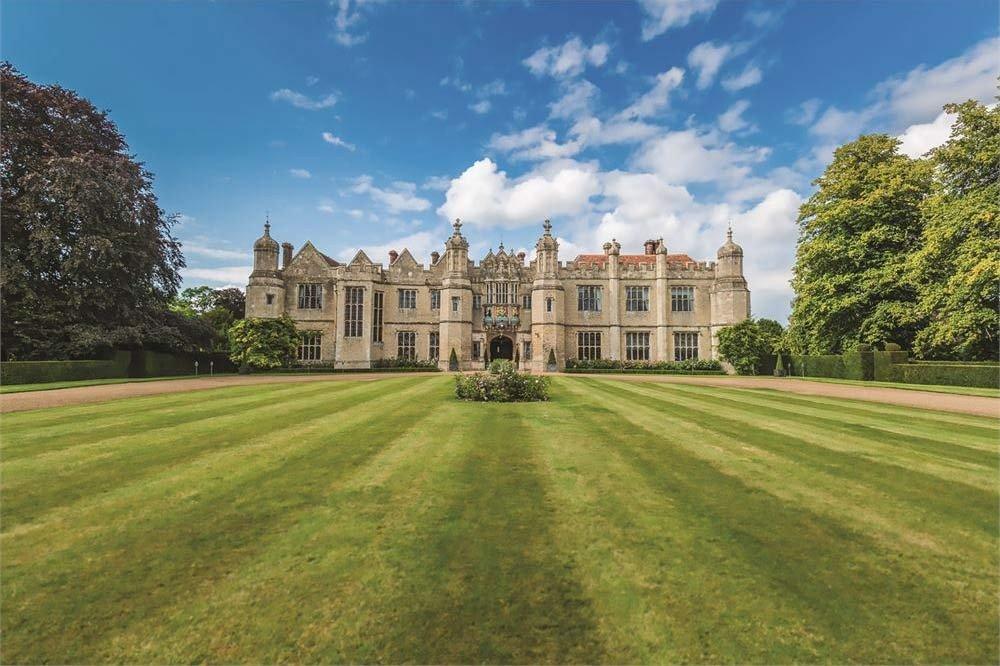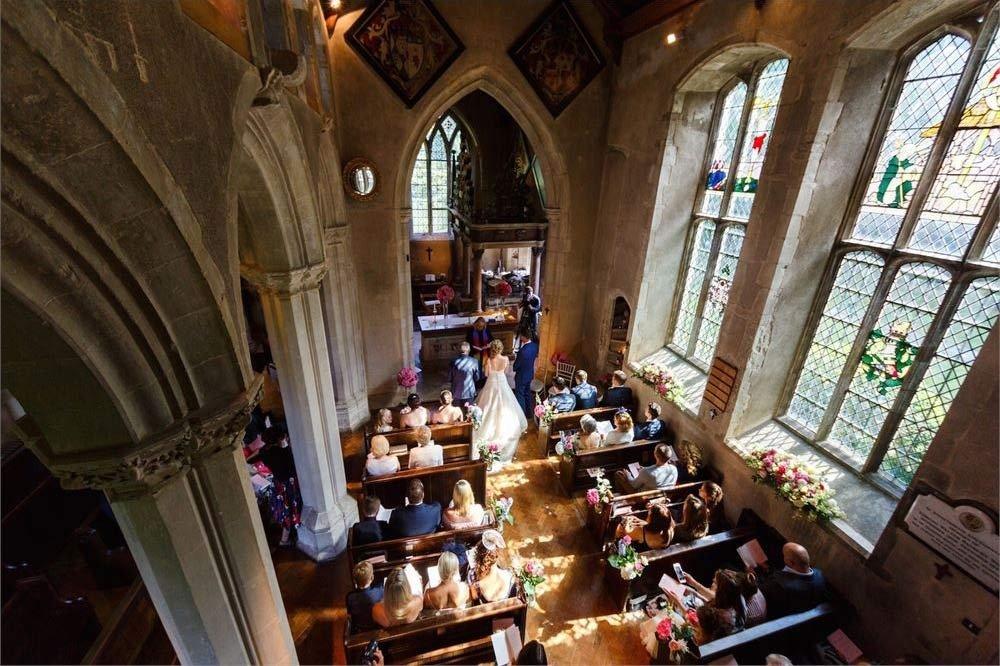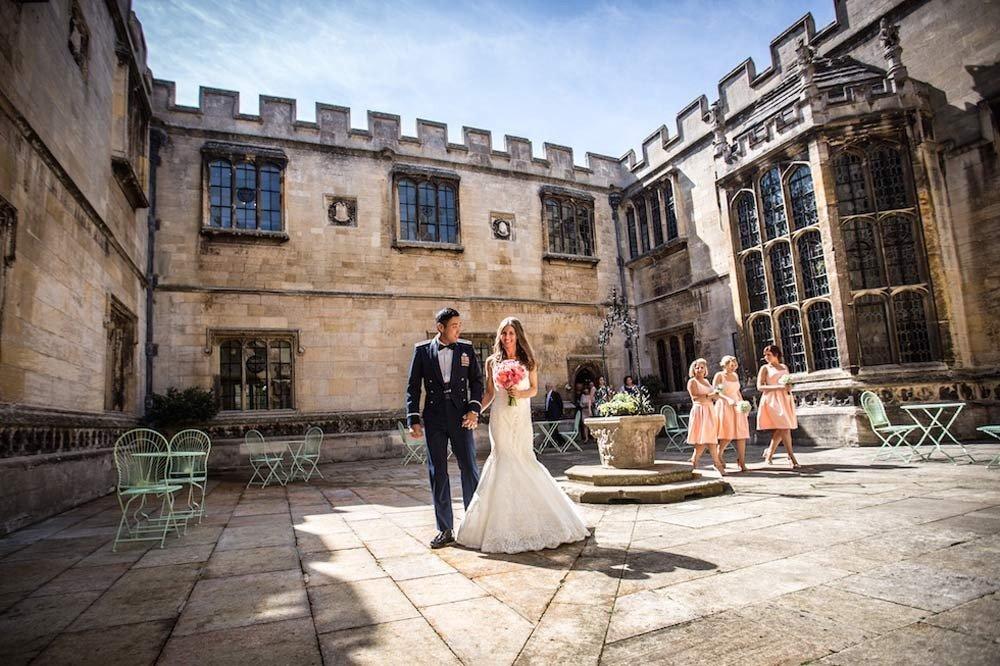 Formerly a private home, a nunnery and a boarding school, there's quite a history to Hengrave Hall. With such a varied history, the Tudor mansion has a huge mix of rooms that can host your wedding, from the grand Long Gallery to the intimate Library.
Hengrave has its own chapel on the estate for church weddings and can host civil ceremonies in the beautiful wood-pannelled Banqueting Hall. The gorgeous lawns and sweeping drive make for an entrance worthy of a queen, while the venue allows a fireworks display so you can end the night with a bang!
Pembroke Lodge, West London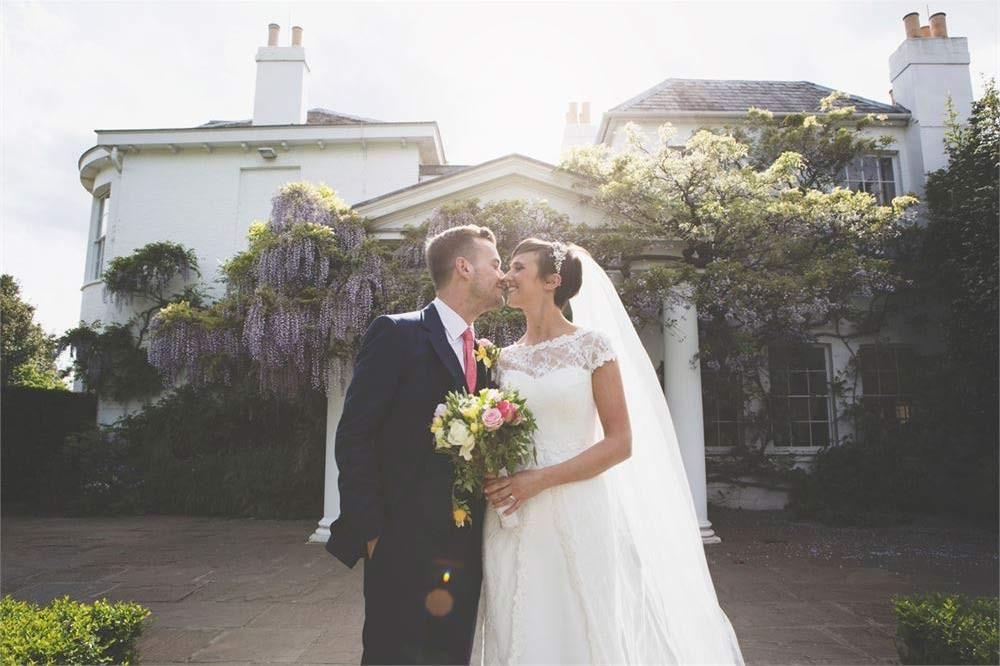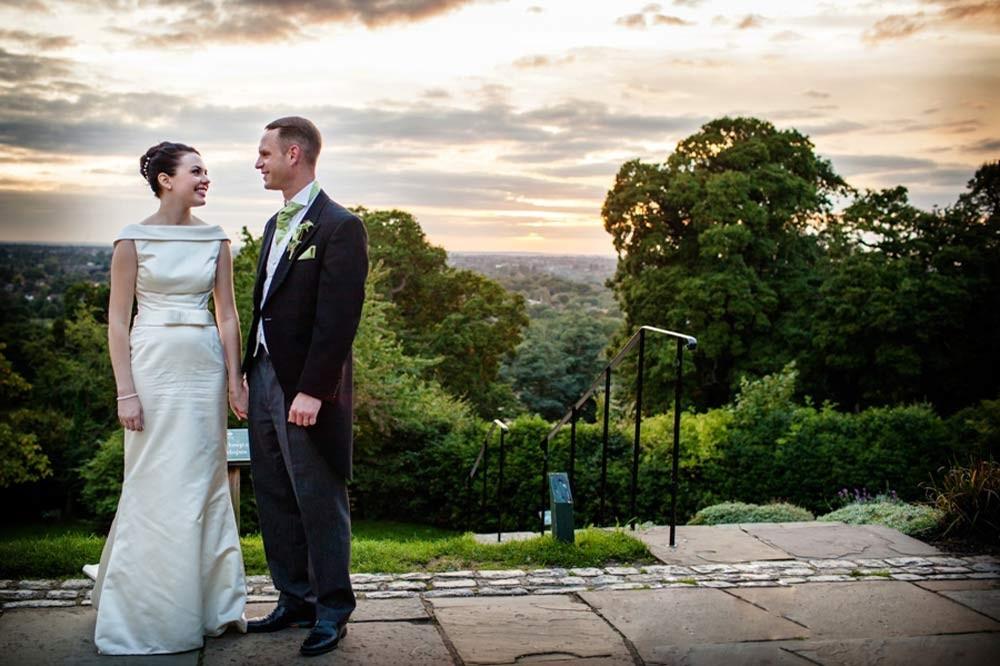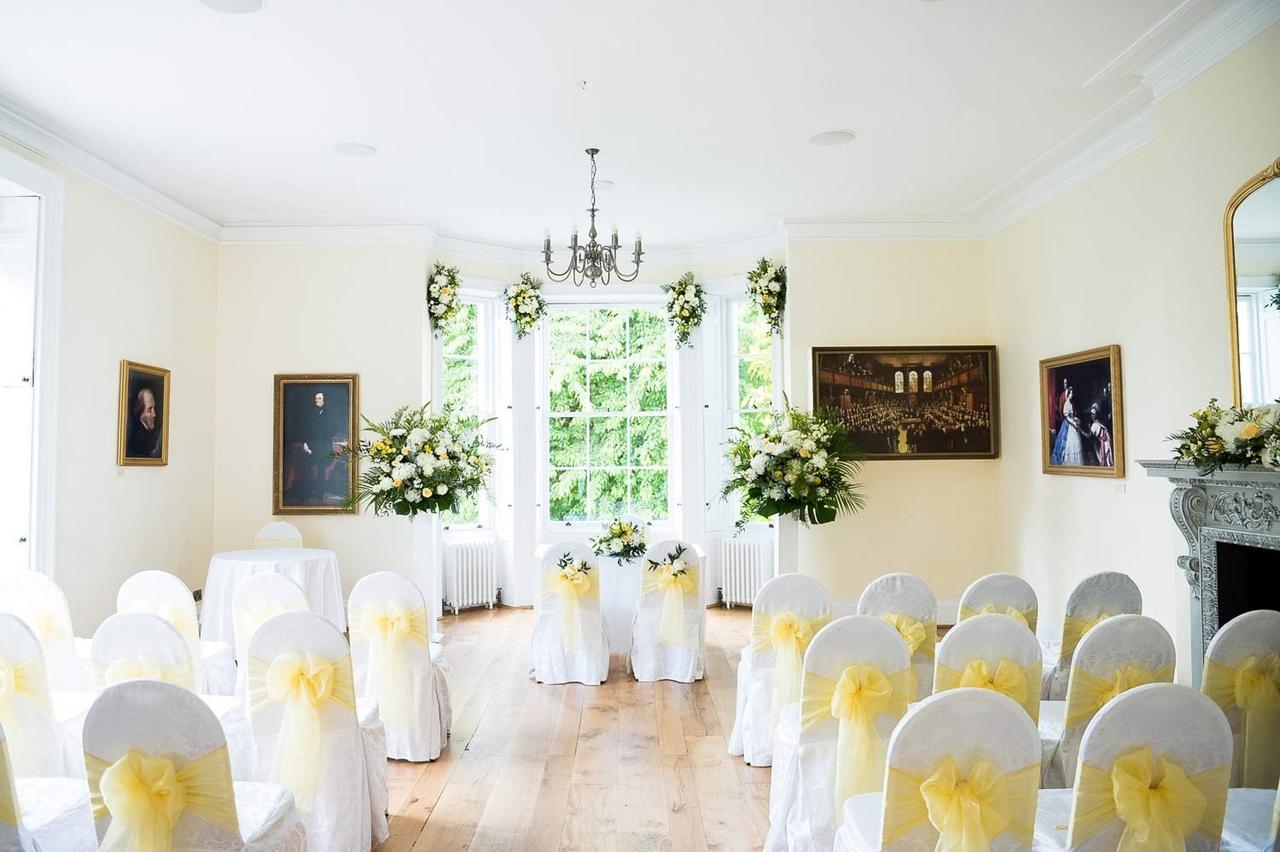 Set within the heart of the royal Richmond Park and home to the Queen's famous herd of deer, few locations can match the stunning views over the Thames Valley at Pembroke Lodge.
With royal connections aplenty, choose from their range of elegant rooms for your ceremony and reception or relax under the stars on their romantic terrace. Eleven acres of landscaped gardens offer unrivalled spots for your wedding photos.
READ MORE: What Should I Do If My Friend Steals My Wedding Venue?
Lympne Castle, Kent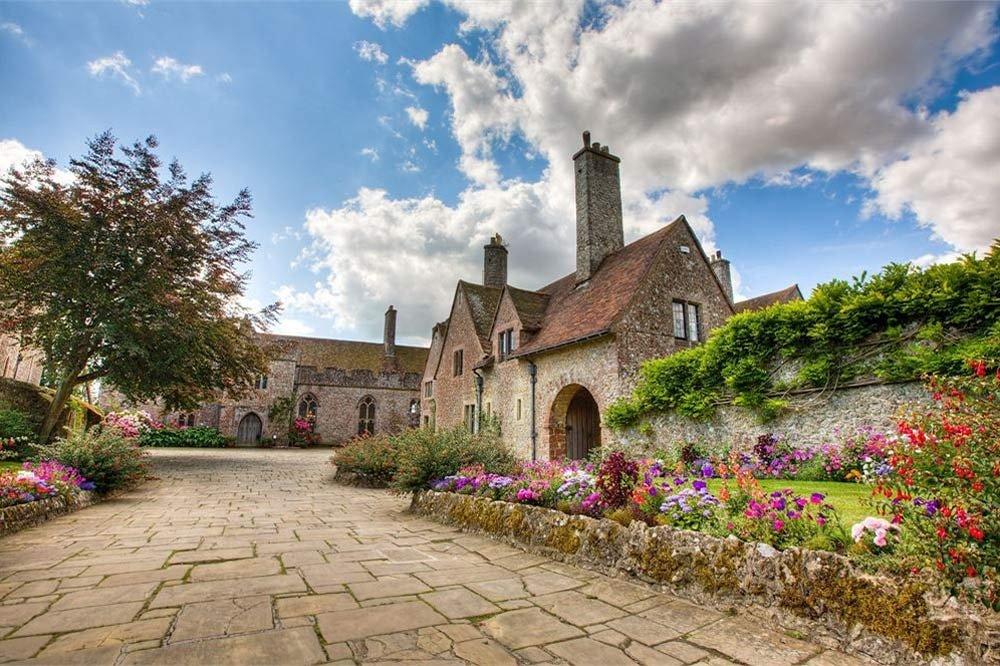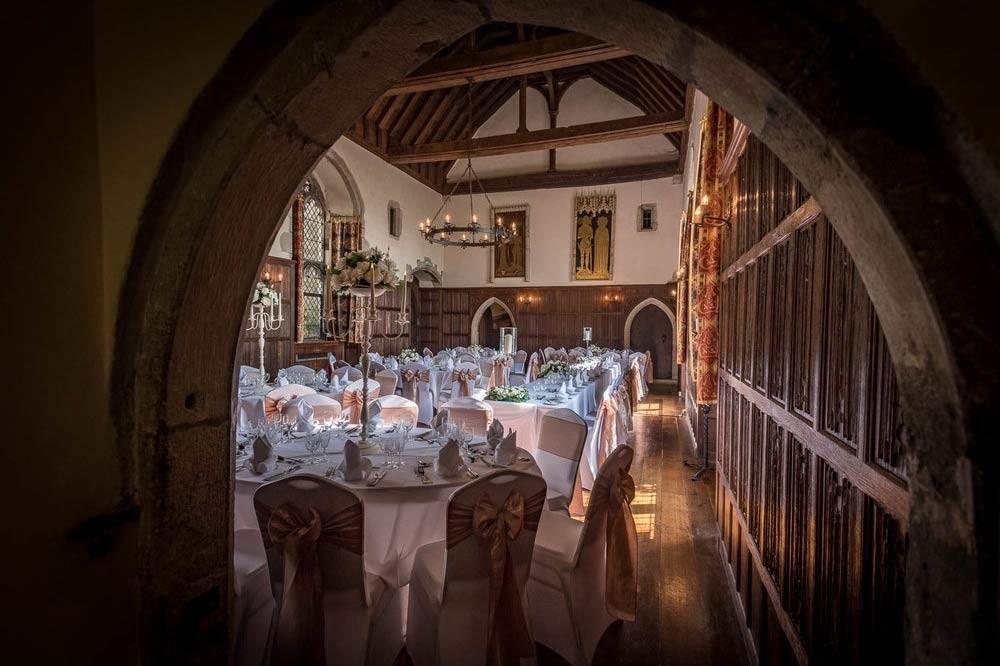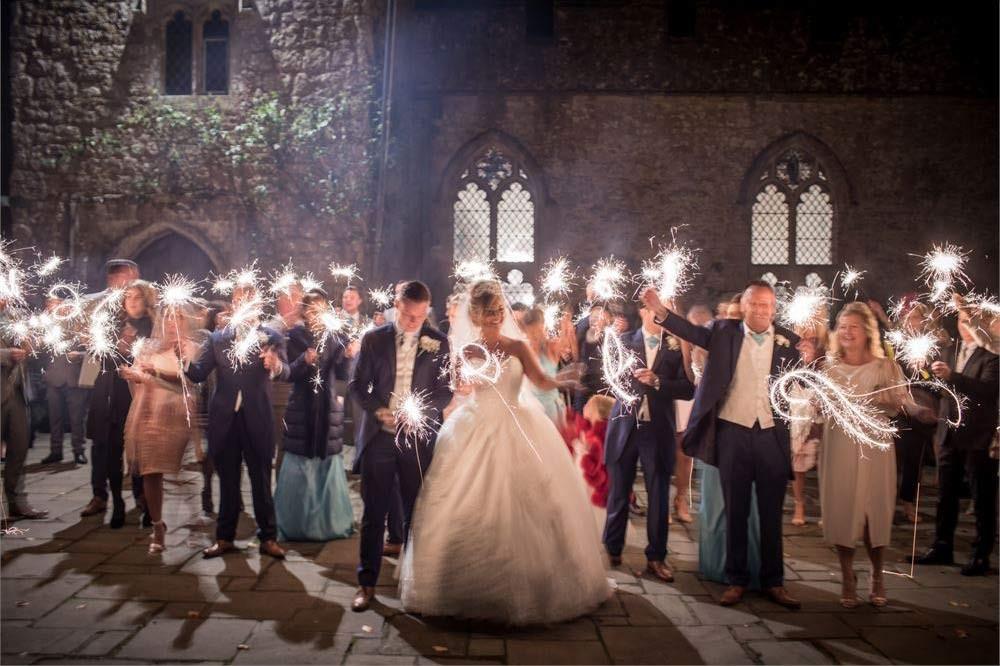 Fairytale castle is an accurate description for the medieval Lympne Castle, which sits high over the Kent countryside and offers views across the English Channel.
From the cobbled courtyard to the wood-pannelled grand hall, live out your Disney princess fantasies (it's as close to royalty as most of us will ever get).
Glen Tanar, Aberdeenshire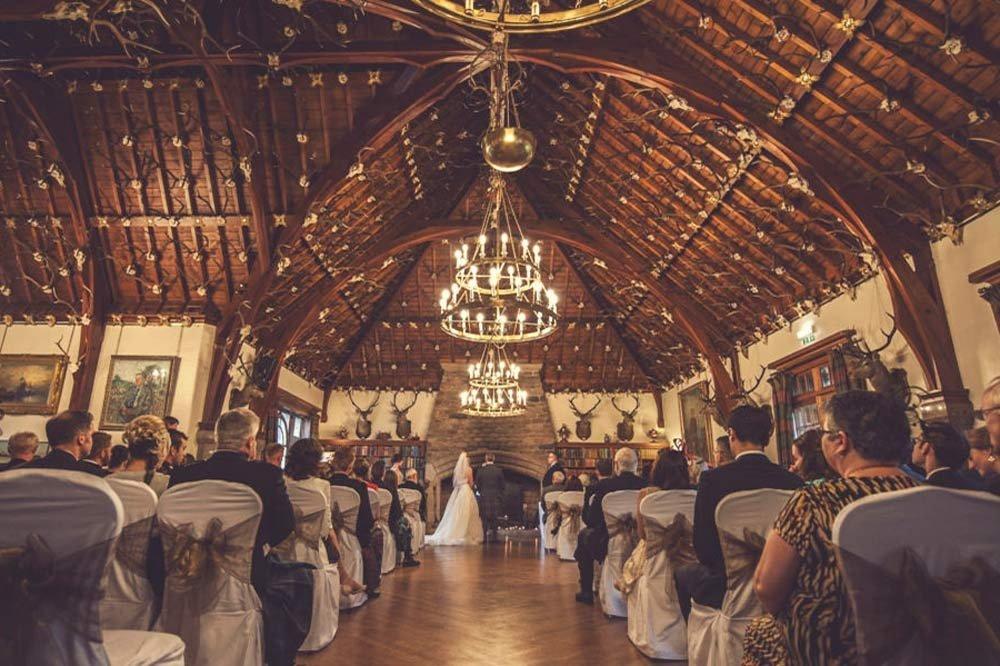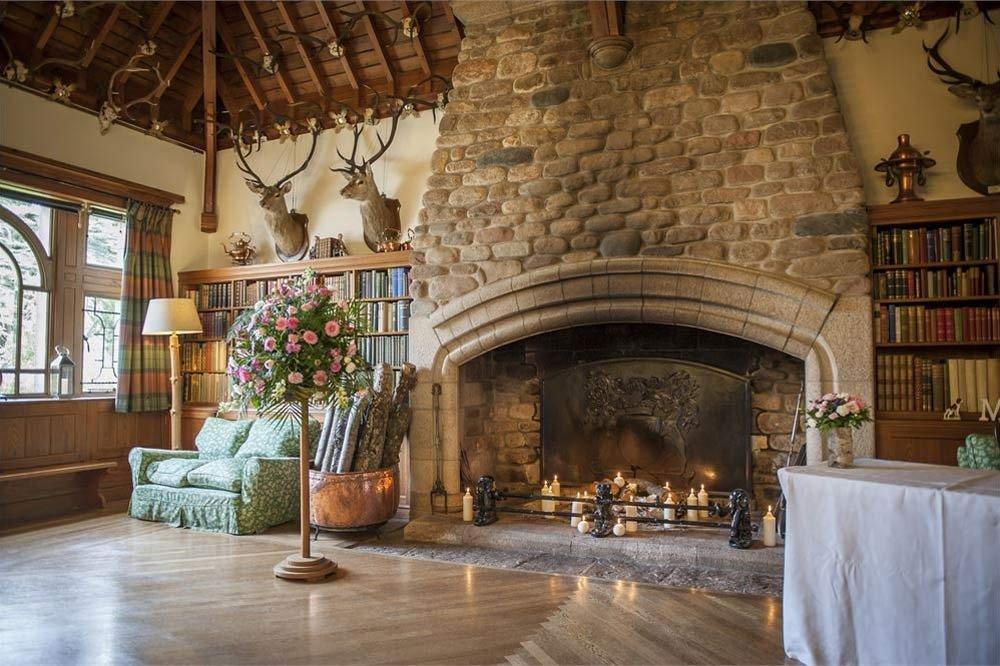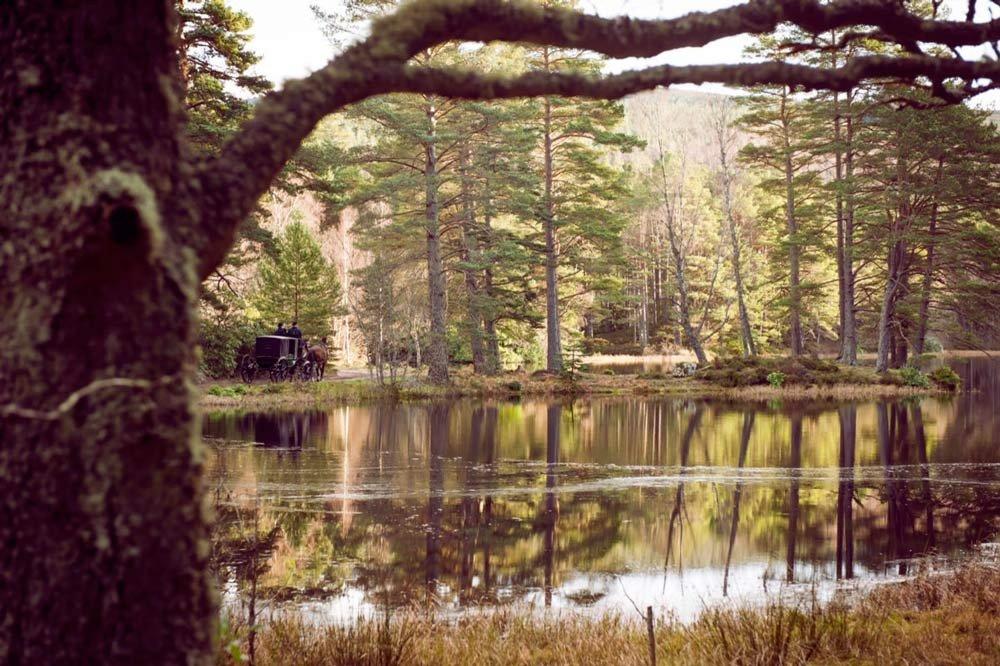 Scotland stole Prince William's heart (as did Kate Middleton) when he went to St Andrew's university. For an truly original Scottish venue, Glen Tanar is a magnificent Victorian ballroom decorated with over 600 stag antlers and with a spacious dancefloor perfect for your ceilidh. Perfectly secluded and with spectacular views, you'll make some magical memories at Glen Tanar.
Gosfield Hall, Essex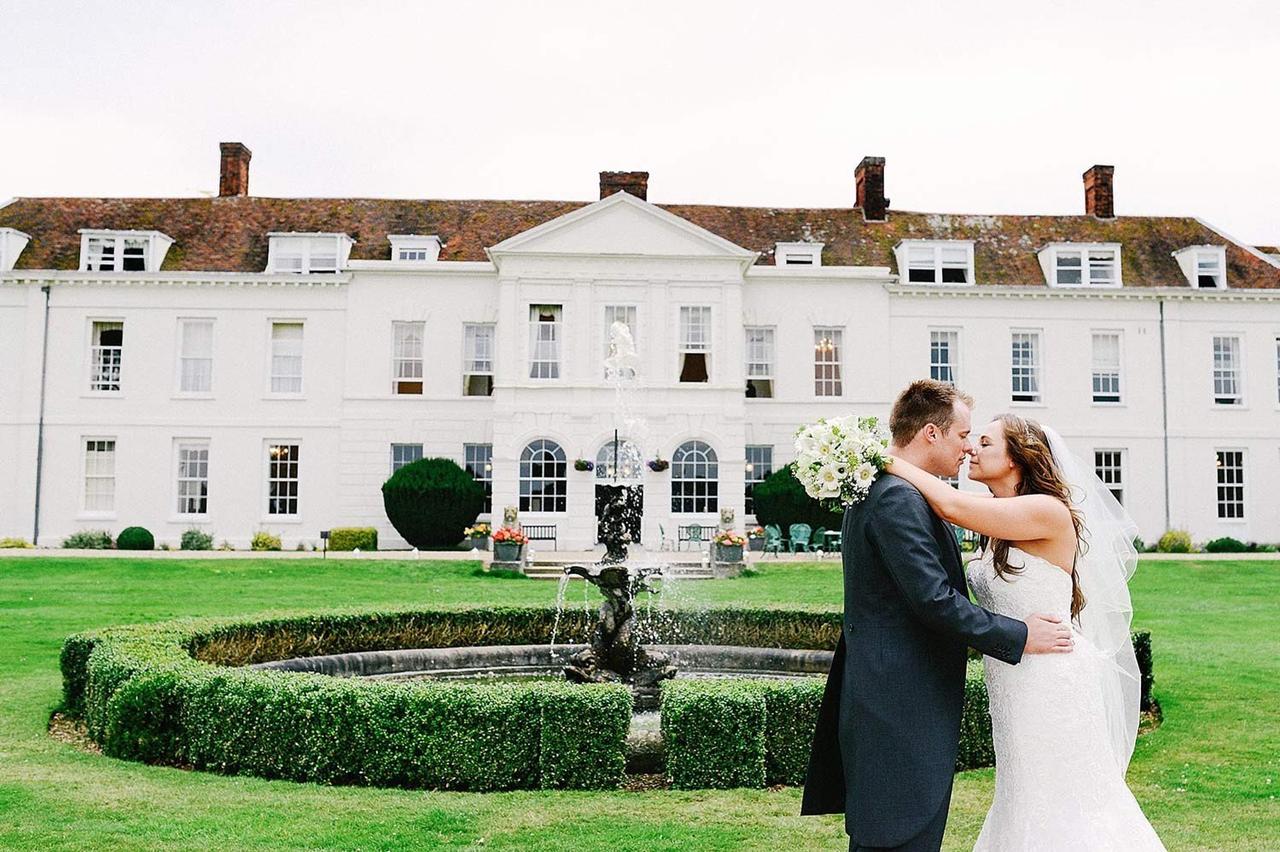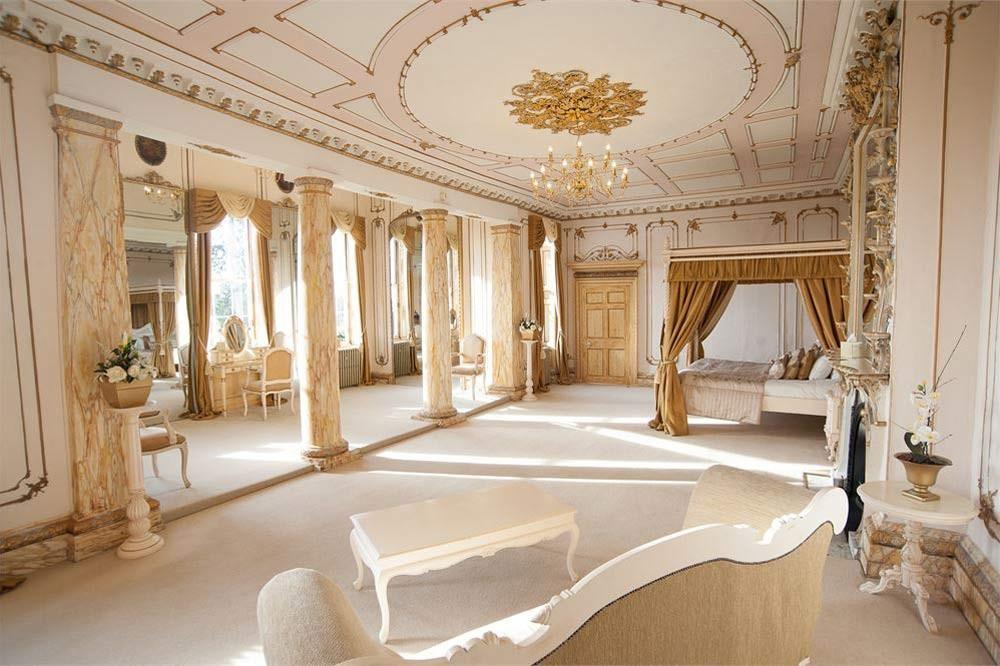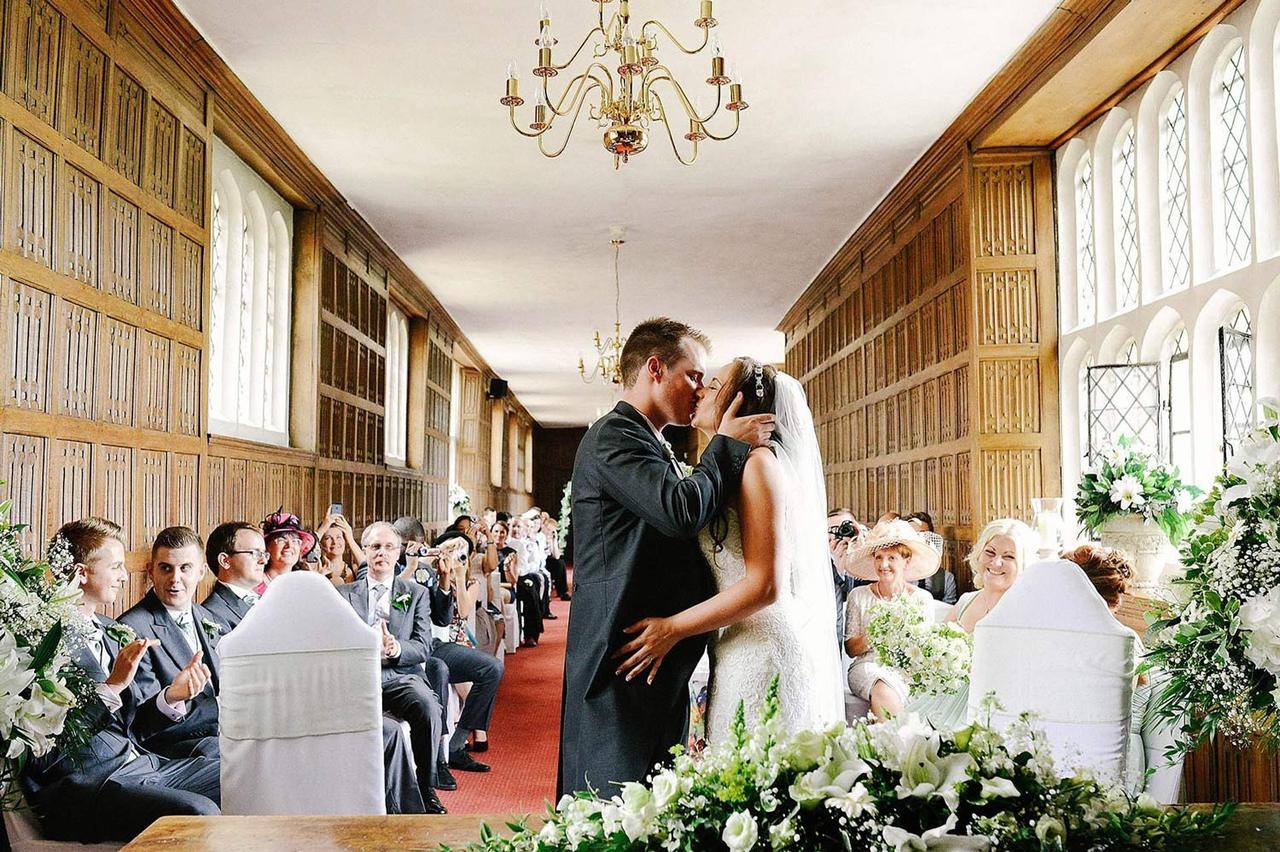 Is any royal venue complete without a baby grand piano? The magnificent former royal palace of Gosfield Hall in Essex offers one in its Grand Salon, while Queen Charlotte's Gallery (with an aisle of over 100ft for a bride who really wants to make an entrance) and their inner courtyard provide a variety of beautiful ceremony choices.
This striking white-fronted Georgian mansion boasts panoramic views over the mile-long lake – perfect to gather your friends and family in front of for photos.
READ MORE: Meet The Couples Marrying On The Same Day As Harry And Meghan
Cliveden House, Berkshire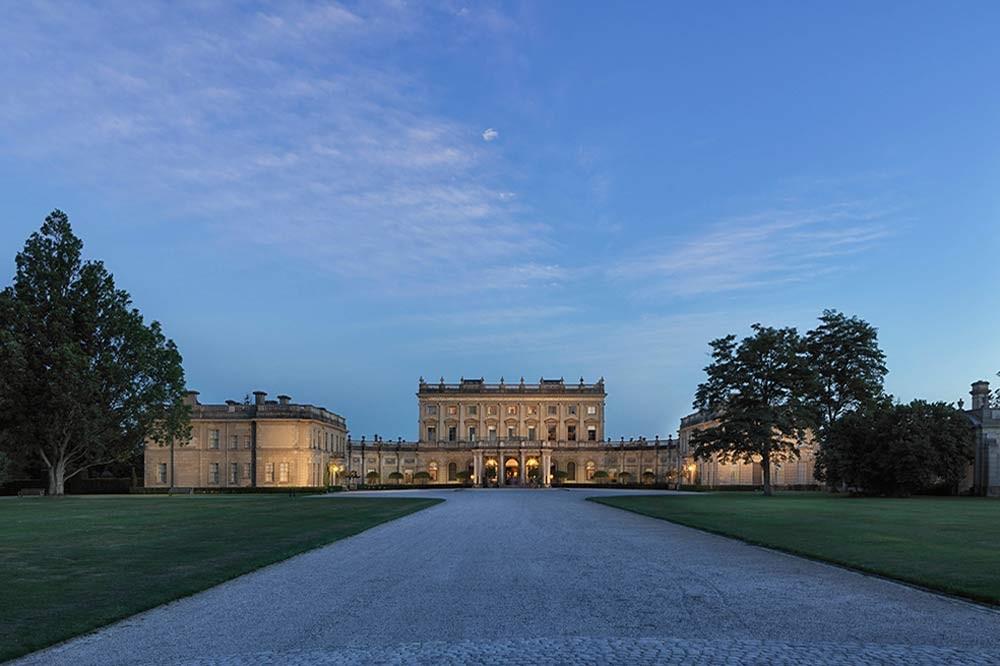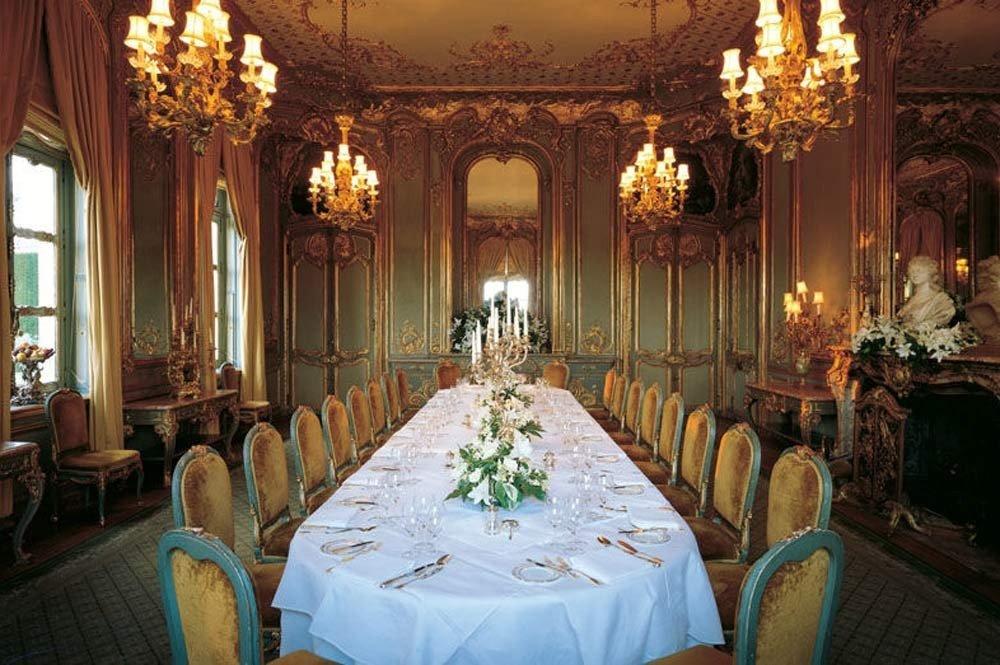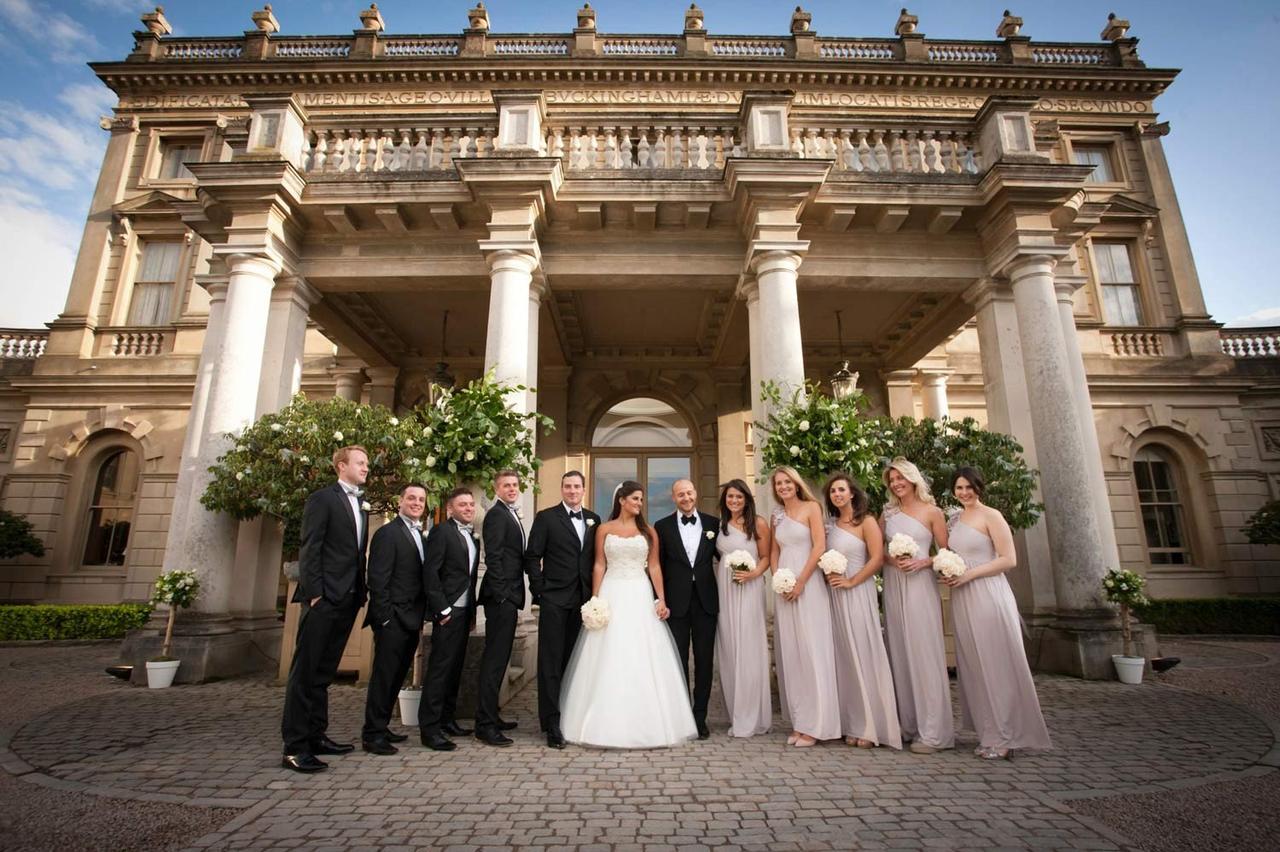 Set within 376 acres of National Trust parkland, the imposing Cliveden House is the ultimate setting for a magical wedding day. This is the height of romance and grandeur, with luxury interiors, beautifully manicured gardens and even a Fountain of Love.
Their dedicated wedding team promise to treat you like royalty, even if you've not got the title to match, so what better way to feel like a queen on your wedding day? Pets are also welcome at Cliveden House so if you desperately need you pooch as ringbearer, this is the venue for you.
Warwick Castle, Warwickshire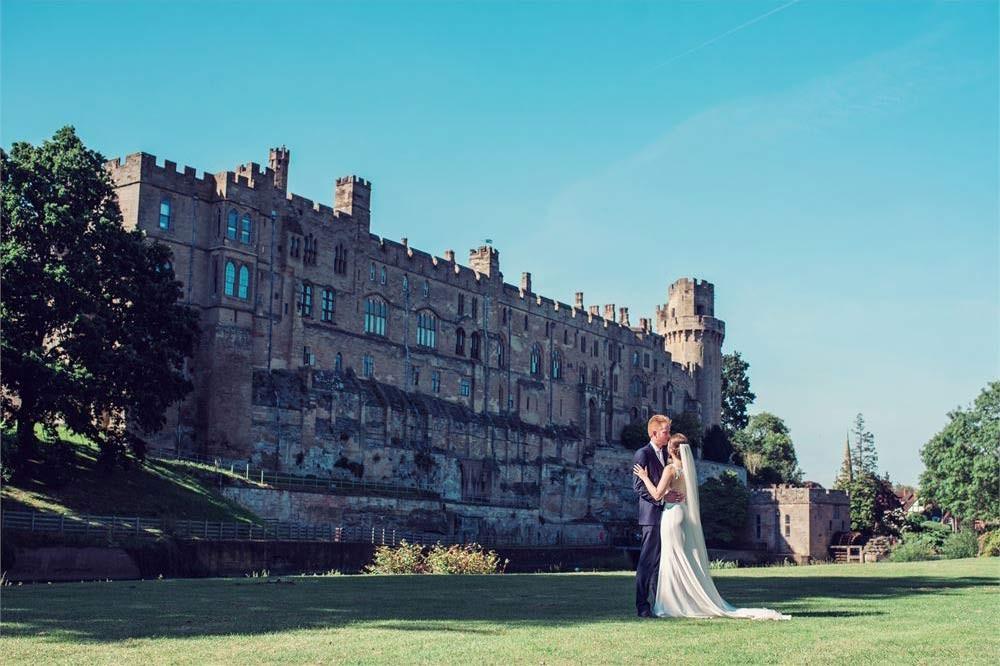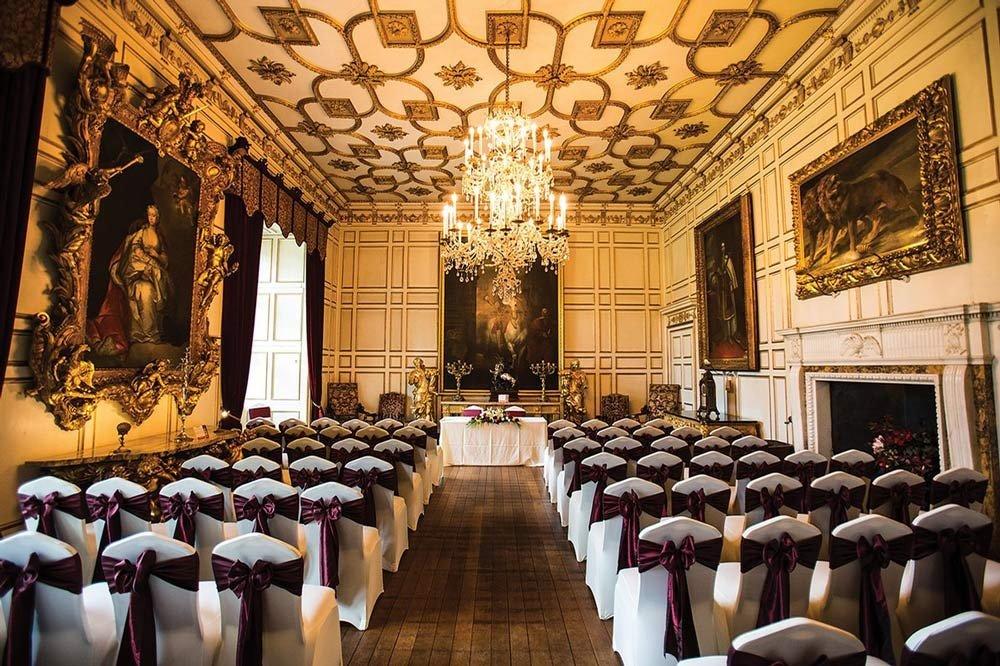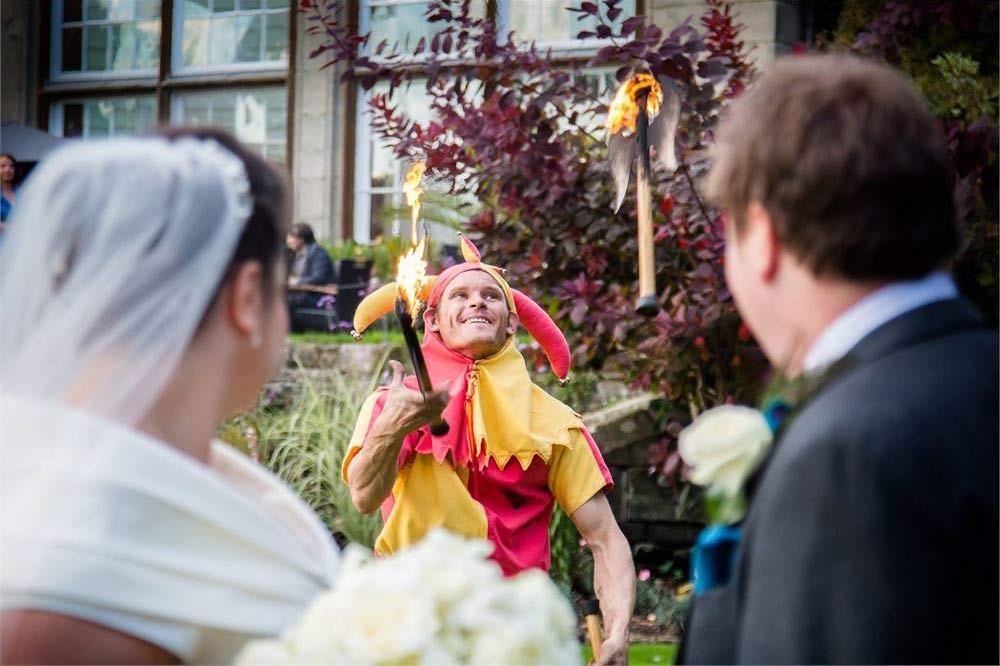 Marry your own knight in shining armour at storybook Warwick Castle. From a breathtaking Great Hall reception room to the 20 peacocks that call the castle home, every aspect of your big day will be fit for royalty and memorable to boot – the castle even provide you with a ceremonial sword to cut your cake.
You can choose to be transported back to the 14th century too with a medieval banquet if that's your thing, featuring live entertainment like jugglers and a real-life knight fight.
Find more historic wedding venues here and if you want something worthy of Disney princess, check out these fairytale venues.