21 of the Best Dating Sites & Apps for 2022
Are you on a quest to find love? Whether you're looking for fun or you're ready to settle down, here are the best online dating sites and apps to sign up to now…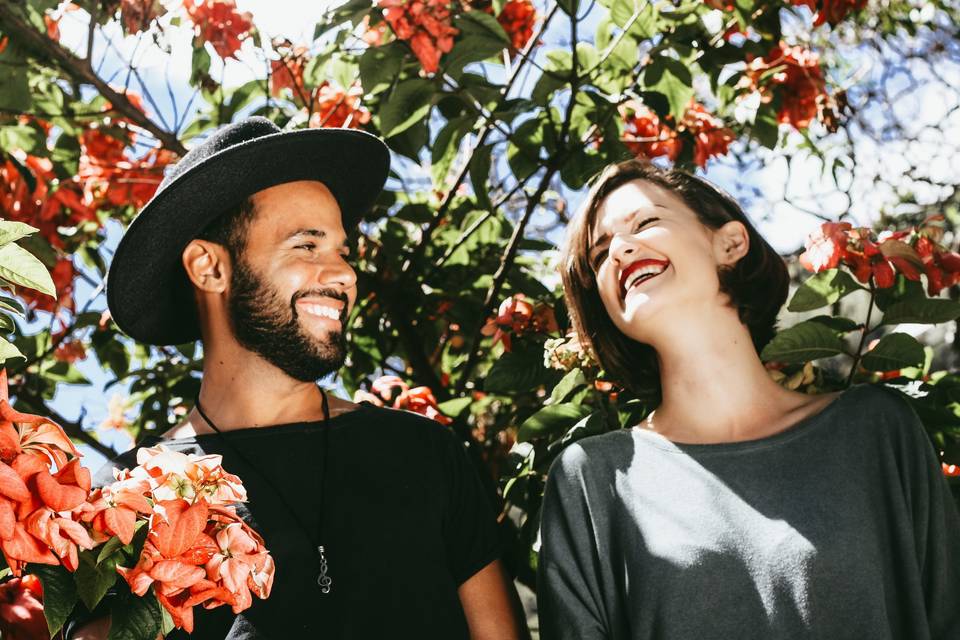 We're all about love at Hitched – whether that's helping you tie the knot with your soulmate or helping you find them in the first place, so we've rounded up the best online dating sites and apps.
Half of all singletons now use online dating sites and apps to help them find love (or lust, *cough cough* Tinder), so it's no longer embarrassing or cringe-worthy to admit to it. Actually, we found nearly 1 in 10 couples who ended up married met on Tinder!
Seriously, online dating is as normal as ordering your groceries on the web. With more than 1,400 dating sites and apps floating around the internet, it has never been easier to find one that suits your wants and needs. Whether you want someone bi, Christian, a farmer, a rock music fan, degree-educated or something completely different, there's an app for that.
We've rounded up 21 of the best online dating sites and apps for you to choose from, plus we spoke to Vihan Patel, founder of dating app POM, who gave us some top tips for online dating. Your happily ever after begins here.
READ MORE
The Best Free Online Dating Sites and Apps
1. Tinder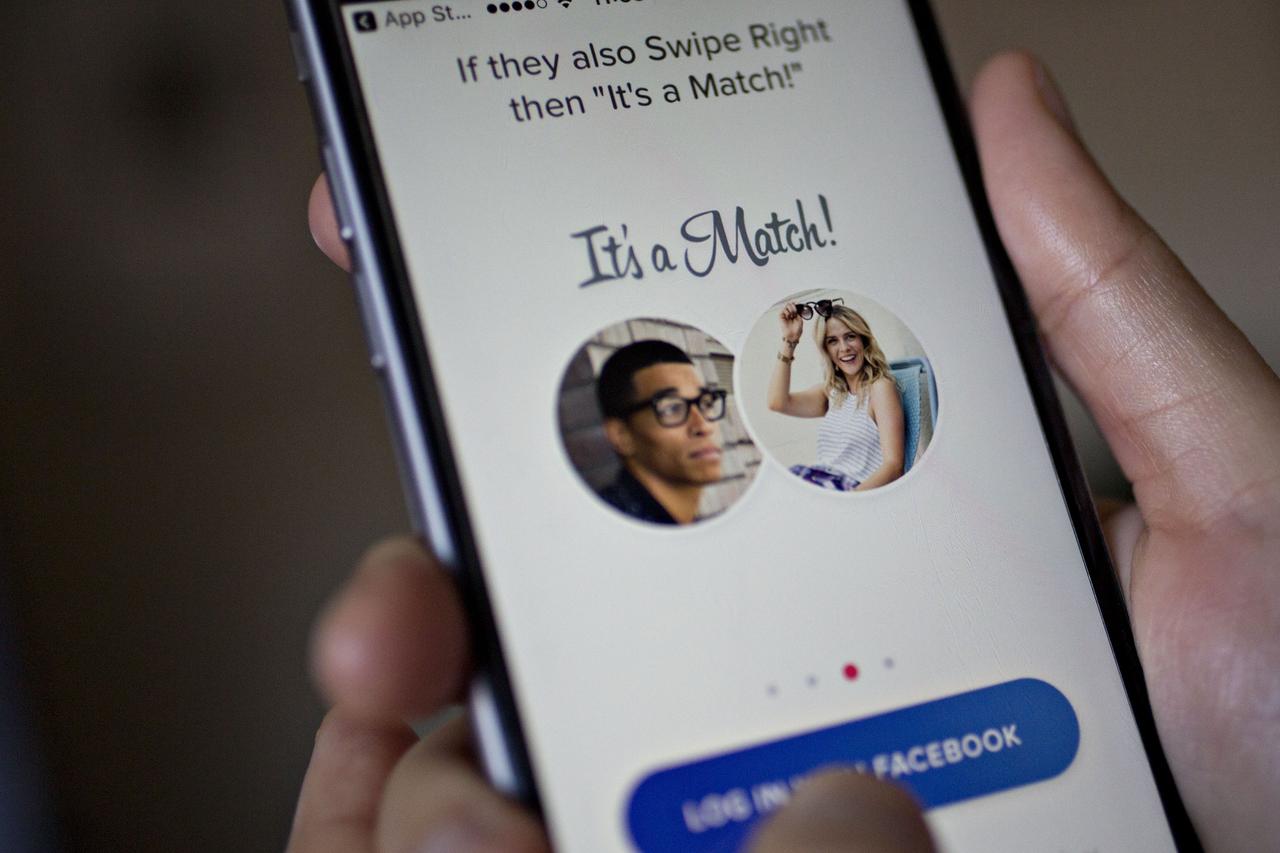 Best for: Casual Dating
Costs: Free with Additional Paid-For Features
First up is the king of the dating apps. The OG, if you like. It might have a bit of a bad rep for casual sex and no-strings-attached flings, but with two billion views per day, who's to say you can't find the love of your life by swiping right?
Tinder is photo heavy and requires users to swipe to arrange dates. You can scroll through users' photos, "super like" people who really take your fancy and start conversations with those who have liked your profile in return. What's more, it picks up your location so you can track down potential matches wherever you are in the world.
Tinder's main stumbling block is that it doesn't allow you to include quite as much information about yourself as other dating apps do. That makes it harder to judge whether someone would be a good match for you… you're going off appearances, basically. You can include your name, job, company, education, location and links to your Spotify and Instagram accounts. Since the app is responsible for one million dates per week, it must be doing something right.
2. POM
Best for: Music Lovers
Costs: Free
POM, which stands for Power Of Music, is a unique dating app that links users through their shared taste in music by utilising an emotional algorithm to create a 'profile' of a user from their imported music library and six personality questions, matching them with fellow singletons.
Compatible with Spotify and Apple Music, this app is all about making connections that are genuine and meaningful - similar music taste can be a great indicator of compatibility and has always played a huge part in connecting people.
One thing's for sure, you'll never be stuck for an icebreaker if this is the dating app you choose to use – a shared taste in music is the best conversation starter of them all!
3. eHarmony
Best for: Marriage Seekers
Costs: Free Basic Membership with Additional Paid-For Features
If you're sick and tired of dates with people you just don't have anything in common with, it might be time for some serious personality matching. That's where eHarmony comes in. They've been around for over a decade and have a patented eHarmony Compatibility Matching System which took 35 years to create. It's a very in-depth relationship questionnaire which gives the team the ability to match users with people they're actually compatible with. Yep – they take this love stuff pretty seriously.
There are over 60 million members on the site from around the world. Five million of these live in Britain, so there are plenty of people to choose from. The team state that someone finds love every 14 minutes on average using eHarmony. Isn't it worth a shot?
When you sign up, you'll fill out their trusty questionnaire which pairs singletons according to 32 dimensions of compatibility (it might sound complicated but it's for your own good – trust us). After that, all you need to do is wait for potential suitors to drop straight to your inbox!
4. Plenty of Fish
Best For: Fussy Daters
Costs: Free with Additional Paid-For Features
Plenty of Fish has more than 150 million registered users worldwide and claims to be responsible for creating more relationships and conversations than any other free dating app. They have a pretty hefty selection of success stories which will persuade you they know exactly what they're doing.
When you sign up, you'll be asked to take a chemistry test which allows them to match you with personalities that lead to long lasting, stable relationships. You can even discover your relationship needs and allow the team to tell you what you need in a relationship and how to make your next relationship a success. We can hear wedding bells already.
5. OkCupid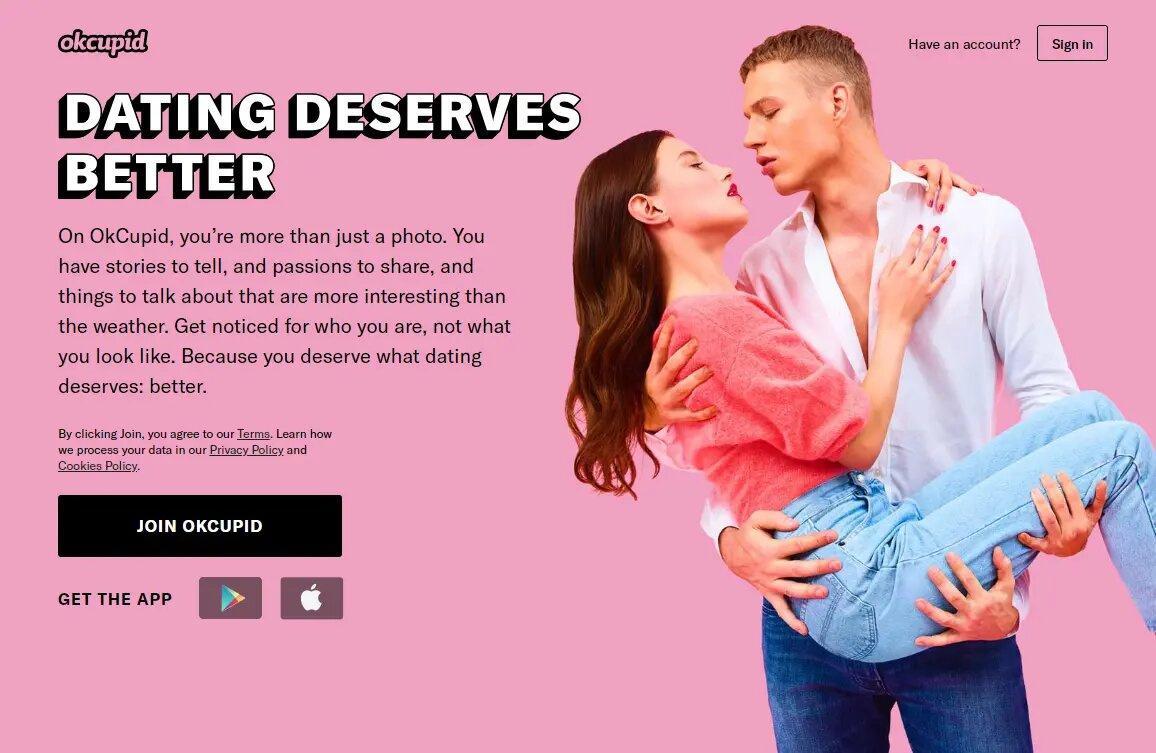 Best For: Those with a Specific Checklist
Cost: Free with Additional Paid-For Features
When you first sign up to OkCupid, you have to choose what type of relationship you're looking for – whether that be a hook-up, marriage, or a short-term relationship. You can also choose from 22 different genders (in 2014, the app were the first to introduce 22 genders and 13 sexual orientation options), including non-binaries and agenders. For that, we applaud them.
After this, you're asked a series of 15 questions which cover everything from politics to religion. They're all optional, though, and whether you give your own answers or not, you get the chance to say how your ideal partner would respond to them.
It's all of this ground work which ensures the matches OkCupid sends to you are worthwhile. You can inject a bit of personality into your profile too, by answering questions like "Do you make your bed every day?". Instead of being spammed with messages, you can only message those with whom you have matched.
READ MORE: 19 Rules All Wedding Guests Should Follow
6. Hinge
Best For: Millennials
Costs: Free with Additional Paid-For Features
Hinge's catch phrase is "The dating app designed to be deleted" – a sentiment we really like.
In our opinion, it has one up on Tinder, because it allows you to put way more information about yourself in your profile. It's also more fun, because instead of simply uploading photos and a one-line bio, you have to answer questions like "Who was your childhood crush?" Your matches can then like the answers to your questions, allowing you to spark up a conversation. You can link up your Instagram and display lots of fun facts about yourself in one smooth, scroll-able profile page. You only get to send 10 likes per day, meaning the matches created are meaningful.
Hinge is free to download and this gives you unlimited access to profiles, swiping and sending messages. Result. If you want, you can upgrade your membership to a "preferred" one, which allows you to better filter results and make things more specific.
7. Bumble
Best For: Putting Women in the Driving Seat
Costs: Free with Additional Paid-For Features
Bumble made itself famous by addressing the gender imbalance in dating apps. Yep, listen up ladies – this one allows you to be in control of the conversations. And time is of the essence, because you only have 24 hours to initiate a conversation before your match is gone forever. No pressure, then.
Granted, your profile won't be as detailed as it might be on other apps, but there is a video call ability which allows you to get to know your match before you meet.
Bumble is free to use, but you can upgrade to Bumble Boost, where you can see users who have already "liked" you. This costs £11.99 per month for 6 months or £7.99 for the week.
8. HER
Best For: Queer, Bisexual & Lesbian Women
Costs: Free with Paid-For Additional Features
Hooray! A dating app which is exclusively for queer, bisexual and lesbian women has finally landed on the dating scene. With four million users worldwide, HER is dead easy to use and really seems to be making waves in the world of love.
Not only are there moderators working 24/7 to ensure the platform is safe to use, but it allows you to upload four photographs and as much information about yourself as you please. You'll be able to see when other women have liked your profile, and it tells you their sexual orientation and how far away from you they are.
9. Happn
Best For: Young Professionals
Costs: Free with Paid-For Additional Features
Happn is the app of the moment for busy people – particularly busy people who are too awkward to start a conversation. As much as we'd like to think we'd chat away to a stranger after catching eyes on the train, we're all probably too awkward to do so.
Luckily, Happn works by tracking your approximate location (not your exact one, don't worry), and displaying users you've crossed paths with at the top of the page. If you like what you see, you can send a heart. If they send a heart back then you can start a conversation.
Remember that gorgeous guy you bumped into on the way out of the station this morning? He just might be at the top of your home page.
10. Scruff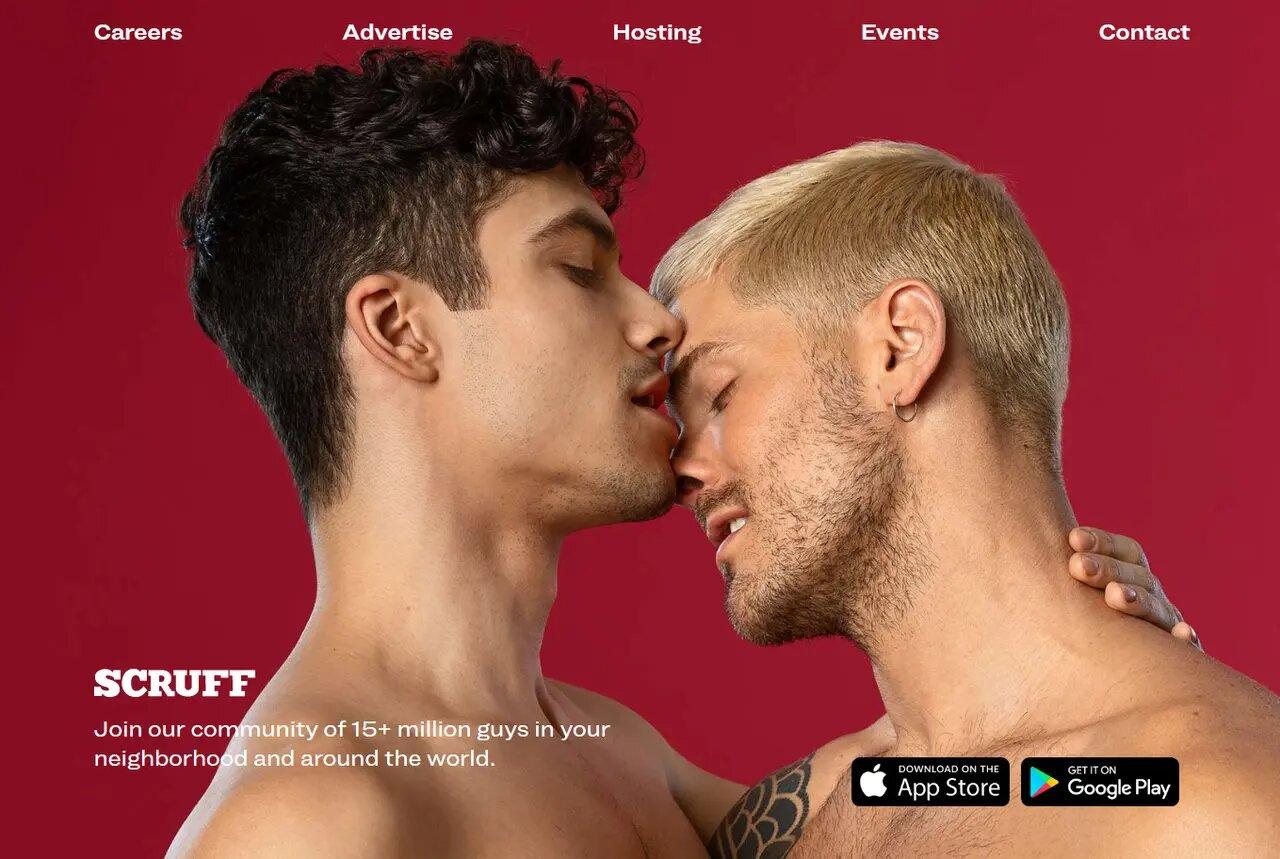 Best For: Slightly Older Gay, Bi and Trans Men
Costs: Free with Paid-For Additional Features
Scruff was originally created exclusively for men who like men with beards, but recent years have seen their database expand to men on all ends of the facial hair spectrum.
It works a little like Tinder and has you swiping left and right on potential partners – right for those you like. You can also click the 'woof' button to show someone them you find them attractive.
Scruff has an older intake than Grindr, but it's playful, easy to use and perfect for gay, bi and trans men.
READ MORE: 40 Double Date Ideas You'll Actually Enjoy
11. Shaadi.com
Best For: Single Indians Looking for Love
Costs: Free with Paid-For Additional Features
Shaadi.com positions itself as the 'No. 1 Indian matrimonial service in the United Kingdom' which has enabled upwards of six million people to find love on the site.
It's exclusively for people looking for marriage – illustrated by the fact that you have to set your preference to 'bride' or 'groom' when you sign up.
You can filter results based on age, height, religion, mother tongue, location, marital status and whether you have children. You can even change your membership level to unlock further benefits. With a personalised membership, you'll get a relationship advisor who sets up dates on your behalf! Things could not be easier.
12. Christian Connection
Best For: Christians Looking for Something Long-Term
Costs: Free with Some Paid-For Features
Christian Connection is one of the best religious dating sites and apps out there. It matches (yep, you guessed it) Christians with other Christians looking for long-term love. They recognise that outside of church and work, it's often difficult to meet single, like-minded people.
When you sign up, you'll be asked to create a detailed profile outlining your job, political views, religious standpoints, dream holiday destinations and more. Don't be put off by the tonne of questions – they'll help you in the long run!
From there, things couldn't be simpler. If you see someone you like, simply 'wave' at them and get chatting. They also have loads of help and advice covering everything from dating, relationships and faith by top Christian writers on their blog. What a better way to meet people like you?
13. Elite Singles
Best For: Well-Educated Singles
Costs: Free with Paid-For Features
If you're apprehensive about using a dating site which requires you to judge solely on appearance, you may prefer EliteSingles. It matches partners using a comprehensive personality test and only sends between three and seven matches per day – all of which are manually verified.
85% of users to the site have a degree and are between 30 and 55 years old, so this particular dating website is perfect for educated singles in their 40s. If this sounds like you – what are you waiting for?
14. Single With Kids
Best For: Single Parents Looking for Love
Costs: Free Sign-Up
Single With Kids is a dating website dedicated to single parents seeking love. They know that dating with children can be a total minefield. You're likely to be short on money and you're certain to be short on time – so how can you squeeze it all in? SWK makes things easy. Sign up for free, specify the type of person you're looking for and filter your results by area.
If that wasn't enough, the site gives advanced tips for dating with children, as well as writing your profile, staying safe and a single parents forum. They've got your back.
15. The Sauce
Best For: Confident People
Costs: Free
If you spend hours scrolling through TikTok (guilty!), how about diverting your attention to video based dating app The Sauce. Aimed at making dating less dry, this isn't one for wallflowers - forget photos, you'll be uploading a video to your profile that'll really show your personality to potential beaus.
With over 10,000 members just after launching, it's a great way to feel like you've already met someone even before your first date. Ring lights at the ready...
The Best Paid Online Dating Sites and Apps
16. Muddy Matches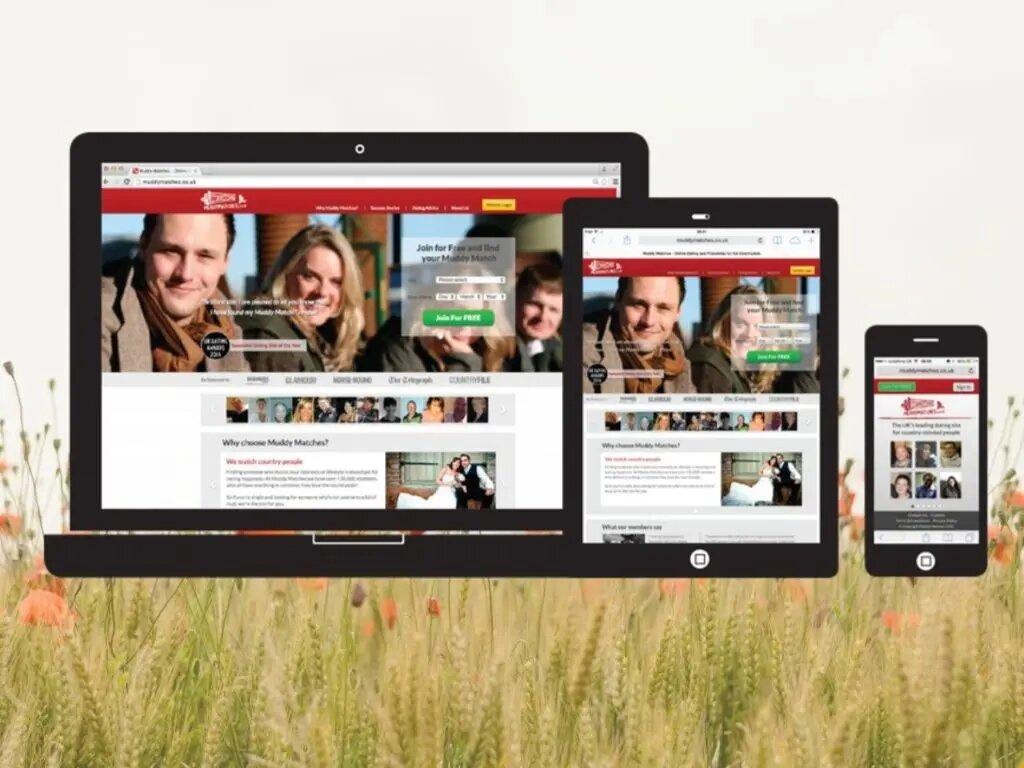 Best For: Country Folk
Costs: £88 for 12 Months
See, we told you there was something for everyone. Muddy Matches is a dating website dedicated to matching lovers of the countryside – from farmers to city dwellers who have a bit of a thing for people in tweed jackets. Finding someone who shares your interests and a similar lifestyle is important for long-lasting happiness, so we're all ears when it comes to this site.
You can check your account from any field you might be wandering at the time (there's a fab, easy-to-use app), and you can take their quiz to find out just how 'muddy' you really are (a kind of weird, albeit fun, touch).
Membership is free but you can only send messages to your potential suitors if you pay the £88 annual subscription free.
17. LoveStruck
Best for: Very Busy People
Costs: Upwards of £16 Per Month
Are you a busy young professional with a high-flying job and very little spare time? Join LoveStruck, the dating app which is perfect for looking for love in the city.
It allows you to target potential partners according to their location – which can be as specific as a tube station – and it covers many of the world's major cities. This is ideal if you're working abroad for a while.
LoveStruck pride themselves on offering a dating experience which is meaningful. You can meet genuine singles who are looking to date with the intention of something serious. You can also add fun date ideas to your profile and match with people according to their date ideas, which we love. It's time to get your thinking caps on…
18. Match.com
Best for: Nervous Newbies
Costs: Upwards of £9.99 Per Month
Match is one of the most widely used dating sites in the world. It works in the traditional way: you create a profile, you check out your matches, you start chatting and you arrange a date. It's a pretty fail-safe way of doing things, and is great for those who are newly single and wanting to put themselves back out there.
Since match.com is so well known, it attracts a wide demographic, upping your chances of finding someone you'll click with. You can filter matches with their advanced matching feature, and even put yourself into 'zen mode'. This means that you're only contacted by those who meet your criteria.
It's free to become a member of match.com, but you can only send and receive messages if you pay their £12.99 per month subscription fee. A small price to pay for finding the love of your life, right?
19. MySingleFriend.com
Best for: Shy People
Costs: £32 Per Month
MySingleFriend.com is the dating website which banishes all the *cringe* around having to blow your own trumpet when you make a dating profile. It works on the premise that most people actually don't want to do that, and the best people to big them up are their friends.
Each member on this dating website is put forward and described – or embarrassed – by a friend, and the result is a chatty and friendly space where people can talk, meet and fall in love. Here's hoping.
20. Telegraph Dating
Best For: Mature Daters with an Interest in Politics and Current Affairs
Costs: £12 a Month to Subscribe
If you feel like the odd one out for seeking love in later life, don't fear. Telegraph Dating is here to help, and it's particularly great if you're on the hunt for a soul with similar opinions on politics and current affairs. What better place than a newspaper dating website to find the love of your life?
On Telegraph Dating, you can filter profiles by region, making it easy to find a partner who lives close to you. As you set up a free profile, you'll be prompted to describe the type of person you're searching for. You can then browse the site, view others' profiles and send your ideal match a message.
This free membership allows you to read messages from your matches and reply with a one-liner. To start conversations and write personal, customised messages, you'll need to pay £12 per month for 12 months.
21. Inner Circle
Best For: Singletons Fed Up with Pandemic Dating
Costs: From £19.99 for a Full Membership
Fed up of trying to find 'the one' in a pandemic? Inner Circle have got you - their dating app has a super fun feature called 'Refund My Sh*t Date - The Pandemic Edition', where you can share your horror date stories (anonymously), for a chance to win a number of prizes, from massages to Headspace subscriptions.
Their process is super selective with full profiles highlighting hobbies, favourite venues and past holiday so here's hoping you won't end up with any nightmare dates to share...
5 Top Tips for Online Dating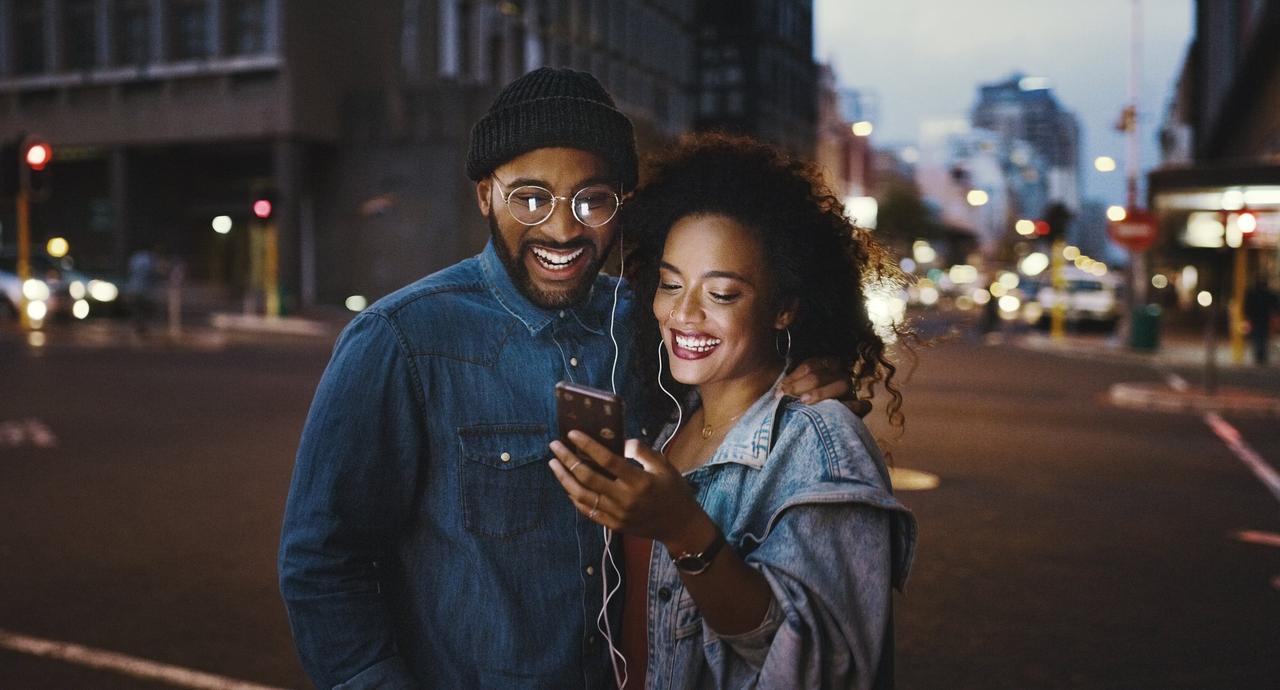 As the founder of music dating app POM, Vihan Patel knows a thing or two about online dating - read on to discover his top 5 tips to finding love online...
1. Be Yourself
"Starting off with an important one - 100% be yourself. Ultimately if the dating app works, it will result in good matches with potential partners. Therefore if you're not your true self in the first place, then this could lead to future problems if a relationship does start. You want a partner to want and love you for your genuine self rather than someone you're pretending to be."
2. Have Fun!
"Everyone gets nervous talking and meeting someone new, so make sure you have fun while doing so – this will not only break the ice but will make the experience a little less daunting. I recommend doing this by having a few funny conversation starters, and yes, a chat up line is cheesy but let's be honest, everyone likes someone who can make them laugh."
3. First Impressions Count
"You only get one first impression so make sure your profile picture and bio best reflect who you are and any hobbies or passions you have. This will give you the best chance to meet likeminded people."
4. Ask Questions
"Ask questions about the other person's profile! Questions are a great way to start a conversation and like you, the other singleton has put stuff in their profile to essentially sell themselves and show their likes and dislikes. Use these things as talking points – ask them about their favourite music or the holiday they went on that they've shared a picture about."
5. Stay Safe
"Lastly, and the most important tip, stay safe. At the end of the day people on all dating apps are strangers. When meeting up with anyone for the first few times, I'd always recommend letting a friend or family member know when and where you're meeting them. Make sure you have fun and always put your safety first!"
8 Tips on How to Have a Good First Date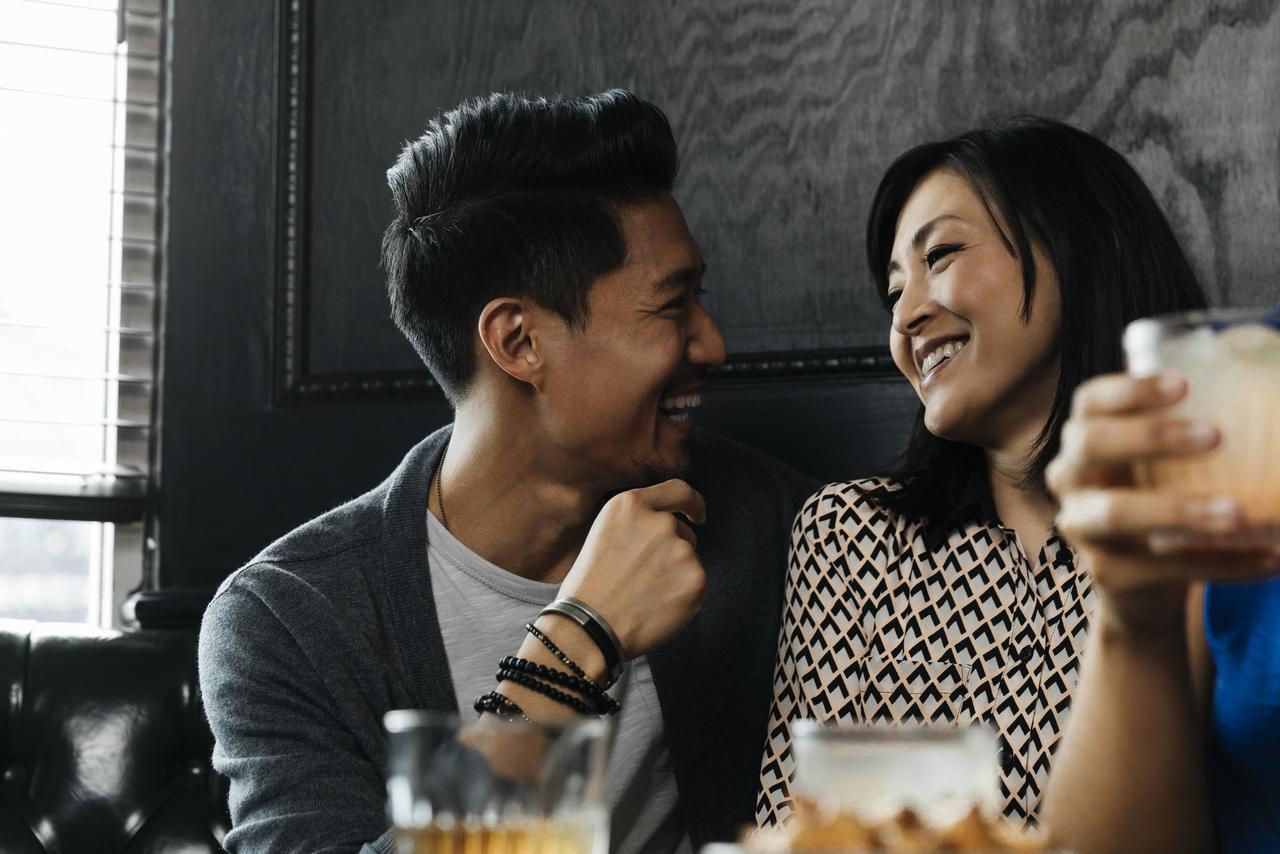 Admittedly, most of it does just come down to whether you have that initial attraction or not, but even if they are your type on paper, nerves could get the better of you. If you're feeling a little apprehensive about your first online date, follow these fail-safe tips for avoiding any awkward silences…
1. Stay Calm Beforehand
The best way to prepare for a first date is to stay calm beforehand. Think about questions you might ask if the conversation dries up (without sounding like you're interviewing them), and practise positive affirmations in the mirror. Tell yourself you absolutely can do this and you're worthy of going on a date with them.
2. Choose an Active Date Idea
If you're feeling a little nervous, there's nothing more daunting than the thought of sitting in front of one another bearing your souls all night.
Suggest a date idea which includes an activity, like bowling or mini-golf. It'll give you something to chat about if the conversation dries up and will help you settle those nerves.
3. Ask Lots of Questions
Asking your date lots of questions is the best way to show you're interested. Don't stick to small talk and try not to ask too much about their job – think about asking about their family, their hopes and dreams and what they want out of life. This will determine whether you have the things that matter in common.
4. Use Open Body Language
The key to good communication is actually not your words – it's your body language. No matter how many dazzling and deep-delving questions you ask, if you've got your arms folded and your legs crossed, you aren't going to get very far.
Make lots of eye contact and keep your body language open. You'll reap the benefits.
5. Be Positive
If you go into your date with a positive attitude, you're much more likely to have a good time – and your date will, too!
Tell yourself it's going to go well, act like it is from the beginning and smile lots. Although not too much… you don't want to look creepy.
6. Split the Bill
Who should pay for the bill on a first date is one of the most widely debated aspects of first date etiquette. Should the person who initiated the date pick up the bill? Should you be all traditional and allow the man to pay? What if you're on a same-sex date? Gah! So many questions.
These days, it's most common to split the bill equally. That way, you won't feel like you owe them a second date if you didn't enjoy it. That said, if your date really does insist on paying, it's much more polite to graciously accept than to argue and make things awkward.
7. Text Them Afterwards
Apparently, only 4% of people think you should purposely wait before replying to a message from a date, so if you've enjoyed your time then let them know. Trying to act cool by waiting three days help no-one, particularly in today's age of instant communication.
Equally, if the date wasn't all you'd hoped for, don't be afraid to send them a quick message to let them know you don't think they're the right person for you. Be kind, but remember honesty is the best policy.
8. Be Prepared for Rejection
Sadly, it happens, and there's no better way to soften the blow than prepare for it. If someone decides they don't want a second or third date, try not to see it as a loss. Instead, it's an opportunity to move on and find the person who really does want to be with you! Onwards and upwards, as they say.
READ MORE: 17 Things Guests Really Hate About Weddings
6 Ways Stay Safe When Online Dating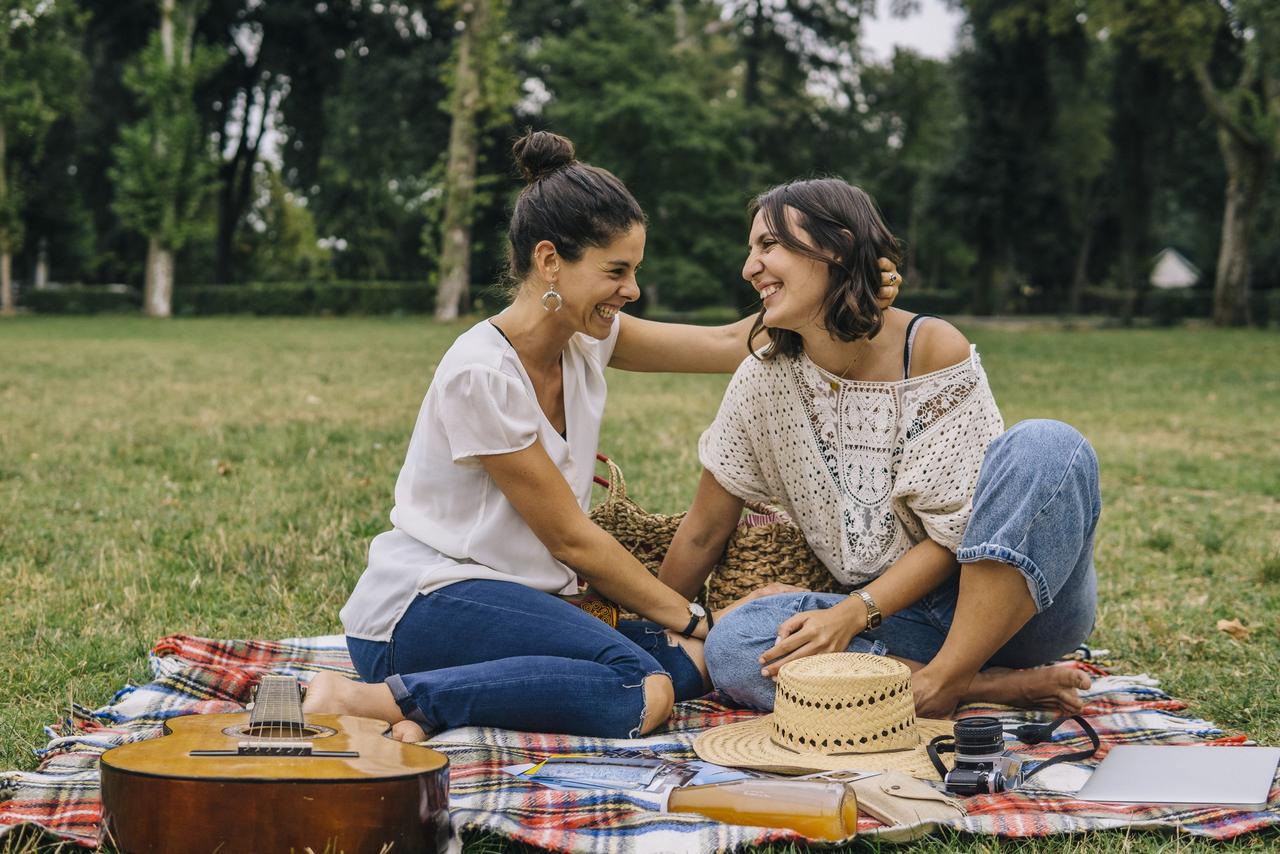 Dating online can be a little daunting, and it's important to remember that a (very) small minority of people might not be who they say they are.
As Vihan said, it's crucial that you stay safe when you head off on your first online dates. Follow our top tips to ensure you're doing everything properly.
1. Be Cautious
As the age-old saying goes, it's always better to be safe than sorry. If you're feeling suspicious of someone's profile, report it to the dating website and don't arrange to meet them.
You should also be cautious when it comes to your personal information – be wary of anyone who asks for a lot of information early on. Don't share your address, date of birth or financial information.
It might be a good idea to set up a new email address to use for online dating, and maybe even a cheap pay-as-you-go phone for making phone calls and sending texts.
2. Try Doing Some Detective Work
Don't pretend you wouldn't have done this anyway. Try doing your own detective work and ask your date for their full name before meeting them. That way, you can track them down on social media and check they look like they're who they say they are.
3. Arrange to Meet in a Public Place
Never invite your date to your home or agree to visit theirs on a first date. Arrange to meet your match in a restaurant or coffee shop – somewhere that you're going to be surrounded by lots of people.
4. Tell a Friend What Your Plans Are
If you're heading out on a first date with someone you've never met before, be sure to tell a close friend or family member where you are, what time you're meeting and who you're meeting.
We'd always recommend sharing your location with them on WhatsApp or your iPhone – and you should be sure to check in with them at regular intervals throughout the date.
5. Make Your Own Travel Arrangements
Make your own way to your date and don't accept the offer of a lift.
You should also make sure you have your own route back planned. This way, you remain in control and you aren't relying on another person if you want to leave early. This leads us onto our final point…
6. Don't Be Scared to Leave
If you aren't enjoying your date as much as you should be, or if you feel uncomfortable at any point, you are well within your rights to leave. This person is a stranger, and if they make you feel uneasy, you don't owe it to them to stay. Lots of bars and restaurants operate the 'ask for Angela' scheme, where you can subtly let the staff know you need assistance.
So there you have it, our complete guide to internet dating and the best dating sites and apps of the moment. Once you've got your first date out of the way, take a look at our round-up of the best unique date ideas to mix things up on numbers two and three.