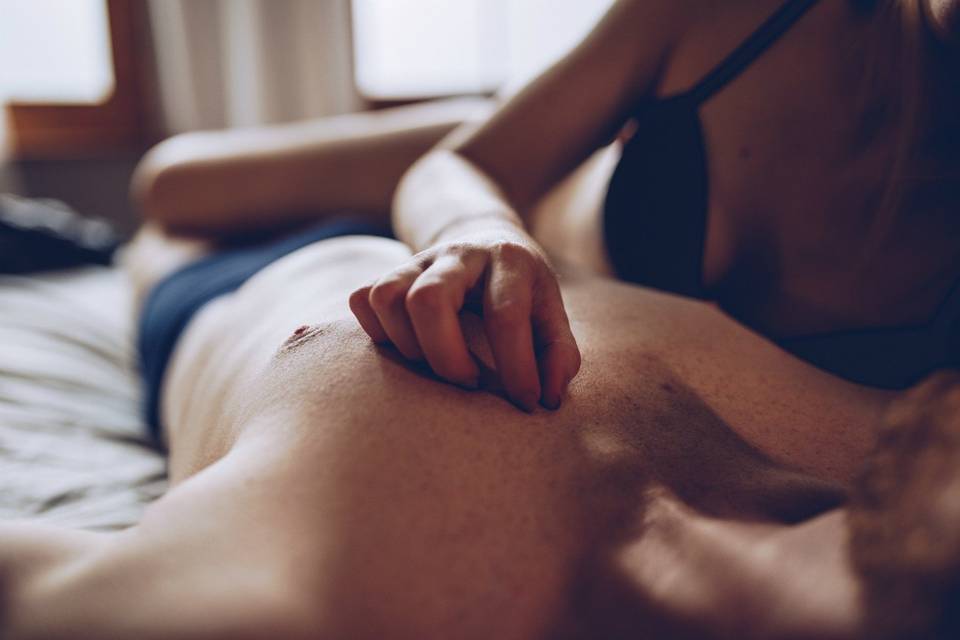 Spicing up your sex life with toys is huge fun for couples and makes solo pleasure even better – but knowing which are the best sex toys and where to buy them is a minefield.<
Thanks to the internet, you can get almost any toy you can think of with fast, easy and discreet delivery across the UK. While you might think all the fun is in the using, the choosing can be quite the treat too.
If you're unsure which are the best sex toy shops, we've found 20 of our favourites and picked some of their most popular buys. These bestselling sex toys are fantastic for newbies, a brilliant addition to the toy cupboard for any regular users, and great for taking control of your own sexual pleasure.
You needn't worry about the noisy, clunky sex toys of the past: the new generation is sleek, whisper quiet and very effective!
Remember that you need to be safe with sex toys – they should always be made from food-grade silicone. A bargain vibe might be false economy when it comes to your sexual health, so all the websites we've listed stock body-safe sex toys. Don't forget to add a big tube of water-based lube into your order too.
Enjoy exploring our pick of the best sex toy shops and what to buy, from luxury toys and affordable vibrators to bondage gear and more!
1. Lovehoney
Best for: Vibrators and amazing customer reviews
The UK's largest online sex shop has quite literally just about everything you could imagine. The vibrator range is Lovehoney's standout star here, with everything from rabbits to magic wands, G-spot to clitoral suction, bullets to app-controlled vibrators; all filterable by size, price and material. If you're unsure where to start, you'll find beginners kits for every kink too. If you fall into the rabbit hole of reading the reviews, you'll be there for hours – their customers get VERY passionate about their recommendations.
Their packaging is totally discreet, they offer an NHS staff and student discount, and it's free delivery over £40.
Our Favourite Lovehoney Products
The Best Night Ever Couple's Sex Toy Kit (£39.99) is an impressive five-piece kit of all their couples' best-sellers. Tease, play and experiment with everything from a 10-function bullet vibrator to an anal plug and cock ring.
Their 11-piece Wild Weekend Mega Couples' Sex Toy Kit is another of our favourites. It sold out during lockdown (which should tell you all you need to know) but is back in stock now. It's £79.99 which is great value for everything you get included, and it's often in the sale so you can grab an absolute bargain.
The Lovehoney Classic Magic Wand Vibrator (£49.99) has nearly 1,500 five-star reviews and is Good Housekeeping approved. It's better value than the original Hitachi wand, and a scroll wheel means you can tailor vibrations to exactly what you need. It comes in a range of colours and does the job very well.
READ MORE: The 20 Most Popular Sex Toys for Couples
2. LELO
Best for: Luxury toys that last
LELO is a Swedish sex toy company that's become synonymous with beautiful, luxury items you'll want to display with pride in your bedroom. From a revolutionary hexagonal-structured condom (super thin and textured inside for better grip, so well worth a try) to gender-neutral toys that can be enjoyed by anyone, LELO is a game-changer if you're looking to invest in a new staple. Their Sona clitoral massager is the world's bestselling sex toy and lives up to all the hype.
Our Favourite LELO Products
The LELO Hugo (£169) is a remote control prostate massager that claims to increase the size and intensity of the male climax by 33%, boasting it gives 'the most powerful orgasm known to man'. It's the best hands-free gadget for men on the market.
The LELO Soraya 2 (£189), on the other hand, is solely made for female pleasure with simultaneous clitoral and G-spot stimulation in a gorgeous, powerful, whisper-silent design that's rechargeable. This updated version has been redesigned to hit the G-spot of as many women as possible.
READ MORE: 15 of the Most Romantic European City Breaks
3. Womanizer
Best for: Eco-friendly toys
Set up by a husband and wife team in their quest to make the best sex toy for clitoral stimulation, they achieved their goal and then some. Womanizer's Pleasure Air Technology has alternating pressure to recreate the sensation of oral sex and up to 12 different wave settings so you can choose exactly how you like it. Their stimulators are considered some of the best in the biz and even Lily Allen partnered with them last year to create her very own sex toy, the Liberty.
Our Favourite Womanizer Products
The Premium Eco (£169) is the first clitoral sex toy made from completely sustainable and renewable materials. They've taken all the best bits of their flagship product and reduced as much plastic as possible. It's a unique, eco-friendly toy made from biodegradable Biolene, saving six tonnes of plastic a year. It comes in plastic-free packing and is 100% recyclable. Even better, a tree is planted for ever Premium Eco bought. With 12 intensity levels, you'll do good for the planet and amazing things for your body.
Co-designed by Lily Allen, the bright and bold Liberty (£89) comes with very happy reviews! Celebrate self-love anywhere you like with this travel-friendly design that's perfect to use at home or on holiday. And did we mention, it's completely waterproof? A honeymoon hit for sure!
4. Bondara
Best for: Bondage and Fetish
Bondara has all the mainstream stuff, but a special interest too in bondage and festish. Whether you're just dipping your toes in the water or have been getting yourself in a bind for years, Bondara has something to add to your toy box. For Fifty Shades fan who want a soft start, look to their blindfolds, ticklers and silk ties. Hardcore fans can find professional electric and medical toys, chastity devices and much more.
Our Favourite Bondara Products
If you're excited to explore bondage, your best bet is this Beginner's Bondage Training Kit (£34.96) which features a blindfold, luxury bondage rope and a flogger. It comes with a how-to pocket book with photographs to teach you all the BDSM essentials and 32 knots and ties!
This stylish leather-look set with plush lining is for anyone who wants to expand their bondage collection. The Black Faux-Leather 10 Piece Bondage Set (£39.99) contains a blindfold, ball gag, collar and leash, flogger, wrist and ankle cuffs, paddle, bondage rope, nipple clamps and more. Despite the price tag, there's a luxurious feel to this set and every piece is very comfortable on the skin.
5. BuzzPinky
Best for: Newbies
BuzzPinky is a younger take on the sex toy game. If you're totally new to this and looking for a fun, cheeky website that won't be daunting, it's a fantastic start. That doesn't mean it's all PG, trust us. But it is all highly-rated, incredibly safe products with the latest market launches. Tracked deliveries arrive within two working days, but if you're feeling hot under the collar right now, next day delivery is available too. That's a package we'd happily wait by the door for the postman for.
Our Favourite BuzzPinky Products
Yes, it does sort of look like a hairdryer, but the Irresistible Invincible Clitoral Vibrator (£75) is actually a hi-tech, ergonomic sex toy that encircles your clitoris without touching it and stimulates it via air wave technology to pulse without overstimulating.
This Vibrating Hand Roller Massager (£40) is perfect for couples: it doubles up as a massage device and a wand vibrator. A massage is the perfect thing to get you in the mood and this takes all the hard work out of it. You relax, unwind and destress, before turning the massager around to become a powerful sex toy. It also makes it easy to hide in your bedroom as simply a "back massager".
6. Amazon
Best for: Budget buys
With a huge range of toys available with next day Prime delivery and coming in inconspicuous Amazon packaging, the online retailer giant is a surprisingly good place to buy your sex toys. Vibrator offerings are comprehensive, and almost every kink is covered too: Japanese shibari bondage rope, electric stimulators, sex dolls, swings. Always read the customers reviews first to make sure it's a genuine seller. FYI, it's great for lube and condoms in every size, flavour and style too.
Our Favourite Amazon Products
Wand massagers are ideal for using to tease each other as part of your foreplay and for solo play. This wireless Oliver James one (£23.99) - which comes in five colours - has two hours of charge, eight speeds, 20 patterns, is waterproof and travel-friendly, and has a flexible head for all-round pleasure.
The Satisfyer Pro 2 Clitoral Toy (£25) is a next gen, waterproof clit stimulator that pleasures you with pressure waves and tingling pulsations (intensified by use in the bath, FYI). Nearly 7,000 reviews give it a A+.
READ MORE: 25 Unique Date Night Ideas
7. Sextoys.co.uk
Best for: Couples
We love a site that does what it says on the tin. Sex Toys stocks a huge range of brands, with loads for men like Fleshlight and Tenga male masturbators, and female-focused ones like LELO and environmentally-friendly vibe brand Adrien Lastic. There's naughty gifts and games, massage essentials and lingerie too.
Our Favourite Sextoys.co.uk Products
The Svakom Hedy Reuseable Egg Style Male Masturbator (£11.41) is designed for men to use alone or with their partners, and creates a vacuum for the ultimate sucking sensation. The closed end increases the suction and the satisfaction; it'll fast become your favourite way to play.
The Loving Joy FLUX Bendable G-Spot Stimulator (£61.27) is a flexible, multi-purpose vibrator that you can use flat or transform into an ergonomic toy, designed to hit the sweet spot for each and every individual. The bendable, textured shaft has 10 different speeds.
8. The Pleasure Garden
Best for: Inclusivity
The Pleasure Garden's mantra is that everyone has a right to a fulfilling sex life so they have plenty of disability guides on their site, detailing the best sex toys and how to adapt them. You can even filter the website by 'hands-free' or 'disability friendly'. The Pleasure Garden is an inclusive, female-friendly sex shop with a fantastic shopping experience and everything is 100% body-safe.
Our Favourite Pleasure Garden Products
The Rocks Off Ro-Zen (£29.99) is a combined vibrating anal plug and cock ring with a stretchy ball loop for an erection-boosting squeeze. The ring comes with a removable seven-speed vibrating bullet that will add oomph to every session. It targets four key erogenous zones for men for a stronger, more satisfying orgasm.
The Doxy Wand (£84.99) packs a huge punch. With a highest setting of 9000 RPM (that's strong!) and a 3-metre long power cord, there's pretty much nothing you can't do and nowhere you can't use this wand.
9. Harmony
Best for: Lube and accessories
With 20 years' experience selling adult toys from their Oxford Street and Soho stores, Harmony know a thing or two about sex. They're excellent for essentials, so go to them for lube, condoms, chocolate body paint, sexy lingerie and accessories. Service here is top class: you can click and collect to one of their stores or get free delivery on orders over £20, with free returns, no questions asked.
Our Favourite Harmony Products
If you want to tease and tantalise your partner, these fluffy handcuffs (£9.99) are a playful way to introduce a little light bondage. That faux-fur is super comfortable and there are two keys (plus a key release mechanism in case you lose them!).
The luxury Svakom Nymph Soft-Moving Finger Vibrator (£44.99) is a dual-ended vibrator offering nimble, finger-style strokes for an amazing sensation on the nipples or clit. One charge lasts for up to 90 minutes of playtime and the motor is quieter than the tick of a clock. It's totally waterproof too.
10. Simply Pleasure
Best for: Male pleasure
Simply Pleasure have the largest range of men's sex toys on sale in the UK so this is great for solo play and couples to head to. They aim to give you the best masturbation session of your life, with sleeves, Fleshlights, Oxballs, sex dolls, prostate massagers and more. Some even come with VR headsets! Women aren't ignored at all, with hundreds of vibrators, lingerie, games, gifts and more.
Our Favourite Simply Pleasure Products
The Autoblow Silicone Vagina Sleeve (£36.95) is designed to look and feel like a woman's body with a super tight sensation. It's easy to clean too and you can buy different sleeves that slot in and feel like a mouth or anus depending on what your prefer.
Whether you're interesting in pegging, in a lesbian relationship or just want to try a dildo, this 8" Realistic Dildo (£100) comes with the harness and a remote control to make it vibrate. It's all you need to get started with strap-ons, but is ideal for beginners and foreplay fanatics!
11. Etsy
Best for: Unique items
Etsy might not be the first place you think of, but as you've got small shops handcrafting products, you can get some quality specialist products on here. Lots of bestsellers are for fetish play like BDSM and furries, but there's plenty of more introductory items like rose quartz dildos and beautifully-made latex clothing.
Our Favourite Etsy Products
This Rose Quartz Yoni Wand crystal dildo (£68) is a luxury pleasure experience, made from silky smooth rose quartz. It's easy to clean, contains no chemicals and can last a lifetime if cared for correctly. It's been cleansed with Reiki for a holistic orgasmic experience.
If you're after unique, sexy lingerie, head to Etsy. Their sellers have almost everything kind and colour of underwear you could imagine, but we're in love with this slinky red body harness bra and thong set (from £16). If you want much more hardcore BDSM harnesses, trust us, they're there too.
12. Kandid
Best for: Sex toy kits
Kandid are new on the scene and make luxuriously-designed, gender-neutral sex toys. Their mission is to take the stigma out of sex toys and create a world where people are comfortable to talk about sexual wellness. With how beautiful their toys are, you won't feel any need to hide it in your bedside cabinet. The toys are made to last a lifetime, but sustainability is key so everything is recyclable too.
Our Favourite Kandid Products
There's the Self-Pleasure Vibrator Bundle (£128) for women and the Self-Pleasure Masturbator Bundle (£117) for men which are excellent kits that contain all you need to get started with solo play. We love the fun 'Sex Ed' guide by sex educator and body-positivity advocate Ruby Rare, with loads of tips.
The Pink Vibrator Kit (£208) comes with a sleek rabbit vibrator, pink vibrator, small vibrator and clit vibrator - each with 9 to 12 vibration modes and a quiet motor that delivers deep vibrations. Each is gently curved to complement the body's anatomy. It comes in blue too if pink isn't your thing.
13. Ann Summers
Best for: Fancy dress
Playtime for plenty of couples involves fantasy role play. With outfits from naughty nurses to flirty French maids, you'll find a sexy costume at Ann Summers that's perfect for what you have in mind. While it might not be your cup of tea to pop into one of Ann Summers' high street stores, their online offering makes fantasy a reality with sex toys and exotic lingerie too – crotchless being a speciality. Ann Summers' vibrators are an equal draw too: their range is second to none for female pleasure!
Our Favourite Ann Summers Products
Who's been very, very bad? The Constable Cutie outfit (£25), complete with handcuffs, will help you teach your partner a lesson and put you fully in control. The two piece features a black mini skirt and cropped, badged top.
Ann Summers is the only place to get yourself a Rampant Rabbit (£32), which started a sex toy revolution. We love this slim rotating rabbit; it has three speeds and two vibrating pulse settings for internal pleasure and clitoral stimulation. No wonder it's got a lot of satisfied customer reviews.
14. UberKinky
Best for: Fetish fans
UberKinky promise you'll need a bigger top drawer for everything you'll want from this kinky fetish site. For newbies, there's beginner's guides to almost everything you could imagine from pegging to ball stretching. We'll leave you to explore the darkest corners of this website – you could be on there for days – but it's guaranteed if you want it, they have it.
Our Favourite UberKinky Products
Designed to melt at a lower temperature, these Fetish Drip Candles (£19.99) allow you to indulge in temperature play without irritating or burning skin. Instead, the wax is deliciously warm and makes for a unique sensation on your skin. This set comes with three candles that each have five to seven hours' burn time.
Perfect for rolling gently over the body for a ticklish sensation and harder for a sadistic prickle, this Five Head Wartenberg Pinwheel (£21.99) does what it says on the tin. One review reads: "Most effective! Leaves nice marks" and another "tingling and pleasurable".
15. Prowler
Best for: Gay toys
Prowler was founded as a Soho gay sex and lifestyle shop – now you can buy their toys, clothing and more online. There's free delivery in the UK for everything from lube and condoms to gay films, magazines and calendars, plus leading brands of underwear and swimwear.
Our Favourite Prowler Products
Prowler has a comprehensive selection of some of the world's best lubes and delay sprays. Swiss Navy is a favourite brand, and we love these six water-based flavoured lubes that are non-sticky, light weight and sugar-free. Each bottle is £11.
If you want to try anal sex, the Excellent Power Jovial Trainer Kit (£16.95) is the perfect place to start. It features a slim, medium and large plug, and two cock rings.
16. Pleasure Attic
Best for: Cheap vibrators
Pleasure Attic is for those on a tighter budget with discount codes readily available, but it does mean you sometimes need to be a little more discerning with your choices. What you can find here are amazing bargains, with cheap big name brands like Rocks Off, a regular 3 for 2 offer, and a clearance section where vibes start from just £1.50!
Our Favourite Pleasure Attic Products
This Discreet Love Egg comes with a wireless remote control so your partner can take control of some hands free pleasure. It comes with 10 whisper-quiet vibration settings from soft to intense, and happens to be latex free.
How cute is this silver bullet vibrator (£2.99)! It's sleek, feminine and sensual; great for solo play and ideal for popping into your honeymoon suitcase.
READ MORE: Is This the Most Romantic Honeymoon Destination?
17. Coco de Mer
Best for: The best of the best
If only designer will do, Coco de Mer will stock it. This luxury sex shop is perfect for special occasions, with lingerie, sex toys, bondage equipment and latexwear, right down to massage oils all available from their shop or online. Look out for only the finest names, like Je Joue, Julian Snelling, Womanizer and LELO, plus their own Coco de Mer Pleasure Collection.
Our Favourite Coco de Mer Products
The Satisfyer Partner Multifun 3 (£50) can be used in 33 different ways across you and your partner's body and has three powerful motors. The toy's two moving arms have over 100 different vibration patterns too - it's seriously pleasurable.
If you like your spanking tools opulent and delightfully erotic, this Paul Seville Scarlet Red Snakeskin Paddle (£98) is for you. It'll take pride of place in any boudoir, and is calling out for the matching cuffs.
18. Sh!
Best for: Female pleasure
Sh! was the first sex shop for women: a boutique-style store in Shoreditch, pioneering events, sex toys and classes in store, and an online shop with same-day delivery in London. Sex-positivity and female pleasure is most important here, so expect exciting products and a fantastic value own-brand range. If you're not sure where to start, they have lots of guides online.
Our Favourite Sh! Products
For just £15, the two Feelztoys Fingertip Vibrators have a super strong single speed and are a cute, non-intimidating addition to solo or couples play. Made from body-safe plastic, they're easy to fit in your bag for on-the-go sizzle.
This dual-ended flicking tongue and G-spot vibrator (£59) is perfect for couples! The 'tongue' simulates the feeling of oral sex and the shaft comes with nine modes of vibration. It's USB-rechargeable and waterproof too.
19. For The Closet
Best for: Batteries included
For The Closet is an all-round good egg in the sex toy world. They not only have all the biggest brands and loads of toys on sale, but they provide you with free batteries so you can start playing straight away. They even have a great reward scheme so you'll get some fun freebies too. We love their games and sexy costumes section for adding some spice to your foreplay.
Our Favourite For The Closet Products
The Amazing Bondage Sex Toy Kit (£38.38) is a seven-piece set which has everything from nipple clamps to a ball gag. It's got all you need for a weekend where you never leave the bedroom.
These Foreplay Dice (£10.78) make great gifts to give your partner for a special occasion. Roll them to slowly reveal what your foreplay fun will be tonight, from the chosen body part to what you'll need to do to it.
20. Seriously Sensual
Best for: Foreplay
Not only does Seriously Sensual have an amazing set of vibrators for women, men and couples, it sells just about everything you can imagine for awesome foreplay. There's a huge range of sexy and plus-size lingerie to make you feel confident and turned on, plus fun accessories.
Our Favourite Seriously Sensual Products
We love the Horoscope range (£45.99), which is attuned to your Zodiac sign to let feminine energy flow. It comes with a gemstone necklace, unique to each star signs, and an orgasm-enhancing warming effect clitoral balm that's specific for your natural element. The kit comes topped off with a finger vibrator with 10 settings.
This black teddy (£45.99) is incredibly flattering and super sexy. The peekaboo lace has slits for your nipples and the stretch lace hugs your curves in all the right places.
If you're looking for some date night ideas, we have 25 unique date ideas that'll make you both swoon.