Buying an anniversary gift for your girlfriend can be a tricky endeavour. Do you go big? Get something that nods to an in-joke? Plan a full rose petal plus gondola ride experience? It's totally your call, and you know your girlfriend best, but we've compiled an anniversary gift edit to get your plans off the ground and maximise those warm and fuzzy feels on the day itself.
We truly do have a present for every woman, from knitting fans to amateur astrologists to those that just need a really good rest (surely the most priceless gift there is?).
NB: We have included third party products to help you navigate and enjoy life's biggest moments. Purchases made through links on this page may earn us a commission.
The Best Anniversary Gifts for Your Girlfriend
1. Gold Special Date Calendar Necklace – £89, Lily & Roo
Not only can you mark your anniversary date on this clever calendar necklace, but you can select the gemstone of your fancy to do so too. Opt for her favourite colour, her birthstone or go for a classic white crystal (or diamond if it's a milestone anniversary).
2. Personalised Notebook – £19.99, Papier
Whether she uses it as a work diary, wellness log or dream journal, a printed personalised notebook is guaranteed to go down well. You can tailor everything from the shade and print to the pages to the messaging to your exact liking.
3. Silk Sleep Mask – £49.50, Drowsy
If she's keeping a dream journal, her entries will be all the more blissful if she nods off wearing this cloud-like silk eye mask. It effectively blocks out light yet feels weightless – it's the perfect present if your girlfriend has been struggling to get some satisfying shut-eye.
4. Rose Remedy Mask – £20, Pixi Beauty
Give her roses, but of the restorative skincare variety. This refreshing jelly mask cools and soothes on contact, with rosehip oil to nourish and anti-inflammatory cica to soothe inflammation. If an anniversary at-home spa day is the cards, a tub of this will go far.
READ MORE: The Ultimate Pre-Wedding Skincare Routine for a Bridal Glow
5. Bath Salts – from £12, Verdant Alchemy
Add more chill to said spa day with these mineral-rich, artfully blended bath salts. There's a 'fix' for every sitch, whether she's been feeling under the weather (we prescribe Breathe In) or needs to ease out tight, achy muscles (Yoga Om is the one).
6. Charbonnel et Walker Pink Himalayan Salted Truffles – £12, Liberty London
Himalayan salt for your bouche, not your bath. These dusted light pink truffles are luxe, moreish and rich. Just add champagne...
7. Personalised Mini Moët Champagne – £20, Selfridges
Choose a favourite photo to affix to the label of this mini Moët, send it to the Selfridges team and they whip up your very own bottle to pop on your anniversary.
8. Personalised Black And White Insulated Cooler Bag with Embroidered Monogram – £7.99, Hitched Shop
Stash said champagne in a monogrammed cool bag for even more kudos. It'll come in handy as a lunchbox later too.
9. Emporio Armani In Love With You EDP – £71, Selfridges
Declare your affection in an olfactory fashion with this lush berry, cherry and patchouli based scent. She'll get the message, loud and clear.
READ MORE: The 17 Best Wedding Perfumes for Every Bride
10. Amore Earrings – £155, Soru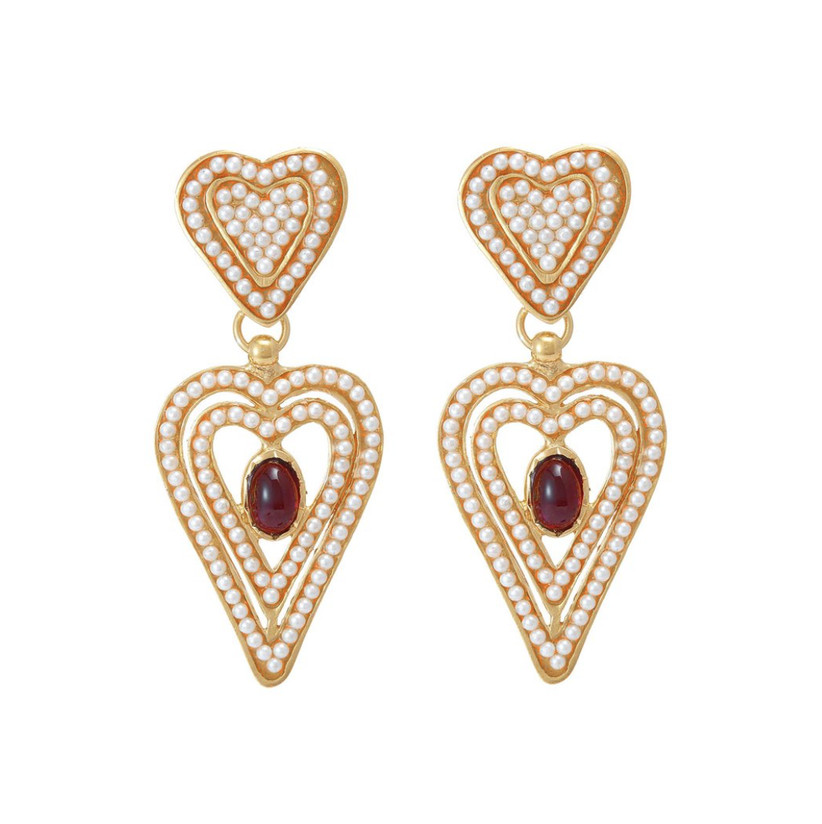 Another dramatic expression of your love, these 18 karat gold set pearl and red garnet earrings make a statement both in the giving and the wearing.
11. Heart Contour Silver Hoop Earrings – £16, Oliver Bonas
Romantic jewellery for the minimalist in your life, these simple silver heart hoops convey your love in the most chic of ways.
12. Stellar Monogram Trinket Dish – £10, Anthropologie
A low key, monogrammed home for jewellery, spare change or other bits and bobs, this handmade stoneware dish looks a little like you found it in Paris.
13. Stella Preserved Flower Bouquet – £49, Shida
A soft pink and grey bouquet that'll go with everything and last for months. Now you just need a stylish home to put them in...
READ MORE: Why Dried Wedding Flowers Make The Coolest Wedding Décor
14. Irregular Vase – £29.99, Zara Home
A jaunty, dappled golden vase that looks far more expensive than it is. Fill with blooms on your anniversary morning for the best effect.
15. Inspiration Diffuser – £33, Von Norton
Another fragrant homeware gift that'll add instant energy to a living room or home office thanks to a slowly dispersed scent based on neroli, lavender, rosemary and peppy citrus.
16. Personalised Napa Linen Makeup Bag – £8.99, Hitched Shop
Understated but unmistakably hers, this light linen makeup bag is roomy and durable while also being quite a looker on the bathroom shelf. Add some makeup when presenting it to make your gift go further...
17. Axiology The Balmies Lip Cheek and Eye Balm Trio – £29, ASOS
Eyes, lips and cheeks are covered in this zero-waste three-piece set – she can dab on as a highlighter, blend to create blusher, paint on a bold lip or buff colour around the eyes. The formulas come off buttery and dewy and are made with all-natural ingredients to bump up the feelgood factor.
18. Amie Circle Birthstone Necklace – £34, Anthropologie
A birthstone pendant that's personal and contemporary with just the right degree of spangle.
19. Antoinette Necklace – £110, Daphine
An 18 karat gold and red tourmaline necklace strung with hearts and inspired by antique Victorian jewellery – this one's a real treasure.
20. Dino Copper Ring Holder – £10, Oliver Bonas
Welcome this cutie into your lives and she'll smile at her dressing table every morning. She'll also never lose her rings again, which is a gift in itself.
READ MORE: What Is the Average Ring Size for Women & Men?
21. Cat Astrology Book – £10, Anthropologie
Is she more of a cat fan? This extremely quirky anniversary gift option is perfect for any woman with a love of both astrology and felines, which sounds niche, but we know they're out there.
22. Tucci Pre-Mixed Cocktail – £21.60, Liberty London
From cats to cocktails, this pre-prepared blend is a fresh take on a classic negroni, replacing gin with vodka. Charge your classes with ice and clink to another year together.
23. Dinner Experience, from £50 – Home-X
For an out of the world anniversary meal at home, hit up Home-X. You could simply opt for wine and cheese boxes, choose a lavish three course roast by The Lovable Rogue or try something more experimental with Home by Nico's creative menus. We can personally attest to the fact that Home by Nico's monthly spreads are always phenomenal and most likely unlike anything you've ever rustled up on date night.
READ MORE: 37 Long Distance Relationship Gifts Your Other Half Will Love
24. Les Mosaiques Earrings – £105, Mamater
She'll certainly be dressing for dinner if you give her these handmade, elegant and arty earrings. 24 karat gold plated and made with naturally tinted porcelain enamel, they'll stand out in Zoom meetings and nights out/in alike.
25. Loopy Mango Knitting Book – £22.99, Liberty London
If she's the creative type and likes to unwind with a ball of wool, this edgy knitting guide is all she needs. She'll be able to knit up everything from statement skirts to trend-led tops and likely learn some fresh techniques along the way.
26. Custom No-Slip Yoga Mat – £19.99, Hitched Shop
Yogi girlfriends will appreciate this bespoke no-slip mat no end.
27. Monthly Flow from Home Membership – £9.99, FLY LDN
Consider teaming a custom yoga mat with an unlimited online monthly membership to one of London's best and most innovative yoga studios. Alongside classes such as Power Twists and Release for Sleep she'll also have access to low impact HIIT sessions, barre and pilates.
28. Monogrammed Ria Fringe Basket – £120, Rae Feather
A celebratory bag if we ever saw one, this colourful hand woven straw bag can be embroidered with your girlfriend's initials – she'll think of you everytime she grabs her things.
29. Personalised Monogram Initial Faux Leather Tote Bag Tassel – £5.99, Hitched Shop
Make that a double monogram with this chic initial tassel – choose between grey or pink.
30. Charm Mini Wallet – £27, & Other Stories
A cute as a button mini leather wallet that'll keep her cash, cards and knick knacks safe – put a note or a clue as to where anniversary celebrations will take her inside for even more surprises.
31. Max Styler – £179, ghd
From mini to maxi, this new wide plated styler is a time-saver (it claims to style even very thick hair in half the time of a regular straightener), plus dual zone technology ensures shinier than ever results while maintaining hair condition. It's the brand's 20th anniversary, so if your gf is a ghd fan, it'll be a fitting and much appreciated gift.
32. Indoor Wooden Handled Watering Can – £22.95, All Things Brighton Beautiful
Whether she nurtures her indoor plant babies or struggles to keep her desk greenery thriving, this neat indoor watering can will make plant TLC stylish and streamlined.
33. Oskia Rest Day Comforting Cleansing Milk – £38, Cult Beauty
If she's in need of a break, this soothing, balancing cleanser will turn an end-of-day task into a much-appreciated ritual. If she's looking to add to her skincare arsenal but unlikely to invest herself, this hydrating cleanser is the perfect all-rounder.
Thinking of proposing? Here are some seriously romantic outdoor proposal ideas to help you to plan the best way to pop the question.