The 10 Biggest Wedding Dress Trends for 2021
From playful sparkles and pastel gowns, to statement sleeves, backs and bows - these wedding dress trends are going to be huge in 2021
We have included third party products to help you navigate and enjoy life's biggest moments. Purchases made through links on this page may earn us a commission.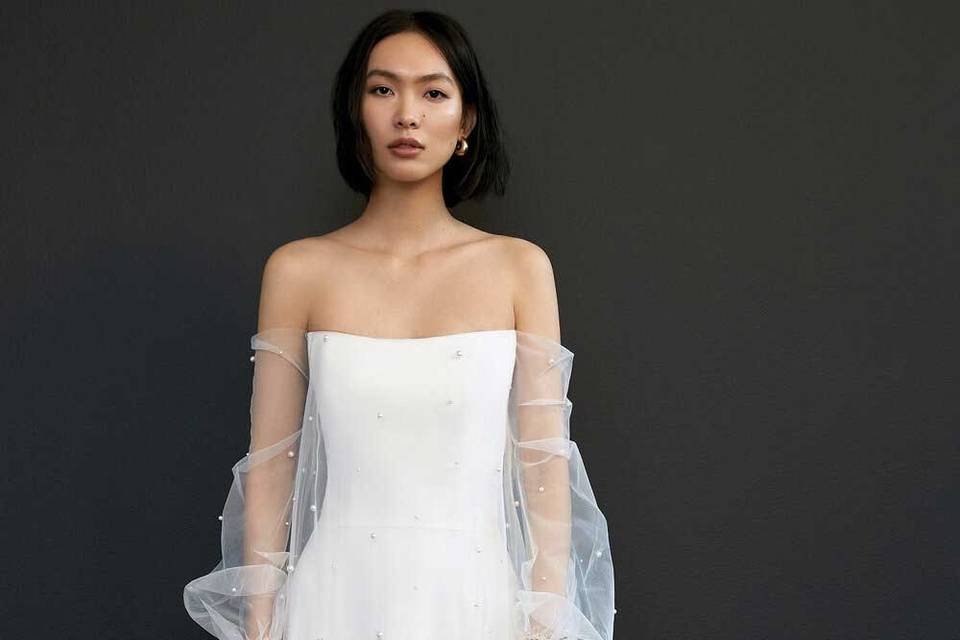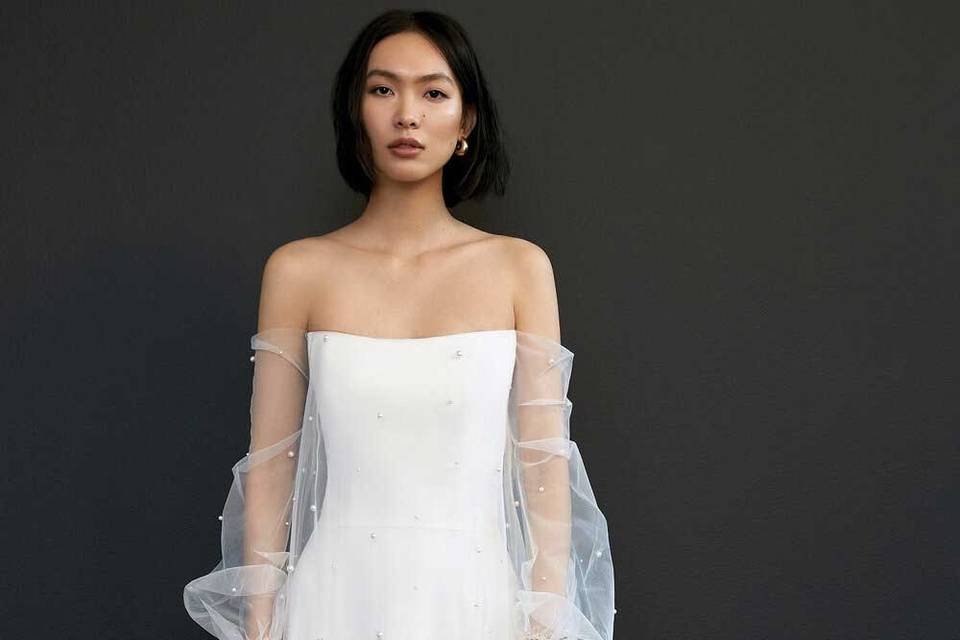 The big wedding trends of 2021 are all influenced to some extent by 2020's lockdown – wedding dresses included.
The surge in couples "buying British" to support the local economy will extend to dress designers and boutiques, while we'll see the trend for micro weddings and sequel weddings play rise to a whole load of sleek, simple looks. After months locked inside, brides' adventurous sides will be desperate to get out and we'll see sparkly party dresses, colourful gowns and showstopping bows all take centre stage.
We spoke to our favourite dress designers and bridalwear experts to find out exactly what wedding dress trends you can expect to see for 2021 – and discover what the new dress shopping experience will be like.
NB: We have included third party products to help you navigate and enjoy life's biggest moments. Purchases made through links on this page may earn us a commission.
1. Statement Sleeves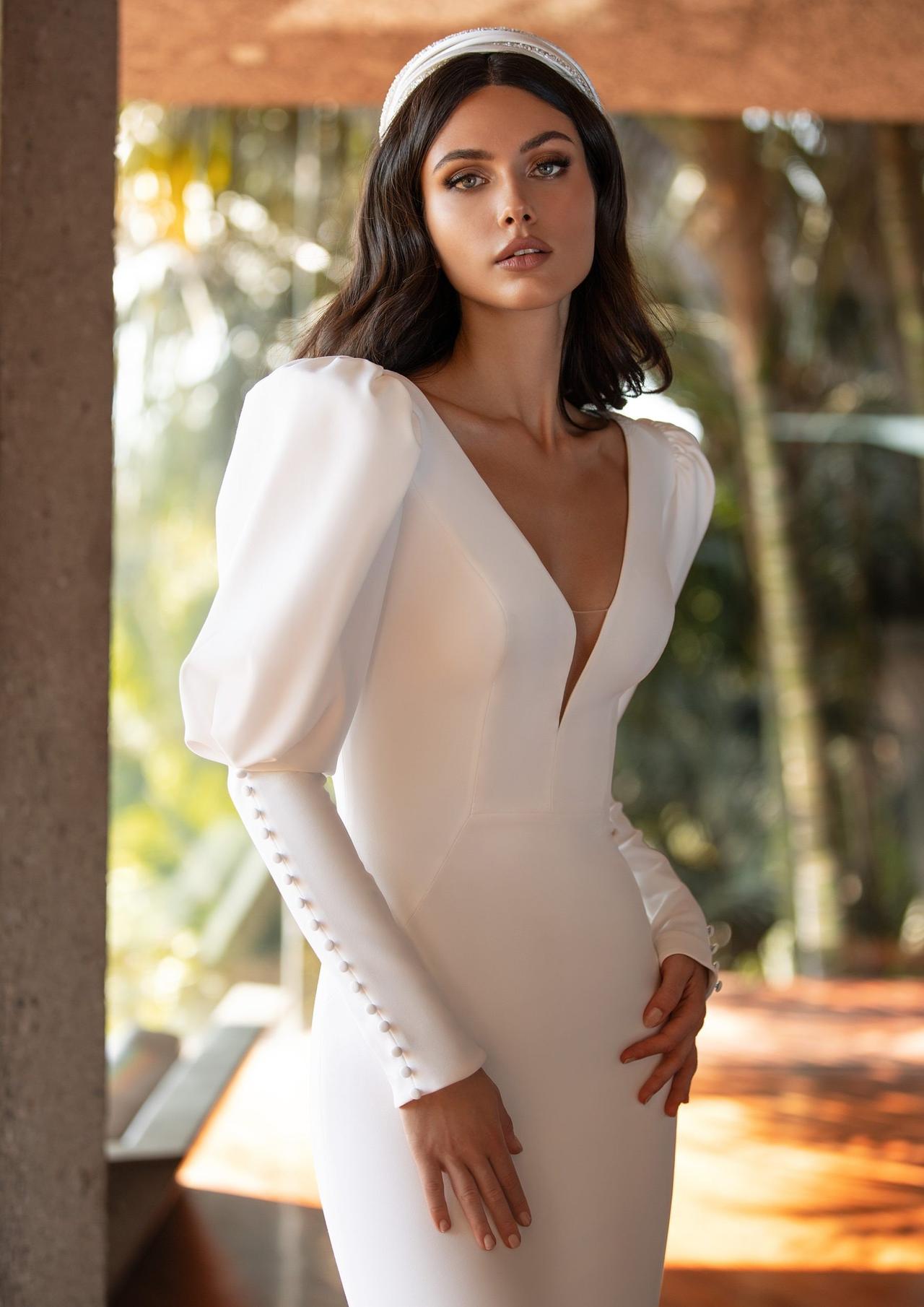 Image: Pronovias
"Look for more detail on sleeves than ever before," says bridal fashion expert Peta Hunt, "whether that's retro bell sleeves or big puffy sleeves, like the ones on this Pronovias dress."
Structured sleeves work best for a contemporary bride with modern, architectural wedding décor designs, while floaty sleeves are ideal for contemporary boho brides. The ombre pearl embellishment across the body and sleeves of this Savannah Miller gown echo a modern fairytale look.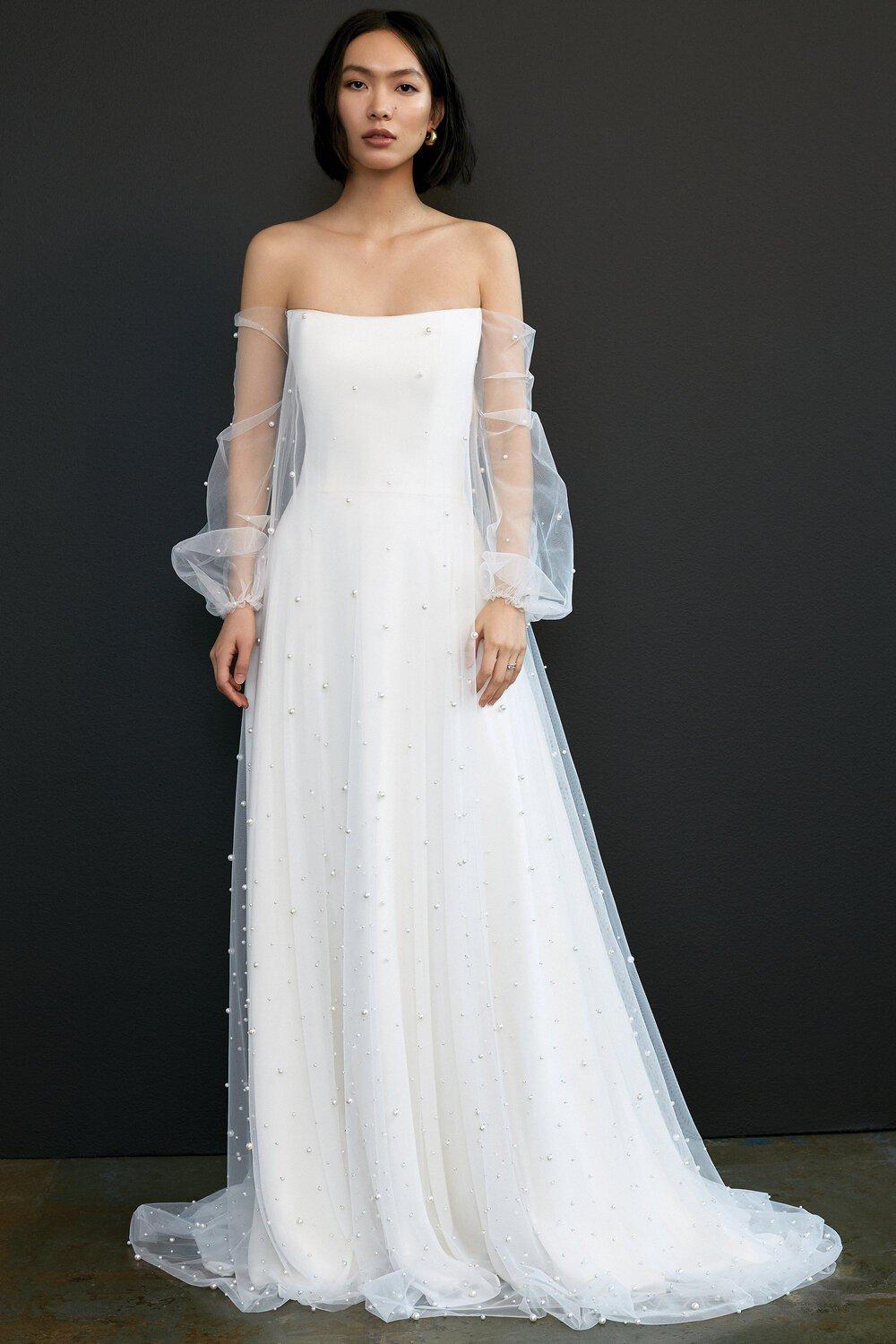 Image: Savannah Miller
Some brides may feel that after the events of this year, they want to tone down their look or rein in the 'poofy'. Statement sleeves can be that perfect way to add personality and charm to a simple, chic look.
2. Whimsical Pastel Shades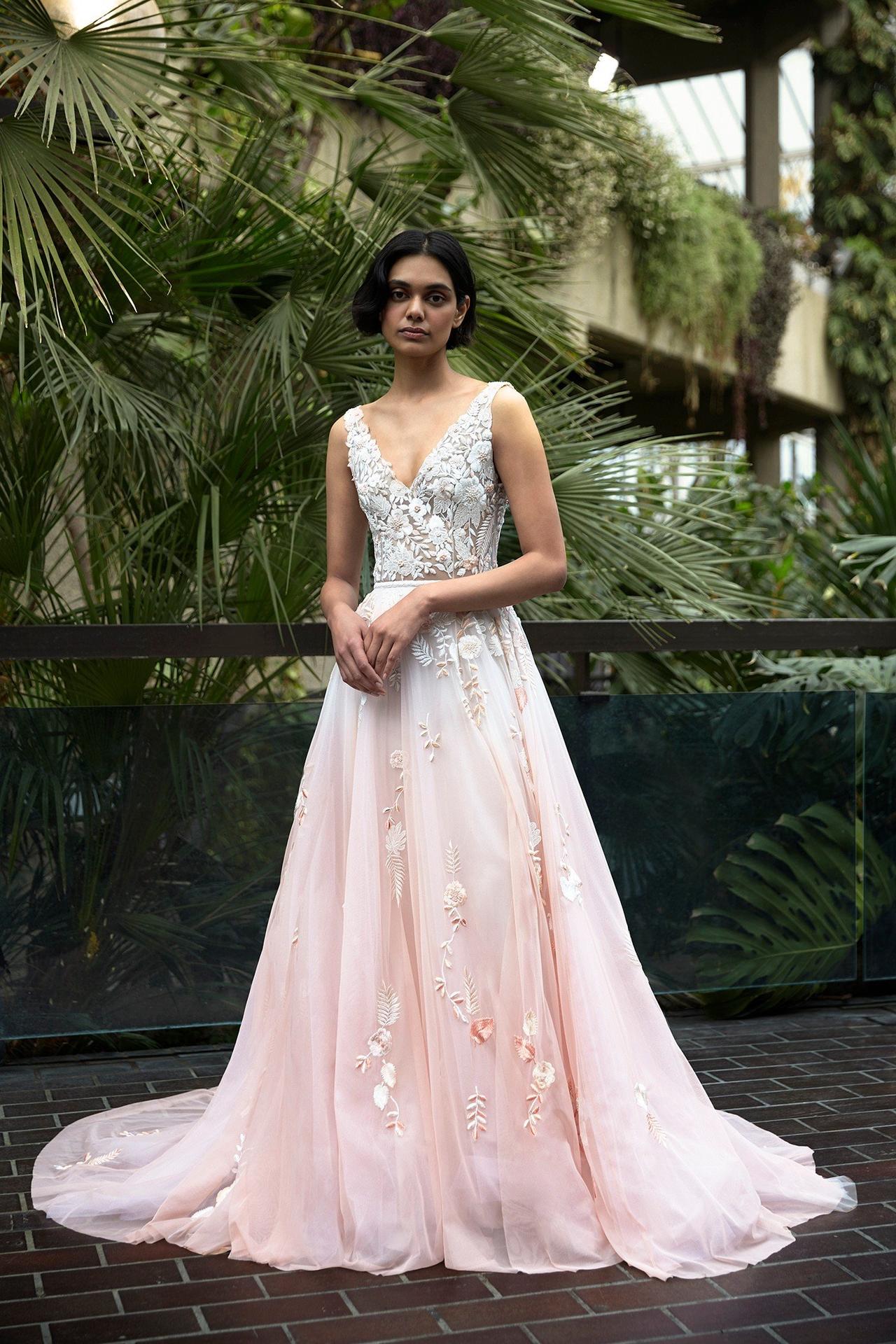 Image: Hermione de Paula
"I think we're going to see a lot more coloured wedding dresses – pinks, blues, blush," says Peta.
This whimsical trend will grow from brides wanting an element of surprise to their wedding day look. After months of worry during lockdown, brides will be looking for fun, playful, adventurous styles that express their individuality.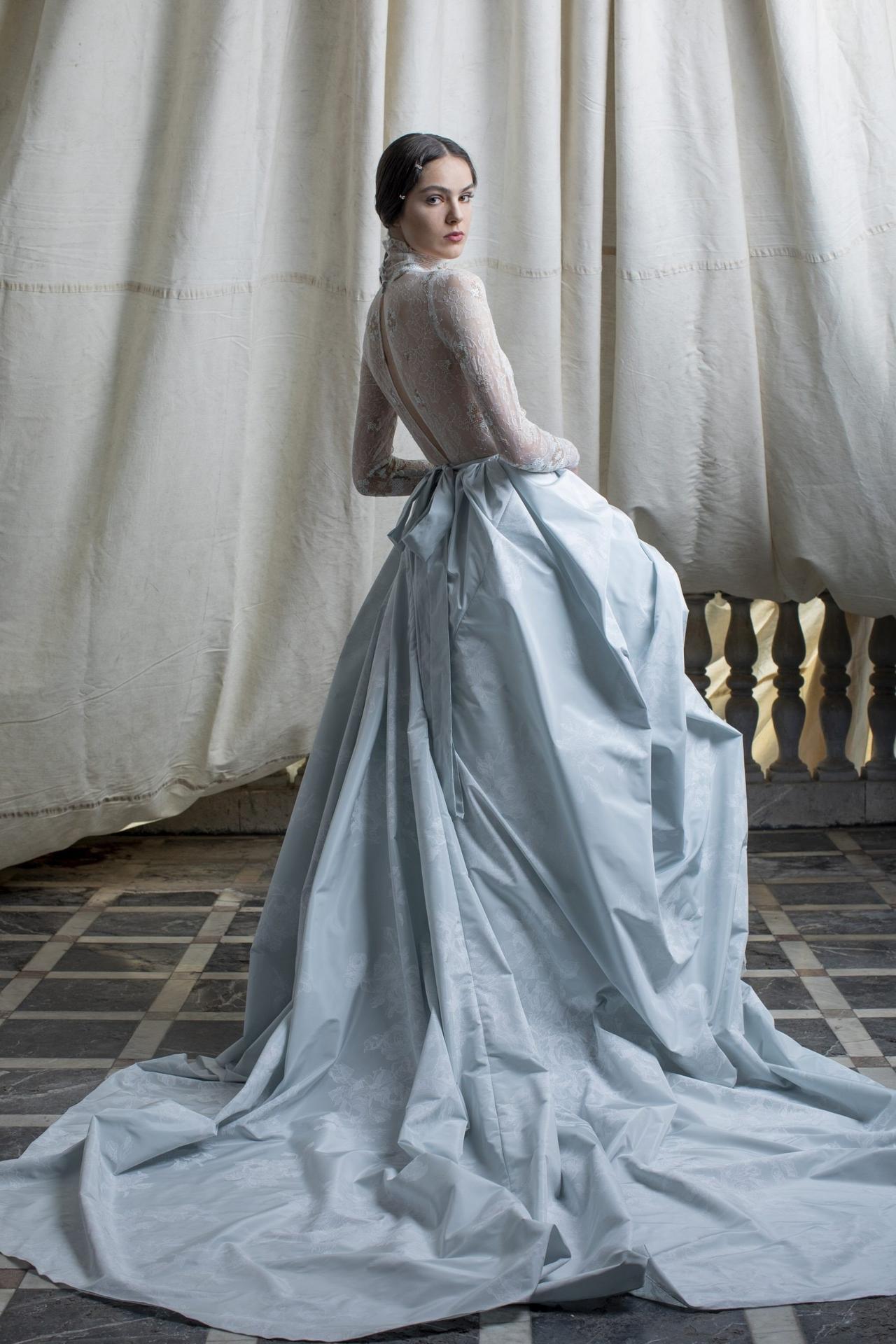 Image: Marco & Maria
Bespoke bridal designer Kate Edmondson agrees that there'll be a boom in "pastel shades for bridal dresses". Although it's unlikely the trend will end there – expect to see pastel shades as a popular choices for bridesmaids too.
Pastel not really your thing? Peta predicts the return of black wedding dresses for high glamour and drama. Check out Ronald Joyce for an eye-opening black feathered number.
3. 'Interesting' Backs and Bows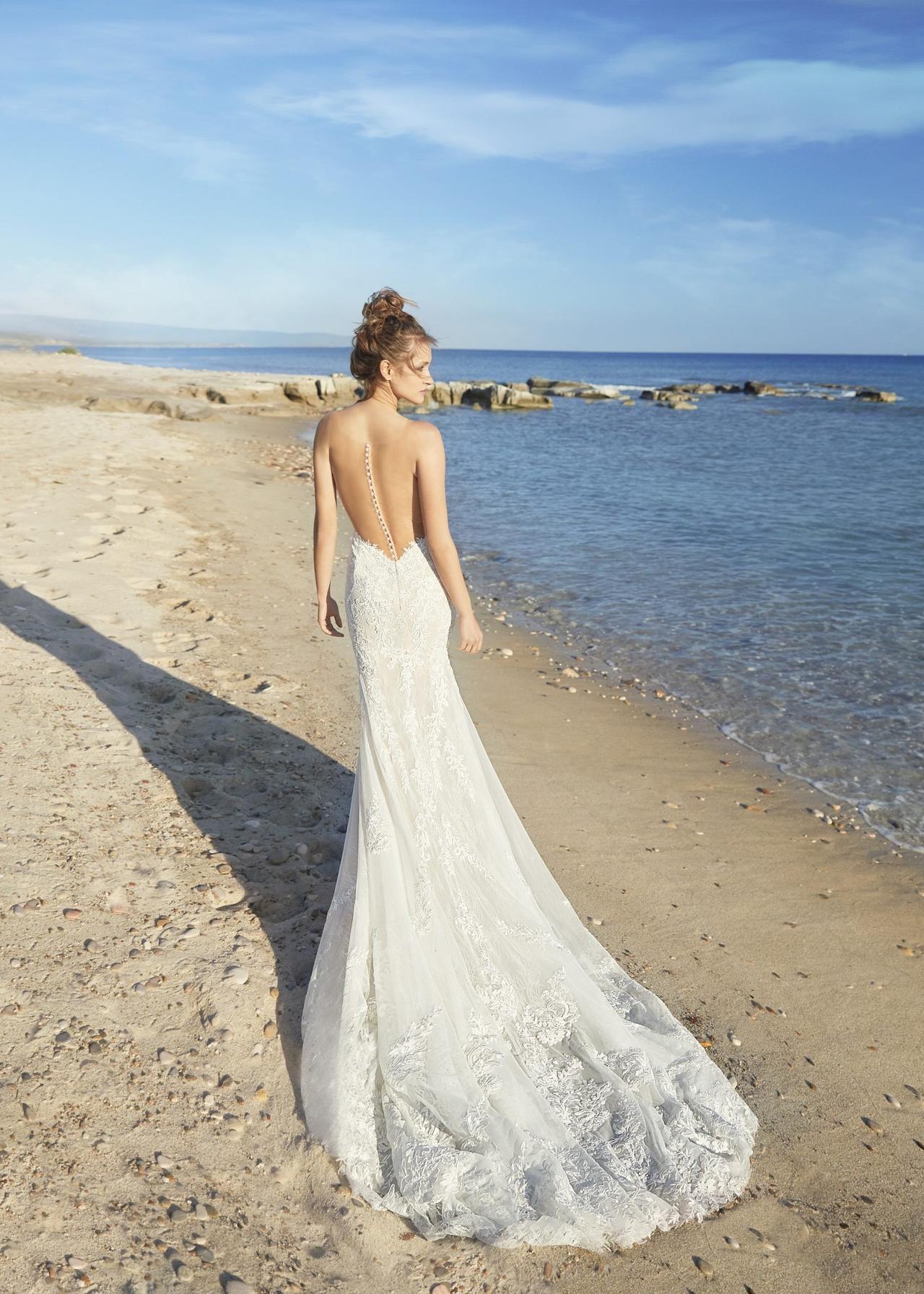 Image: Ines Di Santos
"Backs will take a deep dive and become more interesting," says Peta. The usual illusion back will be replaced with a barely-three, hip-skimming look that gives your guests something impressive to look at once you've passed them walking down the aisle – and more than a touch seductive!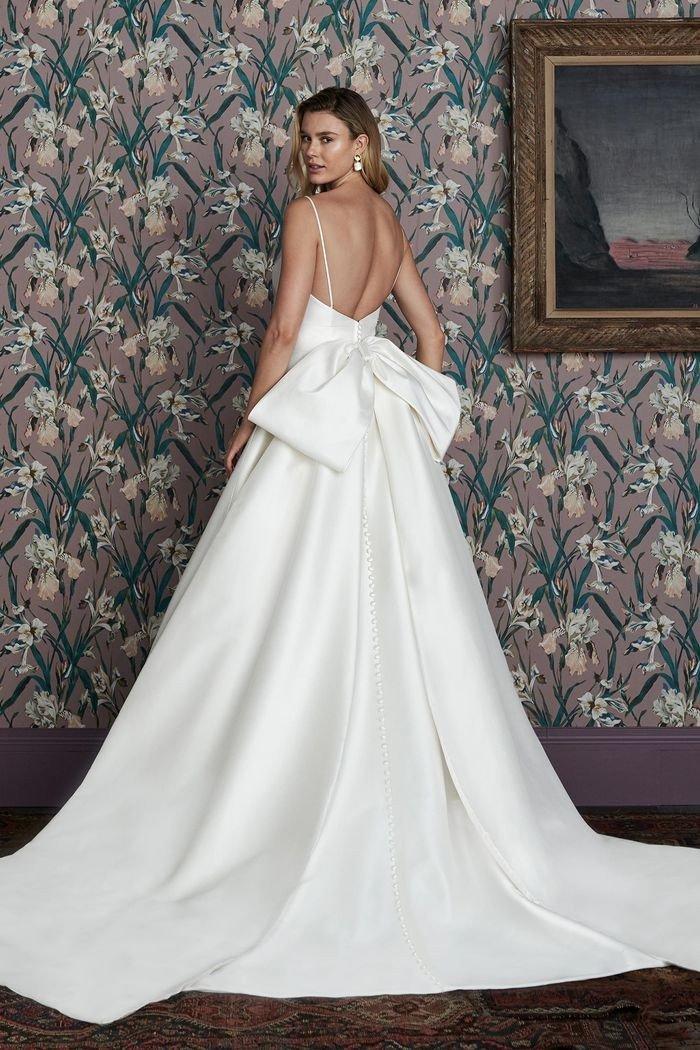 Image: Justin Alexander
An easy way to make a big impact is also with a bow to add texture and drama. Either search for a dress with a statement bow or ask your boutique to add one as embellishment.
If you've had to postpone your wedding until 2021, how do you update your dress to a new season? "Just add a bow," says Peta. Simple but effective.
4. Length, Length, Length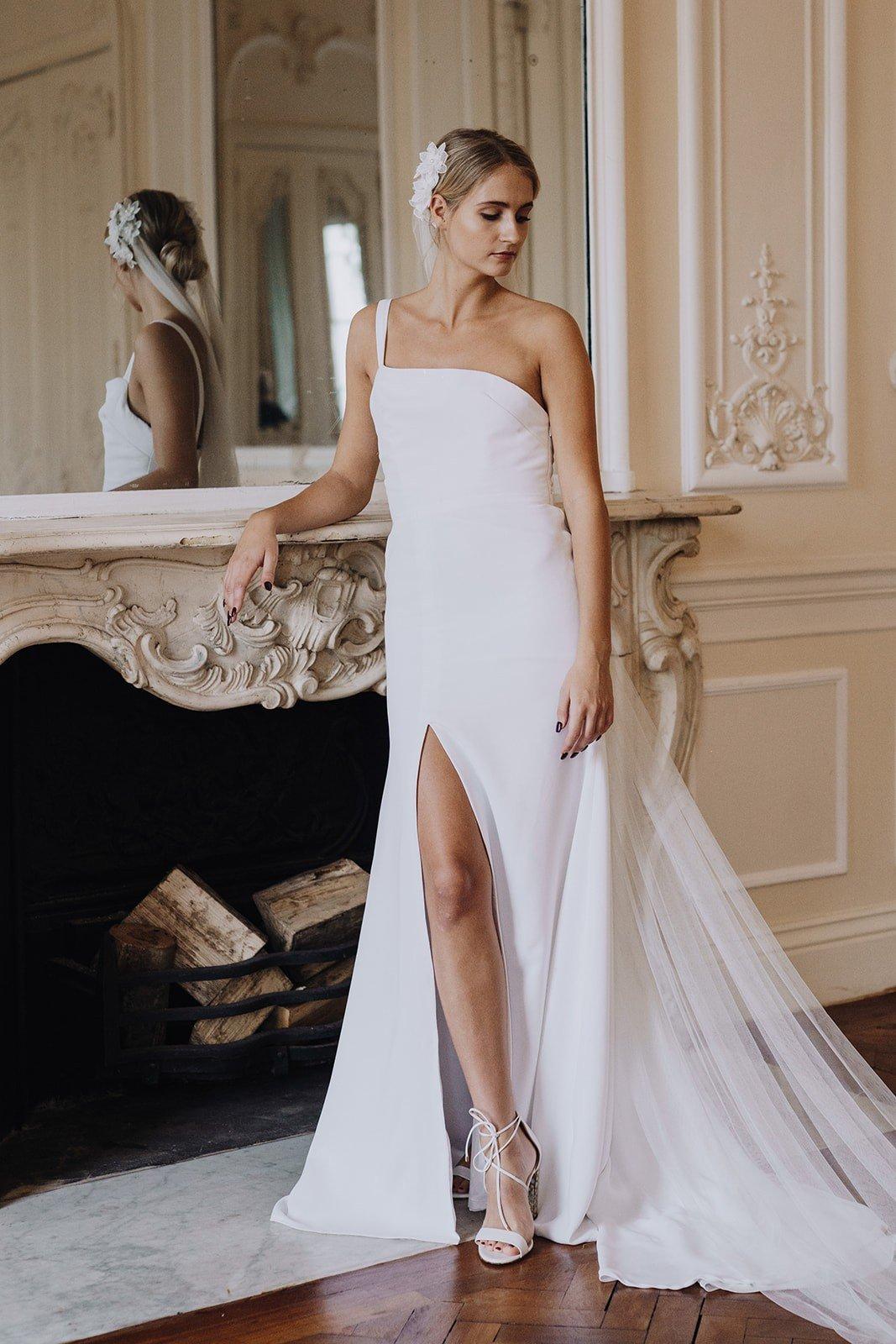 Image: Kate Edmondson
"Expect to see elegant long trains, along with statement cathedral silk veils," predicts designer Kate Edmonson.
2021 will be a bumper year of weddings and there'll be so much to celebrate. Brides will be taking advantages of this with once-in-a-lifetime gowns full of theatre and majesty that makes them feel incredible. Everyone wants to see their friends and family's faces when they get that first glimpse of your dress.
5. Modern Lace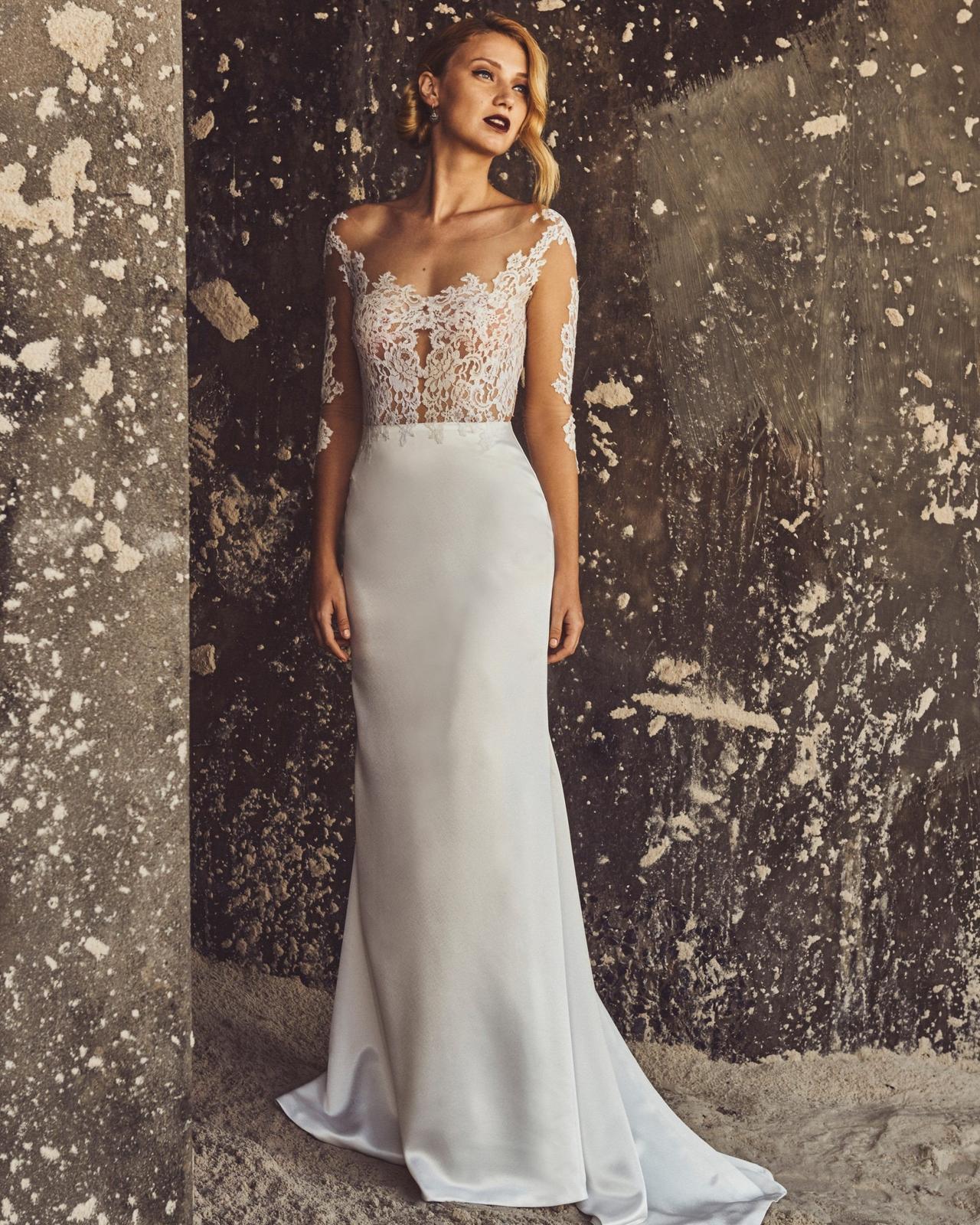 Image: Elbeth Gillis
"The trend is toward more classic understated dresses. The beauty is in the fabric, volume or shape rather than lots of details. What we will see going forward is more modern and less vintage-looking lace," says designer Elbeth Gillis.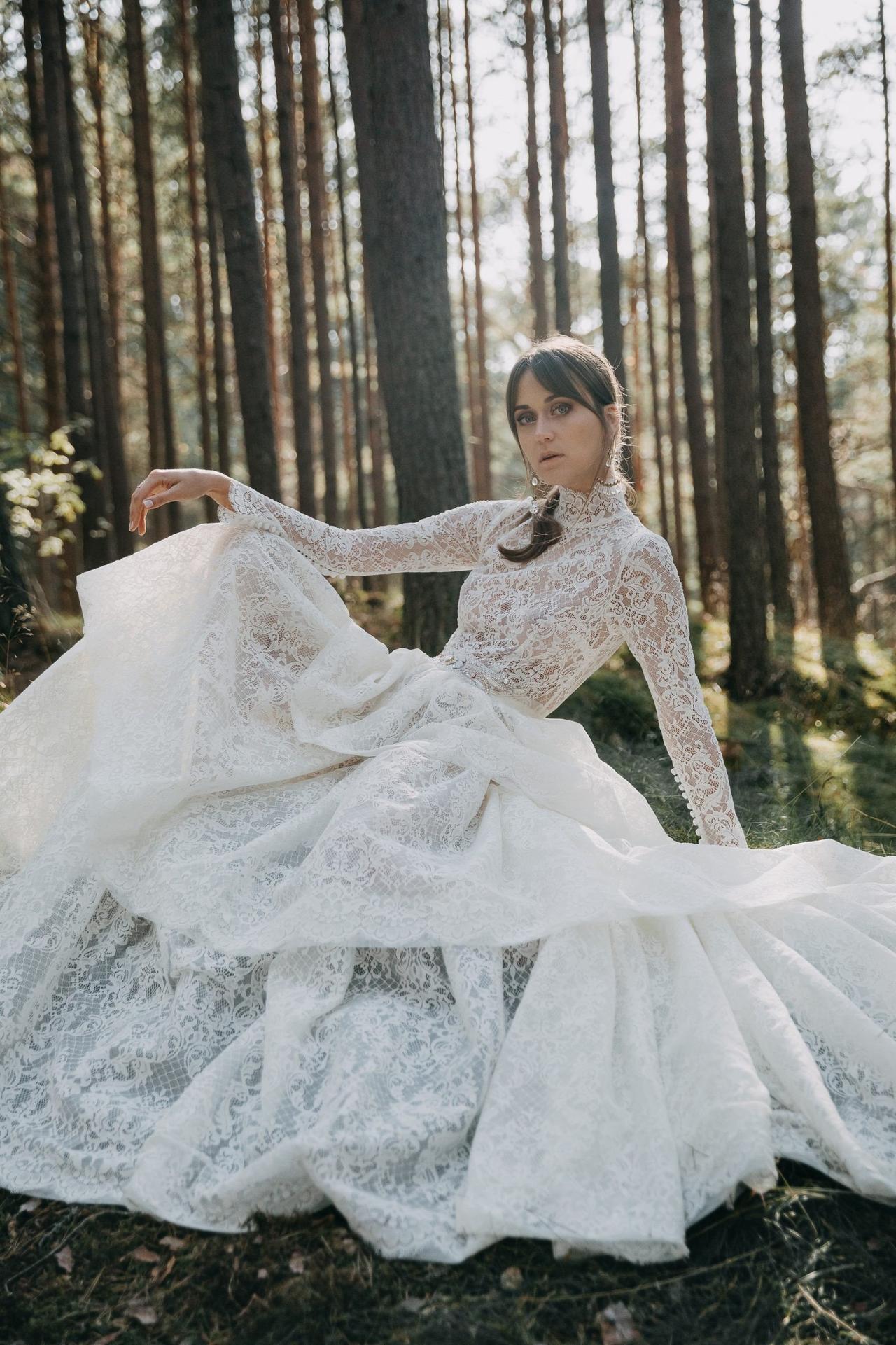 Image: Katya Katya
Peta agrees, "Lace is an eternally romantic bridal fabric and has nothing to do with dusty old ladies! Modern lace is stylish and reaches out to boho brides, beach brides and traditional brides."
6. Capes and Cover-Ups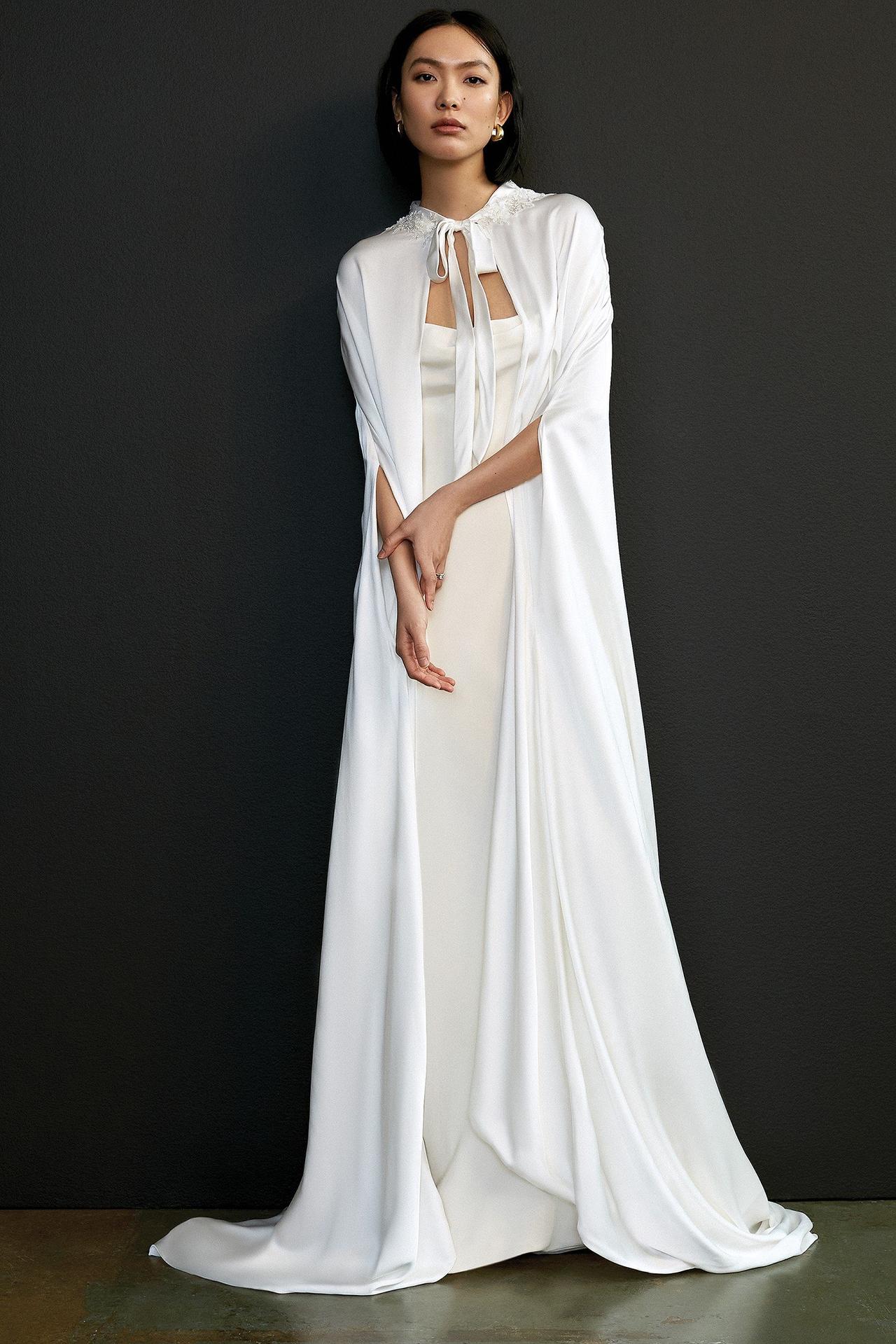 Image: Savannah Miller
Plenty of brides will have moved their 2020 weddings to 2021 and find themselves wearing a dress that was designed for a completely different season. What if you suddenly find yourself wishing you had sleeves?
"Look out for capes," says Peta. "Not huge Black Widow ones! In 2021, they'll be soft and floaty and make a wonderful alternative to the veil."
For a sparkly evening cover-up, look to Needle & Thread and Liberty in Love. For a unique cape, try one of the amazing sellers on Etsy, while Hermione de Paula is your go-to for capes and veils with secret messages stitched in.
7. Romance is Back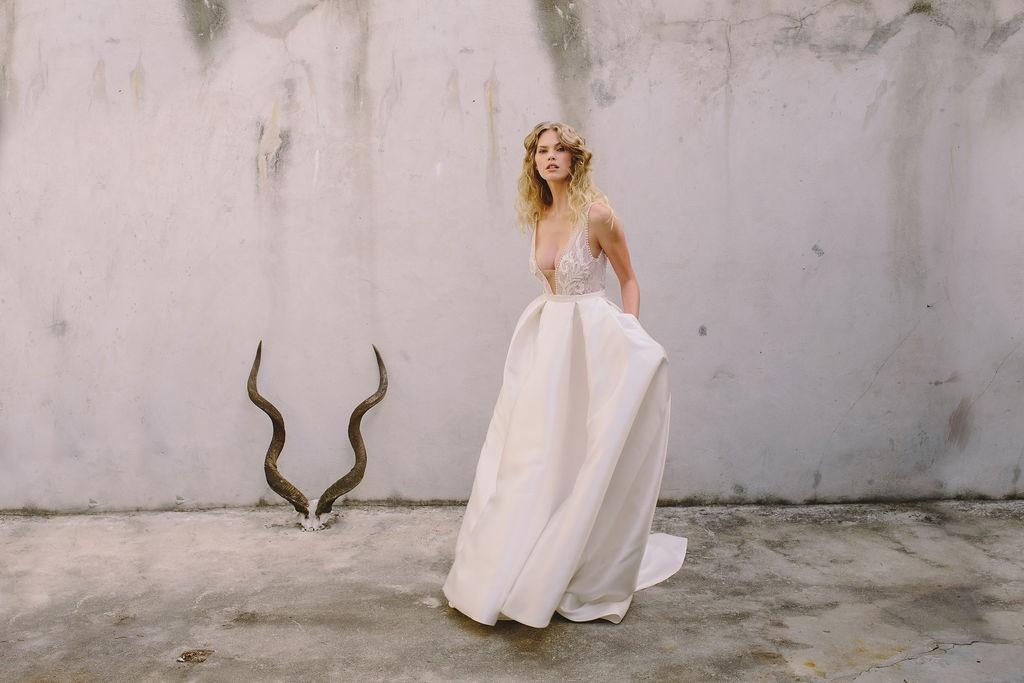 Image: Anna Georgina
When we think romance, we often think frothy ballgowns but get that image out your head for 2021.
"Intimate is the next way forward," says South African designer Anna Georgina. "I'm not saying the opulent fairytale dream wedding will be eradicated, but the weddings will be planned with more care to the environment and less excess."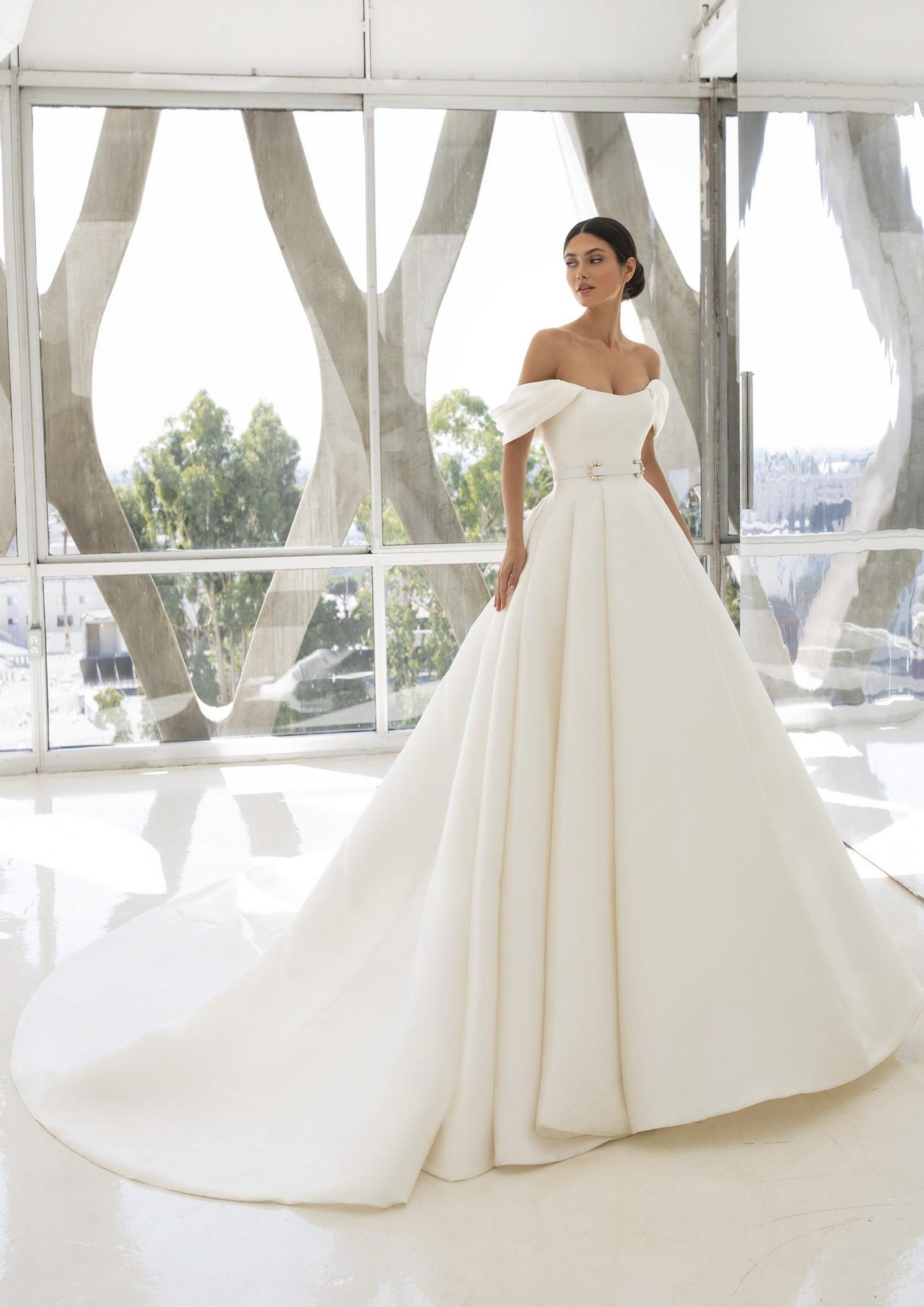 Image: Pronovias
Expect a twist on romantic dresses – "slightly high-waisted; a need for volume" – with a "beguiling silhouette" that encourages "a more dancing step".
8. Party-Style Sparkle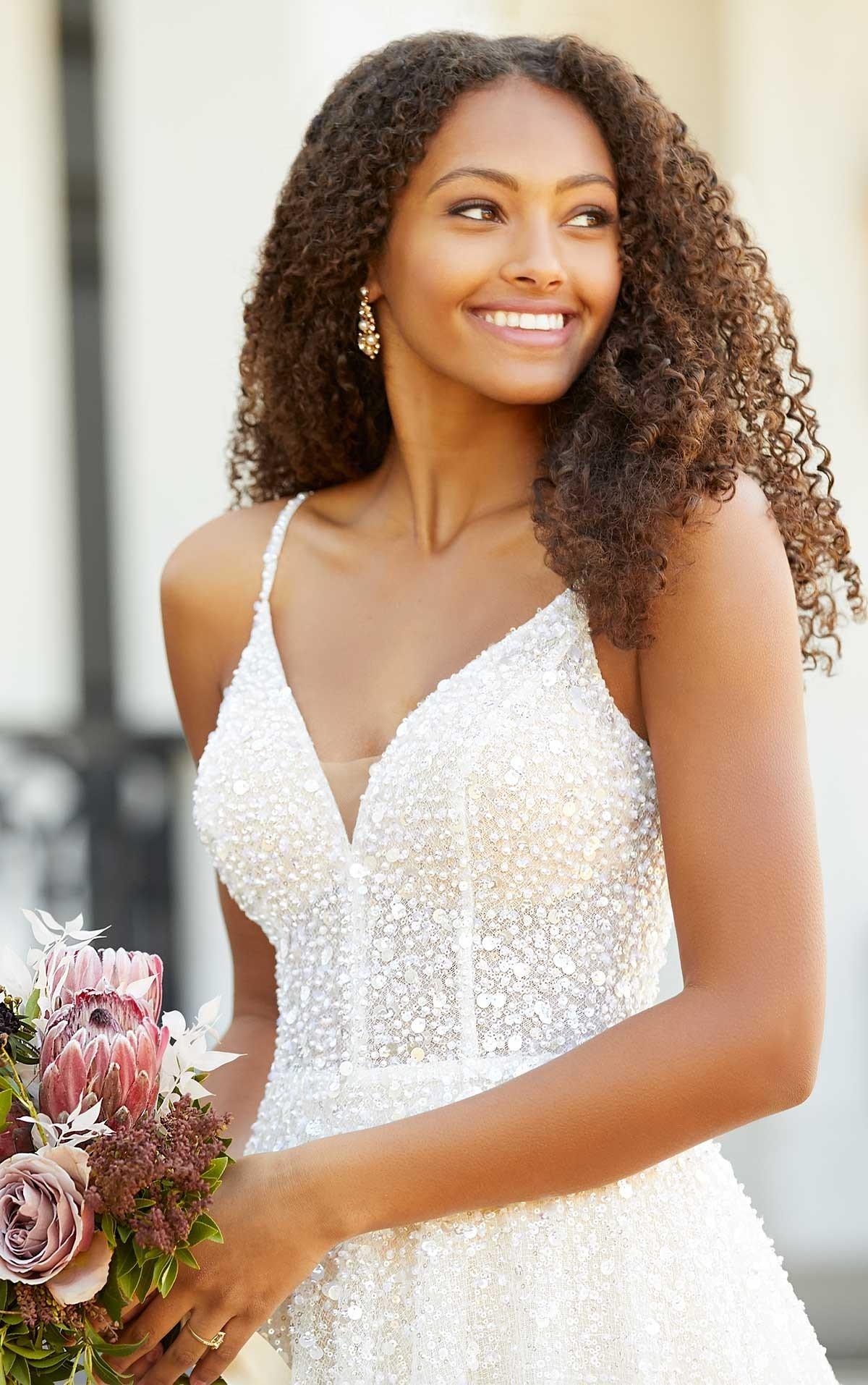 Image: Martina Liana
2021 brides will embrace ruffles and sparkles like no other! A knock-out party with your loved ones will be the core of your day and brides will want something showstopping that they can really let their hair down in. The vibe is optimistic, radiant and bright.
We might see postponed brides juxtaposing a simple gown for a small ceremony with a dreamy, sparkly reception dress when they host their party at a later date.
9. All About Necklines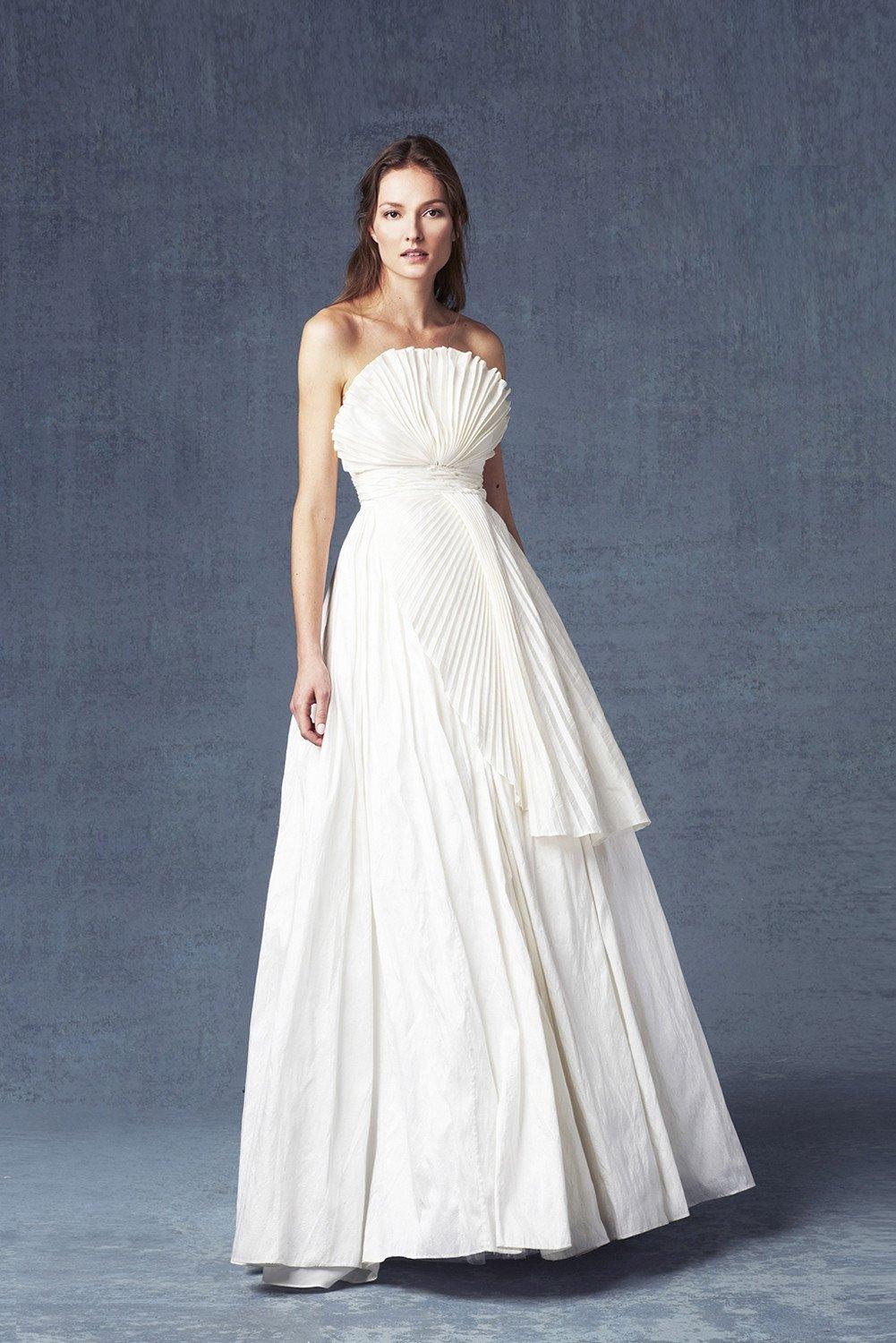 Image: Odylene the Ceremony
Necklines – unusual ones, adaptable ones and high drama ones – will be a big trend in 2021 dresses.
"With spring/summer weddings set to dominate, we expect to see more strapless dresses," says couture dress designer Phillipa Lepley. "I also believe there will be a further surge in more demure, covered-up looks, so dresses with high necks, and cheeky small and long puffed sleeves."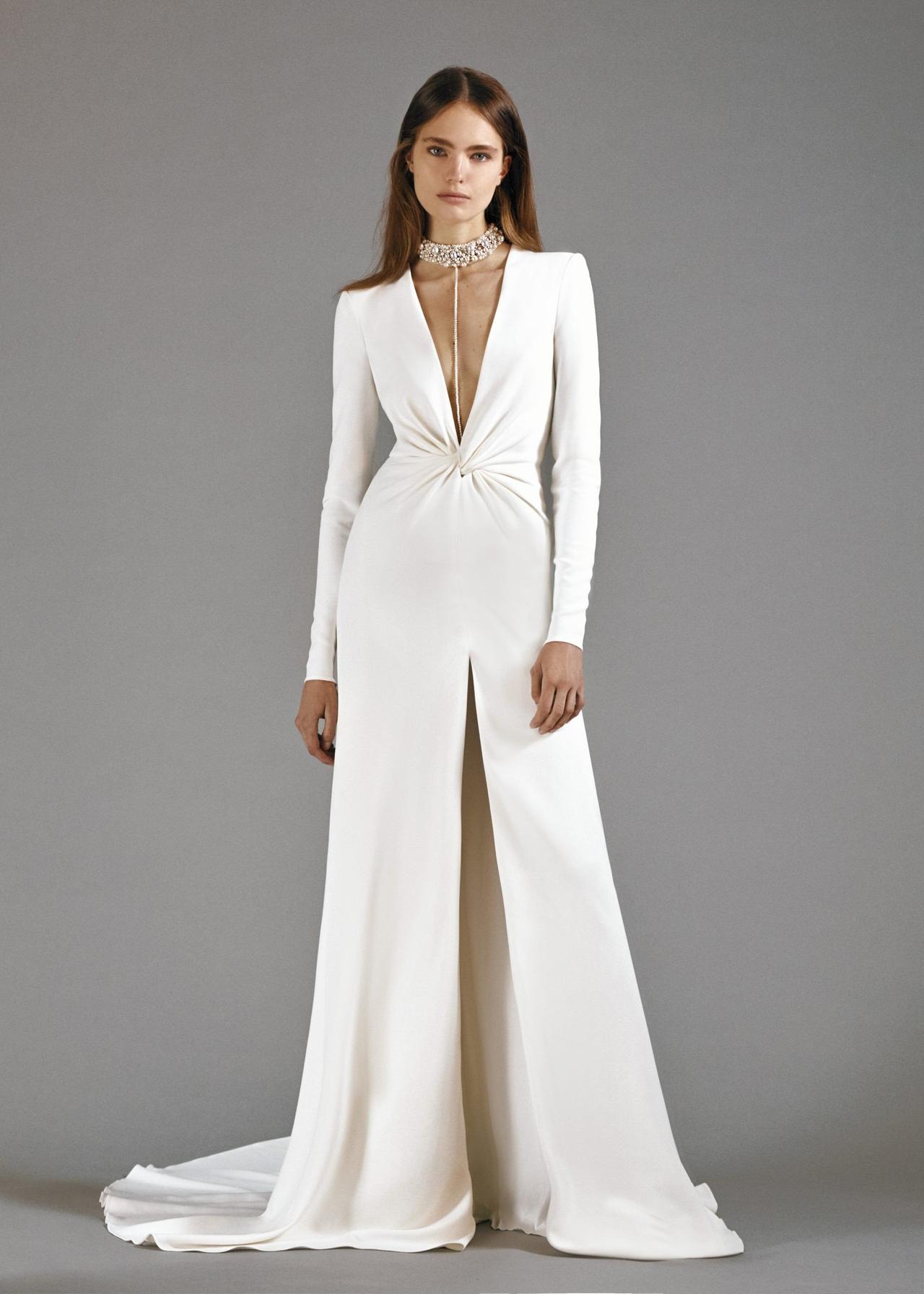 Image: Galia Lahav
Both of these styles are relatively easy for a seamstress to adapt. If you've had to change your wedding to a different season, speak to your boutique about whether they're able to alter your neckline so it speaks more to the season and your personality.
10. Simple Minimony Looks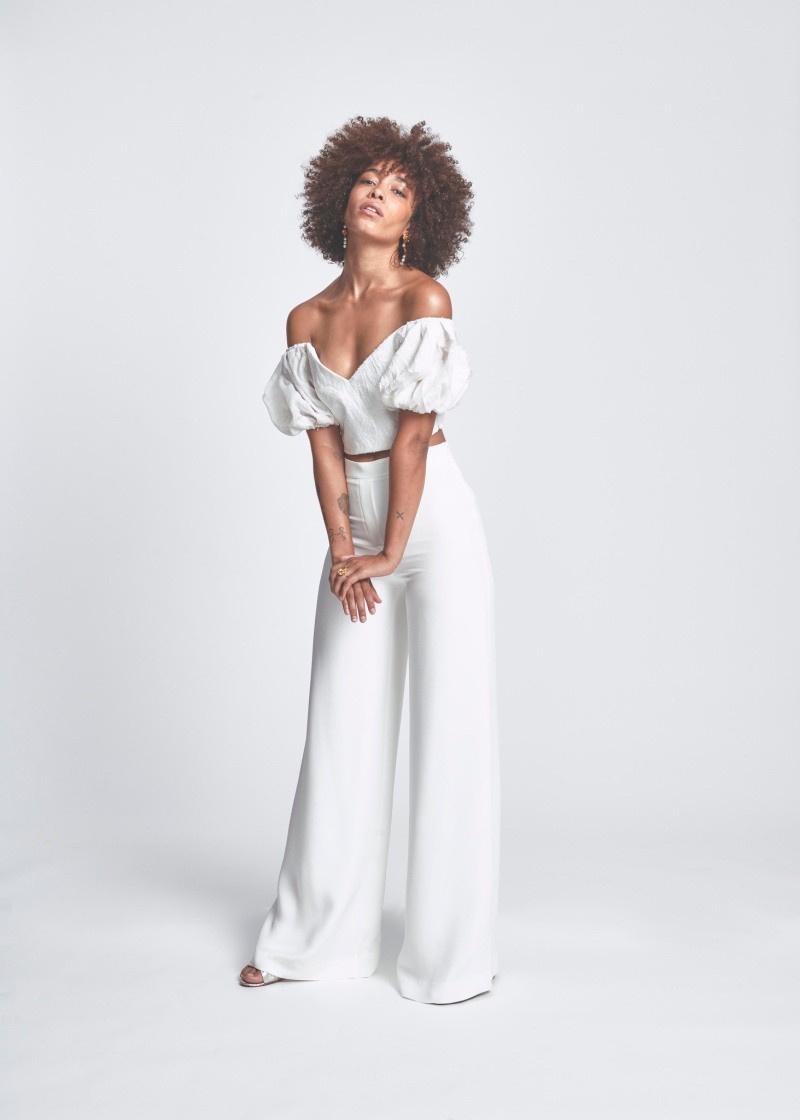 Image: Alexandra Grecco
Lots of couples will be choosing to have sequel weddings, where they host a small wedding ceremony now and a big party later. Many will save the 'real' wedding dress for the big reception and order something simpler and more modern for their intimate micro wedding. Think clean lines, cool cuts and alternative styles.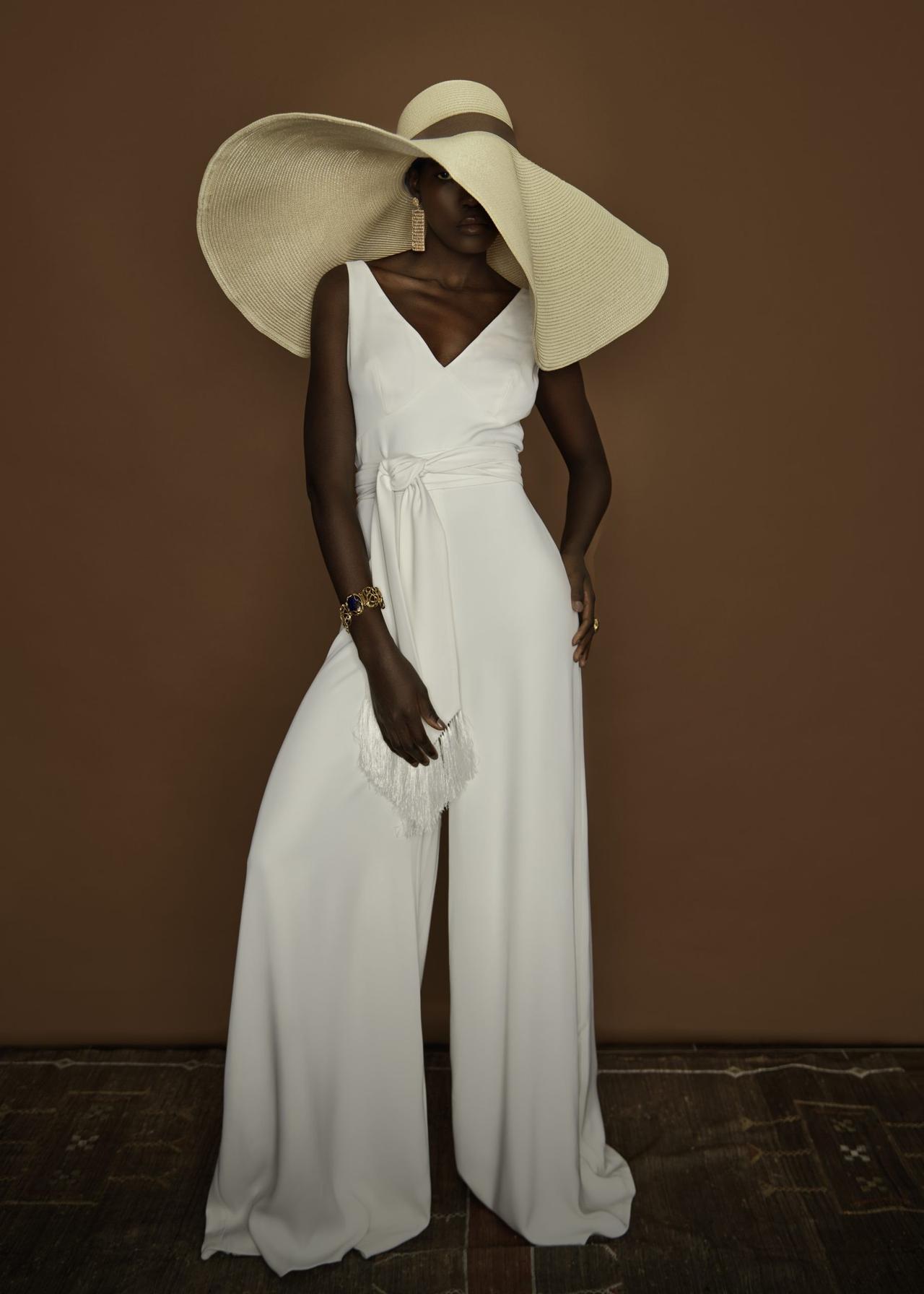 Image: Bowen Dryden
"We'll see plenty of looks that are just that bit different," predicts Peta. "Brides in trousers, jumpsuits, short dresses and kaftans, where they can show their personality and not follow the herd."
What to Expect from the New 2021 Dress Shopping Experience
"After COVID-19, nothing will be ever the same," predicts designer Anna Georgina. "Style will change, as well as the construction of garments."
The biggest of these changes to 2021 might be the buying experience though. As a response to the closure of boutiques, more have opened up virtual shopping experiences and this will continue into next year. Dresses "will have to more readily available online," says Anna.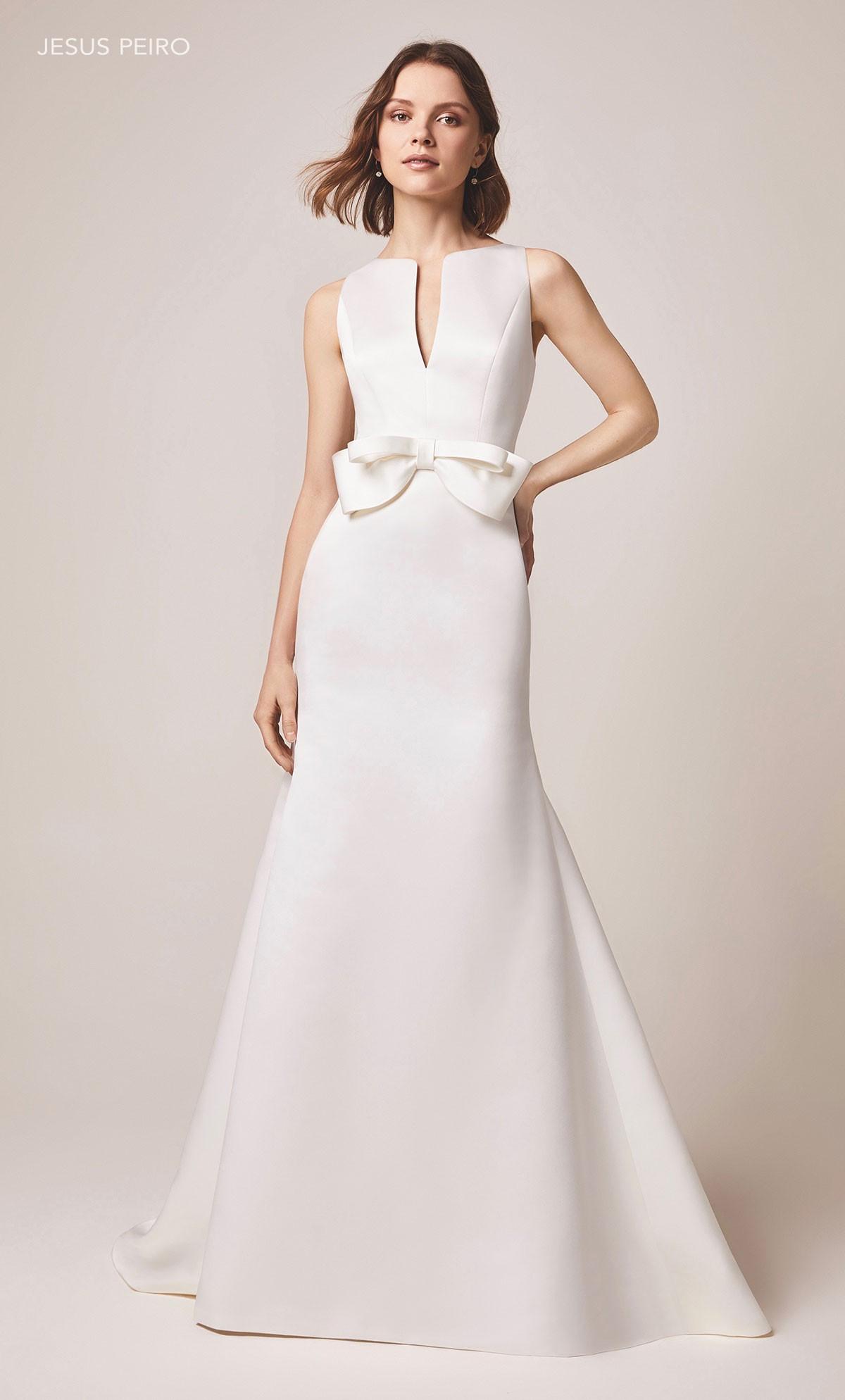 Image: Jesus Peiro
This will have a huge impact on what brides choose to wear. No longer will you spend a day in a boutique trying on 30 dresses; instead you'll do a huge amount of research online first and narrow your choices down to two or three before you arrive. Brides might even be ordering samples to their home, which again means fewer choices.
Couples will be thinking about buying sustainable dresses that can become family heirlooms. We'll have spent lockdown reconsidering what we want to invest in and the world we want to create.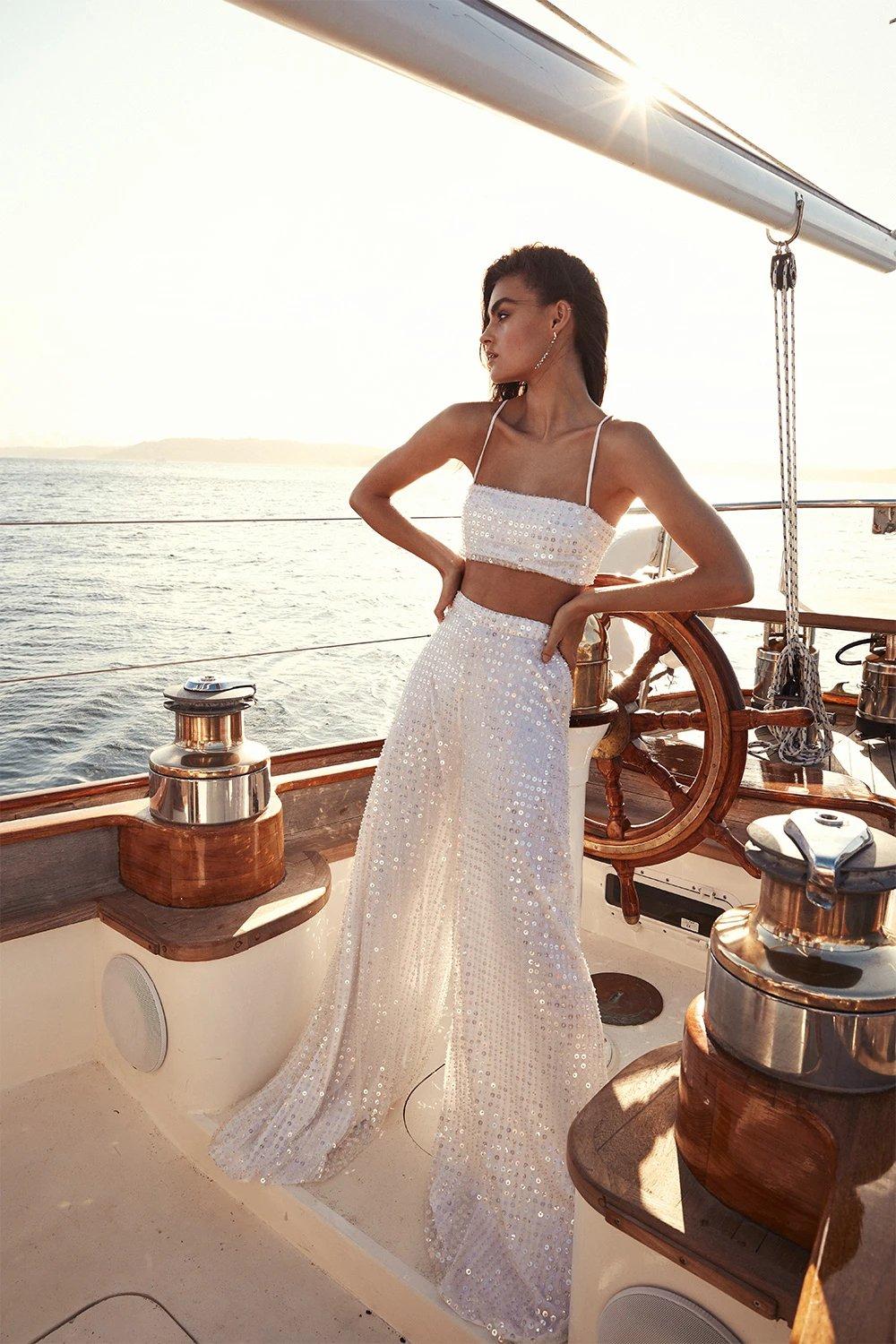 Image: Chosen by One Day Bridal
One aspect of this will be buying eco-friendly, high-quality dresses, and the other will be deciding what to do with them once we've spent our day wearing them. Do you splash out on a timeless dress that you can pass down the generations? Do you want to buy re-wearable separates that you could dye and wear at other occasions? Do you want to rent a designer dress? Do you want to sell yours after your day?
Brides will be asking lots of questions of what they want from their wedding dress and how they buy it in 2021.
Want to know more about buying a wedding dress online? We've rounded up 14 websites you need to check out now.