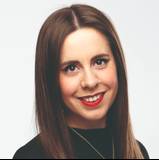 Sarah was the editor of Hitched until late 2021 and led the small but mighty editorial team to create content that excites, inspires and informs wedding couples, the wedding party and guests. Sarah has provided regular commentary for press on the latest wedding news and trends, with appearances on Sky News and ITV News, regular slots on BBC Radio and comment for Marie Claire, The Guardian, The Independent, Stylist and many more. She also worked closely with her team to make inclusivity a priority across all of Hitched's content, to ensure all couples feel represented and welcome. Sarah grew up in Norfolk and now lives in East London with her partner. When she's not getting involved in a bit of DIY or exploring the latest restaurants and bars in the city, Sarah loves to travel - Japan is next on the list!
Experience:
After graduating in 2008, Sarah worked in marketing for two years. She joined GoodtoKnow in 2010 as an Editorial Content Producer on their print title before moving across to goodtoknow.co.uk as Wellbeing Editor, and has worked in digital journalism since. Sarah became Editor at GoodtoKnow in 2016, where she was responsible for the site's digital content strategy. She joined Hitched as Editor in 2017, before leaving 2021.
Education:
Sarah graduated from Loughborough University in 2008 with a degree in Publishing with English. As part of her degree, she took her third year out to work as a Junior Editor for a book publishing company, where she edited titles on sport and local history. She volunteered for the Loughborough University Student Magazine in her final year, where she wrote her first fashion piece, and has been hooked on fashion mags since!
Hitched Q&A with Sarah:
What Is Your Ideal Wedding Style?
If a wedding showcases a couple's personalities and feels unique to them, then I'm a fan! I happen to be incredibly indecisive so my own wedding style fluctuates between intimate London celebration and Californian destination wedding.
Dream Honeymoon Location?
Speaking of which… it would have to be Palm Springs. It's the combination of art deco buildings, amazing food and non-stop sun for me!
What Was (or Would Be) Your First Dance Song?
Something unexpected… Bring Me the Horizon, perhaps?
Favourite Celebrity Wedding Look?
I'm still not over Lily Allen's Vegas elopement look - does it get more chic than a Dior mini dress?
Articles published by Sarah Allard