Paperchase's Beautiful Budget Wedding Collection: Our Top Picks for 2020
If you love pinks, white and golds, then you're going to love this new budget wedding range from Paperchase! There's décor, stationery, cake toppers, invites and much, much more
We have included third party products to help you navigate and enjoy life's biggest moments. Purchases made through links on this page may earn us a commission.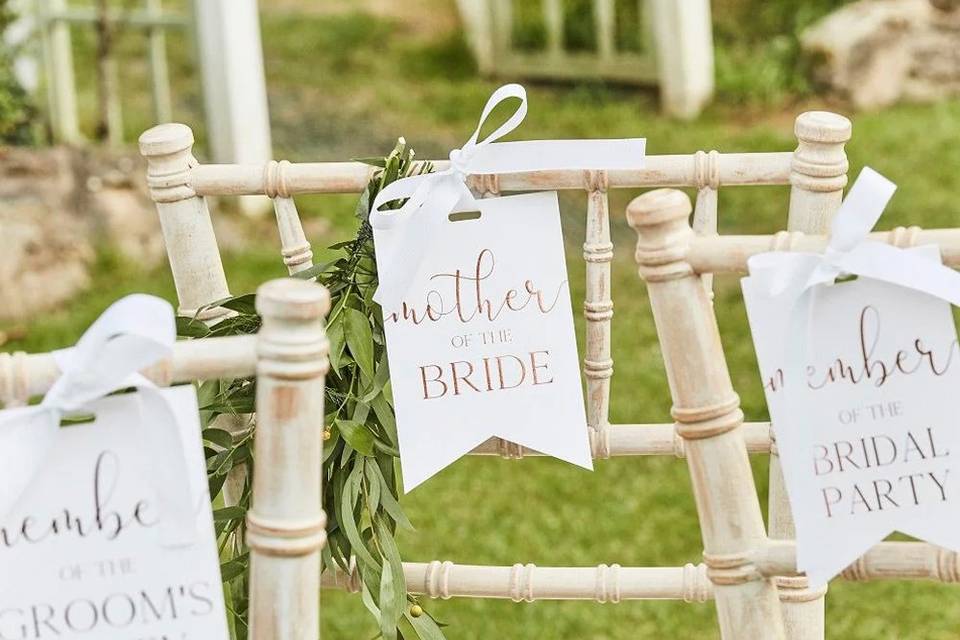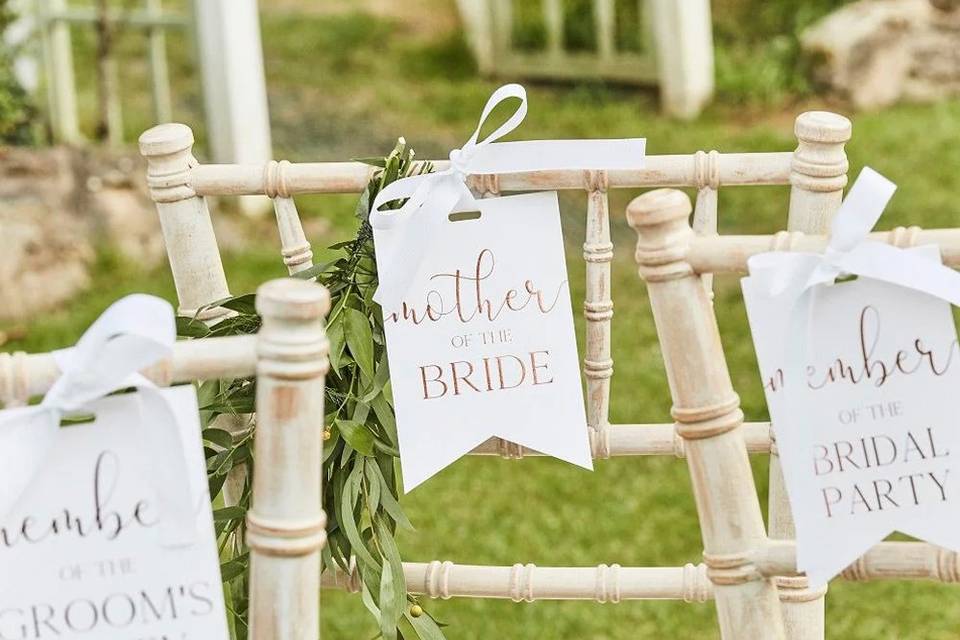 If, like us, you rely on Paperchase to always be on hand with a beautiful birthday card or some fun decor to brighten up your desk, then you'll be thrilled to find out you can now buy gorgeous wedding stationery, decorations and hen party accessories from the high street favourite too!
Here's our pick of the best bits from their brand new and super pretty hen party and wedding stationery collection…
Paperchase Wedding Decor
You can always pick up lots of adorable little bits and bobs for your home in Paperchase, but now they've got a whole dedicated wedding range.
We've picked a few of our favourite decorations out for you, but you can explore the cute collection here.
READ MORE: 22 Fabulous Ways to Include Prosecco in Your Wedding
Ginger Ray Bride and Groom Hoops – £17
These bride and groom wedding signs are perfect for the backs of your chairs at your wedding breakfast and lend themselves to a whole host of wedding themes!
Written in a beautiful calligraphy-style font, they're the loveliest addition to any wedding and even make great photo booth props.
P.S. for same-sex weddings, they have these 'Better Together' hoops!
'Love' Copper Wedding Cake Topper – £7
Let's be honest, the bit we're all secretly excited about is the wedding cake. Going to the tasting is the best part of wedding planning (and getting the dress, of course) – and cutting and eating it on the day is a moment you'll never forget.
We love this simple and chic 'Love' cake topper. It's made from copper, giving it a fab rose gold colour and a wonderful sheen. Picture-perfect!
Wedding Balloon Heart Kit – £25
Looking for genius ways to save money on your wedding decor? Why not get your hands on this balloon heart kit?
It's the perfect backdrop for wedding photos or a photo booth. Your guests will be Instagramming these balloons all night! And, at just £25, you really can't go wrong.
Wedding Chair Signs (Pack of 6) – £5
These are much nicer indicators for where your closest family members need to sit then a piece of paper left on the chair! The pack includes chair signs for the mother and father of the bride and groom, and two of members of the wedding party (AKA for your maid of honour and best man). They're written in gorgeous calligraphy and come with white ribbon to tie them to chairs.
Orb Balloon With Foliage – £7
Foliage is one of the big trends for weddings in 2020. This orb balloon comes with a faux eucalyptus leaf-entwined string and filled with leaves. They'll look fantastic dotted around a rustic wedding venue.
Wooden Stacking Hearts Guestbook – £20
Everyone wants to have a guestbook so their guests can leave little memories of the big day. If you're after something alternative, this stacking wooden heart guestbook might be the thing! It makes a lovely keepsake to show off at home too.
Rose Gold Wedding Photo Booth Props – £5
Ramp up the fun of your photo booth with these classy props! The photo booth props include hats, signs, glasses and even a few glasses of (paper) prosecco. It's great value and will really make your pictures stand out.
Wreath Place Cards (Set of 6) – £4
These wreath place cards add such a personal touch to your tables. They work all year round – a wreath isn't just for Christmas! Now to perfect your best calligraphy…
White Biodegradable Wedding Confetti Cone – £1.50
These might just be our favourite bargain buy of them all. What a lovely idea!
Hand these gorgeous confetti cones out to your guests at the ceremony and fill them with biodegradable confetti (Paperchase have lovely dried petal confetti too). Environmentally friendly and pretty. Talk about two birds with one stone.
READ MORE: How to Host an Eco-Friendly Wedding
Wedding Champagne Bubbles – £12.50
Provide your guests with fun wedding favours! These Champagne bottle bubbles are perfect for adding a little sparkle to your big day.
READ MORE: 36 Awesome Ways to Entertain Your Wedding Guests
Wedding Countdown Block – £10
Even if you big day is 1,000 days away, you can show off your excitement with this cute countdown block set! The white and rose gold blocks will look gorgeous among your home décor (and as a daily update on your Instagram Stories…). It's all the fun of opening an advent calendar – just you'll need to provide your own chocolate.
Paperchase Wedding Speech Bingo Cards – £3.50
Wedding speeches can get a little dull, so why not liven things up with a fun and riveting game of wedding speech bingo?
Every time your guest hears one of the phrases, they should mark it on the sheet. The guest who's paying the most attention and hears them all first should shout "Bingo" and wins!
READ MORE: The Best Wedding Décor Under £10
Letter Board – £18
What a great way to signpost everything from your bar to the dancefloor at your wedding! This letter board comes with loads of letters so you can write whatever you want. It looks awesome as part of your wedding décor.
READ MORE: 19 IKEA Wedding Decor Hacks
Paperchase Wedding Stationery
Paperchase have released a cute wedding stationery collection, and it's perfect for couples who are working with a tight wedding budget but still want wedding stationery and décor that's super pretty..
We've picked our favourite and absolute must-have products from the new range and we guarantee you'll love them as much as we do.
READ MORE: The Prettiest DIY Wedding Invitations
Paperchase Wedding Planner Book – £10
Are you losing track of which suppliers you've booked and who quoted what? This book will help you keep everything tracked and organised in the run-up to your big day!
Wedding Advice Cards – £2.50
If you're on the hunt for a great wedding table game, advice cards are a great idea.
Pop these pretty cards on your tables and watch as your guests offer their best pieces of advice for married life. You'll have great fun reading them the day after your wedding!
Kraft Invitations (Pack of 10) – £12.50
For just £12.50, you can pick up this gorgeous pack of rustic Kraft paper invitations. If you're having a shabby-chic wedding theme, these are perfect.
There's a cute little pouch for them to return their RSVP cards (so hopefully everyone will get them in on time!) as well as room on the back for all your details and a little note to your guests.
Wedding Mini Pencils with Tags – £5.25
How cute are these little white pencils?! Not only would they make the perfect cheap wedding favours, but they're great for any games you might be getting your guests to play at the table.
You could even pop them inside your wedding invitations for your guests to use when they RSVP!
Wedding Memories Large Photo Album – £20
Don't forget a single moment of your wedding day by compiling all of your pictures as soon as you can in this beautiful wedding photo album.
Choose from large, medium or small depending on just how snap-happy your guests were! Th eucalyptus design is timeless too.
READ MORE: The Ultimate 17-Step Wedding Planning Guide
Seating Plan Book – £10
Your seating plan is very stressful – we're warning you now! Make it easier with this seating planning book that comes with table stickers, colour-coded sticky tabs and an acceptance pad.
Bridesmaid Proposal Cards (Pack of 6) – £4
In the same cute Kraft paper design are these bridesmaid proposal cards. It's such a sweet way to ask your besties to be part of your wedding party and they can keep it forever.
READ MORE: A Guide to Invitation Wording
Paperchase Hen Party Accessories
We're particularly excited about the gorgeous hen party range that Paperchase have released. The new collection is totally on-trend and perfect for bride-to-be celebrations!
Here's some of our favourite items…
Bride To Be Crown – £6
The hen is the queen for the day on her hen party, so of course she deserves a crown! This will let everyone she meets all day know just how special she is (and maybe score you a few free drinks!).
Hen Party Games – £6
There's four games in this cute hen party game set: Who Knows the Bride Best?, Draw the Dress, What's in Your Phone? (delete the risque pics now!) and Hens Gone Wild (daring challenges you'll never forget).
It's an ideal set to break the ice and get you all giggling.
For more high-street steals, be sure to check out our favouritehigh street wedding dresses!