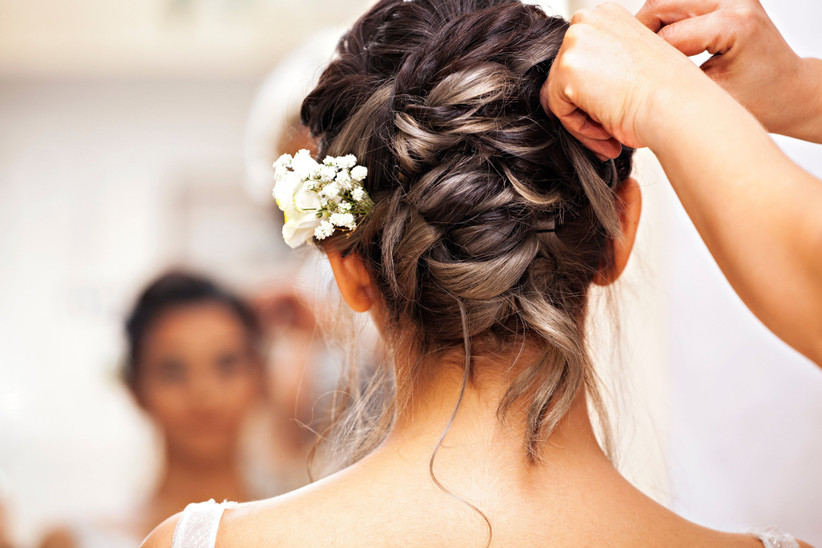 No longer just the domain of brides who are rocking a boho wedding dress, braided hairstyles can be worn by anyone and they are one seriously on-trend bridal look. If you've fallen in love with the ideal of a pretty plaited wedding hairstyle but aren't sure how to pull it off, fear not – we've teamed up with Great Lengths to bring you easy step by step tutorials for creating five stunning looks.
Loose Rope Braids
First up, the loose rope braid. This ethereal look is simply breath-taking and easier than you think to style.
"If recent catwalk trends are anything to go by, bridal hair is now loose and ethereal – a sharp contrast from the refined and perfectly polished looks of previous years," explains Amanda Jackson from Great Lengths. "Inspired by this shift towards softer styling, Great Lengths' latest bridal hair tutorials are designed to appeal to today's bohemian brides.
"This loose rope braid tutorial is inspired by bridal hair hero Ulyana Aster (an Australian stylist). We've taken a major hair trend, the rope braid, and transformed it into a beautiful bridal look. The result is just magical."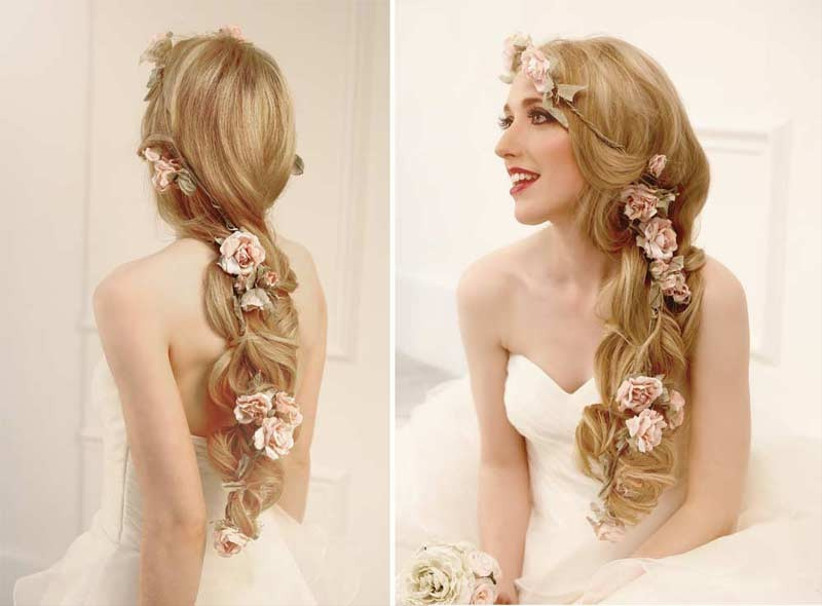 If you're a Disney fangirl at heart and dream of having a Rapunzel themed wedding, then the loose rope braid is the perfect look for you.
Your hair doesn't necessarily have to be a floor sweeping length to pull this off either, your hair just needs to be long enough to hold the plait without the ends sticking out.
If you're trying to grow your hair for the wedding but are frustrated that the lengths aren't budging, consider adding some natural extensions.
To emulate Rapunzel's look when she reaches the castle in the 2011 Disney adaptation 'Tangled', simply weave flowers throughout your plait – all you need now to complete this enchanting look is a stunning Disney inspired wedding dress!
To master the look yourself, take a look at this easy step by step tutorial from Great Lengths:
Milkmaid Braids
The beauty of braided hairstyles is that they look so stunning and intricate but are often quite easy to achieve when you know how – as is the case with this gorgeous milkmaid braid hairstyle.
You may have seen this look rocked by various Hollywood celebrities (style icon Sienna Miller is a big fan of milkmaid braids), but it's now making the leap from red carpet to the aisle to become a firmly wedding-worthy hairstyle.
A milkmaid braid makes an amazing statement by itself, but the structure of it is also perfect for holding wedding hair accessories should you wish to add some.
If you're having a pretty country garden themed celebration filled with lots of floral wedding ideas, crown your braided hairstyle with a garland of flowers for a look that radiates ethereal beauty. Take a look at our easy guide to making a flower crown if you want to do it yourself.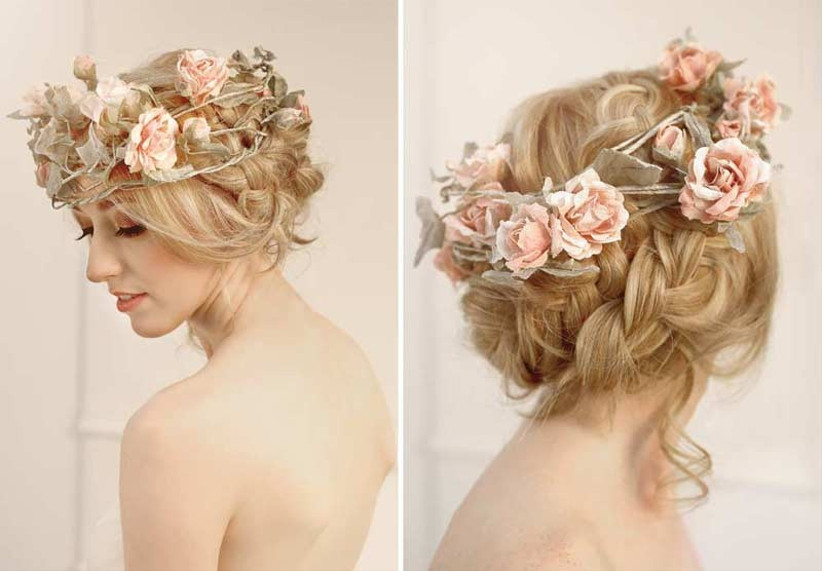 Alternatively, you can't go wrong with a bit of glitz and glamour and a sparkly headpiece would be a wonderful accompaniment to your braids. Try a tiara or headband for a glittering way to frame your hairstyle.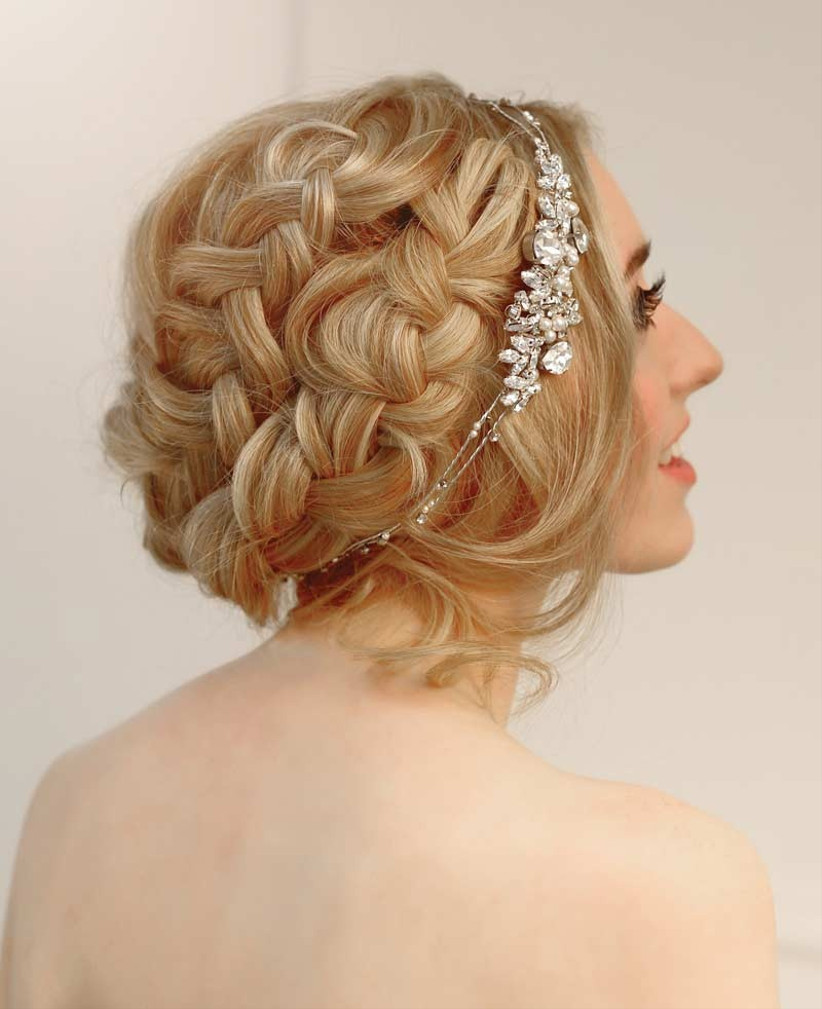 Here's how to get the look:
Boho Braids
If you're planning a festival themed wedding, some boho braids would make you feel ready to grace both the field and the aisle – simply glam up the look with some hair accessories to make it more 'bridal'.
"This kind of braided hairstyle is perfect for the boho bride who is planning a summer wedding," says Amanda. "If you usually wear your hair in a loose style, then the boho braids look would be a lovely style to try for your wedding."
As Amanda explains, if you hate having your hair up but want something a bit different for the wedding, then this style from Great Lengths would be perfect – you still have the comfort of having your hair down but the plaits add a boho twist.
If your dress has a statement neckline or you want to show off some pretty jewellery, be inspired by this style by pulling the front section of hair back with a tiara to transform it into a half up half down hairstyle.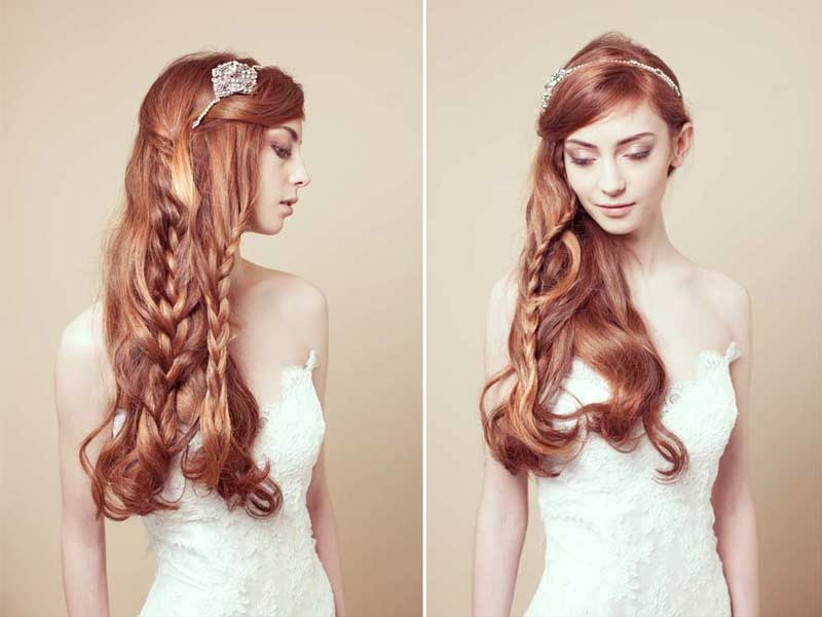 To master this look and get the right texture and hold (have you noticed that the braids aren't tied with distracting hairbands?), take a look at this tutorial:
Braid and Nape Knot
"When you love both braids and buns, combine the two and opt for this stunning braid and nape knot style," suggests Amanda. "It creates the perfect canvas for a sparkling hair accessory or a flower."
This plaited hairstyle looks quite difficult to achieve but you actually don't need many products or tools to create it – just a good paddle brush, some hair grips, a clear hair tie and a good quality hairspray.
The braid and nape knot is ideal for brides with medium to long hair, as the size and style of the bun can be altered depending on the length.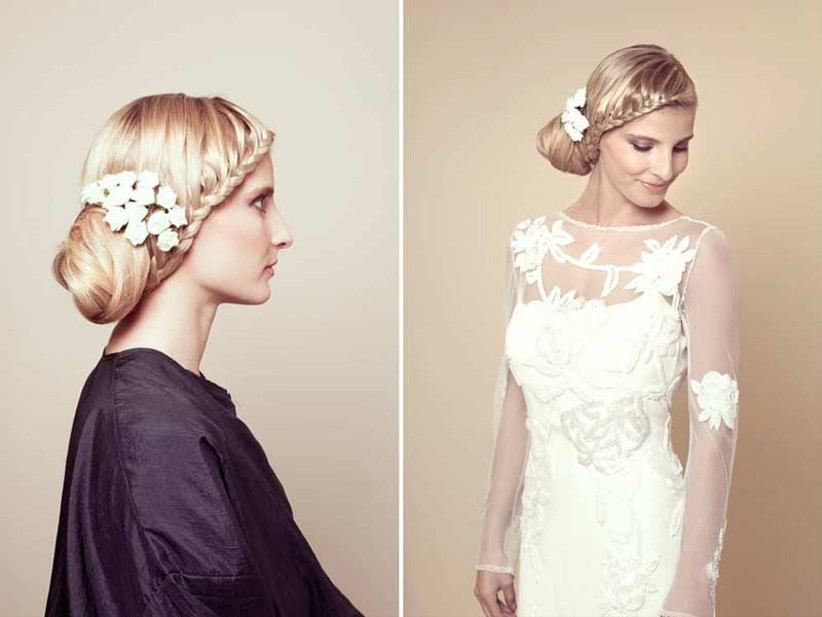 We love how the braid of this style flatters the face and frames it beautifully, leaving room to accessorise with a statement necklace or drop earrings. Flowers placed in the bun add even more wow factor to the style, plus they can cleverly hide any bobby pins.
Another great thing about the braid and nape knot is that it looks great at any time of year – simply tailor your hair flowers or accessories to suit the time of year if you want to give it a seasonal twist.
Here's how to achieve this stunning look:
Game of Thrones Inspired Braids
If you're obsessed with Game of Thrones and never miss an episode, subtly sneak a reference into your wedding by going for a plaited hairstyle inspired by Dragon Queen, Daenerys Targaryen.
A super cool twist on the classic French braids, this awesome look is a great half up half down hairstyle that looks amazing and like it took ages to create.
Of course, this style looks great with any hair colour, but if you dare to go full Targaryen then dye your locks white blonde (well in advance before the wedding in case of any dye mishaps!) and pick out a Grecian style wedding dress – voila!
If your other half is a die-hard Game of Thrones fan too, add some fun to your wedding day by getting your photographer to snap some funny wedding photos inspired by famous scenes from the show (the more family appropriate ones of course!).
Here's the step by step tutorial for the Game of Thrones inspired French plait:
If you like these styles, check out our guide to wedding hair with flowers for more boho beautiful styles.