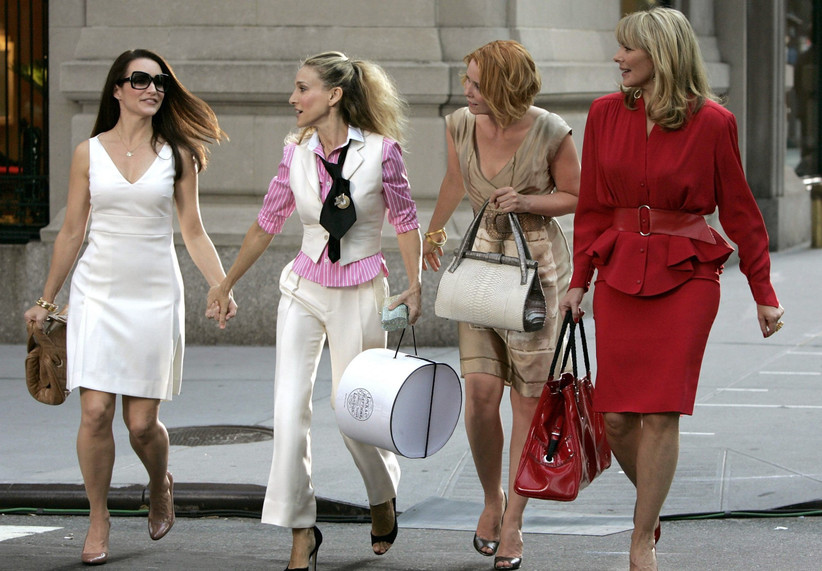 Curling up on the sofa with your other half is a great date night idea and a much-needed break from wedding planning. But if you really can't step away from your spreadsheets, putting on a wedding-inspired movie is the next best thing.
Wedding movies are the basis of a good night in with your bridesmaids too. Post DIY-ing your centrepieces or addressing your envelopes together, grab the prosecco and settle down with one of these fab rom-coms.
From the classic My Big Fat Greek Wedding to our new favourite Crazy Rich Asians, these romantic wedding films are all available to stream on Amazon Prime, Netflix and Now TV. And nearly all of them are free with your subscription – winner!
Now all you need to do is decide who's buying the popcorn…
The Best Wedding Films on Netflix
1. Love Wedding Repeat
Included with Subscription
Arriving on 10th April on Netflix is this incredible looking new rom-com. Jack (Sam Claflin) lives different version of the same day as he tries to save his sister's wedding from an angry ex-girlfriend, some misplaced sedatives, an uninvited guest with a secret, and the girl that got away. We're predicting a new classic, especially with this comedian-heavy cast!
2. Wedding Crashers
Included with Subscription
Vince Vaughn and Owen Wilson play best friends and committed womanisers who can charm their way into any wedding, but their friendship is tested when one of them falls in love with a wedding guest. You'll be crying with laughter during this, especially the stand-out performance from Isla Fisher's "stage five clinger" character Gloria.
3. Destination Wedding
Included with Subscription
An anti-romance rom-com with Keanu Reeves and Winona Ryder that you can convince even the most cynical of partners to watch with you. Two misanthropic strangers meet on the way to a wedding in California that neither wants to attend, and, well… you can guess the rest. Seriously funny.
4. Four Weddings and a Funeral
Included with Subscription
As if Hugh Grant wouldn't make an appearance on this list. If you're part of a group of 30-somethings wondering when you'll find true love and get married, this quirky comedy will give you faith. A group of unlucky in love pals navigate, you guessed it, four weddings and a funeral – with a stellar cast.
5. Sex and the City
Included with Subscription
Keep this one to watch with your girls. When Carried gets jilted at the altar by Big, it's her three besties that console her and convince her again that love exists. Big shout out to Jennifer Hudson and chocolate pudding cups.
6. Ms. Matched
Included with Subscription
Ever fancied yourself as a wedding planner with an unlimited budget? Libby does just that job, but when she's teamed up with a penny-pinching financial advisor they've got find common ground. An easy watch.
7. Made of Honour
Included with Subscription
Patrick Dempsey plays Tom, who realises he's in love with his best friend only once she's got engaged to a Highland laird after a whirlwind romance. This is basically Monarch of the Glen meets My Best Friend's Wedding and it's excellent.
READ MORE: The 18 Arguments Every Couple Has During Wedding Planning
8. About Time
Included with Subscription
A very cute comedy about a man who can travel in time and live each day again. Tim (Domhnall Gleeson) and Mary's (Rachel McAdams) love story will have the smiling ear-to-ear and proves rain on a wedding day doesn't have to be a disaster. A great one to watch with your girls the night before the wedding.
The Best Wedding Films on Amazon Prime
9. My Big Fat Greek Wedding
Rent for £2.49
Got a slightly mad, intensely close, very overwhelming family? You'll sympathise with Toula, an unmarried 30 year old working in her father's Greek restaurant who unexpectedly falls in love with teacher Ian. The only problem, he isn't Greek, and her family really care.
10. The Wedding Singer
Rent for £3.49
If you haven't considered 'Grow Old With You' for your first dance song, you need to watch this sweet and kitsch rom-com about a jilted wedding singer who falls in love with the woman whose wedding he's helping plan. Drew Barrymore is bride goals; Adam Sandler isn't nearly as annoying as his characters usually are; and the '80s soundtrack is amazing. Win-win!
11. Bride Wars
Included with Subscription
Anyone who's engaged at the same time as a friend knows just how easy it is for rivalry to start to sneak in. Fingers crossed you don't have the same wedding date – and fingers crossed it doesn't end in a blue rinse. The concept of battling bridezillas might be a little done, but Anne Hathaway and Kate Hudson bring it back to life.
12. Bridesmaids
Rent for £2.49
An absolute comedy classic that more than one maid of honour will be able to relate to if there's an overzealous bridesmaid trying to steal your BFF crown. One to watch with your gals and quote to each other. "Help me, I'm poor."
13. The Wedding Date
Included with Subscription
Everyone who's ever bumped into an ex at wedding will know exactly how it feels to want to show off your amazing new life without them. Not sure we'd go as far as hiring an escort like Kat (Debra Messing) does – but this one might be worth every penny.
14. Bachelorette
Included with Subscription
Don't let your bridesmaids get any plans from this, but definitely do throw a wine-fuelled viewing with them. A raucous bachelorette turns into a race again time to save the bride's wedding, with literally one of the best comedy queen casts ever – Rebel Wilson, Isla Fischer, Kirsten Dunst and Lizzy Caplan (Janice from Mean Girls!).
15. The Big Wedding
Rent for £2.49
This is a rom-com heavy on the com, which might help if your beau is digging their feet in about watching a wedding film. It's got an all-star cast including Robin Williams, Katherine Heigl and Amanda Seyfried, plus Robert De Niro and Diane Keaton as a divorced couple who must play happy families at their adopted son's wedding when his birth mother arrives unexpectedly.
READ MORE: 9 Things That Change After Saying I Do
16. The Proposal
Rent for £2.49
Faced with deportation and losing her high-flying job, Sandra Bullock pretends she's engaged to her put-upon assistant Andrew (Ryan Reynolds). When they head to Alaska for Andrew's grandma's birthday, they've got four days to convince his family and very sceptical immigration officer their love is for real. This film is genuinely hilarious – even the most rom-com averse OH will love it.
17. Mamma Mia
Rent for £1.99
Who hasn't dreamed of their own Greek island wedding? Form your own Donna and the Dynamos with your bridesmaids and get in a feel good mood as Sophie (Amanda Seyfried) tries to find out who her father is while preparing for her wedding. Watch for Pierce Brosnan's attempt at singing alone.
18. Father of the Bride
Rent for £2.49
Save this to watch with your family just before your wedding day; there won't be a dry eye in the house. Steve Martin plays a well-intentioned dad preparing for his eldest daughter's wedding but inevitably causing pandemonium. Extravagant wedding planner Franck will be your new favourite film character.
19. License to Wed
Rent for £3.49
Robin Williams plays a vicar who puts an engaged couple through a gruelling marriage preparation course to see if they can marry in his church. If anyone's having a religious wedding and is going through a prep course, this Mandy Moore and John Krasinki comedy should go straight on your watchlist.
READ MORE: 7 Things Olivia and Alex Bowen Learnt During Their First Year of Marriage
20. The Five Year Engagement
Rent for £2.49
Follow up with John Krasinki's real-life wife Emily Blunt in The Five Year Engagement. After getting engaged, Tom and Violet move from San Francisco to backwater Michigan to follow her career but the ups and downs of life get in the way of actually getting down the aisle. Snuggle up with this rom-com if you're navigating planning setbacks.
21. One Small Hitch
Included with Subscription
Love can be right in front of your eyes the whole time, that's the theme of this cute comedy. You can probably guess the plot when you hear that childhood friends Josh and Molly have to fake their engagement for his dying father, even to the point of staging a phoney wedding. But the chemistry between the leads sets this film apart.
22. Runaway Bride
Rent for £2.49
If being jilted is your biggest fear, maybe don't put this one on. Small-town girl Maggie has ditched multiple men at the altar and Ike is the journalist on the case to cover her story. A light-hearted chick flick that reunites Pretty Woman's Julia Roberts and Richard Gere, so watch it as a double bill.
The Best Wedding Films on Now TV
23. Crazy Rich Asians
Included with Subscription
That walk *literally on water* down the aisle among an actual mini botanical garden is one of the best wedding scenes you'll ever see. Rachel Chu (Constance Wu) accompanies her boyfriend Nick (Henry Golding) back to see his family in Singapore for his best friend's wedding, where she gets caught up in the opulent lifestyle, butts heads with his domineering mother Eleanor and gets a front-row seat to the $40 million "wedding of the year".
24. American Pie: The Wedding
Included with Subscription
We've all watched Jim and Michelle fall in love, via warm apple pie, band camp and a mishap with super glue. Now they're ready to get married in the third of the series. Expect plenty of awkwardness and sex as Stifler plans a bachelor party, teaches Jim to dance and competes with Finch to win the heart of Michelle's sister, Cadence.
25. The Parent Trap
Included with Subscription
This definitely counts as a wedding movie – it's got a wedding, divorce and an engagement in it, right? Regardless, it's a brilliant excuse to put on the ultimate Lindsay Lohan film (don't @ me), dance to that incredible soundtrack, and try to learn Martin and Annie's secret handshake. We dare you to do that at the altar instead of kiss.
And an extra one!
26. Love Is Blind – Netflix
Included with Subscription
Now we know this definitely doesn't count as a wedding movie, but this Netflix reality show is the perfect thing to watch if you're in need of a total escape from the current situation. 30 men and women date each other in "pods" without ever being able to see each other. Only after they've proposed (and we're talking three days after first hearing each other's voices), do they get to meet face-to-face. Three weeks later, they have to decide if they'll say 'I do' at the altar. Absolutely incredible stuff.
Want more date night ideas? We've got 25 unique date plans for newlyweds and some special romantic Valentine's Day date inspiration.