7 Best Wedding Photographers in Wales Decided by Real Couples
Looking for a wedding photographer in Wales? These seven Welsh wedding photographers all won the Hitched Wedding Awards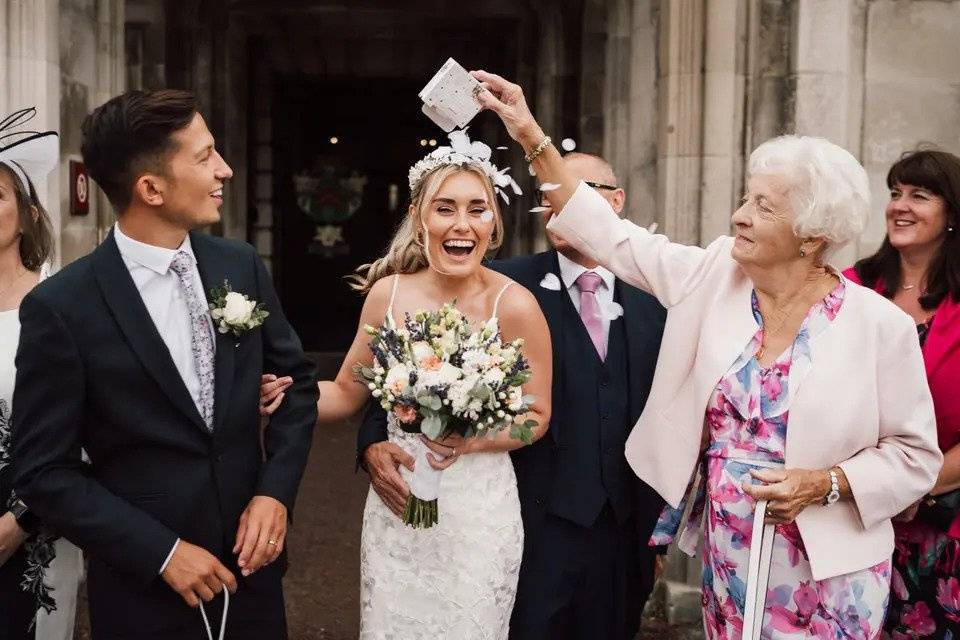 If you're planning a wedding in Wales, you might have already found the perfect wedding venue, but what about your wedding photographer? We've rounded up the best wedding photographers in Wales to inspire you.
These Welsh wedding photographers are all winners of the 2023 Hitched Wedding Awards, which means they have the most positive reviews from happy couples who have used (and loved!) their services.
Once you've found the perfect wedding photographer, why not check out the following:
7 Best Wedding Photographers in Wales
1. Dan Wimble Photography - Cardiff
Dan Wimble Photography is run by Dan, a documentary style wedding photographer who covers all of the south west of the UK.
His style is all about natural and honest photos, for couples who want a relaxed look and feel for their wedding photography - no staged poses in sight!
Working with Dan allows couples to be free to enjoy every moment of their wedding day, as he discreetly captures the real emotion and harnesses the essence of your wedding. His unobtrusive approach means that your personality will shine through in your photos.
He recognises that each couple is unique and has their own special story to tell - focusing on the fun and the joy, without any rigid posing or staged moments.
He typically provides around 500 images from a full day - you'll receive every usable image, editing in his signature warm-toned style. Couples have access to an online album with unlimited free downloads, allowing them to share their photos with friends and family easily, and a personalised 4K slideshow of the highlights. You also get 100 6x4 prints too!
Dan has 19 glowing reviews on his Hitched listing, with one bride writing: "Wow wow wow - you'd be a fool not to have Dan photograph the best day of your life.
"From the very beginning Dan made sure we were kept up to date with all relevant information, he even sent out helpful emails with lots of tips to ensure the best day ever.
"He caught every special moment of our day, without being in the way! He is such a genuine guy, with a great sense of humour too."
2. Lovell Photography - Cardiff
Keri Lovell of Lovell Photography is a Cardiff-based wedding photographer who covers weddings across the world.
He captures every moment of your special day - from the minute your prep starts until there are no more pictures left to take. He also offers 4K high resolution drone shots of your wedding, and includes a free professional print package in his offering.
His signature style of editing allows you to retain all the vibrancy and colour of your wedding, with a luxury finish. You'll be able to view all your wedding photos in a private, personalised online gallery, and you can choose from full-day, half-day and videography packages to suit your needs.
He often offers discounts for off-peak weekdays and for dates outside of peak wedding season. If you opt for the full day package, you'll receive a complimentary engagement photo session, venue scouting (to find the best spots and lighting for your photos!), professional editing, your own private gallery online, digital downloads and more.
Keri has a whopping 74 five star reviews on Hitched, with one recent review reading: "How do you give a 10 star review?! Keri is not only an amazing photographer but honestly one of the nicest men on this planet. He went above and beyond for us.
"We have just received our Wedding photos through (much earlier than expected) and we can't stop smiling. He has captured the day perfectly. He has included every single guest in our wedding and that is something we will always be thankful for.
"Keri got some cracking action shots, and we're not even sure how he did this as most of the time we didn't even notice he was there (which makes such a brilliant photographer in our eyes)."
3. Morgan James - Cardiff
Morgan James Photography is run by Peter and his team, who have more than 15 years' experience of capturing weddings.
Based in Cardiff, they cover all of South and West Wales, Bristol, Somerset and the surrounding areas too, as well as certain locations abroad for destination weddings. They'll cover every aspect of your big day, from the prep to the first dance (and sparklers, if you're having them!).
They offer deals and part-day wedding coverage too so you can find something that suits your needs, particularly if you're working to a tight wedding budget.
A full day non-weekday package includes the following as standard: two photographers, a complimentary pre-wedding shoot, an online gallery for downloads and prints (live for a minimum of 10 years!), a handmade wooden box for your USB or prints (with 30 6x4 prints, chosen by you), a pre-wedding meeting, a slideshow of pictures on your wedding day, and save the date and/or wedding thank you cards designed with your images.
As well as this, there are also expanded collections with more things included.
Morgan James Photography has 33 five star reviews on Hitched, with one groom writing: "Peter and Paul were incredible, just truly incredible. I'm looking through my pictures and writing this with overwhelming emotion just at how pleased we are with their work.
"Not only are their images just beautiful but the way they handled the guests and got them all together for us told us where to be and at what time and suggested ideas for great pictures was just brilliant. Truly professional and masters at what they do."
4. Simon Gough Photography - Cardiff
Simon Gough Photography is based in Cardiff, but Simon also covers the whole of Wales, Gloucestershire, Somerset, Dorset and Devon.
He loves spending his time in the company of smiling, happy people as he captures the special moments that make up a wedding. You'll enjoy working with him, thanks to his friendly, professional manner, and his penchant for laughter.
Simon's wedding package includes a complimentary pre-wedding consultation, partial or full-day coverage and hundreds of high resolution digital photos, but printed options are also available.
Simon has 21 five star reviews on his Hitched listing, with one delighted bride commenting: "Simon captured our wedding day in a way that exceeded any expectations. We have the most beautiful photographs of our guests, our venue, all the little details and of course us (nothing was missed!).
"Simon even used the rain (which is normally a wedding day curse) in the most beautiful way in some of our photos, having us pose with umbrellas under the starlit sky - giving very "LaLa Land" vibes! This created "the" wedding photo that we could have only imagined. We have had countless comments and compliments on our wedding photographs taken by Simon."
5. Dominic Lemoine Photography - Cardiff
The two photographers behind Dominic Lemoine Photography want you to know that wedding photography doesn't have to be 'boring and safe'!
They strive to create simple but daring images - pictures that will tell your wedding story powerfully, making the most of the epic locations, beautiful outfits and amazing wedding details.
Their wedding packages include everything, with no limit on time. You can expect their travel and accommodation across England and Wales included, all-day coverage (they never leave before midnight!), all your photos edited in high resolution, presented on a beautiful engraved wooden USB stick, complete with a maple presentation box with a selection of 6x4 prints, between 600-900 fully edited photos, and the promise you won't have to say 'cheese'.
You can also take advantage of their videography offering too, if you're thinking about having wedding videography.
They have 10 five star reviews on their Hitched listing, including the following feedback from a happy bride: "If you are wanting the best photographers in the business Dominic and Ruby are it. They really aren't your everyday wedding photographers, they are truly something special."
6. Card Woodward Photography
Based in Cardiff, Carl Woodward Photography is a wedding photography business covering South Wales and beyond.
He focuses on capturing the authentic emotions that make up a wedding - the tenderness, the joy and the excitement - as you marry your best friend. His relaxed style will allow you to feel free and confident in front of the camera, and enjoy every moment of your wedding day.
His services cover the entire United Kingdom, and you can choose from a range of packages to suit your needs and budget.
Carl has 11 five star reviews on his Hitched listing, with one happy couple stating: "From start to finish Carl was extremely professional but friendly. He blended in so well and made everyone feel comfortable.
"He captured emotions and moments that will be the most important to us. We were Carl's first same sex wedding, He went to a great deal of trouble to make sure he was prepared.
"I would not hesitate to recommend Carl to anyone, in my opinion there is no better photographer in South Wales."
7. Premiere Photography - Newport
With prices starting from as little as £395, Premiere Photography offers an affordable option when it comes to wedding photography.
They cover the whole of the UK, but are based in Newport in Wales. Business owner Grev has decades of experience when it comes to shooting weddings - he will be on hand to capture every moment, be it poignant or funny - whilst Sharon looks after the communication and service.
They offer a range of different wedding packages to suit various needs and requirements, from comprehensive, full-day coverage complete with a bespoke wedding album, to smaller offerings depending on your needs. Every photo will be professionally edited and presented to you in a private online gallery.
Premiere Photography has an impressive 47 five star reviews on Hitched, with one happy couple commenting: "This amazing man has left me speechless. He goes above and beyond; he is funny and very willing to have a laugh.
"But he is also very focused on getting you the very best photos he possibly can so will tell people where to stand to get the very best photos. That is the best thing about it, he makes sure you get what you pay for and nothing less."
Ready to find your wedding photographer? Discover even more wedding photographers in Wales here.