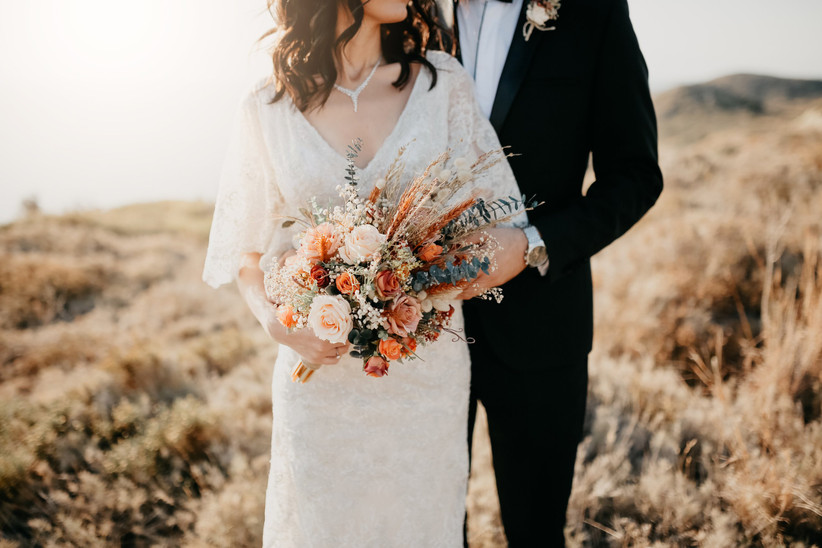 If you're anything like the Hitched office, you took a sigh of relief when Mercury Retrograde was *finally* over. No one needs that kind of negativity while wedding planning.
Anyone who's into star signs will know that each sign of the zodiac is believed to have different personality traits, talents, strengths, weaknesses, likes and dislikes. Each of those personality attributes lends itself to a different approach to wedding planning, and the theme and style you'll choose for your wedding.
Whether being a fire sign is a core part of your identity or you're just curious how accurately we can guess your ideal honeymoon destination based on your birthday, we consulted the stars to find out exactly what kind of wedding each sign will have.
Scroll down to your star sign to find out what kind of wedding you should throw, where you should jet off afterwards and your dream wedding day outfit.
Aries: March 21 – April 19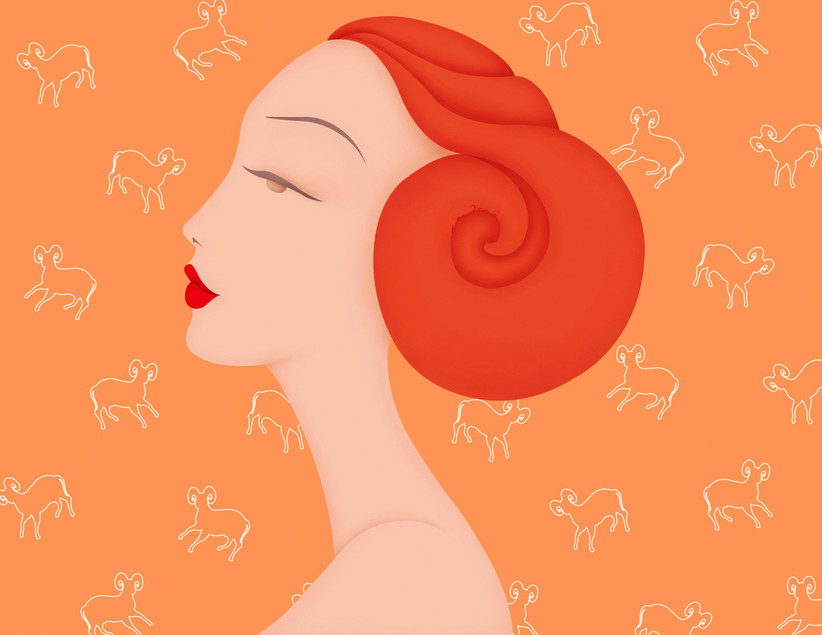 Aries is the first sign of the zodiac and rightly so for this ambitious and exceptionally competitive sign. Aries are bold, passionate and love to take charge – but because you're so open-hearted and optimistic, you get away with it. You often leave things to the last minute and think after you leap so you need to avoid getting selfish during wedding planning. No one can accuse you of not being honest, exciting and romantic though.
Your Ideal Wedding Theme
Aries are independent and love having control over what they're doing so you're unlikely to hand over the reins to a wedding planner. You'll love the experience of taking on such a big project and feel energised by the process. Travel is the perfect theme for adventurous Aries, based upon all the places you've been together and where's next on your list. Add vintage luggage and pops of bright colour.
What to Wear
If you're not planning a travel-themed wedding, then you'll be booking a destination wedding at a once-in-a-lifetime location. For brides, choose a shorter style that you can easily wear on a beach and dance the night away in. Try House of Mooshki for cute tea-length choices.
For Aries men, you embody the strength and warrior heart of your Ram counterpart. Leather and metal hardware really suit you, so what about topping your outfit with a James-Dean style leather jacket for the reception? While you suit classic black, Aries men are often drawn to red and bold colours too – don't dismiss a seriously jazzy suit.
Where to Go on Honeymoon
Aries are adventurous and spontaneous so you're drawn to booking a flight and seeing what happens next. You and your partner will love exploring countries off the beaten track with lots of activities to keep your adrenaline up. Going Northern Light-spotting in the wilds of Svalbard or hiking through Chilean Patagonia would be right up your street. You'd love zip-lining through the jungles of Central America too.
Taurus: April 20 – May 20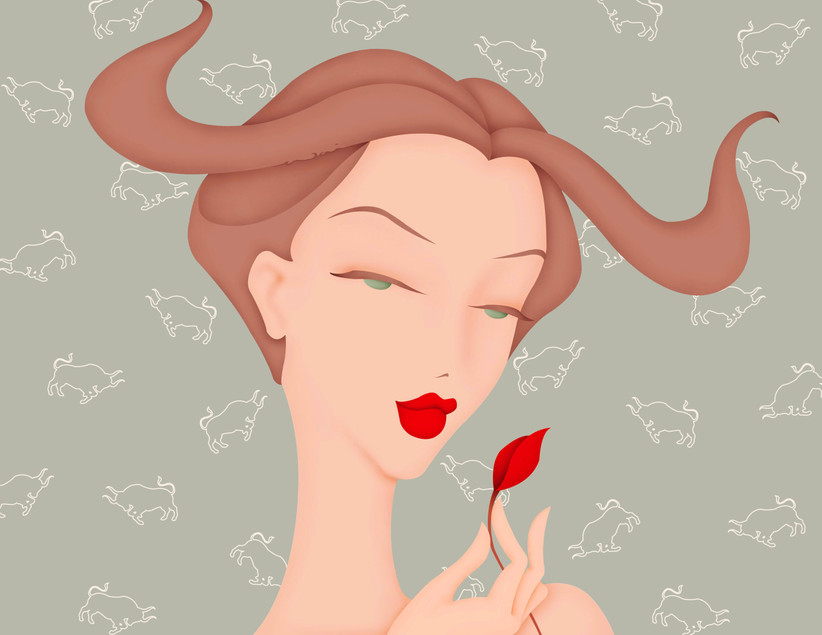 Taurus is ruled by Venus and in love with all things romance. Taureans' symbol is a bull and they embody both the fierce and the serene nature of this gentle giant. You love connecting with nature and are drawn to being relaxed, saving all your energy for the things that matter most. Avoid that turning into laziness towards the tasks that interest you the least; they'll be important come the wedding day.
Your Ideal Wedding Theme
You're a people-pleaser so guest experience will feature highly in your wedding. With the connection to sensuous Venus, guests can expect a decadent display that indulges the finer things in life. Combined with your love for the outdoors, a country garden wedding in the middle of summer would suit a Taurus perfectly. You'll be surrounded by beautiful flowers, sipping Champagne and listening to an elegant string quartet on the lawn.
What to Wear
Floral prints look incredible on Taurean brides; a delicate print is soft and feminine and ideal for a wedding dress. You can go for floral lace embroidery for a subtle loook or embrace your Earth element with a big, bold pattern.
For Taurus grooms, you love luxury fabrics like velvet and fine silk-lined suits, especially in pastel colours. With the sensual side of your sign in full force, you might want to expose a little flesh – this means a relaxed open collar or Grandad shirt under your jacket to show off your neck, an erogenous zone.
Where to Go on Honeymoon
Luxury is a lifestyle for you. As an Earth sign (like Virgo and Capricorn), you're drawn towards an outdoorsy holiday that takes you right into nature but doesn't scrimp on comfort. Try a luxury lodge in the Italian Dolomites where you can hike in summer and ski in winter or the fairytale Lake Bled in Slovenia. Further afield, take a backwater river cruise on a houseboat through Kerala, India.
Gemini: May 21 – June 20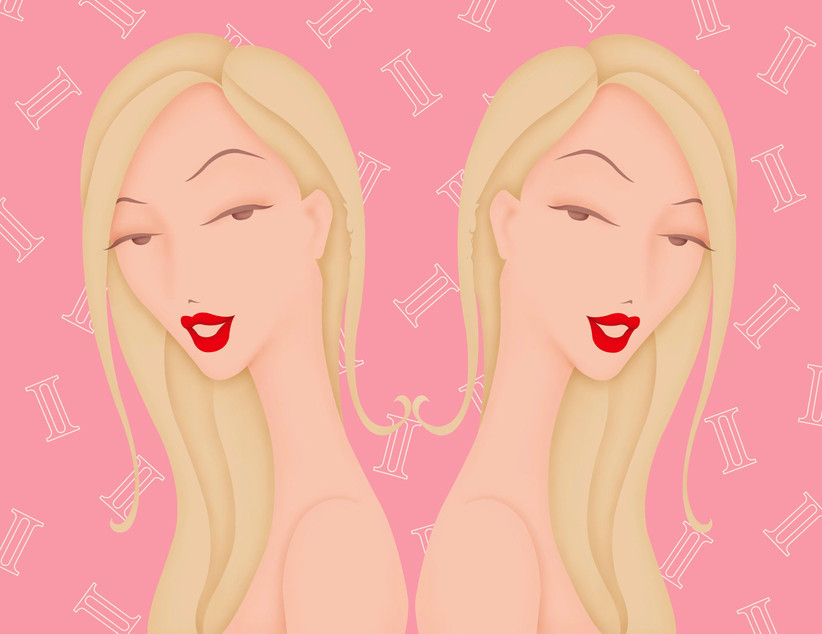 Gemini is the most social sign of the zodiac so your wedding will be something to remember! You crave variety so you'll prioritise lots of different guest entertainment but don't forget to always keep in constant communication with your partner – it's about what they want too. You're intellectual, chatty, energetic and always game to try something new, so your wedding will be a quirky day to remember!
Your Ideal Wedding Theme
Spend plenty of time researching as you often change your mind (and are perfectly entitled to!). You'll love a blank canvas venue, like a chic tipi, that you can dress up and transform into your kind of party. A festival wedding would suit you perfectly, with lots of live music, outdoor games, and ending in a big fireworks display.
What to Wear
As your sign is The Twins, you have two conflicting sides to your personality. If you really can't pick one dress, you might prefer different outfits for the ceremony and reception that each embody a side of you. Marilyn Monroe was a famous Gemini and you too can work a sultry, glamorous vibe for your wedding day. In the evening though, you'll probably want to go for a colourful, youthful outfit you can party in.
For grooms, you'll want something you can move easily in, as you're prone to flitting between different events and activities. Gemini man Dermot O'Leary captures the look well. Opt for a three-piece suit so you can whip off the jacket and waistcoat through the night.
Where to Go on Honeymoon
At your core, you're a party animal so go for vibrant, big cities buzzing with nightlife. Mardi Gras in New Orleans or the Rio Carnival in Brazil will indulge your love of meeting new people, experiencing different cultures and dancing the night away. The East Coast of Australia would be ideal too.
Cancer: June 21 – July 22
Cancer is ruled by the moon, and you're a real homebody that loves nurturing and caring for people. Family will be at the heart of everything you do for your wedding, and you'll opt for a classic, romantic celebration with your loved ones by your side throughout planning and on the day. You're a very protective and sensitive soul, but that does mean you could be extra sensitive during stressful times and lash out.
Your Ideal Wedding Theme
You love hard and wear your heart on your sleeve. There's nothing that would suit a Cancer more than an intimate, family wedding where everyone feels at ease and looked after. It'll be all about a joyful, relaxed atmosphere and romance: think a white dress, flowers everywhere, great food and good music. Hiring out a favourite local restaurant to wine and dine your nearest and dearest would be ideal.
What to Wear
Due to your closeness to your family, you might feel inclined to wear a family heirloom as your wedding dress. Choose your mother or grandmother's dress (either as is, or adapted to your style) or combine something of theirs (like a garter, ring, shoes or veil) with a more modern look.
Cancer men are big and brooding, but they're also incredibly sensitive underneath and love food and cuddles. You're drawn to a nautical colour scheme: dark blues and whites, plus pale greys and greens. Excellent colours for a herringbone suit.
Where to Go on Honeymoon
Cancers are water babies, drawn to oceans, lakes and beaches. For a minimoon, the canals of Amsterdam or Venice are calling; closer to home, how about a lochside cabin in Scotland? For the big honeymoon, jet off to New Zealand and explore Milford Sound or the stunning turquoise lakes of Canada's national parks.
Leo: July 23 – August 22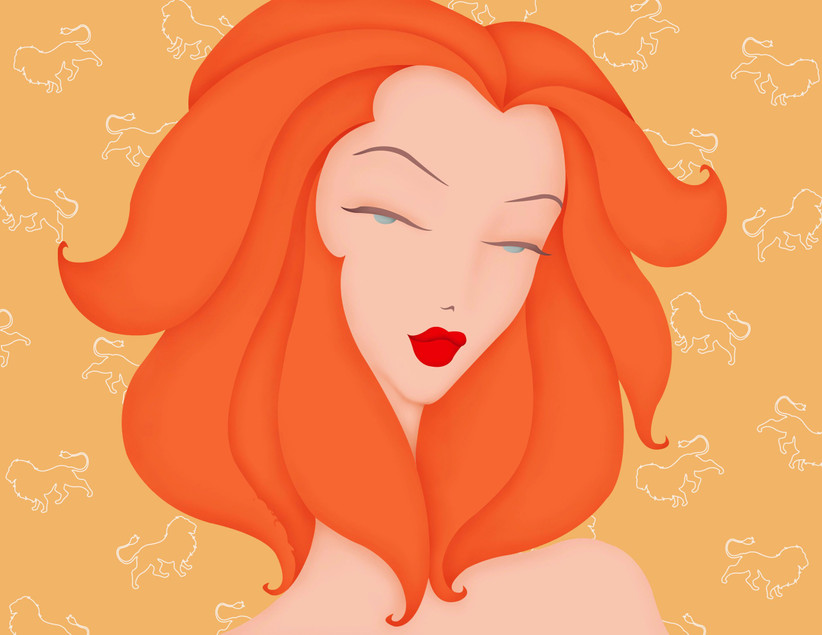 No one is about to outshine you at a Leo wedding! Ruled by the sun, Leos love to be the centre of attention and bask in the spotlight. All eyes on you is exactly how you like it to be, but don't get lost in the drama of the day – it's about both of you. You're a big thinker, lovable, confident and adore making people feel protected. If you can temper your ego from getting too demanding, you'll have a truly red carpet day.
Your Ideal Wedding Theme
Leos are represented by the lion and are the kings and queens of the zodiac. You're noble and theatrical so a palace or grand ballroom would suit you down to the ground. In terms of theme, it's black tie all the way. Gatsby-era glamour will match that passion for grandeur and your status as the ultimate entertainer.
What to Wear
Think fairytale princess and we're somewhere close to a Leo bride. That can either be a giant ballgown dress that wouldn't look out of place in a Disney film, or something more fitting with a breathtaking cathedral-length train or veil.
Leo males are not afraid of bling. You think nothing of wearing something eye-catching like a bold print or flashy designer suit. A real Leo move? Get a velvet tuxedo specially tailored for you. You'll feel a million bucks.
Where to Go on Honeymoon
As a fire sign, you flourish in the warmth of the sun. This means somewhere hot, hot, hot is top of your honeymoon list. It can't all be relaxing on the beach; you're too spirited to lie still for long. What about Sri Lanka, which has a great mix of ancient cities, elephant safaris, surfing, beautiful beaches, local markets, tea plantations, nightlife and more to explore. Colombia too, with its salsa bars and sunshine, is another brilliant choice.
Virgo: August 23 – September 22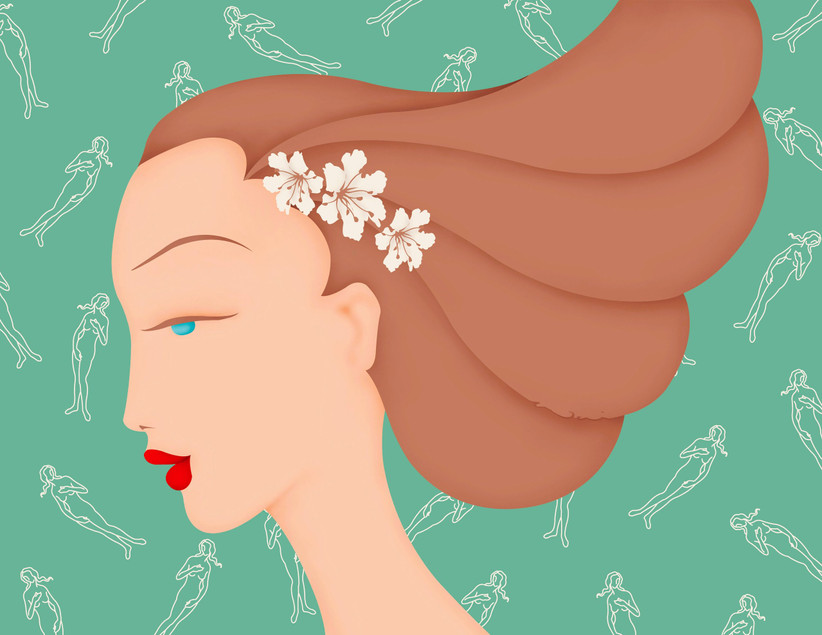 This Earth sign is associated with the goddess of wheat, and you have a very practical approach to the world and keen perfectionist streak. Every little detail will be thought of, but don't get too nit-picky if something doesn't go quite your way. With 100+ people and lots of different suppliers, you can't control everything. Give yourself credit for smashing through that to-do list though, you're an exceptional multitasker.
Your Ideal Wedding Theme
Health, wellness and nature are all strongly linked to your sign, which suits a rustic barn or farm wedding. You've got a strong sense of what you do and don't like, so a blank venue that you can theme is ideal. Nature-inspired textures like pampas grass, hessian, logs and wildflowers will make your heart sing, as will earthy colour schemes. Choose a fresh feast of the best local produce in the form of a grazing table or roasted meat sharing platters.
What to Wear
Because you tend to be meticulous and can get caught up in your own head, it's best to go minimalist with a wedding dress – then you've got less to ask 'What if…?' about. Structured and sleek, like a Mikado silk dress, will be a fantastic contrast to the rustic decor; or a boho-chic look will work equally well.
For Virgo gents, you prioritise simple, stylish and comfortable. Tried and true colours are navy, beige, brown, and burgundy. There's no ego in what you wear, but you still like looking good, especially at big occasions.
Where to Go on Honeymoon
Relax your keen interest in wellness and let yourself indulge on your honeymoon. You have a strong romantic streak and are drawn to destinations like France, Italy or Greece that are bursting with art, history and good food. If you must incorporate healthy activities into your honeymoon, make sure they're biking between vineyards in the Loire valley or doing a spa retreat in Santorini.
Libra: September 23 – October 22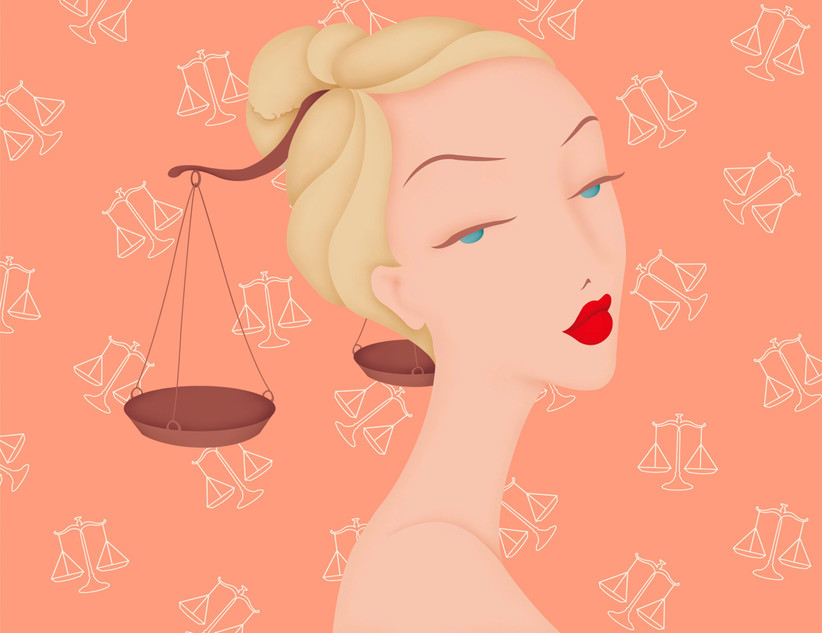 Libras are represented by scales because their lives are all about harmony and balance. You're driven by fairness, justice and creating peace and equilibrium in every area of your life. That means when a wedding throws a big, stressful spanner into the works, you can go into overdrive trying to keep people happy and your life the same as before. Accept there'll be some upheaval and focus on channelling your creative, loving energy into that beautiful Pinterest-worthy wedding you deserve.
Your Ideal Wedding Theme
Libra season is September to October, mild months that are hugely popular for weddings. You're one of the social signs and get your energy from others so you'll want a big wedding where all your friends from across the globe can join you. As your ruling planet is Venus (like Taurus), you also seek the beautiful things in life and have an eye for detail. A city wedding is ideal for you: guests can travel there easily and then turn into a mini-break (using all your suggestions, of course). A fancy hotel in London with a reception room full of flowers is ideal.
What to Wear
You have a strong sense of who you are and, whether that's as a Libra bride or groom, your style will truly reflect you. Libra women aren't afraid to be the life of a party, but you can pull off soft and floaty equally as well. Creative is one of your main requirements and something plain simply won't do. A beaded creation by Eliza Jane Howell would be your goal dress.
Libra men have impeccable taste and clothes are an extension of the impression they like to put out to the world. Whatever clothing a Libra chooses, they'll be perfectly ironed and pressed, and expertly on trend.
Where to Go on Honeymoon
Culture and community are two things you look for in your travels. You want somewhere you can chat with locals and other visitors and share experiences. A metropolis like Tokyo (which has amazing food too, FYI) or the contrast of old and new in a city like Istanbul will enthral you. You'll love making a detailed itinerary for a grand voyage around the Middle East to Jordan, Egypt or Oman.
Scorpio: October 23 – November 21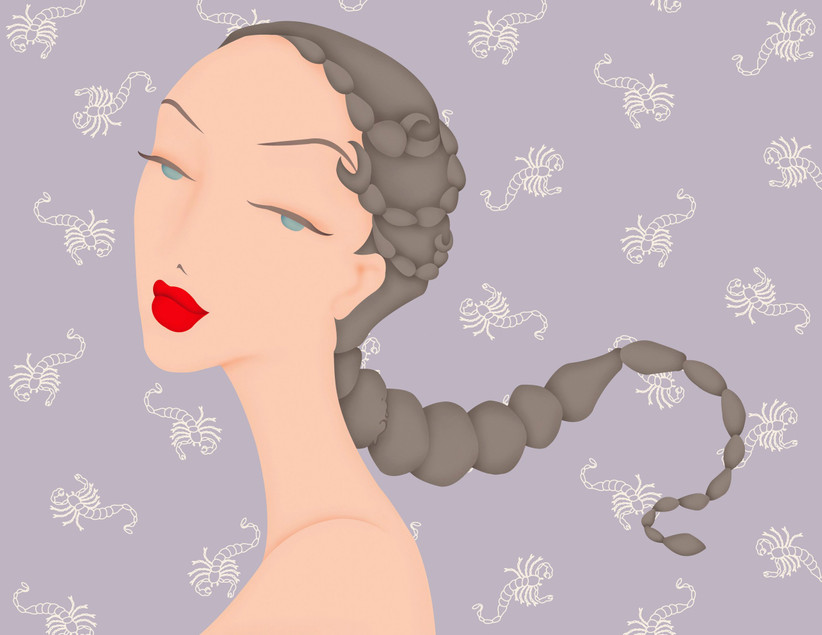 Scorpios are intensely passionate and know their own power: they're relentlessly ambitious but cloak themselves in a layer of elusiveness. Very few signs can match your loyalty, love and passion, but you take your time deciding who gets your heart. You lean towards the unexpected so don't be surprised if a few people don't understand all your wedding plans, you know exactly what you want and are going for it.
Your Ideal Wedding Theme
Despite a passion that lends itself to a fire sign, you are actually a water sign, with a deep emotional connection. A beach wedding is ideal for a Scorpio and, boy, will you make it lavish! You'll indulge every fairytale romantic fantasy you've ever had and throw a wedding unlike any other. Sunset ceremony in the Maldives or clifftop wedding on a Greek island? Absolutely. Blow-the-budget wedding dress? Hell, yes! Unlimited champagne? You only live once.
What to Wear
Scorpios have a lot of raw sexual energy, which will undoubtedly translate into your dress. You feel confident and sexy in something that shows a little flesh, so your dress might have a deep plunge, lace illusion bodice or cut-out sides. There's a trope of a Scorpio 'femme fatale' and, while you might not want to go for show-stopping sexiness on your wedding day, you'll definitely wear something that shows off your best assets.
Strong, dark colours suit a Scorpio man as you prefer a classic look than standing out from the crowd in something fleetingly on-trend. Black is your signature colour. Fellow Scorpio Ryan Gosling is a great style icon to follow.
Where to Go on Honeymoon
You love seeking adventure and solving puzzles, so finding yourself lost in a Moroccan souk is a dream come true. Being seriously independent, you shy away from any kind of group trip, preferring to come up with an 'off-the-beaten-track' itinerary. Less touristy countries like Laos will appeal to you, as will thinking outside the box when it comes to a Caribbean honeymoon. Rather than St Lucia, you'll look to St Kitts and Nevis or Anguilla.
Sagittarius: November 22 – December 21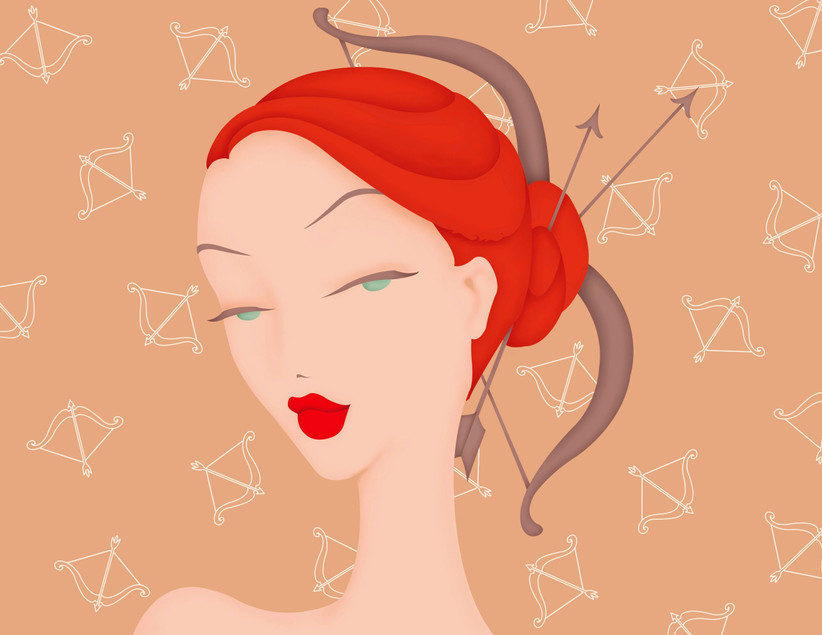 The symbol for Sagittarius is the archer, which fits with your independent heart and constant quest to improve yourself and learn. You launch yourself into new activities with grand ambitions, but your confident, friendly and outgoing attitude usually sees you get what you want. Your wedding will be the event of the year in your head, but you might lose track of the financial side of things. Allow the people you love to rein you in when needed.
Your Ideal Wedding Theme
If we're honest, you'd totally suit an elopement – just you, your partner and a couple of close ones as witnesses. But you hate to let people down, so you'll be having a big-shindig that embraces your hedonistic side. A celestial theme full of sparkle, shimmer and metallics is great for you. Your love is written in the stars and so shall your wedding be.
What to Wear
Purple is a popular Sagittarius colour. A Cadbury's-coloured dress might be a little too much but accents across the décor and your outfit are beautiful. We love shoes with a iridescent mother of pearl heel like Freya Rose is famous for, or blue-purple hydrangeas and irises in a complementary flower crown.
Sagittarius men can get creative with colour. You love to experiment with your style and can pull off a pastel yellow, cyan, pink or purple suit.
Where to Go on Honeymoon
You adore taking the path less travelled. Getting more stamps in your passport makes you happy, which is why a multi-destination, bucket list honeymoon would work so well for you. If you can take the time off, six weeks or more to travel around Australia and New Zealand, with stopovers across South East Asia, would fill your heart with joy. Alternatively, a big road trip across the United States taking you through lots of different states will feel like lots of countries in one.
Capricorn: December 22 – January 19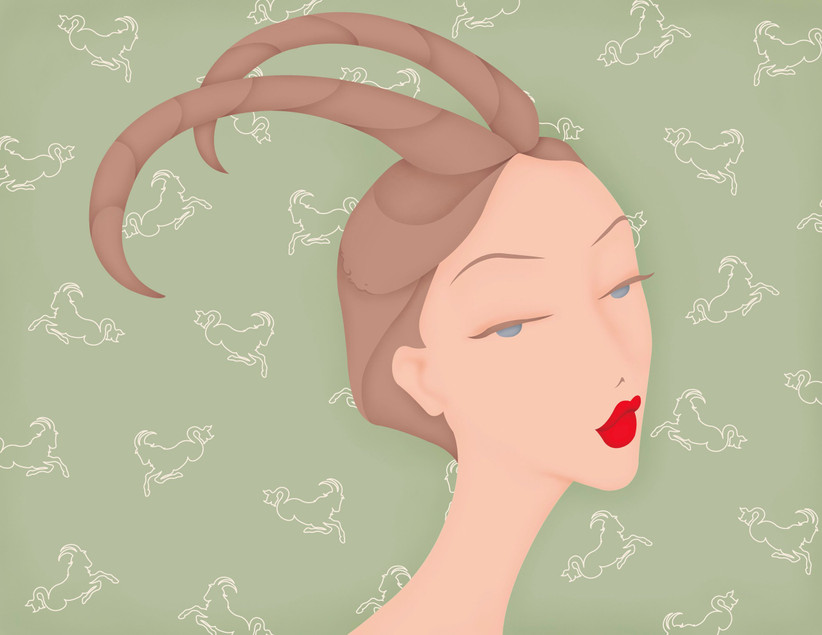 Always determined to rise and take advantage of every opportunity to better yourself, the strong-willed goat couldn't be a more appropriate symbol for you. Ever practical, you trust only yourself to organise your day to your standards. You love tradition so you'll pick a time of year to marry which will generally relate to when your family comes together, like Christmas or Easter. With one eye always on the future, you can forget to enjoy the moment so give yourself plenty of time for date nights during wedding planning.
Your Ideal Wedding Theme
Heritage and tradition are important, so you're likely to pick a wedding location with a lot of history and give it a chic, contemporary twist. A grand stately home which you can flood with on-trend floral installations is right up your street. But your frugal side and practical nature mean that a DIY wedding is just as good an idea –  you'd love getting hands on with rustic-style centrepieces.
What to Wear
Capricorns are enthusiastic and optimistic, but you are not risk takers. Your dress will be sophisticated and stylish with a more mature edge. Princess dresses are a no-go, instead a sleek column dress topped with an elegant jacket would look beautiful. It's not a leap to picture you in a simple but cool jumpsuit either.
Capricorn men are always well put-together and feel at home in classic formal wear. You're the embodiment of 'dress for the job you want'. A fitted three-piece suit or even a morning suit are you best options.
Where to Go on Honeymoon
The goat should give you a good clue as to what you enjoy on holidays. You'll love going Alpine trekking in Switzerland, the elation of reaching Everest base camp in the Himalayas or trying cross-country skiing in Norway. That's not to say you don't enjoy winding down too, so a relaxed, sun-filled European minimoon is a brilliant way to kick-off married life.
Aquarius: January 20 – February 18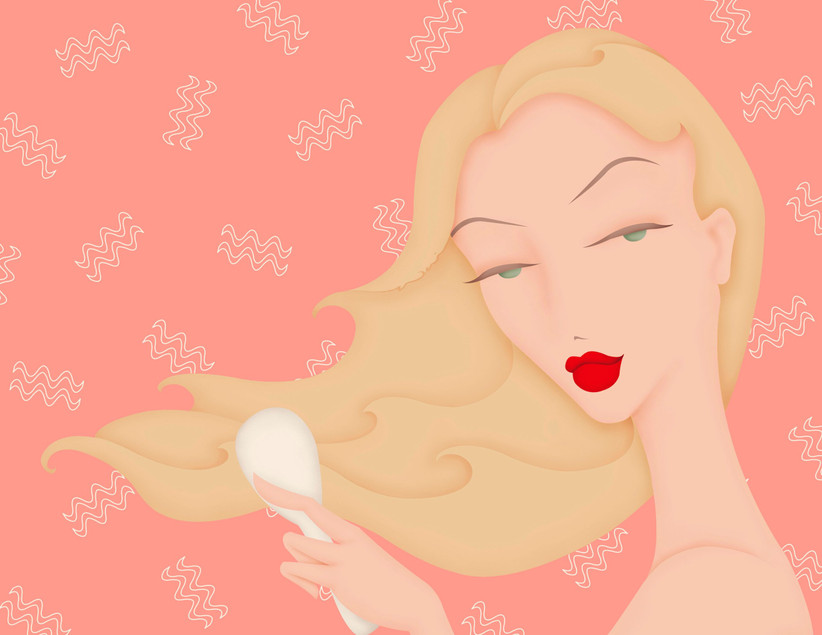 Aquarius is actually an air sign but represented by the water bearer, a healer who bestows life and keeps the world on course. You have a big heart and are a true humanitarian with innovative ideas. Aquarians are genuine originals, with a quirky and unconventional approach to life. You combine big dreamer with pragmatic problem solver and aren't afraid of thinking outside the box.
Your Ideal Wedding Theme
Despite Valentine's Day falling during this season, your wedding won't be an overwhelmingly lovey-dovey affair. You care about everyone enjoying themselves, but also the bigger picture that this is one day in a marriage which will hopefully last a lifetime. For that reason, you'll prioritise an eco-friendly day with sustainable décor, local food and flowers, and a venue committed to the same values as you. Seeking out eco alternatives means you'll end up with that one-of-a-kind wedding you always wanted!
What to Wear
You're a trend-setter not follower, aren't scared to break fashion rules, and always first to try a new look. Aquarius brides aren't afraid to wear colours or textures, so your dress might be topped with a leather or faux fur jacket and your reception outfit might be bright, patterned masterpiece.
Aquarius grooms march to their own drum and won't be tamed. Your wedding outfit will be the right side of outrageous, with a bold pattern or flash of colour your guests won't expect. Red is one of your favourite shades.
Where to Go on Honeymoon
Unique experiences are your catnip. You'll actively seeks somewhere you friends haven't been, whether that's the Giraffe Manor in Kenya or orangutan spotting in Borneo. Going off-season appeals to you too: Iceland in summer, South East Asia in rainy season etc.
Pisces: February 19 – March 20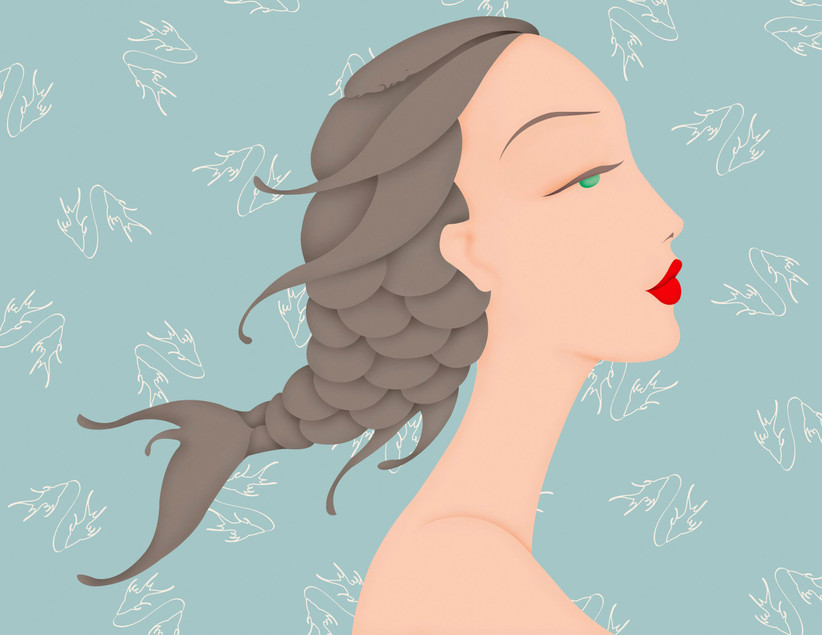 Last but no means least on the zodiac wheel is Pisces. This sign is highly imaginative, creative, spiritual, romantic and a big dreamer. You're in touch with your emotions which can mean you veer towards getting overwhelmed – keep yourself grounded and find ways to get yourself out of the funk when you begin to feel too deeply. You'll throw your whole heart into your wedding and the care and attention will be evident on the day.
Your Ideal Wedding Theme
Pisces are old souls at heart so somewhere low-key with lots of personal meaning is the best spot for your wedding. You'd love to marry at the same venue as your parents or grandparents; a favourite childhood holiday destination; a beauty spot, museum or local attraction that holds a place in your heart. You'll let your imagination go wild with Pinterest projects and whimsical decor.
What to Wear
Embrace your hopeless romantic side with a free-spirited, boho wedding dress. Soft, floaty, feminine styles with delicate detailing and lots of layers are ideal. Blue is one of your primary colours and a pastel shade would make a great shoe colour for you.
Pastels look dreamy on a Pisces man too. They're relaxed and soothing and – if they're a sea tone like greens, blues and corals – taps into that side of you that likes to blend in to a crowd. A pastel suit with a crisp white shirt underneath is your go-to wedding outfit.
Where to Go on Honeymoon
As a water sign, you're drawn to the ocean. Your symbol is two fish, tied together, swimming in opposites direction, representing the battle between fantasy and reality. The paradise islands of the Philippines or Bali in Indonesia will feed your need to by the sea and their otherworldly beauty will make you feel like you've stepped straight into a day dream.
Got to get the engagement party out the way first? Here's 16 engagement party ideas that'll kick off your planning in style.