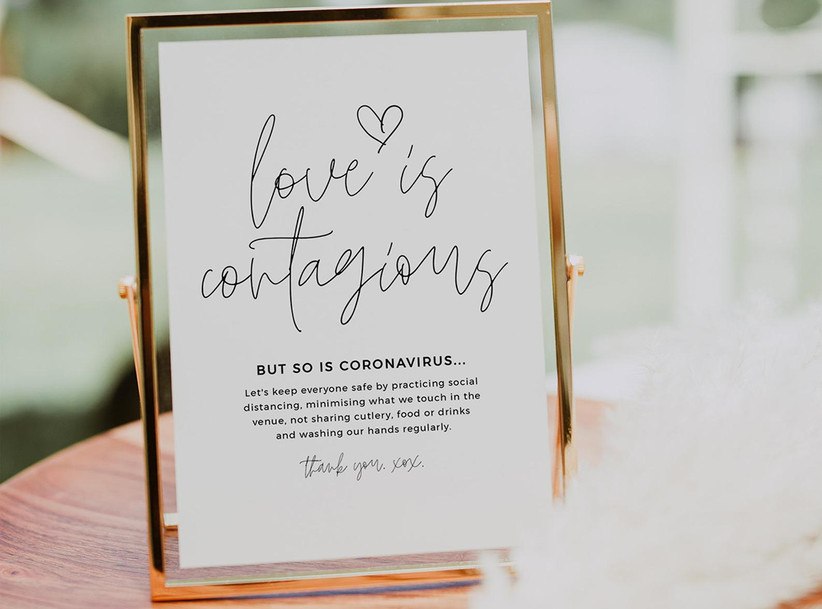 Weddings are traditionally a time when people come together. However, during the Coronavirus pandemic, government guidelines state that we have to keep our distance from others, particularly indoors. That's where social distancing signs come in.
These have an important role to play in reminding guests to remain physically distanced from those outside their household. It can be all too easy to get caught up in the moment and forget the guidelines at an emotional event such as a wedding. While you want everyone to have a good time, it's crucial to keep ourselves and our loved ones as safe and protected as possible from COVID-19.
We get it: nobody wants their wedding to look like a corporate health and safety convention. However, you'll be amazed at how chic social distancing signs are. We've found a range of designs to suit all different wedding styles, from elegant to rustic - and even glamorous!
Most of these social distancing signs are digital templates you can edit, and then either print at home or use a printing service. We'd recommend printing them onto card, for durability, and having a good number to dot around your venue. You can put your own stamp on your social distancing signs, such as displaying them in frames or on easels, and adding flowers or other décor.
These social distancing signs will help your guests keep their distance physically - even though you'll know you're all together in spirit.
NB: We have included third party products to help you navigate and enjoy life's biggest moments. Purchases made through links on this page may earn us a commission.
1. Please Practice Social Distancing Wedding Template - £8.43, Etsy
This easy-to-understand social distancing sign is part of a set of three - the other two ask guests to wear a mask and use hand santisiser.
2. Please Stay Safe Wedding Welcome Sign - £5.76, Etsy
You can combine your wedding welcome sign with important Coronavirus safety information with this elegant and effective printable. You can add images to the template or try a different background if you want to personalise the sign.
3. Social Distance Makes the Heart Grow Fonder Sign - £10.50, Etsy
This minimalist sign comes in different colourways, but we think the black version looks particularly smart. The wording is cleverly done to remind guests of the need to socially distance without coming across as nagging.
4. Greenery Social Distancing Sign - £3.84, Etsy
Want a sign that co-ordinates with botanical wedding decor? This editable sign is perfect.
READ MORE: How Many People Can Attend a Wedding? The Latest Coronavirus Rules for Weddings Explained
5. Love Is Contagious Social Distancing Sign - £8.88, Etsy
Dot these 'love is contagious' signs around the venue, as a reminder for wedding guests to follow the rules.
6. How Sweet It Is Social Distance Sign - £3.36, Etsy
This printable wedding sign would look good in any frame, from natural wood to a metallic.
7. Stay 6 ft Away Sign - £4.54, Etsy
Who says social distancing signs can't be pretty? The floral design of this romantic sign is very wedding-appropriate.
8. Pick a Seat Social Distancing Sign - £5.27, Etsy
Put this informative wedding sign at the entrance to your ceremony, so guests know what's expected across all aspects of social distancing.
READ MORE: 29 Stylish Wedding Face Masks for Couples and Guests
9. Love Is Essential Social Distancing Sign - £4.80, Etsy
This pared-back sign reminds guests of what's important at your wedding: above all, love - but also social distancing!
10. Celebrate Safely Social Distance Sign - £3.82, Etsy
Remind guests to keep their distance in a cute way with this rhyming sign. It's available in different template sizes.
11. Burgundy Sunflower Social Distance Sign - £3.83, Etsy
Bring some colour to your wedding day with a burgundy wedding social distancing sign. The palette would particularly suit an autumn wedding.
12. Can't Touch This Social Distancing Wedding Sign - £4.47, Etsy
Bring some much-needed humour with a 'can't touch this' wedding sign. If you don't have the MC Hammer classic playing in your head right now, you're a mystery to us.
READ MORE: From Venue to Makeup Artist: How to Plan Your Entire Wedding Online
13. Acrylic Social Distancing Sign - £10.95, Etsy
Does the idea of printing your wedding signs feel like too much hassle? Order a pre-made version instead, like this acrylic style, which comes in different sizes and with black or white writing.
14. Rustic Social Distancing Sign - £5.76, Etsy
If you're having rustic decor, a minimalist sign might look quite jarring. This wood-effect design, however, will fit right in.
15. Party Like It's 2020 Sign - £3.84, Etsy

We love the way this clever sign is both witty and practical. 2020 doesn't have to be all bad, if it's the year you're marrying the love of your life.
16. Gold Covid Wedding Welcome Sign - £8.15, Etsy
The gold calligraphy on this wedding social distancing sign really elevates it, bringing together of-the-moment messaging and timeless style.
READ MORE: Wedding Colour Schemes: 15 Beautiful Palettes for Every Season
17. To Have and To Hold Social Distancing Sign - £4.90, Etsy
This perfectly designed sign is the elegant way to do social distancing messaging, with a beautifully wedding-worthy sentiment.
18. Please Wear a Mask Sign - £4.32, Etsy
This social distancing sign is ideal for weddings, as it gets the message across but with a side helping of sentiment.
19. Love Is in the Air Sign - £3.55, Etsy
We love the dry wit of this wedding sign's wording, and the font choices give the overall look a contemporary feel.
20. Spread Love Social Distance Sign - £4.80, Etsy
This contemporary-cool sign would fit any style of wedding, particularly if your style is on the minimalist side.
READ MORE: Simple Wedding Dresses: 51 of Our Favourite Gowns for Modern Brides
21. Wooden Social Distancing Sign - £23, Etsy
This wooden sign would be just the thing at a rustic wedding - if your venue's quite large, order a few to place around the different spaces.
22. Social Distancing Reserved Seat Sign - £5.76, Etsy
Want to make sure your guests are seated according to social distancing rules? Use this elegant template to create signs that make it clear which chairs need to be left empty to create the necessary space.
23. COVID 19 Printable Sign - £5.76, Etsy
Set out the rules in an easy-to-follow way with this simple sign. You can edit the text to reflect the safety requirements at your venue.
24. Please Wear a Mask Sign - £5.70, Etsy
This pastel, watercolour design is just so pretty. It's available in four template sizes.
READ MORE: The 11 Hottest Wedding Invitation Trends for 2021
25. Thank You For Distancing Sign - £15, Etsy
This sign's wording is just right for providing a friendly, non-judgemental reminder to wedding guests to keep their distance.
26. Face Covering Social Distancing Sign - £1.92, Etsy
We really like the font choices on this chic sign, and the message is simple and to the point.
27. Dude. Distance. Printable Sign - £1.91, Etsy
Bring some fun to the message with this distinctive sign. We reckon it's a real crowd-pleaser.
28. Love Is Forever Social Distance Wedding Sign - £1.92, Etsy
This social distancing sign has hopeful, heartfelt wording, and we like the pared-back style.
We have even more tips for throwing a socially distanced wedding that's as beautiful as you've dreamed.\