9 Unbelievable Geode Wedding Cakes That Will Amaze You
We take a closer look at the incredible cake trend that's taken the internet by storm and show you why geode cakes 'rock' (sorry!)
We have included third party products to help you navigate and enjoy life's biggest moments. Purchases made through links on this page may earn us a commission.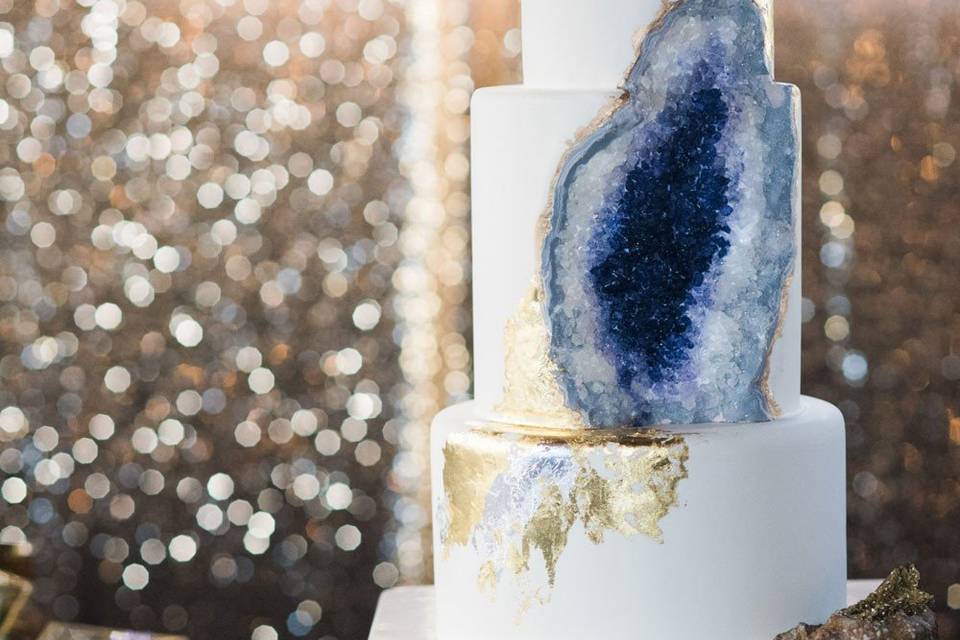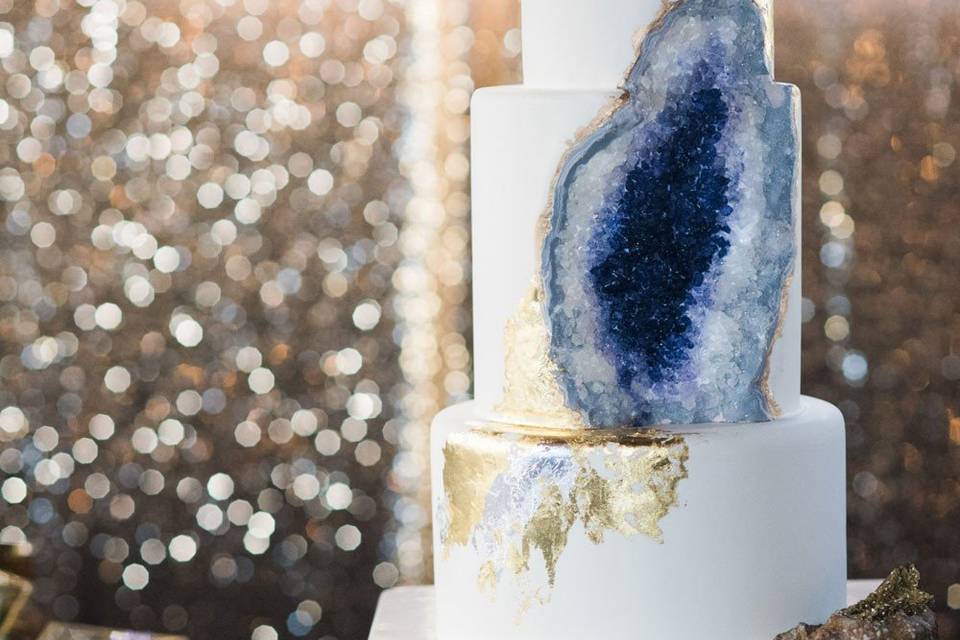 If there's one way to dazzle your guests, it's by including the hottest new wedding trend in your big day – a show-stopping geode wedding cake.
These incredible cakes are taking the internet by storm right now and it's not hard to see why. Created to look as if colourful rocks have been carved into the cake by using crystallised sugar, these edible masterpieces really push the boundaries of cake making and are a surefire way to make a unique statement at your reception.
If you're having an unusual wedding theme or want to create a wedding cake display with some serious wow factor, check out these unbelievable geode wedding cakes for inspiration.
Crumb and Berry
This geode wedding cake from Crumb and Berry has a beauty that is out-of-this-world. If you're wondering whether you can eat the deep turquoise 'crystal' filling, the answer is yes as it's all totally edible!
We spoke to Emily Clipperton from Crumb and Berry who explains how she made the cake: "To create the geode effect I first carved into the cake itself. Then, once the shape was right, I used sugar rock candy to achieve the crystal effect. I used hand painting and airbrushing techniques to create the various hues within the rock."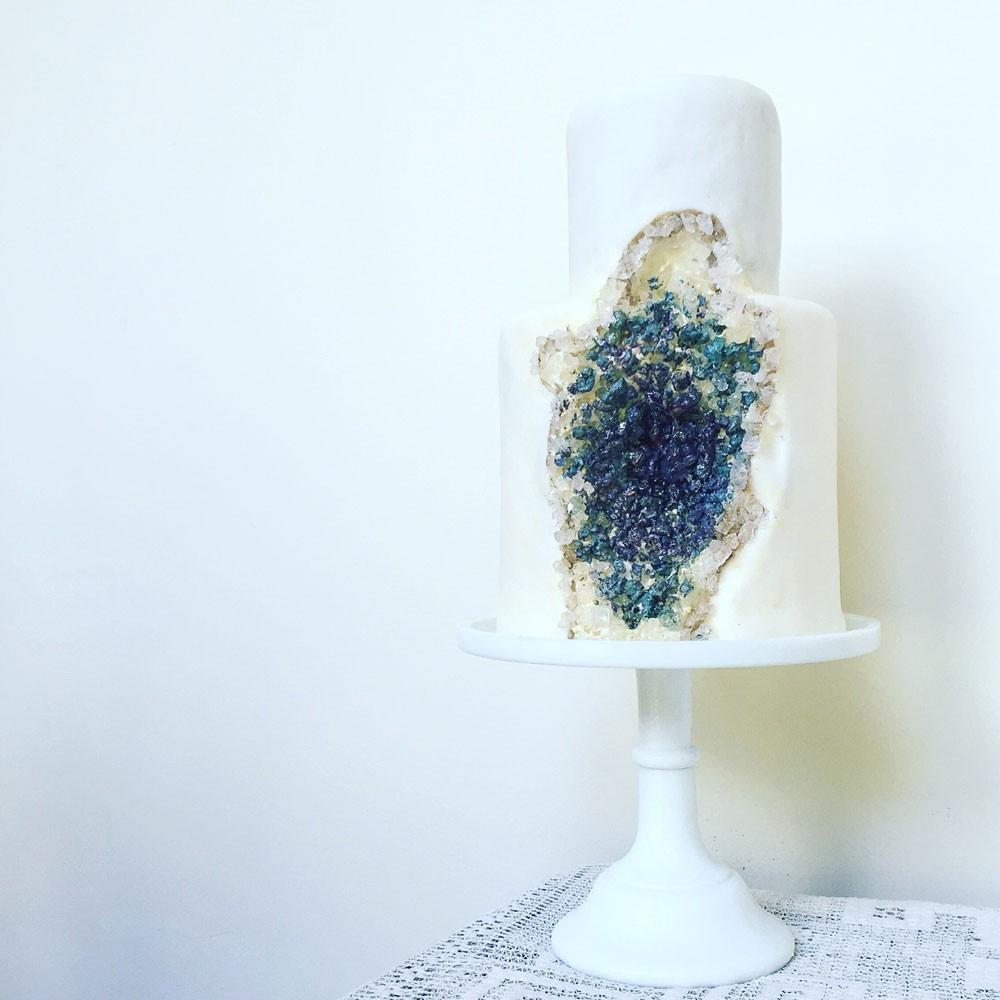 Frost It Cakery
Frost It Cakery created this two tiered geode wedding cake and gave it an ultra-luxe touch with gold leaf detailing and a unique wedding cake topper. The cake proves that blue and gold are a match made in heaven and the clean cut edges of the cake give it a contemporary feel.
"The geode inspiration came from our love of sugar art," says Frost It Cakery's Lesley Bodwell. "Plus, Rhonda (the cakery's other co-owner) loves making jewellery using gems and stones. We wanted to challenge ourselves to see if we could emulate real gemstones using sugar – after a couple of tries, we got it!"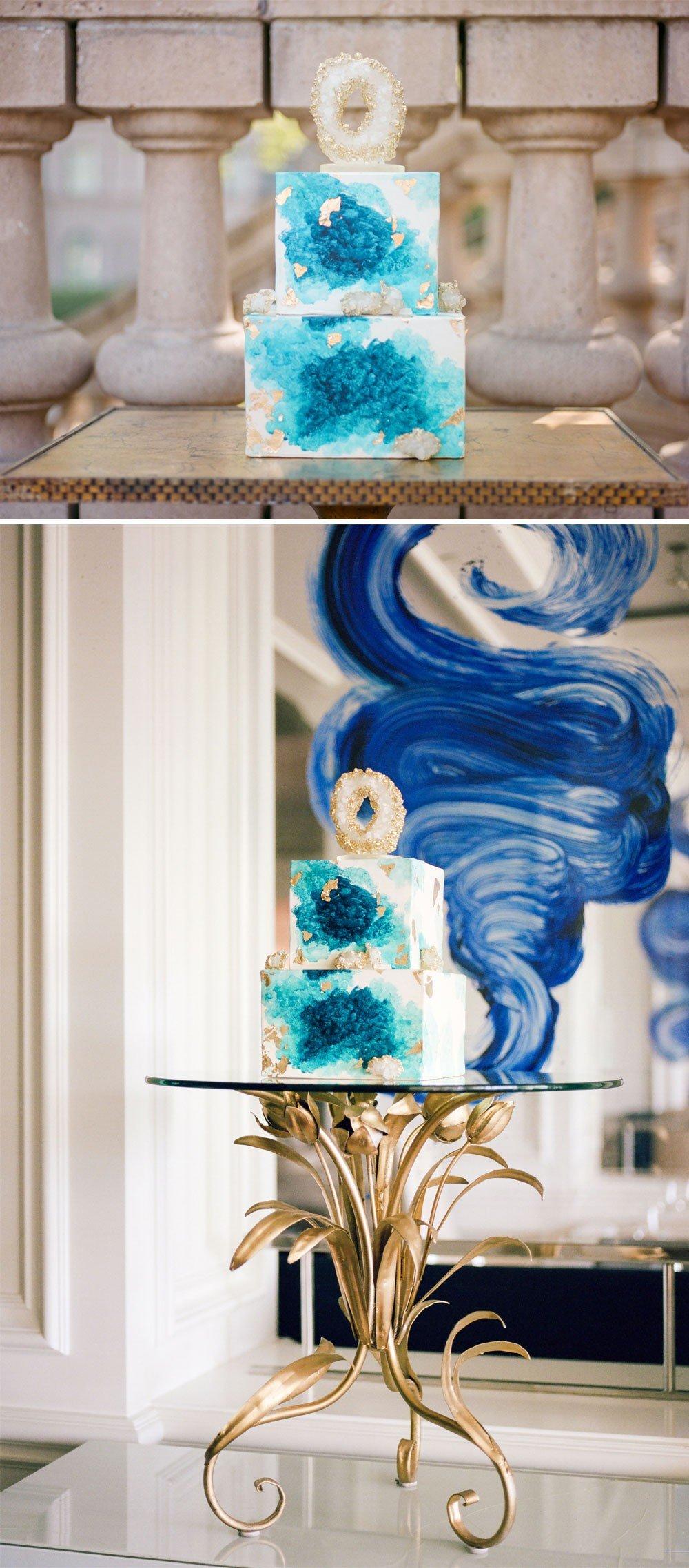 Image credit: Anna Delores Photography
Carrie's Cakes
We can't stop staring at this delectable design from Carrie's Cakes and are struggling to believe that those quartz inspired crystals aren't real!
Featuring more sparkle than Aladdin's Cave, the design's gold leaf detail enhances this amazing wedding cake and beautifully frames the pink and grey-blue sugar crystals inside. We can only imagine the hard graft and time that goes into creating realistic geode wedding cakes like this one.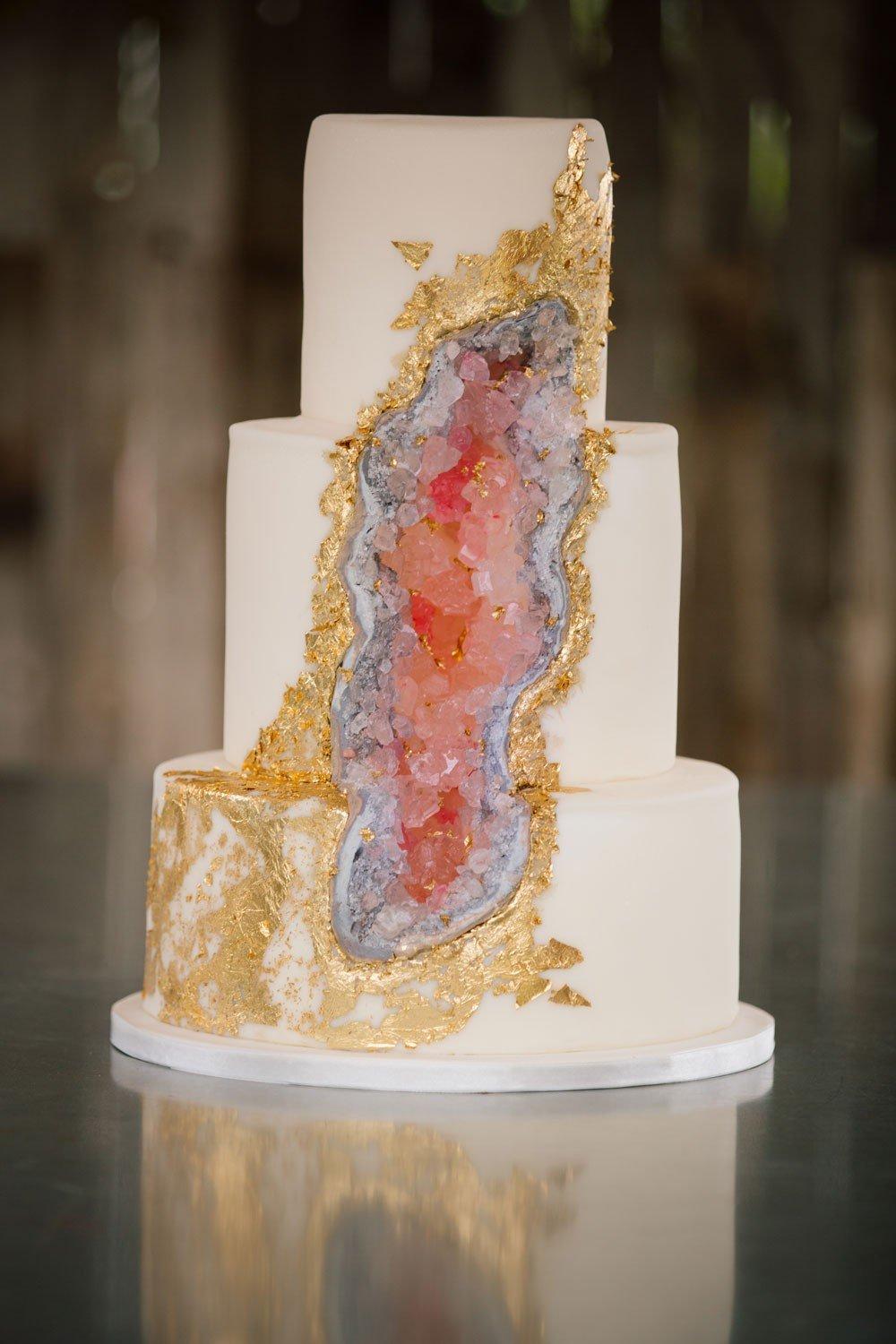 Image credit: Claire Marika Photography
KAKE
If you're including emerald details in your day or putting your best girls in green bridesmaid dresses, then this next geode wedding cake is sure to delight you.
Made by KAKE, this captivating design features emerald 'crystal' detail carved all the way up to the top tier, finished off with an eye-catching geode cake topper that is softened with a pretty mint green finish.
Making the cake's geode crystals was no easy feat however, as KAKE's owner Darci explains: "The green sugar crystals were grown in house, and took about a week and a half to fully form."
We're also loving the geometric wedding cake stand which complements the modern design of the cake to perfection.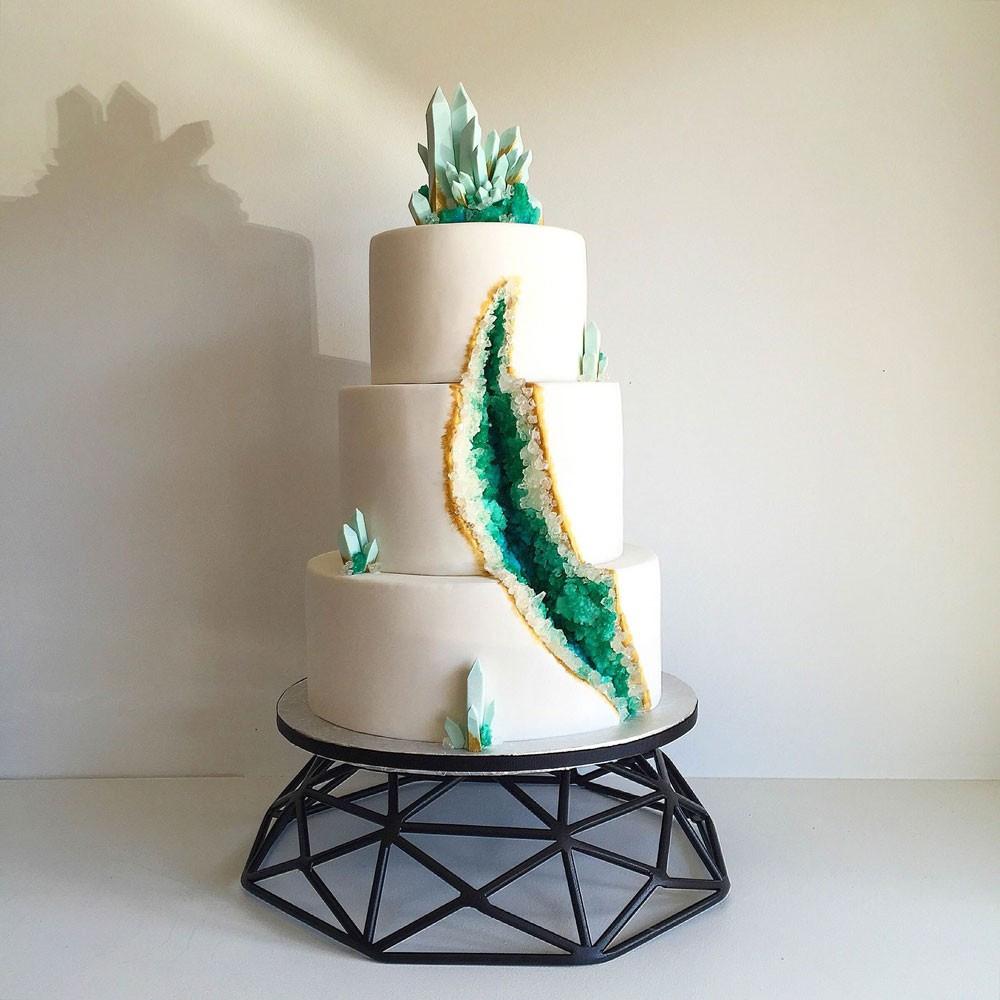 The Sugared Rose
If you and your other half are a couple who like minimalistic décor with subtle touches of glam, then you'll fall in love with the geode wedding cake trend – particularly this interpretation by The Sugared Rose.
"This cake took ages to make," says Sarah Ball, the cake's talented creator. "The crystals needed around four days to grow, whilst the actual cake took a day and a half to be constructed with an additional five to six hours to complete the geode decoration!"
If you feel up to the challenge of making this style of cake yourself, Sarah posted a recipe for making sugar rock crystals on her blog. If you can master this skill then not only would you wow your guests, but you'd save money on the wedding budget too!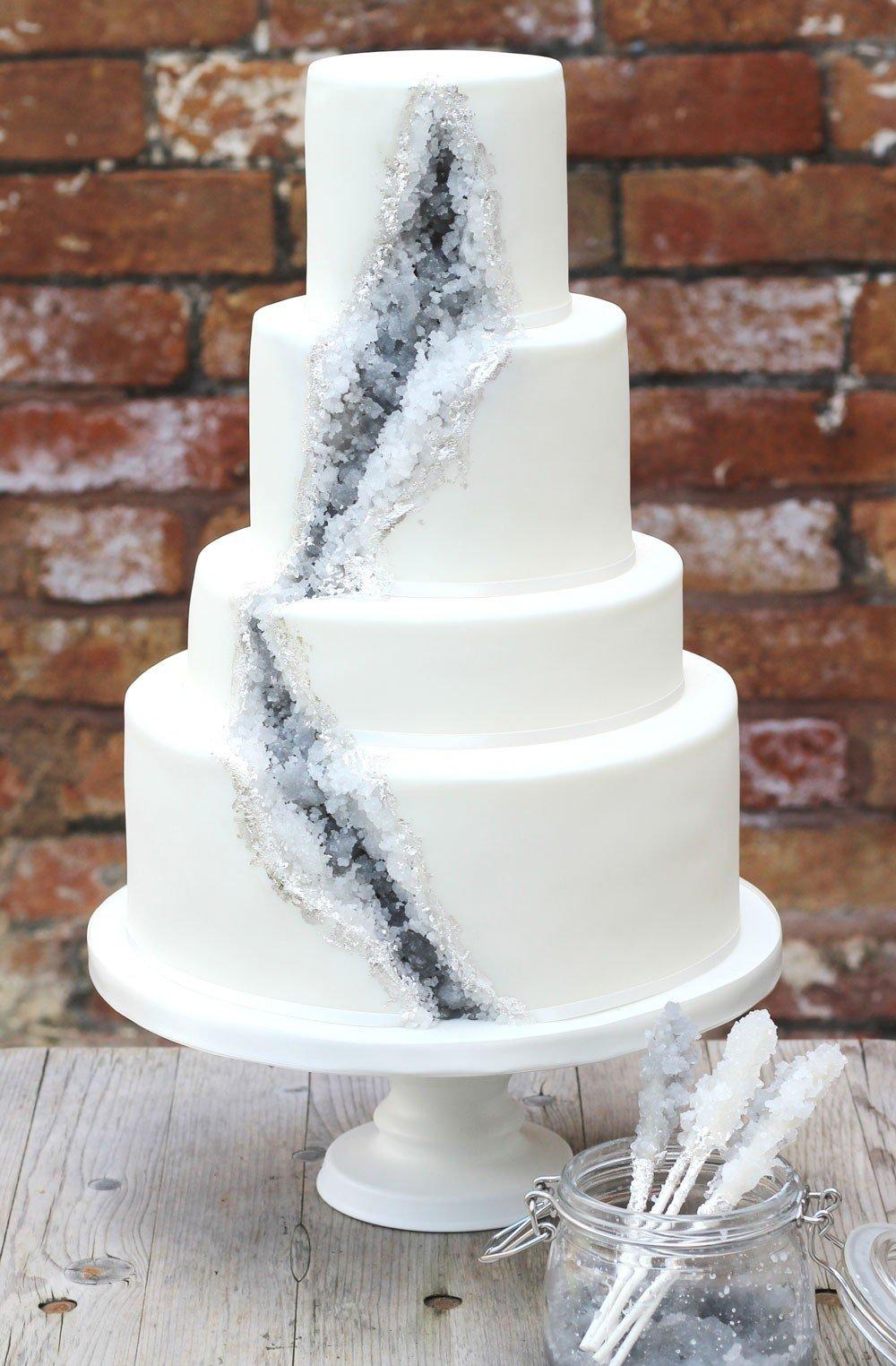 Frosten's Home Bakery
Is it a rock or is it a cake? This beautiful geode wedding cake from Frosten's Home Bakery received a lot of attention when the image was shared online, and for good reason – just look at the gorgeous marbled icing and sugar rock filling with graduating shades of blue. This kind of cake would be perfect for a couple who want their wedding reception to look contemporary with a high-end feel.
When we spoke to the talented team at Frosten's, they explained more about the cake making process: "Once the cake was baked, iced, and stacked, we carved out the geode area and began placing the darkest airbrushed rock candy we had in the centre. We then created an ombre effect from the centre to the edges. It took about six hours to complete this cake!"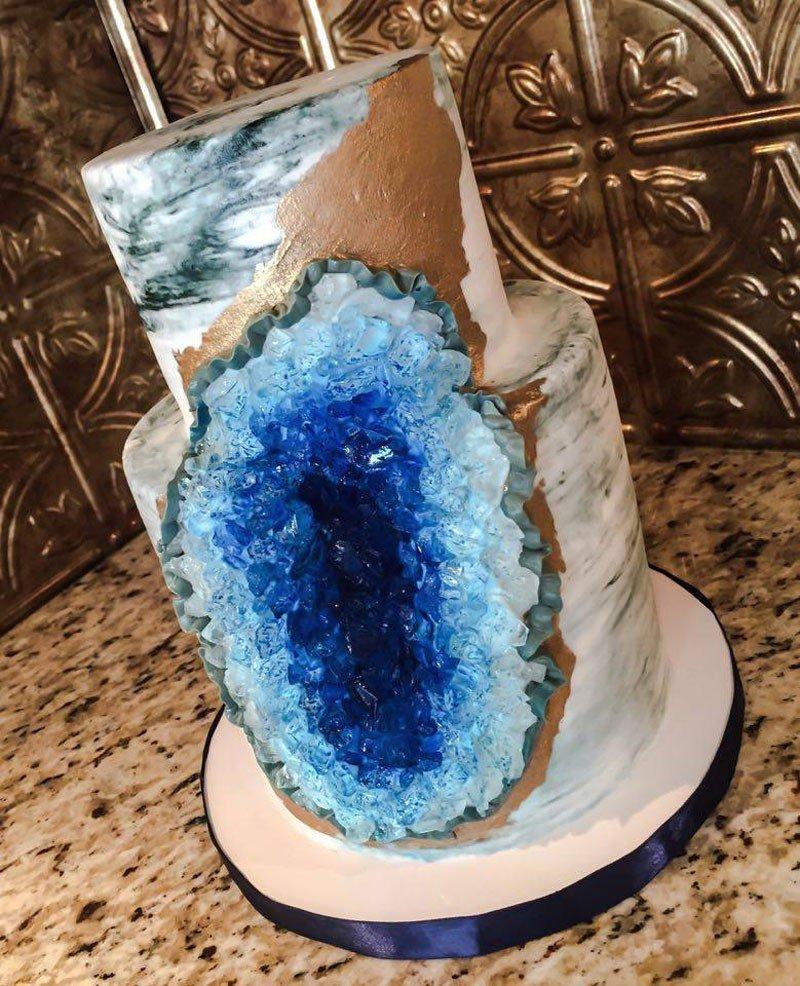 Three Tiers For Cake
We also love Three Tiers For Cake's take on the geode wedding cake trend. After all, that cascade of turquoise sugar rock is so vibrant and beautiful that it's enough to make any bride swoon!
"I've always loved geodes," says the cake's baker Rachael Morris. "A friend of mine had started making gorgeous jewellery using real stones, which I thought would look amazing translated onto a cake.
"Luckily I had a whole shoot planned around the cake just as the wave of geode cakes hit the internet. The overwhelming response to the cake has been beyond my wildest expectations."

Image credit: Red Balloon Photography
Intricate Icings Cake Design
Rachael Teufel, the owner of Intricate Icings Cake Design, was one of the main pioneers in the geode wedding cake trend thanks to this absolutely stunning amethyst creation which took the world by storm. The combination of textures and tones in this cake emulates the beauty of a geode rock formation to perfection. There's no denying that this edible masterpiece is a true work of art.
Created specially for the launch of a new event company, Rachael explains more about the cake on her blog: "This cake took around 16 hours to create with several more hours of planning involved prior to making the cake. I was given several pieces of inspiration to draw ideas from, including actual geodes, illustrations, and a variety of table decor items like plates, chargers, and geometric floral arrangements.
"I wanted to create a show-stopping cake, using the geode as the focal point to create an awe-inspiring visual experience for the guests. We are already seeing lots of trendy ways to use geodes within weddings and the cake is no exception. This will be the year of the geode!"

Inticing Creations
We adore this towering geode cake from Inticing Creations. If you feel like a more subtle take on the geode trend would be your kind of thing, then this is the cake for you. Marble is already a gorgeous look for weddings, but there's something about the addition of geode stones that takes this modern trend to the next level.
"My bride was inspired by the geode crystal and marble look, but still wanted the overall aesthetic of her cake to feel classic and elegant," says Kelly Zubal from Inticing Creations. "So I used neutral whites in the cake with subtle touches of silver, gold, and champagne."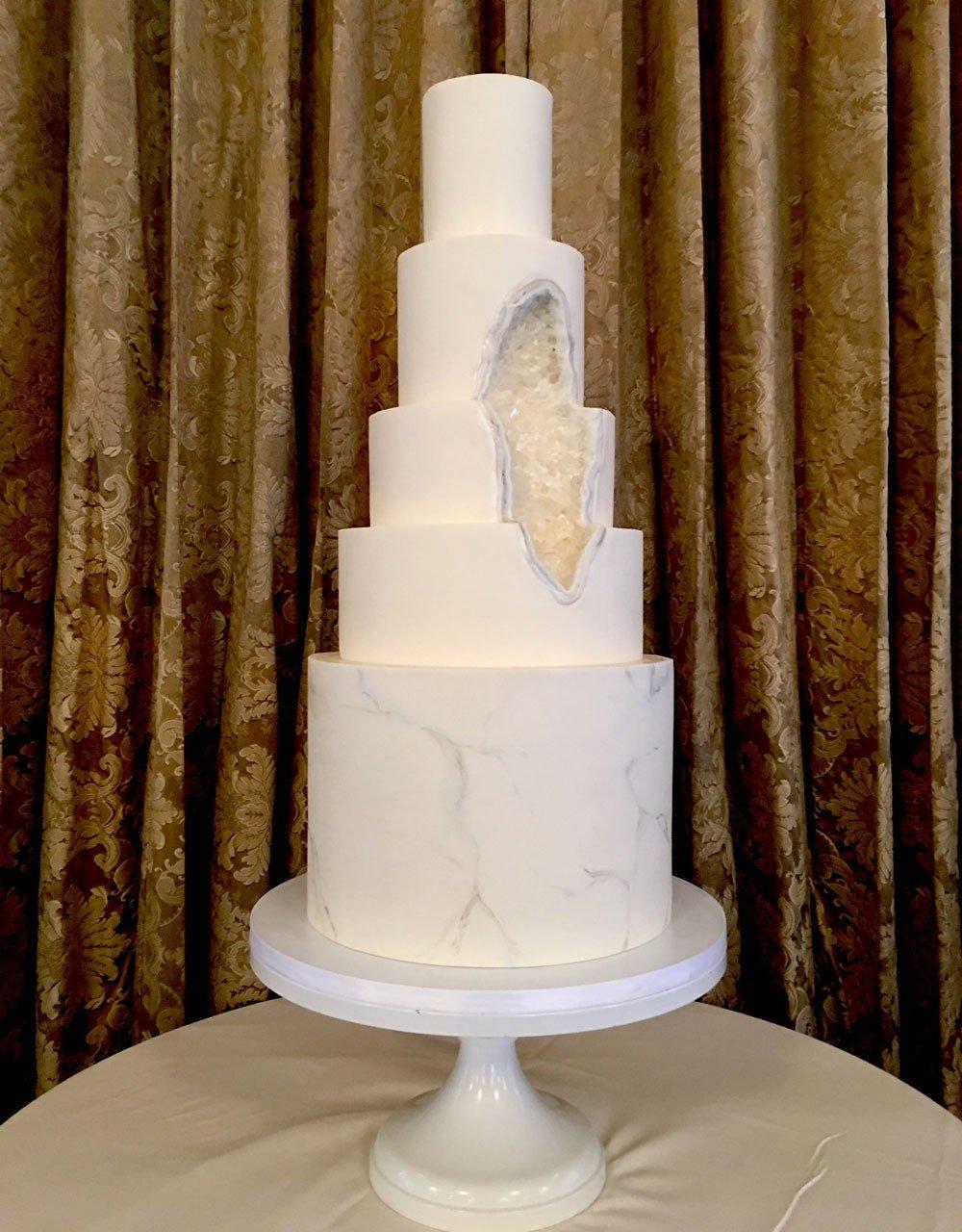 Image credit: Kelly Zubal
If you're obsessed with geode wedding cakes and want to browse more designs with a luxe, show-stopping edge, then take a look at our edit of metallic wedding cakes – they're sure to dazzle your reception guests!