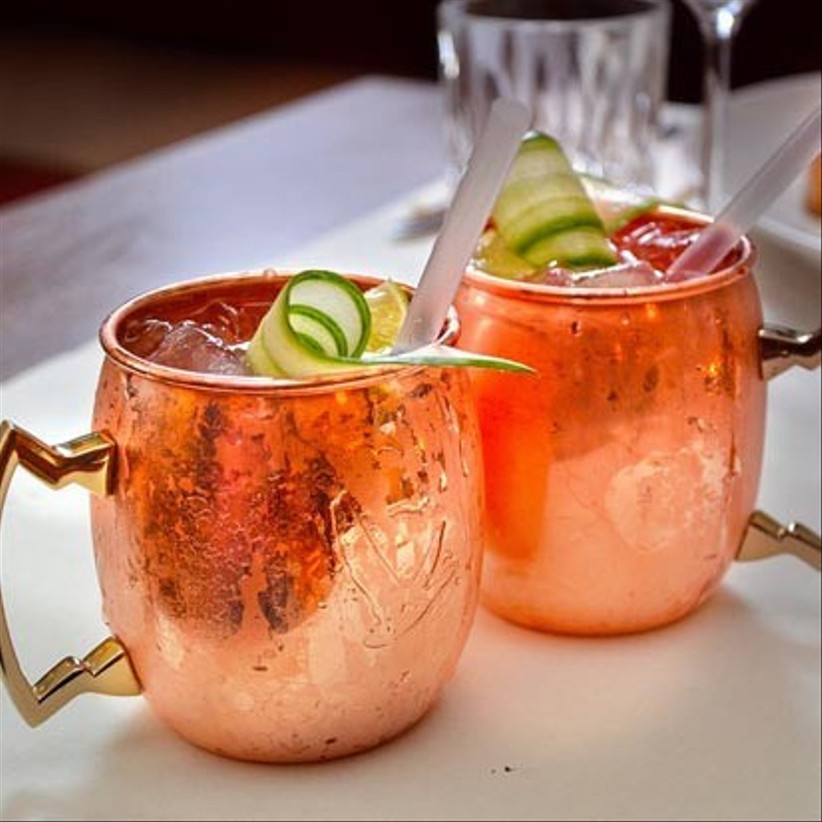 After bringing you Disney hen parties, we had no choice here at Hitched to find you some ultra-fabulous Disney princess cocktails to celebrate with too. 
These fruity and feminine cocktails will blow your mind, and have you all feeling like the perfect princess whether you're a warrier like Mulan or a mother hen like Snow White. 
Cinderella – Pumpkin Pie
As we all remember, Cinderella's carriage turned from a glass beauty into a pumpkin, but that doesn't have to be a bad thing. With a pumpkin pie cocktail, you can celebrate Cinderella's magical story whilst sipping on a drink that tastes beyond delicious.
Tip: sprinkle cinnamon and nutmeg over the top for a festive taste and warm look.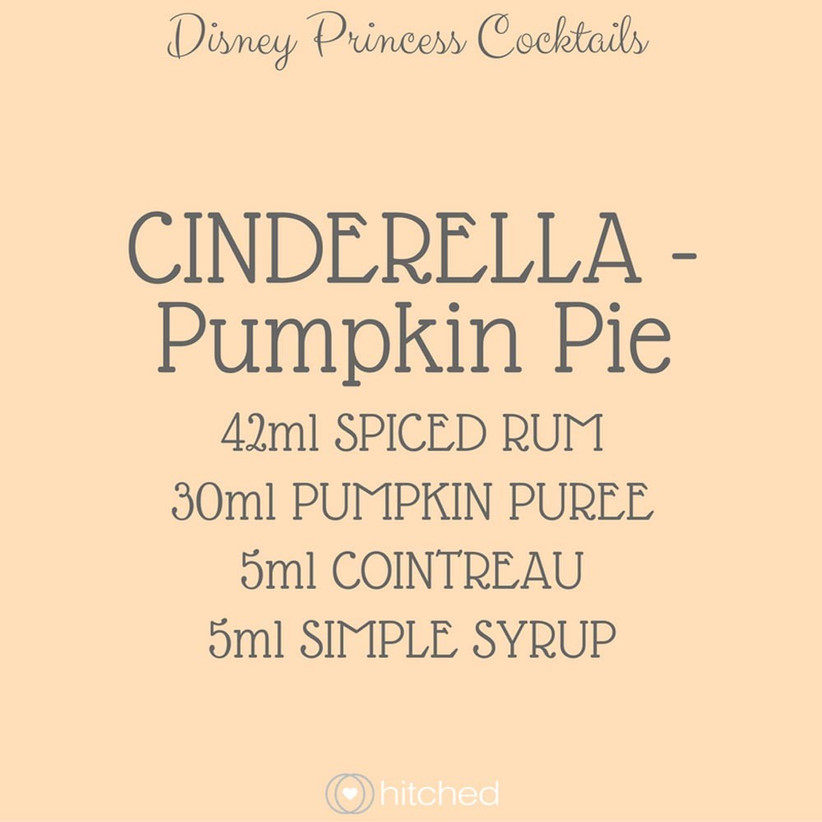 Snow White – Apple Fizz
After surviving the poisonous apple, there was really no better way to celebrate Snow White's triumph than by drinking an apple-themed cocktail. The Apple Fizz is a garden themed cocktail full of fun flavours and fresh tastes. The cool and sparkling taste will refresh and excite you with every sip.
Tip: for an extra fresh flavour, add fresh mint leaves and a lime wedge.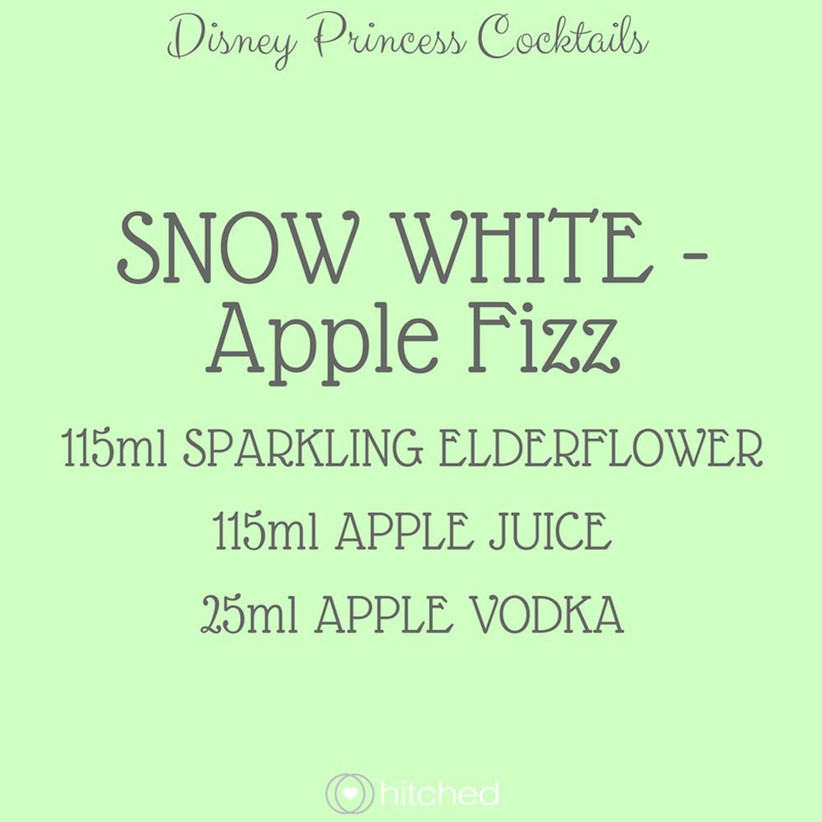 Ariel – Sea Breeze
Ariel was the Disney princess who stole our hearts 'under the sea' so what better cocktail to celebrate her story than the Sea Breeze. It's a refreshing and zesty cocktail with fresh taste that is popular in the summer months. If you want a foamy surface, be sure to give it a shake.
Tip: Serve with some quirky cocktail umbrellas or fresh flowers to add to the nautical theme.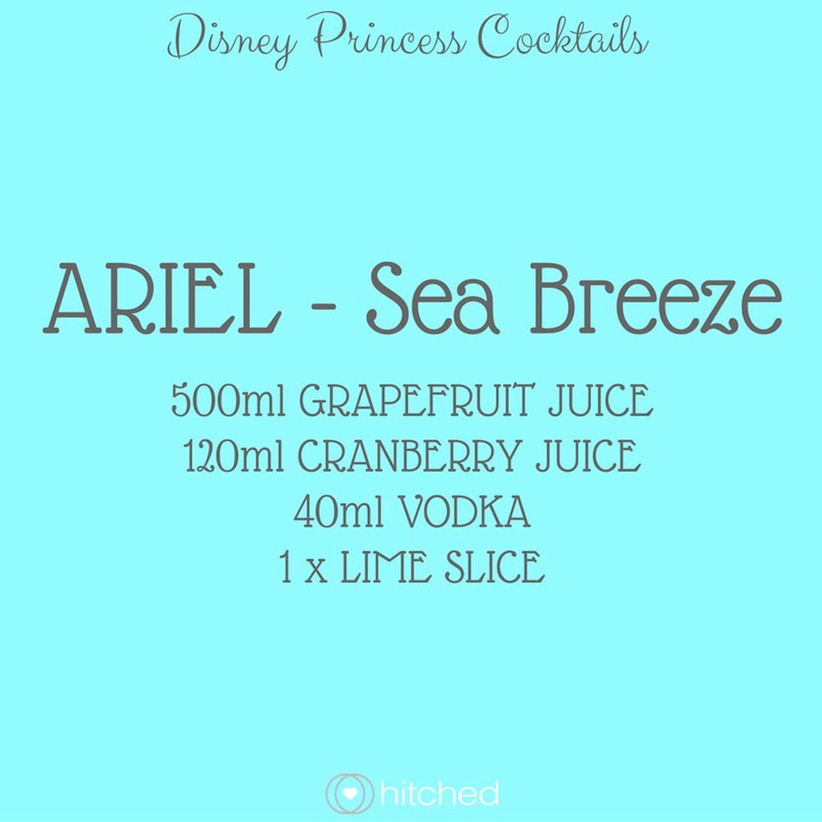 Princess Jasmine- Shahrazad
Princess Jasmine was the epitome of gorgeous. The Arabian deserts are where she found the love of her life, and we wanted to bring you a cocktail that represents that. The Shahrazad incorporates sweet flavours with traditional Arabic favourites to create something this princess would be proud of.
Tip: Serve with a side of Turkish Delight, the two will complement each other famously.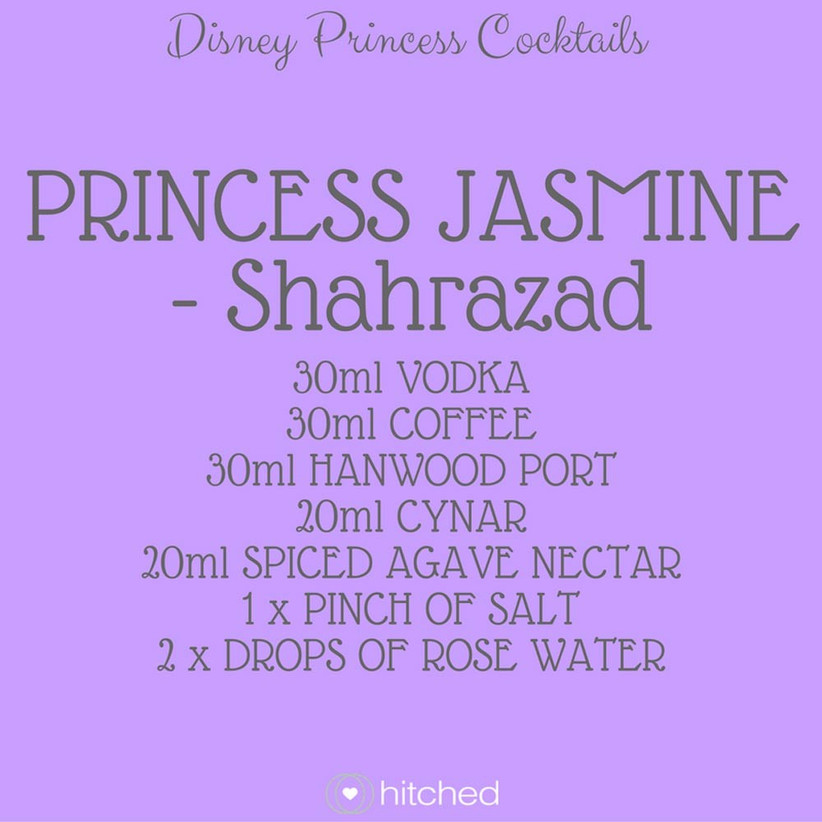 Princess Belle – Peach Bellini
We loved Princess Belle's wedding dress, it was the most gorgeous colour and had a really classic shape to it, just like the Peach Bellini. The simple combination of fruit and fizz gives this cocktail everything it needs to be fit for a princess and is a perfect way of incorporating even more Prosecco into your wedding.
Tip: For a more pink-coloured shade, add a splash of grapefruit juice, the flavours will be incredible together.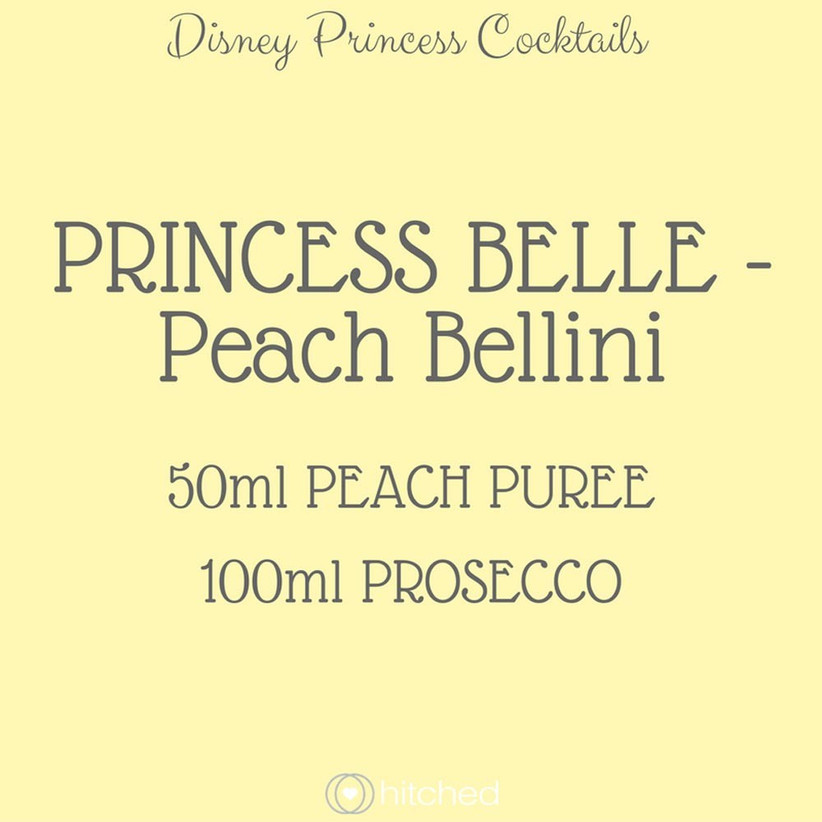 Rapunzel – Lemon Drop
If there's one princess who didn't need any help with wedding hair extensions, it was Rapunzel. This princess had the most stunning golden locks and her personality packed a punch or two. She fought her way through being kept captive and used her sassy nature to set herself free which is why the Lemon Drop is the perfect cocktail for her. The zesty flavour and citrus theme make a gorgeous combination.
Tip: Coat the rim of the glass with sugar and gold edible glitter for an extra princess feel.
Mulan – Chinese Whisper
Bravery and boldness is what we will always remember Mulan for. Her determination and skill is something we can all envy, and the Chinese Whisper is a drink with strength and uniqueness – just what Mulan needs after a long hard day of being a warrier.
Tip: If you love spice and want even more of a kick, splash a bit of tobasco sauce into this cocktail.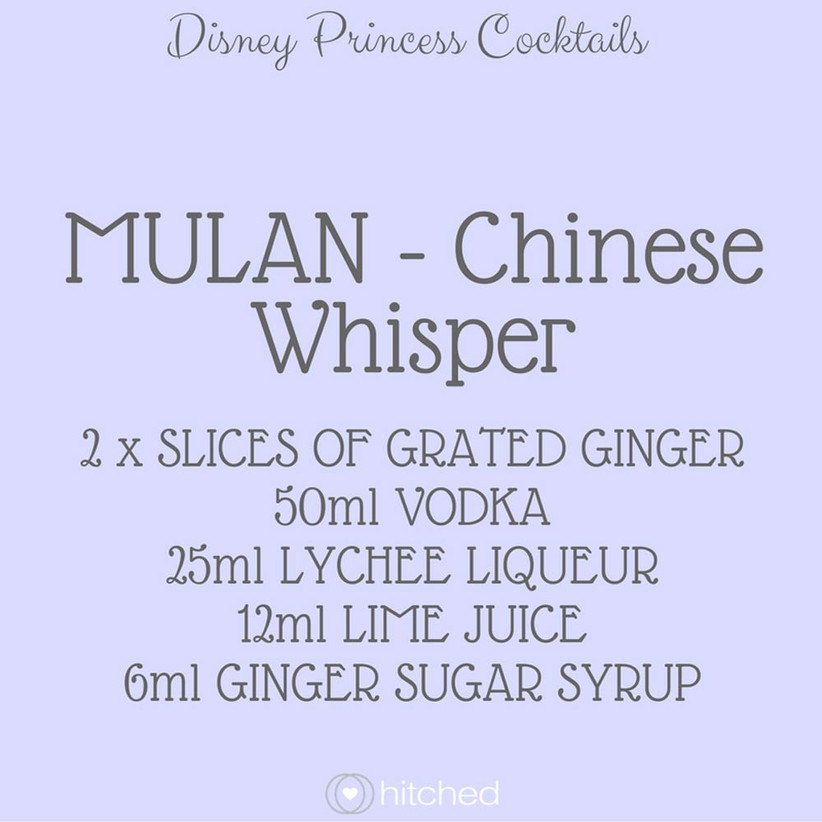 Sleeping Beauty – Espresso Martini
Poor sleeping beauty spent far too long locked away asleep, which is why we have allocated her the Espresso Martini. We couldn't think of a better way to wake up such a perfect princess than with a cocktail that is filled with rich coffee liqueur and an extra kick to spice up the night.
Tip: Sprinkle some cocoa and chocolate powder on top for a sleek and stylish finish.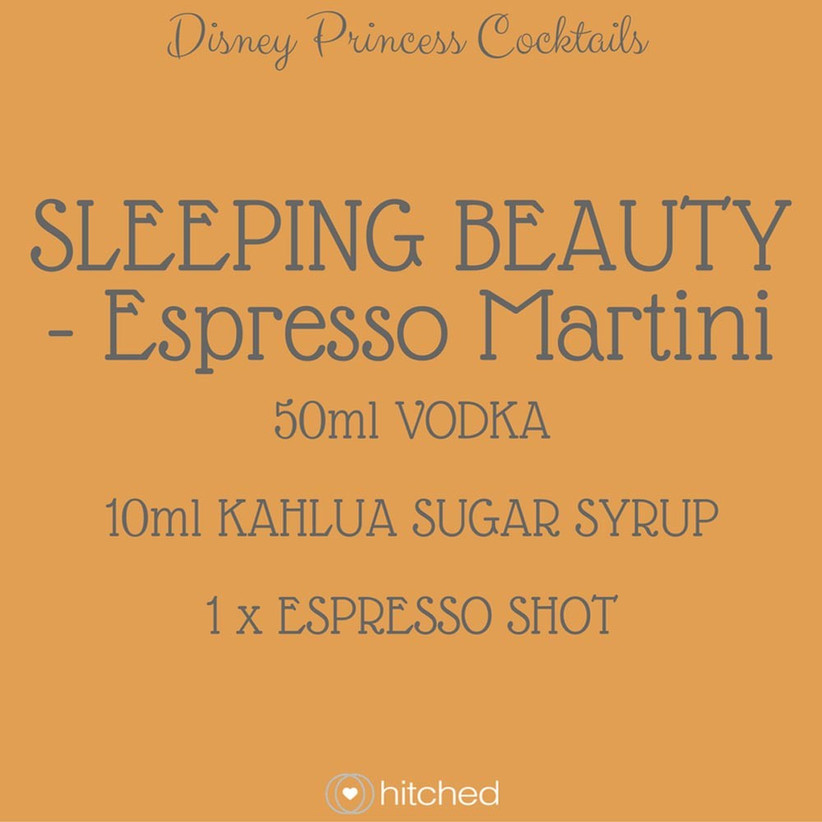 Pocahontas – Mai Tai
A Disney icon who loved nature and the land she lived in, Pocahontas brought peace to her people and for that, she deserves a Mai Tai. This Disney cocktail has natural flavours that come together and mix in a way that you won't be able to resist. This is a cocktail for the rum lovers of this world.
Tip: Add a cherry and a lime segment to the top for even more fruity flavours.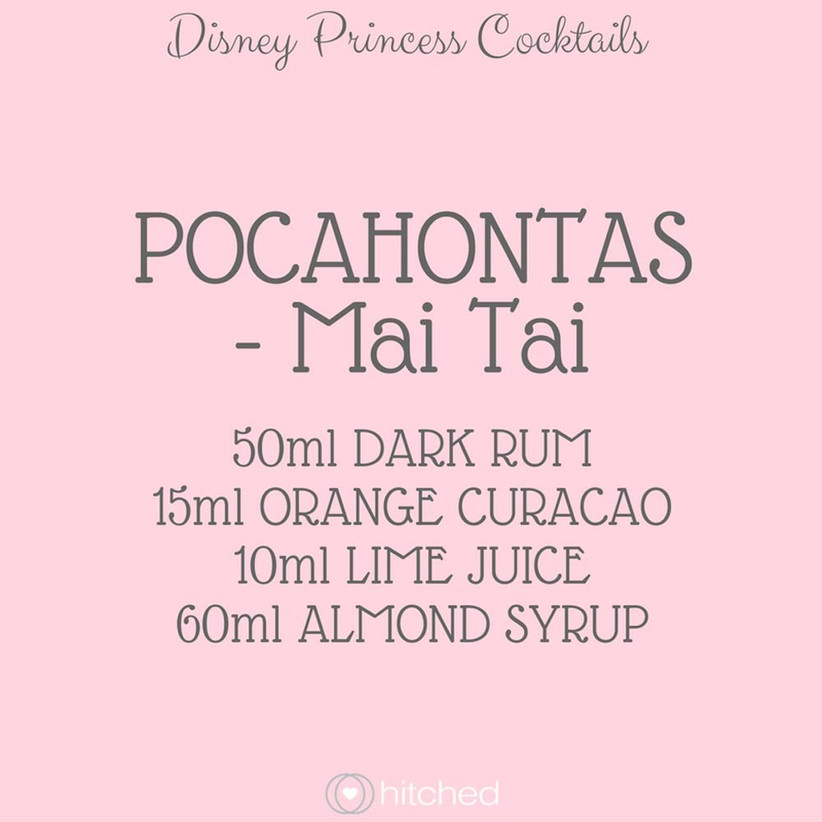 Aurora – Mojito
Aurora is a princess who has a heart as pure as gold, and spent the first half of her life surrounded by the nature that she loved. A Mojito is the perfect garden cocktail for this type of princess as it is wholesome, fresh and innocent (sometimes).
Tip: For a hot summer's day, use crushed ice instead of cubes to create more of a slush texture.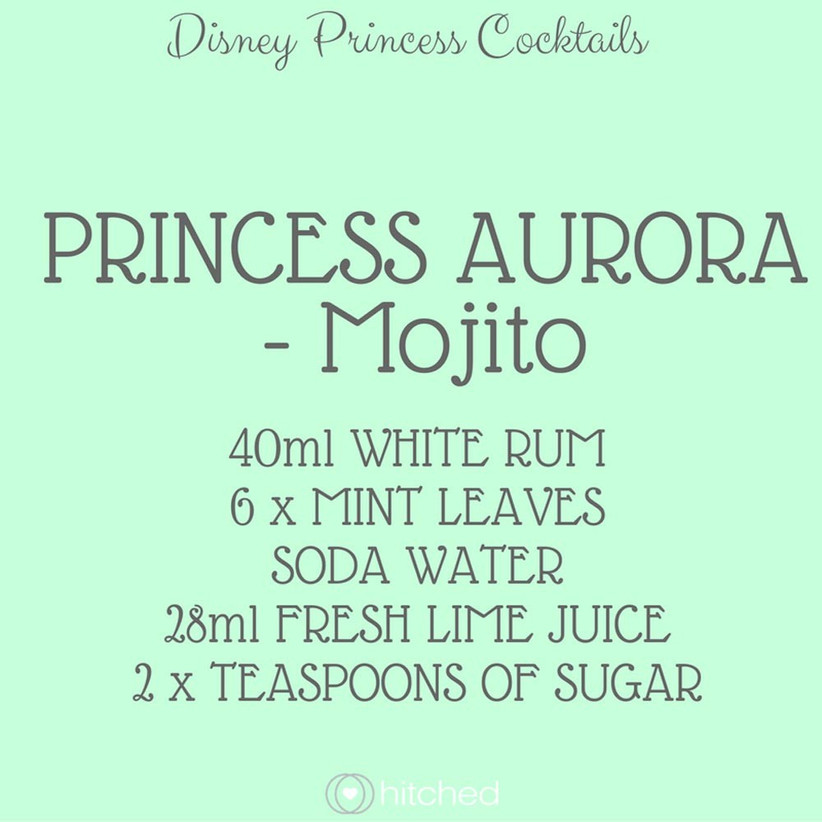 Princess Tiana – Sazerac
Princess Tiana grew up in New Orleans, dreaming of owning her own restaurant, so what better cocktail to give her than 'New Orleans' own cocktail' – the Sazerac. The determination this princess had can only be matched with a cocktail as strong as this, with elements as fiery as her personality.
Tip: Peel the skin from a lemon and hang it over the side of this cocktail for a punchy extra flavour.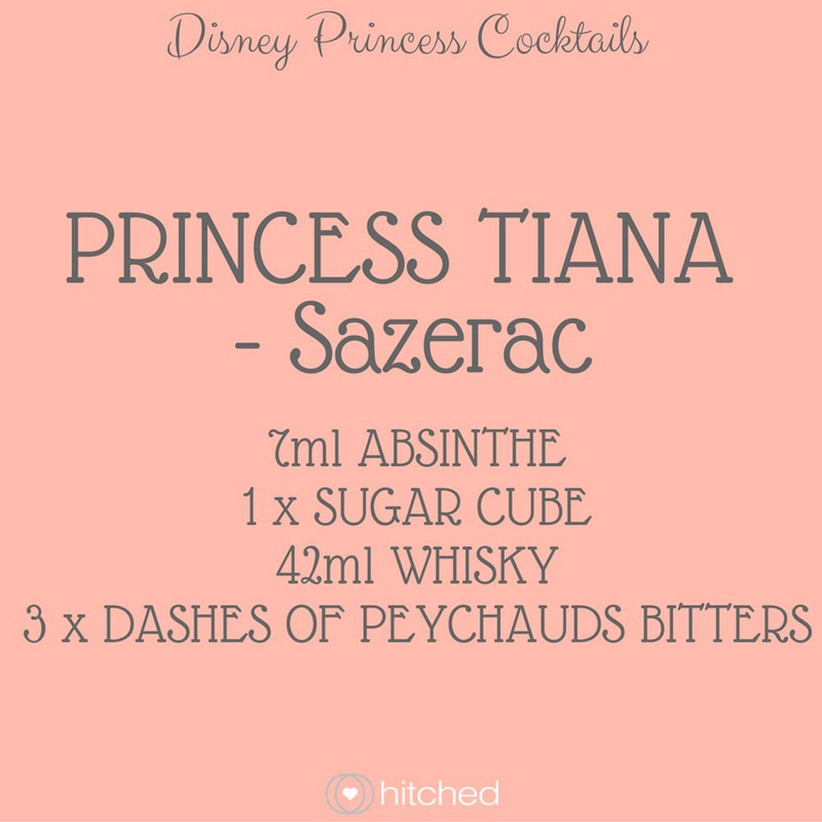 Merida – The Blood Sand
Merida was a true Scottish princess, who spent her days playing archery, exploring her land and riding her horse Angus. Between these activities and her princess adventure, we're sure that if she were to drink a cocktail or two, it would be The Blood Sand. A warm and traditional drink, much like our princess.
Tip: Use freshly squeezed juice if you want to really embrace the traditional taste.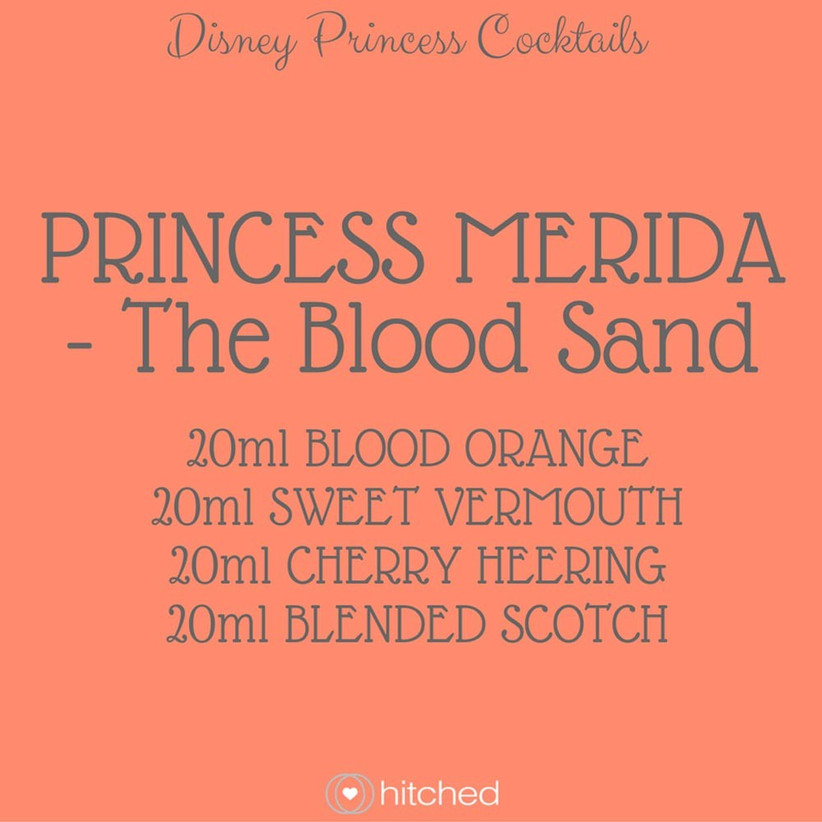 Princess Anna – Baileys Chocolatini
Princess Anna sings her little heart out to Prince Hans (who we obviously don't like) about her love for chocolate fondue, so we have no doubt that a Baileys Chocolatini would be her cocktail of choice. This creamy, sweet treat is super desirable and perfect for a classy hen party.
Tip: Drizzle chocolate syrup onto the inside of the glass before the cocktail is poured for extra sweetness.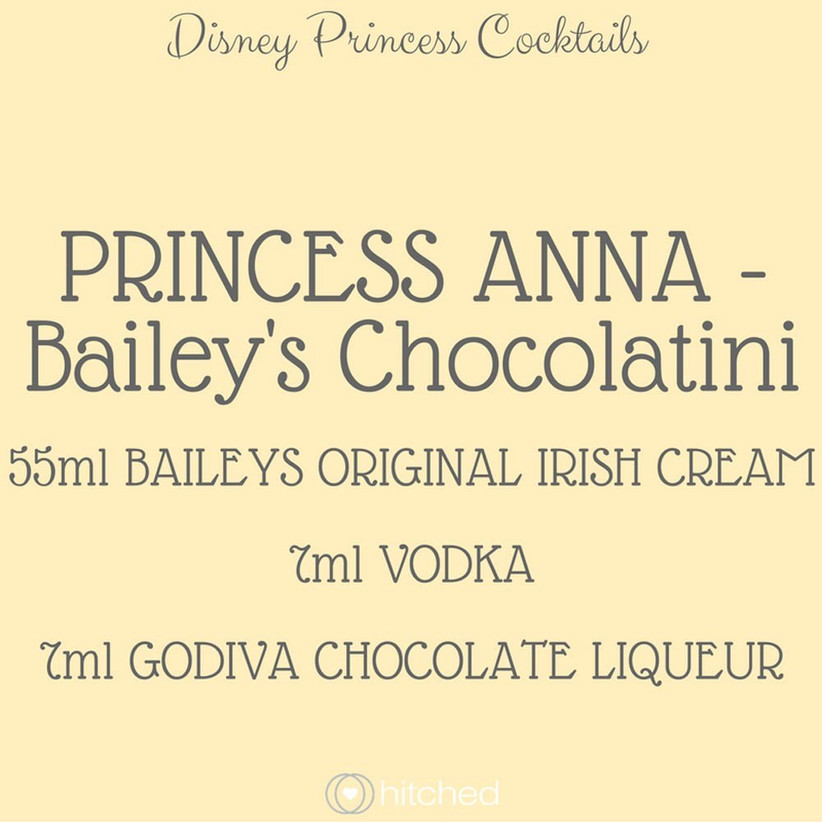 Princess Elsa – Bloody Mary
A Bloody Mary is a cocktail which most ladies like after a 'long day in the office' and if defeating an ice curse, rescuing your sister from an evil prince and saving the whole of your land isn't a long day at the office, we're not too sure what is. The cocktail is straight forward, strong and an acquired taste, just like our favourite ice princess.
Tip: Garnish with a celery stalk or dill pickle spear for an alternative taste.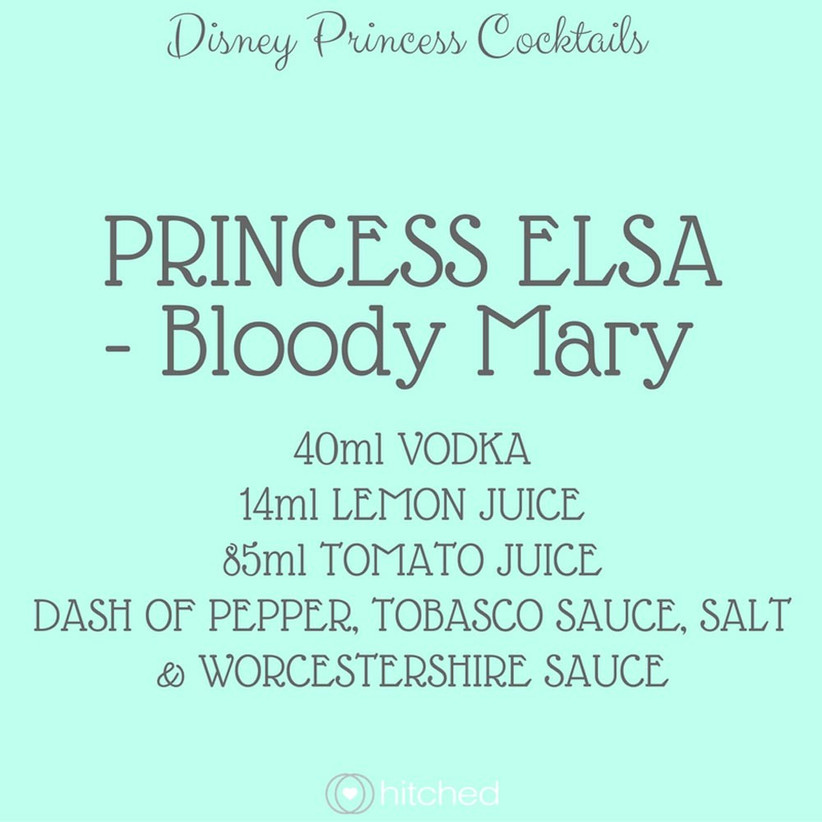 Continue your magical wedding theme with our selection of the best Disney wedding songs where you'll find tracks that will suit everything from your first dance song to the crazy repection party music.