Whether it's a special wedding anniversary for your parents or you simply want to make each and every one of their anniversaries feel special, start browsing some of our best wedding anniversary gifts for parents.
Whether your parents are into cosy homeware interiors, or you think they'll prefer a special day out spent together, we've included plenty of options for all tastes and budgets.
We've also featured niche presents for fans of cooking, gardening, and special cheese and wine nights; in short, there's something in here for every type of mum and dad. Scroll on to browse our selection of the best anniversary gifts for parents.
If it's a milestone anniversary, then check out our complete guide to traditional and modern wedding anniversary gifts too. You'll find amazing present ideas for each year of marriage.
NB: We have included third party products to help you navigate and enjoy life's biggest moments. Purchases made through links on this page may earn us a commission.
Personalised Stamp Destination Print – £29, Betsy Benn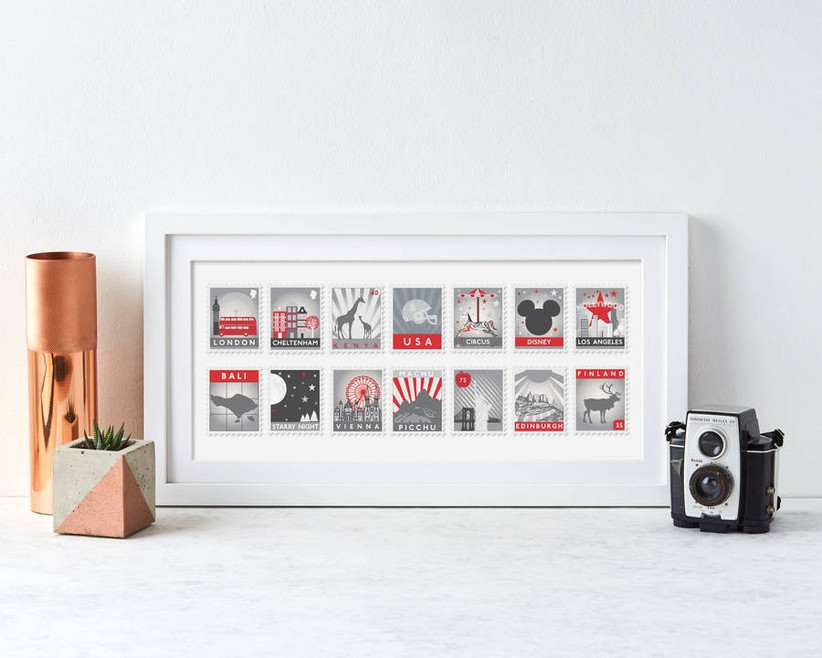 For a unique present idea for your parents, this personalised stamp destination print by Betsy Benn is a thoughtful and unique way to tell the story of their marriage and highlight some of the places that have been important to them over the years.
Personalised Anniversary Planter Crate – £39.20, Plant a Box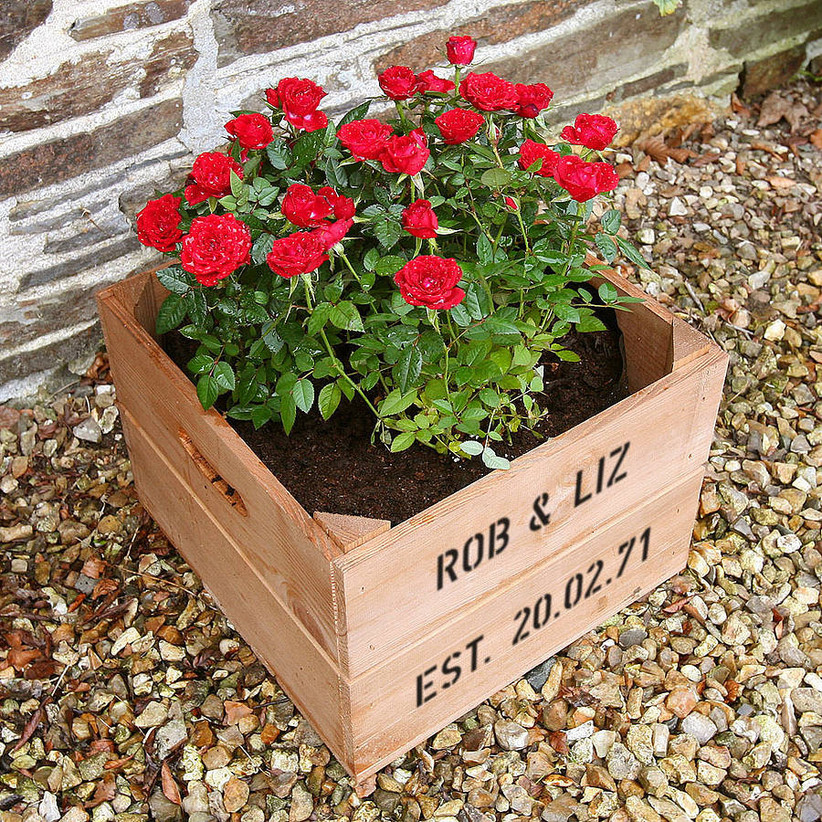 If your parents love their garden and the outdoors then this planter crate from Plant a Box will be a thoughtful gift that they can enjoy for years to come. Choose from seven beautiful muted colours and then personalise with your parent's names and the year they said "I do".
Afternoon Tea – from £15, Virgin Experience Days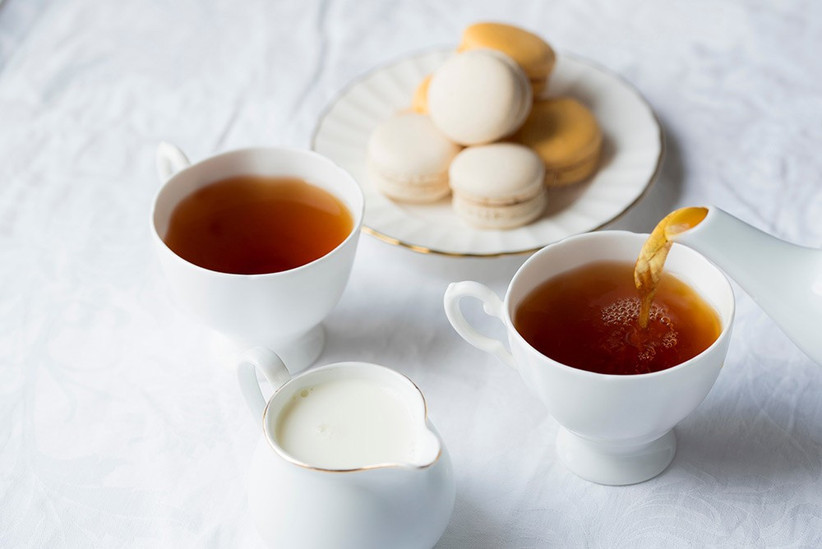 Is there a fantastic restaurant or hotel that your parents really want to visit? Then a Virgin Experience Days voucher for afternoon tea would be a perfect choice. They can choose which date they go and you can pick which stunning location they go to.
My Parents Poem – £15, Pearl and Earl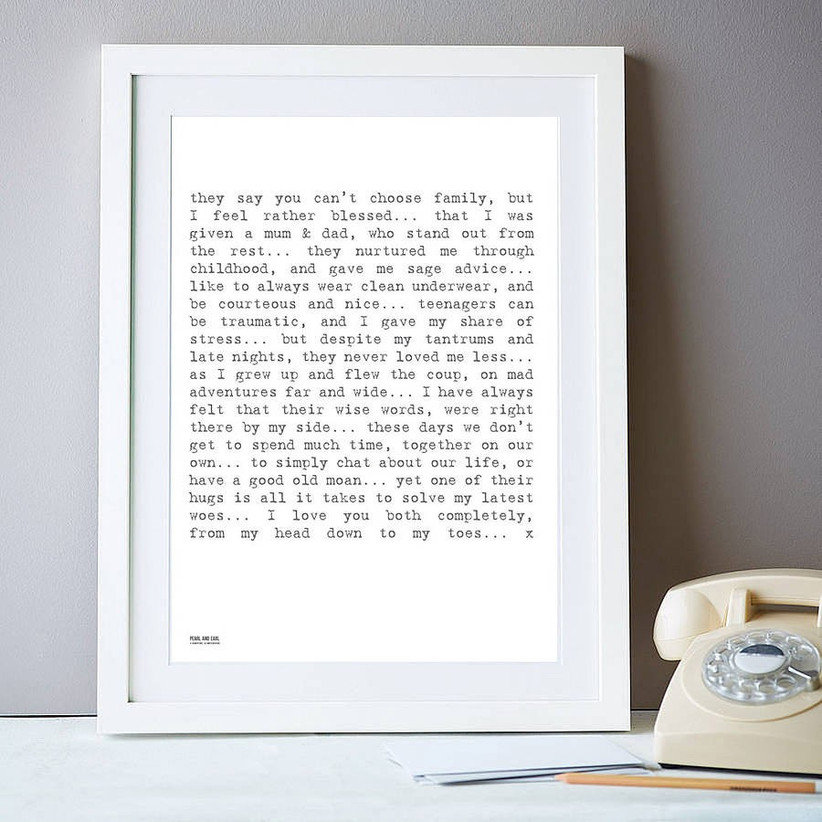 If you can't quite find the words yourself then this lovely framed poem from Pearl and Earl probably says everything you could want to your parents, thanking them for their support and love. You can also add your own personalise message at the end.
Anniversary Album – £50, Be Golden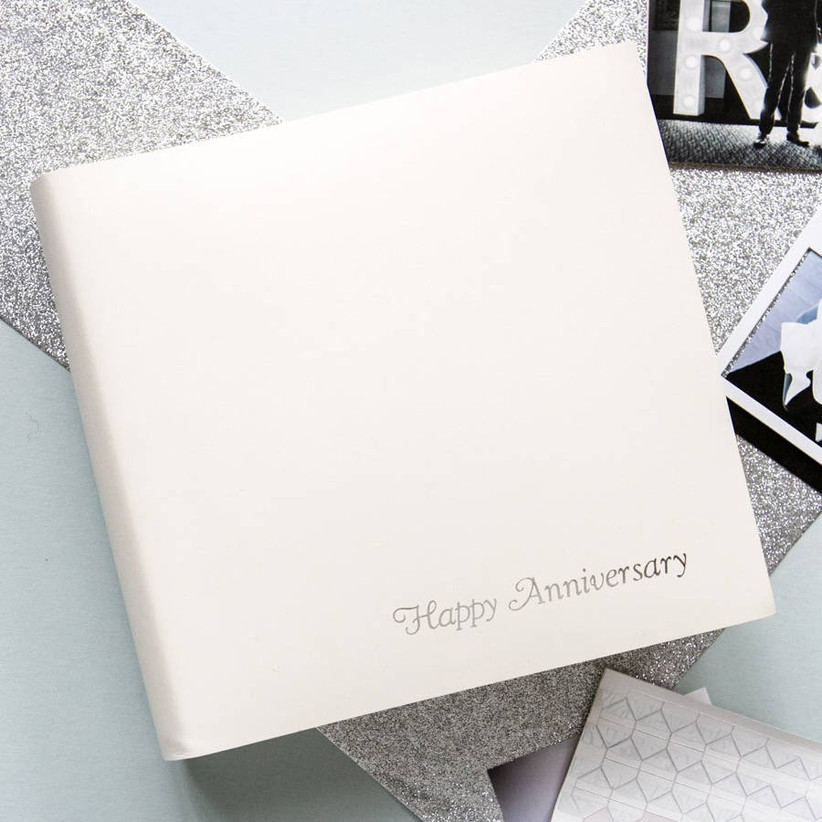 This personalised anniversary album from Be Golden comes in a range of sizes and colours. You can then have your own message embossed onto the front of the album. Leave it blank inside so your parents can fill it with their favourite photos or spend some time getting old photos printed and fill it with happy memories from over the years.
Personalised Chopping Board – £69.99, Rustic Flitch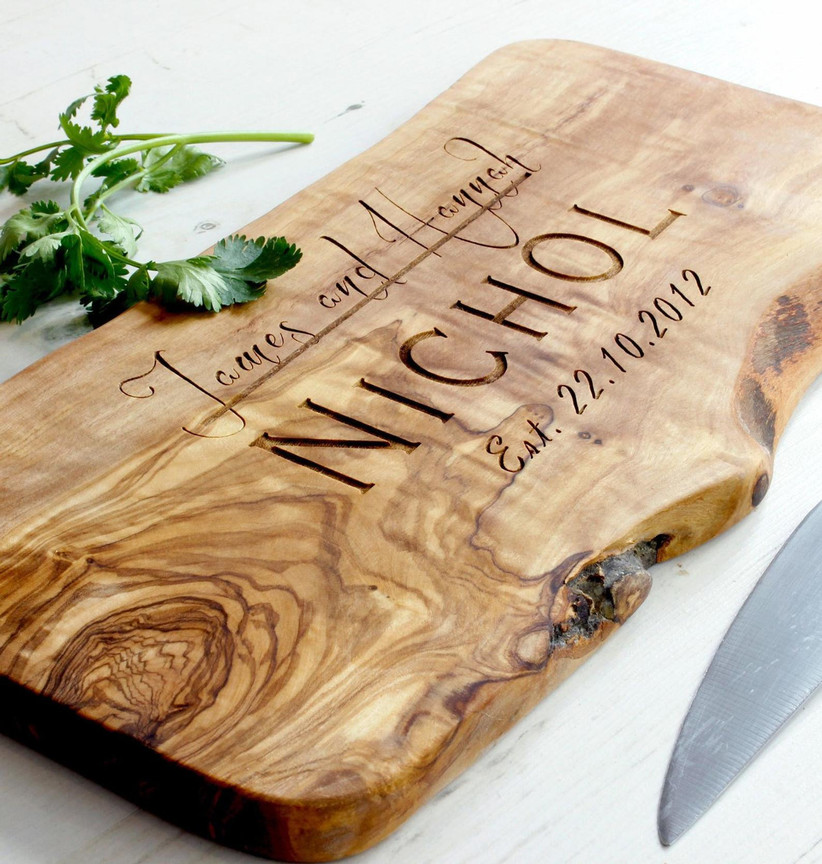 Do your parents love to cook? Then this personalised olive wood chopping board would be the perfect anniversary gift. It can be used as an everyday chopping board or as a serving platter on family occasions.
Newspaper Gift Box – £44.99, Getting Personal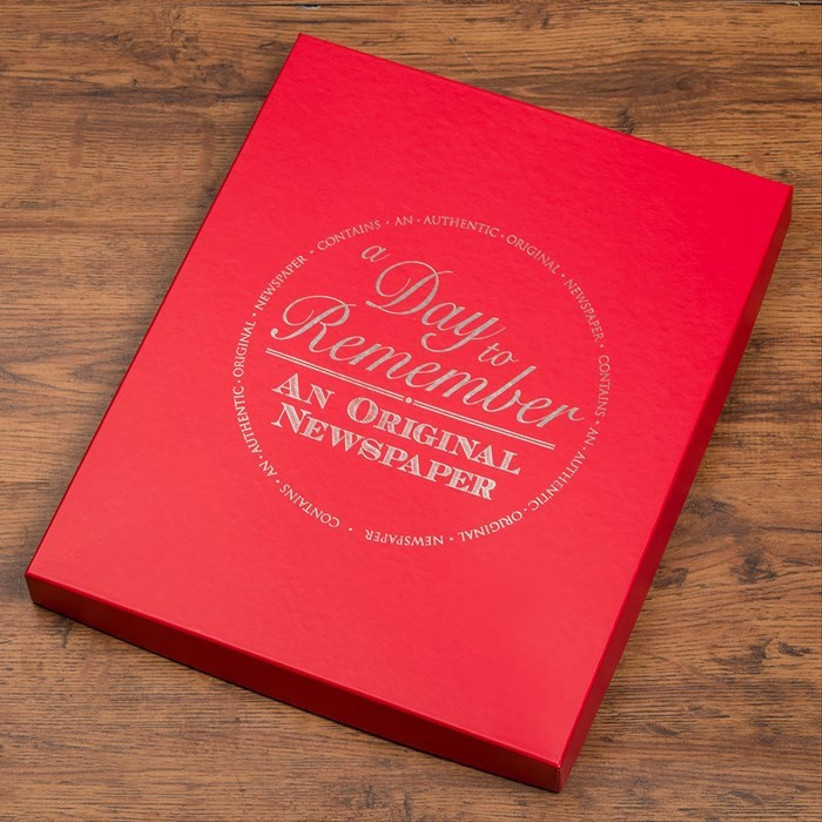 We love the idea of an anniversary gift for your parents that shows you are thinking of that special day when they said "I do". This boxed newspaper from Getting Personal will show them exactly what was happening in the world on that day.
Anniversary Print – from £21, Rustic Reflections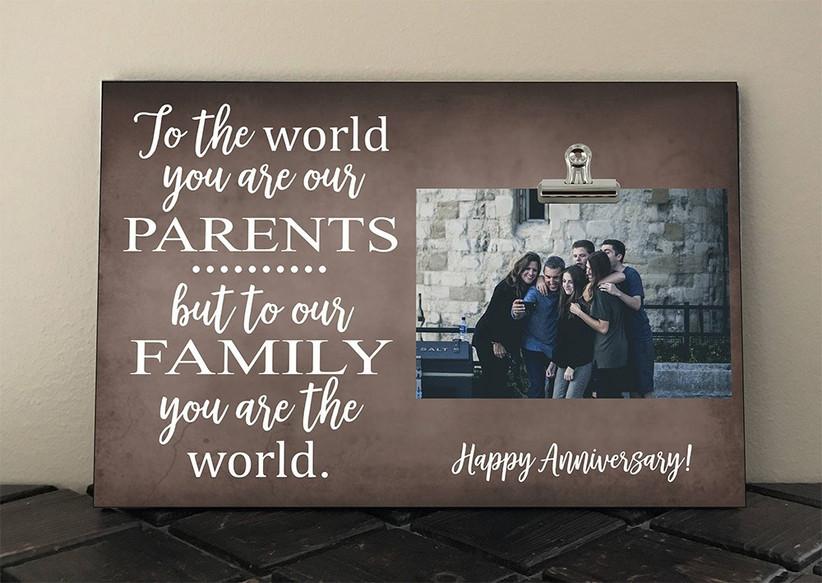 If you want to tell your parents that they really mean the world to you then this anniversary print from Rustic Reflections is the perfect way to do it. Choose a favourite family photo to include on the print to make it truly personal.
Spa Break – from £129, Virgin Experience Days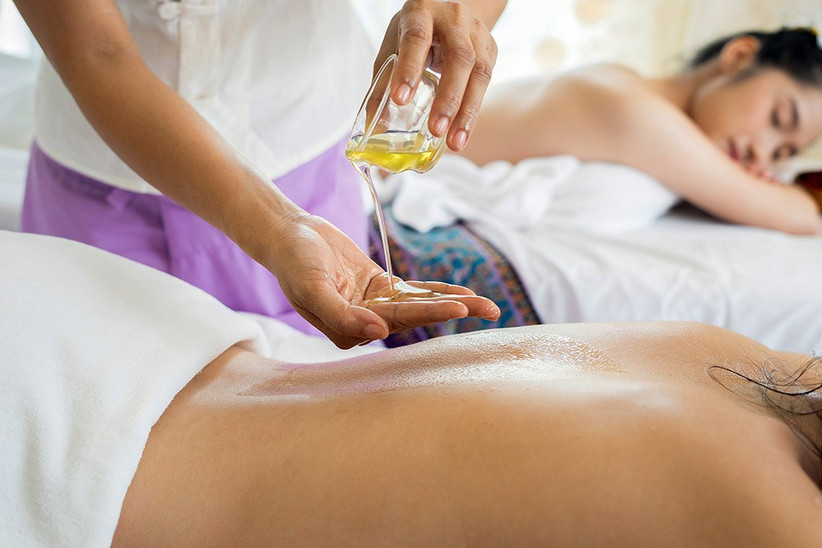 Whether it's a voucher for a spa day or a full weekend away, a mini spa break from Virgin Experience Days would be a lovely anniversary gift for your parents. They can take some time out of their busy lives to just relax together away from everything.
Golden Wedding Anniversary Print – £69, Inkywool Butterfly Art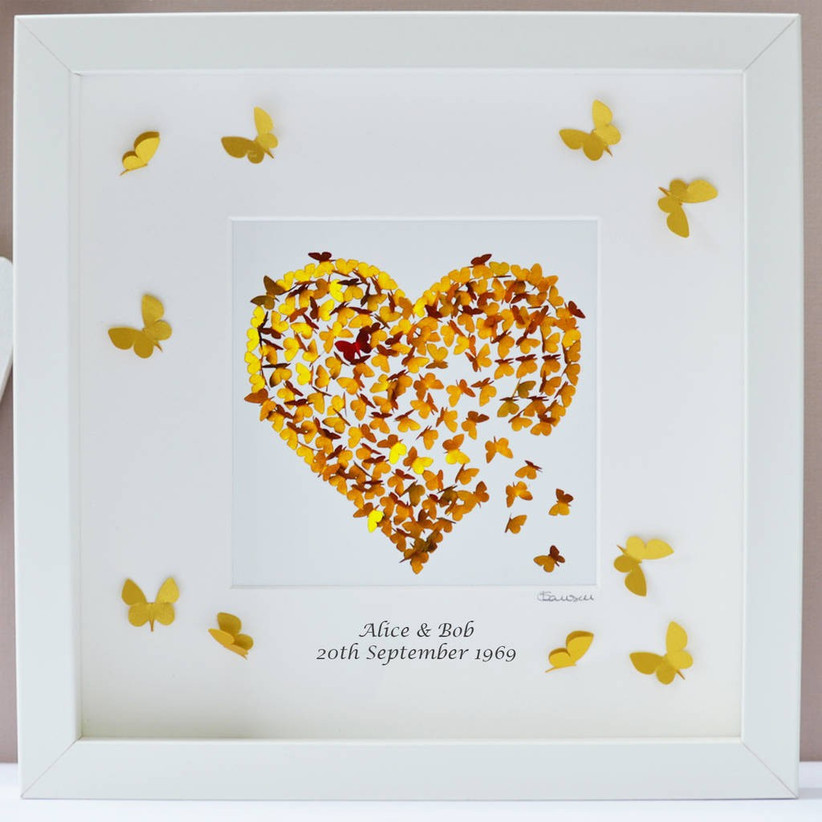 If you are looking for the perfect golden wedding anniversary gift for your parents then this framed print from Inkywool Butterfly Art is a lovely choice and can be personalised with the words mum and dad or your parent's names along with their date of their wedding.
READ MORE: 50th Wedding Anniversary: Gift Ideas for a Golden Anniversary
Hand-Painted Anniversary Portrait – £90, Rebecca McConnachie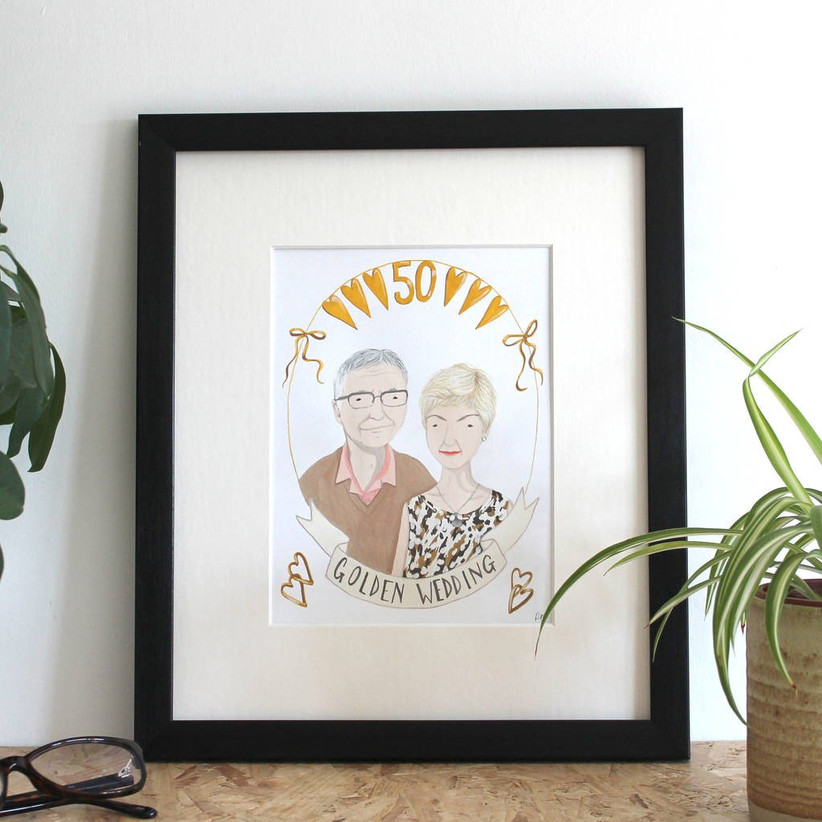 For an extra special anniversary gift, a hand-painted portrait from Rebecca McConnachie would be a perfect gift and is something unique that your parents can hang in their home for years to come.
House Portrait – from £40, Brick By Brick By Jen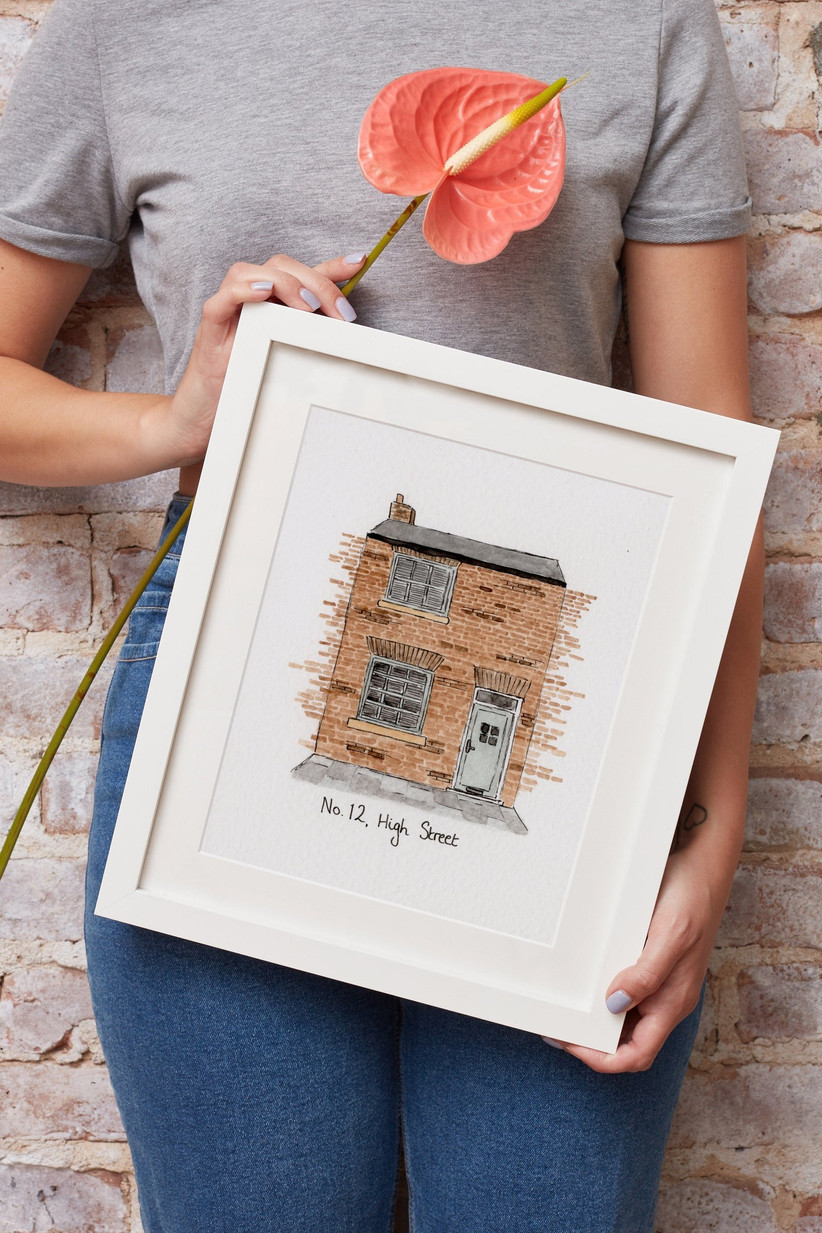 We love the idea of gifting your parents a portrait of their home for their wedding anniversary. Illustrator Jen is incredible at turning a photo into a wonderful watercolour keepsake, and you could choose to have your childhood home painted if they have moved in recent years and you want to give them a special memory.
Personalised Wooden Pot Planter - £22.99, Warner's End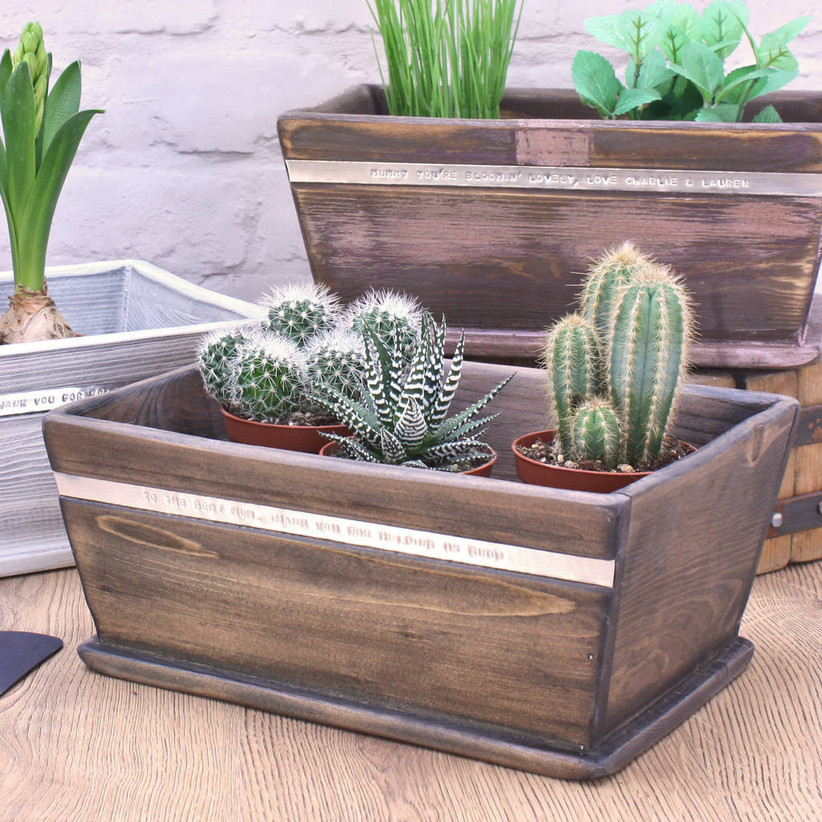 For the mum and dad who love gardening and tending to their plants together, this lovely personalised wooden pot planter is a divine option. This could even be used as a fruit bowl or simply a meaningful ornament if all else fails!
Personalised Face Cushion - £40, Tilly Mint Loves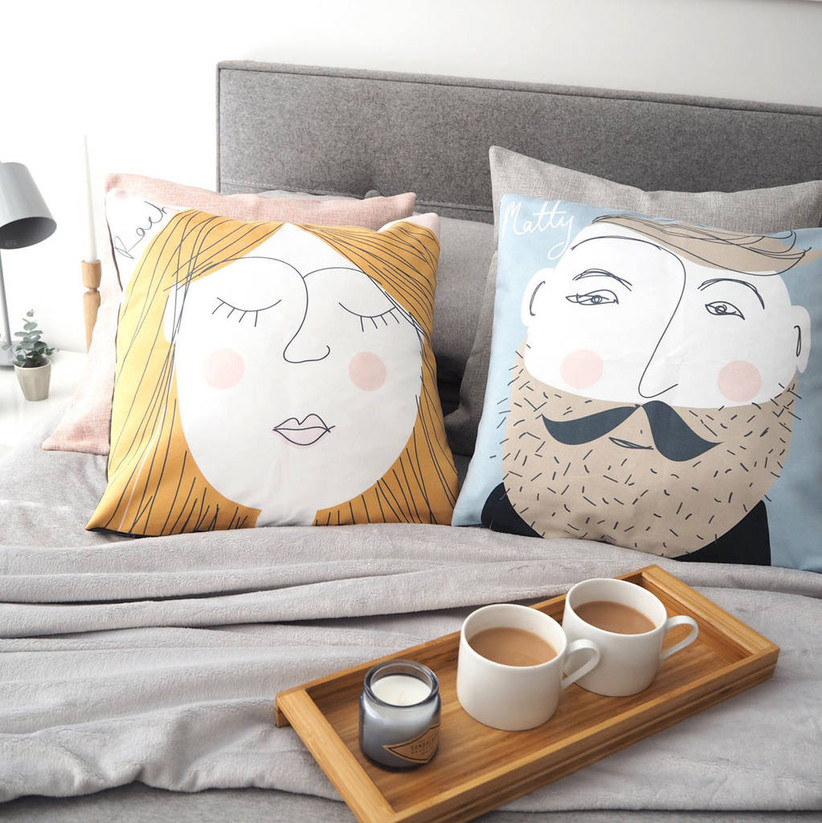 These absolutely lovely personalised face cushions by Tilly Mint Loves are perhaps the sweetest gift you could give. Pick the illustration which looks most like your parents for the ultimate personalisation.
Piped Edge Couple's Initial Cushion - £49.50, Kate Sproston Design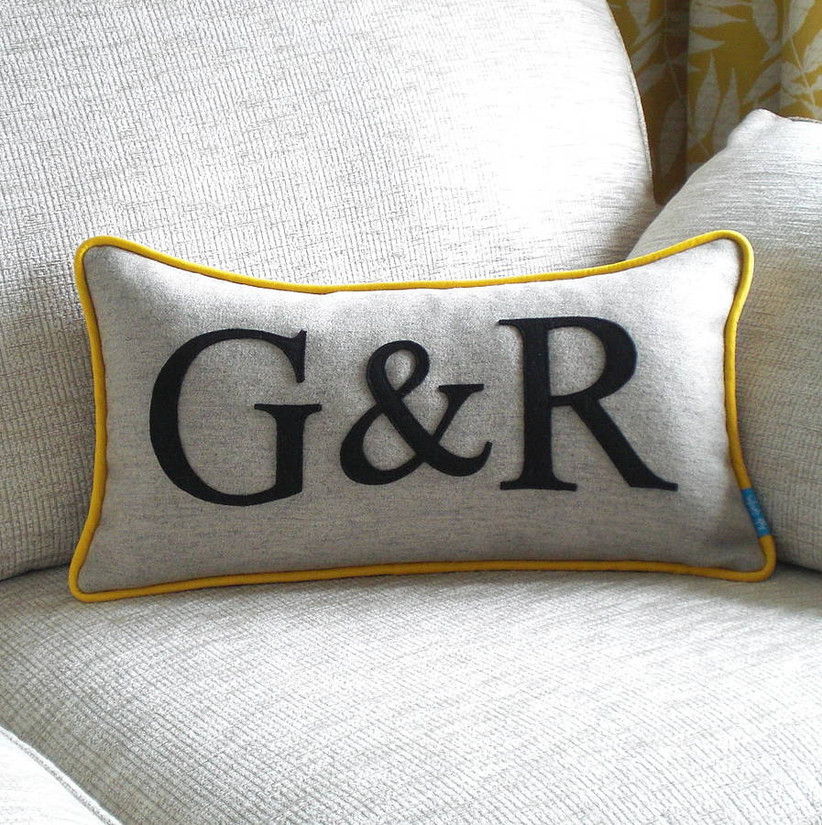 If facial cushions aren't your thing, opt for this sophisticated option instead. The Piped Edge Couple's Initial Cushion can obviously be personalised with initials, as well as your chosen border colour.
Personalised Engraved Special Date Pot - £40, Letterfest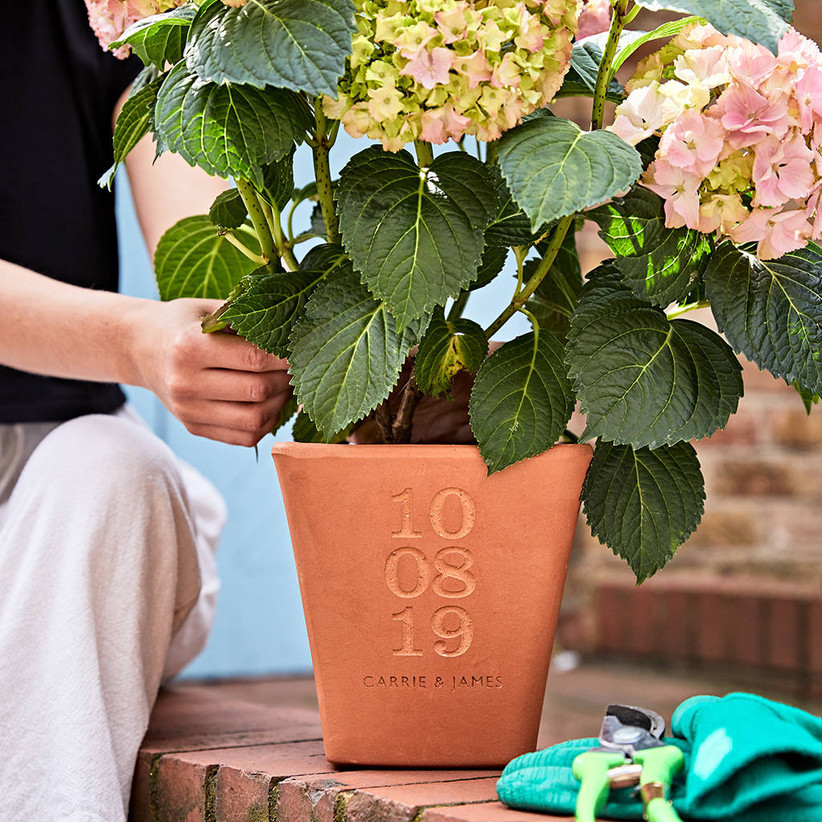 Another great pot option for your parents' plants, this engraved pot is slightly more muted and subtle. Personalise it with your parents' special date, whenever that may be.
Mornin' Handsome! Pair Of Handmade Ceramic Egg Cups - £22.25, Gilbert and Stone Ceramics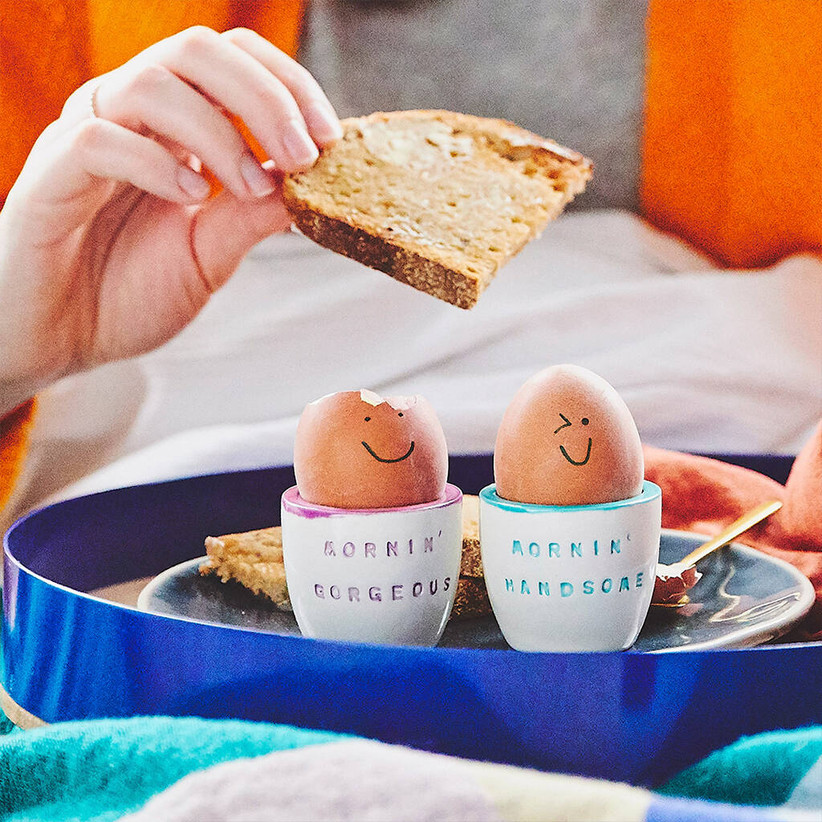 How adorable are these? This pair of handmade ceramic egg cups will bring a smile to your mum and dad's face without fail. The perfect start to the day for breakfast in bed with style.
Set Of Two Personalised Wood Jigsaw Coasters - £14, Wood Paper Scissors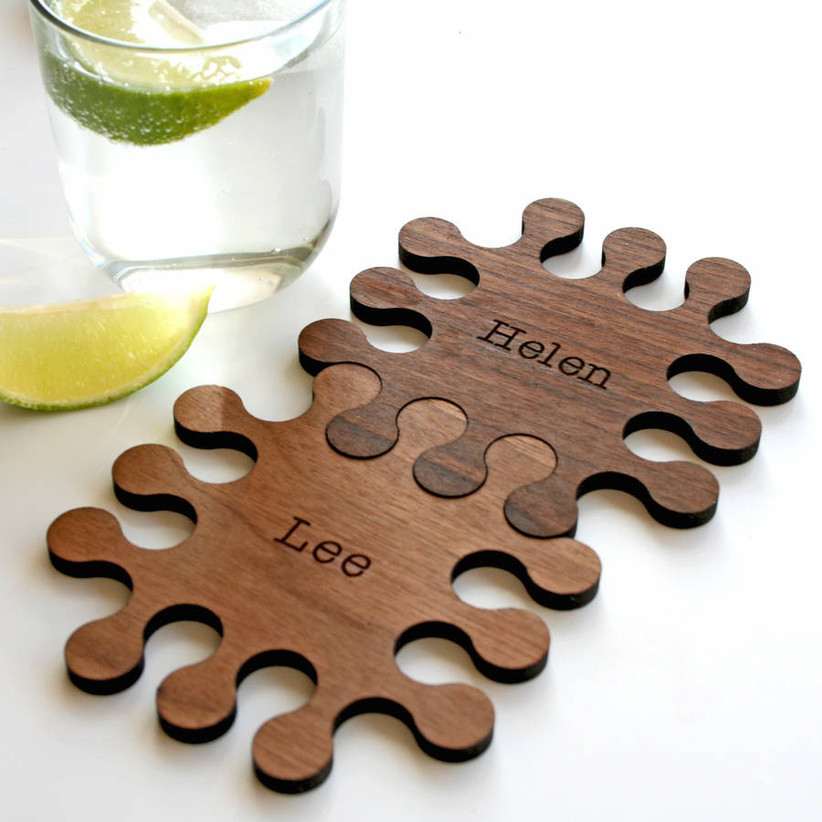 It may feel like your mum and dad are bonded and fit so perfectly together, they wouldn't work without each other. These personalised wood jigsaw coasters represent that feeling and type of relationship perfectly.
Vintage Matchbox Personalised Print - £18, Of Life & Lemons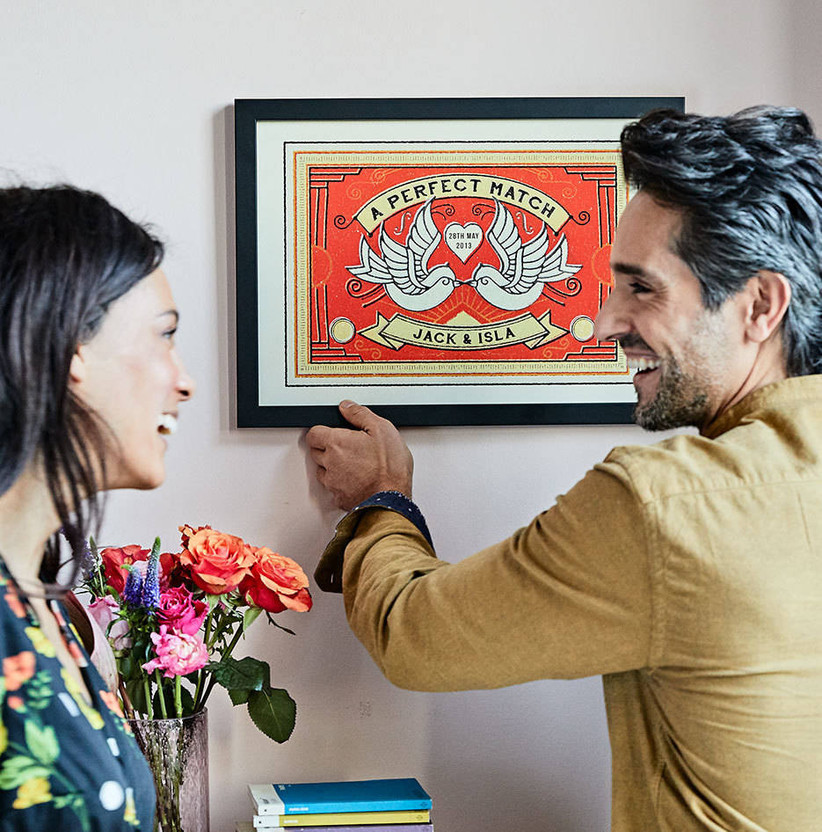 Are your parents the perfect match? Then this lovely vintage matchbox personalised print may just be perfect for them. It's meaningful while still being cool and modern, and will look great in any room.
Custom Vinyl Lyrics Print - from £13.49, Webbs Design Shop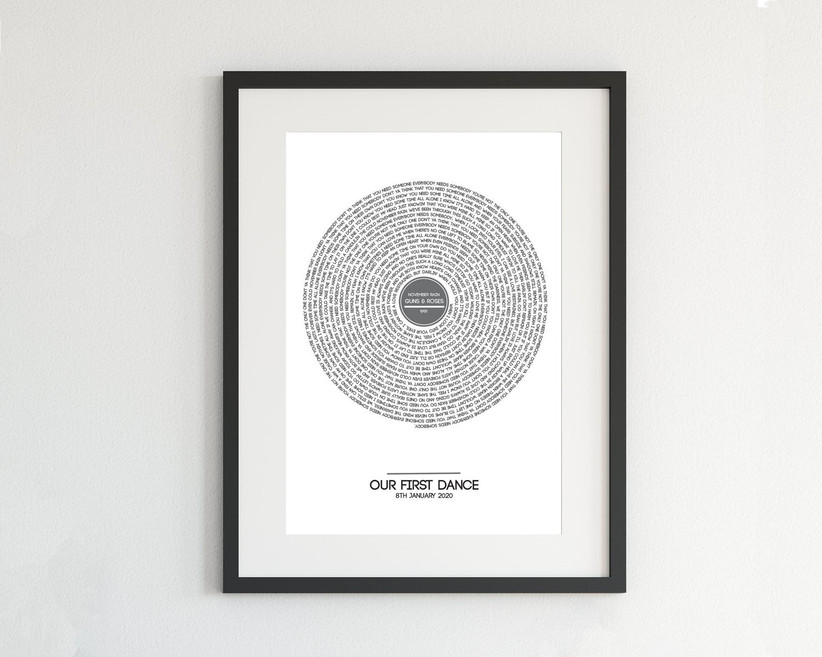 Do your parent have a special song they always sing along to together? Or perhaps there's a tune they love from their wedding day? Whichever melody you choose, this incredibly thoughtful vinyl lyrics print will surely go down well with the both of them.
Star Map Night Sky Print - from £11.95, My Days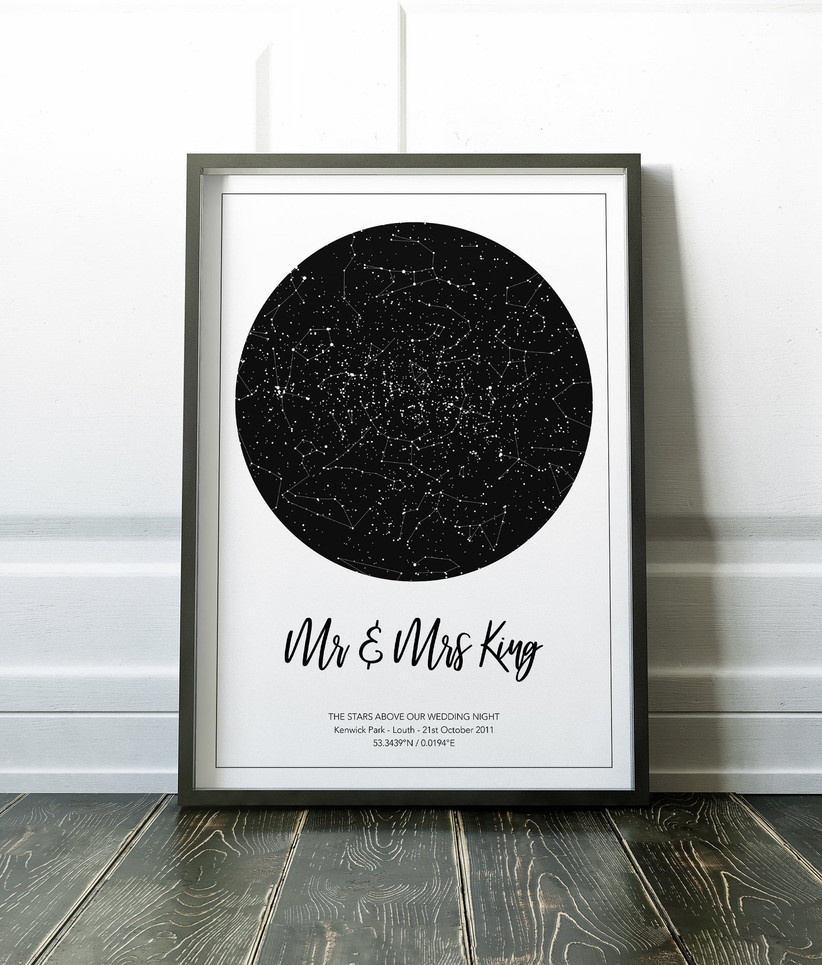 This one is really quite special. Pick a date that means a lot to your parents, be it their wedding night or another key moment, and get the stars printed from that very night with this star map night sky print.
Hand-Stamped Wedding Anniversary Keychain - £13.50, Dogs & Hats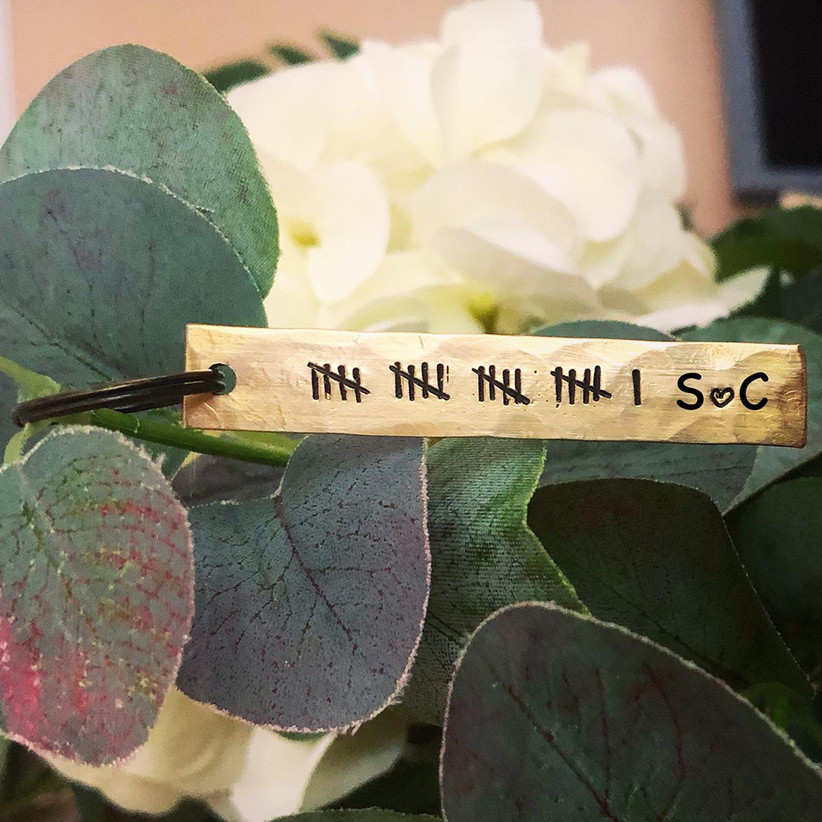 If you're in the market for a smaller gift, or something little to add to a larger present, a personalised keyring like this sweet tally one will go down well. Personalise it with initials or their wedding dates, and a tally with the amount of anniversaries your parents have celebrated. It comes in copper, brass and aluminium.
Elephant Wedding Gift Art Print - from £11.25, Paw Print Illustration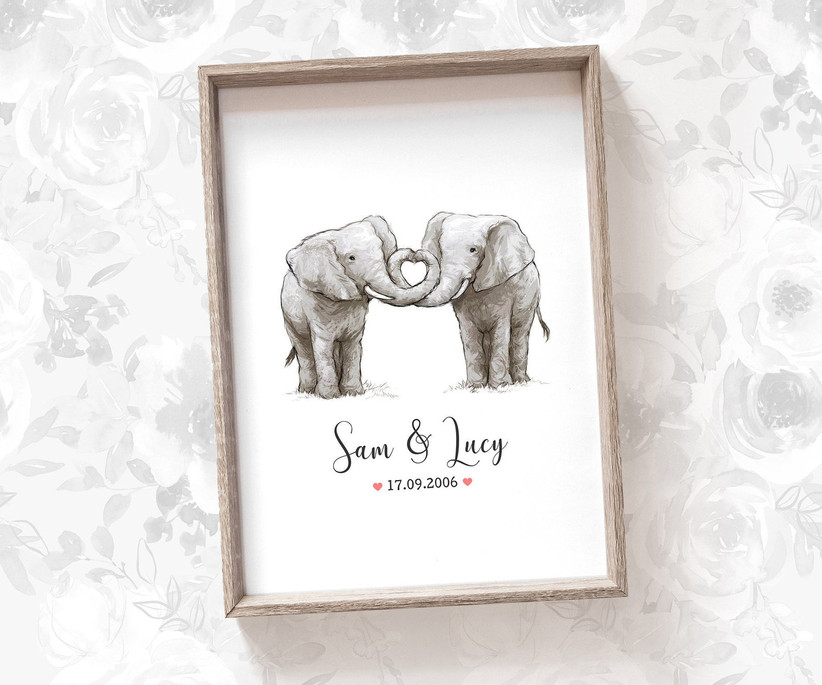 We are absolutely head over heels for this unique elephant print, which will surely bring a tear to your parents' eyes on their special day. Personalise it with dates and names for an extra special feel.
Copper and Glass Wedding Ring Box - £29.99, Hitched Shop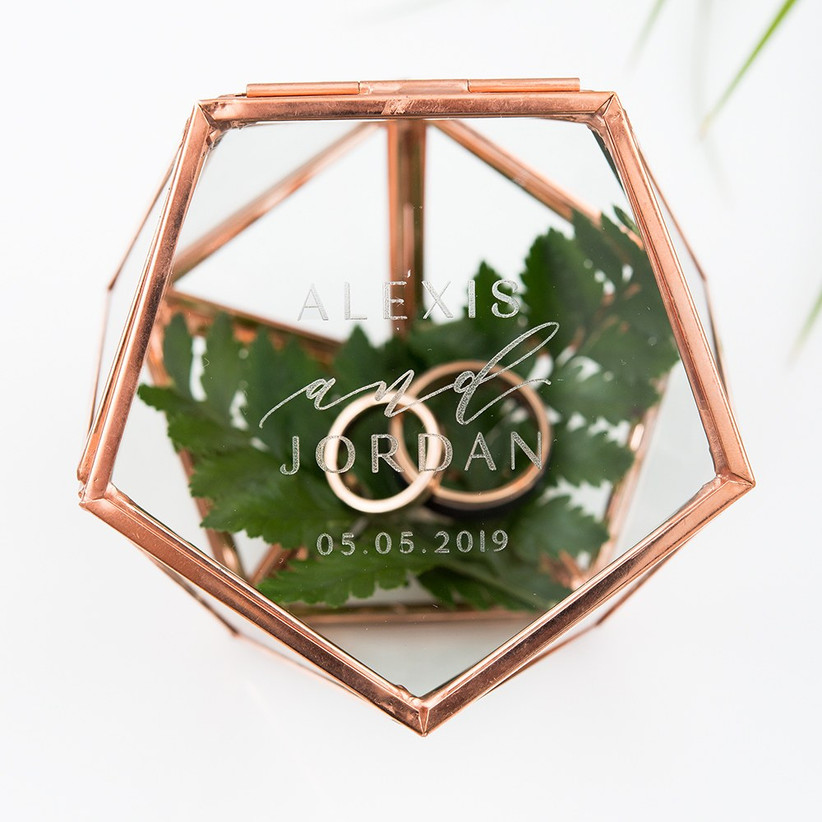 Are your parents forever losing little pieces of jewellery and other treasures? This copper and glass box is not only pretty, it's very practical, too. And it doesn't just act as a ring box, it can also be a lovely anniversary gift.
Custom Family Portrait - from £12.50, Sew Cross Handmade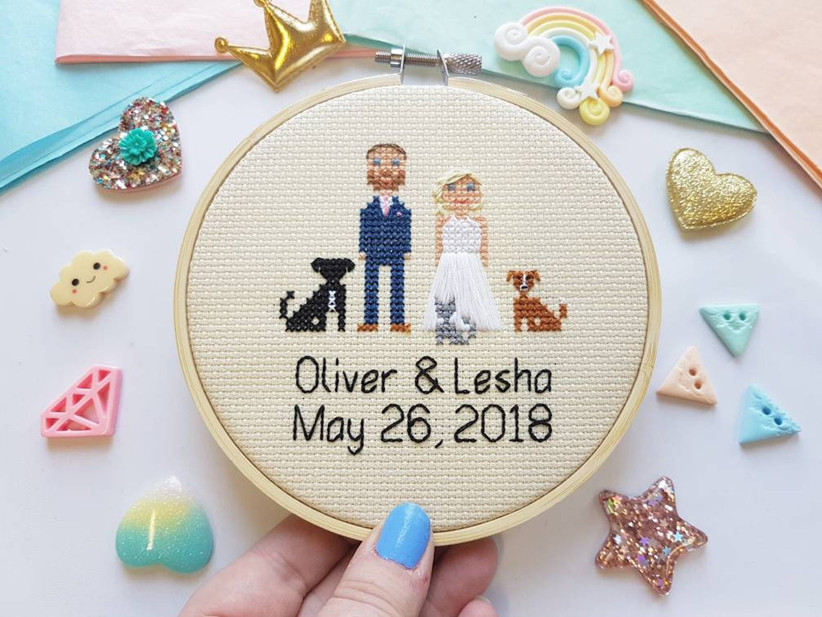 A lovely alternative to a straight up print or drawing, this little custom family portrait is hand stitched and created just for you to give to your parents. As the example shows, feel free to add any furry friends into the mix!
Personalised Throw Blanket - £29.50, With Congratulations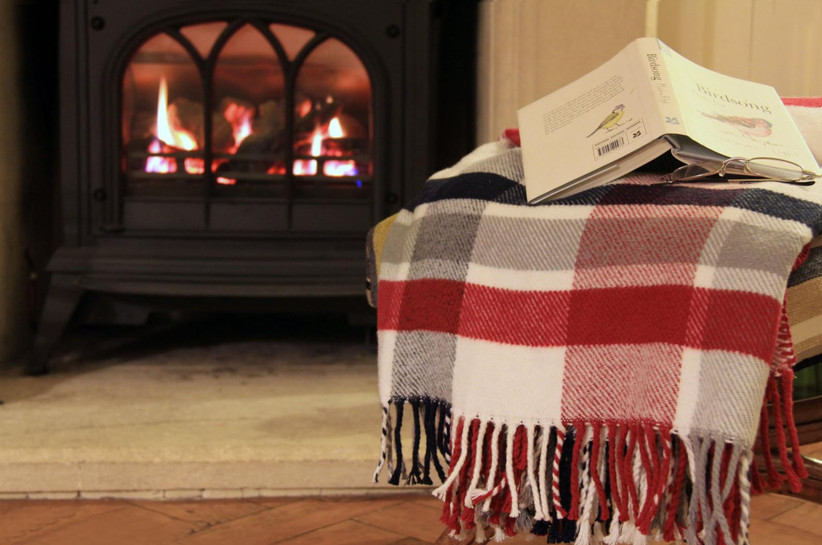 Want something a little more subtle and, well, cosier? Your parents are sure to love snuggling up under this chic blanket together and it comes in various styles so it can match their interiors. Personalise it with a special message for extra 'best child' points!
Personalised Padlock Wedding Anniversary Gift - £5.99, Padding Paws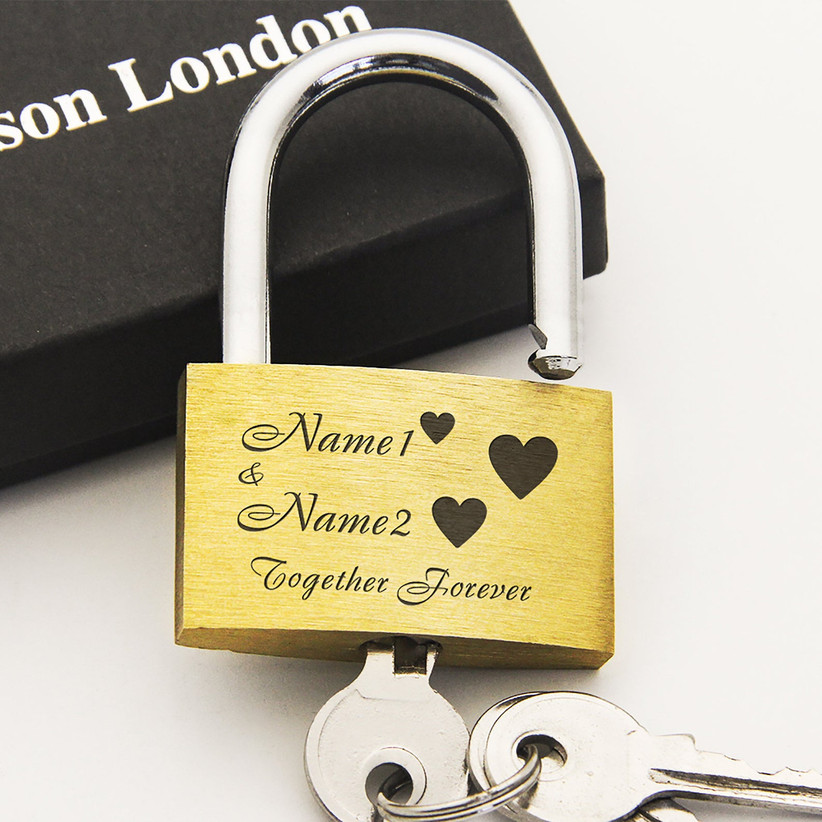 A lovely little extra gift, or a prime present if you're a little strapped for cash this year, this personalised padlock will be kept by your parents forever.
Personalised Adventure Map Print - from £32.99, Custom Family Gifts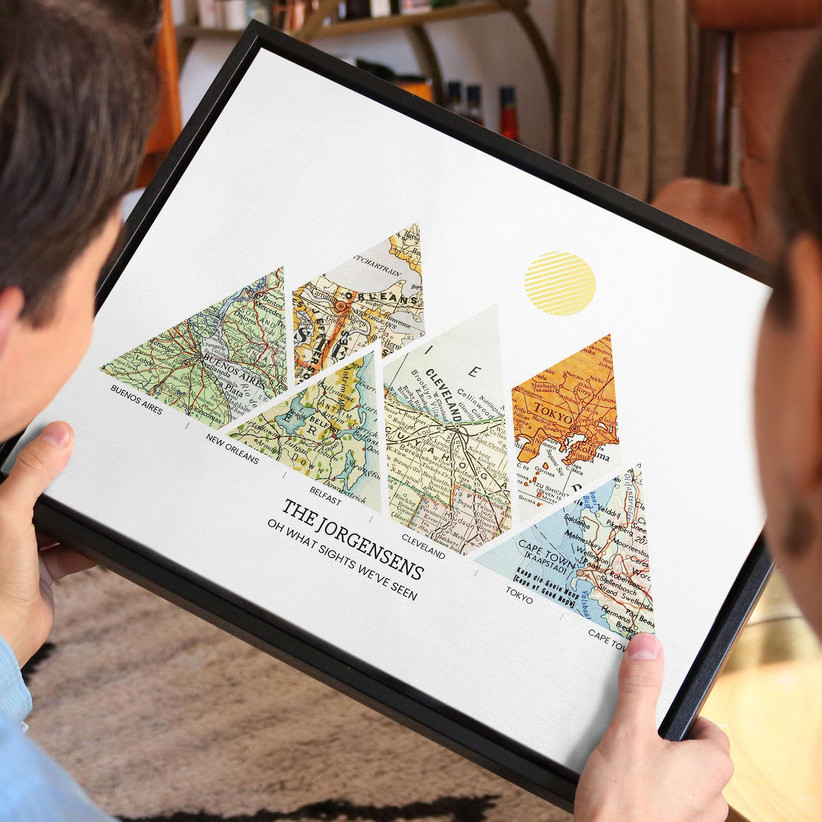 Do your parents love to travel and take special trips together? Honour their adventures by putting together a personalised travel map print such as this one. You can pick up to eight locations.
Personalised Cheese Board And Accessories - from £29.99, Personalised By Pic Art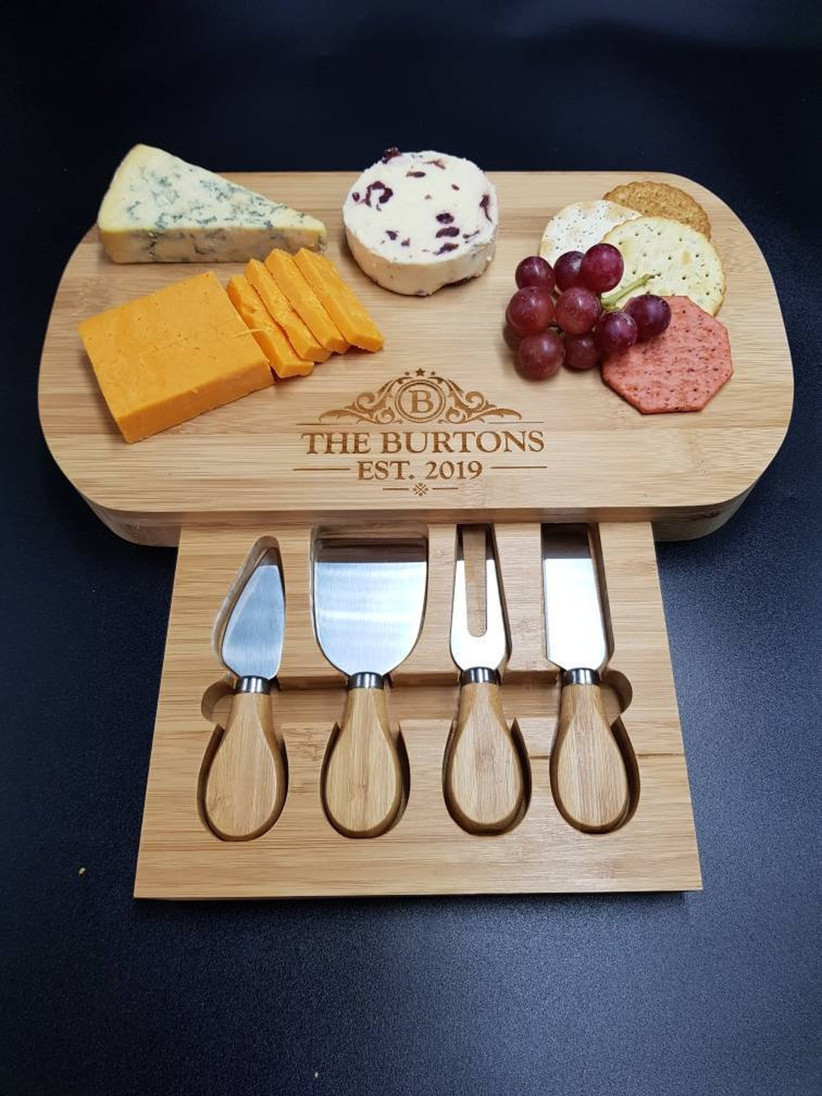 We all love a cheese and wine night here and there, and what better way to honour the tradition than with a personalised cheese board? It comes with knives and accessories too, for the full experience!
Couples Set of Two Aprons - £35, Peppermint Fizz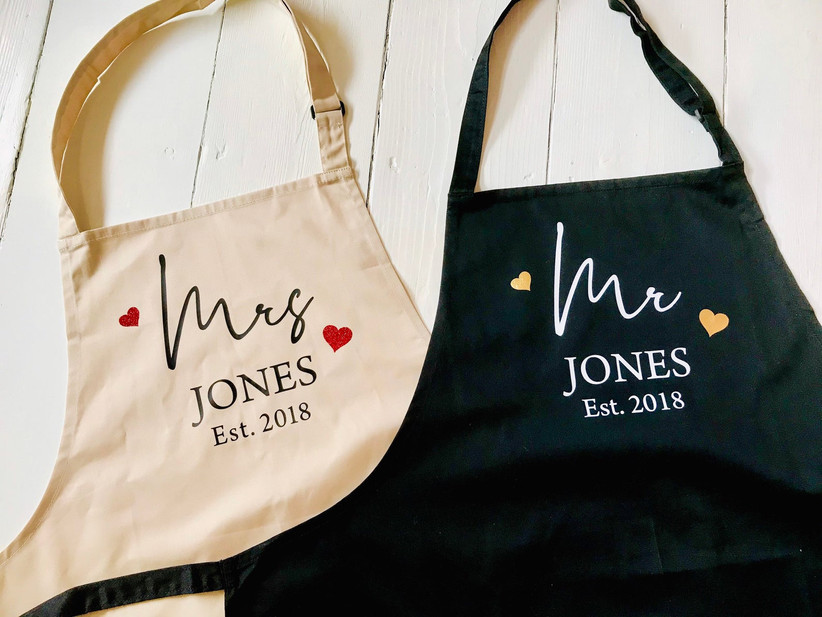 For the parents who love to cook or bake together, you can't get better than these couples aprons, which can be personalised with your parents' names and wedding year. Genius!
If you are looking for gifts for a special anniversary then don't miss our guides to golden wedding anniversary gifts, china wedding anniversary gifts and ruby wedding anniversary gifts.