21 of the Best Strapless Bras to Wear Under Your Wedding Dress
If you're going to wear a bra on your wedding day, a strapless style could be your best bet. Here are the best strapless bras which won't slip and slide as you walk down the aisle…
We have included third party products to help you navigate and enjoy life's biggest moments. Purchases made through links on this page may earn us a commission.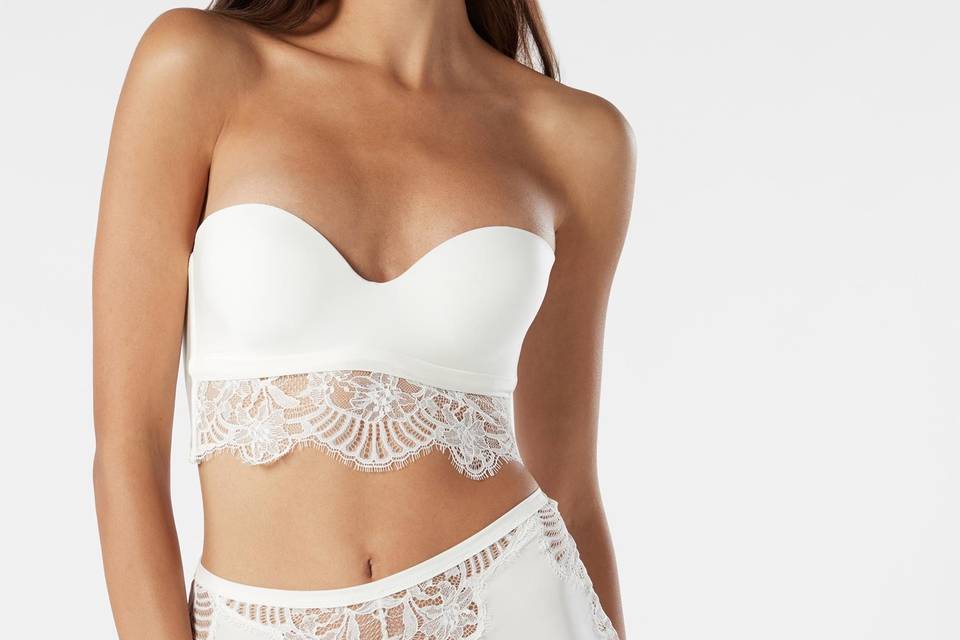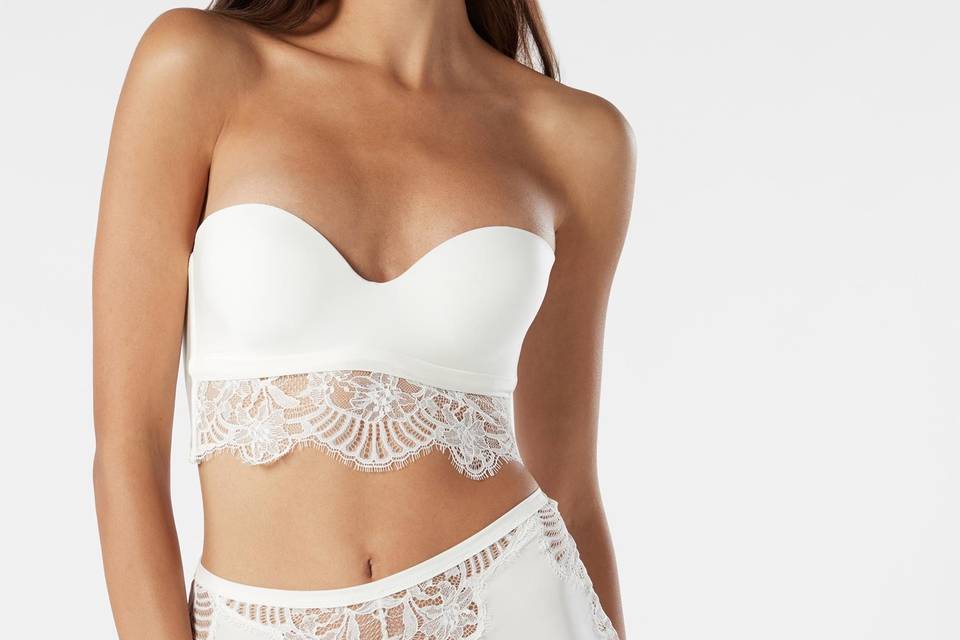 Deciding what bridal lingerie to don underneath your wedding dress can be tricky. You want something invisible, that you'll feel comfortable in and which won't need constant adjustment. It's also nice to wear something that'll look lovely when you take your dress off at the end of the day.
Lots of brides go bra-free on their big day as most dresses have in-built support, but for bigger-busted girls, that might not be comfortable. Equally, floaty, boho-style dresses often don't have the benefit of this. Luckily, strapless bras work well under most wedding dress styles. There are some real gems out there are *genuinely* comfortable and will stay up all day.
Yep, we know what you're thinking – every strapless bra you've tried up until now has fallen to your belly button after about two hours, so surely they're all the same? Luckily, you're mistaken.
Whether you want a convertible strapless bra, a backless bra or a bandeau bra, here are the best strapless bras of 2019 which are guaranteed to stay where they're told (plus our top tips for maximising their staying power).
READ MORE: The Best Bridal Lingerie 2019
The Best Strapless Bras
1. Simone Pérèle Eden Zen Strapless Plunge Bra – £72
Thanks to its plunge cut, this strapless bra by Simone Pérèle is the perfect choice for brides wearing a low-cut or sweetheart neck wedding dress. It'll stay in place all day long and won't be seen under your gown.
This strapless plunge bra (which comes with detachable straps and in three colours) is supported with underwire and an elasticated band. You'd never think something this pretty would be so practical.
2. Wonderbra Ultimate W00J5 Deep Plunge Low Cut Underwired Multiway Bra – £24.49
Finding a strapless bra which will work with a *super* low cut wedding dress can be tricky, but Wonderbra's Ultimate W00J5 Deep Plunge Bra is here to support you through your struggles (literally).
It has hundreds of five-star reviews, and it's easy to see why. The bra stays up even when you detach the straps, maintains the shape of your breasts and is super comfortable. What's more, it's available in black or nude and has silky detailing on the tops of the cups.
3. Victoria's Secret Logo Longline Bra – £55
If you're after something a little sexier, Victoria's Secret is the place to look. Their brand new (and incredibly pretty) Long Line Logo Bra is adorned with lace and has a sports-luxe logo band running around the chest.
The cups are underwired and totally supportive, and when you do choose to wear it with straps, the pretty bands which run over the top of your boobs will have you feeling your best. Also available in black and blue, this bra is a total wardrobe staple and perfect for your wedding day.
READ MORE: The Most Reliable Period Products for Your Wedding Day
4. Nubra Featherlite Adhesive Bra – £18.72
Nubra's Featherlite Adhesive Bra is (by far) the best strapless bra for backless dresses that we've come across. It might not be entirely practical for sizes above a D, but it can be worn up to 50 times with the same sticking power on every wear.
This strapless bra has two separate cups (with no band and no straps) which are lined with silicone to stick to your breasts. You can then pull the cups together to create as much cleavage as you want.
5. Fashion Forms Black 'Go Bare' Underwired Padded Backless Push-Up Bra – £28
Many women swear by Fashion Forms' Go Bare creation, a bra which is perfect for wearing underneath a strapless wedding dress. The underwired cups ensure comfortable support while giving a natural, sexy cleavage.
To ensure this bra stays put all night, remove the covering on the cups, bend over at the waist, align your breasts and firmly press the bra against your chest for five seconds. We promise it's going nowhere.
READ MORE: Our Favourite Off-the-Shoulder Wedding Dresses
6. Chantelle Irresistible Strapless Bra – £54
A must-have for every lingerie collection is the Chantelle Irresistible Strapless Bra – a design which both Selfridges and Harrods say is one of their bestselling. Not only does it provide comfort while enhancing your cleavage, but it's entirely invisible underneath most wedding dresses!
It's crafted from super soft fabric which feels lovely against your skin and comes with secure, convertible straps. Whether you're wearing an off-the-shoulder wedding dress or a halterneck wedding dress, this is the bra for you.
READ MORE: 16 of the Best Online Sex Toy Shops
7. Victoria's Secret Body by Victoria Strapless Bra – £35
If investing in something seamless and with guaranteed invisibility is your priority, look no further than this strapless bra by lingerie powerhouse Victoria's Secret. They've been our go-to lingerie brand for years, and for good reason.
This bra can be worn in five different ways making it ideal for wedding dresses with tricky necklines. It's lightly lined for shape, has underwired cups and four settings to ensure a perfect fit. Whether your dress is halterneck, cross-back, one-strap or strapless, this bra will stay put from aisle to dance floor.
8. Intimissimi Gioia Timeless Elegance Super Push-Up Bra – £45
Okay – this has got to be the most wedding-appropriate strapless bra we've ever seen. How gorgeous is that eyelash lace detailing?
Available in ivory and red (hello, honeymoon), this super-padded bandeau bra is styled with cotton cup linings and detachable shoulder straps. It also has graduated padding, perfect for anyone looking to enhance their décolletage. But don't worry – the push-up padding doesn't make the bra any less comfortable or supportive. It'll stay put until the moment you get back to your bridal suite.
9. Ahh by Rhona Shear Women's Angel Seamless Underwire Bandeau Bra – £19.05
There are times when you need a strapless bra quickly (read: when you realise you have no underwear the day before a dress fitting). Luckily, there's Amazon for said occasions, which stocks the raved-about Shear Women's Angel bra by Rhona.
Minimalist brides will love it. The bandeau style means it's not only super comfy but poses almost no risk of bunching up or falling down. Of course, it can't be worn with plunging necklines and it doesn't give a whole lot of lift, but the stretchy fabric does make it suitable for pretty much every cup size. It comes in nine colours, too.
READ MORE: Lovehoney Reveal Their 20 Most Popular Sex Toys for Couples
10. Warner's This is Not a Bra Convertible Strapless Bra – from £22.91
Coming in as one of the best strapless bras when it comes to support, the convertible strapless bra by Warner's is an affordable, comfortable choice.
Some Amazon reviewers have complained it's too tight, so we'd recommend sizing up on the chest measurement, but the wide band and underwiring more than make up for it. You won't get any slippage on your wedding day if this is your bra of choice.
11. Marks and Spencer Stick-On Padded Plunge Strapless Bra – £28
We don't anticipate that there'll ever be a day when Marks and Spencer isn't our go-to for underwear. There's just something about their styles which make them the best ever.
This discreet and supportive bra is certainly no exception. It'll provide invisible hold, and the moulded cups result in a smooth shape even under silky styles.
READ MORE: How to Choose a Wedding Dress
12. Marks and Spencer Multi-Way Bra – £22.50
Have you fallen in love with a unique wedding dress that has tricky straps or an unusual neckline? Fear not! This innovative multi-way bra can be worn in a variety of ways.
Whether you want to wear it totally strapless or with the magic multi-position tape, you'll be totally covered. Pick up the matching briefs while you're at it.
13. Marks and Spencer Lace Bandeau Strapless Bra – £12.50
Up next is another bandeau strapless bra which will enable you to wear your beautiful strapless wedding dress with confidence.
Not only will it stay in place all day thanks to its stretch fabric, but it looks super pretty too! How cute is that lace applique? The perfect feminine touch.
14. Wonderbra Women's Refined Glamour Ultimate Lace Strapless Bra – £29.95
We've got to admit, it was the beautiful lace detailing which attracted us to the Wonderbra Refined Glamour Lace Strapless Bra. It's just a bonus that it's so supportive!
Thanks to its moulded cups and silicone banding, this sexy and feminine bra offers unmatched all-day support which won't even be compromised when you're on the dance floor. This bra would work wonderfully with a strapless or off-the-shoulder wedding dress, and it is available in both nude and black.
READ MORE: Our Favourite Off-the-Shoulder Wedding Dresses
15. Primadonna Twist I Do Bra – £100
This bra might be £100 (ouch), but at Rigby & Peller you pay for the experience. Their boutiques are old school and luxurious – the team can even measure your bra size by sight!
If endless nude and ivory tones are making you yawn, opting for pastel lingerie is a lovely idea. Aptly named the "I Do", it's finished with sophisticated embroidery (that doesn't leave lines through your clothes) and creates the perfect lift. It'd work perfectly as your "something blue".
16. Calvin Klein Women's Push Up Bra – from £41.95
As one of the best strapless bras for brides with smaller boobs, the Naked Glamour Bra by Calvin Klein creates cleavage without looking like you've stuffed your cups with scrunched-up tissue paper. Hallelujah.
The ultra-smooth fabric feels soft on your skin and ensures no lines will be visible through your wedding dress. There's also grippy rubber piping around the cups which ensures the bra isn't going anywhere.
17. Wacoal Red Carpet Convertible Strapless Bra – £58.61
Say hello to the Red Carpet Convertible Bra by Wacoal – a slightly pricier choice but one which will last you for years.
We love that with every size increase, minor adjustments are made to the style, like wider straps or additional hooks. This makes it perfect for brides with larger breasts, and the straps mean it's great for day-to-day wear well beyond your wedding.
READ MORE: The Best Romance Books to Read Before Your Wedding
18. Wacoal Halo Lace Moulded Strapless Bra in Nude – £35
Pretty yet reliable, this strapless bra is lightly moulded to give your breasts a natural shape.
It's underwired to lift your boobs, features all-over lace detailing and is designed with a multiway strap for maximum versatility. Whatever your wedding dress style, we can guarantee you'll find this bra comfortable.
19. Le Mystere Sculptural Strapless Bra – from £61.26
This strapless bra sticks a middle finger up at gravity by lifting your boobs comfortably. It comes with removable straps, a thick band and it can be delivered at short notice thanks to Amazon.
A silicone lining on the top and bottom rims of the cups ensure the bra doesn't slip (at all). What's more, the sleek, microfibre finish makes it invisible through any dress.
20. Victoria's Secret Push-Up Strapless Bra – £45
This chic and stylish strapless bra promises to stay up all day and night, thanks to its non-slip straps and smoothing bands.
If you're hoping to up your cup size slightly, this bra is perfect, as it has push-up padding inside the cups. And at £45, it won't break the bank. We'll have one in every colour, please.
READ MORE: 15 Last Minute Tasks to do the Week Before Your Wedding
21. Curvy Kate Luxe Ivory Strapless Bra – £34
Perfect for brides with bigger busts, this bra from Curvy Kate is available in band sizes 28 to 40 and cups from D-J. You're sure to find the perfect fit.
The underwire will keep your supported while the foam-lined cups (a genius feature) prevent any nipping, even in a white wedding dress. There are also four hook and eye fastenings on the band meaning you can fasten it as tightly as you need. Just make sure you can still breathe…
How to Keep a Strapless Bra in Place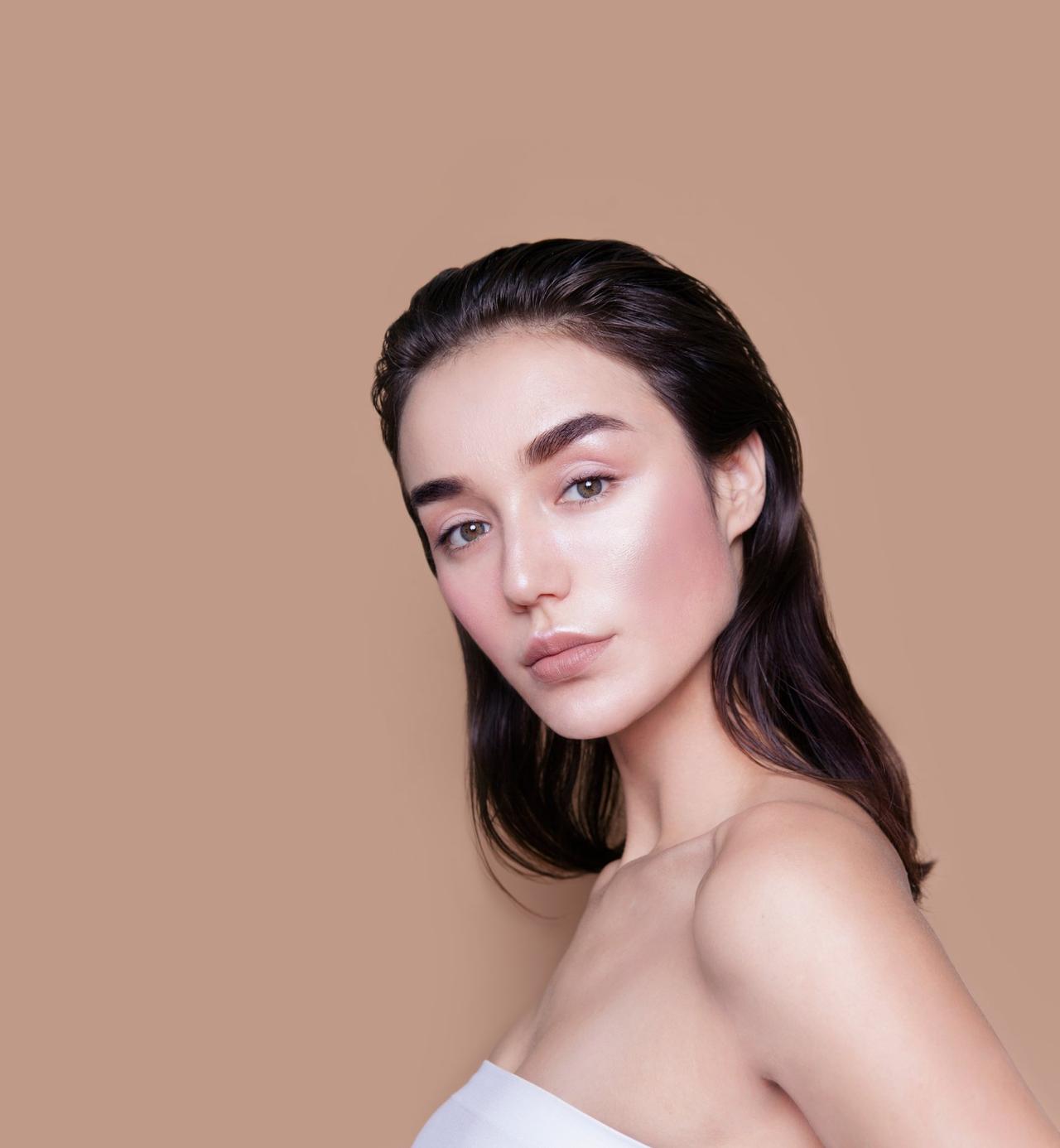 If you choose one of our best strapless bras of 2019, it shouldn't slip a centimetre. That said, there are a few things you can do to further prevent your strapless bra from falling. Take a look…
1. Go for a Bra Fitting
According to research, 80% of people in the UK wear the wrong bra size. Shocking, isn't it?
Every bra looks better when it has been properly fitted to your body and shape, so don't let numbers scare you. Pay a visit to a department store or lingerie boutique and get your bra fitted to the right size. This will avoid gaping, slipping and bulging – and things will look a whole lot smoother.
2. Wear Something Snug
You need to make sure you opt for a bra with a band that is nice and snug – perhaps a little more snug than you'd usually go for.
Normal bras have straps and a band to provide support, but with strapless bras, the band is the only thing at work.
You shouldn't be able to fit more than one or two fingers underneath the band – just make sure it's not so snug that the bra cuts off your circulation.
3. Consider a Longline Style
If you want to increase support even further, longline styles are great.
They have a bodice which will help support your bust, where the band extends right down to your waist for maximum lift and hold.
4. Steer Away from the Moisturiser
We know you want your skin to feel soft and moisturised all over on your big day, but you should avoid applying lotions and potions around your bra band.
They'll work against the band (particularly those made from silicone) causing it to slip. Don't say we didn't warn you!
READ MORE: The Ultimate Bridal Beauty Countdown
5. Take Good Care of It!
A good quality strapless bra is always worth the investment, but it's up to you to take good care of it.
It's a good idea to hand wash underwired bras, or when time is not on your side, wash them on a cool wash in a lingerie bag like this one.
To dry, leave them with the cups pointing upwards and smooth out any dents to ensure the bra retains its original shape.
READ MORE: Beautiful Bridal Clutch Bags for Brides with Serious Style
If you're investing in your strapless bra before you try on wedding dresses, you might want to check out our round-up of the 43 most common mistakes brides make when choosing their wedding gown. Don't say we didn't warn you…