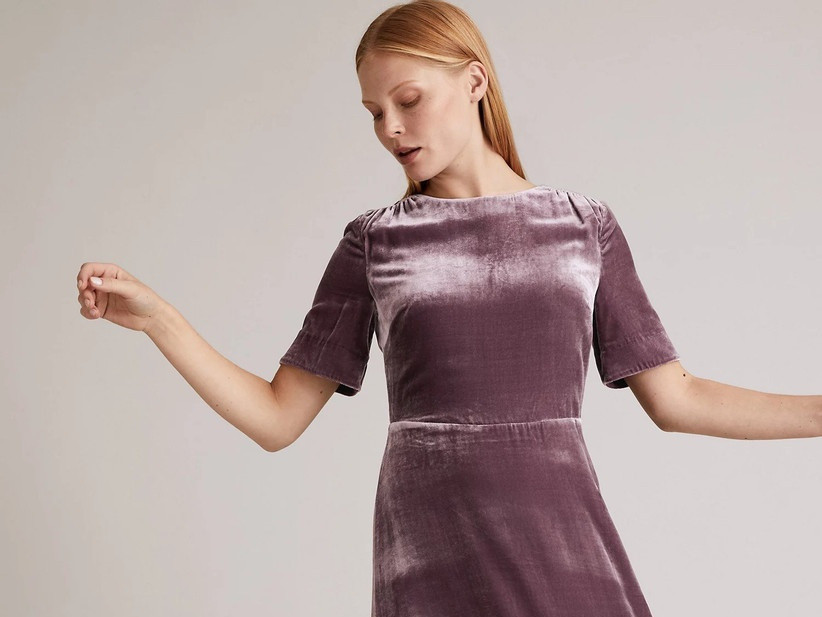 If you're getting married in one of the chillier seasons, your bride tribe is in luck: autumn and winter are great times of year for bridesmaid dresses.
Fashion changes as nights grow darker and the temperature drops. We start to see richer shades - think glorious tones such as emerald green and burgundy. If your girls favour flatter-all black, autumn and winter are also the right seasons for rocking that hue, which can look a bit harsh for spring and summer bridesmaid dresses. And you may want to consider including some sparkle - after all, it is party season!
As well as colour updates, we get more opulent, strokeable fabrics, from rich velvet to sumptuous silk. All these seasonal fashion transitions add up to some seriously gorgeous autumn and winter bridesmaid dresses.
To help you and team bride with the search, we've curated an edit of the best bridesmaid gowns to suit these seasons. From long-sleeved autumn looks to winter florals, there's something here for everyone - in fact, these dresses are so covetable we bet your girls will wear them again and again after the wedding.
NB: We have included third party products to help you navigate and enjoy life's biggest moments. Purchases made through links on this page may earn us a commission.
1. Ruched Slinky Dress - £46, Lipsy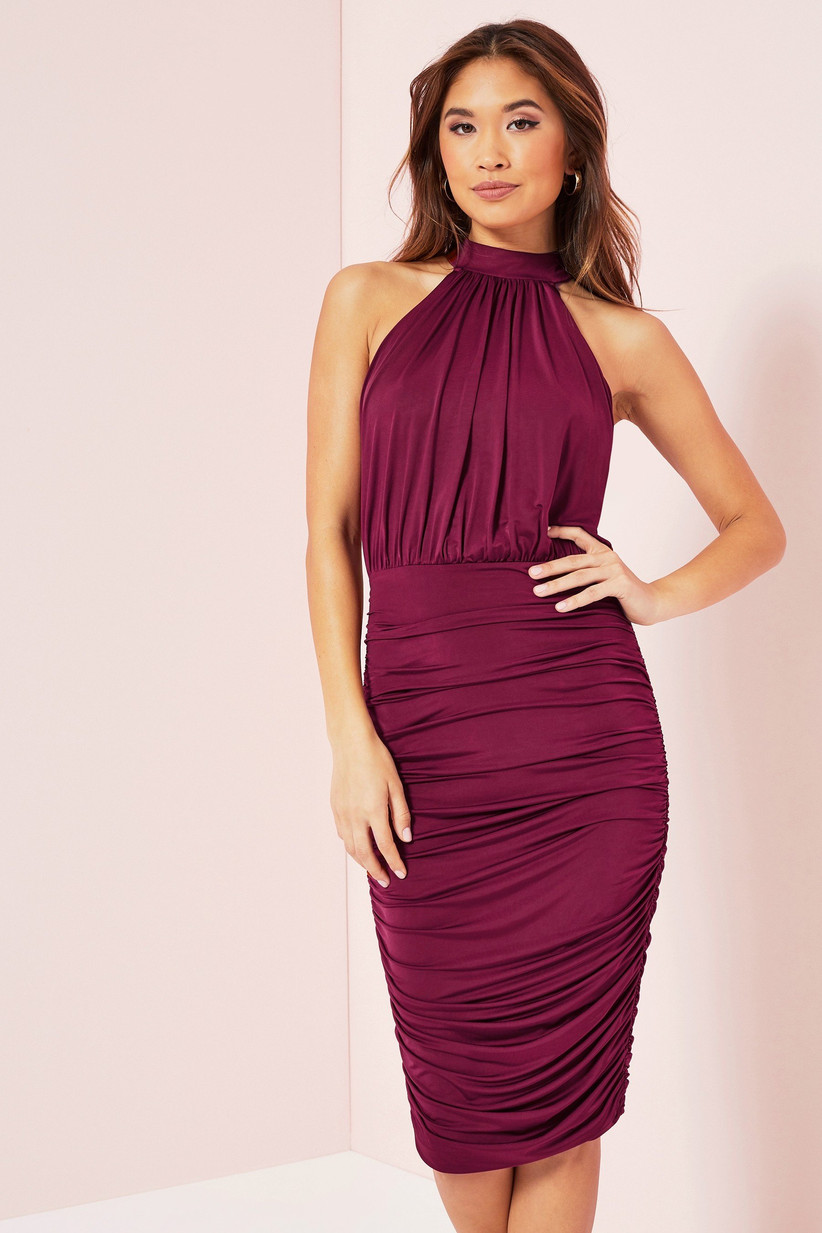 Your bridesmaids are definitely going to need a cover-up for any outdoor photos, but we couldn't resist the draping on this Lipsy dress. The rich mulberry colour is perfect for both autumn and winter.
2. Rochelle Vintage Floral Print Midi - £145, Kitri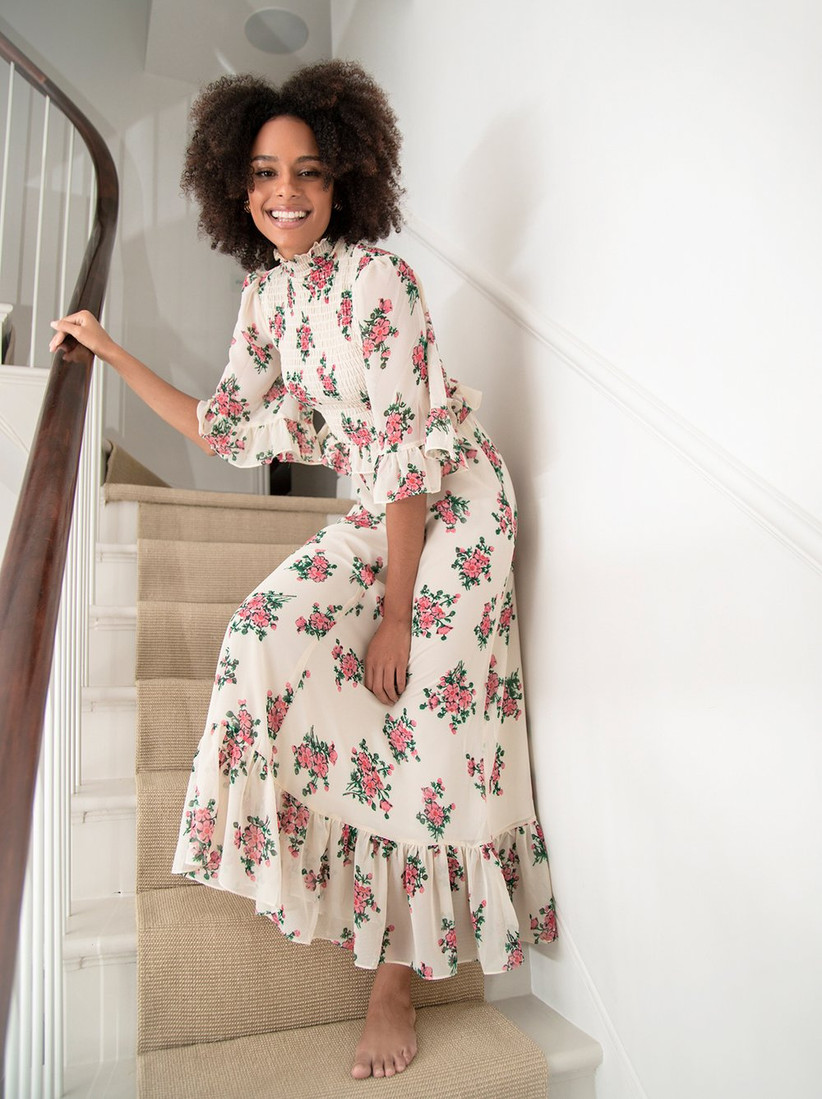 Winter florals usually come in darker hues, but we think this pink-and-white midi will work perfectly on even the gloomiest of days, bringing a note of freshness. The high neck feels season-appropriate, while ruffles add an extra shot of prettiness.
3. Millington Top & Barney Skirt - £160 & £150, Halfpenny London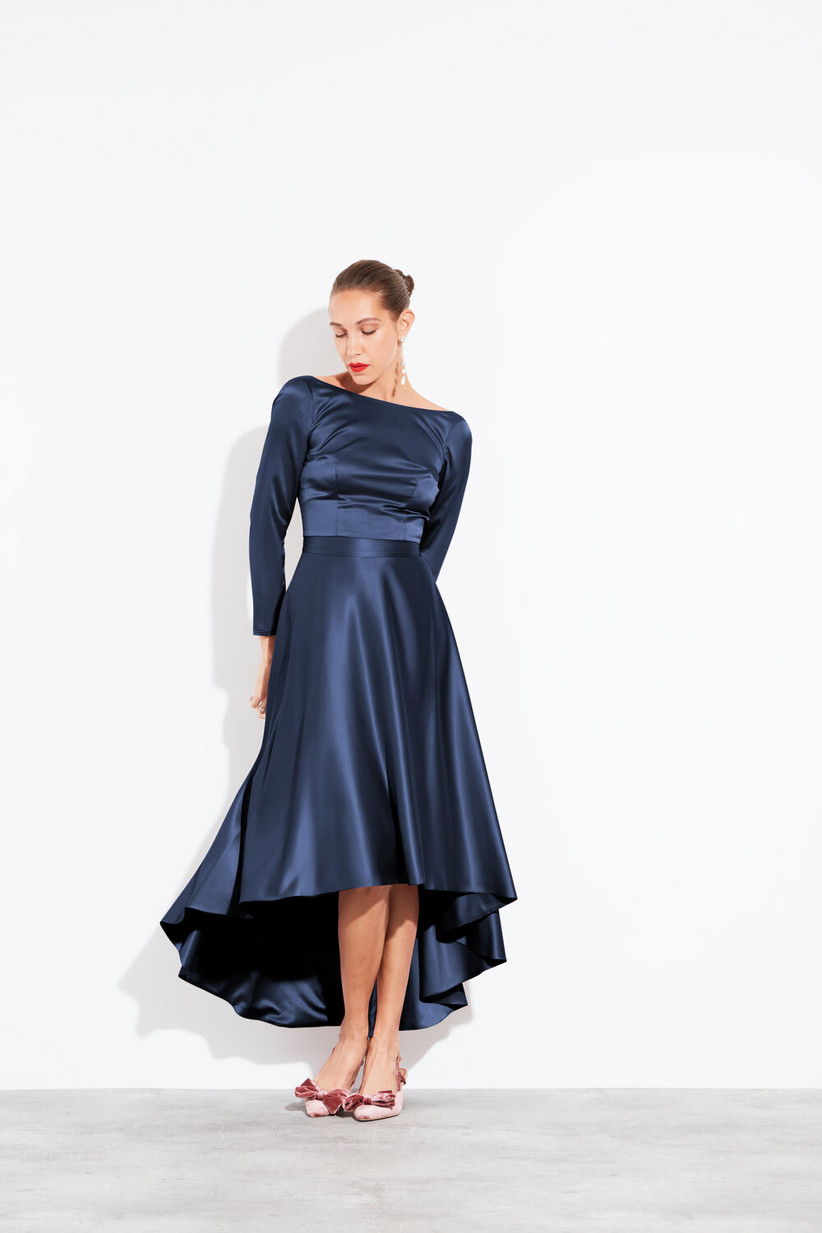 One of the things we love about autumn and winter bridesmaid dresses is the fact that lower temperatures mean more luxurious fabrics. Just take this Halfpenny London two-piece, crafted from a strokeable, silky material that might be too much in summer but works beautifully at the chillier time of year.
4. Knit Dress With Velvet Bow - £29.99, Zara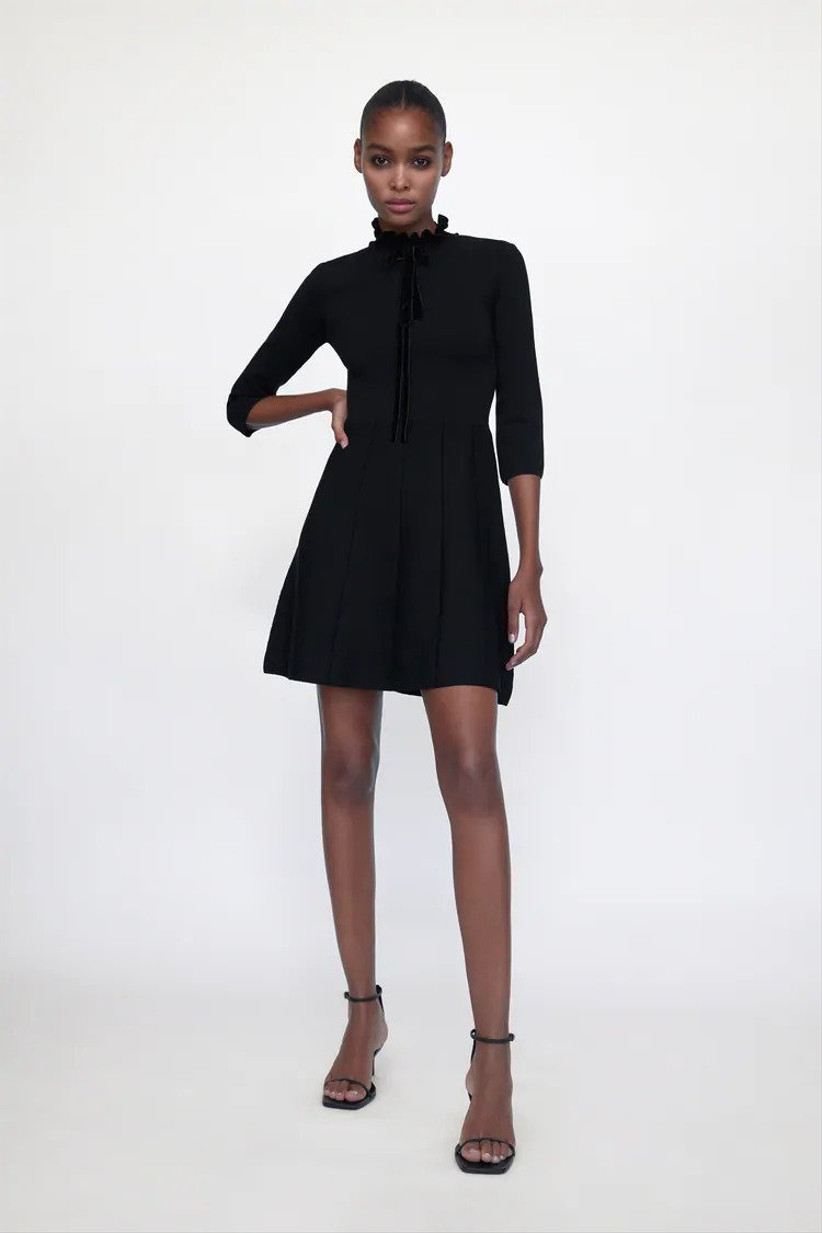 Knit dresses are huge news for autumn/winter 2020 - but it's not a trend that works easily for bridesmaids, as many styles have a casual daywear feel. Not so Zara's knitted mini, which is very much a special-occasion dress, finished with a chic velvet bow at the neck.
READ MORE: The 10 Biggest Bridesmaid Dress Trends for 2021
5. Maxi Dress With Embellished Neckline - £50, ASOS Design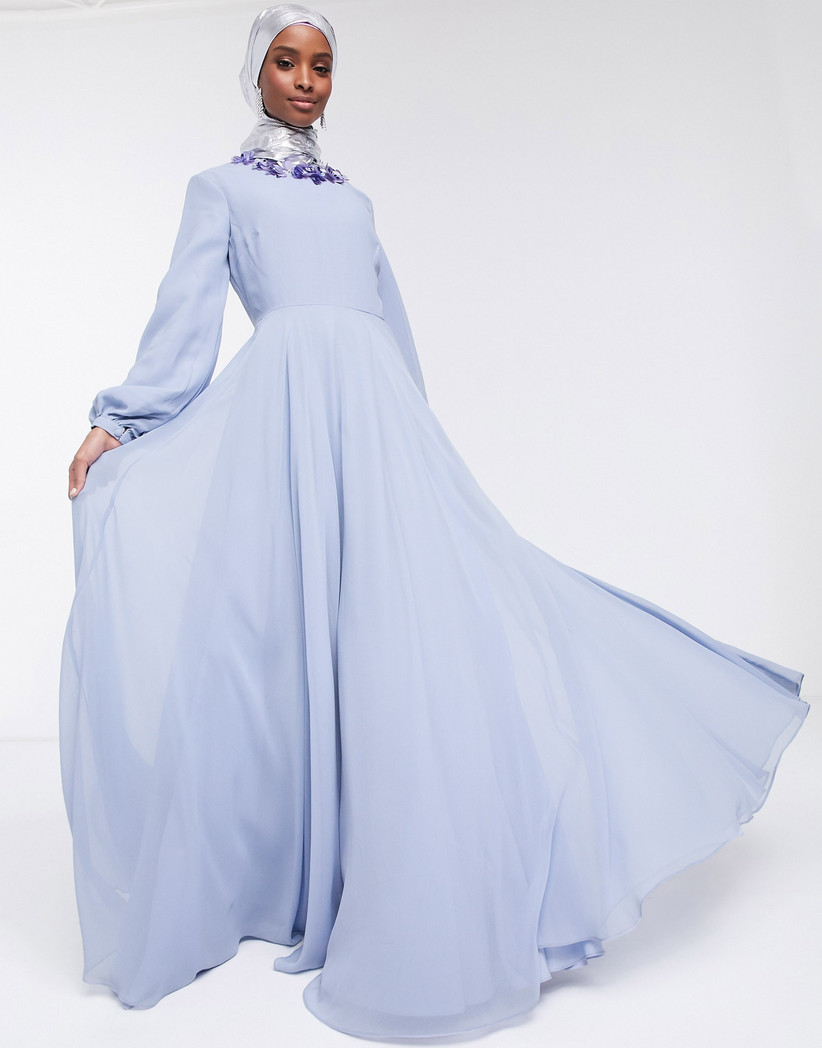 An icy blue is such a lovely shade for a winter bridesmaid dress, and while we're not saying the long sleeves on this chiffon dress will keep your bridesmaids toasty warm, they should be enough to stave out goosebumps.
6. Red Floral Frill Neck Tiered Midi Dress - £27.99, New Look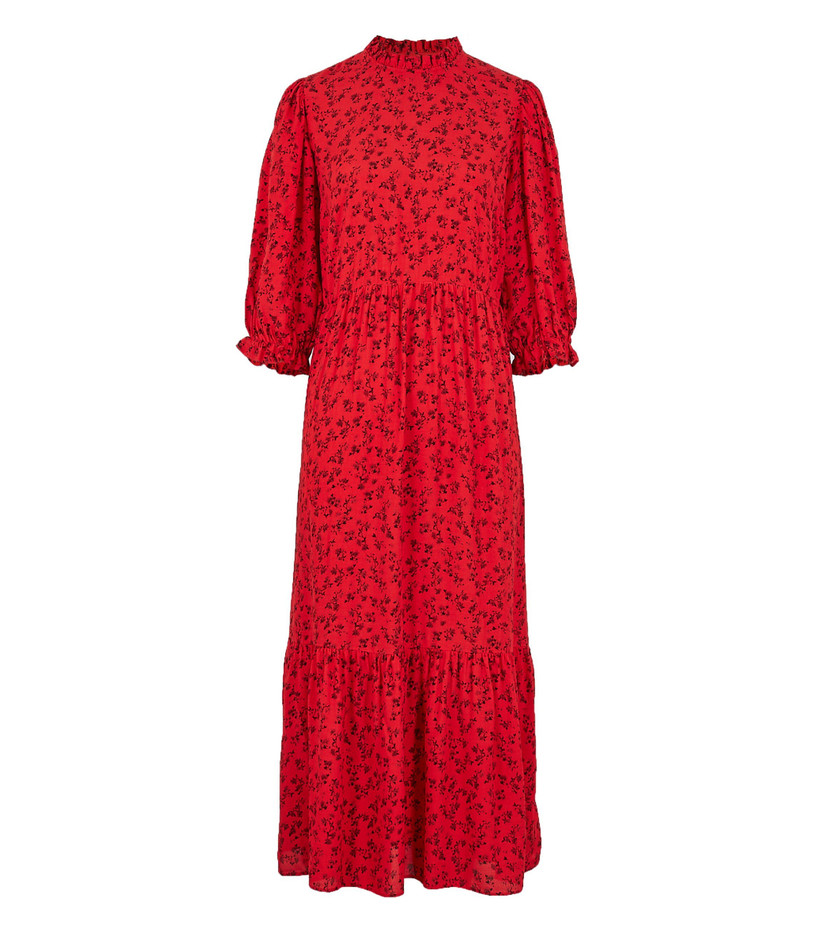 Of course, if pastels aren't your thing, autumn and winter are the perfect times to embrace rich colours. However, not every bridesmaid will feel comfortable in a notice-me shade - if that's the case for you, look for a patterned style, as this makes for a softer look. This dress from New Look is a shining example. The shade is the most joyous of reds, but the black floral tones it down.
7. Sequin Dress - £78, SilkFred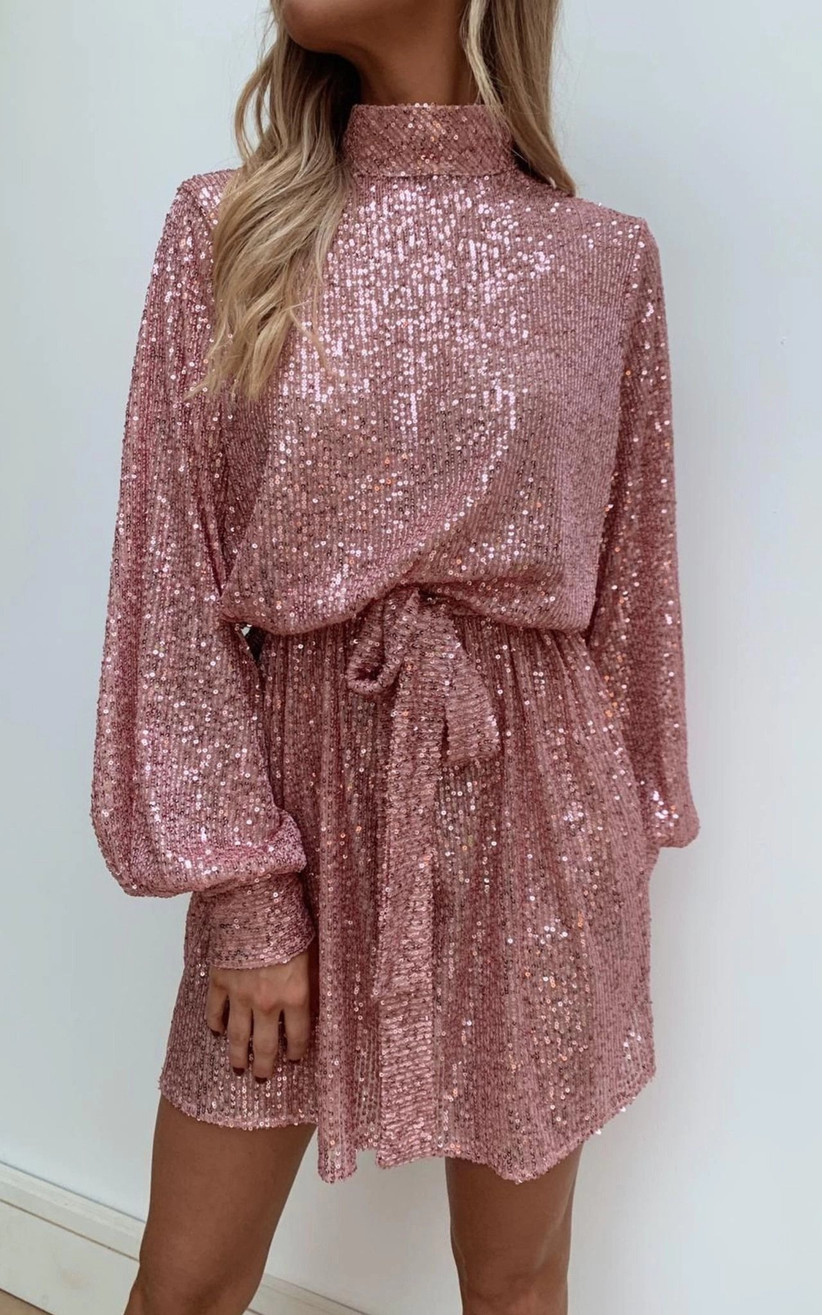 The weather may be cold, but winter is still a season of celebration - which means this sequin dress would be a fabulous, season-appropriate choice for your bridesmaids.
8. Vienna Bridesmaid Dress - £155, Rewritten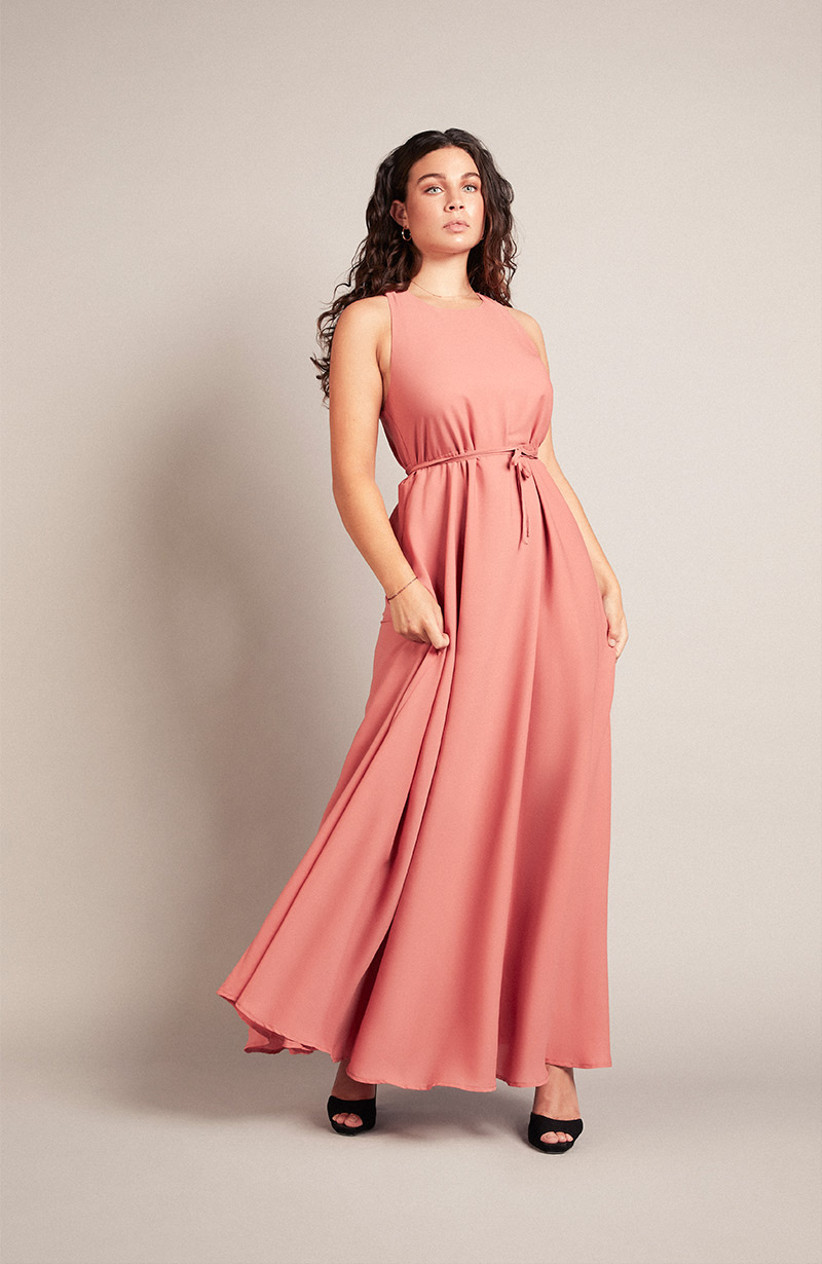 Coral is one of our favourite suit-anyone shades for autumn bridesmaid dresses. It's easier to wear than, say, burnt orange, but brings a note of warmth. The clean lines of Rewritten's Vienna dress mean it would be simple to style with a cover-up.
READ MORE: How Many Bridesmaids Should You Have?
9. Charissa Dress - £80, Chi Chi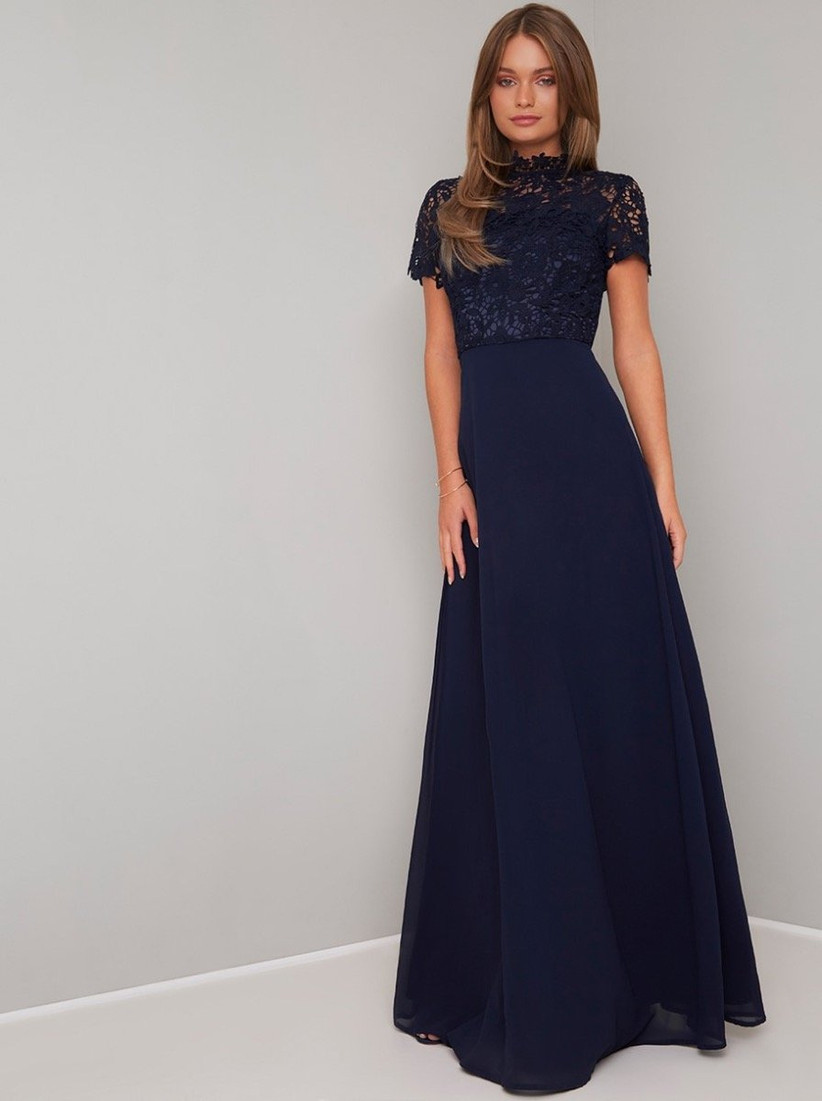 Navy works for any season, but it can feel a little heavy as a block colour. This gorgeous Chi Chi gown gets round that, however, by having a floral crochet bodice, with delicate petals spilling onto the neck, which makes for an autumn or winter bridesmaid look that's both sophisticated and pretty.
10. Midi Dress With Voluminous Sleeves - £49.99, Zara
There are several reasons for choosing white bridesmaid dresses - and this Zara midi is one of them. Because it's so pared-back, the dress can easily be styled to suit each bridesmaid's individual aesthetic.
11. Fleur Elise Mini Dress - £370, Needle & Thread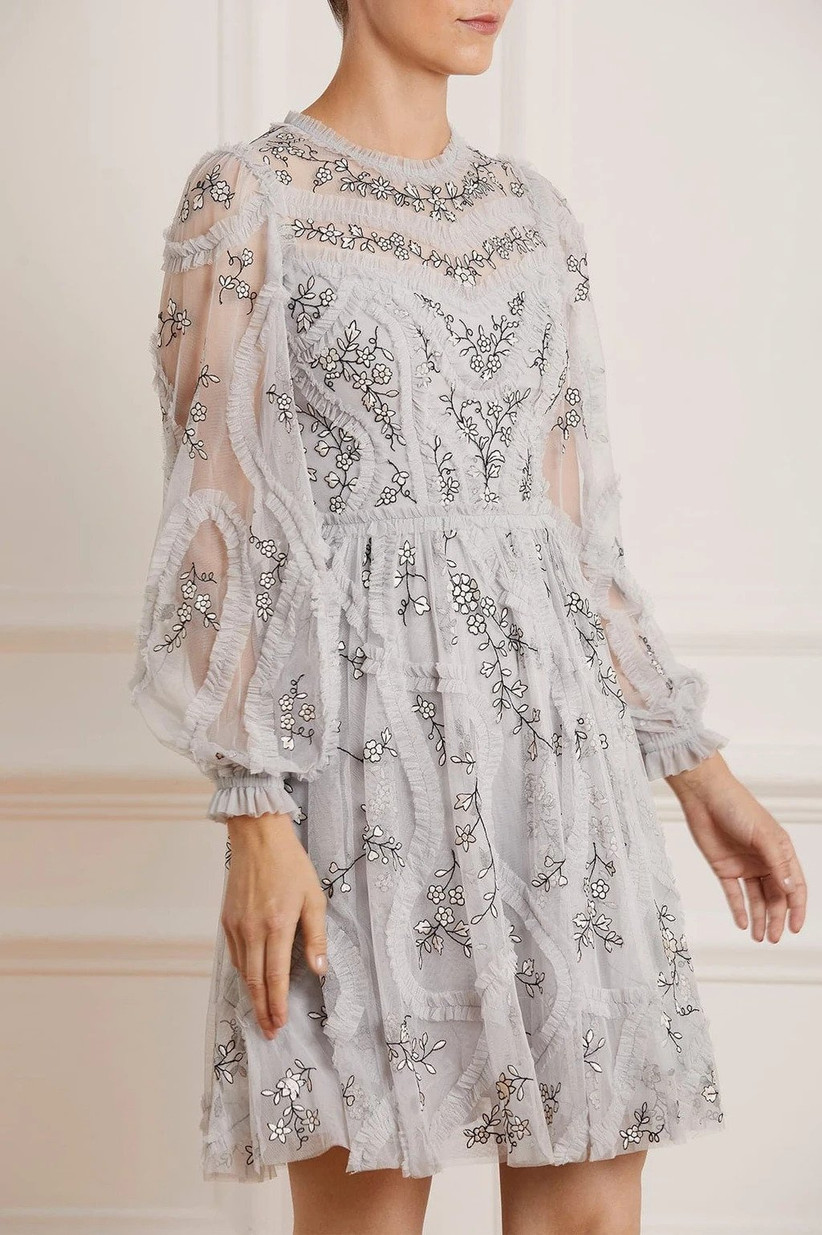 We know, we know, this Needle & Thread mini is most definitely on the spendy side. But we just had to show it to you - the way that crisp white floral embroidery contrasts with the tulle ruffles is bewitchingly pretty.
12. Quickstep Maxi Dress - £89, Sister Jane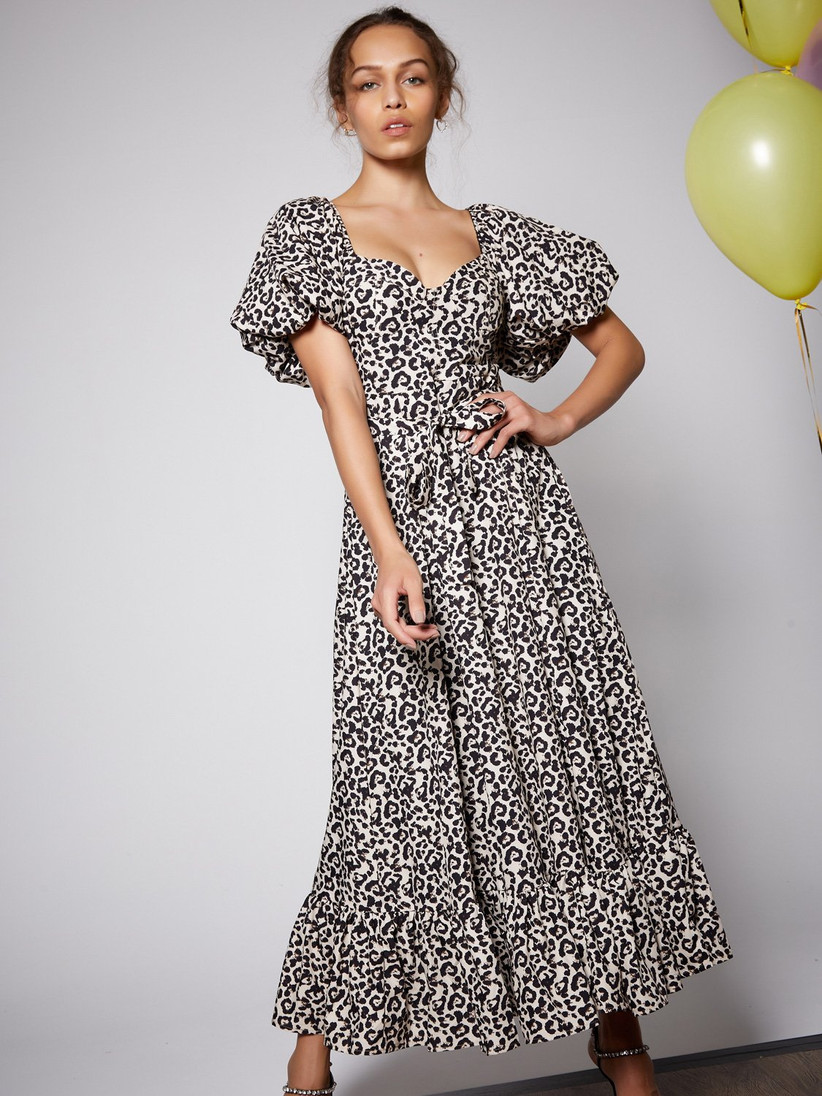 What's so clever about this Sister Jane gown is that it combines a classic bridesmaid silhouette - maxi length, puff sleeves, sweetheart neckline - with leopard print, which isn't usually associated with weddings. It's the cool-girl way to style a bridal party at an autumn or winter wedding.
READ MORE: 35 Unique Bridesmaid Dresses Your Girls Will Want to Wear Again
13. Velvet Midi Waisted Dress With Silk - £99, Marks & Spencer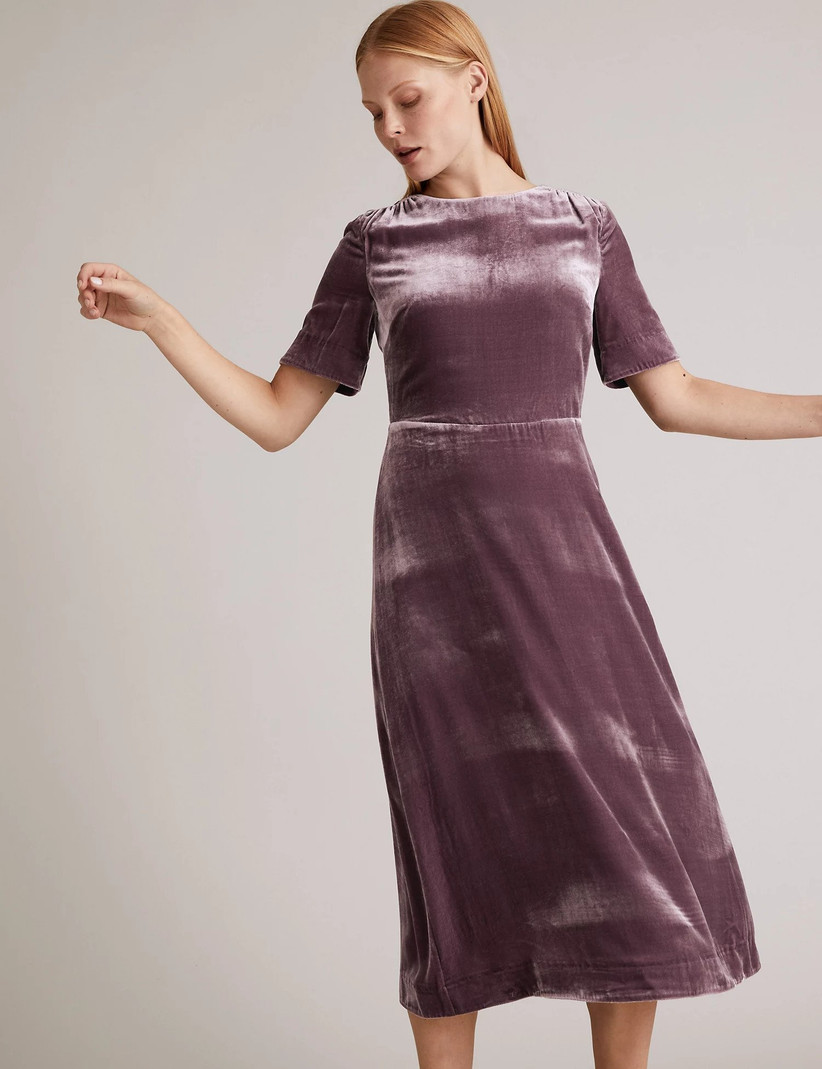 Velvet is the perfect fabric for autumn and winter bridesmaid dresses, and this Marks & Spencer midi has had silk added to it, for a particularly luscious finish. The pared-back style can easily be brought to life through accessories, although minimalists may want to add nothing but some pared-back shoes.
14. Rose Sequin Maxi Dress - £140, Monsoon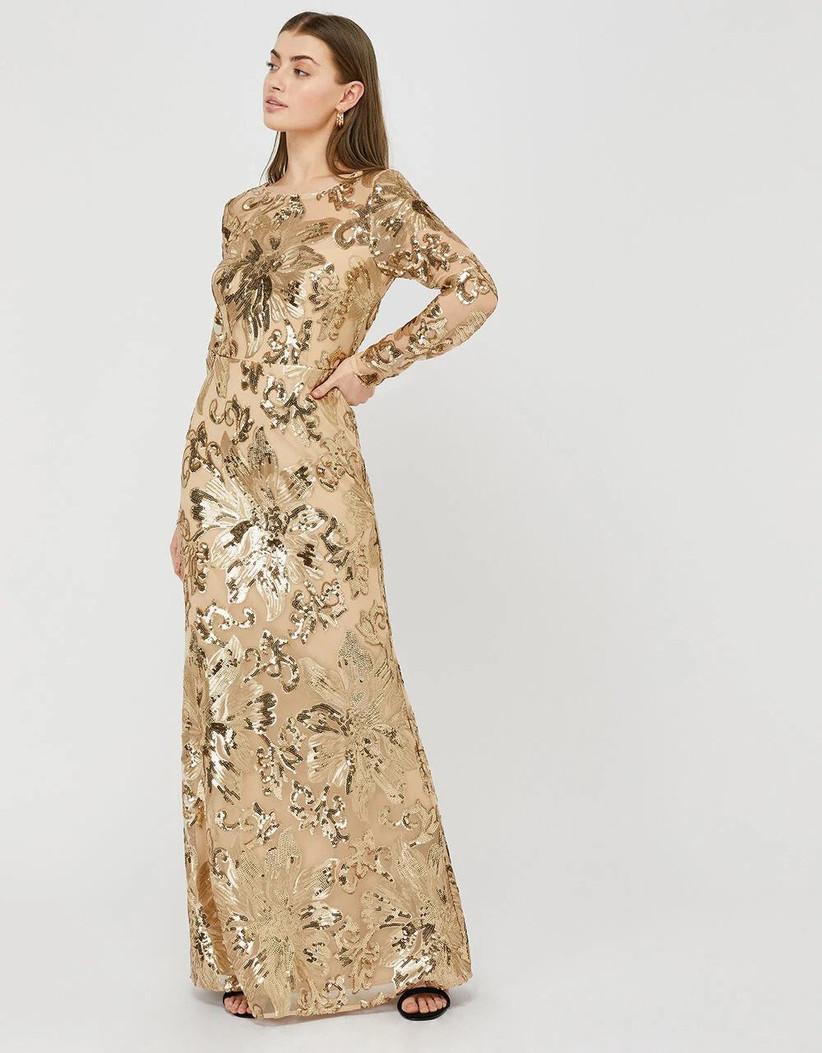 It doesn't get much more show-stopping than a gold maxi - so if your bridesmaid-outfit moodboard is all about glamour, this Monsoon gown could be the one.
15. Kaylie Dress - £80, Chi Chi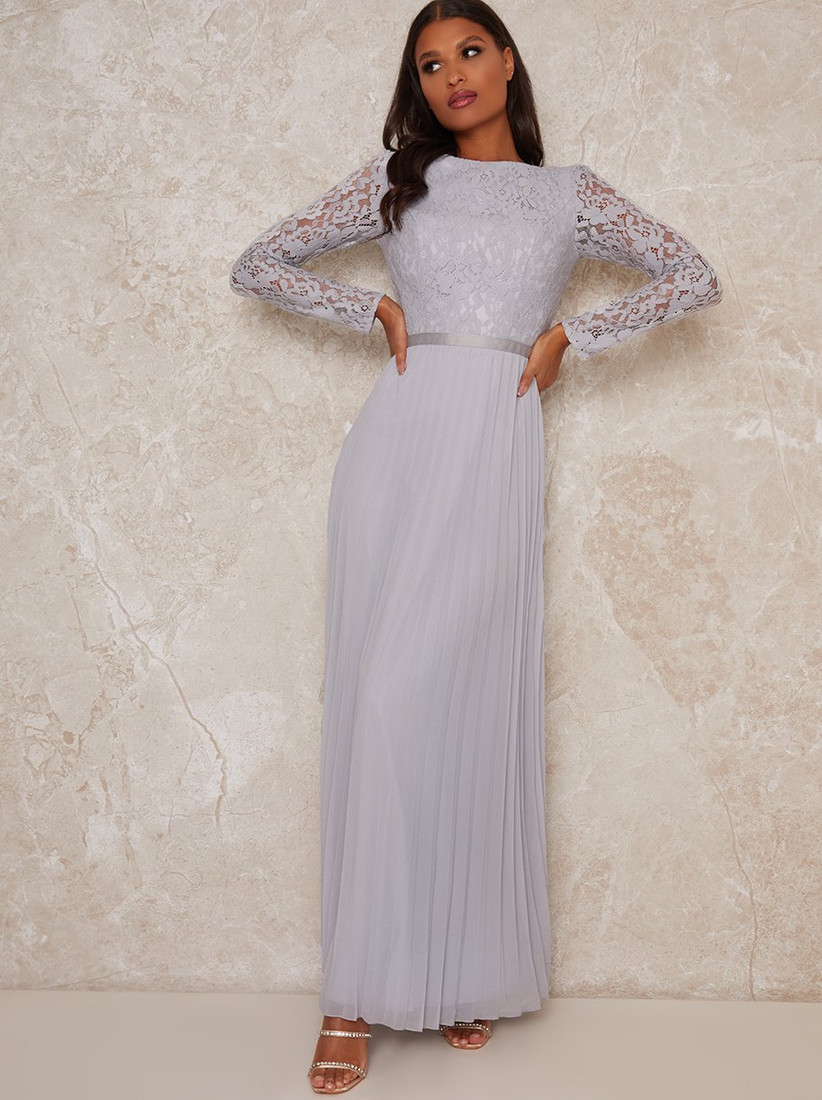 We love a lace maxi bridesmaid dress, and Chi Chi London's Kaylie is a particularly pretty example. That ice-blue hue is just made for a winter wedding.
16. Chiffon Dress - £49.99, H&M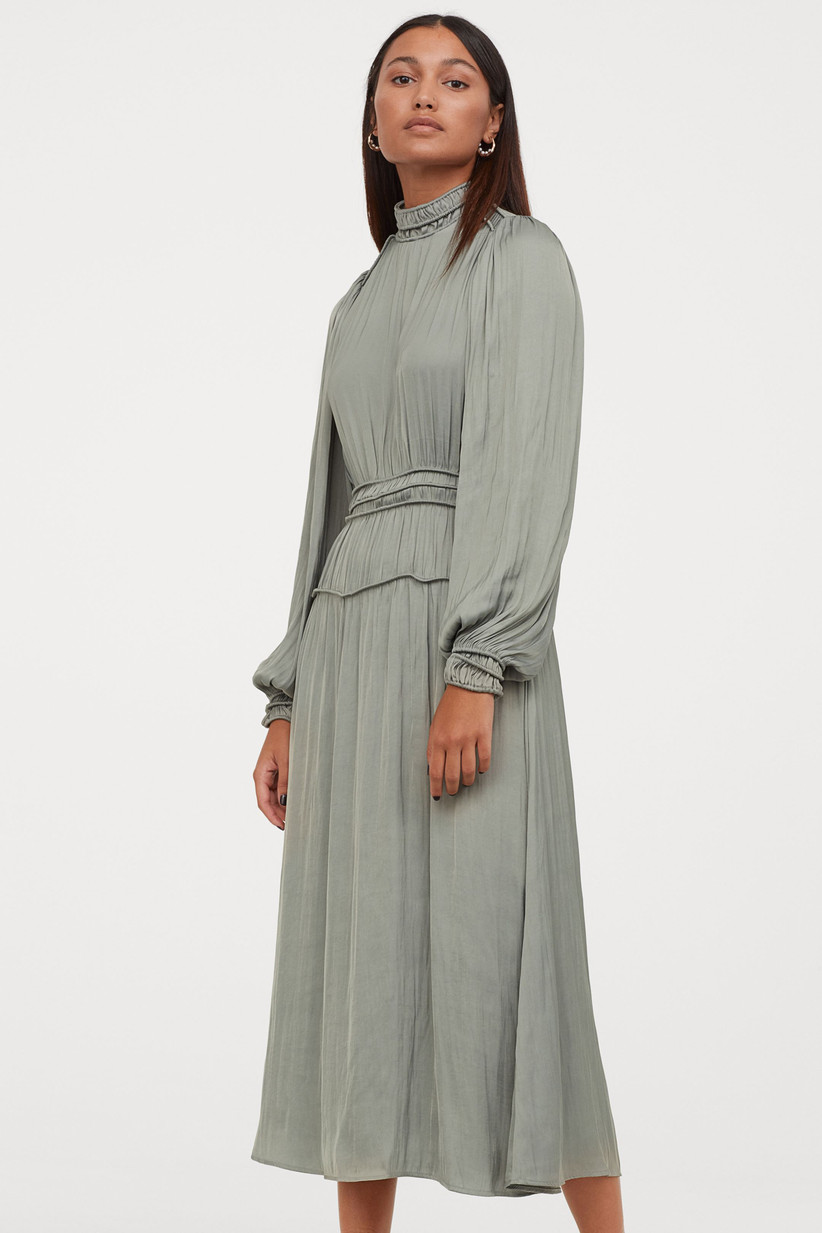 This H&M dress is so elegant - it's made for sipping mulled wine by a roaring fire or drinking champagne while watching fireworks light up the night. If you know your bridesmaids prefer a refined style, send them this.
READ MORE: 36 Winter Wedding Venue to Say 'I Do'
17. Lace Strapless Maxi Gown - £68, SilkFred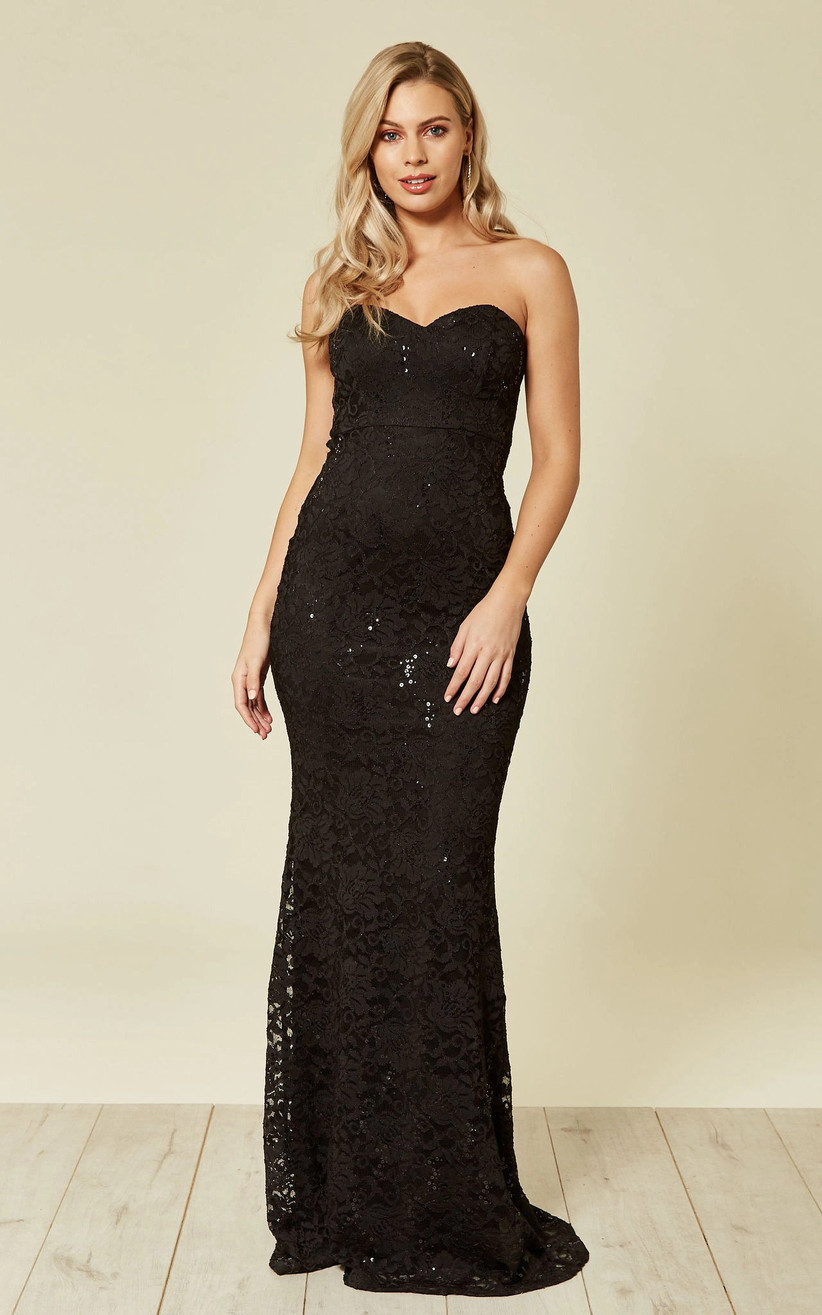 Black is such a sophisticated colour for bridesmaid dresses, particularly in autumn and winter. This sequined lace maxi is pure glamour and will look incredible in the wedding photos.
18. Cameron Dress - £320, Reformation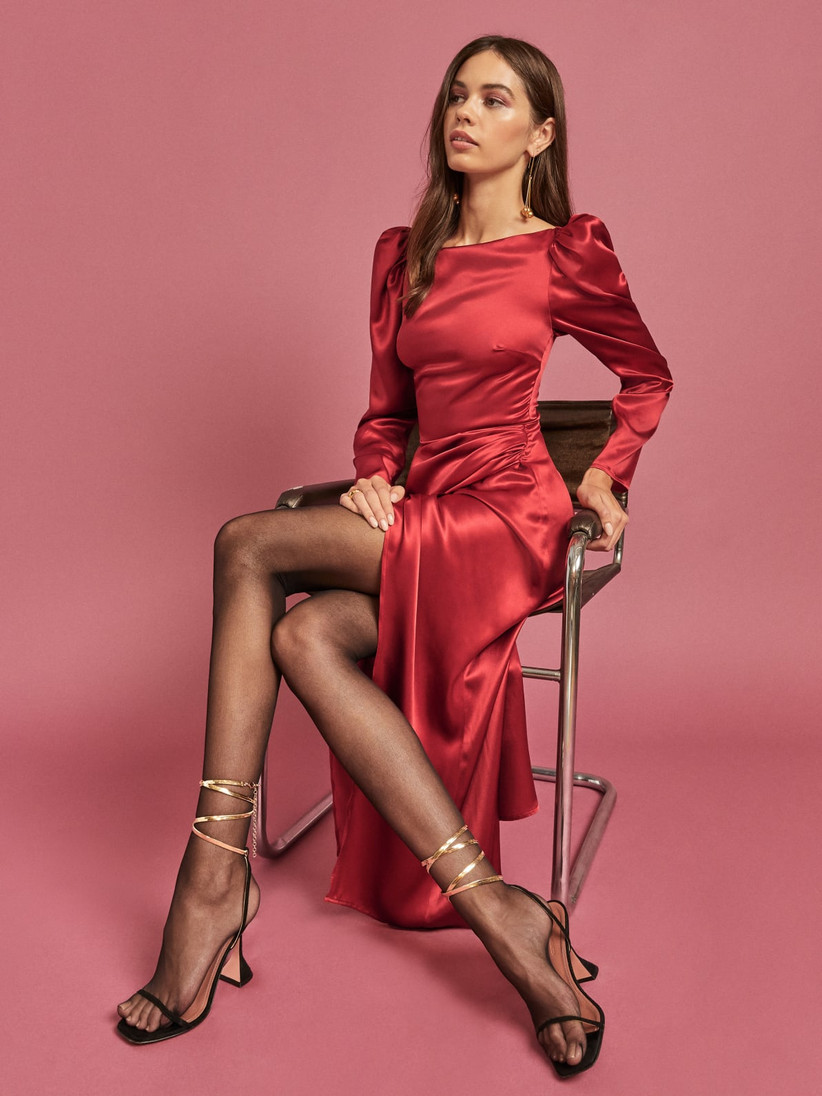 Reformation's Cameron dress is the refined way to do sexy, from the impeccable silhouette to the notice-me colour. There's a nod to 2020 trends in the form of the puffed shoulders, but overall, it's a timeless style your bridesmaids will wear again and again.
19. Black Long Sleeve Floral Midi Dress - £18, Matalan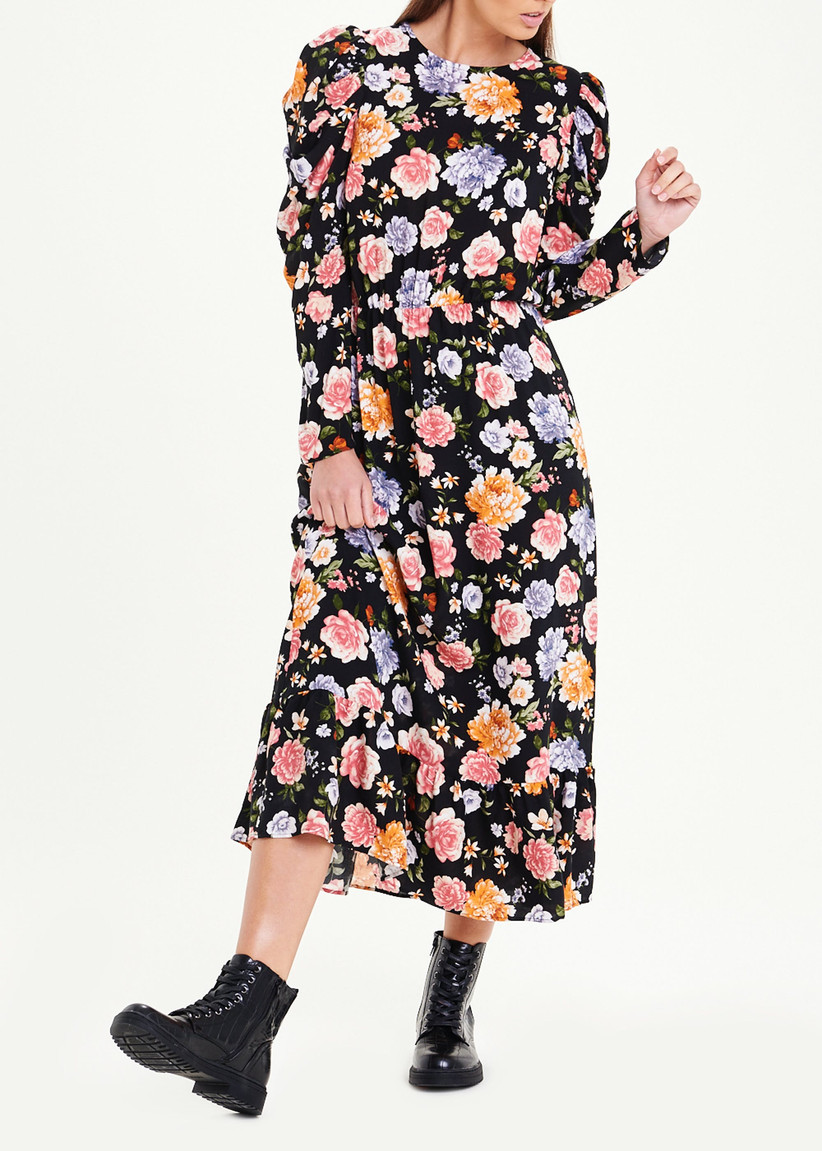 The colours in this bargainous midi are just so pretty, and while it's styled here with boots, you could easily turn it into a chic long-sleeve bridesmaid look with the right accessories.
20. Kendra Sequin Maxi Dress - £225, Phase Eight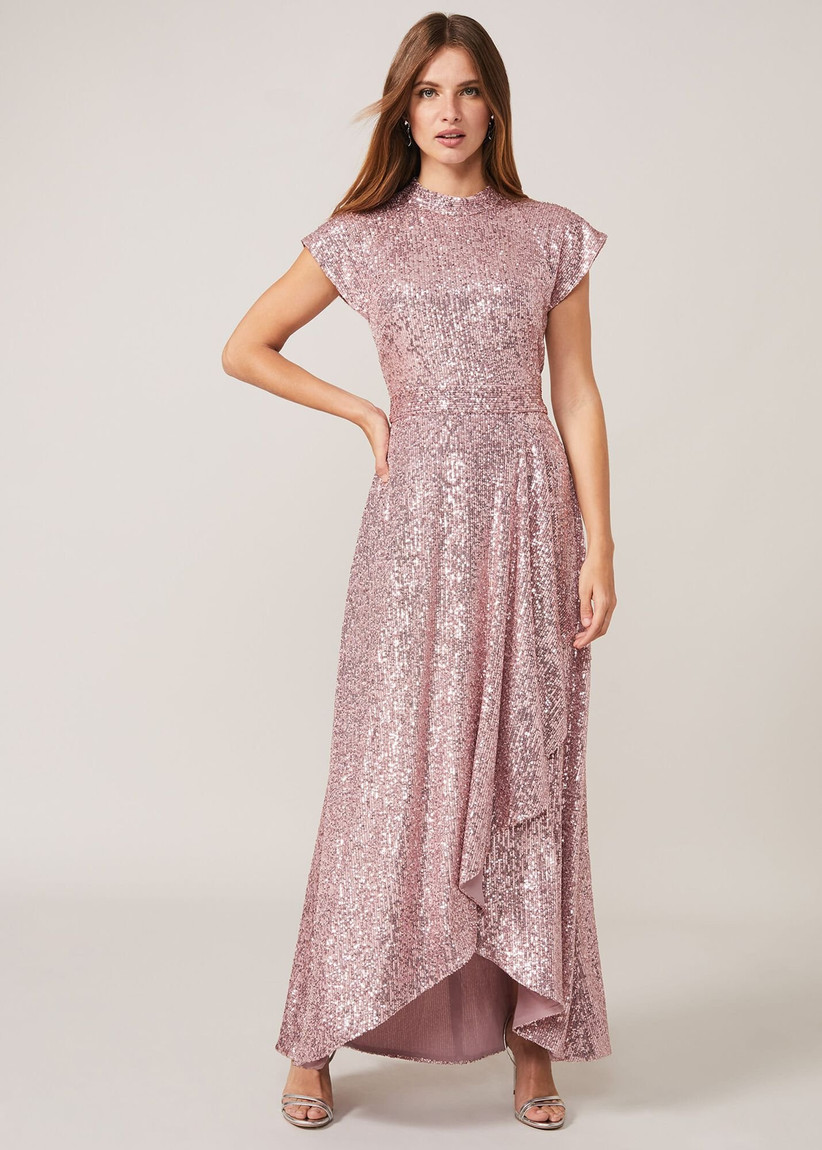 Pretty pastels can work perfectly well at an autumn or winter wedding - particularly when combined with some sparkle, as this Phase Eight maxi shows. We love that multi-level hem, which adds movement, and there's a cute bow at the back of the neck.
READ MORE: 32 Stunning Bridesmaid Hairstyles All Your Girls Will Adore
21. Silky Satin Midi - £180, Grace Loves Lace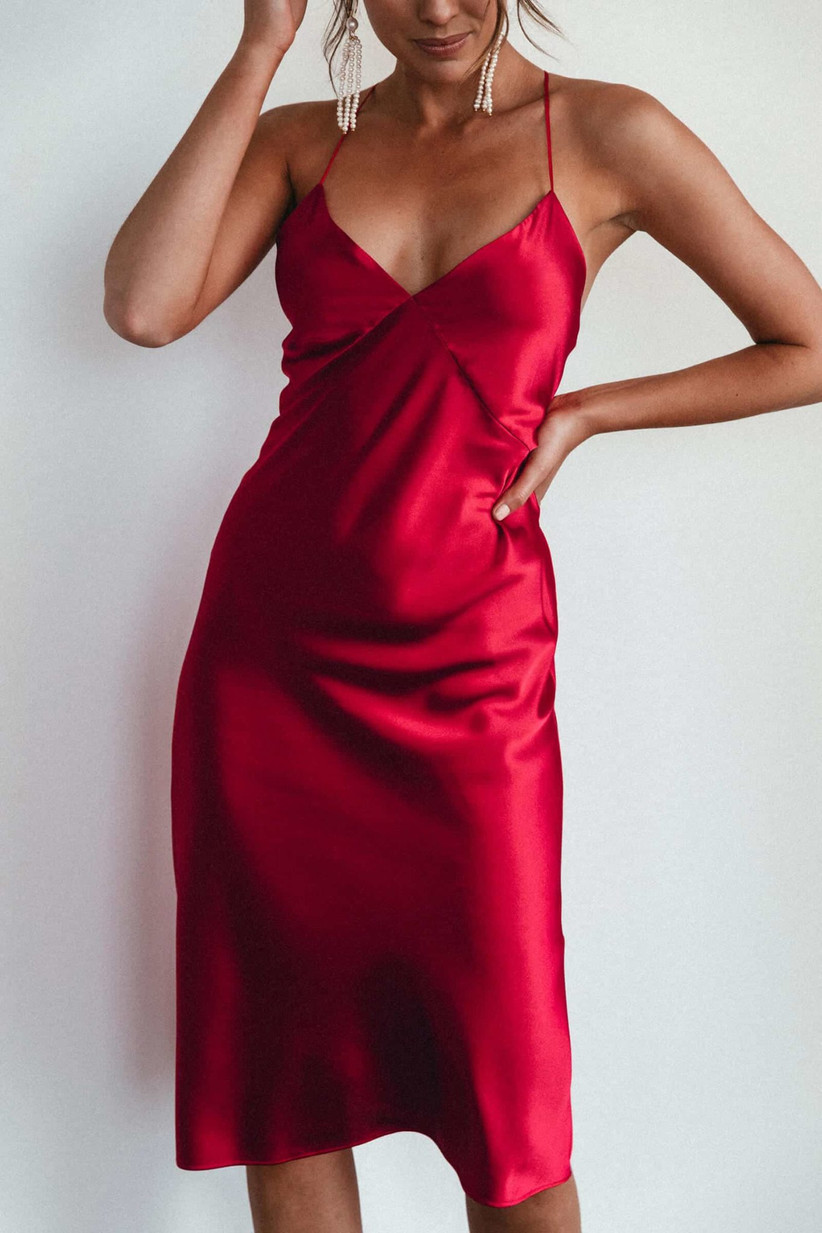 This Grace Loves Lace slip is never going to be the warmest option as an autumn or winter bridesmaid dress. However, let's face it, most of the wedding will be spent in your well-heated venue, and your girls can make it cosy by adding sumptuous fur jackets for any time spent outdoors. Go for white or cream fur for a cool contrast with that party-perfect ruby hue.
22. Tulle-Skirt Lace Dress - £49.99, H&M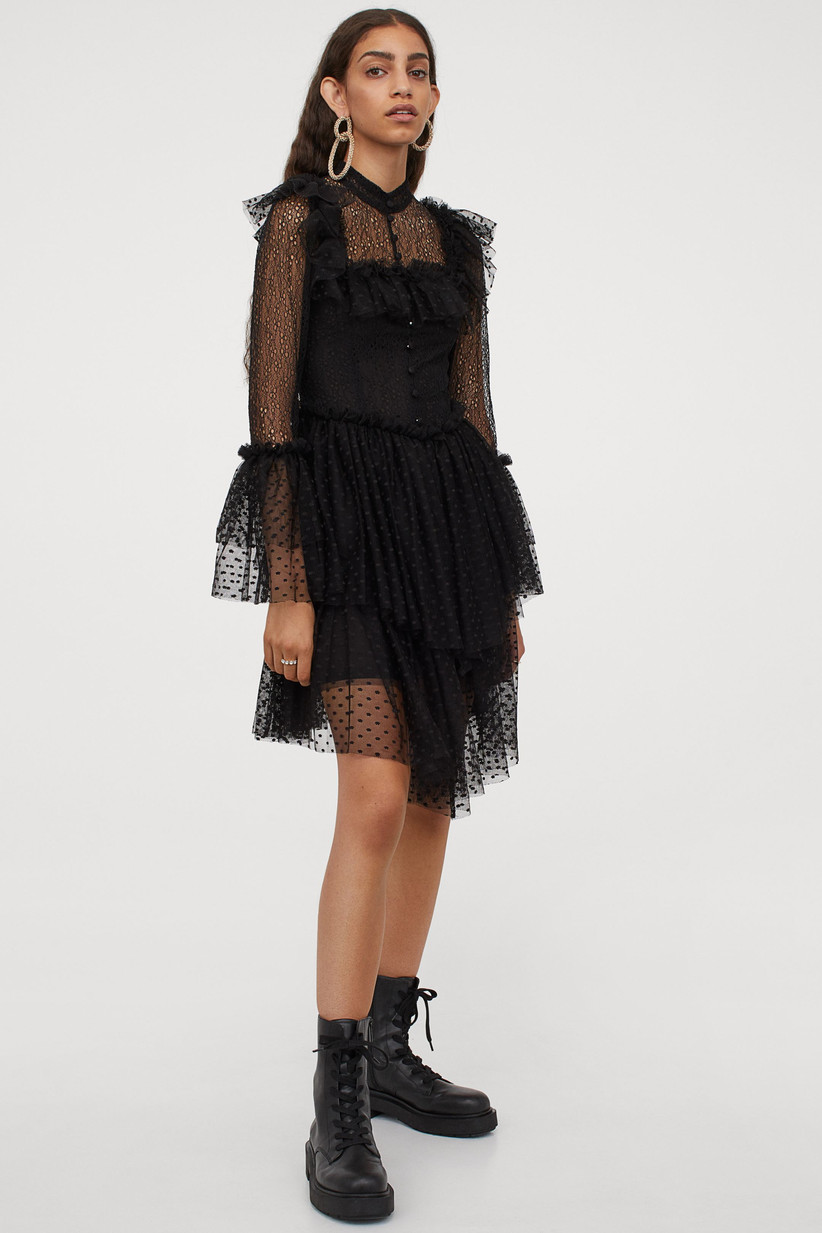 Part of H&M's collab with cool designer Sandra Mansour, this mini is a fashion-forward take on the little black dress. It's a look that calls to mind the pretty-with-an-edge dresses of Self-Portrait - but at a fraction of the price.
23. Plus Gold Glitter Ruched Midaxi Dress - £28, Pretty Little Thing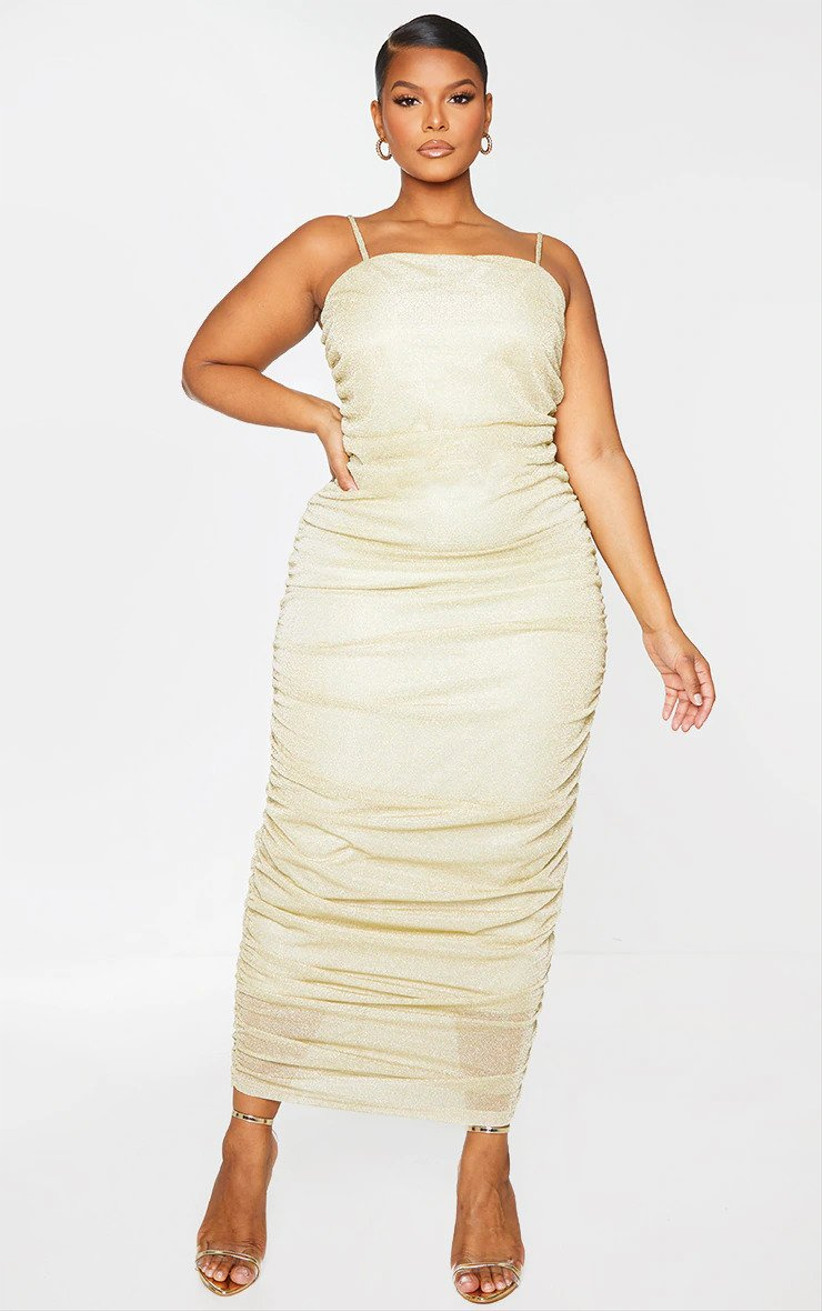 This elegant dress comes from Pretty Little Thing's plus size range, which goes up to size 30. It's made from a gorgeously glitzy fabric, and while it would need a cover-up outside, it's party-perfect once your maids hit the dance floor inside.
24. Stone Long Sleeve Drawstring Waist Mini Dress - £38, River Island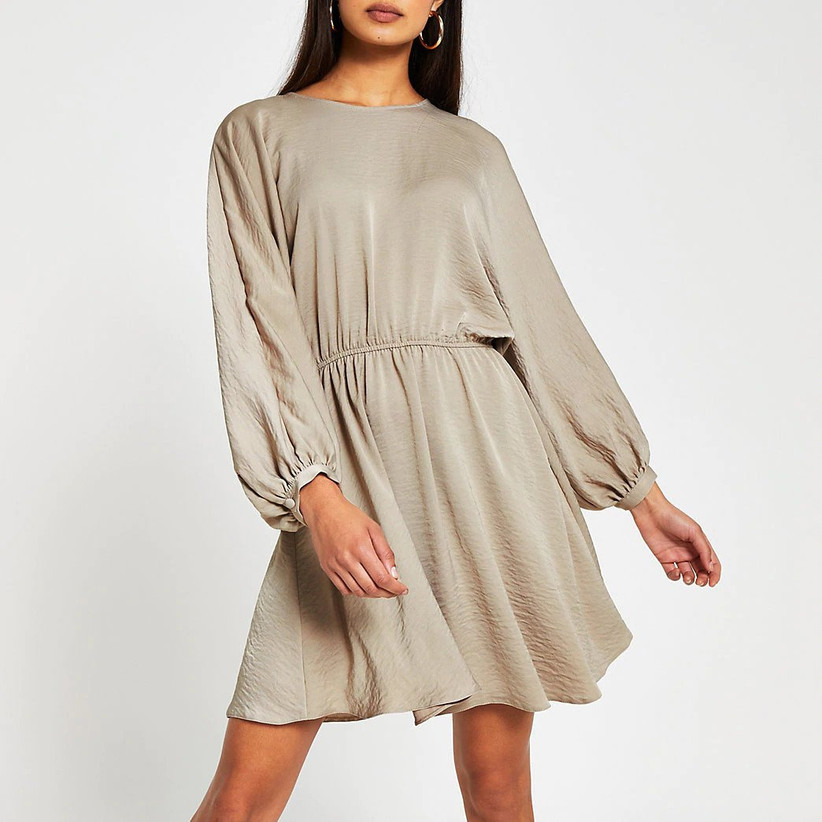 Looking for a laidback, easy-wearing bridesmaid style? This River Island dress fits the bill. The neutral shade and understated style mean your girls can really let their personalities shine and make it their own.
READ MORE: Bridesmaid Makeup: 21 Gorgeous Ideas and How to Do Your Own
25. Lace Bodice Full Skirt Dress - £44, Coast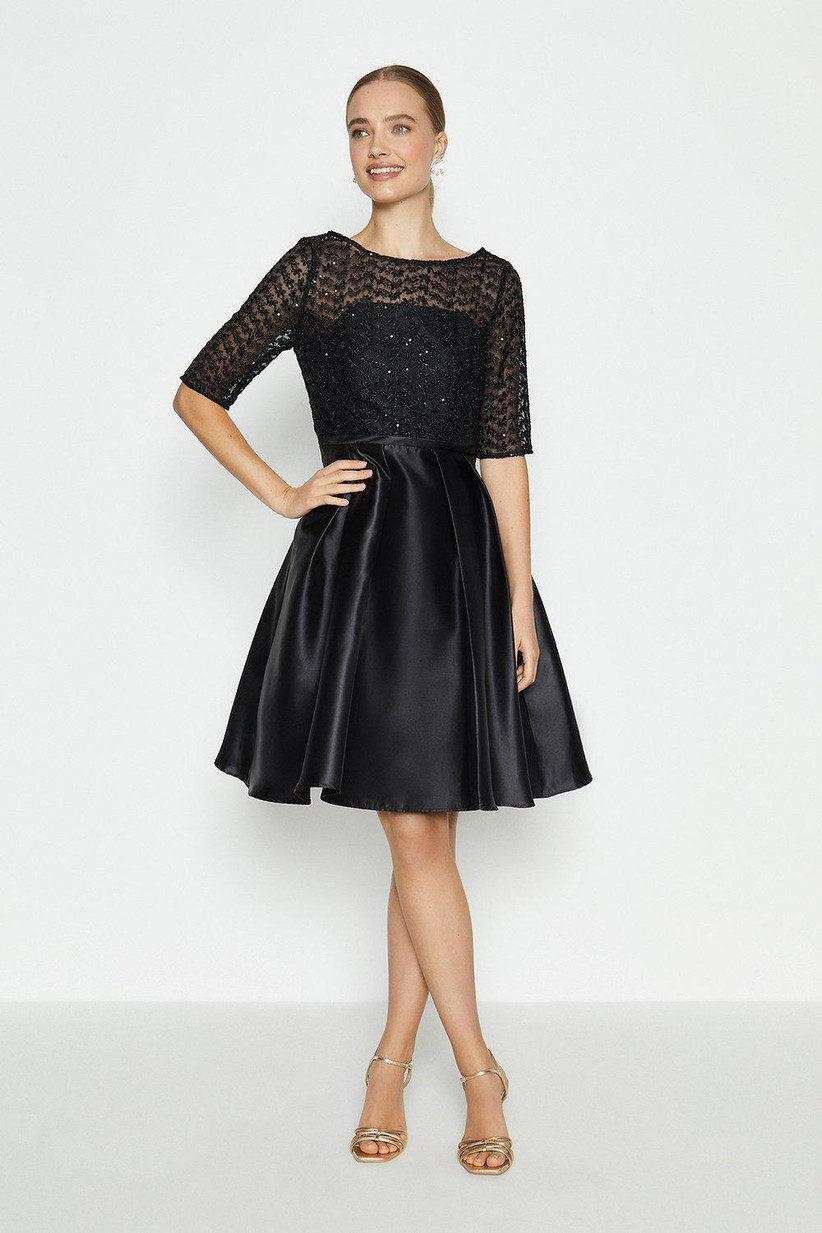 This Coast bridesmaid dress is a real beauty - just look at the way that delicate lace bodice pairs with the sumptuous satin skirt.
26. Marina Metallic Knitted Dress - £185, Reiss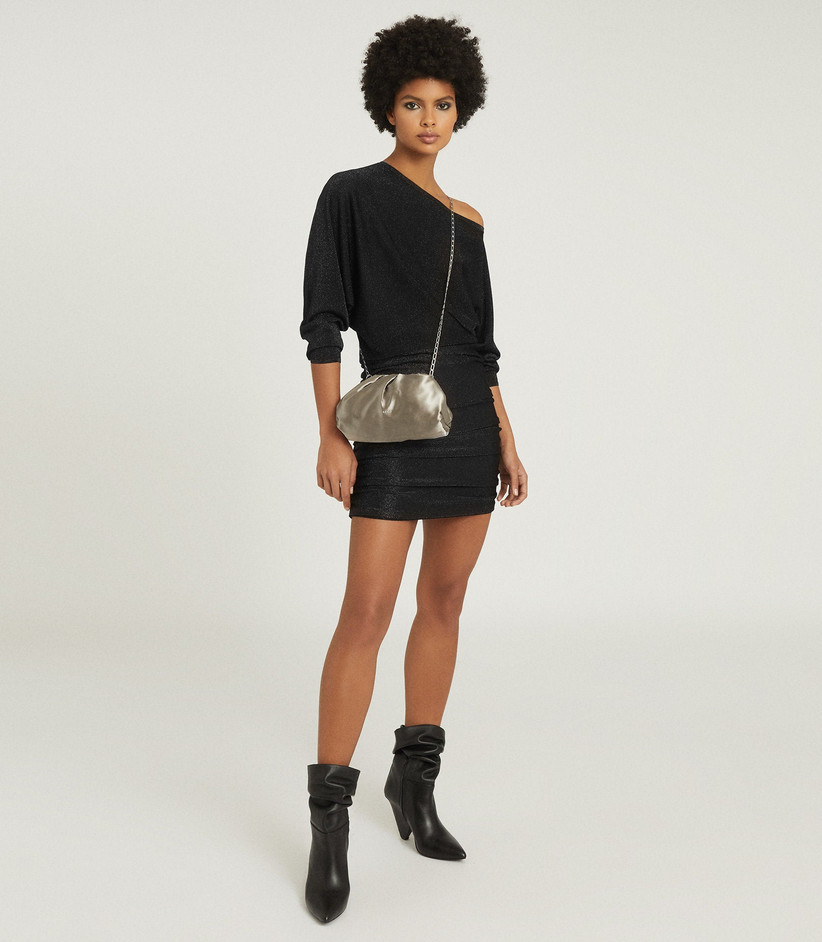 Reiss is the brand we turn to for slick workwear looks, but their going-out range is totally covetable, too. Just take this black and gold dress, which combines clever draping and a bodycon silhouette. It would be just the thing for the bridesmaids at a glamorous winter celebration in the city.
27. Cameo Rose Floral Wrap Dress - £22.99, New Look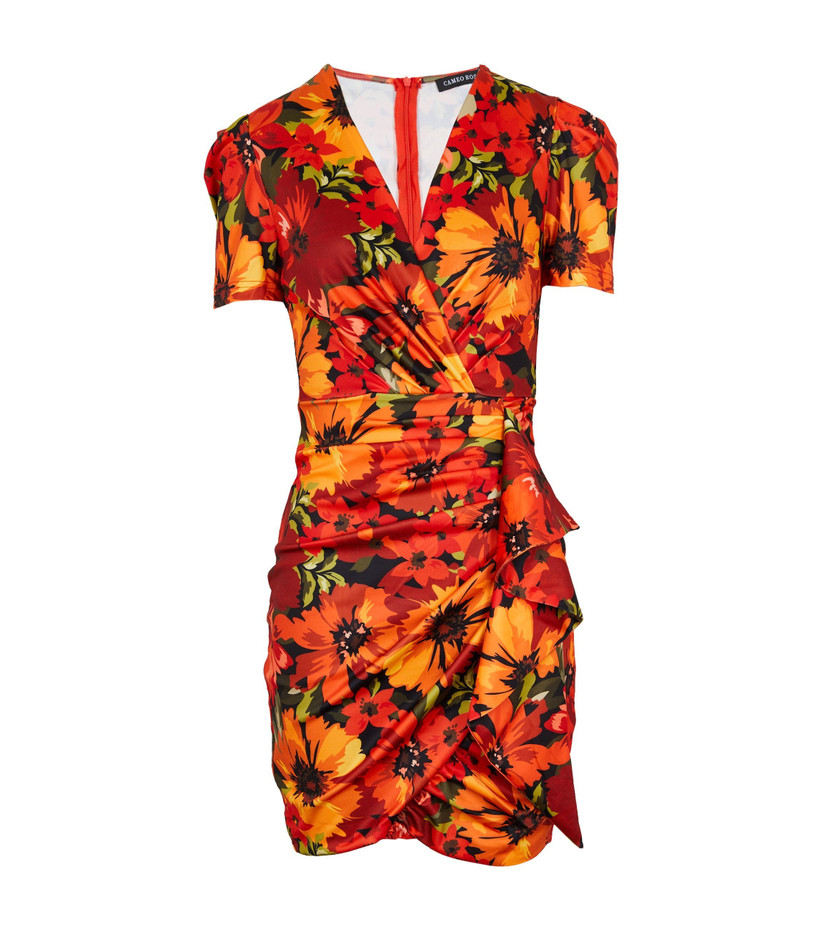 This ruched dress is the perfect autumn floral, featuring a design that picks up on the key colours of the season. If your bridesmaids love a bodycon style, send this their way.
28. Curve Bloom Spliced Print Dress - £89, Never Fully Dressed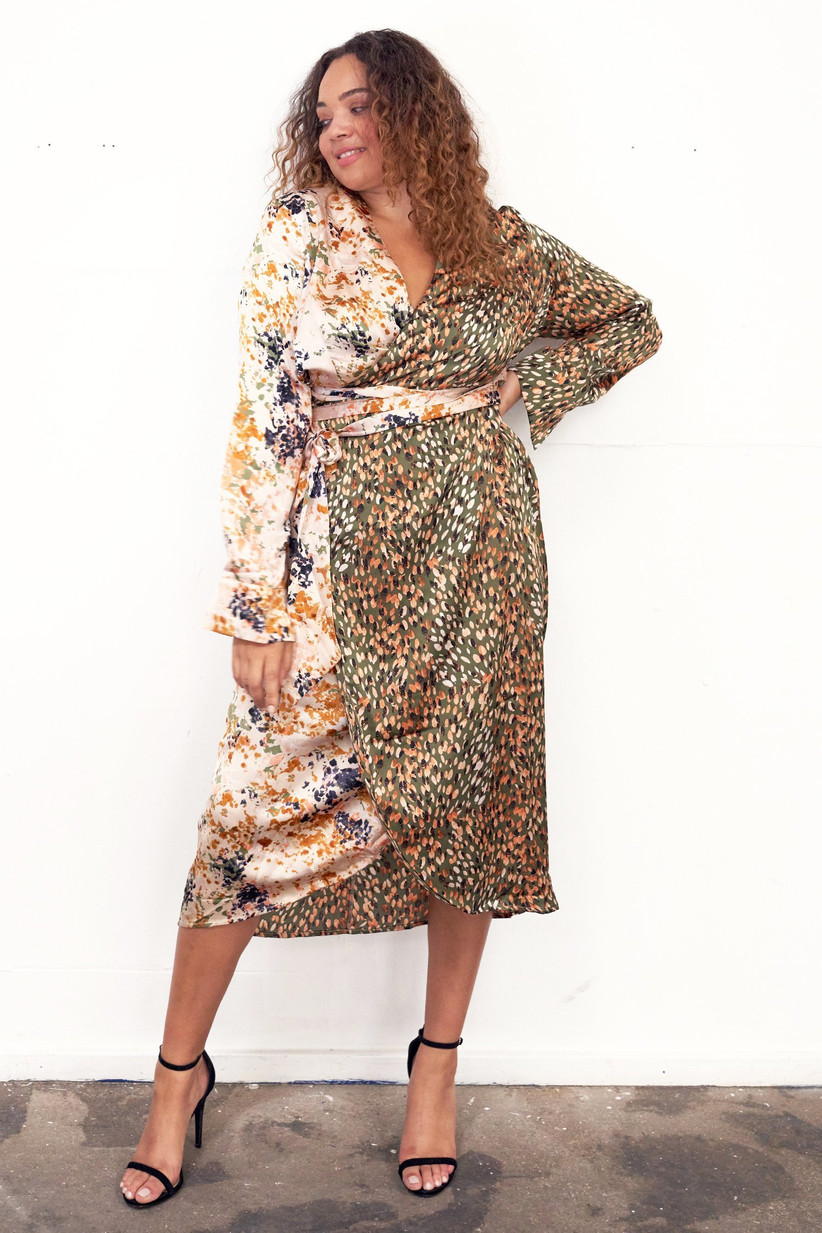 If your bridesmaids love the Rixo look, give them a similar style at a fraction of the price with this spliced-print dress. The colours here feel just right for autumn.
READ MORE: 16 Best Places to Buy Bridesmaid Dresses Online
29. Belted Oversized Jumpsuit - £120, & Other Stories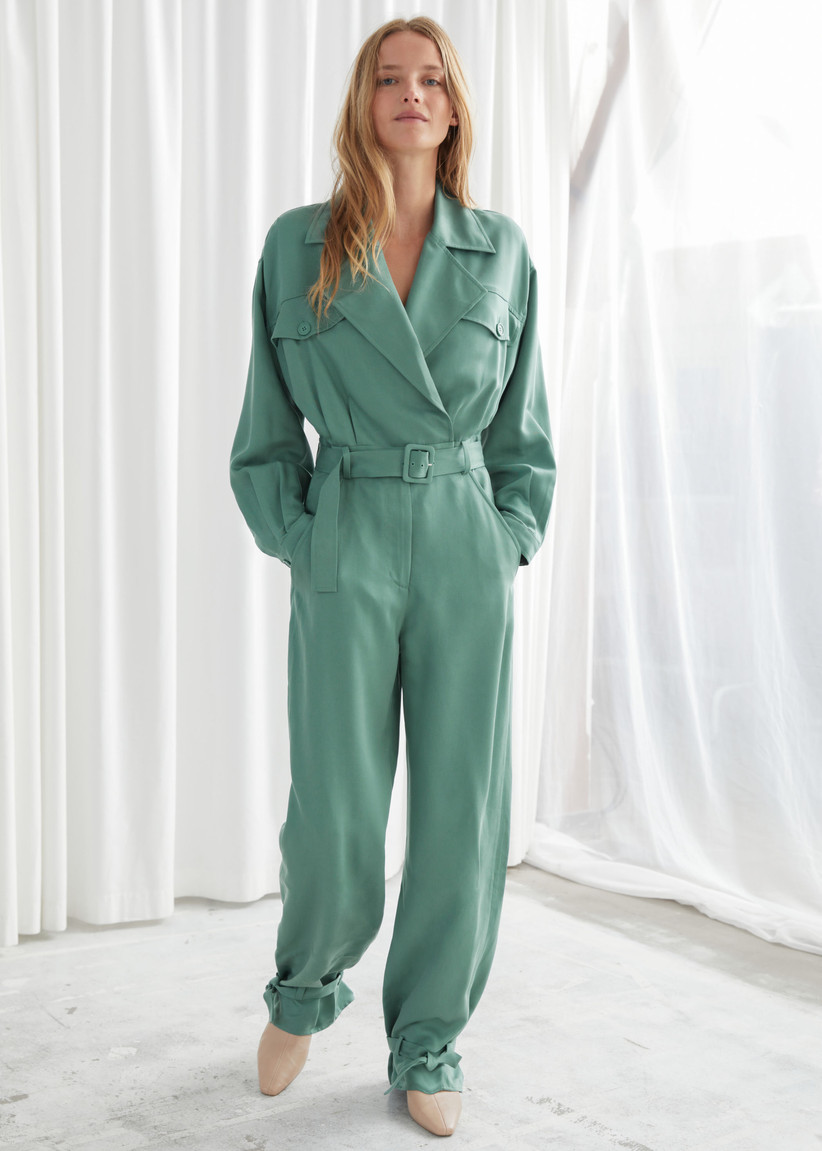 No, it's not a dress, but how cool would your bridesmaids look in this on-trend oversized jumpsuit, styled with statement earrings? It's probably not a style for an elegant country house or rustic barn wedding, but it would feel so fresh at an autumn or winter city celebration.
30. Alara Dress - £210, TH&TH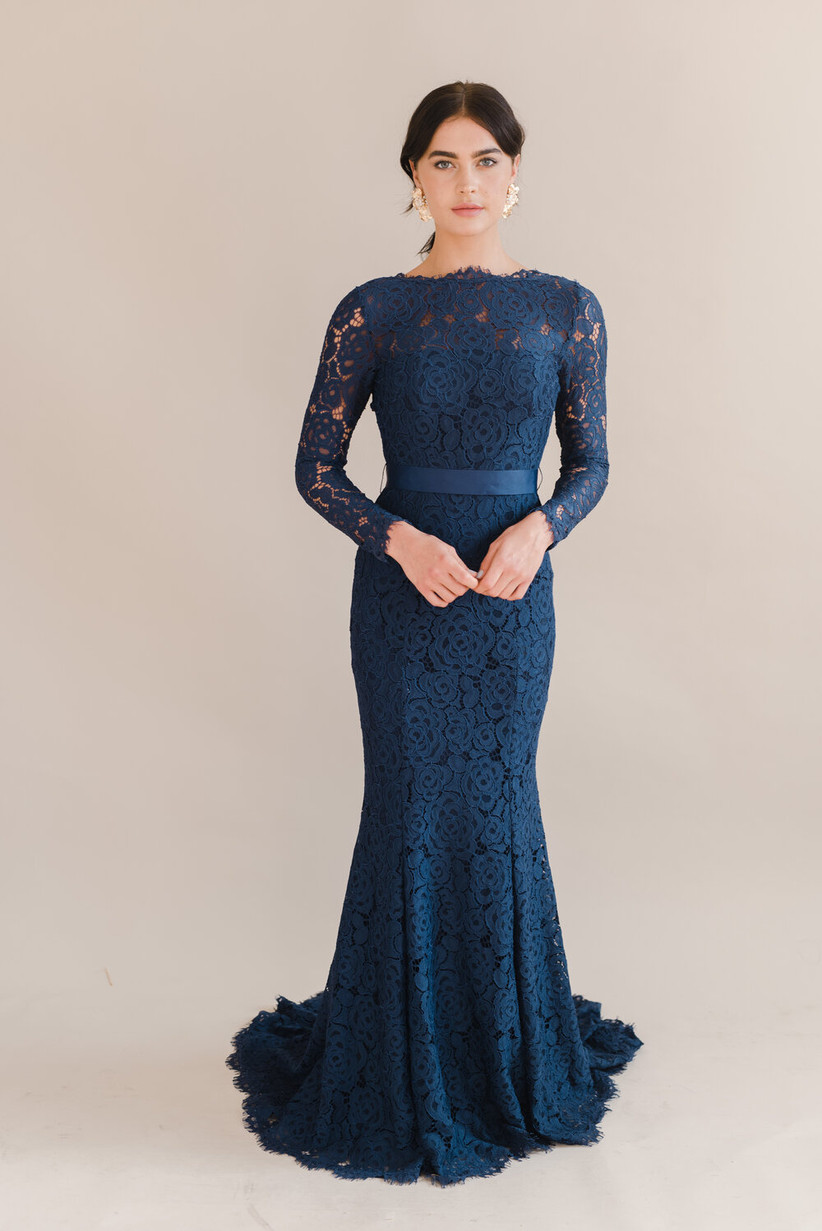 TH&TH are known for their elegant bridesmaid styles, like this Alara dress. There's something so regal about the look, making it perfect for a formal autumn or winter wedding.
31. Blaer Bias Cut Dress - £179, Ted Baker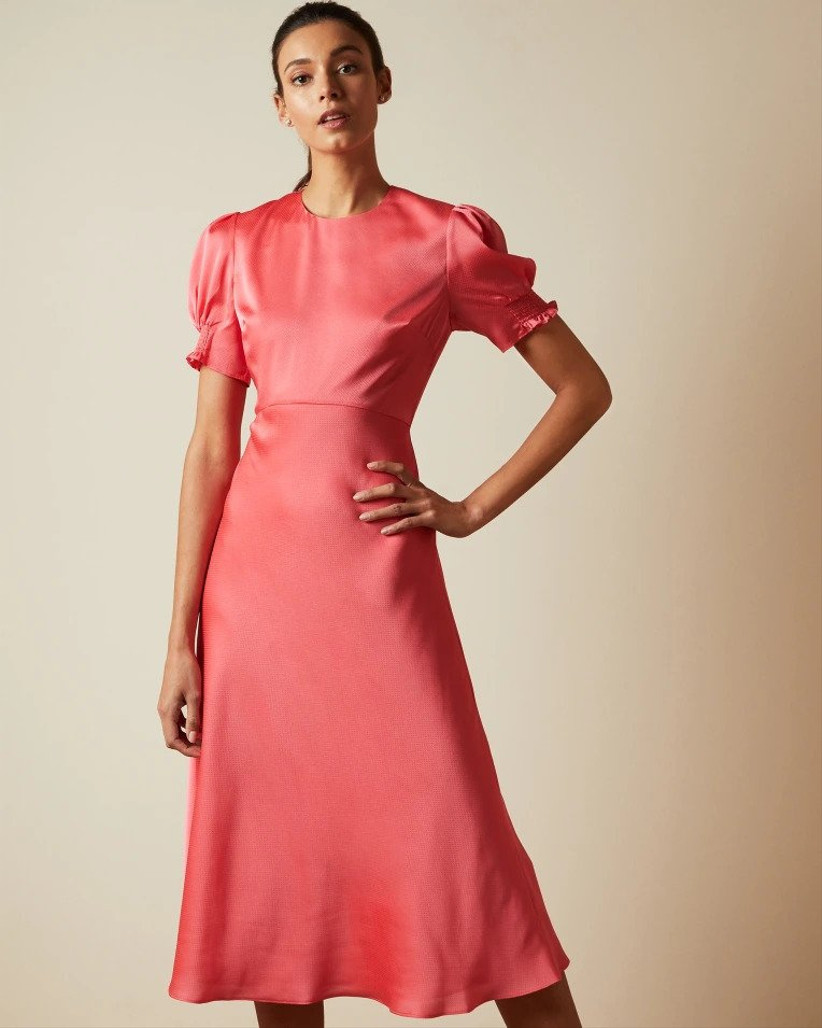 Pink is less common as part of an autumn or winter wedding colour palette, but it can work wonderfully well if you keep to warm rosy shades, as with this Ted Baker dress. The puff sleeves keep it contemporary.
32. Tiered Midi Dress - £32.99, New Look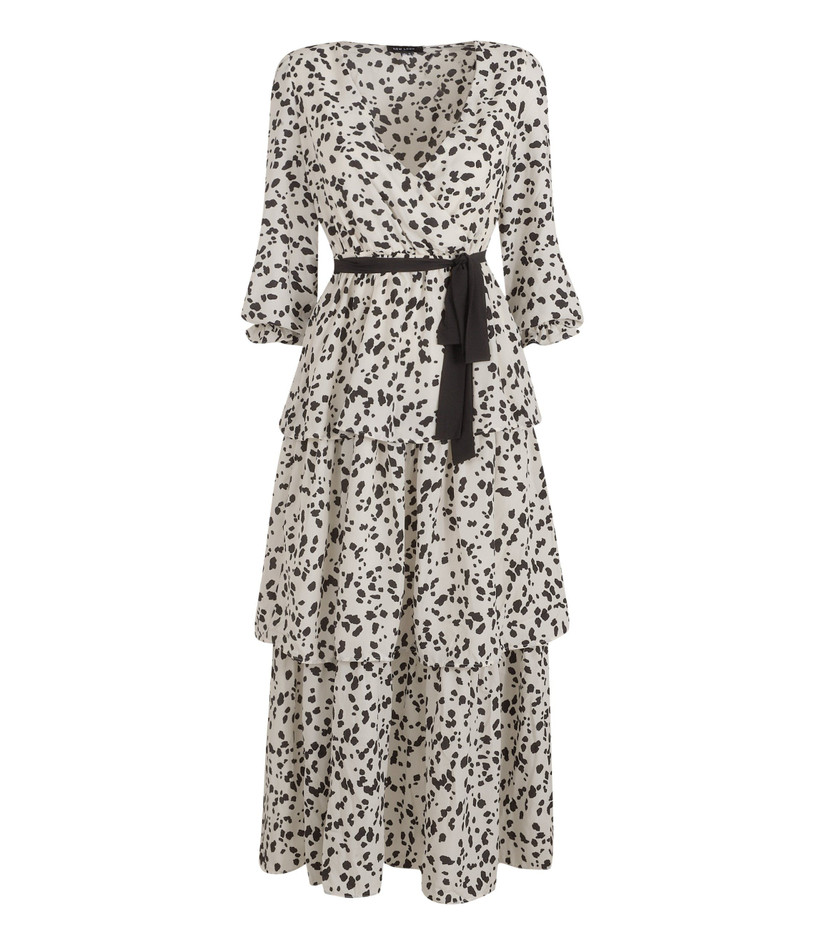 Picturing monochrome maids? This New Look midi feels much more chic and sophisticated than the price point might suggest, with a romantic tiered skirt contrasting beautifully with the black and white pattern.
READ MORE: 15 Things Your Bridesmaid Wants You to Know
33. Pleated Maxi Dress - £60, TFNC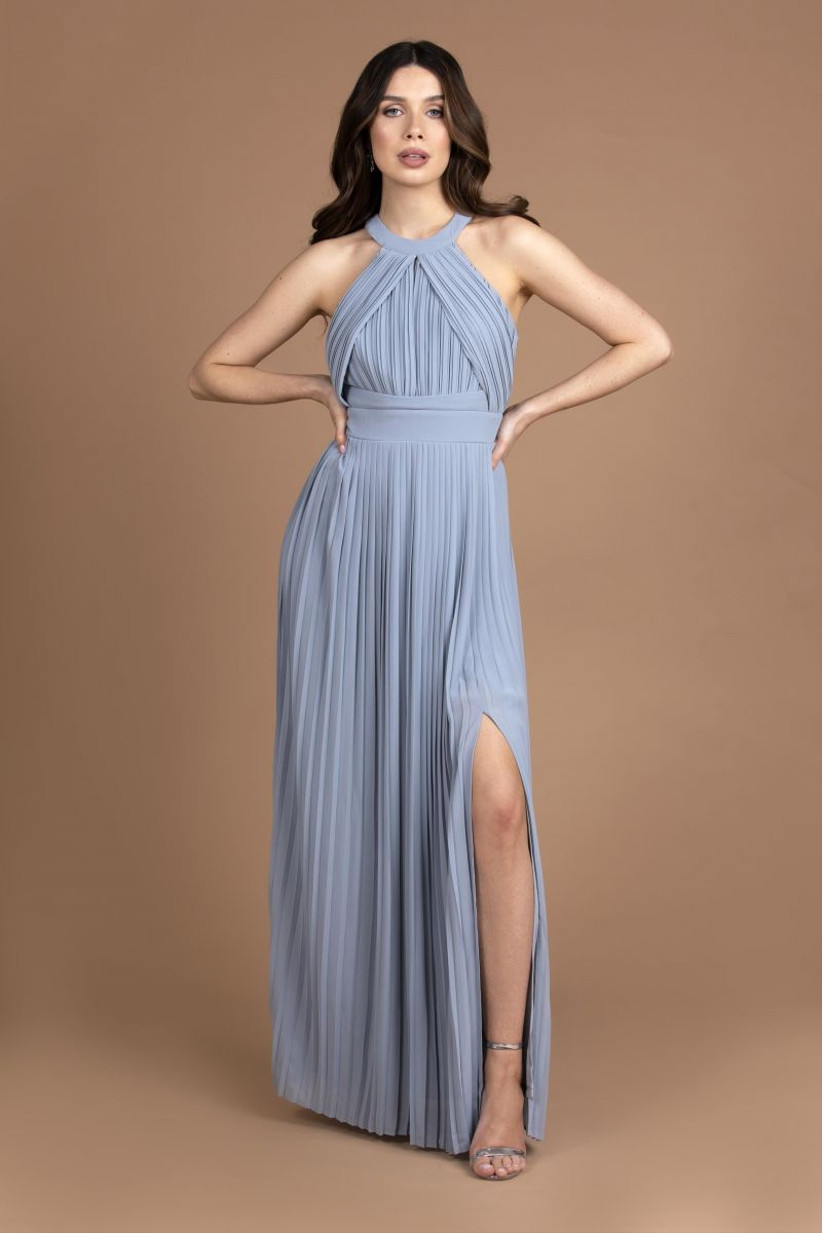 This pleated maxi dress would look fabulous at a winter wedding as it's the perfect icy blue. We say pair it with silver accessories for extra frosty-season vibes.
34. Cecilia Berry Off-The-Shoulder Zip Detail Dress - £185, Reiss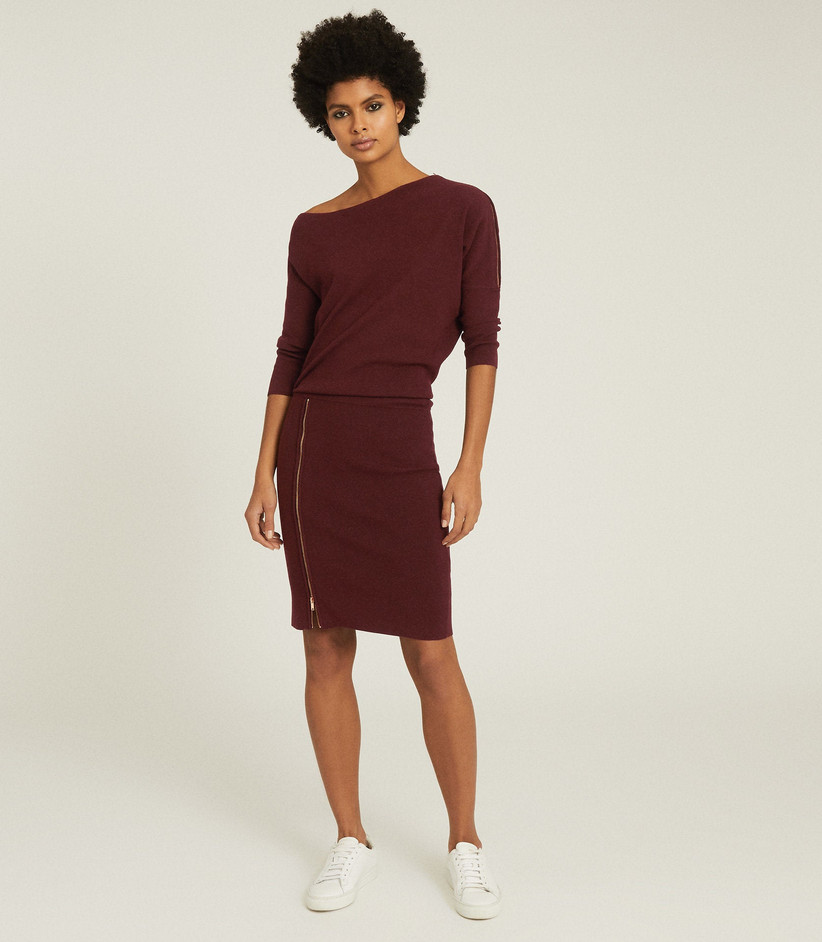 Want your bridesmaids' look to have a contemporary sports-luxe edge? This Reiss dress is ideal, with cool zip details and a draped silhouette - just add heels or metallic flats to make it party-worthy. The berry hue is just right for autumn and winter weddings.
35. Jewelled Bodice Maxi Dress - £259, Coast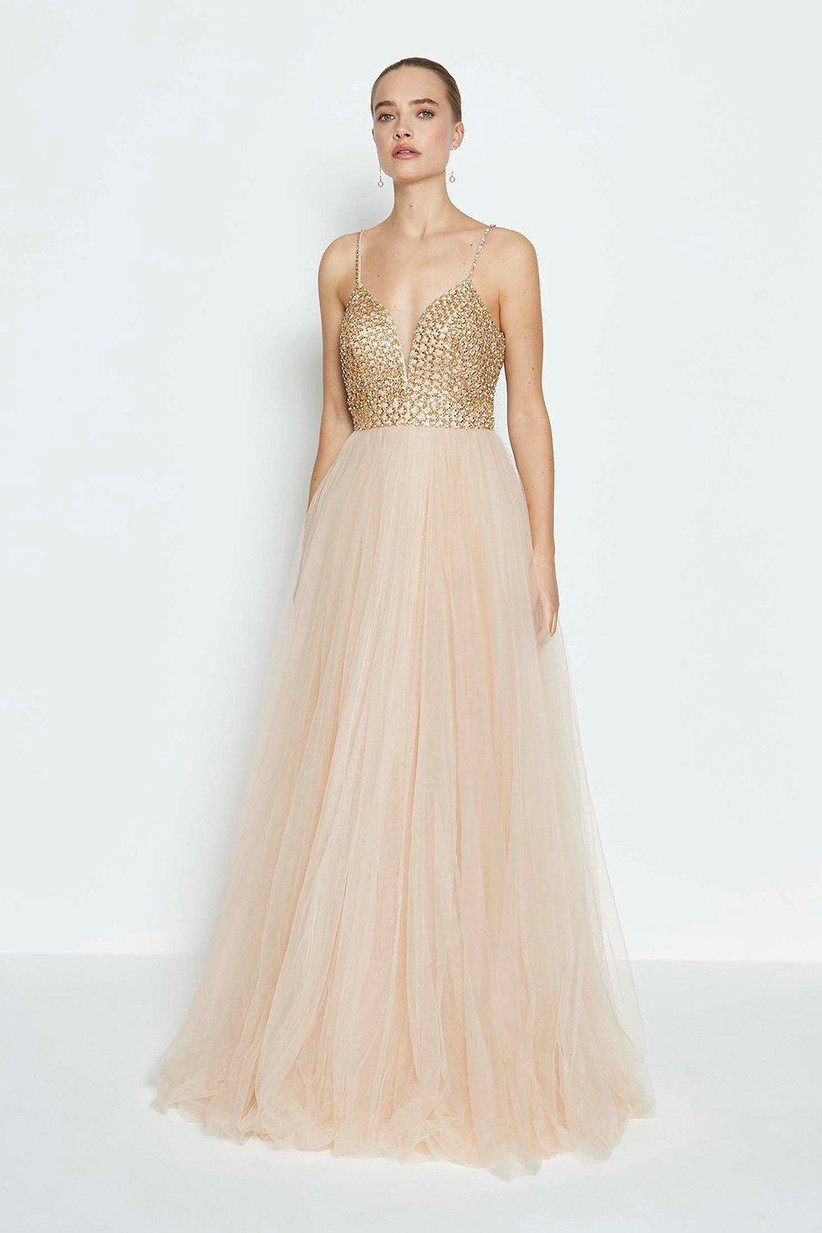 This fairytale Coast bridesmaid dress would suit a magical winter wonderland wedding theme. It's also available in pink, but the champagne is more versatile as it'll work with any colour scheme.
36. Ruffle Midi Dress - £38, Lipsy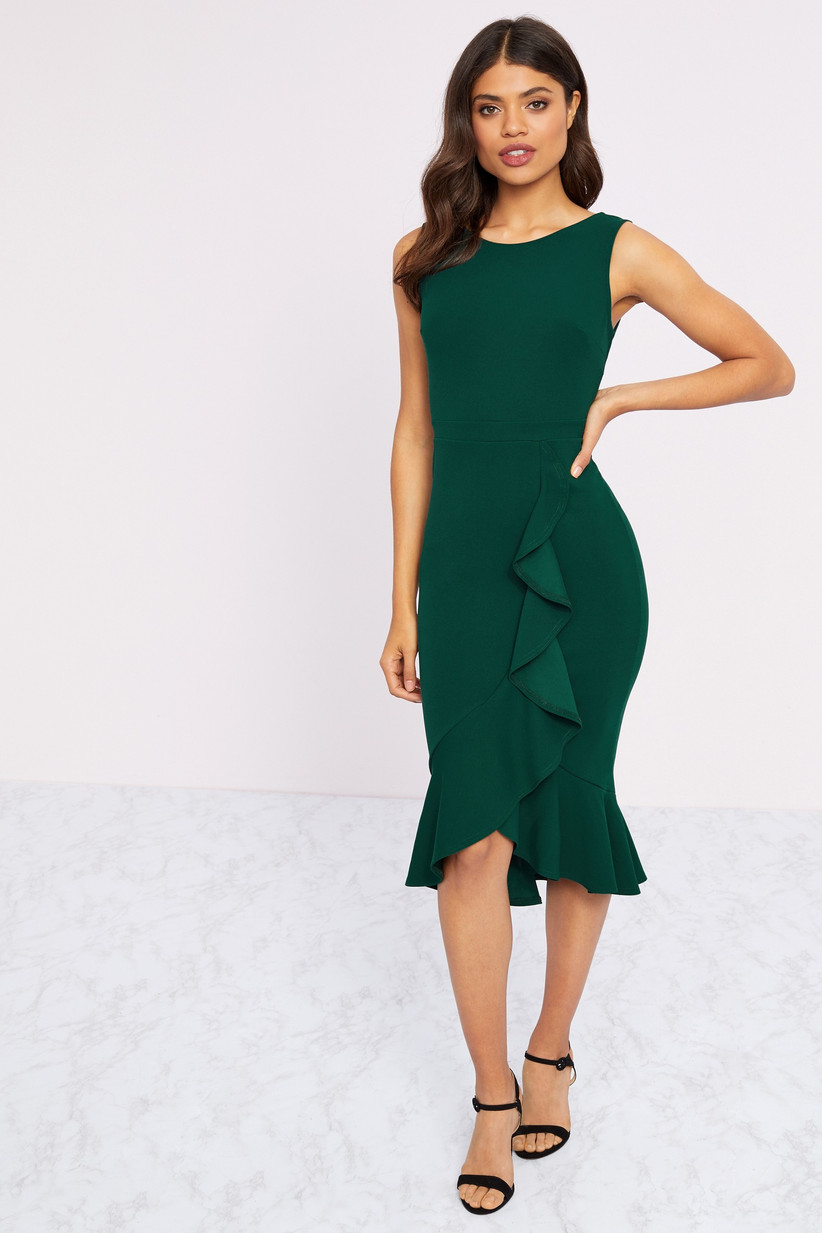 Forest green is a lovely shade for autumn and winter weddings. The ruffle hem on this Lipsy dress adds movement to the sleek silhouette - always a good thing when your maids are rocking a dark colour.
READ MORE: Bridesmaid Gifts: 30 Ideas to Suit Every Budget
37. Alice Jumpsuit - £231, Vanessa Cocchiaro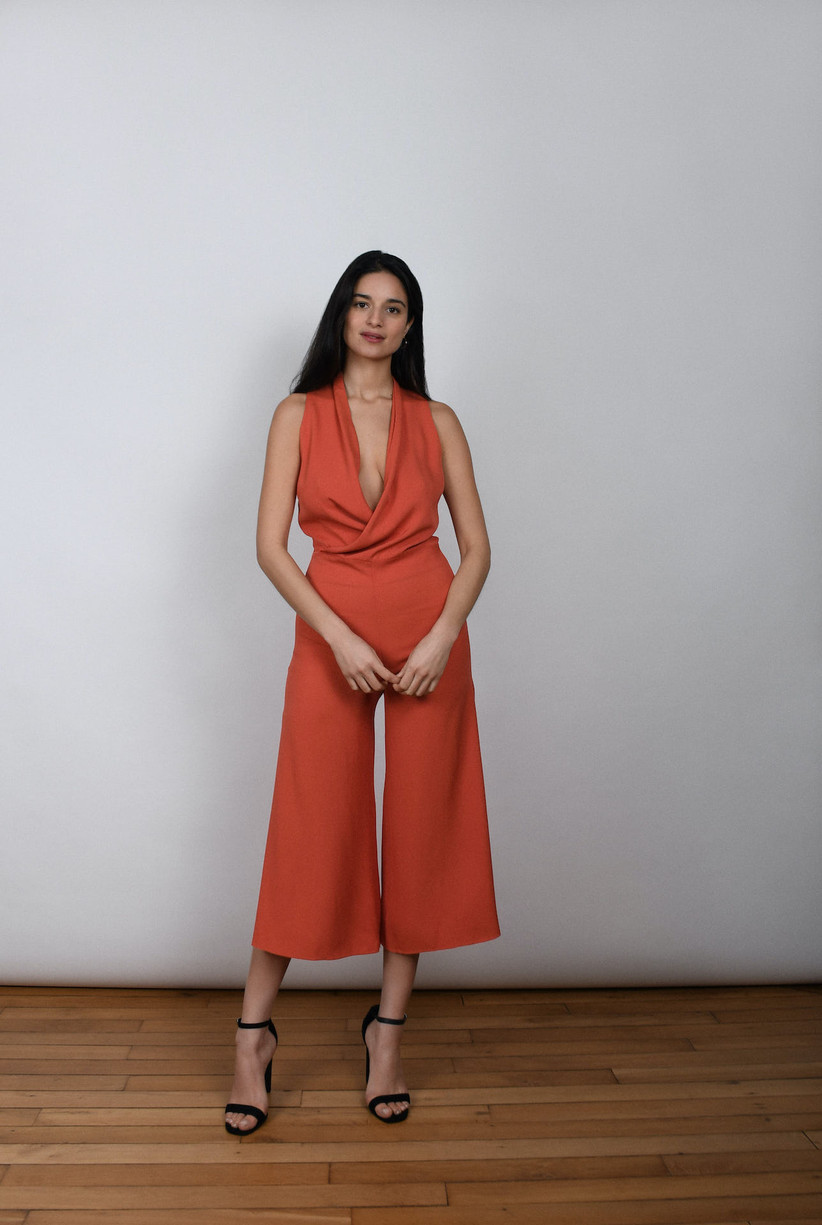 This Vanessa Cocchiaro jumpsuit is the refined way to do sexy, with that plunging wrap neckline leading into chic cropped trousers. The colour is perfect for an autumn bridesmaid look.
38. Satin Dress - £34.99, H&M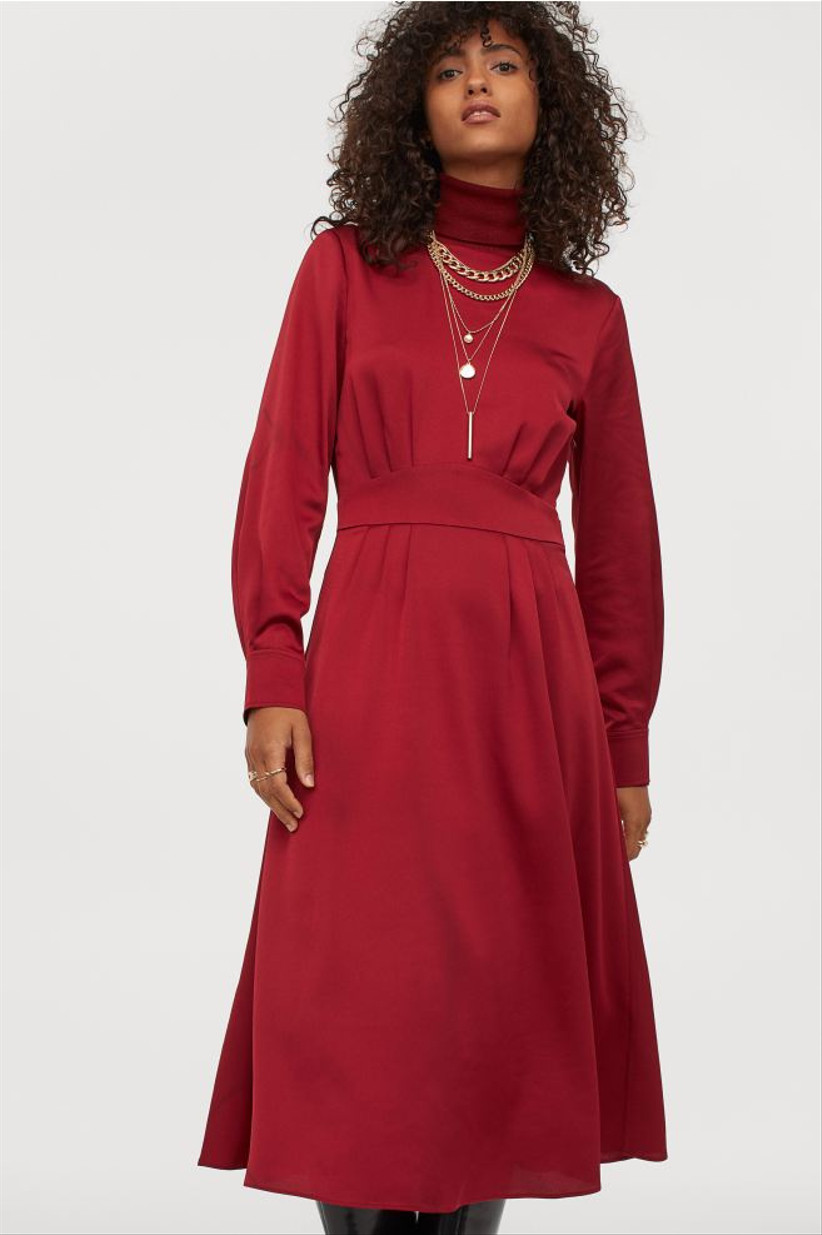 Simple and elegant, this H&M calf-length dress would look glorious as an autumn or winter bridesmaid dress, particularly under a contrasting fur or feather cover-up.
39. Alina Dress - 140€ (approx. £126), Rouje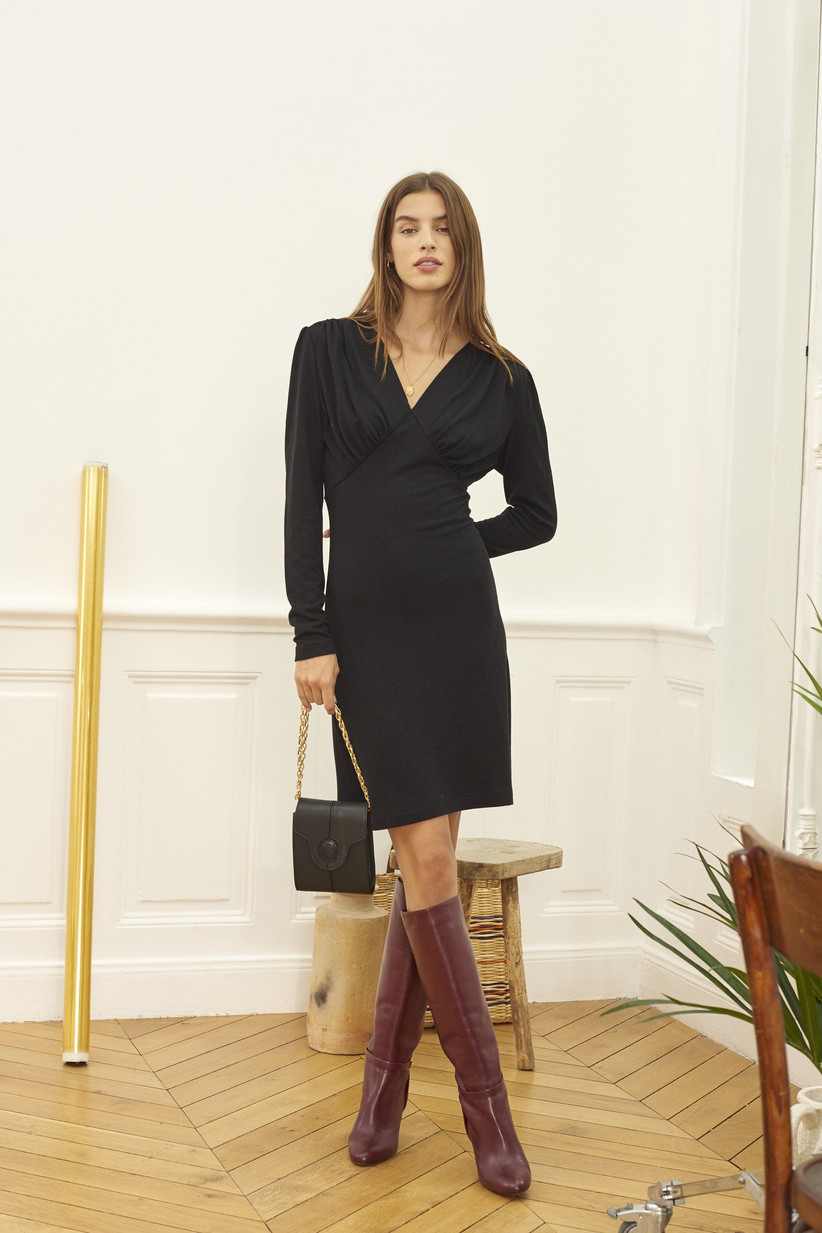 Add a note of French-girl insouciance to your bridesmaid look with this très chic Rouje dress. It's a contemporary classic that's destined to get plenty of post-wedding wear.
40. Babydoll Dress - £25, Monki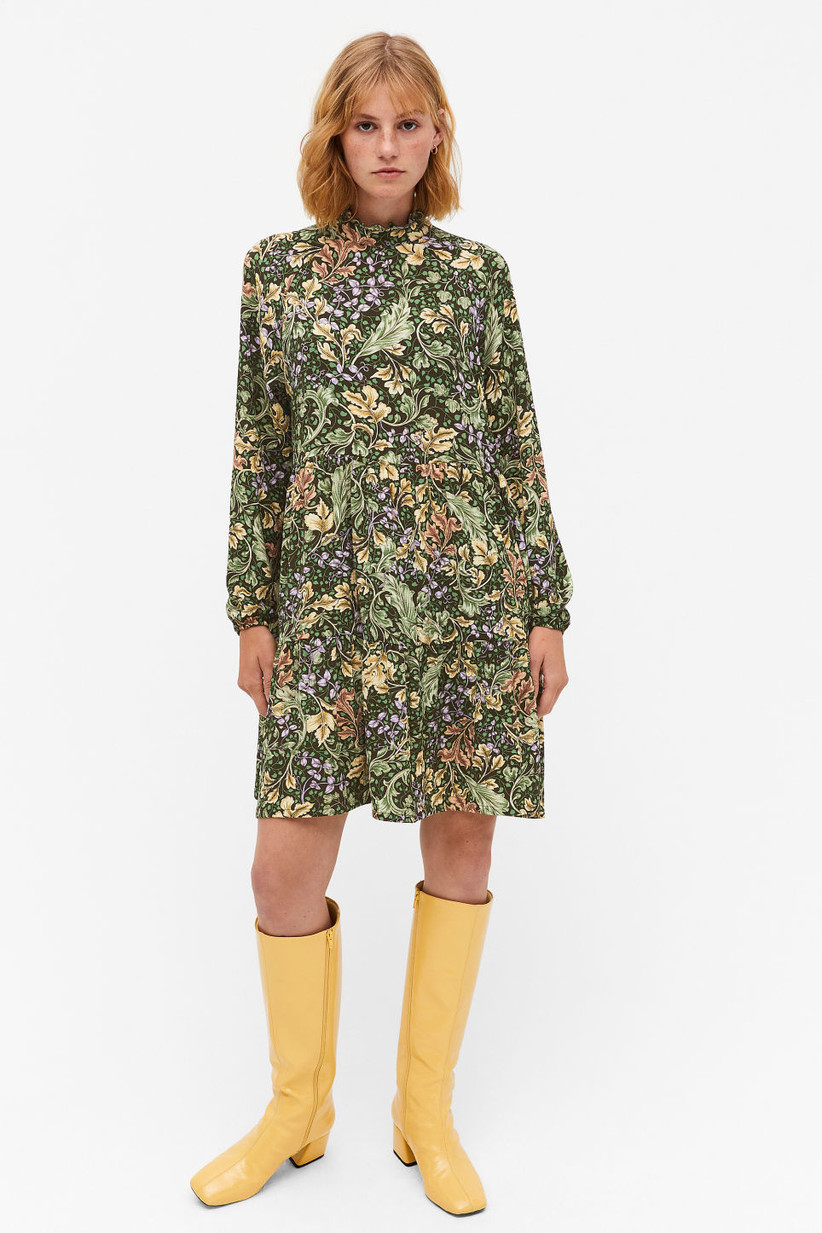 This Monki dress comes in various colours and patterns, so you can have each bridesmaid in the same style but a different design, for a mismatched-yet-co-ordinated look.
41. Lace Dress - £34.99, H&M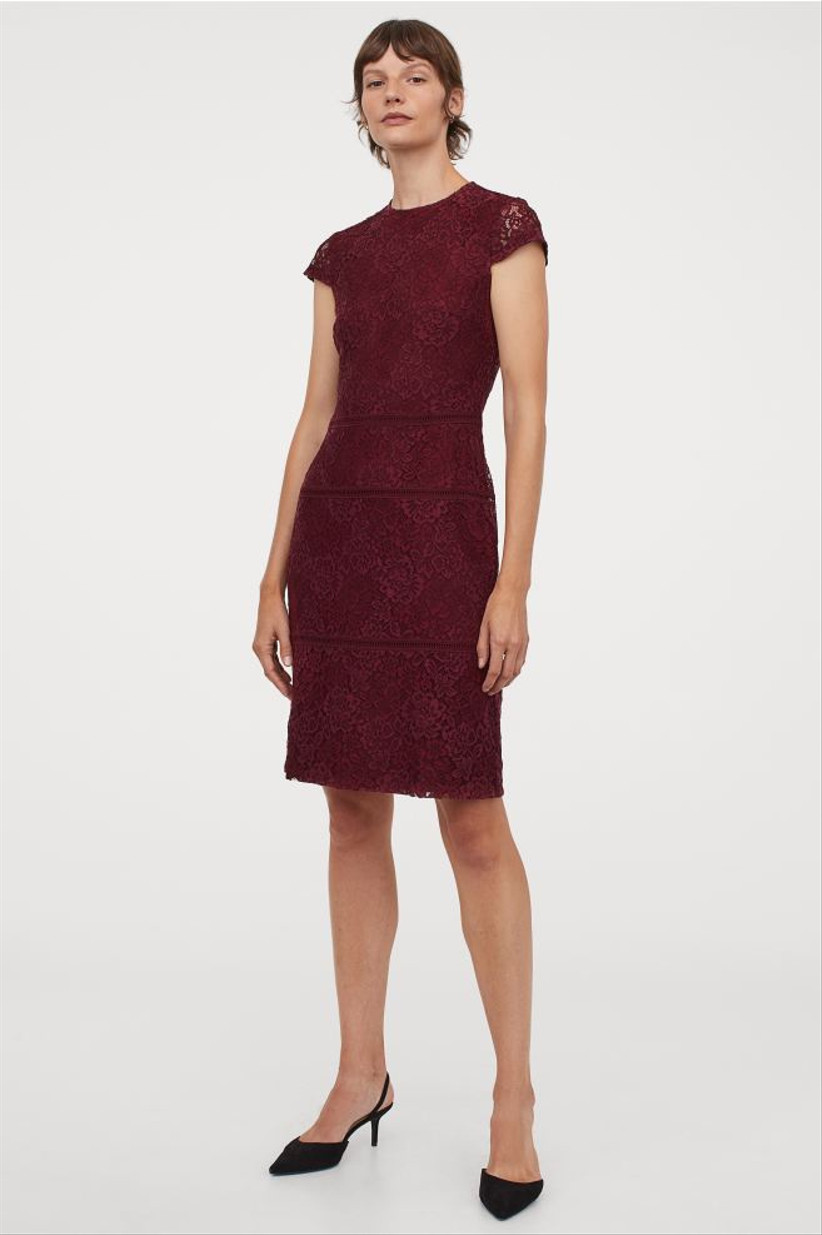 Rich burgundy is an excellent colour choice for autumn and winter bridesmaid dresses. This H&M knee-length lace dress manages to be both pared-back and pretty, and has a flatter-all silhouette.
42. Heather Embroidered Maxi Dress - £180, Monsoon Atelier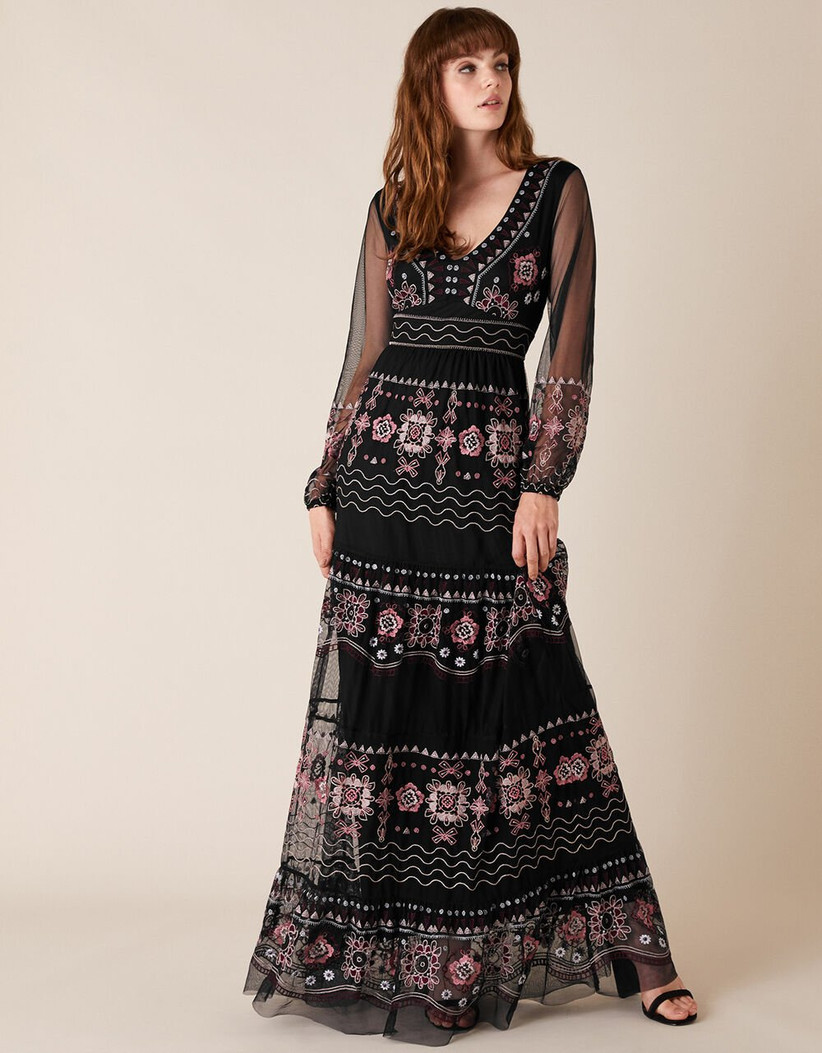 Modern folk was a major fashion mood on the A/W 2020 catwalks. The idea is to take classic folk elements - embroidery, for example, and flowing silhouettes - and give them a contemporary twist by adding sexier, sophisticated fabrics to the mix. This Monsoon maxi perfectly captures the look, with romantic floral embellishments against skin-flashing mesh.
Once you've sorted the dresses, don't forget bride and bridesmaid dressing gowns to make the wedding morning feel even more special.