36 Wedding Hairstyle Ideas for Black Women & 2022's Top Trends
Whether you're going with the 'fro, styling braids or seeking wedding hairstyles for curls and coils, the following hairstyle ideas for Black brides will give you inspo aplenty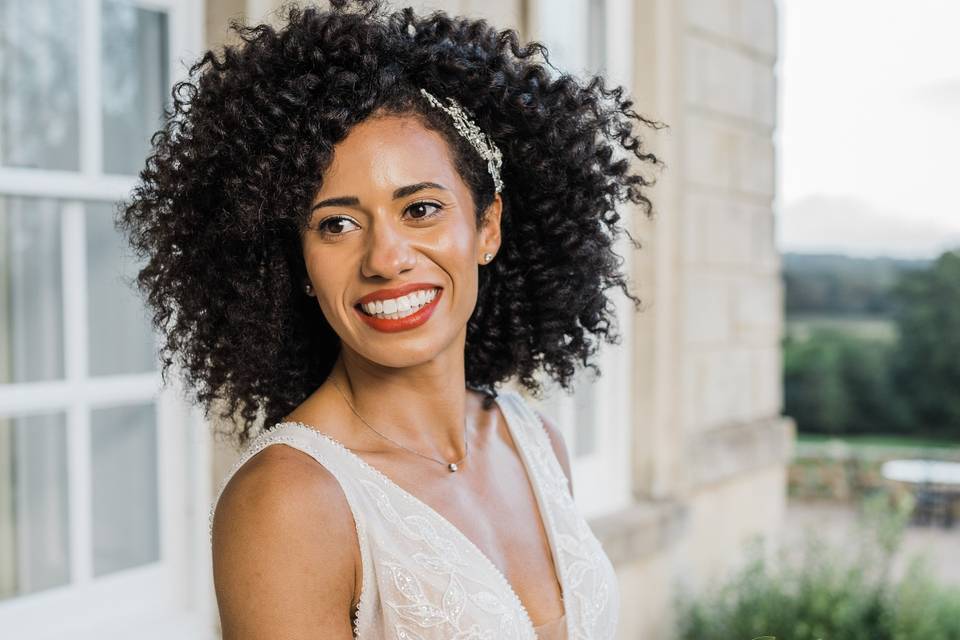 Planning your wedding day hair look can be quite the military operation – from getting hair into tip top condition to finding a wedding day hair stylist you click with and working in veils and hair accessories, there's a lot to consider. This is particularly true for Black brides – Black British bridal hair specialists haven't been championed nearly as much as they should have been and bridal guides often predominantly focus on Caucasian hair types.
Hair stylist Aina from Brides By Aina.M who specialises in afro, kinky, curly and textured hair says, "When it comes to picking a bridal hairstyle as a natural or curly bride, it can be a mine field. Although it is slowly changing, there is still sadly a lack of bridal hair inspiration. Adding to that, you have an annoying voice in the back of your mind asking 'should I straighten my hair for my wedding day?' - the clear answer to that is 'no!'. Natural hair is still finding its feet in a world that tells us that it is not so cute, so show the world how beautiful your kinks, coils and curls can look by embracing them and inviting them in all their glory to your wedding day."
At Hitched we're committed to celebrating incredible Black-owned wedding industry experts – if you're seeking a Black hair stylist to create the 'do of your dreams on the day, check out our directory of 100+ Black-owned UK wedding suppliers to follow and support. Bring the following ideas along for inspo or use them as a springboard for doing your own wedding hair - whatever works for you.
Four 2022 Hair Trends for Black Women
A great place to start when looking for inspiration for your wedding hairstyle is by taking a cue from what is trending. "Natural, afro, curls, coils and kinks are so versatile so do not be afraid to get creative, experimental, or make your own hair trends for 2022," says Aina.
Need a little help? She gave us the low-down on the top 2022 hair trends for black women you need to know about.
1. Halo Braid with a Bun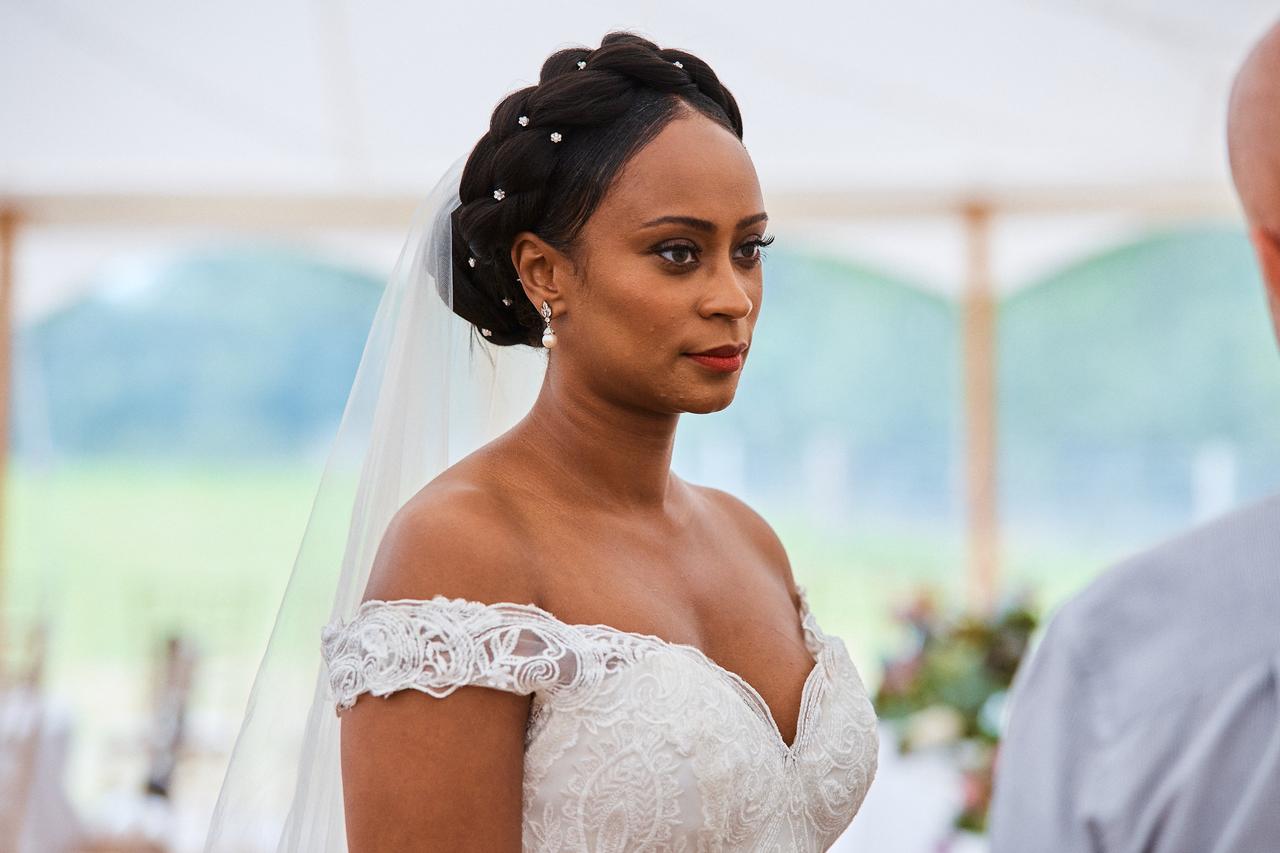 For a classic style that can work on any hair type, consider a halo braid with a bun. "The halo braid is a perfect bridal hairstyle as all your hair is tidy-up so you don't have to worry about the texture of your hair changing throughout the day (this seems to be the number one concern of my natural brides)," shares Aina.
Unsure if your hair is long enough to pull off this look? "Do not worry if your hair has not reached the desired length or volume by the time your wedding day is here as you can add hair extensions to match the texture of your hair to create the actual braid, while your hair is slicked down underneath. Add some beautiful hair accessories and then 'boom' - a beautiful, romantic bridal hairstyle personalised by your hair texture," says Aina.
2. Curly Low Bun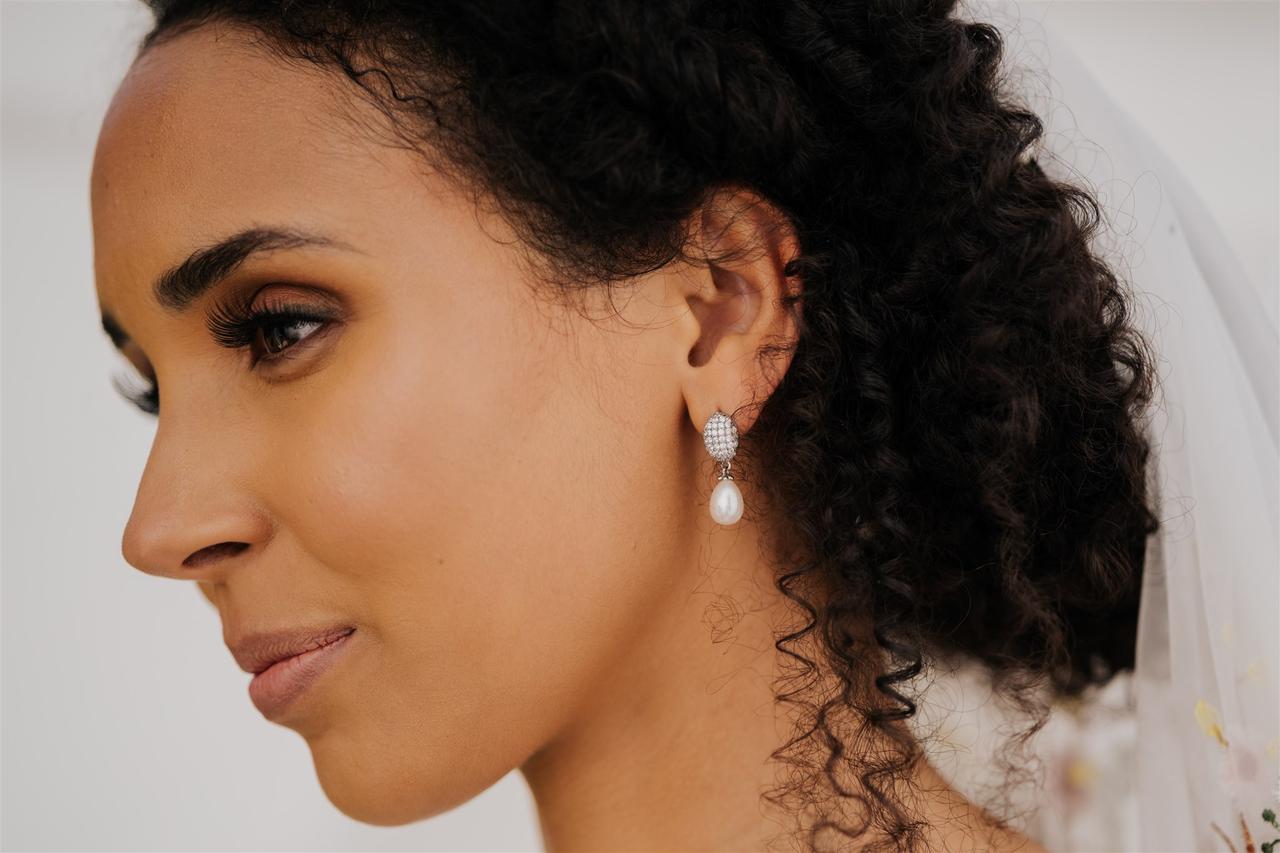 A curly bride can not go wrong with a loose low bun!
"Having natural curls means you are already in a great position because the texture and curl pattern is already there so all that needs to be done is for them to be defined to get the curls to look their best for their walk down the aisle. Allow some curls to frame your face and just like that you have a stunning, textured low bun," explains Aina.
3. Braids and Shells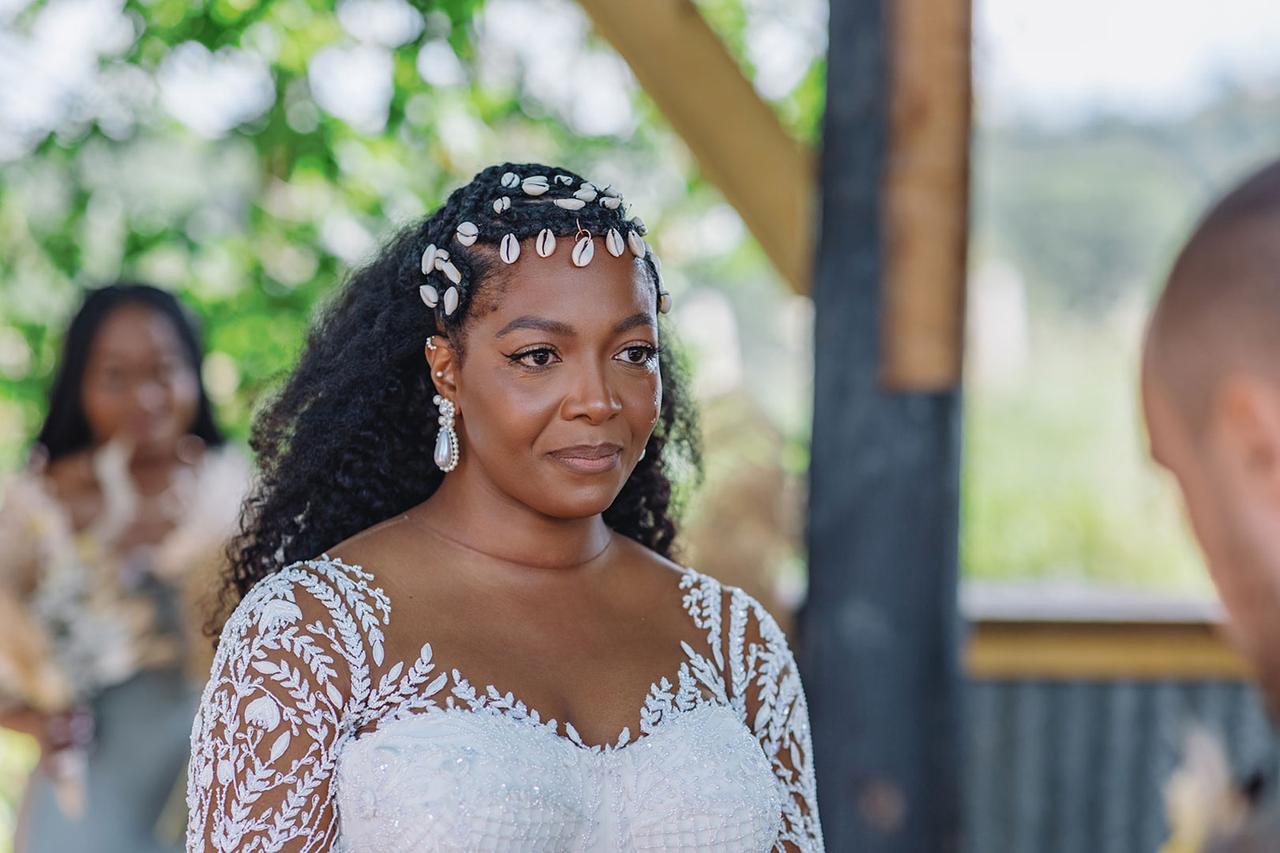 If you're getting married at a beach wedding venue - this one's for you!
"There are three parts to this style; you have the cornrows creating a gorgeous pattern, the volume in the back which can be created using your own hair or if you want the drama to continue you can add some tracks, crotchet braid or extensions, and then last but not least, those stunning shells are added to create a whole other dimension to this beautiful style," says Aina.
4. Loose Curls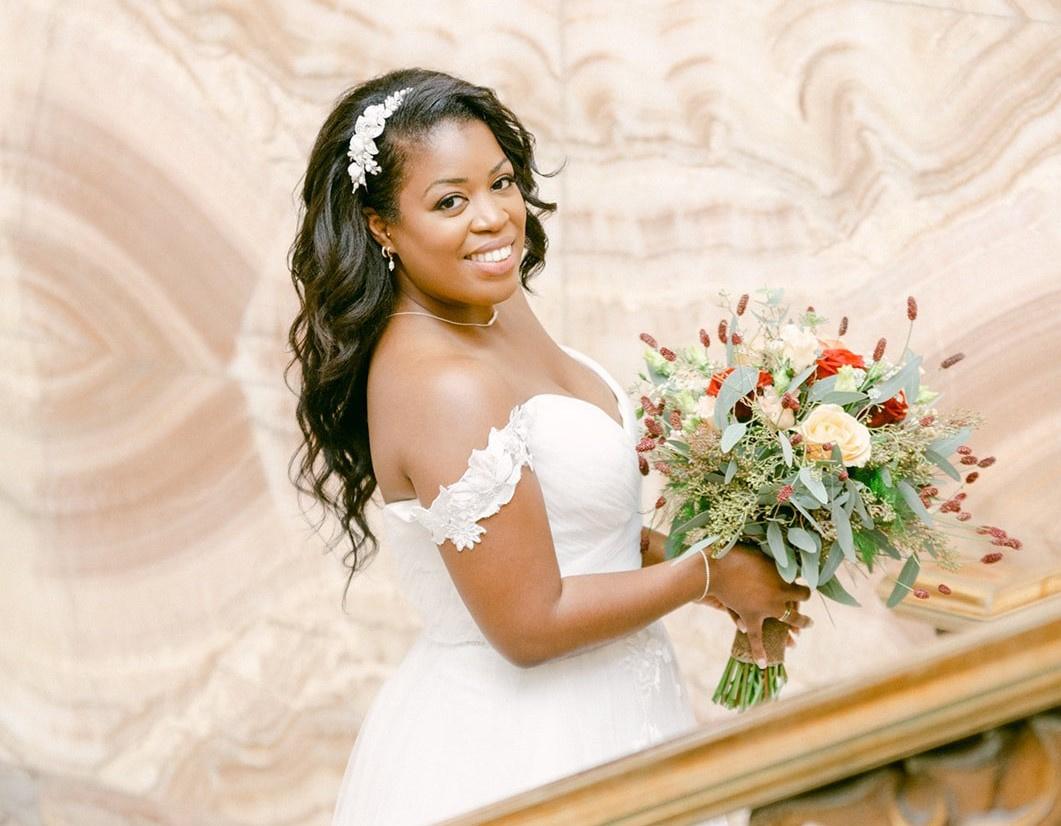 Loose curls are a wedding hair trend that'll never go out of of style so, "if you envision yourself on your wedding day with sleek, flowing curls then you can use a silk press, blow dry, or other non-invasive straightening methods for your hair on your wedding day," suggests Aina.
"Remember, it is your day so natural or straight is a personal decision for you to make - the main thing is that you feel comfortable in how you wear your hair."
"There are options such as clip-ins or to weave in a few tracks if you would like to create volume and length to give your hair that wow-factor. Clip-ins can really transform the loose curls giving your style a bit of drama and body for when you're strutting down the aisle. Make sure to use clip-ins that can take heat, use heat protector and also have a good hairspray to hand to lock in those gorgeous curls so you can dance the night away," recommends Aina.
Hair Habits to Start Before Your Wedding Day
Healthy hair is the ideal starting point for all wedding day hair looks, so how to nourish afro-textured and curly hair types that are often prone to dryness? Kash Bishop, stylist and afro specialist at Neville Hair & Beauty, shares his pre-wedding hair timeline and strategy:
"Begin weekly strengthening protein treatments at least two months prior to your wedding day. This will inject moisture back into the hair and is even more effective when combined with steaming to allow conditioning treatments to penetrate effectively.
"For best results I also recommend regular scalp massages with oil to enhance hair growth and softness."
Try Khali Min Rescue Oil, £38, for dreamy head massages and Kash swears by Mielle Organics Rosemary Mint Strengthening Hair Masque, £13.99, for a deep yet refreshing weekly hit of moisture. Kash also rates Shea Moisture Manuka Honey & Mafura Oil Intensive Hydration Hair Masque, £12.99, for powerful at-home TLC for textured hair types while Kérastase Cleansing Conditioner Curl Idéal, £27.40 makes for the perfect pre-treatment cleanse for curly and afro hair.
If you've got time to steam hair (anywhere between 10 minutes to half an hour should do the trick) apply your mask or oil of choice in a hot, steamy bathroom and either wrap in a warm towel or invest in a hair steaming hood or cap. Alternatively lie back, relax and let the pros do the hard work by booking a series of pre-wedding steam treatments at your favourite salon (Kash offers them at Neville Hair & Beauty too if you're a Londonder).
Beautiful Wedding Hairstyles for Black Women
1. Loose and Long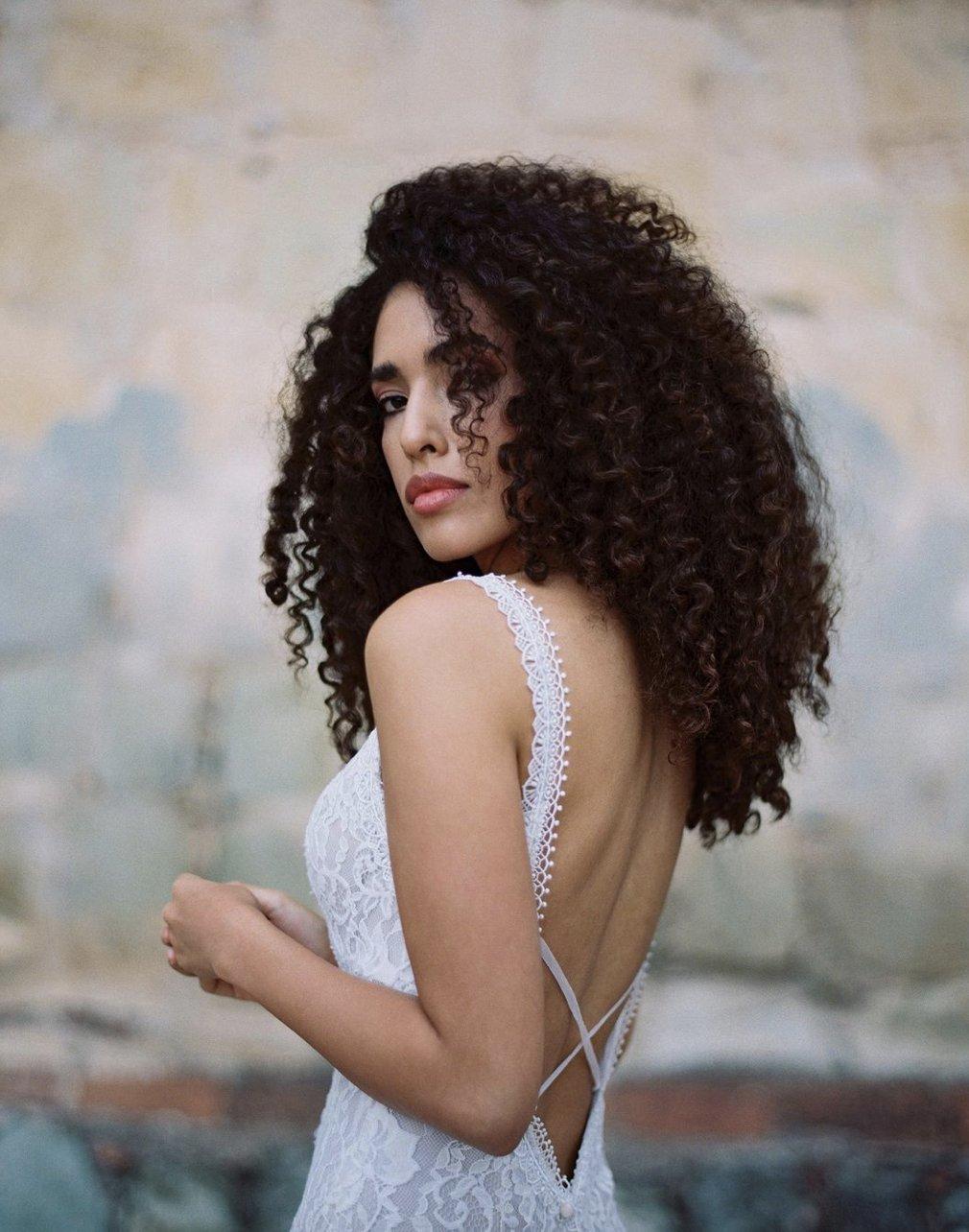 Bouncy curls speak for themselves, no accessories needed, as celebrity hair stylist, curly hair specialist and founder of her very own afro hair texture cutting course Jennie Roberts emphasises:
"Curls are such a joyful style – wear your hair as nature intended, embrace your natural texture and celebrate your curls. Never, ever feel pressure to keep your hair 'neat' and out of the way."
2. Teased out Texture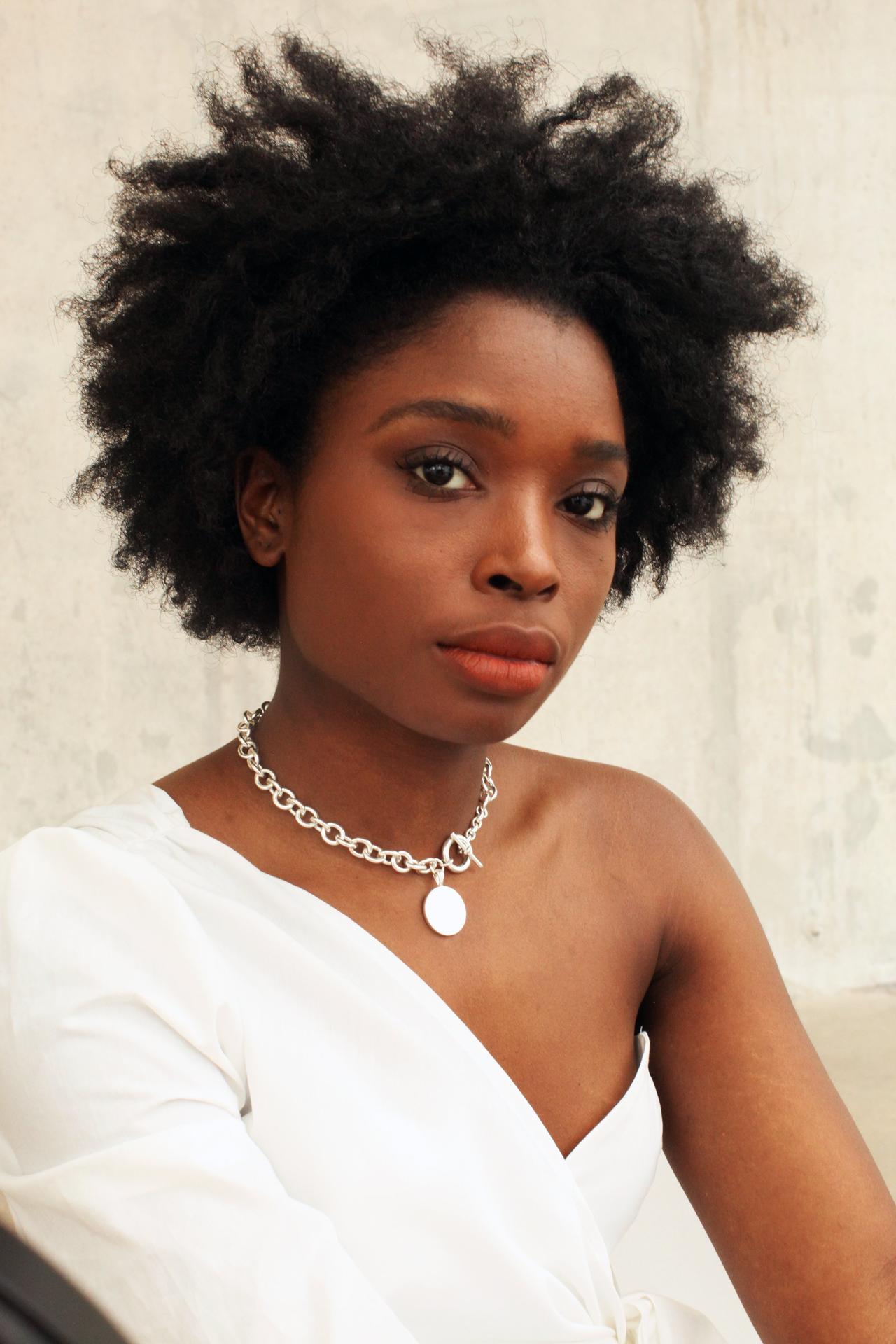 Let your type 4 texture do the talking - Kash recommends spritzing textured hair with a light mist of oil (try Charlotte Mensah Manketti Oil Finishing Mist, £40) before you walk down the aisle to boost hydration.
3. Defined Curls with Flowers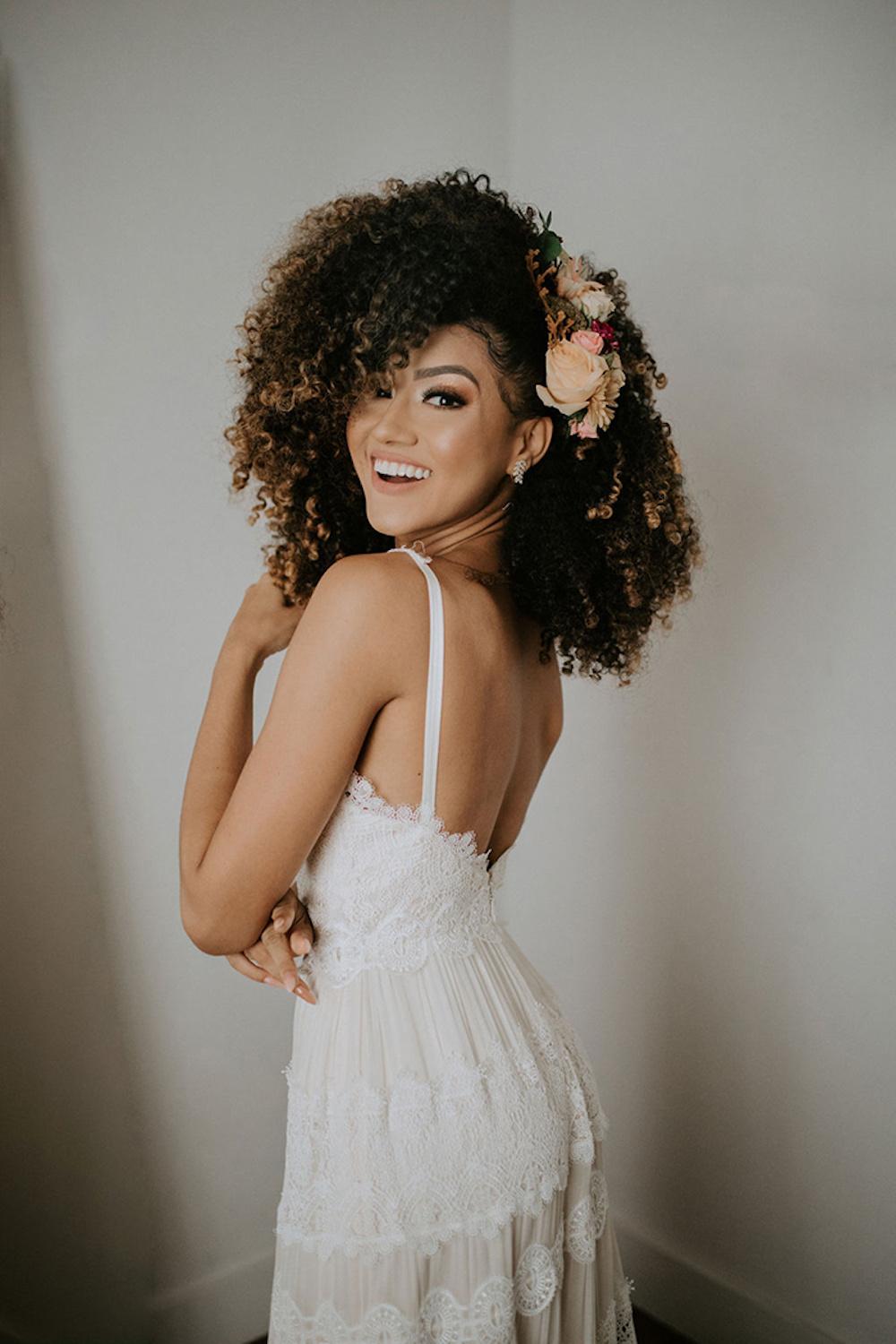 Weaving lighter tones through curls enhances their glory – team a rough side parting with real flowers for a romantic look.
4. Short with a Glitzy Accessory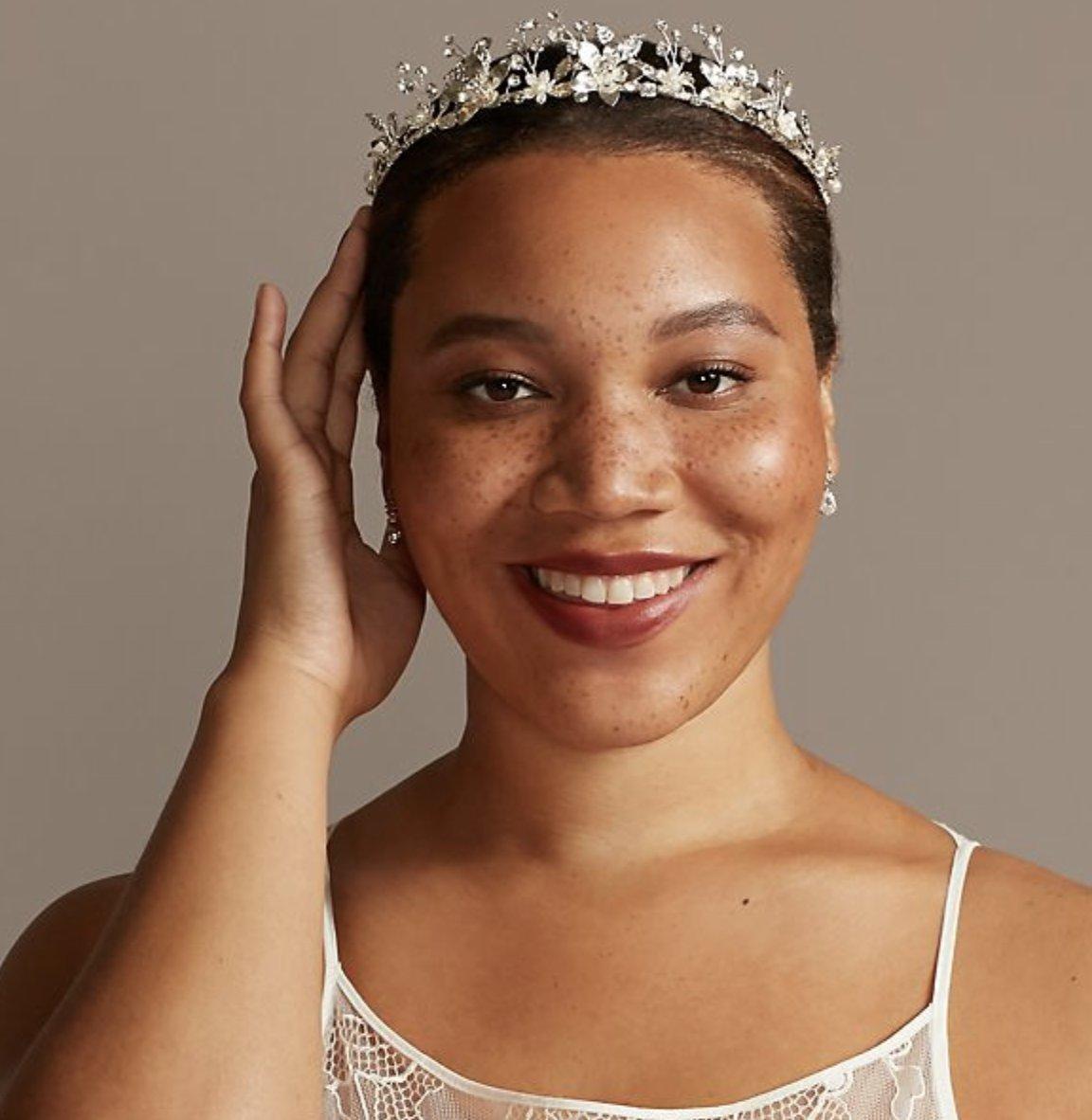 Who said that short styles can't handle accessories? Whether you've got a short natural style or choose to slick it back on the day, don't hold back when it comes to a statement veil, headband or drop earrings.
5. Half Up, Half Down with a Hair Accessory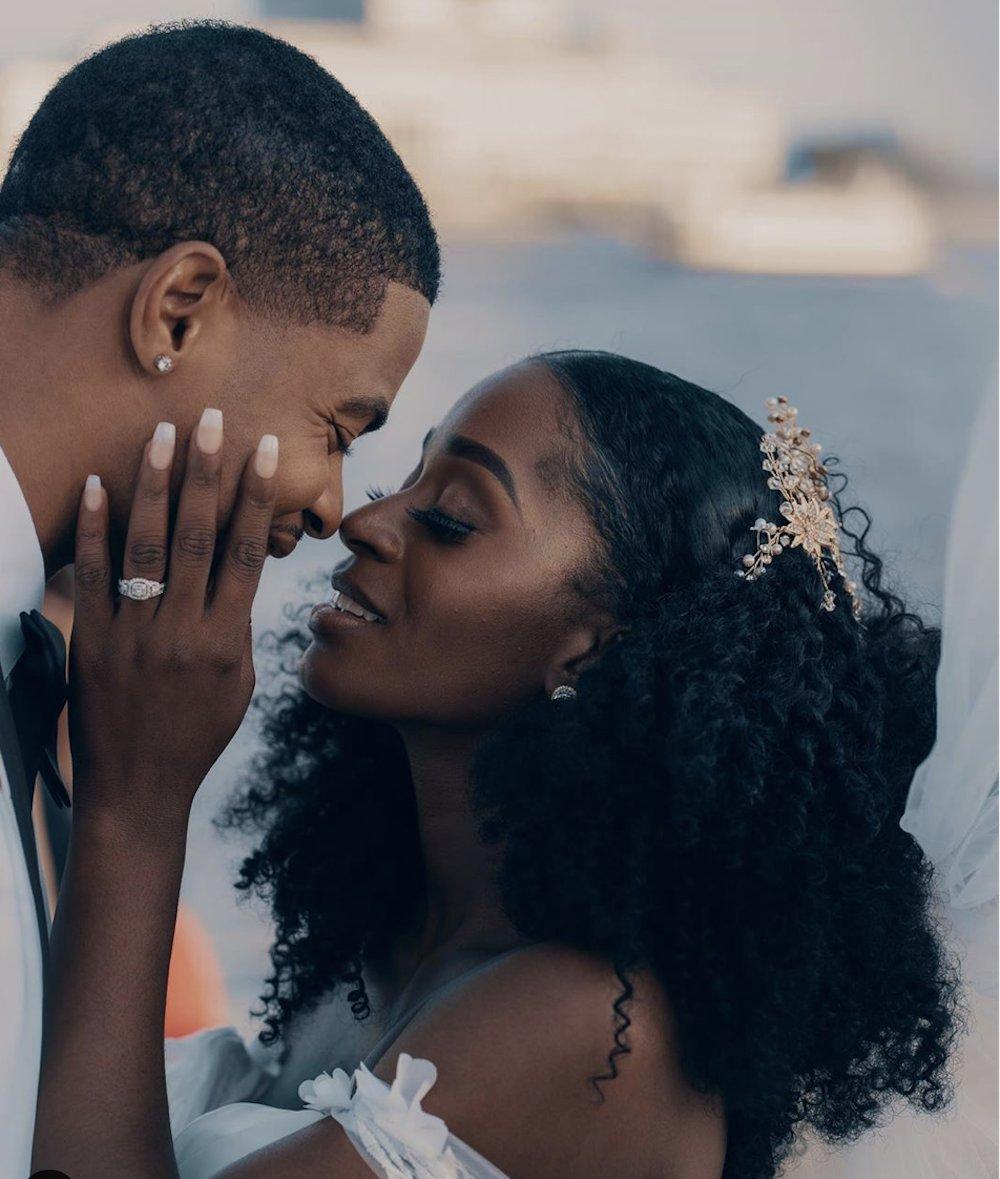 Lightly smooth your roots before pinning with an ethereal hair accessory just below the crown, then keep the lengths loose.
6. French Braids and Pearls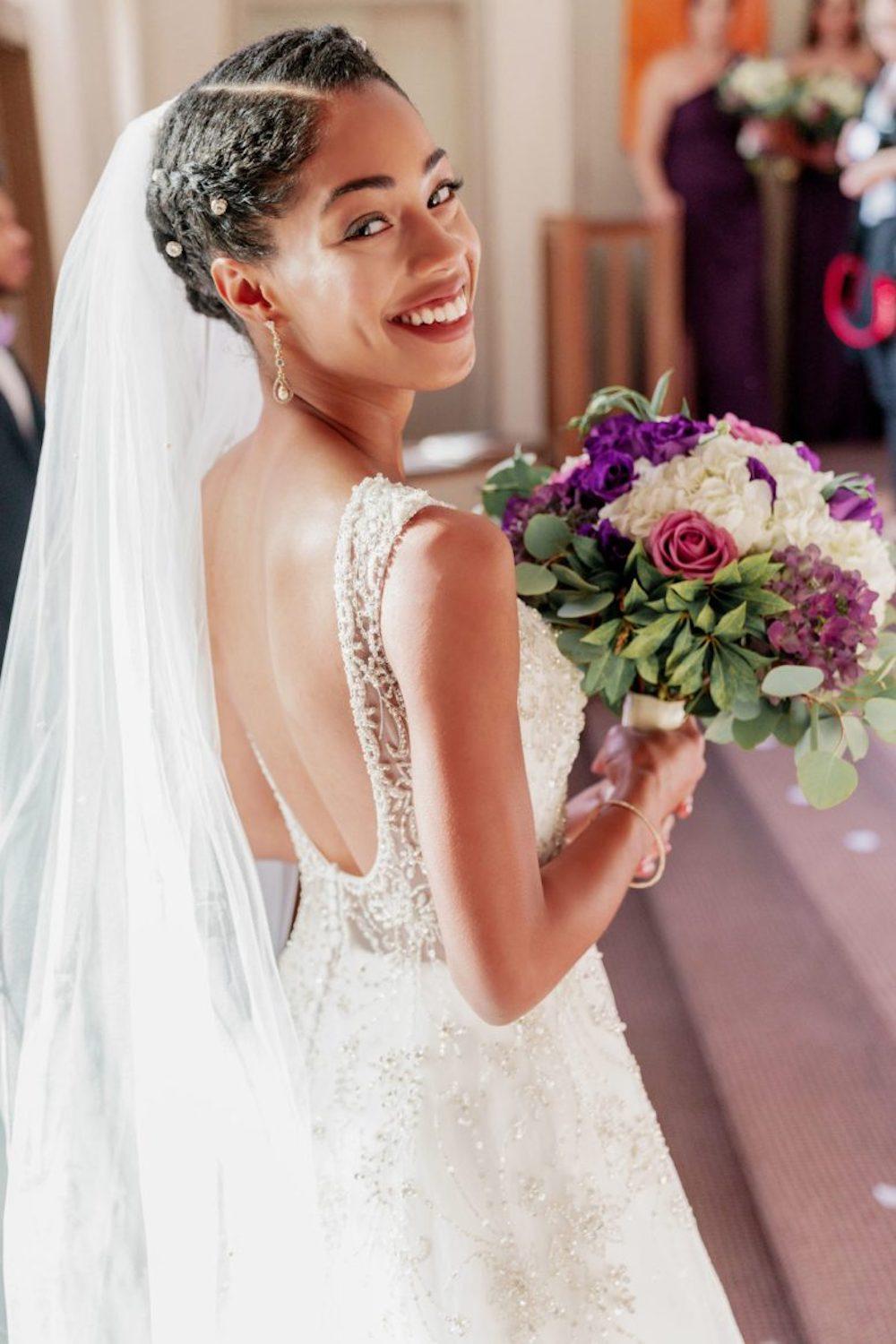 Ask your hair stylist to tuck a few pearls among your braids on your wedding day for extra impact.
7. Pearl Studded Low Bun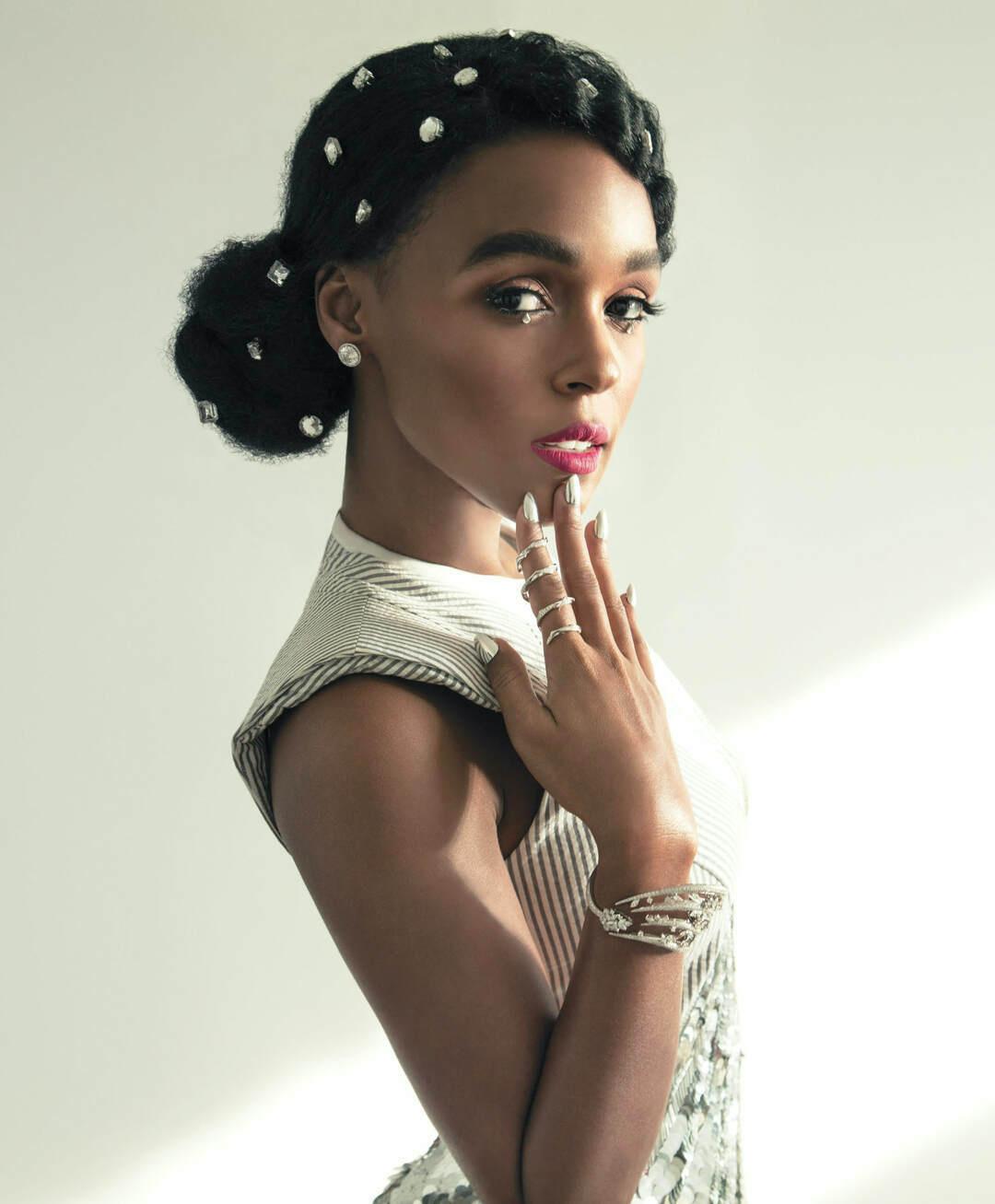 From the subtle to the frankly sensational – take your cue from Janelle Monae and dot pearls evenly into a textured low bun.
8. Twisted Bun with Flowers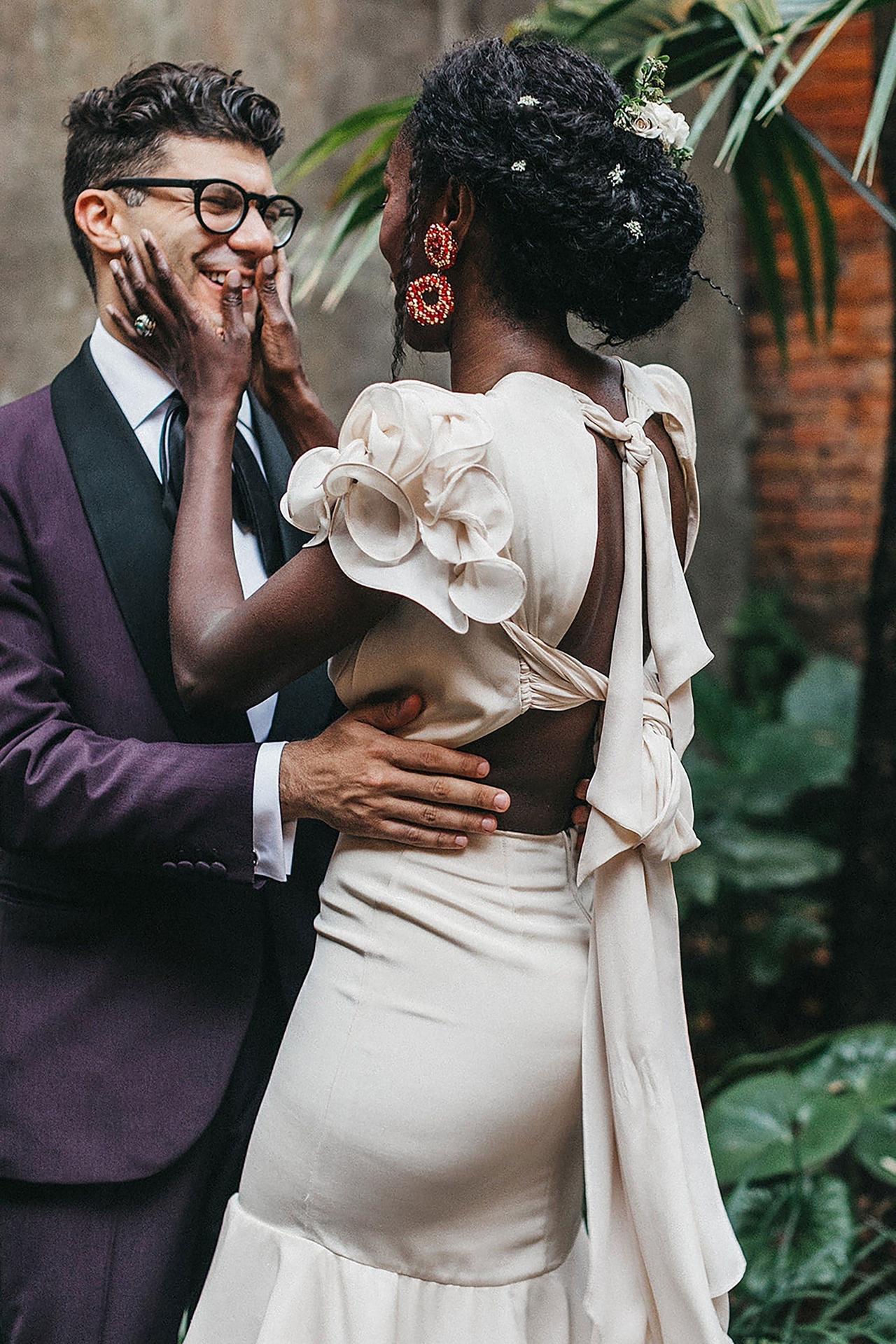 A scattering of flower heads more your thing? Ask your florist to prepare a mixture of sizes and varieties for your hair stylist to select and randomly pin in on the day.
READ MORE: Wedding Hair with Flowers: 17 Styles That Are Bloomin' Gorgeous
9. Real Flower Headband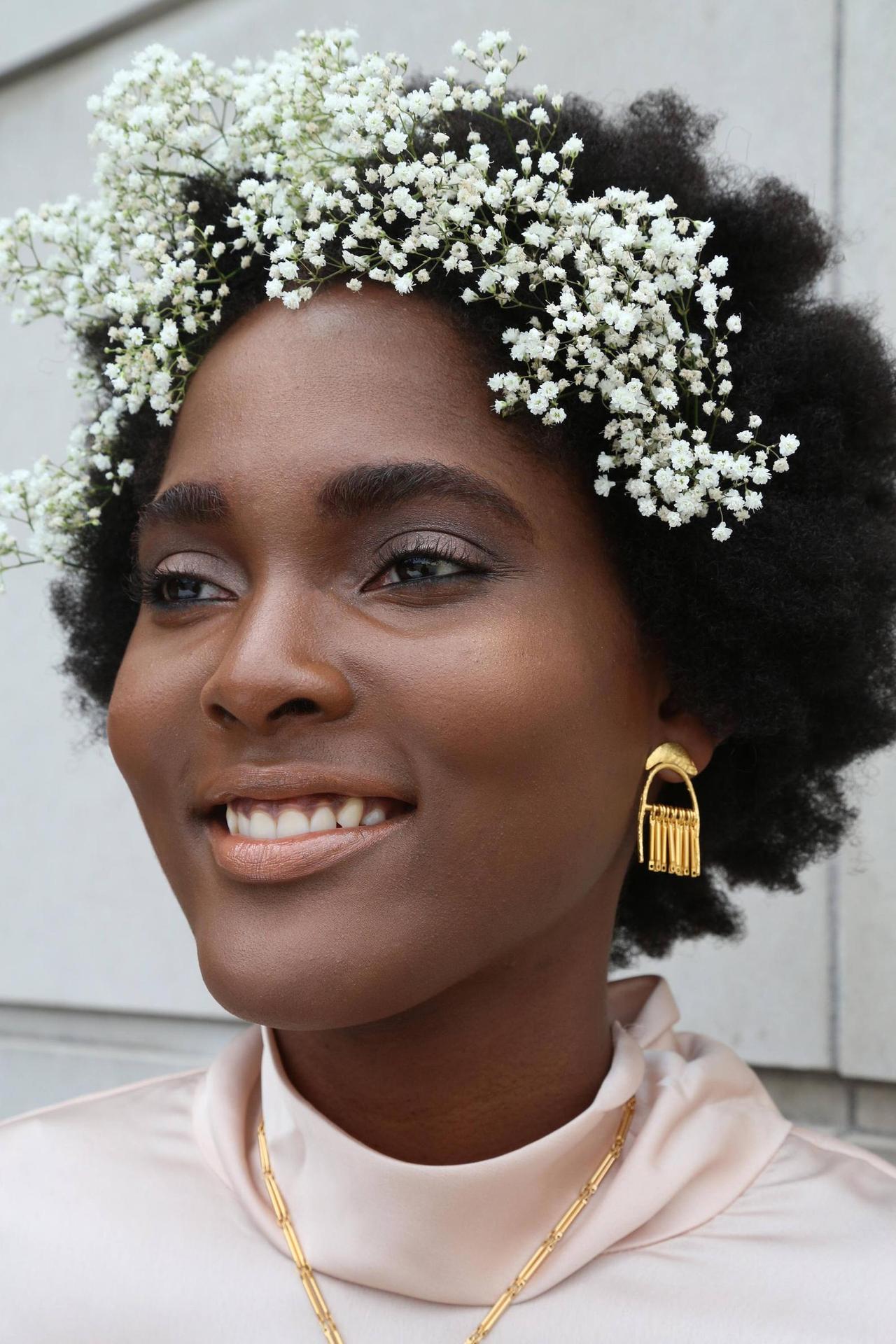 A baby's breath crown looks awesome with a baby afro, especially if baby's breath features elsewhere in your floral design.
10. Appliqué Hair Clip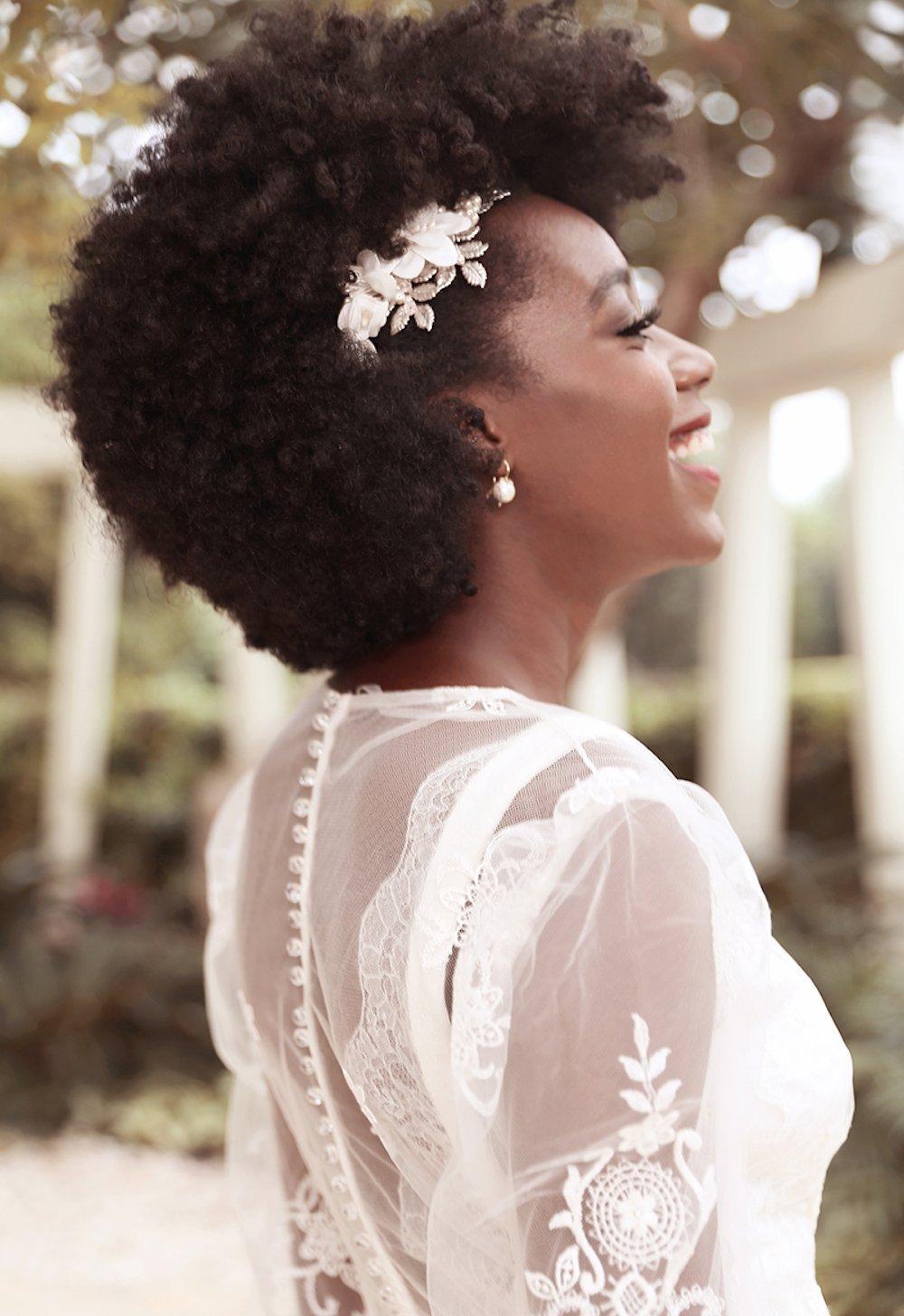 An appliqué white flower hair clip won't steal your afro's thunder - tuck it in the side so that the petals are half visible.
11. A Modern Tiara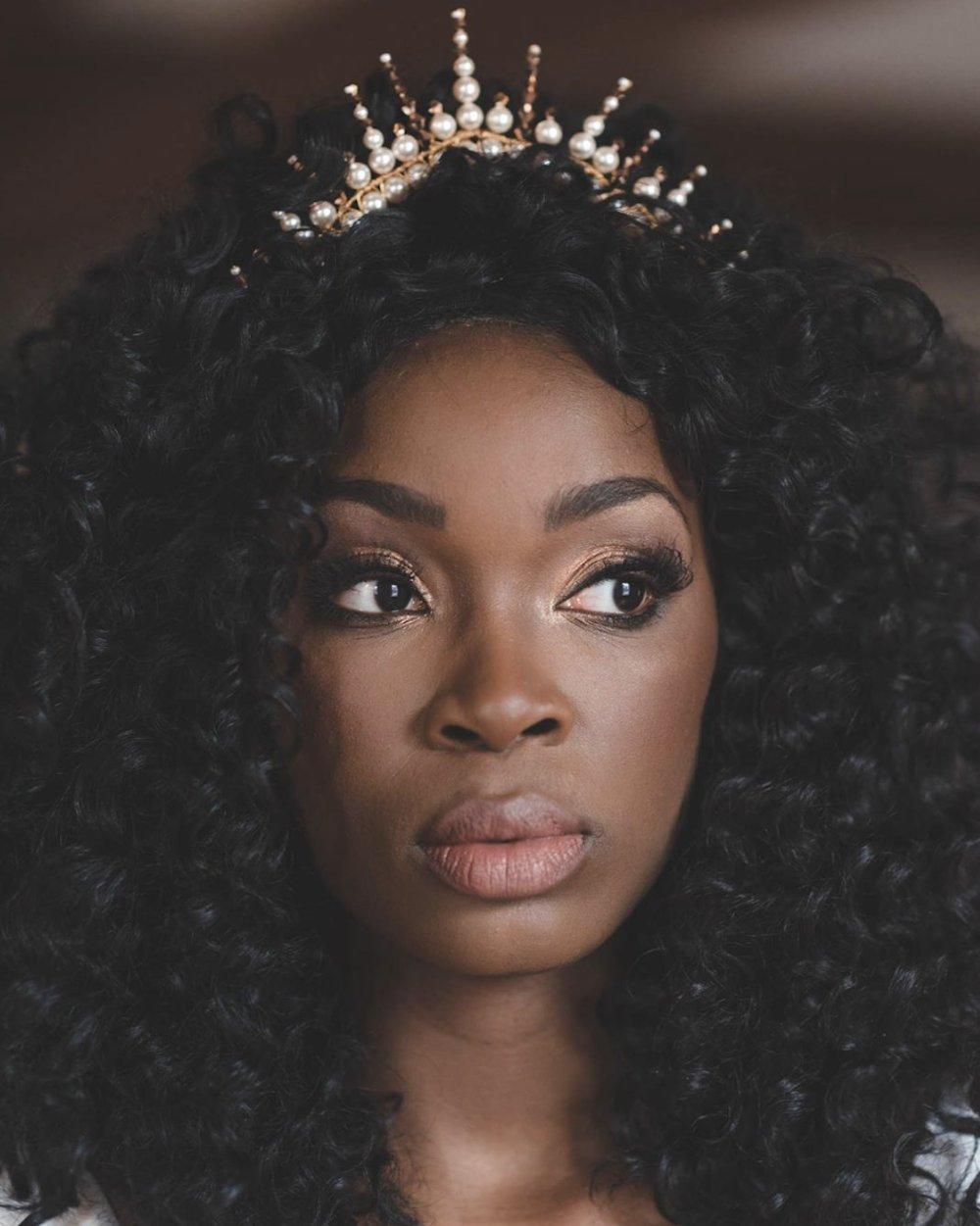 Disney princess crowns aren't your only option – this modern, geometric pearl studded band reflects the queen that you are, without the fuss.
12. Chunky Braids and Twists with Gold Thread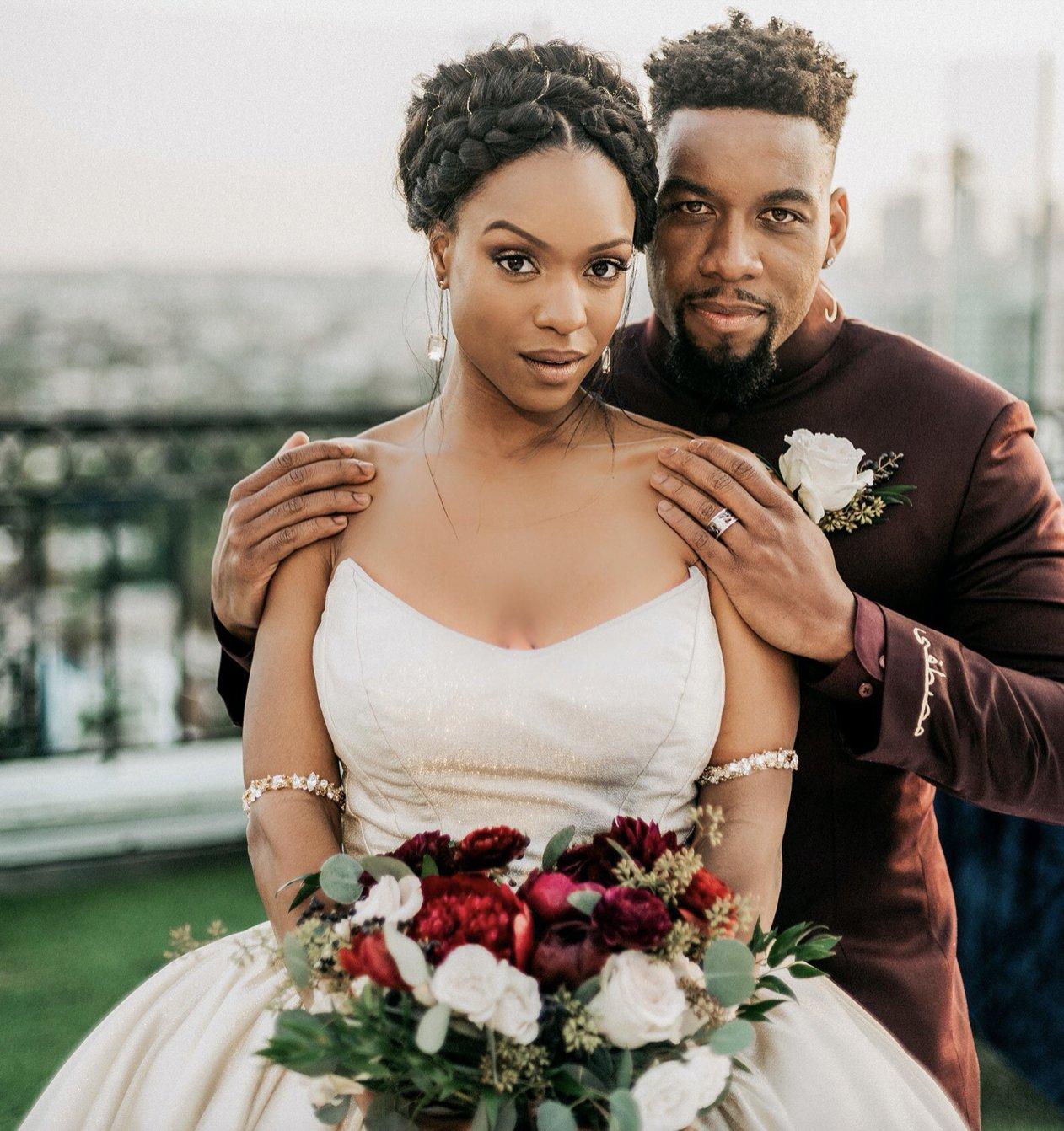 Face framing braids topped with gold-threaded twists creates a seriously unique bridal updo look.
13. Braided Locs with Gold Leaf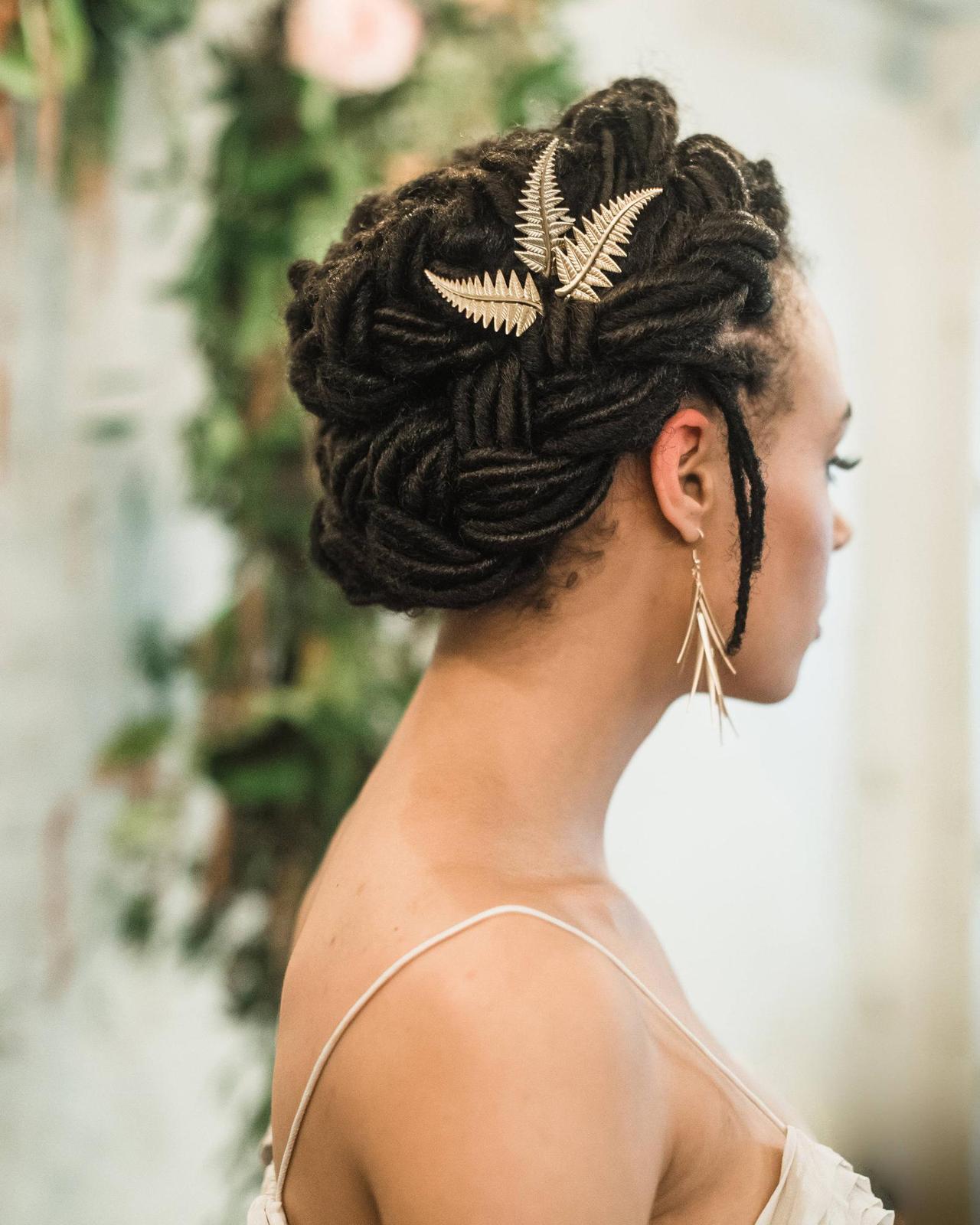 Chunky braided locs in a double crown around the head look even more striking combined with wavy gold leaf hair clips. This one works particularly well if gold is a main feature within your wedding colour palette or jewellery choice.
READ MORE: Gold Wedding Cakes: 17 Dazzling Designs Your Guests Will Love
14. Curls and Birds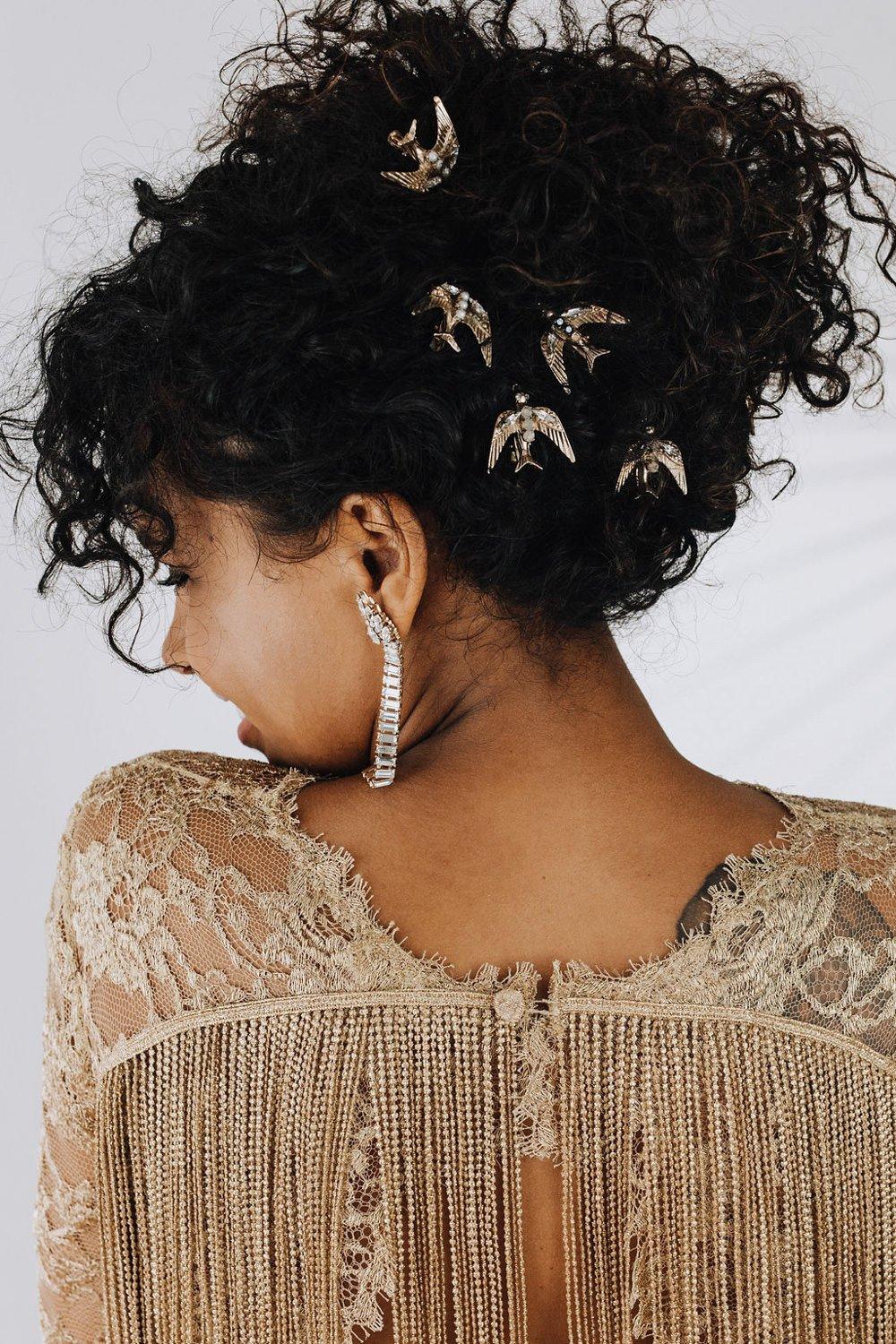 Swap leaves for birds to dress up the back of a curly updo.
15. Halo Braid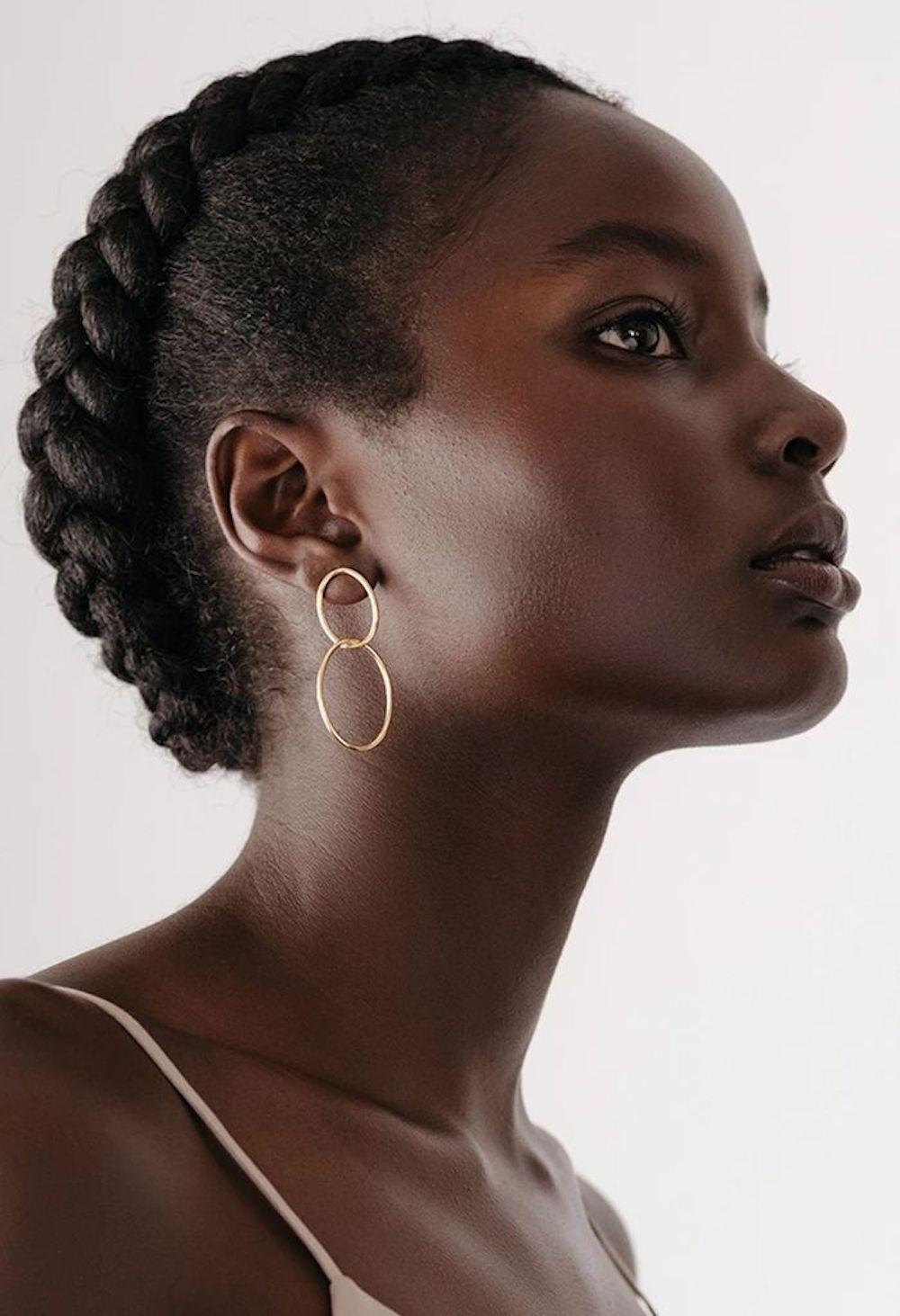 A halo braid is a classic wedding look – team it with a pair of modern drop earrings for a fresh feel.
16. Vintage Barrette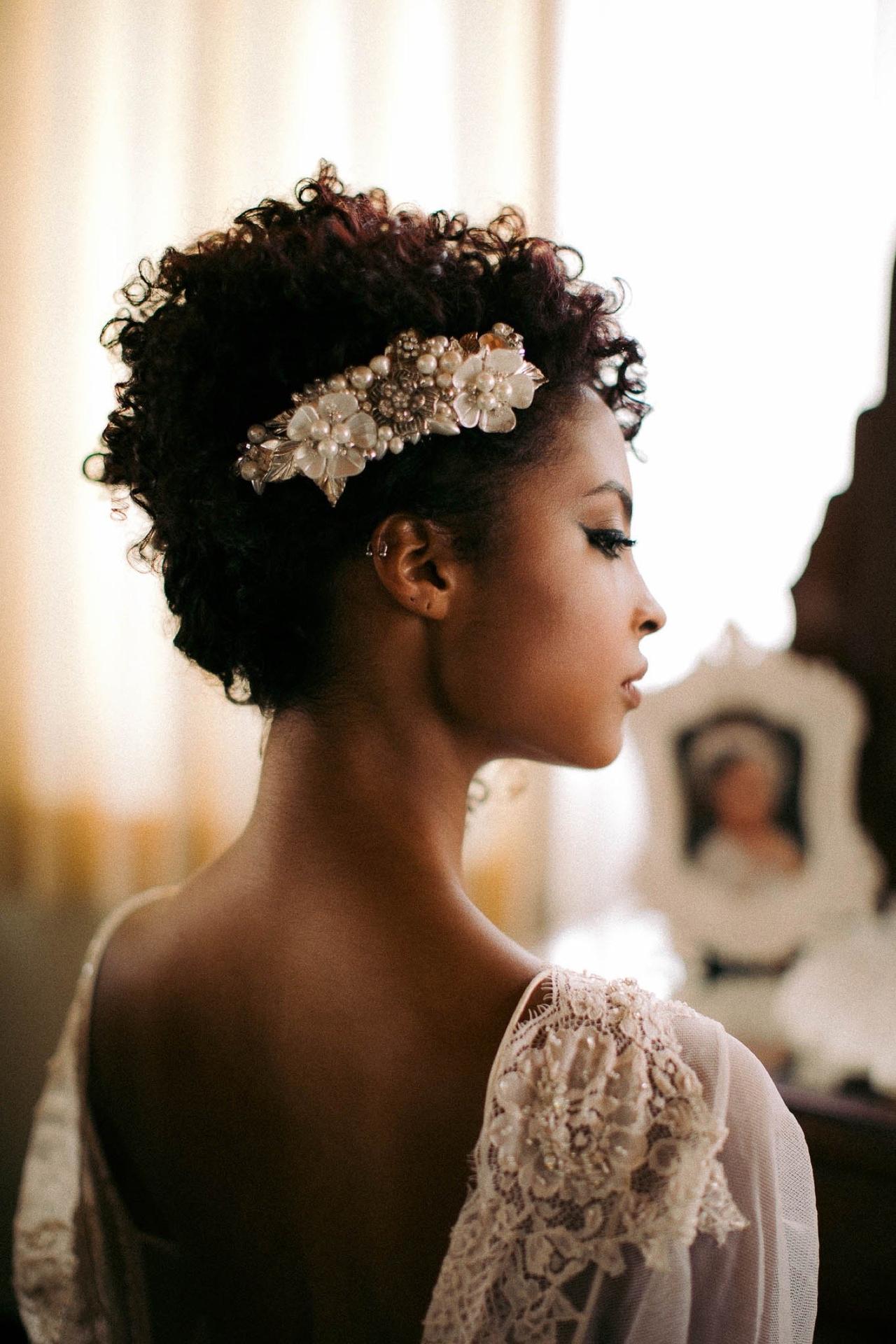 If your wedding has a vintage vibe, this pearl and enamel encrusted barrette will be just the thing. Decide on placement according to your hairstyle of choice – the combination of side swept curls and delicate earrings here makes for a modern contrast.
READ MORE: Pearl Engagement Rings: 35 Beautiful Pearl Rings for the Modern Bride
17. Delicate Cornrows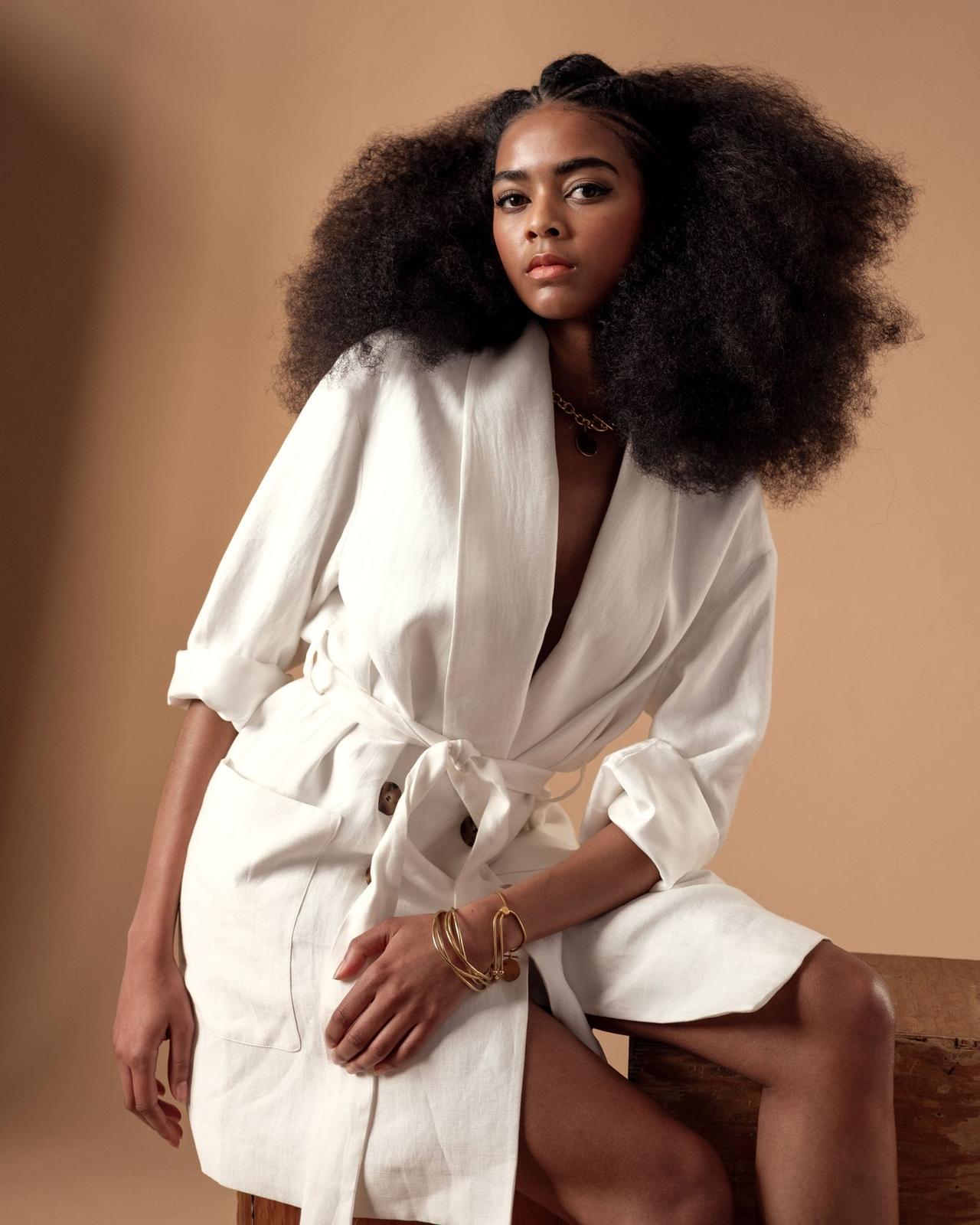 Opt for a few face-framing cornrows and a combed out afro for drama.
18. Long Ghana Braids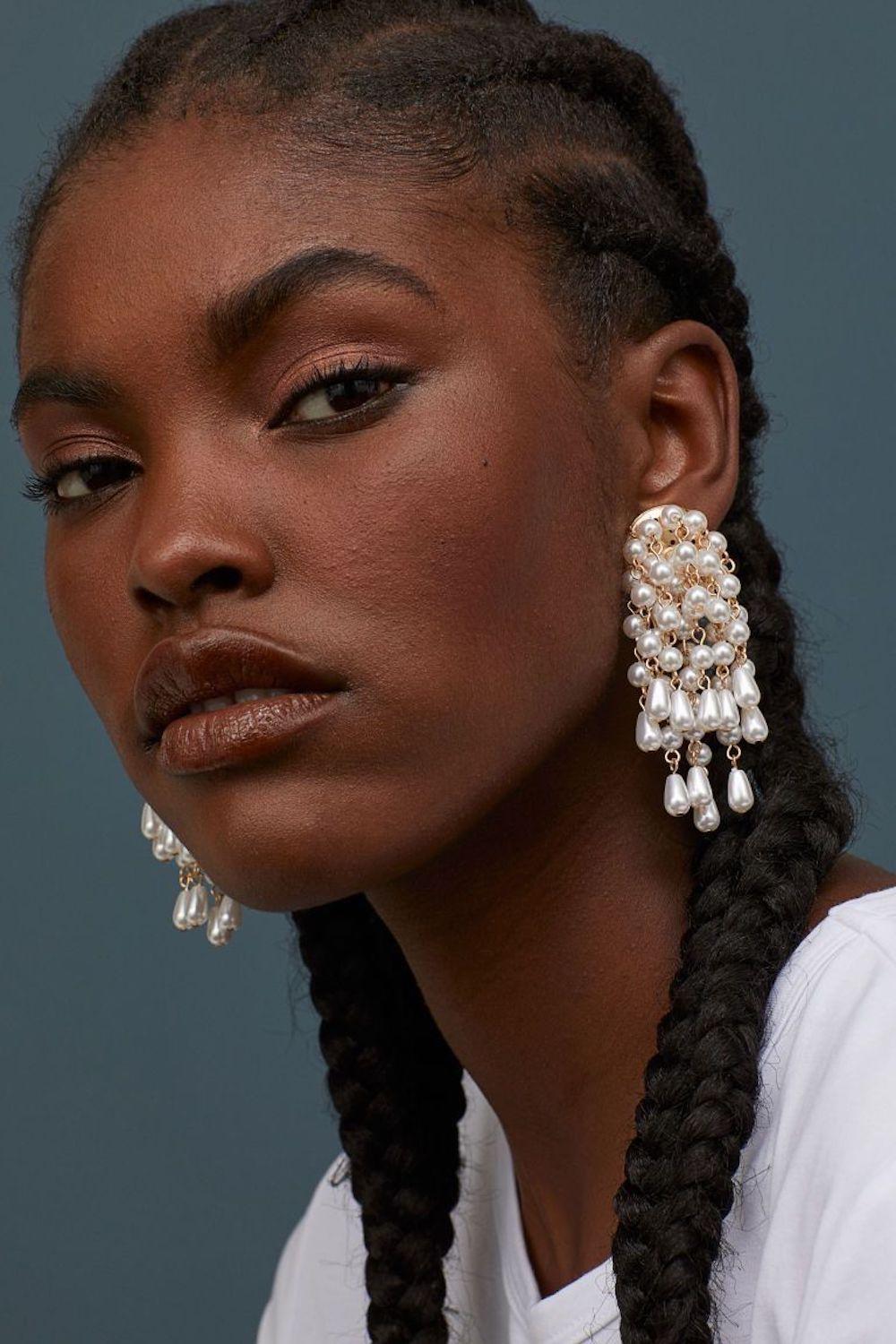 Long Ghana braids secured into bigger plaits at the nape of the neck highlight a killer pair of earrings – your lobes will be the first place guests look.
19. Half up with Veil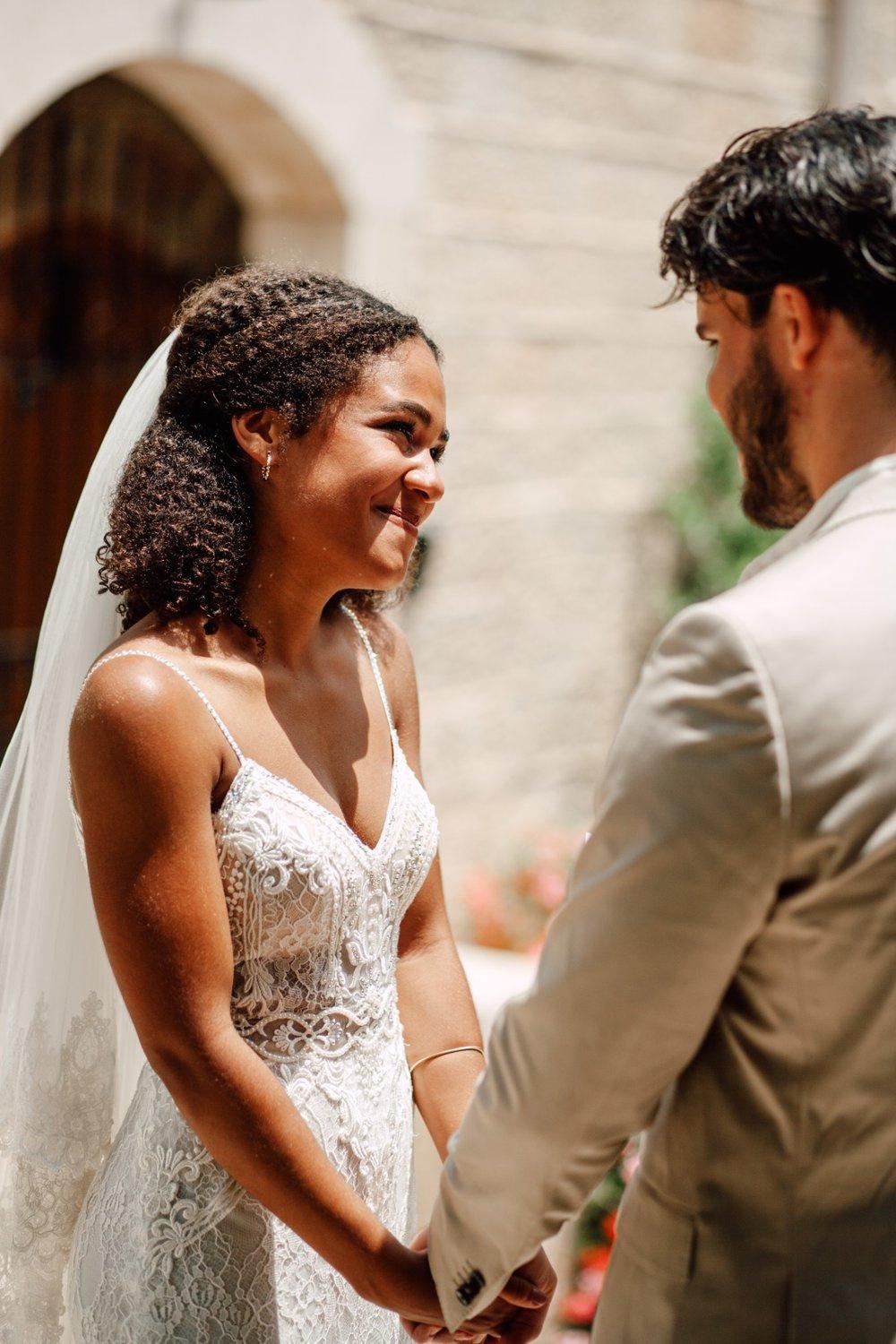 This half-up half-down curly bob style sets off a long veil perfectly – just shake it out later when the party starts.
20. Dyed Crop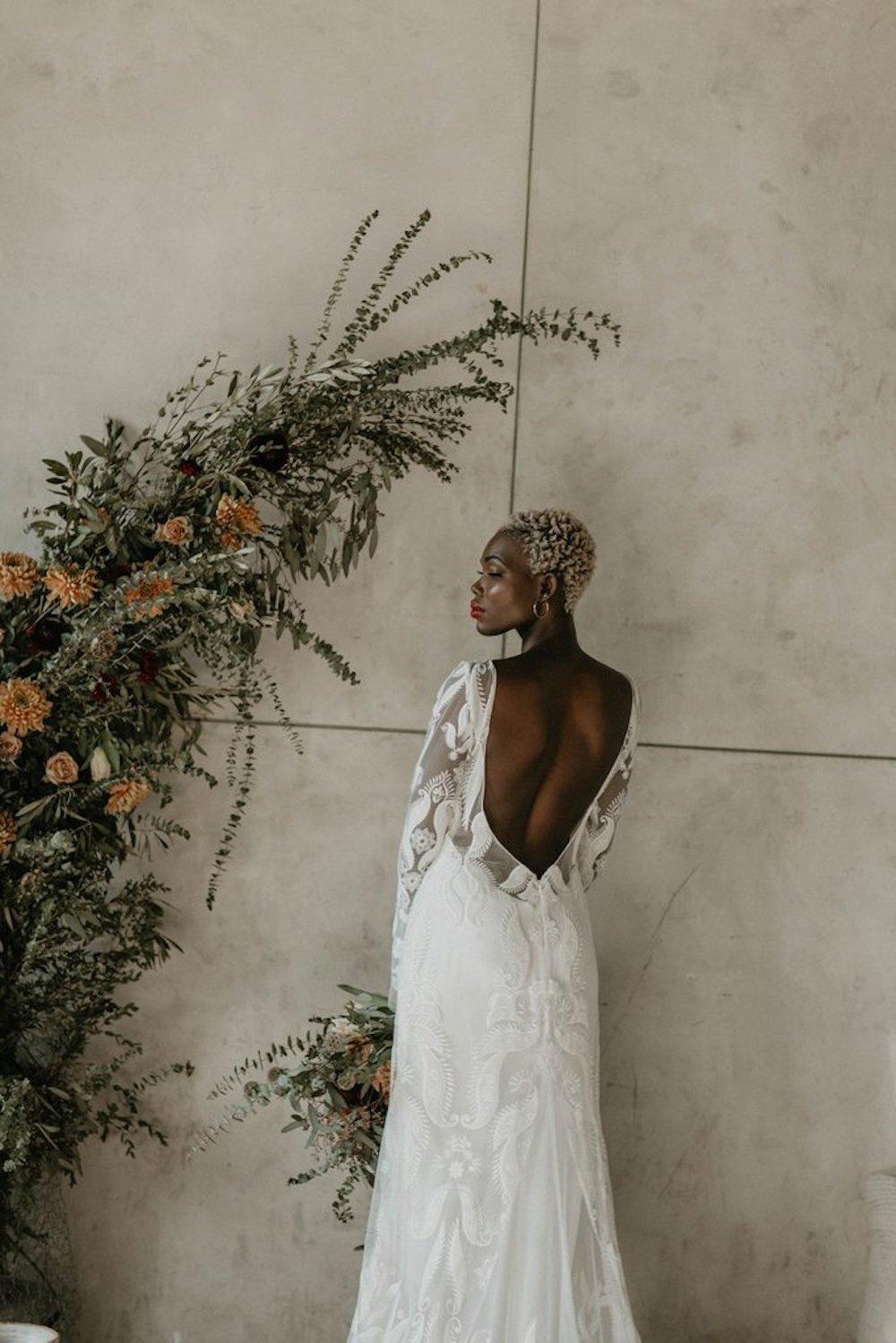 Want to big up short hair? Consider dyeing it ahead of your wedding day, but discuss it at length with your hairdresser first – it's a big commitment and could affect your hair texture.
21. Loose Clip with Curls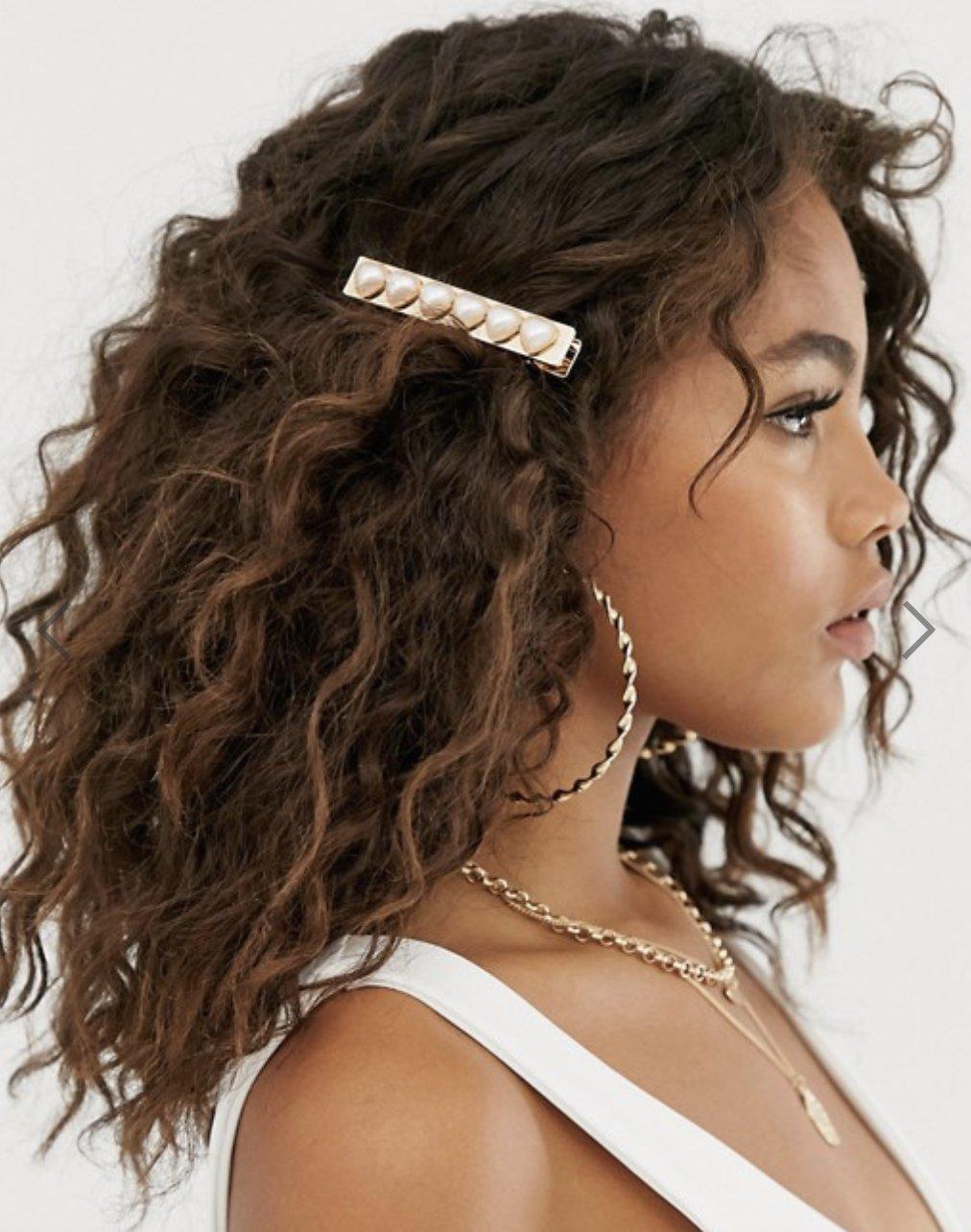 Kash recommends applying "a curl cream or custard before drying to define your natural curl pattern." Dry naturally or with a diffuser and add a loose slide at the side, leaving tendrils free around your face for a relaxed look.
22. Box Braids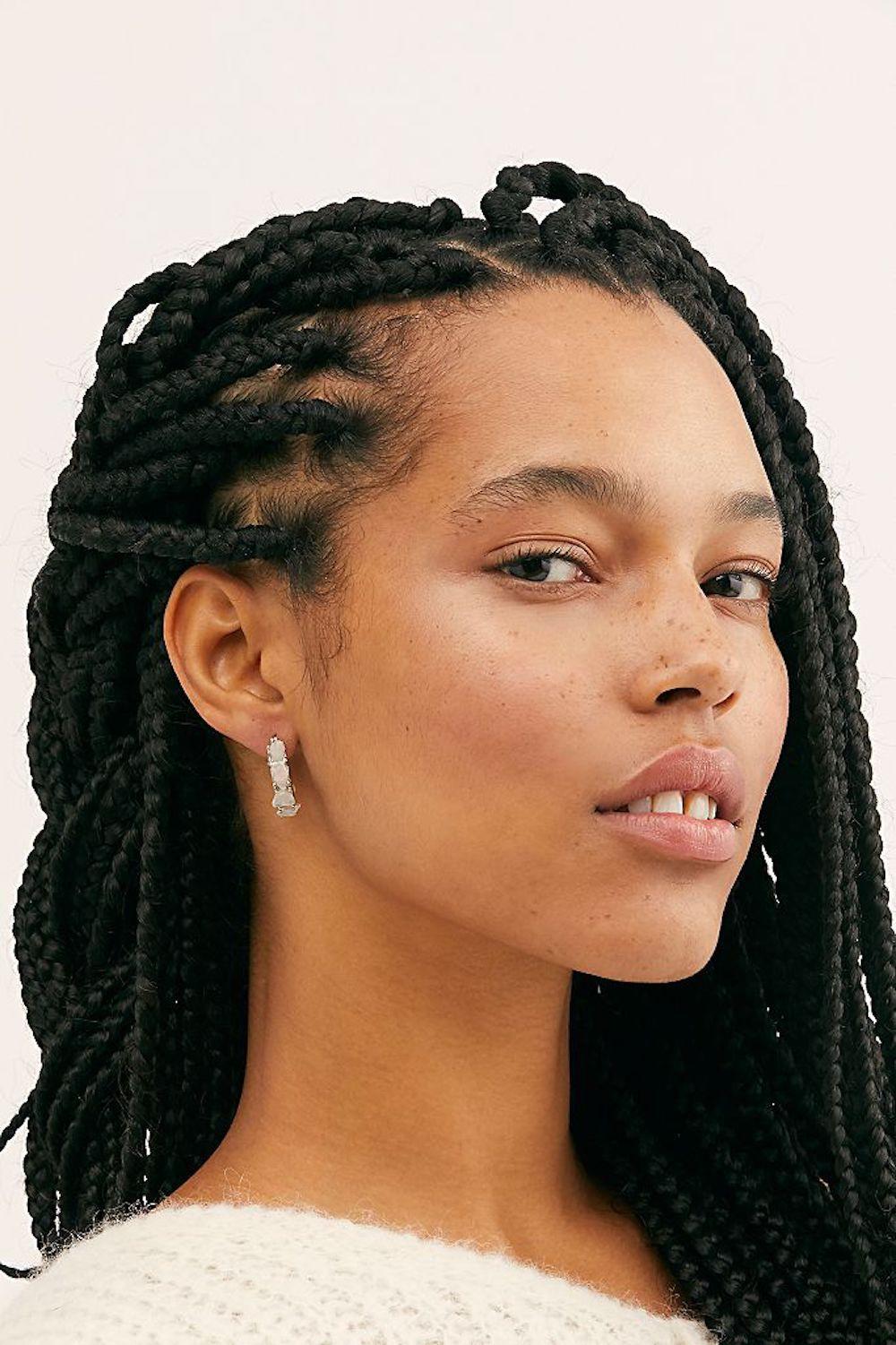 Loosely secured box braids look particularly cool when they're not too perfect – randomly clip up sections to draw attention to your bone structure and/or some mighty fine jewels.
23. Chignon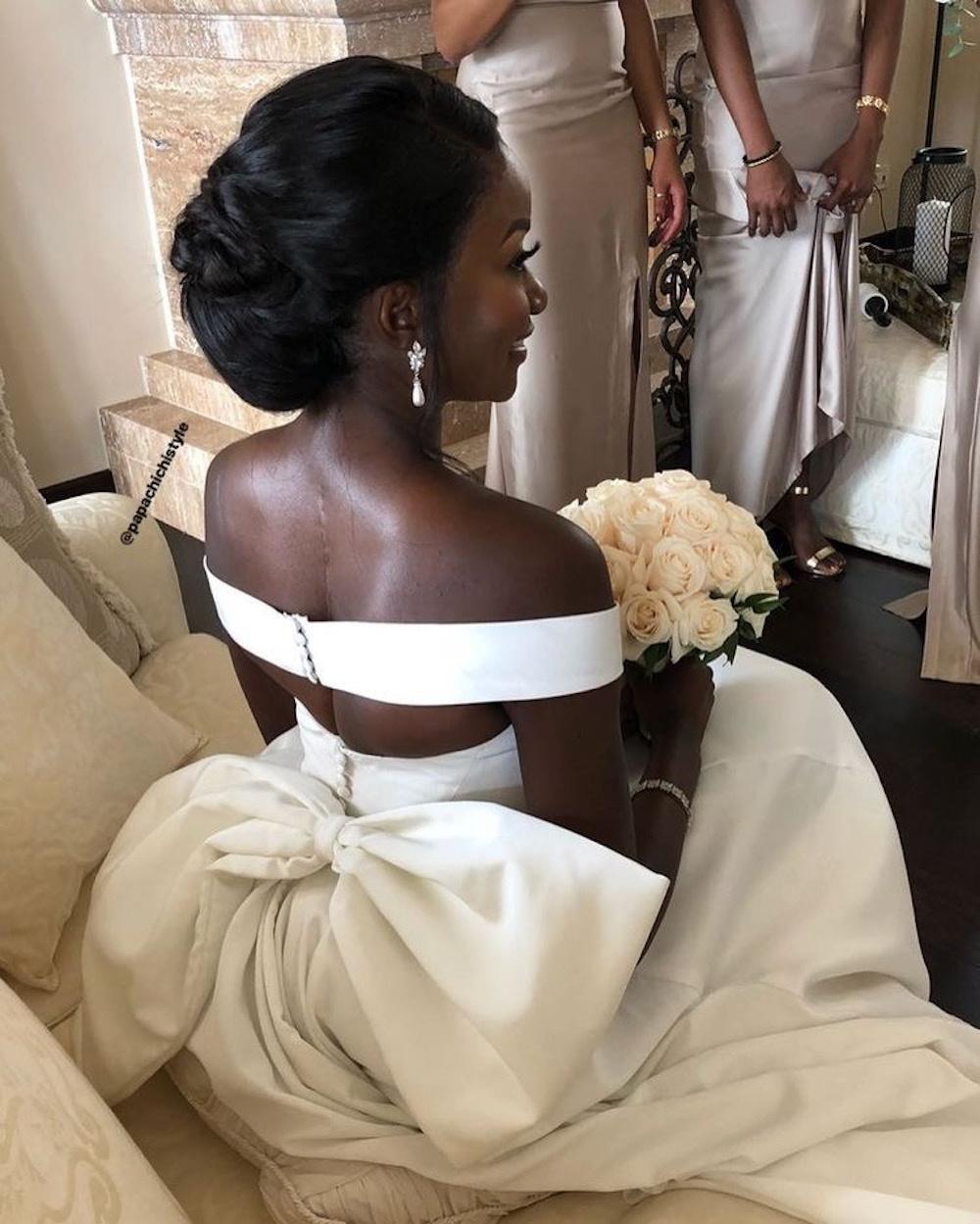 Got a weave, wig, relaxed hair or extensions? You can't go wrong with a classic chignon style on your wedding day, particularly if your wedding dress is all about the back.
24. Low Side Parting with a Bejewelled Clip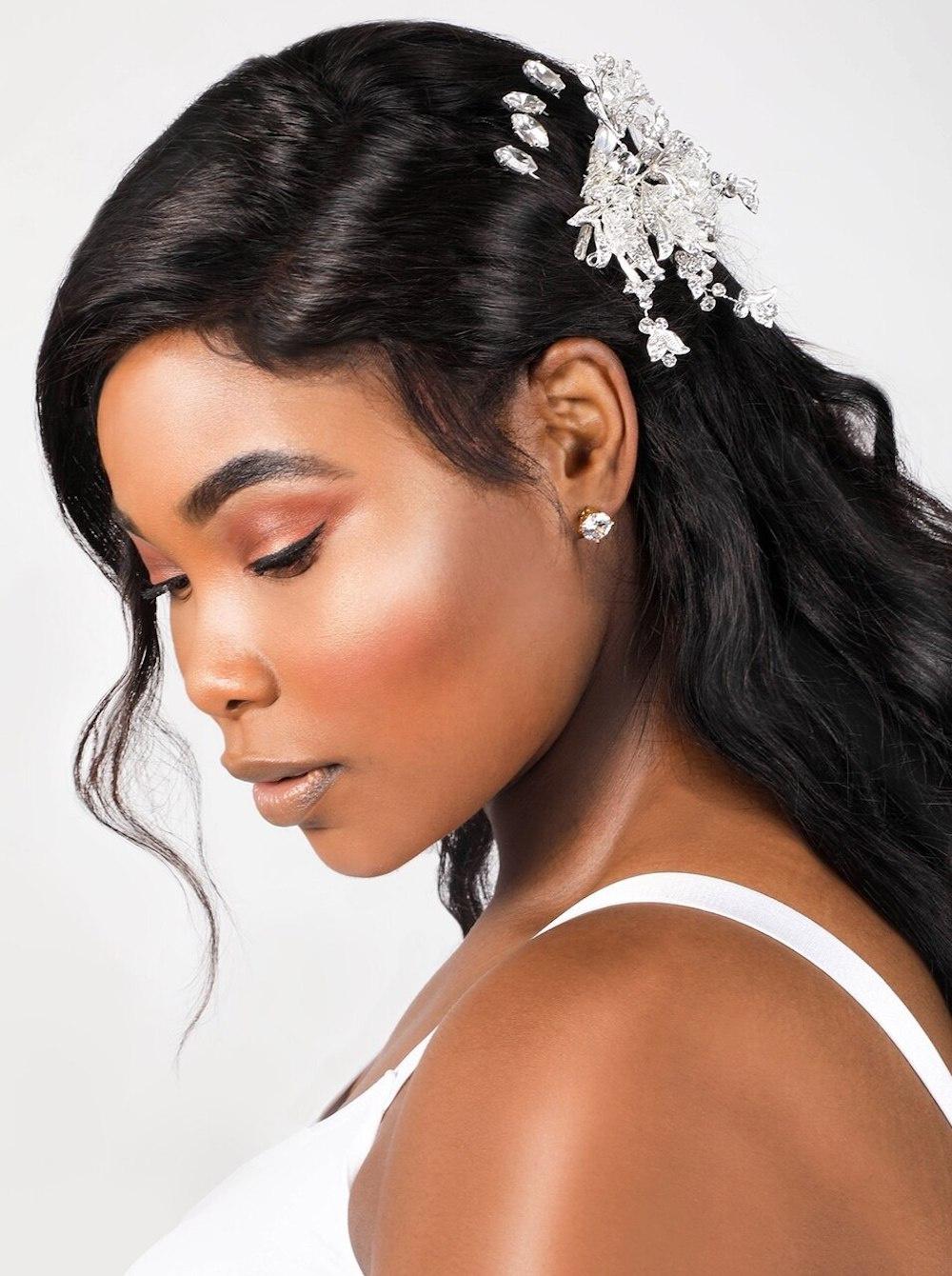 A simple style is the perfect canvas for a ritzy clip.
25. Low Bun with Oversized Clip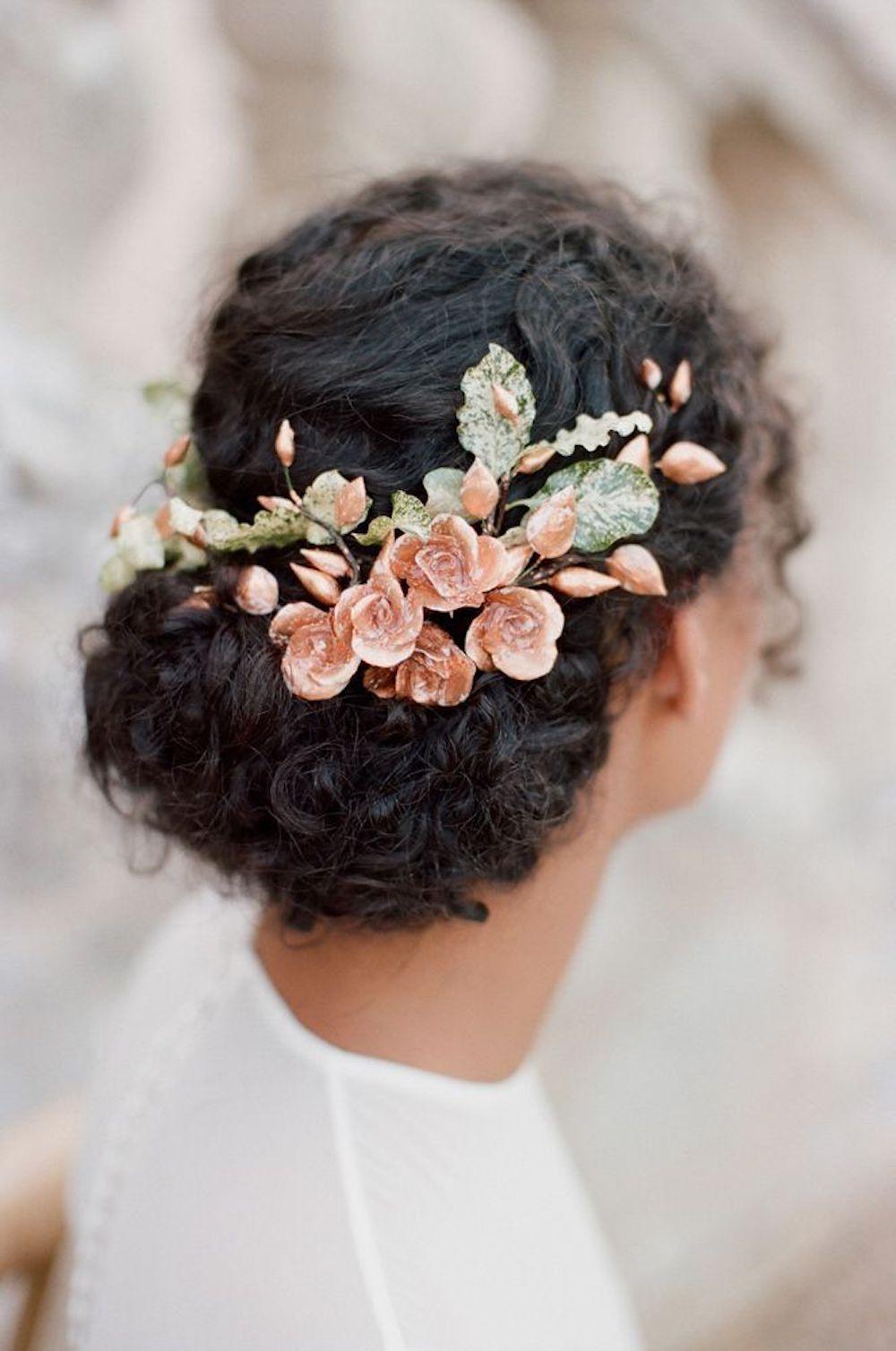 Take the hair accessory party to the back with a giant clip adorning a curly low bun.
26. Soft Updo with Silk Flowers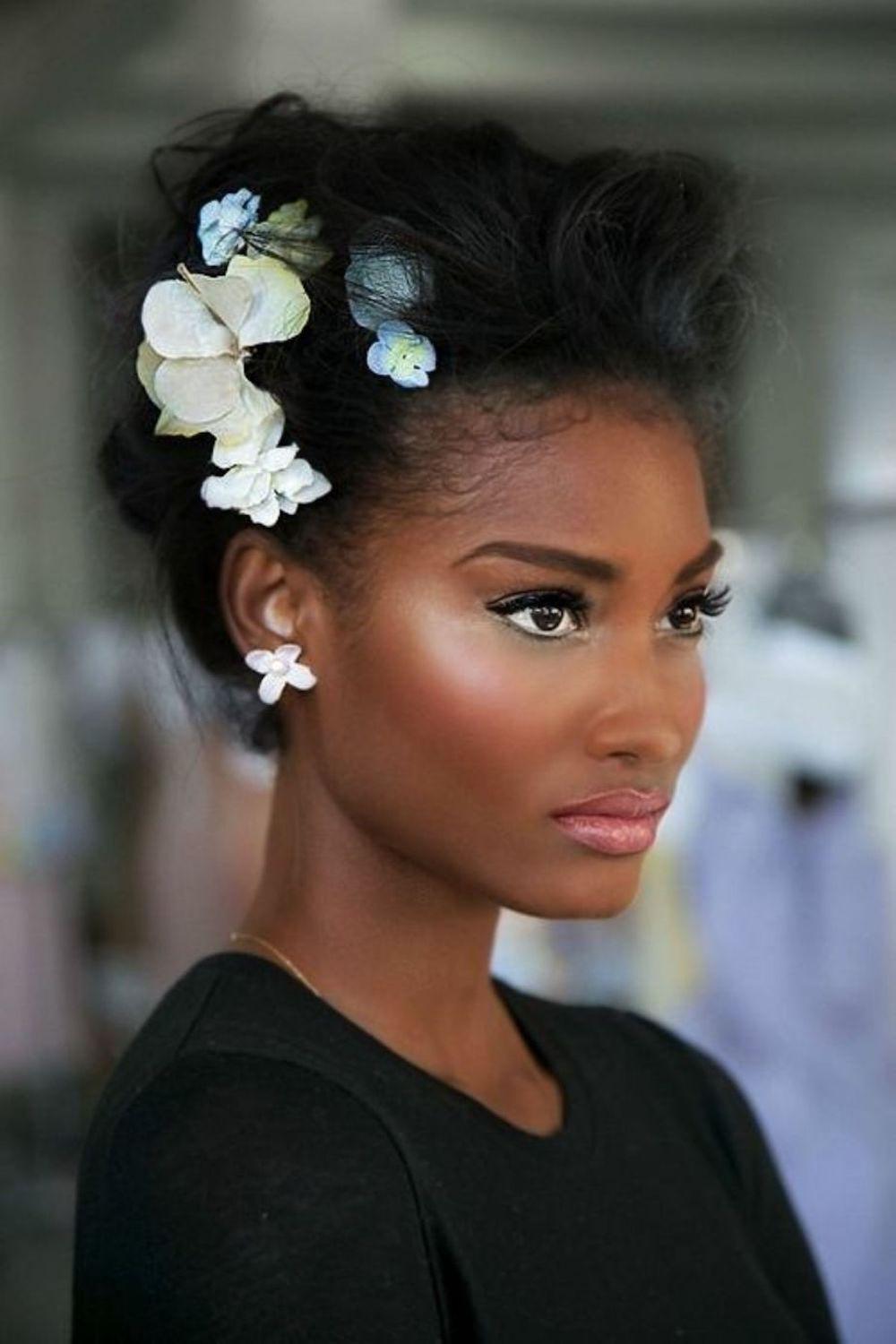 Silk flowers cascading from a soft updo creates an ethereal effect – this style would be ideal for a spring wedding and those petals won't wilt on you either.
READ MORE: 69 of the Prettiest Spring Wedding Ideas
27. Locs with Trinkets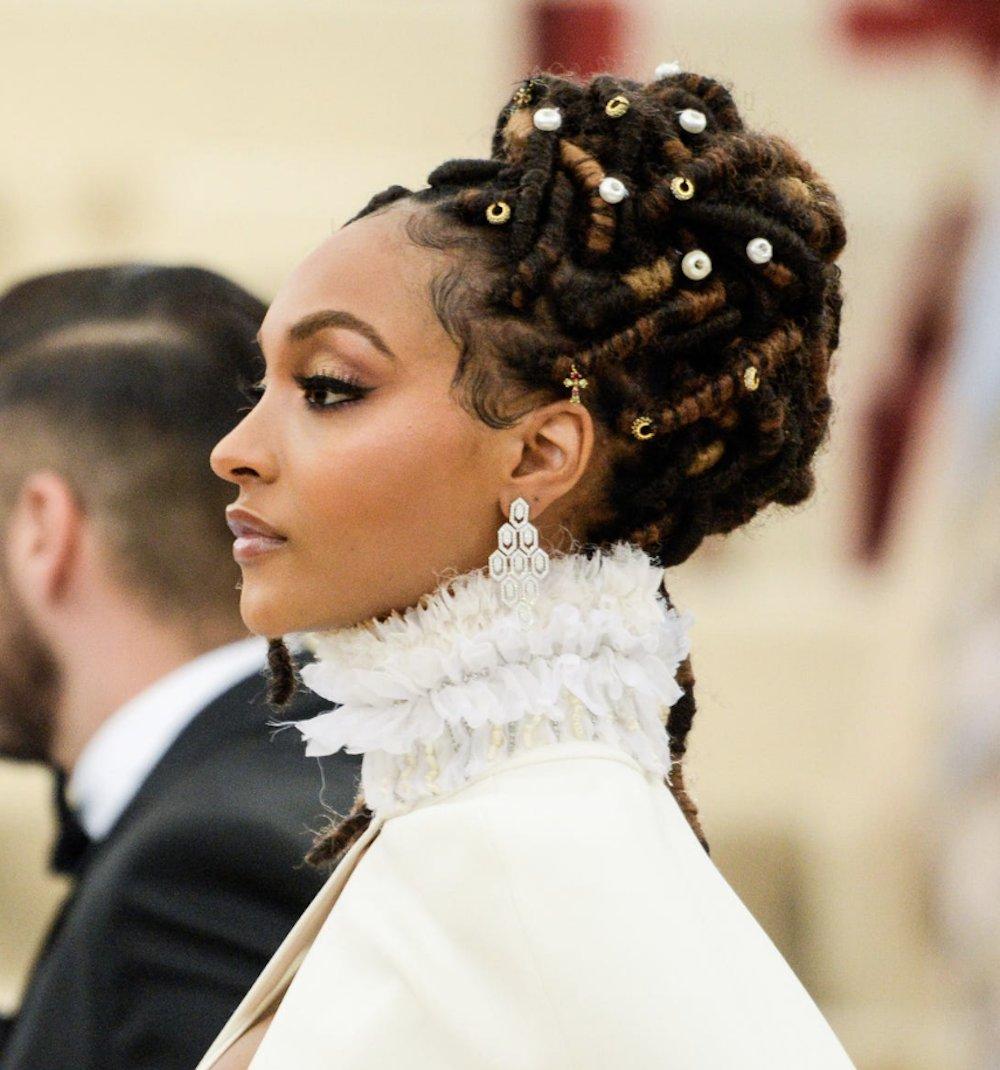 Jourdan Dunn's faux locs look majestic – as your hair stylist to work in a few trinkets of your choice to channel Dunn's Met Gala look.
28. Ghana Braids with Loose Curls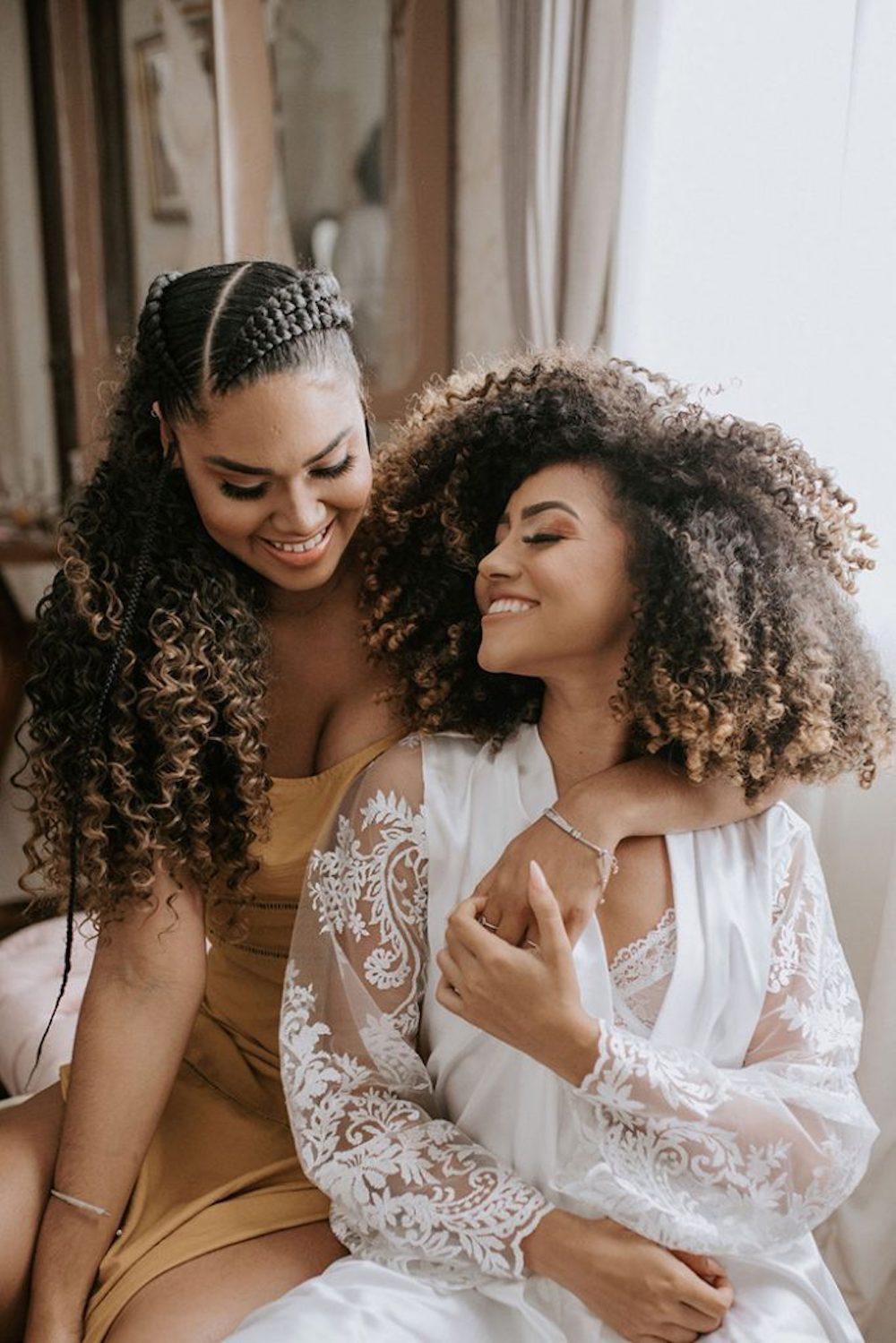 Secure hair into a ponytail by way of chunky twin braids and tiny cornrows, keeping ends free and curly. Kash advises keeping an edge control gel to hand (along with a tiny bristle brush) for smoothly laid edges if you're wearing braids, knots or a tight updo.
29. Layered Curls with a Comb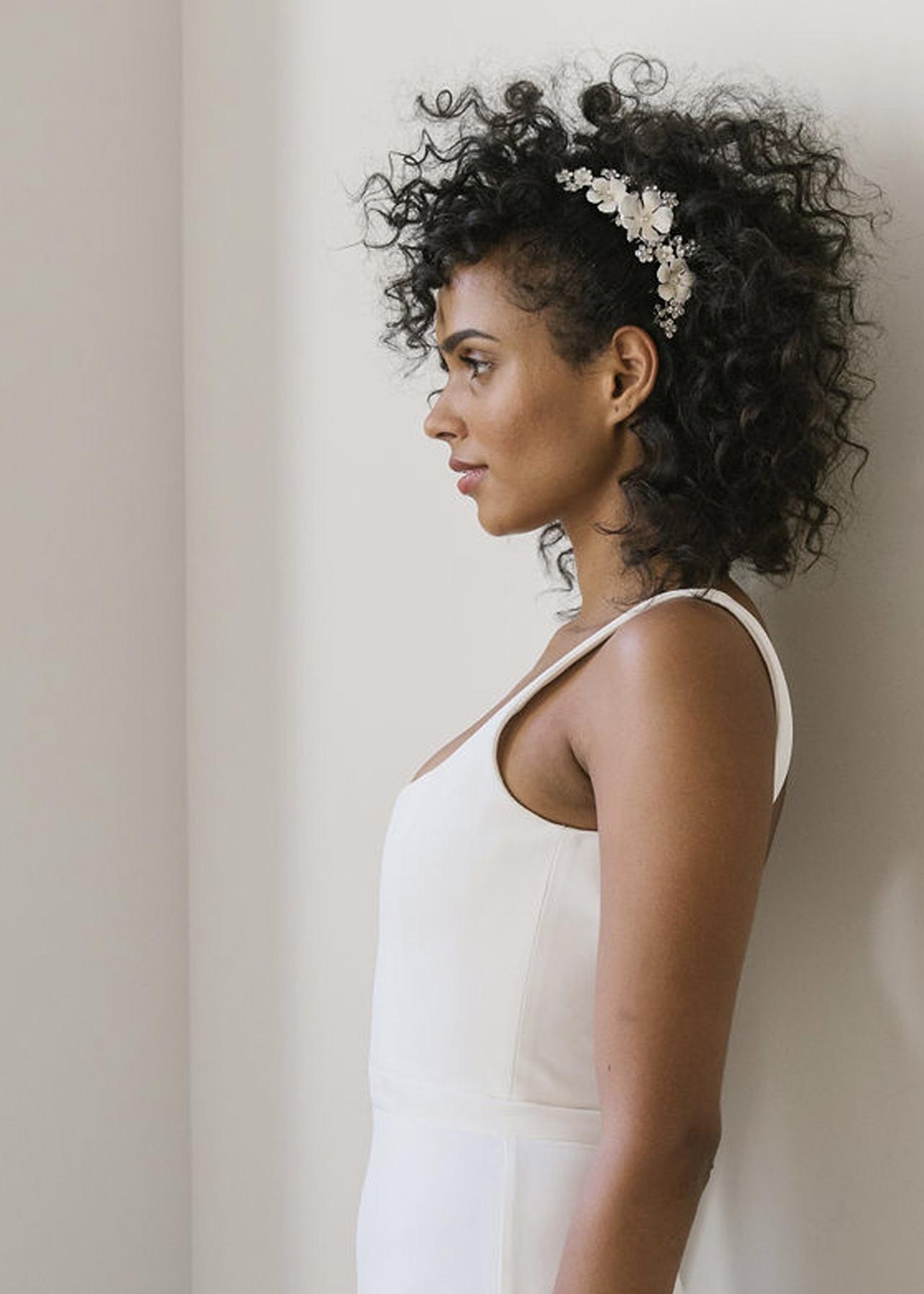 Ask your hairstylist to create layered curls for extra volume, then clip one side up with a dramatic hair accessory on the day.
30. High Volume Hair with a Veil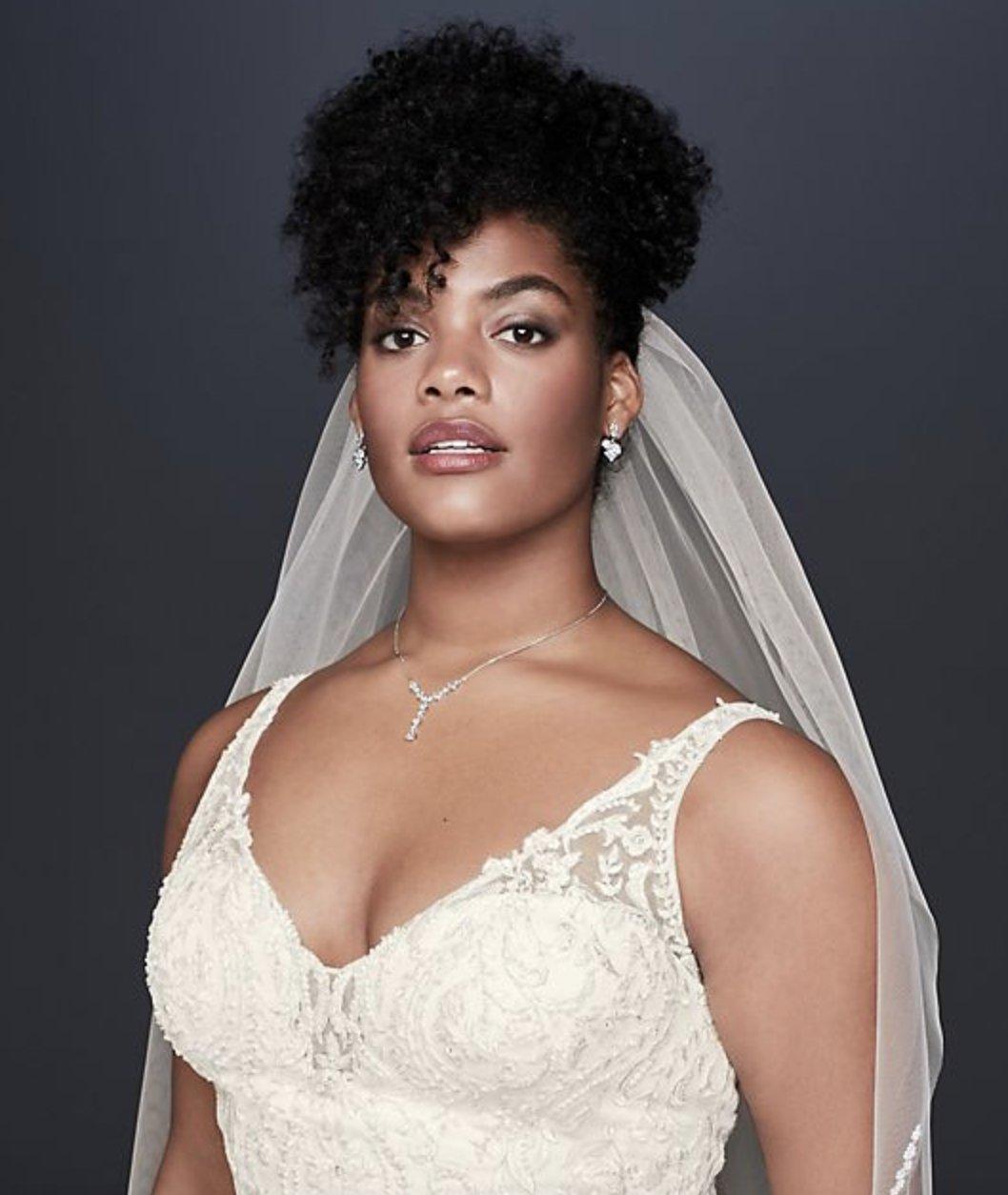 Whether you're planning an updo or have short curls, consider wearing your veil pinned below your chosen style – it'll show off both the veil and your hair to the max.
31. Mini Twists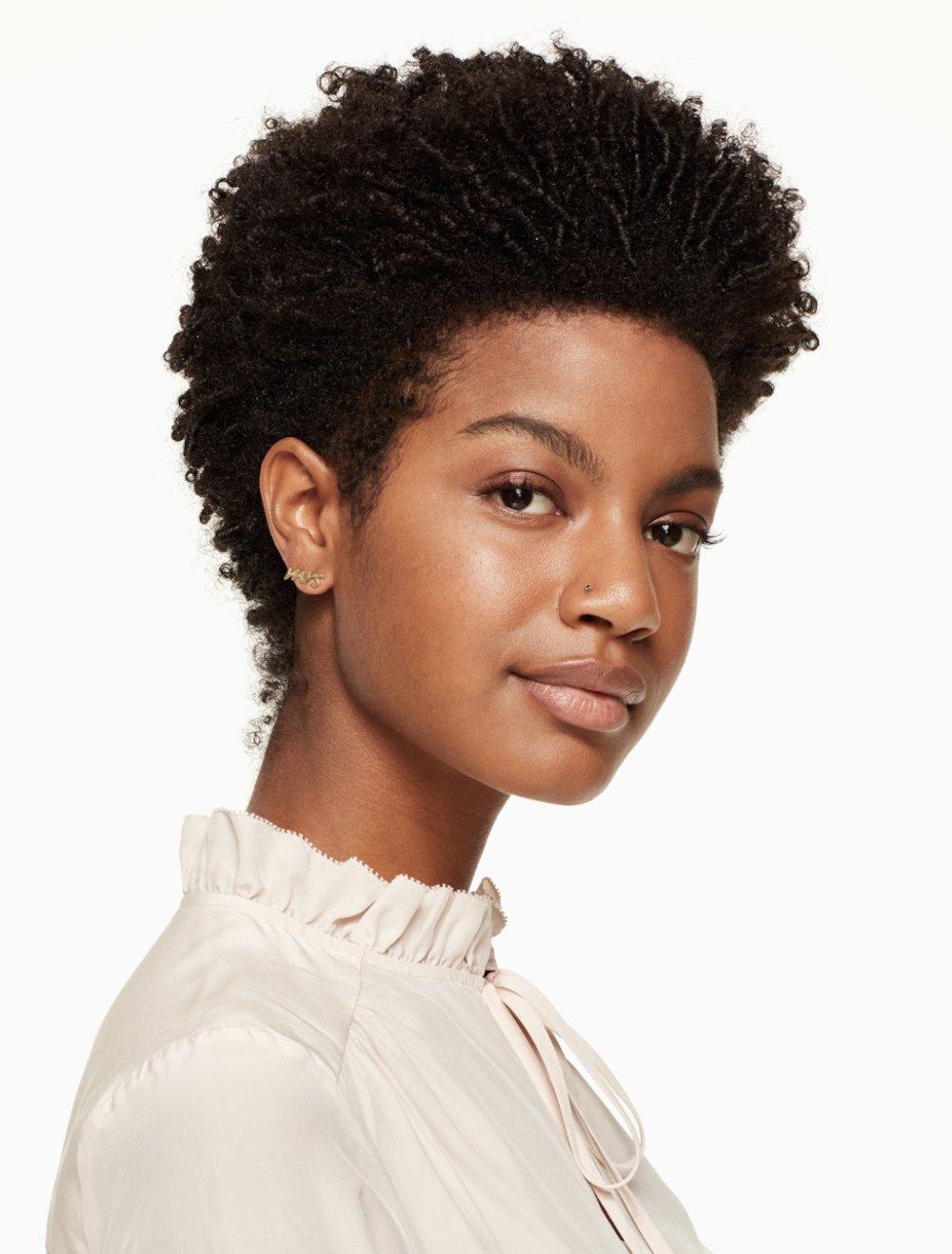 Mini twists with 'Mrs' earrings makes for one extremely cool bridal vibe.
32. Braids with a Mega Bow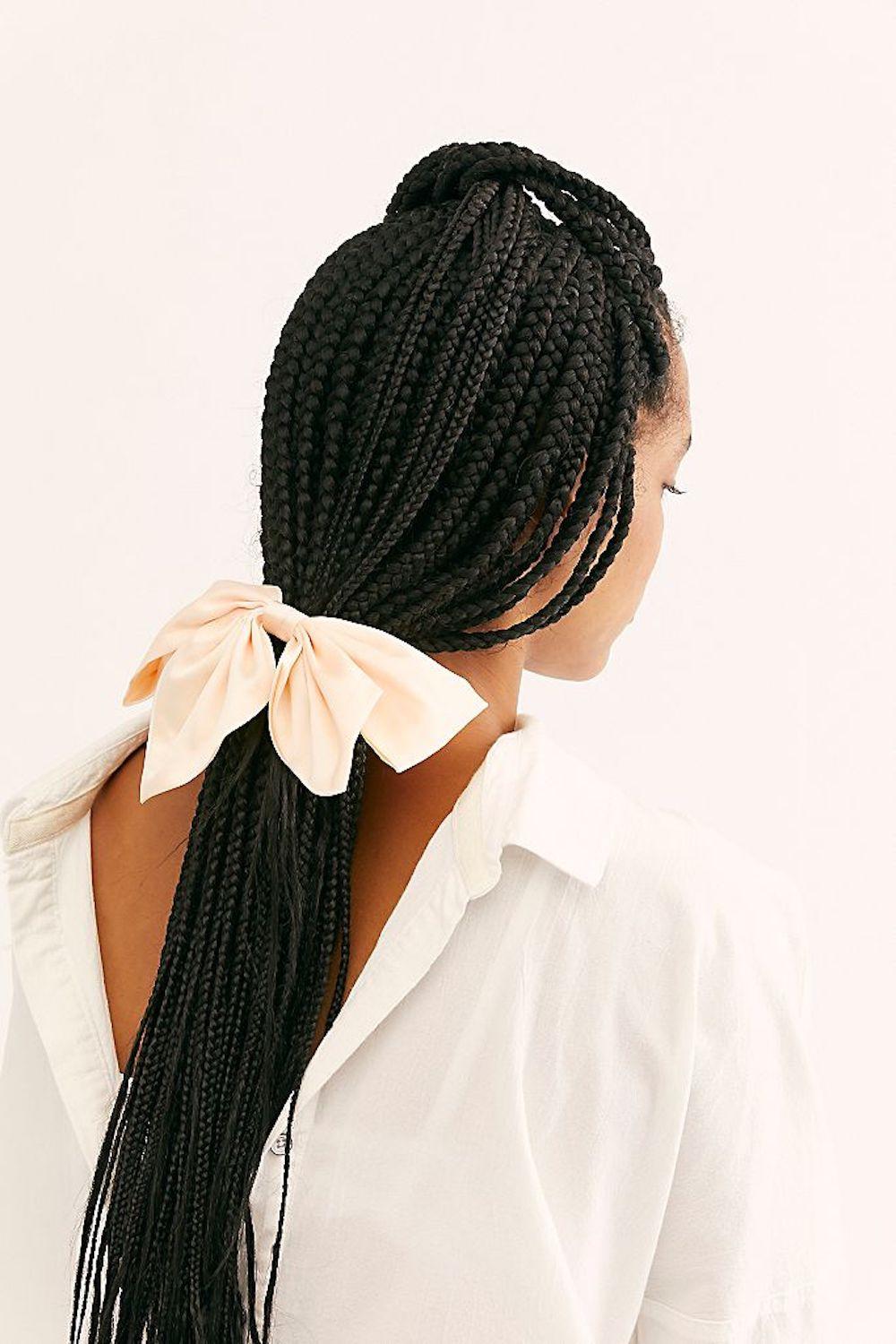 Secure different sized braids at the nape of your neck with a giant bow - the more luxe the material, the better. Lace, silk and velvet all work well.
So you've got your hairstyle sorted, but what about nails? Don't miss our round up of the best wedding nail ideas (that aren't just nude!).