These Couples Share a Royal Wedding Anniversary: Here's What They've Learned in 10 Years of Marriage
Meet the couples who got married in the same month as Kate and Wills and discover what a decade of marriage has taught them…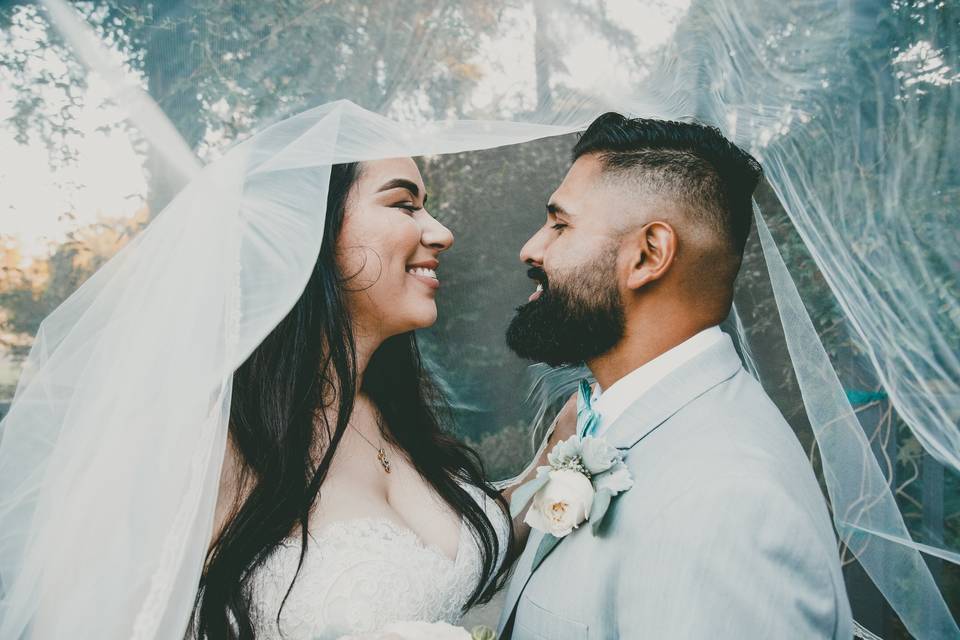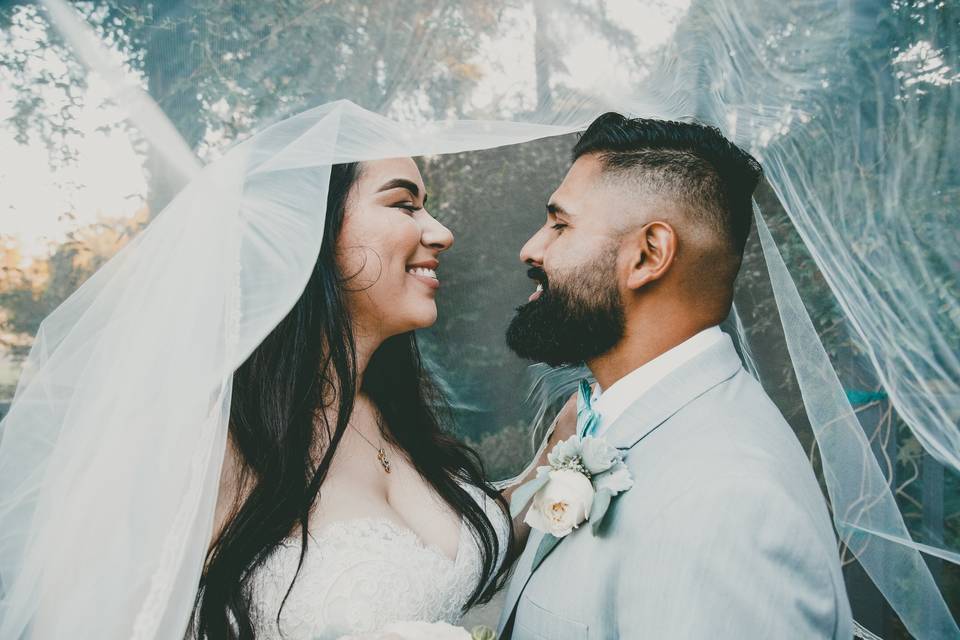 On 29th April the Duke and Duchess of Cambridge will celebrate 10 years of marriage, meaning that they should be exchanging tin or aluminum gifts if they're doing things by the book (they might want to check out our 10th wedding anniversary gift ideas for inspo).
It's hard to believe that the couple's nuptials at Westminster Abbey took place a decade ago, and while the following couples may not have had a guest list approaching 2000 or a bank holiday in their honour, they shared in the royal wedding excitement more than most, principally because they were preparing for, celebrating or winding down from their very own weddings at the same time.
From the couple that got married on the exact same day to two couples who walked down the aisle a little earlier in the month (therefore benefitting from an extra day off on their honeymoon), here's how it felt to tie the knot alongside the future king and queen.
READ MORE:
Athena & Mark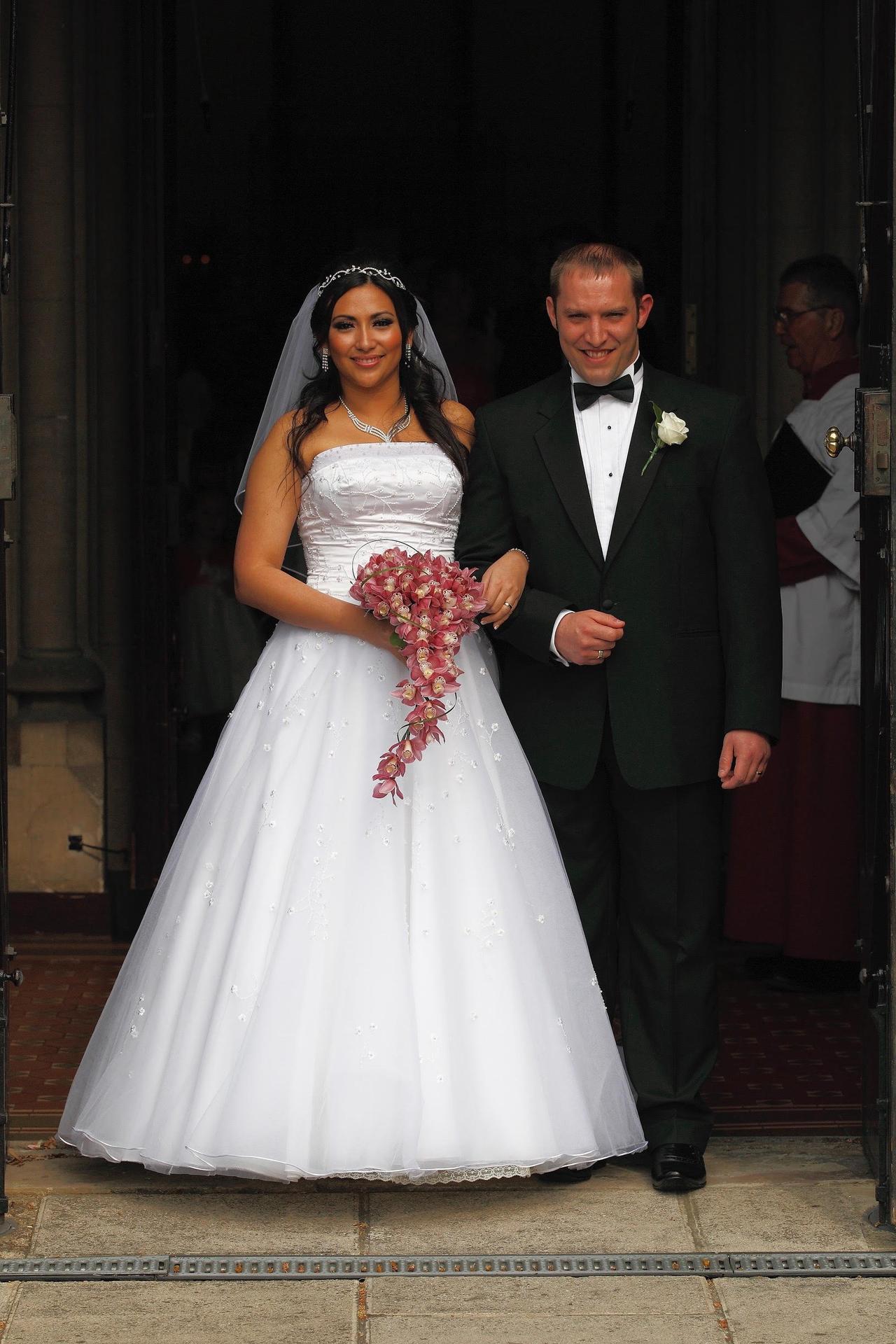 Athena and Mark share the same wedding anniversary date as Kate and William, having gotten married at their local church on 29th April 2011. They and their families weren't the only ones buzzing during the wedding build-up at the time according to Athena:
"I was contacted by local radio stations, all wanting to interview us regarding how we both felt about the fact that our wedding was on the same day as the royal wedding. Our local newspaper also ran an article about us prior to the wedding!"
Happily, this didn't bother either of them:
"It was a privilege and an honour to have our wedding on the same day as the royal wedding – it has made it even more special and memorable. The only thing that I would say is that we were quite lucky to have booked everything a year in advance as that day was made a national holiday which meant that everything was closed, including hairdressers!"
How We Met
"I met my husband Mark six months after I left the Royal Navy. We worked together and hit it off from there! I am half Filipino and an only child but my family is large and scattered around the world, which we knew would come into play once we decided to get married…"
The 'Royal' Wedding Build-Up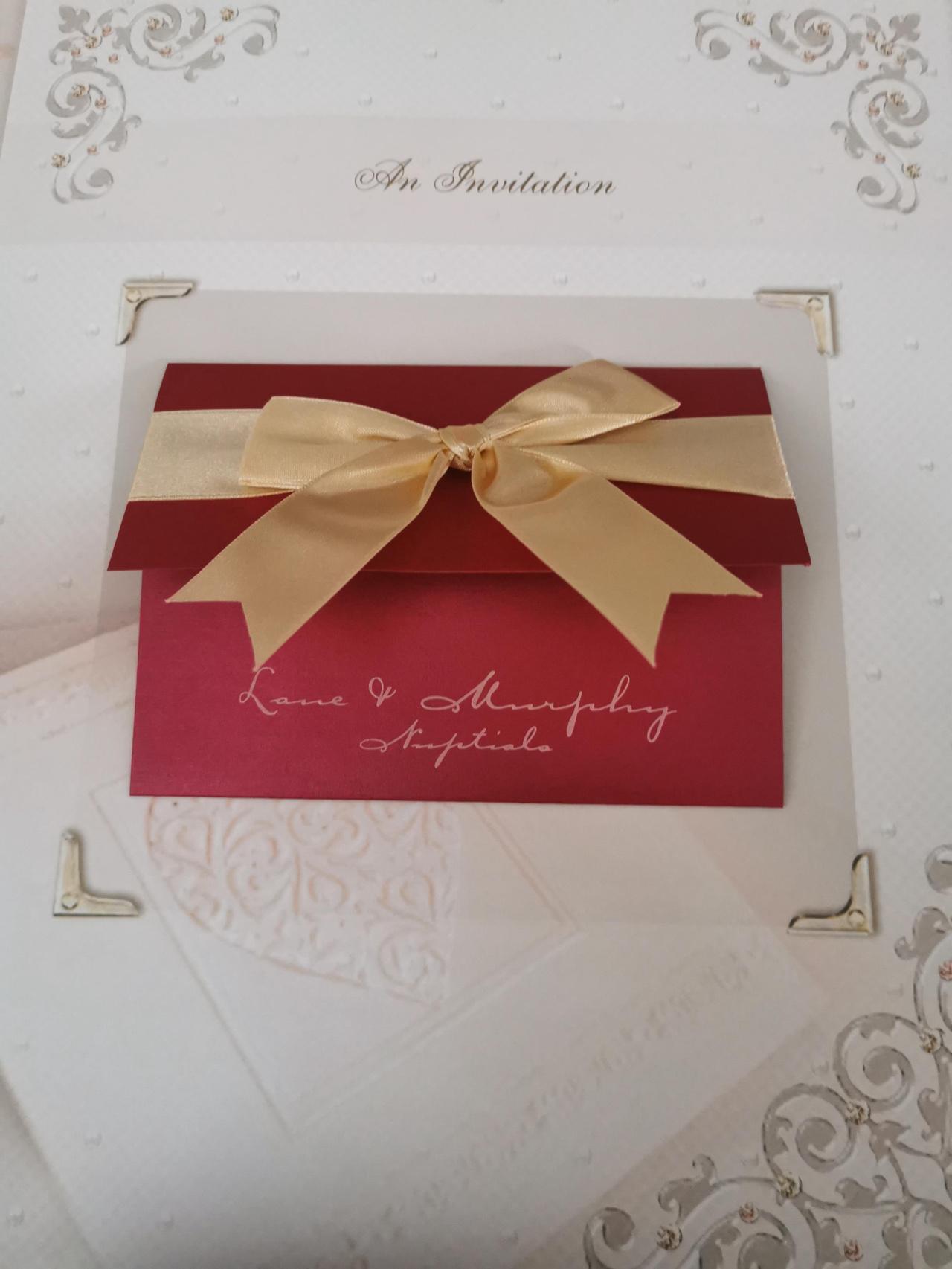 "The day before our wedding was extremely stressful! My husband had to do five airport trips to collect different family members coming from Chicago, Italy, Qatar and other far flung locations, all with flights arriving at different times!
"Meanwhile I had to organise the reception, table arrangements and chairs as well as getting some of the Filipino food sorted and making sure my dress was ready. We didn't do the traditional' bride not seeing the groom thing' as we had so much to do."
Our Wedding Day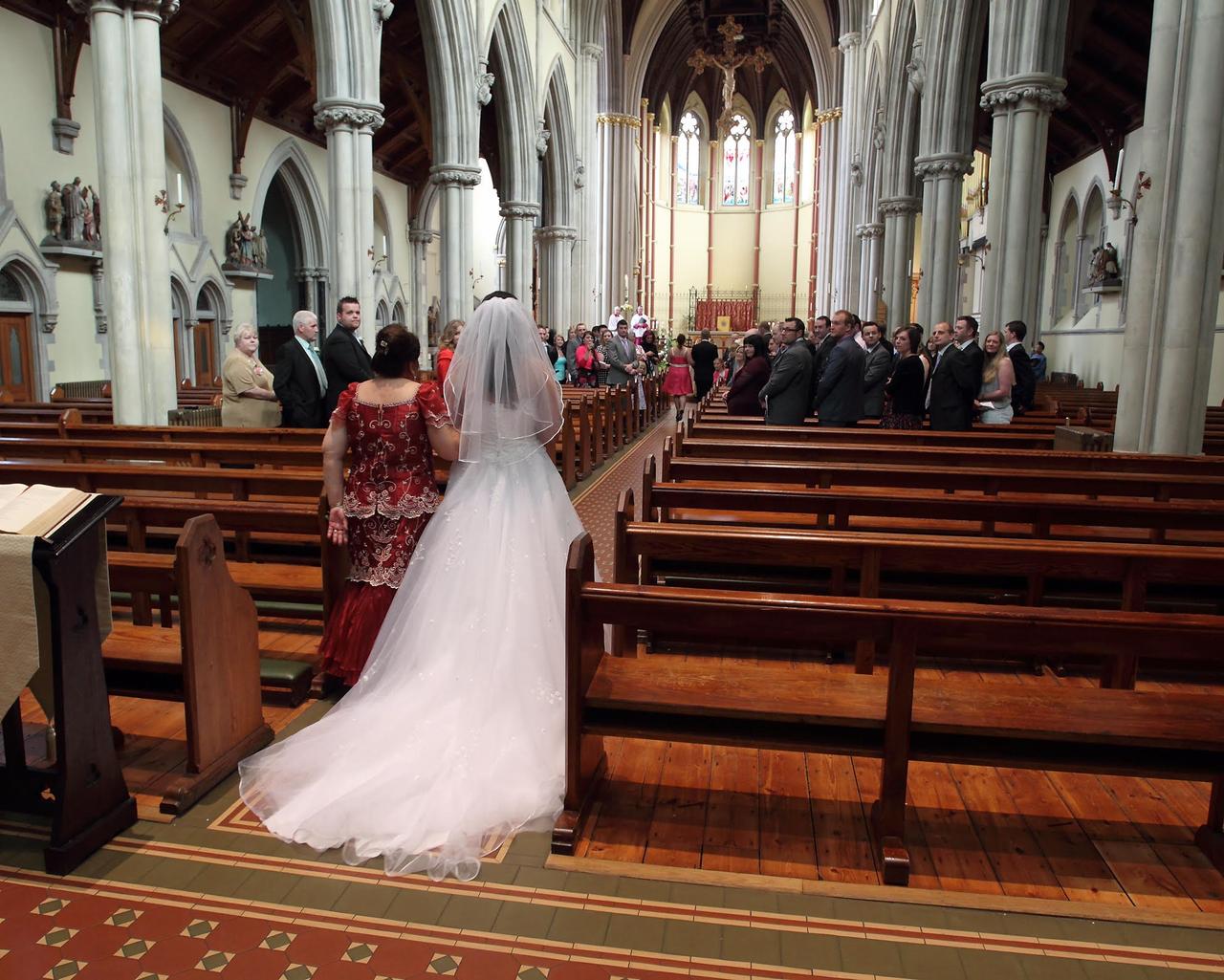 "On the actual day my husband dropped me off at the reception venue at 6am on Hayling Island so that I could meet the florist and finish decorating the tables. I'm glad that my cousins were there with me – they helped a lot.
"I then had to drive myself to meet my hairdresser – his salon was closed but he agreed to open it just for me! At lunchtime I was in my room doing my own makeup and I ended up doing my family member's makeup too!
"Finally we tied the knot at 3:30pm at St. John's Catholic Church in Portsmouth and it was gorgeous. I remember all the cars and motorists beeping their horns – I think that they were all even more excited and aware as it was the royal wedding day too! The reception was amazing and my tribute to my father who passed away in 2009 was just beautiful. Seeing both of our families sharing our special day with us was the best feeling! It really meant a lot."
Our First 10 Years of Marriage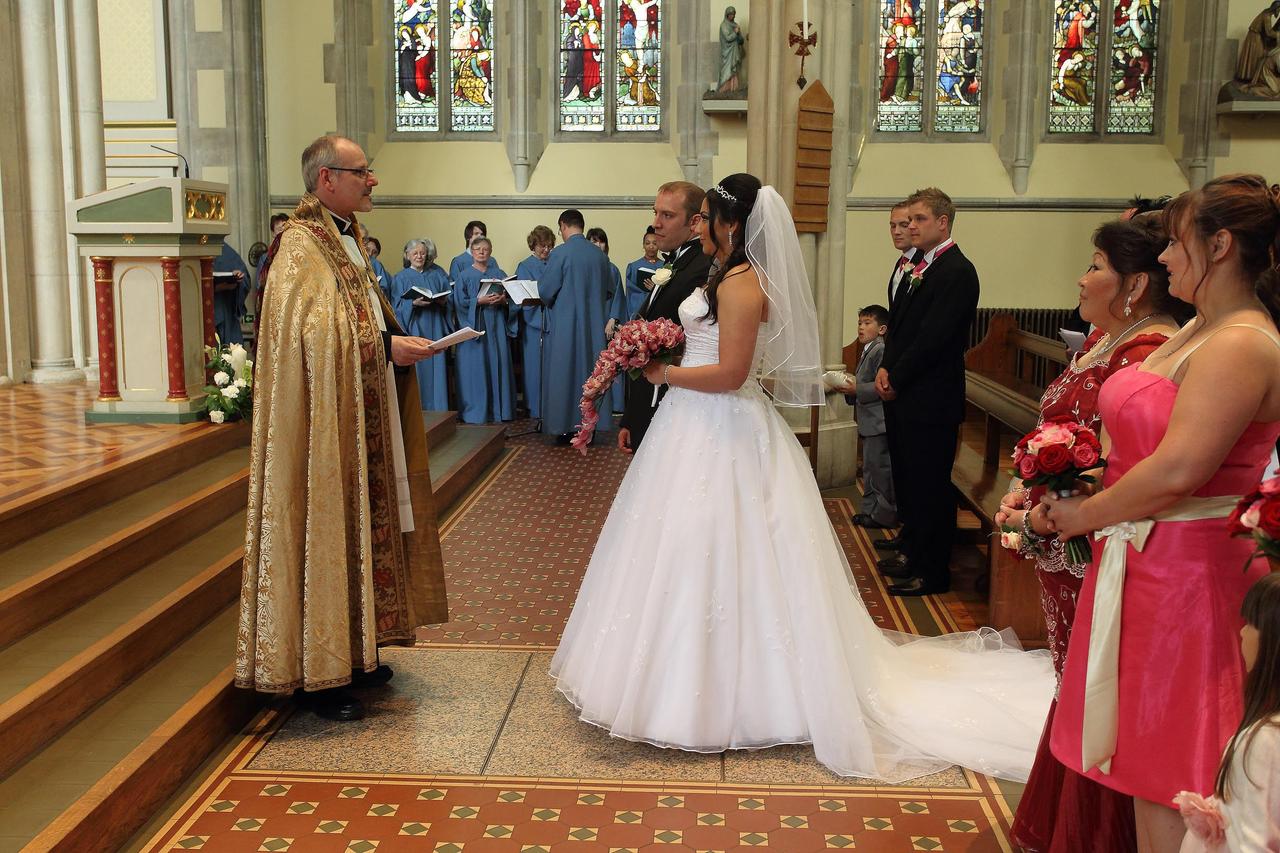 "10 years on and we are still going strong. We have a beautiful five-year-old daughter, Freya, who we dote on. She is a little version of me and is full of life. Each year has been a blessing – we have moved to a bigger home away from the city to enjoy a better quality life and my mother, who is my only family here, is healthy and enjoying each day as a grandma."
What a Decade of Marriage Has Taught Us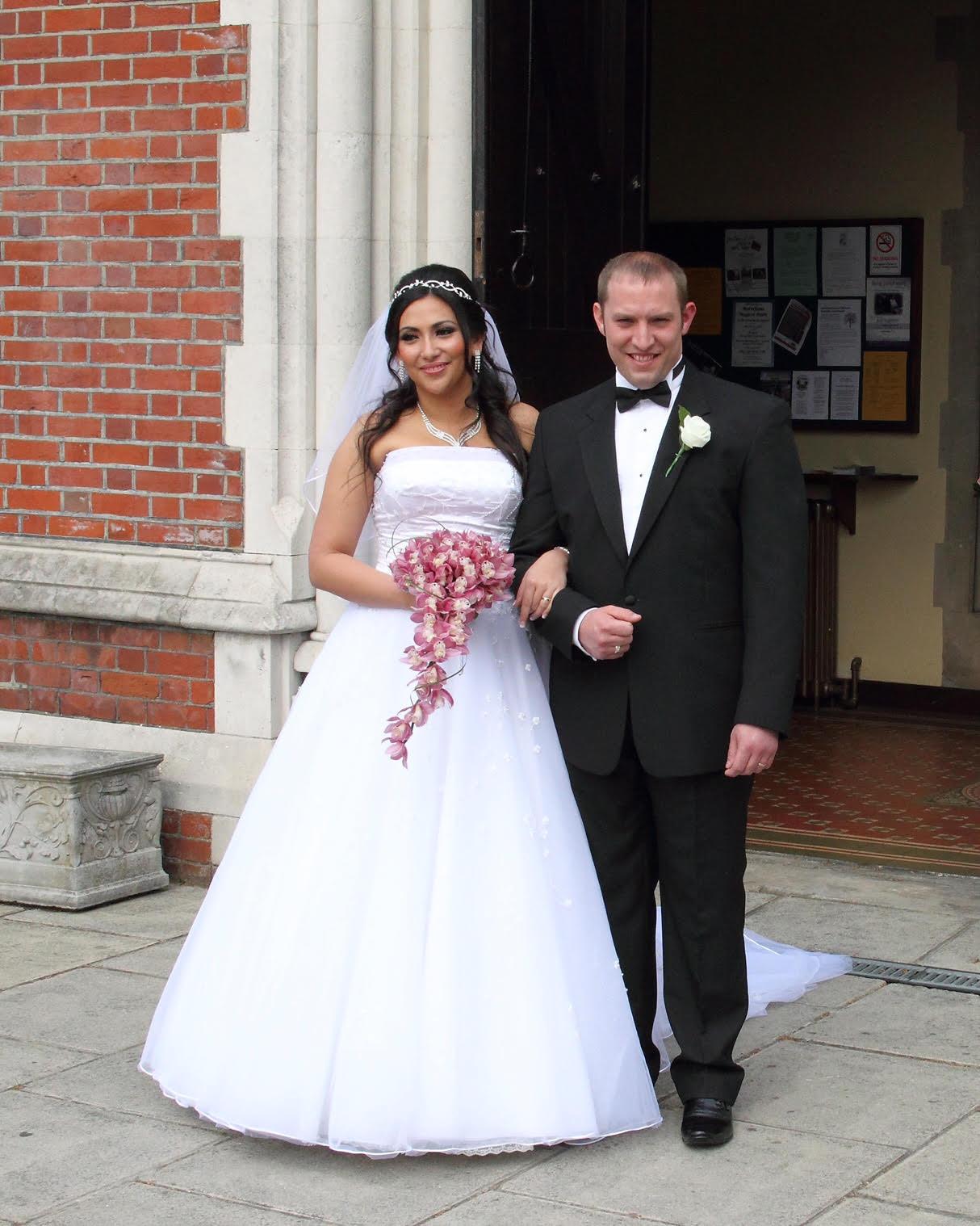 "To learn to have patience. The first two years are the most challenging and you need to give your love a chance to overcome the obstacles that come your way.
"Have faith in each other and love your family to the fullest each and every day. Lastly, be thankful and kind. We forget that at times and take things for granted which causes the issues in itself!"
Alex & Thom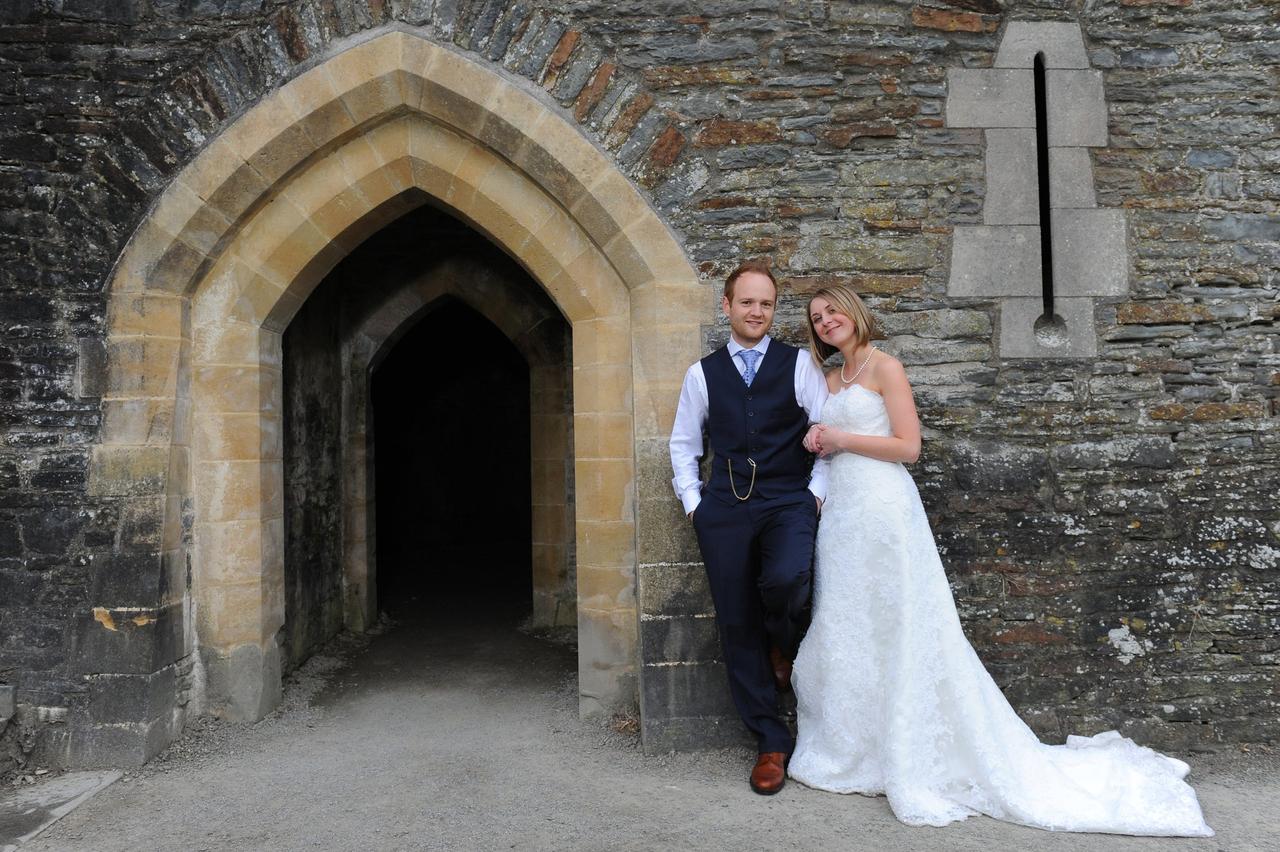 Freelance journalist and children's book blogger Alex married engineer husband Thom in a regal fashion at Caerphilly Castle in south Wales the week before Kate and William said their vows. While the royal wedding didn't influence their plans, the extra holiday it granted was a welcome bonus for their wedding guests in particular:
"We'd booked our wedding the year before so the royal wedding didn't figure in our planning but what it did do was give everyone another extra four day bank holiday the following weekend, which meant that some people turned their trip to Wales for our wedding into a longer break."
Despite the grand setting, Alex and Thom's day was a relaxed do, a little like their engagement…
The Proposal
"We got engaged in Central Park in New York on Christmas Day 2007. I had moved to the city a month earlier for a new job and Thom came over to spend Christmas with me as I had to work. He was going to be quitting his job and moving over to join me a few months later, which was a bit nerve-wracking as we had had a long distance relationship for almost three years and had never lived together before.
"Before my move he had asked me to point out some rings I liked but I genuinely hadn't expected him to buy one because we were soon going to be living off of one salary. Until the moment we wandered into the park and he insisted we find a bench to sit on beside the pond, I genuinely had no inkling! Then he got down on one knee and pulled out an antique ring I'd liked. It all sounds very romantic but we joke about how the bench he chose was right next to a dog poo bin!"
The Build-Up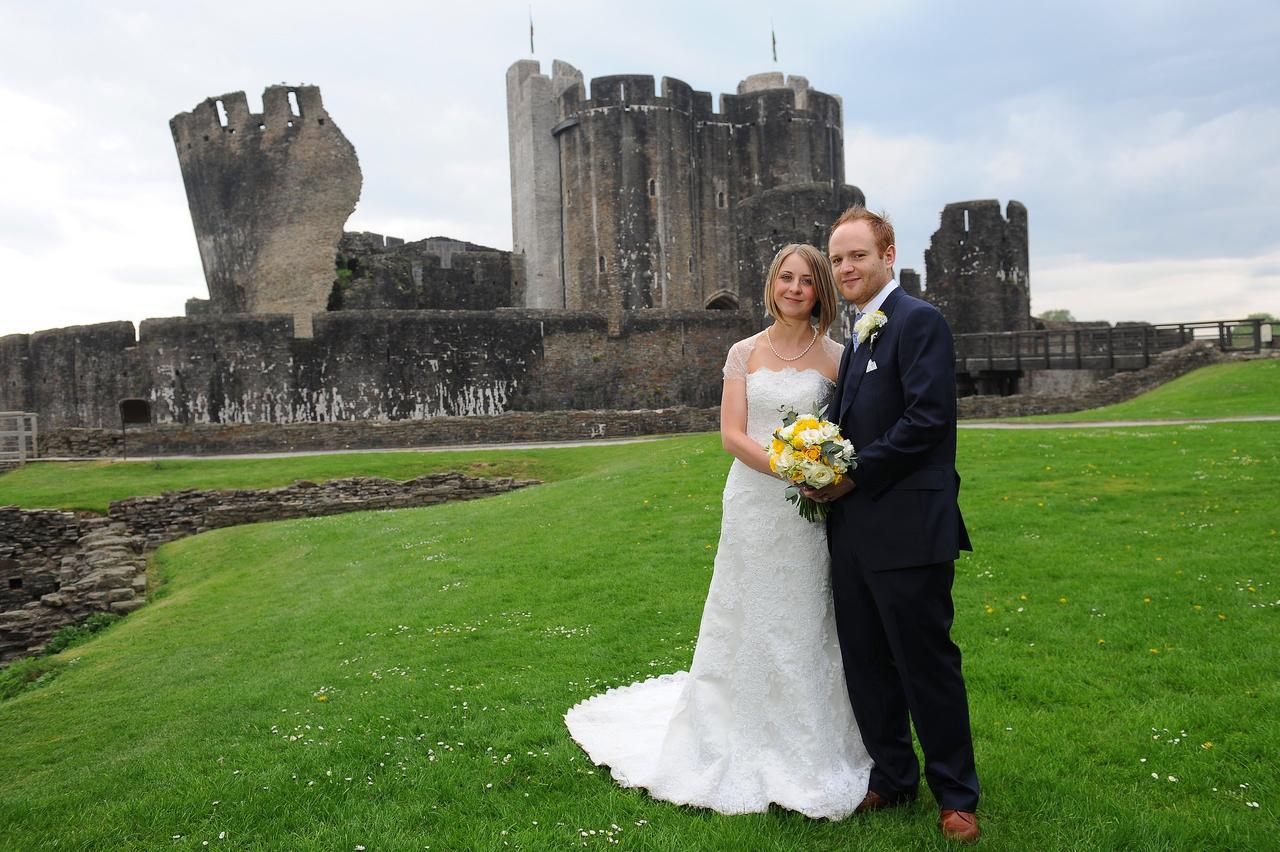 "We decided to get married on 22 April 2011 at Caerphilly Castle in South Wales. It took us a while to set a date because we were living abroad and then on our return to the UK, Thom went back to university to do a Masters. We chose the venue because I am from the next village to Caerphilly and the castle is a unique setting. It has a moat and a mysterious leaning tower.
"I wasn't the bridezilla type really and discovered that I didn't like dress shopping at all – I ended up buying mine second hand."
READ MORE: How & Where to Buy the Best Second Hand Wedding Dresses
Our Wedding Day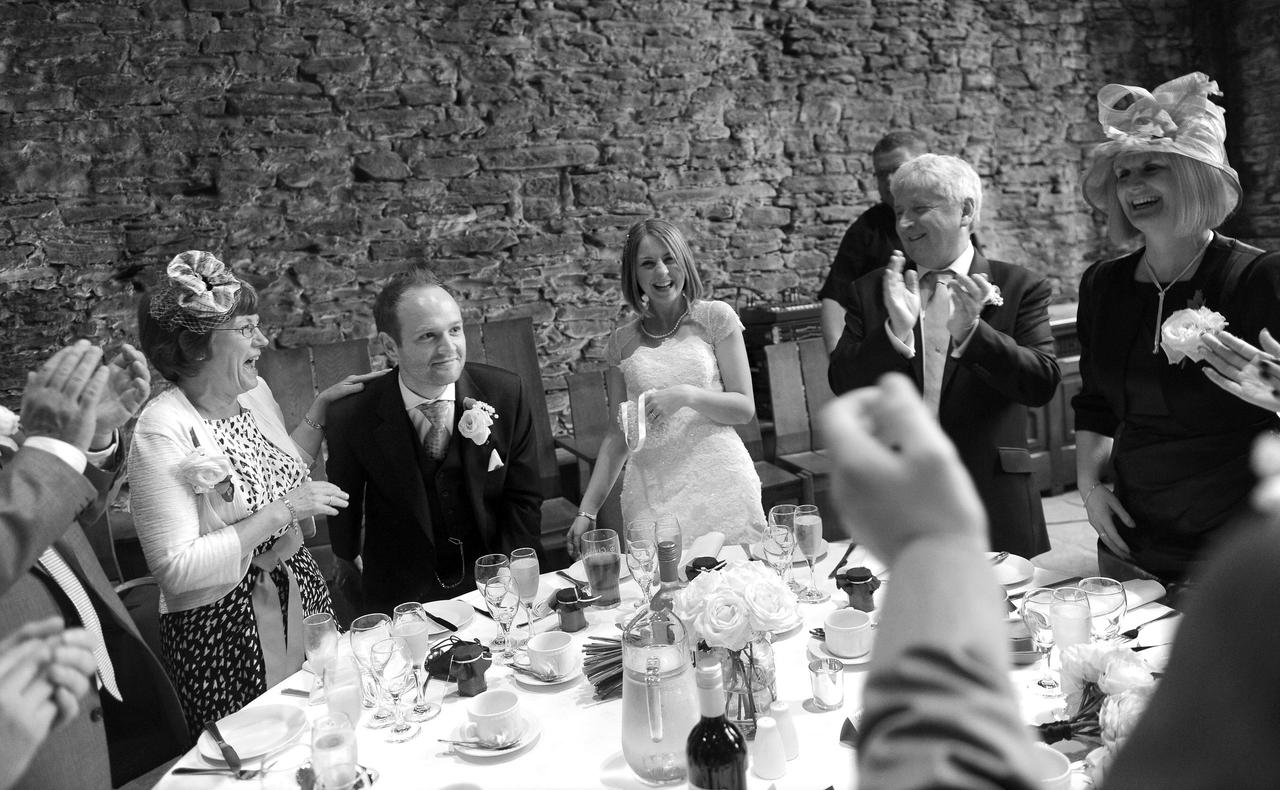 "Our day was pretty relaxed and fun. Our priority was to have as many friends and family in attendance as we could with a relaxed meal, plenty to drink and lots of dancing.
"The wedding was on Good Friday so people really made a weekend of it, coming for a drink at my dad's local social club the night before and continuing festivities at the hotel later on. There were lots of hangovers the next day, which I took as a good sign. The weather was unusually sunny and warm too. We ended the night with everyone dancing with ties around their heads!"
The 'Royal' Honeymoon
"We were on our honeymoon in France when the royal wedding took place. In fact, we were cycling through Burgundy on a wine tasting trip and friends in the UK were texting me updates on what Kate and Wills were doing, comparing their outfits and music choices to our wedding!"
What 10 Years of Marriage Has Taught Us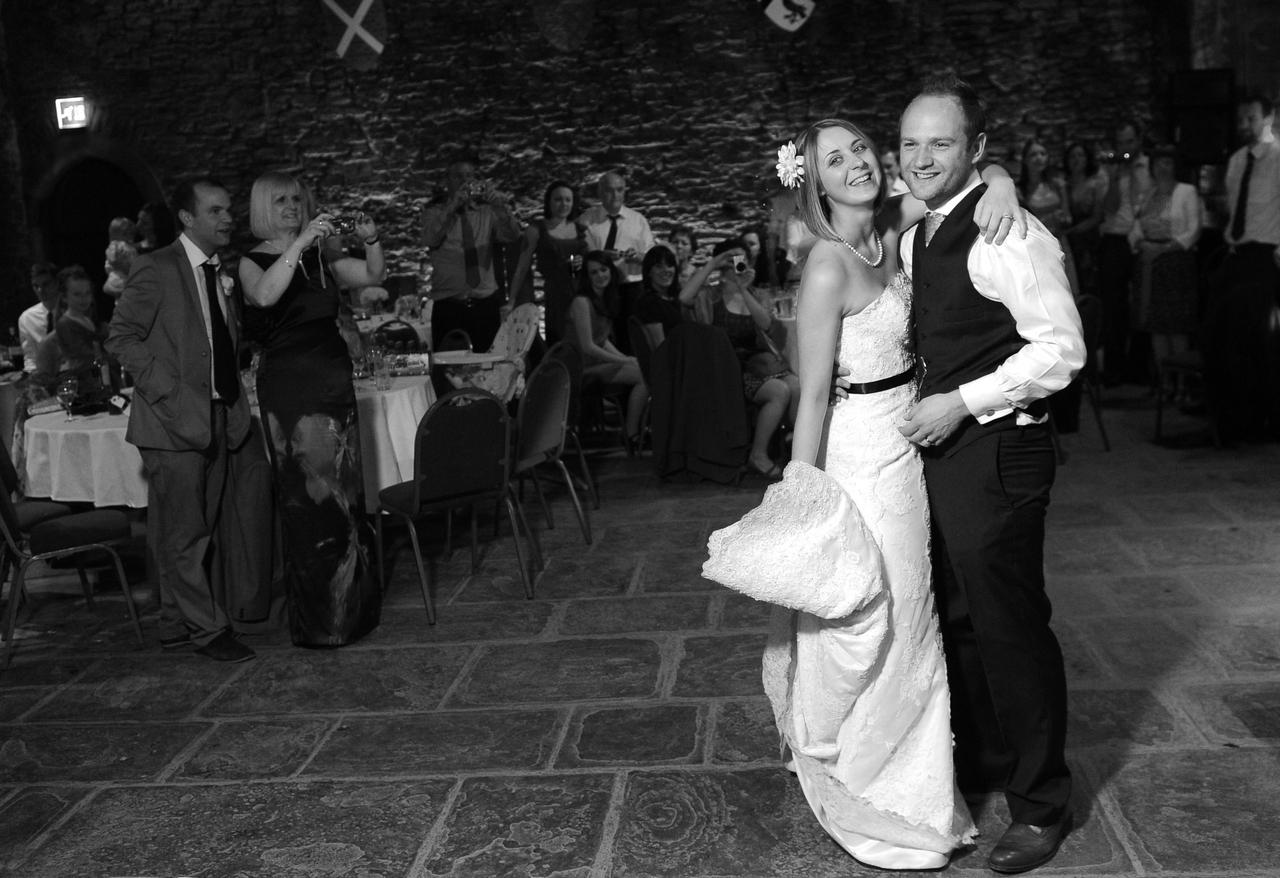 "Being married really does change your relationship and I probably hadn't appreciated the extent of that. You feel very much bound together, in good times and bad. Prepare yourself for it to be hard work at times.
"After marrying, we went on to buy our first home (and then move house twice after that), have two children, move from London to York and live through a pandemic, on top of the usual life events like family and friends getting sick, getting married and losing jobs. It's very easy to get caught up in the day to day drudgery, especially when you have small children. I'd say to make sure to take time to be together as a couple, particularly if you become parents, whether that's a night away or just eating dinner at the table with no distractions a couple of times a week. It's important to remember why you married each other in the first place!"
Our Ultimate Advice to Newlyweds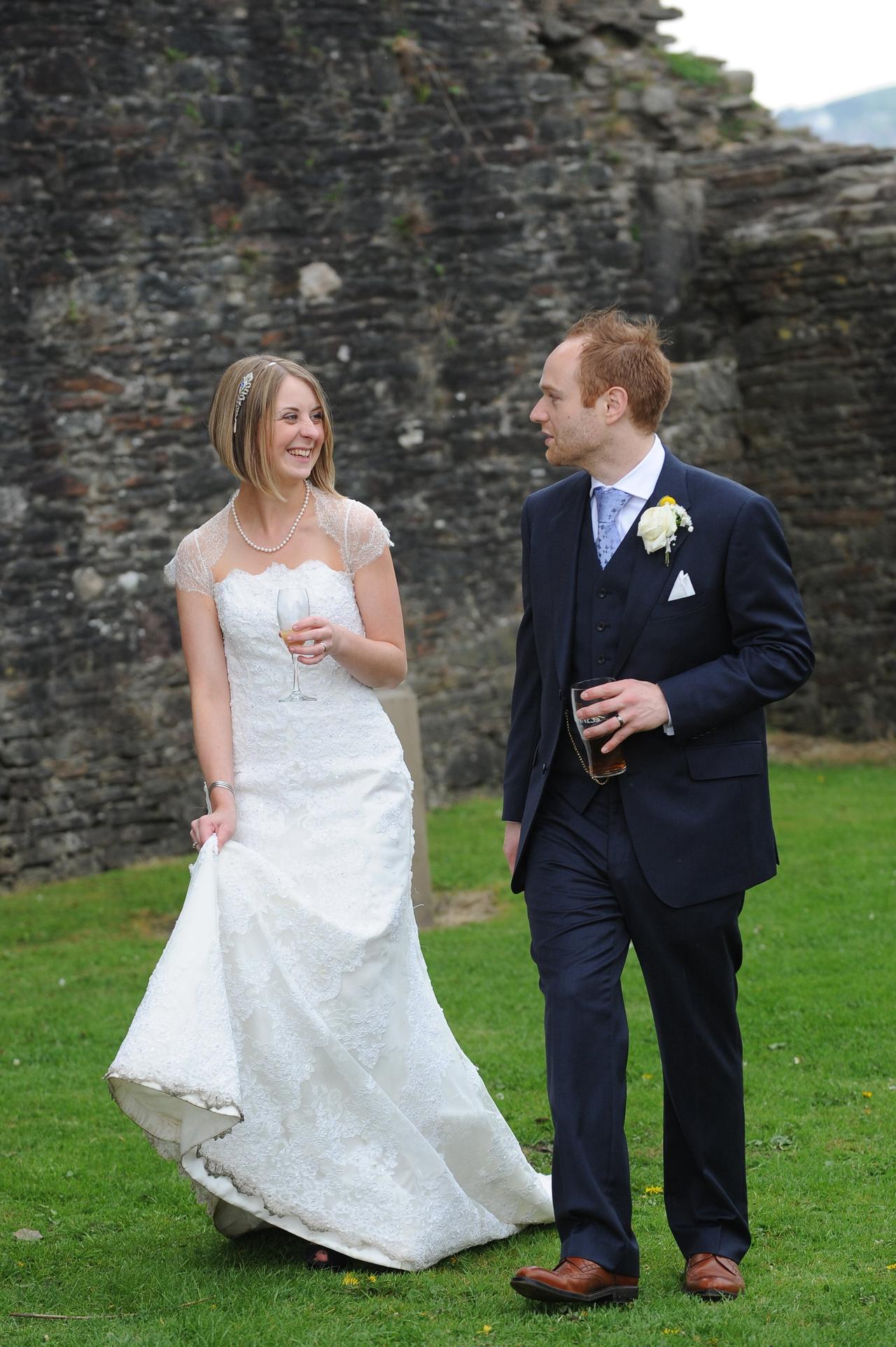 "Make sure that you are on the same page about what you want in the future, whether that's having children, deciding where you want to live and establishing your financial priorities. It sounds boring but these issues can cause huge rows and heartache further down the line if you ultimately have different ideas. I'd also think carefully about whether to change your surname. I didn't consider this properly and now use my maiden name for work and married name for other things, which makes life very confusing!"
READ MORE: How to Keep Your Maiden Name Professionally & Embrace Your New Married Life
How We're Celebrating Our 10th Wedding Anniversary
"It's going to be fairly low key due to the pandemic. I'd hoped we could go to Wales and take our boys to the castle that we got married in for a visit, but we can't travel there just yet. Instead, we're planning to spend a bit of time alone while the kids are at school and nursery. We'll probably go for a walk and a drink outdoors, both of which are a very rare treat.
"We've also got a fancy meal arriving from the restaurant of Michelin starred chef Tommy Banks to enjoy on the Saturday night (our children will have a sleepover with their grandparents that night!). It will be our youngest son's first night away from us and he is 20 months old – to be honest the lie-in will be a perfect anniversary gift. I might even put on my wedding dress. I recently wore it for the first time in ten years as part of a charity event I organised called Party Dress Day, which raised £2800 for The Good Grief Trust. It still fits but I'd forgotten how heavy and cumbersome it was due to all the beading and massive train. If I got married again, I'd definitely have a less ornate dress! I have no idea how I danced all night in it."
Kirsty & Stuart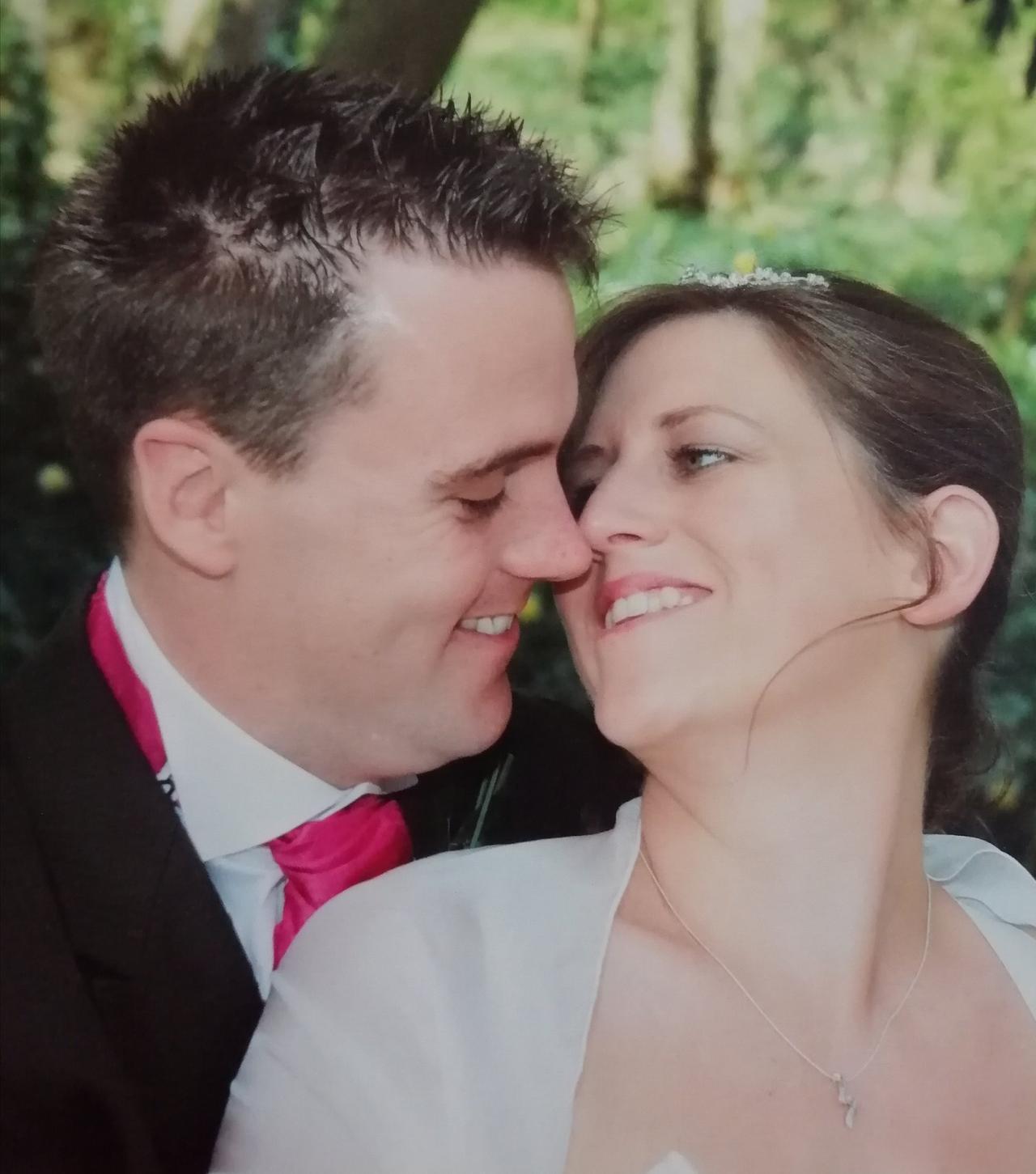 Childcare specialist Kirsty and her husband Stuart married at a boutique Victorian house tucked away in the Derbyshire dales a fortnight before Kate and William's big day, but that doesn't mean that they dodged royal wedding fever:
"The royal wedding added to our own celebrations. We got married at the very beginning of the Easter holidays so my teacher husband had some time off because of that, then the long Easter weekend plus the royal wedding made it an even more fun month – it really felt like hardly anyone had to go to work.
"On the day of the royal wedding we were in the village pub with friends. There was bunting everywhere, a wonderful atmosphere and gorgeous weather. We were young, free newlyweds and felt excited!"
How We Met
"We met back in 2002 when I was 21 and Stuart was 20. A friend had invited me on a night out in Surrey where she lived with the local cricket team. I knew that she wanted to set me up with one of the guys, but being a staunch northern girl from Derbyshire, I wasn't initially that keen.
"When I met Stuart all of that changed and I actually ended up moving down to Surrey after we'd been together for a while as Stuart was doing a teaching degree and his first post already sorted down south. Moving to a small Surrey village so young from a much busier Derby was quite a shock. There were none of the things in place that I was used to – I really missed the takeaways!"
The Proposal
"We were together for nine years before Stuart proposed. To be honest I probably wouldn't have said yes if he'd have proposed any earlier anyway!
"He proposed on Christmas day – it was just the two of us and I really wasn't expecting it. He gave me a lovely letter that he'd written and got down on one knee in our living room with a ring that he'd picked out. We then went to meet all of our family and friends at the local pub before having a big Christmas dinner together.
"Stuart had asked my dad beforehand and I think he was a bit overwhelmed on the day – he thought that we were actually getting married when we'd just got engaged! We untangled those wires soon enough."
READ MORE: 25 Ways to Propose at Home
The 'Royal' Wedding Build-Up
"We went up to Derbyshire to look at venues right away and ended up booking the beautiful Blackbook House. Getting married in Derbyshire was much more affordable than Surrey and it meant that all of our friends could enjoy a weekend away. We chose April as it tied in with the school holidays and we both loved the idea of a spring wedding.
"We actually actively avoided the royal wedding date – I didn't want to 'share' my day or invite comparisons to Kate! I do love the work that Kate does and think she's a pretty down to earth royal but I felt that it was 'our time' – we didn't want everyone talking about the royal wedding all day. Partly for that reason we picked the day of the Grand National as our wedding day as we knew that William and Kate definitely wouldn't be getting married on that day.
"We chose Blackbrook House as it's a romantic Victorian venue that the original owner built for his wife – the gates feature two love hearts entwined. It's such a special place where whatever you want goes. They allowed us to choose our own menus, right down to the Bailey's cheesecake I wanted for dessert, and the entire place was ours for the day. We didn't have to do 'shifts' with other couples as you do with some venues or stick to a limited set menu. Everything was freshly cooked and prepared for us to order and the team was so flexible with our arrangements, particularly when the weather did a bit of a U-turn the day before…"
Our Wedding Day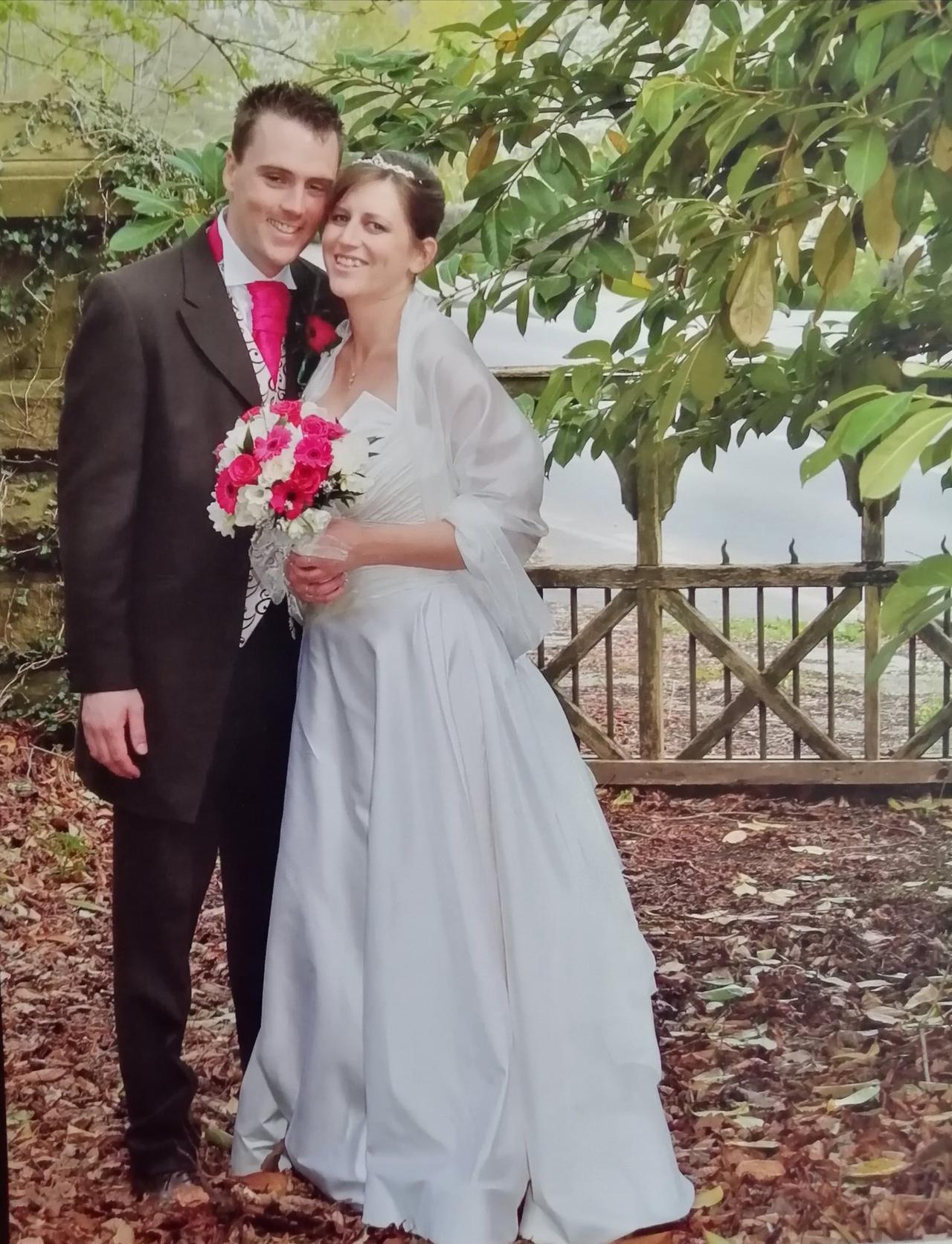 "We went up a few days prior to the wedding. We ended up in our local town the night before and came across about 40 of our wedding party and guests having drinks in the pub, so we joined them! We'd hired a converted barn to sleep close friends and the bridal party right next to the venue and we planned to stay there on our wedding night and the day after that too. The day before our wedding was a very unexpected 23ºC so the staff at Blackbrook House suggested that we move our wedding ceremony outside. We set it up the night before and said our vows surrounded by the beautiful Dales.
"That also meant that the reception area was ready to go – we'd originally planned to get married in that room too. The staff set up a kids table with a special menu just for them and we'd explained that we didn't want a traditional top table setup. I didn't want to be the centre of attention and I wanted to be able to freely talk to family and friends so the team found a round table and we all sat in a crescent which felt really relaxed.
"Our guest list was larger than anticipated (around 90) but our wedding still felt very intimate. We made a playlist for the day beforehand and that helped to create a very chilled atmosphere.
READ MORE: The Top 30 Wedding Songs for 2021
"My favourite part of the day was getting to wear a bespoke dress that I'd helped to design. One of our wedding guest's partners was Jo Irvine, who is a fantastic costume designer and was working for Strictly Come Dancing at the time. She created the most incredible dress and I felt so special wearing it. I'll also treasure the photos taken by a friend who's an amateur photographer and saved the day when the professional photographer that we'd hired didn't work out."
Our First 10 Years of Marriage
"Our first decade of marriage has without doubt been a challenging period. We've had two children, both of whom were born premature. Our daughter Ella, who was born in the same year as Prince George, was in hospital for a month when she was born and we weren't able to stay with her. That definitely put pressure on our relationship and I was later diagnosed with PTSD and postnatal depression.
"Our son Leo was born early too and also ended up in hospital. He miraculously started to get better 10 days later but then I was rushed to hospital with sepsis. Stuart was left holding the baby while also looking after a three year old. I came home and then had to have another operation due to further health complications so I spent one New Year in hospital while Stuart looked after the kids alone. We've had our fair share of stressful life events so far!"
Our Ultimate Advice to Newlyweds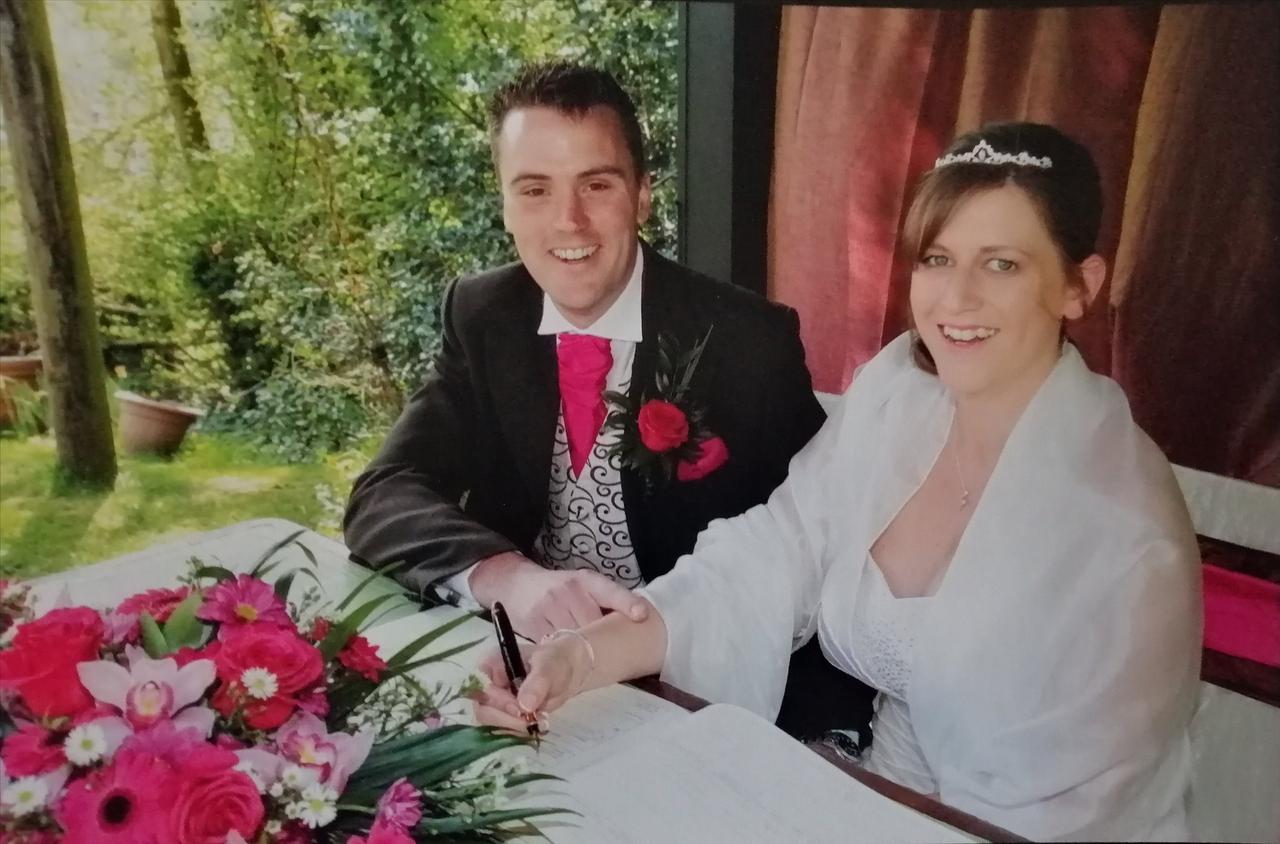 "We've found that 'just say it' is the best approach! Communication really is the key to a successful marriage. I'm so very grateful for him. Things have been difficult and I'm immensely proud of him for managing everything at home and sticking by me.
"I'd add that it's important to take your wedding vows seriously. Reflecting on your vows makes you more determined not to just give up. We've learned a lot over the past eight years in particular and I feel closer to my husband through marriage.
"Lastly, keep the laughter going and try to see the funny side of most things. We managed to find humour in me being in hospital with sepsis! We've had a lot of tears but there's always been a lot of love."
How We're Celebrating Our 10th Wedding Anniversary
"Seeing as the 10 year wedding anniversary symbol is tin, I've bought Stuart a tin of mushy peas. It's one of his favourite things but I hate them! Nothing says I love you like a tin of mushy peas, right?
"Otherwise we're getting a takeaway curry to mark the occasion. I remember that on our wedding anniversary last year we were in lockdown and went for a walk with our kids and had ice cream, repeatedly mentioning that 'at least this isn't our tenth wedding anniversary!'. On reflection we were a bit naive about how big our celebration could be this year.
"We did have plans to go up to Derbyshire and celebrate Easter with my parents, with an egg hunt in grandma's garden. That way we could have left the kids with my mum and dad and gone away for a few nights. As it stands I haven't seen my family for over a year but we're hoping that they can come down to stay with us in May. Stuart is 40 in August and my best friend is getting married in the autumn, plus I haven't celebrated my 40th birthday yet, so I think that later in the year we'll just have one huge celebration when everything will really go off!"
Staying in for your anniversary too? Here's 21 sweet ways to celebrate your wedding anniversary at home.