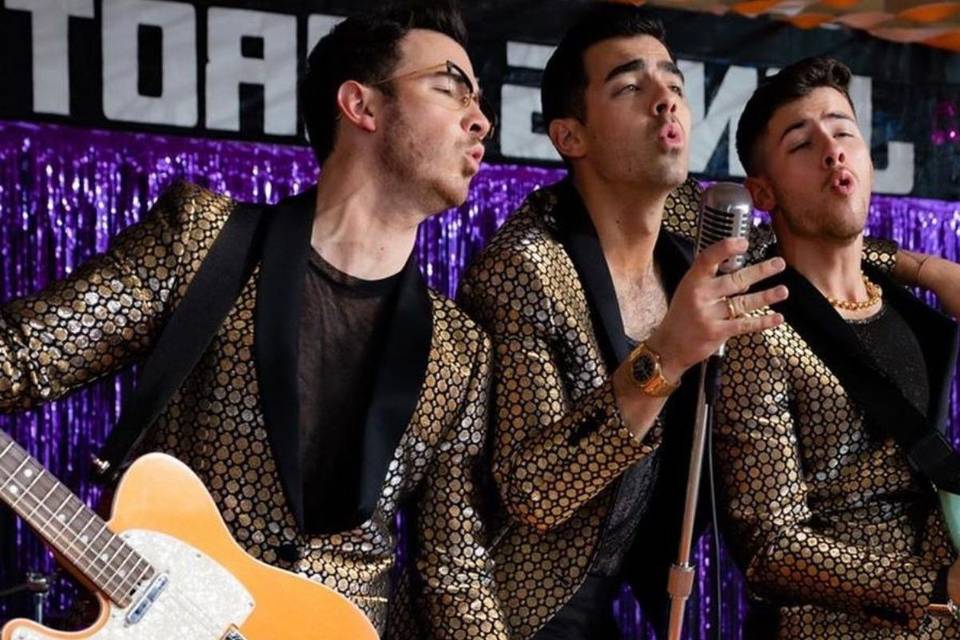 2020 is over (thank god!) and we've jumped full swing into all the exciting weddings of 2021. After a pretty horrible year all round, your 2021 wedding playlist deserves all the upbeat bangers and meaningful love songs you can squeeze in.
Luckily, we've come up with a list of the best wedding songs for 2021, which we'll continue updating throughout the year. With new releases from Little Mix, some beautiful lyrics from Justin Bieber, a surprise Taylor Swift album, anthems from Dua Lipa and Ariana Grande, plus John Legend's next wedding classic, you're spoiled for choice.
There are hundreds of popular wedding songs, from first dance songs to classic love songs, that would suit a walk down the aisle or your wedding reception, but sometimes you want something that hasn't been used hundreds of times before.
That's where our pick of the best new music comes in – with first dance songs that your guests won't have heard before and wedding reception songs that are on-trend and guaranteed to fill the dance floor!
You'll find a Spotify playlist at the end with the top 30 wedding songs for 2021 on so you can literally just press play!
The Best First Dance Songs of 2021
1. Consider Me - Allen Stone
Stone wrote this song after he struggled to find the perfect words to put his love into for his wedding vows. His vows eventually became part of this wonderfully romantic, soulful song. It'll become a firm new favourite.
2. Wild - John Legend
A sultry, passionate song by the master of love songs, John Legend. Its unrushed beat is ideal for a slow dance and it would suit a live acoustic cover so well if you've got a band at your wedding.
3. Holy - Justin Bieber
Beautiful, romantic and impossible not to bop to, you'll be hooked by the chorus of this love song but stay for the gorgeous verses too.
4. In Case You Don't Live Forever - Ben Platt
Ben Platt's gorgeous love song came out in 2019, but it got another moment in the spotlight in 2020 when Jimmy sang it when he proposed to Sharnae on Netflix's Love On The Spectrum. Just look at these lyrics: "In case you don't live forever, let me tell you now/ I love you more than you'll ever wrap your head around/ In case you don't live forever, let me tell you the truth/ I'm everything that I am because of you."
5. To Die For - Sam Smith
Sam sings about wanting to find somebody you love so much, you'd die for them. If this speaks to the heart of your love - an intense, all-consuming, powerful love - it would make a poignant first dance song. You'll want to hold your partner and never let them go.
6. Crazy Days - The Shires
A heartfelt, stripped back ballad that'll bring a tear to your eye. It's honest and beautiful and will make you appreciate your partner so much. We love this song from UK country duo The Shires.
7. Gentle Heart - Joshua Hyslop
This is like a hug in a song. It speaks of hope and perseverance, and is the perfect tune for a couple who've had their wedding plans disrupted time and time again. If you're looking for a gentle ballad full of warmth and promise, look no further.
8. No Judgement (Acoustic Version) - Niall Horan
The theme of this song is so accurate: when you've been with someone forever, you love all their weird things, nothing fazes you, it's just love. It's a tribute to judgement-free love and the acoustic version is dream first dance song material.
9. Cardigan - Taylor Swift
While the rest of us struggled to finish even the simplest DIY project in 2020, Taylor Swift wrote a whole album. This might be our favourite love song from her 'Folklore' album - "And when I felt like I was an old cardigan/ Under someone's bed/ You put me on and said I was your favourite."
10. Mirrorball - Taylor Swift
If you're looking for something more mellow, Taylor also released Mirrorball: a sweet, haunting little song about the beauty and fragility of love.
11. Conversations In The Dark - John Legend
Legend sings, "And you say that you're not worth it/ And get hung up on your flaws/ But in my eyes you are perfect/ As you are/ As you are." We can all agree, he's pulled it out the bag with another romantic wedding classic.
12. Next To You - Little Big Town
This swelling ballad tells the story of long-term love. That initial fire may burn out, but it's replaced by something rarer and so special - true lasting love that you grow and experience together. The lyrics are so meaningful at the start of a new marriage.
13. What A Man Gotta Do - Jonas Brothers
If you're after an upbeat, poppy first dance song that you can do some fun dance moves to, this fun and sexy treat from the Jonas Brothers is the one. Just look at the lyrics: "I'd move the Earth or lose a fight just to see you smile/ 'Cause you got no flaws, no flaws/ I'm not tryin' to be your part-time lover/ Sign me up for that full-time, I'm yours/ All yours."
14. Me & You Together Song - The 1975
This certainly won't be the kind of first dance song for everyone, but we love it. This song goes out to every couple who started out as friends for years and then finally realised they were in love. "I've been in love with her for ages" is the loveliest refrain and one every rom-com fan will relate to.
15. Write A Book - Maddie & Tae
A cute, youthful song about a man who could write a bestseller book about how to be a great boyfriend. Its lyrics are pure happiness and optimism, and if you want a cheery first dance song that'll make your guests smile, go for this.
The Best Wedding Reception Songs of 2021
16. Rain On Me - Lady Gaga and Ariana Grande
An absolute belter of a dance song that'll have all your guests on the dance floor. This anthem from two female powerhouses is perfect for later in the night when everyone's going to sing and dance along.
17. Dynamite - BTS
You couldn't escape this song on the radio or TikTok in 2020 - K-pop band BTS got their first UK No.1 hit with this funky, feel-good tune and it deserves a first place spot on your wedding playlist too.
18. Adore You - Harry Styles
A popular first dance song of 2019, Styles' romantic song is also a perfect slow dance for your wedding reception.
19. My Oh My - Camila Cabello
Smooth, Cuban-inspired beats make this Camila Cabello song totally addictive. It's a great rhythm changer between a fast, cheery song and a slow song.
20. Kings & Queens - Ava Max
Another TikTok favourite but for all the right reasons. Your guests will be singing along to this feelgood pop anthem about women doing it for themselves.
21. Stuck With U - Ariana Grande and Justin Bieber
Anyone who's been in lockdown with their partner and fallen even deeper in love will resonate with this lovely duet. It's tongue-in-cheek title belies a nostalgic song you'll want to grab your partner to dance with.
22. Blinding Lights - The Weeknd
With a pumping '80s vibe, The Weeknd's most recent hit needs a spot on any dance playlist. Every age group will love this, from the youngest guests to those who remember fondly the 'Take On Me' synth/electronica sound.
23. Intentions - Justin Bieber
Yet another entry from Bieber in our list of the best wedding songs (we refuse to put Yummy on here but we won't judge you if you play that at your wedding - how about during the cake cutting?). Intentions is a catchy track, and there's an acoustic version which would work as a first dance song too.
24. Levitating - Dua Lipa
A proper bop with serious disco vibes, this is fun, bubbly and playful. Any of her new tracks deserve a playlist position though: Break My Heart and Physical are both excellent.
25. Dance Monkey - Tones & I
Technically this one came out in 2019 but there's no way your 2020 soundtrack didn't include this pop hit. It's a guaranteed floor filler.
26. Positions - Ariana Grande
Pop princess Arian Grande returned with this rompy, R&B track which is ideal for an end-of-the-evening couples' dance. With a few drinks to lubricate the dance moves, you'll see some hips gyrating to this one!
27. Lasting Lover - James Arthur and Sigala
Written by Lewis Capaldi, this funky song (featuring that killer MGMT hook) is going to be stuck in your heads all night. It'll have everyone bopping along.
28. Tick Tock - Mabel and Clean Bandit (ft. 24Goldn)
This dance track is about a relationship you just can't get out your head, with a catchy chorus and some excellent cello work courtesy of Clean Bandit.
29. Sweet Melody - Little Mix
Little Mix blessed lockdown with a new album and this is one of our favourites. Yes, technically it's a break up song, but ignore the lyrics and get lost in the beat on the dance floor with your guests.
30. Own It - Stormzy (ft. Ed Sheeran and Burna Boy)
Ed hasn't released any solo songs in 2020, but you can't have a wedding songs list without him. He's joined forces here with grime artist Stormzy and rapper Burna Boy for a seductive, empowering, dancehall-tinged track.
Now, enjoy this Spotify playlist of the top wedding songs for 2021!
Looking for the best song to end the night to? Here's 45 amazing last dance songs for your wedding.