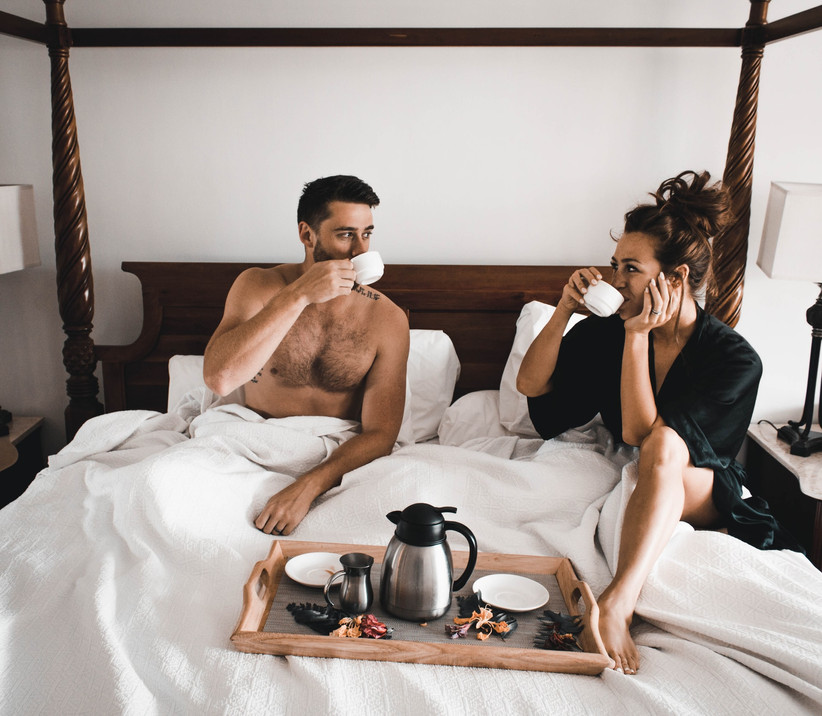 Many of the advice articles for brides and grooms start in the same way. It goes something like this: "With so much to remember while planning your wedding, it's easy to forget why you're doing this in the first place."
We're not going to patronise you like that.
You're not ticking off your wedding planning checklist while thinking, "Hmm, I wish there was a point to this weird, random party we're throwing for no reason." You know perfectly well that the wedding is a celebration of marriage. But how do you make your marriage as happy as it can be over the years to come?
Whether you've been together for two or ten years by the time you get married, time and events will continue to have an effect on your relationship. What will keep your marriage strong and get you through your ups and downs? We asked the experts - that is, a range of different married couples who've been there and done that. This is what we learned about making a marriage last for the long haul.And if you want to know what your friends and family think, too, put out marriage advice cards as an alternative to a wedding guest book. To save you some DIY, we've also included a round-up of our favourite advice cards you can buy.
READ MORE
Tips for a successful marriage
1. Enjoy each other
This can take the form of special date nights or something as simple as putting aside Sunday mornings for snuggling in bed. Just make sure you build in time every week that's purely about spending time together.
2. Don't be afraid of arguments
We've all heard of that one perfect couple who claim never to have exchanged a cross word. But you don't have to be that couple in order to have a happy marriage. So long as you're not arguing all the time, and you exchange points of views rather than insults, it's normal. If anything, suppressing your opinions can lead to problems.
3. Keep showing interest
The easiest way to take someone for granted? Believing you know everything there is to know about them. Keep asking each other questions - the answers may surprise you both.
4. Forgive each other
Unless you're both blessed with saintly dispositions, you're going to do things that upset and/or annoy the other at some point. Eventually, you need to forgive each other - really forgive each other, not just say you do while secretly fuming.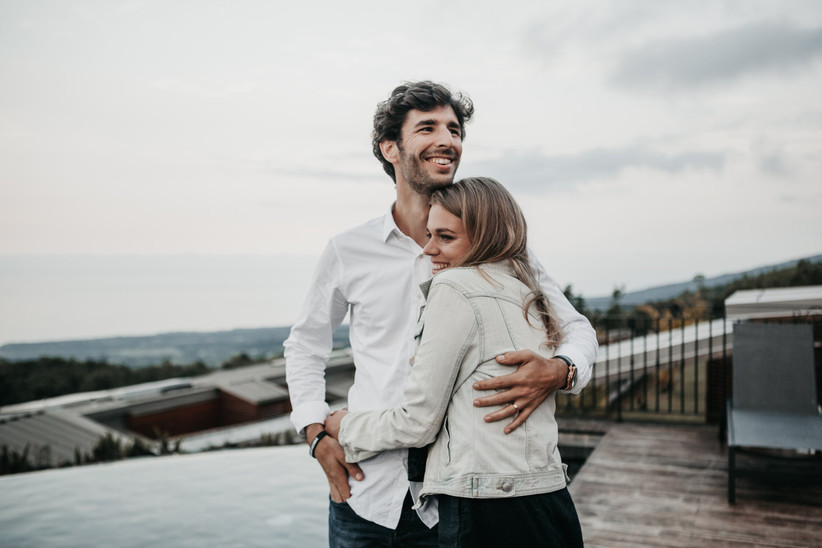 5. Dream together
While it's important to share goals with each other, it can also make a difference to talk about your dreams. Ok, so you may not ultimately end up jacking in your jobs for a year-long trip or setting up an artisan ice cream business. But dreaming stops the everyday from becoming everything.
READ MORE: The 50 Best Honeymoon Destinations Around the World
6. Be on the same team
This doesn't mean you always have to take each other's side, but always be aware that the two of you are a team. Look for opportunities to support each other.
7. Don't put your partner down
Venting to a friend when the two of you have had a row is one thing. But we're genuinely astonished sometimes by the way some people jokingly - and constantly - put their partners down to others. If you're constantly highlighting your partner's flaws, it'll eventually warp your view of them. When in doubt, imagine how you'd feel if you overheard your partner saying similar things about you to their friends or colleagues.
8. Have a laugh
The ability to find humour in situations is what will get you through the tough times - and help you appreciate the good.
9. Don't rush through life's landmarks
Don't try to do too much in the first year or two of marriage, thinking you have to move house, have kids, get your lives sorted. Just enjoy the fact that you're married.
10. Be honest
In order to maintain trust in the relationship, honesty is always the best policy - well, almost always. Constantly pointing out each other's flaws in the name of honesty is unlikely to make for a happy marriage.
11. Have sex
Sounds simple, doesn't it? But with all the stresses of everyday life, you may find sex starts to fall by the wayside. It's worth putting time and effort in to help you stay connected, but do remember there's no set optimum amount of sex you should be having. You set the pace.
READ MORE: The 18 Best Sex Toy Shops Online
12. Make time to kiss
This should help with tip 11. There's no quicker route to old-married-coupledom than only ever giving each other a quick peck on the lips. Don't underestimate the power of a full-on snog. This doesn't have to be a prelude to sex, but it'll certainly make you both feel sexier overall. Kiss in the kitchen while you're cooking; get some tongue action in before you leave for work - you can always make time for this.
13. Don't compare yourselves to other couples
"Why aren't we that romantic?" you ask yourself, sadly, looking at the latest pic on your friend's Insta grid showing her and her husband grinning madly as they pose in front of the Eiffel Tower, after he whisked her there this morning for a surprise, just-because day trip. For all you know, they spend the entire trip fighting and she's planning on leaving him for her dentist. Comparison is a game you can't win, because you don't know what's really going on behind the shiny facades people present to the world.
14. Turn your phones to silent
It's near-impossible to spend quality time together if one or both of you is listening out for notifications and checking the screen.
15. Accept things won't always be great
There will be ups and downs in your marriage. A bad patch doesn't mean your relationship is over - it just means you're having a bad patch.
16. Tread lightly when it comes to families
When you get married, you become part of each other's families, with all the love but also all the complications that can bring. Stay loyal to each other, but avoid criticising each other's parents as much as possible.
READ MORE: 17 Loving Mother of the Groom Gifts Which Will Melt Her Heart
17. Spend time apart
You're two individuals working together, not one unit. Make time to see your friends and family without your partner always being with you.
18. Don't ignore your relationship if you have children
It's easier said than done, but even though your children (if you have them) will be your priority, don't totally ignore your marriage. After all, the two of you are showing them their first model of what a marriage can be like - make it a happy model, with couple-time built in.
19. Compliment each other
It's a simple way to make each other feel good and appreciated.
20. Accept that you will both change
It's inevitable that as people get older, the experiences they have along the way will shape their personalities and reactions. Your partner will be different at 50 from what they are at 40, even if it's only in subtle ways. Give each other the space to grow and adapt.
21. Be upfront about finances
This doesn't have to mean a joint bank account, but you do need to be on the same page when it comes to spending. If one of you is splashing the cash on Asos while the other pinches pennies to save for that loft conversion you'd discussed, it's going to cause disharmony.
23. Don't forget important events
Forgetting key events like your partner's birthday or your wedding anniversary sends the message that you don't care - and with every smartphone allowing you to set reminders, there's no excuse. The same goes if they have something important coming up: a work presentation they're stressed about; an evening with friends they're really excited about. Even if it doesn't come naturally to you, try to remember these things without being prompted by your partner.
READ MORE: 1st Anniversary Gifts: Our Favourite Paper Anniversary Gift Ideas
24. Buy the biggest bed & mattress you can get
Doesn't sound very romantic, does it? But honestly, after a few years of battling your partner's duvet-hogging, space-invading ways (because it's never you who's the annoying sleeper), a king-size bed is a dream come true. This is particularly true if you have children and the accompanying sleep deprivation.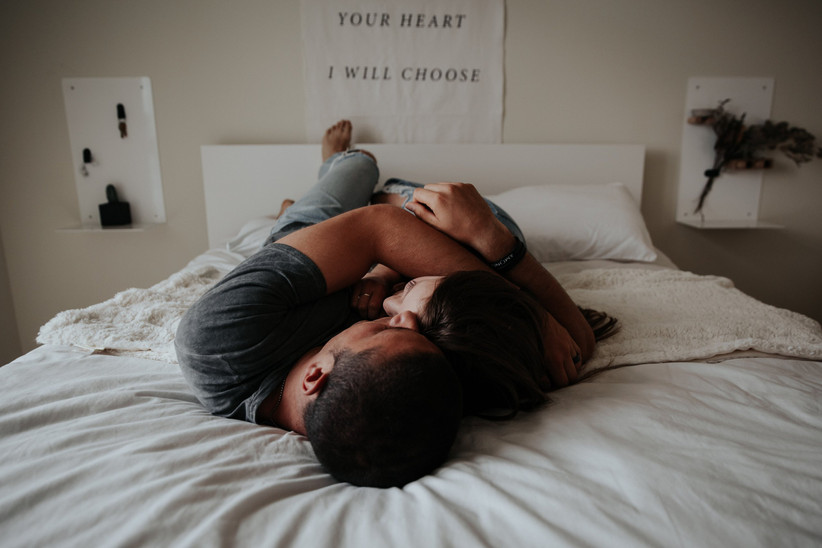 25. Treasure commitment over romance
No couple can sustain that constant-butterflies feeling of the first couple of years. What makes a long-term relationship special is that you have committed to each other, and continue to commit every day. That's more special and satisfying than the dizzying highs of the early years.
Marriage Advice Cards
For more marriage insights, ask your wedding guests to use advice cards to share their ultimate tips for a happy relationship - if nothing else, you'll probably have a good laugh reading them!
Rustic Vintage Advice cards - £2.99 for 10, Ginger Ray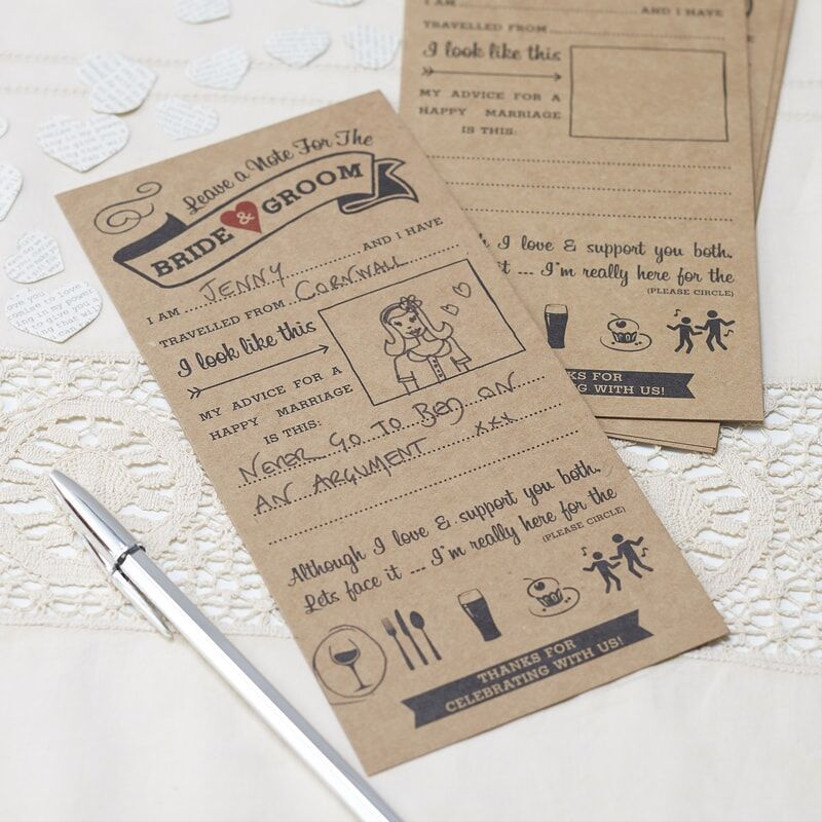 Put these rustic cards at each place setting and don't forget to include pens. These advice cards are easy for guests to fill in and will make lovely keepsakes.
Blush & Gold Wedding Advice Cards - £12 for 10 Cards, Little Cherub Design at Not On The High Street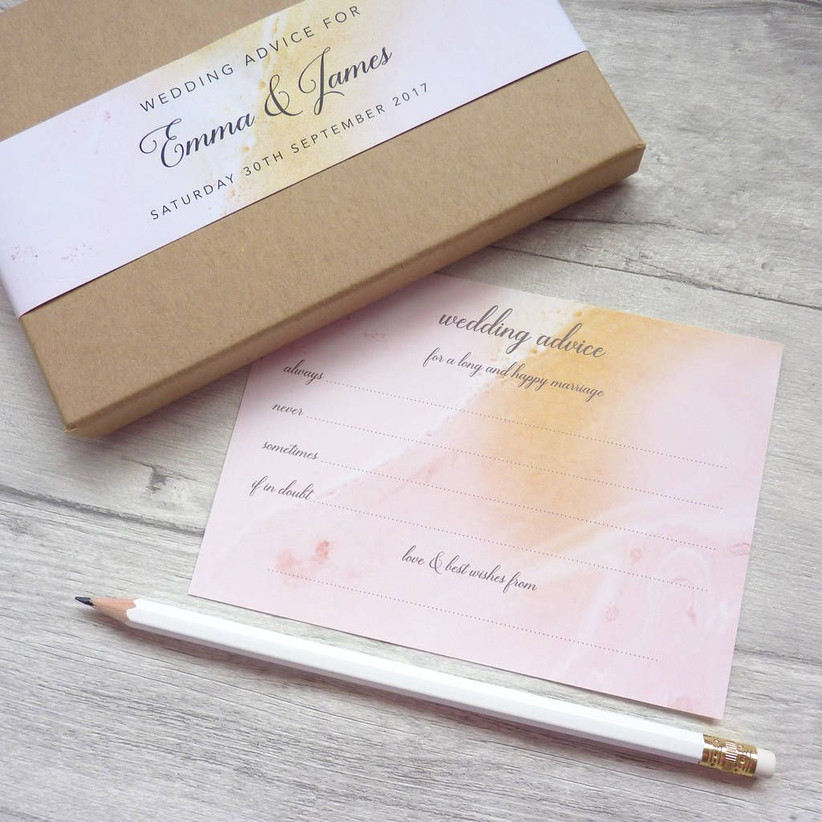 These blush and gold advice cards would look lovely displayed on a table like a guest book. Make sure you have signs to send people towards them, and include a box to store the completed cards.
Wedding Advice Box with 100 Cards - £8.95, Etsy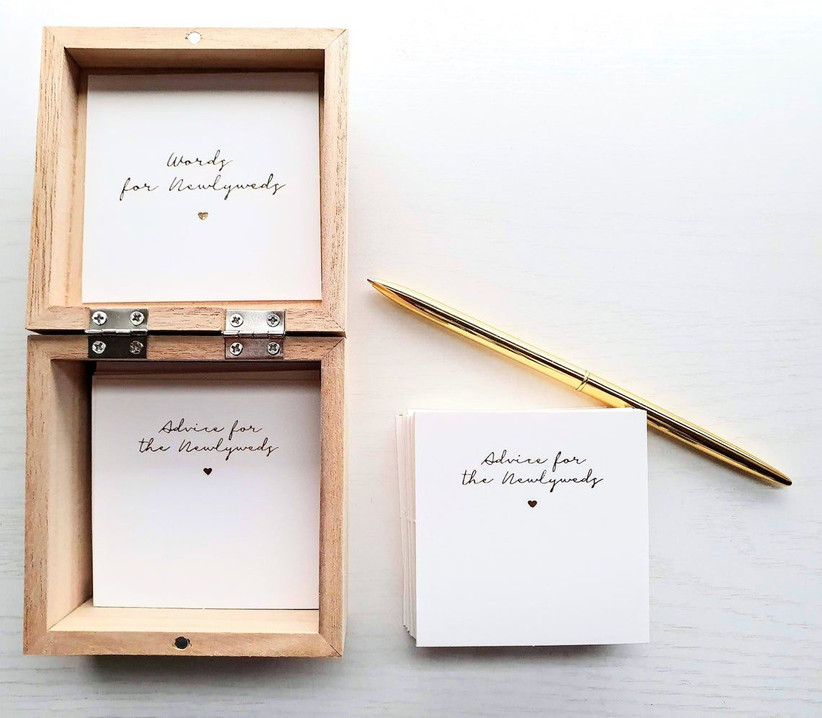 These chic and simple advice cards come with a wooden box, which is handy for keeping guests' advice together on the day.
Floral Bride-to-be Advice Cards - £4.95 for 10 Cards, Ginger Ray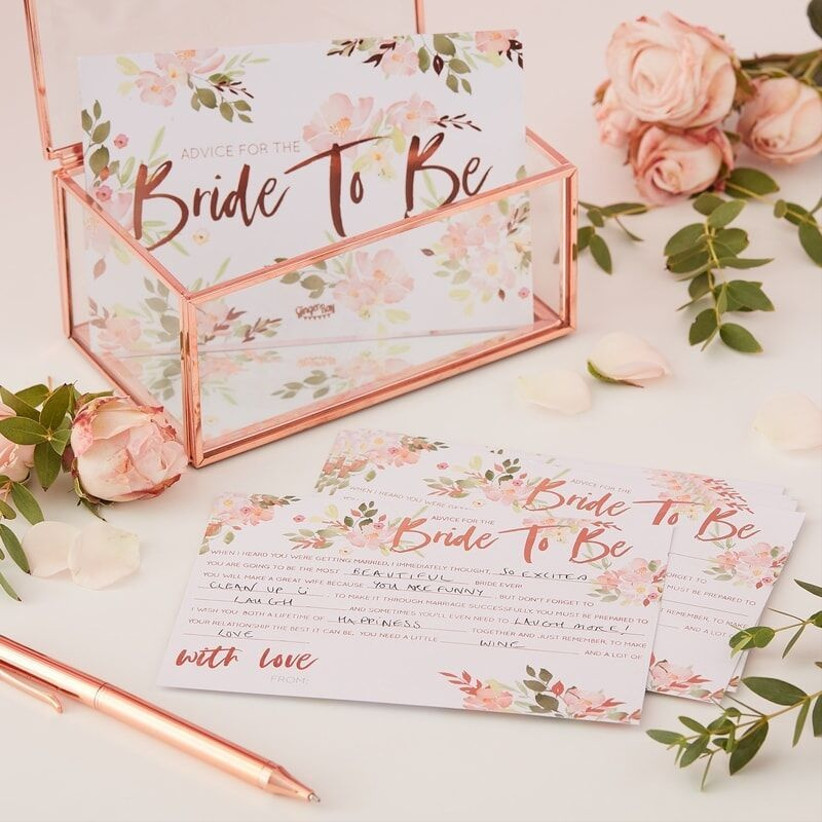 Of course, you don't have to include marriage advice cards at your wedding - use them as one of your hen party game ideas. If you're looking for something that's easy to fill in, these pretty cards contain plenty of prompts to get guests inspired.
READ MORE: 57 Fun Hen Party Themes for Every Type of Bride
Personalised Wooden Heart Wedding Advice Cards - £21 for 24, Lisa Angel at Not On The High Street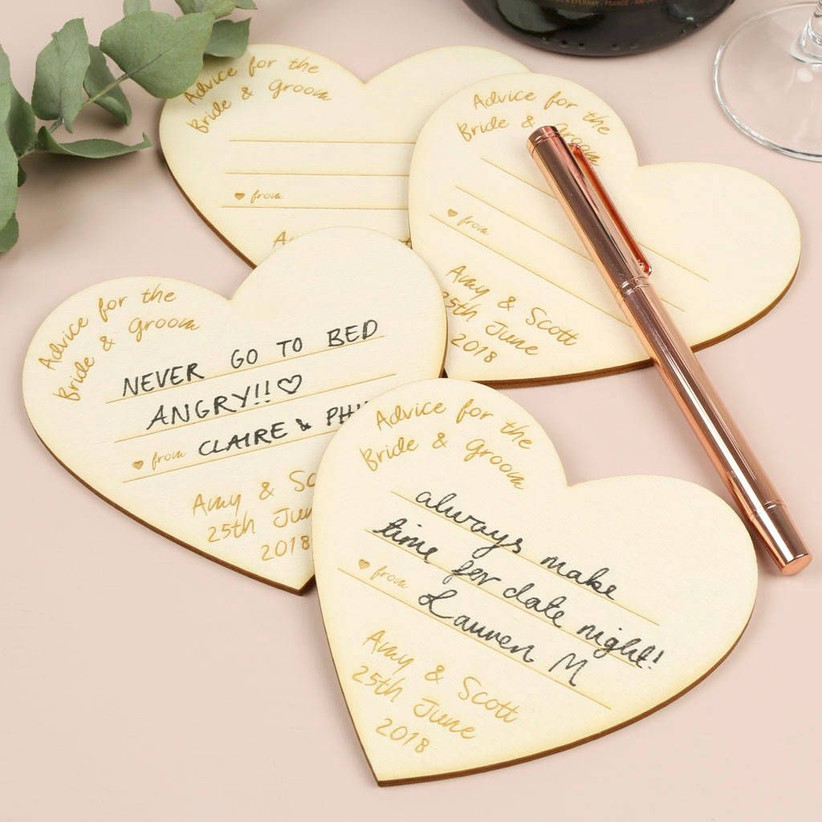 Customised with your names and wedding date, these wooden cards would make for lovely keepsakes. The "advice for" wording can obviously also be changed to "bride & bride" or "groom & groom".
Greenery Marriage Advice Cards - from £4.27, BrideandBows at Etsy
You can download and print this greenery wedding advice design at home, which will save money. The mad libs-style wording should make it fun for guests to fill out.
READ MORE: Wedding Websites: The 9 Best Wedding Websites for Your Big Day
Printable Date Night Idea Cards - £4.30, MintyPaperieShop at Etsy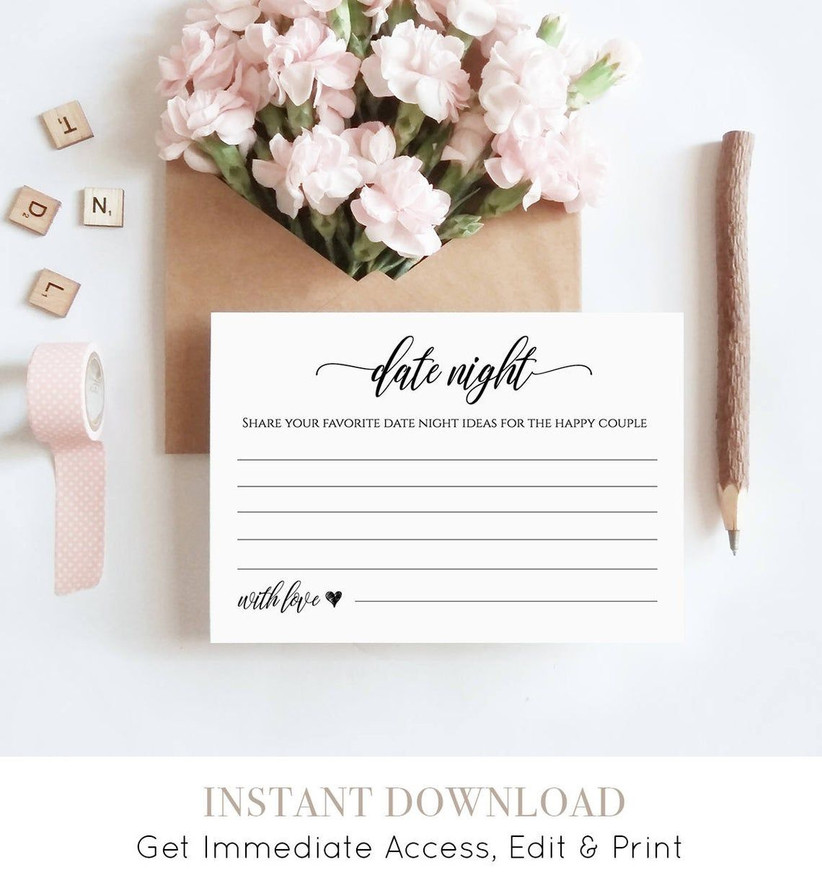 Instead of general marriage advice, use this elegant printable template to ask your guests for date night ideas.
Personalised Wedding Advice Cards - £22 for 20, Creative & Contemporary at Not On The High Street
Instead of asking for advice that you'll read straight after the wedding, use these genius advice cards to request tips to read on your first anniversary. No peeking before then! You can have them personalised with a photo and your names and wedding date.
Newlyweds' Bucket List - £4.99 for 8, The New Witty at Not On The High Street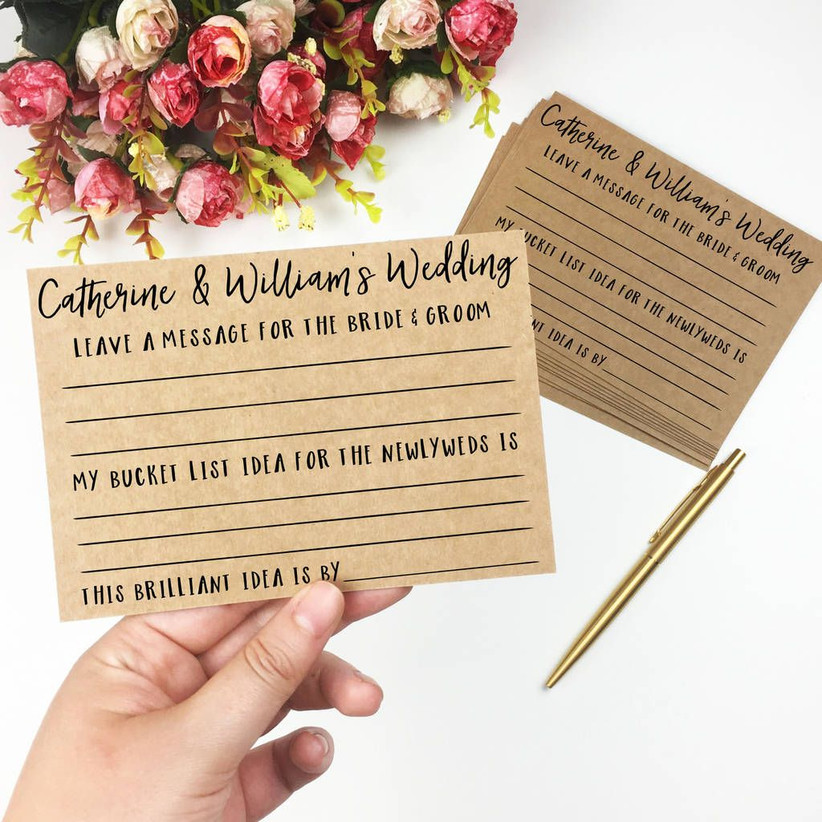 Another alternative to general marriage advice is asking for bucket list suggestions, like these rustic cards. Hopefully your (non-drunk) guests will give you ideas for a lifetime of adventures!
Start as you mean to go on and arrange something special as a couple - like a romantic break at one of the 35 best UK staycations.