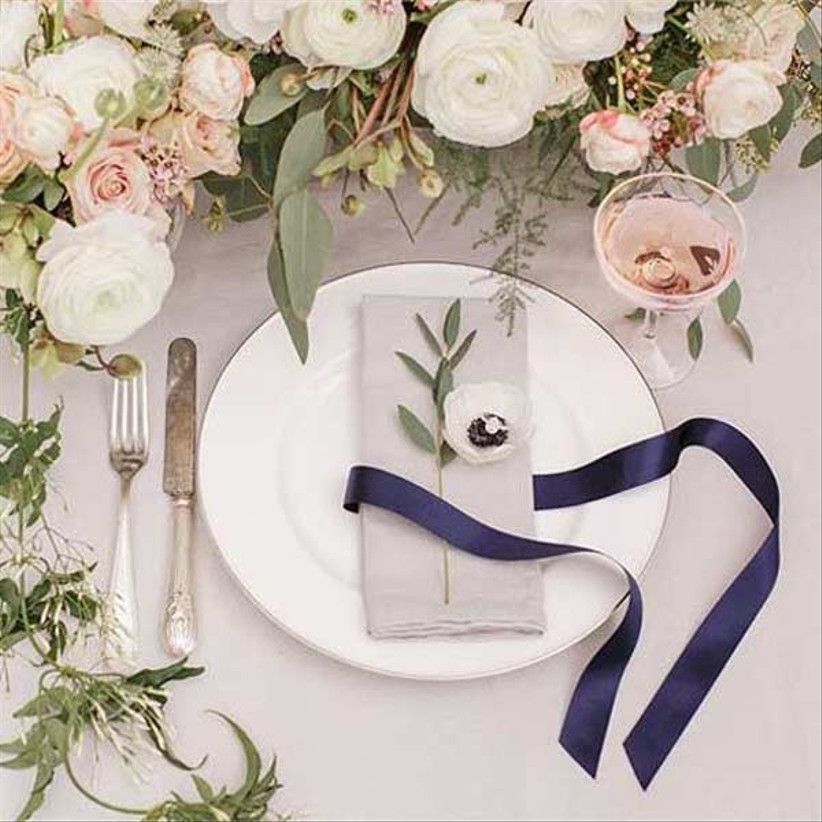 Not just a practical way to keep your lap clean during the reception meal – napkins can also add a decorative touch to your wedding tables. Most venues will provide traditional white or ivory napkins, however if you want to put your own personal stamp on your day then you could bring your own or add some beautiful napkin holders. To inspire you, we've rounded up some stunning ideas for your wedding napkins.
Floral Detail
How pretty is this table set up? Give a romantic flourish to a garden themed wedding by tying a sweet smelling flower to your napkins with some eye catching ribbon.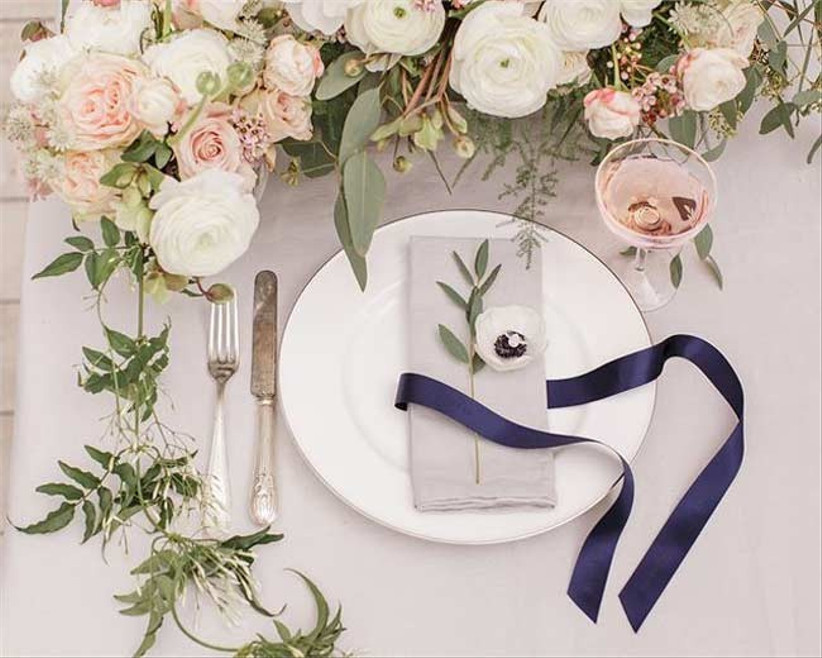 Flowers by Indeco Flowers
Rustic
Getting married at a rustic wedding venue? If so, textured details like hessian would be an ideal addition to your tables. These hessian and satin napkin wraps from Baloolah Bunting would add a creative touch to plain white napkins.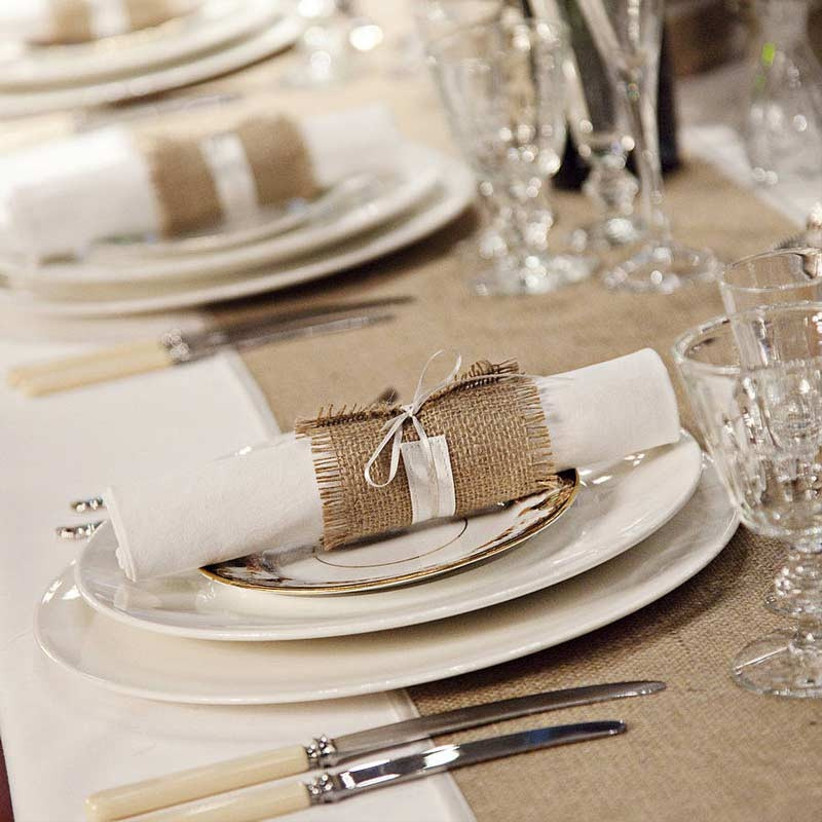 Image credit: Baloolah Bunting at Not on the High Street
This frayed wedding ribbon from Ginger Ray is a gorgeous way to keep your guests' napkins and cutlery together. Choose from the text 'Mr & Mrs' or 'just married'.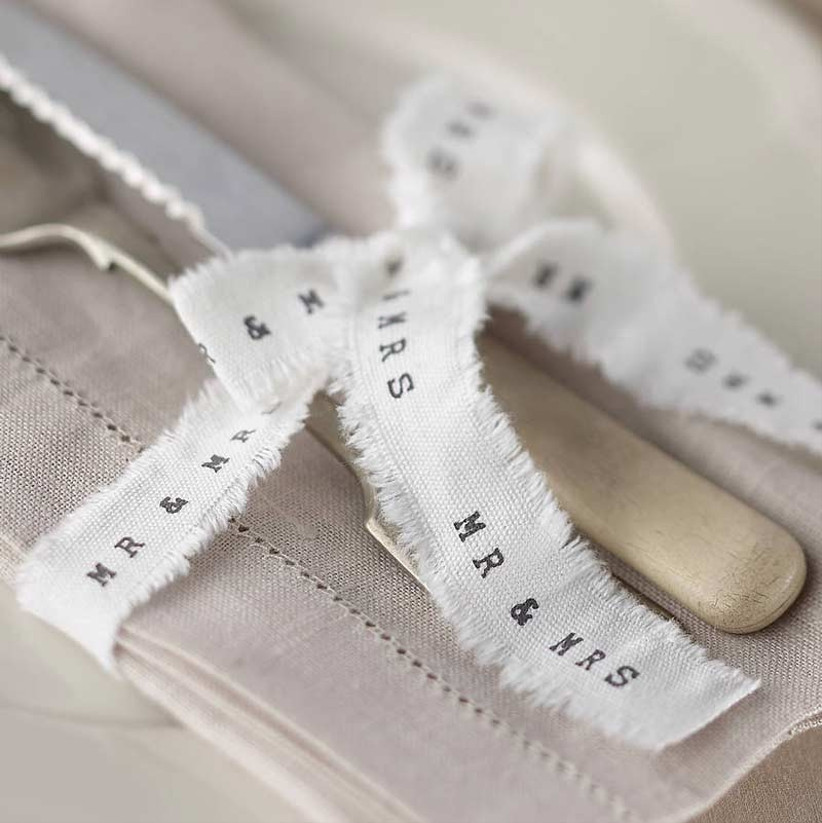 Image credit: Ginger Ray at Not on the High Street
Made from old birch wood and suitable for both fabric and paper napkins, these carved napkin holders from Etsy would be more than fitting for a rustic celebration – especially if you're getting married at a woodland wedding venue.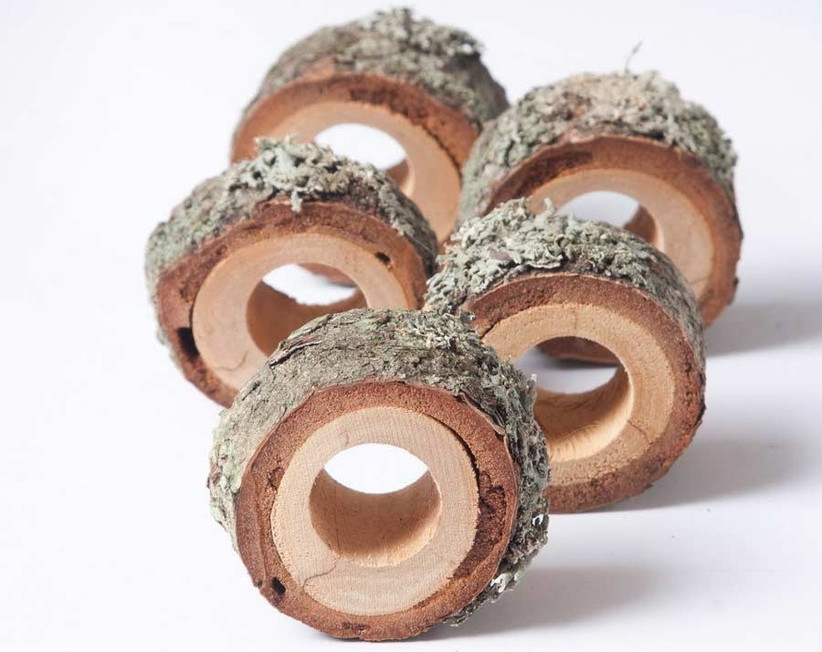 Image credit: PlaceCardHolderShop 
Rolled
If you're all about clean lines and minimal fuss, then take a look at these elegantly rolled napkins from a wedding at the Shangri-La Hotel at The Shard. We love how the stone napkin rings have been co-ordinated with the plates.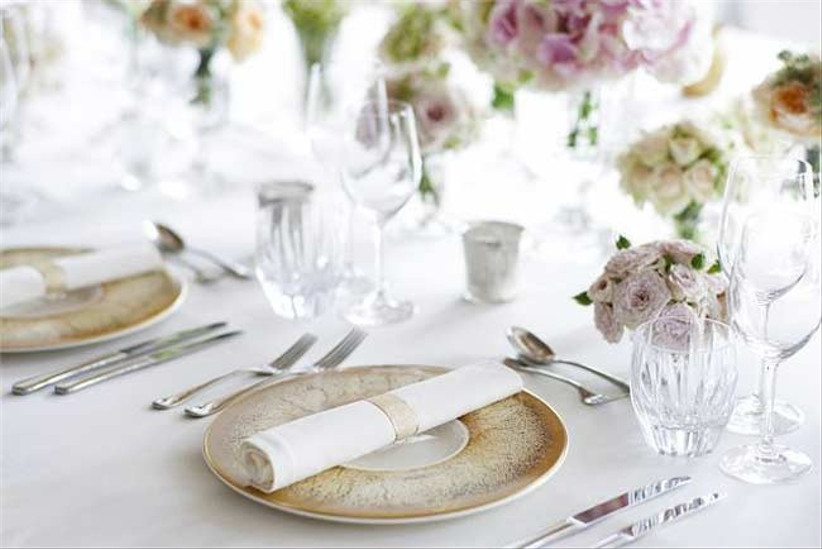 Luxurious
If you're looking for a glamorous way to decorate your tables, then Amara do a very pretty range of napkin holders that will definitely impress your guests. From glitzy gold rings to ornamental designs, you may also want to put these holders on your wedding gift list.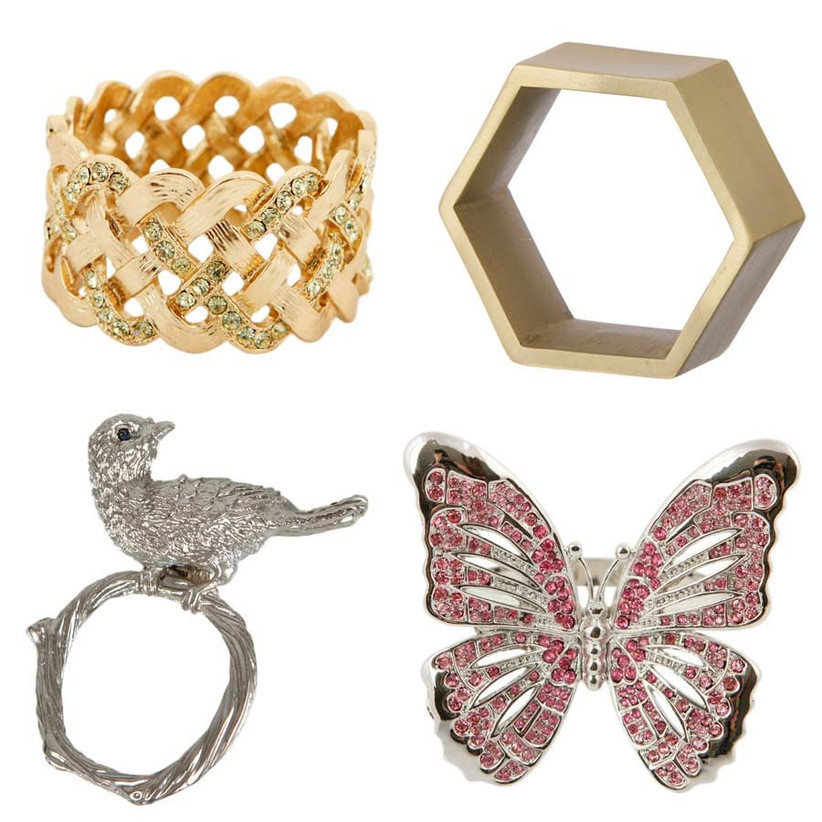 Festive
If you're planning a Christmas themed wedding, then these 'merry & bright' napkins from Etsy would make a festive statement. Incorporate other red details into your décor to add a flash of colour to a winter wedding.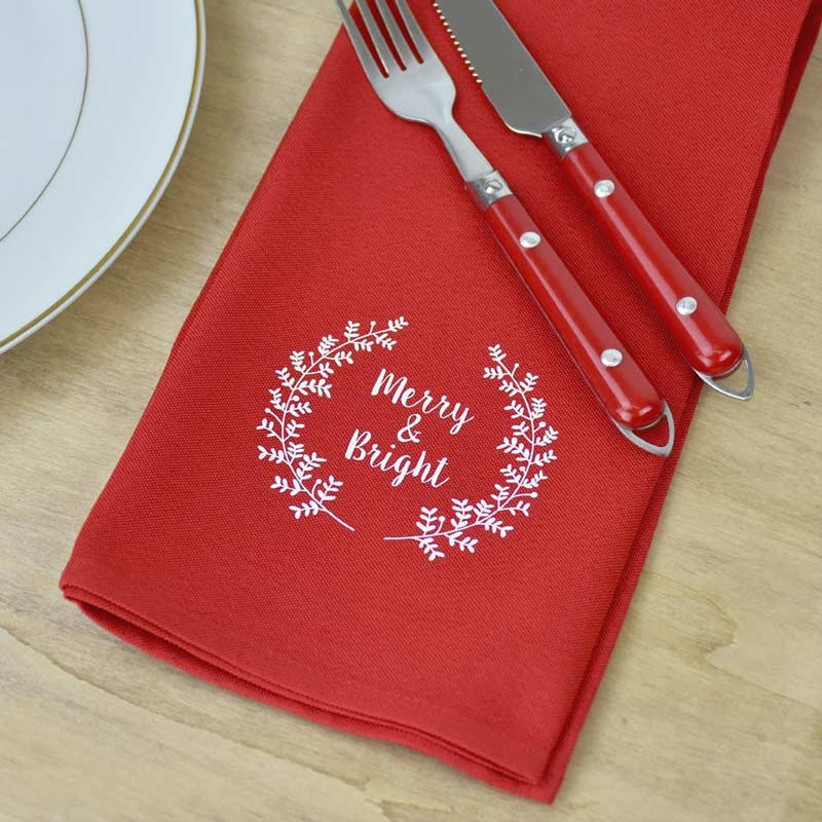 Image credit: EllieEllieltd 
Peacock Feathers
We love the peacock feather inspired details at Kate and Gareth's real wedding. Their blue tartan napkins worked wonderfully with the luxurious colours of the attached peacock feathers. The addition of leaves gives a rustic vibe to the overall look.
Image credit: Mark Dolby Photography
Monogrammed
Your guests certainly won't have any trouble finding their seats if you lay out these these embroidered napkins from The Company of Friends. They're made from super soft cotton and would also make a lovely personalised wedding gift idea.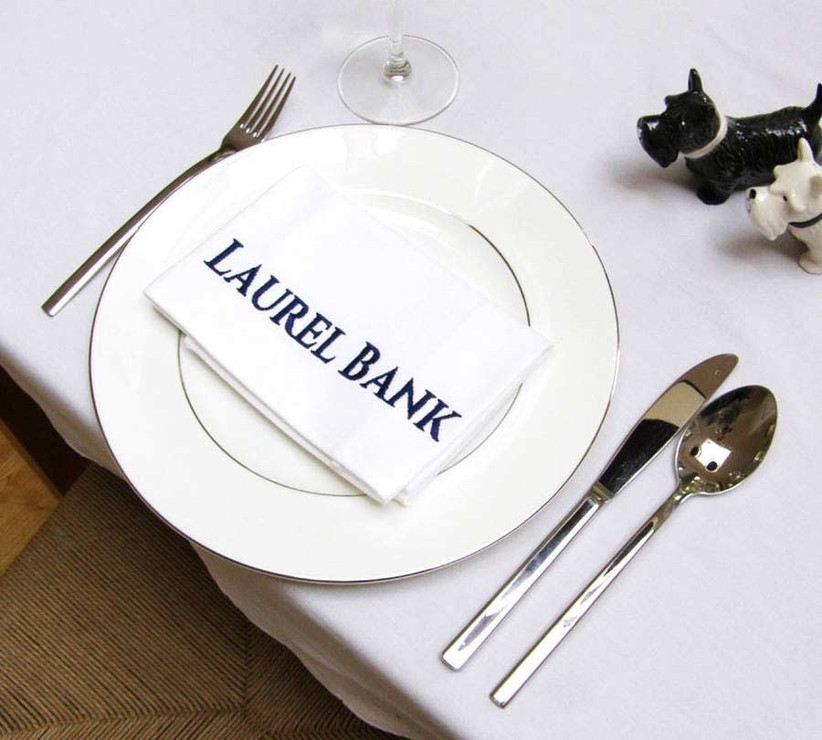 Image credit: The Company of Friends at Not on the High Street
Glitzy
We can't resist a sparkly wedding here at Hitched, and if you consider yourself a bit of a magpie bride then get ready to obsess over these gold leaf napkin rings from MiaFleur. These stunning holders would be perfect for an autumnal celebration – all you need are some crisp white wedding napkins to go with them.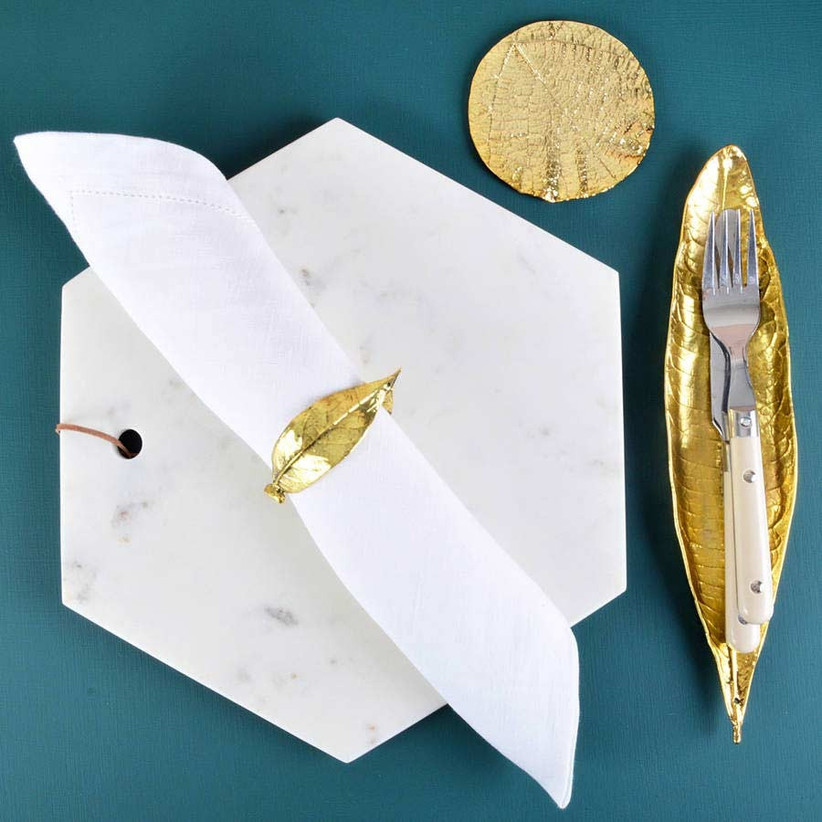 Image credit: MiaFleur at Not on the High Street
To add some wow factor to your reception tables without blowing your budget, opt for these Ginger Ray polka dot paper napkins. Even though they're disposable, your guests won't want to ruin these pretty metallic wedding napkins.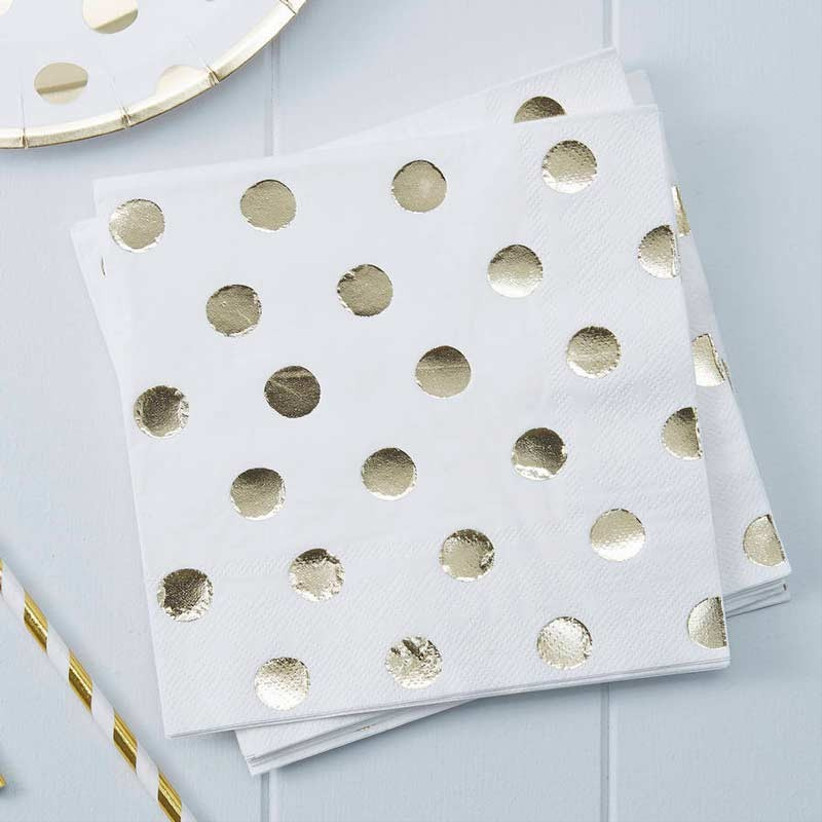 Image credit: Ginger Ray at Not on the High Street
These gold foil paper napkins from Etsy would be a pretty way to get the party started alongside the welcome drinks and canapés. They would also be the perfect accompaniment to a dessert or buffet station.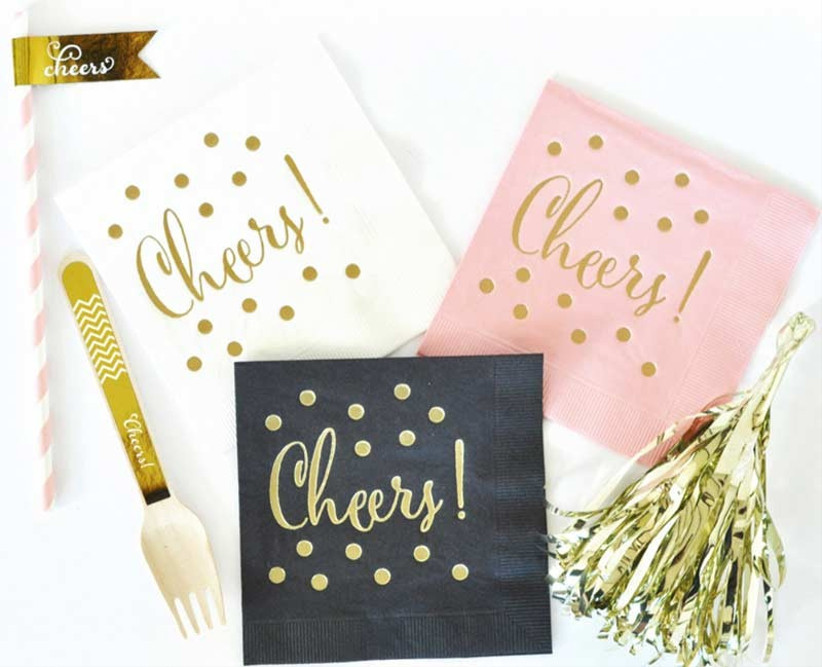 Image credit: MailboxHappiness 
Celebrate one of the best days of your life with these appropriately worded paper wedding napkins from Etsy! You can also personalise them with any text you want – but why would you want to when these ones already sum the day up?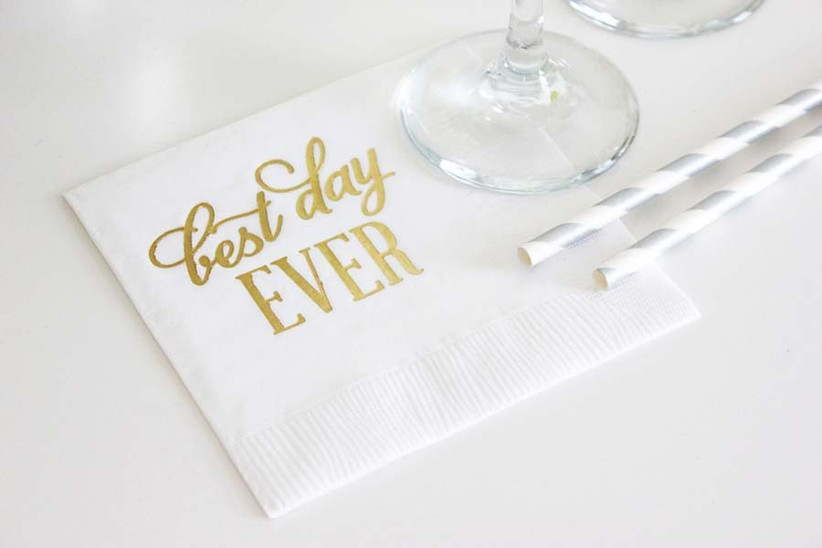 Image credit: TheYellowNote 
If you're adding DIY details into your wedding décor, then you could jazz up some plain napkins by tying pretty ribbon around them. Use this gold sequin ribbon from Ginger Ray to add a touch of luxe to your tables.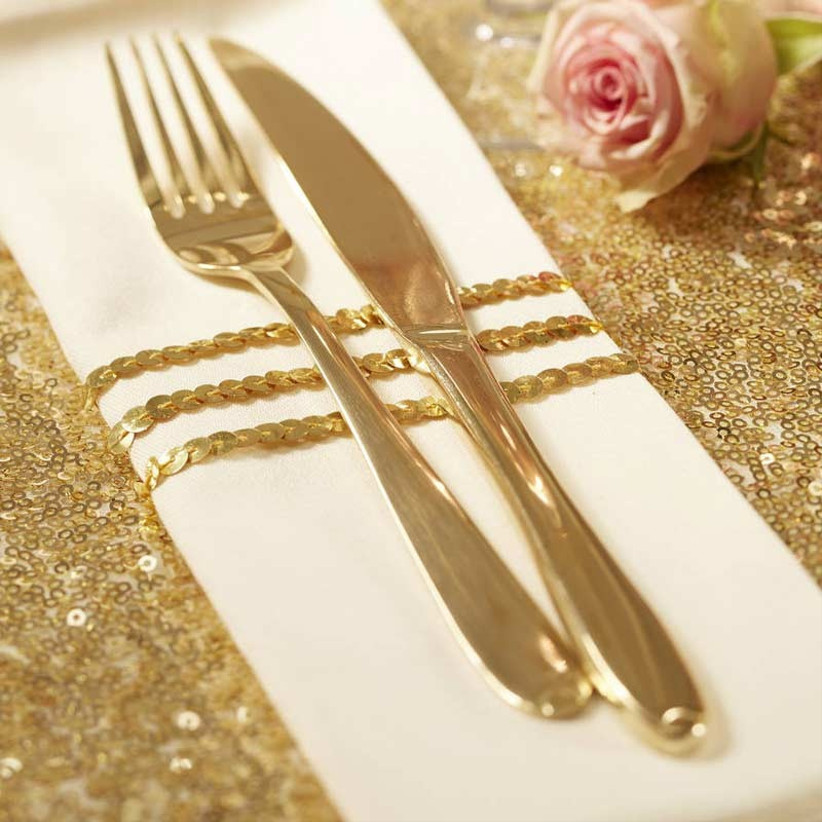 Image credit: Ginger Ray at Not on the High Street
Romantic
These wooden heart napkin rings from Creative and Contemporary Handmade are the sweetest. They would also make great wedding favours for guests – two birds, one stone!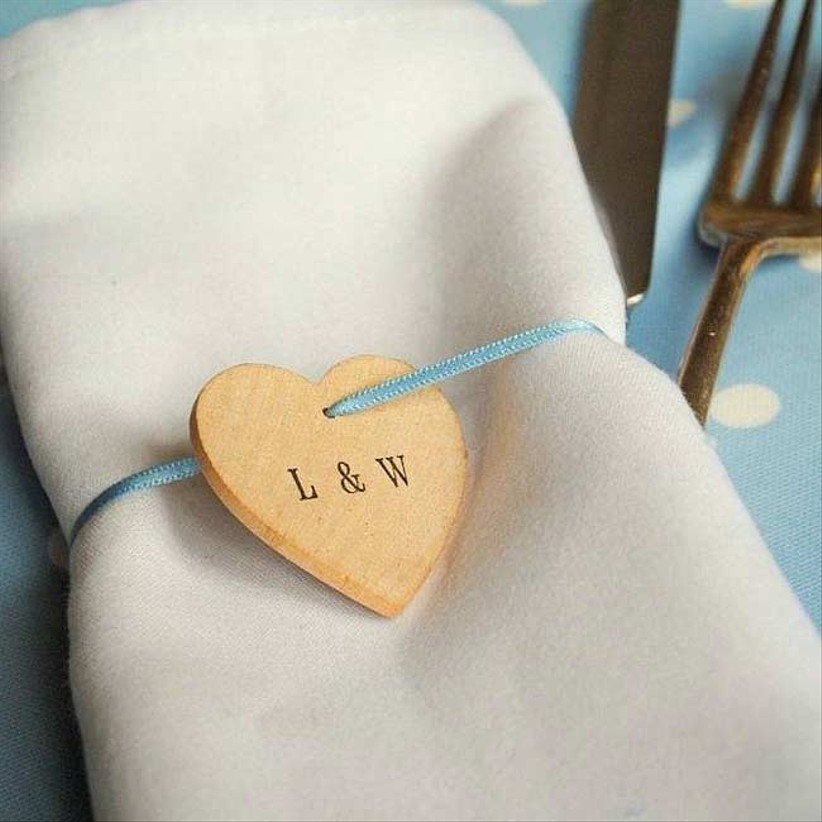 Image credit: Creative and Contemporary Handmade at Not on the High Street
Dragonfly
These dragonfly napkin rings from Dibor would make a stunning wedding gift, or perhaps an elegant addition to an intimate reception with vintage themed wedding décor. It's the perfect napkin holder if you and your partner are a pair of nature lovers.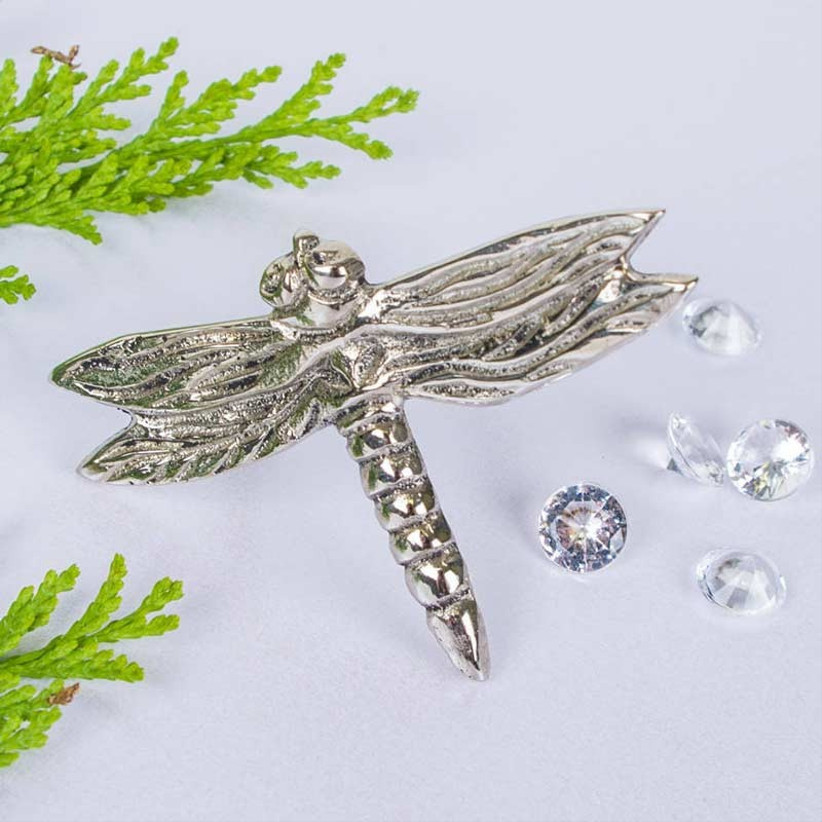 Image credit: Dibor at Not on the High Street
Colourful
Pastel colours really suit vintage celebrations, as proven by the multi-coloured details in this reception set up at Maidstone wedding venue Kent Life. We love how the pastel napkin ties have been co-ordinated with the wedding chair ribbons.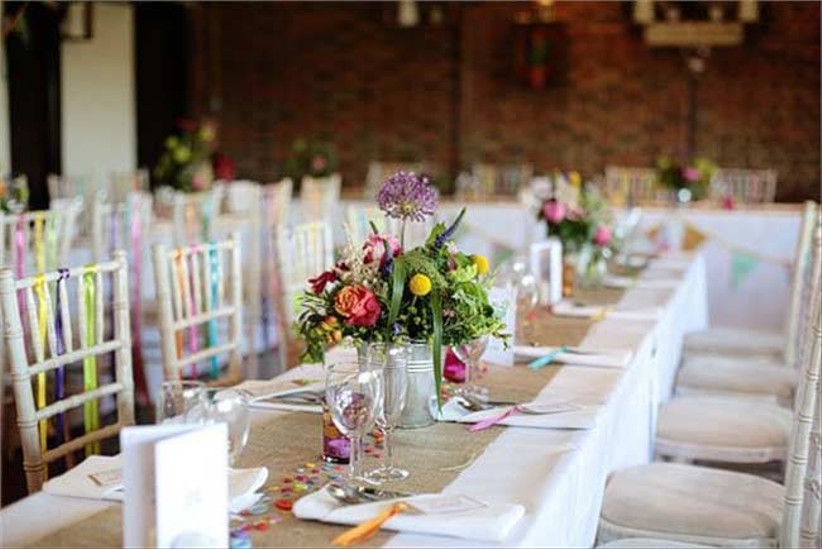 Illustrated
We're obsessed with the beautifully illustrated napkins from Lottie Day. Not only do they add a unique and creative touch to your wedding tables, they'd also be lovely to keep after the day is over.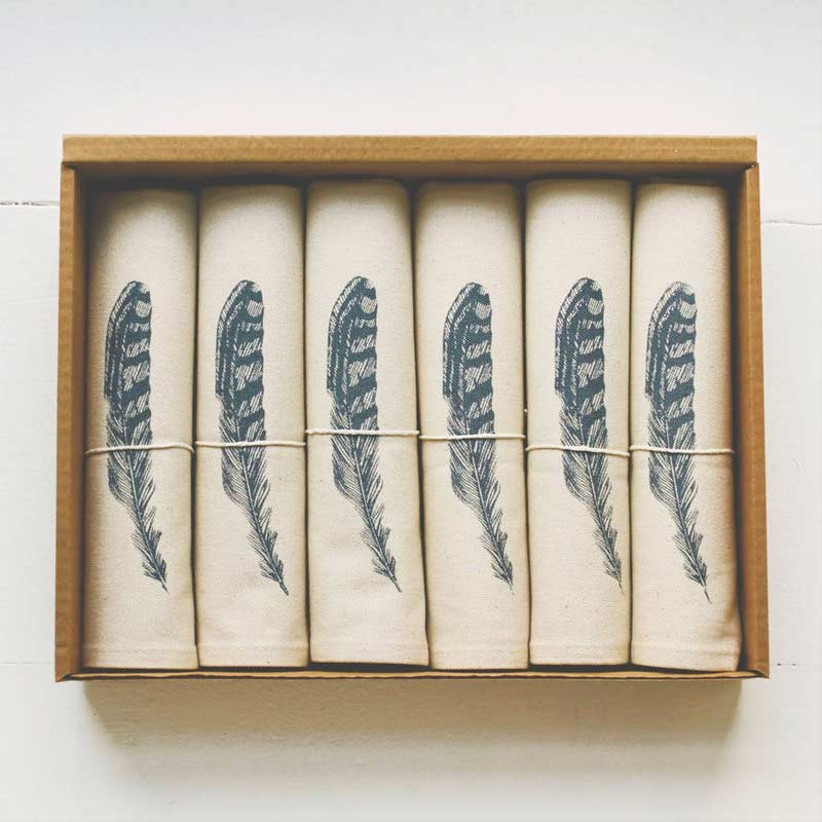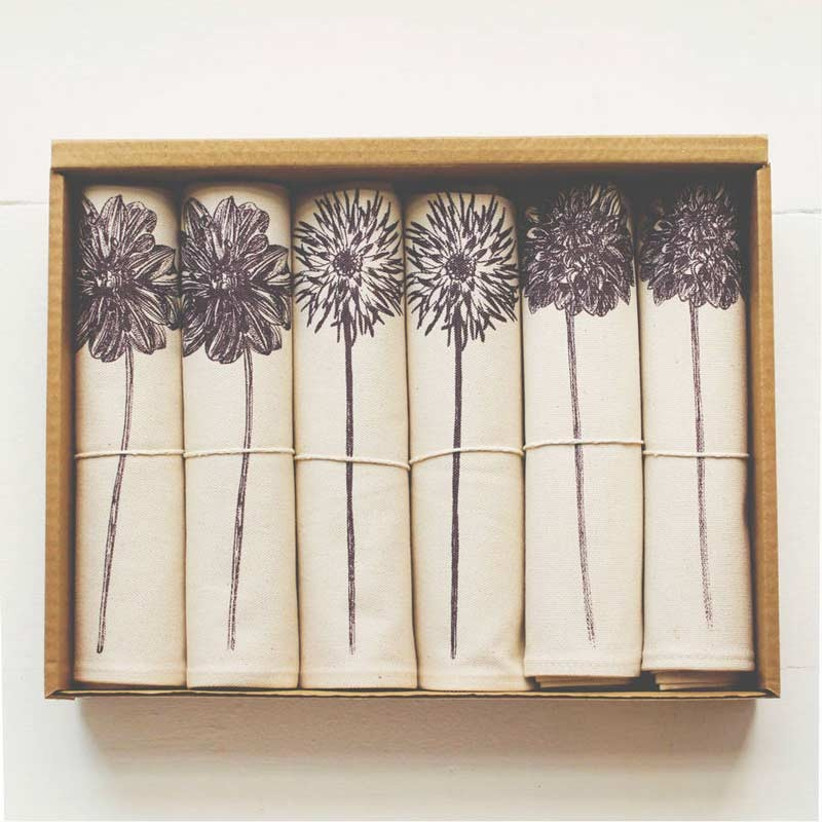 Image credit: Lottie Day at Not on the High Street
Traditional
You can't go wrong with an elegant napkin in white or ivory. If the guests have forgotten what they're eating or still need to choose then you could attach the menus to the napkins with some pretty string or ribbon.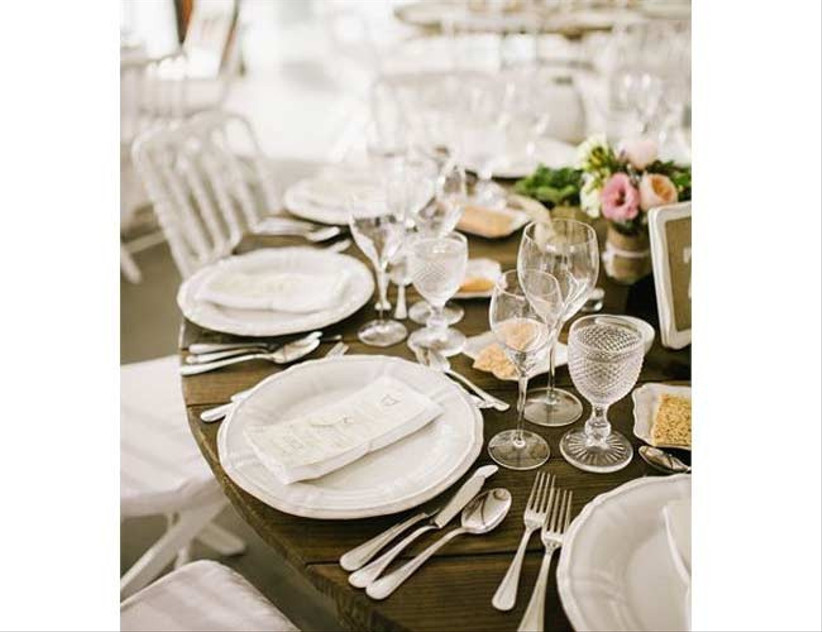 Image credit: Pedro Portela Photography
We love how the napkins have been arranged in a sophisticated fan display for this reception at Hampshire venue Test Valley Golf Club. The addition of a kraft card that says 'for richer, for poorer' is a nice vintage touch.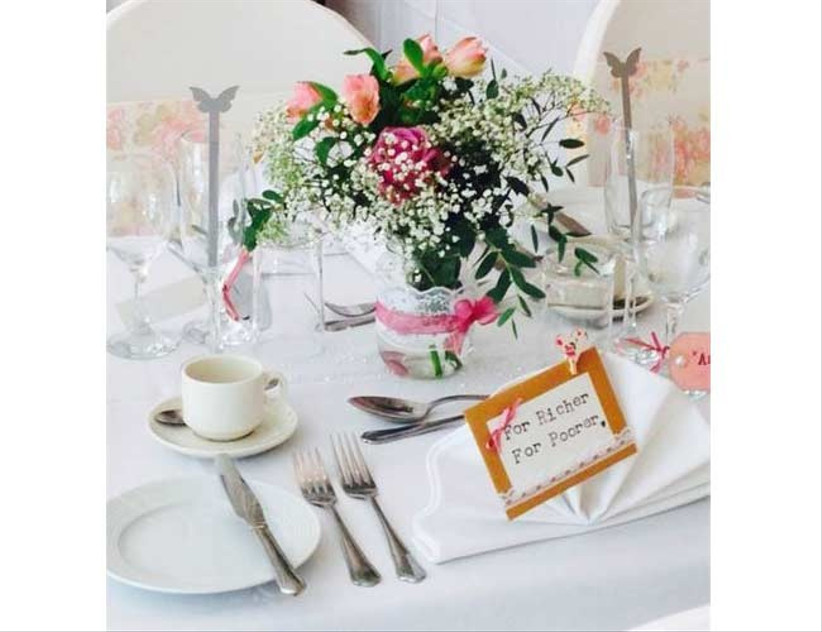 Monochrome
These striped paper napkins from Postbox Party would be a striking way to add an art deco vibe to your reception. To complete the look, make sure you wear a dazzling 1920s wedding dress.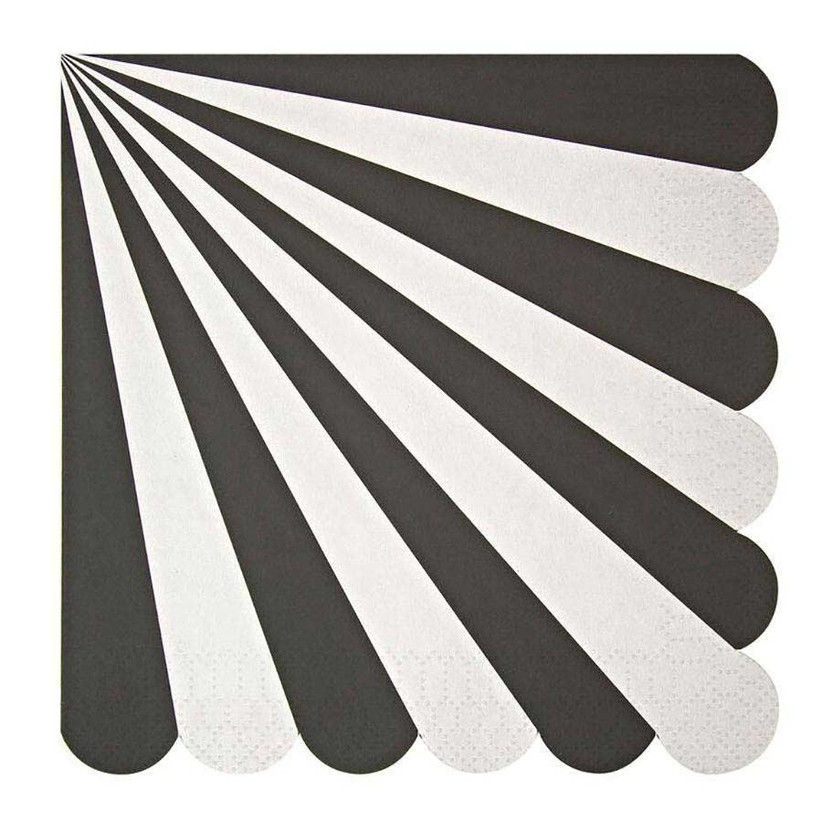 Image credit: Postbox Party at Not on the High Street
These blackboard napkin ties from Sophia Victoria Joy will add a personal touch to your place settings. Every tag has a rustic ribbon tie and a laser cut design with the name of each guest. If you're planning to have chalkboard wedding signs around your venue then these napkin ties would follow the theme nicely.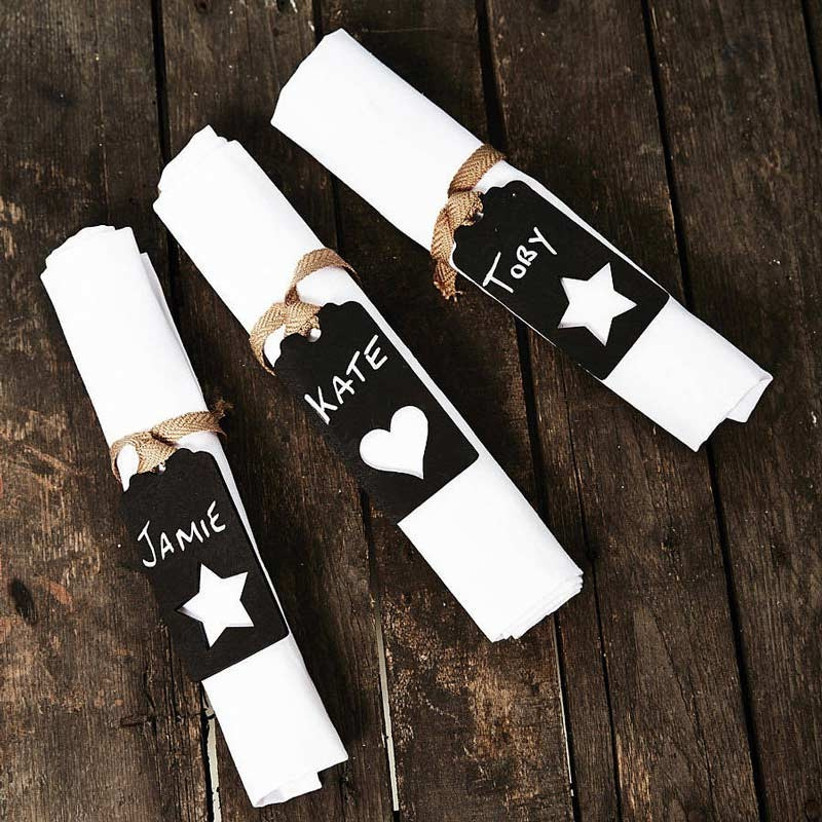 Image credit: Sophia Victoria Joy at Not on the High Street
Quirky
How awesome are these 'mapkins'? Available through The Little Boys Room at Not on the High Street, these quirky custom napkins would make a wonderful addition to your tables or as a wedding gift – you could even customise them with the postcode of your venue as a wedding memento!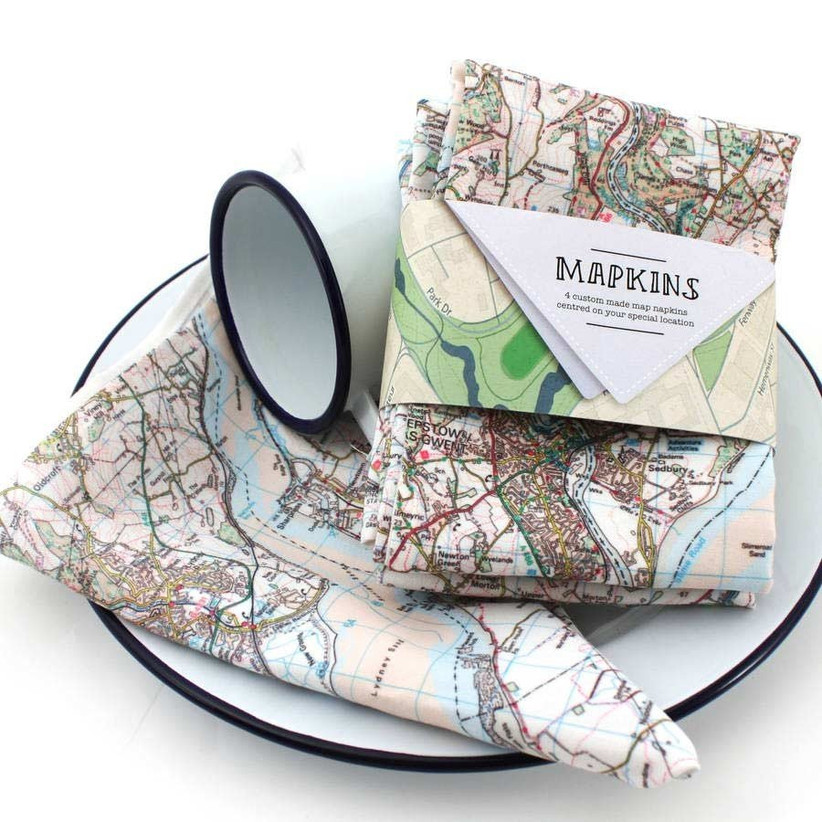 Image credit: The Little Boy's Room at Not on the High Street
No vintage tea party is complete without some whimsical touches, so if you're having one for your reception then you could include these Alice in Wonderland napkins from Postbox Party.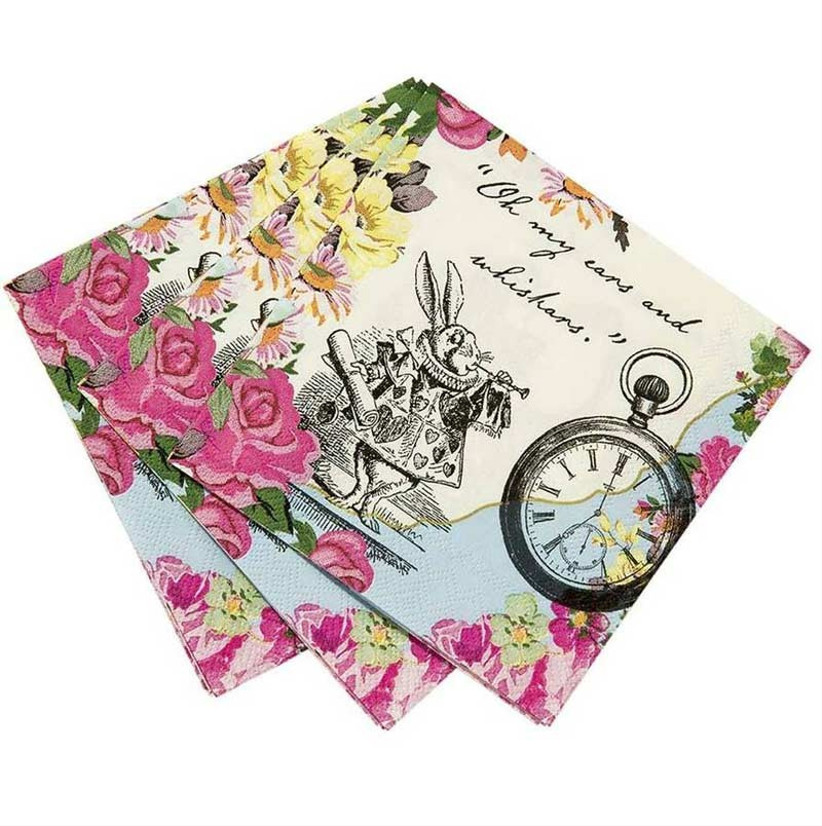 Image credit: Postbox Party at Not on the High Street
If you're looking for more ways to complement your napkins and table decor, then take a look at our edit of wedding place cards for every style of celebration.