As Cady Heron famously said in Mean Girls, "Halloween is the one night of the year when a girl can dress like a total...". Well, you know the rest.
But hey, she's right. Who doesn't love dressing up, and even more when you put on an outfit that makes you feel confident and sexy!
If a Minion or face paint-streaked Shrek aren't quite your vibe, then we've found the best sexy Halloween costumes for women.
Sultry not scary, these are the sexiest costumes to sport on October 31st, from Wonder Woman and zombie brides to buxom pirates and one of Carole Baskin's big cats!
READ MORE
30 Sexy Halloween Costumes for Women
1. Clueless Costume - £52, Dolls Kill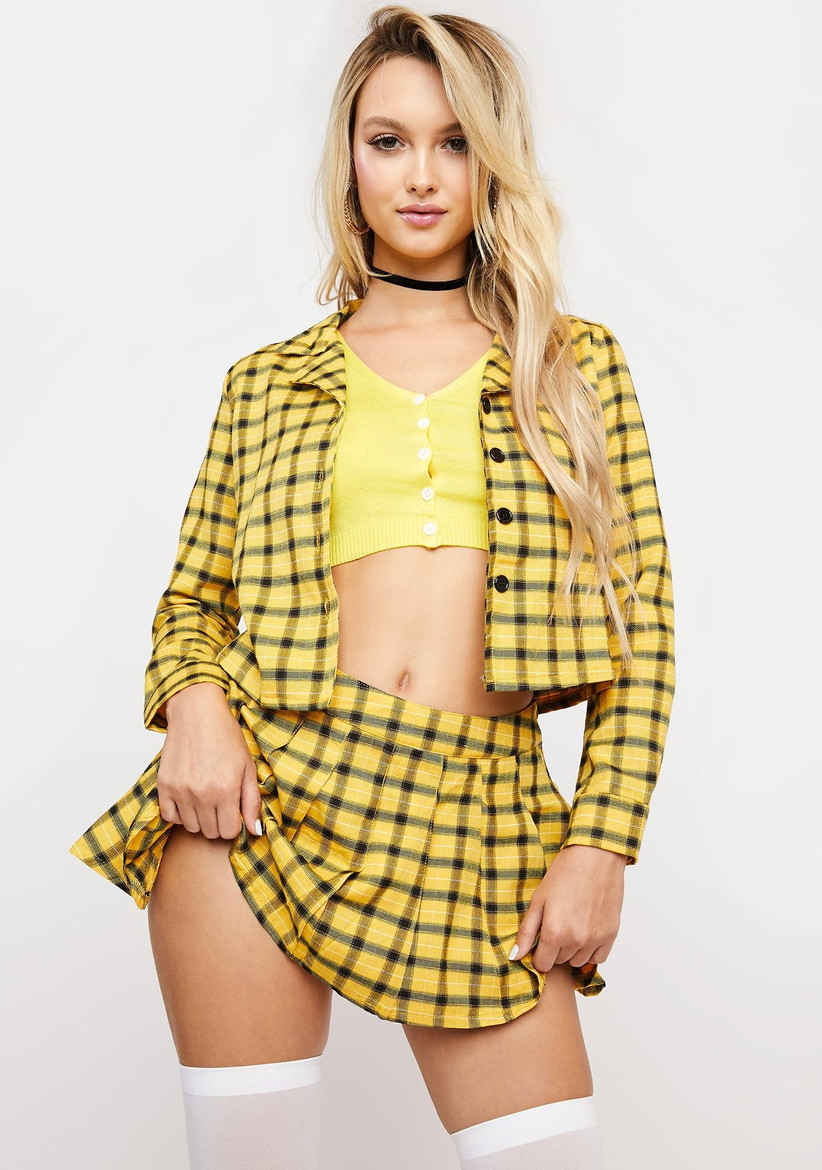 Cher Horowitz, eat your heart out! This hot take on her famous Clueless outfit comes with the cutest details, including cheeky pants that say 'Whatever!' on them and a safety pin on her plaid skirt. Pair with white stockings for the ultimate '90s look.
2. Flirty Nurse Costume - £29.99, Lovehoney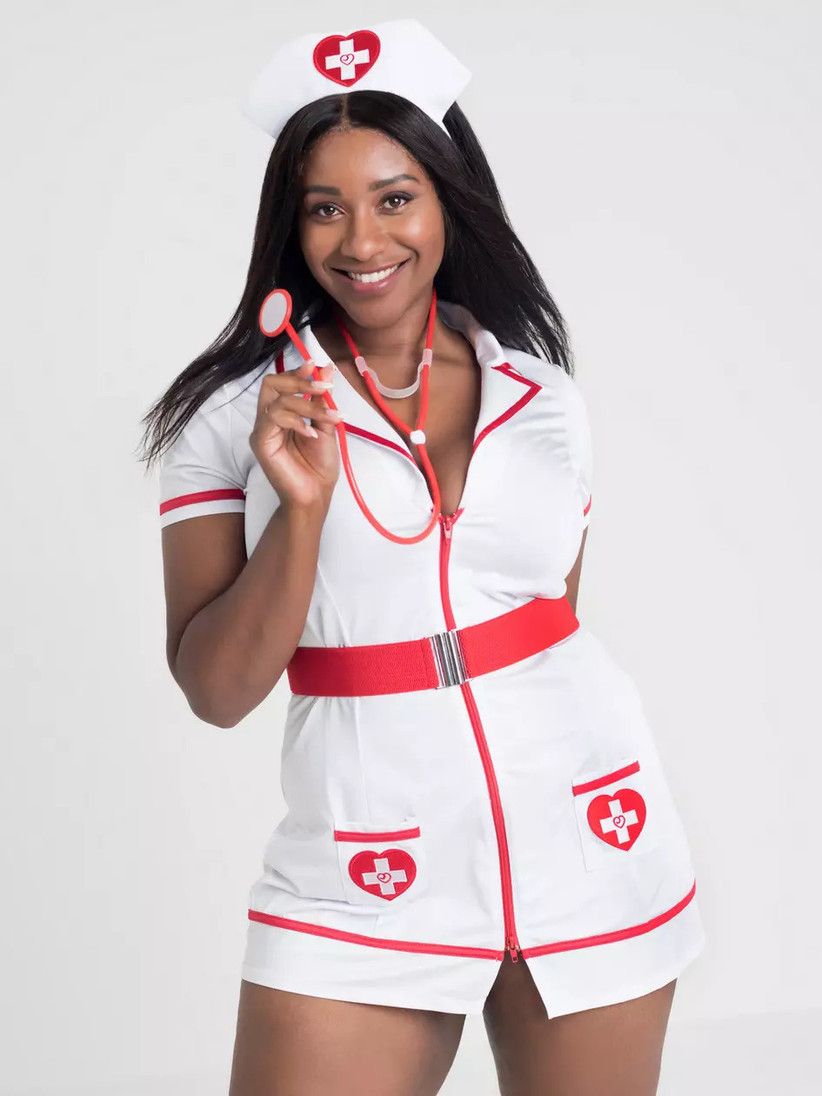 Naughty nurse is a Halloween staple for a reason. This cheeky costume looks so good on curvy figures and that front zip means you can reveal as much of your cleavage as you want. But it is short so maybe pop a pair of tights on for the UK weather!
Lovehoney are fantastic for racy fancy dress costumes that can double as a Halloween costume and serve you back in the bedroom (wink, wink).
3. Halloween Cold Shoulder Mesh Mini Dress - £22, ASOS
A cat costume will never fail you and ASOS have pulled it out the bag with this cute leopard print mini dress. You could team up with your partner as one of the 'cool cats and kittens' to their Tiger King or Carole Baskin!
4. Wonder Woman Costume - from £23.69, Amazon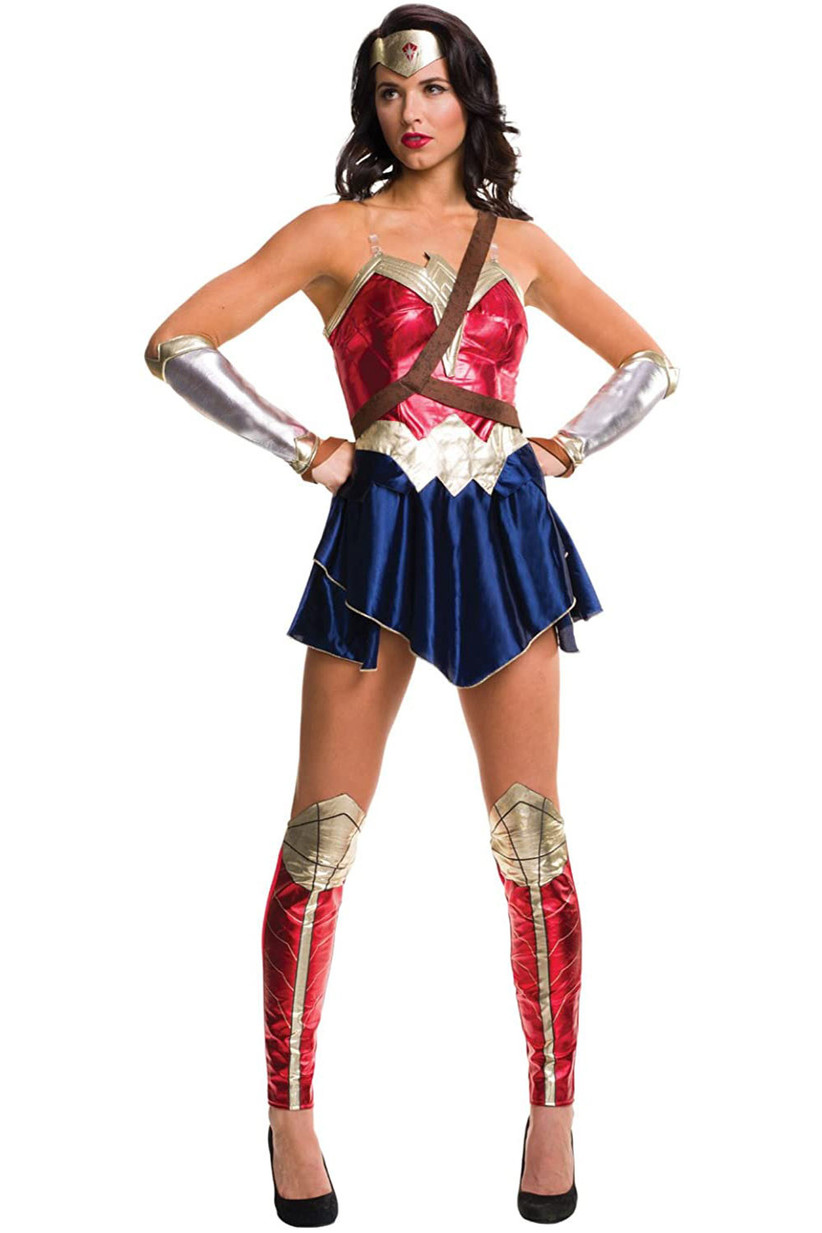 Wonder Woman is the ultimate girl crush and she looks hella good saving the world! This out-of-this-world costume comes with the dress, belt, gauntlet, arm band, tiara and boot covers.
5. Fuzzy Hem Plunge Bodycon Dress - £10.49, Shein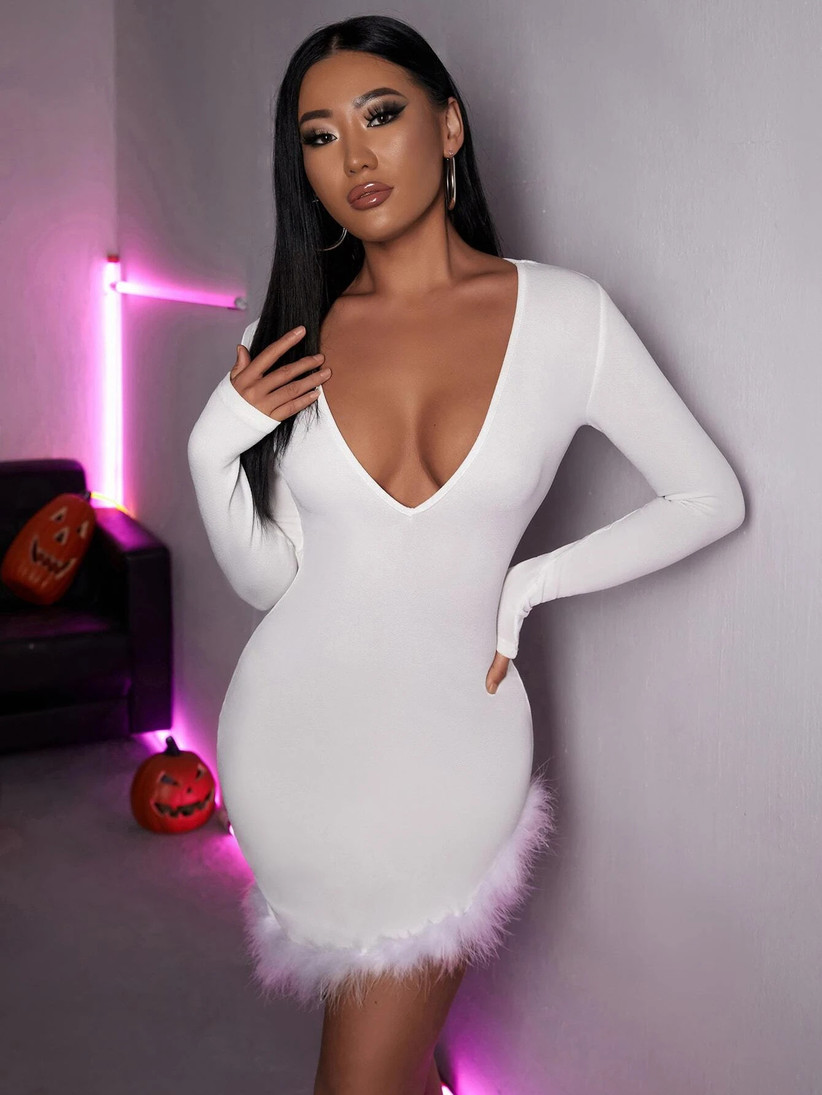 This fluffy-hemmed white dress is the perfect base for an angel outfit. All you need is to throw on some wings and a halo which you can grab for £8.95 from Amazon, making this whole look less than £20!
6. Tinkerbell Costume - from £35.99, Halloween Costumes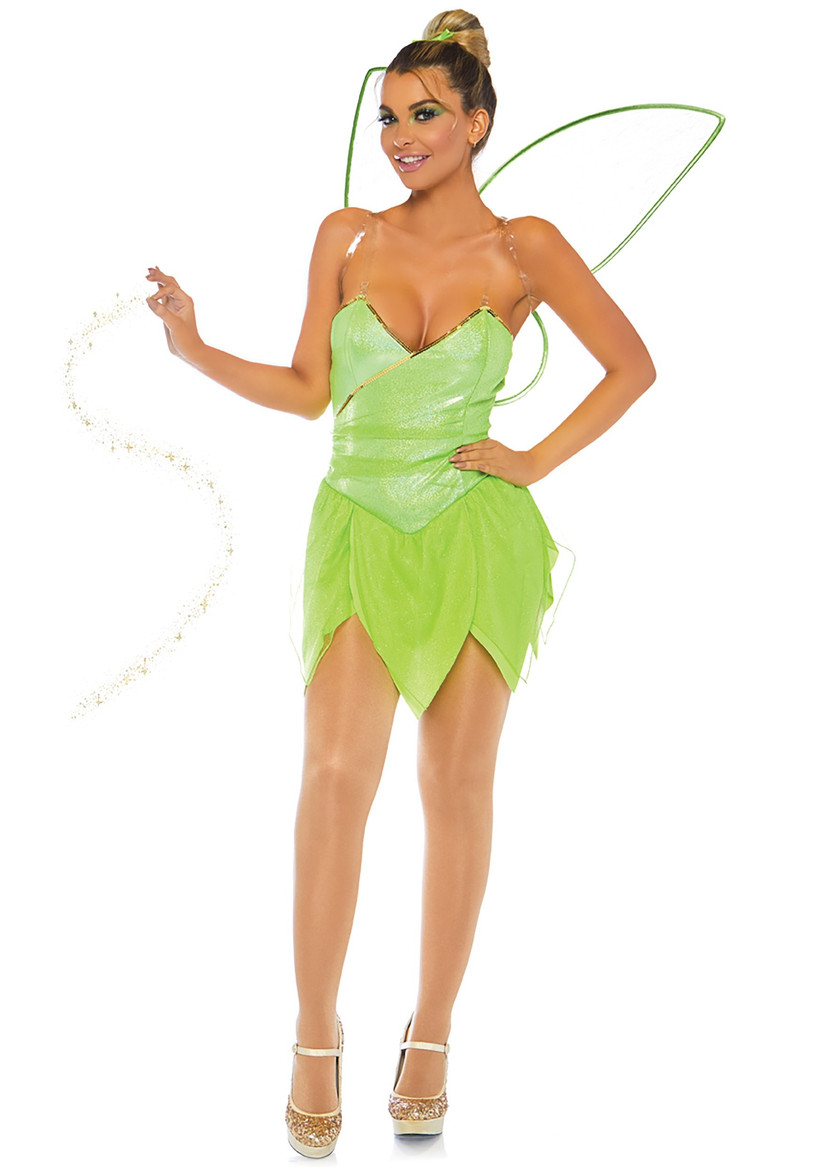 Yes, there is a whole website called Halloween Costumes. Of course there is. This cute Tinkerbell costume comes with a sparkly bodysuit, fairy wings and a hair ribbon that you'll want to crack out on a regular basis. Peter Pan fans, this one is for you!
7. Devilish Diva Costume - £44.99, Halloween Costumes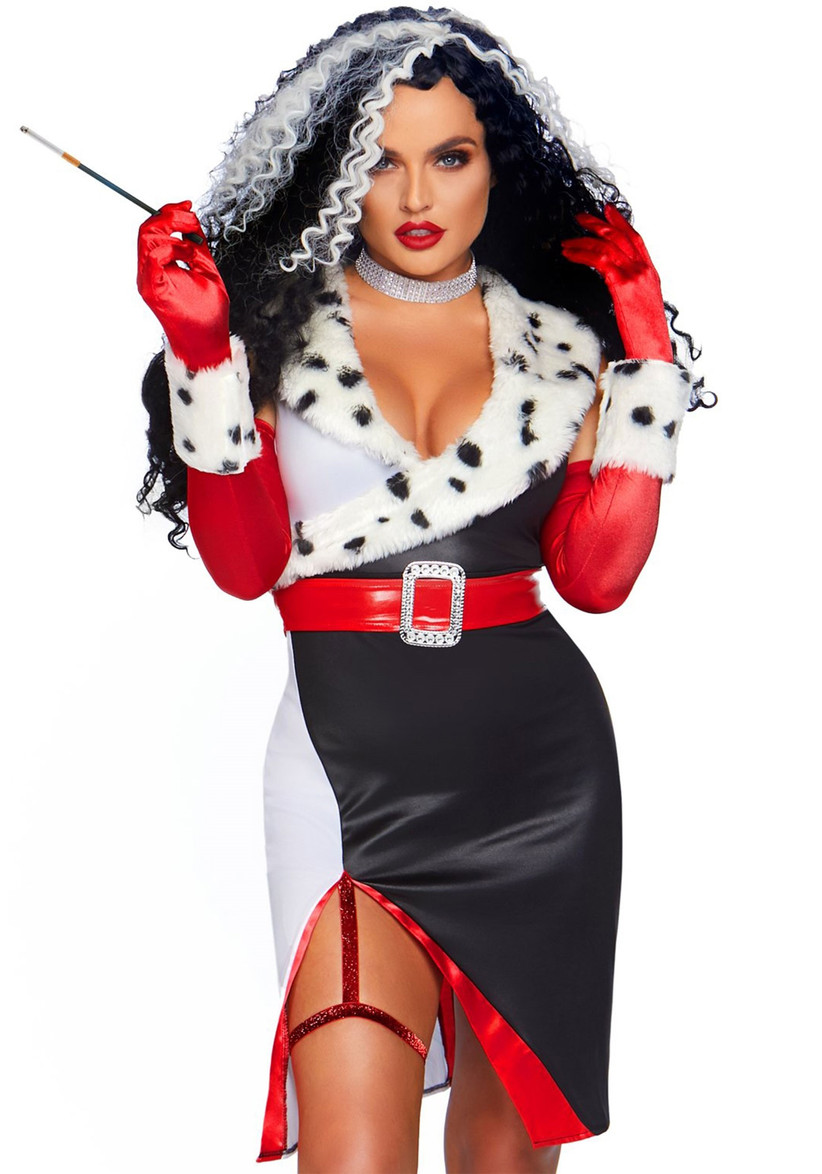 Do you remember how terrifying Cruella de Vil was as a kid? Embody the chicest - and evilest - Disney villain in this Dalmatian-inspired outfit. Slightly annoyingly, you will need to buy the wig separately.
8. Red Vinyl Top and Trousers - £32, Pretty Little Thing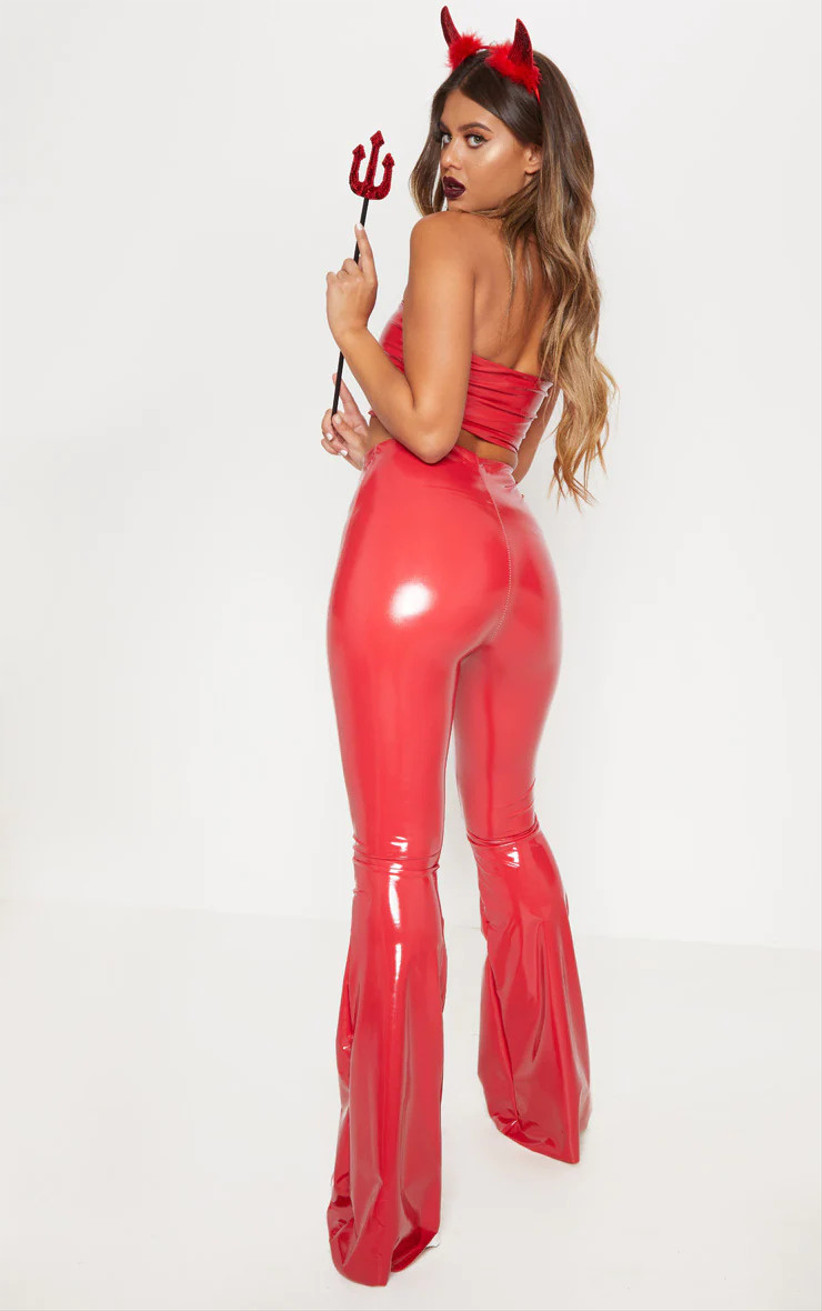 This devilish set is sold as a top and trousers and we'd honestly wear it out after Halloween as it looks so good. All it needs to make it spooky-worthy are some devil horns. Buy the bandeau top here (£12) and the high waist flared trousers here (£20).
9. Wet Look Zip Around Catsuit - £44.99, Lovehoney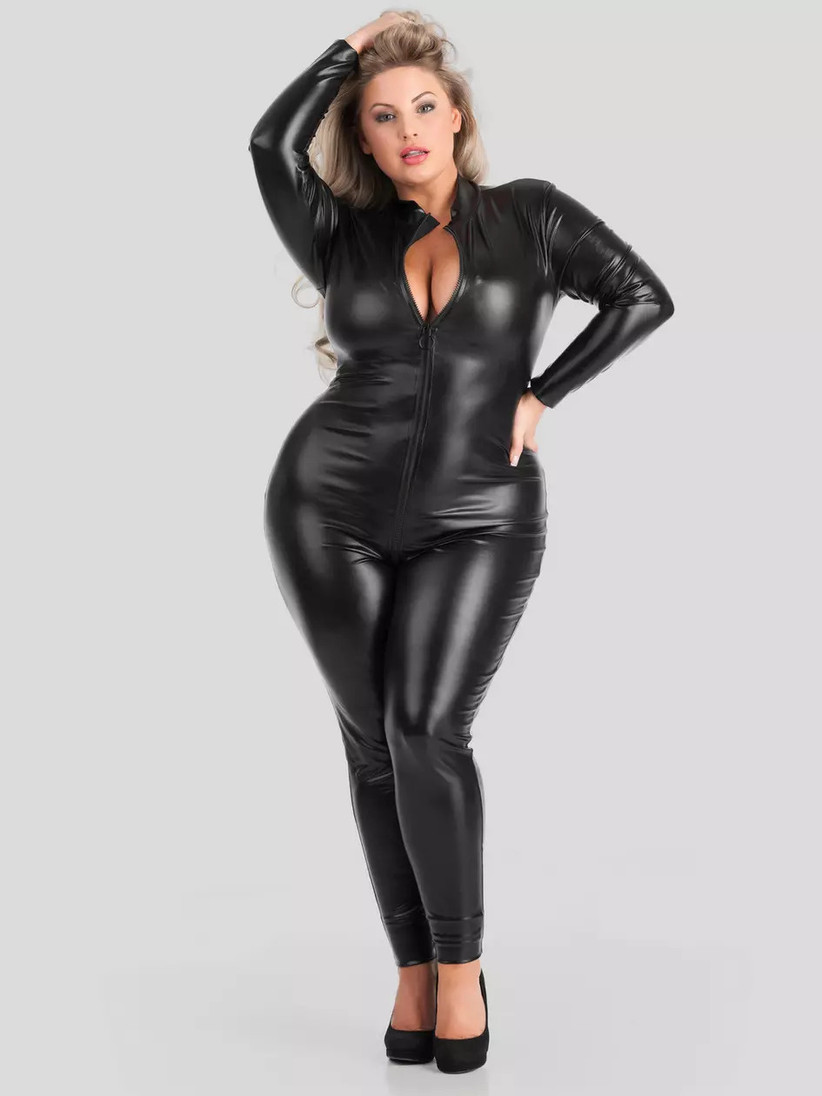 Embrace your inner Black Widow and put on this sexy catsuit which will have you feeling just like Scarlett Johansson. Fair warning, this catsuit has a zip that goes all the way round to the bum! It does make it easier to wee in though...
10. Desert Princess Costume - £34.99, Lovehoney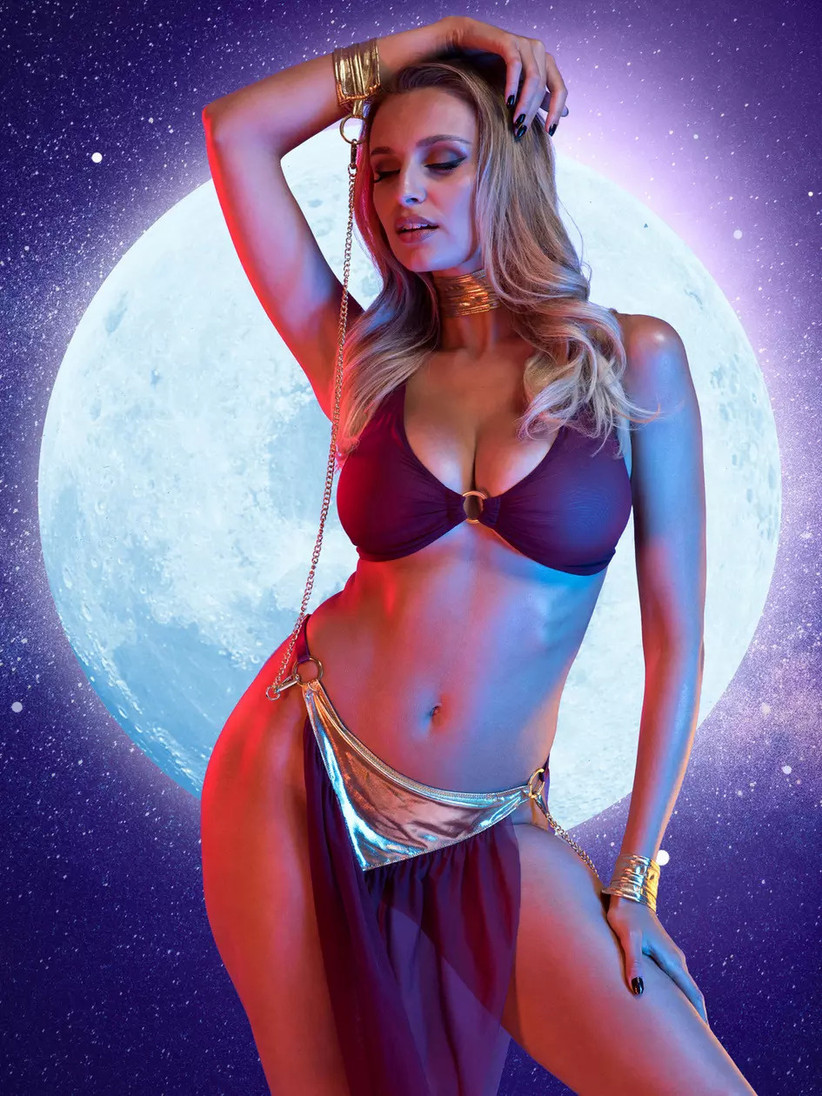 Be Princess Leia for the night in this Star Wars-inspired bikini costume. It's certainly revealing and it's definitely sexy!
11. Cleopatra Costume - £75.99, Halloween Costumes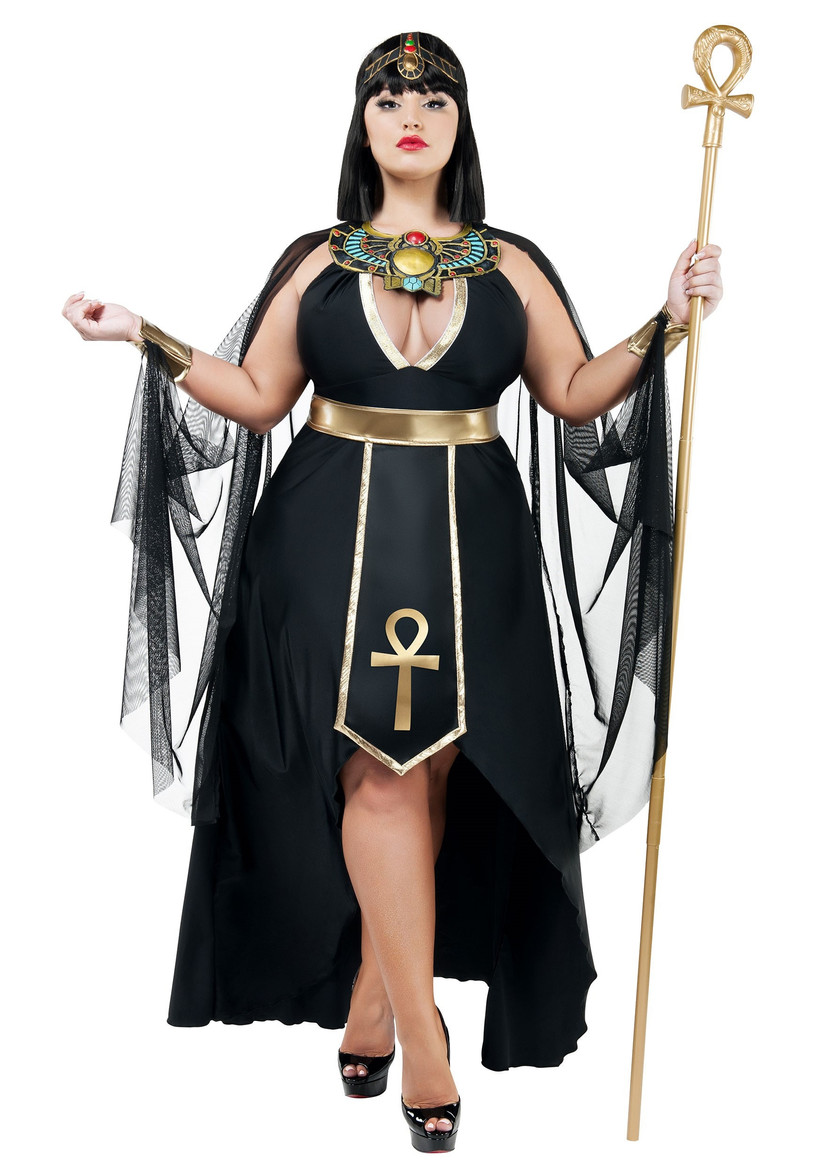 Release your inner Egyptian goddess in this alluring Cleopatra get-up. This plus-size costume goes up to size 5X and is super flattering on curvy figures. We'll be making that neckpiece a regular part of our jewellery box. P.S. here's the link to the standard size costume too.
12. Zombie Cheerleader Costume - £18.95, Amazon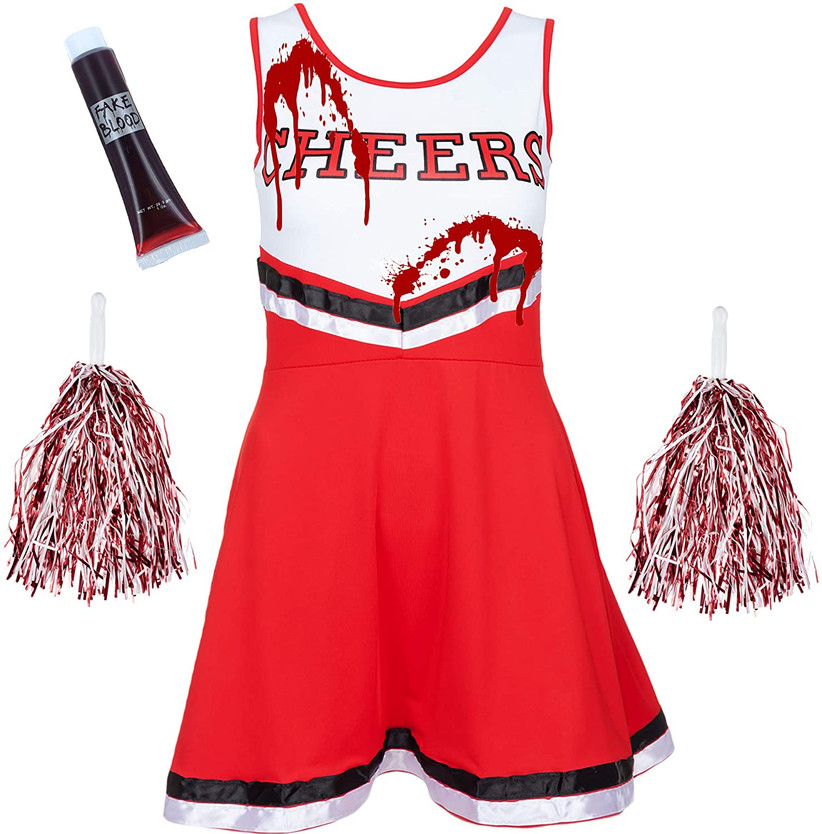 Zombie cheerleader is such a simple but effective costume! This cute mini dress comes with pompoms and a tube of fake blood that you can splatter where you'd like. Pair with some strawberry sauce dripping from your mouth.
13. Sexy Witch Jumpsuit - £40, Pretty Little Thing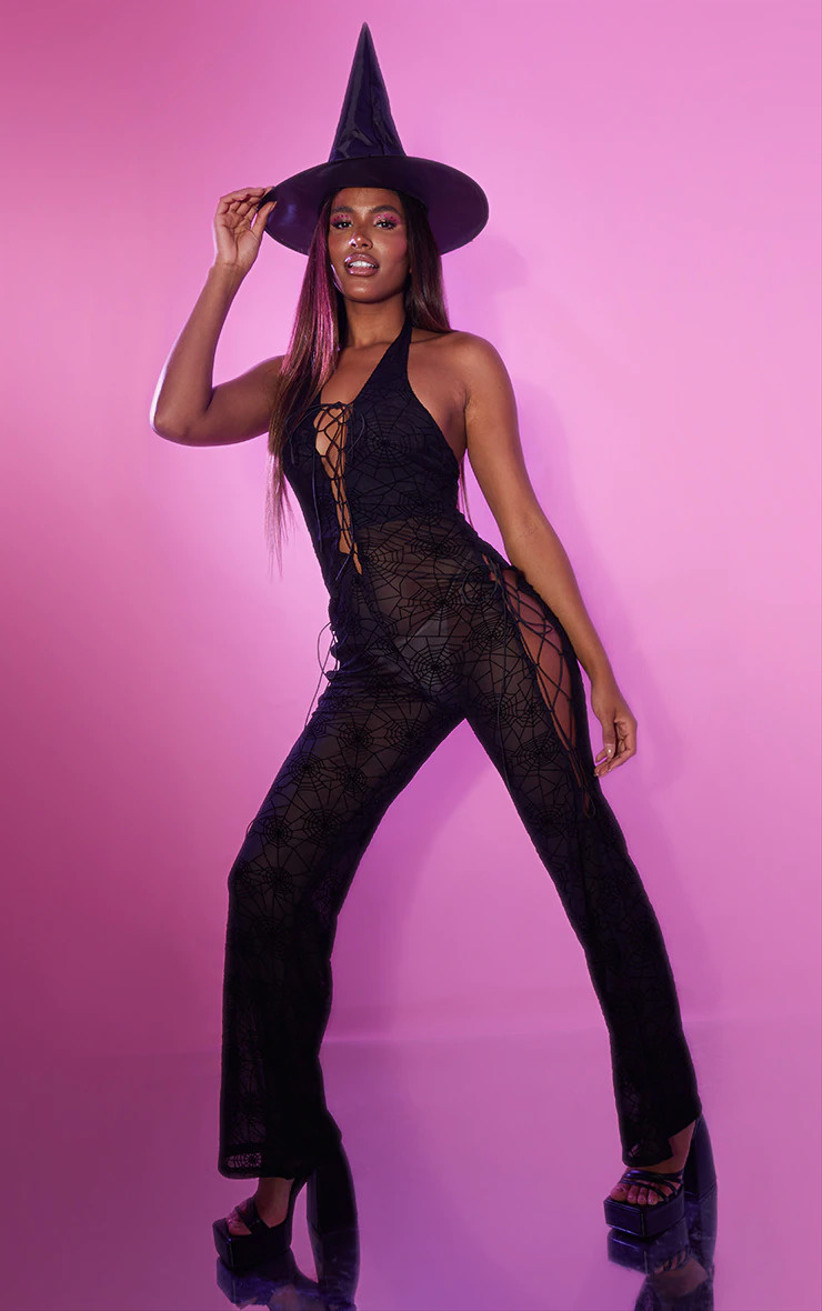 Hermione Granger this is not! Wear this bewitching cobwebbed jumpsuit with tie-sides and a matching hat and you'll cast a spell on all your fellow partygoers.
14. Alice in Wonderland Costume - £29.99, Lovehoney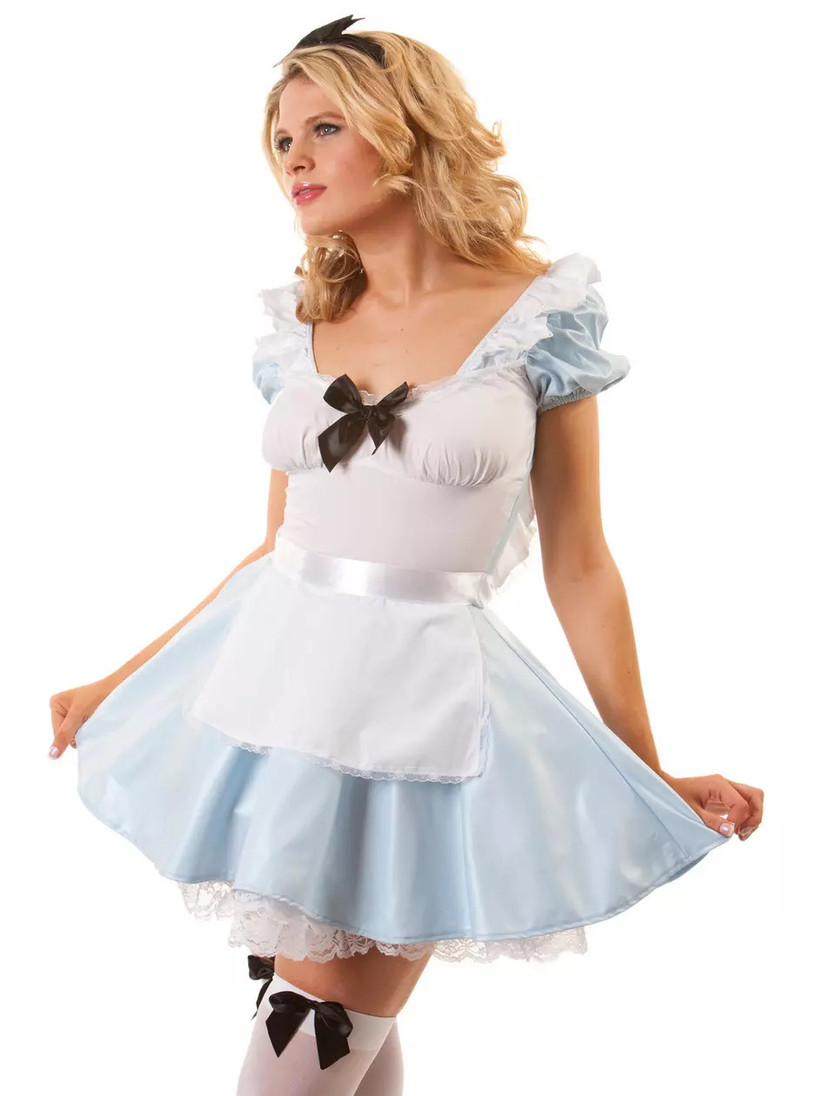 How cute is this Alice in Wonderland costume! The puffed cap sleeves are totally on-trend and it could even be adapted for a naughty Bridgerton vibe too. It comes with the dress, black bow headband and white stockings.
15. Glamorous Pirate Costume - £41.99, Amazon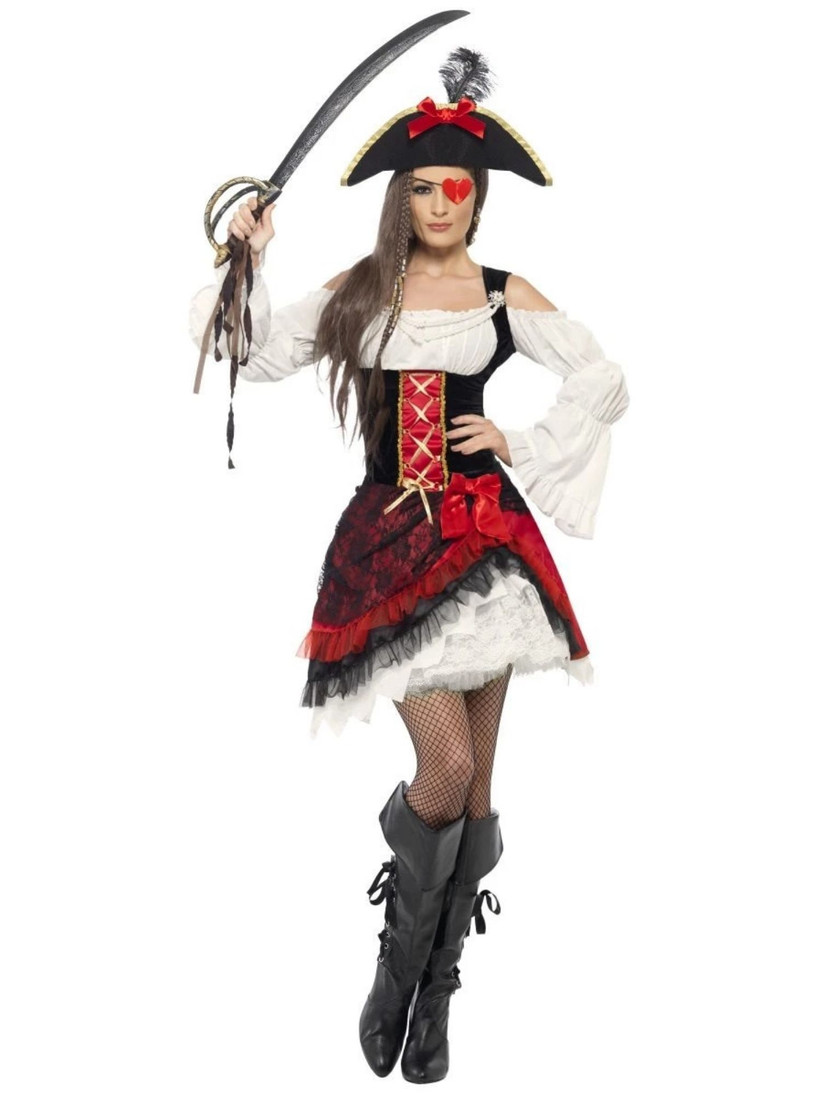 Set hearts aflutter in this buccaneering pirate dress-up! You'll have a whole crew ready to do your bidding when you step up as captain in this dress and hat costume. Smiffy's sell loads of great bits to go with it, like an eye patch, sword and a swag bag of stolen pirate booty.
16. Princess Jasmine Costume - £44.99, Halloween Costumes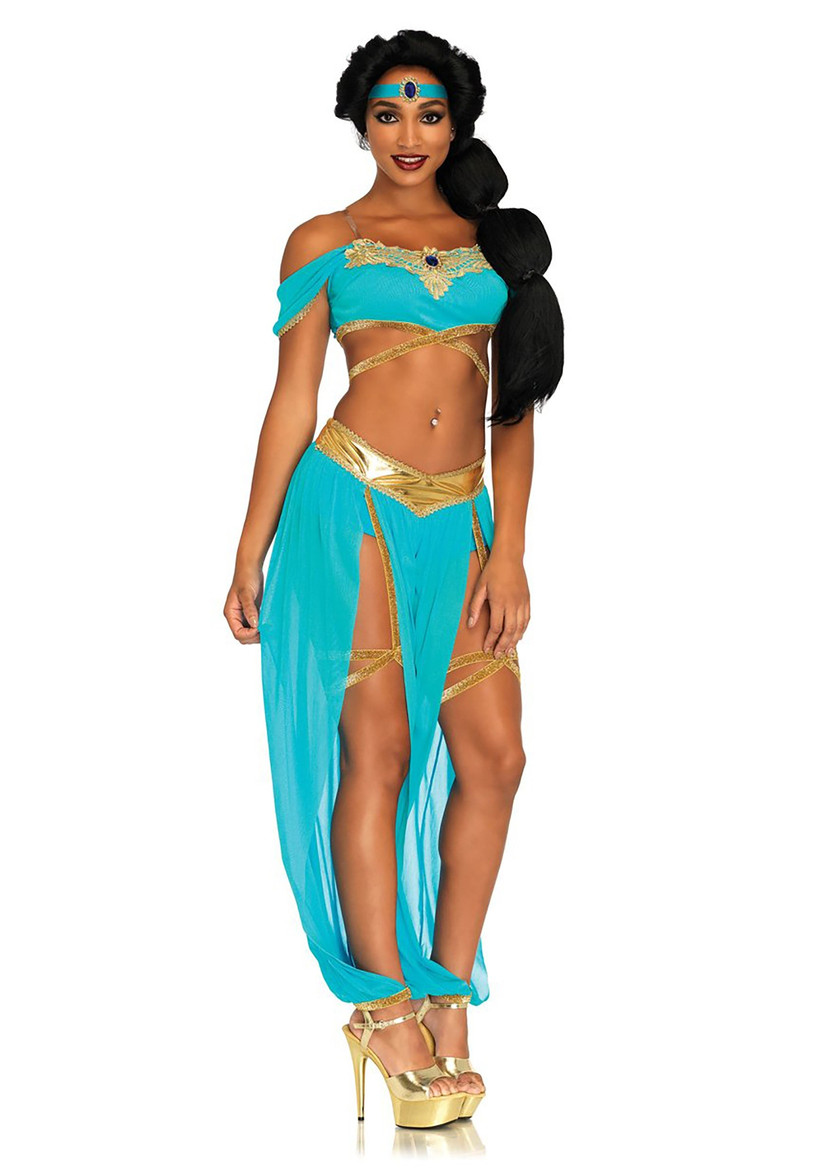 Jasmine was always the sexiest Disney princess so it's no surprise how eye-poppingly seductive this slinky costume is. It comes with the top, trousers and headband.
17. Day of the Dead Halloween Costume - £28.63, Amazon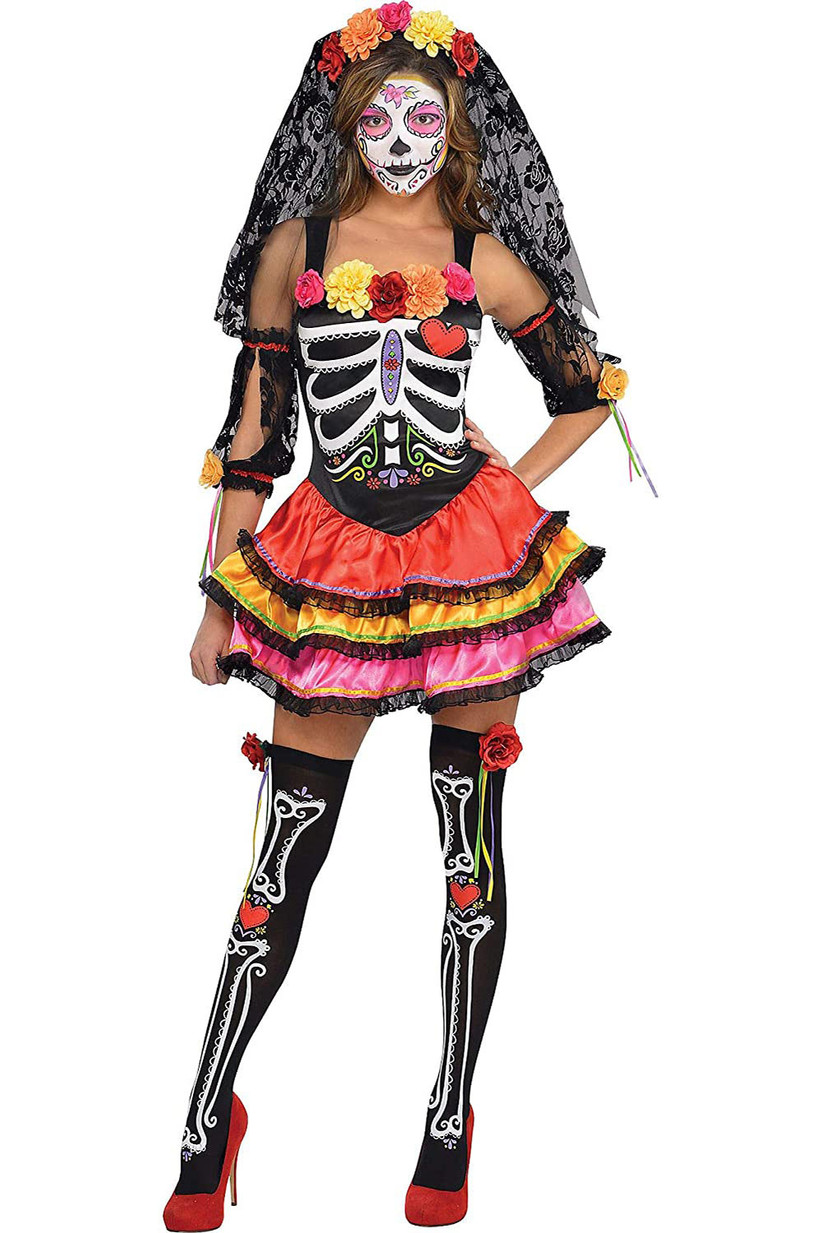 This Dia de los Muertos inspired costume is super colourful and fun. The set comes with a veil headband, lace choker, dress, sleevelets and thigh highs. All you need to bring are your face painting skills!
18. Mock Neck Contrast Mesh Velvet Jumpsuit - £16.49, Shein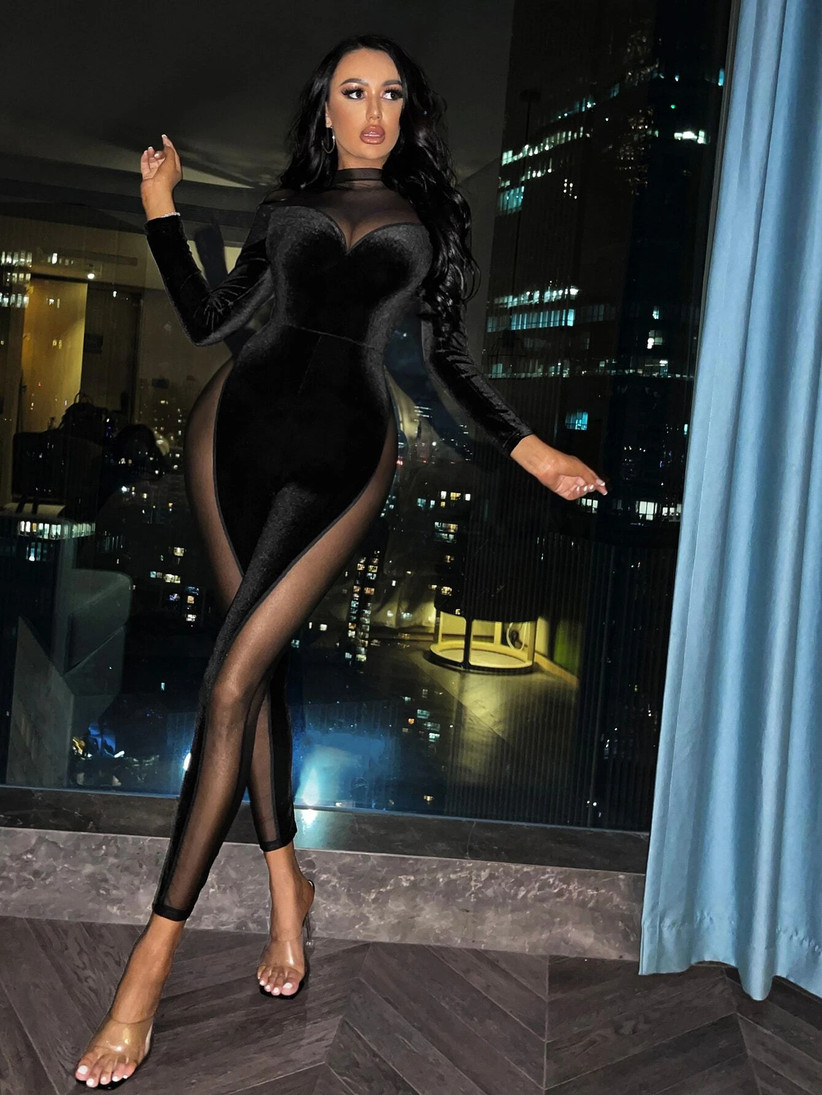 This very sultry jumpsuit could be another Black Widow option, but it could work with so many costumes. Team with cat's ears for a flirty feline look or add a white cotton tail and be a Playboy Bunny. We love it with this absolutely amazing Maleficent-inspired horned headpiece!
19. Sea Siren Mermaid Costume - £71.99, Halloween Costumes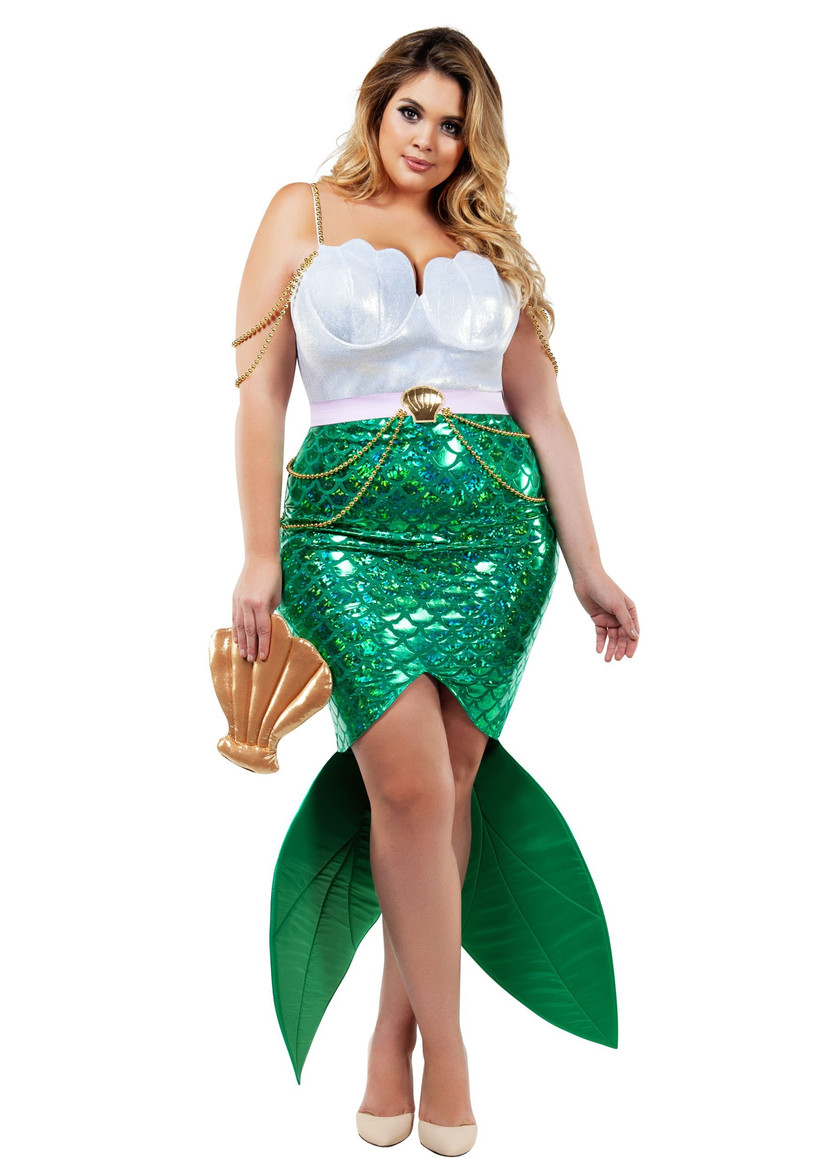 What a showstopper! This Little Mermaid-inspired outfit is all our childhood dreams come true. From the iridescent bodice to the shimmering pencil skirt with those quilted fins, there's not an inch of it we don't love.
20. Air Hostess Outfit - £28, Ann Summers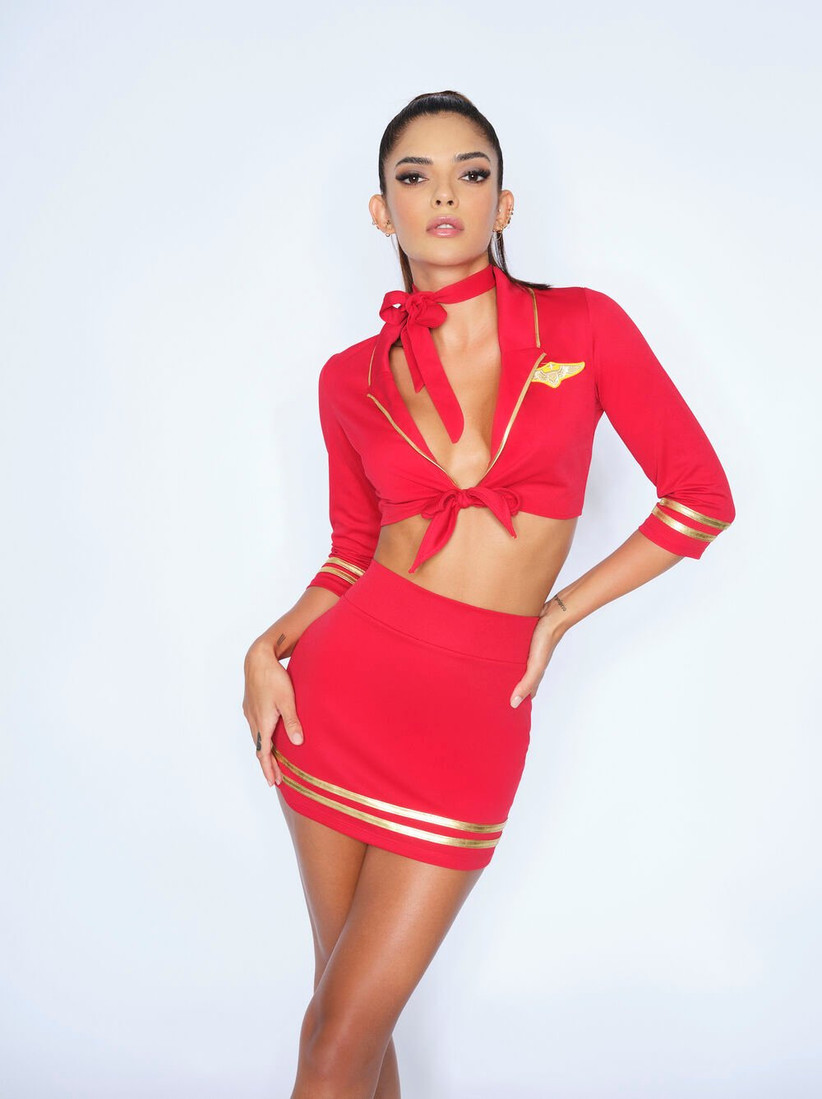 Whether you've joined the mile high club or not, you can still wear this sexy air hostess uniform for Halloween. It comes with a stretch high-waist mini skirt that you genuinely will want to wear again, plus a cropped top, embroidered wing badge and necktie.
21. Vinyl Zip-Up Top and Shorts - £37, Pretty Little Thing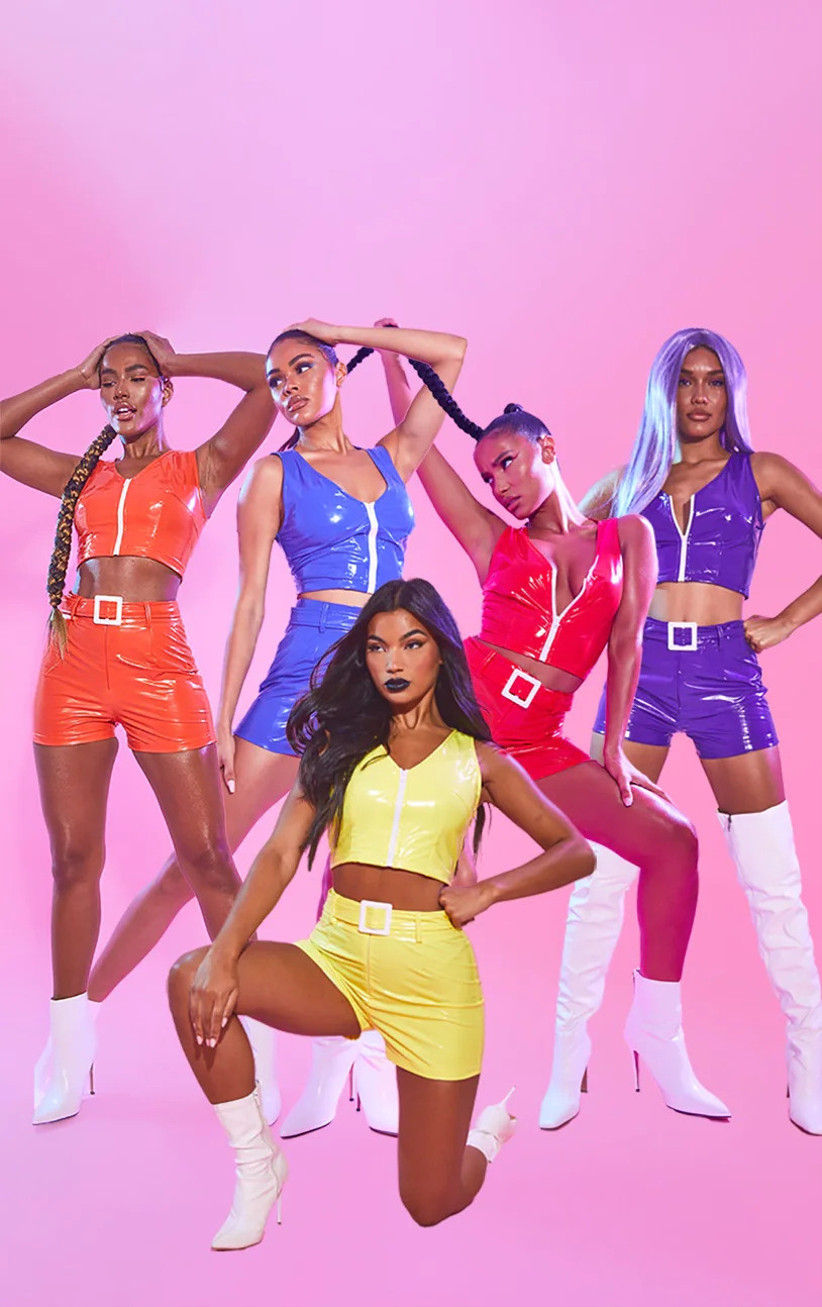 If you're going to a Halloween party with your friends, a group costume is a must! We adore these sexy power ranger costumes which come in four colours. The crop tops are here (£15) and you can buy the shorts separately here (£22).
22. Morticia Addams Costume - £20, Amazon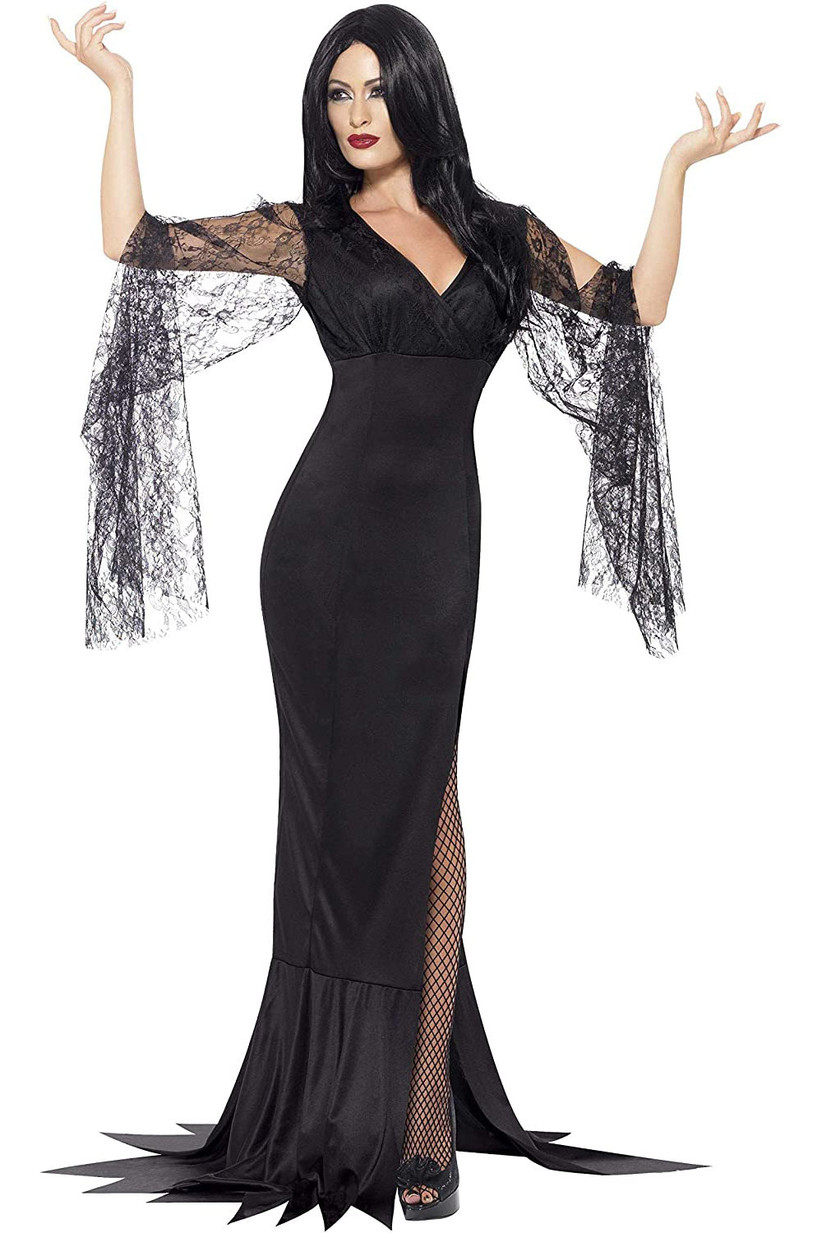 Let's be honest, The Addams Family was a kids film but that chemistry between Morticia and Gomez was anything but PG. This stretchy, lightweight dress hugs all your curves and has a teasing thigh-high split.
23. Union Jack Mini Dress - £29.99, Lovehoney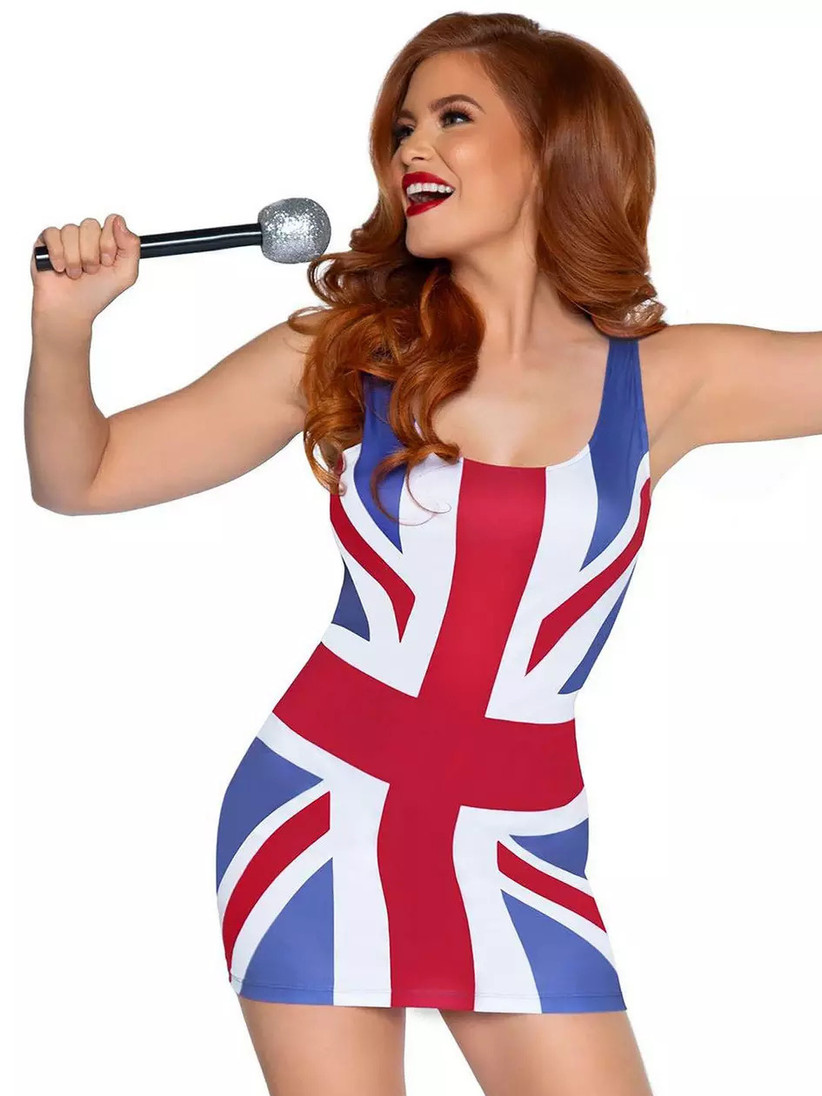 Who wasn't glued to the TV when Geri Halliwell wore *that* Union Jack dress at the Brits? You can have your own centre stage moment in this mini dress. Team it with a red wig and your best Spice Girls karaoke.
24. Zombie Bride Costume - £35, Pretty Little Thing
A Halloween costume list isn't complete without one bride costume. This glam satin mini dress is teamed with stocking and veil and is waiting for you to spray it with gallons of fake blood.
25. Ninja Warrior Costume - from £31.99, Halloween Costumes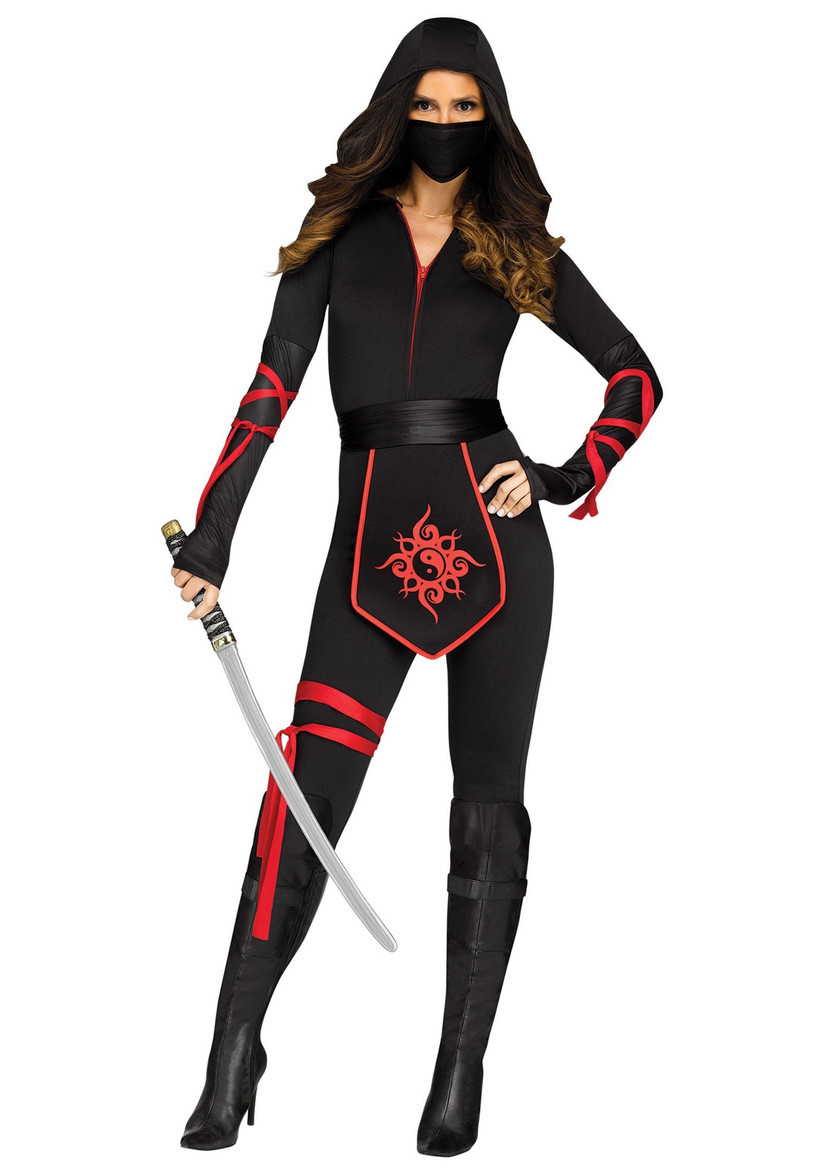 Woah, did you see something? That blur that just ran by was you, dressed as a sexy silent assassin. Although real ninjas like to be virtually invisible, you'll stand out from the crowd in this deadly hooded costume.
26. Miss Robin Costume - £25.99, Amazon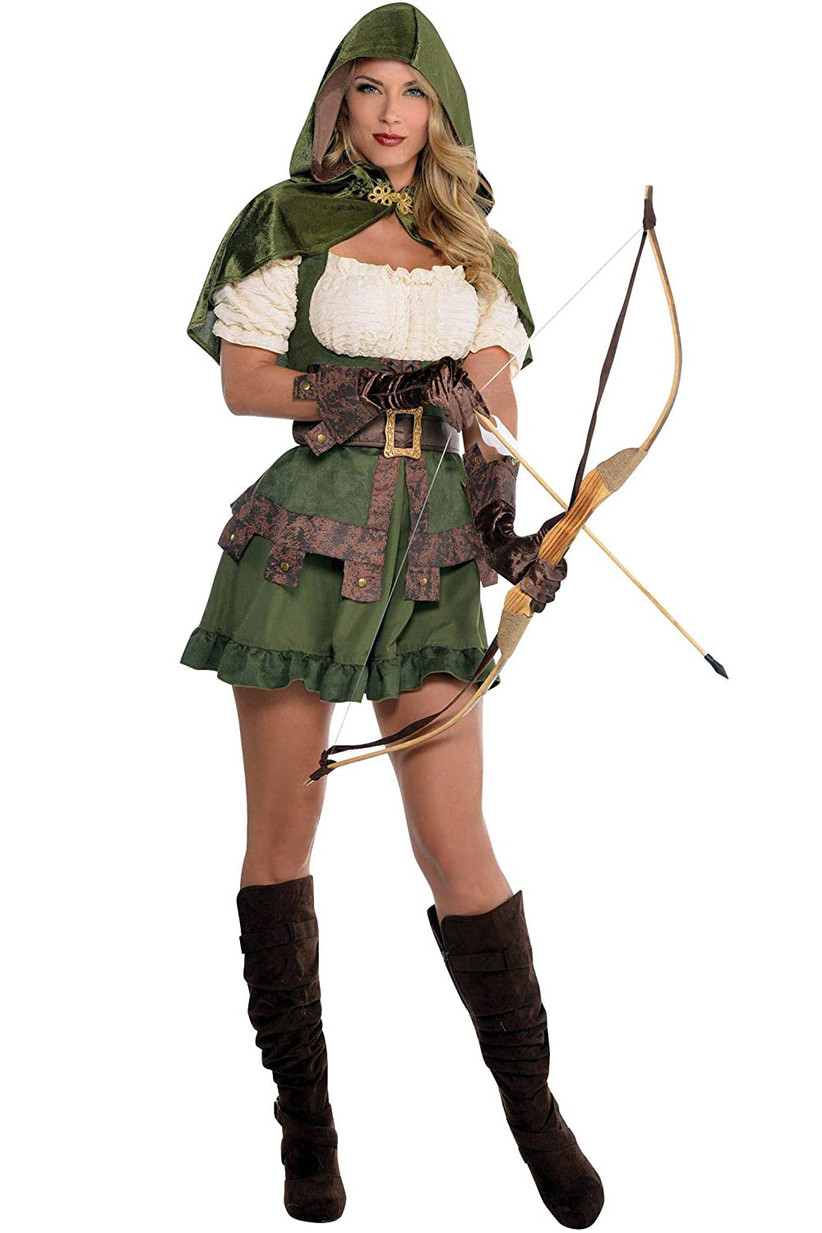 Technically this is sold as a female Robin Hood outfit, but we get more of a Maid Marian feel. She's the heroine of the story, after all. There's no bow and arrow with this costume so you may want to buy one separately, although don't mix archery with too much alcohol!
27. Lobster Costume Set - £20.99, Shein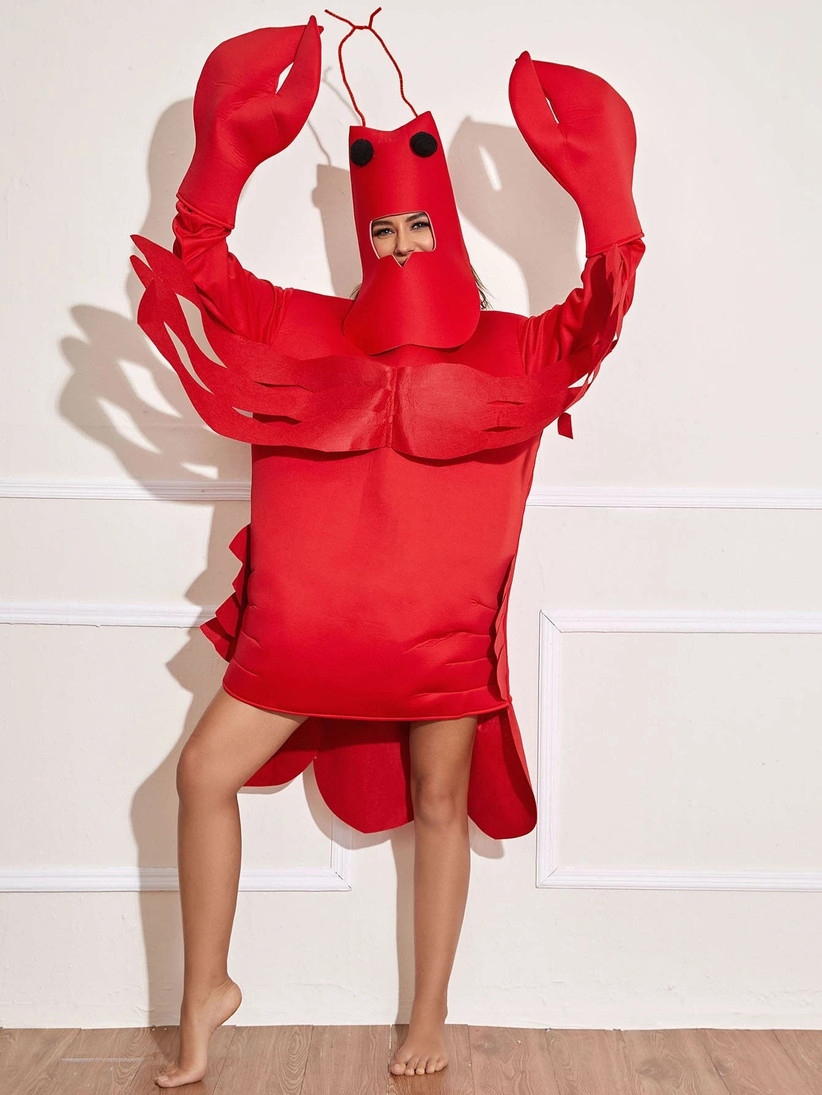 Bear with us, because we know lobsters aren't very sexy on the surface. But, if you pair this leg-baring lobster outfit with sky high heels and only wear the head part sporadically, you'll be the spiciest crustacean in the sea.
28. Bad Sandy Costume - £44.99, Halloween Costumes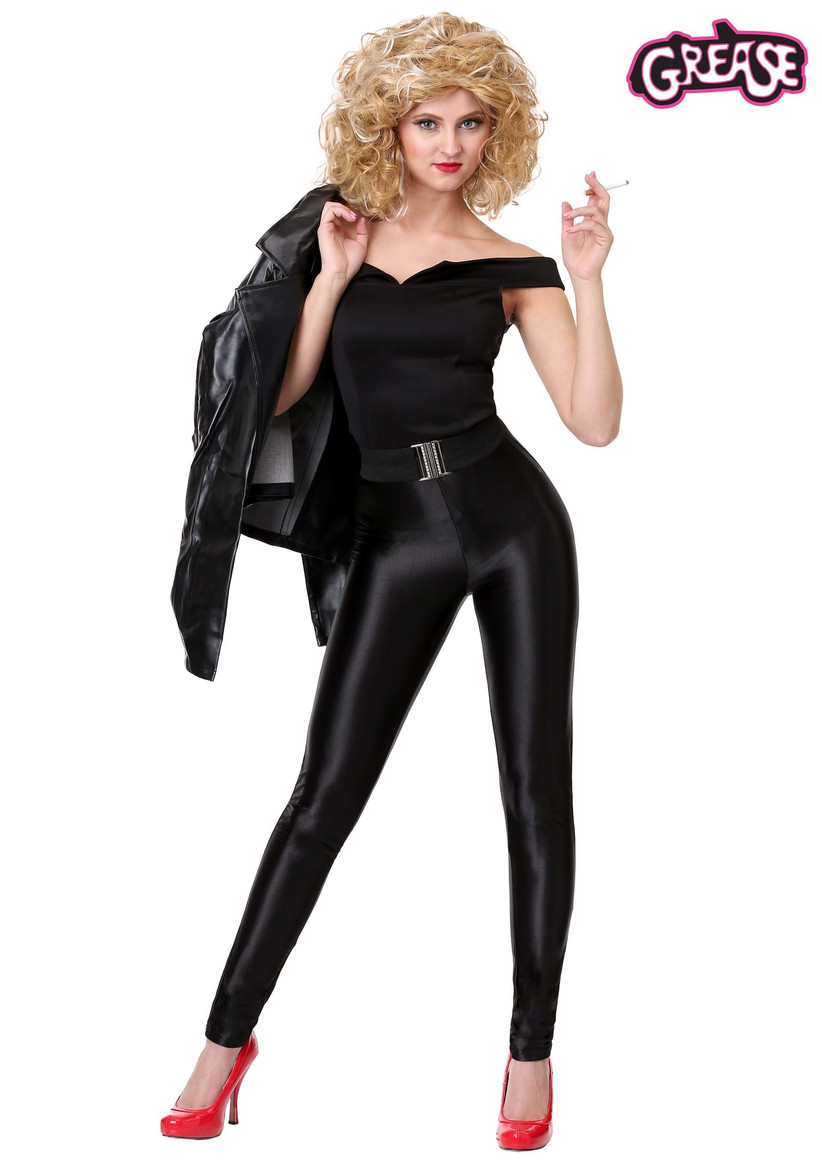 Sandy's no goody two shoes! She's got a wild side that you can tap into with this awesome Grease costume. Just like at the end of the movie, heads will turn when you show up in this sleek all-black top and trousers.
29. Great Escape Prisoner Costume - £17.99, Halloween Costumes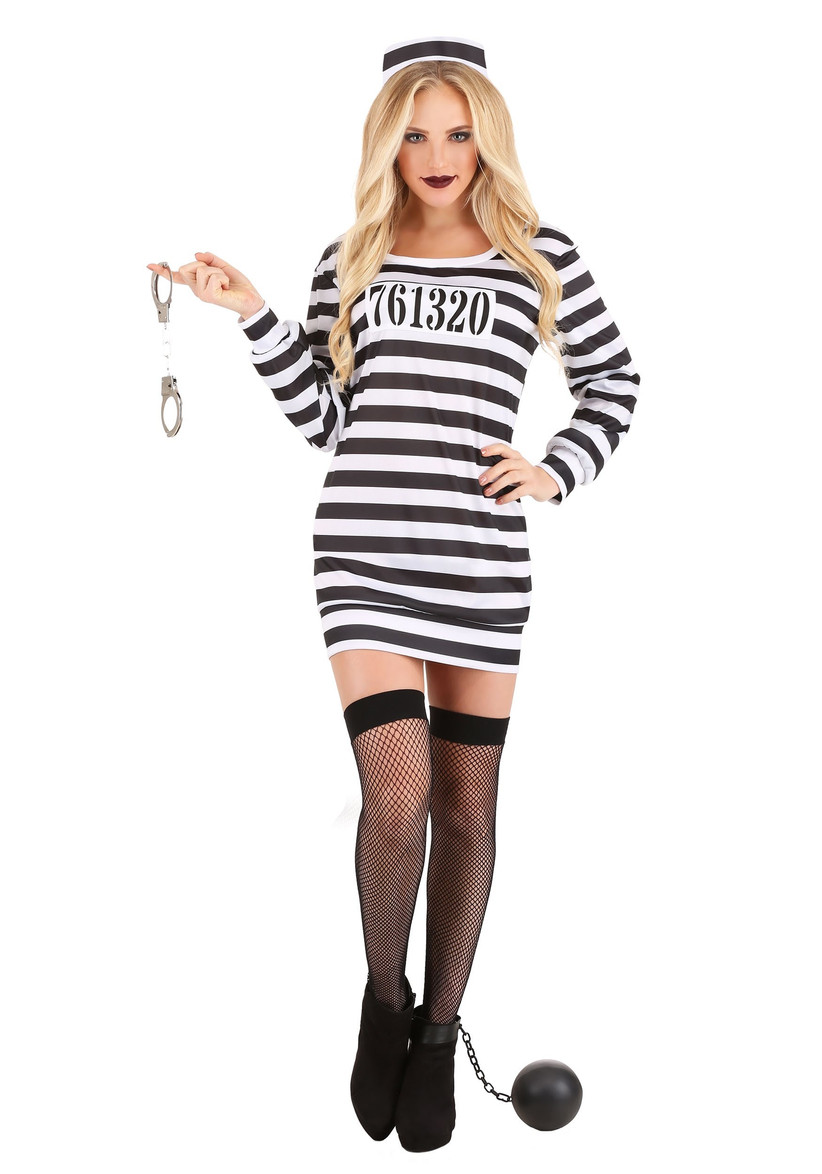 This bargain prisoner costume looks straight out of the Great Escape or Jailhouse Rock. The stripy jersey dress comes with a sewn-on inmate number and little hat. The ball and chain is such a good added detail.
30. Harlequin Dreams Costume - £65, Dolls Kill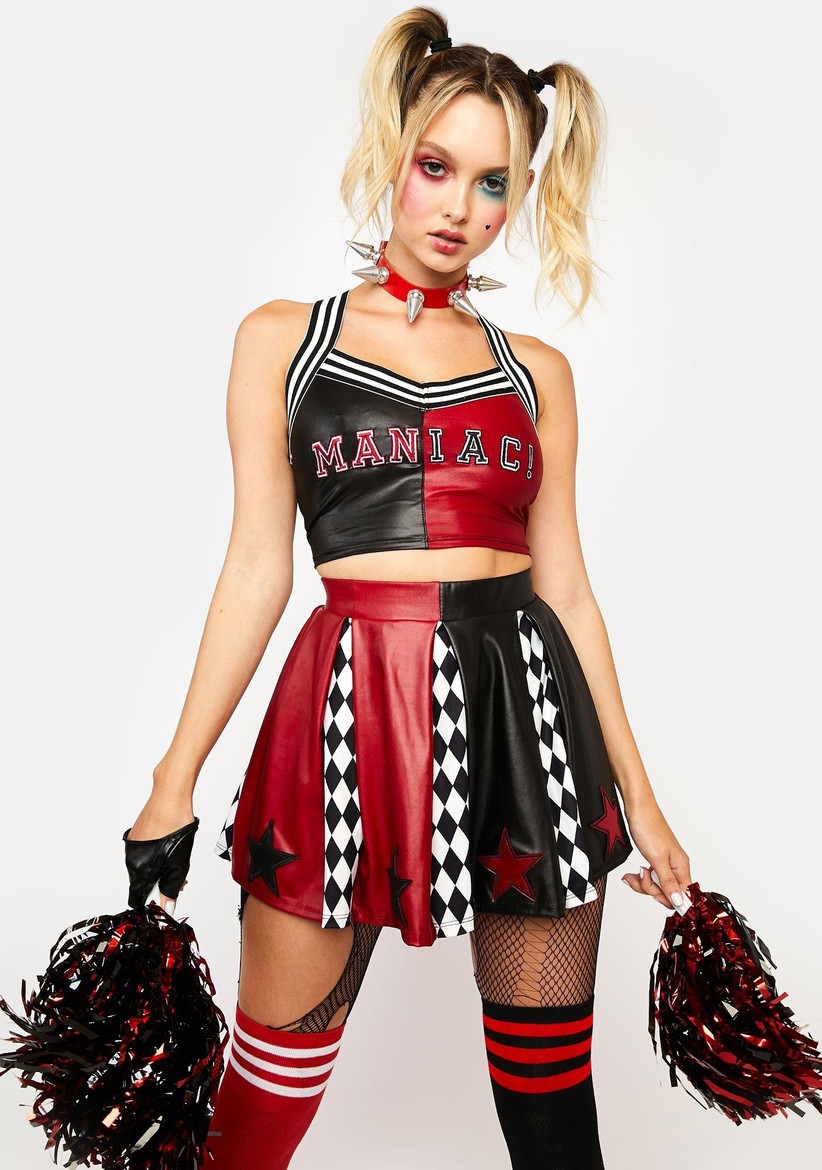 Channel Suicide Squad's Harley Quinn in this black and red vinyl design. The skater skirt comes with matching pants that say 'Wanna Play?' across the booty and there's a pair of mismatched thigh high socks too. All you need to add is some face paint and ripped fishnet tights.
Are you having a hen party around Halloween? Incorporate these unique Halloween hen party ideas!