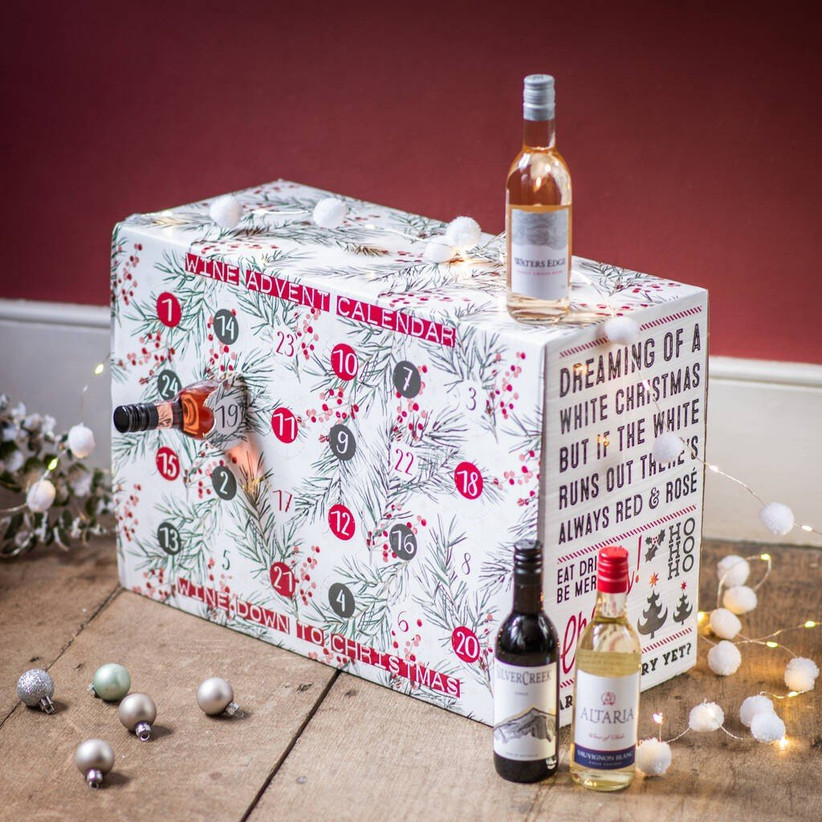 In 2020, it's no longer enough to count down to Christmas with chocolate alone. Well, it is, but thanks to the vast array of alternative advent calendars on the market, it's certainly not the only way to do so.
Beauty advent calendars have become increasingly popular in recent years. However, if a Christmas countdown of skincare and makeup isn't really your thing, we've also found unusual calendars that are suitable for different tastes.
We've got gin-stuffed calendars, countdowns full of stationery and advent calendars packed with pork cracking (yes, really!) for you to enjoy. Just make sure you get to the checkout fast – these unusual advent calendars always sell out fast.
Remember, not all advent calendars come with 24 doors - some have 12, so make sure you check the number so you know which date in December to start opening.
So without further ado, let the Christmas countdown officially begin with our round-up of the best alternative advent calendars of 2020.
The Best Food Advent Calendars
Is your other half a bit of a foodie? You can't go wrong with one of these food advent calendars packed with tasty snacks.
1. The Snaffling Pig Pork Crackling Advent Calendar – £17.50
Nope, we weren't telling porkies. There really is a pork crackling advent calendar!
This decidedly different advent calendar by The Snaffling Pig is back for 2020, with six tempting flavour combinations including Pigs in Blankets and BBQ. The brand also do a countdown to New Year calendar, for some extra piggy fun. It's called - what else? - Auld Lang Swine.
2. Haribo Advent Calendar - £5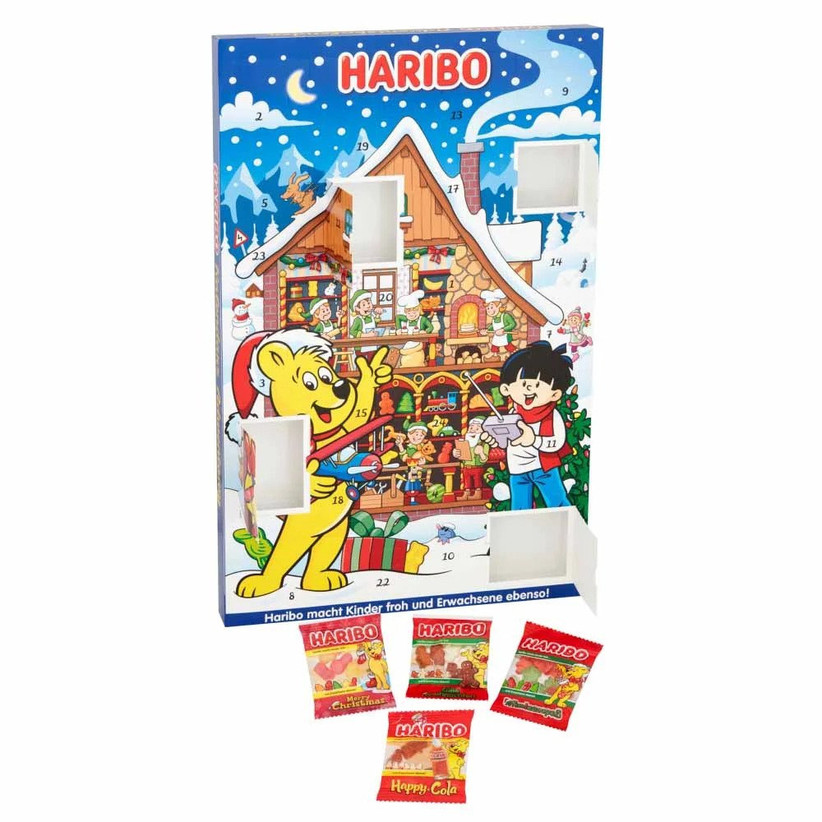 Looking for an advent calendar on the cheaper side? We love this Haribo countdown. Not only is it affordable, it's also pretty much guaranteed to put a smile on your other half's face.
READ MORE: The Best Advent Calendars for Men 2020
3. Fortnum & Mason Feasting Advent Calendar – £200
For something totally indulgent, you can't go far wrong with Fortnum & Mason's advent calendar offering.
Our foodie favourite is the Feasting Advent Calendar. To be honest, there are few better ways to count down to Christmas than to tuck into a Fortnum's treat every morning. This calendar is filled with 25 delicious surprises, from cake to tea, champagne, biscuits, cheese and relishes. Delicious.
4. Merry Pringles Advent Calendar – £15.85
Brighten up your December snacking with this Pringles advent calendar.
It has 12 doors, each containing a mini pot of Pringles in one of four flavours.
5. Candy Kittens Christmas Advent Calendar – £8
If either of you is a vegan, you may sometimes struggle to find suitable sweet treats - that's why we've included the Candy Kittens Advent Calendar.
This build-your-own advent calendar comes with the brand's famously tasty vegan sweets, in flavours such as Blueberry Bliss and Sour Watermelon.
READ MORE: 22 Cute Wedding Sweet Table Ideas (& How to Create Your Own)
6. The Naked Marshmallow Co. Gourmet Marshmallow Advent Calendar – £15
If your perfect winter is all about cosy nights in toasting marshmallows over the fire, then this gourmet marshmallow calendar from The Naked Marshmallow Co. will be your dream come true!
It's filled with 25 delicious and oh-so-gooey pieces of marshmallow in 12 exciting flavours, including Choc Orange, Fizzy Cola Bottle and Salted Caramel.
7. The Chuckling Cheese Company Cheese Advent Calendar – £34.99
Treat the cheese lover in your life to this gourmet cheese advent calendar!
It contains 24 pieces of cheddar spanning spanning 8 different flavours. As you'd expect, it has to be stored in the fridge.
READ MORE: How to Handle Splitting Christmas Between Your Families
8. Marvling Bros Ltd Chilli Advent Calendar – £39.99
Keep warm in the run up to Christmas with this hot chilli advent calendar. It takes you on an exotic journey around the globe, introducing you to some of the world's most wonderful chillies.
From the legendary Carolina Reaper to the fruity flavours of Mexico and the colourful chillies of India, each day you get to discover a different chilli, in the form of powder, flake or whole pod. Oh, and on the back of each matchbox is a simple recipe idea or handy hint to help you make the most of your brand new chilli collection.
9. Jo & Seph's Giant Gourmet Popcorn Advent Calendar – £30
Behind each of the windows on this Jo & Seph's advent calendar, you'll find a bag of ridiculously delicious handmade popcorn in 19 different flavours, including chocolate popcorn bites.
If your December is spent cuddling up on the sofa to watch festive films, there's no better accompaniment than this calendar.
READ MORE: The Best Unusual Christmas Gifts
10. Bonne Maman Advent Calendar - £23.99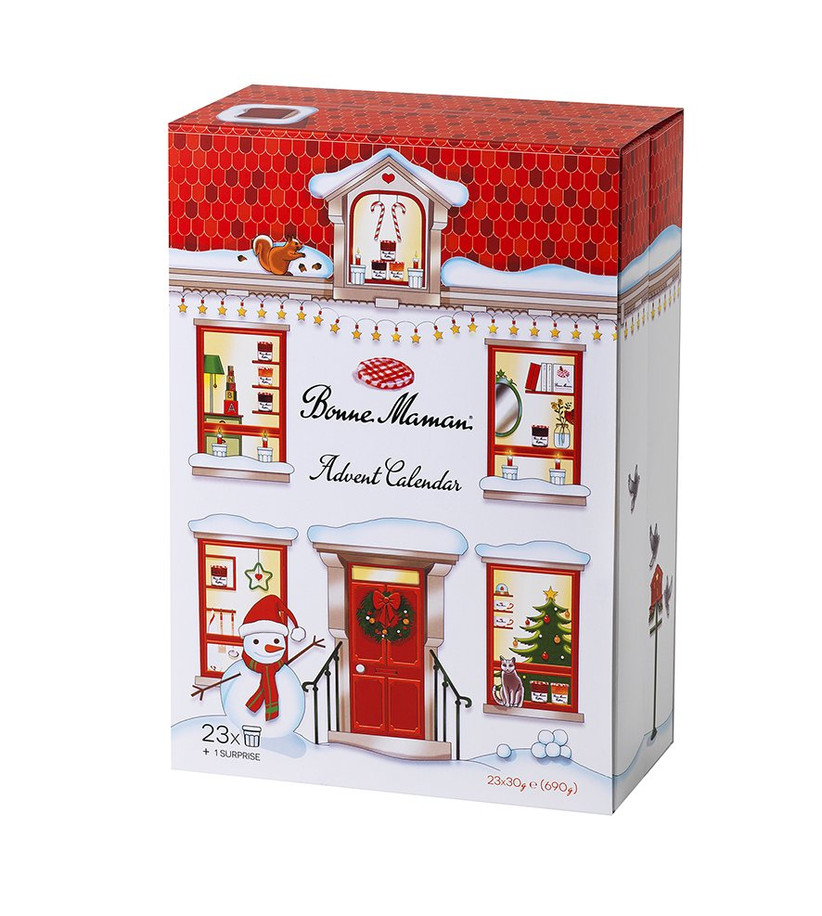 Brighten up breakfast time with this Bonne Maman advent calendar. For 23 days, open a door to reveal a mini pot of jam or marmalade, just the right size to spread on your toast or enjoy with a croissant!
On day 24 - AKA Christmas Eve - you get a surprise festive gift.
The Best Alcoholic Advent Calendars
Embrace the festive spirit with an alcohol advent calendar. Your partner will love receiving samples of their favourite tipple as they countdown to Christmas Day, so we've handpicked the best alcoholic advent calendars out there. Cheers!
11. Wine Down to Christmas Advent Calendar – £89.95
Wine lovers, listen up! This wine advent calendar by The Little Boys Room will have you feeling suitably jolly by the time Christmas Day rolls around.
It's filled to the brim with mini bottles of wine from all over the world, including Chardonnays, Pinot Grigios, Merlots and more. The self-proclaimed wine connoisseur in your life will most certainly thank you for this.
READ MORE: 27 of the Best Christmas Cards for Your Fiancé or Fiancée
12. Loch Fyne Whiskies 12 Drams of Christmas Premium Whisky Selection Box – £89.99
This advent calendar by Loch Fyne Whiskies is the perfect advent calendar for any whisky lover this Christmas.
It comes complete with 12 drams of fine whisky, including Laphroaig Lore and Highland Park 18 Year Old.
13. Prosecco Advent Calendar – £144.95
Drop everything! The Little Boys Room have released a Prosecco advent calendar for 2020 and it's everything we never knew we needed.
A gorgeous black box has been filled with 24 mini bottles of Prosecco and Cava. SPOILER ALERT: the door you open on 24th December will reveal a little bottle of Champagne. Here's to your most stylish Christmas yet!
READ MORE: 21 Wedding Food & Drink Questions Answered
14. Marks & Spencer Gins of Christmas Advent Calendar – £100
Gin has been having a moment for quite a while now, so pay homage to the nation's obsession by treating your other half to Marks & Spencers' gin advent calendar.
It costs £100 but the calendar contains 26 gins and gin liquors for you to sample and enjoy.
15. Personalised Luxury Spirits Advent Calendar Box – £134.95
De-stress from all that Christmas shopping and present wrapping with this luxury spirits advent calendar.
It'll be a huge hit with anyone who loves a festive tipple, because it includes everything from gin and vodka to whisky, rum and brandy. Oh, and the name of the recipient can be embossed in a premium foil on the lid of this advent calendar, making it the perfect gift.
READ MORE: 9 Ways to Include Your Love of Gin at Your Wedding
16. BrewDog Craft Beer Advent Calendar - £49.95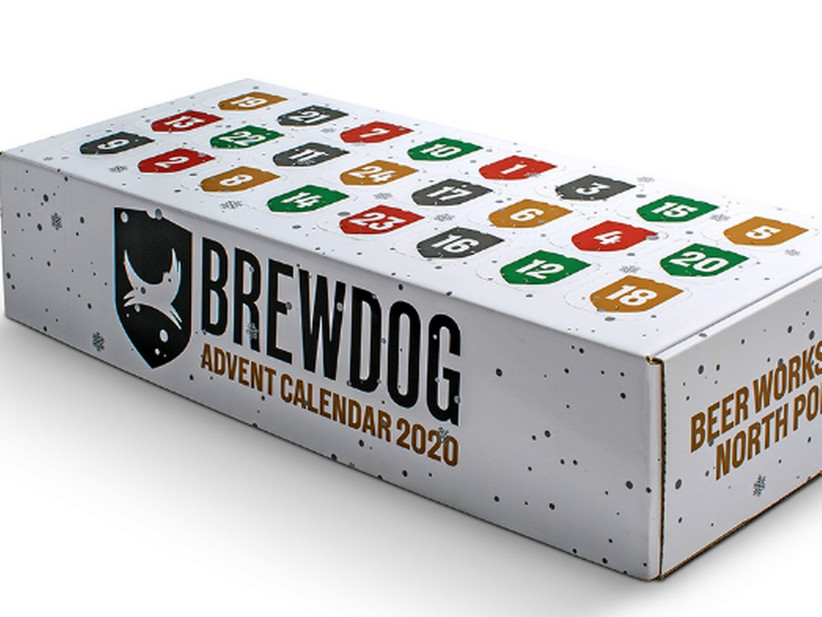 One for the craft beer enthusiast in your life, the BrewDog advent calendar contains 24 beers, including 15 that were exclusively launched in 2020.
This beer collection is as kind to the planet as it is to your palate - BrewDog have made sure their advent calendar is carbon negative.
The Best Stationery Advent Calendars
The stationery-lover in your life will adore an advent calendar jam-packed full of the hottest stationery goodies of the moment. In fact, they'll probably be writing you personalised thank you notes before the 25 days are up!
17. Paperchase 24 Days of Stationery Advent Calendar – £40
If you love pretty desk accessories, the Paperchase Christmas advent calendar is the festive treat for you.
Expect to find notebooks, pens, clips, pencils, a Paperchase voucher and so much more inside this amazing countdown calendar.
18. Martha Brook 24 Days of Stationery Advent Calendar – £89
We're getting seriously excited about counting down to Christmas with Martha Brook's 24 Days of Stationery Advent Calendar. For stationery lovers, it's a dream come true.
With a timeless design that looks like a row of colourful books on a shelf, there's whole host of treats waiting to be discovered. Think personalised notebooks, notecard sets, luxury pens and a gold envelope opener - delightful! The lid and three of the gifts can be personalised with the recipient's name.
19. Etsy Stationery Advent – £38
Instead of opening doors, with this stationery advent calendar you get a little gift to open every day in the run-up to the festive season - so every day is like mini-Christmas!
All the items are stationery-related, from pens and pencils to notebooks and washi tape.
READ MORE: Wedding SOS: How Do I Juggle Christmas and Wedding Planning?
20. Unicorn Stationery Advent Calendar - £24.99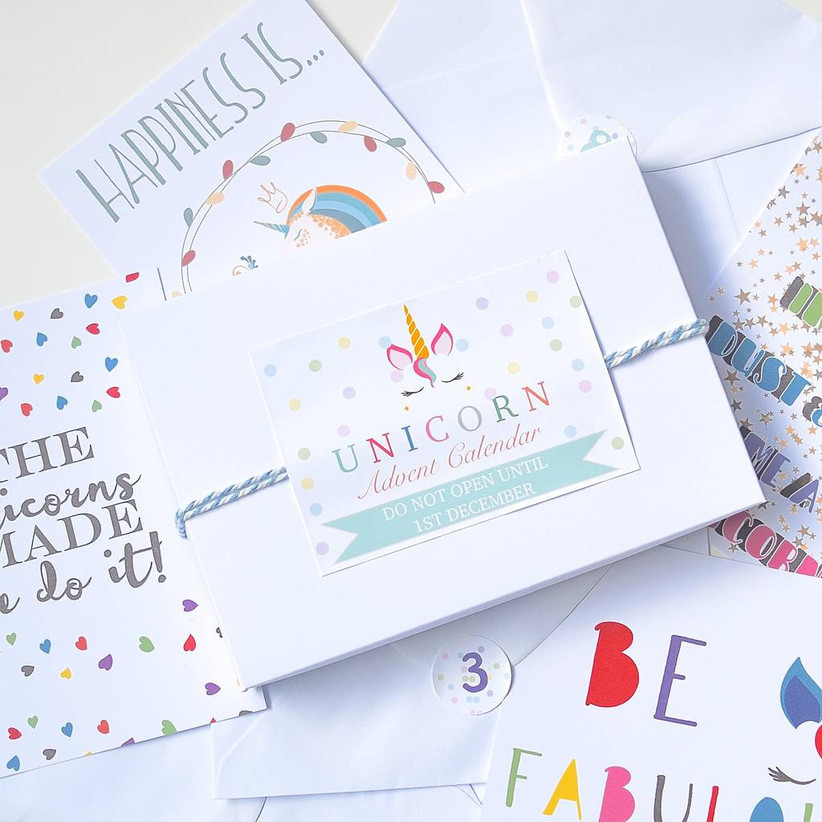 Aimed at anyone who loves magical designs, this pretty advent calendar contains 24 envelopes, each with a unicorn-themed postcard inside.
It's a simple idea, done well - and when Christmas comes round, you'll have plenty of postcards for writing thank-you notes!
21. BIC Advent Calendar - £19.99
This pen-filled advent calendar seems to be marketed at children - but we say it's perfect for people of any age who enjoy colouring-in; after all, it's a well-known stress-busting activity for adults!
You get a whole load of pens and pencils, plus 24 Christmas-themed cards to colour in.
READ MORE: The Best DIY Wedding Favour Ideas
The Best Tea and Coffee Advent Calendars
If your other half is a caffeine fanatic, then a tea or coffee advent calendar is a thoughtful choice. These advent calendars will guarantee them a December full of productive mornings.
22. Perkulatte Christmas Coffee Advent Calendar – £36
Is your partner a true coffee connoisseur? Then 24 foil-wrapped coffees from Perkulatte (in 12 varieties) will be the perfect gift to celebrate your first Christmas as an engaged couple. And who doesn't need a caffeine kick on those cold winter mornings?
23. Tea Revv Coffee Advent Calendar – £38
If you want a coffee advent calendar with a real sense of style, this caffeine countdown has Scandi-chic in spades.
It has 24 craft coffees from around the world available either ground or as whole beans. What's more, the box and sachets are biodegradable.
24. John Lewis & Partners Tea Advent Calendar – £20
We love this tea advent calendar by John Lewis & Partners. It costs £20 and is full of fine teas and fruit infusions in pyramid bags.
From English Breakfast to Moroccan Mint, Japanese Cherry Green Tea and Christmas Cookie tea, there is something for everyone here.
25. Pukka Herbal Tea Advent Calendar – £8.67
Or how about this herbal tea advent calendar by Pukka Tea?
If your partner is more of a tea drinker than a coffee-fanatic, this cute tea advent calendar could be just the ticket, particularly if they're cutting back on caffeine, as many of the varieties included don't contain it.
26. Whittard The Hot Chocolate Advent Calendar for Two – £60
Not strictly tea or coffee, but we couldn't not include Whittard's Hot Chocolate Advent Calendar for Two.
Each door contains two sachets of a different hot chocolate, making it the perfect treat to share with your loved one.
READ MORE: Celebrating Your First Married Christmas: Sentimental Card and Gift Ideas
The Best Beauty Advent Calendars
December is officially party season, so what could be better than a new perfume, nail polish or eyeshadow every day of the month? Start by browsing some of the best beauty advent calendars right here, and don't forget to check out our full round-up of the best beauty advent calendars of the year for more!
27. L'Occitane Luxury Beauty Advent Calendar – £99
What better way to count down to Christmas than by opening a different L'Occitane fragrance, skincare, bodycare or haircare treat every morning of December!
This luxurious calendar contains all of the brand's bestsellers, from their much-admired hand balms and body creams to shower gels. You'll be feeling relaxed and rejuvenated in no time.
28. Benefit Shake Your Beauty Advent Calendar – £58.50
Benefit's 12-day beauty advent calendar contains handbag-friendly versions of their most iconic products, including Gimme Brow and Roller Lash.
If you're more into makeup than skincare, this is the beauty advent calendar for you. In fact, the sizes mean these products are perfect for your on-the-day bridal beauty kit.
READ MORE: DIY Wedding Makeup: Everything You Need to Know
29. NYX Professional Makeup Advent Calendar - £50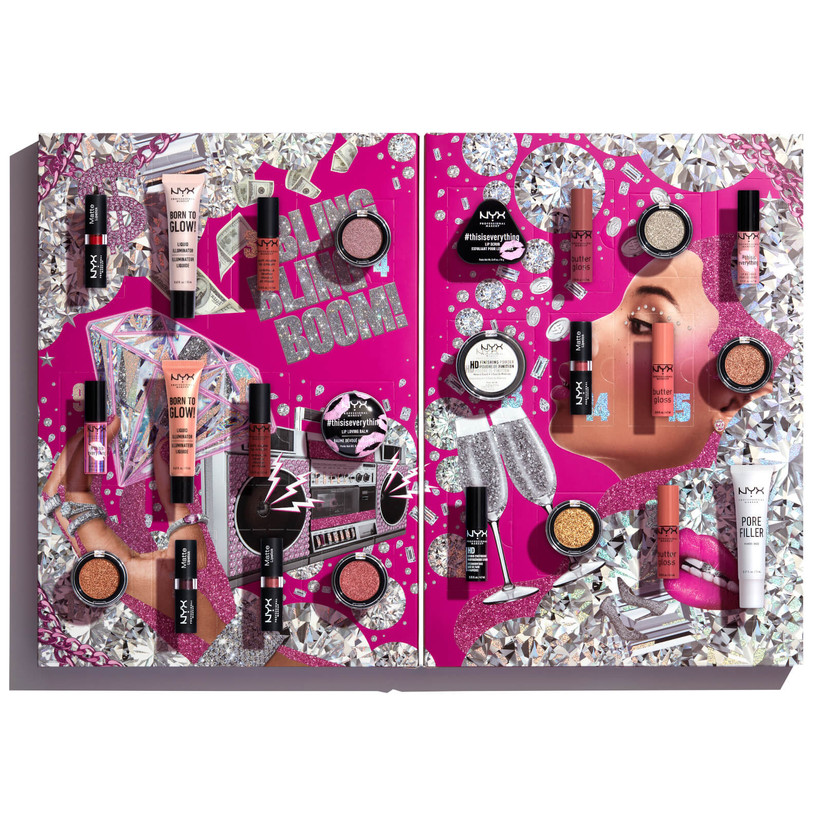 This beauty advent calendar from high street heroes NYX represents fantastic value for money.
You get 24 of their much-loved products, including 12 lip shades and their acclaimed primer.
30. John Lewis & Partners Beauty Advent Calendar - £150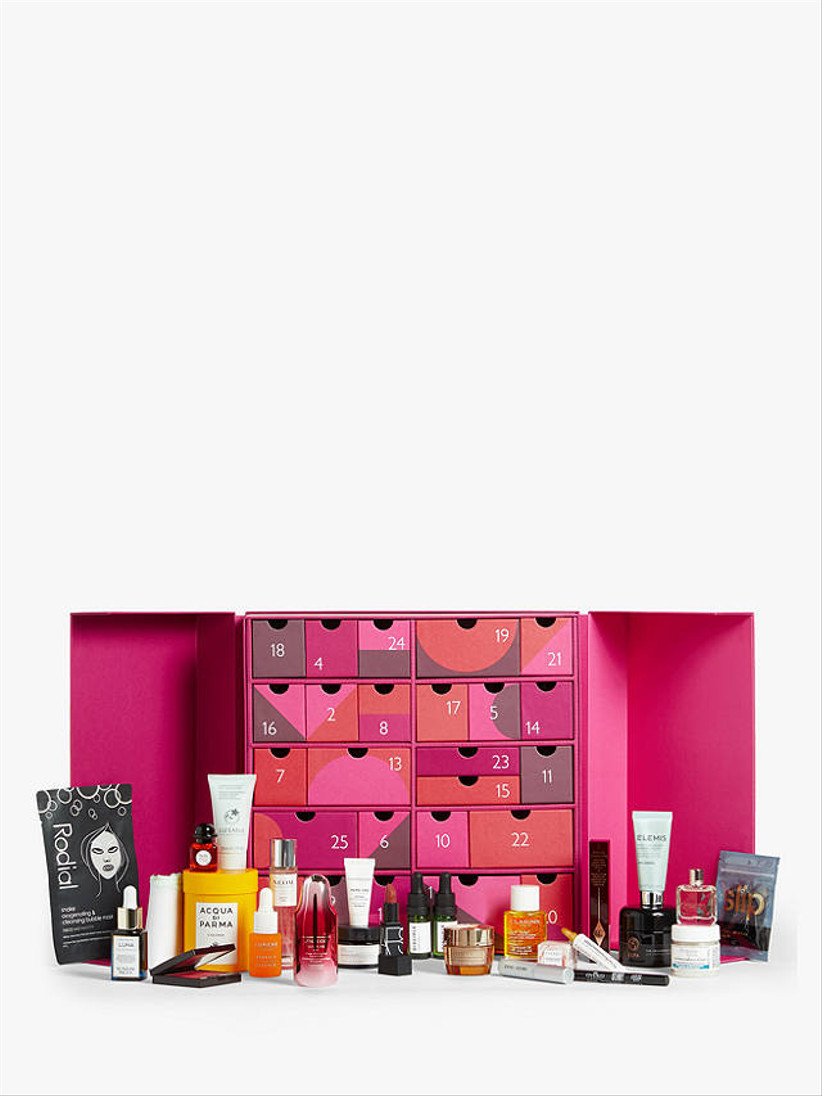 Get ready to click 'Add to basket', this one's going to move quickly. The John Lewis beauty advent calendar is worth an impressive £376, and contains some seriously high end brand.
From Liz Earle cleanser and By Terry rose lip balm to Bobbi Brown mascara, these are the products beauty insiders swear by.
Other Alternative Advent Calendars
Fancy going really off-piste? Choose from one of these unusual advent calendars which you most definitely won't have seen before…
31. Auntie Mims Gemstone Geological Advent Calendar – £49.50
This fun gemstone advent calendar from Auntie Mims features 24 individually packed gemstones.
Each gemstone comes with its own card to tell you a little bit about the gem, its meaning and its origin. This Christmas countdown will be loved by science and geology buffs!
32. Yankee Candle Wreath Advent Calendar – £24.99
Have your home smelling better than ever with Yankee Candle's super-festive advent calendar.
Behind the 24 doors is a mixture of scented tea lights in a selection of the brand's new and best-loved festive fragrances. You'll also get a pretty little candle holder thrown in there for good measure! The countdown to Christmas has never smelt so good.
33. Fortnum & Mason Gramophone Musical Advent Calendar – £45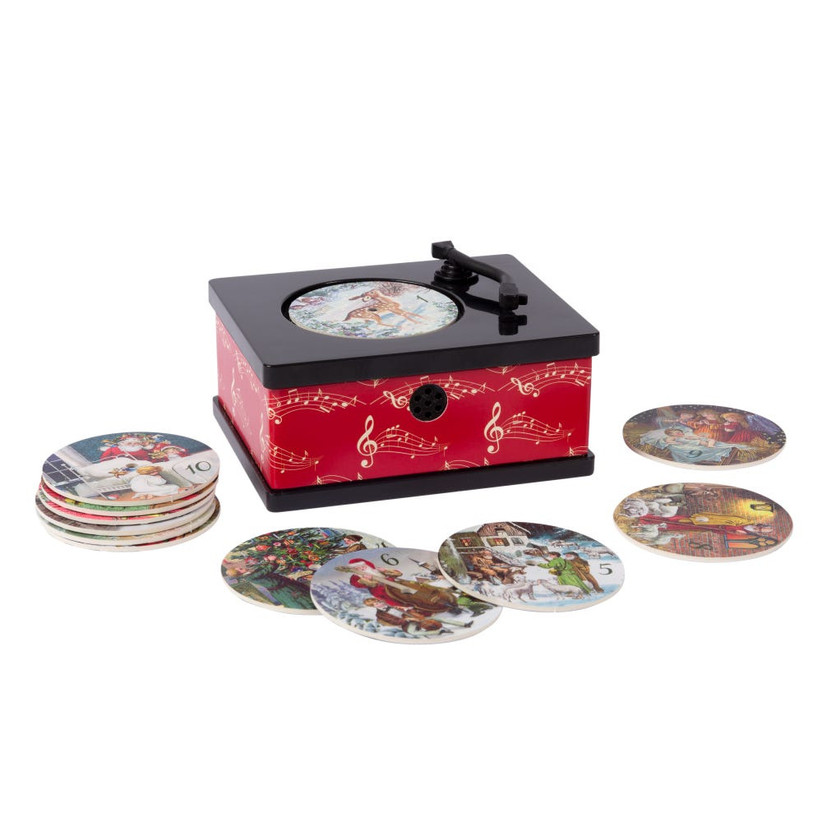 This Christmas mini gramophone may well be the cutest advent calendar we've ever seen.
It comes with 24 mini vinyl records, each containing a different Christmas tune to play in the run-up to the main event.
34. Lovehoney Best Sex of Your Life Sex Toy Advent Calendar - £100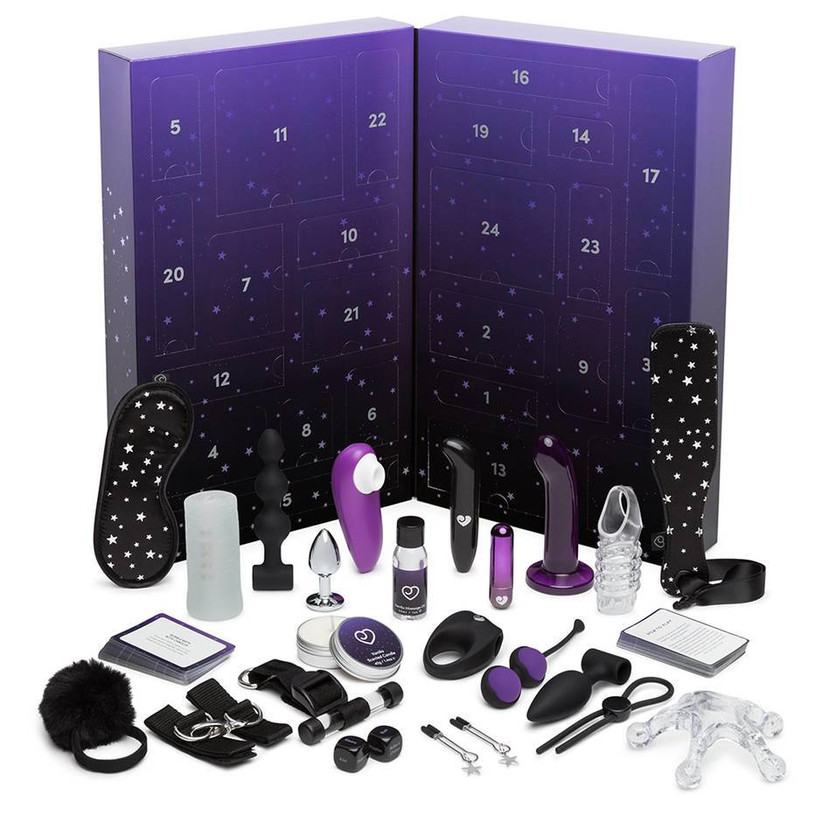 Spice up the festive period with Lovehoney's sex toy advent calendar.
The 'best sex of your life' is a bold promise, and certainly one we can get on board with. The advent calendar contains all kinds of products to help make that happen, including a Womanizer Starlet 2 vibrator worth £69 (yes, £69) alone.
READ MORE: The 18 Best Sex Toy Shops Online
35. Modo Creative Mindful Advent Candle Set – £20
Put your mental health first this December with this lovely Mindful Advent Calendar by Modo Creative. It contains 25 handmade beeswax candles, which burn for 20 minutes each, and a brass stand.
The idea is that for the time each one burns, you should sit back and relax. You can also personalise the box with a message of your choice for an extra charge.
36. Eggnog Colour-In Advent Pillowcase – £17.95
Just how lovely is this colour-in advent pillowcase! If you're on the hunt for an advent calendar for your little one (or your other half who's a child at heart), then this Egyptian cotton pillowcase would be perfect.
The recipient can colour in a different festive illustration every day of December. You can even order a pack of six wash-out fabric pens to come with the cushion!
37. Postbox Party Enamel Pin Christmas Advent Calendar – £44
Perfect for badge lovers young and old, this cute and colourful advent calendar is full of 24 enamel pins to decorate bags, clothes, cushions and more.
The problem with chocolate advent calendars is that once they're gone, they're gone! But with this lovely calendar, you can keep the contents forever.
38. Refillable Dog Advent Calendar – £27.95
Don't let the pets miss out this Christmas! While you're buying an advent calendar for your other half, pick this one up for your fur baby too.
This dog treat calendar can be refilled every year and you can add a personalised ceramic keepsake personalised bone – perfect for hanging on your tree once the treats are finished!
39. Disney Ladies Sock Advent Calendar - £30
Get a pair of Disney socks every day with this adorable advent calendar.
It has the power the most magical time of the year even more magical. And that's worth way more than £30.
Now that you've chosen your advent calendar, get ahead with the rest of your festive shopping and choose your partner an extra special Christmas present.
We have included third party products to help you navigate and enjoy life's biggest moments. Purchases made through links on this page may earn us a commission.