The coronavirus lockdown period isn't a time that many of us will look back on fondly, particularly if you're planning a wedding, however there's one sexy silver lining in terms of intimacy and experimentation. Ann Summers reports that sales of sex toys tripled during the first lockdown compared to the year previously while a survey of Playful Promises' 15,000 Instagram followers revealed that a whopping 80% had taken to using sex toys and accessories.
Even being physically separated from our partners isn't preventing us from exploring our desires in the bedroom, as leading sex tech brand Lelo reports that of the 28% of us who have been enjoying video sex, 50% have used a sex toy at the same time. This doesn't just equate to sexual satisfaction either according to Dr Deborah Lee of Dr Fox Online Pharmacy:
"Incorporating sex tech can heighten your experience, build self-confidence, and give individuals the tools to communicate, fulfil their sexual desires, and live happier lives."
It seems that you'd agree if research by high street chemist Boots is to be believed. 80% of us perceive that sexual wellbeing can increase confidence, while 60% maintain that it improves general happiness. Yet, the same study found that 80% don't feel comfortable talking about sex and a meagre 7% prioritise sexual wellbeing compared to other wellbeing enhancing activities such as sleep, fitness and nutrition.
We're here to turn those last two stats around, as everyone deserves the myriad benefits that a rich and varied sex life can bring. If nothing else, Dr Lee advocated letting the science of a rewarding sexual encounter convince you:
"When you have great sex it's like plugging your body in for a physiology recharge.
"As you relax, your blood pressure falls, your heart rate slows and levels of the stress hormone cortisol are also reduced. The happy hormones – adrenaline, dopamine and serotonin - are produced in great quantities. Oxytocin - the cuddle hormone – is released, making you feel warm and loved."
Even better, sex tech is widely available at everywhere from the aforementioned Boots to online beauty giants Cult Beauty, Feel Unique and Look Fantastic, so you can pick up a next-generation vibrator alongside your staple skincare and bathroom bits. Celebrities are lending star quality to beautifully designed sex tech, with Lily Allen teaming up with female focused brand Womanizer to launch her own sex toy, supermodel Cara Delevingne becoming co-owner and creative designer of 'sexy meets smart' sex tech company Lora di Carlo and actress Dakota Johnson invested in US sexual wellness brand Maude.
All in all, there's a sex toy revolution afoot, and the days of hiding a lurid dildo away lest your partner find it are long gone. Sex tech has evolved to become more stylish, powerful and inclusive than ever, and there's a model to suit every couple's needs and tastes, whether you just fancy trying something new or you're looking for a specific toy to use in the shower/ in a flat with paper-thin walls/ when you're out and about (we're not joking). Buckle up for your ultimate guide to sex toys for couples.
We have included third party products to help you navigate and enjoy life's biggest moments. Purchases made through links on this page may earn us a commission.
The Best Couples Sex Toys 2021
1. Smile Makers The Fireman – £39.90, Boots
Starting with an affordable sex toy that'll ensure that your sex life is literal flames, The Fireman is made from super soft silicone with a 'helmet' that's designed to stimulate the clitoris and labia all at once. You can use the tip of the flame with a partner and it's sleek enough not to get in the way, if you know what we mean.
2. Dame Fin – £85, Cult Beauty
Make foreplay even more electric with this simple, subtle (it's both small and silent) three speed vibrator that's designed to be held between the fingers.
3. Drift – £90, Lora Di Carlo
The perfect sex toy for beginners, Drift features seven intensity settings, three vibration patterns and a warming effect to adjust to your body temperature to make incorporating this ergonomic bullet vibe into your sex life feel all the more au naturel.
4. My Viv Personal Pebble Massager – £10, Feel Unique
Another ideal 'starter' sex toy, this mint green pebble fits neatly into a palm and the soft tip can be used on the nipples, clitoris, perineum, back of the knees...whatever turns you on.
5. Dame Kip – £85, Cult Beauty
Equally neat, this 'easy grip' lipstick vibe may look sculptural and angular but that triangular tip is designed to flutter, providing light stimulation, while the smooth, wide side offers a more intense experience. Basically, a pocket rocket.
6. So Divine Amour Rechargeable Lipstick Vibrator – £30, Feel Unique
Taking the lipstick vibrator format literally, this stealth sex toy conceals a mighty ten vibrating functions within its slim red bullet. It's waterproof and charges via USB so you can plug it into your laptop whenever it needs some juice and no one will be any the wiser.
READ MORE: The 23 Best Bridal Lipsticks for the Ultimate Wedding Day Look
7. Artisan Glass Wand Dildo – £60, Coco de Mer
From the everyday to the firmly on display, this award-winning sparkling glass dildo belongs in a gallery as much as it does a bedside drawer. Smooth and curved in just the right places, you can dip it in warm or cold water to tailor the feels exactly to your liking.
8. Lelo Lily 2 Plum Vibrator – £115, Feel Unique
Speaking of sensual titillation, this palm held vibrator will fit neatly between you and is scented with a choice of aphrodisiac fragrances to really set the mood. Plum serves up Bordeaux and chocolate and we can't imagine a more delicious combination to get you going, quite frankly
READ MORE: The 17 Best Wedding Perfumes for Every Bride
9. Smile Makers The Frenchman – £39.95, Feel Unique
It may not serve you up a glass of Bordeaux, but The Frenchman has plenty of other talents. This 'linguist' is designed to enhance and mimic oral sex thanks to its silky soft tongue shaped head. Team with lube for the most realistic effect and don't be shy about using it on nipples and other sensitive bits too.
10. Lelo Ora 3 – £130, Coco de Mer
Another oral sex simulator, just with a few more bells and whistles. Silky silicone creates a glide effect and a pleasure core that rotates and vibrates to the tune of 12 different patterns ensures that you'll never, ever get bored of the Ora. Use it on both of you as part of foreplay or run a bubble bath for total immersion – it's equally powerful underwater.
11. Dame Eva II – £135, Cult Beauty
Granted, this guy's pretty weird looking (getting Christmas turkey vibes), but welcome him into your lovemaking sessions and you'll have zero regrets. The Eva II's hands-free functionality allows it to nestle into the labia while also hitting your clit and it stays in place in almost any position.
12. Fusion Remote Control Cock Ring – £40, Ann Summers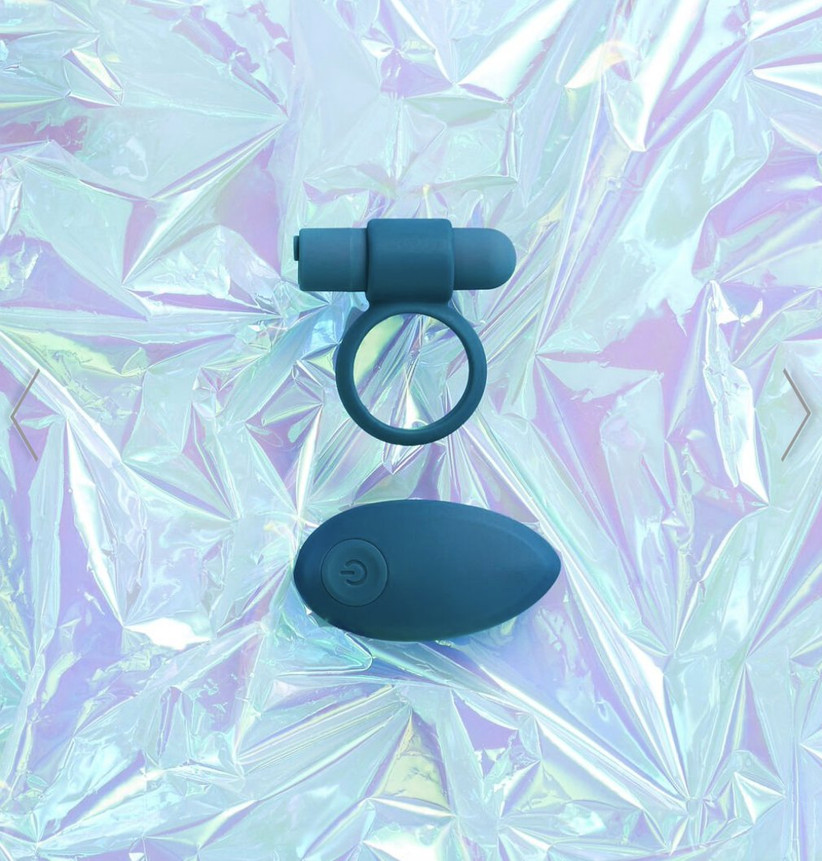 With a removable bullet and a remote control, this teal cock ring promises literal hours of fun for all.
13. Jive by We-Vibe – £105, Coco de Mer
A shape tailored to tickle your G-stop, ten app-controlled settings that allow you to personalise the vibes to your...vibe, plus bluetooth compatibility to let your partner pleasure you from afar all serve to make this particular sex toy something special.
14. Lelo Hula Beads – £149, Lelo
You'll never lose the remote to these swirling, vibrating pleasure balls – they can be used internally or externally and they're as quiet as a mouse.
15. Lona Rose Clitoral Suction Stimulator – £39, Sh!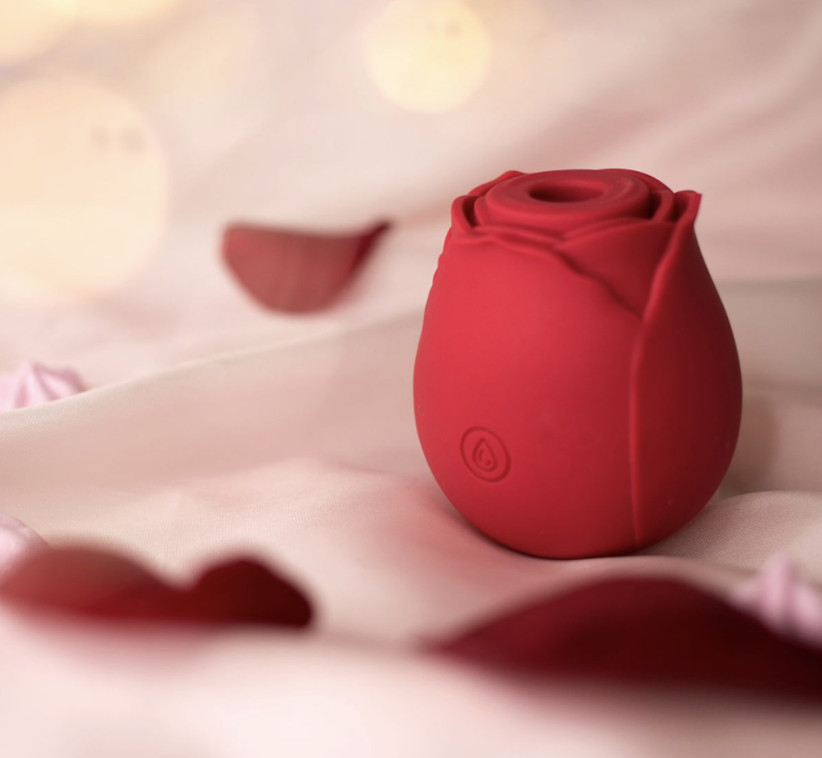 From balls to blooms, this particular toy will have your sex life coming up roses in no time. The heart of the rose fits neatly over the clit and features seven suction, pulse and wave settings for max satisfaction (try it on nipples too).
16. Liberty by Lily Allen – £89, Womanizer
Also an air massager, Lily Allen's bright, bold take on sex tech takes contact-free clit stimulation to the next level. Additional shapes are included to cater to every body type and it comes equipped for all situations, whether you want to take it underwater, jet into the sunset (the travel case keeps things hygienic and discreet) or charge it on the go.
READ MORE: Self Care in Self Isolation: How to Stay Well as a Bride-To-Be
17. Carezza – £135, Lora di Carlo
This 'magic finger' vibrator also puts the clitoris front and centre thanks to patent-pending PercussionTouch™ technology that emulates the sensation of a dextrous, pulsing human digit. Think gentle strokes building to more intense drumming and you're halfway there.
18. So Divine Self Love Finger Vibrator – £10, Feel Unique
A simpler, literal take on a finger vibrator, this single speed silicone vibrator is seriously versatile – just loop it over a finger and go. You could add two to your online basket for twice the fun.
19. Lelo Tiani 3 – £77, Current Body
Specifically designed to be used as a couple, this dual-armed remote control massager bends every which way with internal and external vibrations for a heightened simultaneous experience.
20. Mystery Vibe Crescendo – £160, Coco de Mer
More bendy antics, this time in a more traditional vibrator format. Six motors, endless positioning options, an optional remote control app functionality, wireless charging and waterproof body make it worth the triple figure price tag.
21. Dame Pom Pom – £95, Cult Beauty
Don't let the cute apple shape fool you – this motor is a goer. Begin foreplay on the lowest setting and see how you like it, flexing the silicone to please the both of you.
22. Remote Control 'Strapless' Strap On – £60, Ann Summers
The sleekest 'strap on' you ever did see, without the hassle of belts, harnesses or ties. Ten vibration options, two different lengths and hands-free control via remote make for a very smooth ride indeed.
23. Satisfyer Partner Multifun 3 – £50, Coco de Mer
The Satisfyer may look a little like a silicone salad server, but bear with us because it'll deliver a whole lot more pleasure than a plate of leaves. There's a motor in the handle and each can be programmed to buzz separately, giving both of you the thrill you're after. The shaft is insertable and in total there's 100 different vibration modes, which should keep you going for quite some time.
24. Lelo Picobong Transformer – £85, Cult Beauty
There's nowhere that the Transformer can't go – it bends to your will and can be used as a traditional vibrator, pleasure ring, clit or prostate stimulator or as a double ended dildo. If you're after a single sex toy to fulfil both of your fantasties, this could well be 'the one'.
25. Sway – £145, Lora di Carlo
A dual-ended vibrator that turns up the heat all by itself thanks to an in-built warming function that nudges slightly higher than your body temperature to enhance arousal. The gender-fluid shape delivers internal and external vibes and hits the C, P, G and very other spot in between. In short, another A* all-rounder.
26. Vibrating Adjustable Cock Ring – £15, Ann Summers
Prolong the pleasure while stimulating the clitoris with a removable seven speed bullet vibrator. The one size fits all cock ring also feels super silky – no snags here.
27. Dame Zee – £30, Cult Beauty
A teeny tiny bullet vibrator with three speeds that you can whip out at a moment's notice. It's quick and easy to clean too,
21. My Viv Slim Vibrator – £18, Feel Unique
A slender, tapered vibrator designed to help those who've experienced vaginismus, childbirth, menopause, cancer or any kind of trauma reconnect and feel confident in their bodies again, either with a partner or solo (or both). The un-intimidating size and shape and affordability are ideal for sex toy newbies too.
29. Fusion Remote Control Panty Vibe – £40, Ann Summers
Wear this hands-free vibrator as you go about your business, leave your partner in charge of the remote and prepare for surprise shudders. Swap over to play fair.
READ MORE: 37 Long Distance Relationship Gifts Your Other Half Will Love
30. Lovehoney Wild Weekend Couple's Kit – £69.99, Boots
Who knew that sexual nirvana lay waiting in a Boots aisle? We were none the wiser either until we stumbled across this really very comprehensive sex toy set. You've got eleven accessories to play with here, from cock rings to G-spot vibrators to anal beads to 'jiggle balls', with a guide inside to show you ropes.
31. Crave Vesper Necklace Vibrator – from £70, Sh!
Meet your new 'sexeccsory'. The Vesper pendant is available in silver, rose gold or 24K gold plate and offers up four strong vibration settings in addition to good looks. Perhaps not one to wear to a job interview, but date nights on the other hand…
Not feeling the love? Here's 7 ways to strengthen your relationship while working from home.