The Best Unusual Christmas Gifts: 40 Weird & Wonderful Present Ideas
No matter who you're shopping for, we've got plenty of unusual Christmas gift ideas that will surprise them in the best possible way
We have included third party products to help you navigate and enjoy life's biggest moments. Purchases made through links on this page may earn us a commission.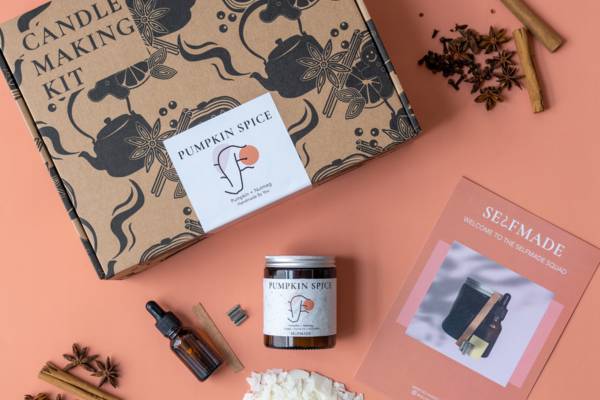 What do you buy for the person who has everything? It might seem like the most impossible question in the world, but we've got the answer – one of these super unique and unusual Christmas gifts, of course!
Whether you're shopping for your other half, a friend, relative, colleague, neighbour or anyone else in your life who has left you totally stumped when it comes to gifting, the right present for them really does exist – you just haven't found it yet. But the good news is that you don't need to spend hours of your life trawling through the internet to track it down, because we've done all of the legwork for you and found 40 brilliantly unique options to suit a wide range of budgets below.
From foodie hampers and clever gadgets to bucket list experiences and subscriptions that will bring them a regular dose of joy long after 25th December has passed, here's our pick of the best quirky, unusual Christmas gifts to shop for in 2021. Trust us, they'll never see these coming.
1. Snack Surprise Subscription – from £7.99, Snack Surprise
Snack Surprise is a genius subscription service that sends bundles of sweet and savoury snacks from a particular country directly to their door each month – a dream come true for anyone whose first stop when they travel is the local supermarket.
2. The Dream Dictionary from A-Z, £12.77, Amazon
We all know that one person who always wants to tell you about their dreams – and for them, looking up the meaning behind them in more detail will be nothing short of fascinating. Gift them The Dream Dictionary from A-Z and no matter what thoughts come their way while they're in the land of nod, they'll be able to decipher them and understand them better instantly.
3. Concrete Phone Speaker – £50, Bells and Whistles Make
Forget your standard bluetooth speaker; this concrete speaker comes with a plain, copper or pink finish and would be a fab vintage-look addition to anyone's home. If you are searching for a great unusual gift for a music lover then this fun present idea could be ideal.
4. Let's Dance David Bowie Inspired Retro A3 Art Print – £28, FanClub
Speaking of music fans, these retro prints from Fanclub – created using lyrics from the likes of the Rolling Stones, Fleetwood Mac, The Beatles and more – are a surefire hit. Our personal favourite is this colourful Bowie-inspired Let's Dance design.
5. Scared Heart Everyday Pouch – £28, Elizabeth Scarlett
Elizabeth Scarlett's embroidery takes a fairly standard gift idea – think pouches, make-up bags or hot water bottles – and elevates it into something extraordinary. We love the romantic vibes of the Sacred Heart pouch, but check out the website for twists including animals, insects, fruit, horoscopes and more.
6. Spreadable Single Malt Whisky Marmalade – £10, Oliver Bonas
Whisky lovers will enjoy the novelty of this spreadable single malt whisky marmalade. The alcohol is evaporated off during the cooking process but the warm depth of the whisky flavour remains, making it ideal for spreading on toast Christmas morning.
7. Head Chef Double Oven Glove – £25, Stuart Gardiner Design
For anyone who demands control of the BBQ or is the official master of the Sunday roast, these head chef gloves from Stuart Gardiner Design will be a perfect fit. If you look a little closer, you'll see the tattoos are actually conversion tables, roasting times and chopping guides, so they're a practical present too.
8. Barry's Cactus Club Subscription – from £15, Barry's Cactus Club
Plant parents of the world will love expanding their collection with this quirky houseplant subscription – each box includes a new cacti or succulent, a pot to keep it in and a collectors card for each plant with fun facts and care instructions. Choose from a rolling monthly contract or three or 12-month long packages.
9. Herbivore Rose Quartz Face Roller – £37, Space NK
Face rollers made from precious stones are popular among celebrities for their holistic properties – Courteney Cox has been known the whip one out her bag when she's out and about. A rose quartz face roller is said to help with lymphatic drainage in the face, reduce puffiness and increase circulation – i.e., the gift of glowing skin.
10. Klask – £39.99, Amazon
Half table football, half air hockey, Klask is the brilliantly infuriating game that no one ever knew they needed – but once they start playing, they'll be addicted. There's a reason it's got more than 500 5* Amazon reviews...
READ MORE: The 50 Best Christmas Gifts for Your Wife
11. Indoor Skydiving for Two – £73.99, Virgin Experience Days
For a completely unique gift idea for Christmas, don't give a physical gift at all. This indoor skydiving gift experience for two is something fun that you could both do together, or gift to the adventure-loving couple in your life.
12. Funky Veg Kit by Plant Theatre – £12.99, Amazon
If you're starting a little kitchen garden or your other half absolutely loves their five-a-day, this quirky veg growing kit is ideal. You'll get seeds for five different unusual vegetables: purple Brussels sprouts and carrots; striped tomatoes; rainbow chard and yellow courgettes. By this time next year, you could be eating your own novelty purple veg for Christmas dinner. A fab stocking filler!
13. Drawstring Wine Tote – £7, Hitched Shop
For the gift you never knew you needed to get until now, look to the Hitched Shop's single bottle drawstring wine tote bag. Available in a number of cute designs, it has enough space to fit a bottle of a Christmas essential.
14. Diptyque Perfumed Bracelet – £68, Space NK
An unusual way to give fragrance is with Diptyque's range of perfumed jewellery and stickers – these monochrome string bracelets are infused with some of the brand's most popular fragrances and emit the scent throughout the day. When it wears off, they can simply cut another piece from the spool.
15. Charity Advent Candle – £24.95, Advent of Change
If the person you're shopping for loves gifts that give back, we'd recommend taking a look at this year's Charity Advent Candle. Not only is it a lovely addition to their mantlepiece, there's a corresponding booklet that will tell you which charities you've helped as it burns past each number – 24 donations are included in the price.
16. Life Changing Chicken – £15, Oxfam
Another charitable option comes in the form of Oxfam's Life Changing Chicken, a donation which provides support for farmers in developing countries. This is a brilliant Secret Santa for your trickiest colleague or relative – there's no one that won't feel a glow of goodness knowing this has been done in their name.
17. Lazy Man Frying Pan – £29.99, Prezzybox
If there's a better way for fry-up fans to make their breakfast, we haven't found it yet! This Lazy Man pan has five separate compartments that allow the user to whip up a fried egg, beans, bacon and veg simultaneously, with far less washing up. And although it's a novelty item, it's also made from die-cast aluminium, so pretty good quality too.
18. Rolled Ice Cream Maker – £24.99, Firebox
If dessert is more their thing, indulge their sweet tooth in the most unexpected way with this rolled ice cream maker, which enables you to make the Insta-famous swirls of chains like Pan-N-Ice at home (it's a lot easier than it looks, we promise!)
19. Marshall Rockstar Keyring Holder, £35, Mixpixie
A totally original gift idea for a music loving family, this holder comes with four keyrings and a holder in the shape of the iconic Marshall amp. It makes a great statement piece when hung in a hallways, and will earn them all the compliments from anyone who passes through their door.
20. Sashay Away Door Mat – £19.99, Firebox
Look no further if your recipient is a fan of Ru Paul's Drag Race – this Sashay Away door mat will be the ultimate addition to their doorstep. Ideally there'd be a matching Shante You Stay design for guests who are welcomed indoors, but hey, one great gift idea at a time, eh Firebox?
READ MORE: The 50 Best Christmas Gifts for Your Husband
21. Christian LaCroix Dangerous Game Backgammon – £46, Amara
If any night at theirs automatically turns into games night, they'll love this ultra-chic take on a classic backgammon board from Christian Lacroix. The case folds up for easy storage, but it's highly likely they'll want to keep it on display 24/7 anyway.
22. Jonathan Adler Rainbow Puzzle – £29.95, Hus & Hem
If they're more into puzzles than board games, don't settle for the same old square design – this Jonathan Adler rainbow puzzle is the coolest 750-piecer they'll ever complete, and looks far more expensive than its £30 price tag.
23. Cake Unisex Ankle Socks, £12.50, Anthropologie
Socks might not be your first thought when you think of unusual gifts – after all, who doesn't get a pair in their stocking each December? However, no dessert lover will be able to resist these adorable cake socks – and unlike many novelty socks, they come in a colour palette that will actually work with the rest of their wardrobe.
24. Artisan Cheese Making Kit – £25.99, Amazon
Who doesn't love cheese at Christmas? But rather than buy your loved one a cheese board, why not give them the gift of being able to make their own cheese? This unique cheese making kit allows you to make 29 of your favourite cheeses, including mozzarella, halloumi, mascarpone and ricotta. Take your present over the top by adding a supply of crackers and chutney as well.
25. Build Your Own Gin Stocking – from £22, Sipsmith
None of the gin gift sets on the shelves of the supermarkets doing it for you? Check out Sipsmith's gin stocking, which includes a Green Velvet Stocking, 20cl London Dry Gin and a Christmas Gift Wrap Set to start, and then allows you to add up to six extra gin-themed presents of your choice.
26. The Illuminated Tarot Deck – £16, Free People
Whether they already know their stuff when it comes to tarot reading or you know they'd love to learn, this deck, designed by illustrator Caitlin Keegan, is one of the most beautiful sets on the market. And who knows, you might get a free reading!
27. A5 Memobottle – £30.28, Memobottle
Hydration is important, but that doesn't mean it always conveniently fits into our lives (bags) easily. Enter Memobottle's clever line of flat, paper-sized water bottles, which are far easier to slot into a backpack or handbag, and pleasingly minimalist to look at too.
28. Herringbone Tech Roll in Tan – £199, Mantidy
It might not be the cheapest unusual gift idea on our list, but anyone who's always got the latest gadget will find this Tech Roll from Mantidy is worth its weight in gold. It comes with a power bank, external battery, and portable USB charger, plus two different lengths of USB cable as well as the luxurious leather wrap.
29. Salvadoor Door Stopper – £19, I Am Fy
Art buffs can be among the most intimidating members of your friendship group to shop for, but not when you've got Salvadoor up your sleeve! This fun Dali doorstop is a 'surreal' yet practical choice.
30. Letterbox Bird House – £19.99, Coopers of Stortford
Got a tricky-to-shop-for gardener on your list? This adorable postbox bird house will brighten up their outdoor space and bring plenty of nature to it too.
READ MORE: 50 Cute Christmas Gifts for Couples
31. Butterfly Seedbom – £4.50, Kabloom
For a more stocking filler sized (and priced) gift with the same principles, Kabloom's 'seedboms' are designed to be deployed in the garden and left to grow – this one encourages butterflies to visit, but there are also several options for bees.
32. Calm Club Foot Work Reflexology Socks and Massage Tool – £19.95, Luckies of London

Reflexology is heaven for runners, those who work on their feet all day or just anyone with pain in the area. However, even if your giftee falls outside of their parameters, this two-piece Calm Club kit is a great little self-care find for almost anyone – who doesn't like a little foot massage from time to time?
33. Broderie Anglaise Collar – £20, Monki
You don't always have to spend a fortune to impress a fashionista – detachable collars like this affordable Monki option give them the chance to reinvent basically every top they own for a mere £20. If broderie is a bit too frilly for their tastes, try Monki's denim alternative.
34. Wild & Wolf Light Up 10" Globe in Vintage – £90, John Lewis
For the globe-trotter who seems like they have it all - we predict they won't already have one of these... The light-up globe is both educational and highly aesthetically pleasing – the shiny brushed gold stand makes it a great homeware piece too.
35. Pumpkin Spice Candle Making Kit – £30, Self Made
Part of Self Made's briliantly-named "Spiced Girls" Candle Making Kits (the others are Ginger and Chai), this kit contains everything your recipient needs to make their own delicious smelling candle from scratch. It's ideal for crafty types or anyone who loves a good self-care project.
36. Take What You Need Tokens – £45, Kutuu
The power of positive thinking can really transform your day – so we think this unusual Christmas present of 'take what you need' tokens is a lovely present idea for a loved one. Choose six special tokens to create your own positivity box – including courage, strength, hope and joy.
37. Astrid Flower Bluetooth Shower Speaker – £19.95, Rex London
We're all guilty of a bit of shower karaoke from time to time, but this cute-as-a-button Astrid shower speaker will take things to the next level. It uses Bluetooth to stream their favourite songs into the shower while they get washed and ready for the day – the only catch is you might need to send an apology letter to any neighbours who might be in the vicinity.
38. Takeaway Dice – £19, Oh So Cherished
Take the tension out of takeaway night by letting this rustic-look dice do the decision-making – we love the fact it can be personalised, and that it comes in its own eco-friendly noodle box.
39. 192 Pages of Plans Daily Productivity Planner – £23.99, Papier
Whatever their goals are for the year ahead, this daily productivity planner from Papier will help them to make it happen. Inside there's space for to-do lists, shopping lists, schedules, habit tracking and more – plus, you fill out the dates yourself, so they can start using it at any time of the year.
40. Liberty Gift Coin – from £25, Liberty London
Well, if you're going to give a voucher regardless, you might as well do it in the most unusual way possible. Luxury department store Liberty offers a choice or regular cards or gift coins which form their very own currency and come presented in an elegant purple pouch – much more thoughtful than a crumpled note hastily stuffed in a card.
Still searching for the perfect Christmas gift? We have rounded up the best Christmas presents for her and him, filled with fun and unique Christmas gift ideas.