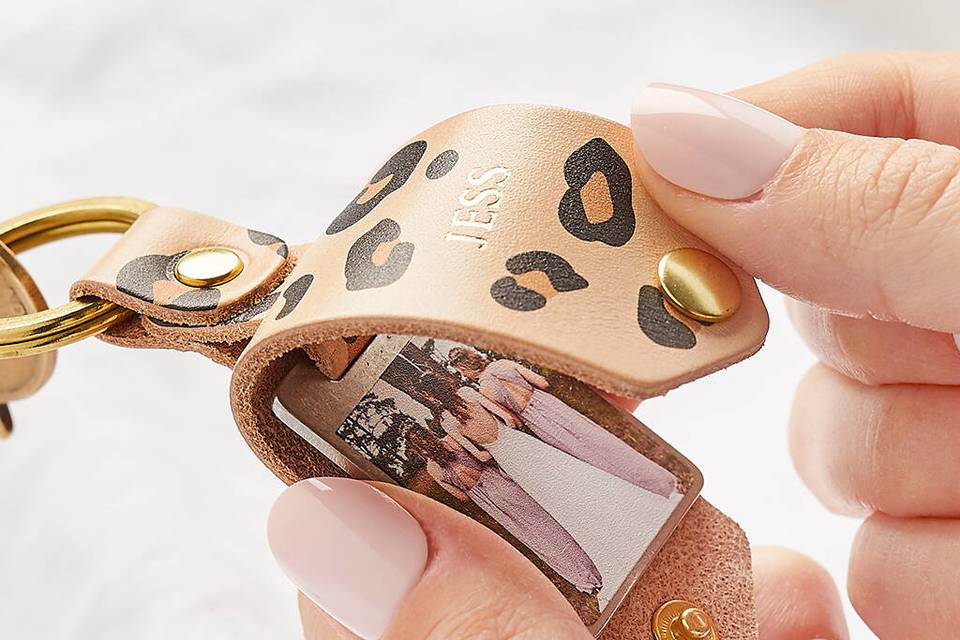 She's the most amazing person you know and then some, so when it comes to picking out gifts for your wife, it's only natural that you really want to wow her. But that doesn't mean it's easy.
If you're lucky, she'll drop hints at appropriate times – just before her birthday, early December – but if not (or if you missed them!), you might find yourself feeling more than a little stumped about where to even start. Fear not, well-intentioned spouse – whatever budget or genre of present you have in mind, we've got your back.
We've brainstormed 45 potential gift ideas for your wife that pretty much every woman we know would be thrilled to receive for an anniversary, Christmas, birthday, or just because she deserves it. From sartorial steals to luxury beauty, high-end homeware to irresistible foodie treats, scroll on for the suggestions that will make her a very happy woman (and as a bonus, set the bar juuust high enough for when your own next milestone rolls around…).
NB: All products were chosen independently by the Hitched editorial team. We may earn a commission for products purchased through some links in this article.
Personalised Gifts for Your Wife
1. Personalised Coupe Glass with Floral Engraving - £25, Not On The High Street
This hand-engraved coupe glass is a gorgeous gift which is ideal for a G&T or Champagne lover. Your wife's name will be engraved in modern calligraphy on the base and a stunning stylised floral design inside the glass. It's unique and super special.
2. Wildflower Mother Of Pearl Notebook – £19.99, Papier
Great for writers, artists and stationery addicts alike, Papier allows you to personalise basically all of its products with a full name or other note or message. We're head over heels for this Wildflower design, part of a collab with sustainable fashion line Mother Of Pearl, but there are hundreds of equally lovely designs on their website.
3. Personalised Couple Print - from £17.99, Etsy
How gorgeous is this digital print! Artist Becca Louise will turn your favourite couple photo into a beautiful A4 print which you'll want to hang on your bedroom and living room wall. If you want to make a special print just for your wife, choose your favourite photo of just her. She'll feel so treasured.
4. Personalised Velvet Quilted Makeup Bag – £15, Hitched Shop
If your wife loves a lipstick and doesn't go anywhere without her blusher, then a personalised makeup bag will be a thoughtful gift that she'll use every day. Choose from a range of colours – from turquoise to blush pink. This sky blue one has our heart.
5. Kindred Fires Wife Birthday Gift Personalised Candle – £16, Not On The High Street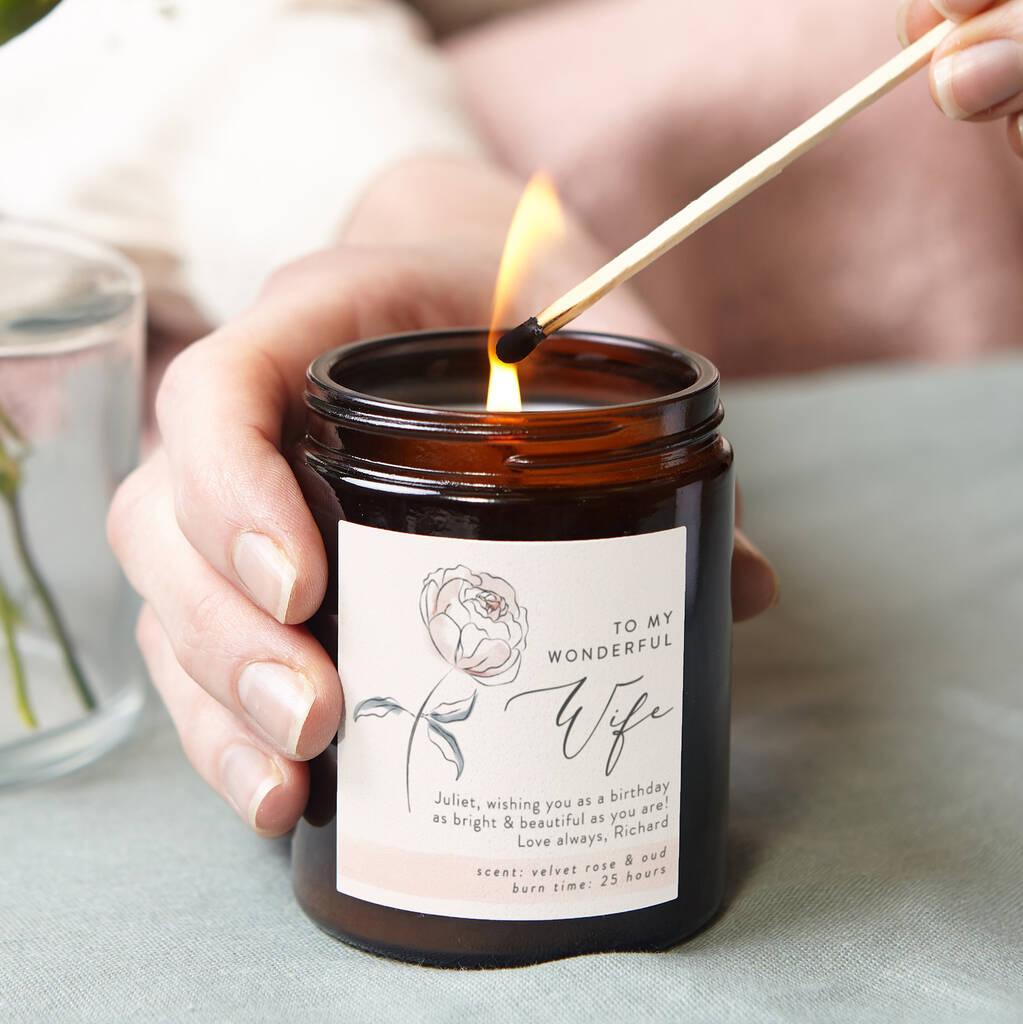 Not only does this Manchester-based candle company give you an amazing choice of scents, from Wild Fig & Cassis to Tobacco & Oak, they'll personalise the label on your jar so that it sounds as sweet as it smells.
6. Personalised Leopard Print Card and Coin Purse – £30, Not On The High Street
Leopard print will never go out of style, which means this fun monogrammed leopard print purse is a great investment. You can also add your own special message on the inside of the purse to make it totally unique.
7. Hand-Embroidered Picnic Blanket - £54, Not On The High Street
If your partner has a summer birthday or you share a summer anniversary, a picnic blanket is a great gift - even better if you surprise them with a picnic too! This large, round, pink striped blanket is embroidered with 'Walking on Sunshine' and has cute white fringing around the outside.
8. Personalised Rose Gold Hip Flask - £25, Hitched Shop
A hip flask is a wonderful gift to toast your marriage! We love the idea of booking a weekend away and presenting it in front of the campfire for a warming nip of alcohol (UK staycations are probably all we'll manage this year, after all!). What makes these ever more special is the engraving with her name and the gorgeous rose gold colour.
9. Custom Dog Socks - £19.99, Prezzybox
Is your dog woman's best friend? Gift her a seriously cute pair of socks personalised with a picture of your dog's face (you can send pictures of up to two dogs if you have more than one!). There's a choice of six colours and three sizes, so choose your wife's favourite.
10. Personalised No-Slip Yoga Mat - £25, Hitched Shop
Is your wife a huge fan of yoga? You can buy her a non-slip custom yoga map which she'll love to use in classes or at home. There are six different styles you can choose from, from just her name to a beautiful lotus flower design.
11. Personalised Wooden Bird Box - £35, Not On The High Street
Does she love spending time in her garden? You can buy your wife a fancy bird box personalised with her name. It comes in three shades of green and either a tree or wall mount plus a little door on the back to clean it. We love it for outdoorsy couples who have green fingers.
12. Personalised Champagne and Chocolate Box - £76.50, Fortnum & Mason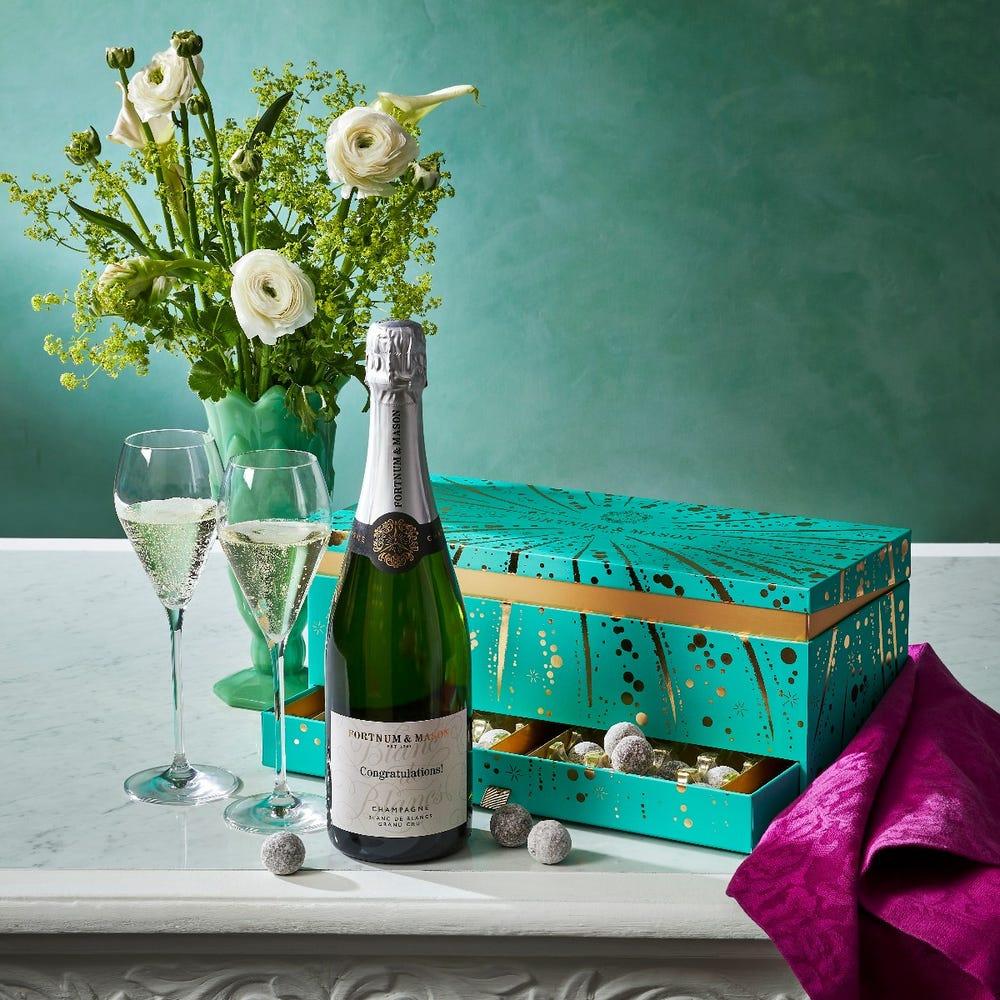 Get your love's name and a personal message printed on a gorgeous bottle of Brut Reserve Champagne and enjoy a whole tray of decadent Marc de Champagne truffles. A wonderful gift to share or to send to your partner when you're away so you enjoy together when you get home.
13. Personalised Photo Keyring and Leopard Leather Case - £29, Not On The High Street
How cute is this idea! Your chosen photo is printed on stainless steel and then hidden inside a leopard print leather keyring case. A wedding day photo or another couple photo is a great idea, and because it's in a case, it'll feel like a little secret only you two know about. The front can be personalised with her name or initials and you can add a message to the back.
14. Personalised Birth Flower Gin, Whiskey or Vodka - £39, Not On The High Street
This keepsake, birth month flower bottle is something you'll want to keep long after the booze has finished. We love the Granite North gin option, which looks beautiful against the personalised Lisa Angel illustration. Other options include Aperol, Pimm's, Sapling Vodka and Norfolk Gin so there's a choice for every drink lover.
15. Personalised Happiness Stationery Bundle - £39, Not On The High Street
Anyone who loves stationery or needs a lift in their working from home set-up will be extremely pleased to receive this happiness stationery bundle. Included is everything from a gratitude journal to a daily planner, with some inspiring postcards thrown in to make your loved one smile.
16. Personalised Sequin Name Reveal Cushion - £24.99, Prezzybox
Such a jazzy gift! Swipe across the sequinned cushion and reveal your partner's name underneath the glitzy embellishments. She'll love rubbing it up and down to see the surprise hidden below.
17. Personalised Love Island Bottle - £20, Love Island Shop
Does your spouse LOVE Love Island? She'll go crazy for the new generation of Love Island water bottles that have just been released. There's nothing better to sip from while watching the latest series (or re-watching all the past ones).
Unique Gifts for Your Wife
18. The Velvetiser Hot Chocolate Machine – £99.95, Hotel Chocolat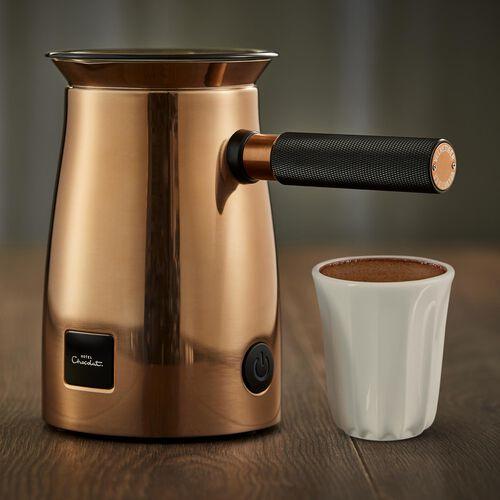 If she loves chocolate in liquid form, the Velvetiser is widely recognised as the best at-home hot chocolate maker money can buy. It works with any kind of milk, so plant-based couples can enjoy it too.
19. The Jaguar Signature Pyjama Set – £120, Desmond & Dempsey
Not only does D&D have some of the coolest PJ designs around – think punchy tropical jungle and animal prints (like this signature Jaguar style) aplenty – you can also monogram them for free, giving an even more luxurious feel to that next lazy Sunday morning.
20. Crosley Cruiser Leopard Print Vinyl Record Player - £89, Anthropologie
Stylish, cool, easy to use and a delight to listen to, the Crosley Cruiser is perfect for listening to vinyl and digital music. It has a built-in Bluetooth receiver, three speed turntable, pitch control and stereo speakers meaning she doesn't need anything but this to hear her favourite music exactly as the artist intended.
21. Luma True Wireless Headphones – £79.99, Urbanears
AirPods are all well and good, but until you can get them in this on-trend shade of lilac, we'll take Urbanears Luma wireless headphones any day. They promise crystal clear sound even on a crowded commuter train, and an impressive 25 hours of playback time before they need charging again.
22. Large Jewellery Case - £120, Missoma
Coming in nine colours, this gorgeous jewellery case will become an heirloom in your family. It can be monogrammed for free or left blank, but the best thing is that it comes with a cute 'Take Me With You' pocket for travelling so it does double duty as a home and away jewellery case.
23. Illume Pearl Hoops in Gold - £69, Astrid & Miyu
For an inexpensive anniversary jewellery gift, we couldn't recommend Astrid & Miyu more. These vintage-inspired Pearl Hoops can be worn everyday, but also dressed up for fancier outings (like your anniversary dinner, for example). If you really want to splash out, pick up the matching necklace.
24. Rose Glass Plant Mister - £13, Not On The High Street
This boho-luxe plant mister is a great gift for those growing their indoor plant collection. It'll look beautiful on the shelf and a little mist does wonders for houseplants.
25. Geometric Terrarium Kit - from £34.99, Etsy
Coming with everything you need to build your own terrarium, you can pick from a cactus or succulent option. It's such a stylish gift for your wife and she'll love making it as well as watching it grow.
26. The Plum Collection Mrs Jumper - £26, Etsy
This slouchy jumper would be an ideal cotton anniversary gift (that's two years of marriage!) or just as an anniversary gift in general. Choose between gold, pink, red or leopard lettering.
27. Blank Letter Jigsaw Puzzle - £14.99, Prezzybox
A seriously romantic gift, you write a message to your loved one on the jigsaw, then break it apart and put the pieces in the gift box. Your wife will get to put her jigsaw back together again and read the sweet message. It's a wonderful alternative to a card and a great keepsake.
28. The Clotted Cream Dried Baked Blossom Bunch - £32, The Happy Blossoms
Because not all of us are blessed with green fingers, we'd like to suggest dried flowers from The Happy Blossoms – not only are they a less cliched alternative to the usual bunch of blooms you might buy, they'll last far longer and require basically zero effort in the way of maintenance. They come in neutrals like this clotted cream set or much, much more colourful sets.
29. See By Chloe Hana Small Leather and Suede Cross Body Bag - £370, Matches Fashion
For major milestones, a significant present like a designer handbag might be on the cards. This See by Chloé Hana bag is a timeless piece that she'll treasure forever, and its versatile cross-body shape means she can wear it with any outfit, for any occasion.
30. Skinny Diamond Eternity Ring – £275, Monica Vinader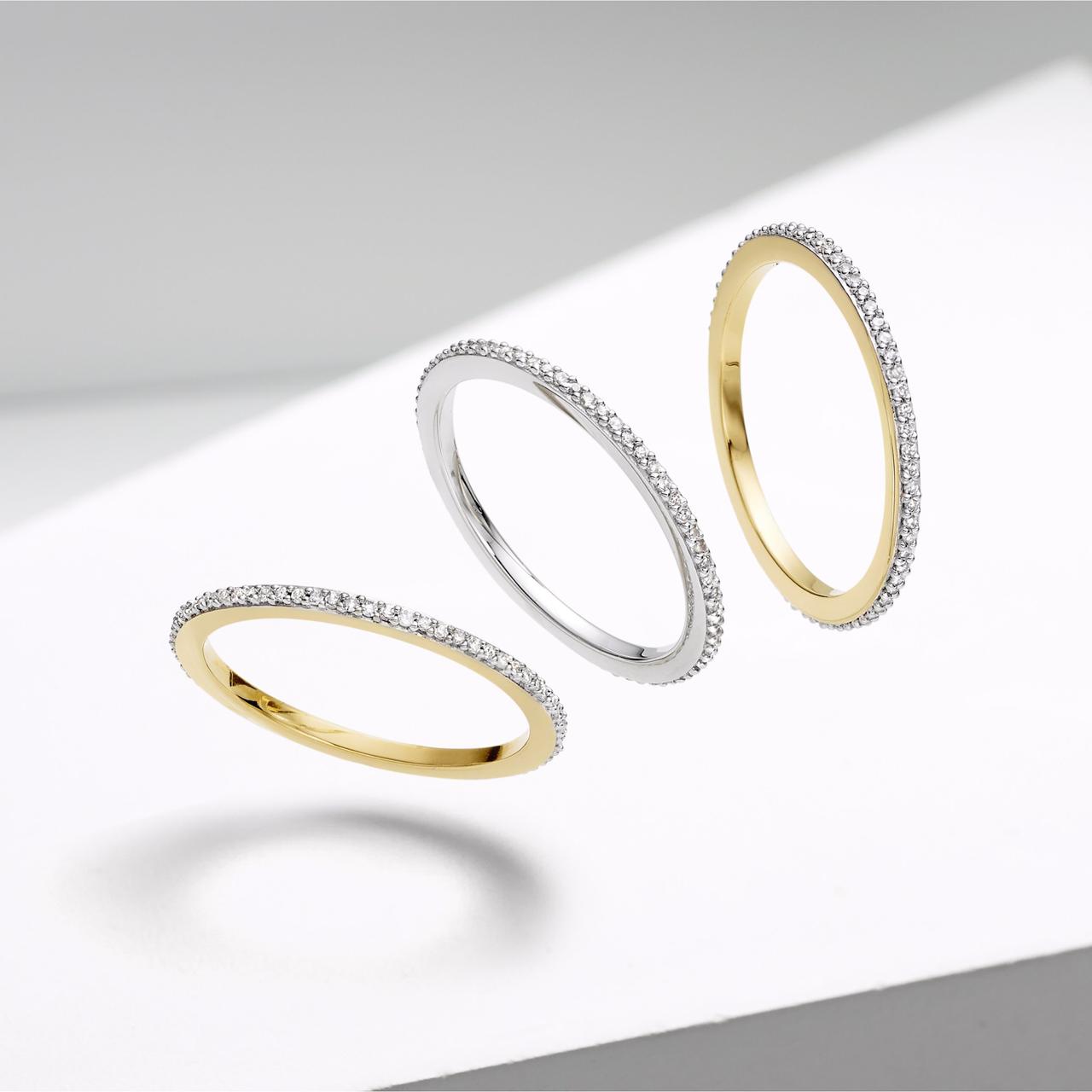 Monica Vinader's slimline bands look great stacked or worn solo, and are remarkable value for the price. The continuous shape of eternity rings is said to symbolise never-ending love, making them a perfect symbol of devotion for an anniversary.
31. Afternoon Tea at The Tiffany Blue Box Cafe – from £69, Harrods
For something that really stands out from the crowd, an experience gift is always a good idea. The first Tiffany Blue Box Café has opened at Harrods in London, so now you can go for afternoon tea, dinner or even breakfast (yes, actual breakfast at Tiffany's) to commemorate a special day.
32. Evil Eye Protection Necklaces - from £105, Edge of Ember
Edge of Ember's Protection collection is designed to radiate positivity, ward off the bad vibes, and protect the body, soul and spirit - a great gift to give to your loved one. This trio features the Protection Chain Necklace, the Evil Eye Necklace, and the Reflect Topaz Drop Necklace. Any one of them is a great gift, but they make an incredible collection together.
If your wife is a fitness fanatic or loves an organised life, the new Apple Watch Series 6 is the perfect bit of tech. We're obsessed with this statement dusky pink strap, but you can buy it in lots of colours.
34. Wue Struck Gold Wife Earrings – £16, Not On The High Street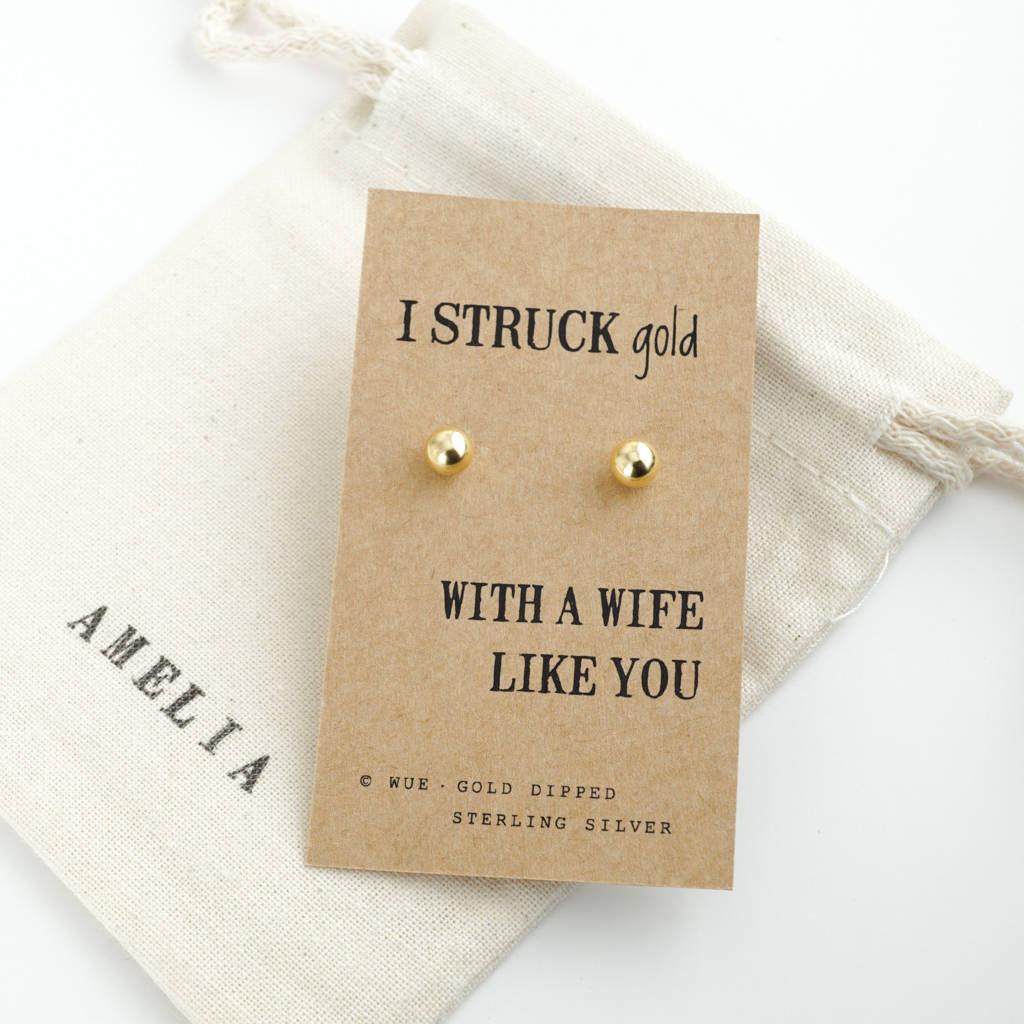 These cute dipped gold studs would be a brilliant anniversary surprise or stocking filler, with a message that feels way more considered than jewellery from any old store. You can also customise the gift bag with her name for that extra personal touch.
35. 'Spa Night In' Letterbox Gift Set - £65, Not On The High Street
Give your partner the gift of 'me time' with a luxurious gift set infused with pure botanical fragrances. Made at the Coral & Moss studio in Cornwall, the set contains bath salts, scented candles, two of their delicious smelling soaps and other goodies.
36. Personalised Retro Letterbox Sweets Box - £12, Not On The High Street
Take her on a throwback down memory lane with this box jammed full of sweet shop favourites. There's half a kilo of treats in here, which can be delivered straight through the letterbox. We've got our eye on that dip dab...
37. Raw Natural Birthstone Necklace - £39, Not On The High Street
Gift your wife a raw gemstone necklace with her birth stone and either an 18ct gold-plated or silver sterling chain. You can choose to add matching gemstone earrings, droppers or hoops too, and a hand-stamped initial disc can be added to to personalise the necklace further.
38. A Weekend Away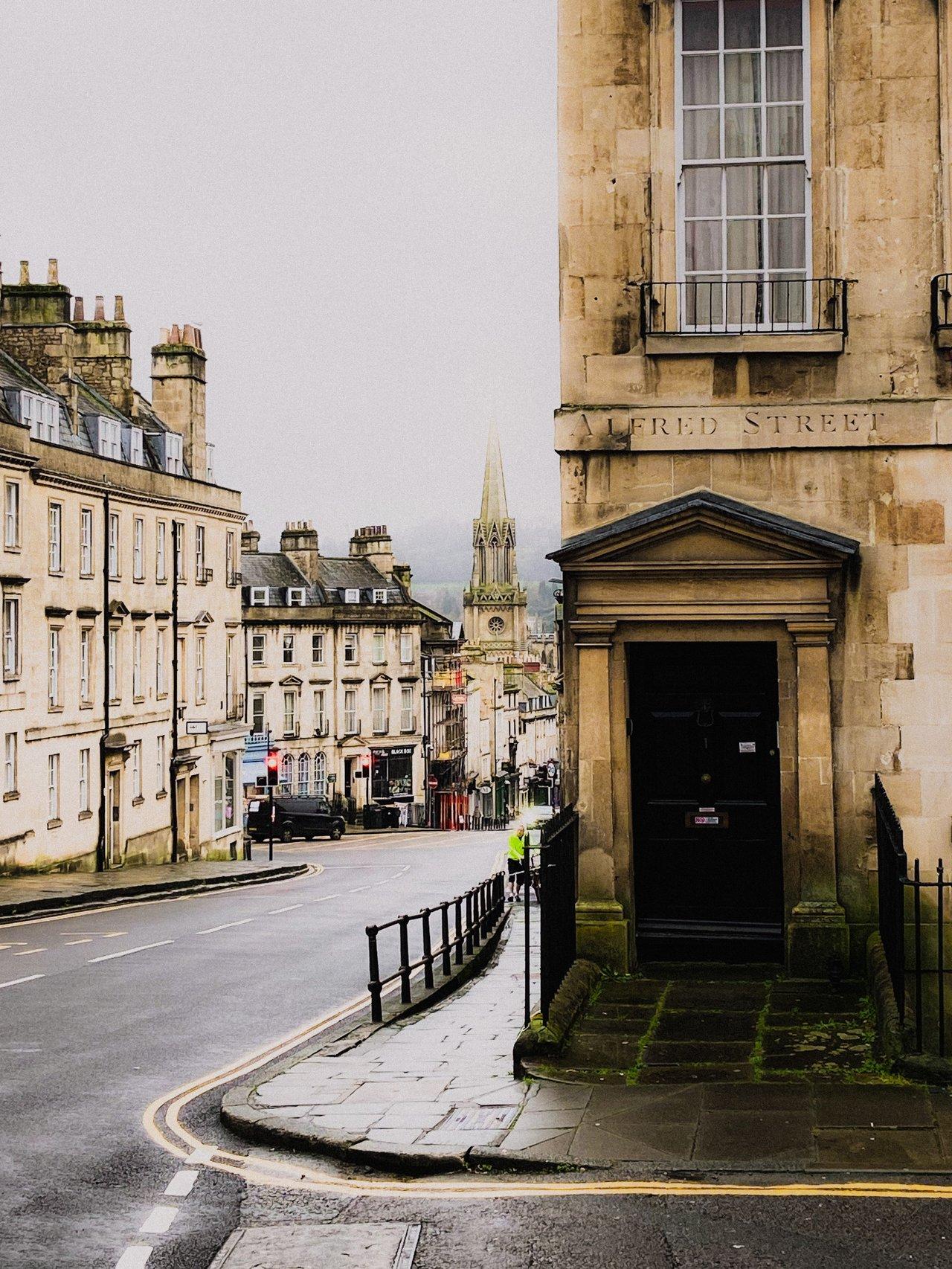 There's nothing more romantic than whisking your partner off for a surprise weekend away. Look for somewhere off the beaten track like an independent boutique hotel or a unique stay with Canopy and Stars. We recommend anywhere with a hot tub.
Subscription Gifts for Your Wife
39. Bloombox Club Plant Subscription – from £37.33, Bloombox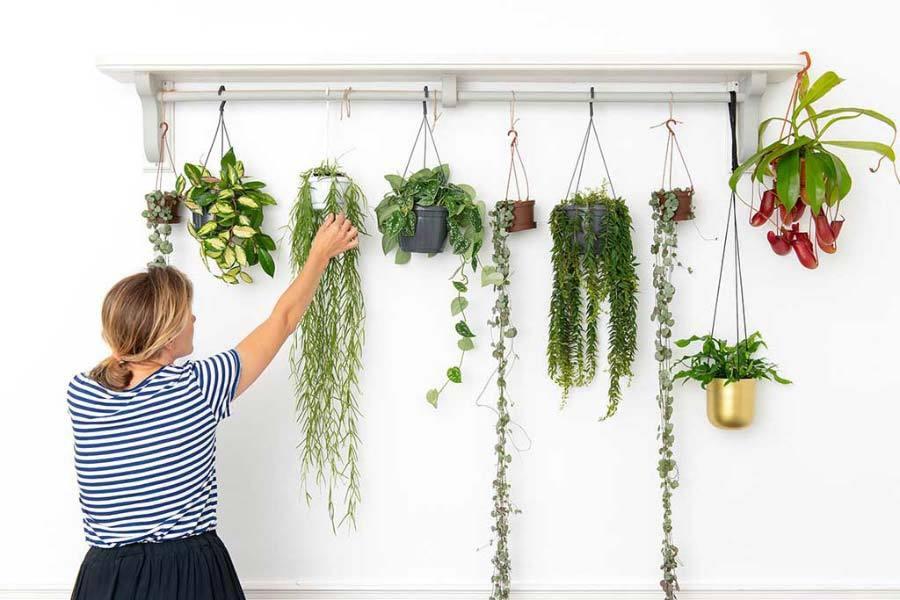 You probably already know if your wife is houseplant obsessed – common symptoms include bathtubs with constant traces of soil, talking to favourite pots like they're human, and an addiction to buying misters. Sound familiar? She'll love Bloombox Club's plant subscription service, which will deliver a new living gift to love each month for as long as you wish.
40. Mindfulness Box Subscription - from £25, The Box Of
These are billed as "self care in a box", filled with things like aromatherapy candles, stationery, edible refreshments and jewellery. You choose from a lite or luxury box, with one of six different "feels": peace, love, brave, calm, energy or mindfulness. It's great for those with a busy life looking for a moment of zen.
41. Beauty Pie Membership – from £5 per month, Beauty Pie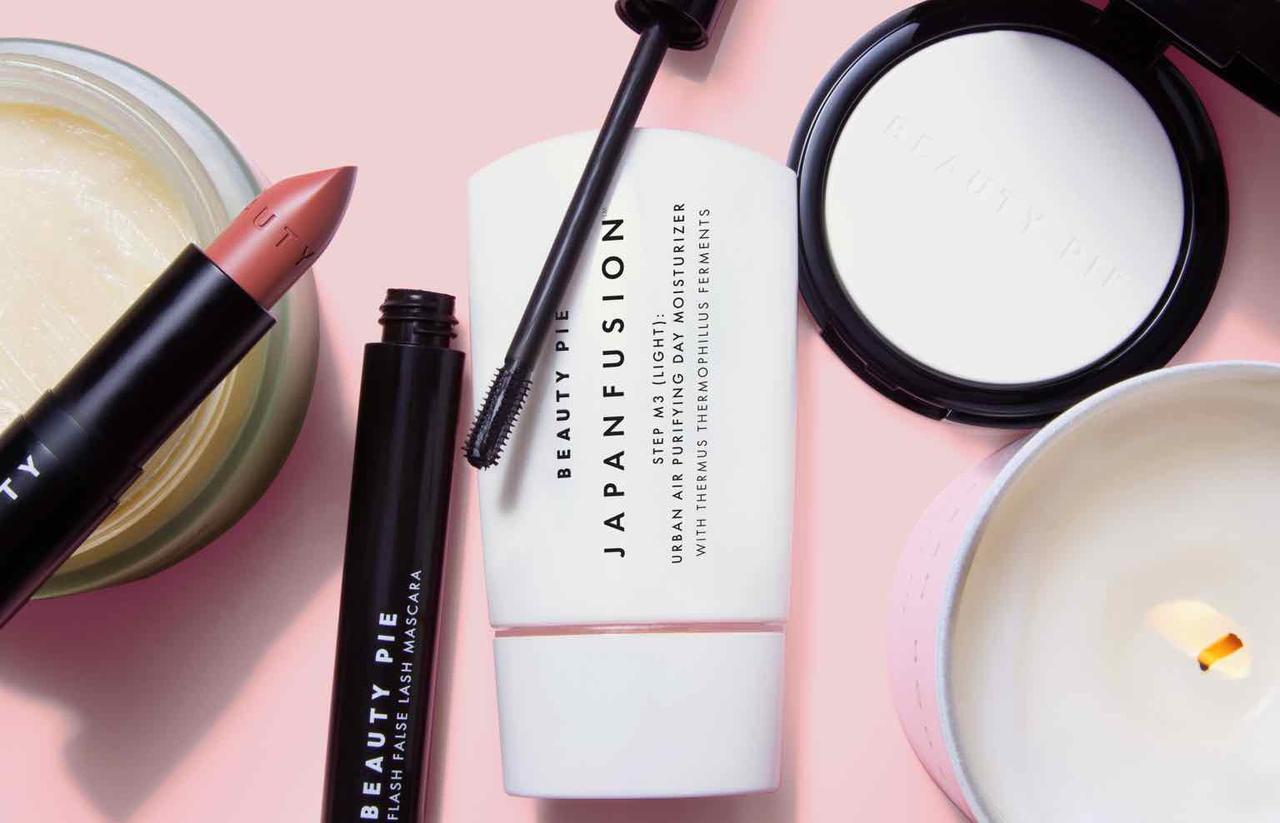 For the uninitiated, Beauty Pie is essentially a member's club that gives you access to premium make-up and skincare buys for bargain basement prices – all you have to do is pay a monthly subscription fee. The amount you pay will dictate the spend limit on her account, but whether you blow the budget or not, we guarantee that she'll be bowled over but this idea.
42. Baking Club Subscription - £30 for 3 Months, The BakedIn Baking Club
Does she love baking? Discover new recipes each month with a baking subscription box, which can be monthly or every three, six or 12 months. It comes with all the dry ingredients, step-by-step instructions and little things like a skewer to check if your cake is cooked. Recipes include bakes like raspberry ripple cake, sticky toffee ginger loaf and chocolate brookies (brownie cookies!).
43. Light and Fresh Cocktail Subscription - £87 for 3 Months, Kocktail
Each month, you'll get four delicious, seasonal cocktails, including garnishes, recipe cards, and the story behind them, all shaken by award-winning barman, Neil Donachie. This box contains fresh, elegant and crowd pleasing 'light' cocktails with a focus on fruit flavours and lighter, balanced spirits.
44. Female Authors Book Subscription - £42 for 3 Months, Rare Birds Book Club
If she loves women's fiction, this subscription sends her an expertly curated and beautifully wrapped book each month from a choice of two secret blurbs. It'll help her find the joy in reading again with a huge range of genres of female-authored fiction that will push her out her comfort zone and find new favourites.
45. A Year of Fresh Pasta - £204, Pasta Evangelists
Italian food fans, this is the gift for you! Your wife will love receiving a year's worth of fresh, artisan pasta and sauce, with two new dishes in each box to cook up a restaurant-quality meal in just five minutes. Even better is you cooking this gift for her on a weekly pasta night.
46. Gourmet Coffee Subscription - from £7.99 a Month, Blue Box Coffee
You can choose from one or two bags of single-origin gourmet coffee, handpicked from 22 countries and freshly hand-roasted in the UK. It's a dream gift for any woman who can't wake up without a delicious cup of coffee in the morning. You can pick how the beans arrive too, from coarse ground for cafetieres to fine ground for espresso machines.
47. Craft Kit Subscription - £26.95 a Month, Craftiosity
Each month, your wife will receive a limited edition craft kit through the post that contains the tools, materials and step-by-step photo instructions. Past crafts have included lino cutting, book binding and Japanese shibori dyeing. A must for craft lovers!
48. Food and Drink Book Subscription - £54.99 for 3 Months, Not On The High Street
Any budding chef will adore the surprise of a new cookery book in the post every month. The new book will be tailored to their culinary tastes while introducing them to new flavours and cuisines around the world. In addition, for every subscription sold, they donate a book to Book Aid International.
Lifestyle Gifts for Your Wife
49. Lumie Bodyclock Spark 100 Light-Up Alarm Clock – £79, Urban Outfitters
The Lumie makes early alarms and dark winter mornings that little bit easier by helping to improve sleep patterns and using light to softly wake you from your slumber. If she works shifts (or just struggles to drag herself out of bed in the AM generally), this will be a total godsend in her routine.
50. Roses Candle - £49, Diptyque
In the world of scented candles, Diptyque pretty much reigns supreme – and while a real bouquet of roses will bring her joy for a week or so, this rose-scented candle will fill your home for up to 60 hours.
51. Electronic Diffuser - £65, The White Company
Don't need any help in the flame department? Try an electronic diffuser instead. This White Company Electronic Diffuser constantly tops the brand's bestseller list and has hundreds of five-star reviews for making any space you put it in smell amazing.
52. Egyptian Cotton Duvet Cover Set - £99.99, H&M
Crisp, clean, super-fresh sheets are one of the best gifts in the world in our books – especially when the sheets in question are brand new. H&M has a seemingly never-ending gorgeous range of bed linen and it's surprisingly purse-friendly for Egyptian cotton.
53. Brompton Cook Book Holder - £25, Graham & Green
If she's the type that's always testing a recipe (and splattering her precious cookbooks with sauce in the process), this chic stand will sit in pride of place on her kitchen counter.
54. Olaplex Hero Bundle - £62.40, Look Fantastic
Olaplex's intensive strengthening treatments are a cult favourite with beauty editors and celebrities, and can transform even the most brittle, frequently coloured or heat styled hair. Your wife will be seriously happy if you treat her to these; there's much pricier than a normal shampoo and conditioner, but they'll make all the difference to her hair.
55. Wife for Life Mug – £12, Not On The High Street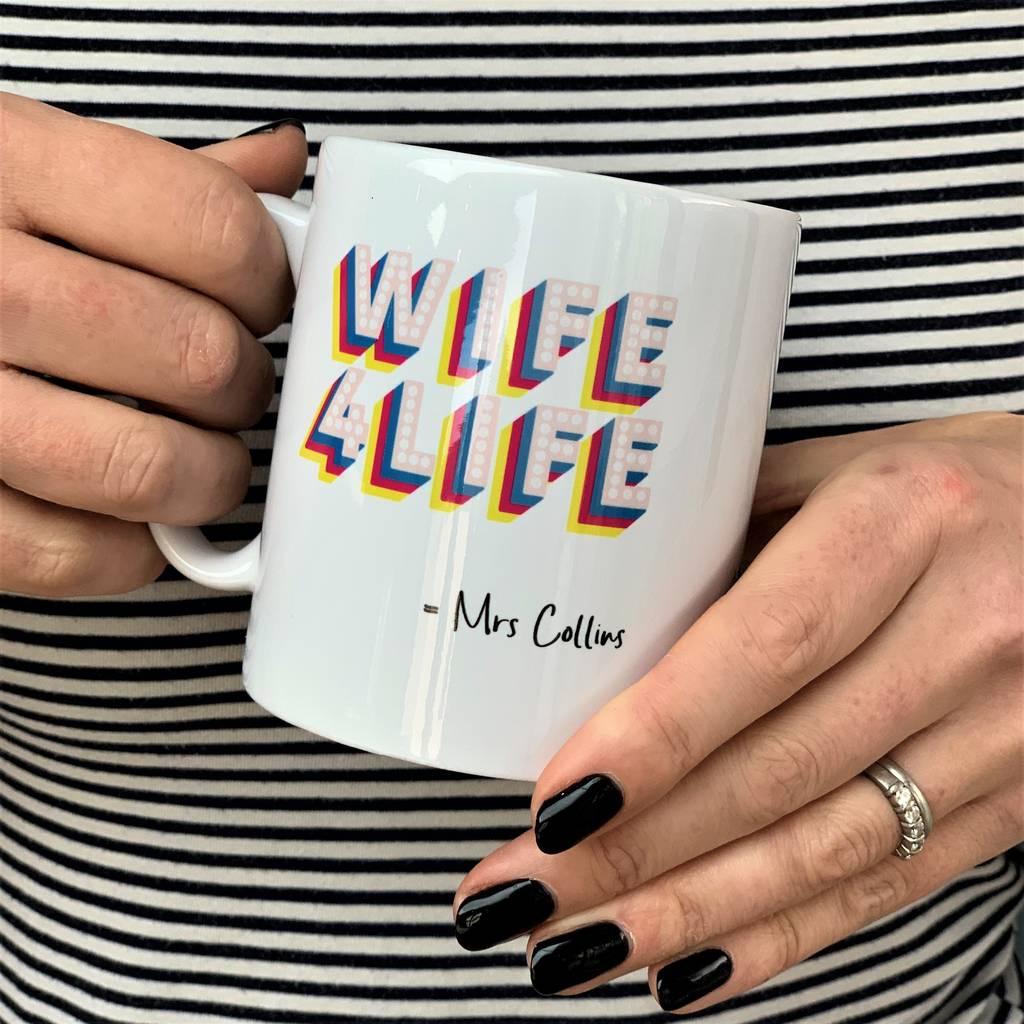 Fill this mug with a fresh cup of tea or coffee each morning and you'll have her heart forever. We love that you can add your marital name in the scripted font below the slogan.
56. Chanel No. 5 – from £120, Selfridges
Perfume – whether a top-up of her go-to or a new, exciting bottle – will always be met with squeals of delight. Chanel No. 5 is so iconic we barely need to explain it; as a failsafe fragrance gift for your anniversary, you really can't go wrong with this classic.
57. Personalised Vintage Cheese Board And Knife Set - £34, Not On The High Street
Cheese-lovers will be obsessed with this combined cheeseboard and knife set. It can be personalised with your spouse's name in the middle of the cute vintage logo. It's an eco-friendly set that you'll keep forever and want to bring out anytime she needs a cheese fix.
58. The Carry-On - from £215, AWAY
If you're going to whisk her away on a romantic trip, she's going to need a case – and you won't find a dreamier option that Away's luggage, which comes in a veritable rainbow of Insta-friendly colours, and array of various sizes.
59. Slip Silk Pillowcase - £85, John Lewis
Speaking of bedding, this is categorically not just any old pillowcase. Slip's range is made of 100% pure silk, and sleeping on it can help with everything from reducing wrinkles to smoothing frizzy hair (and even ensuring less of her skincare gets sucked up by fabric as she sleeps). It comes in five colours so you can choose what suits your bedding best.
60. Together They Built a Life They Loved Prints - from £10, Etsy
These quality prints are great for a bedroom and have a wonderful message. You get the two prints in your choice of size and with a choice of background colour so they can fit your décor. You just need to add two frames and you're ready to go.
61. Inspirational Women Playing Cards - £5.02, Amazon
For couples for whom date night equals games night – how wonderful are these playing cards? Each card in the illustrated deck comes with a fact about an inspirational woman of the past or present, making these an ideal pick-me-up for a partner who's in need of a spot of inspiration.
62. Wooden Bath Tray - £29.99, Joskel
Bath time = me time, and we can't think of a greater gift than that. Give this highly-rated Joskel bath rack with a selection of her favourite bubbles and bath bombs, and a promise to give her at least an hour for an uninterrupted soak. This eco-friendly bath rack also comes with a foot brush and a soap dish, plus it has a special anti-slip wine glass holder and a phone and book stand.
63. Pure Cashmere Crew Neck Jumper – £79, Marks & Spencer
Even dedicated designer shoppers concede that M&S cashmere is – well, pretty darn good for the money. This cosy cashmere sweater is an wear-forever buy that comes in 16 (yes, 16) different hues, so pick the one you think will suit your sweetheart best.
64. Dyson Airwrap – £449.99, Boots
Bouncy curls her thing? The Dyson Airwrap launched to applause from the entire beauty world – if you can stretch to the (admittedly pretty steep) £450 price tag, you'll win the gift giving game in your relationship for good with this kit.
65. Heart LED Light Bulb - £25, Oliver Bonas
Add love to your life with this LED bulb featuring a heart-shaped centre. Pair it with the lamp of your choice and put it on display in your home so everyone can see a warm expression of your love.
Coming up to your anniversary? Here's 50 of the most romantic anniversary ideas for your wife.